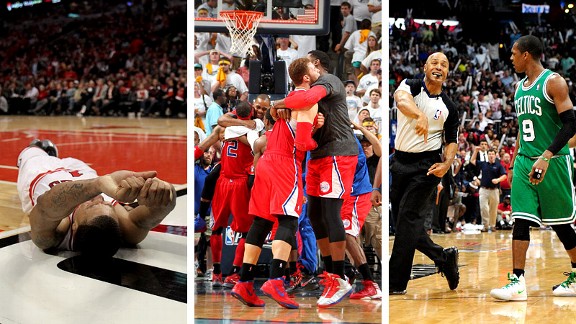 From The Opening Tip
Big injuries. Wild comebacks. And a bump. The NBA didn't ease into this postseason. PER Diem


5-on-5: Best and worst » Grantland: Building of Bynum »Suspend Rondo?

David Stern

Getty Images

BILL SIMMONS PRESENTS
Heat vs. Pacers
Ten burning questions. Lowe »
Upon Closer Examination
Woe is K.C. Keri & Jazayerli »
Depressed sports fans. McIndoe »


RICK REILLY
Top 20 NFL Coaches
The best to ever walk an NFL sideline? I sure know who I've got. Column »
JAYSON STARK
At age 43, Mariano Rivera is still as dominating as he ever was. Column »

College Hoops

Dan Szymborski

Craig Custance
Watch and participate with "SportsNation" TV, weekdays on ESPN2 at 4 p.m. ET.
ON SPORTSNATION TV ...
Do you expect Dwight Howard to leave the Lakers this offseason? Is Vinny Del Negro a scapegoat?
Vote »
THE RULES HAVE CHANGED
Masters champ Adam Scott is among the golfers who won't be allowed to anchor their clubs starting in 2016. Did golf's ruling bodies make the right call?
Vote! »