September, 30, 2014
Sep 30
1:15
AM ET
By
Lee Schechter, Special to ESPNBoston.com
| ESPN.com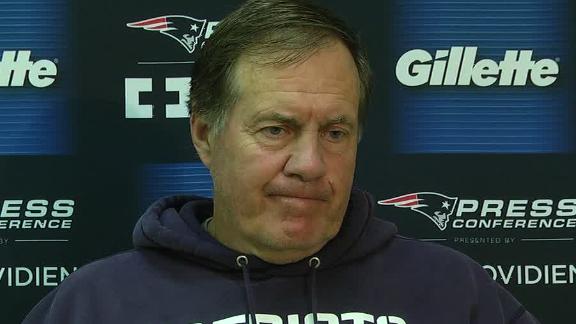 In an embarrassing 41-14 loss to the Chiefs on Monday night, New England Patriots coach Bill Belichick has one big takeaway: We need to do everything better.
On both offense and defense, the Patriots were outplayed and outcoached by the Chiefs.
Offensively, the Patriots were pulling and swapping linemen around and the passing game could not get going other than a few passes to wide receiver
Brandon LaFell
.
"We need to do everything better offensively," Belichick said during his postgame news conference at Kansas City. "We had like five first downs in the first half or something like that. We did a lot of things wrong and we turned the ball over in the second half. So pretty much, we need to do everything better."
All eyes have been on the Patriots' offensive line that saw two rookies, center
Bryan Stork
and right guard
Cameron Fleming
, make their first starts in the hostile, record-setting, noisy environment of Arrowhead Stadium. Left tackle
Nate Solder
was benched for
Marcus Cannon
as well as right guard
Sebastian Vollmer
. The issues were endless on the line.
When asked about the
Logan Mankins
trade after playing two rookies and seeing the offensive line struggle at all positions once again, Belichick was not willing to talk about it.
"We can send around a lot of hypothetical questions, but we are where we are and we need to do better," Belichick said.
Belichick also benched quarterback
Tom Brady
after a late-game interception that was returned 39 yards for a touchdown by Chiefs safety
Husain Abdullah
. Rookie quarterback
Jimmy Garoppolo
saw some action in the fourth quarter.
"I think our team competed," Belichick said. "I thought we competed there at the end. That's what they should do."
The Patriots have another marquee matchup on national television on Sunday night against the undefeated
Cincinnati Bengals
.
"We have to have mental toughness and we are going to have to have a good week in a short amount of time," Belichick said.
The Patriots were viewed as a top team in the AFC that could compete for a Super Bowl, but the attention on the end-of-season goals is not something Belichick dwells on. He is moving on to next week.
"I never make predictions going into the season," Belichick said. "Never have. Never will.
"Our team is going to play better than they played tonight. Have to go to work and we have to do that."