December, 21, 2014
Dec 21
11:00
PM ET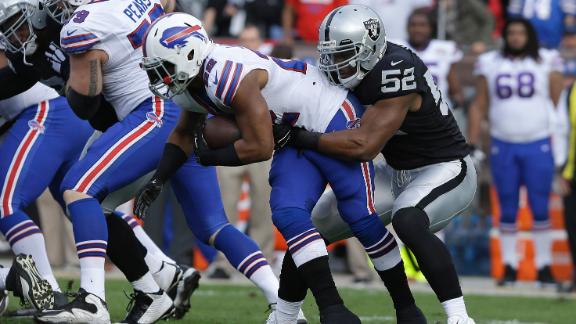 OAKLAND, Calif. -- Talk about a black hole.
The playoff hopes of the
Buffalo Bills
(8-7) were sucked in, swallowed up and left to rot Sunday inside O.co Coliseum, where the lowly
Oakland Raiders
(3-12) spoiled what had been a promising late-season run by a team that has now hitched another season to its 15-year postseason drought.
Everyone knew that it would take all sorts of help for the Bills to find their way into the playoffs in a crowded AFC field, but few expected it would end this way, with
a 26-24 loss
to the Raiders that eliminated the Bills from playoff contention.
"We were trying to move this organization up the ladder," defensive tackle
Corbin Bryant
said. "We lose a game like this when we have a chance to get ourselves into better position for the playoffs, it definitely hurts. It's no secret that it hurts a lot."
The sting around the Bills' locker room wasn't just because this was another season where players will pack up and watch January's games from home. This year was different. Instead of turning their attention to the draft as is the annual custom by this point in the season, Bills fans dove head-first last week into crunching the scenarios that would get the team into the playoffs.
This wasn't what was supposed to happen.
The Bills' defense -- rightfully vaunted after a head-turning win over
Green Bay Packers
last Sunday -- laid an egg against a Raiders offense that ranked dead last in several statistics. Allowing a struggling rookie quarterback,
Derek Carr
, to complete a 51-yard pass on third-and-22 -- with the game on the line late in the fourth quarter -- isn't the mark of a playoff team.
Nor is managing just 13 rushing yards in the game. Already handcuffed by their well-documented quarterback problem, the Bills' once-superior running game continued to deteriorate Sunday, putting up the franchise's worst single-game performance since a 4-yard outing in 1997.
"Hell, I don't even know if we rushed the ball for even 20 yards, which is flat-out embarrassing," tight end
Lee Smith
said. "We're grown men. We all work very hard. We all dedicate ourselves to this game, and when you get your ass whooped up front for four quarters, it's embarrassing."
While C.J. Spiller's four carries for negative-4 yards jumps out on the stat sheet and contributed to the running game's woes, it wasn't entirely his fault. The offensive linemen, whose play has been inconsistent all season, dropped the ball when the Bills needed a lock-down win Sunday.
Is this as bad as Doug Marrone has seen his blockers play this season?
"Yeah," he responded succinctly.
Even the Bills' run defense, which has slid since a strong start to the season, was gashed at times Sunday by a Raiders offense that entered the game averaging a league-low 74 yards rushing per game.
"They hit the big plays," Marrone said.
A backfield combination of
Latavius Murray
and
Darren McFadden
combined for 140 rushing yards on 32 carries, including a pair of 25-yard runs that supplemented passes of 51 and 50 yards by Carr. Losing
Marcell Dareus
in the second quarter to a knee injury was a contributing factor, but the air-tight Bills' defense that handed
Aaron Rodgers
the worst game of his career last week was nowhere to be found in Oakland.
Forget about scoreboard-watching and deciphering tiebreakers; the least of the Bills' obstacles to making the playoffs was their trip to Oakland this weekend, and they blew it.
Because of that, their season is over, the postseason drought continues and fans' hopes were raised a little bit higher only to come down crashing that much harder.
"There's no putting into words with how disappointed I am with myself, and just the way we played in general," safety
Aaron Williams
said. "We just didn't come out and play.
"We had the playoffs this year and we let it slip away."