January, 29, 2015
Jan 29
2:36
PM ET
By
ESPN.com staff
| ESPN.com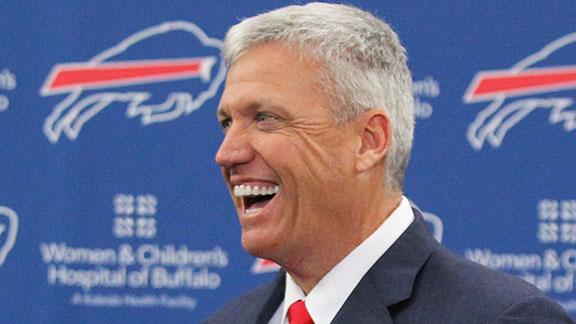 Veteran running back
Fred Jackson
hasn't had the opportunity to say a formal hello to the
Buffalo Bills
' new coach, and he didn't get to say goodbye to the previous coach.
"I can't wait to play for him. I've heard nothing but good things," Jackson said of Rex Ryan during a Wednesday interview on ESPN New York 98.7 FM.
Ryan landed the Bills' job two weeks after being fired by the
New York Jets
. "I'm looking forward to that [first] conversation when I sit down and talk to him," Jackson said.
The Bills missed the playoffs this season despite finishing 9-7, their best record since 2004. Jackson cited Ryan's bold enthusiasm as an ingredient that could lead Buffalo back to the postseason. "I think we're right there," Jackson said, "and I think he's gonna be that catalyst that comes in and pushes us over that hump."
Ryan's predecessor, Doug Marrone, exercised an opt-out clause in his contract on New Year's Eve. "We were sitting in meetings three days before that, talking about what was it was we needed to do during the offseason to prepare ourselves going into the next season," Jackson said, "and three days later he's not there."
Marrone is now the
Jacksonville Jaguars
' assistant head coach and offensive line coach.
"I thought he was a tremendous coach," Jackson said. "He showed up, he worked hard, he pushed players to give their best effort. He got us to a 9-7 record -- we hadn't won nine games in 10 years. There's definitely some things about him that made him a great coach. It's just the way he exited. I don't think anybody expected that.
"Players, the way we found out is we got a generic text from him, saying that he was moving on and he had chosen to opt out of his contract."
Kyle Orton
's retirement means the Bills' quarterback picture consists of former first-round pick
EJ Manuel
and whomever the team brings in to compete with him.
"I do think that he can be a starting quarterback," Jackson said of Manuel, who played just five games in 2014, throwing five touchdown passes and three interceptions. "He did things where he was trying to take that next step. At practice he learned from Kyle, he talked to Kyle. ... I've seen him talk to [former defensive coordinator Jim Schwartz] at the end of practice about what defenses are trying to do and what they're keying into.
"What he's going to have to do," Jackson said, "is figure out what defenses are trying to pin him in the corner and make him do, and figure out ways to get out of that. He has all the tools. He's a smart guy. He can pick up offenses."