February, 27, 2015
Feb 27
7:45
PM ET
Running back
Stevan Ridley
is one of several
New England Patriots
players scheduled for unrestricted free agency on March 10, and he shared his mindset on the process during an appearance on
Sirius XM NFL Radio's
"Movin' the Chains" program on Friday.
"I'm excited about it," Ridley told co-hosts Jim Miller and Pat Kirwan. "As a player coming into the league, you get there and your first contract you kind of have to establish yourself and see what you can do. Everybody is a good player if you get to make it to the NFL, but there is something to be said if you get to that second contract.
"Where I'll be playing, and who I'll be playing for, is still unknown, but I know I've come in and done my job up to this point and now I have to put it in my agent's hands to get me on another team, or stay where I'm at, and make sure I'm in pads playing ball somewhere next year. I know if you think about it too much it will worry you sick."
[+] Enlarge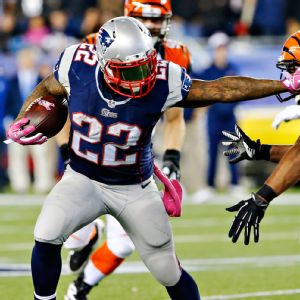 David Butler II/USA TODAY SportsStevan Ridley has rushed for 2,817 yards and 22 touchdowns in four seasons with New England.
Ridley's free-agent status is affected, in part, by the torn ACL he sustained Oct. 12 in a game against the Buffalo Bills. He explained his thought process along those lines in the Sirius interview.
"I take what I do to heart. It's not really all about the dollar bill to me. Of course, every player wants to be paid for the work they've put in, but to me it's bigger than that," he said. "I think you see a lot of guys that work hard and get to that second contract and they kind of get complacent. With me, I believe the Lord takes you through certain things to develop you as a person and you really find out who you are. For me to have this injury going into my contract year, I really think that is going to make me that much more hungry going into this next season. I have something to prove. I have something to play for."
Ridley expressed confidence in what he can do on the field in 2015.
"I take it personal to any team or anybody that says I can't be a very productive player on whatever team I land on," he said. "I've been playing ball my whole life, I'm going to come in and be a leader, and I'm going to be a guy that comes in and busts his butt in the weight room and busts his butt on the field. I'm a good teammate, I have fun with my guys, but when the lights come on Sundays, it's all business and I plan on going out there and making plays."
Asked what's important to him in the free-agent process, Ridley went with the bottom-line answer of simply having an opportunity to play.
"Being in New England the last four years, four AFC Championships, two Super Bowl [appearances], that's really hard to replace, to go to another team somewhere," he said. "But going to another team could mean more opportunities, and could mean more carries, and could mean another team that doesn't have the winning tradition that is up in New England and has been established there.
"So for me, really I just want to be playing ball somewhere. That's the big thing. That's what I have to rely on my agent and make sure I have the right people around me to put me in that position. So I'm not really worried about where. I just want to be playing ball somewhere. I know that. "
Three other sound bites from Ridley's interview:
Coached by Ivan Fears the last four years
: "He's been there as long as the dinosaurs have been around. I don't think he's really going anywhere. I'd love to be there, love to be part of that program. It's been an awesome experience. Coach Fears is a great coach and he taught me a lot about the pro level."
Playing with Patriots teammates
: "I love my guys. I love who I play with.
Tom Brady
, regardless of his age, is the best quarterback in the game of football right now. You look at my tight end with
[Rob] Gronkowski
. You look at my wide receiver out wide,
Julian Edelman
, you look at
Danny Amendola
, you look at my college teammate [at LSU]
Brandon LaFell
. It's pieces around. Not to mention it's a solid offensive line up front. So that all plays a part in being a productive running back. You can't get it done by yourself. You have to have pieces around you if you want to be a good player in this league. … When you have weapons around you, and coaches that put you in a position to win like Coach Belichick, like Josh McDaniels, it makes your job a lot easier."
Setting the individual benchmark for each game
: "My personal goal, week in and week out is to have 100 yards on the ground, man. That's what I try to set myself up for. If I don't have 100 yards, I'm not happy. That's been my goal since junior high. … Every game that is under 100 yards, I look at it as a failure. … My best season was my second season, when I actually got the opportunities and I got the carries and the touches that I could [to] be the back that I know I am. I feel like I can be a 1,000-yard back every year if I just get the opportunities. But that's not always my call and I'm a team guy first. It's not about my individual stats as long as we're getting that W at the end of the day."