Football journey: Tommy Kelly
September, 21, 2013
9/21/13
5:00
AM ET
Every Saturday, the "football journey" of one New England Patriots player will be highlighted as part of a regular feature.
FOXBOROUGH, Mass. -- Speaking with veteran defensive tackle
Tommy Kelly
about his career in football, one thought came to mind: This is about as real and unfiltered as it gets.
"I have great individual memories," he said, "but not great team memories.
"I haven't been on a winning team since junior college in '99, when we went to the state championship. I've been playing on losing teams since then. Three years at Mississippi State. Of nine years in Oakland, we had three 8-8 seasons, and the rest were losing seasons.
"The only thing important to me is wins right now. My body feels good. I have new life in me."
That life from the 32-year-old Kelly has shown up as he's earned a starting role with the Patriots next to Pro Bowler
Vince Wilfork
and been a strong presence at the line of scrimmage.
The 6-foot-6, 310-pound Kelly has played 81 of 138 snaps (including penalties) through two games and recorded his first sack with the Patriots in the 13-10 victory over the Jets on Sept. 12.
This is his football journey:
When he first started playing football:
"I didn't really play ball growing up. I was a basketball player. I didn't start getting serious about football until my 12th-grade year. I just liked playing basketball and me and the football coach in high school didn't get along."
Why he started playing in 12th grade at Provine High School (Jackson, Miss.):
"My grandma asked me. I was still staying with her and people would tell her, 'Your grandson is big, why doesn't he play football?' She told me to go out and give it a shot. I went back out there and I just kept playing from that point."
Memories of his senior season in high school:
"We were good. Went to the playoffs and lost to the eventual state champion that year, Hattiesburg. But most of my memories from high school come from basketball because we were real good. We won a state championship."
Enrolling at Hinds Community College in Mississippi:
"That was like hell to me. We were good, went to the state championship, but I [had trouble] with the coach again. So I left Hinds Community College and went to Holmes Community College and sat out a year and got my grades right before going to Mississippi State."
Memories at Mississippi State:
"Those weren't fun years, either. We didn't win a lot of games."
[+] Enlarge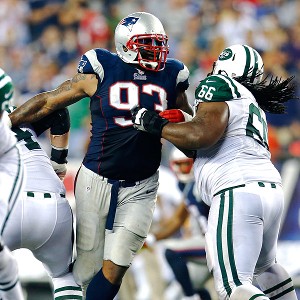 AP Photo/Elise AmendolaAmong the reasons he signed with the Patriots, Tommy Kelly said, was so "I would have a whole bunch of good guys to play with."
Entering the NFL as an undrafted free agent with the Oakland Raiders:
"I knew I wasn't getting drafted. I did some things off the field and got myself into a situation. I accept everything that comes with it. In the end, it made me stronger. It was probably better that I didn't get drafted and I had to work my way to the point I'm at now. It's all good."
Recollections of his first season with the Raiders in 2004:
"Just playing with all the veterans -- Ted Washington, Warren Sapp, Bobby Hamilton, Ray Buchanan,
Charles Woodson
, Randy Moss. You learn from the vets, picking up how they go about their job. I was just trying to get my foot in the door. By my fourth year, I figured I could play in the league. But my first couple years, I was just trying to hang on."
Best memories of the nine years with the Raiders:
"When we started to turn it around in '10 and '11, and had a chance to go to the playoffs, but we came up short. It was really just the people. I had a real, real good relationship with the community, in Almeda and Oakland. From the time I was there, they always embraced me, even when we were struggling."
Signing with the Patriots this offseason after being released by Oakland:
"After nine years, it really was time to go. They wanted me to take a pay cut and everything and asked if I wanted to come back. It was just time for me to move on, and they were going in a different direction. I think nine years in one spot is long enough."
Signing a two-year contract with the Patriots:
"I had a couple more offers from teams that made the playoffs. So I had good offers, but this team, to me, probably had the best personnel on the front. Plus, they had a quarterback, so I figured we would get the lead and I would have a whole bunch of good guys to play with and it wouldn't be on me. So if I didn't have the best game, and we didn't win, I don't have to be that any more. I can just be Tommy and do my job. I'm happy with that."
Role models in his life growing up:
"My grandma [Gertrude Kelly] and my dad [Tommy McGraw]. We had a difficult upbringing, and my grandma was always there for me, especially in the teenage years. With my dad, he wasn't together with my mother, but that didn't stop him from being a dad. Sometimes when the wife and husband aren't always getting along, the kids can be affected. But from Day 1, even when him and my mamma weren't on the same page, he never let that affect the relationship he had with his kids. He was always at my basketball games, PTA meetings, and any time I needed discipline he took care of that. I learned a lot from him."
Role models in football:
"Coach [John] Blake, my line coach at Mississippi State, he had a lot of influence on me. He had coached with the Cowboys. It was how he handled me -- he expected a lot out of me, but he treated me like a young man. At that time, I had people who already had opinions of me. He came in and said, 'I don't care what anyone has said in the past. I'm dealing with you from this point on.' From that day, me and him were close."
What he loves about football:
"Just the contact, going out there and being a playmaker. I don't want to just be out there. I ain't no guy that just wants to [take on] blocks, I want to make tackles, I want to make plays and hear my name called."
Summing up his football journey:
"It was long. I learned a lot. I think I definitely came into the NFL through the back door because I wasn't drafted, went to junior college and had a lot of red flags next to my name. So I think I've probably been in every situation you could be in as a football player."
When he made the transition from red-flag player to someone who could be counted on:
"When my kids came into the picture [Tommy Jr. in 2005 and Jamison in 2008], I didn't have any problems. Before that, if I got in trouble, it wasn't going to affect anyone but me. So I've always been the type of guy that if I wanted to do something, I was going to do it. I was hard-headed. But when my kids came into the equation, it wasn't about me anymore. Whatever I did, it affected them. One thing I never wanted to be … I could be a good football player, I could be a good husband, but I always wanted to be a great daddy. When they came, no matter what, I was like, 'Make sure you're cool with your kids and on the same page with your boys.' I have boys, and boys are kind of like a direct reflection of you as a man. If I'm a terrible father, they're going to think that's how a man is supposed to be."