December, 21, 2014
Dec 21
8:30
AM ET
ENGLEWOOD, Colo. -- As
DeMarcus Ware
essentially dragged himself, willed himself really, through the 2013 season, his elbow hurt, his thigh hurt and sometimes his pride hurt.
"I just didn't feel like myself," Ware said. "I tried to play, had some good moments, but the season didn't go like I like seasons to go. I knew I had better in me."
So when the
Dallas Cowboys
released Ware last March, the profile was declining player coming off injury-filled season. But that is not what the
Denver Broncos
saw.
[+] Enlarge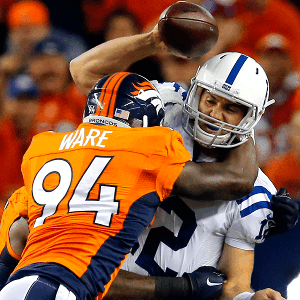 AP Photo/Jack DempseyDenver has limited pass-rusher DeMarcus Ware's workload this year, and he has responded with one of the best seasons of his career.
The Broncos looked down the road, projected a healed, managed, Ware into their defense, where the quality of the snap count would trump quantity. As executive vice president of football operations/general manager John Elway has put it; "We thought once he got healthy, and if we could put him in the situations where he could be his best, he had a lot of football left in him, a lot of football."
As the Broncos head down the stretch toward the postseason with Monday night's game against the
Cincinnati Bengals
, the team has monitored how much football Ware plays and gotten his best because of it.
Fourteen games into the season, with what the Broncos hope are the biggest games still to be played, Ware has played 669 snaps on defense or 70.3 percent of the defensive plays. There are times on early downs, sometimes even on pass-rush downs, when Ware is on the sideline.
Quanterus Smith
, who has played 279 snaps, or 29.3 percent of the defense's plays thus far, is usually the one working in Ware's defensive end spot as the Broncos pick their spots for their member of the 100-sack club.
The result has been that Ware, at 32 and in his 10th season, feels, and has played, as good as ever.
"I feel like this right here is probably at this time in my career the best I've ever felt," Ware said. "I don't feel like there are any dings on my body where it's prohibiting me from doing certain things. Every player gets out here and they're sore or they're tired -- that comes with football. But once you rehabilitate yourself and recoup during the week and feel 100 percent before each game, I've felt that way this year and it feels great."
The result has been 10 sacks to go with just the third interception of his career. The Broncos also hope it allows Ware to power his way down the stretch and in the playoffs.
Last season he had one sack over the Cowboys' last six games, and in 2012, when he finished with 11.5 sacks, he had 1.5 sacks over the last six games. Ware has one sack in the Broncos' current four-game win streak -- it was against the
Kansas City Chiefs
.
"We use a lot of people," said defensive coordinator Jack Del Rio. "We want people to be in the best situations for us for what we need to get done ... We're always going to have (Ware) in the best situations."
For Ware it's all about playing in his first postseason game since the 2009 season, and all about trying to reach the title game for the first time in his career. Following the game in Cincinnati, the Broncos will close out the regular season in Denver against the
Oakland Raiders
, with Denver still clinging to a chance at home-field advantage in the AFC if the Broncos win both remaining regular-season games and the
New England Patriots
lose one of their last two games.
"Every game I feel like is a must-win game," Ware said. "You've got to think about it that way, because you want to go into the postseason on a high and motivated. You can look at a lot of teams around the league -- some of them are trying to get in, some of them are trying to get a berth or wild card or whatever it is. Every game you've got to play like it's your last one."
AFC WEST SCOREBOARD
Saturday, 12/20
Sunday, 12/21
Monday, 12/22