October, 19, 2014
Oct 19
9:32
PM ET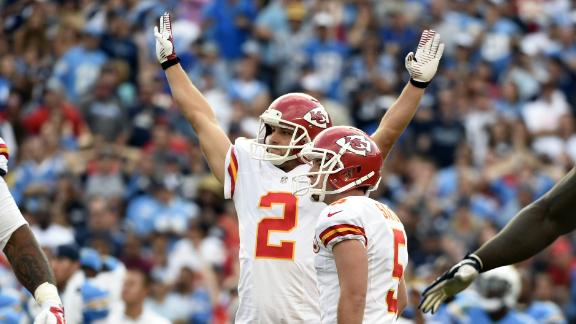 SAN DIEGO --
Dwayne Bowe
had an explanation for why the
Kansas City Chiefs
, after a long dry spell, finally made a two-minute drill work with coach Andy Reid and quarterback
Alex Smith
.
"Alex won two championships here and he knows the field,'' Bowe said jokingly.
Smith, a San Diego native, did win a pair of high school championships at Qualcomm Stadium, but otherwise the place has been cursed as far as the Chiefs are concerned. They hadn't beaten the
San Diego Chargers
at Qualcomm since 2007, when they were coached by Herm Edwards and quarterbacked by Damon Huard.
This time, in Smith's old haunt, the Chiefs went 62 yards in 1:36 and
beat the Chargers 23-20
on
Cairo Santos
' 48-yard field goal with 21 seconds remaining. The successful drive might have saved the Chiefs' season. They have overcome a rotten start to get to 3-3 with home games against the
St. Louis Rams
and
New York Jets
immediately ahead.
By taking care of business against a pair of sub-.500 opponents, the Chiefs can get to 5-3 at the season's midway point. After a start to their season that included a home loss to the dismal
Tennessee Titans
, a potentially overwhelming wave of injuries and four road games, the Chiefs would be elated with a 5-3 record.
But they couldn't get there without beating the Chargers and to do that, they would need a late scoring drive after the Chargers tied the game at 20-20 with 1:57 remaining.
The Chiefs had no reason to be confident. They failed in similar late-game situations this season in Denver and San Francisco. Then, they had been unable to get the ball to some of their better downfield receivers, most notably Bowe and tight end
Travis Kelce
.
The Chiefs had a little bit of good fortune this time in that they had their bye and two weeks to prepare for the Chargers. They made their two-minute drill an emphasis. Reid and Smith both gave credit to offensive coordinator Doug Pederson, who spent extra hours designing some plays that might, for a change, work.
"Doug did a great job of sitting down and looking at all our two-minute stuff even from last year and [figured out] what are our strengths and weaknesses and when we're doing well, what are we doing and putting those guys in those situations,'' Smith said.
One thing Pederson wanted Smith to do was get the ball to their better receivers. That's Bowe and Kelce. Bowe dropped a big third-down earlier in the game, but got open on the big play of the drive, a 19-yard pass from Smith. The Chiefs then fed the ball twice to Kelce with short passes and let him do what he does best, run with the ball in his hands.
Those were the only passes Smith would complete on the drive, which other than the result wasn't a thing of beauty. He was just 3-of-7 for 43 yards.
That doesn't mean the Chiefs will throw it back. They'll hold it tight and hope it spurs them on to bigger and better things this season.
"I think this team is in a good place mentally,'' Smith said. "I think we understood that coming into this game we were a couple of plays away from being 4-1 and we understood we didn't make those plays, though.
"It was a tough road game. Four of the first six were on the road. So I feel like we're in a good place to keep going.''