September, 29, 2014
Sep 29
10:40
PM ET
TEMPE, Ariz. -- This week would be different for the
Arizona Cardinals
if almost any other team was next up on the schedule.
But they're preparing to take their undefeated record to the Rocky Mountains to face the
Denver Broncos
, the defending AFC champions who are quarterbacked by a sure-fire Hall of Famer.
Foote
If that won't keep a team's focus and avoid a hangover after a bye week, nothing will.
"It's a good thing that we're playing against Denver because if you're playing against a team that ain't doing so well, you'll be lollygagging into the week," linebacker
Larry Foote
said. "But since we're playing a high opponent at their place, that juice is already going. Guys know it."
So does Arians, who was Broncos quarterback
Peyton Manning
's position coach from 1998-2000 with the
Indianapolis Colts
. He, along with the rest of football, hasn't lost track of his former pupil and has watched Manning develop into one of the best ever at the position -- especially at home.
Since 2001, Manning is 76-22 at home -- which includes a 16-2 record in Denver, according to ESPN Stats & Information.
"It's much different playing him at home than on the road," Arians said.
Foote noticed there was better communication during Monday's practice, which was Arizona's first contact since beating San Francisco on Sept. 21.
The Cardinals returned to the field for the first time since Wednesday wearing pads. About midway through practice, Arians had his charges take them off. But that was all the Cardinals needed to get back into the swing.
"Just hit each other," Arians said. "That's why we had pads on today. We didn't have them on last week because we didn't need to but we'll have them on twice this week to make sure we're game ready."
Some Cardinals took preparations into their own hands.
With the extra week to prepare, Foote began watching film on Denver last week. Cornerback
Antonio Cromartie
began Monday. The Broncos were also off last weekend so Arizona didn't have a game to study during the weekend, but it didn't matter. Arizona's coaching staff began breaking down film of the Broncos last spring because they didn't change coordinators and Arians knew Manning wasn't going to alter the offense much.
It isn't often that Arizona has been part of a game with hype and build-up, at least this early in the season. The Cardinals weren't going to let a bye week derail what's already been started.
"I'm excited," Foote said. "We're geeked up. It's no secret people are starting to talk about us. We got to keep going."
September, 29, 2014
Sep 29
4:55
PM ET
TEMPE, Ariz. --
Arizona Cardinals
quarterback
Carson Palmer
still needs more time before he returns to the starting lineup.
Cardinals coach Bruce Arians said Monday there was "no real change" in Palmer's status after his bruised right shoulder didn't make the type of progress during the bye week that Arians expected. Palmer, who hasn't played since Week 1, didn't throw during the open portion of Monday's practice.
"Hopefully, Carson will be throwing on Wednesday," Arians said.
Arians added that Palmer wasn't able to do anything more during the off weekend, which puts higher stakes on Wednesday's practice.
"We'd like to have seen a little more," Arians said.
Palmer is left with three practices before Arizona plays at Denver with a 4-0 record on the line, but Arians called Wednesday's and Thursday's practices "huge." Last week, Arians said he hoped Palmer would be "firing on all cylinders" by Monday while Palmer was aiming to return to full strength by Wednesday. If Palmer doesn't start, backup
Drew Stanton
will start his third-straight game.
Arians said a gut-feeling that Palmer will play Sunday isn't reliable enough.
"I quit trusting my gut a long time ago," Arians said. "It's been lying to me forever."
September, 29, 2014
Sep 29
3:04
PM ET
Associated Press
PHOENIX -- Arizona Cardinals running back Jonathan Dwyer has been formally charged with assaulting his wife during two arguments in July at their Phoenix apartment.
An indictment publicly released late Friday charges Dwyer with felony aggravated assault and eight misdemeanors, including assault, criminal damage and disorderly conduct.
Investigators say Dwyer broke his wife's nose with a head-butt during a July 21 argument and engaged in a dispute the following day in which he punched his wife and threw a shoe at his then-17-month-old son, who wasn't injured.
Dwyer had been booked on Sept. 17 on suspicion of aggravated assault against his son, but the indictment doesn't charge him with any crimes related to the child.
Prosecutors say it's not unusual for grand juries to return slightly different charges from those initially brought in a case.
A message left for Jared Allen, an attorney representing Dwyer, wasn't immediately returned Monday.
Police say the first dispute between the couple erupted after Dwyer's wife learned about his recent phone contact with another woman and came to believe her husband was cheating.
The arrest came at a time when the NFL and Commissioner Roger Goodell are under fire over a series of violent off-the-field encounters involving some marquee players, including Ray Rice, Adrian Peterson and Greg Hardy.
September, 29, 2014
Sep 29
2:35
PM ET
TEMPE, Ariz. -- While his team rested and recovered during the bye week,
Arizona Cardinals
president Michael Bidwill traveled to London for Sunday's Oakland-Miami game to observe and research the setup in the United Kingdom, according to TheMMQB.com.
"I wanted to see the facilities, the new Wembley Stadium, the fan experience, and really, have new data points," Bidwill told a forum of about 150 fans last week, according to TheMMQB.com. "We are asked to consider lots of things about extending the series and so I wanted to see what it was like."
The NFL has a resolution in place to play games in London as part of the league's International Series through 2016, but according to TheMMQB.com's article, an extension could come before the current agreement ends. There will be three games next season and the Cardinals may play in one of them, but only under the right circumstances.
Arizona "would love to play another game -- as the visiting team," Bidwill said.
Playing as the visiting team means Arizona wouldn't have to forfeit one of eight profitable home games. According to Forbes, the Cardinals earned $53 million in gate receipts last season -- or $5.3 million per home game including preseason games.
The Cardinals haven't played overseas since a preseason game in 1983 in London. Then based in St. Louis, the Cardinals lost to Minnesota 28-10. The Cardinals played the
San Diego Chargers
in Tokyo during the 1976 preseason, winning 20-10.
In 2005, Arizona played the San Francisco 49ers in Mexico City.
Of the six teams that will pay in London in 2015, only the
Jacksonville Jaguars
are set in stone because they committed to a four-games slate overseas ending in 2016. If Arizona were to play in London next season as a visiting team, it would have to face either Chicago, Detroit, Cleveland, Pittsburgh, San Francisco, Seattle, St. Louis or the NFC East team that finishes in the corresponding place in the final standings.
Last year, the 2014 International Series games were announced in late October.
September, 29, 2014
Sep 29
1:00
PM ET
TEMPE, Ariz. -- All was relatively quiet during the
Arizona Cardinals
' bye week.
Arizona had Thursday-Sunday off as the Cards prepare for a trip to Denver. A handful of personnel moves highlighted the week.
Here's a look at what happened last week:
On Tuesday, the Cardinals signed former Arizona State University running back Marion Grice off the San Diego Chargers' practice squad and released punter Drew Butler.
A day later, they signed defensive tackle Bruce Gaston off the Miami Dolphins' practice squad and released running back Jalen Parmele.
Later Wednesday, Butler was re-signed to the Cards' practice squad. Defensive lineman Christian Tupou was released from the practice squad in the corresponding move.
Quarterback Drew Stanton was an honorary captain at Michigan State for the Spartans' 56-14 win over Wyoming.
Rookie wide receiver John Brown visited Pittsburg State and led the Gorillas on their walk through fans to the crowd.
Linebacker Kevin Minter was honored by his high school, Peachtree Ridge, in Georgia.
With just one NFC West team in action this weekend, Arizona remained atop the division as San Francisco improved to 2-2 with a win over Philadelphia.
The Niners' win over the Eagles eliminated one of the three unbeaten teams heading into Week 4. The two others -- Arizona and Cincinnati -- had byes.
September, 25, 2014
Sep 25
1:00
PM ET
Arizona Cardinals
coach Bruce Arians saw enough of his quarterbacks diving head first during Arizona's first three games this season.
On Wednesday, the trio of
Carson Palmer
,
Drew Stanton
and
Logan Thomas
worked on their feet-first, baseball-style slides with the help of some padding and quarterbacks coach Freddie Kitchens.
"We got better," Palmer said.
The quarterbacks' slides have become a topic this season because of Palmer and Stanton.
In Week 1, Palmer took on a San Diego safety shoulder first on a scramble, which led to bruised nerves in his right shoulder and Palmer missing two games. In Week 3, Stanton dived head first after scrambling in the second quarter, a play Arians would later say scared him.
Second-base style slides were emphasized Wednesday, in which the quarterbacks cross one leg under the other outstretched leg. Stanton slid like that in the third quarter Sunday against San Francisco but was hit high and drew a penalty. Because he slid, though, he was protected by NFL rules, which highlighted the importance of sliding.
However, during Wednesday's practice, Palmer chided Stanton's sliding.
"Drew was the worst and Drew's a great baseball player," Palmer said, referring to Stanton playing a year of college baseball at Michigan State. "He looked like a train wreck and that kind of makes sense why he goes head first because his feet-first slide is so bad.
"Logan was actually really good. He looked like a baseball player doing it and I was somewhere in the middle."
September, 25, 2014
Sep 25
10:30
AM ET
Carson Palmer
won't be spending his bye week on a couch.
He has too much throwing to catch up on. He'll be spending the Arizona Cardinals' off weekend on a field throwing as part of his rehabilitation from a bruised nerve in his right shoulder, coach Bruce Arians said. Palmer said this week he wants to be ready to return by Wednesday, giving him three days of practice before Arizona heads to Denver. Arians hopes he's back "firing on all cylinders" by Monday.
Palmer
Palmer hasn't played since Week 1, but he believes he can play against the Broncos on Oct. 5. If he can't, backup quarterback
Drew Stanton
will start his third straight game.
Palmer reportedly began throwing during Tuesday's practice, but his passing intensified on Wednesday, two days after the nerves in his shoulder began to fire again.
Palmer woke up Monday morning and noticed his shoulder was moving better. There wasn't a sharp pain or a soothing feeling that indicated the shoulder had improved, he said. It just started working.
"I've been told over and over again this is something that just turns back on when the nerve is ready and the swelling is down around the nerve, then all of a sudden the nerve starts to fire," Palmer said. "I was hoping it'd be sooner rather than later."
Palmer said his arm felt "great" after Wednesday's practice, and Arians thought it was getting "better and better." But Palmer said returning to the point he was at before Week 1 will be a slow process.
"Every day I'm going to throw a little bit more, a little bit more, a little bit more," he said.
But Palmer's return should wait a week. By the time he begins practicing on Monday, three weeks will have passed since Palmer last threw to his teammates during a game.
With Denver coming up next Sunday, his arm and the Cardinals would benefit from an extra week to rest. Playing the Broncos will be the type of measuring stick Arizona needs this early in the season.
At 3-0, the Cardinals are one of the surprises of the early season, but a win over
Peyton Manning
would establish them as a contender for the foreseeable future. It'll also go far for Arizona's confidence.
But how effective will Palmer be after the next 11 days of throwing? Will his arm be at full strength? Will he get fatigued easily while working to get his arm back? Too many questions in such a big game, even if it is an interconference battle.
Palmer's competitive edge won't back down, that much has been established this season.
While he'll follow the trainer's guidelines, Palmer can't afford to push his arm harder during the next week-and-a-half. There's too much at stake for this team in the long run.
There's also the results that Stanton has produced. He's had the Cardinals playing winning football, which is all every quarterback is asked to do. While he's the established backup on this team, he's also been productive.
Palmer will have just a few practices next week to get back on the same page with his receivers, running backs and tight ends.
But Arizona needs to look toward December and January. After Denver, the Cardinals play Washington and Oakland in consecutive weeks. Both teams sit in last place in their respective divisions.
And both teams would give Palmer the perfect opportunities to work his arm back into shape after missing three weeks.
September, 24, 2014
Sep 24
10:20
AM ET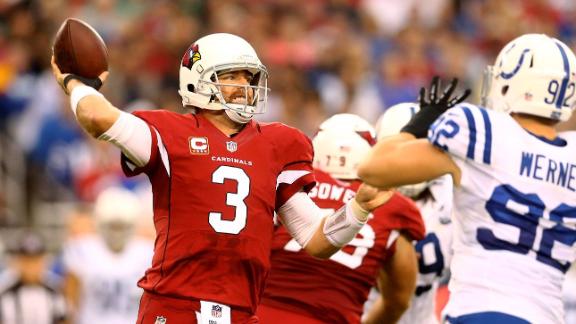 Arizona Cardinals quarterback Carson Palmer told ESPN he will "definitely'' be ready to start against the Denver Broncos in Week 5 following his team's bye week.
"I'm fired up to be 3-0. I'll definitely be ready against Denver," he told ESPN in a text message.
Palmer, 34, says his shoulder injury, which has kept him sidelined the past two weeks, has improved and he anticipates throwing this week.
He described this as being "the biggest week of my career,'' and told ESPN he's been at the facility every day during the bye week preparing for his comeback after a two-game absence because of a nerve injury in his shoulder that prevented him from gripping a football.
"It's super important to get 100 percent before we start preparing for Week 5,'' he said. "I'm fired up to be healthy and can't wait.''
Palmer said he's been getting treatment and working to strengthen his shoulder in rehab, working on his throwing mechanics, starting with short throws and hopefully progressing steadily through the week.
He damaged a nerve in his throwing shoulder in the opener and has not been able to throw a pass in a game since. Drew Stanton, Palmer's backup, had helped the Cardinals win games over the Giants and 49ers in Palmer's absence, putting the Cardinals atop the NFC West.
Stanton, 30, has completed 32 of 62 passes (51.6 percent) for 411 yards and two touchdowns. He hasn't thrown an interception.
September, 24, 2014
Sep 24
10:00
AM ET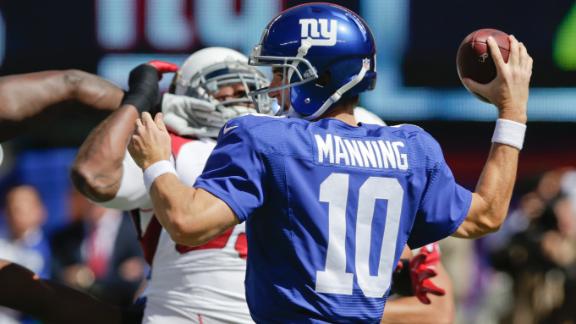 ESPN Cardinals reporter Josh Weinfuss talks about coach Bruce Arians talking up defensive end
Tommy Kelly
.
September, 24, 2014
Sep 24
9:00
AM ET
No team, especially one that's on a three-game winning streak, wants to curtail momentum this early in the season, but Arizona doesn't have a choice. And while the
Arizona Cardinals
hope to continue their winning ways in October, their bye this weekend may be coming at the right time.
The Cardinals will be able to rest a slew of injured players while letting others recover from minor bumps and bruises.
The extra week may be most important for quarterback
Carson Palmer
, who will have two more weeks without a game to wait for his bruised nerve to fully recover. Running back
Andre Ellington
will also benefit from the time off, as he continues to recover from a tendon tear in his left foot.
Other Cardinals who could use the extra time to heal from injuries also include defensive tackle
Frostee Rucker
(calf), tight end
Rob Housler
(hip), punter
Dave Zastudil
(groin) and linebacker
Larry Foote
(shoulder).
"I don't like them early but this comes at a good time for us because some of the guys are beat up," Cardinals coach Bruce Arians said.
"We'll look at our practice. I'm sure we're not going to go as hard as last year and have a blood-letting practice this week but we'll wait and see."
The bye will also give cornerback
Antonio Cromartie
more time to recover from his bruised knee.
"Bye week is always going to help," he said. "Bye weeks always help, no matter what kind of injuries you have but bye weeks always help."
Following the bye week, Arizona has 13 straight weeks of games with just one long weekend included -- a Thursday night game at St. Louis on Dec. 11. The extra time will rejuvenate Arizona for the final two games, against Seattle and San Francisco, but until then, Arizona has a grinding stretch of 11 straight weeks.
With a run like that coming up, quarterback
Drew Stanton
said there's more emphasis on getting healthy this weekend.
"These early byes can be a blessing or they can hurt you down the road," he said. "This is a veteran team and this is a mature team that can take care of their bodies over the break and can really utilize it to help us fine tune some things and get ready for what we hope to be a good season."
All week leading up to the 49ers game Sunday, Foote kept repeating the same message, according to receiver
Michael Floyd
: "It's a lot better to go into a bye week winning than losing," Foote said.
The repetition worked.
"That all ingrained in our minds and we wanted to make sure we went into the bye with a 'W,'" Floyd said.
Stanton said neither he nor Palmer had ever been 3-0 heading into a bye week before. But veteran defensive lineman
Tommy Kelly
said Arizona has to play at the same level next week in order for the first three games to mean something.
"We have to come out of the bye just playing the same way we're playing going into it," Kelly said. "And that will really matter."
September, 23, 2014
Sep 23
8:22
PM ET
Associated Press
PHOENIX -- Police say Arizona Cardinals running back Jonathan Dwyer broke his wife's nose with a head-butt during an argument that began after she learned about his recent phone contact with another woman.
Search-warrant records made public Tuesday say the July 21 argument came after Dwyer's wife came to believe her husband was cheating. Dwyer was arrested last week after his wife told police her husband assaulted her on July 21 and 22 at their Phoenix apartment.
The arrest came at a time when the NFL and Commissioner Roger Goodell are under fire over a series of violent off-the-field encounters involving some marquee players, including Ray Rice, Adrian Peterson and Greg Hardy.
The NFL has said the Dwyer case will be reviewed under the league's personal-conduct policy. The day after his arrest, the Cardinals placed Dwyer on the reserve/non-football illness list, meaning he can't play for Arizona again this season.
Dwyer is charged with aggravated assault, misdemeanor assault, disorderly conduct, criminal damage and preventing the use of a telephone during an emergency. Messages left for his lawyer, Jared Allen, weren't immediately returned Tuesday.
Dwyer is scheduled for a status conference on Oct. 6 and an Oct. 9 preliminary hearing.
In the first encounter, police say Dwyer attempted to kiss and undress his wife, but she refused. Someone who heard the argument called police, who showed up at the apartment but did not make an arrest.
Dwyer hid in a shower and his wife said she hadn't been assaulted and denied he was in the home because the running back threatened to kill himself in front of her and their child if she told police about the assault, police said.
September, 23, 2014
Sep 23
6:00
PM ET
Marion Grice
is coming back to Arizona.
The former Arizona State University running back was signed by the
Arizona Cardinals
off San Diego's practice squad, the team announced Tuesday.
Depth at running back became an immediate issue after
Jonathan Dwyer
was arrested on assault charges last Wednesday. Arizona added
Jalen Parmele
on Thursday but he had just one carry in Arizona's win over San Francisco on Sunday.
Grice was the Chargers' sixth-round pick in 2014 and was their leading rusher in the preseason, which included 79 yards on 17 carries against Arizona in the final preseason game. At 6-feet, 208 pounds, Grice will be the Cardinals' tallest back but he's among their trimmest. He'll compete to be Arizona's second back with
Stepfan Taylor
and may end up getting some third-down carries.
At ASU, Grice scored 39 touchdowns, the fifth most in school history despite playing in Tempe for just two seasons. He finished his Sun Devils career with 3,045 all-purpose yards.
September, 23, 2014
Sep 23
5:46
PM ET
Following the 2014 NFL draft, I was part of a project headed up by ESPN Insider Mike Sando that graded the offseasons of all 32 teams. One common theme that emerged was that the rich -- the NFC West, unanimously considered the NFL's best division -- had gotten richer.