November, 21, 2014
Nov 21
2:00
PM ET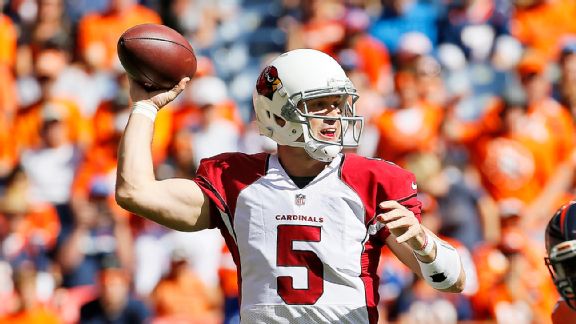 AP Photo/Jack DempseyWithout the lessons he learned from Shaun Hill and Dan Orlovsky, Drew Stanton might not be the Cardinals' starter now.
TEMPE, Ariz. -- Lions backup quarterback
Dan Orlovsky
knew how he'd feel Sunday, when he watched his friend get the opportunity backup quarterbacks lay in bed at night and think about.
Orlovsky was happy for the
Arizona Cardinals
'
Drew Stanton
, who got his fourth start of the season against the Lions. But he still wanted him to lose.
"I had jokingly said to him and his family, 'Listen, if you play well and we win by one point I'll be really happy,'" Orlovsky said.
The eight years of friendship, the trips the two had taken with their families to visit each other, the good times they had as teammates in Detroit -- all of that was put on hold when Stanton was given another shot at being a starter, taking over for the rest of the Cardinals' season in the wake of Carson Palmer's knee injury.
"When you go extended periods of times like Drew and I have, when you're the backup, you don't get the competitive aspect of things on Sunday," Orlovsky said. "So when you get the taste of it again, it's a lot of fun."
Orlovsky and
Shaun Hill
taught Stanton the art of being a backup quarterback, and this season they've seen the fruits of their labor pay off.
When Stanton was drafted in the second round in 2007 by the Lions, Orlovsky was entering his third season. Stanton was a younger, higher pick coming off a celebrated career at Michigan State. Orlovsky saw the writing on the wall; Stanton would be his competition to be the Lions' next starting quarterback. Instead of the competition driving them apart, it united them, Orlovsky said.
And the closer they became, the more Stanton learned. When Orlovsky started seven games in 2008, he delegated duties to Stanton, having him watch film and report back. From Orlovsky, Stanton learned how to structure his weekly workload to begin mentally preparing to play.
When Orlovsky left Detroit following that season, the door seemed to be open for Stanton to compete for the Lions' starting job. Instead, they drafted
Matthew Stafford
with the first overall pick in 2009. Unbeknownst to Stanton, it wasn't the first time he'd sniff a job only to see another quarterback swoop in and take it.
A year later, the Lions traded for Hill and Stanton's career was forever changed.
"I can't say enough things about Dan; but Shaun showed me, because Matthew was the starter, how you prepare as a backup and systematically, how you break that down," Stanton said.
"I look up to him and really feel if it hadn't been for him, I wouldn't be in the NFL right now."
From Hill, now the
St. Louis Rams
starting quarterback, Stanton learned how to prepare with game film and stay one step ahead of the coaches.
As a third-string quarterback in Detroit, Stanton wasn't getting many reps. So after games, Stanton would get the call sheet from the previous game and gather the practice squad. They would go through the plays, Stanton making all the calls and checks as if he were Stafford starting.
Then Stanton would watch the game film, digest it and move to the next game. Stanton said he continued the routine in Indianapolis and Arizona. Before he was the starter in Arizona, Stanton would spend Fridays with Cardinals quarterbacks coach Freddie Kitchens going over footwork, synching it to the play calls.
In Detroit, Stanton and Hill also watched their next opponent's past two games, to get an idea of what they might run and what they liked to do. Then they'd watch Lions cut-ups.
"The big thing I learned from him was always staying a day ahead of the coaches as far as watching film," Stanton said.
Stanton implemented those practices with the Cardinals, watching first-, second- and third-down plays by Wednesday. Then, Wednesday nights he'd watch red zone, breaking down plays from the high red zone to the goal line.
"It is systematic," he added. "It's a grind those first couple of days. Once you get everything else in, you go back through."
Stanton took what he learned from Hill and Orlovsky and signed with the
New York Jets
on March 16, 2012, as a free agent. On March 22, the Jets passed over Stanton, trading for Tim Tebow. A day later, Stanton was dealt to Indianapolis, in what became the most important move of his career.
He arrived in Indianapolis, a month before the Colts drafted
Andrew Luck
. There, he met Bruce Arians, then the Indianapolis offensive coordinator.
"I just loved the way he prepared," said Arians, now the coach of the Cardinals. "And I watched him grow as a player. His first spring with Andrew out, he wasn't really as accurate as he needed to be. He and [Colts quarterbacks coach] Clyde Christensen worked hours on footwork, mechanics and he got really, really accurate.
"But you saw him grow and how much growth was still there, but the preparation was meticulous."
Stanton followed Arians to Arizona, signing on March 13, 2013. Almost immediately after, Arians told him another quarterback would likely be signed and even gave him the names he'd be hearing -- coincidentally enough, Palmer wasn't on the list.
At that point, Stanton had played seven seasons and been passed over for four starting roles.
"Drew may not have been able to do that if he didn't go through all the junk he went through," Orlovsky said. "Who would be able to handle all that stuff if they weren't mature and hardened and not taking things for granted?"
Twenty months later, due to an injury, Stanton has proved his ability as a starting quarterback. He waited 1,365 days between game action before his start in Week 2. Since then, he's gone 3-1 as a starter this season with six games left.
"There's no written rule on how you become a starter in this league," Stanton said. "Everybody finds their own path if they get it. Some guys don't get it. I'm going to take all of my opportunities as they come and count my blessings."