April, 19, 2014
Apr 19
4:00
PM ET
Welcome to
#CardsMailbag
, a weekly installment that allows you to ask Josh Weinfuss questions throughout the week via Twitter
@joshweinfuss
. He'll answer them every week during the offseason. Make sure to use the hash tag:
#CardsMailbag
April, 18, 2014
Apr 18
5:35
PM ET
Former
Arizona Cardinals
offensive lineman
Mike Gibson
might not have a home for the 2014 season, but his work off the field is still being recognized.
Gibson was named a candidate for the Leukemia & Lymphoma Society's Man of the Year award because of his work with his godson, Jared McDaniel, a 4-year-old who was diagnosed with acute lymphoblastic leukemia at age 2. McDaniel was recently named the Leukemia & Lymphoma Society's Boy of the Year, giving him and Gibson the opportunity for the sweep.
In order to be named Man of the Year, Gibson has to raise the most funds from April 10 to June 19 in support of blood cancer research and cures.
April, 17, 2014
Apr 17
4:30
PM ET
As I went through the
most recent rendition

of ESPN NFL Draft Insider Mel Kiper Jr.'s mock draft, I began to think about Arizona's relationship with quarterbacks in the first round of the draft.
And after I began researching it, I noticed the two don't get along in the long-term.
Kiper has the Cardinals selecting Fresno State quarterback
Derek Carr
at 20th in the first round. It's unlikely – alright, very unlikely – that the Cardinals pick a signal-caller that early. If it happens, however, it'll be the first time since Arizona picked
Matt Leinart
10th in 2006 that the Cardinals went with a quarterback in the first round.
We all know how that turned out.
Leinart assumed the starting role in Week 5 and led the Cardinals for 11 weeks before he suffered a sprained left shoulder in Week 16. He was replaced for the season finale by Kurt Warner. In his rookie season, Leinart threw for 2,547 yards, 12 interceptions and 11 touchdowns but his career would never reach the same heights. During the next three seasons with the Cardinals, Leinart started just six games while watching Warner go through a career resurgence, leading Arizona to the Super Bowl in the process.
Besides Leinart, the Cardinals have picked six quarterbacks in the first round since 1954: Kelly Stouffer sixth overall in 1987, Steve Pisarkiewicz (19th) in 1977, Joe Namath (12th) in 1965, George Izo (2nd) in 1960, King Hill (bonus) in 1958 and Lamar McHan (1st) in 1954.
Stouffer, now an ESPN college football analyst, never played for the then-St. Louis Cardinals after holding out during the 1987 season over failed contract negotiations and was traded to the
Seattle Seahawks
in 1988.
Pisarkiewicz spent two seasons with the Cardinals, playing just nine games while starting four of them. He totaled 804 yards and three touchdowns with the Cards before finishing his career with the
Green Bay Packers
in 1980.
Namath was drafted by two teams in 1965 – the Cardinals of the NFL and first overall by the
New York Jets
of the AFL. He chose to head to the Big Apple, never donning a Cardinals uniform, and the rest, as they say, is history.
Izo was in the same boat as Namath -- he was even drafted by the New York Titans before they became the Jets -- but chose to play in the established league rather than the upstart AFL. He played in two games for the Cardinals, starting one of them, before re-injuring his knee. He missed the rest of the season and was traded the next season to Washington.
Hill spent three seasons with the Cardinals – two in Chicago and one in St. Louis. In 1959, his seasons, he started 11 of 12 games for the Cardinals, throwing 1,015 yards and seven touchdowns against 13 interceptions. He started just one game in 1960 before going on to play in Philadelphia.
McHan has been the longest tenured quarterback drafted in the first round by the Cardinals franchise. In five seasons -- 1954-1958 -- he started 50 of 60 games and threw for 6,578 yards, 50 touchdowns and 77 interceptions.
History doesn't lie. A quarterback drafted in the first round by the Cardinals doesn't have a likelihood of succeeding.
April, 17, 2014
Apr 17
12:15
PM ET
With every mock draft, the needs for the
Arizona Cardinals
appear to be changing.
In his
Mock 4.0
,

ESPN Draft Insider Mel Kiper throws a curveball -- he has the Cardinals preparing for the future at 20th in May's NFL draft.
To continue reading this article you must be an Insider
April, 16, 2014
Apr 16
9:30
PM ET
Of the 16 free agents that left the
Arizona Cardinals
this offseason, almost half have landed on their feet.
Seven of them signed with new teams while one, running back
Rashard Mendenhall
, retired. The other eight are either still waiting for a call from another team or just awaiting the right call.
Two of those still waiting are guard
Daryn Colledge
and right tackle
Eric Winston
, both starters on Arizona's 2013 offensive line.
Colledge said Wednesday that he's not close to signing and hasn't taken any visits lately. If something happens, he expects it to take place after the draft.
Winston is in the same boat. Last season, Winston didn't sign with the Cardinals until the first day of training camp but if someone comes calling before July, it'll likely happen after May's draft.
Here's a list of where Arizona's free agents have landed:
Javier Arenas
, CB -- Atlanta
Jasper Brinkley
, LB -- Minnesota
Antoine Cason
, CB -- Carolina
Karlos Dansby
, LB -- Cleveland
Jim Dray
, TE -- Cleveland
Andre Roberts
, WR -- Washington
Dontay Moch
, LB -- Cincinnati
Still unsigned:
Yeremiah Bell
, SS
Daryn College, G
Mike Gibston, T
Jeff King, TE
Alfonso Smith
, RB
Kory Sperry
, TE
Ronald Talley
, TE
Eric Winston, T
April, 15, 2014
Apr 15
12:50
PM ET
Cheap or frugal? That is the question.
In a recent
ESPN The Magazine/Sportingintelligence Global Salary Survey
, the
Arizona Cardinals
ranked last among NFL team in average annual salary, shelling out $1,123,249 per player in 2013.
Compared to 294 teams across various sports in 13 other leagues from across the world, the Cardinals are ranked 187th in average annual pay, down from their ranking of 159th last year.
The Cardinals' payments from 2012 to 2013 are down 40.6 percent and their total bill wage was $59,532,174. But when it comes to long-term earnings by Cardinals players, their five-year average earning was $9.46 million, ranked 133
rd
.
So, what does this mean? Do the Cardinals not like to open their wallet? Or are they smart with how they spend their money?
After last season, it's safe to say the Cards are spending more wisely.
General manager Steve Keim understands the value of the dollar better than his predecessor and he knows how to make contracts work in the Cardinals' favor. Too many teams in the NFL overspend on talent that never reaches its full potential or expectations.
Take this offseason for example. The Cardinals' only major investment came in left tackle
Jared Veldheer
, who signed a five-year contract worth $35 million because his job comes at a premium in the NFL. Arizona's other high-profile signings,
Ted Ginn
and
Antonio Cromartie
, will make an average of $3.75 million and $3.5 million per year, respectively. But those numbers are offset by the Cardinals' desire to play young players. Besides
Ryan Williams
, none of the Cards' running backs make more than $795,000.
Their starter,
Andre Ellington
, will make $495,000 in 2014.
Keim knows how to get the most for the least amount of money. Arizona doesn't need to be among the biggest spenders in the league. The Cardinals went 10-6 last season and barely missed the playoffs by spending an average of $1.1 million on their players.
Keim's philosophy is changing the organization one dollar at a time.
April, 15, 2014
Apr 15
8:00
AM ET
The first month of free agency has passed and the numbers show who has been busy since March 11.
According to ESPN Stats & Information, the
Seattle Seahawks
have $15.8 million left in cap space -- that's more than $10 million more than the next most cap space in the NFC West, which belongs to the St. Louis Rams.
Here's a look at how the four teams stack up against the salary cap:
April, 14, 2014
Apr 14
10:20
AM ET
In the past 10 years, the football world has come to grips with the death of former Arizona Cardinals safety Pat Tillman while he was enlisted in the U.S. Army in Afghanistan.
But that doesn't mean all the questions surrounding his "friendly-fire" death have been answered.
Next week, ESPN will take another step in piecing together what happened on that fateful day, according to Sports Illustrated's Richard Deitsch. A decade to the day of Tillman's death, ESPN's "Outside the Lines" talks with former U.S. Army Ranger Specialist Steven Elliott, who was believed to be one of the shooters.
The interview will air from 8-9 p.m. ET April 22 (ESPN).
Included in the piece will be former quarterback Jake Plummer, who was Tillman's teammate with the Cardinals and at Arizona State University.
The story came together last November, according to Deitsch, after ESPN investigative reporter Mike Fish revived a quest to talk to the shooters involved in Tillman's death.
"Fish spoke with the four men believed to have fired on Tillman's position, as well as the driver of their vehicle," Deitsch said. "He spoke in some instances with relatives in hopes of convincing an individual to speak. He spoke with every shooter or relative multiple times, even through rejections.
"Finally, one agreed to talk."
Deitsch has more on the backstory of Fish's reporting
here
.
April, 12, 2014
Apr 12
12:00
PM ET
Welcome to
#CardsMailbag
, a weekly installment that allows you to ask Josh Weinfuss questions throughout the week via Twitter
@joshweinfuss
. He'll answer them every week during the offseason. Make sure to use the hash tag:
#CardsMailbag
April, 11, 2014
Apr 11
3:30
PM ET
The first month of free agency in 2013 was decidedly busier than the first month this year, but the
Arizona Cardinals
went more for quality over quantity in 2014.

Arians
Since March 11 the Cardinals have signed seven players, including three who are penciled in as starters:
Jared Veldheer
,
Ted Ginn
and
Antonio Cromartie
.
In the first month last season, Arizona went on a signing binge to restock a roster in the mold of then-recently hired coach Bruce Arians. They inked four full-time starters during the opening month, including
Carson Palmer
,
Rashard Mendenhall
,
Yeremiah Bell
and
Jerraud Powers
. During that haul, the Cardinals also signed
Lorenzo Alexander
, a starter until a Lisfranc injury sidelined him in Week 3, as well as his replacement,
Matt Shaughnessy
who started 12 games. Former linebacker
Jasper Brinkley
, who started three games in place of
Daryl Washington
, was also signed.
Last year's signings during the opening month of free agency helped fill out the roster. Despite the flurry of additions, Arizona went 10-6 and barely missed the playoffs. A lot of those signings also laid the foundation of this less aggressive, more pragmatic approach to 2014.
The Cardinals didn't need to fill a bevy of holes and were able to focus on their needs, hence just three major signings compared to the slew in 2013.
Each year provides a building block for the next and that's what the busy 2013 did for 2014.
Here's a list of new signings from the first month of free agency in 2013 and 2014.
2014:
LT Jared Veldheer, WR/KR Ted Ginn, CB Antonio Cromartie, RB
Jonathan Dwyer
, OL
Ted Larsen
, CB
Eddie Whitley
, CB
LeQuan Lewis
.
2013:
QB Carson Palmer (traded for), RB Rashard Mendenhall, QB Drew Standon, DE
Frostee Rucker
, CB
Antoine Cason
, DE Matt Shaughnessy, S Yeremiah Bell, CB Lorenzo Alexander, CG Jerraud Powers, G
Chilo Rachal
, P Will Batson, CB
Bryan McCann
, S
Curtis Taylor
, S
Jonathon Amaya
.
April, 11, 2014
Apr 11
1:00
PM ET
It has been a month since the frenzy started, but now there's a different kind of buzz surrounding the
Arizona Cardinals
.
Veldheer
Cromartie
Free agency began one month ago and with just a few select moves, the Cardinals have put themselves at the forefront of the conversation about contenders this coming season. The addition of left tackle
Jared Veldheer
was Arizona's prize piece of the 2014 class and he'll anchor an offensive line that continues to be rebuilt.
For the first time since Arizona drafted
Levi Brown
in 2007, the Cardinals have promise on the quarterback's blind side -- the only difference is that Veldheer is a proven commodity.
Compared to 2013, this free-agency haul was chosen to fill specific needs, where as last year the Cardinals were looking to quickly revamp a roster to fit then-newly hired Bruce Arians' style. After a surprising run last season to a 10-6 record and the brink of the playoffs, the Cardinals saw exactly where their deficiencies were and set out to address them.
Arizona signed seven players in the first month of free agency, but three will have instant and significant impacts on the field come September. Veldheer is one, as is Arizona's second major signing of the season, wide receiver and kick returner
Ted Ginn
.
Ginn was a two-for-one signing, replacing third receiver
Andre Roberts
and kick returner
Javier Arenas
. While Roberts is younger, Ginn may be more dangerous than both of those players. His return skills alone was worth his signing, but he's proven himself as a receiver throughout his career and won't have the pressure of being a primary option with
Larry Fitzgerald
and
Michael Floyd
ahead of him on the depth chart.
The last major piece of the first month of free agency was the surprise addition of cornerback
Antonio Cromartie
. He instantly supplanted
Jerraud Powers
as the starter across from
Patrick Peterson
, giving the Cardinals one of the most formidable secondaries in the NFL.
Arizona also added two quality backups in running back
Jonathan Dwyer
and offensive lineman
Ted Larsen
. Recently, the Cards signed cornerbacks
LeQuan Lewis
and
Eddie Whitley
to add competition to the cornerbacks room.
All told, Arizona's signings put them in the thick of the 2014 playoff race. Yes, it's April and yes, the NFL hasn't even begun to practice yet. But on paper, the Cardinals filled needs that could be the difference between the seventh spot and a wild-card berth -- or even an NFC West crown should the chips fall in the right places.
The Cardinals only have a couple of needs left to fill before training camp begins, but with the way general manager Steve Keim combs through the waiver wire and is dedicated in his draft evaluations, finding a safety and right tackle is inevitable.
Unlike last season, when after the first month of free agency, there were still a lot of question marks about how the roster was going to shape up, the sense around the Cardinals' 2014 edition is that free agency made Arizona better.
April, 11, 2014
Apr 11
11:00
AM ET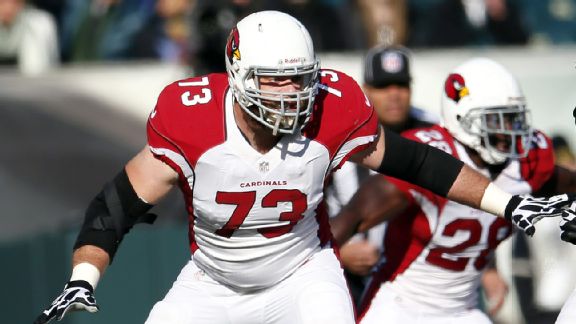 AP Photo/Damian StrohmeyerEric Winston becomes the president of the NFL Players Association during labor peace, but with plenty to resolve.
Four years ago, this would be a different conversation.
It would be about millionaires versus billionaires, about how one document will shape the course of professional football for the next decade and how
Eric Winston
would be the face of the future of the sport.
Fortunately for Winston, the former
Arizona Cardinals
right tackle who was recently elected president of the NFL Players Association, he doesn't have to worry about that. He doesn't have to worry about his constituents being locked out by the owners or sitting down at the negotiating table to hammer out a collective bargaining agreement. His two-year tenure begins amid labor peace, allowing Winston to spend most his time this offseason on specific issues that face the players and the game.
Timing is everything.
"Yes and no," Winston said. "I think in those negotiations, that's where you're going to accomplish a lot. I think that's where you're getting, whether it's benefits, whether it's salary, whether it's health and safety, all those are up for grabs at that point.
"With a lot of that stuff being settled I can focus in on some topics, and focus on and find out what's hurting our players today and what are the few things we can do right now that can improve the lives of all of our players. I think that's kind of my mission, so to speak."
Winston's mission, to serve as the collective voice of the players, came about with a simple question, he said: "Would you be interested in running?"
He was at the biannual NFLPA meetings when the question was posed. If he was nominated, Winston said, he'd run. It didn't take long for someone at the meetings to follow protocol. A speech later and Winston was the new face -- clean-shaven after a season of growing out a hockey playoff-like beard -- of the players' association.
"It happened fast, that's for sure," Winston said. "I'm happy it happened. I'm eager to try to make a difference."
[+] Enlarge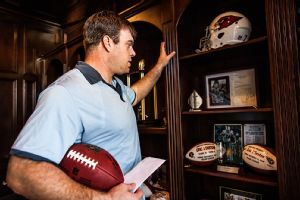 Michael Starghill, Jr. for ESPNEric Winston wants to "find out what's hurting our players today and what are the few things we can do right now that can improve the lives of all of our players. I think that's kind of my mission."
Whether he knows it or not, Winston has already made a difference. And it's built an air of confidence from his side of the table and the other.
Cardinals linebacker
Lorenzo Alexander
knew Winston but never spent much time around the hulking right tackle. After spending last season with him, Alexander, who has been an NFLPA player rep and was voted onto the current association's executive committee, believes the NFLPA has the right leader.
"He has great leadership qualities and I think a great grasp on the vision he has for the PA," Alexander said. "I think all those things really help him as far as moving forward and strengthening our union as a whole and the perception, I guess, internally and externally from the players."
The perception of Winston was built two years ago, when he was protecting
Matt Cassel
's strong side for the
Kansas City Chiefs
. Winston showed everyone -- thanks to countless replays -- that he's more than a big, burly blocker. After Cassel was knocked out of a game against Baltimore and booed by Chiefs fans, Winston verbalized his frustration with the fans and his disdain for their gesture. As Winston's voice rose, his passion for the sport filled the locker room.
Troy Vincent, recently appointed NFL executive vice president for football operations, is also a former NFLPA president. He thinks Winston's passion is only part of the reason he will succeed.
"That says a lot about who an individual is," Vincent said. "I think he's going to be a great leader.
"I know what it takes to be elected. That's not a given and I think he's going to be a fine leader. He's very thoughtful. I think Eric is also very reasonable. I think at that position it has to be balanced to get things done, where you're not always going to agree on everything but you've got to find a common ground that works for everybody and I think, with his experience, I think with his values, I think he's going to be a very good leader for the union."
Assuming the presidency at a time of labor peace gives Winston the opportunity to focus on the players. Winston can lean on the experience of eight NFL seasons of serving as part of three different organizations and apply it to make the difference he's seeking.
The question Winston has to answer first: Where to start?
His overarching goal is to improve the day-to-day lives of the nearly 2,000 players in the NFL, but to do that, Winston understands he has nearly 2,000 different sets of issues to tackle. Each player has his own concerns about the direction of the league and his own career, but Winston has narrowed his first set of priorities to three areas: health and safety, financial literacy and working conditions.
When it comes to health and safety, Winston, who's second among active tackles in consecutive games played and started, thinks looking toward the future can help players now. Continuing to invest in technology and research is a priority, Winston said, because it'll help the league and its players learn more about the health and safety issues that they face on a daily basis, namely head injuries.
[+] Enlarge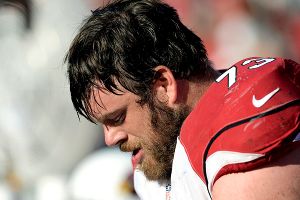 AP Photo/Greg TrottEric Winston has played eight NFL seasons with three different organizations.
"Doing that now is going to help the guys when they become former players and I think it's going to help the research side of it and it's going to help our former players now that have been suffering," Winston said.
Having watched thousands of players come and go during his career, Winston is also placing an emphasis on teaching players -- young and old -- the importance of taking care of their finances.
"Guys need to understand how to budget, guys need to understand what it means to have a mortgage, what it means to pay something like that, what does the typical cost of living [look like]?" Winston said. "It sounds clichéd but those checks are going to run out at some point. They're not always going to be there and what is really enough, so to speak, to retire on? And, in a way, [I want to] get that word 'retire' out of the lexicon. You play 10 years and you're 32. There's other things you could do, but it doesn't mean you shouldn't have a nest egg, you shouldn't have something you can fall back on if you can't play that long."
Winston also wants to address workplace conditions, especially when it comes to the locker rooms.
A year ago at this time, Tampa Bay's locker room hadn't been infected by the MRSA outbreak, which occurred in October, nor had the situation in Miami involving
Richie Incognito
and
Jonathan Martin
been exposed. Both will help shape the way Winston approaches changes in the locker rooms, albeit in extremely different ways.
"Working conditions are something that's going to be coming up, and we have to do something," Winston said. "I think there needs to be some standardization throughout the NFL and of course, you never know what's going to happen around the corner."
When it comes to approaching the locker room culture, which has come under siege since the reports of bullying in the Dolphins' organization were revealed in November, Winston believes his experience in the league is a bonus. But he's careful to warn that what happened in Miami isn't permeating through the NFL.
"I always think you're going to have something that's out of your control," Winston said. "You're always going to have a 'bad apple,' something that just happens. For whatever reason it happens and obviously it needs to be fixed.
"It's a challenge for all of us," Winston added. "We're professionals now. We got to act professionally. We can't be doing immature things."
Vincent wants to make sure he and Winston work together to "preserve our game."
"Have we forgotten the art of sportsmanship?" Vincent asked.
Vincent foresees working together to educate "all audiences" on eliminating facets of the game that either lead to injury or cast a negative light on the league, such as "harmful" plays.
Another one of Winston's priorities is curbing fines, an interesting dynamic since Vincent is the man responsible for assigning the fines. Winston would like to see fines eliminated for first-time incidental offenses. He thinks they should be levied for a second or third offense.
[+] Enlarge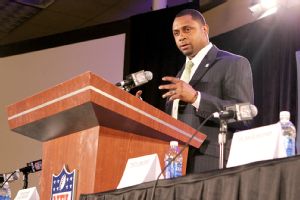 AP Photo/Doug Benc"When you watch him, when you look at his demeanor, you see how he answers questions, he's very thoughtful," NFL Executive Vice President for Football Operations Troy Vincent said of Eric Winston. "Frankly, I think he's going to do a phenomenal job."
"I know plenty of guys that whether you fine them $5,000 or $15,000, it's the same to him," Winston said. "They get it. I don't think we have to fine guys an extraordinary amount to get their attention.
"They understand the value of money and what it means to them. To get the fines going up at a rate, it doesn't make sense. It seems much more punitive more than sending a message."
Winston will also help usher in a new era for the NFL when it welcomes its first openly gay player; Missouri's
Michael Sam
is expected to be drafted in May. The league, Winston said, is more ready than it gets credit for, mainly because this generation of players -- even on the older side -- is more accepting than previous generations.
One issue Winston said the players won't accept, though, is an 18-game schedule.
"I just don't see how that would ever make sense for us," Winston said.
"I don't think there's a need for it. I don't think there's a want for it. There's not a lot of scenarios that I'd say, 18 games in that context make sense. I just don't understand why that would make sense for our players and our guys."
While it's still early, there's an outside chance Winston may not play in any of the 16 games next season. He's been a free agent since March 11. But he's not fretting. Last season, Winston didn't sign with the Cardinals until the first day of training camp.
If Winston isn't signed for the 2014 season, he'll still hold onto his role as president. He'll just have more time on his hands to advocate for the players. Vincent would know. He was the NFLPA president for a year after retiring following the 2006 season and spent it crisscrossing the country, meeting with players, listening to their issues and helping them when called upon. Winston is ready for the responsibility if his career should go that way, but he'd rather be on the field.
Winston admits he has plenty to learn. He's served on NFLPA committees and understands the politics and policies, but has never held a role comparable to this.
Even though Vincent has crossed over to the league, he still offered a piece of advice to Winston: Listen. Vincent told him he doesn't need to have every answer, but he needs to be a great listener.
The more he listens, the more Winston will learn about his constituents. And the better president he'll become.
"You got to have balance," Vincent said. "There's a reason you have to be able to make sure that you're hearing all arguments, all positions, all opinions and then be able to come back to your group and properly inform the player on what is taking place and what has happened. That itself is one of the responsibilities for that position.
"When you watch him, when you look at his demeanor, you see how he answers questions, he's very thoughtful. He's not jumping out there. Frankly, I think he's going to do a phenomenal job as a leader."
April, 10, 2014
Apr 10
12:15
PM ET
As good as the
Arizona Cardinals
defense was in 2013, there are ways to make it better.
Arizona picks 20th in the first round of May's NFL draft, leaving them with plenty of options to fill positions of need -- a tackle or safety, for example -- or address areas where it wants to improve.
In ESPN Draft Insider
Todd McShay's fourth mock draft
,

he has the Cardinals addressing one of their biggest needs in the first round and a potential future need in the second.
To continue reading this article you must be an Insider