October, 20, 2014
Oct 20
8:00
AM ET
BALTIMORE --
Jonathan Massaquoi
obviously didn't want to make too big a deal out of his performance on Sunday considering his
Atlanta Falcons
lost to the Ravens, 29-7.
Massaquoi
But there was no denying the significant contribution Massaquoi made in defeat. The outside linebacker/defensive end was as active as he has been all season, finishing with six tackles, a tackle for a loss, and two quarterback hits while also drawing a couple of holding calls. He was able to build on the momentum he gained during last week's loss against the
Chicago Bears
.
So what has been the spark behind Massaquoi's inspired play?
"I ain't doing nothing better. It's just all mental," Massaquoi said. "Ain't nothing changed. It's a mental game. Once you have the mental part of it, everything else, physically, is God-given. You have to come to peace with everything.
"You can't really ask me that question when I've only been given so many reps throughout the season. Things are starting to change. Hey, that allows you to change mentally as a person and feel comfortable. You know what I mean?"
Massaquoi played 51 of 67 defensive snaps against the Ravens for 76 percent participation. His previous high percentage was against the Bears, when he played 59 percent (43 of 73).
"Jonathan Massaquoi put some pressure on the quarterback; got a couple of holding calls," Falcons coach Mike Smith said. "I still felt like we left some sacks out there. ... But I did think that Jonathan Massaquoi did some good things."
Although his pressure was consistent Sunday, Massaquoi did not record a sack. And it bothered him.
"That's what gets you even more hungry to go out and work hard every week, because you were just that close," said Massaquoi, who leads the team with two sacks. "I've got to get better this week."
October, 19, 2014
Oct 19
10:00
PM ET
BALTIMORE --
Atlanta Falcons
center
Peter Konz
suffered what one source called a "bad" knee injury, meaning the team will have to prepare to move forward with undrafted rookie
James Stone
at the position.
Stone
Konz was injured in the first half of Sunday's
29-7
loss to the
Baltimore Ravens
. He was carted off the field and exited the stadium after the game on crutches. The source said Konz would not make the trip to London for the Falcons' matchup with the
Detroit Lions
.
ESPN Insider Adam Caplan confirmed Konz is scheduled to undergo an MRI on the knee. The worst-case scenario would be a torn ACL, while the best case would be a sprain.
Since the Falcons previously lost starting center
Joe Hawley
to a torn ACL, they'll have to rely on Stone, at least immediately.
Harland Gunn
would be the backup center.
Stone actually played better than expected Sunday in his first extensive action. Offensive line coach Mike Tice has liked Stone's size, quickness, and explosiveness from the outset.
"That's what we're here for is to be the next man up," Stone said. "If somebody goes down, you have to step in and try to keep going at the same level of intensity.
"I feel like there's definitely going to be some things that I have to do better; just being on the same page with the guys and making sure that everybody is on the same page. I'm going to go watch the film. There's definitely going to be some stuff that I can learn from and get better from."
If Konz is lost for the season, he would join
Sam Baker
(knee),
Mike Johnson
(foot),
Lamar Holmes
(foot), and Hawley (ACL) as offensive linemen on injured reserve.
October, 19, 2014
Oct 19
7:40
PM ET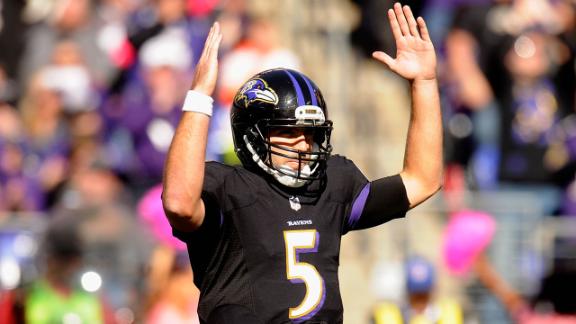 OWINGS MILLS, Md. -- A while back, wide receiver
Roddy White
said he believed his
Atlanta Falcons
had enough firepower to average 30 points per game.
White should have put this disclaimer on his statement: Only if
Matt Ryan
has adequate time to throw and get the offense into a rhythm.
Such was far from the case Sunday during the Falcons' 29-7 loss to the
Baltimore Ravens
. This Falcons' high-octane offense looked rather pedestrian in scoring 20 points less than their season average. Ryan, who completed 29 of 44 passes for season-low 228 yards and a score, was sacked a season-high five times and was hit nine times. The Falcons were just 4-for-15 on third down. And the third-ranked offense in the league set a season-low with 254 yards.
"We've got to play ahead of the sticks, and we're not doing that right now," said White, who has nine catches for a season-high 100 yards in defeat. "It's frustrating because we're going out there and we're digging holes and we're basically putting ourselves in them. We aren't getting out of them. It's hurting our defense. It's hurting our team.
[+] Enlarge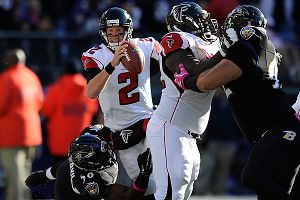 AP Photo/Gail BurtonThe Falcons struggled to protect QB Matt Ryan, who was sacked a season-high five times.
"Right now, we're just not that good on offense."
The line took its share of the blame for the woes. Losing center
Peter Konz
was far from the main reason for the protection issues.
"We didn't give Matt enough of a chance to make things happen down the field," guard
Justin Blalock
said. "[The Ravens] played well. They played very, very well. They got after us, were able to exploit some things in protection. And obviously, they are very good players on top of that. They came out and played their asses off today."
The Falcons sit at 2-5 and have lost four in a row as they prepare for a weeklong stay in London for next Sunday's matchup with the Lions. Any hope of ending the losing skid depends on fixing the sudden issues on offense, particularly if the struggling defense shows the type of improvement it did Sunday.
Ryan really had no chance against the Ravens' strong defensive front that swarmed from all directions.
"When you go out there and get beat soundly, I think everybody knows we've got to play better across the board," Ryan said. "We've all played football for long enough to know when you're getting your butt kicked, you've got to do something different and something better.
"I think across the board -- offense, offensive line, running backs, tight ends, wide receivers -- we've got to do this together. We've got to become better today. Hopefully, we're able to find a way to get that done this week."
Twice in the third quarter, the Falcons failed on fourth-down plays as they trailed 20-0. One was a fourth-and-7 play from the Ravens' 37-yard line, which resulted in Ryan getting sacked for a 12-yard loss. The other was a fourth-and-1 play on the very next drive, when Ryan threw a short pass to
Devonta Freeman
, who was thrown down for no gain.
"The first fourth down that we had, we had a little drive going and it was right out of the half," White said. "I felt like if we would have got that and could have just gone down and scored a touchdown, we would have been A-OK.
"It's frustrating, especially when your coach is pushing the pedal to the metal. [Coach Mike Smith] is giving us an opportunity on offense, going for it on fourth down instead of kicking field goals. He's giving us chances that we have to go out there and execute. That's not on the head coach. That's not on the coaching staff. That's on the players."
The season continues to look like a lost one as the Falcons play their next three games away from the Georgia Dome. They haven't won a road game since Week 13 of last season against Buffalo in Toronto. The only thing working in their favor is a weak NFC South, with none of the four teams above .500.
"It's tough, but nothing is impossible," receiver
Julio Jones
said. "We just have to keep fighting. We can turn this thing around if we get going. We can be 11-5, you know that though? We can be 11-5."
October, 19, 2014
Oct 19
7:32
PM ET
October, 19, 2014
Oct 19
5:45
PM ET
BALTIMORE -- Observed and heard in the
Atlanta Falcons
' locker room following Sunday's 29-7 loss to the
Baltimore Ravens
:
Konz

Center Peter Konz stood on crutches in the middle of the locker room after suffering a first-half knee injury. Although Konz smiled as he talked to his teammates, the crutches could be a bad omen. The last two offensive linemen to exit the locker room on crutches after a game were Joe Hawley (knee) and Lamar Holmes (foot). Both Hawley and Holmes were placed on season-ending injured reserve. Coach Mike Smith did not provide an update on Konz's status and wouldn't say if Konz will travel to London.


Falcons cornerback Josh Wilson, a onetime Raven, took exception with Baltimore going for it on fourth-and-9 and scoring a 39-yard touchdown on Joe Flacco's pass to Torrey Smith. The play occurred with 1:54 left in regulation and the Ravens leading 22-7. "I don't think that's the way you should do things, but they can do whatever they want to do," Wilson said. "I just don't think that's the way you should do things." Ravens coach John Harbaugh explained that he didn't have a long-snapper and that kicking would have been a risk. Harbaugh went on to say the Falcons still had a chance in the game.


Cornerback Robert Alford shook off an early, costly pass interference penalty to come up with his first two interceptions of the season. "It was a just a good call by my defensive coordinator [Mike Nolan] and great pressure by my defensive line," Alford said. "I give all them the praise." Alford was in coverage on Torrey Smith for the controversial 39-yard touchdown near the end of the game.
October, 19, 2014
Oct 19
4:10
PM ET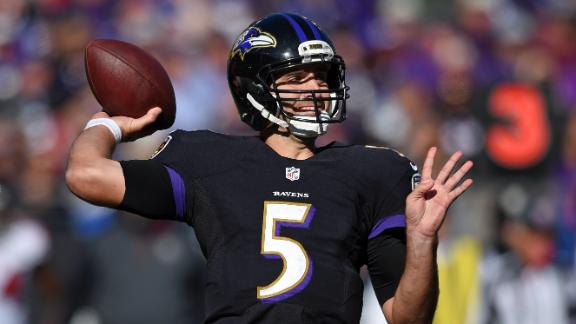 BALTIMORE -- A few thoughts on the
Atlanta Falcons
' 29-7
loss
to the
Baltimore Ravens
at M&T Bank Stadium.
What it means:
Talk of wholesale changes is sure to intensify after the 2-5 Falcons dropped their fourth straight and remained winless on the road in four attempts. The sense of urgency was evident on the defensive side of the ball, but not on offense. And the offense -- which entered the game ranked third in yards per game and was tied for fifth in points per game -- was supposed to carry the Falcons this season. That's hard to do when you start the game 0-for-7 on third down. Defensive coordinator Mike Nolan has taken a lot of heat, and now offensive coordinator Dirk Koetter might have to feel some of the same. But in all fairness to Koetter, quarterback
Matt Ryan
has to be protected better for everything to work. Mike Smith has to be worried about his future, if he wasn't already.
Stock watch:
It's difficult to pick one reason why Ryan was pummeled all day, but right tackle
Gabe Carimi
took a significant step backward. He watched
Elvis Dumervil
blow past him for one sack. And Carimi simply didn't show the same fight he had in previous games. It wasn't as if Carimi wore down as the game went along. He didn't get off to a good start, just like the rest of the offense.
Injury update:
Center
Peter Konz
was carted off the field with a knee injury and never returned. Konz became the starter after
Joe Hawley
suffered a season-ending knee injury. When Konz exited, the Falcons had to turn to
James Stone
, an undrafted rookie from Tennessee. Offensive line coach Mike Tice has tried to piece together the line all season. The Falcons lost left tackle
Sam Baker
in the preseason and had to move rookie
Jake Matthews
from right to left.
Mike Johnson
went on injured reserve with a Lisfranc injury. Then Hawley and right tackle
Lamar Holmes
(foot) were placed on IR. Not to mention Matthews has been battling through an ankle injury. Kind of hard to hold a line together with duct tape.
Game ball:
Although there wasn't much to be excited about as a whole for the Falcons, outside linebacker/defensive end
Jonathan Massaquoi
built off a strong Week 6 showing against the
Chicago Bears
. He put a lot of pressure on Ravens quarterback
Joe Flacco
and got at least one tackle for loss. Massaquoi deserves more playing time, especially if he continues to play with a purpose.
What's next:
The Falcons have a seven-hour flight ahead as they are set to arrive in London for their matchup with the
Detroit Lions
(5-2). The big question might be if the Falcons will have to face the league's top receiver,
Calvin Johnson
, who didn't play against the Saints on Sunday due to a sprained ankle.
October, 18, 2014
Oct 18
2:00
PM ET
Here are a few things to watch for as the 2-4
Atlanta Falcons
try to break a three-game losing streak against the 4-2
Baltimore Ravens
:
White

Julio Jones, Roddy White, and Levine Toilolo took full responsibility for their drops in last week's loss to the Chicago Bears. Jones is going to be dynamic despite a few hiccups here and there. Toilolo has to take better advantage of his limited opportunities. The bulk of the pressure is on White, who has three drops in 39 targets this season. His 7.7 percent drop percentage is tied for the fourth most in the league among wide receivers. It's no wonder White spent some extra time with quarterback Matt Ryan following Friday's practice, obviously trying to re-establish a rhythm. If White is healthy now, as the injury report would reflect, the Falcons need him to show he has plenty left in the tank. He knows he has let his team down to start the season.

Suggs

Of course, getting the ball to White, Jones, or Devin Hester will be a tall task if Ryan is pressured in the same manner he was in the last game. The circumstances, with the Chicago Bears holding a lead and being able to focus on getting after Ryan, contributed to the meltdown. Getting off to fast start this week will depend on the Falcons being able to keep the pressure from Terrell Suggs and company off Ryan. Suggs rushes from both sides, meaning both left tackle Jake Matthews and right tackle Gabe Carimi have to be prepared for his speed and power. Suggs no doubt is aware of the ankle issues hampering Matthews' play, so expect Suggs to attack. The Ravens send pressure from all different directions, so the Falcons probably will need their running backs and tight ends to help the tackles. And Peter Konz and Justin Blalock have to be aware of nose tackle Haloti Ngata's pass-rush skills. Ngata knocked Tampa Bay's center and left guard both to the ground rushing on a third-down play last week.

Massaquoi

Speaking of pressure, the Falcons defense might have a favorable matchup this week. Really. The Ravens are set to start unproven rookie James Hurst at left tackle again because of an injury to Eugene Monroe. Hurst and second-year right tackle Rick Wagner are nothing special, so Falcons defensive coordinator Mike Nolan has to come with an aggressive game plan that will put stress on both of them, if possible. But we all know the Falcons -- tied for 27th in the league with just six sacks -- have failed miserably with their pressure, although Jonathan Massaquoi showed some tremendous progress the last time out. If the Falcons don't get a decent rush going, it will be another week of the defensive backs trying to cover forever -- this time against Steve Smith and Torrey Smith, who have a combined seven touchdowns. And the defense already will have a tough enough challenge shutting down a surprisingly potent Ray Rice-less rushing attack, led by speedy Justin Forsett and his 6.4 yards per carry.
October, 18, 2014
Oct 18
10:00
AM ET
On Saturdays during the regular season, we will spotlight a member of the Atlanta Falcons' special teams. This week, it's rookie defensive lineman Ra'Shede Hageman, who recently carved out his own niche on one particular phase of special teams.
Hageman came to the Falcons as an anxious, second-round draft pick eager to make an immediate impact along the defensive line.
Hageman
Six games into his career, Hageman has learned to accept whatever role the coaches ask of him, even if that means playing special teams.
"When you get hired, you obviously have to put in work to make a name for yourself," Hageman said. "You've got to start from the bottom. The majority of all the rookies play special teams. It's whatever I can do to help the team."
The 6-foot-6-inch, 318-pound Hageman actually earned some notice during last week's 27-13 loss to the
Chicago Bears
when he blocked an extra point. The coaches previously mentioned how Hageman's frame and athletic ability make him ideal for blocking field goals or extra-point attempts.
"It was just practice, man," Hageman said of the block against the Bears. "During the week, it was having a good game plan and just listening to coach (Keith) Armstrong about what would be the right time to do that. At the end of the day, I just stuck to my technique. ... It's just about pad level, staying low, and keep driving your legs, because you're obviously trying to push the other guy backwards in order to block that kick."
Hageman has done it before. Back in college at Minnesota, he recalled blocking at least three kicks. Last August against UNLV, Hageman blocked a 37-yard field goal attempt. Teammate Martez Shabazz gathered the loose ball and returned in 51 yards for a score in a 51-23 win by the Gophers.
"That's probably my most memorable field-goal block," Hageman said.
He hopes to get a few more moving forward as he aims to make even more of an impression on the coaching staff. Although field-goal block is his primary role on special teams, he was part of the kickoff coverage during his Week 4 homecoming game against the
Minnesota Vikings
.
"It was new to me, but at the end of the day you've just got to run full speed and try to knock somebody over," Hageman said. "I was with a lot of skill players, so I definitely had to be conscious of how I was running, because I didn't know if I had to break down or follow them. I made about two good plays."
Maybe that will translate to a few more plays on defense, period.
October, 17, 2014
Oct 17
1:05
PM ET
FLOWERY BRANCH, Ga. --
Atlanta Falcons
receiver
Harry Douglas
was ruled out of Sunday's game at Baltimore as he continues to recover from a deep bruise in his left foot.
Douglas suffered the injury in a Week 3 win over Tampa Bay and now will miss his fourth consecutive game. He was on the practice field again Friday simply catching passes without a helmet, a hint that he might be closer to a return.
The rest of the players on the injury report are probable for Sunday's game: WR
Julio Jones
(ankle), WR
Devin Hester
(hamstring), LG
Justin Blalock
(back), DT
Jonathan Babineaux
(knee), linebacker
Prince Shembo
(knee), and linebacker
Nate Stupar
(knee).
Shembo, who took over the starting role at one inside linebacker spot, is unlikely to be back in the starting lineup due to his injury.
Joplo Bartu
is expected to start for the second straight game after losing his spot to Shembo in Week 4.
October, 17, 2014
Oct 17
1:00
PM ET
The Falcons have lost all three road games this season by double digits, with an average margin of defeat at 12.3 points. Such won't bode well for them as they prepare for yet another road contest in Baltimore.
In those three roads losses, the Falcons have scored just 19.3 points per game as opposed to 35.3 points per game in three homes games.
Matt Ryan
and the passing attack averages just 269 yards per game on the road as opposed to 344.7 passing yards at home.
And now the Falcons will face a Ravens team that surrenders just 16.2 points per game, which is the third-best scoring defense in the league.
Throw in the fact that the Ravens have won five straight games against NFC South opponents and things just don't look good for the Falcons in terms of ending their current three-game overall losing streak.
Ravens 20, Falcons 17
October, 17, 2014
Oct 17
10:00
AM ET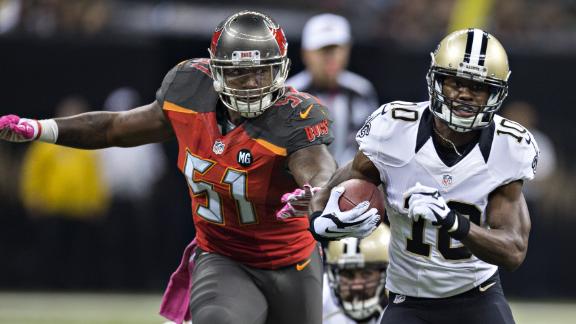 The NFC South is the worst defensive division in the NFL -- and the metrics tell us it's not even close.
Based on statistical analysis of 10 years of NFL play-by-play data, "expected points" is how many net points the team with the ball at the start of each play is expected to score. The value accounts for factors including down, distance to go, field position, home/away status and time remaining. Offensive and defensive expected points added (EPA) give us the total impact of each play on each team's chances of scoring.
Allowing the offense to convert on third-and-12? Not very good for defensive EPA. Intercepting a pass in the end zone? Much better.
So what does the metric tell us about the NFC South? Through six weeks, the division has four of the five worst defenses in the NFL. NFC South defenses have cost their teams 224.9 expected points, more than twice as many expected points as the AFC South (101.8), the next-closest division.
ESPN Stats & Information pinpointed primary problem areas for each NFC South defense. What solutions, if any, exist? We asked the NFL Nation reporters who cover the division:
The Buccaneers can't stop deep passes.
The issue
: Tampa Bay is allowing a staggeringly high 60.7 completion percentage on throws at least 20 yards downfield. This is the worst in the league and would easily be the worst over a full season in ESPN Stats & Info's data set (since 2006). The next-closest team over a full season is the 2010 49ers (53.1 percent).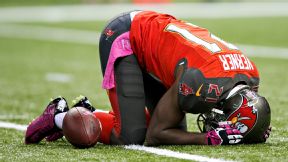 The solution
: The easy target is the secondary, and it should be. The Bucs have a lot invested in the defensive backfield with high-round picks
Mark Barron
and
Johnthan Banks
and high-priced free agents
Alterraun Verner
and
Dashon Goldson
.
All four have struggled, but it's not necessarily all their fault. This talented group has been hung out in coverage for too long and that's not a healthy situation. The talent is there, but this unit needs more help from elsewhere.
The pass rush, which is supposed to be a strength in a Lovie Smith defense, has floundered. The Bucs have only nine sacks and five of those came in a single game against Pittsburgh. There's talent up front with
Gerald McCoy
and
Michael Johnson
, but they're not generating enough pressure to slow passing games. The pass rush has to get much better for this defense to have a chance to succeed.
-- ESPN Buccaneers reporter Pat Yasinskas
---
The Panthers can't stop the run.
The issue
: No team since the merger (1970) has allowed more yards per rush over a full season than Carolina's 5.5 yards per rush allowed. Tackling has been a significant issue. Carolina is allowing 2.4 yards after contact per rush, which would be the worst of any team in the last five years and worst in the league by far (Rams are second-worst at 2.1).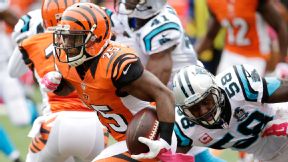 The solution
: Gap control. It's pretty basic: Players aren't sticking to their assignments and are out of position to make tackles. Coach Ron Rivera blames this on players trying to do too much. The loss of Pro Bowl defensive end
Greg Hardy
, who is on the commissioner's exempt list, has to be a factor. Hardy was one of the best on the team at stopping the run as well as rushing the quarterback.
Rivera said gap control was outstanding against Cincinnati on Sunday, other than the 89-yard run. Take away that run and a 20-yard scramble by quarterback
Andy Dalton
and the Bengals rushed for only 84 yards.
But that long run by
Giovani Bernard
is the perfect example of why the defense is being gashed. Defensive end
Charles Johnson
was out of position at the point of contact and linebacker
Thomas Davis
then missed the tackle. One of the best tackling teams in the league a year ago has become somewhat average.
-- ESPN Panthers reporter David Newton
---
The Falcons can't pressure anyone.
The issue
: Atlanta has controlled the line of scrimmage on 44.8 percent of dropbacks, worst in the league. Atlanta has pressured opposing quarterbacks on 19.5 percent of dropbacks, one of four teams under 20 percent. The Falcons average 1.2 sacks per game (seven sacks this season), ranking 29th in the league.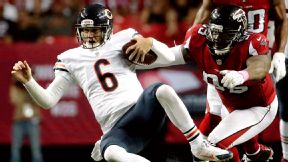 The solution
: The solution would have been to target a pass-rusher in free agency or the draft, which is something the Falcons neglected to do. Watching Chicago's
Willie Young
and
Jared Allen
get after
Matt Ryan
last week made you wonder why the Falcons didn't make a run at one of those two during free agency.
Atlanta figured being stouter up front against the run with the additions of defensive tackles
Tyson Jackson
and
Paul Soliai
, and the multiplicity of playing both 3-4 and 4-3 schemes, would resolve matters. Instead, the Falcons find themselves in a bigger hole as one of the league's worst defenses.
Personnel-wise, defensive coordinator Mike Nolan only has so much to work with. He could be more aggressive with his blitz packages, but that's easier said than done. For now, Nolan has to hope that a player such as
Jonathan Massaquoi
builds off last week, when Massaquoi notched a sack and had two quarterback hits. Veterans
Jonathan Babineaux
and
Corey Peters
also provided some flashes of solid pressure and need to build off their performances. It's hard to see anyone else really emerging as a pass-rusher.
-- ESPN Falcons reporter Vaughn McClure
---
The Saints can't make any impact plays.
The issue
: New Orleans has two takeaways this season, lowest in the league. The Saints have six sacks and 23 disrupted dropbacks (sacks plus interceptions plus pass breakups); only the Raiders and Rams have fewer in each. The lack of takeaways is a major contributing factor to the 78.2 QBR allowed by the Saints, 28th in the league. Four of the five QBs who had at least 20 action plays against the Saints beat their season QBR. (Brian Hoyer "only" had a 67.9.)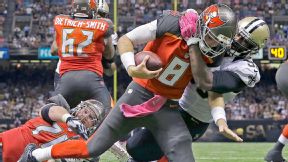 The solution
: It's difficult to pinpoint the primary reason for the Saints' lack of big plays on defense since they've had so many different issues (missed tackles in Week 1, blown coverage assignments in Week 2, poor run defense in Week 4).
But the area that's been the biggest surprise -- and remains the best hope for improvement -- is the lack of pass rush. The secret to the Saints' success on defense last year was being able to consistently generate pressure with just a four-man rush, led by Pro Bowl end
Cameron Jordan
, outside linebacker
Junior Galette
and end/tackle
Akiem Hicks
.
Perhaps offenses have done a better job of game-planning against them with quick throws and double teams. But the Saints simply need to win more battles up front. They showed signs of life with a dominant fourth quarter in their Week 5 come-from-behind win over Tampa Bay, led by Galette's sack for a safety. That needs to be the start of more to come.
-- ESPN Saints reporter Mike Triplett
October, 17, 2014
Oct 17
8:25
AM ET
FLOWERY BRANCH, Ga. --
Atlanta Falcons
running back
Steven Jackson
would take a win over any individual accomplishment, but he is mindful of new milestones.
With Jackson just 56 yards away from 11,000 rushing yards, he reflected on some of the other marks he has reached during his illustrious, 11-year career.
Jackson
Like when he set the
St. Louis Rams
' all-time rushing
record back in 2010
with 7,246 yards.
"It was the
Tampa Bay Buccaneers
at Tampa," Jackson recalled. "I do not remember the specific play, but it was like a 3-yard run off right tackle."
Or when Jackson
reached 10,000 yards in 2012
during his final home game with the Rams.
"It happened against the
Minnesota Vikings
in a home game in St. Louis," Jackson reflected. "Once again, it was true to my form: tough yardage, tough run, nothing flashy, not a 50-yard run. It was just the nit and grit of who I am and what embodies my career. And I'm sure 11,000 will come in the same fashion."
Jackson had to think a moment to remember the first 100-yard rushing game of his career as a rookie in 2004. But he figured it out.
"I want to say
San Francisco 49ers
(26 carries, 119 yards)," Jackson said. "It was a game that kind of solidified to myself that I could play in the National Football League. ... That was many moons ago."
Although the 31-year-old Jackson has yet to rush for 56 yards in a game this season, maybe Sunday against the Ravens will be a game when the Falcons truly get back to running the ball a bit more. Jackson never expected 25 carries a game this season with having to share the load with three other backs. He's averaging 11.5 carries a game and had a season-low six carries in last Sunday's loss to the Bears.
Contending with the Ravens and their seventh-ranked rushing defense won't be easy, but Jackson is used to picking up tough yards.
"I always re-emphasize to guys no matter how long a run is or how good or how bad a game you have had, it all, brick by brick, leads to something," he said.
If Jackson reaches 11,000 on Sunday, he will become the 19th NFL player in NFL history to accomplish the feat, joining the likes of Hall-of-Famers Emmitt Smith, Walter Payton, and Barry Sanders.
"It's an amazing feat," Jackson said. "Whenever I do eclipse the 11,000-yard mark, it will mean a lot to me. But like football, I've done it with the success of a lot of my teammates over the years. Good games, bad games, they all compile to this milestone. I relish in it, but at the same time, keep it going."
October, 16, 2014
Oct 16
6:15
PM ET
FLOWERY BRANCH, Ga. -- The sight of receiver
Harry Douglas
catching a few passes on the field on Thursday had to be welcoming to his
Atlanta Falcons
' teammates.
Douglas didn't practice Thursday as he continues to recover from a deep bruise in his left foot. But at least Douglas seems to be improving, considering he has missed the last three games.
Coach Mike Smith said there was no timetable for Douglas' return. Fellow receiver
Roddy White
, however, sounded optimistic about getting Douglas back sooner than later.
"It just affects us in so many different ways because he's in so many different personnel groupings and some of the stuff he can do," White said of how Douglas' absence changes the offense. "He's really good at the insides and seam routes. We're missing him a whole lot and his ability to kind of control the middle of the field.
"Hopefully we can get him back, if not this week, next week. And we'll be a lot better team. I'll tell you that."
Quarterback
Matt Ryan
talked earlier in the season about how Douglas allows the Falcons to be as multidimensional as they want to be. The Falcons seemed to thrive with the four-wide look of
Julio Jones
, White, Douglas, and Devin Hester.
"Certainly Harry is a big part of what we've done historically here, and certainly the last two years," Ryan said. "So it's always tough when you have guys go down. It's always tough to replace that production.
"When he's in there, it adds another dimension to us. But that's part of this league. That's part of how a season shakes out. There's going to be times when certain guys are down, and you've got to find different ways to get it done. And we have not done, collectively, a good enough job of that."
In other injury news, Jones and Hester remained limited in practice while they continue to recover from ankle and hamstring injuries. Linebacker
Prince Shembo
also was limited while recovering from a knee injury.
Defensive tackle Jonathan Babineux (knee), guard
Justin Blalock
(back), and linebacker Nate Stupar (knee) all had full participation after being limited on Wednesday.