September, 22, 2014
Sep 22
4:50
PM ET
FLOWERY BRANCH, Ga. -- As the
Atlanta Falcons
returned to practice Monday, the wide receiver trio of
Roddy White
,
Harry Douglas
, and
Devin Hester
were without helmets coming off injuries.
White missed last Thursday night's
56-14 win
against Tampa Bay with a hamstring injury, while both Douglas and Hester both exited the game early. Douglas injured his left foot, but tests on the foot came up negative. Hester was pulled from the game due to cramps.
Falcons coach Mike Smith indicated White was close to playing against the Buccaneers, and White expects to play in Sunday's road game at Minnesota. He appeared to have added protection supporting his right left on Monday. White wears a compression sock sleeve on his left leg to protect his banged up knee.
Douglas' status is uncertain, while Hester's situation seems to be more about rest than anything since cramps appeared to be his only issue.
Coach Smith said the status of the four players won't be updated until the injury report is released on Wednesday.
Also, running back
Antone Smith
was without a helmet at the start of Monday's practice. The initial word is he suffered a right hamstring injury, the extent of which is unknown.
Smith's injury could be the key one to monitor. He continues to make the most of his opportunities. Against Tampa Bay, he rebounded from a fumble to break loose on a 38-yard touchdown run. Smith also had a 54-yard, catch-and-run touchdown in the season opener against the Saints.
The Falcons would be wise to get Smith more involved moving forward, provided he is healthy.
September, 22, 2014
Sep 22
10:30
AM ET
Atlanta Falcons
defensive coordinator Mike Nolan sent a subtle but stern message to this defense last week when he said no defender was playing at a high level.
"That was true," defensive tackle
Corey Peters
said. "The Saints game, we didn't play very well on defense. We had a complete system failure in Cincinnati. ... But Tampa Bay may have been the best game that we've played as a team since I've been a Falcon."
[+] Enlarge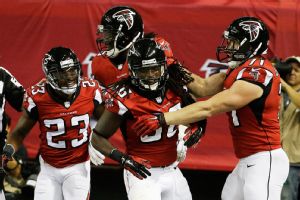 AP Photo/David GoldmanKemal Ishmael, center, on the Falcons' defense: "It's crazy how much talent we have. We just have to go out there and make the plays."
The defense responded with four turnovers, three sacks, six tackles for losses and seven quarterback hits in a 56-14 win against Tampa Bay.
We all know what the offense is capable of when
Matt Ryan
gets proper protection and has a healthy set of receivers.
Devin Hester
obviously makes the Falcons elite on special teams by his lonesome.
The defense doesn't have to be spectacular, but it needs to be more consistent moving forward. The last game was a good start -- literally and figuratively.
A big part of the reason why the Falcons were able to apply much-needed pressure against the Buccaneers was because they set the tone early by stopping the run. On Tampa Bay's very first offensive play, Nolan loaded up the box with
William Moore
flying down from his strong safety spot. At the snap, linebacker
Joplo Bartu
shot the gap and caused Bucs running back
Bobby Rainey
to alter his path. Defensive end
Tyson Jackson
absorbed a double team while nose tackle
Paul Soliai
won his one-on-one matchup and forced Rainey to make another sudden cut. The result was linebacker
Paul Worrilow
getting a free run up the middle to smash Rainey for just a 1-yard gain.
From there, everything just all seemed to click for a defense that was a sieve through the first two games.
So can the Falcons sustain their defensive intensity?
"It's about energy, man, and we fed off the offense: The offense was moving the ball, and we were creating turnovers," cornerback
Desmond Trufant
said. "If we do that every week, we can blow teams out every week."
Nolan was rather vanilla with his defensive looks through the first two games. He was able to use different line combinations and overload the line of scrimmage in the last game, knowing the Buccaneers would have to pass the ball plenty after falling so far behind. Utilizing Peters and
Malliciah Goodman
more often as pass-rushers was a part of the revamped effort.
It would make sense for Nolan to continue to bring the pressure Sunday in Minnesota against rookie quarterback
Teddy Bridgewater
, especially with running back
Adrian Peterson
out of the Vikings' lineup.
No matter how Nolan approaches the game, his players have to proceed with the same defensive intensity.
"The sky's the limit with this defense," said safety
Kemal Ishmael
, who had a 23-yard interception return for a touchdown against the Buccaneers. "We have so much talent on this defense. ... It's crazy how much talent we have. We just have to go out there and make the plays."
September, 22, 2014
Sep 22
7:30
AM ET
Facing a rookie quarterback often works to a team's advantage. We'll see if such is the case for the
Atlanta Falcons
next Sunday.
Bridgewater
As the Falcons (2-1) prepare for their trip to Minnesota to face the Vikings (1-2) outdoors, they will have to game plan for
Teddy Bridgewater
. The rookie quarterback stepped in for starter
Matt Cassel
in Sunday's 20-9 loss to the Saints after Cassel suffered several fractured bones in his foot. Bridgewater showed his strong arm and an ability to escape pressure, although he's more a pocket passer than a mobile quarterback.
"Moving forward, I think I'm definitely going to be ready," Bridgewater said following Sunday's game. "I just need to get more practice reps throughout the week. As a backup, it's all about getting mental reps during the week. But now, we have seven days to prepare for Atlanta, so we have time to develop that chemistry with the guys and to be able to be a better quarterback."
The rested Falcons are coming off a 56-14 win against Tampa Bay on Thursday night, a game during which they recorded their first three sacks of the season and seven quarterback hits. They could use a duplicate defensive effort to help end a three-game road losing streak dating to last season.
Speaking of 2013, the Falcons faced a rookie quarterback four times a year ago and were 2-2 in those games. Of course everyone remembers how they made
Geno Smith
look like a "10-year vet" in a 30-28 loss to the
New York Jets
. They also lost to Tampa Bay and
Mike Glennon
, 41-28, in Week 10. The two wins were against Buffalo's
EJ Manuel
in Toronto (34-31) and at the Georgia Dome against Glennon (31-23).
The Falcons won't play against Vikings star running back
Adrian Peterson
, who is facing a child-abuse charge.
"It changes, I'm sure, what they're going to try to do a little bit," Falcons coach Mike Smith said. "Norv Turner is their offensive coordinator. He's been doing it a long time in the NFL, so I'm sure that he'll figure out ways to put the ball in the hands of their playmakers. And they've got some other playmakers besides Adrian Peterson."
The Vikings could be without Pro Bowl tight end
Kyle Rudolph
(groin) and starting guard
Brandon Fusco
(shoulder) as well.
The game will be played at the University of Minnesota's TCF Bank Stadium, where the Vikings are 0-2 all-time.
September, 19, 2014
Sep 19
5:15
PM ET
LAKE FOREST, Ill. --
Chicago Bears
running back
Matt Forte
picked up his phone Thursday night knowing full well former teammate
Devin Hester
would soon be reading hundreds of text messages congratulating him for breaking the NFL's record for return touchdowns.
"He's a close friend of mine," Forte said. "But I knew he was going to read every text message. I definitely had to give him props on breaking the record. I just told him congratulations, all his hard work paid off even when people were saying, 'Ah, he's not going to break [the record],' or 'he's done. He can't return the ball anymore,' whenever he'd have a tough year. I'm just proud of him for staying the course."
[+] Enlarge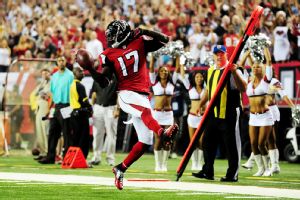 Scott Cunningham/Getty ImagesWith a 62-yard TD return Thursday night, Devin Hester now holds the NFL record for return touchdowns (20).
Hester high-stepped into NFL history on a 62-yard punt return TD to collect his 20th career scoring return, which broke Deion Sanders' record, during Atlanta's 56-14 shellacking of the
Tampa Bay Buccaneers
, led by former Bears coach Lovie Smith. Hester's former Chicago Bears teammates at Halas Hall congratulated the return man Friday for the accomplishment, with Forte saying, "He's Hall-of-Fame worthy now."
Hester played eight seasons for the Bears (2006-13), racking up 11,632 all-purpose yards. The veteran spent parts of his career playing defensive back and receiver with the team. But last season, Hester requested to concentrate solely on special teams.
Prior to Hester's departure from Chicago, there were rumblings his skills had declined. Bears kicker
Robbie Gould
disputed that notion, and Hester's statistics certainly support that. Hester averaged 27.6 yards on kickoff returns last season and 14.2 yards per return on punts to go with an 81-yard touchdown.
"He still played at a high level [in 2013]," Gould said. "Actually, the record, he broke it last year and we had a penalty that called it back [against Minnesota]. The guy is a special player. He's got a lot of speed, a lot left in the tank, and you're seeing that right now; especially with the
Atlanta Falcons
. He's maybe one of the greatest players I've ever played with of all time."
Prior to the 2013, Hester considered retiring, and Forte said "I'm glad he decided to continue to do it, and was able to break that record."
Hester admitted to feeling unhappy about his role toward the end of his Chicago tenure. Unable to click with quarterback
Jay Cutler
, Hester requested prior to 2013 that the Bears didn't use him on offense. During the 2014 offseason, the Bears decided to not offer Hester a contract.
"I'm going to say it, man. I wasn't happy the last three or four years in Chicago," Hester said during Thursday night's postgame show on NFL Network's Total Access. "Things weren't going the way I expected."
Hester caught a career-high 57 passes for 757 yards and three touchdowns in 2009, Cutler's first season with the team. But Hester and the quarterback never clicked. Hester finished with 2,908 yards and 14 touchdowns, but caught just 23 passes in 2012, his final season playing receiver for the Bears.
"I've got a quarterback now that ... he loves even the walk-ons," Hester said, "and coaches that know how to get the ball to me; how to make plays for me."
Cutler said on Friday he was unaware of Hester's comments.
"But I'm happy for him," Cutler said. "He seems to be in a good place there. Obviously, he's scoring touchdowns. That's always a good thing for him. Couldn't be more happy for him."
Bears coach Marc Trestman joined Forte in sending Hester a congratulatory text, and the coach said the return man responded later in the night.
"Excited about this mountain he's ascended to," Trestman said. "When people move on, you hope it's for the right reasons, for their career. I think everybody here is certainly excited about the fact he's having success, and doing something with his new opportunity."
Through three games, Hester has contributed 126 yards on seven receptions with the Falcons, along with one rushing TD. He's averaged 28 yards on kickoff returns and 15.2 yards on punts to go with Thursday night's record-breaking score.
"Great teammate," Forte said. "Whenever you needed something, you could call Devin anytime, and he'd help you out. As good as he is on the field, off the field, he's even better."
September, 19, 2014
Sep 19
3:40
PM ET
FLOWERY BRANCH, Ga. --
Atlanta Falcons
coach Mike Smith said tests on
Harry Douglas
' injured left foot were negative Friday morning, but Smith said Douglas' playing status won't be updated until next week.
Douglas was injured in the first half of Thursday night's 56-14 win over Tampa Bay. He did not return to action, although he walked around behind the bench.
"We've got a couple of days to get some treatment,'' Smith said of Douglas. "And we'll have an injury report on Wednesday.''
Douglas had two catches for 14 yards and a touchdown in the win over the Buccaneers. After he exited,
Eric Weems
saw more time at receiver. That could be the same plan if Douglas doesn't return for next Sunday's game at Minnesota.
Smith previously indicated receiver
Roddy White
was close to playing against Tampa Bay coming off a hamstring injury, so it appears White will be ready to face the Vikings.
September, 19, 2014
Sep 19
9:15
AM ET
ATLANTA -- Lost in the hoopla surrounding record-setting nights by both
Devin Hester
and
Matt Ryan
was the outstanding performance by
Atlanta Falcons
defensive tackle
Corey Peters
.
Peters
In looking at the defensive snaps, Peters played 34 of the 60 possible snaps, or 57 percent. He ended up with a sack, four tackles for loss, and two quarterbacks hits in the Falcons' 56-14 thumping of the Buccaneers.
Remember, Peters returned on a one-year contract this season after tearing his Achilles last December. If he continues to dominate like he did Thursday night, he'll earn himself a nice payday sometime soon.
It's obvious Peters is over the frustration that came with the long recovery from a major injury. He's also much more motivated these days.
"I'm really enjoying the game much, much more than I have in the past," Peters said. "I think I was kind of taking it for granted. And when I got injured, I said that I would never do that again. I'm just enjoying it all, man."
Here are a few other highlights from the snap counts:
September, 19, 2014
Sep 19
3:10
AM ET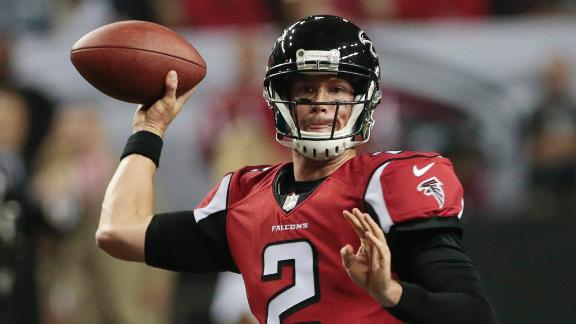 ATLANTA --
Atlanta Falcons
quarterback
Matt Ryan
had quite an impressive night himself in a
56-14 win
over the
Tampa Bay Buccaneers
, setting franchise single-game records for completion percentage (87.5 percent) and passer rating (155.9). However, he was more excited to talk about wide receiver
Julio Jones
than his own marks.
Jones, showing no ill effects of an injured ankle he suffered last week in Cincinnati, caught nine passes for 161 yards and two touchdowns, including a falling, over-the-shoulder 40-yard touchdown grab good enough to be a "SportsCenter" Top 10 play for the next week.
"It was a hell of a catch," Ryan said. "Just his ability to adjust as the ball goes over his shoulder, as good as it gets. He had a great release on the route. It's something that we feel like we can give him a chance because he's one of those guys that has the ability to make those kind of plays. He showcased that tonight."
Jones, who missed most of last season following right foot surgery, now has 23 catches for 365 yards with three touchdowns. He did not speak to the media following Thursday's game.
But Ryan had plenty to say about his top target. Jones is expected to have a major impact on a weekly basis, but his role was even more emphasized Thursday with
Roddy White
(hamstring) sidelined.
The Buccaneers had no answer for Jones and didn't really alter their defensive strategy to slow him down.
"Julio is as good as he's ever been, if not better," Ryan said. "He's only going to continue to get better because he's got a better understanding of defenses that he's going against. He's got a better understanding of our offense. I think he's playing the best he's ever played."
So that would make Jones virtually unstoppable, correct?
"Yeah," Ryan said. "Defenses are going to have certain ways that they're going to try and stop him. But we feel like anytime he gets in that one-on-one situation, that's a win for us."
September, 19, 2014
Sep 19
2:50
AM ET
ATLANTA -- As he stood at the podium relishing his new NFL record for return touchdowns, an emotional
Devin Hester
acknowledged a handful of folks who helped him along the way.
The
Atlanta Falcons
receiver/return man started by thanking God. Then he talked about how his mother, Juanita Brown, encourages him on a daily basis.
"Every day before I leave the hotel, I call her and I get a prayer from her," Hester said. "She just motivates me to go out and do what this team is capable of doing and what I'm capable of doing."
Then Hester praised his mentor, former Atlanta Falcon and current television analyst Deion Sanders, whom Hester surpassed with his 20th return touchdown in Thursday night's
56-14 win
over the
Tampa Bay Buccaneers
. Hester paid tribute to Sanders by high-stepping to the end zone while striking a Deion-style pose as he returned a punt 62 yards for a score.
Hester wanted to save the ball for Sanders.
"But the ball is on the way to Canton, Ohio," he said of where the Pro Football Hall of Fame is located. "They hurried up and took the ball from me. When I get it back, you know I am going to give him the ball."
Sanders, who was on the sideline for CBS/NFL Network, told Hester he almost pulled a hamstring sprinting toward the end zone to follow him.
"It is tough to break record from a guy that holds it that's my No. 1 mentor," Hester said. "The relationship that Deion and I have started back in college, and to this day I get a text from him every day. Every day I wake up, that's my alarm.
"I kind of teared up a little bit, and he knows that if anyone was capable of breaking that record and he wanted anyone to break it, then I knew it was going to be me."
Hester couldn't forget Buccaneers coach Lovie Smith, the man who drafted him in Chicago when Smith was the Bears' head coach. The two shared a moment before the game, and Hester mentioned that although he hated playing against Smith, at least his old coach would be there if he happened to break the record.
He did.
Indeed, this was Hester's night. But it symbolized much more than a historic moment. The energy he brings and his production will only help the Falcons thrive.
"You can't say enough about him," quarterback
Matt Ryan
said. "Devin's been awesome since he's gotten here. And he is as good a teammate as you could ask for. He works as hard as anybody I've been around. And he's extremely humble. I couldn't be more happy for him to break the record tonight."
Hester's record-setting return -- his 14th on a punt to go with five kickoffs and one field-goal attempt taken back for TDs -- was far from his only contribution. He scored the first rushing touchdown of his career on a 20-yard reverse in the second quarter, following a block from fullback
Patrick DiMarco
. But even more impressive is how Hester stripped Buccaneers safety
Mark Barron
and recovered the fumble after Barron recovered a fumble by Falcons tight end
Levine Toilolo
. It allowed the Falcons to remain on offense and led to Ryan's 8-yard touchdown pass to
Julio Jones
, which gave Atlanta a 14-0 lead in the eventual blowout.
"That could have been one of the biggest plays of the game," Ryan said of Hester strip and recovery. "Kind of channeled some of his inner-defense from college."
Hester said he learned the ball-punch trick from former Bears teammate
Charles Tillman
.
Funny Hester would mention his former team. Had Chicago not given up on him, the Falcons might never have seen him in a No. 17 uniform.
Now, the Bears might have some regrets. Hester sure doesn't.
"Chicago knew I was unhappy with things that were going on," Hester said. "But I'm here in Atlanta, and I'm happy to be here. And that's all that matters.
"I know the fans in Chicago hate what's going on. I know the fans didn't want me to leave. But at the same time, me and the organization were both on the same page with me not being happy. So, this is just a new life and a new fresh start for me."
And things have started off pretty well for Devin Hester, the Atlanta Falcon.
September, 19, 2014
Sep 19
1:34
AM ET
Observed and heard in the locker room after the
Atlanta Falcons
' 56-14 win over the
Tampa Bay Buccaneers
.
White

Coach Mike Smith said receiver Roddy White was close to playing after injuring his hamstring in last week's loss at Cincinnati. White himself was confident about playing in the game, and Smith implied White probably would have played had it been a Sunday game rather than played on Thursday. As White strolled through the locker room, he yelled out, "I'll see you all next week," as if to say he'll be ready to face Minnesota.
Safety Kemal Ishmael was all smiles by his locker showing his gold. Well, he was golden with a 23-yard interception return for a touchdown to put the Falcons up 21-0 in the first quarter. "It started up front with great pressure, great recognition from the linebackers, and having trust in my corner," Ishmael said. "It was just knowing what was coming and taking a chance."
Defensive tackle Corey Peters cracked a rare smile before exiting the locker room. He had reason to be pleased with his individual performance after notching one of the Falcons' first three sacks of the season. Peters, who is finally back to form following last year's Achilles tear, also had four tackles for losses and two quarterback hits. "I think that my attitude is better and I'm just back into the flow of things now," Peters said. "I'm starting to get my feet back under me. It's been like four weeks of practice. I'm just enjoying myself. I'm really enjoying the game."
September, 19, 2014
Sep 19
12:26
AM ET
By
ESPN Stats & Information
| ESPN.com
AP Photo/David GoldmanKemal Ishmael's interception return TD was one of eight Atlanta TDs Thursday night.
The
Atlanta Falcons
defeated the
Tampa Bay Buccaneers
56-14 on Thursday night, one of the Falcons' biggest wins in team history and the Bucs' third-biggest loss in their history. Here's what you need to know about the NFC South rout in Atlanta.
Atlanta's big win, by the numbers
The Falcons' 56 points were the second-most in a single game in team history, just six shy of the team record set against the New Orleans Saints in 1973. It was also the second-largest margin of victory in team history, behind the 55-point win versus the Saints in that same game. As for the Buccaneers, the 56 points allowed are tied for second-most allowed in team history, while the 42-point loss is tied for third-most in team history.
Devin Hester passes Prime Time
Devin Hester's punt-return touchdown in the second quarter was his 20th return for a touchdown in his career, which passed Deion Sanders for most in NFL history. Hester has 14 punt-return touchdowns, five kickoff-return touchdowns and a missed field goal return touchdown. Hester also matched another NFL mark when he got his first career rushing touchdown earlier in the second quarter. He became the second player in NFL history to score a rushing, receiving, kickoff return, punt return and missed field goal return touchdown in his career. He joined Timmy Brown, who played 10 seasons in the NFL, eight with the
Philadelphia Eagles
. Brown still has one up on Hester though, as Brown also has a passing touchdown to his credit.
Matt Ryan nearly perfect
Matt Ryan was 21-for-24 with three passing touchdowns Thursday night, the 21st game of his career in which he has had at least three passing touchdowns. Ryan was 6-of-8 for 139 yards and a touchdown on passes thrown at least 15 yards downfield Thursday. Ryan has excelled on deep passes in the Falcons' two wins this season while struggling on such throws in their Week 2 loss to Cincinnati. His 19 deep completions this season are nine more than the next closest quarterback (
Alex Smith
, 10).
Julio Jones at it again
Julio Jones had 161 receiving yards, the second-most in a regular season game in his career. He also had two receiving touchdowns, the sixth multi-touchdown game of his career and the first time he has done that since Week 15 in 2012 against the
New York Giants
. Jones now has eight straight games with at least six receptions and 75 yards, the longest active streak in the NFL.
September, 18, 2014
Sep 18
11:50
PM ET
ATLANTA -- A few thoughts on the
Atlanta Falcons
' 56-14
win
over the
Tampa Bay Buccaneers
at the Georgia Dome:
What it means:
The Falcons, whose NFC South record improved to 2-0, are extremely dangerous when they are clicking on all cylinders. Quarterback
Matt Ryan
set the tone early by marching his team on a a six-play, 70-yard scoring drive, capped by his 3-yard touchdown pass to
Harry Douglas
, in the first three minutes of the game. The Falcons scored 21 first-quarter points, and it was pretty much over after that. If the Falcons can jump ahead early like they did Thursday night, not many teams will be able to keep up with them. And if the defense plays inspired football like it did, the Falcons could be unstoppable. But let's not get ahead of ourselves just yet. It's just one game -- although a very dominating one -- but the Falcons have to find their rhythm on the road at Minnesota the next time out.
Stock watch:
Ryan's stock plummeted last week as he posted just a 48.6 passer rating in a 24-10 loss to the
Cincinnati Bengals
. Well, that's a distant memory now after Ryan posted a career-high and franchise record 155.9 passer rating Thursday, completing 21 of 24 passes for 286 yards and three touchdowns with no interceptions. His 87.5 completion percentage was a franchise single-game record (minimum 20 attempts). Ryan again made some plays with his feet, and his top receiver,
Julio Jones
, caught nine passes for 161 yards and two scores. The biggest difference for Ryan from last week was the return of rookie left tackle
Jake Matthews
to the lineup off an ankle injury. If Ryan gets the proper protection, he'll put up elite-quarterback numbers every time out.
Walking wounded:
The Falcons left the game rather banged up at receiver. Douglas injured a foot in the first half but didn't return, although he walked around the bench area in the second half.
Devin Hester
left the field before halftime with cramps but returned in the second half. He then limped off the field in the second half and went straight to the locker room. The Falcons already were without veteran
Roddy White
, who expected to play in the game but was inactive due to a hamstring injury. The Falcons have 10 days to rest up for their next game against the Vikings, so maybe those injured players will be healed up by then. If not, a guy such as rookie Bernard Reedy might have to be activated from the practice squad.
Game ball:
As
Chicago Bears
radio play-by-play man Jeff Joniak would say, Hester was "ridiculous" as he set an NFL record with his 20th career touchdown return -- a 62-yard punt return -- to surpass mentor Deion Sanders. Hester high-stepped to the end zone in Deion Sanders-like fashion, and he also scored his first-career rushing touchdown on a 20-yard reverse.
September, 18, 2014
Sep 18
9:55
PM ET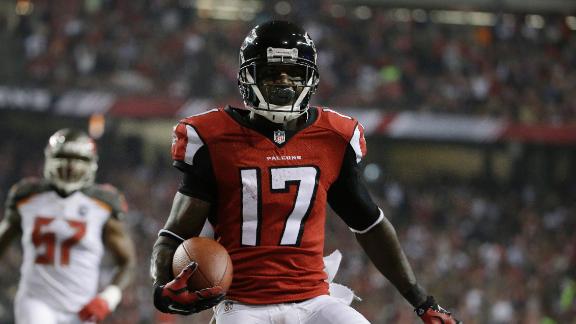 ATLANTA -- Devin Hester of the Falcons set an NFL record with the 20th touchdown return of his career when he brought back a second-quarter punt 62 yards for a score in a 56-14 win over the Tampa Bay Buccaneers on Thursday night.
"It's a lot of pressure; every game, getting ready to get dressed and play and hear your family and friends and your Instagram and stuff with guys telling you that you will break the record this weekend," Hester said. "That is a lot of pressure."
Hester took to Facebook on Friday to thank his family, coaches, mentors and teammates -- past and present.
"I didn't get here alone," Hester wrote. "I can't even start to name everyone I have to thank. Just know that I remember and am very thankful to every single one of you. I'm humbled by all of the support and well wishes.....more importantly we have 13 games left to get to where we want to be as a team!! Thank You and God Bless."
Hester previously shared the record with mentor and former Falcons cornerback Deion Sanders, who was in attendance and saluted Hester on the video board.
"I'm overcome with emotions right now," Sanders said in an interview with Hester after the game for NFL Network, for which the Hall of Famer is an analyst. "Because I love you as a man, as a father, as a husband. I remember the beginning, man. I love you, dude. And I'm so proud of you, man. I'm so proud of you. You know that."
Hester said he had tried to keep the ball from the play to give to Sanders but that someone had retrieved it for the Pro Football Hall of Fame and that it was already on a plane to Canton, Ohio.
"You've always been there for me, man," Hester said after recalling a story from his college days at Miami when he had gotten a phone call of congratulations from Sanders. "And I really look up to you. I really do, man."
Hester now has 14 punt returns for scores to go with five kickoff returns for scores and a return of a missed field goal for a touchdown.
The 62-yarder was his first return score for the Falcons, with the rest having come during his time with the Chicago Bears