November, 23, 2014
Nov 23
7:50
PM ET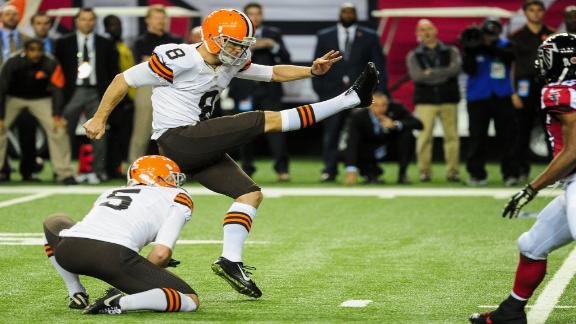 ATLANTA --
Roddy White
thought victory was in hand. He truly did.
With 4 minutes, 59 seconds left in regulation on Sunday and his
Atlanta Falcons
trailing the
Cleveland Browns
23-21, White figured the momentum had just turned in the Falcons' favor. He watched teammate
Desmond Trufant
vault into the air and snare a throw by Browns quarterback
Brian Hoyer
in the end zone.
Right then and there, White believed he knew what Trufant's spectacular interception in front of Browns star receiver
Josh Gordon
would mean to the final outcome.
[+] Enlarge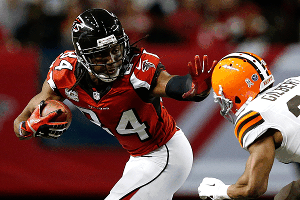 AP Photo/Brynn Anderson Would a quicker tempo have helped Atlanta's offense late on Sunday? Roddy White said he thinks so.
"I felt like when we got the first one, when Tru picked it off, I though the game was over," White said, figuring the Falcons would capitalize on the turnover and win. "I thought we'd just go out there and kind of push the [tempo] up. And I felt like we didn't do that. We just kind of sat back and looked at the clock and said, 'All right, let's try to play this out.' I don't think that's what we should have did.
"We should have kind of attacked those guys because we had them on their heels every time we went up-tempo. But we kind of slowed everything down. And they responded on defense. They did a good job. They made us punt the ball. And then the defense went back and got another interception, gave us great field position. And we managed to only gain 15 yards."
Credit White for his honesty, even if Falcons coach Mike Smith scolds him later for voicing his opinion. Truth is, the 4-7 Falcons might not have come up short in a
26-24
loss to the Browns had the offense closed the way it is capable of doing.
Remember, the offense was supposed to carry the Falcons this season.
Yes, there were other contributing factors in defeat. Yes, the defense could have put up more resistance on the game's final drive instead of allowing Hoyer and the Browns to easily drive 61 yards, setting up
Billy Cundiff
's game-winning, 37-yard field goal. And the game might not have been close had the Falcons not been gashed by the Browns' two-headed running attack of rookies
Isaiah Crowell
and
Terrance West
for 150 combined yards, including Crowell's two rushing scores.
But the offense still had a chance to put its stamp on the game late.
Immediately after Trufant's interception, the Falcons stalled -- like White mentioned -- as
Matt Ryan
threw three incomplete passes. Then the defense had the nerve to come up with another big play as rookie
Dezmen Southward
intercepted a bad pass by Hoyer, giving the Falcons first-and-10 from their own 45-yard line with 2:42 left.
When
Steven Jackson
picked up 3 yards on third-and-1 after the two-minute warning, you just knew the Falcons were going to melt the clock and set up a
Matt Bryant
chip shot for the win. Instead came the mysterious timeout with 55 seconds left that preceded a failed third-down pass play from Ryan to
Devin Hester
.
Smith explained the timeout.
"We wanted to get our best play for third-and-2 to try and earn the first down," Smith said. "That was our thought. We were right on the edge in terms of where we wanted to be in terms of field goal range. We wanted to get a first down."
The timeout would have been a moot point had the Falcons picked up the first down from the Cleveland 35-yard line. Instead, Ryan tried to go deep to Hester in one-on-one coverage on struggling Browns rookie cornerback
Justin Gilbert
, and the attempt failed.
"The look that they gave us said to throw the ball, and we did," Smith said. "And we didn't convert it."
It led to Bryant's go-ahead, 53-yard field goal that Smith admitted was out of the range the Falcons were looking for. More importantly, the failed third down stopped the clock and gave the Browns enough time -- 44 seconds with three timeouts -- to march down for Cundiff's winning field goal.
Browns cornerback
Joe Haden
didn't understand why the Falcons went deep to Hester on third down.
"I was thinking they were going to run something to the sticks because on third downs, they run stick plays," Haden said. "Julio, he ran another fade again, so I was on top of that. But I thought they were going to the sticks. I was playing on top of [Julio] waiting for him to sit down."
Ryan, who completed 27 of 43 passes for 273 yards and two touchdowns with an interception, offered his thoughts on the third-down throw to Hester.
"A good situation: one-on-one on Dev," Ryan said. "Felt like we had an opportunity to get it down the field. Probably should have given him a better chance at it, but I didn't throw the ball the way that I needed to.
"In situations like that, when you have opportunities to close things out or to make plays, you've got to make them. And I didn't do a good enough job of that."
All that being said, the Falcons remain 4-0 in the NFC South and could be right back in first place if New Orleans (4-6) loses to Baltimore on Monday night.
"Today, we just didn't play well on offense," White said. "We didn't play well enough to win, I'll tell you that. We've got to play better. Defense did a good job today. ... Gave us three turnovers. Gave us short fields. I felt like they did pretty good. We just didn't hold our end of the bargain."
November, 23, 2014
Nov 23
6:20
PM ET
ATLANTA --
Atlanta Falcons
defensive tackle
Corey Peters
downplayed getting into a sideline shoving match with defensive line coach Bryan Cox during the second quarter of Sunday's 26-24 loss to the
Cleveland Browns
.
Several players appeared to separate the two after an argument escalated.
"We were just having a discussion; nothing major and nothing past the moment," Peters said. "It is what it is. We just move on from it. The emotions from the game ... everybody's trying to win and everybody's trying do their best."
Cox was not allowed to comment on the incident as he exited the locker room. Falcons' assistant coaches are off-limits to the media on game day.
Peters explained what incited Cox in the first place.
"I made a mistake on something in the pass rush, and he just pointed it out to me and we just had a discussion about it," Peters said. "It was just about the rush lanes and where I was supposed to be on the play."
Peters was asked if apologies were exchanged after tempers cooled.
"It wasn't that type of thing," Peters said. "We just moved on. We understand. Just a discussion amongst men, really."
Fellow defensive lineman
Jonathan Babineaux
offered his take on the confrontation.
"It's all good," Babineaux. "I think it really was a misunderstanding. It was talked about and worked out. In this game, you're going to be running with high emotions. You just learn to deal with it. We're all men. We deal with our situations, learn from them, and move on."
The Falcons hired Cox in the offseason to instill more toughness in the defensive line. When he was an assistant coach in Tampa Bay, Cox got into a shoving match with then-Buccaneers linebacker
Adam Hayward
.
November, 23, 2014
Nov 23
4:22
PM ET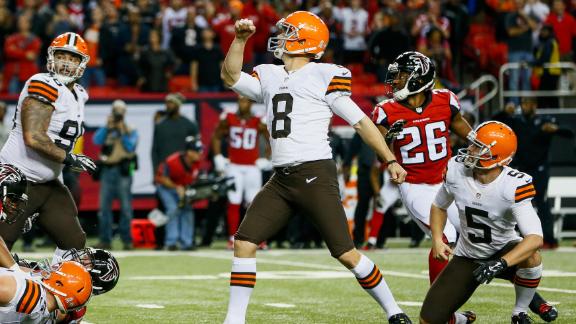 ATLANTA -- A few thoughts on the
Atlanta Falcons
'
26-24 loss
to the
Cleveland Browns
at the Georgia Dome.
What it means:
The Falcons dropped to 4-7 and lost their hold on the top spot in the NFC South, although they could get it right back with a loss by the
New Orleans Saints
on Monday night. The Falcons had won two in a row and looked poised to make it three following a 53-yard field goal by
Matt Bryant
. But the Falcons' defense gave up too much cushion in the end, and
Billy Cundiff
nailed the 37-yard game winner for Cleveland.
Stock watch:
The Falcons' run defense took a tumble Sunday. Had the Falcons been a little stouter against the run, the Browns wouldn't have had a chance. Instead, there were plenty of missed tackles as the rookie tandem of
Isaiah Crowell
and
Terrance West
rushed for 150 yards. The Falcons gave up 475 total yards.
Matty iced:
Matt Ryan
was cold for much of the day. He almost threw an interception early that would have easily been returned for a touchdown, and eventually did get picked off once. He also walked into a sack and just didn't appear to have the right chemistry with
Julio Jones
. Ryan finished 27-of-43 for 273 yards with two touchdowns and an interception.
Game ball:
Desmond Trufant
made an incredible interception in the end zone late in the fourth quarter that gave the Falcons a chance. He leaped in front of star receiver
Josh Gordon
, who didn't make much of an effort. Yes, it was a terrible throw by Browns quarterback
Brian Hoyer
, but that doesn't take away how magnificent a play it was by Trufant, who was shadowing Gordon most of the day. Gordon still finished with eight catches for 120 yards.
What's next:
The Falcons have another home game upcoming with one of the league's best as the
Arizona Cardinals
come to the Georgia Dome next Sunday. The Cardinals won nine of their first 10 games but lost starting quarterback
Carson Palmer
to a season-ending ACL tear.
November, 22, 2014
Nov 22
12:00
PM ET
Here are a few things to watch for as the 4-6
Atlanta Falcons
try to make it a three-game winning streak Sunday when they host the 6-4
Cleveland Browns
at the Georgia Dome:
Four-wide open:
The Falcons had success at the end of last week's win over the
Carolina Panthers
with their four-wide receiver look, as
Matt Ryan
noted after the game. A few missed games by
Harry Douglas
kept the Falcons from using their "10 personnel" as much as they wanted. Then back-to-back matchups against solid defensive fronts in Detroit and Tampa Bay discouraged offensive coordinator Dirk Koetter from using the alignment. Well, Douglas is back healthy, and the Browns are missing a key piece up front in
Phil Taylor
. Not to mention they only have one really solid cornerback in
Joe Haden
, and Haden's not a fast guy. So expect the Falcons to take advantage with the four-wide setup. "That's been going really good for us because we're creating so many bad matchups,"
Roddy White
said. "Our four-wide package is tough to cover." Not to mention the Browns like to play man-to-man coverage, which should make
Julio Jones
, Devin Hester, Douglas and White salivate. "I'm hoping they come out and do that and play us man to man so those guys can get into the slot and do their thing," White said. Added Jones, "A lot of teams only have two good corners, if that. It's mismatches. That four-wide, it's pretty hard to handle."
On the run:
It's no secret the Falcons have to try and run the ball against a Browns' defense that surrenders 142.1 rushing yards per game. On the flipside, the Falcons have to be able to stop a formidable Browns' rushing attack. Yes, Cleveland dumped what appeared to be a quality back in
Ben Tate
, but the decision was made, in part, because of the emergence rookie running backs
Terrance West
and
Isaiah Crowell
. They have combined for 766 yards and eight touchdowns on 190 carries. "I think they're fairly similar in terms of their run styles," Falcons coach
Mike Smith
said. "This is a team that runs zone-blocking schemes, and it's more of a one-cut. They do put some fluff around it in terms of formations and stuff, but they're really a team that is going to run the one-cut zone running game." The Falcons have improved their run defense as of late and have tweaked the lineup to help the cause, inserting
Malliciah Goodman
as a starter up front to help stop the run. Run-stuffers
Paul Soliai
and
Tyson Jackson
are off to a good start in the second half of the season.
In a corner:
Plenty of eyes will be on the likely matchup between Falcons cornerback
Desmond Trufant
and reinstated Browns receiver
Josh Gordon
as Gordon plays his first game of the season. But how
Robert McClain
fares as the starting cornerback opposite Trufant will be worth monitoring, too. McClain steps in for
Robert Alford
, who is expected to be sidelined the next three games with a broken wrist. Defensive coordinator Mike Nolan said the Browns will be the fastest group of receivers his defense will face up to this point with Gordon,
Miles Austin
,
Andrew Hawkins
,
Taylor Gabriel
and Travis Benjamin. And McClain would be the first to say speed isn't his greatest asset, so he'll have to compensate. "Just have to play good, fundamentally sound football," McClain said. "You can kind of tell a pace of a receiver whenever he wants to go up top. I just have to play smart, play disciplined the entire game. I can't get lazy on any of my coverages or have bad eyes on any of my coverages, which I had last week when I had bad eyes and relaxed on a [touchdown] play. I'm not slow, so I'm not saying I'm going to get ran by. Just going out there and executing our game plan will help us win."
November, 22, 2014
Nov 22
10:30
AM ET
Every Saturday during the regular season, we will feature a member of the Atlanta Falcons' special teams. This week, it's veteran defensive back Charles Godfrey, who has embraced his role on special teams while getting up to speed on defense:

Godfrey
When veteran defensive back Charles Godfrey joined the Falcons a few weeks back, he came in with a positive attitude and a willingness to do whatever it takes to help the team.
His mindset hasn't changed.
Godfrey grew accustomed to a regular role on defense after starting 72 of 73 games with Carolina at the beginning of his career. But as he continues to adjust to his new surroundings in Atlanta, Godfrey knows the most immediate impact is likely to be on special teams.
"I want to compete; I'm a competitor," Godfrey said. "Any way I can get that opportunity to do that, I will. I'm still working on defense. It's still a process. You have to learn the defense, get up to speed with everything. That's where I'm at now.
"On special teams, I'm ready to go. They've got me on a couple special-teams roles, so that's what I'll be playing. I'm taking them at running with them."
Godfrey played nine special teams snaps last week versus his former team, the Panthers. The Falcons have him on kickoff return and punt return, and he has a backup role on kickoffs.
"Wherever I'm needed, I'll be playing," Godfrey said. "And I'll give 100 percent."
Although he's played special teams at various times in the past, Godfrey has never been alongside a return man as dynamic as NFL record-setter Devin Hester.
"He's great," Godfrey said. "He's going to go down in history as one of the best returners to play the game. When you're playing with someone like that, you just want to help out as much as you can. So that's what I'll be doing."
Falcons coach Mike Smith appreciates Godfrey's approach.
"The thing about Charles is he gives us a lot of flexibility," Smith said. "He can be on the 'Big Four' (punt, punt cover, kickoff, kickoff cover). He really got his most significant playing time last week. The other thing that he does give us is, he gives us flexibility because he's played safety, corner, and nickel. And right now, we are down a corner for a short period of time.
"Charles is a guy that's going to do whatever he can to help us win. I think he showed that by coming in here and learning our system and getting an opportunity to contribute on special teams fairly quickly."
November, 21, 2014
Nov 21
7:00
PM ET
Yes, it is mathematically possible for a 5-win team to make the playoffs this year.
ESPN Stats and Information broke down the possible scenarios. And the most likely would be the
Atlanta Falcons
(4-6) winning the NFC South at 5-11 or the
Carolina Panthers
(3-7-1) winning the division with a 5-10-1 mark.
The
New Orleans Saints
(4-6) and
Tampa Bay Buccaneers
(2-8) could also potentially win the division with just five wins -- but either scenario would require at least one more game to end in a tie somewhere along the way.
The Falcons would win a tie-breaker over any other team at 5-11 based on either head-to-head or division record.
Obviously all four teams are aiming higher than just five wins. But there does appear to be a strong chance that the NFC South champ could make or match history this season. The only other division winner in NFL history with a sub-.500 record was the 7-9
Seattle Seahawks
in 2010 (and they went on to beat the 11-5 Saints in the playoffs).
To play around with all of the possible scenarios yourself, check out
ESPN.com's NFL Playoff Machine
.
November, 21, 2014
Nov 21
3:45
PM ET
Wide receiver
Julio Jones
and running back
Steven Jackson
are among the eight
Atlanta Falcons
probable for Sunday's game against the
Cleveland Browns
.
Jones
Jones missed two days of practice with what was called an illness. He declared himself fully healthy after practicing Friday. Jackson missed Thursday's practice ill, but was back Friday. The same was the story for fullback
Patrick DiMarco
.
Receivers
Harry Douglas
(foot), Devin Hester (wrist), and
Drew Davis
(foot) are probable, along with guard
Jon Asamoah
(shoulder) and defensive tackle
Jonathan Babineaux
. Davis was activated from the physically unable to perform list following offseason foot surgery, so Sunday would mark his first action of this season.
Cornerback
Robert Alford
(broken wrist) and offensive tackle
Jonathan Scott
(hamstring) were the only Falcons ruled out. Alford is expected to miss the next three games.
For the Browns, tight end
Jordan Cameron
(concussion) and wide receiver
Marlon Moore
(hamstring) were ruled out. Linebacker
Karlos Dansby
(knee) is doubtful, and linebacker
Jabaal Sheard
(foot) and defensive back
Johnson Bademosi
(concussion) are questionable. Defensive lineman
Desmond Bryant
(wrist), linebacker
Barkevious Mingo
(shoulder), and defensive lineman
Ahtyba Rubin
(knee) are probable.
November, 21, 2014
Nov 21
3:05
PM ET
The
Atlanta Falcons
made an expected roster move Friday by activating wide receiver
Drew Davis
from the physically unable to perform list following offseason foot surgery.
To make room for Davis, the Falcons waived wide receiver
Freddie Martino
.
Davis was a key contributor last season when
Julio Jones
went down with a season-ending foot fracture and
Roddy White
missed some action because of injury. Davis had 12 catches for 216 yards and two touchdowns in 2013.
Because the Falcons lost a key special-teamer in
Antone Smith
to a season-ending broken leg, Davis is expected to step into Smith's spot as a primary gunner. Davis has excelled on special teams in the past.
Davis has had plenty of practice time leading up to Sunday's game against Cleveland and should be ready to contribute.
This is the second roster move for the Falcons in as many days. On Thursday, the team added veteran linebacker
James Anderson
to fill the roster spot left when Smith was placed on injured reserve. Anderson is not expected to be active Sunday.
The Falcons also await the official return of strong safety
William Moore
off short-term injured reserve. Moore returned to practice this week and is eligible to play against Arizona next week.
November, 21, 2014
Nov 21
1:00
PM ET
The 4-6
Atlanta Falcons
have won two games in a row and now play three of the next four games at home as they attempt to make a playoff run. They should continue their streak against the surprising
Cleveland Browns
(6-4).
The Falcons were 2-of-4 at Tampa and 1-of-3 at Carolina scoring touchdowns in the red zone. Back at home inside the Georgia Dome, I see the Falcons playing more like the team that converted 6 of 7 red-zone opportunities in home wins against New Orleans and Tampa Bay.
I also see the Falcons being more efficient in the run game with rookie
Devonta Freeman
adding a little spark. The Browns are 30th in the league against the run and lost two key linebackers to injury. The balance should help the Falcons thrive.
The only way I see the Falcons possibly losing an edge in this game is if they let reinstated Browns receiver
Josh Gordon
go off for 150-plus yards and multiple touchdowns in his first game of the season. I don't believe
Desmond Trufant
is going to allow that to happen.
Although the Browns have won four straight against NFC South foes, they have lost five of their last six road games versus NFC teams.
Falcons 31, Browns 17
November, 21, 2014
Nov 21
11:40
AM ET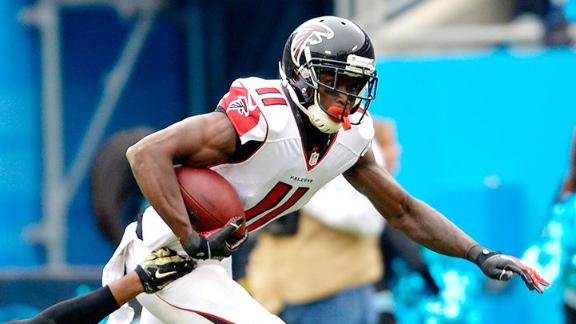 FLOWERY BRANCH, Ga. --
Atlanta Falcons
receiver
Julio Jones
, who missed the previous two days of practice with an illness, was back on the field Friday.
Coach Mike Smith promised Jones would be back on the field without going into specifics about the illness.
Running back
Steven Jackson
and fullback
Patrick DiMarco
also returned to practice Friday after being out ill Thursday.
The only players not on the practice field with helmets Friday were cornerback
Robert Alford
, who is out the next three weeks with a broken wrist, and offensive tackle
Jonathan Scott
, who has been sidelined with a hamstring injury.
November, 21, 2014
Nov 21
10:35
AM ET
FLOWERY BRANCH, Ga. --
Atlanta Falcons
coach Mike Smith couldn't exactly recall all of the details of his reaction on draft night in 2011.
"That's so far away,'' Smith said. "I've slept so many times that I don't even remember it.''
All Smith knows is he got the player he had hoped for, even if the team traded five picks to Cleveland to get him.
Julio Jones
was well worth the investment in Smith's eyes.
[+] Enlarge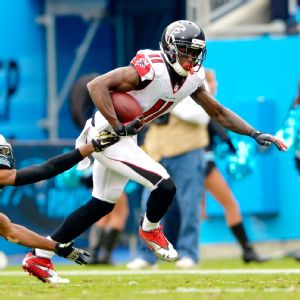 Grant Halverson/Getty ImagesThe Falcons got what they were looking for when they gave up a handful of picks to move up and draft Julio Jones.
"Any time there's a transaction and a trade, you're making that trade to improve your football team,'' Smith said. "We improved our football team imensely that day. We got an elite wide receiver.''
Sunday marks the first meeting between the Falcons and Browns since the blockbuster trade. Jones continues to be one of the most feared receivers in the league and is 88 yards away from his second 1,000-yard season.
And the Browns? Well, they have one player remaining from the trade: defensive lineman
Phil Taylor
, who is on injured reserve with a knee injury.
"I didn't know that,'' Smith said. "I can't concern myself with what happens on the other side. I just know that we're really pleased with the way that it's worked out for us.''
General manager Thomas Dimitroff took a gamble when he traded the 27th overall pick along with a second-rounder, fourth-rounder in '11, along with a first-rounder and fourth-rounder in 2012 to move up to sixth overall and grab Jones. Tom Heckert was the Browns general manager at the time.
Cleveland used those picks to grab the following players, in order: Taylor, wide receiver
Greg Little
, fullback Owen Marecic, quarterback
Brandon Weeden
. The Browns used the fourth-round pick in '12 as a part of a trade to get running back
Trent Richardson
in the first round.
Little is with the Bengals, Weeden with the Cowboys, and Richardson with the Colts. Marecic is out of the league.
Receiver
Roddy White
recalls being in Los Angeles the night the trade went down.
"Absolutely I was happy,'' White said. "Julio has been a great player for us these three or four years. He's done a heck of a job. Us making that trade was well worth it; getting a great player that can go out there and do the things that he's done. Going into his fourth season, he's right there at the top of the league in a lot of statistical categories. He's taking care of business.''
White remembered realizing Jones' potential way before draft day.
"They actually played on television when he was in high school,'' White said. "They were on ESPN and I saw him out there. ... He was as big as he is now in high school. And then he was the No. 1 recruit in the nation.
"When you watched him play, you were like, `This guy is going to be amazing.' To be that big, that fast, that strong and to just be in high school, I thought he had a bright future.' ''
Some might question whether the Falcons voided themselves of some valuable starters and depth by giving away so many picks. Then Jones' season-ending foot fracture last season raised more question.
But no question Jones is a dynamic player. If he was just OK, the Falcons would have been on the short end of the trade.