April, 18, 2014
Apr 18
7:00
AM ET
The
Atlanta Falcons
haven't officially exercised the fifth-year option on wide receiver
Julio Jones
yet, but such a decision could be made soon.
Teams have until May 3 to decide whether or not to follow through on the fifth-year option, which is guaranteed for injury only until the final day of the 2014 league year. It becomes fully guaranteed at the start of the 2015 league year.
Jones was the sixth-overall pick in the 2011 NFL draft. In terms of players drafted in the top 10, the value of the fifth-year option is the equivalent to the transition tag for their respective positions. In Jones' case, that means $10.176 million in '15. Only quarterbacks ($14.666 million) and defensive ends ($10.633) have higher figures.
Of course, Jones is coming off a season-ending foot injury that required surgery, and some wonder if he will return to his normal form. But Falcons coach Mike Smith assured Jones was ahead of schedule in his recovery and on pace for training camp.
Immediately after the 2013 season, Falcons general manager Thomas Dimitroff said the team was more focused on free agency and the draft than awarding extensions to Jones and fellow receiver
Roddy White
. The team, however, surely wants to lock up Jones long-term as the cornerstone of the franchise, provided he fully recovers from the injury.
The 25-year-old Jones is scheduled to make $2,581,875 in 2014 with a cap number of $5,149,375. The one-time Pro Bowler was on pace for more than 1,800 receiving yards last season before suffering the foot injury in Week 5.
April, 17, 2014
Apr 17
3:28
PM ET
Add another top name to the list of draft prospects the
Atlanta Falcons
plan to bring to town.
Outside linebacker
Khalil Mack
from Buffalo is scheduled to visit the Falcons next week, according to a league source. Mack is considered a top-5 pick, and at least one draft expert touted him as the top player in this year's draft class -- even ahead of South Carolina's
Jadeveon Clowney
.
Although the Falcons own the sixth overall draft pick, they obviously are doing extensive homework on all the top prospects that could be available to them and fill their biggest needs: offensive tackle and pass-rusher. Texas A&M offensive tackle
Jake Matthews
also is visiting next week, along with Mack and Clowney.
Auburn offensive tackle
Greg Robinson
reportedly had a private workout with the Falcons on Thursday and is likely to visit as well. It is unclear whether Michigan's
Taylor Lewan
, the other top offensive tackle, has a visit scheduled or already visited the Falcons. Lewan previously worked out for the Falcons, as did Matthews, Mack and UCLA's
Anthony Barr
.
ESPN draft expert Mel Kiper Jr.
released his latest mock draft

on Thursday and has Mack going to the
Oakland Raiders
with the fifth overall pick.
The 6-foot-3-inch, 251-pound Mack is touted for his explosive first step and outstanding instincts. He would be hard for the Falcons to pass up if he falls to No. 6, although adding another protector for quarterback
Matt Ryan
would appear to be more pressing than targeting a pass-rusher with the first-round pick.
The Falcons desperately need to improve their pass rush after finishing tied for 29
th
in the league last season with just 32 sacks. Mack is another one of those players capable of getting to the quarterback in any defensive alignment.
Mack is confident in his abilities, even coming from a lesser-known school such as Buffalo.
"The toughest transition for me will be getting to know grown men in a professional environment,'' Mack said at this year's NFL combine. "I feel like that's always going to be difficult at first. ... It's going to be a transition. But I feel like, football-wise, I'm ready to step in and make an impact anywhere I can.''
April, 17, 2014
Apr 17
12:15
PM ET
The fun behind mock drafts is opinions can change on a daily basis.
Such has been the case this year with mixed opinions about the quarterback class as well as the top pass-rushers.
Everyone, however, seems to agree South Carolina defensive end
Jadeveon Clowney
is the most physically gifted and dominating player in the draft, which is why he should be the No. 1 overall pick. But until the
Houston Texans
actually come out and declare Clowney as their guy, the speculation will continue.
To continue reading this article you must be an Insider
April, 17, 2014
Apr 17
8:30
AM ET
Atlanta Falcons
owner Arthur Blank wasn't just trying to appeal to the gathered crowd when he talked about veteran defensive end
Osi Umenyiora
being born with a soccer ball in his crib.
As Blank stood at the podium Wednesday to introduce his new Major League Soccer team to Atlanta, he made the brief reference to acknowledge Umenyiora's presence in the audience. And Blank was right on point with his assessment.
``How old was I when I started playing soccer? As soon as I came out of my mother's womb,'' Umenyiora said. ``That's just how it is in Nigeria and England and all those places that I grew up. It's all about soccer. I've been playing soccer my whole life.''
Such background made the London-born Nigerian the ideal figure to represent the Falcons at the unveiling of the yet-to-be-named soccer team. The
Atlanta franchise will begin play in 2017
, when a new stadium opens its doors to the Falcons, soccer and other venues.
Umenyiora and teammate
Sean Weatherspoon
were part of Wednesday's welcoming party. While Weatherspoon proclaimed himself a fan of the sport, Umenyiora actually grew up playing soccer in both London and Nigeria until he came to the United States at the age of 15 and took up American football.
He didn't grow up wanting to be the next Reggie White or Lawrence Taylor. He idolized Diego Maradona and Pele.
``We also had the Nigerian players like Jay-Jay Okocha, who was a great player for us, and Rashidi Yekini, another great player for us,'' he said. ``There are just so many players that I grew up idolizing, so it would be hard to mention them all.''
Umenyiora said his natural position in soccer was striker until he started to grow taller and get heavier, then he became a defender. He still plays pick-up games every now and then.
``If you know the rules of the game -- you know somebody from Nigeria can watch [American] football and think it's boring,'' Umenyiora explained. ``But if you know exactly what's going on when you watch it, it's an exciting game. The same goes with soccer. So the people that really know about soccer, the score might be 1-1 or 0-0, but it could still be a very, very exciting game.''
Umenyiora believes there will be a high level of interest in the Atlanta franchise. He attended the Mexico-Nigeria match in March, a contest that drew 68,000-plus fans to the Georgia Dome.
``Atlanta has the demographics, with a lot of Africans and a lot of Hispanics who really enjoy the game,'' Umenyiora said. ``I think it will be great for Atlanta to have a soccer team here. I want to be involved.''
So is Umenyiora thinking about owning a soccer team in the future?
``That's a little bit too expensive for my taste,'' Umenyiora said with laugh. ``Maybe I'll be a GM or something of the Atlanta team. I know soccer. I think that would be awesome.''
April, 16, 2014
Apr 16
6:15
PM ET
South Carolina defensive end
Jadeveon Clowney
, considered the top prospect in this year's NFL draft, is scheduled to visit the
Atlanta Falcons
next week, according to a league source.
Clowney said during his Pro Day that he was in the process of coordinating a meeting with the Falcons. His visit coincides with another appearance from a top prospect as Texas A&M offensive tackle
Jake Matthews
is scheduled to visit Atlanta next week as well.
[+] Enlarge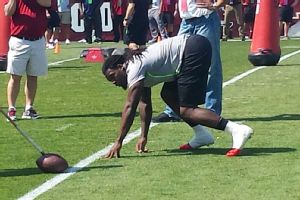 David Newton Jadeveon Clowney shined during position drills at South Carolina's pro day workout.
Clowney has been touted as the No. 1 overall pick -- held by the
Houston Texans
-- by many draft experts. ESPN's Todd McShay had this to say about Clowney in his latest mock draft:
"The Texans really need a QB, and (Blake) Bortles has the highest ceiling of any passer in this draft, but I just think it's going to be too difficult for the Texans to pass on Clowney. He is the best player in this class and the most naturally talented defensive lineman I've ever evaluated, and guys like him simply don't come around that often."
Clowney recently visited the
Jacksonville Jaguars
and
St. Louis Rams
, and reportedly visited the
Detroit Lions
on Wednesday. He made headlines this week after a story surfaced about him not doing any other private workouts after Clemson offensive tackle
Brandon Thomas
tore his ACL during such a workout.
Bus Cook, Clowney's agent, told USA Today that his client could go through one more abbreviated private workout prior to the May 8 draft.
It is unclear whether Clowney already had a private workout with the Falcons.
Cook also dismissed comments from anonymous NFL teams calling Clowney spoiled and lazy.
"We don't give any consideration to that," Cook told USA TODAY Sports. "None of that has bothered us. It doesn't bother Jadeveon. That's not something that's been asked of me by any of the teams that I've talked to. Just go watch the tape."
If the Falcons truly have an interest in Clowney, they likely would have to trade up for him. General manager Thomas Dimitroff said he is open to trading up or down. And during this year's NFL combine, Clowney mentioned such a scenario involving the Falcons.
"I wish they could trade up for me," Clowney told ESPN.com, "but I hope I don't fall to No. 6. I like Atlanta -- a lot. They're pretty good. They've got some guys from South Carolina on the team, also. And it's close to home."
The 6-foot-5-inch, 266-pound Clowney, a native of Rock Hill, S.C., solidified his standing as a top talent with a great performance at his pro day, where he showed the ability to drop into the coverage to go with blazing speed.
The Falcons sorely need help at pass-rusher after finishing tied for 29
th
in the league last season with just 32 sacks. Although the Falcons are preparing for more of a 3-4-base defensive scheme, the multiplicity they seek on defense would make Clowney a fit regardless.
April, 16, 2014
Apr 16
2:50
PM ET
The
Atlanta Falcons
obviously are impressed with at least one small-school running back.
Towson University's
Terrance West
, a player the Falcons reportedly worked out privately, is scheduled to visit the team next Wednesday, according to a league source.
The 5-foot-9, 225-pound West opened eyes with an impressive performance during his pro day. He is projected as a third-round pick after leaving school a year early.
In three seasons at Towson, West rushed for 4,849 yards on 802 carries with 84 touchdowns. His touchdown total tied the NCAA FCS record set by Georgia Southern's Adrian Peterson, the brother of former Falcon
Mike Peterson
.
Although the Falcons still believe in veteran
Steven Jackson
, they'll need to draft another running back for the future.
Jason Snelling
's abrupt retirement created a need for more depth at the position although the Falcons have
Jacquizz Rodgers
and
Antone Smith
returning.
The Falcons also have top offensive tackle
Jake Matthews
from Texas A&M visiting next week, as well as UCLA outside linebacker
Anthony Barr
.
April, 16, 2014
Apr 16
10:00
AM ET
By
ESPN.com staff
| ESPN.com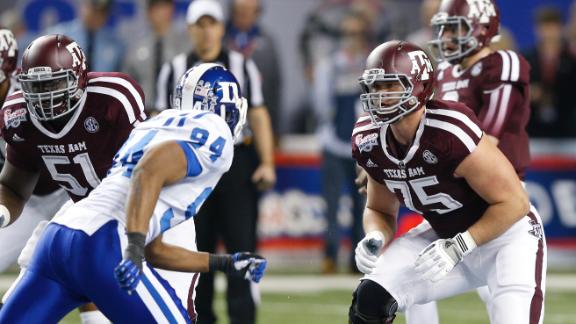 ESPN.com Falcons reporter Vaughn McClure says
Jake Matthews
is one name that keeps popping up as Atlanta enters the stretch run in preparation for the NFL draft.
April, 16, 2014
Apr 16
8:36
AM ET
Don't be surprised if Auburn tackle
Greg Robinson
's name surfaces in relation to workouts or visits conducted by the
Atlanta Falcons
over the next week or so.
The Falcons definitely could target an offensive tackle if they keep the sixth overall pick in the upcoming
NFL draft
. And they've reportedly already worked out top tackle prospects
Jake Matthews
from Texas A&M and
Taylor Lewan
from Michigan, so Robinson naturally would be next up in the workout circuit.
The Falcons also continue to bring in top players for visits, and Matthews has a visit scheduled for next week. So it would only make sense for both Robinson and Lewan to make the trek to Atlanta, too, if they haven't already.
ESPN draft analysts Mel Kiper Jr. and Todd McShay believe the Falcons will take Matthews with the sixth pick, although Kiper's opinion could change when his latest mock draft appears this week. At least one mock draft, posted this week by NFL.com's Bucky Brooks, has Robinson falling to the Falcons at No. 6 with the St. Louis Rams taking Matthews with the second overall pick. There also has been talked this week of Robinson being worthy of consideration as the first overall pick, currently held by the
Houston Texans
.
However it all unfolds, the Falcons will have options. Protection still seems to be issue that needs to be addressed first over adding another pass-rusher, although Buffalo's
Khalil Mack
would be hard to pass up if he falls to No. 6.
South Carolina defensive end
Jadeveon Clowney
should be the top pick and likely won't fall to the Falcons. He is expected to visit Atlanta in the next few weeks, but don't count on him being a Falcon.
Matthews, Robinson or Lewan would be the safe bets.
April, 15, 2014
Apr 15
5:55
PM ET
The
Atlanta Falcons
waived cornerback
Saeed Lee
and tight end
Adam Nissley
on Tuesday. Neither player was a significant contributor.
Lee (5-11, 160) signed with the Falcons last May after participating in the team's rookie minicamp. He played collegiately at Alabama State.
Nissley (6-6, 267) was signed as an undrafted free agent out of Central Florida in 2012. He was on injured reserve the past two seasons.
April, 15, 2014
Apr 15
12:00
PM ET
A familiar name popped up among the top-paid sports figures in the world, as
computed by ESPN The Magazine
.
Yes,
Atlanta Falcons
quarterback
Matt Ryan
stands tied for ninth on the list with earnings of $30 million in 2013. Ryan is right alongside
Baltimore Ravens
quarterback
Joe Flacco
($30 million) and right below
Los Angeles Lakers
guard
Kobe Bryant
($30.5).
Boxer Floyd Mayweather Jr. topped the list at $73.5 million.
Three quarterbacks are ahead of Ryan: Green Bay's
Aaron Rodgers
($40 million), Detroit's
Matthew Stafford
($31.5 million), and New England's
Tom Brady
($31.5 million). The trio is ranked fourth, sixth and seventh, respectively.
Some question whether Ryan deserved to be paid like an elite quarterback with just one playoff win to his credit. Former NFL executive and current ESPN analyst Bill Polian believes Ryan is just a Super Bowl win away from joining the likes of Rodgers, Brady,
Peyton Manning
and
Drew Brees
in the upper echelon of quarterbacks.
Ryan's cash value in 2014 is $22,490,000.
ESPN The Magazine also broke down the
highest-paying teams
, while explaining how those
salaries were compiled
.
April, 15, 2014
Apr 15
8:00
AM ET
The possibility still exists for the
Atlanta Falcons
to trade up or down in this year's
NFL draft
, as general manager Thomas Dimitroff has reiterated throughout the offseason.
But if the Falcons keep the sixth overall pick, they should find an impact player. The last time they owned the No. 6 pick was in 2011, when the Falcons selected game-changing receiver
Julio Jones
. Dimitroff, of course, traded away five draft picks in order to move up for Jones.
Matt Haley of the Falcons' football communications department put out some interesting figures recently. Players selected sixth overall have earned 136 Pro Bowls, 46 first-team All-Pro selections, and 10 Hall of Fame nods. The last to achieve the latter honor was offensive tackle Walter Jones, the sixth overall pick of the
Seattle Seahawks
in 1997 and a 2014 Hall of Fame inductee.
Maybe the Falcons will find their own Hall of Fame tackle in a draft class that includes Auburn's
Greg Robinson
, Texas A&M's
Jake Matthews
and Michigan's
Taylor Lewan
.
Here's a look at the sixth-overall picks from the last 10 drafts, with a mixture of hits and misses:
April, 14, 2014
Apr 14
5:00
PM ET
Eventually, the
Atlanta Falcons
will have to addresss their depth at linebacker, considering how injuries affected the position throughout the 2013 season.
The Falcons seem destined to draft a linebacker or two with 10 picks in this year's draft. The question is, how high will they be willing to invest in a linebacker?
Well, Montana's
Jordan Tripp
seems to be making a steady rise up the draft charts and some believe he won't last beyond the third round.
And the Falcons continue to take a close look at Tripp. NFL.com's Gil Brandt first reported Tripp would make a pre-draft visit, and the linebacker prospect was actually was in Atlanta on Monday visiting with the team.
The 6-foot-3, 234-pound Tripp entered the draft process projected as a late-round pick. He is listed as an outside linebacker but would project better as an inside linebacker as the Falcons move toward a 3-4-base defense. He ran the 40-yard dash in 4.67 seconds at the combine. And Tripp called himself the most versatile linebacker in the draft.
Drafting a player from Montana wouldn't be new to the Falcons. They drafted defensive end/linebacker
Kroy Biermann
in the fifth round out of Montana in 2008 and also drafted former Montana safety
Shann Schillinger
in the sixth round in 2010. Biermann is set to return from a season-ending Achilles' injury while Schillinger was released by the Falcons and picked up by the
Tennessee Titans
.
April, 14, 2014
Apr 14
8:00
AM ET
The
Atlanta Falcons
continue to do extensive homework on pass-rushers with the NFL draft less than a month away.
Of course, South Carolina's
Jadeveon Clowney
and Buffalo's
Khalil Mack
lead the group, and the Falcons are likely to host both players for visits soon. But if the draft unfolds as expected, Clowney and Mack are likely to be gone if the Falcons stay put with the sixth overall pick.
ESPN draft experts Mel Kiper Jr. and Todd McShay believe, based on their latest mock drafts, that the Falcons will end up selecting Texas A&M offensive tackle
Jake Matthews
at No. 6. Such a move would likely make a pass-rusher even more of a priority in the second round.
Three pass-rushers McShay identified as second-round picks seem to be high on the Falcons' radar. Boise State's
Demarcus Lawrence
visited Atlanta last week. BYU's
Kyle Van Noy
is scheduled to visited the Falcons on Wednesday. And UCLA's
Anthony Barr
will visit sometime next week.
McShay actually has Barr as the first pass-rusher off the board in the second round with the 36th overall pick to Oakland. He has the Falcons taking Auburn's
Dee Ford
at No. 37. Ford, of course, impressed the Falcons at the Senior Bowl and seems likely to visit or have a private workout with the team, if he hasn't already.
Going back to McShay's board, he has Lawrence going as the 52nd pick to Arizona and Van Noy as the 57th pick to San Diego.
Regardless of which pass-rusher seems to be the most appealing, the Falcons seem to be in good position to land an impact player. Ford or Barr would be a steal considering they were projected as first-round picks early in the process.
The curveball in the whole equation might be the safety position. If the Falcons view safety as a more pressing need, they might take a player such as Northern Illinois'
Jimmie Ward
in the second round.
April, 11, 2014
Apr 11
12:55
PM ET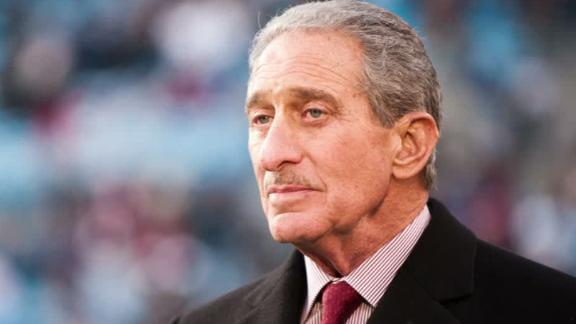 Matt Ryan refused to criticize his teammates for not coming to his defense in last year's season opener, but the Atlanta Falcons quarterback understands why the incident annoyed team owner Arthur Blank.
Ryan appeared on 680 The Fan radio's "Front Row" show Friday morning in Atlanta and discussed the play during which he was hit by New Orleans Saints rookie safety Kenny Vaccaro while sliding to the ground. Blank was a guest earlier in the week and told the station it bothered him that none of Ryan's teammates got in Vaccaro's face after the play.
"I understand," Ryan said. "I know what [Blank] said. And listen: Nobody is more passionate about the Atlanta Falcons and cares more about the Atlanta Falcons than Mr. Blank. And as a player, you love to have an owner that is like that. He cares. He's committed. He's willing to do, in my opinion, whatever it takes to win."
In reflecting on the Sept. 8 incident, Blank said, "And that play really bothered me, sincerely. It bothered me that none of our players, they all complained, but none of them went to the safety on the Saints and did anything. Not that they would start a fight, but just kind of put their finger in his chest saying, 'That's not acceptable.'"
Blank went on to say new assistant general manager Scott Pioli also was bothered by the players not having Ryan's back and viewed it as symbolic of the mentality of the team.
Ryan said the Falcons' public relations staff made him aware of Blank's comments. He was asked Friday if it entered his mind that no one had his back.
"No," Ryan responded. "From a player's perspective, listen: I was trying to breathe. You get the wind knocked out of you, and when you're in that position, when you can't breathe, you stop thinking about all the other crap that's going on out there, and you're just saying, 'All right. Get some oxygen in my lungs.' I didn't think twice about it. We got the 15-yard penalty. We're trying to go down and put points on the board. As a player and as a quarterback, you have to be so focused on executing and doing your job. And so for me, I didn't worry too much about it.
"I understand where Arthur is coming from. I understand that he has his opinion and that's the way that he feels. And I appreciate that from him because he has my back. And I respect that. But I also understand, from the player's perspective, how you play the game and Smitty [coach Mike Smith] all the time preaches to us that there's a line and you've got to play on that line, but not over the line. And you've got to play smart. In that situation specifically, a penalty or something like that when we're in the red zone, we're going down to score points, that can change the outcome of the game."
The Falcons lost the game 23-17. Vaccaro was later fined $7,875 for the hit.
Based on video, offensive tackle Lamar Holmes