October, 23, 2014
Oct 23
3:40
PM ET
Surprisingly,
Atlanta Falcons
defensive line coach Bryan Cox didn't resort to foul language in describing the play of his unit thus far.
Cox, however, is far from satisfied with the effort. And he primarily pointed to one person in particular.
"Not good enough," Cox said. "At the end of the day, I've got to coach it better.
[+] Enlarge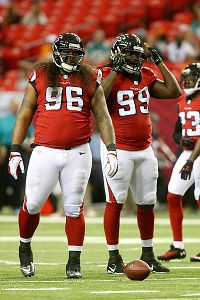 Jason Getz/USA TODAY SportsPaul Soliai and Tyson Jackson were signed as free agents to shore up Atlanta's run defense, but the D-line has continued to struggle.
"We've got to play together better. And we have to do a better job in order to help us be successful."
The lack of pressure up front has been one of the biggest issues plaguing the 2-5 Falcons as they prepare to face capable
Matthew Stafford
and the 5-2
Detroit Lions
on Sunday in London. The Falcons have allowed an NFL-high 8.3 yards per dropback. They are tied for 27th in the league with just seven sacks and are tied for 29th in sacks per pass attempt.
"I don't get caught up in [statistics]," Cox said. "At the end of the day, we have a job to do. At the end of the day, it's about wins and losses. And right now, we don't have enough wins.
"To get caught up in the reason behind on dropbacks and this and that … at the end of the day, let's do a better job and find a way to win some games. If you do that, I think we'll all be happy and nobody will pay attention to the numbers. Sometimes, numbers don't mean a whole lot."
It does mean something, however, when opposing quarterbacks get all day to find their receivers. And it means something when defensive back have to defend down field for an inordinate amount of time or have to resort to holding because there is no push up front.
The 24 pass plays of 20-plus yards surrendered by the Falcons through seven games have had a lot to do with the lack of pressure up front. That number of plays could increase on Sunday, particularly if Lions standout receiver
Calvin Johnson
returns from an ankle injury and the Falcons fail to get pressure on Stafford.
Cox singled out
Jonathan Massaquoi
and
Corey Peters
as two players who have made strides as pass-rushers. Their contributions haven't been nearly enough to compensate for the struggles.
"We've got to do a better job collectively: me coaching; them playing," Cox said. "And we've got to stick together because it's a point in time when people want to start pointing fingers. But as a person who has been a competitor at this level and a person that has coached at this level and played at this level, the teams that find a way to stick together and come together are the teams that usually find a way to have success and get out of slumps.
"It ain't a surprise to any of us that people are calling us out for not doing well. We're not doing a good enough job."
That carries over into the run defense as well. There have been a handful of times when defensive linemen have been out of their gaps, leading to big run plays. The Falcons are 27th in run defense, allowing 137.7 rushing yards per game.
The free-agent additions of
Paul Soliai
and
Tyson Jackson
were expected to help the Falcons stuff the run. Such hasn't been the case, at least not consistently. Both Soliai and Jackson have talked about being disappointed with their respective performances.
"We don't talk about the things that we can do better," Cox said in reference to the specific shortcomings for Soliai and Jackson. "What they do well is they eat blocks. They take double-teams. Anytime you see our linebackers have success with 14, 15 double-digit tackles, that means that (Soliai and Jackson) are doing their jobs. We've had some games where
Paul Worrilow
has had some double-digit tackles.
"When you (take on blocks), you sacrifice yourself for the good of the team. They eat double-team blocks. Their numbers are not what some people would want. They've never been pass-rushers. Their job is to eat blocks, and they've done a good job with that."