October, 1, 2014
Oct 1
11:05
AM ET
[+] Enlarge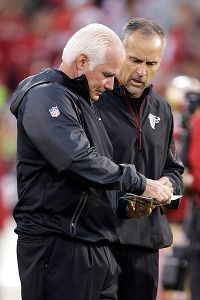 AP Photo/Tony AvelarFalcons coach Mike Smith is standing beside defensive coordinator Mike Nolan, right, despite the team's myriad struggles on that side of the ball.
FLOWERY BRANCH, Ga. -- Atlanta Falcons coach Mike Smith expressed full confidence in defensive coordinator Mike Nolan despite the defensive woes that continue to plague the team.
The Falcons enter Sunday's game against the New York Giants ranked last in passing yards allowed per play (8.37), second-to-last in total yards allowed per game (429.9), second to last in sacks per pass attempt (2.27 percent), and 29th out of the 32 teams in points allowed per game (28.3).
The Falcons surrendered a season-high 558 yards in a 41-28 loss this past Sunday to the undermanned Minnesota Vikings, who were playing without Adrian Peterson and with rookie quarterback Teddy Bridgewater.
Regardless, Smith believes in Nolan's scheme as the Falcons (2-2) continue to preach being a multiple defense.
October, 1, 2014
Oct 1
10:00
AM ET
ESPN Falcons reporter Vaughn McClure breaks down Atlanta's options on the offensive line after season-ending injuries to
Joe Hawley
and
Lamar Holmes
.
October, 1, 2014
Oct 1
8:19
AM ET
FLOWERY BRANCH, Ga. -- Not only did the
Atlanta Falcons
lose two good players when strong safety
William Moore
and center
Joe Hawley
were placed on injured reserve on Tuesday. They also lost two solid leaders.
Moore assumed more of a leadership role at the start of the season knowing his good friend, linebacker
Sean Weatherspoon
, wouldn't be on the field after tearing an Achilles this offseason.
Moore
Hawley
"I embrace that leadership role, and not just because I have to and not because it's due time," Moore said recently. "It's because I want to. I know what it does for our football team. That's one thing that it takes to win.
"If we want to win around here, it's going to take people not only to talk about it, but to show younger guys the way. I think that's what I'm here for as far as making plays and doing what it takes to lead us to make plays.''
Coach Mike Smith believes Moore, who suffered a shoulder injury, can continue to be a leader from the sideline, much like Weatherspoon has been already this season. Moore was placed on injured reserve with a designation to return, so he could be back in eight weeks.
"When I spoke to William, I talked to him specifically about even though he's not going to be between the lines, we're going to need his leadership, much like Sean (Weatherspoon)," Smith said. "Sean is with us in the meetings. And we expect that William will do that as well. He's designated to return, so he's a guy that's definitely going be back before the season is over, so he can be a guy who can help us win games."
Defensive coordinator Mike Nolan was asked which defensive players could step in leadership roles on the field.
"We definitely have some very mature guys that handle their (meeting) rooms real well," Nolan said. "
Osi (Umenyiora)
handles his room extremely well, but he's not on the field all the time and that's because his role on the field is to be a rusher in those situations. And
Paul Worrilow
is a guy that, although it's only his first year (relaying defensive calls), he's slowly and gradually continuing to be more vocal when it comes to other things. He's real vocal on the field when it comes to calls. That's his job.
"Like I said, we've got a mature group that hopefully will step up to task in the D-line. The linebackers are very young. We'll have to wait and see. To call them out right now or to make somebody do it, obviously it's got to be a natural thing."
Hawley was the unquestioned leader of the offensive line before tearing his ACL against Minnesota. Although the center naturally has to be a leader, starter
Peter Konz
might not be a natural to assume such a role immediately. Veteran right guard
Jon Asamoah
already has displayed some leadership qualities, like taking tight end
Levine Toilolo
under his wing when Toilolo was forced to line up at right tackle the last game.
"Jon's an experienced player," offensive coordinator Dirk Koetter said of Asamoah. "That will, I'm sure, be an evolving process; who emerges as the leader. Much like the quarterback position, the center position is naturally a position of leadership. But leadership can come from any of those guys. That will be something that will have to be developed."
September, 30, 2014
Sep 30
6:45
PM ET
FLOWERY BRANCH, Ga. -- Center
Joe Hawley
, with his tendency to mix it up with opponents, set an aggressive tone for the
Atlanta Falcons
from the very start of the season. The team will sorely miss that aspect of Hawley's character, maybe just as much as his consistent play.
With Hawley shelved for the remainder of 2014 following an ACL tear, the onus is on former second-round pick
Peter Konz
to step in and maintain at least a solid level of play at the center position. Some might consider it too much to ask from a guy who was benched twice last season and physically pushed around. But Konz, who reshape his frame this offseason, seems to have a little more of an edge to him this year.
Konz
"I want to play with a chip," said Konz, who has 25 career starts going into Sunday's game versus the
New York Giants
. "I want to play like I've got something to prove because it means a lot to me. And this game means a lot to me; this team means a lot to me. So whatever happens, I want to go in there and play better than I've ever played just to prove myself, just to prove I can do it. It's just as much about that as it is about having fun."
As things stand now, the Falcons will proceed with a line combination of rookie
Jake Matthews
at left tackle,
Justin Blalock
at left guard, Konz at center,
Jon Asamoah
at right guard, and
Gabe Carimi
at right tackle. If Blalock continues to have issues with a back injury, Carimi would most likely end up at left guard with
Ryan Schraeder
stepping in at right tackle. Newcomer Cameron Bradfield and Harland Gunn, who was promoted from the practice squad, provide depth at tackle and guard, respectively.
The Falcons now have lost Hawley, Holmes, left tackle
Sam Baker
(knee) and versatile linemen
Mike Johnson
(Lisfranc) to season-ending injuries.
Hawley was the unquestioned leader of the line, something Konz might not be able to duplicate in terms of being vocal. But he'll win over a lot of teammates and coaches by being much more physical than he was last season.
"Pete did a lot of work on his body in the offseason," offensive coordinator Dirk Koetter said. "He wanted to change his body, which he did. He wanted to become a more physical player, which that has shown up on film.
"In regard to the chip, that's a personal thing. ... The bottom line is, if you're a pro football player and your number's called, then you're expected to perform. We have very high expectations for Pete, and for anyone else that's going to step up that they will do that."
Carimi, who played with Konz at Wisconsin, expressed faith in his old college buddy.
"Peter is everything you want in a center," Carimi said. "He's smart and strong. He comes to work every day wanting to be better. He'll play winning football every week for us."
September, 30, 2014
Sep 30
2:57
PM ET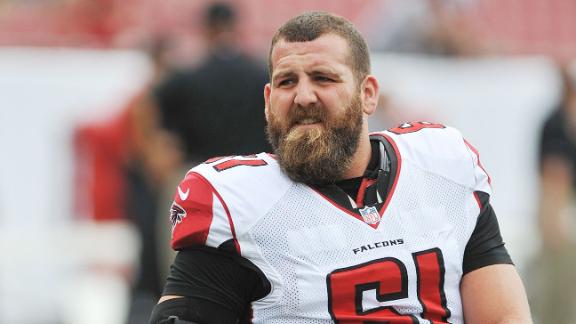 FLOWERY BRANCH, Ga. -- The Atlanta Falcons have lost starting center Joe Hawley to a season-ending knee injury and starting right tackle Lamar Holmes to a season-ending foot injury, while starting strong safety William Moore will be placed on short-term injured reserve with a shoulder injury, coach Mike Smith said Tuesday.
Hawley injured his right knee during Sunday's 41-28 loss at Minnesota when nose tackle Linval Joseph rolled up on his leg. Hawley was carted off the field and left the stadium on crutches with a brace protecting his knee.
Initially, there was optimism about Hawley's injury not being season-ending and possibly being a less severe MCL sprain. However, further tests revealed otherwise. A league source told ESPN's Adam Caplan that Hawley suffered a torn ACL.
Hawley took to Twitter to post a message about his injury.
With Hawley out of the lineup, the Falcons have to turn to Peter Konz, the former second-round pick out of Wisconsin who lost the starting job to Hawley last season. Konz has 25 career starts.
September, 30, 2014
Sep 30
11:00
AM ET
A weekly look at what the
Atlanta Falcons
must fix:
As the Falcons get prepared for Sunday's road trip to face the
New York Giants
, they'll need to pack a stout run defense with them -- if that's at all possible.
Right now, the Falcons rank 28th in the league against the run, yielding 153.5 yards per game. The fact that they can't stop the run has contributed to them being unable to put opponents in third-and-long situations. As a result, they've been unable to get consistent pressure on opposing quarterbacks and rank second to last in the league in sacks per pass play.
One play in particular during Sunday's 41-28 loss at Minnesota was symbolic of the Falcons' run-stopping woes. In the second quarter, the Vikings faced first-and-10 from their own 8-yard line. Strong safety
Kemal Ishmael
was down in the box initially to load up, but he dropped into coverage at the snap. As Vikings quarterback
Teddy Bridgewater
handed off to fellow rookie
Jerick McKinnon
, linebacker
Joplo Bartu
shot through the gap toward McKinnon but got blocked to the ground by Vikings center
John Sullivan
. The momentum of run-stuffers
Paul Soliai
and
Tyson Jackson
was going to the left, which then left the middle open for McKinnon.
Paul Worrilow
was the last line of defense before McKinnon got into the open, but Worrilow got blasted to the ground by Vikings fullback
Jerome Felton
.
Missed tackles by Ishmael,
Robert Alford
,
Dwight Lowery
and
Kroy Biermann
followed as McKinnon cut all the way across the field for a 55-yard run. Fortunately for the Falcons, the end result was a missed 49-yard field goal by
Blair Walsh
.
Regardless, the defensive blunders and lack of physical play are what the Falcons need to avoid if they want to be respectable on defense. And there needs to be a quick fix because the Falcons face the NFL's third-leading rusher Sunday in
Rashad Jennings
, then they'll contend with their first elite running back this year when
Matt Forte
and the
Chicago Bears
visit the Georgia Dome on Oct. 12.
September, 30, 2014
Sep 30
8:15
AM ET
FLOWERY BRANCH, Ga. -- Several members of the
Atlanta Falcons
' defense pointed the finger at themselves following Sunday's 41-28 loss at Minnesota, and outside linebacker/defensive end
Kroy Biermann
followed suit on Monday.
Biermann
Biermann, who played 57 of 76 defensive snaps, was credited with seven tackles and had no sacks and just one quarterback hurry versus 22 pass plays. His biggest contribution was helping stop Vikings quarterback
Teddy Bridgewater
on third down at the 2-yard line, but the Vikings scored a touchdown on fourth down.
"I'm definitely disappointed in my performance," Biermann said. "I had some key plays that I didn't make and things that I should have made. You've got to see those. You've got to work through those. And you can't make the same mistakes twice. You've got to learn and grow from those to get better and to keep moving forward."
Biermann has been the target of much criticism from the passionate Falcons fan base. His impact has been minimal in his return from last year's Achilles injury, with no sacks, one quarterback hit and two tackles for losses in the first four games. He's played 219 of 282 defensive snaps.
Biermann hasn't used coming off an injury as an excuse. He also wouldn't call himself a total disappointment at this point.
"I wouldn't say that I'm struggling," he said. "I'm just disappointed in the way things go. I take losses to heart. It's important for me to win. I look at myself and I say, 'What could I have done more? How could I have made it better? Could I have been more physical on a certain play? Could I have shed a guy in a different direction?' I'm very critical of myself to be the best that I can be for this team."
So how would Biermann grade himself through four games?
"I need to improve, as everybody would say," Biermann said. "It doesn't look good on paper. It doesn't look good on film. There are splashes here and there, but you've got to be consistent. And we've got to do it the way that we've been talking about doing it to be successful. You've got to put that talk into action otherwise, nothing's going to happen."
September, 29, 2014
Sep 29
7:30
AM ET
When injuries started to mount for the
Atlanta Falcons
last season, the downward spiral never stopped.
Once again, the injury bug has bitten the Falcons on both sides of the ball. And once again, a defensive leader is among the walking wounded.
Moore
Ishmael
Strong safety
William Moore
suffered what is thought to be a significant shoulder injury during Sunday's
41-28 loss
to the
Minnesota Vikings
. Coach Mike Smith did not immediately provide an update on Moore's status, but the tone of the locker room wasn't too optimistic. In fact, one player indicated Moore "might be out" as if the injury could be serious enough to jeopardize Moore's season.
Nothing will be certain, however, until Smith provides an injury update either during his Monday afternoon news conference or on Wednesday, when the injury report is released.
The Falcons are bracing for the worst.
"William is a big part of our defense and he sets the tone for us back there," rookie safety
Dez Southward
said. "I don't know anything about his situation. I hope that he comes back. But he is the heart and soul of this defense. Guys love him and listen to him. So, I'm wishing the best for him. But at the same time, I know that if he's not able to play, others, including myself, have to be ready to go."
The Falcons already lost their primary defensive leader when linebacker
Sean Weatherspoon
suffered an Achilles injury during the preseason. Moore immediately assumed more leadership and vowed to be more vocal. He was playing at a high level -- and playing smarter in terms of avoiding illegal hits -- before suffering the shoulder injury late in the first quarter of Sunday's game.
If Moore is out for any amount of time,
Kemal Ishmael
will have to develop quickly. Ishmael got a head start when defensive coordinator Mike Nolan started using more of a three-safety look featuring Moore, Ishmael, and free safety
Dwight Lowery
. That could become a threesome of Lowery, Southward, and Ishmael.
"Willy Mo has a big impact on our defense and he's one our senior leaders; a veteran guy who has been here," Ishmael said. "But this is the NFL. Guys have to step up and play at the same level as the starters do. We're just going to have to work through it and push through."
Moore was Ishmael's biggest supporter leading into the season, which should give Ishmael more confidence if he becomes the starter for any amount of time.
"Ever since I came here, Will's a guy I've always looked up to," Ishmael said. "His style of play is similar to mine and I just feed off of him. I watch what he does in practice and I just learn from him. For him to respect me like that and talk about me, that's awesome, because I'm basically under his wing.
"I'm going to do everything I can to help this team -- and help this defense -- to win."
After surrendering 558 total yards against the Vikings, the Falcons need all the defensive help they can get.
September, 29, 2014
Sep 29
12:55
AM ET
MINNEAPOLIS -- One of the oddest sights from Sunday's Falcons-Vikings game was seeing lanky tight end
Levine Toilolo
, at 6-foot-8 and 265 pounds, line up at right tackle for the Falcons to close out the game in a 41-28 loss.
"When you have tight ends playing offensive line for you, it limits what you can do, limits the playbooks,'' quarterback
Matt Ryan
said. "But I think our guys battled. I thought Levine stepped in and did a good job.
"It limits what you can do. It makes things a little more difficult. But I think we tried to make the best of that situation.''
Toilolo
The situation was created after the Falcons lost starting offensive linemen
Joe Hawley
,
Justin Blalock
and
Lamar Holmes
to injuries. Center Hawley was carted off the field with a knee injury and is scheduled to undergo an MRI on Monday, as reported by ESPN's Adam Caplan. Hawley left the locker room on crutches and with his right leg in a brace, but there's optimism about his injury not being season-ending. Holmes, the right tackle, also exited the locker room on crutches and had his left foot in a boot. Blalock, the left guard, was sidelined with a back injury.
The Falcons dressed seven offensive linemen as tackle
Ryan Schraeder
and rookie center/guard
James Stone
were inactive.
Peter Konz
finished the game at center for Hawley while
Gabe Carimi
finished at left guard for Blalock.
"I think we just have to regroup,'' rookie left tackle
Jake Matthews
said. "We have to look back at the film and see what things we did well. Obviously, there was a lot that we needed to improve on. Losing three key guys like that is never easy. I've never been a part of a game where we're playing with just four offensive linemen.''
Like Ryan said, it significantly limited what the offense was able to accomplish in the fourth quarter as the Falcons tried to erase a 10-point deficit. Ryan was intercepted by Vikings safety
Harrison Smith
with 3 minutes, 30 seconds to play. He threw another interception on a desperation throw as time expired.
Now, the Falcons have to put this game behind and hope that the offensive line is healthy enough to move forward. Schraeder and Stone appear destined to be active for next Sunday's game against the
New York Giants
. Promoting guard Harland Gunn from the practice squad would be another option for more depth. And the team could look outside for help as well, if needed.
The Falcons already lost veteran tackle
Sam Baker
(knee) in the preseason, so they were shorthanded coming into the season. And protecting Ryan was the primary emphasis for 2014, and that goal might be hard to accomplish with so many moving parts. If he doesn't get proper protection, the offensive can't be as dynamic as offensive coordinator Dirk Koetter wants it to be.
"It's one of those things that we have to adjust and guys have to be ready to step up and play,'' right guard
Jon Asamoah
said. "I'm proud of the guys that came in today. Pete and Gabe came in there, as well as Levine, and competed.
"With Levine, that was a first. But Levine is a smart guy from Stanford. We communicated and he held up out there.''
September, 28, 2014
Sep 28
11:10
PM ET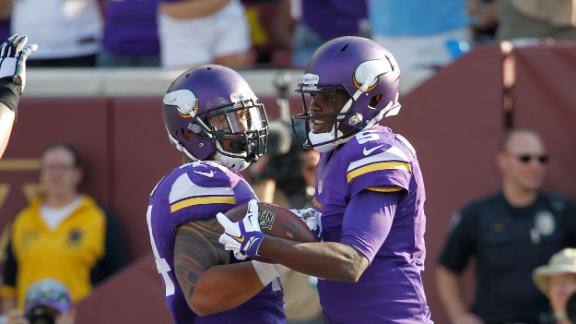 MINNEAPOLIS -- When a defense gives up 558 yards to a team playing without its best player and with a rookie quarterback, something is seriously broken.
As the
Atlanta Falcons
tried to explain their defensive woes after Sunday's
41-28 loss
to the
Minnesota Vikings
, plenty of folks attempted to absorb the blame. Nose tackle
Paul Soliai
put it on himself for not stopping the run -- although he wasn't solely responsible for surrendering 241 rushing yards and four rushing touchdowns. Linebacker
Paul Worrilow
pointed to himself for not getting off blocks -- but he was far from the only one who encountered such a problem.
[+] Enlarge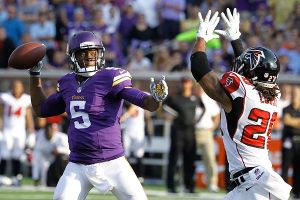 Ann Heisenfelt/AP PhotoDwight Lowery and the Falcons were unable to stop Teddy Bridgewater during the rookie QB's first start.
The Falcons (2-2), supposedly bigger, tougher, and stronger on defense this season, found themselves offering very little resistance on that side of the ball. That's why the Vikings' running back tandem of rookie
Jerick McKinnon
and
Matt Asiata
-- filling in for
Adrian Peterson
-- combined for 213 rushing yards, including a 55-yard run by McKinnon. That's why first-time starter
Teddy Bridgewater
completed 19 of 30 passes for 317 yards with no interceptions.
"They ran the ball, they threw the football, and they did basically whatever they wanted to in terms of controlling the line of scrimmage, and that is very alarming," Falcons coach Mike Smith said. "The way we have played on the road through the first two games is a big concern because we are going to be getting into a stretch here that we have to be on the road for a number of weeks."
Indeed, the Falcons play four of the next six games away from the Georgia Dome, where they looked like a totally different defense in a
56-14 win
against the
Tampa Bay Buccaneers
. Sunday looked more like the defense most grew accustomed to seeing during last season's 4-12 misery.
So how will the issues be fixed? Free safety
Dwight Lowery
might have offered the best take on the matter.
"It's going to take all of us," he said. "Not just players. Coaches. Scheme. Understanding where you fit. Understanding adjusting.
"It's a long season. It's not like we lost the Super Bowl or anything. We've just got to improve. Whoever improves the most from week to week mostly likely is going to be in the hunt to do some things during the season. We just have stay as positive as we possibly can and make sure that we're improving each and every single day, each and every single opportunity and when it's time to perform, perform."
Part of the adjustment might include playing without defensive leader
William Moore
; the strong safety went down with what appears to be a serious shoulder injury.
Defensive coordinator Mike Nolan tweaked his lineup against the Vikings by inserting rookie
Prince Shembo
into the starting lineup ahead of
Joplo Bartu
, but the defense was so bad all-around that it was too hard to say if the move had any impact. Bridgewater and the Vikings ruled the middle of the field with play action and tough runs. Team owner Arthur Blank had a blank stare on his face as he watched the defense surrender 351 yards and 24 points in the first half.
The Falcons started the second half playing more inspired on defense, allowing them to take a 28-27 lead on
Antone Smith
's 48-yard touchdown run in the third quarter. But Bridgewater engineered a nine-play, 78-yard drive at the start of the fourth quarter, ending in Asiata's 1-yard touchdown run, sucking plenty of life out of the Falcons.
"We can't be two different teams," Lowery said. "The NFL is about consistency. That's how you get a job. That's how you keep your job. And that's what we need to develop."
September, 28, 2014
Sep 28
10:37
PM ET
September, 28, 2014
Sep 28
9:15
PM ET
Observed and heard in the locker room after the
Atlanta Falcons
' 41-28 loss to the
Minnesota Vikings
at TCF Bank Stadium:
Moore

Strong safety William Moore, who left Sunday's game with a shoulder injury, was nowhere to be seen in the locker room after the game. There wasn't too much optimism about Moore's status. In fact, one teammate said Moore "might be out," meaning the rest of the season. Free safety Dwight Lowery said the Falcons simply have to move forward. "It's the NFL, and the team we just played didn't have their best player [Adrian Peterson]," Lowery said. "They obviously adjusted and did what they had to do. That's kind of what happens. Nobody ever wants to see that happen, especially to Will. But it's the NFL."


Starting center Joe Hawley and starting right tackle Lamar Holmes both left the locker room on crutches following significant injuries. Hawley had his right knee in a brace and guided himself out the exit, while Holmes wore a walking boot on his left foot. Those are scenes the Falcons didn't want to see, particularly when they've already lost Sam Baker to a season-ending knee injury. There was no sign of left guard Justin Blalock, who also exited the game with a back injury.


Julio Jones would like to think the offense can put enough points on the board to outscore anyone. Such wasn't the case Sunday. "We're put in different situations every week. This is the NFL, and it's hard to score on people," Jones said. "We do have a high-powered offense. We just have to make plays when they present themselves. We've got the play better team ball."