December, 19, 2014
Dec 19
8:00
AM ET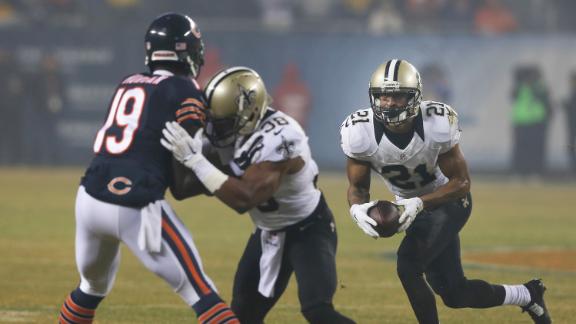 When:
1 p.m. ET Sunday.
Where:
Mercedes-Benz Superdome, New Orleans.
TV:
Fox.
Their records aren't pretty. Their defenses have been downright disastrous at times. But the stakes remain as high as ever as the
New Orleans Saints
(6-8) and
Atlanta Falcons
(5-9) head toward Sunday's showdown with the NFC South title hanging in the balance.
Both teams still control their own playoff fates with two weeks remaining in the season. Win out, and they'll be hosting a playoff game. Lose Sunday, and they'll need a lot of help to get in.
Their first matchup in Week 1 was a high-scoring thriller, with the Falcons rallying to beat the Saints 37-34 in overtime in Atlanta. A repeat is certainly possible since they feature two of the NFL's top-five passing offenses and the league's two lowest-ranked defenses.
ESPN NFL Nation reporters Mike Triplett, who covers the Saints, and Vaughn McClure, who covers the Falcons, discuss Sunday's matchup:
Triplett:
The Falcons have won only one of their past four games. But it looks like they've been putting up a good fight against good teams. Do you think they have a realistic shot at winning their last two games of the season, against the Saints and Panthers?
McClure:
I think it all depends on one person:
Julio Jones
. If Jones is well enough to play through a hip injury that sidelined him last week, the Falcons have a legitimate chance. Personally, I anticipate Jones will be ready for the Saints, based on everything I'm hearing. The offense doesn't flow as smoothly without him in the lineup, of course. Quarterback
Matt Ryan
and Jones really started to develop a rhythm with the deep ball prior to Jones' injury. If Jones indeed plays Sunday, I will be curious to see if his speed and ability to get down the field is hampered at all by the injury. Not to mention the Falcons need him as a red-zone threat after missing out on two such critical red-zone opportunities against the Steelers. The Falcons can't go to the Superdome expecting to win this game with a slew of field goals.
I see Sean Payton shook up the secondary a bit Monday night against the
Chicago Bears
. How did the defense hold up after the change, and do you anticipate any other tweaks this week?
Triplett:
Honestly, I still don't have any idea how the Saints' secondary will hold up against a functioning NFL passing offense, because the Bears and
Jay Cutler
were awful. But the Saints had to like what they saw from the overall energy and aggressiveness -- from both the two new starters (CB
Terrence Frederick
and S
Jamarca Sanford
) and the veterans who were demoted to lesser roles (S
Kenny Vaccaro
and CB
Patrick Robinson
). They snagged a season-high three interceptions and sacked Cutler seven times. However, everyone was disappointed how quickly they let the Bears score twice in garbage time toward the end. So it remains a work in progress.
As for any changes, I expect to see the same players, but the Saints may tweak their plan since the Falcons have the depth to spread the Saints' secondary thin -- as we saw in Week 1 when Matt Ryan threw for 448 yards. I'm curious to see how the Saints handle Jones if he's healthy. New Orleans has one outstanding cornerback in
Keenan Lewis
, who often shadows No. 1 receivers. But against deeper teams such as Atlanta and Pittsburgh, the Saints put Lewis on the No. 2 receiver and double-teamed Jones and Antonio Brown (a tactic that worked better against Pittsburgh than Atlanta).
I know a lot depends on Jones' health. But is Atlanta's passing game still as dangerous as it was in Week 1?
McClure:
I look back at the numbers from last week and the Falcons were able to put up 407 total yards against the
Pittsburgh Steelers
even without Jones in the lineup. Ryan has enough weapons to spread the ball around. I mean,
Harry Douglas
stepped up with 10 catches for 131 yards last week while both
Roddy White
and
Devin Hester
had touchdown catches. I think the underrated aspect related to the passing game is how the offensive line has held up despite going through so many changes. That's a credit to offensive line coach Mike Tice, who lost five linemen to season-ending injuries. Ryan has been sacked only twice the past three games. And although the Falcons are a "passing" team, it only helps when they have some semblance of a running game. Such was the case in a season-opening win over the Saints, when Ryan threw for that career-high 448 yards as his running backs combined for 108 yards on the ground. The Falcons are 17-3 under coach Mike Smith when they have a 100-yard rusher.
I've grown accustomed to
Drew Brees
being synonymous with a high-powered offense and it looks like the Saints enter this game second in the league in total offense. But this hasn't been a typical Brees-like year. Could you tell me where things have gone wrong for him and how he's handled rumors about the team pondering his replacement?
Triplett:
Brees' season has been funny because he's still on pace for nearly 5,000 yards, 35 touchdowns and a league-high completion percentage of 70.0 (sixth in NFL history). But you're right -- it has been a little shakier and less consistent than usual. The biggest problem is he has turned the ball over too many times in big situations (12 interceptions, two lost fumbles). I think he has pressed too much, feeling like he needs to do it all with the defense struggling. It has been an exact repeat of 2012 in that sense. The Saints' downfield passing game has also been spotty, with Brees settling for more check-down passes than usual.
All of that being said, Brees is still awfully sharp. He put on a clinic last week at Chicago, completing 18 of 20 passes in the first half. Three weeks ago, he threw five touchdown passes at Pittsburgh. He's still one of the NFL's elite -- and both he and the Saints know that. So while they may start looking for an eventual future replacement soon, there's no way that they're looking to move on in the short term.
These two teams are in a tight battle for the NFL's worst defense this year. Are the Falcons even worse off than they were in Week 1, and what are their biggest issues?
McClure:
This question seems to come up every week. Yes, the Falcons surrender the most total yards in the league at 409.9 yards per game and the most passing yards at 292.5 yards per game. To put it simply, the lack of a consistent pass rush and the lack of legitimate playmakers on that side of the ball make the Falcons extremely vulnerable. There have been splashes of solid play, like the way the Falcons shut down Steelers running back Le'Veon Bell in the running game last week and the way they pressured
Drew Stanton
and the Cardinals a few weeks back. But consistency is non-existent.
Defensive coordinator Mike Nolan has developed a reputation over the years for being creative with his schemes, but he doesn't have much to work with now. I think the Falcons made a mistake by spending their free-agent money on beefing up the defensive line with space-eaters
Paul Soliai
and
Tyson Jackson
, and both players would admit they set high standards for themselves.
Desmond Trufant
will be a cornerstone for the franchise for years to come as a shutdown cornerback, but Trufant can't beat Brees and the Saints by himself -- unless he comes up with a pick or two.
I see quite a challenge for the Falcons in trying to slow down running back
Mark Ingram
. Is it correct to say Ingram is starting to live up to his potential?
Triplett:
Absolutely. He's on pace for his first 1,000-yard season even after missing three games with a hand injury. And he has been running with authority and confidence all year. However, a lot of his success has to do with the Saints finally improving their run game overall, dating to last season (Ingram had 97 yards in a playoff win at Philadelphia). And a lot of it has to do with opportunity.
First of all, trading
Darren Sproles
freed up Ingram to play more of an every-down role, and he has thrived by running out of passing sets, etc., instead of just heavy run packages. Secondly, he finally got the opportunity to be a featured back with 20-plus carries per week when
Khiry Robinson
and
Pierre Thomas
got hurt midseason, and he delivered in a huge way with four 100-yard games in a six-week span.