November, 28, 2014
Nov 28
3:37
PM ET
[+] Enlarge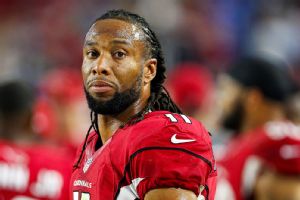 Christian Petersen/Getty ImagesIf Larry Fitzgerald does play Sunday, he won't be limited.
TEMPE, Ariz. -- For the second straight week, Cardinals wide receiver Larry Fitzgerald will be a game-time decision. Arizona is at Atlanta on Sunday.
Cardinals coach Bruce Arians said Fitzgerald was limited in practice Friday, the first time in two weeks he participated because of a sprained MCL in his left knee suffered against Detroit in Week 11.
"He did some work today and is progressing nicely," Arians said. "So, we'll see how he is on Sunday."
Arians couldn't quantitatively describe how much progress Fitzgerald made from Thursday to Friday but said it was "some." During the open part of Cardinals' practice Friday, Fitzgerald was in sweatpants and a sweatshirt but did some jogging and caught a few passes on a side field.
Fitzgerald didn't play last Sunday in a 19-3 loss at Seattle.
Asked if Fitzgerald was better equipped than most to not practice for two weeks and play, Arians said he wasn't.
"Last year with his hamstring, he always practiced," Arians said. "And he knew how to gauge it. This is a little bit more severe than that."
If Fitzgerald plays against the Falcons, against whom he's averaging 53.7 yards per game against in his career, it won't be in a limited role.
November, 28, 2014
Nov 28
3:15
PM ET
FLOWERY BRANCH, Ga. -- With all due respect to
Kemal Ishmael
,
Atlanta Falcons
free safety
Dwight Lowery
was eager to see
William Moore
return to the lineup.
Lowery
Moore
The team made the expected move Friday when they activated Moore off short-term injured reserve and waived offensive tackle
Cameron Bradfield
. Moore had been sidelined since Week 4 with a right shoulder separation but is set to return to the starting lineup Sunday against Arizona.
"It's huge," Lowery said. "His experience, his leadership, his energy ... I mean, I can sit here all day and talk about what William brings to the table. He'll show you.
"He's ready. I know that. He's been out for a pretty long while and I'm sure he's had a lot of time to reflect on things, how the season has been going for us and how he can really help out in taking our defense and our team to another level as well. So it's going to be huge for us. And it's going to be huge for him."
Moore was listed as probable on the final injury report and had full participation in Friday's practice. His biggest concern is landing on the shoulder,
but he'll wear protection underneath his shoulder pads.
Moore's return should help solve some of the communication problems the Falcons have had in the secondary. The defense continues to surrender too many explosive plays, with 13 plays of 40-plus yards yielded this season. That's part of the reason the Falcons have the league's worst defense statistically, allowing 409.9 yards per game.
About the only negative from Moore's return is that the emerging Ishmael -- with a team-leading four interceptions, including one in each of the last three games -- will back into a reserve role. Ishmael is sure to stay involved on defense in some capacity, particularly with defensive coordinator Mike Nolan utilizing a three-safety look throughout the season.
Regardless of how the Falcons align, Moore's return should provide a boost.
"It's weird because personality-wise, William and I are opposites," Lowery said. "But I understand him. And I understand how he sees the game and I appreciate it. I think it will help elevate my game and the play of the defense as well."
November, 28, 2014
Nov 28
1:00
PM ET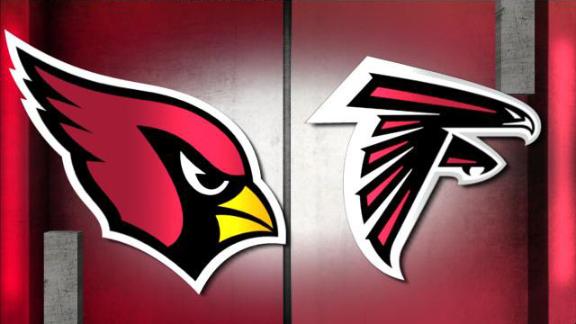 The first-place
Atlanta Falcons
(4-7) will compete, particularly at home. But it will be tough for them to reach their desired 30 points against an Arizona team that allows just 17.7 points per game.
Offensive coordinator Dirk Koetter,
Matt Ryan
and crew often preach wanting to have offensive balance, but it's going to be hard for
Steven Jackson
and the rest of the running backs to do so against a Cardinals team that allows just 84.5 rushing yards per game. The Falcons managed just 63 rushing yards on 23 carries against a Browns team that yielded 142.1 rushing yards per game.
The Falcons might be able to hit a few deep shots against a Cardinals team that allows some explosive passing plays. But something tells me
Patrick Peterson
will take the challenge against
Julio Jones
personally and not allow Jones much breathing space, much like
Joe Haden
from the Browns did last week.
My prediction:
Cardinals 24, Falcons 21
November, 28, 2014
Nov 28
12:55
PM ET
FLOWERY BRANCH, Ga. ---
Atlanta Falcons
wide receiver
Roddy White
, who missed all week of practice with an ankle injury, is listed as questionable for Sunday's game against Arizona.
Falcons coach Mike Smith is confident about White playing Sunday despite the injury and missed practice time.
White
"Because Roddy studies the game and understands how people are going to try to defend him,'' Smith said. "And he's been in this league for over 10 years. We've done it multiple times last season in terms of him not being able to get out on the practice field.
"He did work with our (athletic performance) people today and got good reports on where he was in terms of moving around. I feel confident, still, that he'll play on Sunday.''
White missed the Week 3 game against Tampa Bay because of a hamstring injury, although he believed up until he arrived at the stadium that he was going to play that night.
In other news, Smith said the team will make a decision on activating strong safety
William Moore
off short-term injured reserve in the next 48 hours. Moore expressed confidence about playing for the first time since separating his right shoulder at Minnesota in Week 4. In fact, Moore attacked the sled at the end of Friday's practice just to show he could stand the contact.
The Falcons will have to waive a player once Moore is activated.
Nose tackle
Paul Soliai
, who is away from the team for a personal matter, is listed as questionable as well. If Soliai doesn't return,
Corey Peters
would likely move into the starting spot.
Cornerback
Robert Alford
was ruled out for Sunday's game with a broken wrist, as expected. Alford is not expected to return until the Pittsburgh game on Dec. 14.
November, 28, 2014
Nov 28
9:30
AM ET
FLOWERY BRANCH, Ga. --
Julio Jones
had a chance to fire back. Instead, he let the facts do the talking.
Peterson
Jones
Rather than engage in a back and forth with
Arizona Cardinals
cornerback
Patrick Peterson
, who
claimed to have won the majority of battles
with Jones in the past, the
Atlanta Falcons
receiver downplayed any rivalry heading into Sunday's matchup. The two played against each other three times in college when Jones was at Alabama and Peterson at LSU. They also faced each other during the 2012 NFL season.
Jones missed last season's Falcons-Cardinals game after undergoing season-ending foot surgery.
"From my record, the only thing I can remember is I won three and lost one," Jones said. "I whipped him twice in college, lost once in college, and I won one time in the NFL. That's the only thing I can remember. You can take that how you want to take it.
"But I ain't really big on no talk or this and that because it's a team game. At the end of the day, you've got to get the 'W.'"
Jones made his point clear. The Falcons won the 2012 matchup 23-19 at the Georgia Dome. Jones caught three passes for 33 yards while Peterson had four tackles.
When Jones played at Alabama, the Crimson Tide beat LSU by scores of 24-15 and 27-21 (OT), then lost to the Tigers 24-21 in Jones' final season. Jones had 21 receptions for 319 yards and two touchdowns in the three games; Peterson had 15 tackles, six pass breakups and one interception.
Peterson did have one play that appeared to be an interception in front of Jones,
but the officials ruled otherwise
, causing a controversy.
Peterson was the fifth overall pick in the 2011 draft; Jones was the sixth pick in the same draft. Peterson recently got a five-year, $70 million contract with $48 million guaranteed; Jones is still waiting for his lucrative, long-term deal.
There's no doubt Jones respects what Peterson can do on the field.
"Yes, he's one of the best in the league, most definitely," Jones said. "Just going and competing with him, you're going to compete every down with him. Great player. He never gives up. He keeps going keeps going, and I like that."
November, 28, 2014
Nov 28
8:00
AM ET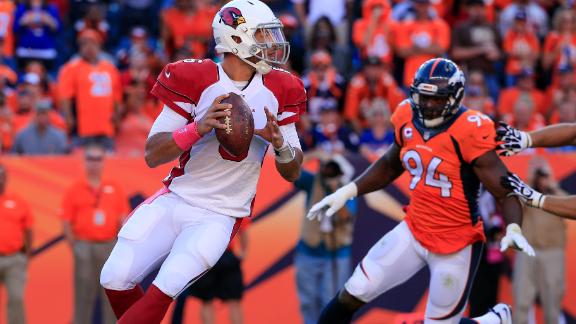 When
: 4:05 p.m. ET Sunday
Where
: Georgia Dome, Atlanta
TV
: Fox
The
Arizona Cardinals
are in first place at 9-2. The
Atlanta Falcons
are in first place at 4-7.
Yes, there is a striking disparity between the two NFC teams as they prepare to do battle Sunday. It will be interesting to see whether that translates into a mismatch on the field.
The Falcons have yet to win a game outside of their division this season, but the Cardinals' only two losses were on the road. ESPN Falcons reporter Vaughn McClure and ESPN Cardinals reporter Josh Weinfuss break down the matchup:
McClure:
Josh, I remember watching
Drew Stanton
a few times in college and while he was with the Lions. My best memory of him is when he did the "Dougie" after scoring a touchdown against the Bears. I know he's no
Carson Palmer
, but what are his capabilities as the starter?
Weinfuss:
I think we're seeing it. Stanton can beat defenses that don't bring a lot of pressure when he has a healthy offense. But that's to be expected when you consider his history: Stanton has started just nine NFL games. Even though he has been in the league for eight years, his on-field experience is less than that of Oakland's
Derek Carr
and the same as that of Jacksonville's
Blake Bortles
. Stanton tends to struggle under pressure because he doesn't always make good decisions on the run -- and then there's the issue with him running. Cardinals coach Bruce Arians doesn't like seeing him take off, and Stanton was not efficient on the move Sunday in Seattle. I'd expect him to do well against the Falcons as long as he stays in the pocket and slows down. He was moving a little too fast for the offense against the Seahawks, but overall I think we're seeing the real Drew Stanton.
Matt Ryan
is on pace for another 4,000-yard season.
Julio Jones
is on pace for a career year.
Roddy White
can easily hit 1,000 yards. How frustrating of a year has this been for them? Do you think they can still be as productive against the Cardinals' secondary?
McClure:
Definitely frustrating because they all know they're capable of being more explosive on offense than they've been. Yes, the Falcons still rank in the top 10 in passing offense (seventh at 269.5 yards per game) and boast the league's third best red-zone offense (69.23 percent), but they've left some opportunities on the field. Jones and White have had their share of drops, and Ryan is coming off arguably his worst game of the season when it comes to precision. I actually asked offensive coordinator Dirk Koetter whether he thought his offense could get down the field against
Patrick Peterson
,
Antonio Cromartie
and the rest of the Cardinals' secondary, and he pointed to the number of explosive plays they've given up. It does surprise me to see Arizona ranked 25th in passing yards allowed per game, but I'm guessing some of that has to do with making teams one-dimensional by totally stuffing the run. I do expect Koetter to be more aggressive with his play calling and to challenge Peterson and others because he believes Ryan-to-Jones is a deadly combination. But I'm not sure Ryan will have adequate time to throw against that punishing defensive front, particularly with the makeover along the offensive line. If Ryan can find a way to mirror the quick, controlled attack the offense showed against the Lions in London, I think the Falcons will have a chance. The Falcons have to be more creative than ever offensively.
You wrote the other day about the importance of veteran receiver
Larry Fitzgerald
. Regardless of his status for Sunday, could you talk about how the Cardinals would compensate without him and how the offense would flow with him?
Weinfuss:
Well, a second week without Fitzgerald is sure to be better than the Cardinals' first. Arizona looked like it didn't know what to do without Fitzgerald in the lineup, and it cost the team dearly in its 19-3 loss to Seattle on Sunday. If a second time around happens this weekend, I'd expect
Michael Floyd
to be the centerpiece of the offense. Arians admitted he didn't do a very good job of getting Floyd involved, which was evident by him not having a catching in two targets. If Fitzgerald returns for Sunday, the offense tends to work better when he's involved early. Defenses are well aware of what Fitzgerald is capable of, so when he gets a pass or two in the first quarter, defenses tend to shift their focus to Fitz, which opens up the run game and the deep game.
The Falcons are allowing an exorbitant amount of yards per game, and, coincidentally enough, the Cardinals haven't been able to gain many yards lately. What's been the overriding factor for Atlanta's porous defense? What do the Falcons need to do to change it?
McClure:
The Falcons indeed have the league's worst defense from a statistical standpoint in allowing 409.9 yards per game. They rank 30th in sacks per pass play and have allowed several quarterbacks to make plays on the move. They also rank 30th on third down, meaning they're not getting off the field. And they've given up 13 plays of 40-plus yards, meaning they're prone to the explosive play. There have been times when defensive coordinator Mike Nolan has been aggressive with his pressures but other instances when you wonder why the Falcons are being so passive and playing such soft zones. Injuries haven't helped matters, although the Falcons hope to activate starting strong safety
William Moore
(shoulder) off short-term injured reserve this week. Being without starting cornerback
Robert Alford
(broken wrist) will hurt again because his replacement,
Robert McClain
, struggled miserably last week. Fortunately for the Falcons, there's a tremendous difference in facing Stanton rather than Palmer, so I think they'll be able to keep pace -- as long as the offense is clicking and keeping them off the field.
We've laughed before about Darnell Dockett's Twitter habits away from the field. On the field, it doesn't look as if they've missed him up front. Can you talk about the defense as a whole and how it has managed to hold teams to 17.7 points per game? And is Peterson truly a game-changer?
Weinfuss:
It's pretty incredible when you think about the guys they lost, isn't it? The Cardinals' defense has been successful mainly because of defensive coordinator Todd Bowles. His schemes have been working -- and quite well, to boot -- because they adapt to the personnel. He's not one of those coaches who makes players, regardless of ability and skill levels, fit what he does. He fits what they do, which is why they've been so effective at holding teams to 17.7 points and stopping the run. Another thing Bowles does a lot of is blitz. He loves bringing pressure as much as the players do. When he arrived in 2013, he kept a 3-4 front but changed how the line handled gap assignment. He gave them all single-gap responsibilities, which has allowed them to pin their ears back and go. They've been able to do more of that this year because of the Cardinals' cornerbacks, specifically Peterson. I'd say he's a game-changer, but not because of the reasons you'd think this year. He and Cromartie have been put on islands by Bowles, and each has taken away half the field. It seems as if Peterson is getting picked on this year, which you'd expect after he signed a mega extension and when he is considered one of the top corners in the league. Peterson also has a tendency to give too much room between himself and the receiver, which has allowed for some unnecessary big plays. But he's still able to shut down an entire side of the field.
Around these parts, there's some interest in what happens with Falcons coach Mike Smith because the job seems almost perfect for Bowles. In reality, how much danger is Smith in of losing his job? And if he is let go, would the Falcons be interested in a defense-oriented coach?
McClure:
I think it's no secret Smith is on the hot seat, particularly after the Falcons blew that 21-point lead against the Lions in London. Clock-management issues against Detroit and last week against Cleveland only increased the scrutiny surrounding Smith. That being said, the pathetic state of the NFC South still gives Smith a chance to salvage the season with a playoff berth. If the Falcons somehow make the playoffs and happen to win a first-round home playoff game, maybe Smith saves his job. But without the postseason, I don't see Smith sticking around. I think Bowles would be an outstanding candidate for any head-coaching spot around the league. I also think with Ryan and Jones, you'd want to hire an offensive-minded coach. I'd start with Indianapolis Colts offensive coordinator Pep Hamilton.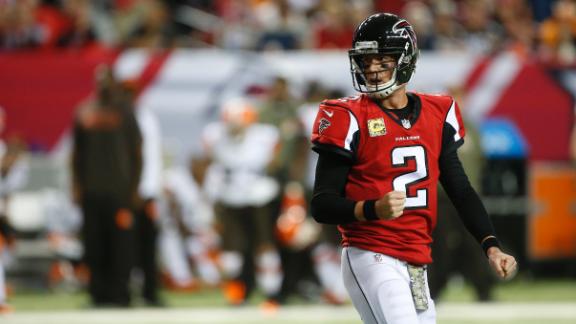 November, 27, 2014
Nov 27
1:40
PM ET
FLOWERY BRANCH, Ga. --
Atlanta Falcons
wide receiver
Roddy White
remained sideline by an ankle injury during Thanksgiving Day practice.
White
White was in the locker room following practice. Falcons coach Mike Smith said he anticipates White practicing on Friday.
"Yes, I expect him to come out and do some work on the field tomorrow," Smith said.
When asked he expects White to be ready to go Sunday against the Cardinals, Smith said, "Yeah, I do."
Nose tackle
Paul Soliai
also missed his second day of practice and will not practice Friday while excused for a personal matter. Smith said it's possible for Soliai to play on Sunday without practicing all week. If Soliai doesn't rejoin the team in time,
Corey Peters
would step into a starting role.
Also at practice, wide receiver
Harry Douglas
was back on the field after missing Wednesday while nursing a lingering foot injury. Cornerback Robert Wrist remained out with a broken wrist.
November, 26, 2014
Nov 26
6:25
PM ET
FLOWERY BRANCH, Ga. -- The outrage in Ferguson, Missouri, following the shooting death of teen Michael Brown and the grand jury decision not to indict officer Darren Wilson in the case hit home for
Atlanta Falcons
safety
William Moore
.
Moore is a Missouri native and spent some of his childhood in Ferguson. He also has an aunt and cousins who currently live in the Ferguson area.
Moore
"It sucks that it has to be like that," Moore said of the fallout. "I can't say who's right or wrong. At the same time, I think we need to re-evaluate things as far as what approach we're taking. We seem to lose focus of what's really important, and that's Michael Brown and his family. You know what I'm saying? With all this going on, his family seems to fade to the back as far as who's the victim here or whatever.
"I just continue to pray for them. I know they'll get through it. Really what I don't like is the attention that it's getting as far as the media feeding into it. I feel like they need to let it go. It will die down if people sit down and think about what's the big picture. I continue to pray for his family because that's the main objective here. His family is going to have to live with it longer than anybody."
Moore understands the nationwide anger related to the incident. Racial tensions escalated because Brown is African-American and Wilson is white.
"No doubt because I'm a father," Moore said. "I understand his family's anger. That's why I have sympathy for them; from the outside looking in, I'm also a father.
"Those people who are rioting and looting, they are fathers, too. They're angry. Of course, they're wrong for burning stuff and doing some of the stuff that they're doing. Their feelings, I agree with it. Their actions, I don't."
November, 26, 2014
Nov 26
4:10
PM ET
FLOWERY BRANCH, Ga. ---
Atlanta Falcons
receiver
Roddy White
missed Wednesday's practice with an ankle injury, coach
Mike Smith
said.
White appeared to tweak his ankle in last Sunday's 26-24 loss to Cleveland, but he remained in the game. He also has battled knee and hamstring issues this season.
Also held out of Wednesday's practice were receiver
Harry Douglas
(foot), cornerback
Robert Alford
(broken wrist) and nose tackle
Paul Soliai
. Alford is expected to miss the next two games.
Soliai's absence was not injury related. He's not expected back on Thursday.
Offensive tackle
Jonathan Scott
, who had been sidelined with a hamstring injury, was on the field but limited.
Cornerback
Robert McClain
, who suffered a calf injury against the Browns while starting in place of Alford, did not show up on the injury report.
November, 26, 2014
Nov 26
3:15
PM ET
Cardinals cornerback
Patrick Peterson
faced Falcons receiver
Julio Jones
in college when Peterson was at LSU and Jones at Alabama, so they have had their share of showdowns in the past.
"Me and Julio, he won a couple of battles; I won a couple of battles,'' Peterson said during a conference call on Wednesday. "But for the most part, I believe I won the majority of those battles.''
Peterson chuckled for a moment then continued by giving Jones his due respect.
Peterson
Jones
"An incredible athlete,'' Peterson said. "Love to battle and love the competition between us.''
Tthe two square off again on Sunday when their respective teams meet at the Georgia Dome. Jones was on injured reserve with a foot fracture when Peterson and the Cardinals defeated the Falcons 27-13 last season in Arizona. In 2012, Jones had three catches for 33 yards while being targeted seven times and Peterson finished with four tackles in a 23-19 win by the Falcons.
Peterson was asked if he looks forward to a one-on-one matchup with Jones come Sunday.
"Of course,'' he said."By me feeling that I am the best corner in the league, I want the team's No. 1 receiver, period. That's the way you get the opportunity to gain the respect from your peers and be recognized as one of the best and one the greatest after you're done with the game. That's the type of pressure that I love to have on myself.
"And for my team, as a defensive coordinator [Todd Bowles], that's what he expects out of me as well -- going out there shutting down a team's No. 1 receiver.''
Jones is scheduled to address the media on Thanksgiving. On Wednesday, quarterback
Matt Ryan
talked about the possibility of Jones matching up against Peterson a week after Jones went head to head with Browns cornerback
Joe Haden
.
"We know going into it Patrick Peterson is about as good of a corner as there is in the league,'' Ryan said. "He's going to play at a high level and he's going to make some plays. We also know that Julio Jones is as good as it gets at the wide receiver position in this league.
"It will be a good matchup, if they're matched up one on one. We'll see what they do in terms of how they match us defensively. We always like our matchup. We always feel like if we get one on one with any of our guys, we have confidence that they're going to make plays.''
Jones enters the game 20 yards shy of 1,000 receiving yards for the season. Peterson has two interceptions, including one returned 30 yards for a touchdown.
November, 26, 2014
Nov 26
1:30
PM ET
FLOWERY BRANCH, Ga. --
Atlanta Falcons
strong safety
William Moore
fully expects to return to the field Sunday from a shoulder separation and will take all the necessary precautions to do so.
Moore separated his right shoulder in a Week 4 loss at Minnesota and was placed on injured reserve with a designation to return. He is eligible to play this week against Arizona and anticipates being activated before game time. Moore will test the shoulder in pads during practice, and he'll wear protecting padding to support the shoulder in the game, provided he receives full clearance.
"It's a pad in my shoulder pads to keep it from extending,'' Moore explained. "It's not all the way around. It's just so it doesn't extend up. I wore it all [last] week. I don't think it's going to have much effect on my game. But me personally, I don't care what I wear.
"I just have to watch how I land more than anything; not how I hit, but how I land.''
Moore doesn't seem overly concerned about his conditioning despite missing the required eight weeks of action while on short-term IR. He returned to practice last week and ran with the scout team. He'll return to the starting lineup alongside free safety
Dwight Lowery
.
"Personally and individually, I feel like I need to get in there and contribute,'' Moore said. "Missed a lot of time, and it's going to be very important for me to make sure that I tackle well and I know my assignments. Got a huge task against myself.''
Moore's expected return means
Kemal Ishmael
, who has started the last seven games, would move back to a reserve role. Ishmael has a team-leading four interceptions, including one in each of the last three games. Moore previously said it would be hard to keep Ishmael off the field.
"That's part of being professional and being mature,'' Ishmael said of surrendering his starting spot back to Moore. "I tried to do as much as I could to help the team while I was out there. With Willy Mo coming back, he's our leader. I'm just going to sit back and just enroll in my new role on the team.
"It sucks, because I want to be out there continuing to play and make plays. But that's my role. That's Willy Mo, now. It's not just anybody.''
Once Moore is activated, the Falcons have to make a roster move to be at the 53-man limit.
November, 26, 2014
Nov 26
10:00
AM ET
By
ESPN.com staff
| ESPN.com
November, 26, 2014
Nov 26
8:00
AM ET
FLOWERY BRANCH, Ga. -- There was no way to skate around the obvious:
Matt Ryan
simply had a bad day.
The
Atlanta Falcons
quarterback didn't try to make excuses for the way he played in this past Sunday's 26-24 loss to the
Cleveland Browns
. The manner in which Ryan took ownership is why offensive coordinator Dirk Koetter has so much respect for his offensive co-captain.
[+] Enlarge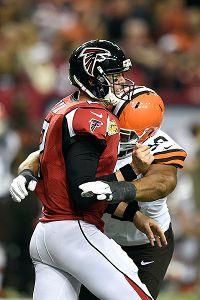 Dale Zanine/USA TODAY SportsMatt Ryan had a tough time connecting with Julio Jones deep against the Browns.
"First off, I would just say nobody prepares harder every week than Matt does," Koetter said. "You know, Cleveland did a good job of changing some things up. They're game-planning us just like we're game-planning them. They did a good job of disguising some things and showing us a couple things that they hadn't shown before.
"The other thing I would just say about that is Matt is always going to take more blame than he (probably) should. That's just how he is as the leader of our team. Has Matt played better games than that? Yes. But, there's a lot of factors that go into us not scoring more points than we did. Heck, we needed two more than we had. And one of those, that starts with me. So there's not anybody that contributed to that that couldn't say they could do better. ... I think Matt is as focused and hard-studying guy as we have on our team. If there's a guy that does more in preparation than him, I'd be surprised."
One of the most noticeable problems in the loss to the Browns was Ryan's inability to connect consistently with top receiver
Julio Jones
. Although the two combined on 24-yard touchdown down the middle, Ryan was 0-for-7 when targeting Jones down the sideline.
"On straight go-type routes -- and not every one of them was a go -- we threw five of them, and we didn't complete any of them," Koetter said. "We threw some other balls down the field: deep post and we got a (defensive holding) that set up a touchdown. I think double moves and gos, we had something like 12 of them called. Three or four of them, Matt checked them down.
"Bottom line is, if you throw five, go-type routes with players like Matt and Julio, we expect to hit a couple of them, and we have many times. We didn't in this game. You know, it did seem like we were a little off."
Koetter noted how Ryan already has put in plenty of work studying the next opponent: the
Arizona Cardinals
. Ryan threw nine interceptions combined in his last two meetings against the Cardinals: a 23-19 win at the Georgia Dome 2012 and 27-13 loss at Arizona last season.
If you take a glance at the start of last week's game between Arizona and Seattle, you'd see a Todd Bowles-coached Cardinals defense that swarms to the ball on short passes to running backs, blitzes defensive backs from every direction versus the pass or run, bats balls at the line of scrimmage, and hits hard on every snap. The Cardinals are tied for third in the league in scoring defense, allowing just 17.7 points per game. They are tied for second in interceptions (15), third in rushing defense (84.5 yards per game) and fourth in red zone defense (46.43 percent). The Cardinals have surrendered some explosive pass plays, which is why they are 25th in pass defense (254.6 yards per game).
"Arizona's got a good defense; there's no doubt about that," Koetter said. "They do a nice job. And we've got to remember, in those last two games, we're 1-1. Stats are stats, and we won one and we lost one. I guess this is the rubber match of this series.
"Matt's well-aware of those stats, but I'm not a big believer that a game two years ago affects a game this coming Sunday. ... You've got a lot of guys in different positions on both sides of the ball. They do have a similar scheme. We've got to try and help Matt; put him in position to be successful to make plays to help us score points."