July, 30, 2014
Jul 30
7:20
PM ET
OWINGS MILLS, Md. -- A daily review of the hot topics coming out of
Baltimore Ravens
training camp:

July, 30, 2014
Jul 30
6:25
PM ET
OWINGS MILLS, Md. -- The
Baltimore Ravens
are concerned that the knee injury suffered by rookie defensive end
Brent Urban
on Wednesday may be serious.
Urban, the team's fourth-round pick out of Virginia, went down after a block by offensive tackle
Jah Reid
in a drill less than an hour into practice. He couldn't put any weight on his right leg and needed a trainer under each arm to get off the field.
An MRI is scheduled for Urban on Wednesday night.
"We'll just hope and pray for the best on that one," coach John Harbaugh said.
This is the first significant injury of Ravens camp (unless cornerback
Lardarius Webb
's back issue becomes more severe) but it's not the first injury of the year for Urban. He was limited for the early offseason workouts after undergoing ankle surgery in February.
Urban had been projected to back up
Chris Canty
this season. If Urban is out for an extended period,
Kapron Lewis-Moore
would become the primary backup.
But Harbaugh hasn't completely ruled out Urban for the season.
"I'm still hopeful that he'll be back, but we'll have to see," Harbaugh said.
The sixth practice of training camp featured a play that nearly cost the Ravens two rookies on the defensive line. On the same drill where Urban was injured, defensive tackle
Timmy Jernigan
had to leave the field as well.
Jernigan, a second-round pick from Florida State, appeared to hurt his back. He went inside the team facility without any assistance from trainers.
"Timmy looks fine," Harbaugh said.
Defensive line is one of the positions where the Ravens can absorb a hit to their depth. Outside of the starters (Canty,
Haloti Ngata
and
Brandon Williams
), the Ravens have intriguing backups in Jernigan, Lewis-Moore and
DeAngelo Tyson
.
While the Ravens were expecting a huge impact from Urban, a major injury could curtail his development. Urban likely would have a shot at starting next season.
He is the perfect fit for a 3-4 defensive end, which is also referred to as "five technique." At 6-foot-7, 298 pounds, he has nearly the same build as Canty (6-7, 317) but has more upside.
"Brent has made steady progress since the first day he walked in here," defensive line coach Clarnece Brooks said. "We liked him when we drafted him and after he was here for a couple days we knew exactly what we liked about him. He's a great kid, works hard."
July, 30, 2014
Jul 30
5:33
PM ET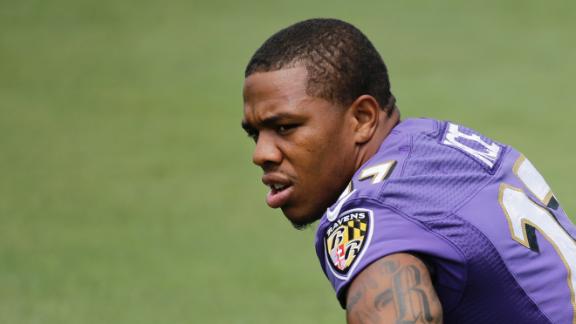 OWINGS MILLS, Md. -- On the eve of Ray Rice addressing the media, Baltimore Ravens coach John Harbaugh continued to support his starting running back, saying he was "disappointed" in the domestic violence incident but was "proud" in what he's done since.
"I hate what happened. What happened was wrong. Flat out," Harbaugh told reporters after Wednesday's training camp practice. "The thing I appreciate about it is how Ray has handled it afterward by acknowledging it was wrong and he'll do everything he can do to make it right. That's what you ask for when someone does a wrong thing. So, I'm proud of him for that."
Harbaugh was alluding to the fact that Rice and his now-wife Janay Palmer entered into counseling together immediately following the incident in an Atlantic City casino elevator, where he allegedly struck her unconscious. Rice was accepted into a pretrial intervention program in May to avoid trial, and he was suspended two games by the NFL last Thursday.
Harbaugh declined to address the length of Rice's suspension, which has come under fire for being too soft.
July, 30, 2014
Jul 30
2:57
PM ET
Ray Rice
is scheduled to address the media on Thursday after practice, and it's time for the
Baltimore Ravens
running back to address the seriousness of domestic violence.
Rice
Even though three players recently have been arrested for assault in domestic disputes, Rice is the face of this issue in the NFL. The video image of him dragging his unconscious
then-fiancée
out of an Atlantic City elevator has put Rice at the center of what is a sensitive and extremely personal topic.
This is his chance to take full responsibility for the incident and not simply his "role," which is how he characterized it in a mishandled news conference two months ago. This is an opportunity to apologize not only to his now-wife, Janay, but all women who have been affected by domestic abuse. Rice has talked about the importance of being a strong role model, and he has to prove it Thursday, when he is expected to take questions for the first time since being arrested for assault in February.
No one needs to hear Rice say that he's failed. He did that at his May news conference, and he reiterated that in a statement released by the team after his two-game suspension by the NFL was announced this past Thursday.
Rice also doesn't need to say he's sorry to the fans or children again, especially after the warm reception he received at a training camp practice at M&T Bank Stadium on Monday night. There were women and children there wearing his No. 27 jersey.
The national perception, however, is that Rice has not been punished justly. Not by the court system, which allowed him to enter a pretrial intervention program. Not by the NFL, which suspended Rice for only two games when repeat drug offenders can be banned for an entire season.
The issue of domestic violence isn't isolated to Rice and the Ravens, which is why someone needs to send a stronger message. Panthers defensive end
Greg Hardy
, Cardinals linebacker
Daryl Washington
and Vikings cornerback
A.J. Jefferson
all recently have been arrested for assault in domestic disputes. According to statistics from The San Diego Union-Tribune, 21 of 32 NFL teams employed a player with a domestic or sexual violence charge on their record last year.
Rice is just the latest statistic, although no one has been supported more strongly by his team. The Ravens contend this incident is unlike the Rice they've known for the past six years. Rice has been publicly backed by owner Steve Bisciotti, general manager Ozzie Newsome, coach John Harbaugh and thousands of fans at that stadium practice.
But this issue goes beyond the team, the city and, quite frankly, football in general. That's why Thursday's news conference is such an important step for Rice.
July, 30, 2014
Jul 30
2:18
PM ET
OWINGS MILLS, Md. -- Two of the
Baltimore Ravens
' rookie draft picks were injured on the same play at training camp Wednesday.
Defensive end
Brent Urban
and defensive tackle
Timmy Jernigan
both got hurt on a running drill against the offensive line less than an hour into practice.
Urban, a fourth-round pick out of Virginia, looks more seriously hurt with what appears to be a right knee injury. He needed to be helped off the field by two trainers and was later carted off.
The Ravens expected Urban to be the primary backup to
Chris Canty
. Urban missed some early offseason practices after undergoing ankle surgery in February.
Jernigan, a second-round pick from Florida State, suffered a back injury. He followed Urban inside team headquarters but he walked off the field on his own power. Jernigan, who was competing for a starting job, had been one of the more impressive rookies at this year's training camp.
Coach John Harbaugh will be asked about the injuries following practice.
July, 30, 2014
Jul 30
10:00
AM ET
By
ESPN.com staff
| ESPN.com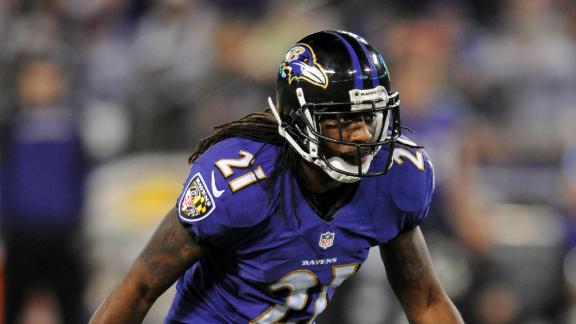 ESPN.com
Baltimore Ravens
reporter Jamison Hensley discusses injuries and the lack of depth at cornerback.
July, 29, 2014
Jul 29
3:35
PM ET
The
Baltimore Ravens
have gone to the Arena League to add more depth to their secondary.
The Ravens signed defensive back Marrio Norman and waived wide receiver
Gerrard Sheppard
.
Norman, who turns 28 next month, played the past two seasons for the Cleveland Gladiators and Georgia Force. At 6-foot-1, 205 pounds, Norman played both safety and cornerback in college while at Coastal Carolina.
He had tried out for the Ravens earlier this year but wasn't signed. The Ravens have grown thin at cornerback since
Aaron Ross
suffered a season-ending Achilles injury and
Lardarius Webb
has missed more time than expected with a back injury.
Sheppard, who played at nearby Towson in college, spent last season on the Ravens' practice squad.
July, 29, 2014
Jul 29
3:09
PM ET
Associated Press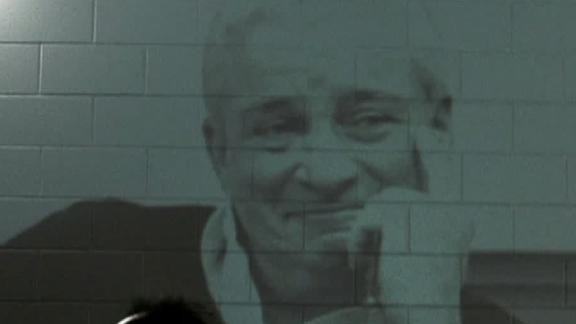 BALTIMORE -- Maryland authorities said Tuesday they will charge a man with disorderly conduct in a cemetery for allegedly urinating on the grave of former Baltimore Ravens owner Art Modell.
The man, who so far has been identified only as a Cleveland Browns fan, could face up to two years in jail and a $500 fine. He posted a video of the incident to YouTube this month.
"Everyone who has buried a loved one has the right to believe that their final resting place will be treated with respect," Baltimore County State's Attorney Scott Shellenberger said in a written statement. "Bringing charges against this individual should act as a deterrent to others and assure the rest of us that no matter who you are, indecencies will not be committed against your final resting place."
Shellenberger said the man will not be identified until charges are filed and served.
Art Modell died in 2012 at the age of 87. He spent 43 years as an NFL owner, overseeing the Browns from 1961 until he moved the team to Baltimore in 1996, when they became the Ravens. Modell served as league president from 1967 to '69, helped finalize the first collective bargaining agreement with the players in 1968 and was the point man for the NFL's lucrative contracts with television networks.
Modell and his wife, Patricia, are buried at Druid Ridge Cemetery in Baltimore.
David Modell, Art Modell's son, said the family is thankful for the efforts of Baltimore County police and the decision by the state's attorney to file charges.