September, 20, 2014
Sep 20
4:35
PM ET
The
Baltimore Ravens
signed undrafted rookie running back Fitzgerald Toussaint on Saturday, which could be an indication the team is unsure of
Bernard Pierce
's availability for Sunday's game at the
Cleveland Browns
.
Pierce
Pierce, who has started the first two games of the season, is questionable with a thigh injury. He was limited in Thursday's practice and had full participation on Friday. Pierce has never missed a game in his NFL career despite battling numerous injuries.
If Pierce is unable to play, the Ravens would start
Justin Forsett
and use rookie fourth-round pick
Lorenzo Taliaferro
as the primary backup. Forsett has rushed for 126 yards, which leads the Ravens, and one touchdown. Taliaferro has yet to receive a carry.
Toussaint would provide depth at running back. He flashed his explosiveness in the preseason finale with several big runs and finished with 103 yards at New Orleans.
Undrafted out of Michigan, Toussaint was on the Ravens' 53-man roster for the season opener but was among the team's inactives.
The Ravens released wide receiver
Deonte Thompson
to make room for Toussaint on the 53-man roster.
September, 20, 2014
Sep 20
11:00
AM ET
It's time to click open our
Baltimore Ravens
' Twitter mailbag:
@jamisonhensley When should we expect to see Webb back on the field for a game?

— Nicholas Hawkins (@nickh0801) September 17, 2014
@jamisonhensley:
It looks like the long wait is over for cornerback
Lardarius Webb
, who has been sidelined with a back injury for over a month. He was listed as probable on the injury report, which is a major step. Webb didn't play the first two games after being listed as questionable. You have to read between the lines when it comes to injuries because coach John Harbaugh doesn't talk about them (he doesn't even let local TV cameras film injured players during the media viewing portion of practice) and players are told not to talk about them. In Webb's case, it looks like he needed the last couple of weeks of practice for his own personal training camp. He missed nearly every practice this summer and didn't play in any preseason games. So, conditioning had to be an issue. Now, it seems like Webb has convinced the Ravens that he can play a full game.
@jamisonhensley Why hasn't Juszczyk been as involved with the offense as he was in the preseason? Is it because of Daniels' productivity?

— Kenny (@bakerspazing) September 17, 2014
@jamisonhensley:
That's exactly right. Outside the top targets (
Steve Smith
,
Dennis Pitta
and
Torrey Smith
), that fourth option will rotate between
Owen Daniels
,
Kyle Juszczyk
,
Jacoby Jones
and
Marlon Brown
. The Ravens are still high on Juszczyk. In fact, he was the primary target on a fourth-and-1 in the season opener. But he was held up at the line, and
Joe Flacco
had to run to convert it. A realistic projection for Juszczyk is between 20 and 25 catches this season.
@jamisonhensley When will Lorenzo Taliafero get some playing time?

— Thomas Ladson (@ThomasLadson) September 17, 2014
@jamisonhensley:
It depends on two factors:
Bernard Pierce
's health and the Ravens' effectiveness in the red zone. Pierce is questionable with a thigh injury for Sunday's game. If Pierce is sidelined or limited in the game, the Ravens will rely more on
Justin Forsett
as well as rookie
Lorenzo Taliaferro
. It's not surprising that Taliaferro hasn't received a carry in the first two games of the season. The Ravens typically bring along rookie running backs slowly. Taliaferro's physical, straight-ahead running style seems best suited around the goal line. If the Ravens struggle punching the ball in from there, they may turn to their rookie fourth-round pick.
@jamisonhensley with the Ravens decision to keep @MikeCamp_3 on the roster, do you envision him getting playing time, or is it a numbers gme

— just Brett (@BmorePhotoGuy) September 19, 2014
@jamisonhensley:
Rookie seventh-round pick
Michael Campanaro
is essentially getting red-shirted. The Ravens couldn't risk trying to put him on the practice squad because of his upside, and he'll learn a lot from practicing a full year with the team. The only way he gets to suit up on game days is if there is multiple injuries at wide receiver. I'm not sure he gets the call if returner Jacoby Jones gets hurt. The Ravens may go with
Deonte Thompson
instead because he has more game experience.
@jamisonhensley with Steve Smith emerging as the top WR, will they still try to extend Torrey Smith before the season ends?

— Brett Lerner (@blerns3) September 19, 2014
@jamisonhensley:
Torrey Smith is still a major part of the Ravens' plans this year and the future. He is one of the best deep threats in the game, which is what you need with Joe Flacco's arm. Steve Smith may get more catches this year, but Torrey Smith has more long-term value. Torrey Smith is 10 years younger than Steve Smith. I can't predict when an extension will occur, but it makes too much sense no to happen. Torrey Smith likes the organization and it's close to where he grew up. He's a strong character guy and an emerging leader in the locker room. It would be shocking if the Ravens didn't retain him.
September, 19, 2014
Sep 19
7:50
PM ET
Baltimore Ravens
outside linebacker
Courtney Upshaw
was fined $16,537 by the NFL for roughing the passer.
Upshaw received a 15-yard penalty for his hit on
Pittsburgh Steelers
quarterback
Ben Roethlisberger
, but the Ravens contend it was a legal hit.
This is what wide receiver
Torrey Smith
posted Friday
on Twitter
:
I can't believe someone I know got fined $16,000 for something that was technical executed with form that they teach from day 1 smh

— Torrey Smith (@TorreySmithWR) September 19, 2014
Harbaugh said Monday that Upshaw had no other recourse but to hit Roethlisberger that way.
"He's coming full speed, he's getting down into the strike zone, and he's keeping his eyes up," Harbaugh said. "He can't lift his head any higher than that. He also can't get his head off to the side because Ben's moving, and also the fact that if he gets his head off to the side, he has a real good chance of missing the tackle or hurting himself by dropping his head. We're never going to put our player in position to coach him to drop his head."
Upshaw told The Baltimore Sun that he plans to appeal. The fine docks him nearly one-third of his paycheck for that game.
September, 19, 2014
Sep 19
5:50
PM ET
BALTIMORE -- By all accounts, the Ray Rice jersey exchange organized by the
Baltimore Ravens
was a tremendous success. The lines outside M&T Bank Stadium rivaled the longest ones for the latest iPhone.
[+] Enlarge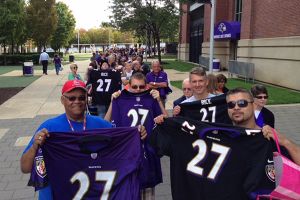 Jamison HensleyWith their Ray Rice jersey exchange, the Ravens are going too far in distancing from a player they publicly backed just a short time ago.
The only problem is that it should never have occurred. Nobody is condoning Rice's act of domestic violence, but this event was excessive. The Ravens made the point that they disapproved of Rice's actions by cutting him on Sept. 8. It's time to let it go. In football parlance, the Ravens are piling on with the jersey exchange.
Some will see this as a good, and costly, gesture by the Ravens. It allows fans to trade in a jersey they might be uncomfortable wearing and get one that they can proudly sport on game days.
This just feels more like a mea culpa by the Ravens, or a grand public symbol that they're further distancing themselves from Rice.
What's next? Should the Ravens remove Rice's name from their record book? Do they plan to take down any picture of Rice at the stadium or team headquarters?
Yes, that's extreme. But the biggest misstep by the Ravens is that they've acted in an extreme manner at every turn.
For seven months, the organization went out of its way to make sure everyone knew it supported Rice. Since the
summons came out Feb. 20
that stated Rice "struck his fiancee with his hand, rendering her unconscious," Ravens owner Steve Bisciotti, general manager Ozzie Newsome and coach John Harbaugh all publicly backed Rice. The Ravens allowed him to hold a news conference with his wife at the team facility in May, and they allowed him to dress in a Ravens polo when he spoke to reporters during training camp.
The team's website even posted a piece entitled "I Like Ray Rice," in which Rice was described as a family member. The jersey exchange doesn't fall in line with what someone would do with a player whom they cared about. Releasing a player is business. Holding a two-day event at the stadium is excessive.
The Ravens recently built a statue for Ray Lewis, who pleaded guilty to obstruction of justice in connection to the stabbing deaths of two men. The Ravens made room in their Ring of Honor for Jamal Lewis, who served four months in prison as a result of a a plea bargain stemming from federal drug charges.
As for Rice, he receives banishment -- and a very public one at that.
September, 19, 2014
Sep 19
3:55
PM ET
Baltimore Ravens
starting running back
Bernard Pierce
is listed as questionable for Sunday's game at the
Cleveland Browns
despite having full participation in Friday's practice.
Pierce, who is dealing with a thigh injury, was added to the injury report on Thursday when he was limited in practice. He has now been listed on the injury report on a dozen weeks (including being listed as questionable four previous times), but he has never missed a game in his NFL career.
The Ravens started Pierce for the first two games of the regular season, and he's expected to remain the starter since the team released Ray Rice. If Pierce is sidelined, the Ravens would start
Justin Forsett
and go with rookie
Lorenzo Taliaferro
as the backup.
It's looking like cornerback
Lardarius Webb
(back) will play his first game of the season after being listed as probable. He was inactive for the first two games, but he was listed as questionable each time.
Quarterback
Joe Flacco
is listed as probable after having full participation the past two days. He missed Wednesday's practice with an illness.
RAVENS INJURY REPORT (WEEK 3)
Doubtful
: DT
Timmy Jernigan
(knee, did not practice Friday)
Questionable
: RB Bernard Pierce (thigh)
Probable
: QB Joe Flacco (illness), CB Lardarius Webb (back), OT
Eugene Monroe
(knee), CB
Asa Jackson
(concussion)
September, 19, 2014
Sep 19
2:13
PM ET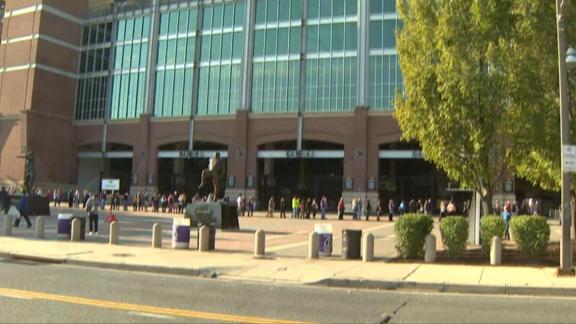 BALTIMORE -- Thousands of Ravens fans lined up with Ray Rice jerseys in hand to exchange them Friday in a team-organized event at M&T Bank Stadium.
Some people waited over two hours to trade in their No. 27 jerseys for ones sporting the names of Joe Flacco, Torrey Smith or Terrell Suggs at no cost.
Ravens officials won't announce how many jerseys were exchanged until the two-day event is over on Saturday. But the line stretched the lengths of two football fields by Friday afternoon.
"If you don't want the jersey, it's worth the wait," said Dana Liebman of Baltimore.
Rice was released by the Ravens on Sept. 8 after a video showed him striking his then-fiancée unconscious.
Many fans said they didn't want the jersey based on principle.
"Everyone is not perfect. Everyone makes mistakes. I just can't wear the jersey," said Paul Billings, of Washington, D.C. "I think that's what everyone here would say. It's more than just a free jersey."
Rich Scherr, of Owings Mills, Maryland, arrived more than an hour before the jersey exchange started at 8 a.m. He said the first person lined up at 4 a.m.
There were over a thousand people lined up by the time the event started, Scherr said.
"I was a bit concerned with the lack of organization in the line, but once the process started in earnest, it was extremely well run," said Scherr, who got a Smith jersey.
There were some fans who walked away immediately when they saw the line. Robert Schwartz, of Baltimore, thought he was beating the crowd by coming Friday instead of Saturday.
September, 19, 2014
Sep 19
1:00
PM ET
Many NFL observers, myself included, will frequently point out
Joe Flacco
's record against the
Cleveland Browns
every time these two AFC North teams face each other. It's hard to ignore the fact that Flacco is 11-1 against the Browns.
Even though Flacco has fared well against Cleveland, the reason why the
Baltimore Ravens
have dominated this series is because of defense. Since 2008, the Ravens have held the Browns to 12.7 points per game. They have allowed 12 touchdowns in the last 12 meetings with Cleveland.
Sunday's game will come down to defense again. The Browns have more overall talent on defense than the Ravens, but the Ravens are a stingy bunch because they don't make many mistakes. The Ravens have given up just one touchdown in two games. This trend will continue against a Browns offense that is expected to be without some of its top weapons.
My prediction
: Ravens 17, Browns 13.
September, 19, 2014
Sep 19
11:30
AM ET
Defenses were relentless on
Baltimore Ravens
quarterback
Joe Flacco
last season. He was the third most-blitzed quarterback in the NFL.
That strategy might have to change this season. In Thursday's win over the
Pittsburgh Steelers
, Flacco completed 11 of 13 passes (84.6 percent) against five or more pass rushers, throwing two touchdowns and averaging 8.8 yards per attempt. It's his highest completion rate against the blitz in five years, according to ESPN Stats & Information.
Flacco
Why is Flacco better equipped to handle the blitz? The biggest improvement is pass protection. The offensive line, which has three new starters from the group that ended the season, has picked up pressure more consistently this year. The other factor is Flacco getting rid of the ball quicker, which is something offensive coordinator Gary Kubiak has emphasized.
Flacco will get plenty of chances on Sunday to show he has turned the corner against extra pressure. The
Cleveland Browns
have blitzed about one-third of the time in the first two games of the season with limited success. Quarterbacks have completed 68.4 percent of their throws and have posted a 116.6 passer rating when Cleveland sends five or more rushers.
The Ravens were unable to handle the blitz last season. Flacco's passer rating (70.9) ranked 35th in the NFL in 2013. That's the reason why defenses blitzed him 216 times, an average of 13.5 per game. Only
Alex Smith
(222) and
Cam Newton
(219) were blitzed more than Flacco.
If Flacco continues to have success against the blitz, fewer teams are going to send more than four pass rushers.
September, 19, 2014
Sep 19
9:55
AM ET
The
Baltimore Ravens
will win their first road game of the season on Sunday, according to a majority of ESPN's prognosticators. Of the 13 experts who pick games, nine went with the Ravens to beat the Browns.
The Ravens are coming off an impressive win over the Steelers and received three extra days of rest after playing on Thursday night. The Browns are getting little respect after beating the
New Orleans Saints
in Cleveland a week ago.
Here are the
official ESPN predictions
(with their prediction record for the Ravens in parentheses):
Eric Allen (2-0)
: Browns
Mike Golic (1-1)
: Ravens
Merril Hoge (1-1)
: Browns
Ron Jaworski (1-1)
: Ravens
KC Joyner (1-1)
: Ravens
Chris Mortensen (1-1)
: Ravens
Adam Schefter (0-2)
: Ravens
Mark Schlereth (0-2)
: Ravens
Seth Wickersham (1-1)
: Ravens
Tom Jackson (1-1)
: Ravens
Keyshawn Johnson (1-1)
: Browns
Mike Ditka (1-1)
: Browns
Cris Carter (1-1)
: Ravens
September, 19, 2014
Sep 19
9:10
AM ET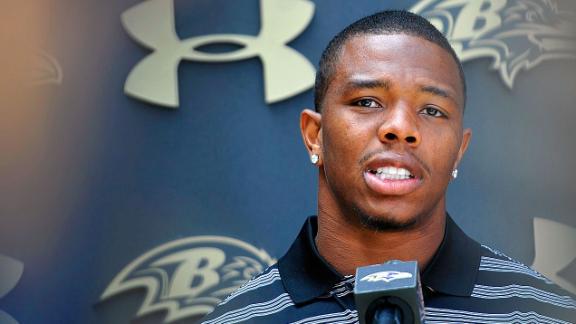 The seven-month scandal that is threatening Roger Goodell's future as NFL commissioner began with an unexpected phone call in the early morning hours on a Saturday in February.
Just hours after running back Ray Rice knocked out his then-fiancée with a left hook at the Revel Casino Hotel in Atlantic City, New Jersey, the Baltimore Ravens' director of security, Darren Sanders, reached an Atlantic City police officer by phone. While watching surveillance video -- shot from inside the elevator where Rice's punch knocked his fiancée unconscious -- the officer, who told Sanders he just happened to be a Ravens fan, described in detail to Sanders what he was seeing.
Sanders quickly relayed the damning video's play-by-play to team executives in Baltimore, unknowingly starting a seven-month odyssey that has mushroomed into the biggest crisis confronting a commissioner in the NFL's 94-year history.
"Outside the Lines" interviewed more than 20 sources over the past 11 days -- team officials, current and former league officials, NFL Players Association representatives and associates, advisers and friends of Rice -- and found a pattern of misinformation and misdirection employed by the Ravens and the NFL since that February night.
After the Feb. 15 incident in the casino elevator, Ravens executives -- in particular owner Steve Bisciotti, president Dick Cass and general manager Ozzie Newsome -- began extensive public and private campaigns pushing for leniency for Rice on several fronts: from the judicial system in Atlantic County, where Rice faced assault charges, to commissioner Goodell, who ultimately would decide the number of games Rice would be suspended from this fall, to within their own building, where some were arguing immediately after the incident that Rice should be released.
September, 19, 2014
Sep 19
8:00
AM ET
OWINGS MILLS, Md. --
Terrell Suggs
' statistics suggest he's in the biggest slump of his career. He only has one sack in his past 10 games.
But, for those who criticize the the
Baltimore Ravens
linebacker, coach John Harbaugh suggests analyzing the play of the franchise's all-time sacks leader more closely.
"Anybody who knows anything about football who watches the tape will tell you he's playing really, really well," Harbaugh said. "He was very disruptive in his pass rush. Not just that, he's playing great in the run game. I'd say all around his game is an A-plus."
Pro Football Focus agrees with Harbaugh. Suggs is the highest graded Ravens player by the analytic website and the third-best among 3-4 outside linebackers.
According to PFF, Suggs has one quarterback hit this season along with three hurries. He is tied for fifth on the Ravens with eight tackles.
Still, it's only the third time in his 12-year career that he has failed to sack a quarterback in his first two games of a season.
"It can be [frustrating] if you get selfish," Suggs said. "You want to get [to the quarterback], but like I said, at the end of the day, if you still win and you're still affecting the game somehow, then you have to take that, too. You have to find ways to get there sooner. The team has been doing a good job of playing a quick game, whether it's getting the ball out [or not]. But it's only Week 2. Come Week 7 and Week 8, we can bring that back up and we'll talk about it."
His teammates acknowledge that the lack of sacks eats at Suggs, but they're not concerned about him.
"He's a guy that wants to make plays," defensive tackle
Haloti Ngata
said. "That's why he's been one of the best in the league. He always wants to be the guy that's making the plays. History shows that he has been, so once he gets going, he'll just continue to keep making plays."
As far as sacks, Suggs will attempt to get going Sunday against the Browns'
Joe Thomas
, a seven-time Pro Bowl left tackle. Thomas has given up nine sacks in his past 50 games, and he hasn't allowed a sack to the Ravens in the past four meetings.
"He's definitely one of the best in the league," Suggs said. "They let us two get after it. We'll see how it goes."