December, 11, 2013
Dec 11
5:05
PM ET
OWINGS MILLS, Md. --
Baltimore Ravens
safety
Matt Elam
has looked like a rookie plenty of times on the field. He just made his biggest rookie blunder off of it Wednesday.
In an interview with
the Associated Press
and Comcast SportsNet, Elam called
Detroit Lions
wide receiver
Calvin Johnson
"pretty old." Yes, it seems that Megatron has been around forever. But he's 28 years old. Elam is only six years younger.
Does anyone remember what happened to Dallas? Two months ago, Cowboys WR
Dez Bryant
said he was just as good a receiver as Johnson. The result: Johnson put up 329 yards receiving against the Cowboys, the second-biggest receiving game in NFL history.
In other words, don't make Megatron mad.
I'm at a loss why Elam would even say such a thing. He's wrong on both accounts. Johnson is not old and he's very physical. It's one thing to take a shot. It's another to take a shot and be so wildly off the mark. He'll likely find that out under the bright lights of "Monday Night Football." If Elam thinks Johnson is old, I can't wait to hear what he thinks of
Tom Brady
the following week.
The strange part is that Elam has been so reserved with reporters. But these comments certainly won't go over well with Johnson. Can you imagine the 5-foot-10 Elam trying to defend the 6-foot-5 Johnson in the open field? What about the 210-pound Elam trying to tackle the 236-pound Johnson?
This all started when a reporter brought up that Johnson is a physical receiver.
"He's pretty old, so I don't know how physical he'll be,'' Elam said. "He's a big guy, but he's older. I guess when they get older they're not going to be as physical, you know what I'm saying? We're going to have to be physical, make him uncomfortable.''
This is the same Elam who has broken up just two passes this year and has yet to intercept a pass. This is the same rookie who has allowed an average of 18.5 yards per completion against him, according to Pro Football Focus.
The Ravens' first-round draft pick has been a mild disappointment because he's playing out of position (he's been playing free safety but is more of a strong safety). On Wednesday, he simply was out of line.
Elam was complimentary of Johnson, describing him as "big, fast, athletic, unstoppable, freak."
That's where he should have stopped. Calling Johnson "pretty old" just shows how young Elam is. And it's something he'll regret come Monday night.
December, 11, 2013
Dec 11
4:00
PM ET
OWINGS MILLS, Md. -- Where's the love for the defending Super Bowl champions? More specifically, where are the votes for them?

Only three Ravens -- outside linebacker
Terrell Suggs
, fullback
Vonta Leach
and kicker
Justin Tucker
-- are in the top 10 of the latest Pro Bowl voting results, which were released by the NFL on Wednesday.
The Pro Bowl players are determined by the consensus votes of fans, players and coaches. The voting for fans ends Dec. 26.
To be fair, the Ravens haven't had standout seasons from many of their players. But it's a significant snub that returner
Jacoby Jones
, guard
Marshal Yanda
and inside linebacker
Daryl Smith
aren't in the top 10 in voting. Also, I thought four-time Pro Bowl defensive tackle
Haloti Ngata
would be in the top 10 based on reputation alone.
Suggs, who is second on the Ravens with nine sacks, is third among outside linebackers with 250,089 votes. He's trailing Kansas City's
Tamba Hali
and Indianapolis'
Robert Mathis
.
Leach is third among fullbacks despite having his role significantly reduced. Carolina's
Mike Tolbert
and Cleveland's
Chris Ogbonnaya
are ahead of him.
The most surprising part of the Pro Bowl balloting for the Ravens is the lack of votes for Tucker, who has made 27 straight field goals -- the longest active streak in the league. Tucker is eighth among kickers with 58,639 votes. New England's
Stephen Gostkowski
is first with 177,009 votes.
NFL players and coaches will cast their votes on Dec. 23-26. The Pro Bowl players will be announced on Dec. 27.
December, 11, 2013
Dec 11
3:49
PM ET
Associated Press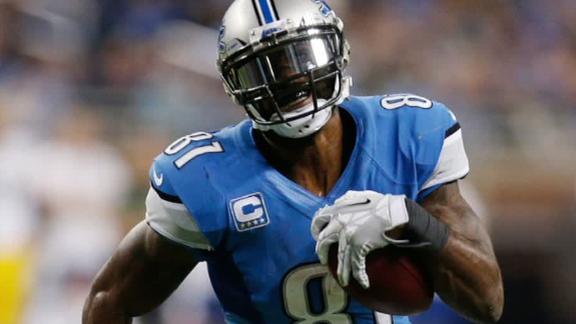 OWINGS MILLS, Md. -- Baltimore Ravens safety Matt Elam nearly ran out of breath trying to come up with words to describe wide receiver Calvin Johnson, the main object of focus for the team's defensive backfield Monday night in Detroit.
"Big, fast, athletic, unstoppable, freak,'' Elam said.
Curiously, Elam went in another direction when asked how best to cover the 28-year-old Johnson, who's amassed a club-record 9,184 yards receiving and 67 touchdowns in less than seven years.
"He's pretty old, so I don't know how physical he'll be,'' Elam said. "He's a big guy, but he's older. I guess when they get older they're not going to be as physical, you know what I'm saying? We're going to have to be physical, make him uncomfortable.''
Elam is 6 years younger than Johnson, but he's also 7 inches shorter and around 25 pounds lighter. So he might not want to test his theory about Johnson's physicality in a one-on-one situation in the open field.
The misinformed rookie only can hope the rest of the defensive backfield does its part to prevent that from happening.
"You've got to know when it's time to double him, when it's time to triple-team him,'' Elam said. "You've got to keep your eye on him, because (Detroit quarterback (Matthew) Stafford wants to get the ball to him.''
Ravens backup defensive back Chykie Brown says the Ravens can't afford to let Johnson's reputation get in the way of their effort to keep him from having an impact on the game.
December, 11, 2013
Dec 11
2:26
PM ET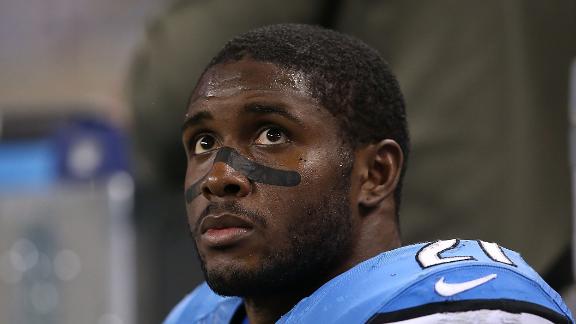 ALLEN PARK, Mich. -- Detroit Lions running back Reggie Bush plans to be available to play Monday night against the Baltimore Ravens.
When asked by a reporter whether he expects to return this week, Bush responded with a one-word affirmative: "Yeah."
He then went on to explain what happened to him Sunday during warm-ups when he aggravated a calf injury that eventually kept him out of the team's game against the Philadelphia Eagles.
"I didn't fall on the ground or anything like that," Bush said. "I was out there jogging. I wasn't even going hard. I was just jogging and it just grabbed on me."
After that happened, Bush said, he was unable to play.
"I couldn't go," Bush said. "I couldn't even sit here and lie and say I would have been able to push through it. I couldn't push through it."
Otherwise, Bush can't figure out how he aggravated the injury, which he said he suffered in practice. He said the cold weather could have played a factor but that he practiced outside on Friday when it was cold and felt good.
It was the second game Bush missed this season. He didn't play in Week 3 against Washington because of a left knee injury.
"It is very frustrating," Bush said. "What was at stake, playing on the road and just being out there with my teammates. It's always hard being on the sidelines, being a spectator. I hate it, so I look forward to getting back this week."
December, 11, 2013
Dec 11
2:15
PM ET
OWINGS MILLS, Md. -- When
Baltimore Ravens
outside linebacker
Terrell Suggs
returns to Detroit on Monday night, he won't be carrying any "malice" in his heart.
In his only trip to Ford Field, Suggs was ejected from a game in which the Ravens set a franchise record with 21 penalties (one shy of the NFL record). That 35-17 loss to the Lions, which happened eight years ago, stirred up some not-so-fond memories for Suggs.
"It was an interesting day," said Suggs, who was quite lighthearted when reminiscing about the incident. "But that was the past. We don't ever want to see that side of us again."
[+] Enlarge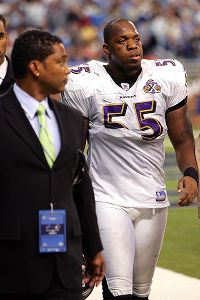 AP Photo/Paul SpinelliTerrell Suggs was one of two Ravens ejected during Baltimore's last visit to Ford Field.
Suggs was ejected with 4 1/2 minutes left in the third quarter, when the Ravens had received 12 penalties while the Lions had only two. He was incensed after he was flagged for a questionable roughing-the-passer penalty.
He jumped into the face of referee Mike Carey and apparently bumped his face mask against the bill of Carey's cap. Carey said after the game that Suggs "bumped me with malice in his heart."
Asked about the incident Wednesday, Suggs said with a smile, "Yeah, I had a lot of malice in my heart. I think I head-butted a ref."
Suggs was fined $15,000 by the NFL for making "impermissible contact," but he wasn't the only Ravens player who lost control. Cornerback Chris McAlister threw the ball at a receiver after an interception and nose tackle Ma'ake Kemoeatu flashed an obscene gesture to the Ford Field crowd.
In addition to Suggs, backup safety
B.J. Ward
was ejected from the game for making contact with an official, even though it was
Ed Reed
who grabbed an official by his shoulder. In less than three minutes, two Ravens players were escorted off the field.
"The last time I've seen that many ejections, I was watching [the World Wrestling Federation]," wide receiver
Derrick Mason
said at the time.
When told in 2005 about Carey's "malice" comment, Suggs responded: "I heard that word means he felt like I was going to do something. You can't throw somebody out because you think they're going to do something to you. First of all, if I was going to do something to you, I would have done it in the first three steps."
Now, all that is on Suggs' mind when he steps on Ford Field again is getting a win for the Ravens (7-6), who are fighting for their playoff lives.
"[The memories] won't come back at all," Suggs said. "Like I said, that was then and this is now. But, wow, time sure does fly."
December, 11, 2013
Dec 11
1:00
PM ET
The
Baltimore Ravens
have hit the homestretch of their schedule, and I'm sure there are plenty of questions and concerns about the defending Super Bowl champions. This is where I come in.
Join the weekly Ravens chat on Wednesday at 2 p.m., and we'll try to address as many issues as possible in the half hour. All you have to do is
click on the blue words right here
to participate.
Talk to you in an hour.
December, 11, 2013
Dec 11
10:00
AM ET
As everyone knows by now, the
Baltimore Ravens
have a brutal finish to their regular-season schedule. They play division leaders in their final three games: at the
Detroit Lions
, home against the
New England Patriots
and at the
Cincinnati Bengals
.
John Eisenberg, a longtime and respected columnist who writes for the
team's official website
, made a case for Monday night's game at Detroit as being the toughest one remaining on the Ravens' schedule.

"The Lions are a division-leading team with a big-play quarterback,
Matt Stafford
, and football's best receiver,
Calvin Johnson
," Eisenberg writes. "They put up a lot of points, especially at home, and frequently get into 'track meet' games – not exactly the Ravens' sweet spot this year with their offense ranked in the bottom third of the league in yardage and points."
While all of this is true, I would contend that the Lions game is the easiest one left on the schedule. The Lions have tons of talent, but they lack discipline and have lost three of their past four games. Detroit hasn't been dominant at home, either. The Lions have lost twice there, including to last-place Tampa Bay, and they almost fell at home to Dallas.
Playing against
Tom Brady
and then in Cincinnati, where
Joe Flacco
and the Ravens have struggled, appear to be bigger challenges on paper.
What are your thoughts on the Ravens' final three games? After you record your vote, send a comment to the mailbag by
clicking right here
. It could be used on the Ravens blog later this week.
December, 11, 2013
Dec 11
8:00
AM ET
The Baltimore Ravens currently hold the sixth and final playoff spot in the AFC. But based on the
projected odds

from Football Outsiders, the Ravens will lose their grasp on it by the end of the season.
The Ravens have a 36.9 percent chance of reaching the postseason. Miami, at 52.9 percent, is the favorite for the conference's second wild-card spot.
It's an Insider post, but here's an excerpt of what Football Outsiders wrote:
"Baltimore's remaining schedule includes three prospective playoff teams (Detroit, New England, Cincinnati), including two of the top three seeds in the AFC. Baltimore's 1.0 projected wins over the final three weeks ranks 30th in the league, and the Ravens figure to be underdogs in each of their remaining games."
The Dolphins' final three games are home against New England, at Buffalo and home against the New York Jets.
Here's the rest of your wake-up caw ...
December, 10, 2013
Dec 10
5:00
PM ET
Here are the
Baltimore Ravens
' snap counts against the
Minnesota Vikings
:
OFFENSE (Based on 85 snaps)
Quarterback:
Joe Flacco
85.
Running backs:
Ray Rice
61,
Bernard Pierce
24,
Vonta Leach
12.
Wide receivers:
Torrey Smith
80,
Jacoby Jones
78,
Marlon Brown
65,
Brandon Stokley
8.
Tight ends:
Ed Dickson
49,
Dennis Pitta
36.
Offensive line:
Marshal Yanda
85,
Eugene Monroe
85,
Michael Oher
85,
A.Q. Shipley
85,
Gino Gradkowski
85,
Rick Wagner
7,
Jah Reid
5.
Offensive analysis
: While Marlon Brown put up the bigger numbers, Jacoby Jones was the No. 2 receiver based on snaps. He lined up on offense for 92 percent of the snaps ... The Ravens stuck with Ray Rice because he had the hot hand; he played 72 percent of the snaps … Dennis Pitta was on the field for 42 percent of the plays, a surprising number given he hadn't played in a game since the Super Bowl. …
Tandon Doss
, who once had the second-most snaps as a receiver in a game this season, played three snaps Sunday -- all on special teams. His drops have cost him playing time.
DEFENSE (Based on 66 snaps)
Defensive line:
Haloti Ngata
50,
Arthur Jones
38,
Chris Canty
36,
Terrence Cody
18,
DeAngelo Tyson
13.
Linebackers:
Daryl Smith
66,
Courtney Upshaw
60,
Terrell Suggs
59,
Jameel McClain
37,
Pernell McPhee
20,
Josh Bynes
16,
Arthur Brown
11,
Albert McClellan
5,
John Simon
4.
Secondary:
James Ihedigbo
66,
Matt Elam
66,
Jimmy Smith
65,
Lardarius Webb
63,
Corey Graham
32,
Chykie Brown
1.
Defensive analysis
: A week after getting reduced snaps, Jameel McClain had the second-most snaps at inside linebacker. He played 56 percent of the snaps Sunday, and Josh Bynes was on the field for 24 percent of them. … Courtney Upshaw, who didn't have to split playing time with injured
Elvis Dumervil
, played 60 snaps, one more than Terrell Suggs. … Rookie John Simon received a handful of snaps on defense for the first time in his career.