December, 19, 2014
Dec 19
4:25
PM ET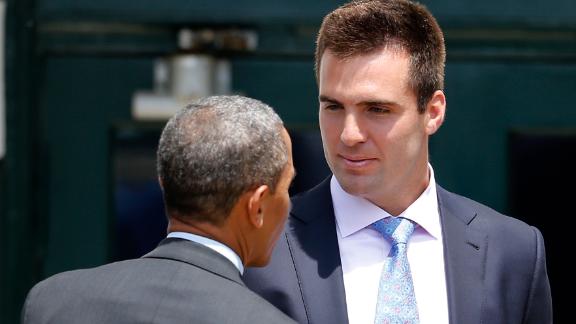 During Friday's year-end White House news conference, President Barack Obama said it was a mistake for Sony to cancel the release of "The Interview" because of the threat of violence from North Korea.
He added that he loved the film's actors, Seth Rogen and James Flacco.
Wait, who was that again?
The commander in chief accidentally mixed up Baltimore Ravens quarterback Joe Flacco and actor James Franco, which quickly caused a stir on social media as well as countless "elite" jokes. Blog posts about this have appeared on CNN, The Washington Post and E! Online.
Flacco's official Twitter account, which is generally run by his representatives, corrected the slip of the tongue:
Then welcomed the newest member of the Flacco family.
Flacco met Obama two years ago, when the Super Bowl champion Ravens were invited to the White House.
After Obama's mistake Friday, someone immediately created a James Flacco account on Twitter and posted this:
So while James Flacco's comedy film is still on the shelf, at least Joe Flacco and other tweets caused a few chuckles before the weekend.
December, 19, 2014
Dec 19
3:45
PM ET
OWINGS MILLS, Md. --
Baltimore Ravens
defensive end
Chris Canty
is listed as questionable after not practicing all week.
Canty
Canty, who is dealing with an ankle injury, is the only injury concern for the Ravens heading into Sunday's game at the
Houston Texans
. He missed four games this year with an infection in his wrist.
"Chris Canty has made progress all week," coach John Harbaugh said.
Asked if he would call Canty a game-time decision, Harbaugh said, "I wouldn't call it anything."
If Canty can't play or is limited,
Lawrence Guy
would be asked to step up. Guy, who was signed after he was waived by the
San Diego Chargers
, has two career starts but none in the past two seasons.
Three other players are listed as probable: returner
Jacoby Jones
(illness), cornerback
Anthony Levine
(ankle) and running back
Bernard Pierce
(back). All had full participation Friday.
December, 19, 2014
Dec 19
1:00
PM ET
Case Keenum?
Thad Lewis
? Does it even matter?
The
Houston Texans
won't publicly announce their starting quarterback against the
Baltimore Ravens
until kickoff Sunday, but it's no secret that a team is in trouble when it's down to its fourth passer of the season. The Texans' unsettled situation at quarterback makes the Ravens the obvious choice.
The Ravens are 3-3 against current top-10 passers in the NFL, and they're 6-2 against the others. The Ravens' losses have come against
Andrew Luck
, Ben Roethlisberger,
Philip Rivers
and
Andy Dalton
(twice). I wouldn't put either Keenum or Lewis in that company.
The Ravens' pass rush can negate the deficiencies of their secondary when going against non-elite quarterbacks. In the past two weeks, the Ravens have sacked
Ryan Tannehill
and
Blake Bortles
a total of 14 times. The way the Ravens are hitting quarterbacks these days, maybe the Texans will need to use both Keenum and Lewis on Sunday.
My prediction
: Ravens 23, Texans 16
My record this year (straight up)
: 9-5
December, 19, 2014
Dec 19
12:40
PM ET
OWINGS MILLS, Md. -- Wide receiver
Torrey Smith
was officially recognized Friday as the
Baltimore Ravens
' nominee for the NFL's annual Man of the Year award -- named after former
Chicago Bears
running back Walter Payton.
Smith
The award goes to one of 32 players who are considered the best on their teams at community service and philanthropy. Smith was nominated for his efforts to educate Baltimore youth and underprivileged children.
"I think you're getting rewarded for what you're supposed to do," Smith said. "I don't think it's really anything special that I'm doing."
The Torrey Smith Foundation began a reading room program that has enabled 447 students in Baltimore-area schools access to over 700 books, electronic readers and a place to read. He has also started a mentoring program that will give 30 Baltimore high school students a chance to spend time at the University of Maryland.
"I feel like being in this position, as a professional athlete, a lot of responsibility comes with it," Smith said. I take a lot of pride in it."
Each of the 32 team nominees receive a $1,000 donation from the NFL Foundation to the charity of their choice.
Three of the league's 32 nominees will be announced as the finalists in January 2015. The winner will be announced in Arizona on Jan. 31, 2015 -- the day before the Super Bowl -- during the 4th Annual NFL Honors awards show.
"Anytime I have an opportunity to give back, I do. It's something I will continue to do long after my playing days are over," Smith said. "This is basically home for me now. I'm going to make it home for me now when I'm done playing ball, too. I'm committed to this city."
December, 19, 2014
Dec 19
11:30
AM ET
If the top three teams in the AFC North -- the
Cincinnati Bengals
,
Pittsburgh Steelers
and
Baltimore Ravens
-- all win this week, it would mark just the second time that an AFC division has had three teams with at least 10 wins since the current eight-division format began in 2012.

The only other time this occurred was in 2007, when the
Indianapolis Colts
,
Jacksonville Jaguars
and
Tennessee Titans
all finished with double-digit wins.
"We take pride in the division, for sure," Ravens coach John Harbaugh said. "It's a great division. We thought all season it was going to be a great division, and it's proven to be that way. So, we're just appreciative to be in the hunt at the end. [We'll] try to do our best to finish strong."
The Bengals (9-4-1) lead the AFC North, and the Steelers (9-5) and Ravens (9-5) are a half-game back. The Bengals play host to the
Denver Broncos
(11-3) on "Monday Night Football," the Steelers face the
Kansas City Chiefs
(8-6) at home and the Ravens play at the
Houston Texans
(7-7).
The records of the AFC North teams are inflated due to playing the AFC South and NFC South, the two worst divisions in football. The AFC South is the only division that has two teams with double-digit losses, and the NFC South doesn't have a team with a winning record.
As a result, the four AFC North teams have a combined one out-of-division win against a team that currently has a winning record. That was the Steelers' 51-34 victory over the Indianapolis Colts in October.
If the season ended today, the Bengals, Steelers and Ravens would all make the playoffs. In the 13 years of the current playoff format, a division has sent three teams to the playoffs in the same season five times. The only time that has happened in the AFC North was in 2011, when the Ravens won the division and the Steelers and Bengals earned wild-card berths.
December, 19, 2014
Dec 19
9:00
AM ET
During his eight seasons with the
Houston Texans
, Gary Kubiak turned
Matt Schaub
into a two-time Pro Bowl quarterback and won a playoff game with rookie fifth-round pick
T.J. Yates
under center.
Kubiak returns to Houston on Sunday with his latest quarterback success story.
In his first season under Kubiak,
Joe Flacco
is enjoying the best regular season of his seven-year NFL career. He is on pace for personal highs in passing yards, completion rate and touchdowns.
[+] Enlarge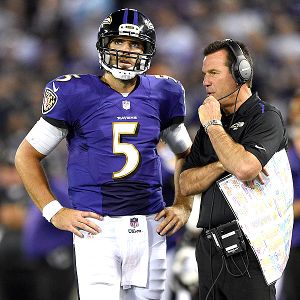 AP Photo/Nick WassUnder offensive coordinator Gary Kubiak, QB Joe Flacco is poised to reach career highs in passing yards, completion rate and touchdowns.
Under Kubiak, the biggest change to the passing attack has been shorter throws and more rollouts. The biggest change in Flacco has been his comfort level with the offense.
"I kind of let him call the game in a lot of ways," Kubiak said. "On Friday, I give him my [play] card, talk to him about what I think we need to be doing, but yet, I let him come to me and say, 'I like this first, this second, this third.' So, when you have a player like that, you need to listen. And I tried to do that. Hopefully I've done that well, but I think our relationship grows every week. I have a lot of confidence in him, and hopefully he has the same."
Flacco is an accomplished quarterback, although not the most consistent one in the regular season. He's two years removed from earning Super Bowl MVP and getting a strong vote of confidence from the franchise in the form of a six-year, $120.6 million deal. Still, Flacco has never thrown for 4,000 yards or more than 25 touchdowns in a season. That could change this year.
With two regular-season games remaining, Flacco is on track to throw for 3,976 yards and 26 touchdowns. His completion rate has increased from 59 percent last year to 64.2 percent this year.
"The biggest thing with Gary is the confidence he gives to the unit," Flacco said. "I'm with Rick [Dennison, quarterbacks coach] a lot, but he's relaying Gary's message, and then getting out there and taking the game plan that we built all week and applying it on Sunday. I think Gary does a great job of doing that and seeing what they're giving us out there and making adjustments and making calls on the fly."
It looked like Flacco was mastering Kubiak's offense by the sixth game of the season, when he threw five touchdown passes in the first half in Tampa Bay. But he hit a rut following that electric performance, throwing as many interceptions (five) as touchdowns over the next four games as the Ravens limped into the bye.
Since returning from that one-week break, Flacco has been among the best quarterbacks in the NFL. Flacco has the third-highest passer rating (107.2) in the league over the past four weeks, throwing six touchdowns and one interception.
"I think we really grooved through the bye week of stopping and saying, 'OK, Joe, here's what I'm seeing, tell me what you think,'" Kubiak said. "As a coach, you can look at a guy and say, 'Boy, he can do everything. He can do this.' But if you're not doing what he's comfortable with, you can be putting him in a bad situation."
The key has been communication. Flacco never had that in five seasons with Cam Cameron, and they often butted heads on the philosophy of the offense. Kubiak has tried to be responsive, and it's shown in the results.
"When he starts talking, Joe likes to talk, so he'll let me know what he thinks," Kubiak said. "Our relationship, it's been good. I coach him hard, but I have tremendous respect for him. I think he knows that, and I need to listen to him."
When asked about the biggest impact that Kubiak has made on the offense, Flacco points to the change in mindset on the offensive line. He talked about how Kubiak's system allows the linemen to play aggressively and use their assets to the fullest. Interestingly enough, the same could be said about Kubiak's influence on Flacco.
"His physical abilities are as good as I've ever been around," Kubiak said. "He works extremely hard at what he does. Joe [Flacco] is a grinder, hasn't missed a day of practice, hasn't missed a rep. I'm very impressed with that. I just think it's very important, too. [He's] very competitive, yet very much under control [on] game day. I could go on and on, but he's a big-time quarterback. He's a championship quarterback."
December, 19, 2014
Dec 19
7:30
AM ET
For the second straight week, all of the ESPN prognosticators are picking the
Baltimore Ravens
to win.
Given the
Houston Texans
' unsettled quarterback situation, I'm not sure if these predictions reflect rising confidence in the Ravens or the lack of it in the Texans. The Ravens (9-5) are seeking double-digit wins for the first time since their 2012 Super Bowl season and for the ninth time in the 19-year history of the franchise.
The Ravens are five-point favorites over the Texans.
The Ravens lead the all-time series with the Texans, 7-1 (including playoffs). Last year, the Ravens beat Houston, 30-9, in Baltimore, where linebacker
Daryl Smith
returned an interception for a touchdown and
Tandon Doss
ran back a punt for a score.
Here are the
official ESPN predictions
(with their prediction record for the Ravens in parentheses):
Eric Allen (9-5):
Ravens
Mike Golic (9-5):
Ravens
Merril Hoge (8-6):
Ravens
Ron Jaworski (10-4):
Ravens
KC Joyner (10-4):
Ravens
Chris Mortensen (9-5):
Ravens
Adam Schefter (10-4):
Ravens
Mark Schlereth (8-6):
Ravens
Seth Wickersham (9-5):
Ravens
Tom Jackson (9-5):
Ravens
Keyshawn Johnson (9-5):
Ravens
Mike Ditka (8-6):
Ravens
Cris Carter (8-6):
Ravens
December, 18, 2014
Dec 18
7:00
PM ET
OWINGS MILLS, Md. -- The
Houston Texans
aren't revealing who is starting at quarterback, and the
Baltimore Ravens
are remaining silent on who is starting at cornerback.
Ravens defensive coordinator Dean Pees said the team hasn't decided on who is going to replace starting cornerback
Asa Jackson
, who suffered a season-ending knee injury last Sunday.
Jackson
"We're still evaluating it," Pees said. "We've got a few candidates out there, and we'll kind of see how it goes. In different packages, it may be different guys."
Here are the candidates:
Rashaan Melvin: He's the least-experienced option. Melvin has played in one NFL game, and he was surprisingly good in his debut. In four passes thrown his way, Melvin allowed one catch and broke up another. The Ravens signed him off the Tampa Bay Buccaneers' practice squad last month.
Anthony Levine: The converted safety started three games this season. Levine began strong after making the position switch, but soon struggled. Quarterbacks have completed 75 percent of their passes against him and have thrown two touchdowns.
Antoine Cason: A four-year starter in the NFL, he's the most experienced choice. Cason was released by the Carolina Panthers this season after giving up six touchdowns in 12 games. Unlike some of the other Ravens cornerbacks, he does make plays on passes, picking off 16 throws in his seven-year career.
Cornerback has been undergoing change on a weekly basis. The Ravens have started six cornerbacks this season and have had 12 on their 53-man roster this season.
"After a while, you kind of get numb to it," Pees said.
Ravens coach John Harbaugh gave secondary coach Steve Spagnuolo a game ball after Sunday's 20-12 win against the
Jacksonville Jaguars
. The Ravens' defensive backs broke up six passes and sealed the win with safety
Jeromy Miles
' interception.
"It just seems like in this business -- probably like any other business -- there are just going to be challenges," Harbaugh said. "There are going to be tough things that are going to come up. It's not a matter of 'if,' it's a matter of 'what' they're going to be specifically. This year, it's the corners."
Harbaugh added, "No, we've never lost this many corners before, but it's always something every year, and different teams have different amounts of injuries. We've been hit especially hard this year, but that's just the way it goes. We just have to deal with it. So, it's been challenging."
December, 18, 2014
Dec 18
5:45
PM ET
OWINGS MILLS, Md. -- Days before returning to Houston,
Baltimore Ravens
offensive coordinator Gary Kubiak expressed no bitterness or anger when asked about being fired by the Texans a little over a year ago after eight years as their head coach.
Instead, he revealed disappointment in himself.
"I failed with that football team," Kubiak said after Thursday's practice. "It's very difficult. I understand the business and how it works."
Kubiak, 53, has quickly turned around his career. He went from being the head coach of a 2-11 Texans team to vital part of a Ravens team making a playoff push.
In Kubiak's first season as offensive coordinator, the Ravens are 23 points away from setting the single-season franchise record for points and they're on pace for their first top-10 offense in 17 years. Quarterback
Joe Flacco
is having a career season, and journeyman running back
Justin Forsett
is fifth in the NFL in rushing.
"Getting back to work is best medicine for a football coach," Kubiak said.
Kubiak didn't wax sentimental about going back to NRG Stadium for the first time since being fired, saying his last memory was driving away from the stadium. He plans to visit his mother as well as his son during his visit but said he considers it "the next football game" otherwise.
Ravens tight end
Owen Daniels
, who played for the Texans for all eight of Kubiak's seasons there, believes "it will mean everything" if Kubiak can beat the Texans.
"Last season wasn't what we wanted when we were there, but he sure changed the culture around there in terms of everyone in that building being focused on winning," Daniels said. "He deserves a lot of credit for that. For him to go back – and hopefully we can take care of business – that will be huge."
Flacco said he could tell how important this game is to Kubiak after talking to the coordinator's wife.
"I think he'll probably have it in his mind ... but it'll definitely be there in the back of some of our minds also just to make sure that we can do it," Flacco said.
Kubiak said he has great feelings toward the Texans organization and remains grateful for the opportunity to coach there. He guided the Texans to a 61-64 record (.488) and two AFC South titles (2011 and 2012). He was the NFL Coach of the Year in 2011.
"That's a big chunk of my football life – eight years, a lot of football games," Kubiak said. "You don't ever leave that. You have to take the good with it, take the positive, learn from what's going on, move forward in your life and that's what I've tried to do. And like I said, I'm very fortunate to have a chance to move forward in such a great spot.
The job that Kubiak has done in Baltimore -- turning a 29th-ranked offense into the 10th-ranked one -- could make him a head coaching candidate after the season. Kubiak said he hasn't thought about getting another opportunity to be a head coach.
"I'm consumed with what I'm doing," Kubiak said. "Every opportunity I've ever had in my life hopefully is because I'm doing a good job and working my tail off where I'm at. If you're worrying about those things, you don't enjoy what you're doing at the time. And boy am I enjoying what I'm doing right now."
December, 18, 2014
Dec 18
5:25
PM ET
OWINGS MILLS, Md. --
Baltimore Ravens
defensive end
Chris Canty
missed his second straight practice with an ankle injury.
His level of participation in Friday's practice will give a better indication of his availability for Sunday's game at the
Houston Texans
. Canty has elevated his play the past three weeks, recording 13 tackles. He missed three games this year with an infection in his wrist.
Wide receiver-returner
Jacoby Jones
(illness) had a full practice after sitting out Wednesday. Backup running back
Bernard Pierce
(back) also had full participation after being limited Wednesday.
Cornerback
Anthony Levine
(ankle) was limited for a second straight day.
December, 18, 2014
Dec 18
3:00
PM ET
OWINGS MILLS, Md. -- One of the major storylines this week is offensive coordinator Gary Kubiak and tight end
Owen Daniels
getting some payback when they reunite with the
Houston Texans
on Sunday.
Just don't include running back
Justin Forsett
in that group.
Forsett
"As far as revenge, for me personally, I've been on so many teams, I'd be going crazy thinking about getting revenge on everybody," Forsett said with a laugh. "That's out of the question for me."
Forsett played one season for the Texans, but that was only one of his four stops in the NFL. In the past four seasons, he's bounced from Seattle to Houston to Jacksonville to Baltimore.
He played one of his former teams last Sunday, and the
Jacksonville Jaguars
held him to one of his worst games of the season. Forsett averaged a season-worst three yards per carry and didn't break a run longer than six yards.
The biggest problem was execution, according to Forsett.
"We have to be consistent, and we have been for most of the year," said Forsett, who ranks fifth in the NFL with 1,128 yards rushing. "They gave us a challenge. They have a great front seven and had some guys in the box against us. Give credit to them."
Forsett has been battling a knee injury recently, but he doesn't see health being a factor Sunday in Houston.
"I feel good," he said. "This is actually one of the best Wednesdays I've had in a while. Body is feeling good."
December, 18, 2014
Dec 18
2:49
PM ET
ESPN.com news services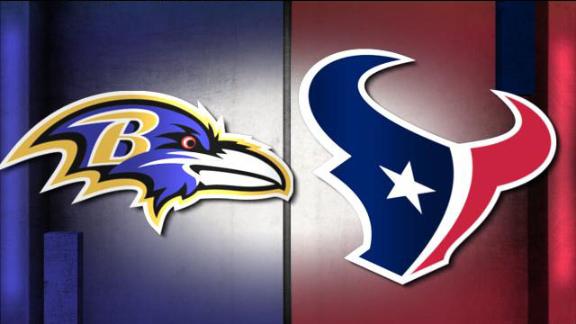 HOUSTON -- Texans receiver Andre Johnson expects to play on Sunday against the Ravens after missing last week's game because of a concussion.
Johnson says he finished the league's concussion protocol and has been cleared to return. He was injured after being hit in the head by Jaguars linebacker Telvin Smith on Dec. 7.
Johnson thinks he may have lost consciousness for a few seconds after the hit, but says that the helmet-to-helmet blow didn't scare him.
"It wasn't scary. I think it was more scary for other people than it was for me," Johnson said. "... Everybody else who saw it said it was a scary moment for them. I watched the play. Even after it happened, I didn't feel nervous or anything. It's a part of football. It happens. I've seen it happen several times. Just have to move on from it."
Johnson added that he felt like he blacked out for a moment, but remembers everything.
After he got up and went to the sideline, Johnson said he felt "fine." He said he had headaches last week.
"I think the biggest part is just being smart about the situation. That's why I didn't play last week; I was cleared to play," Johnson said. "I think it's more about just being smart about the situation. You have to communicate how you feel. That's pretty much it."
ESPN.com Texans reporter Tania Ganguli and The Associated Press contributed to this report.