An inside-the-huddle look at the sounds of the NBA's Eastern Conference playoffs.
The big man's clean-up efforts have made a huge difference through three games against the Celtics.
The Celtics might get swept out of the playoffs by the Cavaliers, but there's plenty of positives in this experience.
The Celtics turned the tables on the Cavs and were the more physical team in Game 3, but coach Brad Stevens says Boston didn't play with poise.
The Celtics' magical season is a loss away from ending, but don't expect Boston to go down without a fight.
LeBron James' double-double of 31 points and 11 rebounds carries the Cavs to a 103-95 win over the Celtics and a 3-0 series lead in their Eastern Conference first-round series.
LeBron James scored 31 points and the Cleveland Cavaliers moved one win away from a sweep in their first playoff series in five years with a 103-95 victory over the Boston Celtics Thursday night.
The young Celtics are looking forward to their first postseason game at Boston's TD Garden.
Things are ending messily for Rajon Rondo in Dallas, but Jae Crowder keeps endearing himself to Celtics fans.
The Celtics appear to be taking a similar approach to some of the Cavs' previous opponents when Evan Turner and Jae Crowder are guarding LeBron James.
The NBA Hall of Famer shared airtime with the comedian on Mike & Mike. Can you tell the two apart?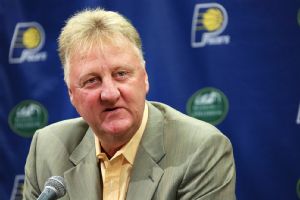 Larry Bird and David Ortiz are members of the board that will try to bring the 2024 Olympics to Boston.
Celtics coach Brad Stevens and Cleveland's LeBron James offered praise to each other after the Cavs' victory in Game 2.
LeBron James and Kyrie Irving combined to score all of Cleveland's final 28 points to beat the Celtics and take a 2-0 series lead.
The Celtics have shown they can compete with the Cavaliers, but there's little margin for error.
Apr 24, 2015

,

11:44 PM ET
East playoffs mini-movie week 1