July, 18, 2014
Jul 18
4:20
PM ET
Last week in Orlando, just shy of the one-year anniversary of the formal completion of
last summer's blockbuster trade
with the
Brooklyn Nets
,
Boston Celtics
president of basketball operations Danny Ainge was asked to assess the deal that delivered
Kevin Garnett
,
Paul Pierce
, and
Jason Terry
in exchange for
Gerald Wallace
,
Kris Humphries
,
Keith Bogans
,
MarShon Brooks
,
Kris Joseph
, and three future first-round draft picks.


"I'll let [the media] assess all that stuff," said Ainge. "That doesn't matter to me. We're just trying to get better, but we were able to acquire a lot of assets in that trade."
We probably don't have to wait until 2018 -- when the last of those first-round draft pick will be utilized -- to suggest that Boston got the better of the swap. But just how much better will likely depend on each team's trajectory in the coming seasons. The Nets went all in on the 2013-14 campaign -- and paid a $90.6 million luxury tax payment to prove it -- only to be bounced from the Eastern Conference semifinals in five games by the
Miami Heat
.
Below, we track what each team got from the deal (and we'll try to update these lists over time to reflect just how the trade played out for both sides):
WHAT THE NETS GOT
[+] Enlarge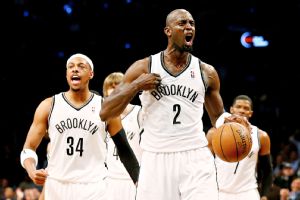 Elsa/Getty Images
• Terry appeared in only 35 games before being traded to Sacramento (with
Reggie Evans
) for
Marcus Thornton
, who, ironically, was traded to Boston this offseason. That three-team trade did bring the Nets back 2013 first-round pick
Sergey Karasev
and
Jarrett Jack
(who has as much as three years and $19 million left on his deal).
• Pierce helped Brooklyn play some of its best basketball late in the regular season, and his exploits helped the Nets survive a seven-game first-round series with the
Toronto Raptors
. But Boston's former captain signed as a free agent with the
Washington Wizards
this week.
• Garnett, who appeared in just 54 regular-season games last season due to back issues, looks like he'll return for another season at age 38.
WHAT THE CELTICS GOT
[+] Enlarge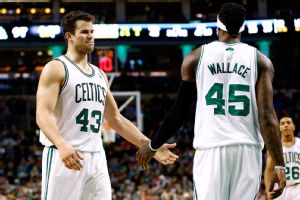 Mark L. Baer/USA TODAY Sports
• Humphries earned a team-high $12 million last season, but his work ethic endeared him to both Boston's coaching staff and fan base. With a surplus of young talent at the power forward position, the Celtics facilitated a sign-and-trade deal this offseason that delivered Humphries to Washington in exchange for a conditional second-round pick (unlikely to be delivered) and what should be a $4.3 million trade exception.
• Wallace appeared in 58 games for Boston last season before undergoing season-ending knee and ankle surgery. Taking on three years and $30.3 million in salary was part of the reason Boston was able to bring back three first-round draft picks. Will Boston find a taker for that salary at some point down the road?
• Bogans got a monster pay raise to be a sign-and-trade inclusion in the deal. He appeared in only six games for Boston last season before being dismissed for "personal reasons." It's likely that the Celtics will attempt to use his nonguaranteed contract as a trade asset, though he can also be waived this summer for an immediate $5.3 million savings.
• Brooks seemingly spent most of his time in Boston playing 1-on-1 with assistant coach Jay Larranaga while unable to crack the rotation. He appeared in only 10 games before being traded to the
Golden State Warriors
(with
Jordan Crawford
) in a deal that brought back
Joel Anthony
(who triggered a 2014-15 player option to stick around longer), Philadelphia's lottery-protected 2015 first-round pick (more likely two future second-round picks), and Miami's 2016 second-round pick.
• Joseph, originally a second-round pick by Boston in 2012, was waived immediately after the completion of the trade.
• The Celtics used Brooklyn's 2014 first-round pick to select Kentucky swingman
James Young
with the 17th overall pick. The 18-year-old was signed last week to his rookie pact, but did not participate in summer league while recovering from injuries sustained in a pre-draft car accident.
• The Celtics used a $10.3 million trade exception generated as part of the Brooklyn deal to absorb the salaries of Thornton and center
Tyler Zeller
as part of a three-way trade with the Nets and
Cleveland Cavaliers
. Boston also got Cleveland's 2016 first-round pick (top-10 protected) in the swap.
Here's a quick look at what the Celtics have remaining for draft picks from the deal (and the moves spawned from it):
• Philadelphia's 2015 first-round pick (becomes two second-round picks if in lottery)
• Brooklyn's 2016 and 2018 first-round picks (Boston can also swap places in 2017)
• Cleveland's 2016 first-round pick (top-10 protected until 2019)
• Miami's 2016 second-round pick
PODCASTS
Baseball Tonight
Play Podcast Buster Olney talks to Marc Topkin about the Rays' plans with David Price. Plus, Jayson Stark on Price and the rest of the trade market as the trading deadline looms over MLB.
Tom Brady, Patriots
Play Podcast Patriots QB Tom Brady talks about donating to The V Foundation for Cancer Research and more.
Joe Buck, MLB
Play Podcast FOX's Joe Buck discusses his memories of Derek Jeter, Jeter's final season, the rivalry between the Yankees and the Red Sox and the rosters for the 2014 MLB All-Star Game.
Brian Windhorst, NBA
Play Podcast ESPN NBA Insider Brian Windhorst weighs in on the Heat's reaction to LeBron James' departure, James' mindset regarding free agency, whether the Cavaliers should pursue Kevin Love and more.