November, 24, 2014
Nov 24
1:04
AM ET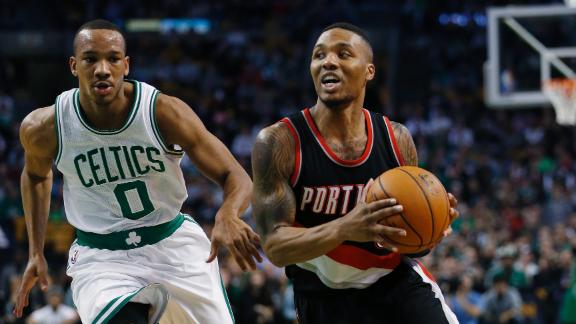 BOSTON -- The irony, of course, is that on the night the
Boston Celtics
put together their best defensive effort of the season, the offense that has kept them competitive on most nights endured one of its worst performances.
The end result, then, was all too familiar: Another loss, this time a 94-88 defeat to the
Portland Trail Blazers
on Sunday night at TD Garden. Boston has dropped five of its last six, its only win coming after a rally against the winless
Philadelphia 76ers
. And yet the frustration that has permeated the team's locker room after recent defeats was replaced with a curious optimism that, if Boston can continue to play defense like it did against one of the league's most potent offenses, it's going to give itself a chance to truly compete on a nightly basis.
"I don't know that I've been as encouraged as this time," Celtics coach Brad Stevens said. "I don't feel the same because I've felt like we were kind of hanging onto whether or not we made shots, or how we played on the offensive end. And that wasn't the case today, so that's why I leave here encouraged. I think, as we enter a five-day stretch before we play two more contenders, we have something to build off of, instead of just trying to believe we can do it without any real proof. So today is good proof for us."
Here's Stevens' proof: Boston's defensive rating for the game was 95.3, or 11.6 points per 100 possessions better than the team's head-shaking season average. Boston still sits 25th in defensive rating, but Sunday's effort is something to hang its hat on considering the Blazers entered the game with the third-best offensive rating in the league. Over Boston's last three games, the team's defensive rating is 99.3, which would position the team in the top 10 in the league.
[+] Enlarge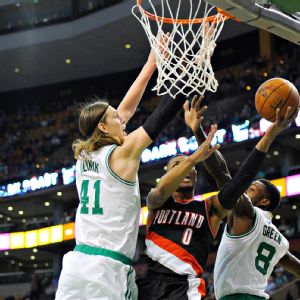 Bob DeChiara/USA TODAY SportsBy stepping up their defensive intensity against the Blazers, the Celtics believe they have something to build off of despite another close loss.
The challenge for Boston now is (1) maintaining this sort of defensive intensity and (2) doing it for longer stretches of games. The Celtics put together a strong first half in which they truly frustrated Portland, only to have second-half lapses -- along with Boston's own offensive woes -- let the game get away.
"I feel like we came out with a great defensive intensity," said Celtics guard
Avery Bradley
, who pestered
Damian Lillard
for much of the night. "Unfortunately, we were not able to make shots, but I felt like we played well for the most part."
Bradley was asked what the team could take from watching film of Sunday's effort.
"I don't even think we need to watch film," he said. "[Defensive success] all comes from effort and wanting to play defense. We wanted to go out there and prove that we are a good defensive team if we all give 100 percent on the defensive end, and that's what we did. Everyone was trying hard tonight. We don't need to watch film; we know what we need to do."
The Celtics will take the next four days off before hosting the
Chicago Bulls
in a Friday matinee. As frustrated as the team is in opening the season with a 4-8 record -- all while knowing it has rarely put together a 48-minute effort -- Sunday's showing represented something positive the team can finally cling to and use as a blueprint moving forward.
"We had a great mindset going into the game," Celtics captain
Rajon Rondo
said. "We had a great scouting report, Coach told us guys' tendencies. At halftime, we made a couple of adjustments but not too many, and we went out and did it. Instead of just keep talking about it, we actually executed defensively tonight."
Rondo, who has been a beacon of optimism during Boston's struggles, remains convinced the team is close to a breakthrough.
"I'm always optimistic," he said. "I truly believe in this team and we've got a lot of great pieces on this team. ... We're just going to stay consistent, stay positive and keep chugging away."
The Celtics have maintained that getting over the hump might take just one win that would provide a much-needed spark.
"We need a win, we need something to get us going," Bradley said. "We need a [winning] streak -- I think the longest streak we've had so far is two games. We need to get it going."
The Celtics will be helped by a schedule that will downshift after this month. The Celtics host two championship contenders in the Bulls and Spurs to close out November, but December's slate isn't nearly as daunting. The competition eases a bit, potentially offering a greater margin for error.
Boston's hope is that the challenging November has positioned the team to take advantage of what lies ahead. That, for all the bumps in the road to this point, there's a chance to turn it into a positive.
Stevens said before the season that the Celtics would know by Christmas exactly what they are. Early returns suggest a team not very dissimilar from the one that struggled to finish out close games last season while posting only 25 wins.
December should offer the Celtics a chance to prove they're better than that. But the Celtics absolutely need to show they can play with the defensive intensity displayed on Sunday in order to really make strides.
It's the only way to ensure the optimism remains in their locker room.