March, 26, 2015
Mar 26
12:41
PM ET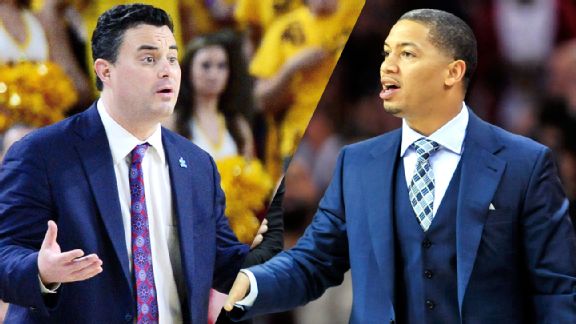 USA Today SportsArizona's Sean Miller and the Cavs' Tyronn Lue may be coming to an NBA head-coaching job near you.
The coaching carousel slowed down in 2014-15 after a flurry of turnover the previous couple of seasons. While we could conceivably see a couple of firings ahead this summer, most NBA teams and head coaches seem to have happy marriages, as only Sacramento, Orlando and Denver have made in-season changes.
Does this relative calm suggest that NBA teams are getting better at the practice of hiring head coaches?
Like most marriages, it's impossible to know at the altar or under the chuppah what the relationship will look like 15 years down the road. But there's a healthy consensus around the league that the vacancies filled during the Great Purges of 2013 and 2014 were done so thoughtfully.
David Blatt, Mike Budenholzer, Steve Clifford, Jeff Hornacek, Dave Joerger, Steve Kerr, Jason Kidd, Quin Snyder and Brad Stevens -- none has completed two full seasons of service, yet all can claim success relative to expectation. Even Mike Malone, one of the three in-season dismissals, has plenty of sympathizers who feel he got a raw deal in Sacramento.
Numerous conversations with execs, current and former coaches, players and scouts revealed some common ideas about how the league is identifying and hiring coaching talent:
You're a manager first: It's not that whiteboard wizardry is out of fashion, but "can get the buy-in" is the new "defensive mastermind." Tactical prowess means zilch if a coach lacks the power of persuasion to get his team to run all that pretty stuff. To do that, a coach has to manage the sensitivities of his players, all of whom require different messages. He has to handle a large staff, sell ideas to the guys upstairs and schmooze the media (but resist taking credit, lest he tick off players, management and ownership). Owners and general managers hiring a coach appreciate more than ever not only the enormousness of the job, but the nuanced roles that go with it.
The new blood: A couple of general managers noted that the success stories from the classes of 2013 and 2014 are largely first-time NBA head coaches. More notably, the retreads are having a tough go of it. The game is evolving quickly, and those who see a head-coaching gig in the NBA as continuing education are reaping the benefits, and those who feel as though they have all the answers are finding themselves at a loss when they learn the questions have changed.
There's no hard-and-fast formula: The league is learning that there's no one single way to arrive at the first chair on an NBA sideline. Start from the top of the leaguewide standings and you'll find teams coached by: a former player who had stints as both a general manager and a color analyst, a career assistant to the game's top coaching luminary, a standout D-League and CBA champion coach, a Hall of Fame power forward and veteran point guard, neither of whom served a single game as an assistant coach, as well as a legend of European coaching. Accordingly, few front offices have a predetermined type anymore. It's the human, not the resume.
The dual role: Find a grouchy NBA head coach and there's a good chance his primary grievance is that he hasn't been furnished with a roster that can execute what he wants to run. He's also peeved because he hasn't been consulted sufficiently on the selection of those players. In response, a number of prestige head coaches are angling for final authority on all basketball operations matters. Doc Rivers, Stan Van Gundy and Flip Saunders have joined Gregg Popovich as principals who preside over both the sideline and front office. With Danny Ferry in exile, Budenholzer is currently the Hawks' senior basketball ops manager. George Karl and Kidd have a very strong say with ownership in Sacramento and Milwaukee, respectively. But there's good reason why this model rarely succeeds. NBA head coach and NBA general manager are jobs far too demanding to combine unless there's the utmost trust in those empowered with the day-to-day responsibilities (see San Antonio).
In the spring of 2013 and 2014, we canvassed insiders for the names of coaches who, given the opportunity to lead an NBA team, have the tools to succeed. Those on the previous two lists who subsequently have been hired include Blatt, Joerger, Kerr and Snyder.
An individual on the list can't have previously had an NBA head-coaching gig. We also bypass those who have been on the list previously, though it's worth noting Fred Hoiberg, Dave Fizdale, Jim Boylen and Adrian Griffin each popped up more than once this time.
Here are six coaches whose combination of intelligence, work ethic, experience, people skills and temperament make them interesting candidates for an NBA head-coaching position either sooner or later:
Kenny Atkinson, Atlanta Hawks assistant coach

The arrival of a new head coach often signals the exodus of the previous staff. But when Budenholzer was brought on in Atlanta in 2013, Ferry strongly recommended retaining Atkinson, his first hire. Budenholzer didn't need much persuading. Player development was Atkinson's strength and it was a priority in Atlanta. And feedback among the Hawks players was so overwhelmingly positive bringing Atkinson back was a no-brainer.
After four seasons under Mike D'Antoni in New York, Atkinson has flourished in Atlanta as far more than a player-development guy. He's earned a reputation as an affable teacher who is both cerebral and a high-level communicator. He thoroughly enjoys getting on the floor with a player and sees that individual development work as a collaboration between player and coach.
"He believes you can improve as a player, even at the highest level, and that there's always something you can add to your game," Hawks big man Al Horford says. "He's been here for three years with me, and he's challenged me. For instance, before he got here, I was pretty much a shooter on the pick-and-pop. I was never really driving. Kenny has challenged me to put the ball on the floor. It's something we've worked on together, and now it's something I feel comfortable doing."
After a nice college career as a point guard at Richmond, Atkinson had a long career in Europe, where he stayed to coach before heading to New York. He's worldly, with a curiosity for forward-thinking ideas, everything from injury prevention to analytics. He's someone who would look for new solutions as a head coach rather than insist he has every answer and rely on tired conventional wisdom.
Philadelphia general manager Sam Hinkie gave Atkinson a look in 2013, and there's a strong belief around the league that he's earned another series of interviews as one of the top assistant coaches currently on the market.
Tyronn Lue, Cleveland Cavaliers assistant coach

After three seasons under Rivers in Boston and Los Angeles, Lue has quickly established himself as a whole-package coaching prospect. He was pursued vigorously by the Cavs in their head-coaching search last spring, and ultimately finished as a strong runner-up to Blatt, making such a strong impression during the process that Cleveland offered him a deal in excess of $6 million to join them as associate head coach. Who better to complement an Ivy League-educated, often stubborn, first-time 55-year-old head coach who'd spent his career in Europe than a former NBA vet with a passionate knowledge of the NBA game and its rhythms to whom players flock?
"He respects the work that's required to do the job and he has the gift of being able to verbalize things to players in a straightforward way without being offensive," Rivers says. "He sees things in games a lot of people can't see. He'd see opportunities for us -- in games, watching film, observing -- and would bring them to me. He has a chance to be very special."
When Rivers took over in Los Angeles in July 2013, he quickly dispatched for Lue, who spent the entire summer breaking down the league, and meticulously studying the Clippers' core. His observations were instrumental in building the architecture for a defense that finished the season ranked seventh in efficiency.
Clippers players loved Lue, and he's earned the trust of a Cavs roster with several combustible parts. By all accounts, he has been crucial in maintaining relative order and harmony in the locker room. Lue is on a four-year deal, but it's difficult to imagine he'll still be the associate head coach in Cleveland three seasons from now.
Jay Larranaga, Boston Celtics assistant coach

The basketball world is a far more interconnected place than it was 15 years ago. In that time, international basketball has made a strong imprint in the NBA game and the D-League has grown into a laboratory for ideas. As they survey the landscape for potential NBA head coaches, an increasing number of franchises value diversity of experience in a candidate. For those who do, Larranaga is a natural.
Mention of Larranaga's name was met with praise around the league as a hard-working pro who is universally liked and respected. Though Larranaga is the son of longtime college coach Jim Larranaga, he clawed his way up through the ranks without any free passes. He played pro ball in Europe for over a decade, enjoyed a solid run in the D-League as a head coach for two seasons before landing on Rivers' bench in Boston, where he remains under Stevens.
"Coaching is in his blood and he's been around the game his whole life," Celtics president of basketball operations Danny Ainge says. "He's a class act, an intelligent, experienced basketball mind."
In a player's league with know-it-all owners, miked-up coaches and constant media scrutiny, temperament has never been more important. Larranaga scores well in this event, a coach who understands how to relate to a varied roster of players, can motivate a staff and whose likability will endear him to ownership and the media. In 2013, he got a close look from Philadelphia and consideration to succeed Rivers in Boston. He'll continue to appear on lists for vacancies as he hones his identity as a coach.
Sean Miller, University of Arizona head coach

College basketball is safe for fishing again. With the Celtics' hire of Brad Stevens in 2013, the league now has a blueprint for how to successfully transition an NCAA head coach into the NBA: Identify a thoughtful coach who understands that basketball is about the players and has an agile basketball philosophy. Then offer him security and guide him with patience as he builds a culture.
Hoiberg, whom we featured on the 2013 list, is widely regarded as the next college coach who will make the jump, once he finds the right gig. Over the past couple of years, Miller has emerged as a name execs and scouts view as strong NBA head coach material should he get restless in Tucson.
The son of a legendary high school basketball coach, Miller grew up absorbing the game like a sponge. He was a sick ball handler who, as a kid, showed off his skills in "The Fish Who Saved Pittsburgh," and on "The Tonight Show." Stan Van Gundy has said that Miller and Erik Spoelstra are the only two people he instantly knew were born head coaches. As an assistant at Wisconsin, Van Gundy got to know Miller, who was a Badgers graduate assistant.
"He has always understood the game inside and out," Van Gundy told me last year. "What really got me was how he connected with players. It's natural for players to be skeptical of a 23-year-old guy. But right from the beginning, he's working out high-level players -- Michael Finley, Tracy Webster. He knew what he was talking about, knew how to teach, and they connected to him and respected him. It was amazing to see."
Miller is a charismatic but still mild-mannered personality, a good fit for a team that sees the head-coaching position as an organizational pulpit. But he's also not a guy who carries himself as bigger than the job. In short, Miller is a celebrity coach, which will please an owner. But he's not a prima donna, which will please players ... and the exec making the hire. At the moment, there's no indication that Miller has immediate interest in leaving Arizona. Should that change, he'd have suitors in the NBA.
Nate Bjorkgren, Bakersfield Jam head coach

There's a school of thought among some in the NBA that the most valuable attribute a candidate can have is head-coaching experience somewhere -- be it college, the D-League or overseas. Working as a top assistant under an elite head coach offers all kinds of training, but a head coach is the chief operating officer above all else, and there's no substitute for spending time in the first chair, where the buck stops. For years, basketball's minor leagues served as a testing ground for potential NBA head coaches. Phil Jackson and George Karl both wet their feet in the Continental Basketball Association, and Joerger has proved that minor league basketball is still a quality finishing school.
Bjorkgren has compiled a robust D-League resume with sustained success wherever he's landed. He is known as an intensely self-critical coach who viscerally hates losing. His supporters describe someone who has markedly matured over the past four seasons, and he's learned when to push buttons and when to lay off, both with players and staff.
"He's won everywhere he's been," says Warriors assistant GM Kirk Lacob, who was instrumental in hiring Bjorkgren at Dakota when it was Golden State's affiliate. "He does a great job with players. He connects with them on a personal level, and also he cares about their personal careers."
Regarded less as an innovator-philosopher and more as pragmatic problem-solver, Bjorkgren is a likely candidate to soon find his way to an NBA bench as an assistant -- not unlike Nick Nurse, under whom he served as an assistant -- then possibly an opportunity to roam the sidelines down the road.
Ime Udoka, San Antonio Spurs assistant coach

The former journeyman has fewer than three seasons as an NBA assistant under Popovich, but already has a number of fans around the league who have a ton of admiration for his basketball smarts, manner and personal journey.
Udoka was a fourth-round pick in the NBDL draft, and toiled in obscurity until he got an invite from his hometown Portland Trail Blazers, who were in search of a warm body, and he ended up starting 75 games. Naturally, the Spurs came calling, and he was adopted as family, spending three of the final five seasons of his playing career in San Antonio.
"He exudes a confidence and a comfort in his own skin where people just gravitate to him," Popovich says. "He's a fundamentally sound teacher because he's comfortable with himself, he knows the material and players read it. Often times, I'll say, 'Ime, can you go talk to so-and-so? Go talk to Patty Mills, go talk to Timmy, go talk to Kawhi.' And he'll do it better than I would do it -- and I'm not blowing smoke. The only thing I don't like about him is that he doesn't drink, so I can't enjoy a glass of wine with him. He's really boring at dinner."
Players and coaches who know him describe Udoka as a stoic with an even disposition, more of an inner intensity than a roaring fire. At Spurs U, he's at the finest graduate school in the league, alongside another oft-mentioned name, Boylen, who was listed in 2014 as a future head coach. Udoka probably has a couple more years of seasoning ahead of him, but it's not long before he hits the interview circuit.
March, 26, 2015
Mar 26
11:04
AM ET
[+] Enlarge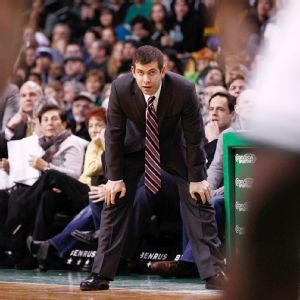 Mark L. Baer/USA TODAY SportsWhile Stevens may not wear his emotions on his sleeve, he definitely has strong feelings about what he sees on the court from his team.
The Celtics are entrenched in a spunky, tenacious playoff hunt, yet their coach behaves the same as he did when they were wobbling toward a 13-26 record, squandering 15 of the 20 leads they had amassed in the fourth quarter and mired in a fog of underwhelming results.
As Boston morphs into a lovable band of overachievers and potential postseason menaces, their architect, the deadpan Brad Stevens, refuses to overreact, whether it's when his team disappoints with a lackluster performance through three quarters of a huge game against Miami on Wednesday (an effort Jae Crowder deemed "sickening"), or, in that same game, when the Celtics mount a furious fourth-quarter comeback that comes up just short.
"When you watch Brad on the sidelines you can't tell whether his team is up 20 or down 20,'' observed Pistons coach Stan Van Gundy. "That's valuable for any team, but I think especially [with young guys], they see the calmness. If he doesn't panic, they won't panic.''
Stevens' quiescent demeanor amid the wildly fluctuating emotions of a young roster with a dizzying array of moving parts was a significant reason Danny Ainge targeted him as Doc Rivers' successor.
March, 26, 2015
Mar 26
12:39
AM ET
BOSTON -- Boston Celtics guard Isaiah Thomas admitted before Wednesday's game that he was worried about his first fall and so it seemed to take a minute for him to react when he hit the parquet floor hard in the final minutes of the first half while absorbing a charge from former teammate Goran Dragic.
[+] Enlarge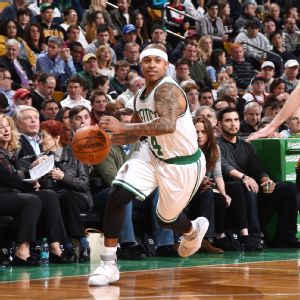 Brian Babineau/NBAE/Getty ImagesIsaiah Thomas struggled in his return from an eight-game absence on Wednesday night vs. the Heat.
And then came the audible groan as Thomas reached for the bruised lower back that had sidelined him the previous eight games, then rolled onto his side in obvious discomfort. Four teammates scrambled over to peel him off the ground, though he likely would have preferred another moment or two to collect himself.
Thomas endured a lackluster return while putting up four points on 2-of-7 shooting over 20 minutes during Wednesday's 93-86 loss to the Miami Heat. He turned the ball over three times and missed three free throws, then suggested it might have been the first time in his NBA career he'd missed three straight from the charity stripe. Thomas went so far as to dub it, "one of the worst games I've ever played."
Thomas' struggles were about the only thing that cushioned his first hard fall.
"I was playing so bad, I didn't even care about the fall, honestly," said Thomas. "It hurt -- the initial hit when I took the charge -- but other than that, I was all right."
Thomas looked little like the speedy, point-creating dynamo we saw over his first 10 games after joining Boston at the trade deadline. He appeared to be hurting and his limited mobility made it tough for him to stay in front of Dragic, who routinely torched Boston with his speed throughout the first half.
Thomas played less than seven minutes in the second half as Boston leaned on a hodgepodge lineup to fuel their fourth-quarter charge.
"There's no excuses, I have to play better," said Thomas. "I'm my biggest critic, I have to come out and play better, offensively and defensively."
But Thomas was also adamant that he did not come back too soon from injury. He blamed rust, but said he'll work through those woes. Coach Brad Stevens plans to talk with Thomas about his health moving forward.
"Obviously, my bigger concern is, 'How's he doing?' because he was a little bit out of rhythm tonight, so hopefully that was just a rhythm thing and not how he's feeling," said Stevens. "That's what I want to know and we'll talk about that more. Guys aren't going to be that honest during the game because they want to play, at least the really competitive ones are that way, and he's a really competitive one."
Thomas got a loud ovation from the crowd when he checked in for the first time midway through the first quarter. But his presence wasn't enough to light a fire under a sluggish Boston team over the first three quarters.
Asked if he'd be able to play on Friday, Thomas was emphatic he'd be on the floor. And playing better than what we saw on Wednesday.
March, 26, 2015
Mar 26
12:15
AM ET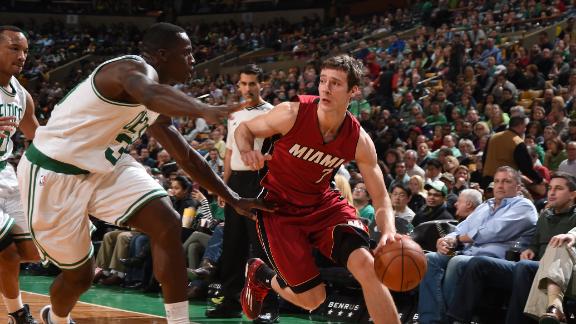 BOSTON -- Earlier this week, Boston Celtics forward Jae Crowder posted a picture to Instagram with him tugging on his Celtics jersey split-screened with a photo of Kevin Garnett doing the same. He captioned it, "The presence of pride! Playing for something bigger than yourself," with a hashtag referencing Boston's playoff push.
[+] Enlarge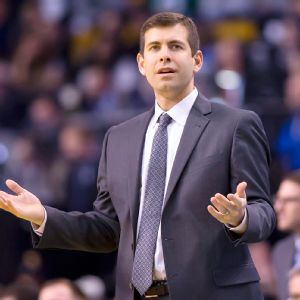 Winslow Townson/USA TODAY SportsCeltics coach Brad Stevens couldn't explain his team's lack of urgency Wednesday against the Heat.
After Wednesday's head-shaking 93-86 loss to the incredibly shorthanded Miami Heat, Crowder unknowingly stood in almost the identical spot inside the Celtics locker room where Garnett held so many of his postgame confabs with reporters. His coat drawn tight near his face and staring down at the ground like Garnett used to, the soft-spoken Crowder struggled to put Boston's effort -- or lack thereof -- into words.
"Sickening. Sickening, man," Crowder said. "That loss hurts. I don't know what to say about it. We didn't show up.
He added: "Playing at home, playing for something in front of our home crowd, we don't show up for three quarters. I don't understand it."
Just three days earlier, the Celtics let a winnable game slip away against the lottery-bound Detroit Pistons. It was frustrating enough that veteran Gerald Wallace elected to address his young teammates after the game and demand a greater sense of urgency.
Boston displayed that the next night in Brooklyn, grinding through some early struggles to upend the Nets on a second night of a back-to-back. The Celtics took Tuesday to recover -- all while Miami endured a stomach punch in Milwaukee -- and arrived at TD Garden on Wednesday night to find out the Heat would be playing without Dwyane Wade, Hassan Whiteside, and Chris Andersen.
An easy win, right?
Boston must have mentally downshifted, because the Celtics didn't even bother showing up for the first three quarters of an ugly, disjointed game full of whistles and replays. Crowder himself isn't absolved from the lusterless effort, as evidenced by a late first-quarter sequence in which his haphazard inbounds pass trying to push the ball after a Miami fastbreak led to another immediate bucket when the pass was stolen. That helped the Heat build a 19-point second-quarter lead.
It seemed likely that Boston could collect itself and come out inspired to chip away at its deficit. But the Celtics starters only looked more disinterested. There was a sequence early in the third quarter in which Udonis Haslem missed a mid-range jumper off the back iron and the ball popped up with only one red shirt (Goran Dragic) surrounded by five white jerseys. You can probably guess how that sequence ended: Dragic somehow secured the ball in traffic and bounced off a couple Boston players like a pinball. After Miami collected yet another offensive carom on the same possession, Dragic attacked the basket for a finger roll and the Heat soon led by 22.
"For the first two and a half quarters, I didn't think we played, and that's the frustrating part," Celtics coach Brad Stevens said. "I told the guys in [the locker room], that's got to be on the coach if that team's not good on that night, first and foremost."
Yes, Stevens politely tried to fall on the sword, but it's hard to imagine what he could have done to spur his team on this night. By the middle of the third quarter, he had resigned himself to throw darts in search of a spark. He eventually found a mix-and-match lineup of Crowder, Phil Pressey, Marcus Smart, Luigi Datome, and Jonas Jerebko that helped Boston rally within five before the Heat closed out the victory.
So what happened at the start of the game?
"To be honest, I don't know," Smart said. "That's something we have to fix as a team, as a group. If we don't fix that and figure that out quick, we're going to have some problems."
Too late. The Celtics essentially ceded any hope of the seventh seed in the Eastern Conference as Miami opened a two-game lead and owns the head-to-head tie-breaker against Boston after winning three of the four season meetings between the two teams.
Boston was lucky to simply hold its position as the eighth seed. Indiana edged Washington to pull even with the Celtics (Boston currently owns the head-to-head tie-breaker), while Brooklyn topped Charlotte, and both teams sit a half-game back of Boston and Indy.
Unless Milwaukee and Miami really stumble, it's likely a four-team chase for the final playoff spot in the East. The Celtics visit Charlotte on Monday, then host the Pacers on Wednesday. If they want any chance at the postseason, the Celtics have to find a sense of urgency before those games arrive.
Wednesday's effort was simply unacceptable.
"You can't come out lackadaisical," Crowder said. "We can't come out -- because they're missing guys -- come out without a sense of urgency. We didn't have that. They had a sense of urgency and they blew a lead last night and they were trying to come in here and fight for one tonight."
The Celtics? They had no interest in rolling up their sleeves. Boston's top lineups were content to get pushed around, then crossed their fingers while hoping an energy-fueled group could will them back in the final frame.
It didn't happen. And the team showered in disappointment.
After meeting with reporters, Crowder took to Twitter to write (in his all-caps preference), "Apologize for the lack of effort from myself and the guys tonight. Will learn and get better man!!"
The Celtics didn't learn after Sunday's game. Will they learn from Wednesday?
"We just have to know what's at stake, as a unit," Crowder said. "Each game right now, we're playing for something. If that doesn't motivate you to come out and be prepared and be ready to go, I don't know what will."
March, 26, 2015
Mar 26
12:00
AM ET
ESPN.com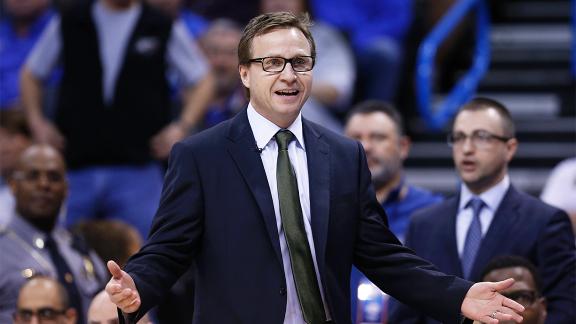 March, 25, 2015
Mar 25
10:25
PM ET
Associated Press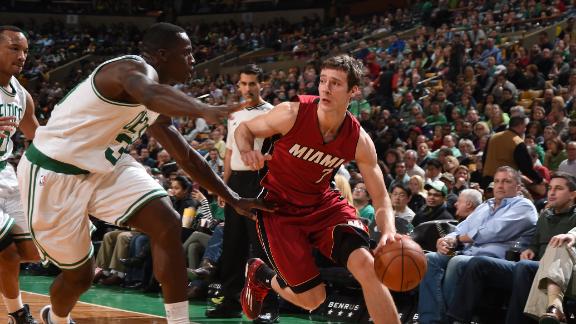 BOSTON -- Goran Dragic had 22 points and seven assists, and the banged-up Miami Heat beat the Boston Celtics 93-86 on Wednesday night.
Luol Deng scored 15 points for Miami, and Udonis Haslem had 12 points and 12 rebounds. Henry Walker and Tyler Johnson also scored 12 points apiece.
Miami played without Dwyane Wade, Hassan Whiteside and Chris Andersen due to injuries, but bounced back quite nicely from Tuesday night's disappointing 89-88 loss at Milwaukee. The Heat blew a 14-point lead in the final 6 1/2 minutes against the Bucks.
Miami (33-38) has won four of six and is seventh in the Eastern Conference playoff race.
Jae Crowder scored 16 points and Avery Bradley had 12 for the Celtics, who remained in the East's eighth and final playoff position.
March, 25, 2015
Mar 25
7:08
PM ET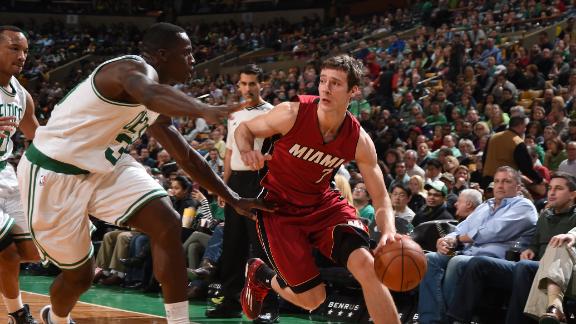 BOSTON -- Boston Celtics point guard Isaiah Thomas returned from an eight-game absence during Wednesday night's 93-86 loss to the Miami Heat.
Thomas, who finished with four points in 20 minutes, suffered a badly bruised lower back while being fouled by Dwyane Wade in a game against the Heat on March 9. Swelling persisted, limiting his ability to return to basketball activities, but he felt comfortable enough to get back on the floor Wednesday in a key matchup between teams battling for a final playoff spot in the Eastern Conference.
Celtics coach Brad Stevens felt Thomas was searching for his game.
"Hopefully that was just a rhythm thing and not how he's feeling," Stevens said after the loss. "That's what I want to know."
"I'm as good as I'm going to be," Thomas said before Wednesday's game. "I'm not 100 percent, I'll work through it."
Later he added: "[The back has] improved. I'm able to play. It's improved a lot from that day when it happened and the day after. It's still going to be a process and if I was trying to be 100 percent, I probably wouldn't play the rest of the year."
Thomas admitted he's worried a bit about another hard fall or getting hit on the injury, but thinks adrenaline will help carry him, especially with his wind after only recently resuming full-court activities this week.
"My bruise -- if I showed you the picture, it would be nasty," said Thomas. "It was one of the worst bruises I've ever seen. I couldn't sleep, I couldn't sit down for three or four days after. It was horrible, but I'm good now. I'm good as I'm going to be. Just happy to be back playing, back moving."
Stevens said he'll determine how much Thomas plays by how he looks on the court. He is under no minute restriction.
"That's a hard balance, because you want him to get his feel back," said Stevens. "We also want to play well and I think he'll play well. I think he's excited about playing, but if he gets hit there, it is to be determined how he reacts."
Thomas was asked how he felt about the hard foul by Wade that injured him earlier this month. Wade glared at him on the floor after the contact on a strong drive to the basket in a game that Boston won.
"The only thing I didn't like about it is how he looked at me after," said Thomas. "You can't control that. He tried to block the shot. Only thing I thought about when I watched the film was how he looked at me after. Hopefully we get the win and I'll get a little revenge."
Wade (left knee contusion) was out for Wednesday's game, as was Hassan Whiteside
March, 25, 2015
Mar 25
9:09
AM ET
ESPN.com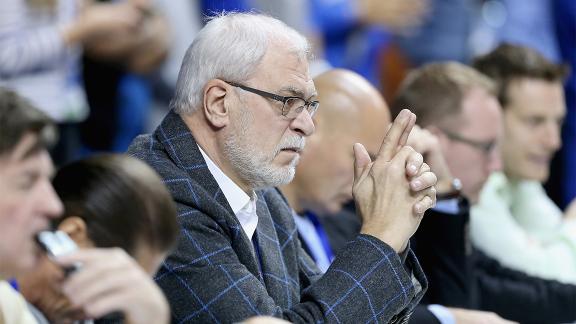 March, 24, 2015
Mar 24
1:09
AM ET
NEW YORK -- Isaiah Thomas missed his eighth straight game on Monday night in Brooklyn, but Boston Celtics coach Brad Stevens said the injured guard is "as close to probable as it gets" for Wednesday's game against the Miami Heat.
[+] Enlarge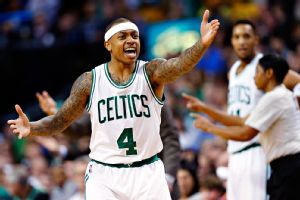 AP Photo/Winslow TownsonThe Celtics are 5-3 since Isaiah Thomas went down with a bruised back on March 9.
That sets the table for Thomas to potentially return against the team he suffered a bruised back against on March 9 when he hit the floor hard after a late-game drive to the basket. After enduring some abnormal swelling, Thomas has recently resumed basketball activities and Stevens sounded optimistic about his chances to play on Wednesday.
"From everything I've been told -- I have not talked to anybody [back in Boston on Monday] -- but everything I've been told by [the training staff] here is that Wednesday is as close to probable as it gets for now," Stevens said. "We feel good about him playing. He started to do a lot more movement and a lot more working out and shooting. He hasn't played with our guys yet, which is kinda the next step, maybe even in a breakdown sense in shootaround on Wednesday."
The Celtics won their first four games without Thomas, but lost three in a row before posting a 110-91 win over the Brooklyn Nets on Monday night at Barclays Center.
Thomas had been averaging a team-best 21.4 points over 27.6 minutes per game in 10 appearances since being acquired at February's trade deadline. The Celtics have missed his scoring prowess, especially in the fourth quarter when he had emerged as their go-to option in close games.
Smart: 'I'm not a dirty player': In the immediate aftermath of GroinGate, Celtics guard Marcus Smart tried to reason it was a "freak accident." The league didn't buy it and handed down a one-game suspension, but Smart held firm to his explanation before he returned to game action on Monday.
"I still look at it that way," Smart said. "I can definitely see where it comes off to where the NBA makes a decision. I respect the decision they made. I've got to live with it. Looking at the film, it does look a little intentional. But like I said before, that's not who I am. I'm not a dirty player, nor was I trying to -- but looking at the film, like I said, I can definitely see where that comes into play. The NBA made the right decision with the one-game suspension and I'm just glad to be back out here [Monday]."
Smart eased himself back in with two points on 1-of-3 shooting with two steals over 23 minutes in Monday's win. The Celtics started Jae Crowder in his place in the second half looking to add some size and grit after Brooklyn dominated second-chance points (16-0) in the first half.
Smart has endured two flagrant-2 fouls this month -- the other coming when he elbowed Orlando's Elfrid Payton while trying to draw contact on a drive to the basket -- and another would trigger another one-game suspension. Smart was asked Monday if he worried about developing a reputation as a dirty player.
"No, not at all," Smart said. "Because I'm not. My coach and my team, a lot of players know I'm not a dirty player. I am a physical player, no doubt about that. But a dirty one? That's not in my reputation."
Back-to-backs suit young C's: The Celtics had been downright unstoppable in back-to-backs recently, and that continued with Monday's win in Brooklyn that erased the sour taste of Sunday's loss to the Pistons.
Ever since turning around their season with consecutive one-point wins over the Blazers and Nuggets on Jan. 22-23, the Celtics are 8-1 on the second night of back-to-backs (the only loss in Milwaukee on Feb. 7). Boston has won five straight second games of a back-to-back.
Given all the chatter about how much the Celtics used to struggle on the second night of back-to-backs during the Big Three era, it's still somewhat surprising to see these young Celtics thrive on consecutive nights. The Celtics have three back-to-backs remaining before the end of the regular season.
A home game? The Celtics were serenaded by a loud "Let's Go Celtics!" chant in the final moments of Monday's win. Once the game slipped away from the Nets, most fans made an early break for the exits, but those in green stuck around to cheer on the visitors at the Barclays Center.
"Our crowd, sometimes they with us, sometimes they not," Brooklyn's Alan Anderson said. "When we're playing like that, what do you expect?"
March, 24, 2015
Mar 24
12:56
AM ET
NEW YORK -- Fresh off the second triple-double of his career -- both coming in the past month's span -- Boston Celtics swingman Evan Turner showed up to his postgame chat with reporters on Monday night wearing an impossible-to-miss gold grill over his bottom teeth.
Turner, who put up 19 points, 12 assists, and 10 rebounds over 40 minutes while leading Boston to a 110-91 triumph over the Brooklyn Nets, raved about Boston's response from a sluggish start and his teammates' ability to make him look good by knocking down shots before the conversation inevitably swung to his dental bling.
"Every now and then, I switch things up. I just gotta have fun," explained Turner. "I woke up feeling like it. … This originally started off every family [vacation], me and my brothers do something off the wall to make my grandma go crazy, whether it be like a mohawk or like a henna tattoo or something stupid. So this past vacation, we decided to get grills. We got the reaction we wanted from her."
And what reaction was that?
"She said, 'Oh my god. Oh lordy, they're going to kill me,'" said Turner. "It started off as a joke and that's it."
[+] Enlarge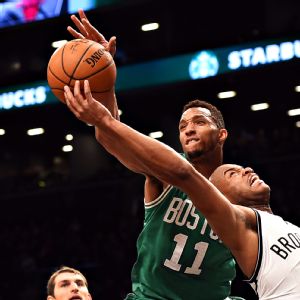 Don Emmert/AFP/Getty ImagesEvan Turner is averaging 14.4 points, 7.1 assists and 4.9 rebounds in the past eight games without the injured Isaiah Thomas.
When you put up a stat line like Turner did, you can do just about whatever you want. After all, the entire Celtics team emerged from the Barclays Center feeling golden after a much-needed win over one of the teams nearby in the logjammed Eastern Conference standings.
We believe it was Mark Twain who said, "If you don't like the standings in the East, just wait a few minutes." The doom and gloom that enveloped the Celtics after Sunday's disheartening overtime loss to the Detroit Pistons was washed away with Monday's effort.
The Celtics, who had slipped to ninth place in the East and were on the outside looking in on the playoffs entering Monday's action, went to bed having shuffled back up to the eighth spot, thanks to losses by The Indiana Pacers and Charlotte Hornets.
Boston climbed thanks to a well-rounded effort highlighted by Turner's triple-double. Avery Bradley scored a team-high 20 points, while both Tyler Zeller and Kelly Olynyk added 18 points. The win snapped a three-game losing streak and helped rally Boston's spirits.
"We all react to what happened yesterday -- that's the nature of this league, right?" Celtics coach Brad Stevens said before Monday's game. "We won five in a row and all is roses. We went to Oklahoma City and San Antonio, lost two in a row, came back and lost a tough one at home to Detroit and we're in a rough patch. That's just the way it goes.
"You just manage it, play the next day, prepare the next day. You don't get too caught up in that stuff. Hey, we continue to have a tough stretch. … Every day is a challenge."
It seems impossible not to get caught up in the swells while riding the playoff-push wave. As the Celtics exited the visitor's locker room, there were whispers wondering how the Hornets had fared against Chicago. All of Boston's chief competition for the final playoff spot in the East is currently on a losing streak -- including the Milwaukee Bucks and Indiana, who have each lost six straight.
For at least the next 24 hours, Celtics fans will feel a lot more encouraged about the team's playoff chances. Boston got rookie Marcus Smart back from a one-game suspension on Monday, second-year big man Olynyk showed signs of breaking out of his recent offensive funk and the Celtics snagged a game they really needed on the road on the second night of a back-to-back (with Boston improving to an improbable 8-1 in the second game of back-to-backs since revitalizing its season with consecutive one-point wins on Jan. 22-23).
Maybe the most encouraging news of all came before the game when Stevens noted that Isaiah Thomas -- Boston's prized trade deadline acquisition who has been sidelined for the past eight games due to a badly bruised lower back -- could return to game action on Wednesday against the Miami Heat.
After all, that's the next big game for Boston -- and every successive tilt will draw that same title over the final 13 games of the regular season -- as Miami currently sits 1½ games up and owns the seventh seed. Milwaukee is three games up on Boston but with two head-to-head matchups remaining.
Boston plays Miami, Charlotte, and Indiana as part of a five-game-in-eight-nights span starting Wednesday that will go a long way toward determining this team's playoff fate. The Celtics would like to bottle some of this momentum from Monday's win.
And it starts with Turner, who has been particularly influential in helping Boston post a 5-3 record since Thomas was injured earlier this month against the Heat.
Turner is averaging 14.4 points on 51.6 percent shooting while adding 7.1 assists and 4.9 rebounds over 31.4 minutes per game in that eight-game span. The Celtics are plus-4.1 points per 100 possessions when he's on the court over those eight games, the team's offensive rating spiking 5.6 points when he's on the floor.
Yes, Turner will be allowed to wear whatever he wants if he puts up numbers like those.
The 26-year-old grabbed five rebounds in the final quarter to polish off the triple-double. He said he was unaware he was nearing the accomplishment until someone in the green-speckled stands tipped him off that he was close.
"I heard a guy in the crowd -- me and Tyler [Zeller] were talking -- and he said, 'Zeller, give Evan one more rebound. Don't touch the [expletive] ball.'"
Turner credited Zeller with helping to box out on the final board that sealed the triple-double. Asked to verify the tale, Zeller laughed and said he heard no such conversation with a fan but noted it wouldn't surprise him if it happened.
The idea that Turner would be spearheading Boston's playoff push seemed just as far-fetched at times this season. But here are the Celtics, making a push and perfectly content to have Turner showcasing his gold grill as long as he keeps putting up these glitzy numbers.
March, 23, 2015
Mar 23
10:07
PM ET
Associated Press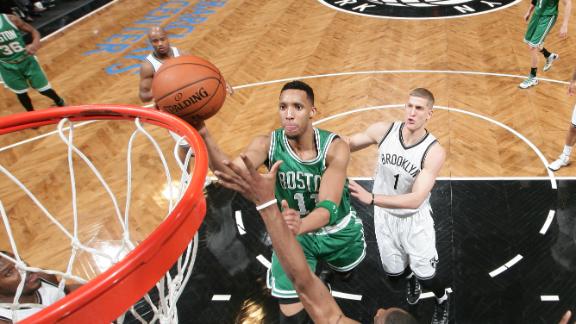 NEW YORK -- Evan Turner had 19 points, 12 assists and 10 rebounds, and the Boston Celtics beat the Brooklyn Nets 110-91 on Monday night to snap a three-game losing streak that had dropped them out of playoff position.
Avery Bradley scored 20 points to lead the Celtics, who entered a half-game behind Charlotte for the No. 8 seed in the Eastern Conference. They had a chance to be right back in the final East spot if the Hornets lost in Chicago.
Tyler Zeller and Kelly Olynyk each had 18 points for Boston, which bounced back from a 105-97 overtime loss to Detroit at home on Sunday. Coach Brad Stevens said he felt his players tightened up in that game, but they had a mostly stress-free second half Monday after quickly pulling away in the third quarter.