Celtics' confidence isn't wavering
April, 1, 2013
4/01/13
1:36
AM ET
NEW YORK -- Throttled by the
New York Knicks
for the second time in six days -- the same Knicks team that is set to pry the Atlantic Division title from their grasp for the first time since the Big Three united in 2007 and won the season series for the first time since before Doc Rivers arrived in 2004 -- the Celtics were faced with the question Sunday of whether they
really
wanted to see these guys again in the postseason.
In one of the night's only encouraging sequences for the visitors, the Celtics were downright defiant while affirming that they like their chances against anybody in the East, including New York.
[+] Enlarge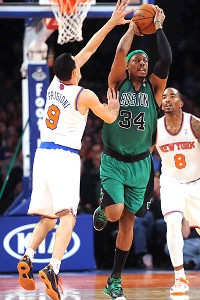 Joe Camporeale/USA TODAY SportsDespite a pair of double-digit losses in six days, Paul Pierce and the Celtics say they match up well with the Knicks.
"We like how we match up with the Knicks," captain
Paul Pierce
said. "We like how we match up with Miami. We like how we match up with pretty much anybody in the East."
If the playoffs started today, the second-seeded Knicks would host seventh-seeded Boston in a first-round matchup. New York unleashed a 3-point barrage Sunday night at Madison Square Garden en route to a breezy 108-89 triumph, this after a 15-point triumph on Boston's home turf on Tuesday.
A Celtics team that owns the second-best 3-point defense in the league -- opponents entered Sunday's game shooting 33.5 percent against them from beyond the arc; only Indiana has better numbers -- allowed the Knicks to connect on 11 of 16 first-half triples, New York building a 17-point halftime lead when
Raymond Felton
banked in a buzzer-beating, "one-of-those-nights" half-court heave before intermission.
It's enough to make you wonder if the Celtics, who have a propensity to sputter offensively, would prefer to muddy it up with Indiana in the first round (or, gulp, roll the dice with the East-leading Heat).
But asked if the Knicks were a potential bad matchup, Celtics coach Doc Rivers bristled at the suggestion.
"If Kevin [Garnett] doesn't play," Rivers said. "Other than that, no, we'll play anybody, anytime -- when we're right."
And there are the magic words you'll hear plenty over the final nine games: "When we're right." The Celtics, acknowledging the Knicks are dealing with their own injury woes, continue to stress that their primary goal over the final three weeks of the regular season is to get the likes of Garnett (left ankle inflammation) healthy.
It's the reason the team has eased
Courtney Lee
(sprained left ankle) back into the mix and why Pierce (sore right ankle) likely will sit out on Monday night in Minnesota.
But when Boston's horses are healthy -- at least those in the stable that haven't already been lost to season-ending ailments -- the Celtics truly believe they have an edge over the rest of the field.
The impact of Garnett's absence is undeniable. The Celtics were sixth in the league with a defensive rating (points per 100 possessions) of 100 through 73 games, but have seen that number spike to 107.7 in the past five outings without Garnett (Boston is 2-3 in that span).
Rivers admitted Boston's defense was bad on Sunday night, with players getting lost in pick-and-roll coverage and unable to run New York off the 3-point line as the hosts utilized quick touch passes to zip the ball around the perimeter and generate quality looks. For the second time this season, the Knicks netted 14 3-pointers -- the most any opponent has posted against Boston this season.
But Rivers suggested the Celtics did more damage to themselves than the Knicks did on their own. Boston players were disappointed by their effort, but no less convinced that they will look like a different team when the playoffs begin.
"I definitely didn't expect a showing like this, coming into Madison Square Garden, especially with the way they did us in our home building, especially being a team that we may face in the playoffs," Pierce said. "If this is a team that we face in the playoffs, they're going to have tremendous confidence. Who knows? We've got to do something about it. If we see them in the playoffs, they'll feel like they have our number, but we did it ourselves.
"I guess the only positive, if we get to see them again in the playoffs, hopefully KG will be a lot healthier then. He was a big difference in the win we got against them here in [Madison Square] Garden. That element makes us a different team, adding him."
That sentiment was echoed by
Jeff Green
, who paired with Pierce to shoulder Boston's offensive load, the two combining for 51 of the team's 89 points.
"I feel like when we're healthy we can compete with anybody," said Green, who later added, "We can't get down on ourselves thinking that just because [the Knicks] beat us the last couple times that, if we play against them, we have no chance. We have a chance with whoever we match up against."
Yes, Operation Get Right, Stay Right continues. Garnett was on this road trip, which indicates he's moving closer to a return, though the team seems content to stick to its two-week timeline. Pierce will take Monday off and get necessary rest down the stretch.
The Celtics are adamant that you're not seeing anything close to the finished product.
"We have to get healthy first, obviously," Rivers said. "We've got to get Kevin back, we've got to get Courtney healthy. Then we'll roll it out and see how everybody lines up. We like us against any of these teams."
And, despite what they've shown the last six days, that would most certainly include the Knicks.