Video: SC conversation with Stevens
October, 23, 2013
10/23/13
12:05
PM ET
Boston Celtics coach Brad Stevens sat down with ESPN basketball insider Jeff Goodman to talk about the label of being a "college coach," acclimating to the city of Boston, and supporting the World Series-bound Red Sox. They also talk about his relationship with point guard Rajon Rondo.
"Rondo and I have a lot of similarities in some of the things that we want to see as far as our team getting better, as far as guys getting better, as far as how he can best impact guys," said Stevens, noting he shares books, videos, and other tidbits with Rondo that stress the process and being great every single day.
"I told [Rondo] the other day in my office that he has a chance -- you know, there are some great Celtics leaders of all-time -- and this is a unique opportunity for him to be in that mix down the road. He is our clear-cut leader, he is our clear-cut best player, and this is a great opportunity for him. I think he's really anxious about that challenge."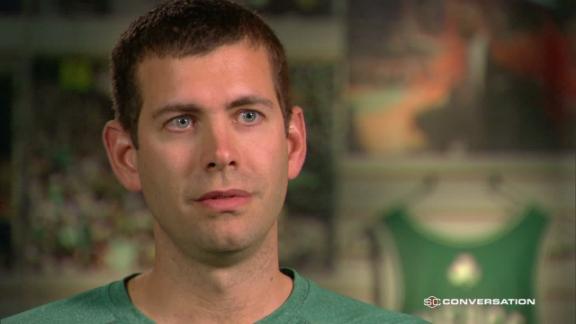 PODCASTS
Bill Simmons, NBA
Play Podcast Grantland's Bill Simmons discusses the state of the Lakers, Phil Jackson's future, the perception of Rajon Rondo, Doc Rivers' impact on the Clippers and more.
Baseball Tonight
Play Podcast Buster Olney chats with Jayson Stark about Ken Griffey Jr.'s uncomfortable interview with Linda Cohn and the value of spring training. Plus, Mike DiGiovanna on the Angels and Derrick Goold on Matt Carpenter's negotiations with the Cardinals.
John Farrell, Red Sox
Play Podcast Red Sox manager John Farrell talks about whether he expected his team to make such a turnaround in one season, his relationship with his players, fans' expectations for the squad and more.