December, 21, 2014
Dec 21
5:00
AM ET
Quick-hit thoughts around the NFL and with the Patriots:
[+] Enlarge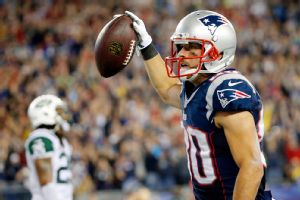 AP Photo/Elise AmendolaDanny Amendola is in line for a bigger role Sunday with Julian Edelman ruled out.
1. With the Patriots moving away from the three-receiver offense in recent weeks, No. 3 receiver
Danny Amendola
has logged his four lowest playing-time totals over the last four games -- 15 snaps versus the Lions, 12 against the Packers, 18 against the Chargers and 12 versus the Dolphins. But Amendola's playing time figures to spike a bit today against the Jets with No. 1 receiver
Julian Edelman
not making the trip because of a concussion. Amendola is averaging 26 snaps per game this year, while Edelman is averaging just shy of 59. When the Patriots signed Amendola in 2013, they thought he'd be the primary replacement for
Wes Welker
. That turned out to be Edelman. Now the Patriots, for one game at least, are back to where they started.
2. In 2013, the Patriots ran about 55 percent of their offensive snaps with three or more receivers on the field. By our count, that number is down in the 30s this year, which relates, in part, to Amendola's lower playing-time totals. The feeling here is that part of it is the club's desire to limit Amendola's exposure to injury. The other part of it is that the offense has mostly found its groove when there are multiple tight ends on the field. In that sense, it's been a little like 2011 when the Patriots stayed in multiple-tight end packages most of the time with
Rob Gronkowski
and Aaron Hernandez.
3. There is quite a bit that goes into managing a team's 53-man roster, especially at this time of year when some clubs are already planning for 2015 while others have a potential deep playoff run in mind. The Patriots' signing of fourth-year tight end
Steve Maneri
to a one-year contract through 2014 on Wednesday sparked this thought, because I don't think the Patriots necessarily have a short-term need at the position. But tight end is a critical position in their offense, the Patriots don't have a tight end on the practice squad, and Maneri could have been signed by another club for a 2015 futures contract and taken him out of play for the Patriots in the postseason if the need arose. So, in essence, my take on the Maneri signing is that they were protecting their top emergency option at a key position from being signed elsewhere, knowing that there wasn't a viable option behind him after another possibility with ties to the team,
Matthew Mulligan
, signed with Tennessee last week.
4. NFL rules are so complex that teams are often seeking clarifications on them. One such example was the Dolphins from last Sunday, as they requested a rules explanation of Jamie Collins' blocked field goal, as Ben Volin of the Boston Globe reported. Teams can have just six players on the line of scrimmage to each side of the snapper, and the Dolphins apparently felt Collins, who stood in a two-point stance behind six others in a three-point stance, was a seventh player because his feet were close to the line of scrimmage. In reviewing the play, NFL vice president of officiating Dean Blandino explained, "This would be very technical if we called this. We're not going to be overly technical in saying 'He was an inch within.' He has to be in there within the feet [of the other down linemen and gain an advantage because of it]." While teams can have just six players on the line of scrimmage to each side of the snapper, they can rush more than six to one side provided the additional rushers are initially off the ball, as Collins was.
[+] Enlarge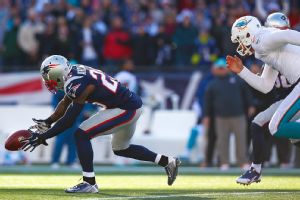 Jared Wickerham/Getty ImagesKyle Arrington's scoop and score on Jamie Collins' blocked field goal was the Patriots' fourth special teams TD of the season.
5. One thing that several players have said over the years is that Bill Belichick doesn't just say special teams are important to his team; he backs his words by spending considerable practice time on them. Along those lines, it's topical to note that Collins' blocked field goal last Sunday against Miami was the Patriots' fourth of the season (3 field goals, 1 punt). Two of the blocked field goals were returned for touchdowns, and the Patriots have two other special-teams touchdowns (Julian Edelman punt return,
Kyle Arrington
fumble return). Entering Week 16, the Patriots' four special teams touchdowns were second-most in the NFL behind the Eagles (6).
6. Can the Patriots coax another year or two out of special teams coach Scott O'Brien? That's a thought that came to mind when reviewing some of the Patriots' special teams excellence this year. The 57-year-old O'Brien is obviously closer to the end of his coaching career than the start, and the hiring of Joe Judge as a special teams assistant three seasons ago sets up a possible succession plan for whenever O'Brien decides to retire. While we often look at how potential defections of offensive and defensive coordinators could affect a staff, special teams shouldn't be overlooked. O'Brien has done solid work for the Patriots and this year might be his best.
7. I thought it might be a step back for the Bills' defense this year, in part because the development of players can be affected by such a dramatic scheme change from Mike Pettine's 3-4 defense to Jim Schwartz's 4-3. So much for that, as the Bills entered this week ranked tied for fourth for fewest points allowed (18.1), second in third-down defense (opponents convert 33.3 percent of the time), first in sacks (49), tied for second in interceptions (19) and third in fewest average passing yards allowed per game (210.1). Holding Denver (24) and Green Bay (13) well below their season scoring averages reflects the strength of the unit and makes the Patriots' 37 points scored against the Bills on Oct. 12 -- a season-high -- look even better. I'm looking forward to seeing that defense again next Sunday in Foxborough.
8. Similar to what's unfolded in Buffalo, it's been hard to miss the impact that offensive coordinator Gary Kubiak has had in Baltimore, installing a completely different system that has ignited an attack that became stagnant in 2013. Quarterback
Joe Flacco
is having one of the best seasons, if not the best, of his career. So between Buffalo and Baltimore, I might have to rethink the theory that a completely new system can negatively impact the growth of players. To the contrary, it might actually revive them in a sense.
9a. Did you Know, Part I: Entering Week 16, the Ravens and Patriots are the only teams in the top 10 in the NFL in scoring offense and scoring defense.
9b. Did you Know, Part II: The Browns have lost their last 10 regular-season games in December and January, the longest active streak in the NFL.
9c. Did you Know, Part III: The Lions will capture the NFC North if they win their final two games, at Chicago and Green Bay, but since division realignment in 2002, they are 0-9 in road divisional games in December and January.
10. Colts kicker
Adam Vinatieri
continues to impress. He has made all 28 field-goal attempts this season while converting 34 straight field goals since his last miss Dec. 22, 2013. As Bill Belichick said in mid-November, there is no end in sight right when it comes to the soon-to-be 42-year-old Vinatieri, who is signed through the 2015 season. Closer to home, let us not forget that Vinatieri's replacement,
Stephen Gostkowski
, is scheduled for unrestricted free agency after the 2014 season. Top kickers like Gostkowski command an average of just shy of $4 million per year, and like Vinatieri, the Patriots' nine-year veteran shows no signs of slowing down. He's a critical re-signing for the Patriots, who figure to focus more on retention in the offseason given some of the bigger-ticket items on their agenda, starting with
Darrelle Revis
, safety
Devin McCourty
and Gostkowski.