Penalty watch: Spikes into top spot
November, 15, 2012
11/15/12
5:00
AM ET
In updating this week's "penalty watch," a few things stand out:
1. Linebacker Brandon Spikes, with six penalties (including declined), leads the team. Spikes picked up two on Sunday -- roughing the passer and encroachment.
2. As for the encroachment penalty, the Patriots have has six of them over their last two games (3 vs. Rams, 3 vs. Bills). More mental toughness is required from those players, as the penalty is a result of a lack of focus more than anything.
3. In the "drawn holding penalties" category, the Patriots' top three players all added to their total on Sunday -- Jermaine Cunningham, Chandler Jones and Vince Wilfork.
The breakdown of the season (includes declined penalties):
[+] Enlarge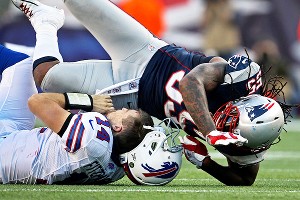 Jim Davis/Getty ImagesBrandon Spikes was flagged for roughing Bills QB Ryan Fitzpatrick.
Penalty count
Brandon Spikes
-- 6
Alfonzo Dennard
-- 4
Rob Gronkowski
-- 4
Devin McCourty
-- 4
Vince Wilfork
-- 4
Ras-I Dowling
-- 3
Jerod Mayo
-- 3
Tom Brady
-- 2
Patrick Chung
-- 2
Julian Edelman
-- 2
Daniel Fells
-- 2
Chandler Jones
-- 2
Niko Koutouvides
-- 2
Sterling Moore
-- 2
Nate Solder
-- 2
Donald Thomas
-- 2
Sebastian Vollmer
-- 2
Danny Aiken
-- 1
Kyle Arrington
-- 1
Jake Bequette
-- 1
Marquice Cole
-- 1
Jermaine Cunningham
-- 1
Nate Ebner
-- 1
Steve Gregory
-- 1
Aaron Hernandez
-- 1
Dont'a Hightower
-- 1
Logan Mankins
-- 1
Rob Ninkovich
-- 1
Stevan Ridley
-- 1
Matthew Slater
-- 1
Ryan Wendell
-- 1
Tavon Wilson
-- 1
TEAM -- 2
Most called penalties
Defensive holding -- 10
False start -- 8
Defensive pass interference -- 7
Encroachment -- 7
Offensive holding -- 5
Offensive pass interference -- 3
Unnecessary roughness -- 3
Illegal contact -- 2
Intentional grounding -- 2
Offside -- 2
Roughing the passer -- 2
Special teams holding -- 2
Special teams illegal block above waist -- 2
Face Mask -- 1
Illegal formation -- 1
Illegal motion -- 1
Illegal shift -- 1
Offside (special teams) -- 1
Personal foul -- 1
Special teams false start -- 1
Special teams illegal formation -- 1
Special teams offsides -- 1
Drawn holding penalties
Jermaine Cunningham
-- 4
Chandler Jones
-- 3
Vince Wilfork
-- 3
Brandon Lloyd
-- 2
Devin McCourty
(1 defense, 1 special teams) -- 2
Kyle Arrington
(special teams/KO coverage)-- 1
Rob Gronkowski
-- 1
Kyle Love
-- 1
Rob Ninkovich
-- 1
Trevor Scott
(special teams/KO coverage) -- 1
Brandon Spikes
-- 1
Wes Welker
-- 1
(two drawn holdings on special teams vs. Rams unclear)