Football journey: Derrick Martin
November, 24, 2012
11/24/12
5:00
AM ET
FOXBOROUGH, Mass. – When the Patriots signed defensive back Derrick Martin on Oct. 31, it was a move that mostly flew under the radar.
The 27-year-old Martin isn't a "household" name, having carved out a niche as a special teamer since entering the NFL as a sixth-round draft choice in 2006. He played for the Ravens (2006-2008), Packers (2009-2010) and Giants (2011) before joining New England, giving him exposure to four of the NFL's marquee, tradition-rich franchises.
[+] Enlarge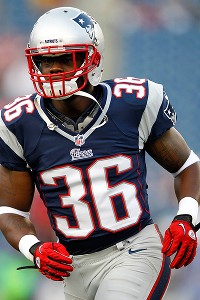 Greg M. Cooper/US PresswireDerrick Martin has played for four teams during his NFL career.
"There are definitely a lot of similarities," Martin said of the four. "When you go to a winning organization, you can see why they're winning. Everybody stays on a straight line, everybody contributes, and no one gets mad about who's making the plays. It's great when everybody is on the same page, everybody has the same mentality, and everybody just wants to win."
Martin, who recorded a special teams tackle in each of his first three games with the Patriots, shared his "football journey" with ESPNBoston.com:
When he first started playing football:
"I was about 6 years old, and we lived in St. Louis. We moved to Denver and I continued playing."
First positions:
"Quarterback and defensive back. I played a little bit of everything in Little League, just trying to find my niche. I played quarterback throughout high school, and when I got to college [at Wyoming], I moved over to defensive back."
Favorite memories at Thomas Jefferson (Colo.) High School:
"Probably senior year. We had a good run, going 11-2; we lost to Columbine twice that year. But it was the furthest we went in the playoffs in a couple years, so that was exciting; being with all the guys I grew up with."
Enrolling at Wyoming:
"I was actually committed to going to Colorado, but the defensive backs coach [who recruited me], Coach [Tom] McMahon, passed away. I went out for my senior trip and [head coach] Gary Barnett pretty much told me that I wasn't going to play. So I started taking trips again, went to Wyoming, and met [coach] Joe Glenn. I fell in love with him. He's one of those guys whose personality takes over. My family loved him. He's the type of guy who always remembers your name. I was able to play for him."
Recapping his time at Wyoming:
"It was a blessing in disguise. The first time I touched the field, I blocked a punt, scooped and scored, and the rest is history. The Las Vegas Bowl was our first bowl win in 38 years; we played UCLA, a better team, and came out on top. It was awesome. I played my freshman year and stayed until my junior season, leaving early."
Selected in sixth round by the Ravens of 2006 draft:
"I was disappointed. I thought I was going to get drafted earlier, but then you think about it, and a lot of guys don't get drafted at all. They only drafted about 17 DBs that year. It was an awesome opportunity and getting to Baltimore was probably the best thing for me. I was around the greats – Ed Reed, Ray Lewis, Samari Rolle, I could go on and on. They taught me how to be a professional, how to practice, how to play, and I took that everywhere I went."
Traded to Green Bay in 2009:
"I got up there and was voted special teams captain. We went out to Arizona and lost our first playoff game. It was devastating. The next year, we're looking good but then everybody started getting hurt; I got hurt and was put on IR the rest of the season. They went on a run and won the Super Bowl that year. I missed out on that one – I was there, but didn't get to play. They ended up releasing me."
Signing with the Giants during 2011 training camp and playing in 18 games:
"We made it to the Super Bowl, and I got my opportunity to play this time. I was on the field, got to see the confetti fall, and it was awesome. It was just a blessing that the Packers released me. We got to play them again in the playoffs, and I recovered an onside kick."
Not re-signing with the Giants in 2012 and waiting for the phone to ring
: "The Patriots called and I came out for training camp. I worked hard, but with all the DBs here, they released me. When some guys got hurt, they called me back and said 'Do what you were doing in training camp.' That's special teams and making plays, and I'm just trying to help."
Describing life as a Patriots player:
"It's great, man. The 'Patriot Way' is awesome. They do everything the right way here. There are a lot of young guys that I can talk to. I'm helping them develop as players just as the older guys did for me at Baltimore, and it's fun."
Role models:
"When I was growing up, it was my mom [Rhonda Martin] and my uncle [Kendrick Buford]. They were always there for me. She taught me how to work hard. I've always been a hard worker, especially on special teams. I just carried that throughout life."
Favorite teams growing up:
"Being from St. Louis originally, I was a Rams fan. This is back when they had the 'Greatest Show on Turf.' I was playing quarterback and I wanted to throw the ball out there and do what Kurt Warner was doing, Marshall Faulk, and Torry Holt. They were winning, and I like winning."
What he loves about football:
"Winning. I don't think there is anything better than that. It solves everything. You have a little injury, it just feels so much better when you win. The best part is the confetti. I want to see the confetti drop."
On if Patriots players gave him grief from being a Giant and beating them in the Super Bowl:
"A lot of guys didn't know too much. I'm one of those guys that kind of flies under the radar. A couple of guys, when it comes up, they give a little grief but they know I'm on the right side now [laughing]."
Summing up his football journey:
"It's been eventful. Lot of ups and downs, trials and tribulations, but it's all about winning."