Football journey: Marcus Forston
January, 19, 2013
1/19/13
5:00
AM ET
FOXBOROUGH, Mass. -- The Patriots have an open spot on their 53-man roster and rookie defensive lineman
Marcus Forston
is a top candidate to fill it.
Forston made the team's initial roster out of training camp, was inactive for the first two games of the season, then played eight snaps in the Patriots' 31-30 loss to the Ravens on Sept. 23. He was waived after that game and landed on the practice squad, where he's worked behind the scenes all season, at one time filling in along the offensive line in practice when bodies were thin.
After a strong sophomore season in 2010 at the University of Miami, Forston (6-2, 310) was viewed as a potential high draft choice but a knee injury in 2011 limited him to three games and he wound up going undrafted.
The Patriots have had success with undrafted players in recent years, and Forston, who grew up in Miami, hopes to add his name to the list. He shared his "football journey" with ESPNBoston.com this week:
[+] Enlarge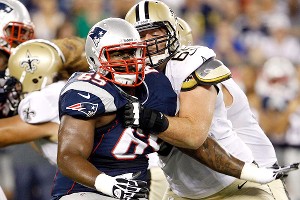 David Butler II/USA TODAY SportsMarcus Forston, who played against the Saints in the preseason, saw his only regular-season action against the Ravens in Week 3.
When he first started playing football:
"When I was 6. I started playing because my older brother was, and my mom got me into it. I was always heavier than the guys my age."
First positions:
"Running back and linebacker."
Role models growing up:
"My mom [Pearline Simmons], seeing her and the things she did raising six kids basically by herself. She was never complaining, even though she had a job that wasn't paying her very much. We still made it work. We always food on the table. We always had clean clothes; they might not have been new, but they were clean. Just seeing the things she went through, I always said I would never complain. I knew the situation she was in my whole life. So the situation I'm in now, even though it's practice squad, is amazing."
How his upbringing shaped him:
"Anybody that meets me, or knows me, the first thing I think people would say is, 'He's humble.' I've always been like that. I'm always going to be, because I know everything that is happening to me right now is truly a blessing. I'm thankful and grateful for this opportunity. Sometimes it's frustrating being on the practice squad, because as a competitor, you want to play. I just have to do my part and control what I can control."
Favorite teams and players growing up:
"I watched
Warren Sapp
coming up and liked the Dolphins."
Favorite memories at Northwestern High School:
"Winning state championships back to back, my 11th grade and 12th grade year."
Attending the University of Miami:
"It was always Miami, growing up down there and watching guys like Vince [Wilfork] play. I remember him being dominant and I wanted to go there and do the same thing he did. I always liked playing against Florida State, that whole week preparing to play them."
Expectations of being selected in the 2012 draft:
"I thought I would. It was hard not getting drafted, but then you think, 'What do I do now?' I'm a firm believer that everything happens for a reason. I was like, 'Maybe it isn't God's plan.' But look at me now, I'm still here, part of a great team."
A knee injury affecting his draft stock:
"Coming into my [fourth] year [in 2011], everyone had me going first round, second round. Then I messed my knee up and had to get surgery. That dropped my stock. I only played [three] games and that hurt me a lot. … I think I'm way stronger now."
Describing life as a Patriot:
"A tremendous experience. From Day 1, you know that you have to change. Whatever you thought you were doing right, you have to change it. You come here and they teach you to be a professional, on and off the field. Nobody around here takes any bull. Nobody accepts that. You have to be on time, be early, do the right things."
Reflecting on his one NFL game, against the Ravens:
"That was a great experience, a Sunday night game, prime time. It was something I always dreamed about. Being a football fan, you know what kind of game that is, and what type of magnitude comes with that game."
Spending the year on the practice squad:
"I accepted my role. I'm not complaining, and coming in every day working hard, giving 110 percent. I'm going against a great offensive line and I'll use that to make me better. When my name gets called, it gets called. You can only control what you can control, which is in the weight room and on the field."
What he loves about football:
"Just the excitement and preparing. I feel like football gets you ready for things out of this locker room -- things like 'be on time', 'be early.' One day you might have to get a job. These days here, the same amount of work you put into football, you'd put into the other job too."
Describing his style of play:
"I pride myself on being smart. I know the game well, and I like to help teammates out watching film and pointing things out and picking up tendencies."
Summing up his football journey:
"Coming up all the way from elementary to the middle of high school, I didn't know the effect I had on some kids. I came out of high school highly recruited and a lot of kids looked up to me and I didn't really understand it. When I went to college, and even now, kids will say to me, 'Maybe I can do that. Maybe I can come out of the same projects and still have a dream like you dreamed.' My mom and dad didn't have the money for college, but I knew I couldn't make any excuses."