September, 29, 2014
Sep 29
12:57
AM ET
By
Brian O'Connell
| ESPNBoston.com
Jermaine Jones was running on fumes in the waning stages of Friday's high-stakes affair. His legs looked heavy and his passes were far from crisp. But he couldn't stop. He had to right a wrong first.
In the 56th minute of a game in which the Revolution held a precarious one-goal lead, the veteran midfielder watched as Graham Zusi of Sporting K.C. flew past him to set up the sequence in which Dom Dwyer scored the equalizer.
But Jones was determined to make amends, which is exactly what he did nearly 30 minutes later by banging home a long-distance winner to give the Revolution a thrilling 3-2 victory on Friday.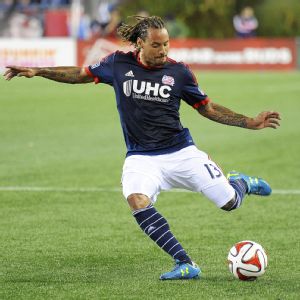 Bob DeChiara/USA TODAY SportsJermaine Jones fought through fatigue to lead the Revolution to a comeback win over Sporting K.C.
"Jermaine had to gut it out," Revolution coach Jay Heaps told the media following the match. "He doesn't fully have the fitness, but I thought his performance was spot on and his goal was much deserved."

Fitness was certainly a concern for Jones going into Friday's contest. Thirteen days earlier, he suffered a left leg contusion that forced him to make an early exit from the Revolution's 2-1 win over Montreal.

The injury forced Jones to miss training sessions, and it also limited him to 45 minutes in last week's 1-0 loss in Columbus. In many respects, the idea of Jones going beyond the hour mark on Friday would be a big thing to ask for from a two-way player.

But Jones has never been one to take the easy way out. And that was especially evident on Friday, with Jones knowing his failure to disrupt Zusi on the goal sequence may have cost the Revolution a pair of crucial points.

"I was a little bit upset," Jones told the media after the match. "I think it was my mistake. After that goal, I said I have to step up and help the team come back and take a point or maybe a win."

It was clear that Jones wouldn't be content with simply securing the draw. In the 85th minute, Lee Nguyen advanced it toward the final third. To his right, Jones gingerly kept pace and received a pass from Nguyen.

With no one contesting him for the ball, a visibly tired Jones took two touches and hit it with all he could. It was a hopeful shot by any standard. And it just so happened to squeeze between the reach of Eric Kronberg and the right post. Redemption.

"I scored at the World Cup a similar goal so I try to shoot when I have the chance," Jones said, referring to the long-distance blast he scored against Portugal in the group stages. "I saw that the corner was free, so I tried it."

Of course, no one was surprised to see the star midfielder give it a go in such a crucial spot. If anything, the only startling aspect of Jones' game-winner was that the Sporting Kansas City defense gave him so much room to take it.

"I've seen him shoot those before," Heaps said. "If you give him a little bit of space, he's going to rocket it. I was just happy he got his first goal here, a game winner, in a tight game with huge playoff implications. It's huge."