Revs expect a fight from Dynamo
September, 27, 2013
Sep 27
11:36
AM ET
By
Brian O'Connell
| ESPNBoston.com
FOXBOROUGH, Mass. -- It wouldn't be a stretch to call Saturday's Revolution game against the Houston Dynamo the biggest one the club has played in nearly half a decade.
Four autumns removed from their previous postseason appearance, the Revolution currently sit in the fifth and final postseason spot in the Eastern Conference, just one point ahead of Chicago with five games left for each team.
The Revs also trail Houston by just three points, so a win not only would keep them ahead of Chicago, but would pull them into a tie with Houston.
[+] Enlarge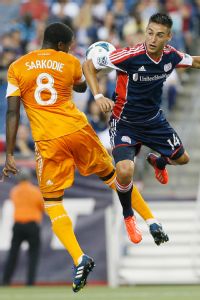 David Butler II/USA TODAY SportsDiego Fagundez leads the Revolution with 11 goals this season.
With the stakes as high as they'll be going into Saturday's contest, it's not uncommon for these kinds of late-season clashes to turn gritty and physical. In fact, Revolution right back Andrew Farrell knows firsthand that the Dynamo, in particular, can use brute strength and intimidation to get their point across, especially against a team as young as the local XI.
"They're a team that likes to fight," Farrell said. "They're not going to just lay down for you if you're up a goal or if it's tied late in the game. It's going to be a battle. We're going to have to kind of fight them first, then play the soccer second."
That's precisely what the Dynamo were able to do the last time they came to Gillette Stadium, back on July 13. In a game that saw the guests out-foul their hosts 15-10, the Dynamo used their size to not only frustrate the Revolution, but to win the midfield battle. Not surprisingly, veteran mettle proved to be too much to tackle for the Revolution, who dropped a disheartening 2-1 home loss.
With the scenes from the July 13 match still fresh, Revolution veteran left back Chris Tierney knows that one of the items at the top of the agenda is manning up and outmuscling the likes of Will Bruin, Ricardo Clark and Giles Barnes.
"They're going to have chances to get balls in the box, and we've got to match their physicality with our own," Tierney said. "You just try to prepare yourself mentally for the fight that it's definitely going to be and get ready to body up with some of their big, strong guys and just go attack the ball."
But to call the Dynamo a side that relies soley on raw strength would be inaccurate. Despite their reputation as a blue-collar club that likes to grind out results, the fact is the Dynamo have a slew of technically sound and savvy playmakers, all of whom can punish a defense along the flanks and on set pieces.
Outside midfielders Brad Davis and Boniek Garcia use their guile and speed to stretch a defense, just as they did last week when they put a 5-1 thrashing on Chivas USA in Houston. Knowing what Davis and Garcia bring to the table, Farrell says he and his teammates have to be mindful of where their marks are inside the defending third.
"It's a lot more hard work than playing against somebody who maybe likes to stay out wide and just kind of go at you down the side as opposed to cutting back in," Farrell said. "Boniek's really fast and athletic, and Brad is a great player. It's going to be a lot of hard work, and you've just got to follow your guys."
Centrally, the Dynamo are just as dangerous. With Warren Creavalle and Ricardo Clark manning the central midfield, and Bobby Boswell and Jermaine Taylor anchoring the defense, not to mention Bruin and Barnes up top, there's no question the Dynamo benefit from having one of the strongest spines the league.
"They've got great wide players, some good athletic players through the middle of the field, too, that break up the play," Tierney said. "Then [they have] a couple forwards who are physical and can hold up the ball, as well."
So how do the Revolution compete with a team as strong as the Dynamo? Well, one thing they know they'll have to do is stand their ground, even if the elbows and forearms start to fly. Not only that, but they can't give into the temptation of retaliating, or fouling inside the defending third for that matter, lest Davis use his superior set piece abilities to help get Houston on the board.
"You try to be smart about giving away fouls in bad areas," Tierney said. "You try to stand their players up and make sure you don't dive in or give away needless fouls."
It might sound like a game in which the veteran side holds the clear advantage. After all, Houston has written the book on late-season battles, having reached four MLS Cup finals in the past six years, including the past two championship tilts.
But the Revolution do have the attacking talents needed to put Houston on its heels. Diego Fagundez (11 goals, 6 assists), Kelyn Rowe (7 goals, 7 assists) and Juan Agudelo (6 goals in 9 games) all are capable of slicing through an opponent at a moment's notice. In fact, Fagundez and Agudelo each scored en route to a surprising 2-0 victory in May in Houston, where the Dynamo had lost only once in their previous 37 home games.
Defensively, the Jay Heaps side relies upon leadership and experience with veteran goalkeeper Matt Reis, one of only two players (Tierney being the other) on the roster who was a member of the last Revolution team to make the postseason (2009). Additionally, center back Jose Goncalves organizes and guides the back line, and is never one to shy away from contact whenever an opposing player bears down.
Although a loss wouldn't eliminate the Revolution from playoff contention, the hurdles only get higher with road games at third-place Montreal and first-place New York in the coming weeks. With the race for the final two postseason berths a virtual dead heat, the Revolution's mindset for Saturday is simple: three points or bust.
True, the stakes might be the highest they've been for the Revolution in recent memory. But Tierney believes the best way to approach a game such as Saturday's is to treat it no differently than any other regular-season fixture.
"These are huge games, there's no doubt about it," Tierney said. "But when it comes down to it, it's two teams out on a soccer field. Sometimes you just try not to let the moment get the best of you. You go out and play soccer like we've been doing our whole lives."