March, 6, 2014
Mar 6
4:15
PM ET
Earlier Thursday, we posted details from
Aaron Williams
' four-year
contract extension
.
Here's some additional context to the deal and where Williams ranks among other NFL safeties:
Average Per Year
1.
Eric Berry
(
Kansas City Chiefs
) -- $8,333,333
2.
Dashon Goldson
(
Tampa Bay Buccaneers
) -- $8,250,000
3.
Eric Weddle
(
San Diego Chargers
) -- $8,000,000
4.
Reshad Jones
(
Miami Dolphins
) -- $7,003,000
5.
Kam Chancellor
(
Seattle Seahawks
) -- $7,000,502
6.
Michael Griffin
(
Tennessee Titans
) -- $7,000,000
7.
Tyvon Branch
(
Oakland Raiders
) -- $6,650,000
8. Aaron Williams (Buffalo Bills) -- $6,501,961
9.
Morgan Burnett
(
Green Bay Packers
) -- $6,187,500
10.
LaRon Landry
(
Indianapolis Colts
) -- $6,000,000
Guaranteed Money
1. Eric Berry (Kansas City Chiefs) -- $34,000,000
2. Eric Weddle (San Diego Chargers) -- $19,000,000
3. Tyvon Branch (Oakland Raiders) -- $17,600,000
4. Dashon Goldson (Tampa Bay Buccaneers) -- $17,500,000
5. Kam Chancellor (Seattle Seahawks) -- $17,000,000
Tied-6. Reshad Jones (Miami Dolphins) -- $15,000,000
Tied-6. Michael Griffin (Tennessee Titans) -- $15,000,000
8. Aaron Williams (Buffalo Bills) -- $14,625,000
9.
Mark Barron
(Tampa Bay Buccaneers) -- $14,466,500
10.
William Moore
(
Atlanta Falcons
) -- $14,000,000
March, 6, 2014
Mar 6
3:45
PM ET
On Wednesday, the
Buffalo Bills
signed safety
Aaron Williams
to a four-year extension.
Here are the details of the deal, broken down year-by-year:
Signing bonus:
$6,500,000
2014 season:
Base salary: $2,250,000 (fully guaranteed)
Workout bonus: $100,000
Cap number: $4,231,209
2015 season:
Base salary: $1,375,000
Option bonus: $4,500,000 (adds 2018 year to contract)
Workout bonus: $100,000
Cap number: $3,900,000
Note: If option is not executed, base salary becomes $5,875,000 and becomes fully guaranteed.
2016 season:
Base salary: $2,575,000
Roster bonus: $1,000,000
Workout bonus: $100,000
Cap number: $6,100,000
2017 season:
Base salary: $3,600,000
Roster bonus: $500,000
Workout bonus: $100,000
Cap number: $6,625,000
2018 season:
Base salary: $3,800,000
Roster bonus: $500,000
Workout bonus: $100,000
Cap number: $6,825,000
Note: Only applies if option is executed in 2015.
March, 6, 2014
Mar 6
1:00
PM ET
The
Buffalo Bills
announced Thursday that they will raise season-ticket prices for the first time since 2010.
In a statement, the team called the price increases "modest" and noted that season-ticket holders already receive a discount from individual game ticket prices.
In addition, the Bills introduced variable ticket pricing for the 2014 season. This is the first season that NFL teams have used that model, with the
Detroit Lions
and
New England Patriots
among the other early adopters.
Variable ticket pricing allows teams to assign higher prices to more attractive games and lower prices for less attractive games. The Bills have yet to release their "tier" structure for their home games.
"The goal of variable pricing is to create a pricing structure that best reflects the market demand for all games," CEO Russ Brandon said in a statement.
The NFL will release its full 2014 schedule this spring. However, the Bills' 2014 home opponents have already been determined. The Bills will host the Patriots,
Miami Dolphins
,
New York Jets
,
Green Bay Packers
,
Minnesota Vikings
,
San Diego Chargers
,
Kansas City Chiefs
and
Cleveland Browns
this season at Ralph Wilson Stadium.
March, 6, 2014
Mar 6
12:45
PM ET
The Bills are hosting linebacker
Jasper Brinkley
on a visit Thursday.
Brinkley, 28, was released by the
Arizona Cardinals
last month. In 15 games last season, he made three starts, tallying 27 tackles. He spent the first four seasons of his career with the
Minnesota Vikings
after being drafted in the fifth round out of South Carolina.
At 6-foot-1, 252 pounds, Brinkley is similar in size to
Jameel McClain
, whom the Bills hosted on a free-agent visit Wednesday. Both players project to middle linebacker in a 4-3 scheme but also have experience as inside linebackers in a 3-4 scheme.
Both visits suggest that the Bills are taking a hard look at the free-agent market at linebacker, where their depth was thin last season.
Arthur Moats
is scheduled to be an unrestricted free agent, leaving
Kiko Alonso
and
Nigel Bradham
as the top options on the roster for middle and weakside linebacker.
Other news:
The Bills took care of some free-agent housekeeping Thursday, re-signing cornerback
Brandon Smith
to an undisclosed deal. Smith was scheduled to become an exclusive-rights free agent. Meanwhile, the Bills tendered contracts to their other three exclusive-rights free agents: fullback
Frank Summers
, wide receiver
Chris Hogan
, and guard
Antoine McClain
. All three are expected to sign their tenders and join the Bills' offseason roster.
March, 6, 2014
Mar 6
11:00
AM ET
Todd McShay's third NFL mock draft for 2014 is out on ESPN Insider today. The Bills could go numerous directions with this pick and are another team to potentially trade out. Buffalo needs a right tackle and probably a guard as well up front. The Bills also could use an
EJ Manuel
-friendly option at wide receiver or tight end to add even more explosive elements to what is already a very speedy group of skill players.
Buffalo would surely love to land local product in
Khalil Mack
or could go in several directions to add to the back half of their defense. Trading down a few slots and just taking what is remaining might make the most sense for the Bills.
Whom does McShay have the Bills drafting at No. 9?
Let's take a look
:
To continue reading this article you must be an Insider
March, 6, 2014
Mar 6
10:35
AM ET
When the
Buffalo Bills
decided not to assign safety
Jairus Byrd
with the franchise tag Monday, the immediate reaction was along these lines: How could the Bills just let their three-time Pro Bowler walk?
In
an interview Tuesday
with the Toronto Sun's John Kryk, general manager Doug Whaley explained his thinking in the decision.
Byrd
"I think it just sets up a more amicable negotiation, because last year -- I wouldn't say it was contentious, but as a player you always want to go out and see your true value, and we restricted that," Whaley told Kryk. "So this year we said, 'For the betterment of the Buffalo Bills, and to show you more or less good faith, we're not going to use that option to restrict you from hitting the market. Let's try to go full bore, with both of us focused on trying to get a deal done.'"
The Bills have exclusive negotiating rights with Byrd until Saturday, when other NFL teams can officially start talks with Byrd. Tuesday is the first day other teams can complete a contract with Byrd, who is the top safety on the free-agent market.
If the Bills had tagged Byrd, it would have cost them $8.4 million against their salary cap. Once Byrd signed the tender (and once the 2014 league year began on March 13) the Bills could have traded Byrd. Still, Whaley didn't think the chances of a trade were strong enough to warrant tagging Byrd.
"There are a lot of moving parts to doing that. If you try to franchise him and trade him, then you've got to find somebody that's going to give you the proper compensation, and then you have to have them feeling confident enough to then sign him," Whaley said. "The best path for the Buffalo Bills was not to take that chance."
Byrd told ESPN this week that he remains open to a deal with the Bills but is "excited" to hit the open market for the first time in his career.
"He has a value (to us), and they have a value of what his camp thinks he's worth, and we're trying to meet in the middle and make it comfortable for both sides," Whaley said. "Do you hate to lose him for nothing? Yes."
March, 5, 2014
Mar 5
1:05
PM ET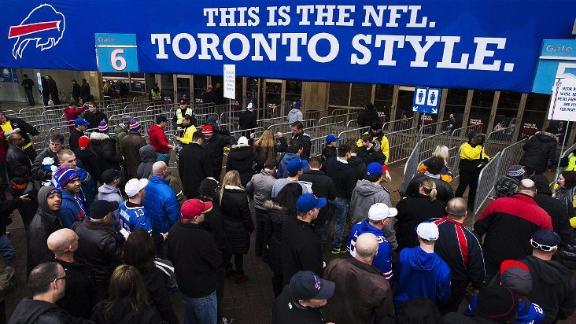 There's been some subtle finger-pointing taking place in Buffalo over recent years.
The
Buffalo Bills
operate within one of the NFL's smallest markets. They have struggled to sell out their games at Ralph Wilson Stadium in recent years. Tasked with expanding and developing his team's business, CEO Russ Brandon looked to nearby Toronto -- one of the largest cities on the continent -- as a way to spur ticket sales.
Since 2008, that has meant playing one regular season game per year across the border. That experiment went on hiatus Wednesday when the Bills announced they will remain at Ralph Wilson Stadium for all of their 2014 home games.
It's a move that has drawn almost unanimous support from Bills fans, long since frustrated with the atmosphere of the Rogers Centre and the performance of their team in an essentially neutral venue. Attendance apparently dropped enough last season -- a crushing 34-31 overtime loss to the
Atlanta Falcons
-- for the Bills to put aside their business venture.
Fans want all eight home games in Orchard Park. Coaches want it. Players want it. Ultimately, it gives the Bills the best chance to win.
Those wishes have been granted. Now it's time for everyone involved to step up. Center
Eric Wood
, an outspoken team captain, made that clear Wednesday on Twitter:
We got our 8 home games back with no game in Toronto this year.. Now we have to make the most of it!

— Eric Wood (@EWood70) March 5, 2014
When Bills season-ticket holders receive their invoices later this month, they will need to dig deeper into their wallets. Eight home games carry a larger price tag than seven home games, obviously. The Bills have made a commitment to fans -- at least for this season -- that they will stay out of Toronto. Season-ticket holders must now rise to the occasion.
It goes beyond that, though. The key for the Bills is to avoid blackouts. Last December, when he first questioned the future of the Toronto series, Brandon put some pressure on ordinary fans -- those who don't have season tickets -- to buy more tickets.
"We've taken a game out of the market that has essentially taken 70,000 seats out of our market, and we've truly only sold out two of our home games," Brandon told WGR 550. "We've manufactured sellouts in the other four or five."
Fans responded predictably: They're not going to pay to watch a losing team. The Bills have the NFL's longest playoff drought, having not appeared since 1999, while they haven't won a postseason game since 1995.
It's a chicken-or-the-egg argument that will lead the Bills and their fans nowhere. With each passing season the Bills inch closer to a change in ownership. It's possible that a group with local ties takes over the reins, but the likelihood is that an outside group will buy the team.
When that happens, all bets are off. The NFL is a rapidly growing business and owning one of its 32 franchise can be a wildly lucrative venture. But with the league's increased wealth comes a higher cost of stadiums, a problem that lurks around the corner for the Bills and Erie County.
If the Bills and their fans want to remain in Buffalo, the next ownership group will want to see hard numbers and concrete reason for optimism in the market. If the Bills shelving their Toronto game this season results in a revenue squeeze that the team can't overcome with increased ticket sales, it will be a black mark on the Bills' books.
Whether that's the fault of apathetic fans or another "freak" knee injury to
EJ Manuel
, it won't really matter.
It's time for everyone to step up.
March, 5, 2014
Mar 5
1:04
PM ET
The
Buffalo Bills
are hosting free-agent linebacker
Jameel McClain
on a visit Wednesday.
McClain
McClain, 28, was released by the
Baltimore Ravens
last week. Entering the final year of his contract, he was due a $3.2 million base salary.
After beginning last season on the physically unable to perform list, McClain started 10 games, recording 52 tackles and one forced fumble.
The Syracuse product has played his entire career for the Ravens after going undrafted in 2008. His best season came in 2011, when he started all 16 games, notching 84 tackles, one sack, one interception, and four passes defensed.
At 6-foot-1, 245 pounds, McClain played inside linebacker in the Ravens' 3-4 scheme. His best fit with the Bills would likely be at middle linebacker in Jim Schwartz's system.
That could mean
Kiko Alonso
, who finished second in the Associated Press' defensive rookie of the year voting last season, could move to weak-side linebacker in the 4-3 alignment.
March, 5, 2014
Mar 5
11:53
AM ET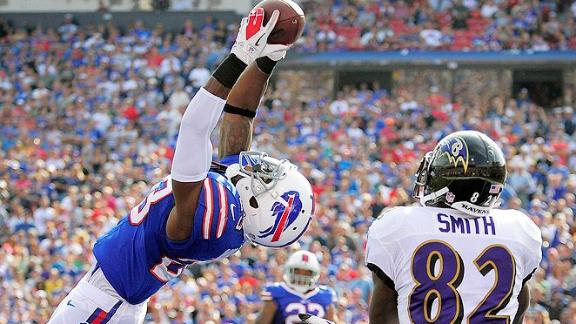 The Buffalo Bills have signed safety Aaron Williams to a four-year contract extension.
The deal will pay him $26 million, including $14.625 million guaranteed, according to multiple reports.
The Bills tweeted news of the contract Wednesday:
#Bills have signed @ajwilliams23 to a long-term extension! pic.twitter.com/pHIVPwZ1Uq

- Buffalo Bills (@buffalobills) March 5, 2014
While the move comes two days after the Bills opted not to assign the franchise tag to fellow safety Jairus Byrd, CEO Russ Brandon said the two decisions are not related.
"This is completely independent from any other negotiations we have going on," Brandon told reporters Wednesday.
Williams, 23, was entering the final season of his rookie contract. The former second-round pick struggled in his first two seasons as a cornerback before converting to safety last season. In 14 games, he made 82 tackles and had four interceptions.
"Aaron Williams is a versatile player who has grown into a key playmaker for our defense in recent years," general manager Doug Whaley said in a statement. "Aaron is the type of young, core player we targeted early in the process to retain for years to come and this will be our philosophy moving forward."
March, 5, 2014
Mar 5
8:52
AM ET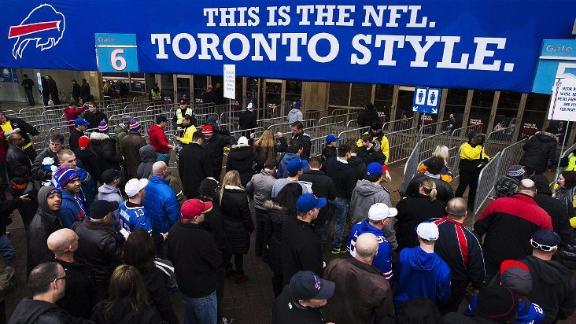 The Buffalo Bills won't play a 2014 regular-season game at Rogers Centre in Toronto, pushing it back one year in order to deliver a better fan experience there, the team announced Wednesday.
The game instead will be played at Ralph Wilson Stadium in Orchard Park, N.Y., giving the Bills eight regular-season games at the venue for the first time since 2007.
The Bills are 1-5 in games played in Toronto, with declining attendance nearly every year.
"We have not played well up there. We have to take responsibility for that," Bills president Russ Brandon said Wednesday. "When you line up, you play to win. We're not using this, obviously, as an excuse."
The decision comes a little more than a year after the Bills and Rogers agreed to renew the series for five years, though 2017, after the original five-year deal expired. Brandon said the Bills will review the future of the remaining games in the series.
"We're going to go through a detailed, full analysis," Brandon said. "We're going to look at every aspect, that if we do come back, we'll have a more robust fan experience and try to create more of a home field situation for us. Right now, that was not the situation."
The Bills have struggled with local television blackouts after being unable to sell out several games at Ralph Wilson Stadium in recent years. The Toronto series avoided the possibility of blackouts and aimed to increase the team's exposure in Canada, but also caused fans to complain about the atmosphere in Toronto's domed stadium, the Rogers Centre.
March, 4, 2014
Mar 4
12:20
PM ET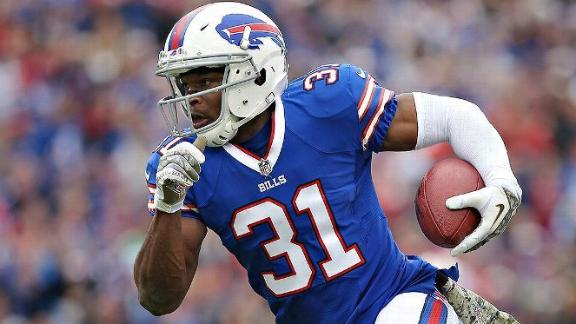 Three-time Pro Bowl safety Jairus Byrd said Tuesday he remains in contact with the Buffalo Bills, a day after the team decided not to put the franchise tag on the pending free agent.
"The door is not closed on anything. I'm not closing the door on any opportunities at all," Byrd told ESPN.com. "The lines of communication are still open. I've talked to [CEO] Russ [Brandon] and [general manager] Doug [Whaley] a couple days ago. We're talking.
"So it's not anything that's hard feelings or anything like that. The conversations that we've had, we know what's going on. We're all on the same page. We'll go from here."
The Associated Press reported Sunday, citing a person familiar with the negotiations, that talks had reached a "standstill" after the Bills made an offer that would have paid Byrd $30 million over the next three seasons.
"I don't want to get into details, but I will say any time you have something where it's a source, an unnamed source, and the full details of the situation aren't revealed, you can't really believe everything you hear," Byrd said. "I've had one-on-one conversations, phone calls with Doug and Russ. ... And the thing is, from outside, a lot of people don't understand that. The fans, they feel a certain kind of way because they don't understand the whole depths of everything, which is understandable."
Byrd dispelled any perception that he is not willing to return to Buffalo, one season after he sat out all of training camp before signing his franchise tender.