October, 24, 2014
Oct 24
8:00
AM ET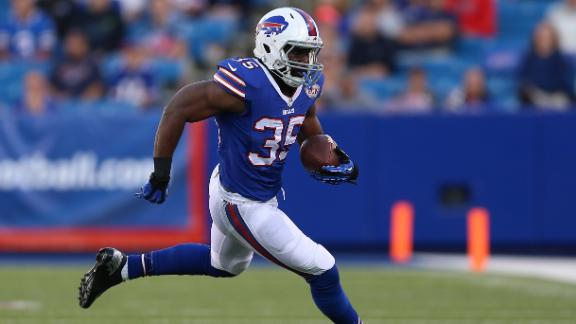 Since taking over the
New York Jets
in 2009, Rex Ryan is 7-3 against the
Buffalo Bills
-- the only team in the AFC East he can beat on a fairly consistent basis. Now Ryan and the Jets could be on the verge of losing that.
The Jets (1-6), losers of six straight, are heading nowhere. The Bills (4-3), in their second season under Doug Marrone, still have a chance to make something of their season. They meet Sunday at MetLife Stadium.
ESPN Jets reporter Rich Cimini and ESPN Bills reporter Mike Rodak discuss the matchup:
Cimini:
Let's start with the quarterbacks. The
Kyle Orton
-for-
EJ Manuel
switch has worked out well. Why is that? What does it mean for Manuel's future? It's interesting because the Jets have a similar dynamic with
Geno Smith
and
Michael Vick
, yet they decided to ride it out with Smith.
Rodak:
I'm not sure if the change has been night and day, but in general, Orton has shown a greater willingness to sling some passes where Manuel may have been more tentative.
Through the first four games, Manuel had a QBR of 19.8, a completion rate of 58 percent and 6.4 yards per attempt. In his three starts, Orton has a QBR of 40.7, a completion rate of 68.5 percent and 7.2 yards per attempt. Orton hasn't played mistake-free football, with an interception in each of his three games, including a pick-six. But unless those mistakes multiply, don't expect Manuel back in the lineup anytime soon. Orton gives the Bills the best shot at the playoffs. If Orton leads the Bills to the postseason, he is likely their full-time starter going forward. If he doesn't, perhaps Manuel gets another shot, but it's no guarantee it's under the current coaching staff.
Why have the Jets decided to ride it out with Smith? What happened to the quarterback who lit up the Bills for a career-high 331 yards at MetLife last September?
Cimini:
That quarterback is like a telephone bill; he shows up once a month. Smith is sometimes solid, rarely spectacular and often mistake-prone. Now I will say this: He is coming off his best game of the year, a no-turnover performance in last week's crushing loss to the
New England Patriots
. Smith is at his best when he uses his legs to get out of trouble, and he ran seven times for 37 yards in the game. The question is, can he sustain it? Unlike the Bills, the Jets decided to endure the weekly growing pains instead of turning to the veteran backup. Two explanations: They are really down on Vick, or they made a predetermination to devote the entire season to Smith's development. Either way, it doesn't cast the organization in a positive light.
With
C.J. Spiller
and
Fred Jackson
injured, who's left at running back, Mike? Can Thurman Thomas still play?
Rodak:
Well, Thomas has been out at practice a few times this season and still looks the part. Maybe, with one more injury, he'll get his call. Until then, the Bills are going to roll with
Anthony Dixon
and
Bryce Brown
in the backfield. When you consider some of the other backup situations around the league, it could be a lot worse. They are both experienced backs who were somewhat phased out of their former teams' offenses. I get the sense both have a chip on their shoulder. Marrone said Wednesday that he wasn't "as concerned about that situation" as some may think. In truth, while Spiller was injured on a 53-yard run, he was one of the NFL's worst running backs from a statistical standpoint over the past month.
I guess the big story in New York is
Percy Harvin
. How much of a role will he have in this game?
Cimini:
The Jets haven't revealed too much, as you'd expect, but I expect him to play a good chunk of the snaps on offense. Will he play 50-plus snaps? I doubt it, but I wouldn't be surprised if he's out there for 20 or 30. They will have a Percy package that will include his signature plays -- jet sweeps, bubble screens, etc. -- but I also think they will give him an opportunity to be a conventional wide receiver. This much we do know: He will return kickoffs and, possibly, punts. Harvin's arrival definitely adds intrigue to the season. Now we'll see if he's worth the hype. My gut tells me he won't make a significant impact. It's hard to integrate a new receiver into the offense without having had the benefit of training camp.
Speaking of fast receivers,
Sammy Watkins
is coming off his best game. Give us your take on his progression, Mike. Do the Bills have any second thoughts about making the trade for him?
Rodak:
Watkins has shown few, if any, limitations that you might expect from a rookie. He had a few quieter games, but generally he has been one of the best players on the field each week. That's what the Bills expected -- a player who can step in right away and perform -- and that's what they're getting. Still, I think time will tell if trading up for him was the right move. The Bills consider him a "generational" talent, but it's debatable whether it was worth giving up two first-round picks for a nonquarterback. The Falcons, who gave up the house to grab
Julio Jones
, are one example of a team that may have benefited from saving their draft choices and building across the roster.
In particular, the Bills could be hurting next spring when they don't have a first-round pick to use on a quarterback. That's the underlying problem with the Bills' trade; Watkins can be a perennial 1,000-yard receiver, but if the rest of the offense isn't up to snuff, what good does he do you? Consider that Watkins is on pace for 990 yards this season but the Bills still rank near the bottom of the NFL in most offensive categories.
What has happened to the Jets' defense? They ranked 13th in third-down defense last season; they rank 27th this year. They were fourth-best in the red zone in 2013 and are fifth-worst this season. What's to blame for the drop?
Cimini:
Oh, man, I could ramble for a long time on this topic. First, let me throw out a couple of other numbers: The defense has allowed a league-high 11 touchdowns on third down and generated only three takeaways -- and one of those was a gift, a botched snap.
What makes the swoon so puzzling is that the Jets are one of the better pass-rushing teams in the league (20 sacks), which should be the foundation to a strong defense -- in theory. The problem is they have no playmakers in the back seven/eight. Their linebackers and defensive backs have combined for one interception and two forced fumbles. The cornerback play is pedestrian. They have been undermined by injuries (
Dee Milliner
), defections (
Dimitri Patterson
) and poor personnel decisions. It's so bad that Ryan has resorted to playing more zone coverage than ever before. Somehow the Jets are ranked ninth in total defense, but don't let that fool you. This isn't a top-10 defense.