October, 20, 2014
Oct 20
12:30
PM ET
ORCHARD PARK, N.Y. -- A look at which players are "up" and which players are at the opposite end of the spectrum after the
Buffalo Bills
'
17-16 win
against the
Minnesota Vikings
:
Up
Watkins
WR Sammy Watkins:
After a trip to "Revis Island" last week, Watkins went back to business Sunday and had the best game of his young career. On nine catches, Watkins gained 122 yards, the fifth-most of any receiver in Week 7. He added two touchdowns, including the game winner, doubling his season total. There have been a few quiet moments for the rookie but this was a game-changing performance.
CB Leodis McKelvin:
Snagging interceptions on back-to-back Vikings plays in the second quarter, McKelvin doubled his season total and set a new career high. In addition to serving as a punt returner, McKelvin returned a kickoff 30 yards after
C.J. Spiller
was injured.
DT Marcell Dareus & DE Jerry Hughes:
This duo combined for 3.5 of the Bills' five sacks in the game. Over the past three games, Hughes and Dareus have combined for 9.5 sacks.
Down
Offensive line:
Pro Football Focus credited the Bills' offensive line with nine pressures allowed. Each lineman except for center
Eric Wood
allowed two pressures in the game. Left tackle
Cordy Glenn
allowed two sacks while left guard
Cyril Richardson
allowed one sack, according to Pro Football Focus.
WR Robert Woods & WR Chris Hogan:
The pair of wide receivers fumbled on back-to-back drives in the first quarter, with Hogan's coming inside the red zone. It wasn't just them, but it was sloppy football.
Run defense:
Entering Sunday as the NFL's best unit against the run, the defense didn't have an answer for
Jerick McKinnon
, who gained 103 yards on 19 carries. Even 248-pound fullback
Jerome Felton
rumbled for a 21-yard gain.
October, 20, 2014
Oct 20
10:10
AM ET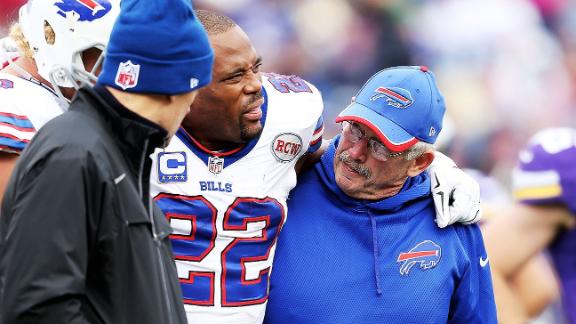 Buffalo Bills running back Fred Jackson could miss up to a month after suffering a groin injury in Sunday's 17-16 win over the Minnesota Vikings.
The injury will not require surgery.
"It's not as bad as it could have been," Jackson said in a weekly appearance Monday on WGR 550 in Buffalo. "It's typically a four-week injury. But we'll try to do some things to get it sped up.
"I like to think of myself as somebody who can come back before typical. It's just gonna be on me to get in there and rehab and see the team doctors and do what it is they want me to do."
Meanwhile, fellow Bills running back C.J. Spiller is scheduled to have surgery Monday on a broken collarbone, sources told ESPN NFL Insiders Adam Schefter and Adam Caplan.
"We've been in contact all morning with him. He's in pretty decent spirits for what's going on," Jackson said. "We're praying for him to get through surgery OK ... and we'll see what happens after that."
October, 19, 2014
Oct 19
8:30
PM ET
ORCHARD PARK, N.Y. -- The NFL world will soon get its formal introduction to
Anthony Dixon
.
A change-of-pace running back for the
San Francisco 49ers
for the past four seasons, Dixon signed with the
Buffalo Bills
last offseason and now will be thrust into the spotlight after
C.J. Spiller
and
Fred Jackson
were carted off with injuries in Buffalo's
17-16
win Sunday over the
Minnesota Vikings
.
[+] Enlarge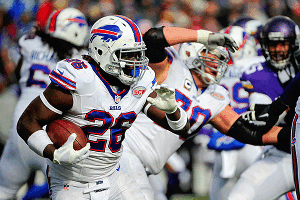 AP Photo/Gary WiepertWith the Bills' top two running backs injured, Anthony Dixon said he's ready for an expanded role.
Spiller has a broken collarbone, ESPN NFL Insider Adam Schefter reported, and is out for an "undetermined time," Marrone said. Jackson will have further tests on his injured groin Monday but his body language as he was taken off the field suggested a more serious injury for the Bills' team captain.
"It's time to step up and be great," Dixon said after the game. "It's what I've been waiting for for a long time, getting that workhorse role and I just tried to take advantage."
Once Jackson went down in the first quarter, the Bills split the six plays on their next drive between Dixon and Spiller. Then Spiller -- after a 53-yard gain on his first carry of the game -- landed hard on his left shoulder and might miss significant time, if not the remainder of the season.
As the Bills' final healthy running back who dressed for the game, Dixon rushed nine times in the second half, gaining 31 yards. He finished the day with 51 yards on 13 carries.
His role will undoubtedly increase. Known for his special-teams prowess -- he blocked a punt earlier this season -- and as a short-yardage option, Dixon is out to prove he's more than that.
"I feel like I didn't really get labeled right coming out of college and high school. People tried to do something else with me, make me somebody that I really wasn't," Dixon said. "I've been a workhorse like that all my life. I've been making plays like that all my life."
How was Dixon being labeled?
"[They] put me in a short-yardage [situation], they were just making all these type of stuff -- I can't run routes, I don't got hands. So I'm looking at them, like, 'What?' I don't see what they see," he said. "But yeah, I'm ready now for that opportunity.
"They never gave me a chance to get this opportunity [in San Francisco]. That was one of the reasons why I had to get out of there. I was looking at this opportunity. I really wanted to get back in that workhorse role and I think I'm almost there."
October, 19, 2014
Oct 19
7:50
PM ET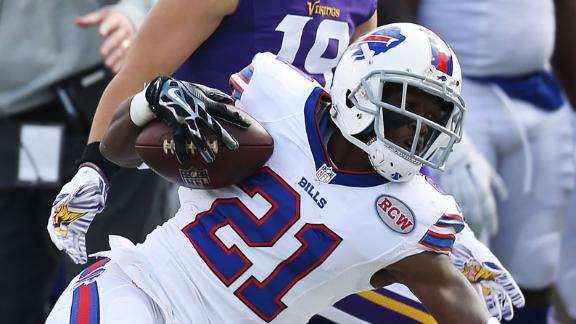 ORCHARD PARK, N.Y. -- After the
Buffalo Bills
' close loss to the then-undefeated
Kansas City Chiefs
last November, coach Doug Marrone memorably proclaimed that he would go home, hide away in frustration and not even pet his dog.
Despite the Bills' come-from-behind,
17-16 win
over the
Minnesota Vikings
, I don't think Boudreaux -- the Marrone family dog -- will be getting much attention Sunday night.
This is a flawed Bills team that has gone from playing mistake-free football at the start of the season to stumbling its way through the first 59 minutes of Sunday's contest, patching up its self-inflicted wounds just in time to escape with a win.
Let's not confuse this brand of football with resiliency. Rather, all the Bills showed Sunday was an ability to create drama out of what should have been an ordinary victory over a struggling opponent. It might be exciting in October, but it's hardly a recipe that will allow Buffalo to taste success in January.
Marrone's demeanor at the podium -- you would need to double-check the box score to make sure the Bills actually won -- told the story after the game.
"I think when you go down to the wire like this, then you're not going to win as many as you need to to get there [to the playoffs]," Marrone said.
The Bills are 4-3 and managed to keep pace in the division with the
New England Patriots
(5-2), who won Thursday. Buffalo's schedule -- which includes two games against the
New York Jets
(1-6) over the next month -- is favorable.
It's just hard to see the Bills heading in the right direction given the way they've played the past month. The task of making the postseason will now be even harder after both members of Buffalo's two-headed rushing attack --
C.J. Spiller
and
Fred Jackson
-- were
carted off with injuries
Sunday.
Spiller has a broken collarbone, ESPN NFL Insider Adam Schefter reported, and is out for an "undetermined time," Marrone said. Jackson will have an MRI on his injured groin Monday. If his body language while leaving the field is any indication, it might not be an easy injury for Jackson to brush off -- as he always seems to do.
The Bills are down to
Anthony Dixon
, a career backup who will have plenty to prove if he becomes the workhorse, and
Bryce Brown
, a low-mileage back dumped by the
Philadelphia Eagles
in an offseason trade who hasn't suited up once this season.
Spiller has been struggling lately and his playing time dipped to a season-low 12 snaps in last week's loss to the Patriots, but losing Jackson for any extended period would be a big blow. He'd proved to be a consistent, reliable presence in the all-too-inconsistent Bills offense, even leading the team in receptions entering Sunday's game.
Overcoming the absence of either or both of those backs will be difficult, but it's the Bills' slipping focus and mounting mistakes that are most alarming.
They turned over the ball to the Patriots three times last week, added four turnovers Sunday -- including two fumbles inside the red zone -- and have shown an uncanny knack for drawing flags in critical situations.
Even on their last-minute touchdown drive Sunday, which ended in a decisive 2-yard touchdown catch by
Sammy Watkins
, the Bills seemingly did their best to lose the game.
Tight end
Scott Chandler
let a ball slip through his hands, right tackle
Seantrel Henderson
drew a false-start penalty one breath after a fourth-and-20 conversion, and
Kyle Orton
committed an intentional grounding penalty once the Bills reached the red zone.
Had it not been for Chandler's 24-yard catch on fourth-and-20 or Watkins' touchdown grab with one second remaining, the Bills would be reeling, losers of four of their past five.
Count Marrone among those disturbed by the trend, one that threatens to turn the Bills' 4-3 start into a much less desirable finish.
"I would hate to be categorized as grumpy after a win, but I don't help myself here right now," Marrone said. "I know where I want to go with the team. I do. And I'm just fighting to lead this team to where I want to go.
"It's on myself. I'm going to be on the coaches and the coaches are going to be on [the players]."
October, 19, 2014
Oct 19
5:40
PM ET
ORCHARD PARK, N.Y. -- Observed and heard in the locker room after the
Buffalo Bills
' 17-16
win
over the
Minnesota Vikings
:
Spiller

After being carted off in the first half, running back C.J. Spiller was diagnosed with a broken collarbone, ESPN NFL Insider Adam Schefter reported. Spiller will have surgery Monday, according to ESPN NFL Insider Adam Caplan. Coach Doug Marrone said Spiller will be out "an undetermined time." He added that Fred Jackson, who was carted off with a groin injury, will need further tests.
Bryce Brown, acquired in an offseason trade, was inactive Sunday for the seventh time this season. There was more buzz about Brown last week after Spiller's continued struggles, and Marrone acknowledged Brown will now have a chance. "I have no problem bringing up Bryce. We talked about him last week -- which I hope wasn't a jinx," Marrone said, chuckling.
The Bills won this game, but you wouldn't know it. Marrone generally had a frustrated tone when speaking about the game, saying the Bills will be hard-pressed to make the playoffs if they play like they did Sunday. Many players were gone by the time reporters entered the locker room. One of those who did speak, defensive tackle Kyle Williams, acknowledged the Bills' poor play for long stretches Sunday but added, "They're all beautiful [wins] as far as I'm concerned. I don't think there's such a thing as an ugly win."
October, 19, 2014
Oct 19
4:17
PM ET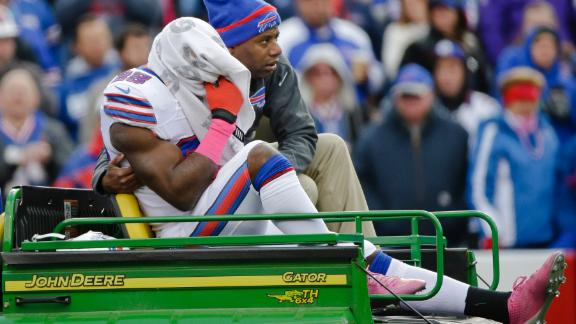 ORCHARD PARK, N.Y. -- A few thoughts on the
Buffalo Bills
' 17-16
win Sunday
over the
Minnesota Vikings
at Ralph Wilson Stadium.

What it means:
It was an ugly game, but the Bills (4-3) somehow won. After playing shoddy football for three-plus quarters, the Bills put together a game-winning drive that ended in a touchdown. They turned the ball over four times Sunday, including fumbles in the red zone by
Kyle Orton
and
Chris Hogan
. Yet Hogan redeemed himself with a 28-yard catch to the Vikings' 2-yard line in the final seconds, setting up Orton's 2-yard scoring pass to
Sammy Watkins
.
Two crushing injuries:
The Bills suffered two potentially crushing blows in the first half. Top running backs
Fred Jackson
(groin) and
C.J. Spiller
(shoulder) were carted off with injuries. Both were visibly upset as they headed to the locker room and were immediately ruled out for the game. In their place,
Anthony Dixon
was the Bills' only healthy back. He rushed 13 times for 51 yards. The Bills also have
Bryce Brown
in their backfield; he has been inactive for each of the first seven games.
Stock watch:
Run defense, down. Who needs
Adrian Peterson
? The Vikings had little trouble moving the ball on the ground against the Bills' run defense, which entered Sunday ranked first in the NFL. Led by
Jerick McKinnon
(103 yards), Minnesota averaged 5.4 yards per carry and finished with 158 rushing yards total. The Bills allowed 2.8 yards per carry through their first six games.
Game ball:
CB
Leodis McKelvin
. A week after McKelvin was on the wrong end of a 56-yard touchdown grab by New England's
Brandon LaFell
, McKelvin had a career game. His two interceptions give him four on the season, which is a career high. He was in the right spot for his first pick, a pass that was deflected off the back of linebacker
Brandon Spikes
. McKelvin also jumped a
Teddy Bridgewater
pass in the second quarter.
Williams injured:
Safety
Aaron Williams
left in the second half with a neck injury. He did not return.
What's next:
The cardiac Bills head back on the road next weekend to face the
New York Jets
(1-6), who will be coming off extra rest following their close Thursday night loss to the Patriots. It's the final game before the Bills' bye week.
October, 19, 2014
Oct 19
1:57
PM ET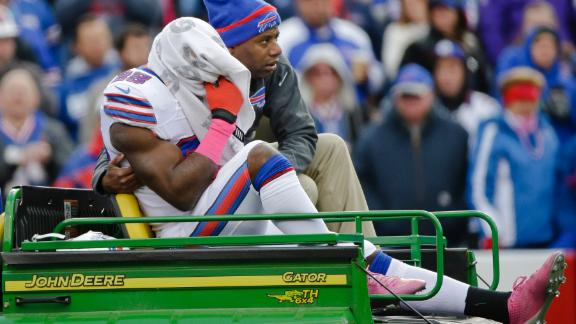 ORCHARD PARK, N.Y. -- The Buffalo Bills lost running backs Fred Jackson and C.J. Spiller during Sunday's game against the Minnesota Vikings as both were carted off in the first half of the Bills' 17-16 win and didn't return.
Jackson suffered a groin injury, while a source told ESPN NFL Insider Adam Schefter that Spiller broke his collarbone.
Bills coach Doug Marrone said after the game that Spiller will be out "for an undetermined time." The running back is scheduled to have surgery on the collarbone on Monday, a league source told ESPN's Adam Caplan.
Jackson stayed down on the field after a third-and-1 run in which he was stopped short of a first down. Jackson was eventually helped to his feet and walked to the sideline with assistance from center Eric Wood and a trainer.
A cart later took Jackson, with hands covering his face, to the locker room.
Jackson had an MRI on his injured groin Sunday night and will miss one-to-two weeks, according to multiple reports.
Spiller took his first carry of the game 53 yards to the Vikings' 15-yard line but came down hard on his shoulder. He remained of the ground for several minutes before being carted off.
Jackson, 33, is the NFL's oldest running back and the Bills' most-tenured offensive player. Through the first six games this season, Jackson ran 52 times for 227 yards and one touchdown. He added 30 catches for 245 yards and a touchdown.
October, 19, 2014
Oct 19
11:45
AM ET
October, 19, 2014
Oct 19
10:20
AM ET
ORCHARD PARK, N.Y. -- Welcome to Ralph Wilson Stadium, where the
Buffalo Bills
(3-3) host the
Minnesota Vikings
(2-4) at 1 p.m. ET.
Weather conditions:
There's a chill in the air this morning. The current temperature is 39 degrees with a wind chill of 33 degrees, with temperatures expected to rise only into the low 40s by kickoff. Skies will be cloudy but there is no chance of rain. Winds will be about 15 mph.
Four more inactives:
With wide receiver
Marquise Goodwin
(hamstring), special-teams ace
Marcus Easley
(knee) and linebacker
Ty Powell
(ankle) already declared out, the Bills will need four additional inactives. There are no players who are doubtful or questionable on the injury report, so expect those final four scratches to be healthy players. Meanwhile, wide receiver
Mike Williams
is expected to be active after being deactivated last Sunday. We'll monitor his playing time closely.
Van Miller honored:
Longtime Bills broadcaster Van Miller will be inducted into the Bills' ring of honor in a halftime ceremony.
Hochuli gets the call:
Ed Hochuli is today's referee.
October, 17, 2014
Oct 17
4:30
PM ET
ORCHARD PARK, N.Y. -- The
Buffalo Bills
(3-3) look to bounce back at home when they host the
Minnesota Vikings
(2-4) on Sunday.
Here is what to watch for:
1. Bigger game than it seems:
On paper, this is one of the NFL's duller games of the weekend, a matchup of two teams that have lost a combined seven of their past 10 games. But consider the implications for the Bills. They are entering a critical stretch of their schedule that is heavy on home contests against some of the NFL's bottom-tier teams. If Buffalo loses Sunday to the 2-4 Vikings, it will be 1-3 at home and effectively three games behind the Patriots in the AFC East, as the Patriots currently own the tiebreaker. The Bills then have to head on the road to a face a Jets team on extra rest after a close loss in New England. On the flip side, a Bills win would mean they are taking advantage of their schedule and are keeping pace with the Patriots. It's a big swing and an important game.
Williams
2. Shuffle at wide receiver:
An injury Thursday to
Marquise Goodwin
changes the Bills' picture at wide receiver. While indications before Goodwin's injury were that
Mike Williams
would be inactive for a second consecutive game, that is expected to change with Goodwin ruled out Friday. The Bills' top three receivers should be
Sammy Watkins
,
Robert Woods
, and
Chris Hogan
, with Mike Williams having the potential to see some playing time as a fourth receiver. It's not the ideal situation for Williams, who was a starter in the preseason, but his wish to see the field might now be granted.
3. Status quo at running back:
The Bills have been the NFL's worst rushing team over the past two games, which prompted speculation that they could shake things up by giving
Bryce Brown
a chance in the backfield. Indications are that won't happen. Offensive coordinator Nate Hackett said Friday that he wants to continue "feeding" C.J. Spiller the ball, even after Spiller played a season-low 12 snaps last Sunday. The problem, according to Hackett and coach Doug Marrone, is that Spiller is trying to make too many big plays. The team wants him to "see three [yards], get three [yards]," or simply take what he can get on each play. It's hardly a new problem for Spiller, but the Bills still have patience with him.
4. Tightening up the defense:
For a Bills' defense that had earned its share of praise through the first five games, that unit fell apart in the second half of Sunday's loss to the Patriots. It's hard to blame injuries; the Bills have a few banged-up players in
Kyle Williams
,
Brandon Spikes
, and Da'Norris Searcy, but were only missing one starter (
Aaron Williams
) in that game. Aaron Williams is probable to play Sunday, so the defense will be back to full strength for the first time this season. The Vikings allowed eight sacks last Sunday and have the NFL's worst Total QBR this season. If Buffalo's defense commits some of the same mistakes it did against New England, significant questions will be raised Monday.