December, 9, 2013
Dec 9
3:24
PM ET
ORCHARD PARK, N.Y. -- On the heels of
EJ Manuel
's worst performance this season,
Buffalo Bills
coach Doug Marrone offered a mixed message about his rookie quarterback's performance Monday.
Asked initially to assess Manuel's outing Sunday, when he went 18-for-33 passing and threw four interceptions, Marrone responded in a way that would leave little room for interpretation.
[+] Enlarge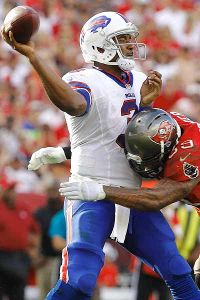 Kim Klement/USA TODAY SportsBuffalo Bills quarterback EJ Manuel takes his fair share of hits on Sunday at Tampa Bay, including enduring seven sacks.
"He did not play well," Marrone said.
However, asked to explain what Manuel did not do well in Sunday's
27-6 loss
to the
Tampa Bay Buccaneers
, the first-year head coach began to point to the play of those around the 16th overall pick in last April's draft.
"When you say you have to get better play at that position, are there things that hurt his level of play? Yes, obviously," Marrone said. "There's some things that happen up front. People batting a pass down, [players] near him. I don't care what quarterback you're playing with. When people are around him, it's very difficult."
You don't need to read between the lines too much on that one: Marrone wasn't happy with the offensive line's performance Sunday. They allowed seven sacks and committed numerous penalties, a problem that has to be especially frustrating for Marrone, a former offensive line coach who spends part of practice instructing that unit.
But according to Marrone, it's not just the offensive line that played a role in Manuel's day to forget. His receivers deserve some blame and there's good reason: one of Manuel's interceptions should have been caught by
Stevie Johnson
, who allowed the pass to bounce off his hands and into those of an awaiting Buccaneers defender.
"We need help from everyone else around him, to make sure that everyone does their job. There are times when things break down, that's not necessarily his fault," Marrone said. "Whether it be a route, a wrong route, a missed assignment up front, not winning the physical battle somewhere along the line. I think all those things factor into play."
Other than his initial comment, Marrone came to Manuel's defense Monday. But Marrone also made it clear that he will stick with Manuel as his starter only to a point.
"He's going to take a lot of the heat, because of the position. That comes with it. But at the end of the day, we need to make sure that people around him are doing what they're supposed to do. I think it's, to sit here and say hey, if everything was going well around him and he was the culprit, it would be easy for me to say we'd go ahead and pull him and put another quarterback in there," Marrone said. "I don't have any problem with that."
Marrone was asked later about his current patience level with Manuel.
"My patience level works on a day-to-day basis. It really does," he said. "As long as they're keeping they're head down and working hard to prepare, that creates patience. The minute that you don't see that, then you get... you become unpatient."
December, 9, 2013
Dec 9
10:00
AM ET
TAMPA, Fla. -- A review of four hot issues from the
Buffalo Bills
' 27-6
loss
to the
Tampa Bay Buccaneers
:
Bills must take hard look at Spiller:
Here we are again. For the fourth time this season, running back
C.J. Spiller
averaged 2 yards or fewer per carry. Since the Bills did not list Spiller on the injury report last week, it's hard to blame injury for his performance, unless Spiller comes out this week and says he wasn't fully healthy entering the game. Of Spiller's 11 carries Sunday, seven gained 2 yards or fewer, a disturbing trend that puts the Bills at a crossroads with their former first-round pick. Spiller is signed through the 2015 season, but it's going to be hard for the offense to move forward unless Spiller can become a more consistent runner. We saw his explosive potential again Sunday, when he had an 83-yard catch-and-run touchdown called back by a penalty. However, the Bills must ponder whether those plays are worth the harm his running style causes the offense on an all-too-regular basis.
[+] Enlarge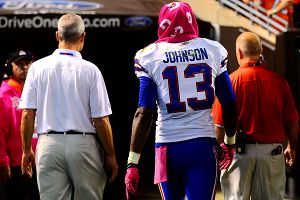 Andrew Weber/USA TODAY SportsThe Bills have a decision to make in the offseason regarding the future of receiver Stevie Johnson.
Ditto for Johnson:
The Bills will need to decide this offseason on wide receiver
Stevie Johnson
, who is due a $1.75 million roster bonus for 2014. Johnson is the Bills' leading receiver, but that's not saying much within one of the NFL's worst passing offenses. Johnson has been hurt by three factors: (1) inconsistent quarterback play from
EJ Manuel
, (2) a bevy of injuries that have caused him to miss two games this season and limited him in others and (3) critical mistakes, including a lost fumble near the end of the Bills' loss in Toronto and a pass off his hands that was intercepted by the Buccaneers on Sunday. The Bills must consider, then, whether their quarterback will be better, whether Johnson can stay healthy next season and whether Johnson can limit his costly errors. If not, they might move on with their second-round pick this past April,
Robert Woods
, as their top receiver.
Hedging Manuel in 2014:
The one player who we know will still be with the Bills next season is Manuel. They won't move on from their first-round pick anytime soon. There have been times this season when he has looked promising, particularly three weeks ago against the Jets. Yet that's not enough. The Bills must hedge their bets and contemplate adding insurance for Manuel next season. Whether that comes through drafting another quarterback or signing a veteran backup is a topic for later, but if Manuel is having the same problems at this time next season that we're seeing now, and the Bills haven't improved their depth at quarterback, it will be a tough spot for the franchise. While Manuel has plenty of time to turn things around, there needs to be a backup plan in place going forward.
What about Graham?
Like Johnson, the play of
T.J. Graham
has to be taken with a grain of salt, given the Bills' situation at quarterback. However, for Buffalo's third-round pick last season, Graham seems to be heading nowhere fast. He's a speed threat, no doubt, but the Bills have seen that come to fruition far too few times this season. More specifically, it's easy to get excited about his 40-yard touchdown catch against the Jets or his 47-yard grab against the Bengals, but Graham has exceeded two catches in only one game this season but has gone without a catch in three others, including the past two. You can point to either Graham or Manuel (or both) for such a lack of results, but either way, it's not a good sign for the Bills.
December, 8, 2013
Dec 8
10:41
PM ET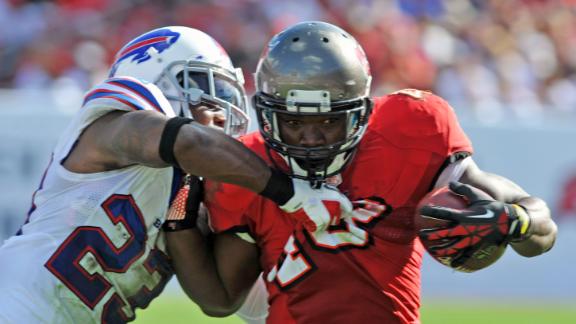 TAMPA, Fla. -- Well, at least it was a nice trip to sunny Florida.
For the impressive amount of
Buffalo Bills
fans who traveled to watch Sunday's 27-6 loss to the
Tampa Bay Buccaneers
, that was their solace -- because what they witnessed sure wasn't pretty.
Falling to 4-9, the Bills now risk stumbling through the final month of the season, which would all but erase any of the promise they had built up since training camp.
Yes, this is a "rebuilding" season for coach Doug Marrone, a first-year coach, and
EJ Manuel
, his rookie quarterback. But to "build" a team requires progress, something that even Marrone admitted wasn't evident Sunday.
"We let down ownership. We let down the fans. Hell, we had a bunch of fans down here. We really did," Marrone said after the game. "It's important for us. Sometimes it's very difficult for those fans to see, on the outside, of what's progression and what's not progression. And that's a difficult thing.
"I have to give them things that they can visibly see on the field to make sure that they understand that we will be going and we are working towards heading in the right direction."
There were positive signs earlier this season. The Bills nearly knocked off the
New England Patriots
in their season opener. They had an edge-of-your-seat comeback win over the
Carolina Panthers
. They took down the defending Super Bowl champion
Baltimore Ravens
, and they played an undefeated
Kansas City Chiefs
team tight.
But now there is evidence of regression. Marrone spoke about "battling adversity" in the early going, when it seemed like the Bills were fending off injuries at nearly every position. But this team is now healthy. This is the roster that general manager Doug Whaley assembled in the offseason and it's one that will stay mostly intact into next season.
It's troubling, then, that the Bills were defeated in resounding fashion Sunday with the coach and players they hope will produce a contender.
"We got a lot of guys that are going to be back next year. We need to learn to win with this group. We got the talent," center
Eric Wood
said. "We just got to learn each week to come out and prepare and come out to win the ballgame. That's all that matters. That will be stressed moving forward."
The breakdowns against the Buccaneers must have hit home for Marrone late in the third quarter. After he successfully challenged to overturn an incompletion to
Robert Woods
, the Bills gave the 9 yards gained by the catch right back to Tampa when Wood and tackle
Erik Pears
were called for back-to-back false starts.
Marrone, a former NFL lineman, came up through the ranks coaching offensive lines. So if there's any position where you wouldn't expect costly penalties and the seven sacks it allowed Sunday, it would be the offensive line.
In the preseason, the Bills had a notable penalty problem. They were the NFL's most-flagged team through their first two contests, which was understandable. It was a new coaching staff, a new scheme, with young players. But being penalized 11 times for 114 yards Sunday was a flashback the Bills didn't want to have at this point.
The question now is, how will the Bills respond to their latest stumble? After Sunday's loss, Marrone turned the locker room over to his players, few of whom have experience playing for winning teams. The three team captains -- Wood,
Fred Jackson
and
Kyle Williams
-- have spent their entire careers in Buffalo. None has ever played in a playoff game.
[+] Enlarge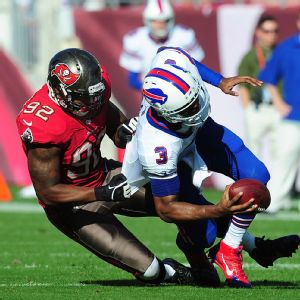 Scott Cunningham/Getty ImagesEJ Manuel was sacked seven times and threw four interceptions during the Bills' loss in Tampa.
When Wood said the following about the offensive line's performance, a red flag went up: "[It was] bad, but you show me any offensive line that played good when you're down 21 points in the second quarter. I'd love to see it."
That's an attitude that will keep the Bills' wheels stuck in the mud and one that Marrone, who experienced winning in New Orleans, and Whaley, who had been with several winning teams in Pittsburgh, need to snuff out.
Up next for the Bills is another trip to Florida next weekend. Their opponent will be the
Jacksonville Jaguars
, who have won four of their past five games and will be primed to push the Bills to another season with double-digit losses.
"I'm sure fans are going to start throwing in the towel and saying we're the same old, same old Bills. They have every right to do that. That's fine," Jackson said. "That's what they have the right to do. We're going to keep working. This thing is far from over for us. We still have a lot to play for this season and we're going to continue to do that."
That's the way the Bills need to approach their final three games. But Marrone has a saying plastered on the walls of the Bills' practice facility that reads, "Don't confuse effort with results." So if the 2013 Bills want to be known as a resilient team, it will have to show on the field.
"I learned that we have a long way to go," Marrone said. "I learned that we have to take more accountability, when you start trying to find the good things and mitigate feeling [bad]. I can't stand up here and make excuses. I can only promise you that we're going to work harder. We're going to get this thing fixed."
Until it's fixed, the Bills faithful will have little more than the sunshine to enjoy when they travel to watch their team play.
December, 8, 2013
Dec 8
6:40
PM ET
TAMPA, Fla. -- It's time to take a step back.
That was the message from
Buffalo Bills
coach Doug Marrone after rookie quarterback
EJ Manuel
had his worst outing of the season Sunday, throwing four interceptions in a
27-6 loss
to the
Tampa Bay Buccaneers
.
"I think we've been giving him more and more. Now it's a point of where you have to re-evaluate that. He's been going fast with his progression and now we just have to look at it and get him started again," Marrone said. "It's not starting over -- don't get me wrong -- [but] we've got to look to see what we can do and probably cut down what we're doing."
[+] Enlarge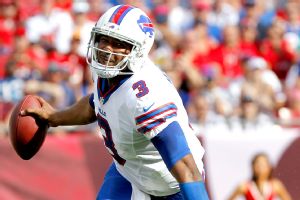 Kim Klement/USA TODAY SportsEJ Manuel struggled against the Bucs, throwing four interceptions while taking seven sacks.
It's been an up-and-down season for Manuel, characteristic of most rookie passers, but his performance away from Ralph Wilson Stadium has been consistently poor.
Manuel is 0-5 in games played outside of Buffalo, while his completion percentage dips from 65 percent at Ralph Wilson Stadium to 53 percent at other venues. However, the 16th overall pick in April's draft downplayed location as a factor after Sunday's game.
"I'm not going to say because I'm not at the Ralph I played bad, or because we're on the road [I] played bad," he said. "Just didn't do well today. Very, very, very frustrating for me. But it's still a learning curve and just have to move on."
The Buccaneers sacked Manuel seven times Sunday, but that still wasn't the most the rookie was taken down this season. The
New York Jets
sacked him eight times in Week 3.
"We didn't do a very good job up front at times," coach Doug Marrone said. "You saw us having to escape the pocket. I think that's very difficult."
Center
Eric Wood
, however, was defensive about his unit's performance after the game.
"Bad, but you show me any offensive line that played good when you're down 21 points in the second quarter," he said. "I'd love to see it."
A reporter later followed-up, asking if Wood thought an offensive line couldn't play well, down three touchdowns.
"It's pretty tough," Wood responded. "You let a talented dffensive line tee off on you, play after play, they're going to get home. You have to be able to ... if you're not close, and you gotta do obvious passing downs -- first, second, third down -- they're gonna get home. That's how it generally works."
To Wood's point, a big part of the problem for the Bills' offense was their inability to keep second and third downs at manageable distances, a result of an ineffective running game that gained 67 yards on 22 carries.
What wasn't the problem, Wood noted, was crowd noise. It was hardly a hostile environment for Manuel and his offensive line.
"Crowd wasn't a factor today," Wood said. "Shoot, you couldn't tell who made a good play, there was so many Bills fans down here."
December, 8, 2013
Dec 8
4:21
PM ET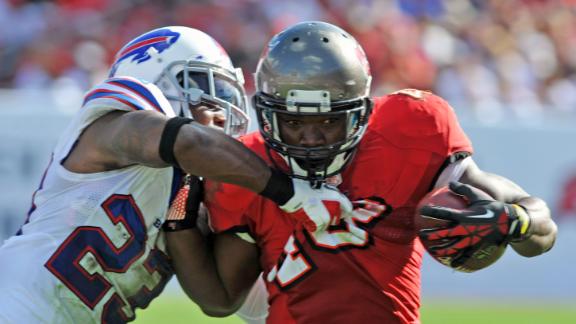 TAMPA, Fla. -- A few thoughts on the
Buffalo Bills
'
27-6 loss
to the
Tampa Bay Buccaneers
:
What it means:
This one was ugly. The Bills didn't come to play, and it showed.
Bobby Rainey
's 80-yard touchdown run on the second play of the game set the tone as the Buccaneers cruised to an easy win. The Bills drop to 1-5 on the road and are now tied for the second-worst record in the AFC. If their late-season slide continues, it will be a troubling sign for the rebuilding efforts of coach Doug Marrone and general manager Doug Whaley.

Manuel hits new low:
This was
EJ Manuel
's worst game of the season. He was intercepted four times, although there is some question as to whether a third-quarter pick by
Lavonte David
was instead a fumble by
Robert Woods
, who was hit hard by
Darrelle Revis
on the play. Manuel finished 18-for-33 for 184 yards, no touchdowns and four interceptions. His 31.2 passer rating was a season low, and he is now 0-4 on the road with the Bills. It's far too early to write off Manuel in Buffalo, but the Bills need to start thinking about insurance if he plays poorly into next season.
Stock watch:
Falling: Offensive line. It was a pitiful performance from all facets of the offense, but the play of the offensive line in particular has to sting Marrone, who has a background coaching the position.
C.J. Spiller
and
Fred Jackson
combined for just 34 yards on 16 carries, while Manuel was sacked seven times. It's tough to pin all of that on the front five, but they were also called for a slew of penalties in the game. One embarrassing third-quarter sequence saw Marrone win a challenge that confirmed a 9-yard catch by Woods, only to have that yardage lost on back-to-back false-start penalties by
Eric Wood
and
Erik Pears
.
What's next:
The 4-9 Bills will return to Florida next weekend to square off with the
Jacksonville Jaguars
, who have won four of their past five games. It's another road test for Manuel and the young Bills, and one that could further solidify Buffalo's position near the top of the first round in the 2014 draft.
December, 8, 2013
Dec 8
2:38
PM ET
TAMPA -- Offering some halftime thoughts as the
Buffalo Bills
trail the
Tampa Bay Buccaneers
24-3:
1. This is an ugly one. The Bills have struggled in all three phases of the game. On offense,
EJ Manuel
has thrown two interceptions, including one that bounced off the hands of Stevie Johnson. Defensively, the Bills allowed an 80-yard touchdown run to
Bobby Rainey
on the game's second play, which set the tone. On special teams,
Leodis McKelvin
muffed a punt that was recovered by the Bucs.
2. This doesn't mean much within the game itself, but it's important in the larger context of where the Bills are this season: Bottom-of-the-roster players have begun to see playing time, likely for evaluation purposes.
J.J. Unga
played a few drives at right guard in place of
Kraig Urbik
, while linebacker
Ty Powell
stepped in for
Manny Lawson
for another drive. Expect to see more of that the rest of the afternoon, with
Ronnie Wingo
in line to see some carries in the later stages of the game.
3. Buffalo's running game has been hot and cold all season. Despite the warm Florida temperatures, they've been cold today.
C.J. Spiller
and
Fred Jackson
have combined for 24 yards on nine first-half carries.
4. The Bills have dodged a few injuries today. In the first quarter, punter
Brian Moorman
went down after getting hit in the leg after a punt. He was on the field for the next punt. Then in the second quarter, cornerback
Ron Brooks
stayed down for an extended period with an apparent neck injury, but later returned.
5. Hey, at least this game isn't being played in snowy Philadelphia, right?
December, 8, 2013
Dec 8
11:52
AM ET
TAMPA -- With their entire roster healthy, the
Buffalo Bills
had to sort through the bottom of their roster for their seven inactives Sunday.
Fullback
Frank Summers
did not make the cut. This will be the first game he will miss this season.
In his place, the Bills kept running back
Ronnie Wingo
active. With
Tashard Choice
released last week, Wingo will have an opportunity to play Sunday.
The Bills shuffled things at offensive line, where
J.J. Unga
is active in place of
Mark Asper
, and at linebacker, where
Ty Powell
is active in place of
Jamaal Westerman
.
Here's the full list of Bills inactives:
QB
Jeff Tuel
RB Ronnie Wingo
FB Frank Summers
OL Mark Asper
OL
Antoine McClain
LB Jamaal Westerman
CB
Brandon Smith
December, 8, 2013
Dec 8
10:20
AM ET
TAMPA -- Welcome to Raymond James Stadium, where the
Tampa Bay Buccaneers
host the
Buffalo Bills
(CBS, 1 p.m. ET).
Another day in Florida:
Typical Florida weather for this one. Temperatures will be in the upper 70s to low 80s with mostly sunny skies and light winds. It should remain dry throughout the game. Humidity is on the higher side (dew point of 67 degrees), but that's still a far cry from what the Bills would've seen if they played here back in September or October.
Clean "Bills" of health:
The Bills had a brief injury report this week, with wide receiver
Marquise Goodwin
(calf) and defensive tackle
Kyle Williams
(Achilles) both listed as probable. Barring any late surprises, expect all seven of the Bills' inactives to be healthy scratches. Running back
Ronnie Wingo
is expected to be active, while tight end
Tony Moeaki
is expected to be inactive.
Game-day chats:
Starting at 11 a.m., ESPN.com will host a "Sunday Countdown" chat, with observations from reporters across the NFL as game time approaches. Then, once Bills-Bucs kicks off at 1 p.m., we'll have an in-game chat where readers can contribute questions and follow along with in-game observations. Look for links to those later today.
Vinovich gets the call:
Official Bill Vinovich, in his sixth season as a referee, gets the call for today's game.
December, 8, 2013
Dec 8
10:00
AM ET
By
ESPN.com staff
| ESPN.com
Join our ESPN.com NFL experts as they break down the Buffalo Bills' visit to the Tampa Bay Buccaneers. Contribute your thoughts and questions beginning at 1 p.m. ET. And, be sure to visit our
NFL Nation Blitz page
for commentary from every game, as well as fan photos and the latest buzz from Twitter. See you there.
December, 6, 2013
Dec 6
2:45
PM ET
TAMPA -- Back in April, the
Buffalo Bills
' upcoming two-game stretch had to look appealing. Back-to-back Florida trips, in December? Not bad.
Even a month ago, their schedule seemed favorable. Back-to-back games against the
Tampa Bay Buccaneers
and
Jacksonville Jaguars
, both winless at the time? Not bad.


But now, things are different. The Bucs and Jaguars have combined to win seven of their last nine games, which could make the Bills underdogs in both contests.
Here's what to watch for Sunday in Tampa:
1. Monitoring Manuel:
As we
mentioned last week
, the development of rookie
EJ Manuel
tops the Bills' priorities as they close out the season. Since returning from his injury, Manuel had a bad outing in Pittsburgh, played well against the Jets, and performed somewhere in-between last Sunday in Toronto. With four games left, the Bills need to see more consistency from Manuel. It's pounding a beaten drum at this point, but the Bills will only go so far in the coming seasons as their quarterback will take them.
2. Cleaning up against the run:
What was an issue early in the season for Buffalo has cropped up again. The Bills have allowed 5.38 yards per carry over their last two games, the second-worst mark in the NFL over that stretch. Although we're past the point where it's a make-or-break issue for the Bills' hopes this season, it still has to be alarming for defensive coordinator Mike Pettine. The Bills have stayed virtually injury-free along their front seven and have some of the best talent in the NFL at those positions, so it's hard to point to personnel as the problem. On Sunday, tackling and containment are likely to be areas of focus. The Buccaneers have averaged 4.58 yards per carry over their past four games, which ranks in the top third of the NFL.
3. Sack record looms:
The Bills are within striking range of breaking their franchise sack record, set in 1995. Currently, the Bills have an NFL-best 43 sacks, putting them on pace to surpass their previous mark of 49. The Buccaneers have allowed 33 sacks on the season, tied for the 12th-worst mark in the NFL. However, the
Atlanta Falcons
came into last Sunday's contest allowing the sixth-fewest sacks, but the Bills were still able to take down
Matt Ryan
six times. The Bills need 6.5 sacks to set a new franchise record, so it's a good bet we see that happen sometime over the next few games.
4. Effect on draft order:
Don't expect the Bills to "tank" any of their final four games, but if they do lose, especially in the next two weeks, there is some benefit. The Bucs and Bills would pull even at 4-9 with a Bills loss, while the Jaguars are already 4-9 entering next Sunday's tilt with the Bills. Improving to 6-8 by Week 16 would be a positive step for a rebuilding team like Buffalo. Still, falling to 4-10 could also help them out. While the
Houston Texans
are on the fast track for the first overall pick, there is a glut of eight- and nine-loss teams "competing" for the second pick, including the Bills.
December, 6, 2013
Dec 6
12:30
PM ET
ORCHARD PARK, N.Y. -- Well, at least they're healthy.
At 4-8, the
Buffalo Bills
are staring down their ninth consecutive losing season, but at the moment, injuries aren't the issue.
The Bills listed just two players on Friday's injury report. Both are probable for Sunday's game in Tampa.
Here's their full injury report:
PROBABLE
DT
Kyle Williams
(Achilles)
WR
Marquise Goodwin
(calf)