October, 24, 2014
Oct 24
8:00
AM ET
CHARLOTTE, N.C. --
Andrew Norwell
sat at his locker, one towel draped around his massive 6-foot-6, 310-pound frame and another over his head so you couldn't see his face.
[+] Enlarge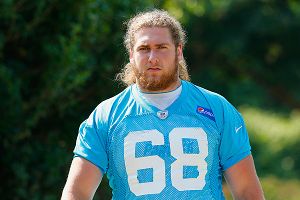 AP Photo/Nell RedmondUndrafted Panthers rookie guard Andrew Norwell, who's in a position to start against the Seahawks, tends to save his enthusiasm for the football field.
He'd made it clear earlier he wasn't doing interviews, so nobody approached him.
For the first seven weeks of the season reporters didn't want to talk to the
Carolina Panthers
' undrafted rookie lineman out of Ohio State. Now that he's in position to start Sunday's game against the defending Super Bowl champion
Seattle Seahawks
, he didn't want to talk them.
"All Yell Norwell," as quarterback
Cam Newton
dubbed the guard because he shouts so loud when the offense breaks huddle, had gone silent.
"People change," backup center
Brian Folkerts
said jokingly. "Once you start, people change."
"Big-timing," Pro Bowl center
Ryan Kalil
kidded of Norwell, who barring a miracle recovery will replace starter
Amini Silatolu
(calf) at left tackle.
Actually, it was that kind of ribbing that may have led to Norwell's silence.
"We were busting his chops the other day because obviously he hadn't talked to the media all year, and now he's playing and talking to the media," Kalil said. "So we said he was big-time, he's a superstar.
"I think he got embarrassed."
Underneath the towel and beyond the long, curly hair that looks like it hasn't been cut in years is an intensity and passion that might be good for Carolina's much-maligned line.
"It helps," coach Ron Rivera said. "He's a different young man. Maybe he's camera shy, but he's an exciting kid. He gets fired up. There's that youthful enthusiasm you like to see."
The first thing offensive line coach John Matsko noticed about Norwell when he came in for a tryout was his intensity and passion.
"He loves the game," Matsko said. "He loves coming in here every day. Those are the guys you really want to be with."
Norwell was inactive the first seven games. When Silatolu suffered a calf injury two weeks ago at Cincinnati, he was activated for Green Bay as a backup to
Fernando Velasco
on the left side.
When right guard
Trai Turner
left with a sprained knee/ankle in the first quarter of the 38-17 loss to the Packers, Velasco moved to the right side and Norwell replaced him on the left side.
Norwell played 60 snaps and, according to Rivera, graded out well.
Every time a coach or player has mentioned his name since, a smile came with it.
"Because he's got such a big heart and he doesn't want to let anybody down," Kalil said. "He works his butt off and wants to be perfect and get it right. Those are the kind of guys you want to play with."
Matsko said Norwell, who started at left guard in his final 34 games at Ohio State, was ready to play when he arrived at Carolina. He just needed refinement -- and a few injuries -- to get the opportunity.
"He's very aggressive, very passionate," Matsko said. "Snap through the whistle, he's all out."
That all-out mentality is what Newton first noticed.
"When you see linemen running down the field, as a quarterback you are looking around saying, 'I have to get on my horse and start running down the field too,'" Newton said. "That makes you want to step your game up a little more."
Carolina defensive tackle
Star Lotulelei
, a first-round draft pick last season, said the Seattle defensive front will see a lineman that wants to physically come at you.
"A real big, strong guy," Lotulelei said. "You can tell he's a tough guy, mentally and physically. He doesn't talk much, but he goes out and gives it his all.
"Glad to see him in the rotation. He looks good."
The rest of the line apparently is feeding off of Norwell's intensity.
"Absolutely," Kalil said. "He got in the game and his last play was just like first play. High energy, high motor. He was running down field. It is contagious, and it brings competition."
Ultimately, the Panthers don't care if Norwell talks to the media as long as he lets his play do the talking for him.