March, 7, 2014
Mar 7
4:16
PM ET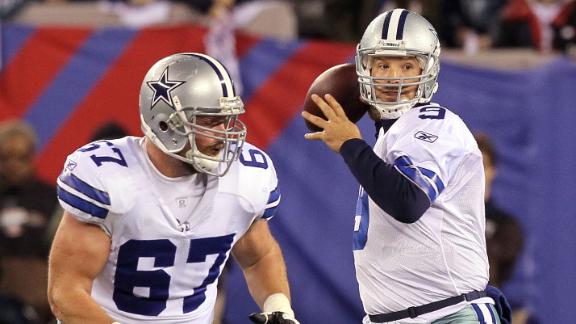 IRVING, Texas -- The Dallas Cowboys are under the salary cap.
The Cowboys released center Phil Costa and reworked the contract of right guard Mackenzy Bernadeau on Friday to get under the $134.55 million salary cap, according to sources. The Cowboys trimmed roughly $20 million in cap room during the week by cutting Costa, reworking Bernadeau's deal and restructuring the contracts of Tony Romo, Sean Lee and Orlando Scandrick.
With free agency set to open next week, the Cowboys now have roughly $2 million in cap room.
There is a chance they could gain more space if they reach a new deal with DeMarcus Ware or release the franchise's all-time leader in sacks.
According to a source, the Cowboys approached Ware this week about taking less money to remain with the club. Ware is set to make $12.75 million this year in salary and workout bonus, and will count a little more than $16 million against the cap.
The Cowboys would like to keep Ware at a lower price, which could give them a chance to add pieces in free agency or keep their own free agents, such as Jason Hatcher and/or Anthony Spencer. If the Cowboys cut Ware, they would save $7.4 million against the cap.