July, 28, 2014
Jul 28
5:33
PM ET
[+] Enlarge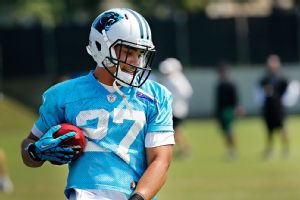 AP Photo/Nell RedmondRookie RB Tyler Gaffney was claimed on waivers by the Patriots. He will miss the season with a torn lateral meniscus in his left knee.
The New England Patriots have claimed running back Tyler Gaffney on waivers from the Carolina Panthers, ESPN NFL Insider Adam Schefter reports.
Gaffney, a sixth-round draft choice out of Stanford, sustained a season-ending knee injury in a practice Friday.
The claiming of Gaffney is similar to what the Patriots did two seasons ago with tight end Jake Ballard, who was waived by the Giants with the intention of placing him on injured reserve that year. But before the Giants could place Ballard on IR, he had to clear waivers, per NFL rules when teams are under the 90-man roster limit, and the Patriots claimed him.
"The bottom line is Tyler's injury is a season-ender. It's not a little tear that could be scoped and he'd be back in three weeks," Panthers general manager Dave Gettleman told the Charlotte Observer. "This was a legitimate, season-ending injury. We have Jonathan Stewart, who's not practicing, and we needed the roster spot. Plain and simple. ... This is a very competitive business, and people are going to try to improve their team within the rules. And this is within the rules."
The Patriots inherit Gaffney's contract, which runs through 2017 and calls for base salaries of $420,000, $510,000, $600,000 and $690,000.
Similar to Ballard, the Patriots are likely to keep Gaffney on their 90-man roster, before moving him to IR when rosters are reduced and a player doesn't have to go through the waiver process. That means the team would pay him $420,000 for 2014 for the chance to work with him in 2015 and beyond. Three of the Patriots' top running backs this year -- Stevan Ridley
July, 28, 2014
Jul 28
5:20
PM ET
SPARTANBURG, S.C. -- A daily review of the hot topics coming out of
Carolina Panthers
training camp from Wofford College:
The scariest moment of camp for the Panthers came Monday morning when rookie wide receiver Kelvin Benjamin complained of soreness in his left knee after bumping it on the knee of a teammate the day before. He was sent to Charlotte, North Carolina, for an MRI, which revealed a bone bruise but no structural damage. Benjamin will miss only a few days, possibly a week, recovering, which is good news for quarterback Cam Newton. They've developed a lot of chemistry and it's obvious Newton looks for the 6-foot-5, 240-pound Benjamin early and often in practice. Without Benjamin, 31-year-old Jerricho Cotchery stepped up to the No. 1 spot and everyone else adjusted forward. Nothing against Cotchery, but he doesn't have the speed or the size to make the catches Benjamin does. The sooner Benjamin gets back the better because he'll need all the reps he can get before his first season.
Coach Ron Rivera liked the tempo of Monday morning's practice so much that he extended a no-huddle drill by three series. The energy definitely was better than on Sunday. Players began practice by yelling "energy'' and "fresh legs'' in individual huddles. They seemed to run faster between drills. It was slightly cooler in the morning than it had been the previous afternoon when the temperature was in the lows 90s and there was a breeze, so that may have had something to do with it. Rivera also noted the media had more energy, but that had more to do with being able to stand under the shade trees on the far side of the field. Coach declined our request for chairs.
Charles Godfrey's transition from safety to cornerback has been slow. He continues to have what Rivera calls "dirty eyes,'' peaking into the backfield and getting beat deep on plays. At this point it's hard to see him beating out Antoine Cason or Melvin White for one of the every-down corner jobs. But it's early, and Rivera likes the speed and physicality Godfrey has shown.
With backup cornerbacks Josh Thomas and Josh Norman nursing minor injuries, undrafted rookie Carrington Byndom is getting a few more snaps. He's made the most of it, intercepting a pass in each of the past two practices. In case you aren't familiar with Byndom, he is 6-foot and 180 pounds. He didn't have an interception last season at Texas, but was second on the team in solo tackles. He's a long shot to make the team, but so was White last season and he wound up the starter.
Breaking: Middle linebacker Luke Kuechly, the reigning NFL Defensive Player of the Year, finally has cable television at his home in Charlotte. As for his POY trophy, it remains somewhere at his parent's home in Cincinnati. And he doesn't have cable at training camp. He doesn't even have a TV. He is all about football and sleep, leaning heavy on football.
July, 28, 2014
Jul 28
4:55
PM ET
SPARTANBURG, S.C. -- One thing was clear on Monday as the
Carolina Panthers
held their first practice of training camp without first-round draft pick
Kelvin Benjamin
, who will miss at least a few days with a bruised left knee.
They need him.
One thing was clear as quarterback
Cam Newton
talked about limiting his runs in camp as he continues to work the surgically-repaired left ankle back into shape.
[+] Enlarge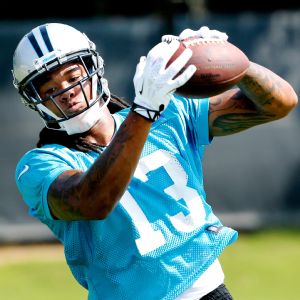 AP Photo/Nell RedmondFirst-round draft pick Kelvin Benjamin has emerged as the No. 1 wide receiver during offseason work.
The Panthers need him -- 100 percent.
As much as I've insisted the offense has a chance to be better than a year ago despite the loss of the top four wide receivers from a season ago -- including the team's all-time leading receiver,
Steve Smith
-- it's a fragile situation.
Benjamin and Newton are the two biggest pieces the Panthers can't afford to break.
Fortunately for Carolina, Benjamin's injury suffered during a collision with a teammate on Sunday isn't anything that will keep him out long term. It's fortunate because at 6-foot-5 and 240 pounds the 28th pick of the draft has looked liked anything but a rookie during offseason workouts and camp.
He's clearly defined himself as the No. 1 receiver and a target that Newton doesn't hesitate to throw to despite his inexperience. He has a chance to be the next
Calvin Johnson
sooner rather than later. He's looked so good that Smith seems like a distant memory.
Newton, who has a tendency to sail passes high at times, doesn't have to be perfect when throwing to Benjamin. The former Florida State standout showed that during Sunday's practice when he caught a couple of passes on which his height and acrobatic athletic ability came in handy.
When I asked Newton about having that luxury, he said, "For Kelvin, man, he's a playmaker.''
Then he paused and said, "I see where you're trying to go, but I'm not going to go there.''
Newton doesn't want to single any player out, particularly a rookie. He wants to spread his love to all his receivers, tight ends and weapons in general. It's a sign of leadership.
Newton already is showing more signs of being a leader this camp than a year ago before leading Carolina to a 12-4 season.
The ankle has slowed him a bit. He's not running nearly as much in practice as he would have in the past by design. The Panthers don't need him to run now. They're being smart.
They will need him to run once the season begins, and he understands that even though it's not easy holding back.
"The big picture is trying to get back 100 percent,'' Newton said. "The competitive side always tells a person you can go, you can go. The big picture is trying to be 100 percent by Week 1.
"I just know I'm putting myself in a position when it's time for my number to be called in the game, I will be ready to go.''
So Newton is willing to step back as a runner, but not as a leader. Nobody has been more active in pumping up teammates. His longest runs of camp have come while rushing to the player who just made a big play for a flying hip bump as he did after fourth-string quarterback
Matt Blanchard
had a good scramble on Sunday.
When asked about defensive end
Greg Hardy
, who said he hated that his legal issue on domestic violence have been a distraction to the team, Newton addressed it head on but with tact.
"I can say this,'' he said. "As a team, we're getting closer. The talks that we need to have, the conversations we need to have, have been great. We don't need to have this conversation about Greg Hardy. I will refuse to have a conversation about Greg.
"Greg understands. He's a grown man. I don't need to remind everybody how important he means to this team.''
Newton is more important. The drop-off from him to backup
Derek Anderson
-- as well as he's been throwing -- is as big as the one between Benjamin and the rest of the receivers.
The Panthers need them to be a dangerous and productive combination to return to the playoffs and become the first in team history to record consecutive winning seasons. If they click, that will open things up for the rest of the offense.
It's a fragile situation.
That was clear on Monday.
July, 28, 2014
Jul 28
3:48
PM ET
[+] Enlarge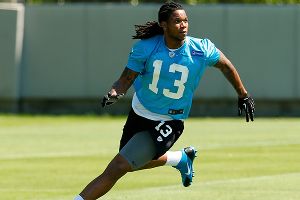 AP Photo/Chris KeaneThe Panthers will be without Kelvin Benjamin for at least a few days after an MRI showed the receiver had a bone bruise in his left knee.
SPARTANBURG, S.C. -- The Carolina Panthers will be without first-round draft pick Kelvin Benjamin for at least a few days after an MRI taken on Monday determined the former Florida State wide receiver had a bone bruise in his left knee.
Benjamin suffered the injury when he bumped his knee on the knee of another player during a late Sunday afternoon practice. He was taken to Charlotte, North Carolina, on Monday morning after experiencing pain and some swelling.
Coach Ron Rivera said there was no structural damage.
"There is no time frame. It's just a matter of time and getting him comfortable with it,'' Rivera said. "... It's really just a matter of days of it calming down, getting the swelling out and then working it back into shape. It could be a few days. Nothing is structurally wrong.''
Benjamin has been working as the No. 1 receiver and quarterback Cam Newton's first read at the start of most team drills and Rivera wants the rookie on the field as much as possible.
"He's had a great camp," Rivera said. "He came in in tip-top shape and ready to roll. He's one of those guys who spent time with Cam [before camp] working out."
Benjamin, 6-foot-5 and 240 pounds, was the 28th pick of the draft. He is the heir apparent to the No. 1 receiver's job that came open when Carolina cut all-time leading receiver Steve Smith
July, 28, 2014
Jul 28
10:12
AM ET
[+] Enlarge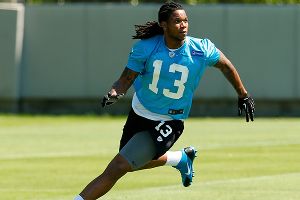 AP Photo/Chris KeaneThe Panthers are taking precautions with first-round pick Kelvin Benjamin, sending the WR to get an MRI.
SPARTANBURG, S.C. -- The Carolina Panthers sent first-round draft pick Kelvin Benjamin for an MRI on Monday after he complained of soreness in his left knee.
The former Florida State wide receiver bumped his knee on a teammate during Sunday's late-afternoon practice.
Team officials said the injury did not appear serious, but there was enough concern to have Benjamin miss Monday morning's practice and travel to Charlotte, North Carolina, purely for precautionary reasons.
"I'm optimistic," coach Ron Rivera said. "He shook it off and he finished practice. It could just be one of those things where if he had iced it right away and not finished practice maybe it would have been better. If it's negative we'll just keep on rolling. I'm optimistic that is what it's going to be."
Benjamin has been working as the No. 1 receiver and quarterback Cam Newton's first read at the start of most team drills and Rivera wants the rookie on the field as much as possible.
"He's had a great camp," Rivera said. "He came in in tip-top shape and ready to roll. He's one of those guys who spent time with Cam [before camp] working out. It's one of those that we want to make sure and be smart about."
July, 28, 2014
Jul 28
8:30
AM ET
SPARTANBURG, S.C. --
Carolina Panthers
running back
Mike Tolbert
looks like a boxer the way the Pillsbury Doughboy looks like a swimsuit model.
The same for left tackle candidate
Byron Bell
.
But both spent a part of their summer training with boxers to help take their game to the next level. Both also believe firmly if they met in the ring he would be the winner.
Imagine the introduction.
Bell
Tolbert
In this corner, from Carrollton, Georgia, weighing in at 5-foot-9 and 237 pounds, the Tub of Goo, Plate of Paste, Bowling Ball, heavyweight contender Mike Tolbert.
In the other corner we have a former Golden Gloves contender, weighing in at 6-5 and 330 pounds, the pride of Greenville, Texas, Byron "Ring My" Bell.
Are you ready to rumble?
Tolbert believes he is. With his cardio capacity now off the charts, he doesn't believe there's a player in the locker room that could take him. He said Bell might be the closest contender, but pointed out it's been since high school that the fourth-year player out of New Mexico competed in Golden Gloves.
He apparently hadn't heard Bell spent time this summer in Ohio with his old boxing trainer.
Bell admits Tolbert might be quicker, but when it comes to arm reach his advantage would be too much to overcome.
"Tolbert, if he thought he was going to get in [for a punch] I would touch him on his chin and he wouldn't know what hit him,'' Bell said defiantly on Sunday before the Panthers practiced in pads for the first time in training camp.
But the plan isn't to use their boxing skills to beat on each other or any of their teammates. The plan is to use their skills to help the 2014 Panthers become the first to have consecutive winning seasons in team history.
Through their training, both have slimmed down 13 pounds, Tolbert down from the 250 that made him a goal-line force and Bell from 343 that made him a solid run blocker at right tackle.
Tolbert practiced the art of what he called "cross boxing'' -- cross training involving boxing to improve the overall shape -- at the House of Boxing in San Diego. He got good enough at it that he actually sparred with real heavyweight fighters.
"It's man on man,'' Tolbert said. "It's the ultimate sport of either you win or I win. That takes a lot of intensity. Everybody knows the mentality I have is that I will never let the man across from me beat me.''
Tolbert never has felt better. He insists the extra weight was a hindrance and that the lighter version will make him faster and just as powerful on fourth-and-1.
Coach Ron Rivera, who has shed more than 30 pounds himself, likes what he's seen so far.
"Oh, yeah, Round is in good shape,'' he said.
Bell returned to boxing to improve his footwork and hand placement that will be necessary when facing some of the league's top pass-rushers and help him beat
Nate Chandler
for the left tackle job. He's not so sure the extra weight was a hindrance, but he likes fitting into smaller clothes.
Neither is a player you'd want to mess with on the field. Tolbert would just as soon run over a defender than around him. If you need proof, go back and look at the way he blasted Atlanta's
William Moore
to set up a touchdown in last year's regular-season finale.
Ask him who he models his boxing style after and he declares it's a mix between Mike Tyson and Floyd Mayweather.
Cover your ears.
Bell arguably was involved in more scuffles during last year's training camp than any other player. He didn't mention who he models his boxing style after, but judging by his girth it would have to be George Foreman -- late in his career.
"I'm not going out there to fight my teammates, but I've got to come out here and be physical so I can transfer it to Sunday,'' Bell said.
Sundays are when both want to be ready to rumble, and both believe boxing will help.
"[My trainer], he incorporates a lot of football movement, a lot of hand-eye coordination, a lot of footwork, a lot of cardio,'' Tolbert said "It's a pro boxer's workout. It's definitely tough, but I mean, the strong survive and I've got to be ready.''
July, 28, 2014
Jul 28
8:00
AM ET
Examining the
Carolina Panthers
' roster:
Quarterbacks (2)
Joe Webb
was signed to simulate the things Newton did while the franchise quarterback recovered from offseason ankle surgery. Newton is healthy and general manager Dave Gettleman has the philosophy of keeping only two quarterbacks.
Running backs (5)
The top three are a given and Barner is the leading candidate to return kicks in addition to his running back duties. Gaffney isn't safe, but the Panthers drafted him in the sixth round because they are high on his ability to block. He is part of the future.
Receivers (5)
I'm still not convinced Underwood is safe. While the Panthers love his speed, he has a tendency to drop passes. King also isn't a shoo-in. Don't be surprised if
Brenton Bersin
,
Kealoha Pilares
or
Marvin McNutt
are a part of the final picture.
Tight ends (5)
Normally I would say four players here, but the Panthers plan to run a lot of two-tight-end sets and Brockel also doubles as a fullback. Williams is the wild card. He's shown flashes and if he continues to impress in training camp he could be almost like an extra wide receiver.
Offensive linemen (9)
The key here is flexibility. Williams and Chandler can play tackle or guard. Turner can play guard and backup center. While the Panthers may like to keep a 10th player here, using that spot for a fifth tight end makes more sense.
Defensive line (10)
I'd be nervous if I were Alexander. He's been suspended for the first four games for violating the league's substance abuse policy, and the Panthers drafted end Ealy in the second round. Keeping 10 defensive linemen may be a reach, and there is solid depth at end.
Linebackers (5)
Again, flexibility is key and why I went with five linebackers instead of six. Blackburn can step in and replace Kuechly if he ever had to come off the field. If the Panthers decide to go with six here, look for
Ben Jacobs
or
D.J. Smith
to figure into the mix.
Cornerbacks (5)
The wild card here is Godfrey as he returns from an Achilles injury and moves from safety to corner. The Panthers restructured his contract to keep him on the roster and really love his leadership. If he is good to go, there will be some tough cuts with Norman and
James Dockery
. Going back to the defensive line, Carolina could keep one more here and go with nine there.
Safeties (4)
The good thing about having Godfrey at cornerback is he could move back to safety if healthy and an injury occurs here. The decision will come in whether to keep fourth-round pick
Tre Boston
and go with five safeties over an additional defensive lineman.
Specialists (3)
These positions are set barring an injury.
July, 27, 2014
Jul 27
7:15
PM ET
SPARTANBURG, S.C. -- A daily review of the hot topics coming out of the
Carolina Panthers
training camp from Wofford College:
If you were looking for something definitive at the left tackle position after the first practice in pads, sorry. Byron Bell and Nate Chandler both got opportunities there and both did well in giving quarterback Cam Newton time to throw. Bell started off on the left side during 7-on-7 drills and Chandler began team drills there. In one-on-one drills Chandler did a nice job of taking defensive end Charles Johnson to the ground once. The Panthers will continue to use both players there for the next few weeks as they look to replace retired Jordan Gross, who has lost so much weight he could play tight end or wide receiver. Coach Ron Rivera wants to make a decision on the starter after the second preseason game. The Panthers will face some good pass-rushers in Buffalo end Mario Williams and Kansas City linebackers Justin Houston and Dee Ford from a 3-4 set. Williams had 4.5 sacks in Week 2 against Carolina last season with most coming against Bell playing right tackle. Stay tuned. Too close to call, but both are showing potential.
Tight end Greg Olsen was wide open on a touchdown catch down the left sideline. Tight end Ed Dickson made a diving catch on a slant pattern. Tight end Brandon Williams made a nice over-the-shoulder catch deep in traffic. Tight end Mike McNeill made a tough catch in traffic over the middle. Tight end D.C. Jefferson made a solid catch in stride about 25 yards deep. Notice a theme here? The Panthers have more than enough choices to complement Olsen as they go to a two-tight end set. It's a luxury they haven't had since Jeremy Shockey was here in 2011. And I haven't mentioned Richie Brockel, who is listed as a TE/FB. The team kept four tight ends last season, and Rivera says there is a scenario where it could keep five this year. This definitely softens the blow of losing the top four wide receivers from last season.
Rookie wide receiver Kelvin Benjamin made an acrobatic, twisting catch on a high pass from Cam Newton on the first play of 7-on-7 drills. He snagged a somewhat high bullet over the middle on the first play of team drills. He caught a nice out pattern on the first series of another team session. In other words, the 28th pick of the draft is becoming quite comfortable with Newton in a hurry. A lot of this may have to do with the two staying in Charlotte, North Carolina, to work out together while the team was off from June 19 through last Thursday. If they continue to develop this chemistry people may forget Steve Smith, the team's all-time leading receiver who was cut during the offseason.
Philly Brown went to the ground and did what appeared to be 20 pushups after having a punt bounce off his chest early in practice. There were drops by a few other returners as the Panthers attempt to replace Ted Ginn Jr., who signed with Arizona in free agency. Don't think Rivera didn't notice it. "The thing we have to understand is first and foremost we have to catch the ball. I could care less if we fair catch it every time, but we've got to catch it.'' The leader in the clubhouse for the job might be Antoine Cason, who returned punts at San Diego while Rivera was there. It's interesting that speedster Tiquan Underwood hasn't been given a chance there yet, but Rivera said others could be added to the mix that so far includes Cason, Kenjon Barner and Brown. Bottom line, the Panthers will miss Ginn much more here more than they will at receiver.
Carolina holds its first morning practice on Monday after two night practices and a 3:10 p.m. session. Sunday's workout was somewhat sloppy, and Rivera reminded players of that afterwards, telling them he "expected a better practice tomorrow.''
July, 27, 2014
Jul 27
3:25
PM ET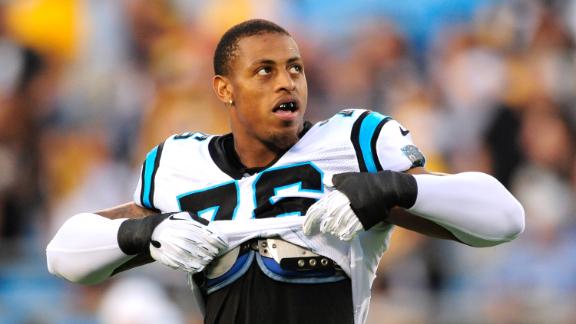 SPARTANBURG, S.C. -- Two things were missing Sunday in
Greg Hardy
's first public statements since being arrested and subsequently found guilty of assaulting and threatening his ex-girlfriend.
An
apology
.
Remorse.
The
Carolina Panthers
Pro Bowl defensive end did talk about selling hats and toboggans as part of his brand of personal merchandise, which in itself seemed wrong.
He did say at the very end he hates that his legal situation has been a distraction to the team, which really didn't come off as an apology.
But that was it.
[+] Enlarge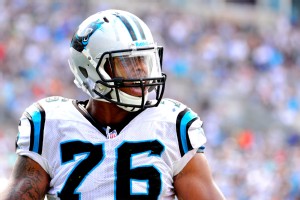 Bob Donnan/USA TODAY SportsGreg Hardy didn't seem remorseful in his first public statements after he was found guilty of assaulting and threatening his ex-girlfriend.
I understand he can't talk about his case that is under appeal, and that won't be heard until after the season. I understand he can't discuss whether or not he threw Nicole Holder onto a futon covered in guns, as she claimed, or whether he threatened to kill her, as she also claimed.
I understand he can't say Holder -- and not him -- was the aggressor, as his lawyer claimed in court.
But at the very least he might have opened with something like: "I apologize that my situation has been a distraction to the team."
He is involved in a situation. He wouldn't have been admitting to anything that would impact his appeal, it would have sounded like an apology and he would have come off as remorseful.
Then he could have talked about football and his "Kraken" brand without it sounding so awkward.
I'm sure Hardy was under strict orders by his attorney. But not to comment on what the last few months has been like or how being back on the football field helped seemed beyond the gag order rule.
It left you with a bad taste, particularly when he thanked the media for promoting him and his brand.
He also suggested the media could put in a good word for him with general manager Dave Gettleman regarding a long-team deal after this season, which seems unlikely if he loses his appeal
"You guys do a really good job of putting me out there," when asked if he's getting the respect nationally for being one of the league's elite pass-rushers after leading the team with 15 sacks last season. "I appreciate that. I feel like I'm doing awesome. I always got good quotes. No spoon. Appreciate that, guys."
Hardy was referring to last season, when he said after a 21-20 victory against Atlanta in the season finale he ate his cereal without a spoon in reference to his dominance.
Hardy was entertaining and endearing that day. It called for it. He had four of the team's nine sacks.
Sunday didn't require entertaining. It required a tone that fell in line with that of Gettleman, who sternly said Hardy's situation is "concerning and disappointing."
At least from the outset.
It was an awkward situation to say the least. You expected that. Hardy has been mum since his April 13 arrest.
The good news is Hardy talked. He should have talked before training camp so the questions on this day could be about football and the team's first day in pads.
To blend football and questions about domestic violence was extremely awkward.
July, 27, 2014
Jul 27
1:39
PM ET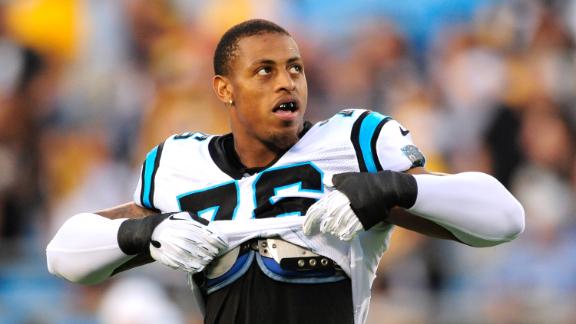 SPARTANBURG, S.C. -- Greg Hardy hates that his legal situation has been a distraction for the Carolina Panthers, but that was the only comment the Pro Bowl defensive end made Sunday regarding his May arrest.
"I hate that I have distracted my team," Hardy said, the first time he has spoken to the media since being arrested and subsequently found guilty for assaulting and threatening his ex-girlfriend in May. "Other than that I can't answer that question."
Hardy was arrested May 13 after an incident at his Charlotte, North Carolina, apartment involving Nicole Holder, with whom he began a relationship six months prior. He was found guilty by a Mecklenburg County judge on both counts July 15 and sentenced to 18 months probation and 60 days in jail, the latter suspended.
His attorney immediately appealed the decision and asked for a jury trial, which won't happen until after the season. Because the case remains in the court, a Carolina representative said prior to Sunday's interview that Hardy could not answer any questions related to the case.
Hardy wouldn't even address if the past few months have been difficult on him.
"I don't answer questions like that, man," he said.
Asked if being on the field makes it easier, Hardy said, "Can't answer that question, man."
Asked if he has apologized to the team for being a distraction, he said, "I can't answer that question. It's a team thing."
Told what Hardy said about being a distraction, coach Ron Rivera said, "I think we've handled it very well and I appreciate him pointing it out.''
Hardy, who will be a free agent after this season, did say he hoped to remain with the team that selected him in the sixth round of the 2010 draft.
July, 27, 2014
Jul 27
8:00
AM ET
SPARTANBURG, S.C. --
Carolina Panthers
outside linebacker A.J. Klein made a huge rookie mistake last season.
Klein
He forgot to bring a pillow to Wofford College for training camp.
"That was bad,'' the second-year player out of Iowa State said on Saturday. "I rolled up a sweatshirt at night as a pillow. That was better than the one they gave me.''
That was arguably Klein's biggest mistake of 2013 after being selected in the fifth round. He played in 16 and started two when veteran
Chase Blackburn
was out with a foot injury.
He was so impressive, particularly when he replaced Blackburn at San Francisco, that he is expected to push Blackburn for a starting job this season. He showed some of his athletic ability and speed when he came free on a blitz of quarterback
Cam Newton
during Saturday night's practice at Wofford's Gibbs Stadium.
But Klein is not caught up in starting at this point.
"Mainly right now I am focusing on getting better,'' he said. "I have a lot to improve on from last year. Yesterday, was a good start, but even from yesterday I know I have a long way to go.
"So I'm going to keep on working to become the starter, but I'm not going to hang to my hat on that at the end of the day. I'm just working to make this team better.''
By the way, Klein brought a pillow with him to camp this year, but not much else.
"I have a book,'' he said. "That's about it.''
A book?
"Some people bring gaming systems,'' Klein said. "I have a book. Ghost Ships. The USS Houston gets lost in the Pacific. I'm into War Stories, that sort of stuff.''
There's nothing soft about this player.
Schedule note:
The Panthers will hold their first practice in pads today at 3:10 p.m. ET. This will be the first true test for
Byron Bell
and
Nate Chandler
, battling to replace the retired
Jordan Gross
at left tackle.
July, 26, 2014
Jul 26
9:40
PM ET
SPARTANBURG, S.C. -- A daily review of the hot topics coming out of the
Carolina Panthers
training camp:
Cam Newton looked sharper from the get-go during Saturday night's "Back to Football" practice at Gibbs Stadium. He didn't bumble his first handoff =, as he did the night before, and he completed a 70-yard touchdown to Kealoha Pilares on his first pass. Yeah, there were moments when the timing was off and he had a few drops, but for the most part he appeared much more under control -- although he had a pass intercepted and returned for a touchdown late. It helped Newton and backup Derek Anderson that the defensive backs had what coach Ron Rivera called "dirty eyes,'' looking inside and getting beaten deep a few times.
Carolina's running back position, which was deep during offseason workouts, keeps getting thinner. First, Jonathan Stewart pulled a hamstring a week-and-a-half ago and will miss 2-4 weeks. On the first play of Friday night's workout, rookie Tyler Gaffney suffered a knee injury that ended his season. That leaves DeAngelo Williams, Mike Tolbert and Kenjon Barner as the healthy backs as the team heads into Sunday's first practice (3:10 p.m.) in pads. The Panthers will replace Gaffney with another back just for depth. They need it. Williams is 31 and the team doesn't need to overload him with carries in camp. It could be good for Barner, who didn't get a lot of looks last season.
Marvin McNutt was one of the young wide receivers the Panthers said they wanted to get a good look at after cutting Steve Smith. From what McNutt has shown in training camp and through offseason conditioning, he has to be worried about a roster spot, particularly with the staff raving about Brenton Bersin and Pilares making an impression. McNutt dropped a couple of passes before making a nice grab late in the two-hour workout.
Tight end Ed Dickson says he didn't intentionally flatten safety Thomas DeCoud in Friday night's practice. Dickson claimed he was just protecting himself when he sent DeCoud to the ground after a catch. But one thing is clear: Dickson will be a factor in the passing game. He'll be sure to take some catches from Greg Olsen, the only tight end to catch a pass last season and Carolina's leading receiver in 2013.
Running back Barner, wide receiver Corey Brown and cornerback Antoine Cason were fielding punts. Barner and Cason are locks to make the team, Cason as a starter and Barner a backup. For Brown, this could be a passage to the 53-man roster, as he's not likely to be among the top five wide receivers.
July, 26, 2014
Jul 26
9:37
PM ET
[+] Enlarge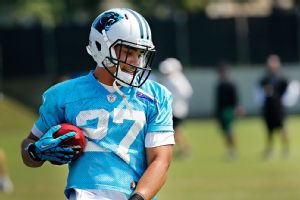 AP Photo/Nell RedmondPanthers rookie RB Tyler Gaffney will miss the season with a torn lateral meniscus in his left knee.
SPARTANBURG, S.C. -- Panthers rookie running back Tyler Gaffney will undergo surgery to repair the torn lateral meniscus in his left knee and will miss the rest of the season.
Gaffney suffered the injury on his first play of Friday night's practice at Bank of America Stadium in Charlotte, North Carolina. He showed up at Wofford's Gibb's Stadium on Saturday night on crutches and in street clothes.
His injury, along with Jonathan Stewart being out indefinitely with a hamstring injury suffered a week and a half ago while conditioning in California, leaves the Panthers thin at running back.
Coach Ron Rivera said the team will sign another back to fill Gaffney's roster spot.
"It's disappointing because the young man is a solid football player," Rivera said. "He has a history of being a workhorse. Unfortunately, in practice he got his knee in a bad position and something popped."
Gaffney had 330 carries for 1,709 yards last season at Stanford. In 486 carries in college he never had an injury.
July, 26, 2014
Jul 26
3:50
PM ET
SPARTANBURG, S.C. --
Jerricho Cotchery
grew up an Alabama fan, which means he grew up not liking Auburn.
But the
Carolina Panthers
wide receiver puts those feelings aside when it comes to his new quarterback,
Cam Newton
, who led Auburn to the 2010 national championship.
"Great leader. Great leader,'' Cotchery said on Saturday. "Just watching him and the way he led that team to a championship that year, I just knew there was something special about him. When I met him I got to see that.''
This time last year, Newton was being questioned for his lack of leadership after going 6-10 and 7-9. That changed after a 12-4 season and second trip to the Pro Bowl.
Now the question is how far will the Panthers fall after losing their top four receivers from last season.
Cotchery, 31, was signed as a free agent out of Pittsburgh to help make sure there isn't a fall. He won't replace
Steve Smith
, the team's all-time leading receiver who was cut, in terms of intensity and making dynamic plays.
But he will replace Smith in terms of veteran leadership.
"I feel comfortable being the old guy,'' said Cotchery, entering his 11th training camp. "It's crazy how it's worked out for me. Even in my third year I was considered the old guy. So I feel comfortable with it and helping the guys in any way I can to get better.''
Still, the national perception is the Panthers will suffer a big drop in terms of wins. The big reason is the loss of Smith,
Brandon LaFell
,
Ted Ginn
Jr. and
Domenik Hixon
.
That doesn't sit well with some here. Tight end
Greg Olsen
tweeted earlier in the week that he was "tired'' of hearing Newton has nobody to throw to.
Cotchery doesn't take the negativity so personal, part of what makes him such a good leader.
"To be understanding, you had four guys leave,'' Cotchery said. "You had the guy that is probably the best player to play in this organization leave. So those questions are going to naturally come up, so I understand it from that viewpoint.
"You don't know much about the guys that are coming in, so I'm understanding from that perspective. I don't take any of those things to heart. I just know we have a good, hard-working group. We'll let everything play out.''
So far Cotchery likes what he's seen. He says the new receivers are extremely close for a group that didn't really know each other until a few months ago. He says that will help not only the passing game, but the entire offense.
But it all starts with Newton -- even if he did go to Auburn.
"There's a confidence he brings to the huddle, that he brings to the team that you know you're going to be OK,'' said Cotchery, a native of Birmingham, Ala. "That's what I've seen in the great ones.''