July, 24, 2014
Jul 24
5:30
PM ET
CHARLOTTE, N.C. -- The
Carolina Panthers
are taking the cautious approach regarding Pro Bowl defensive end
Greg Hardy
, who was found guilty July 15 on domestic violence charges.
Instead of disciplining Hardy after a Mecklenburg County judge ruled him guilty of assaulting and communicating threats against his ex-girlfriend, the team jumped in line with the NFL and will await until the appeal is heard before deciding on potential discipline.
The hearing won't be heard until after the season.
In other words, the Panthers will get 16 games of Hardy playing for his next contract with the chance of never having to discipline him if he signs with another team in 2015.
That doesn't mean the Panthers aren't taking Hardy's situation seriously. General manager Dave Gettleman began a Thursday news conference as players reported to training camp by saying Hardy's situation was "very concerning and disappointing."
[+] Enlarge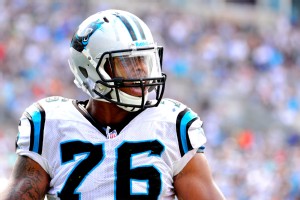 Bob Donnan/USA TODAY SportsThe Carolina Panthers have no immediate plans to punish Greg Hardy after his offseason domestic violence arrest.
He referred to the accusations made by Nicole Holder in reference to the May incident that led to Hardy's arrest as "very serious accusations."
"At the same time we respect the fact that Greg has appealed the decision and is entitled to a jury trial," Gettleman said. "We have been in touch with the league and we're in the position where they have the personal conduct policy, which we are a part of. At the same time, we have to respect the legal process. Really, that's basically where we're at."
And according to Gettleman, referring to reports that
Baltimore Ravens
running back
Ray Rice
will be given a
two-game suspension by the NFL
for a similar offense, the league doesn't plan to do anything until Hardy's jury trial has been completed.
"What I can say is, and you can see it with the Ray Rice decision, it appears the league is going to let the entire process play out," Gettleman said.
An NFL spokesman told ESPN.com on Thursday that the "matter remains under review" and that "any discipline will result from a violation of the league's Personal Conduct Policy."
But if the Panthers wanted to take a hard line, they could have. They could have suspended or fined Hardy for actions detrimental to the team, just as the Miami Dophins suspended
Richie Incognito
for accusations made during the investigation into his harassment of teammate
Jonathan Martin
.
Hardy and his representatives likely would have filed a grievance, but the message would have been sent.
The league also could have taken action against Hardy. Under the NFL's code of conduct policy, a player can be suspended if he isn't charged or convicted of a crime.
Still, a grievance likely would have been filed.
In Rice's case, the Pro Bowl running back pleaded guilty to a third-degree charge of aggravated assault involving an altercation that reportedly left his then-fiancée unconscious. He avoided a trial by being accepted into a pretrial intervention program.
The league, according to ESPN's Adam Schefter on Thursday, opted to suspended Rice for the first two games of the season and fine him $58,000, as well as ask him to take counseling.
There is no finality to Hardy's situation. Hardy was sentenced to 18 months probation with a 60-day jail sentence suspended. The probation sentence was placed on hold until after the jury trial.
But the accusations made by Holder that Hardy threatened to kill her and threw her on a futon covered in guns could be viewed as detrimental to the team. It's certainly not the image the Panthers want associated with the player that led them in sacks (15.5) last season and earned the franchise tag that guarantees him $13.1 million in 2014.
As Gettleman said, "we constantly talk to our players about putting themselves in a position to succeed, both on the field and even more importantly in life."
Granted, this is a tough spot for Gettleman and the Panthers. Because of the appeal, it is an issue that will hang over the team all season, even though players repeatedly said it won't be a distraction.
"It's something the team and [Hardy's] group will handle," said tight end
Greg Olsen
, echoing the thoughts of other players brought in for interviews. "That's really the end of it as far as the players are concerned. I've seen him already today. He seems excited to be here. I'm sure he's ready to kind of move into the season, and as teammates, that's the nature of the game.
"It's completely separate from what we're doing here, and that's the approach we take."
Gettleman did allow that Hardy's off-the-field troubles didn't have an effect on his contract, as the team didn't sign him to a long-term deal by the July 15 deadline for franchised players. In other words, the Panthers were happy to have Hardy for $13.1 million and playing for another deal.
Gettleman wouldn't speculate on whether Hardy's situation will have an impact on signing the former Ole Miss star to a long-term deal after the season. At this point, it's hard to imagine Hardy being at Carolina after this season.
Gettleman, not making light of the situation, actually laughed when asked to speculate that far ahead.
His repeated comment was: "We have to let the process play out."
"Obviously, everybody has to deal with this," Gettleman said. "It's not an easy situation. But it's in the courts and we have to respect that process. Just have to."
July, 24, 2014
Jul 24
2:24
PM ET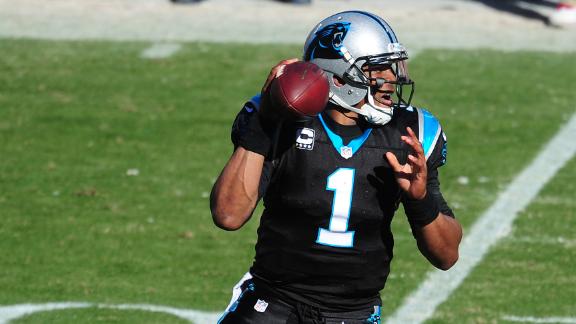 CHARLOTTE, N.C. -- The surgically repaired left ankle that kept Carolina Panthers quarterback Cam Newton to limited participation during offseason workouts will not hold him back in training camp.
Coach Ron Rivera said on Thursday that Newton will have no restrictions when the Panthers practice for the first time on Friday night at Bank of America Stadium.
"Cam is going to participate full-go," Rivera said as players reported to the team facility in Charlotte. "Obviously, we'll monitor to make sure. He'll go through his treatments just like he's supposed to in terms of maintenance, but he's starting Day 1 on the field."
The injury report wasn't all good for Carolina, which will move training camp headquarters to Wofford College in Spartanburg, South Carolina, on Saturday. Guard Edmund Kugbila, a fourth-round pick in 2013, will undergo back surgery on Aug. 8 and miss the season.
Kugbila was expected to compete for the starting right guard spot. He missed last season after being placed on injured reserve in training camp with a hamstring injury.
The back injury is believed to be related to workouts during his rehabilitation.
"I feel awful for the kid," general manager Dave Gettleman said. "This kid has done absolutely everything we've asked him to do and he can't catch a break."
Running back Jonathan Stewart, who began last season on the physically unable to perform list after undergoing ankle surgery, suffered a hamstring injury a week and a half ago. Gettleman said Stewart will remain on the active roster so he can participate in team meetings and walk-throughs.
July, 24, 2014
Jul 24
9:30
AM ET
The
Carolina Panthers
signed two additions to bolster depth on the offensive line as players reported for training camp on Thursday.
Added were center/guard
Fernando Velasco
and center Kevin Matthews. Velasco started 11 games at center for Pittsburgh last season before suffering an Achilles injury.
Matthews, the son of Hall of Fame lineman Bruce Matthews, spent last season on the practice squads of Tennessee and Washington.
To make room on the roster the Panthers released undrafted free agent center
Jared Wheeler
and linebacker
Billy Boyko
, who was cut after failing to disclose a physical condition.
The offensive line arguably is the greatest question mark for Carolina as it enters camp with center
Ryan Kalil
the only player who started at the end of last season returning to the same position.
July, 24, 2014
Jul 24
9:00
AM ET
The
Carolina Panthers
open training camp today with a slight twist.
Instead of reporting to Wofford College in Spartanburg, South Carolina, as they have since the team was formed in 1995, the Panthers will report to Bank of America Stadium in Charlotte, North Carolina.
The schedule was adjusted because Liverpool FC will play AC Milan at Carolina's newly-renovated stadium on August 2 as part of the Guinness International Champions Cup.
So instead of holding Fan Fest at the stadium on the second Saturday of camp as has been tradition, the Panthers moved that event to Friday night.
Players will hold a two-hour practice from 6:30 p.m. to 8:30 p.m., followed by a question-and-answer session, a performance by the group Voltage Brothers, and fireworks.
The teams will make the 90-minute trek to Spartanburg on Saturday morning and hold their first practice at Wofford at 6:30 p.m. as part of a back-to-football celebration.
Aside from individual work with receivers over the past month, Friday will be the first time quarterback
Cam Newton
has been a full participant in practice since undergoing offseason surgery on his left ankle.
Here's a complete look at the training camp schedule:
July 25 -- 6:30-8:30 p.m. FanFest at Bank of America Stadium in Charlotte.
July 26 -- 4:30 o.m. Back to Football Party at Wofford College in Spartanburg. First camp practice 6:30-8:30 p.m. Wofford's Gibbs Stadium.
July 27 -- 3:10-5:30 p.m.
July 28 -- 9:25 a.m.-11:35 a.m.
July 29 -- 9:25 a.m.-11:35 a.m.
July 30 -- No practice.
July 31 -- 3:10 p.m.-5:30 p.m.
Aug. 1 -- 9:25 a.m.-11:35 a.m.
Aug. 2 -- 9:25 a.m.-11:35 a.m.
Aug. 3 -- 9:25 a.m.-11:35 a.m.
Aug. 4 -- No practice.
Aug. 5 -- 3:10 p.m.-5:20 p.m.
Aug. 6 -- 9:25 a.m.-11:35 a.m.
Aug. 7 -- 9:25 a.m.-11:35 a.m.
Aug. 8 -- 7:30 p.m. preseason opener against Buffalo at Bank of America Stadium in Charlotte.
Aug. 9 -- No practice.
Aug. 10 -- 6:10 p.m.-8:30 p.m.
Aug. 11 -- 3:15 p.m.-5:20 p.m.
Aug. 12 -- 3:10 p.m.-5:20 p.m.
July, 24, 2014
Jul 24
8:00
AM ET
A look at the tight end position in my series on where the money is for the
Carolina Panthers
:
Total position spending:
$10,136,000
Spending vs. league average:
6
Analysis:
Some might find it surprising that Carolina ranks sixth in the NFL in tight end spending. But it's really not out of line when you consider tight end is a big part of what the Panthers want to do offensively both running and passing. They invested wisely in
Greg Olsen
. He led the team in receptions last season and is emerging as one of the top tight ends in the NFL, worth every penny of his $7.8 million cap figure. They added Baltimore free agent
Ed Dickson
in free agency to give quarterback
Cam Newton
another receiving target in a two tight end set. If you remember, Newton threw for more than 4,000 yards as a rookie when he had Olsen and Jeremy Shockey in a two tight-end set. The Panthers also want to run more power formations, so they signed
Mike McNeill
from St. Louis for a reasonable $710,000. And one of the biggest bargains on the team may come in
Brandon Williams
, a former basketball player. He really started coming into his own as a potential weapon in OTAs and has a cap figure of only $495,000. Hard to really argue with anything spent here.
July, 23, 2014
Jul 23
6:04
PM ET
BOURBONNAIS, Ill. --
Jordan Palmer
, 30, showed the
Chicago Bears
' coaching staff enough in the offseason program to enter training camp as the No. 2 quarterback, but Palmer's spot on the roster is far from secure.
Palmer

Clausen
The most immediate threat to Palmer appears to be former Notre Dame standout and 2010
Carolina Panthers
second-round draft choice
Jimmy Clausen
. Clausen was a late addition to the offseason roster, but he clearly impressed the coaching staff at the tail end of organized team activities and during the veteran minicamp after signing a one-year deal with the Bears on June 5. The Bears also spent a sixth-round draft choice on quarterback
David Fales
, who passed for 8,382 yards and 66 touchdowns in two seasons at San Jose State.
"Right now, Jordan Palmer has the first shot at being No. 2, [but] it's a competition," Bears head coach Marc Trestman said on Wednesday. "There are three guys who are up for the No. 2, but it's going to start with Jordan. We feel very good about Jimmy and we felt very good about David's performances as well. So we're going to work it like that. We're going to give Jordan the first shot. He's been here the longest. Jimmy Clausen has the most experience so we're going to work him in there, and we're going to provide David with opportunities throughout camp to play and perform not just in practice, but in games.
"It'll be an on-going process [that takes place] day-to-day. We don't have to make a decision for quite some time and we'll get a chance to see a lot of plays of practice and certainly in the preseason games as well."
Bears general manager Phil Emery described Clausen as having "a chip on his shoulder" and "eager to prove people wrong" after the quarterback started just 10 games for Carolina from 2010-13.
Palmer has appeared in only four regular-season games (zero starts) since 2008 with the
Cincinnati Bengals
, completing 10-of-15 passes for 59 yards and two interceptions.
Finding a serviceable No. 2 quarterback is essential for the Bears after injuries have forced incumbent starter
Jay Cutler
to miss 12 games over the past three seasons.
Josh McCown
thrived in the backup role in 2013, but the veteran signed a lucrative contract in the offseason to be the new starting quarterback of the
Tampa Bay Buccaneers
.
"It's going to be interesting," Cutler said of the battle for No. 2. "There's not going to be a lot of reps for them. I think a lot of it is going to play out in the preseason games. Because I'm going to get a lot of the reps in camp. Jordan, he's been around a long time, his older brother, he's been able to watch him a lot. Jimmy, he's played in big games at Notre Dame and kind of got the pedigree. He's a high-round pick; he was in a tough position in Carolina. They're both very hungry, they've both worked extremely hard this offseason putting in the time mentally, which is probably more important for them right now, just trying to figure out the playbook so they can go to the line of scrimmage and be fluent in what they want to do. We'll see how it goes."
July, 23, 2014
Jul 23
10:00
AM ET
By
ESPN.com staff
| ESPN.com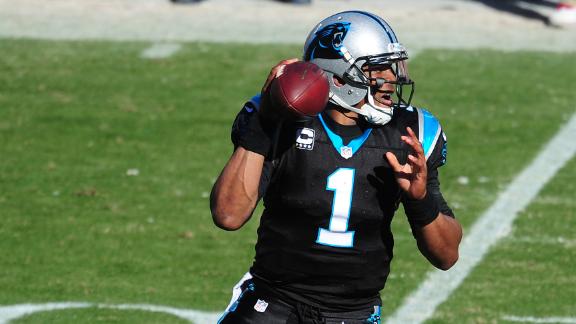 ESPN.com Panthers reporter David Newton says this week's kickoff to training camp will be an opportunity to see if quarterback
Cam Newton
is fully recovered from ankle surgery.
July, 23, 2014
Jul 23
8:00
AM ET
A look at the wide receiver position in my series on where the money is for the
Carolina Panthers
:
Total position spending:
$9,106,211
League rank in spending:
31
Breakdown:
Analysis:
Here's my favorite statistic of this series.
Steve Smith
was set to count $7 million under the 2014 cap had he not been released by Carolina. The 12 wide receivers on the roster count a combined $9.1 million against the cap. And I believe the Panthers are better for it. General manager Dave Gettleman was going to have to deal with Smith's salary at some point over the next few years. Smith says now he would have retired after the 2014 season, but he apparently didn't relay that message to the Panthers. At 35, he is on the downside of his career. You can say his experience can't be replaced, but it basically was with 31-year-old free agents Jerricho Cotchery and Jason Avant, who count a combined $3 million under this year's cap. You can say his ability to make athletic catches can't be replaced, but it may have been in first-round draft pick Kelvin Benjamin. At 6-foot-5 and 240 pounds, Benjamin has made catches in practice that the 5-9 Smith couldn't get to without a ladder. Benjamin has a $1.393 million cap number, and a long career ahead of him. Carolina's biggest loss at receiver may have been
Brandon LaFell
, who signed with New England. But for an average of $3 million over the next three years, the Panthers got a better bargain in Cotchery and/or Avant based on what they have done over their careers. If Tiquan Underwood, Marvin McNutt, Tavarres King or another young receiver develops as the Panthers believe one will with Smith gone, that's another bargain. In case you're wondering, the only team spending less on wide receivers this year is Dallas at $7,781,694. And $3.1 million of that is going to
Dez Bryant
, who happens to be worth every penny of that and more.
July, 22, 2014
Jul 22
12:44
PM ET
Carolina Panthers
coach Ron Rivera has stepped into the age of Twitter.
Rivera
opened a Twitter account
(RiverboatRonHC) over the weekend, the Panthers confirmed. As of early Tuesday afternoon, the coach had more than 7,000 followers.
Rivera kicked off his time on Twitter by sending out links to ESPN's piece on quarterback
Cam Newton
spending the day with George Gring as part of the Make-A-Wish program.
Other NFL coaches such as Bruce Arians, Mike Tomlin, Pete Carroll and Sean Payton already have been on Twitter. Time likely will prevent Rivera from being a big Twitter user. But I suspect he'll have a fairly regular presence. He's not the type of guy to start something and not finish it.
July, 22, 2014
Jul 22
8:00
AM ET
A look at the offensive line position in my series on where the money is for the
Carolina Panthers
:
Total position spending:
$17,624,047
League rank in spending:
28
Analysis:
Yes, four teams -- Arizona, Detroit, Kansas City and Pittsburgh -- are spending less under the 2014 cap on the offensive line than Carolina, and yet public perception says Carolina is in the most dire need for help. Indianapolis is spending less than a $100,000 more and there's not a woe is me cry. But bashing the offensive line is nothing new at Carolina. It was considered the weak link a year ago and it turned out pretty good considering both starting guards were lost to injuries. Talent wise, this unit has a chance to be better. You can't discount the loss of left tackle
Jordan Gross
to retirement. But in
Nate Chandler
or
Byron Bell
they have two players who at least can match Gross' athletic ability, especially Chandler. Even better, they count less than $3 million between them on the 2014 salary cap. Whoever wins the position, the Panthers have a bargain if they perform close to Gross' standard. The loser of that battle likely will start on the right side, so there's potentially another bargain. The guard position is full of bargains, from
Amini Silatolu
returning from a season-ending knee injury to rookie
Trai Turner
that the coaching staff absolutely loves. And then there's Kalil. At $7.2 million he keeps this unit from being the cheapest in the league. With four Pro Bowl selections, he gives this unit a solid base from which to build. As I mentioned when this series began, the Panthers are about $6 million under the cap. Had they wanted to get in a bidding war with Tampa Bay for Cincinnati left tackle
Anthony Collins
, who got a five-year, $30 million deal, they potentially could have. They didn't because they didn't feel Collins at $6 million a year was significantly better than Bell or Chandler. If they're right, they fell into another bargain. If they're not, they'll fall in the standings.
July, 21, 2014
Jul 21
8:00
AM ET
A look at the defensive tackle position in my series on where the money is for the
Carolina Panthers
:
Total position spending:
$8,282,148
Spending vs. league average:
16
Breakdown:
Analysis:
Here's why general manager Dave Gettleman selected defensive tackles
Star Lotulelei
and
Kawann Short
in the first two rounds of the 2013 NFL draft. He got an immediate starter out of Lotulelei and a potential 2014 starter in Short -- for bargain prices. Together they count just over $3 million under the salary cap. To put that in perspective, Tampa Bay's
Gerald McCoy
, arguably the best defensive tackle in the league, counts $15.6 million this season. The Panthers are spending $8.2 million on the entire tackle unit that was considered among the league's upper tier a year ago. In addition to the draft, getting veterans
Dwan Edwards
and
Colin Cole
at bargain rates was key. This has allowed the team to overspend at end while it gets the salary cap in order. By the time that's done over the next two years, Carolina will be in position to give Lotulelei and Short the big raises they will command.
July, 18, 2014
Jul 18
7:04
PM ET
By
Greg Sukiennik
| ESPN.com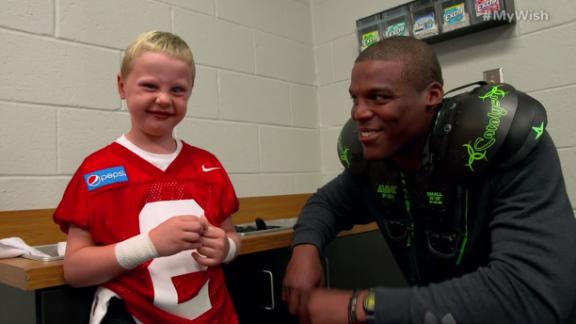 Looking back, it's prophetic that Clayton and Katherine Gring of Houston nicknamed their oldest son "Mighty George" when he was born.
Maybe it's his quick sense of humor, or the sparkle in his blue eyes, or his positive attitude. In any case, there's something about him that naturally draws people to him. "He's a little bit magnetic that way," Clayton Gring said of his 6-year-old son.
But it was George's turn to be captivated when he heard NFL commissioner Roger Goodell call his name as the draft pick of his favorite team, the Carolina Panthers, and when Panthers quarterback Cam Newton called him on the phone and asked him to come to Charlotte, North Carolina, for a day of minicamp.
After enduring five-plus months of treatment for a rare, aggressive form of lymphoma, George wished for a day with the Panthers and Newton, his favorite player. And the look on his face when he realized his wish was coming true is something his parents will never forget.
"He was totally shocked. He could not believe it," Katherine Gring said, still audibly energized by the memory. "He got this huge grin on his face. And watching him -- that look of pure astonishment -- I got very emotional about that. He was just floored. ... Remembering that makes me so happy and smile so big."
George admitted he was a little confused by being selected "because it's a draft and I'm not supposed to be in the draft. I'm only 6," he said.
That happy moment and the trip that followed was a far cry from the sadness and anxiety his parents felt late last fall, when they learned their son faced a serious disease.