March, 11, 2014
Mar 11
10:42
PM ET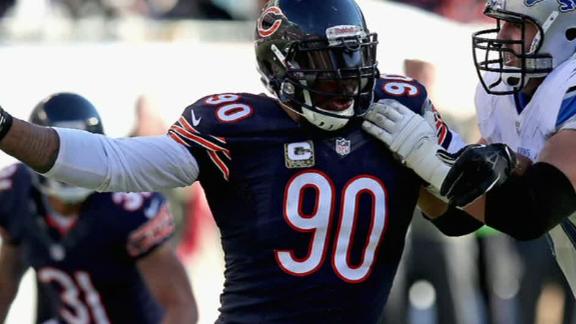 CHICAGO -- There were no tears shed for Julius Peppers on Tuesday. No beers poured out at local bars. No protests at Halas Hall.
The end of Peppers' career with the Chicago Bears was inevitable and minimalistic. A tweet, a statement, an accounting of money saved.
Hired guns don't get romance and nostalgia. They get a paycheck and a thank you.
So, thanks Julius.
Peppers was a Chicago Bear for four wild, transformative years. He was a legend in his locker room, a beast on the field when potential and opportunity aligned, but in his tenure in Chicago he stood out the most in regard to his paycheck. He was a bounty hunter who never got his bounty.
Four years ago, Peppers was signed in one of those glorious free-agent publicity stunts. Lovie Smith showed up at the Charlotte airport at midnight to whisk him away from the Carolina Panthers and anoint him the next great defensive end and the savior of a wilting defense.
It was a fun time and, damn, if it didn't almost work.
Jay Cutler had just completed a rocky first season and Smith had to coordinate his own defense, without Brian Urlacher, and Peppers was exactly the kind of big-name, big-game savior the Bears needed to roust themselves from a deep malaise.
So much has happened since then, it seems like 10 years ago. But that's how time moves in this hamster wheel of a league.
March, 11, 2014
Mar 11
8:06
PM ET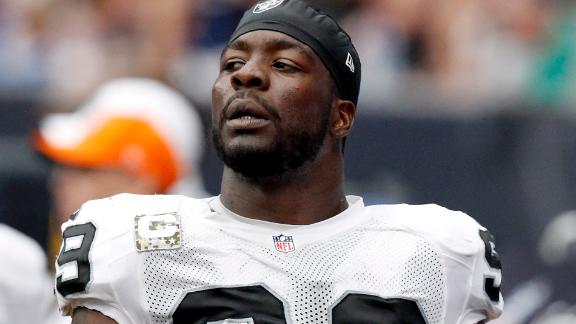 Sign a guy coming off a career-high six sacks in 2013 in
Lamarr Houston
, only to cut a player in
Julius Peppers
coming off a down year in which he contributed 7.5 sacks after back-to-back seasons of 11-plus sacks.
On the surface, it doesn't make a ton of sense.
But this move wasn't about production as much as it was about the money. Carrying Peppers into the 2014 season would have cost the
Chicago Bears
a base salary of $13.9 million, and a salary-cap hit of $18.183 million. The decision to terminate Peppers' contract clears $9.8 million in cap space for 2014.
What that means is the Bears plan to spend some more in a free-agent market that could pay off big in terms of bargains for teams that exercise some patience.
Peppers
As it stands now, the Bears would like to bring back defensive tackle
Henry Melton
, cornerback
Charles Tillman
and backup quarterback
Josh McCown
. The Bears spent $5.775 million during free agency for 2013 last offseason in bringing in
Jermon Bushrod
,
Matt Slauson
and
Martellus Bennett
. So the cap space cleared by parting ways with Peppers should be more than sufficient to bring back Tillman, McCown and Melton if the club so chooses.
If that trio opts to play elsewhere in 2014, the Bears now have enough cap space to fill those holes with legitimate players capable of contributing just as quickly as the club's free-agent haul from a year ago did.
Chicago parting ways with Peppers certainly didn't come as a surprise given his age (34), salary and the perception that his production is declining (that typically happens when you're surrounded by below-average players because of injuries to starters), and he's falling off athletically. Throughout the offseason, Bears coach Marc Trestman and general manager Phil Emery didn't even try to hint at possibly bringing back Peppers.
Asked at the NFL combine in February whether Peppers had played his last game for the Bears, Trestman said, "Julius Peppers is under contract. He's been very important to our football team, and I don't think anything more needs to be said in that regard at this point in time."
Translation: You're outta here.
That same day at the combine, knowing the question ultimately referred to Peppers, Emery used a Trestman remark to explain the process of trying to free a player from his contractual obligations with enough time for him to find work with another team.
"To quote Marc," Emery said, "decisions are made when they have to be made."
In four years playing for the Bears, Peppers started in every game (64), racked up 37.5 sacks and made the Pro Bowl in every season with the team except for 2013. In all, Peppers has posted 119 sacks, which ranks as the 17th-most in NFL history since 1982, when the league first started recording sacks as an official statistic.
Since coming into the league in 2002, Peppers ranks only second to
Jared Allen
(128.5 sacks), who coincidentally is currently without a team, too.
So Peppers shouldn't have trouble finding work in 2014.
But the Bears better find a way to replace his production on defense, or they could be in for a season similar to what they experienced in 2013. Based on what Chicago has acquired through free agency thus far, there is still plenty of work to do on that front.
March, 11, 2014
Mar 11
7:42
PM ET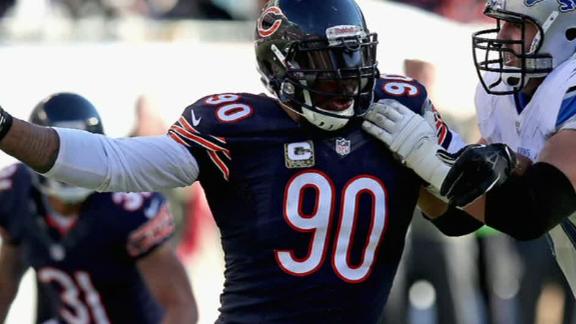 Quoting head coach Marc Trestman, Chicago Bears general manager Phil Emery once said, "Decisions are made when they have to be made," and for defensive end Julius Peppers that time came Tuesday when the club released the eight-time Pro Bowler.
With Peppers set to receive a base salary of $13.9 million in 2014 and count $18.183 million against the cap, the move was inevitable, especially after the Bears signed former Oakland Raiders defensive end Lamarr Houston to a five-year deal worth $35 million that included $15 million guaranteed.
"We appreciate Julius' contributions to the Bears over the last four years," Emery said in a statement. "He was a leader on our defense, starting every game since coming to Chicago. His accomplishments over his NFL career place him among the best defensive ends over the past 20 years. The Chicagoland community has benefited greatly from his quiet generosity. We wish him the best."
Peppers spent the past four seasons with the Bears after being drafted by the Carolina Panthers in the first round of the 2002 draft.
Peppers signed a blockbuster six-year deal worth $84 million in 2010, and restructured his contract on two occasions to give the club more salary cap room. But in doing so, each time, Peppers' cap number grew in the later years of the deal. When Peppers last restructured his contract with the Bears in 2013, his cap numbers grew to $18.183 million in 2014 and $20.683 million in 2015.
Those high figures were unsustainable for the Bears, who in Jan. signed quarterback Jay Cutler
March, 11, 2014
Mar 11
7:04
PM ET
The
Chicago Bears
agreed to terms Tuesday with middle linebacker
D.J. Williams
on a one year deal.
Williams
Terms of the contract were not disclosed, but it's likely it's similar to the deal Williams signed last offseason.
Williams signed a one-year deal last March that paid a base salary of $900,000 with a maximum value of $1.75 million. After suffering a calf injury at training camp Williams missed the entire preseason but played six games before tearing a pectoral muscle Oct. 10 against the
New York Giants
.
Williams contributed 27 tackles, including two for lost yardage, in addition to a quarterback pressure, two sacks and one forced fumble.
The club brought in Williams as the replacement at middle linebacker for future Hall of Famer
Brian Urlacher
, and he projected to be a potential steal in free agency because of his speed and athleticism.
Prior to joining the Bears, Williams had racked up 90 tackles or more in five of the previous six seasons, and despite playing only briefly in 2013 he displayed enough upside in terms of ability and leadership that general manager Phil Emery and head coach Marc Trestman considered the linebacker a priority in free agency.
The sides tried to work out a deal prior to the start of free agency, and they negotiated throughout the weekend and finished up Monday close to coming to an agreement.
Although Emery mentioned he'd like to infuse youth on the defense through free agency and the draft, Williams remains an ideal fit despite the fact he'll be 32 at the start of the 2014 season.
It bodes well for Williams that Emery has said at some point the club wants to utilize rising second year man Jonathan Bostic's run-and-hit skillset by moving him to an outside linebacker spot. That would leave open a spot in the middle for Williams.
Emery has said Bostic and former defensive end
Shea McClellin
will compete for the starting job at Sam linebacker, but Trestman also said that both would see time in the middle.
Williams spent a good portion of his time after the regular season rehabilitating at Halas Hall.
Williams believes he's still capable of producing as a starter.
"I know I still have a good amount of years left in me," he said after the season. "I still have talent."
March, 11, 2014
Mar 11
5:55
PM ET
CHICAGO -- The
Chicago Bears
agreed to terms on a two-year contract with safety
Ryan Mundy
, the club announced.
Mundy appeared in 16 games (nine starts) for the
New York Giants
last season, where he recorded a career-high 70 tackles, one sack and one interception. The 6-foot-1, 209-pound safety played four years (2009-12) for the
Pittsburgh Steelers
, starting five combined games during that stretch.
Mundy was selected by the Steelers in the sixth round of the 2008 NFL draft out of West Virginia.
With
Major Wright
expect to depart via free agency, Mundy should fill one of the Bears' safety spots in 2014.
Although
Chris Conte
struggled last season, the Bears will allow the former third-round draft choice to compete for a starting job in the preseason.
Safeties
Craig Steltz
and
Anthony Walters
(restricted) are also free agents.
March, 11, 2014
Mar 11
5:53
PM ET
The
Chicago Bears
have agreed to terms on a one-year deal with linebacker
Jordan Senn
, the team announced on Tuesday.
Senn spent the past six years with the
Indianapolis Colts
(2008-09) and
Carolina Panthers
(2009-13), appearing in 83 games with seven starts. For his career, Senn has racked up 88 tackles, one interception, two pass break-ups and four forced fumbles.
Senn, a former special teams' captain for the Panthers, has made 49 lifetime tackles on special teams. He played in 14 games for Carolina last season and registered six special teams' stops.
Senn could be earmarked to replace veteran special teams ace
Blake Costanzo
, who is a free agent. The Bears have made no attempt to re-sign Costanzo, according to a source with direct knowledge of the situation. Costanzo led the Bears with 17 special teams tackles in 2013.
March, 11, 2014
Mar 11
5:19
PM ET
CHICAGO -- The idea of three-time Pro Bowl returner
Devin Hester
reuniting with ex-
Chicago Bears
' special teams coordinator Dave Toub in Kansas City remains "a possibility," according to a source with direct knowledge of the situation, but the Chiefs are not believed to have the financial flexibility to overspend to acquire Hester.
Hester
Hester earned a total of $2,107,523 in the final year of his contract with the Bears, but he is not expected to command that kind of money on the open market after the Bears announced Hester would not be re-signed.
One league source anticipates Hester will have to settle for around $1 million, although it's unknown if any concrete figures were exchanged between Hester and interested teams during the NFL's legal tampering period leading up the start of free agency.
The
Tampa Bay Buccaneers
, with former Bears and current Bucs head coach Lovie Smith calling the shots, are also believed to be a potential match for Hester.
Hester set the Bears' single-game record last year with 249 kickoff return yards versus the
Minnesota Vikings
in Week 2. He finished the year with 51 kickoff returns for 1,436 yards (27.6 yard average) and 18 punt returns for 256 yards and one touchdown.
Hester holds the all-time NFL record for combined career kick return touchdowns with 18.
March, 11, 2014
Mar 11
4:52
PM ET
Houston
The
Chicago Bears
acquired versatility along the front four Tuesday when they agreed to terms with former
Oakland Raiders
defensive end
Lamarr Houston
on a
five-year deal worth $35 million
, according to ESPN NFL Insider Adam Schefter, which includes $15 million guaranteed, according to NFL sources.
Because of Houston's size (6-feet-3, 302 pounds), he can line up as an interior pass-rusher but his natural position is out on the edge at end where he should be stout against the run. Houston's talents would be a definite plus for a Bears' defense that allowed the most total yards in franchise history, in addition to surrendering 10 100-yard rushing performances, as well as a 211-yard outing by Minnesota's
Adrian Peterson
.
After failing to entice Seattle defensive end
Michael Bennett
with a strong offer on Monday, the Bears focused in on Houston, who is coming off a career-high six sacks in 2013, to go with 56 tackles and two forced fumbles. Houston won't necessarily wow observers with big sack numbers. He's produced seasons of 5, 1, 4 and 6 sacks over his first four seasons in the NFL, while also producing 41 quarterback hurries.
Still, Houston's lack of gaudy statistics mask the flexibility he gives the Bears not only schematically, but also in what the club does moving forward in free agency and the NFL draft.
If Chicago needs Houston to line up as a three-technique in a pressure package on third down, he's capable of doing that and being disruptive. On regular downs, Houston is capable of playing out on the end and snuffing out the run with consistency.
The question now is what the Houston signing means for the future of defensive end
Julius Peppers
. The club is trying to shop Peppers in a trade that won't ever materialize because of the fact he'll count $18.183 million against the cap in 2014. So eventually, the Bears will be forced to cut Peppers if they decide (which is likely what will happen) to move forward without him.
But as it stands now, Houston appears to be the only proven starter at defensive end if Peppers isn't around in 2014. Remember,
Corey Wootton
, who is normally the starter opposite Peppers is a free agent, who isn't expected to return next season.
Cutting Peppers with the post-June 1 designation would result in dead money of $4.183 million in 2014 and $4.183 million in 2015, but considering his cap figures over the next two years, the dead money still represents a respective savings of $14 million and $16.5 million over two years.
So if moving on without Peppers is truly the plan, the Bears still need to do more work along that front four. Remember, the Bears still haven't re-signed defensive tackle
Henry Melton
, and it's unknown whether they'll be able to because he's generating interest among multiple teams.
Bears general manager Phil Emery said that some of the defense's problems up front last season could be attributed to the club being one defensive lineman short due to injuries.
So while Houston represents a promising start to free agency for Chicago, there's still plenty left to do to fill in holes along that defensive front.
March, 11, 2014
Mar 11
4:36
PM ET
CHICAGO -- Free agent quarterback
Josh McCown
will visit the
Tampa Bay Buccaneers
,
Houston Texans
and
New York Jets
, in that order, according to a source familiar with the situation.
McCown
ESPNChicago.com reported on Monday the Bears, Bucs, Texans and Jets were the four teams to show the most interest in McCown, who is fresh off a career year in Chicago.
"To leave Chicago, it will be a situation where I'm looking to compete to start or to start and be able to kind of grow more as a player, McCown said Monday on ESPN Radio's "Mike and Mike". "The only way as a player that you can do that is on the field. That will definitely be something that we are looking at. So we'll see."
All three potential destinations should provide McCown with the opportunity to compete to be the starting quarterback.
McCown is expected to field multi-year offers from the interested parties that the Bears might not be inclined to match because of the money invested in starting quarterback
Jay Cutler
. He signed a lengthy contract with $54 million in guarantees at the conclusion of the regular season.
McCown, who turns 35 in July, had a career year in 2013 when he completed 149 of 224 pass attempts for 1,829 yards, 13 touchdowns and one interception. McCown, who appeared in eight games last season with five starts, finished the season as the NFL's third highest-rated quarterback with a 109.0 passer-rating -- the highest single-season quarterback rating in franchise history.
McCown set additional Bears all-time records with three straight 300-yard passing games, 36 completions in a single game versus the
St. Louis Rams
on Nov. 24 and an overall single-season completion percentage of 66.5.
McCown also had the best interception percentage in the NFL last year with one pick in 224 attempts (0.4 percent).
March, 11, 2014
Mar 11
4:09
PM ET
ESPN.com news services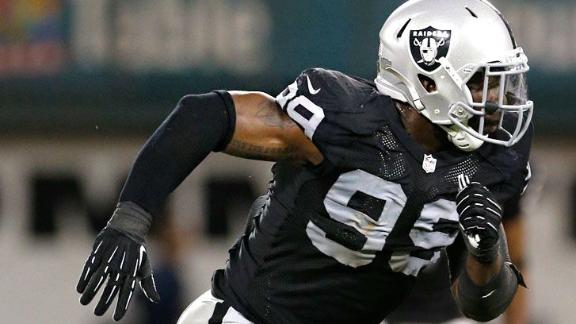 The Chicago Bears secured one of the top pass rushers on the open market, reaching agreement on a five-year, $35 million contract with former Oakland Raiders defensive end Lamarr Houston, sources told ESPN NFL Insider Adam Schefter.
The Bears announced the Houston signing as well as re-signing middle linebacker D.J. Williams to a one-year deal, safety Ryan Mundy to a two-year deal and special teams standout Jordan Senn to a one-year contract.
A disruptive presence who moved to the right side last season in the Raiders' 4-3 base defense, Houston led Oakland with a career-high six sacks, though four came in the season's first seven games.
Houston, who turns 27 on June 24, also led Raiders' D-linemen with 71 tackles (55 solo) and forced two fumbles.
"I'm honored to be joining an organization that has such rich football history," Houston told ChicagoBears.com. "The things that they've already accomplished are something that when you join this organization you hope you can live up to. You know that you're expected to reach certain levels and standards while you're playing for the Bears.
He's not the prototypical edge rusher the Raiders crave, though, and that might be why he said after the season finale that he thought Oakland might move on from him.
Both general manager Reggie McKenzie and coach Dennis Allen, though, had said they wanted him back -- most likely to return to the left side after they pick up that edge rusher either in free agency or the draft.
Williams signed a one-year contract last April worth $1.281 million to replace franchise stalwart Brian Urlacher at middle linebacker. But Williams played in just six games before a torn pectoral muscle on Oct. 10 sidelined him for the season, making way for rookie Jonathan Bostic
March, 10, 2014
Mar 10
10:27
PM ET
Disappointment over a potential deal that never materialized with
Seattle Seahawks
defensive end
Michael Bennett
on Monday didn't prevent the
Chicago Bears
from making a couple of cap-saving moves, in addition to shopping
Julius Peppers
around the league in advance of Tuesday's start to free agency.

The Bears whiffed -- but not for lack of trying hard -- on Plan A with Bennett, offering more money than the Seahawks, who eventually retained Bennett with somewhat of a hometown discount. But the Bears under the direction of general manager Phil Emery typically devise alternate strategies for adding the players they want in free agency. So while Plan B, C and the other options aren't fully known at this point, it's likely Chicago expects to make a flurry of moves in the first wave of free agency and be active all the way through the process.
That's why the team cut running back
Michael Bush
-- freeing up $1.85 million in cap space -- released tight end
Dante Rosario
, and put out calls around the league, according to ESPN NFL Insider Adam Schefter, for a potential trade for Peppers, which likely won't ever take place. With Peppers counting $18.183 million against Chicago's cap in 2014, no team wants to take in that salary via a trade. So when a team starts shopping a player, it often results in the club eventually cutting him.
Cutting Peppers with the post-June 1 designation would result in $4.183 million worth of dead money in 2014 and $4.183 million in 2015, but given his astronomical cap figures over the next two years, that would still represent respective savings of $14 million and $16.5 million.
But at this point cutting Peppers doesn't appear to be imminent.
What does seem to be on the way is the re-signing of middle linebacker
D.J. Williams
. The sides had been in discussion since last week, and negotiations were expected to continue through the weekend. As of Monday evening, the sides -- although still talking -- hadn't come to an agreement, according to a league source who expected a deal to take place late Monday night or early Tuesday.
Chicago also remains interested in re-signing other free agents such as cornerback
Charles Tillman
, defensive tackle
Henry Melton
and backup quarterback
Josh McCown
. Little information has emerged regarding Tillman's situation, although he's been linked to Tampa Bay because of his history with former Bears head coach Lovie Smith. The Bears have worked diligently to bring back Tillman, and it's likely the effort will continue as the cornerback's prospects with other teams could be limited by his age.
Melton, meanwhile, has generated interest from multiple teams, including the
Dallas Cowboys
, according to a league source, which would make sense given the defensive tackle's familiarity with defensive coordinator Rod Marinelli. That doesn't mean the Bears won't be able to re-sign Melton. After all, the Cowboys are tight against their cap, and it's unknown what kind of money another team might offer Melton, whose value could be diminished since he is coming off an ACL surgery.
As for McCown, as of right now, the Buccaneers appear to be the front-runner to land the quarterback, according to multiple sources, unless another one of the interested teams steps up with a more enticing offer, as the career backup may receive an opportunity to compete for a starting job. According to ESPNChicago's Jeff Dickerson, McCown's camp has been in contact with the Bucs, Bears,
New York Jets
and
Houston Texans
.
Dickerson also reported the Bears reached out to
Cincinnati Bengals
defensive end
Michael Johnson
on Saturday, ostensibly as a secondary option to Bennett, when the negotiation window for unrestricted free agents opened around the league. Although the sides engaged in preliminary talks, as of Monday evening it was believed the Bears weren't at the top of the list for Johnson, who is widely considered the best available defensive end remaining on the market.
The Bears are also targeting defensive end
Lamarr Houston
of the Raiders according to a report on the NFL Network.
It's unknown at this point where that leaves the Bears in terms of addressing needs along the defensive line, but several potential lower-priced options exist, and the salary demands could drop depending on how the first wave of free agency goes.
Safety is another area of need the Bears hope to address in free agency. The San Francisco Chronicle reported Chicago has expressed interest in San Francisco's
Donte Whitner
, who would give the Bears an intimidating presence on the back end. A source also confirmed the club's interest in
New York Giants
safety
Ryan Mundy
, who finds Chicago an intriguing opportunity because he'd receive a chance to compete for a starting job.
The Bears ended the day Monday with nearly $10.2 million in cap space, and it's worth noting the club spent $5.775 million during free agency for the 2013 season on three starters in
Jermon Bushrod
,
Matt Slauson
and
Martellus Bennett
.
So as the initial sting of losing out on Bennett wears off, Emery said back in January the Bears will still be plenty competitive in terms of putting together a solid team once free agency opens on Tuesday.
We all just have to wait and see.