December, 10, 2013
Dec 10
6:56
PM ET
The Bears defeated the Dallas Cowboys on Monday night before the ball was even kicked off, according to Chicago receiver Brandon Marshall, who thinks the chilly conditions affected the visiting team's psyche.
Marshall made the assessment based on observations of the Cowboys during pregame warmups at Soldier Field. Temperature at kickoff was 8 degrees, with a wind chill of minus-9 and 14 mph winds.
"We beat Dallas last night before the game started," Marshall said Tuesday during the "Jay Cutler Show" on ESPN 1000. "When it was [receiver] Alshon [Jeffery], myself, Earl Bennett and some of the other guys outside warming up pregame, there was only a handful of Dallas players. I looked around and I said, 'Man, we've got these guys.' "
The Bears racked up 490 yards of offense as Josh McCown tossed four touchdown passes and ran for another in a 45-28 thrashing of the Cowboys. Marshall led the way for the Bears with a game-high 100 yards on six receptions, while Jeffery contributed five grabs for 84 yards and a touchdown.
Bennett said the weather "wasn't that bad to me," and that "some guys just sucked it up. Pretty much the whole team didn't wear any sleeves."
December, 10, 2013
Dec 10
4:58
PM ET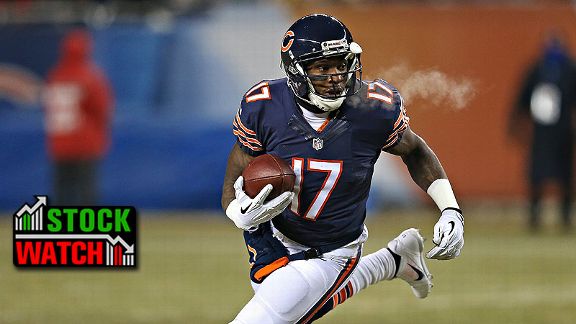 Jonathan Daniel/Getty ImagesAlshon Jeffery is fifth in the NFL with 1,193 yards receiving.
RISING


1. Josh McCown, QB:
He saved his best performance of the season for the
Dallas Cowboys
. In front of a national television audience, McCown torched the Cowboys' defense for 348 passing yards and four touchdowns (141.9 passer rating), plus a 7-yard touchdown run that electrified the Soldier Field crowd and pumped up McCown's teammates on the sideline. For the season, McCown has passed for 1,809 yards, 13 touchdowns and just one interception. The veteran's passer rating of 109.8 is the third-highest total in the NFL, and his 66.8 percent completion percentage is the highest in team history for a single season. McCown has positioned himself to receive a multi-year deal in free agency for above the veteran minimum. But most importantly, McCown has the Bears (7-6) in the thick of the NFC North race after the
45-28 drubbing
of the Cowboys. The feel-good Chicago sports story of 2013 keeps getting better.


2. Alshon Jeffery, WR:
Every week Jeffery seems to make a ridiculous, highlight-reel catch. The second-year wide receiver struck again Monday night when he hauled in a deep McCown pass in the back corner of the south end zone and managed to drag both feet in as he fell out of bounds with two Dallas defenders in the area. Jeffery is on fire. He has a combined 17 catches for 333 yards and three touchdowns in the past two weeks. Already with 75 receptions for 1,193 yards and six touchdowns on the season, Jeffery is playing at a Pro Bowl level.
Brandon Marshall
is having another incredibly productive season (84-1,090-9), but Jeffery's emergence has been the No. 1 storyline this year in the wide receiver room. The exciting part is the best is yet to come for Jeffery, who doesn't turn 24 until February.


3. Offensive line:
For a couple of weeks the Bears' offensive line sputtered at times, but Monday night the group paved the way for
Matt Forte
to average 5.1 yards per carry, en route to his third 100-plus yard (102) rushing game of the season. Forte also went over 1,000 rushing yards on the season. McCown got sacked only one time in 36 passing attempts, and was hit a total of just three times, according to the official NFL stat book distributed after the game. Granted, the Dallas defense is dreadful, but the Bears offensive line dominated the line of scrimmage. The group surely benefited from returning home following two consecutive games on the road in dome stadiums.


AP Photo/Jim Mone
3. Marc Trestman:
The Bears didn't fold after that excruciating Week 13 loss in Minnesota. That is a testament to Trestman holding the team together. NFL veterans will often shut it down late in the year if the playoffs are a pipe dream, but the Bears gave maximum effort against the Cowboys. And Trestman's play-calling Monday night was particularly effective and balanced. Now with the Bears at 7-6, Trestman has an opportunity to lead the Bears to the postseason for the first time since 2010.
FALLING


Mike DiNovo/USA TODAY Sportstbd by editorial
1. Linebackers:
Dallas running back
DeMarco Murray
had plenty of room to operate on the ground, rushing for a game-high 146 yards on 18 carries. Whenever a defense has difficulty stopping the run, a good chuck of the blame generally falls on the linebackers. Veteran
James Anderson
registered a sack and tackle-for-loss, but the rookies encountered their share of difficulties and finished with a combined six tackles. The return of
Lance Briggs
from a fractured shoulder would give the whole defense a lift. There is simply no way to ask
Khaseem Greene
to replicate the kind of production Briggs has provided the defense in the past 10-plus years.


2. Julius Peppers, DE:
Peppers continues to be hit or miss. One week after playing his best game of the season against the Vikings, Peppers was nowhere to be found Monday night. The veteran defender ended the game with zero tackles and failed to set the edge a handful of times while attempting to stop the run. With the final three games all scheduled to be played outdoors in cold-weather cities on natural grass, it's fair to wonder if Peppers has anything left to contribute as the Bears make their final push toward the playoffs.
December, 10, 2013
Dec 10
4:57
PM ET
A weekly examination of the Bears'
ESPN.com Power Ranking
:
Preseason
: 13 |
Last Week
: 15 |
ESPN.com Power Ranking since 2002

The
Chicago Bears
moved up two spots in the ESPN.com Power Rankings from No. 15 to No. 13 after Monday night's 45-28 destruction of the
Dallas Cowboys
.
The meager climb seems to be about right for the Bears, considering they faced a Cowboys defense that was actually worse than their own struggling unit. With the win, the Bears moved to within a half-game of first place in the NFC North, behind the
Detroit Lions
. So Chicago still needs some help to advance to the postseason, and the club likely will get it if it can just maintain the momentum down the stretch.
For a good portion of the season, the Lions have helped along the Bears by slipping in what appeared to be winnable games. Detroit, which remained at No. 12 in this week's rankings, lost at Philadelphia on Sunday to bring the Bears right back into the NFC North race. The Lions face Baltimore and the
New York Giants
over the next two weeks before playing the finale at Minnesota on Dec. 29. So there's a good chance the Bears can make up some ground on the Lions, but they must keep winning.
They'll also need to figure out what to do at quarterback once
Jay Cutler
is medically cleared to play. Cutler returned to the practice field last week and took part in two workouts but was declared out for Monday's game. In relief, backup
Josh McCown
produced his third 300-yard passing day in throwing for four touchdowns, in addition to rushing for a fifth.
Bears coach Marc Trestman reiterated that Cutler is the starter once he's medically cleared, but it's difficult to argue with McCown's hot hand at this point. The club could also be getting back linebacker
Lance Briggs
, who hasn't played since Oct. 20.
Elsewhere in the NFC North, the
Green Bay Packers
defeated the
Atlanta Falcons
to win their first game without quarterback
Aaron Rodgers
to move up a spot from No. 19 to No. 18, but signs point to the quarterback returning soon.
Minnesota, meanwhile, despite running back
Adrian Peterson
suffering a foot injury, moved up a spot from No. 28 to No. 27.
The Bears received one 12-place vote, two for 13, two for 15 and one for No. 16.
Chicago plays the first of back-to-back road games on Sunday at Cleveland before a matchup at Philadelphia. The Bears close the regular season hosting the Packers on Dec. 29.
December, 10, 2013
Dec 10
2:22
PM ET
Associated Press
NEW YORK -- The NFL will move the Week 16 matchup between Chicago and Philadelphia to the prime-time slot on Sunday, Dec. 22.
The Bears (7-6) will travel to face the Eagles (8-5) at 8:30 p.m. ET on NBC.
The New England Patriots' game with the Baltimore Ravens will move to 4:25 p.m. on CBS.
December, 10, 2013
Dec 10
2:04
PM ET
ESPNChicago.com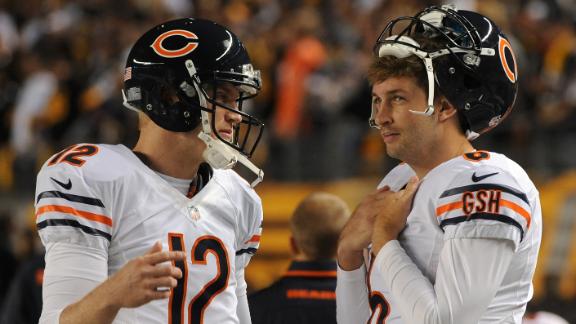 A day after throwing four touchdown passes and running for another in a Monday Night Football rout of the Dallas Cowboys, Josh McCown continued to douse any spark of a quarterback controversy with the Chicago Bears.
McCown leads the league with an 85.7 Total QBR compared to Cutler's 63.2. McCown has thrown 13 touchdowns and just one interception while Jay Cutler has thrown 13 TDs and eight picks.
"I understand that Jay's the starter, and he does too, and our team does and we're building this thing around him," McCown said Tuesday on "The Carmen & Jurko Show" on ESPN Chicago 1000. "More importantly, for everybody, it's not just Josh and Jay, let's just be for the Bears and for the Bears playing good football and winning football and that's the thing that matters the most no matter who's in at quarterback. That's all I care about.
"As soon as Jay is ready and healthy and back out there ... he's been so good for me the last few weeks and how much he's helped me. I want to go back and return that favor to him and continue to help him. It's all about our team and everybody has that 'C' on their helmet and that's all that matters. It's not about if this guy plays or that guy plays, it's about our team winning. And that's all we care about. When Jay gets back in there, I have full faith that he'll do a heck of a job and that he'll lead our team like he has already."
Cutler has missed the last three games with a high ankle sprain, and he's also missed time with a groin tear. He returned to practice last week, but there is no definitive timetable for his return.
December, 10, 2013
Dec 10
12:24
PM ET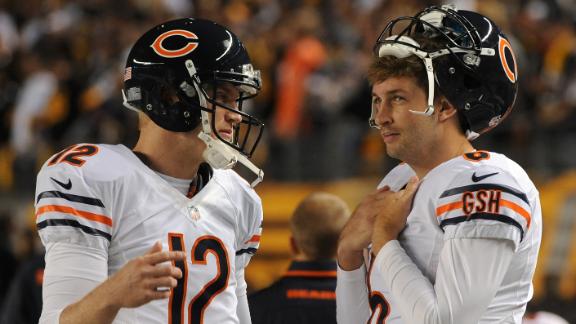 CHICAGO -- If Jay Cutler is healthy this week, the Chicago Bears have a real quarterback quandary on their hands.
Whom do they start in a must-win game at Cleveland: Josh McCown or Hurricane McCown?
Sorry, sorry. That's just an old Saturday Night Live "Super Fans" joke in honor of Mike Ditka's jersey finally getting retired Monday night.
After the first half of a surprisingly one-sided 45-28 victory over Dallas, Da Coach praised "McNown."
That means he's the real deal, gang.
But every joke has a hint of truth.
The answer, of course, is ... not that simple.
Let's be clear. There is no wavering in my belief that the Bears should sign Cutler to a long-term deal after the season. His injury history is concerning -- though given it's the NFL, not surprising -- but Cutler seemed to be taking well to Marc Trestman's offense before he went down with concurrent groin and ankle injuries.
In a city with an annual quarterback problem, there's nothing wrong with having two good ones. Your backup doesn't have to be a Dumpster fire with a wristband. That doesn't make Cutler expendable.
But it's a fun argument, isn't it?
General manager Phil Emery needed just two offseasons to build a potent offense around a maturing Cutler. But he did it with a purpose, and it wasn't starting over with a 34-year-old McCown as a short-term replacement for whatever wunderkind they can find in the draft.
It was properly using his best asset, a rocket-armed, albeit erratic, football savant who is a whiz in the classroom and unfortunately for him, a dunce sometimes in front of the media.
It's all about building for the now while not giving up the future.
December, 10, 2013
Dec 10
8:00
AM ET
A review of four hot issues from the
Chicago Bears
' 45-28
win
over the
Dallas Cowboys
:
Cutler's return:
Backup quarterback
Josh McCown
turned in another stellar effort in relief of
Jay Cutler
, throwing for 348 yards and four touchdowns with no interceptions to go with a passer rating of 141.9. McCown has thrown for 1,055 yards over his past four starts with eight TDs and only one interception. But with Cutler returning to the practice field last week, it's only a matter of time before the Bears try to bring him back into the starting lineup. And naturally, some will begin to question if McCown deserves to remain the starter because of the way he has performed. Bears coach Marc Trestman has made the team's plans at that position known early in the week to eliminate any chance of the situation festering into something that could cause a distraction. Look for Trestman to make a declaration early in the team's preparation for Sunday's game at Cleveland, too. There's too much on the line to be dealing with distractions.
[+] Enlarge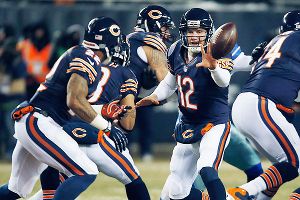 AP Photo/Charles Rex ArbogastJosh McCown passed for 348 yards and four touchdowns against the Cowboys.
McCown knows role:
McCown's humility throughout his brief tenure as the starting quarterback should be applauded. Coming off the strong performance against the Cowboys, and a largely successful stint over the past month as the starter, McCown fielded multiple questions concerning whether he deserved the staff's consideration as the possible full-time starter. McCown hasn't wavered on his answers regarding the situation throughout his entire run under center.
"I'm the backup, and Jay's our starter. So if Jay's healthy, Jay should be the starting quarterback. That's really it," McCown said Monday night. "I don't go out here going, 'If I do this, now I'm gonna be the starter.' That's not my mindset. I've told you guys: My mindset is to serve our team as the backup quarterback as best I can, play efficient football, play winning football, and keep us in contention so whenever he takes back over, we're in position to continue to make the playoff run."
Run D still struggling:
DeMarco Murray
ripped off 99 yards in the first half against the Bears, averaging 7.6 yards per attempt, and that average only increased to 8.1 yards for the game. Murray ran the ball only five times in the second half, but finished with 146 yards. Trestman even acknowledged after the game the Bears "certainly didn't stop the run as much as we would have liked to."
The Bears have allowed 100-yard rushers, including a 211-yard performance by
Adrian Peterson
, in six consecutive games.
Pass rush just OK:
After ramping up the pass rush against Minnesota on Dec. 1 with five sacks, the Bears sacked Cowboys quarterback
Tony Romo
just twice Monday night.
James Anderson
and
Jeremiah Ratliff
each sacked Romo, and the Bears did try to manufacture some pressure via the blitz. Of Dallas' 28 snaps in the first half on offense, 14 of those plays were runs. So it was difficult for Chicago to be effective with the pass rush because the Cowboys were so successful running the ball. Dallas averaged 7 yards per attempt in the first half. The Cowboys were able to throw the ball only seven times in the second half because the Bears dominated time of possession.
December, 10, 2013
Dec 10
3:00
AM ET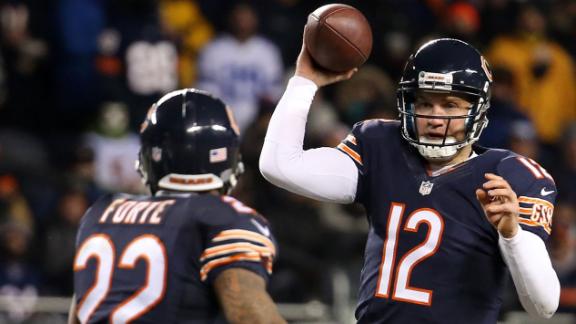 CHICAGO -- They might have left themselves too little time to rally and reach the playoffs. Perhaps they just figured it out a bit late. But that thing the Chicago Bears did to the Dallas Cowboys on Monday night is the new formula; it's what the Bears have to be now. Butkus and Singletary ain't walking through that door. It's an entirely new day, a Bears team we've never ever seen before. Ever. Throw the damn ball, son. Throw it to Marshall, throw it to Jeffery, throw it to Bennett, and that other Bennett, too. Lob it over the crazed pass-rushing linemen to Forte, if you want, or even Bush.
The Bears scored 45 points and pulled up on the Cowboys late in the fourth quarter. They scored 45 points with no defensive takeaways; 45 without Devin Hester taking one to the house; 45 points even though the quarterback couldn't feel his toes because it was 8 degrees when the game started, minus-10 factoring in the wind chill. The Bears scored 45 points on their own, throwing and running like, well, the 49ers or Patriots or Chargers. They scored on eight consecutive possessions. The Bears' punter didn't once punt. Maybe he'll thaw by Thursday.
December, 10, 2013
Dec 10
2:49
AM ET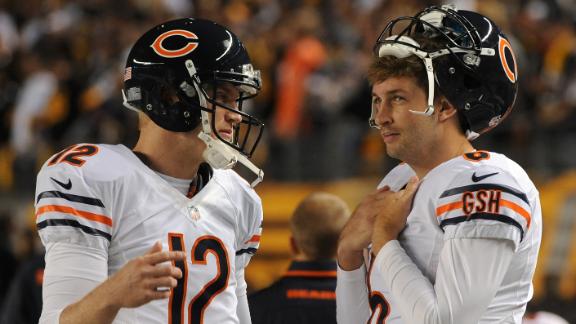 CHICAGO -- Chicago Bears coach Marc Trestman reiterated after Monday night's 45-28 victory against the Dallas Cowboys that Jay Cutler will return to the starting lineup once the quarterback receives medical clearance from the team's doctors.
Cutler has missed the past four games with a severe high ankle sprain he suffered versus the Detroit Lions on Nov. 10. Veteran backup Josh McCown completed 27 of 36 passes for 348 yards and four touchdowns (he also ran for a score) on Monday, and in seven appearances this season he's thrown for 1,809 yards, 13 touchdowns, one interception, and has posted a quarterback rating of 109.8. His Total QBR is a league-leading 85.7.
"There's no change in the plan," Trestman said. "We'll see where Jay is this week. He'll have to be released by the doctors. When Jay is ready to play, he'll be playing."
Cutler practiced two days last week on a limited basis. The Bears, who are tied with Detroit atop the NFC North at 7-6, play Sunday at the Cleveland Browns.
"When [Cutler] is good to go and can have a full week of practice, he'll be our quarterback," Trestman said.
In the final year of his contract, Cutler, 30, has missed five games because of a groin tear and the high ankle sprain. He's completed 63 percent of his passes for 1,908 yards, 13 touchdowns and eight interceptions. Chicago has lost possession on three of Cutler's four fumbles. McCown has fumbled twice, with the Bears losing one.
December, 10, 2013
Dec 10
2:39
AM ET
CHICAGO -- Here are five things we learned in the
Chicago Bears
'
45-28 victory
over the
Dallas Cowboys
:
1. Trestman recovered:
There was legitimate concern about whether the Bears would be capable of rebounding after their demoralizing Week 13 loss to the Vikings in the Metrodome. Coach Marc Trestman and his team answered that question on the Bears' first offensive drive of the game, when they marched 78 yards on 12 plays and ate up 7:27 on the clock to tie the game at 7-7. The Bears never looked back on offense, partly because of the creative and efficient manner in which Trestman called plays. Trestman was in the zone Monday night. Almost everything he called was executed to perfection. He deserves credit for hanging in there after a tough week during which he was put under the microscope. The head coach overcame the adversity and now has the Bears right back in the NFC North race at 7-6.
2. McCown refuses to have a bad game:
Jay Cutler
may be medically cleared to start next week against the
Cleveland Browns
, but
Josh McCown
has the city buzzing after his latest performance. He went 27-of-36 for 348 passing yards, threw four touchdowns, ran for another, and registered a passer rating of 141.9. In seven appearances this year (five starts), McCown is 147-of-220 for 1,809 yards, 13 touchdowns, one interception and a 109.8 quarterback rating. Of course, McCown had the benefit of playing against a hapless Dallas defense on Monday night. He also was lucky not to have a couple of throws picked off. But when you're in the zone, you're in the zone. And McCown is in the zone. Nobody can dispute that.
3. Cutler hysteria expected to peak:
The natural reaction is to question why the Bears, with the playoffs still a real possibility, would risk benching McCown in favor of Cutler on Sunday in Cleveland. It's fair to wonder, but keep in mind the Bears have been consistent all year when it comes to Cutler. When healthy, he is the team's starting quarterback. If the Bears make the switch now, there is no going back. Are you ready for that? Why not see how Cutler responds to the pressure of starting the final three games? Worst-case scenario: If he Cutler struggles, McCown will certainly be ready to enter a game at a moment's notice. And it Cutler bombs down the stretch, the Bears will have a better idea of whether he is the guy moving forward. But Cutler also could succeed and guide the Bears to the postseason. The Bears already know what McCown can do in the offense at this stage of the season. But Cutler remains kind of a mystery. The only way to know for certain is to let him play.
4. Defense kept the Bears in it:
All the Bears can ask for from the defense at this stage of the season is to keep them in ballgames. Mission accomplished Monday night. Dallas still ran all over the Bears for 198 yards on 28 carries, but the Cowboys converted just 50 percent of their third-down chances (5-of-10) and went 1-of-2 on fourth down. Those aren't great numbers for any defense, but for the Bears, it's an improvement. In contrast, the Bears were 8-of-11 on third downs (73 percent).The Bears also sacked
Tony Romo
twice and limited Dallas to 144 total passing yards.
5. Ditka ceremony a success:
The tribute at halftime to retire Mike Ditka's No. 89 went off without a hitch. From the red carpet that stretched from the Bears' sideline to the middle of the field -- where a small stage was assembled that contained the 1963 NFL championship trophy, the Super Bowl XX Vince Lombardi trophy and Ditka's bronze Hall of Fame bust -- to the classy and well-produced video montages that rolled on the JumboTron featuring Ditka's former teammates and players, the organization should be proud of the way it celebrated one of the game's all-time greats. Ditka delivered a heartfelt and articulate speech that culminated with a loud, "Go Bears," which sent the crowd into a frenzy. Team chairman George McCaskey, who enthusiastically introduced Ditka, should be applauded for the manner in which he has reconnected with the team's alumni base since assuming his current position two years ago.
December, 10, 2013
Dec 10
2:10
AM ET
Week 14 Report Card: Bears vs. Cowboys

A-
Rushing Offense
The Bears offensive line opened up large holes for Matt Forte, who rushed for 102 yards on 20 carries (5.1 yards per attempt). Michael Bush even tasted success on the ground with 39 yards on eight rushing attempts. Quarterback Josh McCown provided the second most emotional moment of the night -- next to Mike Ditka's halftime retirement ceremony -- when the QB leapt into the end zone on a 7-yard run to fire up the troops.

A
Passing Offense
McCown lit up a terrible Cowboys' defense for 348 yards and four touchdowns for a 141. 9 quarterback rating. He got sacked only one time in 36 passing attempts. Alshon Jeffery continued his march toward the Pro Bowl with another circus catch in the back of the end zone, while Brandon Marshall bounced back with six receptions for a team-high 100 yards. Forte also contributed seven receptions out of the backfield. And tight end Martellus Bennett had five grabs for 43 yards against his old team.

D
Rushing Defense
The Bears still can't stop the run. Dallas tailback DeMarco Murray ran all over the Bears defense for 145 yards on just 18 carries. Joseph Randle, the Cowboys No. 2 tailback Monday night, carried the ball nine times for 54 yards and one touchdown. On the bright side, the Cowboys failed to reach 200 total yards rushing. Dallas finished with 198.

B+
Passing Defense
Tony Romo walked out of Soldier Field with impressive numbers -- three touchdown passes and a 109. 2 quarterback rating. But the Cowboys only threw the ball for 144 yards, with much of the damage coming in garbage time. Star wide receiver Dez Bryant was basically a non-factor, catching only two balls for 12 yards and a score. The Cowboys appeared to be disinterested on offense when it didn't involve one of their two running backs.

B+
Special Teams
The Bears did surrender a 43-yard kickoff return to Dwayne Harris. But Robbie Gould went 3-for-3 in field goal tries, and Adam Podlesh didn't need to attempt a punt. This was a major rebound by the special teams after the rough loss in Minnesota.

A
Coaching
While Ditka stole the show, Marc Trestman called an efficient and creative game on offense. Trestman also clearly had his players ready to go after a difficult week of being second-guessed and now has the club right back in playoff contention following Detroit's loss to Philadelphia. Mel Tucker got sneaky on defense with some of his blitz packages. Overall, it was a good night for Trestman and his entire coaching staff.