September, 23, 2014
Sep 23
2:30
AM ET
EAST RUTHERFORD, N.J. -- Kyle Fuller stuffed a Chicago Bears bag full of gear as he rushed to join family outside the locker room following his team's 27-19 win Monday night over the New York Jets.

Having picked off his third pass in two games, in addition to forcing a pair of fumbles and contributing seven tackles, Fuller uttered clichés like "playing my technique, fundamentals" and "staying on my leverage" in describing how he gobbled up yet another takeaway. But the true credit for Fuller's team-high third INT goes to Tim Jennings.

"I think he had a lot to do with it," Fuller explained. "They were looking to [go at] him first, then they looked at my side. Everybody on the field had something to do with that. It was a good play for our defense."

With 5:10 left in the third quarter and Chicago holding a 24-13 lead, the Jets had first down at the Chicago 18-yard line. Quarterback Geno Smith dropped back while looking to his right toward Jeremy Kerley, who had attempted to fool Jennings on a double move. "Tim played it perfect," veteran cornerback Charles Tillman later said. In fact, it looked as if Jennings actually ran Kerley's route for him.

With Jennings sitting on Kerley's route, Smith was forced to scan the field to the other side, where David Nelson also ran a double move with Fuller handling the coverage. As Smith drifted to the right, the pass rush broke free with Jared Allen and Stephen Paea closing in quickly for a potential sack.

Rather than take the loss, Smith lobbed the ball up for grabs. Fuller cut in front of Nelson to intercept the errant throw in the end zone.

"Kyle's football instincts kicked in and he made a great play," Tillman explained. "Tim made the play first because he sat on the route. Tim ran the route the same way the receiver did. It's such a team sport that the majority of the time, when you think you've made a play, it's because someone else did something. I've gotten many picks that wouldn't have happened had I not had the pass rush or someone in the quarterback's face to disrupt the ball."

One locker over, Jennings nods his head in agreement about how the pass rush and other complementary factors come together for the majority of his positive plays. But Jennings refused to take any credit for Fuller's INT.

"That was a great play for Kyle. He's got great ball skills," Jennings said. "Geno Smith scrambled around and gave Kyle a shot, and Kyle came down with it, bro."

Fuller certainly placed himself in ideal position to do so in the meeting rooms before ever stepping foot on the field, according to Tillman and Jennings. Jennings said Fuller "is ahead of the game" in terms of his development and "mature for his age," while Tillman compliments the rookie's humility and the fact "he's eager to learn" and "wants to be better."

Fuller's INT and 12-yard return with a 15-yard penalty for unnecessary roughness tacked on gave Chicago possession at its own 20 with 4:57 remaining in the third quarter. The play was one reason the Jets were limited to a pair of field goals in the second half.

"They tried to give me a double move," Fuller said later. "He threw the ball up. I was able to see it, and go get it."
September, 23, 2014
Sep 23
2:01
AM ET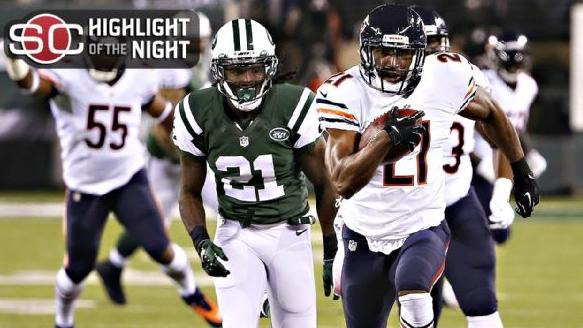 EAST RUTHERFORD, N.J. -- Following a two touchdown performance, Bears tight end Martellus Bennett said he felt disrespected by New York Jets coach Rex Ryan leading up to Chicago's 27-19 Monday night victory at MetLife Stadium.
"Today I felt a little disrespected," Bennett told reporters in the postgame locker room. "We [the Bears] played a highlight video, and in the highlight video Rex is talking about [how the Bears] have monsters on the outside with [receivers] Brandon [Marshall] and Alshon [Jeffery], and he was like, 'Oh, yeah, the tight end is a big dude.'
"I feel like when he talks about me he should talk about me with enthusiasm as well. He was just kind of monotone when he mentioned me. I was kind of [upset] about that. I feel like when somebody talks about me they should use some enthusiasm.
"So I came out clicking. I was too jittery in the beginning trying to make a whole lot of plays and I missed some balls here and there. But I kind of calmed down in the second half and got back to normal."
Bennett voiced his objections to the coaches' comments when the two men briefly spoke during pregame warm-ups.
"Before the game I told him the next time he mentioned me he should use some enthusiasm," Bennett said. "He just kind of laughed it off."
A sore ankle limited Marshall to one reception for six yards, but Bennett (five catches for 54 yards and two scores) and Jeffery (eight receptions for 105 yards) picked up the slack in the passing attack.
September, 23, 2014
Sep 23
1:59
AM ET
September, 23, 2014
Sep 23
1:03
AM ET
By
ESPN Stats & Information
Both
Chicago Bears
quarterback
Jay Cutler
and
New York Jets
quarterback
Geno Smith
had their share of struggles on Monday night.
But it was Cutler who got a little help and was able to do just enough to win.
Cutler improved to 9-4 on Monday Night Football as the Bears won, 27-19 to improve to 2-1 this season.
Play of the game: Start with an interception
The Bears got on the scoreboard very quickly, with Smith throwing an interception returned for a touchdown by
Ryan Mundy
on the game's first drive.
Since entering the league last season, Smith has 14 interceptions on off-target passes, tied with
Eli Manning
for the most in the NFL during that span.
Over the last five seasons, the Bears have returned 19 interceptions for touchdowns, six more than the next closest team.
Multi-score Martellus
Martellus Bennett
continues to excel in the early parts of seasons, adding two touchdowns to his ledger on Monday.
Since the start of the 2012 season, Bennett has 10 touchdowns in Weeks 1-3. In Weeks 4-17, Bennett has four touchdowns.
Bennett's second touchdown of the game came on a play in which the Jets blitzed. Cutler handled the blitz well in this game, completing 10 of 16 passes against it (including eight straight). The 10 completions tied his most such completions in a game in two seasons under Marc Trestman.
The struggles of Smith
Smith threw for more than 300 yards for the second time in his career, but that was a bit misleading.
Smith went 1 for 11 with an interception when under duress from the Bears defense, including a game-ending throw that was caught, but outside the end zone because it had to be rushed.
The Jets were able to get in the red zone. They just couldn't punch in touchdowns, scoring only once in six red zone trips. Smith was 4 for 9 passing from inside the red zone.
The five instances in which the Jets didn't score a touchdown were the most touchdown-free trips into the red zone by the team since Rex Ryan became head coach in 2009.
Smith's Total QBR for the game was 20.5, dropping his season rating to 33.2. Smith's 36.8 Total QBR since the start of last season ranks fifth-worst in the NFL.
September, 23, 2014
Sep 23
12:52
AM ET
Observed and heard in the locker room after the Chicago Bears' 27-19 victory over the New York Jets:
Allen
Defensive end
Willie Young
joked as
Jared Allen
walked to the showers about the double teams he faced against the Jets. Obviously, Allen's the wrong player to voice that complaint to.
Allen replied, "You know how many double-teams I've seen in my life?"
Stat sheet comedy:
Once public relations officials passed out the official statistics for Monday night's game, cornerback
Tim Jennings
quickly thumbed through to see if his forced fumble was listed. Jennings noticed
Isaiah Frey
was credited with a forced fumble, but Jennings said he believes he forced one too and didn't receive credit.
Fuller in a hurry:
After picking off a pass and forcing two fumbles, rookie
Kyle Fuller
rushed to shower, dress and leave the locker room so he could spend a little time with his family, who made the trip from Virginia to New York to watch him play.
September, 22, 2014
Sep 22
11:44
PM ET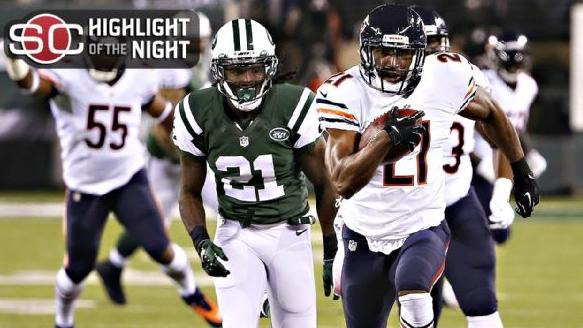 EAST RUTHERFORD, N.J. -- A few thoughts on the
Chicago Bears
' 27-19
win
over the
New York Jets
at MetLife Stadium.
What it means:
This is the "backbone" building Marc Trestman always talks about. Two road wins in a row should build confidence for the club before it hosts the Green Bay Packers on Sunday, followed by back-to-back outings at the Carolina Panthers and Atlanta Falcons. A 2-1 start with two of the first three games on the road is a major win for the Bears. Remember, after the loss in the season opener to the Buffalo Bills, there was the thought Chicago might start 0-3. That's a distant memory now.
Stock watch:
Interestingly, in the locker room at Halas Hall just Saturday, Martellus Bennett joked (or was he joking after all?) the Jets would focus so much on outside targets
Brandon Marshall
and
Alshon Jeffery
that he'd be free to make plays down the middle. Bennett caught 15 passes in the first two games for a pair of touchdowns, and tacked on two more TDs against the Jets. Bennett is one of 10 tight ends in the NFL since the start of the 2012 season to gain more than 1,000 yards receiving and haul in 10 scoring receptions.
Points off takeaways:
The Bears entered Monday having scored 21 points off five takeaways, which tied for third in the NFL headed into Week 3 matchups. Chicago generated two more takeaways in the first half, leading to 14 points.
Ryan Mundy
scored the first TD 32 seconds into the game, when he picked off
Geno Smith
's screen pass to
Chris Johnson
and returned it 45 yards. Recent addition
Ahmad Dixon
pounced on
Jalen Saunders
' fumble at the New York 40 to set up the second score off a takeaway.
Interestingly, both the Bears' TDs in the first half came from former
New York Giants
Mundy and Bennett.
In all, the Bears have gobbled up eight takeaways.
Game ball:
Mundy set the tone for Chicago's defense less than a minute into the game with his pick-six. Ever since the Bears brought him aboard, I've looked for reasons to doubt him. That comes to an end now. Mundy is better than we've given him credit for, and his virtually mistake-free play was desperately needed on the back end.
What's next:
The Bears will take the day off on Tuesday. Some of the injured players will come in for treatment, but the team won't convene at Halas Hall again until Wednesday to begin preparations for Sunday's game against NFC North rival Green Bay.
September, 22, 2014
Sep 22
11:04
PM ET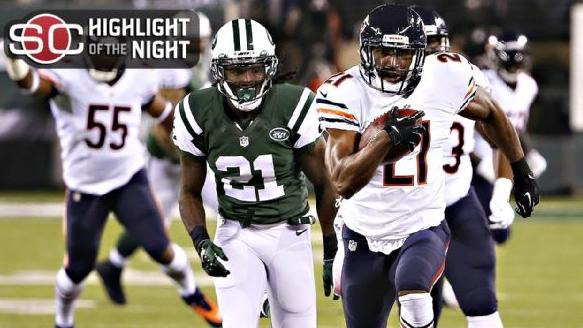 EAST RUTHERFORD, N.J. -- The Chicago Bears' secondary took another hit in Monday night's 27-19 win over the New York Jets when safety Chris Conte left the game in the third quarter with a shoulder injury.
Conte suffered a shoulder injury in the third quarter tackling Jets running back Chris Ivory, and the Bears announced he wouldn't be returning to action.
Conte sprained his left shoulder during Chicago's win last week over the San Francisco 49ers, but the club didn't consider the injury serious.
Conte was described by Bears coach Marc Trestman as day to day coming off that injury. But the safety participated all week in practice leading up to the contest against the Jets.
Prior to exiting the game, Conte had been credited with four tackles.
Conte entered Monday's game tied with rookie Kyle Fuller for the team lead in interceptions with 2.
By the end of the third quarter, the Bears were playing with Danny McCray and rookie Brock Vereen at the safety spots as Ryan Mundy -- the starter opposite Conte -- sat out parts of the game with his own injured shoulder.
September, 22, 2014
Sep 22
9:20
PM ET
Associated Press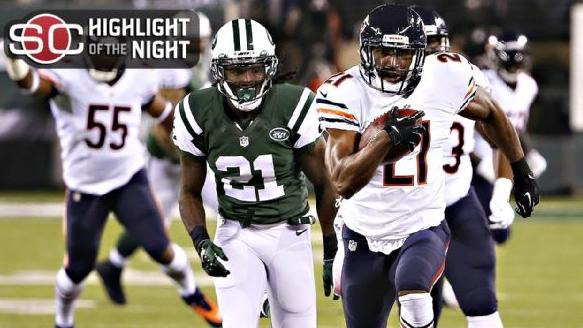 EAST RUTHERFORD, N.J. -- Jay Cutler threw two touchdown passes to Martellus Bennett, and the Chicago Bears took advantage of some early mistakes by the New York Jets before holding on for a 27-19 victory Monday night.
Ryan Mundy returned an interception 45 yards for a touchdown on the Jets' second play from scrimmage. After the Bears (2-1) recovered a fumbled punt a few minutes later, Bennett scored from 7 yards to take a 14-0 lead 5:06 into the game.
Cutler finished 23 of 38 for 225 yards and Alshon Jeffery caught eight passes for 105 yards for the Bears, who got a 45-yard field goal from Robbie Gould to make it an eight-point game with 3:10 remaining.
The Jets (1-2) had one last opportunity to tie, getting into Bears territory on Geno Smith's 51-yard pass to Greg Salas. But Jeremy Kerley was out of bounds when he caught Smith's desperation fourth-down heave.