December, 11, 2013
Dec 11
3:55
PM ET
LAKE FOREST, Ill. -- After playing in a Monday night game against the
Dallas Cowboys
, the
Chicago Bears
go into the week of preparation for the
Cleveland Browns
with one fewer day to practice.
Bears coach Marc Trestman put the team through a walkthrough on Wednesday, and said the abbreviated week will force him to switch up the schedule to accommodate.
"There's a cost-benefit to this process of putting the guys out there and running them today, and working them out in our base football would inhibit them in our opinion because they wouldn't be fully recovered," Trestman said. "They won't even be fully recovered tomorrow because they normally aren't on Wednesday. So we have to combine the practices with our third-down and our base packages and things that are at the top of the list in terms of things we have to get accomplished."
During a normal week of practice, the Bears would use a Wednesday workout to install the first-down packages before going over special situations on Thursday such as third downs.
Special situations receive priority for the Bears on Thursday, but Trestman admitted "we won't get the opportunity to practice as much as our first-down" package because of the abbreviated schedule.
How that will manifest itself on Sunday remains to be seen. But it's clear the abbreviated schedule brought on by playing Monday night has affected the preparation.
Coming off the team's Monday night win over Green Bay on Nov. 4, the Bears received just six days to prepare for the Nov. 10 matchup against the
Detroit Lions
, and the club wound up losing that game 21-19.
But it's important to note that extenuating circumstances presented themselves in that game because quarterback
Jay Cutler
suffered a high ankle sprain in the second quarter that knocked him out for the second half.
It's also worth mentioning the abbreviated schedule could also prove detrimental in Cutler's bid to return this week from that ankle sprain. The Bears plan to put Cutler through a workout Wednesday to determine whether he's healthy enough to face the Browns.
"I think that with the workout we're going to give him today it's going to be a lot of the script that we'll have tomorrow, so he'd be able to work through it at full speed and then the two days -- Thursday and Friday -- I would consider that to be sufficient [prep time for Cutler]," Trestman said. "Today is Wednesday to us, but it's Tuesday to our players. We wanted to make sure they recovered fully from Monday night's game. Today will be spent in meeting, and in a walkthrough. We won't do any full-field work at all other than at the end of the walkthrough."
December, 11, 2013
Dec 11
3:44
PM ET
LAKE FOREST, Ill. --
Chicago Bears
head coach Marc Trestman is "not optimistic" that seven-time Pro Bowl weakside linebacker
Lance Briggs
will return from a fractured shoulder to play Sunday against the
Cleveland Browns
.
This would mark the seventh straight game Briggs has missed since he hurt the shoulder Oct. 20 in Washington.
Briggs
"Lance is still week-to-week," Trestman said. "We'll see where he is tomorrow with our trainers and see what they want to do with him.
"I'm not optimistic. We'll know a little more today and tomorrow. He did some running last week. Will that be upgraded to limited work in practice? We won't be in pads tomorrow. We'll be in shells. He was not in shells last week. We'll see what the trainers want to do and what he wants to do tomorrow."
When asked what is preventing Briggs from returning to the field, Trestman responded, "the healing of the bone."
Prior to 2013, Briggs had been a model of durability for the Bears, sitting out just four games due to injury in 10 NFL seasons. The defense has clearly suffered without Briggs, ranking No. 27 in total defense (381.5), No. 28 in points allowed (27.7) and No. 32 in run defense (157.0) going into Sunday's road game in Cleveland.
"Where Lance is right now is kind of to be determined," Bears defensive coordinator Mel Tucker said. "I'm not quite certain at this point. But the focus is on the guys that are available. The guys that can help us right now."
The Bears have started rookie fourth-round pick
Khaseem Greene
in place of Briggs the past six games, but while Tucker and the organization are high on the club's younger linebackers, asking first-year players to fill the void left by Briggs is virtually impossible.
"Lance is a playmaker in the run game and the passing game," Tucker said. "It's not just the intangibles that he brings in terms of leadership and experience and things like that, in confidence. But he can actually make plays. He can win one-on-one. He can get off blocks. He can run sideline to sideline. He can win one-on-one on running backs on blitzes and things like that. He's an excellent blitzer. In the pass game he's quick, very instinctive. He's quick to diagnose and because of ... his experience, there's not a whole lot of plays he hasn't seen at some point in time, so he's quick to recognize those things.
Those are just some of the things he brings to the table."
December, 11, 2013
Dec 11
3:10
PM ET
LAKE FOREST, Ill. --
Cleveland Browns
quarterback
Jason Campbell
still keeps in touch with Bears backup
Josh McCown
via text messages, and respects the job he's done filling in for
Jay Cutler
while also understanding the challenges such a dynamic presents.
Campbell said he's "been very impressed with what [McCown] has been doing," in relief of Cutler, and acknowledged that Chicago coach Marc Trestman deserves the credit for the way the team's quarterbacks have performed this season. During his time as a quarterback consultant, Trestman worked with Campbell prior to the 2005 NFL draft, and the quarterback was taken 25th overall by the
Washington Redskins
.

Campbell
McCown
"A lot of it has to do with Coach Trestman. The type of offense that he brings in there, it gives your quarterback an opportunity to be successful, gives a chance to give him an opportunity to make plays," Campbell said. "You look at Josh and you look at Jay; two very smart guys. Then you add Coach Trestman as an offensive coordinator, and it helps so much. I can just tell from last year to this year, from an offense point of view, they're making big strides. You look at Brandon [Marshall], and you look at Alshon [Jeffery] and getting Martellus [Bennett] in there, those guys are on the right track, especially with [Matt] Forte and [Michael] Bush back there, as well. So they present a lot of problems to a lot of defenses. You look at them, and it's kind of like looking at a big basketball team. They're doing good things."
Campbell spent 2012 with the
Chicago Bears
as the primary backup to Cutler after signing that offseason to a one-year deal that included a $2 million signing bonus and a base salary of $1.4 million. Heading into the 2013 offseason, Campbell was simply too expensive for the Bears to bring back.
Campbell signed a two-year deal in March with Cleveland and has started five games this season after taking over for
Brandon Weeden
.
After spending last season with the Bears, Campbell isn't surprised by the success McCown has experienced. McCown was named NFC offensive player of the week on Wednesday after throwing for 348 yards and four touchdowns Monday night against the
Dallas Cowboys
.
"Just being around Josh all of last season, he's kind of like a coach on the field," Campbell said. "Just watching him Monday night, he's playing in a way where he just knows exactly where to go with the ball. He knows exactly what the coaches are doing on the board, where they're trying to attack and the things they're trying to do. And he's just doing his part because that's pretty much what he is. He's like having an extra coach on the field."
That's not an easy feat for a backup, Campbell explained, which makes McCown's accomplishments even more impressive.
"The thing is, when you're a backup, it's harder because you don't get a lot of reps," Campbell said. "When you're a starter, you get a chance to practice a lot. You get a chance to get a lot of reps, and you get a chance to get into a rhythm and a groove."
That's what Campbell seems to have done in Cleveland, and Trestman believes the quarterback might have finally found a place where he can stick. As a first-round pick of the Redskins, Campbell played for multiple offensive coordinators. More instability followed during a two-year stint in Oakland in 2010 and 2011 that eventually led to Campbell signing with Chicago.
In Campbell's lone start last season for Chicago under former offensive coordinator Mike Tice, the quarterback suffered six sacks during a 32-7 slaughter at San Francisco. But that's not the quarterback Trestman sees.
"I know Jason pretty well. I know he's a very smart guy. I think he's a very good passer. He's got mobility. You've seen him here play. He's a quiet leader. He's not an outwardly emotional guy," Trestman said. "I've gotten to know him personally. He's a very passionate, very smart player and right now he's got good coaching around him. He's got an environment that certainly on his journey this might be the place for him. Being with [Browns offensive coordinator] Norv [Turner] and being with [Browns coach Rob] Chud[zinski] and those guys who really know how to work with a big, strong quarterback like Jason. So that calmness, that veteran experience, it gives them a chance each and every week. I'm sure they feel that way."
December, 11, 2013
Dec 11
2:00
PM ET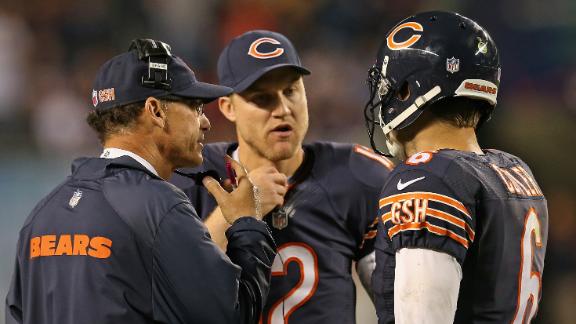 LAKE FOREST, Ill. -- The Chicago Bears plan to put quarterback Jay Cutler through a full-speed workout Wednesday before making a decision about whether to start him Sunday against the Cleveland Browns over backup Josh McCown.
Coach Marc Trestman "anticipate[s] the workout will be a good one," and if that's truly the case, "we'll be moving forward tomorrow" in naming Cutler the starter.
"We'll have receivers there afterwards. We'll work him through drops, redirect him in the pocket, move him up and down and get as much suddenness out of him as we can," Trestman said. "He's gone through the first steps [of being cleared to play] other than this workout. He's been cleared from a standpoint of allowing us to work him at full speed."
Trestman said the plan is to put Cutler through the practice script the Bears will follow Thursday at practice as they begin final preparations for the Browns.
In other injury news, Trestman said he's "not optimistic" about the return of linebacker Lance Briggs, who has missed the last six games with a fracture in his left shoulder.
Cutler missed four consecutive games with a severe high ankle sprain sustained in the second quarter of a Nov. 10 loss to the Detroit Lions. McCown has started the past four games, going 2-2, throwing for 1,271 yards and nine touchdowns with only one interception for a 109.8 passer rating, which ranks No. 3 in the league.
December, 11, 2013
Dec 11
1:22
PM ET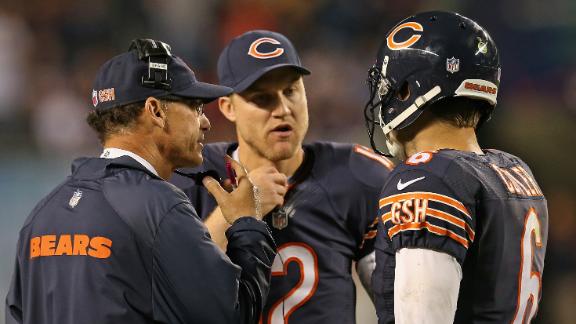 Former Chicago Bears middle linebacker Brian Urlacher believes the team should stick with Josh McCown at quarterback even if Jay Cutler receives the necessary medical clearance to return from the high-ankle sprain that has kept him out the past four games.
Urlacher, an NFL analyst for Fox Sports 1, said on "Fox Football Daily" that McCown has earned the right to continue starting for the Bears (7-6), who travel to Cleveland to face the Browns (4-9) on Sunday.
Both Cutler and McCown are scheduled to be unrestricted free agents in the offseason.
"It's going to be awfully hard to take Josh out of there right now the way he's playing," Urlacher said. "In my opinion, [McCown] should be the guy. He should be the starting quarterback of the Bears, even if Jay Cutler is healthy. You can't take a guy who's this hot out of the football game. If I was on that team, I would have a hard time with them taking him out."
McCown was named NFC Offensive Player of the Week on Wednesday after he completed 27 of 36 passes for 348 yards and four touchdowns Monday against the Dallas Cowboys, resulting in a 141.9 quarterback rating. McCown has thrown for 13 touchdowns and just one interception in seven games this season and also became the first quarterback in franchise history to pass for 300 or more yards in three consecutive games.
McCown is third in the league with a quarterback rating of 109.8 and first in Total QBR.
December, 11, 2013
Dec 11
8:00
AM ET
Given the short week, we're a little short on links for today's edition of Bears Essentials. But let's start with what's become a hot topic: Josh McCown vs. Jay Cutler.
It really shouldn't be that way. It's OK to appreciate what McCown has done for the Bears without it being a slight in any way to Cutler, who is the unquestioned starting quarterback of this team.
But ESPNChicago.com's Jon Greenberg thinks
the Bears should ride the hot hand at quarterback
and go with McCown for the rest of the season. Greenberg writes:
The McCown lovefest has been going on since he started, and won, in Green Bay. That's something Cutler hasn't been able to do.

The overall theme of his latest postgame news conference was veering close to: "How can we get you to say you should start over Cutler?"

"I'm the backup, Jay's our starter," McCown said Monday night. "When Jay is healthy, Jay should be the starting quarterback. That's really it. I don't go out here going, 'You know what, if I do this now I'll be the starter.' That's not my mindset. I've told you guys that. My mindset is to serve this team as the backup quarterback as best I can and play efficient football and winning football in this situation to keep us in contention. So, whenever he takes back over, we're in position to make a playoff run."

Trestman hasn't wavered from that message, either, obviously. If he did, we'd have a full-scale public relations disaster.
While Cutler, from this vantage point, is the superior player, I've got a tough time arguing Greenberg's rationale here. It seems every time this subject becomes a conversation, it's taken to extremes, to a black-and-white, one-is-better-than-the-other argument of absolutes. But the truth is it's far from that. Cutler is the best quarterback on the roster of the Chicago Bears. No doubt about that. But I'm not sure he's the team's best option at this very moment.
Let's remember, it's been a month since Cutler last played in a game. What type of shape will he be in once he returns? How much rust will Cutler have to knock off to get back to playing at peak efficiency? Will knocking the rust off result in mistakes and turnovers the Bears can't rebound from at Cleveland or Philadelphia, or wherever the club decides to start him next?
The team allowed Cutler to return to practice for two days last week. Before that, he had only run on a treadmill two days before the Bears brought him back to the practice field. So even if you count those two days last week of practice, and give Cutler an additional week of work leading into Sunday's game at Cleveland, I'd still be at least a little apprehensive about how the he would perform given the long layoff.
So take personal feelings and preferences out of the equation when looking at this thing and use common sense. McCown is on a hot streak, coming off three consecutive 300-yard passing games. And don't give me the argument that McCown has faced a slew of bad defenses. Sure he has. But in five years with the Bears, Cutler faced horrid defenses, too. The fact is nobody in Bears history has accomplished what McCown has done over his last three starts.
Does it make him better than Cutler? No. But it might make McCown the better option right now given the situation. At the very least, he's given this staff something to strongly consider in the coming days.
-- ESPNChicago.com's Jeff Dickerson put together his
weekly Stock Watch
, and surprise, surprise, receiver Alshon Jeffery's stock continues to rise. Dickerson writes:
"Every week Jeffery seems to make a ridiculous, highlight-reel catch. The second-year wide receiver struck again Monday night when he hauled in a deep McCown pass in the back corner of the south end zone and managed to drag both feet in as he fell out of bounds with two Dallas defenders in the area. Jeffery is on fire. He has a combined 17 catches for 333 yards and three touchdowns in the past two weeks. Already with 75 receptions for 1,193 yards and six touchdowns on the season, Jeffery is playing at a Pro Bowl level. Brandon Marshall is having another incredibly productive season (84-1,090-9), but Jeffery's emergence has been the No. 1 storyline this year in the wide receiver room. The exciting part is the best is yet to come for Jeffery, who doesn't turn 24 until February."
December, 10, 2013
Dec 10
6:58
PM ET
The Bears defeated the Dallas Cowboys on Monday night before the ball was even kicked off, according to Chicago receiver Brandon Marshall, who thinks the chilly conditions affected the visiting team's psyche.
Marshall made the assessment based on observations of the Cowboys during pregame warmups at Soldier Field. Temperature at kickoff was 8 degrees, with a wind chill of minus-9 and 14 mph winds.
"We beat Dallas last night before the game started," Marshall said Tuesday during the "Jay Cutler Show" on ESPN 1000. "When it was [receiver] Alshon [Jeffery], myself, Earl Bennett and some of the other guys outside warming up pregame, there was only a handful of Dallas players. I looked around and I said, 'Man, we've got these guys.' "
The Bears racked up 490 yards of offense as Josh McCown tossed four touchdown passes and ran for another in a 45-28 thrashing of the Cowboys. Marshall led the way for the Bears with a game-high 100 yards on six receptions, while Jeffery contributed five grabs for 84 yards and a touchdown.
Bennett said the weather "wasn't that bad to me," and that "some guys just sucked it up. Pretty much the whole team didn't wear any sleeves."
December, 10, 2013
Dec 10
4:58
PM ET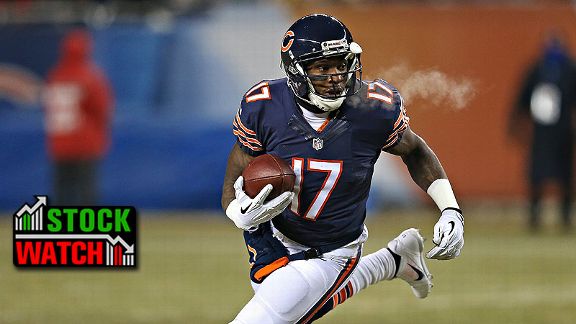 Jonathan Daniel/Getty ImagesAlshon Jeffery is fifth in the NFL with 1,193 yards receiving.
RISING


1. Josh McCown, QB:
He saved his best performance of the season for the
Dallas Cowboys
. In front of a national television audience, McCown torched the Cowboys' defense for 348 passing yards and four touchdowns (141.9 passer rating), plus a 7-yard touchdown run that electrified the Soldier Field crowd and pumped up McCown's teammates on the sideline. For the season, McCown has passed for 1,809 yards, 13 touchdowns and just one interception. The veteran's passer rating of 109.8 is the third-highest total in the NFL, and his 66.8 percent completion percentage is the highest in team history for a single season. McCown has positioned himself to receive a multi-year deal in free agency for above the veteran minimum. But most importantly, McCown has the Bears (7-6) in the thick of the NFC North race after the
45-28 drubbing
of the Cowboys. The feel-good Chicago sports story of 2013 keeps getting better.


2. Alshon Jeffery, WR:
Every week Jeffery seems to make a ridiculous, highlight-reel catch. The second-year wide receiver struck again Monday night when he hauled in a deep McCown pass in the back corner of the south end zone and managed to drag both feet in as he fell out of bounds with two Dallas defenders in the area. Jeffery is on fire. He has a combined 17 catches for 333 yards and three touchdowns in the past two weeks. Already with 75 receptions for 1,193 yards and six touchdowns on the season, Jeffery is playing at a Pro Bowl level.
Brandon Marshall
is having another incredibly productive season (84-1,090-9), but Jeffery's emergence has been the No. 1 storyline this year in the wide receiver room. The exciting part is the best is yet to come for Jeffery, who doesn't turn 24 until February.


3. Offensive line:
For a couple of weeks the Bears' offensive line sputtered at times, but Monday night the group paved the way for
Matt Forte
to average 5.1 yards per carry, en route to his third 100-plus yard (102) rushing game of the season. Forte also went over 1,000 rushing yards on the season. McCown got sacked only one time in 36 passing attempts, and was hit a total of just three times, according to the official NFL stat book distributed after the game. Granted, the Dallas defense is dreadful, but the Bears offensive line dominated the line of scrimmage. The group surely benefited from returning home following two consecutive games on the road in dome stadiums.


3. Marc Trestman:
The Bears didn't fold after that excruciating Week 13 loss in Minnesota. That is a testament to Trestman holding the team together. NFL veterans will often shut it down late in the year if the playoffs are a pipe dream, but the Bears gave maximum effort against the Cowboys. And Trestman's play-calling Monday night was particularly effective and balanced. Now with the Bears at 7-6, Trestman has an opportunity to lead the Bears to the postseason for the first time since 2010.
FALLING


1. Linebackers:
Dallas running back
DeMarco Murray
had plenty of room to operate on the ground, rushing for a game-high 146 yards on 18 carries. Whenever a defense has difficulty stopping the run, a good chuck of the blame generally falls on the linebackers. Veteran
James Anderson
registered a sack and tackle-for-loss, but the rookies encountered their share of difficulties and finished with a combined six tackles. The return of
Lance Briggs
from a fractured shoulder would give the whole defense a lift. There is simply no way to ask
Khaseem Greene
to replicate the kind of production Briggs has provided the defense in the past 10-plus years.


2. Julius Peppers, DE:
Peppers continues to be hit or miss. One week after playing his best game of the season against the Vikings, Peppers was nowhere to be found Monday night. The veteran defender ended the game with zero tackles and failed to set the edge a handful of times while attempting to stop the run. With the final three games all scheduled to be played outdoors in cold-weather cities on natural grass, it's fair to wonder if Peppers has anything left to contribute as the Bears make their final push toward the playoffs.
December, 10, 2013
Dec 10
4:57
PM ET
A weekly examination of the Bears'
ESPN.com Power Ranking
:
Preseason
: 13 |
Last Week
: 15 |
ESPN.com Power Ranking since 2002

The
Chicago Bears
moved up two spots in the ESPN.com Power Rankings from No. 15 to No. 13 after Monday night's 45-28 destruction of the
Dallas Cowboys
.
The meager climb seems to be about right for the Bears, considering they faced a Cowboys defense that was actually worse than their own struggling unit. With the win, the Bears moved to within a half-game of first place in the NFC North, behind the
Detroit Lions
. So Chicago still needs some help to advance to the postseason, and the club likely will get it if it can just maintain the momentum down the stretch.
For a good portion of the season, the Lions have helped along the Bears by slipping in what appeared to be winnable games. Detroit, which remained at No. 12 in this week's rankings, lost at Philadelphia on Sunday to bring the Bears right back into the NFC North race. The Lions face Baltimore and the
New York Giants
over the next two weeks before playing the finale at Minnesota on Dec. 29. So there's a good chance the Bears can make up some ground on the Lions, but they must keep winning.
They'll also need to figure out what to do at quarterback once
Jay Cutler
is medically cleared to play. Cutler returned to the practice field last week and took part in two workouts but was declared out for Monday's game. In relief, backup
Josh McCown
produced his third 300-yard passing day in throwing for four touchdowns, in addition to rushing for a fifth.
Bears coach Marc Trestman reiterated that Cutler is the starter once he's medically cleared, but it's difficult to argue with McCown's hot hand at this point. The club could also be getting back linebacker
Lance Briggs
, who hasn't played since Oct. 20.
Elsewhere in the NFC North, the
Green Bay Packers
defeated the
Atlanta Falcons
to win their first game without quarterback
Aaron Rodgers
to move up a spot from No. 19 to No. 18, but signs point to the quarterback returning soon.
Minnesota, meanwhile, despite running back
Adrian Peterson
suffering a foot injury, moved up a spot from No. 28 to No. 27.
The Bears received one 12-place vote, two for 13, two for 15 and one for No. 16.
Chicago plays the first of back-to-back road games on Sunday at Cleveland before a matchup at Philadelphia. The Bears close the regular season hosting the Packers on Dec. 29.
December, 10, 2013
Dec 10
2:27
PM ET
Associated Press
NEW YORK -- The NFL will move the Week 16 matchup between Chicago and Philadelphia to the prime-time slot on Sunday, Dec. 22.
The Bears (7-6) will travel to face the Eagles (8-5) at 8:30 p.m. ET on NBC.
The New England Patriots' game with the Baltimore Ravens will move to 4:25 p.m. on CBS.