March, 10, 2014
Mar 10
10:27
PM ET
Disappointment over a potential deal that never materialized with
Seattle Seahawks
defensive end
Michael Bennett
on Monday didn't prevent the
Chicago Bears
from making a couple of cap-saving moves, in addition to shopping
Julius Peppers
around the league in advance of Tuesday's start to free agency.

The Bears whiffed -- but not for lack of trying hard -- on Plan A with Bennett, offering more money than the Seahawks, who eventually retained Bennett with somewhat of a hometown discount. But the Bears under the direction of general manager Phil Emery typically devise alternate strategies for adding the players they want in free agency. So while Plan B, C and the other options aren't fully known at this point, it's likely Chicago expects to make a flurry of moves in the first wave of free agency and be active all the way through the process.
That's why the team cut running back
Michael Bush
-- freeing up $1.85 million in cap space -- released tight end
Dante Rosario
, and put out calls around the league, according to ESPN NFL Insider Adam Schefter, for a potential trade for Peppers, which likely won't ever take place. With Peppers counting $18.183 million against Chicago's cap in 2014, no team wants to take in that salary via a trade. So when a team starts shopping a player, it often results in the club eventually cutting him.
Cutting Peppers with the post-June 1 designation would result in $4.183 million worth of dead money in 2014 and $4.183 million in 2015, but given his astronomical cap figures over the next two years, that would still represent respective savings of $14 million and $16.5 million.
But at this point cutting Peppers doesn't appear to be imminent.
What does seem to be on the way is the re-signing of middle linebacker
D.J. Williams
. The sides had been in discussion since last week, and negotiations were expected to continue through the weekend. As of Monday evening, the sides -- although still talking -- hadn't come to an agreement, according to a league source who expected a deal to take place late Monday night or early Tuesday.
Chicago also remains interested in re-signing other free agents such as cornerback
Charles Tillman
, defensive tackle
Henry Melton
and backup quarterback
Josh McCown
. Little information has emerged regarding Tillman's situation, although he's been linked to Tampa Bay because of his history with former Bears head coach Lovie Smith. The Bears have worked diligently to bring back Tillman, and it's likely the effort will continue as the cornerback's prospects with other teams could be limited by his age.
Melton, meanwhile, has generated interest from multiple teams, including the
Dallas Cowboys
, according to a league source, which would make sense given the defensive tackle's familiarity with defensive coordinator Rod Marinelli. That doesn't mean the Bears won't be able to re-sign Melton. After all, the Cowboys are tight against their cap, and it's unknown what kind of money another team might offer Melton, whose value could be diminished since he is coming off an ACL surgery.
As for McCown, as of right now, the Buccaneers appear to be the front-runner to land the quarterback, according to multiple sources, unless another one of the interested teams steps up with a more enticing offer, as the career backup may receive an opportunity to compete for a starting job. According to ESPNChicago's Jeff Dickerson, McCown's camp has been in contact with the Bucs, Bears,
New York Jets
and
Houston Texans
.
Dickerson also reported the Bears reached out to
Cincinnati Bengals
defensive end
Michael Johnson
on Saturday, ostensibly as a secondary option to Bennett, when the negotiation window for unrestricted free agents opened around the league. Although the sides engaged in preliminary talks, as of Monday evening it was believed the Bears weren't at the top of the list for Johnson, who is widely considered the best available defensive end remaining on the market.
The Bears are also targeting defensive end
Lamarr Houston
of the Raiders according to a report on the NFL Network.
It's unknown at this point where that leaves the Bears in terms of addressing needs along the defensive line, but several potential lower-priced options exist, and the salary demands could drop depending on how the first wave of free agency goes.
Safety is another area of need the Bears hope to address in free agency. The San Francisco Chronicle reported Chicago has expressed interest in San Francisco's
Donte Whitner
, who would give the Bears an intimidating presence on the back end. A source also confirmed the club's interest in
New York Giants
safety
Ryan Mundy
, who finds Chicago an intriguing opportunity because he'd receive a chance to compete for a starting job.
The Bears ended the day Monday with nearly $10.2 million in cap space, and it's worth noting the club spent $5.775 million during free agency for the 2013 season on three starters in
Jermon Bushrod
,
Matt Slauson
and
Martellus Bennett
.
So as the initial sting of losing out on Bennett wears off, Emery said back in January the Bears will still be plenty competitive in terms of putting together a solid team once free agency opens on Tuesday.
We all just have to wait and see.
March, 10, 2014
Mar 10
5:50
PM ET
CHICAGO -- The Bears have released veteran running back Michael Bush.
Bush was scheduled to earn a $2.8 million base salary and $50,000 workout bonus in 2014 and count $3.85 million against the Bears' salary cap. Bush will carry $2 million of dead cap money, the remaining prorated amount of the $4 million bonus he received when he signed a four-year, $14 million contract with the Bears in 2012 that included $7 million in guarantees.
Bush carried the ball a career-low 63 times for 197 yards (3.1 yards per rush) and caught the ball just four times for 48 yards last season, despite eating up $3.55 million worth of cap space. The seven-year veteran gained 411 yards on 114 attempts and scored five touchdowns for the Bears in 2012.
Coach Marc Trestman addressed Bush's diminished role in the team's offense at last month's NFL combine.
"I think, No. 1, it was very difficult to take Matt [Forte] off the field, and it was very impressive that he had the endurance to do what he did this year," Trestman said. "There were times that we just felt we had a plan to play Michael more, the defense may have been on the field, and Matt had a good enough rest so we kept Matt out there and didn't get Michael on as much as we would've liked to. We had a plan but we didn't execute it. A lot of that, going in, was Matt's productivity.
"I've experienced this in Oakland when we had Tyrone Wheatley and Charlie Garner. There's a place, certainly, for that type of back. If you have a system of football that's flexible enough, you can seamlessly make that transition and still be just as effective."
March, 10, 2014
Mar 10
10:34
AM ET
Chicago Bears
tight end
Martellus Bennett
appeared on NFL Network on Monday with his brother
Michael Bennett
, a defensive end for the
Seattle Seahawks
and one of the most sought after commodities in free agency.
Michael Bennett
Martellus Bennett
Despite a hard sales pitch from Martellus Bennett, the elder sibling never gave a strong indication regarding his potential landing spot. The Bears are reportedly expected to sign Michael Bennett once free agency officially begins at 3 p.m. CT Tuesday, but a league source familiar with the negotiations said the defensive end hasn't yet made a decision. [
Update:
The Seahawks
signed Michael Bennett to a multiyear contract extension
Monday afternoon.]
"You've just got to stay tuned, man, like a suspenseful movie," Michael Bennett said. "I've got to leave it suspenseful right now."
That didn't stop Martellus Bennett, who turned 27 on Monday, from laying out a strong case for Michael to sign with the Bears. Martellus Bennett also recently tweeted a picture of a 12-year-old Michael Bennett wearing a Chicago Bulls jersey.
"The No. 1 thing is family. You're going to get paid wherever you get paid," Martellus Bennett said. "... So if the contract is not the number that you want, you've got to think about the market and off the field."
Martellus Bennett joked that the duo could do commercials and perhaps a reality show. Both are currently sporting unkempt beards.
"We could do Doublemint commercials. Look at Duck Dynasty. Talk about the black Duck Dynasty right now. Me and you bro," said Martellus Bennett, continuing the pitch to his elder sibling. "There's just a lot of opportunity. Chicago [has] the best fans, unique city, great opportunities business wise, which I know there are a lot of things you want to do off the field after football. And none of those things are tech or coffee. [In] Seattle, that's what they're offering you. So come on down to Chicago, man."
Michael Bennett admitted that his brother put together "a great argument" and made "some great points" but refused to give any indication as to where he would be signing Tuesday once the new league year begins.
Michael Bennett said he is fielding calls from several suitors.
"I've got to leave it suspenseful for the next couple of hours and go home and make the right decision. It's really hard though," he said. "So many things play a key into the decision of your future, where you're gonna play. But I love my brother. He's one of the best tight ends in the league. So it's gonna be hard."
Martellus Bennett obviously isn't making things any easier as he continued to pitch joining the Bears.
"The biggest thing right now is usually when you go from a team to another team, you might have a friend there. You may just be jumping into the water. But here, there's a bridge. Your brother is a bridge," Martellus Bennett said. "Chicago, they love the Bennetts, bro. So to have two Bennetts, well, it would be a third because of Earl. But the Bennett and Bennett, we might as well be tough, smart lawyers. We probably could do back insurance. You get in a car accident, come on down to Bennett and Bennett. Got in a wreck, need a check? Call Bennett and Bennett. We can do whatever we want to do."
Martellus Bennett also explained the picture he posted on Twitter featuring Michael Bennett on a phone wearing a Michael Jordan jersey.
"Somewhere down the timeline of Michael Bennett Jr. history, Chicago was on his mind. It's in you. It's not something new," Martellus Bennett told Michael. "It's something that's been there. It's been there for a long time from the Bulls jersey. You buy Jordans all the time. I'm just saying the Chicago Bulls jersey is cool. We could get you one with Bennett on the back, No. 23, 72, whatever you want to get. We can get it done."
March, 10, 2014
Mar 10
10:09
AM ET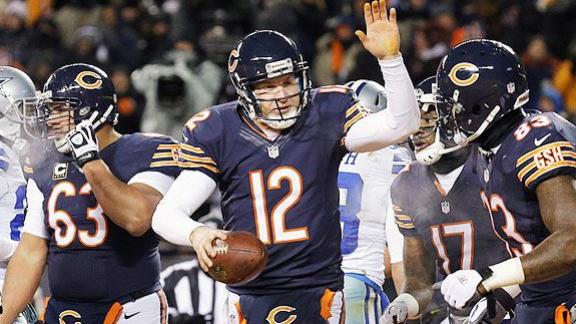 CHICAGO --
Chicago Bears
free-agent quarterback
Josh McCown
told ESPN Radio's "Mike & Mike" that his representatives have held discussions with four teams in advance of the NFL's free-agency period which opens at 3 p.m. CT on Tuesday.
McCown declined to specifically name the interested parties, but the belief in league circles is that the Bears,
Tampa Bay Buccaneers
,
New York Jets
and
Houston Texans
are the organizations making the strongest push the sign the 34-year old veteran quarterback.
McCown re-emphasized that if he left Chicago, his home for parts of the last three seasons, it would be to pursue a full-time starting quarterback opportunity.
"I'm not going to get in to who I talked to," McCown said. "There is a window and there is legal tampering but there are some shades on that window so I don't know out of respect to those teams if we want to get into that right now. We've talked to four teams. There have been good discussions. We'll take those as they come and evaluate those situations.
"To leave Chicago, it will be a situation where I'm looking to compete to start or to start and be able to kind of grow more as a player. The only way as a player that you can do that is on the field. That will definitely be something that we are looking at. So we'll see. We'll see what opportunities come and where we are at tomorrow."
McCown is expected to receive a significant bump in pay from the one-year, $840,000 veteran league minimum salary he received from the Bears last offseason that included a $25,000 signing bonus and $5,600 workout bonus for a total compensation package of $870,600.
That pales in comparison to the kind of money that exchanged hands last week at the quarterback position, when
Chad Henne
signed a two-year, $8 million ($4.5 million guaranteed) with the
Jacksonville Jaguars
and
Matt Cassel
inked a two-year, $10 million contract with the
Minnesota Vikings
.
McCown, who turns 35 in July, had a career year in 2013 when he completed 149 of 224 pass attempts for 1,829 yards, 13 touchdowns and one interception. McCown, who appeared in eight games last season with five starts, finished the season as the NFL's third highest-rated quarterback with a 109.0 passer-rating – the highest single-season quarterback rating in franchise history.
McCown set additional Bears all-time records with three straight 300-yard passing games, 36 completions in a single game versus the
St. Louis Rams
on Nov. 24 and an overall single-season completion percentage of 66.5.
McCown also had the best interception percentage in the NFL last year with one pick in 224 attempts (0.4 percent).
The Bears had an exclusive window to negotiate with McCown since the end of the regular season, but the club appears unwilling to set the market for a 34-year old quarterback after it signed starter
Jay Cutler
to a contract that contained $54 million in guarantees.
The Bears also agreed to terms on a one-year deal with veteran quarterback
Jordan Palmer
on Sunday.
March, 10, 2014
Mar 10
10:00
AM ET
A few deals have been signed around the NFC North in the days leading up to free agency, but plenty of valuable players are about to hit the open market.
Here is a ranking of top NFC North free agents, with information provided by ESPN.com reporters Rob Demovsky (
Green Bay Packers
), Ben Goessling (
Minnesota Vikings
), Michael Rothstein (
Detroit Lions
) and Michael C. Wright (
Chicago Bears
).
We will update this periodically throughout the next several weeks.
1.Sam Shields, Packers CB:
Emerged as the Packers' top cover cornerback last season while playing for the restricted free-agent tender of $2.023 million and was re-signed to a four-year, $39 million contract just a few hours into the open negotiating period Saturday. His 2014 total pay of $15 million makes him the NFL's second-highest-paid cornerback for next season.
2. Brandon Pettigrew, Lions TE:
The No. 20 pick in the 2009 draft out of Oklahoma State, Pettigrew spent the past five seasons as one of Detroit's primary tight ends, specifically known for the ability to both block and run routes effectively.
3. Jermichael Finley, Packers TE:
Had surgery to fuse the C3 and C4 vertebra in his neck but expects to be cleared by his doctor. Gambled two years ago in free agency, signing just a two-year, $14 million deal in the hope that he would blossom into a star and command an even bigger contract the next time around.
4. Charles Tillman, Bears CB:
The NFL's Walter Payton Man of the Year, Tillman started eight games last season before finishing on the injured reserve with a torn triceps. The Bears hope to bring back Tillman but might not be able to come up with a suitable offer.
5. B.J. Raji, Packers DT:
Reportedly turned down an $8 million per year offer from the Packers last season, which might have been a sign that he preferred to play in a system that gave defensive linemen more freedom. After a disappointing season, his value has gone down, and as of last week, he was close to signing a one-year deal to return.
Cassel
6. Matt Cassel, Vikings QB:
Opted out of his 2014 contract after the Super Bowl but signed a new two-year deal with the Vikings on Friday, just before teams could start contacting his agent. He will likely head into training camp with the inside track on the starting job.
7. Willie Young, Lions DL:
Former seventh-round pick received his first extensive playing time in 2013, becoming a full-time starter after
Jason Jones
was injured for the season in Week 3. Young turned into one of the more disruptive players up front, making 47 tackles, recovering two fumbles and recording three sacks.
8. James Jones, Packers WR:
Ranked second on the Packers last season in receptions (59) and yards (817), the latter of which was a career high despite missing nearly three full games because of a knee injury. Three years ago, coming off the NFL lockout, Jones did not draw strong interest on the free-agent market and re-signed with the Packers for three years and $9.6 million.
9. Jared Allen, Vikings DE:
After three All-Pro selections in six years, Allen's time in Minnesota is likely over. He could come back as a situational pass-rusher on a reduced salary, but after making $14 million last season, Allen might head elsewhere for a bigger role and bigger paycheck.
McCown
10. Josh McCown, Bears QB:
He proved he is capable of filling in for
Jay Cutler
in a pinch and is instrumental behind the scenes for nearly every skill player on the offense. It's not a slam dunk he will be back, and talks with the Bears haven't been especially productive.
11. Henry Melton, Bears DL:
Melton's representatives fully expect him to test the market in free agency because the Bears haven't shown a ton of interest. Coming off a torn ACL, Melton probably won't command top dollar in the first wave of free agency.
12. Devin Hester, Bears KR:
Became strictly a return specialist for the Bears last season and is still one of the league's best at his position. Probably expects a payday similar to what he's gotten in the past.
13. Rashean Mathis, Lions CB:
Mathis signed with Detroit during the 2013 preseason and became one of the team's starting cornerbacks by the third week of the season. He played in 15 games, making 47 tackles and often drawing the opponent's top wide receiver.
14. Everson Griffen, Vikings DE:
The 26-year-old cashed in on Sunday by signing a five-year, $42.5 million deal that included $20 million guaranteed to return to Minnesota. He should flourish in new coach Mike Zimmer's defensive scheme.
15. Louis Delmas, Lions S:
The 26-year-old was released by Detroit with one year remaining on his contract in February, in part because of a cap number of $6.5 million in 2014. Has played in 65 games for Detroit over five seasons, with 328 tackles, six interceptions and two forced fumbles. He also had five sacks and four fumble recoveries.
March, 9, 2014
Mar 9
10:43
PM ET
The
Chicago Bears
announced Sunday they have agreed to terms on one-year contracts for defensive tackle
Nate Collins
and quarterback
Jordan Palmer
.
Terms of the deals were not disclosed, but it's believed both signed contracts for the veteran minimum. The club moved to sign Collins and Palmer two days before they were set to hit the open market Tuesday with the start of free agency.
It's unknown at this point whether the Palmer signing will affect the club's effort to re-sign veteran backup
Josh McCown
. The Bears had been trying to reach a deal to bring back McCown, who served as the starter for five games last season in place of
Jay Cutler
. But negotiations
had not gone smoothly
, according to multiple sources familiar with the situation.
In Palmer, the Bears gained some comfort in his grasp of the offensive system, despite the five-year veteran spending just nine games in 2013 with the club. At the end of training camp, Bears coach Marc Trestman came away impressed with Palmer's ability to absorb information quickly when they brought aboard the quarterback as an emergency fill-in for the injured Matthew Blanchard. The Bears signed Palmer on Aug. 17, and 12 days later in the preseason finale against Cleveland, the quarterback completed 11 of 17 for 111` yards and a touchdown to go with a passer rating of 102.8 in only one half of action.
Still, the Bears cut Palmer at the end of the exhibition season, only to bring him back on Oct. 28.
The younger brother of
Arizona Cardinals
quarterback
Carson Palmer
, Jordan Palmer has played five seasons in the NFL with the Bengals, Jaguars and Bears, but has participated in just four games.
Collins, meanwhile, became a starter when the team lost franchise defensive tackle
Henry Melton
for the season with a torn ACL. But in his first game in the starting lineup, Collins tore the ACL in his left knee during a third quarter loss to the
New Orleans Saints
on Oct. 6.
Collins' injury marked the second time in 15 days the Bears lost a starting defensive tackle to a torn ACL. Prior to suffering the knee injury, Collins had produced 13 tackles a sack and three quarterback pressures.
March, 8, 2014
Mar 8
11:45
PM ET
The
Chicago Bears
' exclusive right to negotiate a contract with free agent defensive tackle
Henry Melton
expired Saturday once the league's legal tampering period opened up in advance of Tuesday's start of free agency, and as expected, several teams have expressed interest, according to an NFL source.
Melton
Melton, 27, is coming off surgery to repair his left ACL, and it's likely the Bears were optimistically expecting somewhat of a soft market for the defensive tackle, who received $8.45 million in 2013 as the club's franchise player. But early indications are that Melton will generate plenty of interest from several teams. It's worth noting that Melton has familiarity with Buccaneers head coach Lovie Smith and Dallas defensive coordinator Rod Marinelli (even though the Cowboys likely aren't an option considering they are barely under the salary cap at this point). It's also important to mention that calls made by clubs once the negotiation window opens up typically result only in preliminary talks, as the action isn't expected to seriously heat up until Sunday and Monday.
Since the end of the regular season, Melton and the Bears have engaged in some positive talks. But after the week of the NFL combine, the defensive tackle's representatives fully expected their client to test the market based on further discussions with the club.
The Bears signed veteran defensive tackle
Jeremiah Ratliff
on Wednesday night, but that move doesn't diminish the team's interest in bringing back Melton, who put together a Pro Bowl season in 2012, only to follow with a three-game 2013 campaign that ended with a torn left ACL against the
Pittsburgh Steelers
.
Prior to Melton's injury, Chicago ranked No. 8 against the run. After, the run defense nosedived to last.
But Melton's knee isn't expected to be a major concern for him going into next season, based on comments made by general manager Phil Emery and head coach Marc Trestman.
"He's in every day early," Trestman said last month at the combine. "He's got to drive in from downtown. If you see him, you'll see that he has been training and he has been working. He's very focused. You'll see that he dropped some weight. He looks very good physically right now. Obviously, he's in there working the knee. But he's been on time. He's working hard. I spoke to him yesterday for 30-45 minutes, and he's committed to getting himself back, and he's got work to do to get there. But he's in a very good place right now, and we all understand the situation. We'll see where it goes."
The destination, whether it's Chicago or elsewhere, will likely be known by the start of the new league year.
But surely, the Bears have contingency plans in place as they could seek out other options through free agency or use their first-round draft pick to bolster the position. A source with knowledge of the team's thinking mentioned it would be wise to find out the market value for the players the club would like to re-sign once free agency actually opens, before moving too quickly and possibly overspending.
By doing that, the Bears run the risk of losing some of those free agents. Such a scenario could be playing out right now with Melton.
March, 8, 2014
Mar 8
10:14
PM ET
CHICAGO --
Cincinnati Bengals
' free agent defensive end
Michael Johnson
is on the
Chicago Bears
' radar.
The Bears were one of the teams to inquire about Johnson on Saturday on the opening day of the NFL's legal tampering period leading up the official start of free agency on Tuesday at 3 p.m. CT, according to a source familiar with the situation.
ESPN.com's
Minnesota Vikings
NFL Nation beat reporter Ben Goessling had reported that seven teams had contacted Johnson's representatives by Saturday evening, including the division rival Vikings.
The 6-foot-7, 270-pound Johnson recorded only 3.5 sacks last season to go along with 56 tackles, one interception and two forced fumbles.
However, Johnson, 27, had a career-high 11.5 sacks in 2012.
In five years with the Bengals, Johnson has 26.5 sacks, three interceptions and three forced fumbles.
The Bears are in dire need of help at defensive end. Veteran
Julius Peppers
' future with the Bears is cloudy at best considering the eight-time Pro Bowl pass-rusher is scheduled to count $18,183,333 million against the club's 2014 salary cap.
Further complicating matters is that former first-round draft choice
Shea McClellin
is moving to linebacker next season, and
Corey Wootton
is set to become an unrestricted free agent. Wootton is currently recovering from offseason hip surgery and not expected to return until the summer.
The Chicago Tribune reported on Saturday the Bears are believed to have expressed interest in free agent defensive end
Michael Bennett
, whose brother Martellus is the team's starting tight end.
Addressing the defensive end position is clearly a priority for the Bears in the coming days.
March, 8, 2014
Mar 8
9:00
AM ET
Thanks for everyone's participation because there is no Twitter mailbag without you guys.
Enjoy your weekend.
March, 7, 2014
Mar 7
11:00
AM ET
»
AFC Free-Agency Primer
:
East
|
West
|
North
|
South
»
NFC
:
East
|
West
|
North
|
South
Key free agents:
Charles Tillman
,
Henry Melton
,
D.J. Williams
,
Major Wright
,
Devin Hester
,
Corey Wootton
,
Josh McCown
.

Where they stand:
The club informed Hester it won't be re-signing him for 2014, but the Bears are making a concerted effort to try to bring back Tillman. Still, there's a chance the economics won't work out, as Tillman could have other suitors willing to pay more than Chicago. The Bears did some work in re-signing free agents, such as defensive tackle
Jeremiah Ratliff
, cornerback
Kelvin Hayden
along with center
Roberto Garza
, to cap-friendly deals. Negotiations to re-sign McCown have moved along slowly, which means there's a chance the Bears could lose him if another team gives the backup an opportunity to win a starting job. There's interest from both sides in re-signing Williams, and talks are expected to continue over the weekend.
What to expect:
At this point, it's unknown where Chicago's pro personnel department has rated its own unsigned free agents against what else is available on the market. So count on the Bears waiting to see what the market value for their own players is before moving to re-sign them, which is actually a smart move that will keep them from overpaying. The Bears aren't expected to overspend on big names in free agency, but general manager Phil Emery has been known in recent years to make a couple of surprise moves. The Bears would like to infuse youth on defense, but that could prove to be a pricey proposition in free agency for a team with limited cap space. They do have the flexibility to free up cash by cutting players such as
Julius Peppers
, or restructuring
Jay Cutler
's deal, which includes a base salary of $22.5 million in 2014.
March, 7, 2014
Mar 7
8:00
AM ET
Teams around the NFL can start contacting and negotiating with agents of players set to become unrestricted free agents on Saturday, but deals can't be executed until 3 p.m. CST March 11 when the new league year starts.
As that date quickly approaches, we take a look at Chicago's pending free agents, and their chances of returning to the team in the fourth part of our series we'll post all week.
2014 free agent:
Blake Costanzo
Position:
Special teams/linebacker
2013 statistics:
Special teams -- 17 tackles, one forced fumble and one fumble recovery; Defense -- two tackles
2013 salary:
$715,000 base salary and $25,000 workout bonus -- $740,000 cash value
Outlook:
Costanzo led the Bears in special teams tackles but the team has made no attempt to re-sign him since the end of the regular season. The outspoken Costanzo didn't seem to click with first-year head coach Marc Trestman. However, Costanzo is a valuable contributor on special teams. He is sure to find work, but the prospects of him returning to Chicago are bleak. Costanzo received a $400,000 signing bonus from the Bears when he inked his two-year deal in 2012. That would be a great guaranteed number for Costanzo to strive for in the next round of free agency that begins March 11.
2014 free agent:
Eben Britton
Position:
Guard/offensive tackle
2013 statistics:
None. Played in 13 games with four starts as an extra tight end.
2013 salary:
$715,000 base salary and no bonuses and $4,200 workout bonus -- $718,200 cash value
Britton
Outlook:
Didn't play the first three games before making his Bears debut Sept. 29 and later starting four games as an extra tight end in some of the club's run sets. In all, Britton played in 13 games and is a valuable backup with extensive experience as a starter. In fact, Britton could attract interest in free agency from teams wanting him to come in to compete for a starting job. Chicago will let Britton test the market to see how things shape up for him, and if he doesn't receive consideration as a potential starter, the Bears might look into bringing him back as a reserve with a veteran-minimum salary.
2014 free agent:
Patrick Mannelly
Position:
Long snapper
2013 statistics:
One special teams tackle
2013 salary:
$940,000 base salary and $5,250 workout bonus -- $945,250 cash value
Outlook:
When Mannelly recovers from offseason hip surgery he will have a one-year, veteran minimum salary waiting for him from the Bears. Entering his 17
th
NFL season, Mannelly's skills are still sharp. Maybe he doesn't snap like he did five years ago, but he certainly appears capable of being effective and his usual near-flawless self for the Bears in 2014. There is a chance Mannelly, who turns 39 next month, could decide to walk away from the game on his own terms. That is always a possibility. But if the Bears' all-time leader in games played still has the itch to snap in the NFL, the Bears are expected to welcome him back with open arms. Why wouldn't they?
2014 free agent:
Jonathan Scott
Position:
Special teams/linebacker
2013 statistics:
None. Inactive for all 15 games he spent with the team.
2013 salary:
$715,000 base salary -- $672,941 cash value
Outlook:
The Bears cut Scott in early September of last season to avoid being strapped with guaranteeing his salary for 2013 due to the fact he was a vested veteran. The Bears brought him back less than a week later, and although Scott was with the team for the final 15 games, he never saw action. Scott, 31, will test the market, according to his representatives, and it's unlikely the Bears will look to re-sign him unless they run into trouble finding younger players capable of contributing as reserves.
March, 6, 2014
Mar 6
5:04
PM ET
Former
Chicago Bears
linebacker
Brian Urlacher
weighed in Thursday on the team's
decision to part ways
with return man
Devin Hester
.
Hester played eight seasons with the Bears, but on Wednesday was informed the club was looking to "go a different way with me," he said on NFL Network. Urlacher told FoxSports.com he was "really surprised" to hear his former teammate would no longer be a Bear.
"You think of Devin returning all those punts and kicks as a Bear," said Urlacher, now an NFL analyst for Fox Sports 1. "He's going to break the record on another team, probably. It's crazy to think he won't be in a Bears uniform doing that. It's frustrating as an ex-Bear and a player to see that happen."
Especially when you've got firsthand experience with the business side of the NFL as Urlacher suffered a similar fate offseason when he and the Bears couldn't come to agreement on a new deal.
Although Hester turns 32 in November, he led the NFL last season with a career-high 1,436 kick return yards on a league-high 52 tries, and returned five kickoffs for a team-record 249 yards against Minnesota in Week 2 of last season..
With Hester focusing primarily on returns in 2013, it's likely the team held expectations that he would return to greatness on a more consistent basis.
But in 123 games (46 starts) over eight seasons (2006-13), Hester's 3,241 punt return yards are eighth most in NFL history and his 12.3 punt return average ranks No. 5. Hester is the club's all-time leader in total return touchdowns, punt return touchdowns, punt return yards, kickoff return yards (5,504), total kick return yards (8,745) and second in all-purpose yards (11,632).
"Look at what the Steelers have done the last couple days signing
Troy Polamalu
,
Heath Miller
, some older guys to a couple more years just so they can retire as Steelers," Urlacher said. "The Bears could do that with Devin. He should retire a Bear. He set all those records in a Bears uniform and his number 23 should be retired one day in Chicago.
"It's just the loyalty factor," he added. "It's just not there. He should be a guy that retires as a Bear."
Despite Hester expecting to play for another team in 2014, he would like to retire a Chicago Bear when his playing career comes to a close. In the meantime, Hester would like to reunite with former Bears coach Lovie Smith, who is now with the
Tampa Bay Buccaneers
.
"I look at Lovie as my number one coach right now because he's the one that took a chance on me coming out of the draft," Hester said. "He has all my respect so if he's a guy that is going to shoot at me and want me to come play with him again, my arms are open."
Urlacher believes a potential reunion with Smith would "be a great move" for Hester.
"He had great success from when Lovie was with Chicago," Urlacher said. "All those returns were when he was his head coach. Anyone leaving Chicago and joining Lovie is a great move. He's a great head coach and guys know what it's like playing for him. He has been successful in the league and he'll be successful down there, as well. I think Tampa would be a great fit for Devin."
The Bears fired Smith on Dec. 31, 2012, before hiring Marc Trestman as his replacement.
March, 6, 2014
Mar 6
5:00
PM ET
The
Chicago Bears
signed veteran defensive end
Trevor Scott
to a one-year contract, the team announced on Thursday.
Scott has appeared in 76 games with 18 starts over six seasons with the
Oakland Raiders
,
New England Patriots
and
Tampa Bay Buccaneers
. The 6-foot-5, 260 pound defensive end played in just four games and recorded three tackles for the Bucs last season.
Oakland's six-round choice (No. 168 overall) in the 2008 NFL draft out of the University of Buffalo, Scott had five sacks for the Raiders his rookie, then registered a career-high seven sacks, 37 tackles, 11 tackles-for-loss and 12 quarterback hits in 2009.
Scott also has 20 lifetime tackles on special teams.
The Bears view upgrading the defensive line as one of their top offseason priorities after the unit struggled last season due to injuries and inconsistent play.
Veteran defensive tackle
Jeremiah Ratliff
agreed to terms on a new two-year deal on Wednesday, while fellow defensive linemen
Henry Melton
,
Nate Collins
,
Corey Wootton
and
Landon Cohen
are scheduled to become unrestricted free agents when the NFL's new league year begins on March 11. The Bears signed former
Jacksonville Jaguars
and
Detroit Lions
defensive end
Austen Lane
to a one-year deal in February.
Another decision looming for the Bears on the defensive line is the roster status of eight-time Pro Bowl defensive end
Julius Peppers
. Peppers, 34 years old, is scheduled to count $18,183,333 against the Bears' 2014 salary structure under the terms of his current contract and is fresh off a mediocre 2013 season.