July, 30, 2014
Jul 30
4:53
PM ET
BOURBONNAIS, Ill. – In the latest twist to the Chicago Bears' "wide open" safety competition, fifth-year veteran
Danny McCray
handled all the first-team reps alongside
Ryan Mundy
on Wednesday, while rookie fourth-round choice
Brock Vereen
worked exclusively on the No. 2 defense.
McCray
A core special-teams contributor the last four years in Dallas (74 career special-teams tackles), McCray's only real NFL experience on defense occurred in 2012, when he recorded 87 tackles and one interceptions in 10 starts for the Cowboys.
"It's a big opportunity," McCray said. "I think that's what we are all here for. It's open competition. They are just running people around to see what fits and who can make plays."
The Bears have refused to anoint any starters at safety, citing it as an open competition. However, Vereen and Mundy spent almost the entire offseason program and the beginning of camp as the top duo until Bears head coach Marc Trestman met on the off-day (Tuesday) with his staff to evaluate the club after four practices in Bourbonnais.
"We wanted to take a look at [McCray]," Trestman said. "He's been practicing well. We've said all along the safety position is wide open and we wanted to take a look at him with the first group today. We talked a lot about it yesterday. Like I said, like we've all said, I don't think you should take any one day and start making decisions on who is playing that position, other than certainly the guys that we all know. But the safety position is wide open and Danny has worked to an extent that he gets a chance to get some work there, so that's what we did today.
"No. 1, [McCray] been in the right place in terms of covering and terms of the run game. His effort level has been very high. He's a highly intelligent football player. He's played consistently and continued to ascend over the last few days and we wanted to get a look at him with the ones. That's what we did today and we'll see what the tape shows."
To be clear: The Bears announced last week they planned to look at various combinations at several positions throughout the preseason. Just because Vereen ran with the second team on Wednesday doesn't mean he won't be back on the No. 1 unit in the near future.
"I feel like whoever I'm out there with, I'm worthy of making a play," Vereen said. "I don't care who is to my left and to my right. I've got a great group of guys around me that I'm going to give my top effort to."
Meanwhile, veteran
Adrian Wilson
benefited from increased reps on Wednesday with Vereen on the second team. Up until Wednesday, the four-time Pro Bowl selection had been regulated to mostly the third team, where playing time is sporadic at best.
July, 30, 2014
Jul 30
4:45
PM ET
BOURBONNAIS, Ill. -- A daily review of the hot topics coming out of
Chicago Bears
training camp:
Coach Marc Trestman watched as Hall of Fame receiver Michael Irvin held court in front of a JUGS machine with receivers Brandon Marshall, Alshon Jeffery and Marquess Wilson along with tight end Martellus Bennett. For Trestman, the moment seemed a perfect one to pull out his iPhone to snap a shot. Instead, the coach was forced to handle his daily news conference duties with the media. "I was just getting ready to go take a picture with my iPhone, but I missed out," Trestman joked. "That's a nice picture. That man was a heck of a player and knows a lot of football. So I'm glad they had a chance to spend some time together." The opportunity to snap a picture remained for Trestman after fulfilling his media obligation as Irvin and the Bears players remained grouped together talking shop. But if Trestman pulled out his phone to take a picture, "You guys would be taking pictures of me taking the picture," the coach joked.
Cornerback Tim Jennings (groin) took part during individual drills, but the staff continues to hold him out of full-team work. Rookie Kyle Fuller worked in Jennings' place with the starters, while Kelvin Hayden kicked inside to nickel. Isaiah Frey worked as the extra defender in dime packages. Other non-participants included safeties Chris Conte (shoulder) and Craig Steltz (groin), guard Kyle Long (viral infection) and receiver Terrence Toliver (toe). Jeffery (foot) returned to the practice field after being held out on Monday.
Trestman spent several minutes after practice working with backup quarterbacks Jordan Palmer and Jimmy Clausen, putting the duo through rope-ladder drills. Holding the ball, the quarterbacks simulated their drops through the ladder. It appears the coach is working to improve the quarterbacks' footwork.
Out since the start of camp after undergoing shoulder surgery in the offseason, Conte spent several minutes before the start of Wednesday's practice catching balls from a JUGS machine. Conte started camp on the active physically unable to perform list, but the expectation is he'll be cleared to practice soon. Regardless of when Conte returns, he's been all but declared out of the preseason opener Aug. 8 against the Philadelphia Eagles by Trestman. Conte needs to return soon, though, as competition at the safety position remains heated with several players vying for two openings.
The Bears signed receiver Dale Moss to a one-year contract on Tuesday, and on Wednesday he made one of the most eye-popping plays of the day. Coming over the middle in heavy traffic, Moss made a leaping grab as linebacker DeDe Lattimore laid a bone-jarring lick. Moss managed to hang onto the ball, and even threw out a first-down hand gesture on the way back to the huddle.
July, 30, 2014
Jul 30
4:12
PM ET
BOURBONNAIS, Ill. -- Athletic trainers carted off backup
Chicago Bears
guard
Eben Britton
after the veteran suffered a left hamstring injury during a one-on-one drill against defensive tackle
Jeremiah Ratliff
.
Britton said the injury isn't serious, that he's "fine," and club officials expect the veteran to be on a day-to-day timeframe for recovery.
Britton sustained the injury battling Ratliff during a pass-rushing drill in which the defensive tackle appeared to win. As Ratliff rushed past Britton, the veteran grabbed his left hamstring. After spending a few plays watching the drill, Britton walked over to the athletic trainers' station to be checked.
Minutes later, the athletic trainers carted off Britton.
A sixth-year veteran, Britton played in 13 games for the Bears last season, starting in four of those as a sixth eligible lineman. Britton's production last season prompted the Bears to sign him in April to a one-year contract.
Prior to joining the Bears, Britton started 30 games for the
Jacksonville Jaguars
from 2009-12, making 23 starts at right tackle and seven more at left guard.
July, 30, 2014
Jul 30
3:50
PM ET
BOURBONNAIS, Ill. -- The
Chicago Bears
announced Wednesday that Pro Bowl guard
Kyle Long
has been cleared to return to practice, after starting training camp on the non-football injury list due to a viral infection.
Long
The club plans to spend the next few days putting Long through conditioning work, and the expectation is he'll join teammates Saturday when the Bears conduct a night practice at Soldier Field.
"We're just going to continue to condition him," Bears coach Marc Trestman said. "He's got to get his legs back underneath him. I think by Saturday night you'll see him in pads. We'll work him into individual [drills] in pads on Saturday night. That would be the hope and we'll take it from [there]. If we feel he's got his feet underneath him and his pads are where they should be, we'll see where Saturday night goes. That would be the plan, but we're going to take one day at a time."
Long declined to speak with reporters Wednesday, as he walked off the field at the conclusion of practice.
Long met with a physician on Monday, and the club held him out of practice again on Wednesday. After the workout Wednesday, Long was still listed on the team's non-football injury list.
In all, Long has been held out of all five training camp practices. During the period of inactivity, Long has "done minimal things" to stay in shape, Trestman said.
"He hasn't put pads on for quite some time, and hasn't played football for quite some time, even through the OTAs and now the time away of the first five days of practices," Trestman said. "We've been here six or seven days learning and doing those kinds of things, and he's been away some of that time. That all goes into the mix and we're trying to do the right thing. We'll do what the trainers and doctors tell us to do. He'll be back in meetings and he'll get back on his feet and we'll get him going."
July, 30, 2014
Jul 30
3:19
PM ET
[+] Enlarge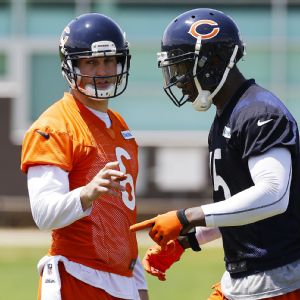 AP Photo/Nam Y. HuhJay Cutler the NFL's MVP in 2014? From what he's seen in training camp, Brandon Marshall believes it could happen.
BOURBONNAIS, Ill. -- Hall of Famer Michael Irvin visited Chicago Bears practice on Wednesday, and Brandon Marshall continuously bent the former Dallas Cowboys receiver's ear, telling him that in 2014, quarterback Jay Cutler could be the MVP of the league.
Did Irvin believe him?
"I don't think anybody would believe it," Marshall said. "I don't know why they wouldn't believe it. [But] this is a different person. I don't know this guy. I don't know this new Jay Cutler. Maybe his new name is like Joshua or something. This is a totally different guy. Just call him Joshua Cutler. That's what the 'J' stands for."
Marshall "absolutely" believes Cutler could win MVP, citing changes in the quarterback's personal life and a strong supporting cast as his reasoning. Cutler comes off a strong 2013 campaign in which he finished with the second-highest completion percentage (63.1) in franchise history, in addition to posting a career-best passer rating of 89.2.
July, 30, 2014
Jul 30
10:00
AM ET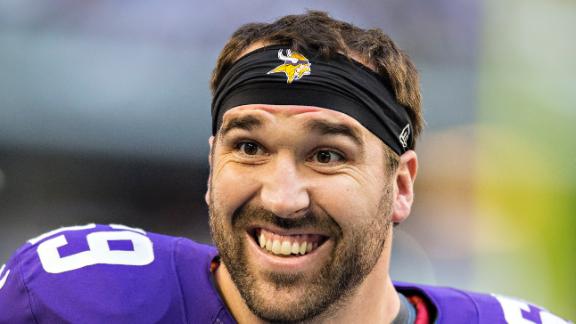 ESPN
Chicago Bears
reporter Jeff Dickerson says veteran
Jared Allen
is expected to infuse enthusiasm and leadership to a rebuilt defensive line.
July, 30, 2014
Jul 30
8:00
AM ET
Every day of Chicago Bears training camp, we'll have a wake-up call that previews the day ahead.
9 a.m. CT
-- Bears practice with full pads (open to the public).
Approx. 11:30 a.m. CT
-- Marc Trestman and select players are available to the media coming off the practice field.
The Bears return to practice after an off-day on Tuesday. Whenever a team receives a mandatory off-day in camp, the coaches expect an intense and vigorous session the following day since the players had extra time to rest bumps and bruises. The Bears and their fans have benefited from outstanding weather dating back to the start of camp last week; that means large crowds have been drawn to Bourbonnais. Expect the same on Wednesday for "Ladies Day," according to the team's official camp schedule. Arrive early if you want a prime spot to view practice.
Among the storylines we'll be following:
An update on Kyle Long (viral infection).
Health checks on Pro Bowlers Tim Jennings (quad) and Alshon Jeffery (foot).
Specific players who have made gains since the pads went on at the end of last week.
July, 29, 2014
Jul 29
12:30
PM ET
He's taken part in just four practices at training camp, but in that short sliver of time,
Chicago Bears
quarterback
Jay Cutler
shows evidence he's poised to take a major step in Year 2 of Marc Trestman's offense.
"It's obvious in practice that Jay is taking more and more control by the day," offensive coordinator Aaron Kromer said. "Not that he didn't before; he did. But with his comfort level with all the things we're trying to get done, he's able to solve some of his own problems on the field, even when he didn't maybe have that answer taught to him yet. It's really helped that Jay has studied really hard all offseason. He's worked on technique. He's been one of the hardest-working guys on the team this offseason."
Cutler
In other words, Cutler isn't resting on what the offense accomplished in 2013.
You know the numbers. The Bears set records last season in net yardage (6,109 yards), passing yards (4,281), completion percentage (64.4), passing touchdowns (32) and passer rating (96.9) in addition to achieving a franchise-best 344 first downs while scoring the second-most points in franchise history (445).
Cutler's 63.1 completion percentage ranked second in franchise history, as he churned out a career-best passer rating of 89.2.
Cutler has long held a reputation for surliness, and the outside perception is he's aloof with teammates. Yet within the organization, the quarterback didn't display such qualities, according to the coaches. Actually, he's quite the opposite, they say.
"I didn't know him before last year, and to be honest with you, since I've been around him I've been nothing but impressed," quarterbacks coach Matt Cavanaugh said. "I think he's got a real sincere attitude about this organization, his teammates, the coaching staff and what we're trying to get done. He believes in it.
"He does things that will never, ever get reported, and you just say, 'Wow, that's unselfish.' I admire that in him."
What went largely unreported during last year's camp was Cutler's penchant for gathering the players late at night to go through walkthroughs of what the offense might be working on the next day.
Evidence of Cutler's growth also manifested itself Saturday on the field after the club's second workout of camp. Earlier that day, Cutler and tight end
Martellus Bennett
squandered what should have been a touchdown in the red zone when linebacker
Jonathan Bostic
broke up the quarterback's pass.
As the rest of the team walked off the field after practice, Cutler walked over to an adjacent field with Bennett to talk about ways they could be more effective in the red zone. The conversation wasn't combative, and the duo walked away smiling, having gained a better understanding of how to capitalize on the next red-zone opportunity.
"In certain situations [Bennett is] really hard to cover," Cutler later explained. "He's such a big guy that even some of the intermediate stuff over the middle, he's able to bring guys and get separation. He played basketball, so he knows how to high point the ball down in the red zone. We've just got to keep throwing different stuff at him and incorporating him in different ways."
Cutler hasn't been perfect, nor has anyone else on the offense thus far at camp. But everyone recognizes the deficiencies, and Cutler seems to be taking the lead in cleaning up things.
Cutler admitted "there's been some sloppy stuff out there," thus far at camp, which he said "is to be expected."
That's part of the reason Cutler is sometimes taking repetitions with the second-team offense. The staff wants Cutler to take as many snaps as possible to strengthen his command of the offense, while also working with different personnel that might become more involved in the scheme if there's an injury to a key contributor.
Trestman agreed with Kromer's assessment that Cutler is more of a problem-solver in Year 2 of the offense.
"It happens both in the protection game because of his acumen. He's seein' it all. He's also doing it within the framework of our passing game as well," Trestman said. "He's able to get guys in the right position, change routes quickly and get the best and most out of each and every play. That's kind of where he is. He's kind of fixing it at the line of scrimmage when he needs to get that done."
Cavanaugh called Cutler "a great example" for the offense.
"He just wants to be the best he can be every day, and he wants to make the people around him better, too," Cavanaugh said. "That' what you want in your leader. You want a guy who can make people around him better and be an example for them and make them better."
July, 28, 2014
Jul 28
8:00
PM ET
BOURBONNAIS, Ill. -- In order to win the job and establish himself as the No. 3 receiver behind one of the best duos in the league, all
Marquess Wilson
has to do is establish the trust of a quarterback who does not exactly hand it out like Halloween candy.
No big deal.
But Wilson put it in simple terms Monday.
[+] Enlarge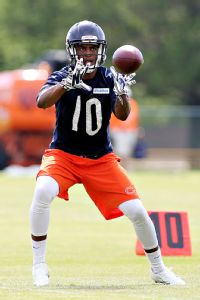 Jerry Lai/USA TODAY SportsMarquess Wilson believes his offseason training allowed him to become a "a little faster and a little stronger."
"Shoot, every time he throws it to you, you better catch it," Wilson said of his quarterback,
Jay Cutler
. "That's how you're going to gain his trust, or just get open and pray he'll throw it to you. But if you show him you can get open, he'll throw it to you."
Just get open.
Wilson, who caught two passes for 13 yards in last year's rookie season, admitted just learning the verbiage of the new offense was easier said than done.
"To be honest, with four games left in the season," Wilson said when asked how long it took. "[That's when] it felt like it clicked and I got it more."
The result of Wilson's offseason has yet to play out, but the story of Wilson joining
Brandon Marshall
and
Alshon Jeffery
to train at the South Florida fitness facility Marshall co-owns has created an aura of high hopes for the second-year player, whether the 2013 seventh-round pick is worthy or not.
"You just have to continue to play your game and be yourself, so you can't really let the words get to you and worry about what other people say," Wilson said of the praise dished out by Marshall during the offseason. "I can say 'thank you,' but I still have to be myself and do what I do and play football."
While Wilson is doing what he does, so too is receiver
Josh Morgan
, who looked good in practice Monday. At 6-foot-1, 220 pounds, Morgan, a six-year NFL vet, is a physical receiver that would fit in nicely at the third receiver spot.
Behind Wilson and Morgan are
Josh Bellamy
,
Michael Spurlock
,
Armanti Edwards
,
Terrence Tolliver
,
Eric Weems
and
Chris Williams
.
But early in camp, many eyes are on Wilson. And while Bears fans may not have been heartbroken to see
Earl Bennett
go in a salary-motivated move, the pressure is still on Wilson to produce, particularly after the build up from Marshall, who worked similarly with Jeffery after his rookie season.
Wilson said he got "a little faster and a little stronger," in his offseason work, "which is what Brandon was trying to get me to do."
Wilson said he and Marshall "are close" in speed, though in head-to-head races, "I only beat him once. That was it."
And at 6-4, Wilson also fits the current mold of Bears receivers, with Marshall also 6-4 and Jeffery 6-3. The experience of working with Marshall and Jeffery, Wilson said, was a special one.
"Those two guys set a high bar, but everyone pushes for that goal," he said. "That's definitely in my mindset, to work as hard as them and do as well as they do."
After that, gaining Cutler's trust should be a snap.
And after the first four days of training camp, Wilson said Cutler and his leadership "feels different, more confident."
"Just the way he's throwing the rock, you know?" he said. "He'll sling it in there. He knows where to put it and when to throw it, just slinging it in tight spaces. Or when you're deep, he knows how much to put on it, which is great."
July, 28, 2014
Jul 28
5:17
PM ET
BOURBONNAIS, Ill. -- Churning up a toboggan hill as part of his offseason conditioning program in a suburban Chicago park,
Matt Forte
apparently stopped long enough only to urge on and, yes, ride his workout partner.
"He killed me," said
Michael Ford
, one of several Bears running backs vying for the No. 2 spot behind Forte this training camp.
[+] Enlarge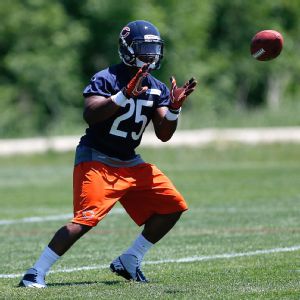 AP Photo/Scott BoehmFourth-round draft pick Ka'Deem Carey is one of four backs with no NFL experience competing for a backup job with the Bears.
"His work ethic is amazing and the things he does in the offseason to get himself ready are brutal. ... But the tradition set before him and with him, we have to hold to the same standards."
Ford and the others are well aware what they are up against -- not just the No. 2 job, which to a large extent, is up for grabs, or in the words of GM Phil Emery just last week, "very unsettled."
But with four of the five backs behind Forte having not had a single NFL carry, they must also be prepared to step into a position that may be de-valued throughout the league but remains a central part of the Bears offense.
Forte's production in 2013 amounted to almost one-third of the Bears' total offense; his career highs in rushing (1,339 yards) and receiving (74 catches for 594 yards) both setting a standard and a making a statement that first-year coach and offensive innovator Marc Trestman was not about to abandon his running back.
"It's important to this offense," said rookie
Ka'Deem Carey
. "You get out in bursts, you catch some passes, you run, you pass block. They love the running back here, so I landed in the perfect spot."
Carey, selected in the fourth found, will get plenty of competition from Ford,
Shaun Draughn
, who signed a one-year free agent contract and undrafted rookies
Senorise Perry
and
Jordan Lynch
, who might end up with a spot on the practice squad in his first year of transitioning from college quarterback to NFL running back.
"You can tell the way the reps are going, they want to see everybody at their best, so they give you chances out there to make plays and it's up to you to learn the playbook and do it," Carey said Monday, the second day in pads for the Bears.
"With everyone out there, it just makes you better. But we're not selfish. If someone messes up, we'll tell him what he did wrong and we'll learn off his mistakes and we just get better off each other's mistakes."
Carey's speed has been questioned, but more importantly for the former Arizona standout and the others will be their protection skills. Ford, who played in 12 games last season on special teams, likely will contribute the most in the return game.
"It's definitely not nerve-wracking," Ford said of the competition, "because it's always going to bring out the best. If you want to be the best, you have to play the best and you want the best competition at your camp. At least then you know you're going to be battle-tested."
Ford said he prefers not to look at the position as his.
"Even Matt told me he doesn't look at it like that," he said. "He just goes to practice everyday and tries to separate himself from everybody and he tells me to do that, too. ... Just try to get better each and every day."
July, 28, 2014
Jul 28
5:05
PM ET
BOURBONNAIS, Ill. -- A daily review of the hot topics coming out of
Chicago Bears
training camp:
Expectations are sky high for a Bears offense that ranked No. 2 in the NFL last year in points scored (27.8 per game) and No. 5 in passing yards (267.6 per game), but the opening four days of practice have produced a mixed bag of results from a unit that is expected to return all 11 starters. Monday's performance was no different. At certain points of the session, quarterback Jay Cutler ran the offensive scheme to perfection, firing completions to wide receivers Brandon Marshall and Marquess Wilson and tight end Martellus Bennett that went for huge gains. On the flip side, Cutler badly underthrew Marshall on a deep route into double coverage that should've been intercepted by Bears defenders who were stationed in the area. Veteran cornerback Kelvin Hayden later picked off a deflected Cutler pass in full-team 11-on-11, Hayden's third interception since the start of camp. There were also batted-down balls at the line of scrimmage and botched snaps from the center to the quarterback that resulted in Cutler describing the offense as "good and bad." Cutler continued: "That is to be expected taking the time off in July. We're getting better and better. There's been some sloppy stuff out there. We've got to clean it up. I think the guys are doing a really good job of just recognizing the plays and getting lined up and knowing the concepts and knowing the checks and everything. So if we just clean up some of the little things as we go, we'll be all right."
The Bears desperately need their top three draft choices to step in and make immediate contributions on defense. First-round pick cornerback Kyle Fuller looks the part and continues to receive extensive reps on the first team in base and nickel with Tim Jennings temporarily sidelined due to a sore groin. Third-round choice Will Sutton got thrown into the fire on Monday at three-technique defensive tackle as the coaching staff decided to give Jeremiah Ratliff a veteran's day off. Sutton appeared to hold up OK versus the heightened competition. Rookie nose tackle Ego Ferguson flashes the ability to get up-field in one-on-one individual pass-rush drills, but Ferguson has ended up on the ground on at least three separate occasions since the pads came on. Ferguson needs to find the perfect combination of speed and balance to ensure he doesn't take himself out of the play when games begin for real next month.
Fans chanted "Mega-Punt" whenever first-year punter Pat O'Donnell connected with the football on Sunday. Not to be outdone, punter Tress Way won the matchup between the two aspiring kickers on Monday. As a sixth-round draft choice, O'Donnell is considered the favorite to win the job, but Way has proved to those in the organization that he is an NFL-caliber punter. Even if Way is eventually released, he can still make it in the league. Former Bears "camp legs" have found gainful employment in the league: Spencer Lanning (Cleveland Browns) and Ryan Quigley (New York Jets).
Most of the wideouts competing for the final roster spots have done little to distinguish themselves. The two exceptions are Eric Weems and Chris Williams. Not only are Weems and Williams natural fits in the return game, they have managed to catch the football in camp. The other reserve receivers have been plagued by drops.
Pro Bowl right guard Kyle Long (viral infection) visited doctors on Monday, but the team cannot say if Long will be back on the field when it returns to work on Wednesday. With Long out, the Bears have worked various combinations at guard, with Eben Britton, Michael Ola and Brian de la Puente all seeing time with the starters.
Wide receiver Alshon Jeffery (sore foot), receiver Terrence Toliver (toe), safety Chris Conte (PUP) and safety Craig Steltz (PUP) were all spectators on Monday.
The Bears are off on Tuesday. The next practice is scheduled for Wednesday at 9 a.m. CT.