Four Downs: Campbell up to challenge?
November, 14, 2012
11/14/12
3:31
PM ET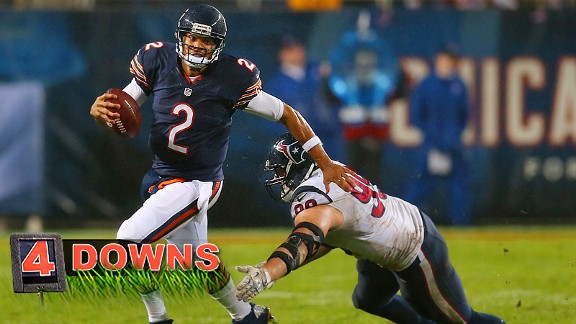 Jonathan Daniel/Getty ImagesJason Campbell wasn't sharp in relief of Jay Cutler on Sunday but figures to benefit from a week of preparation.
This is the reason the
Chicago Bears
got a quarterback like
Jason Campbell
. A
Jay Cutler
injury derailed the Bears' hopes twice before, and new general manager Phil Emery obviously didn't want to make the same mistake as his predecessor, Jerry Angelo.
Once again the Bears might face life without Cutler, who suffered a concussion against the
Houston Texans
on Sunday night. Is the veteran Campbell, with 70 NFL starts under his belt, up to the challenge of beating the 49ers on Monday night in San Francisco if Cutler can't go?
Our panel weighs in on that and more:

Fact or Fiction: The Bears can beat the 49ers with Jason Campbell at quarterback.
Jeff Dickerson: Fact. One of Caleb Hanie's biggest issues was the fact he had no NFL starting experience when he took over for Cutler late in 2011. Campbell does not suffer from the same problem. After starting 70 games for the Washington Redskins and Oakland Raiders, Campbell is more than qualified to run the offense if Cutler is sidelined due to a concussion. Granted, Campbell needs to perform better than he did against Houston, where he looked somewhat indecisive in the second half. But a full week of practice should help that, not to mention a decent game plan from the coaching staff that doesn't restrict Campbell from attempting longer throws down the field if the play is open. The Bears haven't won in San Francisco since 1985, so knocking off the 49ers even with Cutler at quarterback would be a difficult task to accomplish. But Campbell should give the Bears a decent shot, which is really all you can ask for from a backup quarterback.

[+] Enlarge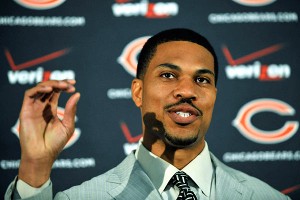 David Banks/US PresswireJason Campbell, a veteran of 70 NFL starts, gives the Bears an experienced backup for Jay Cutler.
Michael C. Wright: Fact. Give Campbell a week of real preparation time, and he should be perfectly capable of filling in for Cutler against one of the league's top defenses on the road. Observers point to the tentative nature in which Campbell performed in the loss to the Texans in assessing his skillset. But that would be a mistake, considering how ill-prepared Campbell was due to limited practice reps. Campbell isn't Todd Collins or Hanie. He's a former first-round pick with a .443 winning percentage as a starter that should be taken with a grain of salt since he played for horrid teams in Washington and Oakland before joining the Bears.

Scott Powers: Fact. Part of the equation depends on whether quarterback Alex Smith plays for the 49ers. If he doesn't suit up, the Bears can definitely beat the 49ers. But even if he does play, the defense should keep the Bears in the game. The Texans possess arguably a better offense than the 49ers, and the Bears held them to 13 points. Matt Forte will have to produce more than he did last week, and Campbell is better than most backups the Bears have had in the past. The offense should be capable of getting in the end zone once or twice and setting Robbie Gould up for a few field goals. If the Bears' defense is its normal self, that should be enough.

Jon Greenberg: Fiction. Well, I mean they can beat the Niners with Campbell by running the ball with their two top-tier running backs and the Bears' typical defensive dominance. But I think the spirit of the question is "will" they beat them, and the answer is no. I'm pretty sure the Bears would lose with Cutler, and probably in a more awful fashion. San Francisco, which operates out of a base 3-4, has the No. 1 rush defense, according to Football Outsider, and in traditional statistics, it ranks seventh in yards per game (95.3) and tied for third in fewest rushing touchdowns (three). I can imagine the game plan will be to stack the box and deny Forte the outside. I foresee a 13-10 win for San Francisco, but hey, maybe the Bears' defense will score three touchdowns and pull out a win.


---

Fact or Fiction: Cutler's concussion history should play a significant role in his eventual contract extension negotiations.
Jeff Dickerson: Fiction. Cutler's eventual contract extension negotiations will be centered around wins and losses, not concussions. If the Bears feel Cutler can lead the team to a Super Bowl and win a championship, he will get paid. If not, then the quarterback will eventually leave town and finish his career elsewhere. I take the concussion issue seriously, but nobody knows the exact number of concussions Cutler has suffered or when it will happen again. We also don't know for sure if Cutler's concussions will ever affect his play. So how can the Bears in good faith offer him less money because of the concussions he suffered? Unless the team doctors put up the red flag, I suspect the Bears will conduct business as usual with Cutler at the negotiating table.

[+] Enlarge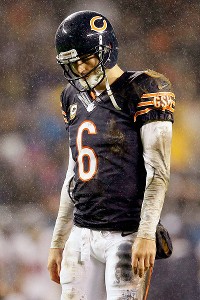 AP Photo/Nam Y. HuhJay Cutler has suffered two known concussions during his Bears career.
Michael C. Wright:
Fiction. It shouldn't play a role at all, but it likely will because teams pull out all the stops in attempts devalue player come contract time. Prior to the Texans game, Cutler hadn't suffered a concussion since 2010. If anything, Cutler should be raising his asking price during negotiations because of the peril he's constantly put in by this team's leaky offensive line. If the team truly values Cutler as the "franchise-level quarterback" that general manager Phil Emery calls him, concussion history shouldn't matter in the negotiations.
Scott Powers: Fact. It probably should be based on what we now know about concussions, but I doubt it will. If Cutler is willing to risk further impact to his brain and isn't showing any drastic brain damage when they sit down at the table, I'm sure the Bears will be willing to draw up another lucrative contract for him. As much attention is now put on concussions, it's still not the priority for the franchise.

Jon Greenberg: Fiction. The Bears are seemingly taking serious precaution with Cutler's latest concussion, and while he's had more than a few documented concussions, two with the Bears over the last three seasons, there is no reason to think these injuries should affect his play for the next few years. Plus, it's the NFL, they'll cut you whenever they want to. While Cutler could be more susceptible to repeat concussions, the real risk is personal and could affect Cutler later in life. It's a harsh reality for NFL players, one that shouldn't be taken lightly. But it's Cutler's choice to keep playing football and it's his health.


---

Fact or Fiction: Mike Tice is in over his head as a playcaller.
Jeff Dickerson: Fiction. To say that would be disrespectful to Tice, a 15-year NFL coaching veteran. The Bears are 7-2, after all. But the Bears offense needs to improve, that much is clear. As the offensive coordinator Tice is ultimately responsible for the product on the field, but he can't control when a receiver or tight end drops a pass, the quarterback throws an interception, or an offensive lineman whiffs on a block. It's a group effort. Tice isn't the only one out there who needs to get better.

[+] Enlarge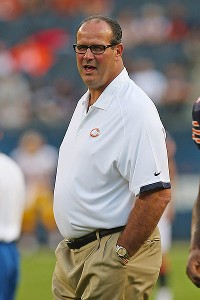 Jonathan Daniel/Getty ImagesMike Tice's Bears offense ranks 28th in the NFL.
Michael C. Wright: Fiction. Tice's playcalling didn't result in Brandon Marshall dropping a catchable ball in the end zone, Kellen Davis' fumble or Cutler's two interceptions in the first half against the Texans. Tice can dial up the plays, but it's up to the players to execute them. That's not to say Tice hasn't struggled through the first nine games. He definitely has. But he's not in over his head. Tice has coached in the NFL 17 years and has been a head coach. He's experienced enough to handle the title he's carrying now. Does he need to improve? Absolutely, even Tice would say that. But he's not in over his head.

Scott Powers: Fiction. The main factor in the Bears' offensive struggles is still the line. Tice has to build a game plan that needs to protect his quarterback, most importantly, and then design plays that can be executed quickly. Of course, Cutler's decision-making also often factors into the offense's struggle. I'm not saying Tice is some offensive genius, but the Bears do have plenty of flaws on that side of the ball.

Jon Greenberg: Fiction. He's pretty tall. Tice hasn't been the savior we all wished for in replacing Mike Martz. He's definitely still in a transition phase calling plays for the first time as an offensive coordinator. Martz was legendary at designing plays to get guys open, but he couldn't adapt to a changing league and the Bears' limited personnel. Tice doesn't quite have the feel for this team yet, and the Bears' first-quarter woes signify his struggles to formulate a game plan. Maybe he doesn't have the creativity for this job, but I'd like to think he's getting better every week, and hey, his guys on the line didn't give up a sack last week against Houston, so some things are improving. It'll be interesting to see how he calls plays if Campbell starts in San Francisco.


---

Fact or Fiction: With Frank Gore on deck, back-to-back 100-yard rushing performances against the Bears is cause for concern.
Jeff Dickerson: Fiction. Chris Johnson's numbers were inflated two weeks ago due to a long fourth-quarter touchdown run when the Bears already had the game wrapped up. Arian Foster is one the best runners in the league, but the Texans did have to give him the ball 29 times to reach 100 yards. So let's not overreact here. The Bears can still stop the run with the best of them. That doesn't mean Gore, the NFL's eighth-leading rusher, isn't dangerous. But stopping the run is still a strength of the Bears' defense despite the yards they allowed on the ground the last two weeks.

[+] Enlarge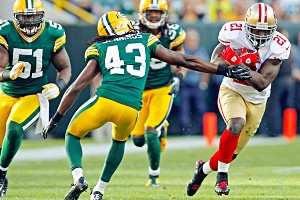 AP Photo/Mike RoemerThe 49ers' Frank Gore has rushed for 753 yards, good for eighth in the NFL.
Michael C. Wright: Fact. The Bears increase their chances for turnovers/touchdowns by taking away the run, and forcing opponents into passing situations. Obviously, they can't do that if Gore's running roughshod. Two weeks ago, the majority of Johnson's rushing yards came on an 80-yard burst during garbage time. Against Houston, the Bears fell apart for only drive, giving up 52 of the Texans' 127 yards on the night on three consecutive runs in the second quarter. After that, the Bears allowed just 15 yards more rushing for the game. So it doesn't appear the Bears are poised to falter against the run at San Francisco. But the fact the unit has given up consecutive 100-yard performances is definitely concerning. If the Bears can't stop the run, they lessen their chances of forcing turnovers and scoring points, which is something the team might need with Cutler expected to miss.

Scott Powers: Fiction. Allowing Johnson 142 yards in a blowout win and Foster 102 rushing yards and a receiving touchdown in a narrow loss doesn't make me believe the Bears have significant problems with the run. Foster was a factor in the win, but he and the Texans' offense weren't dominant the entire game. Plus, Gore isn't the same elite running back as Johnson and Foster. Gore is good one, but I'd put him in that second tier. He has three 100-yard rushing games and ranks eighth with 753 yards.

Jon Greenberg: Fiction. As long as he doesn't get in the end zone, or I guess, the red zone more than twice, since I think this will be a very low-scoring game. Johnson's 141-yard game was dominated by an 80-yard run in the fourth quarter when the Bears were up 51-12 in Nashville. Foster had a great game in their win, but 85 of his 102 yards came in the first half. He had 12 carries for 17 yards in the second half. The Bears defense won't outscore the opposing offense every week, but they should be able to limit Gore's effectiveness, especially against the Niners' quarterbacks.