Bennett targets chemistry with Cutler
July, 26, 2013
7/26/13
4:43
PM ET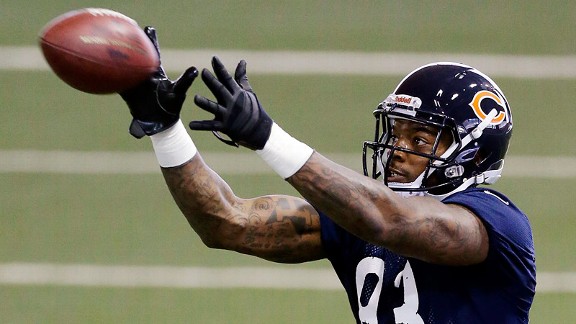 AP Photo/Nam Y. HuhMartellus Bennett understands the value of having a strong relationship with the QB.
BOURBONNAIS, Ill. -- Having studied interactions between
Tony Romo
and
Jason Witten
earlier in his career in Dallas and after working with
Eli Manning
in New York, new Bears tight end
Martellus Bennett
came to realize the value of strong communication with his quarterback, and how eventually, it enriches chemistry.
"When we watch film I sit right behind (
Jay Cutler
) so I can whisper in his ear. It sounds kind of creepy," Bennett said Friday. "I sit right behind him so I can whisper in his ear and ask him, 'Hey, is that what you wanted?' And he'll just give me a thumb up. I know I probably get on his nerves because I'm always talking to him."
Still, it doesn't stop Bennett from attempting exhaustive interaction with the quarterback.
"I try to eat with (Cutler) as much as possible. I try to talk to him, drop by his room, even if it's not about football; let him get to know me as a person," Bennett explained. "He knows my background, and he knows I've got to feed my family. I'm helping him feed his family and we all understand that. I think it takes your game to another level. If you get personal with the wives and everyone's family, their kid(s), you've got to go a little bit harder (on the field) for their family and those guys as well."
But is Cutler open to that?
"Everybody's open to that," Bennett said. "Me and my wife are probably two of the coolest people in the world. It's like Jay (Z) and Beyonce, then it's me and my wife, then, it's David Beckham and Victoria."
OBSERVATION DECK
Chris Conte intercepted Cutler on the first play of full team drills, as the offense started the day with three consecutive incompletions. On Cutler's fourth pass, he drilled a completion to Alshon Jeffery for a short gain near the sideline.

"It was a fast start for the defense," Bears coach Marc Trestman said. "Chris Conte made a heck of a play in the back end and got the defense off to a fast start. In between, I thought the offense picked it up. There was a lot of good execution out there. We spread the ball around to our guys. We intended to do that today. I thought Jay was extremely sharp throughout the middle portions of practice. We had some pre-snap penalties, which always hurt you. As I told the defense, two turnovers and a stripped ball will win games."


Athleticism along Chicago's offensive line hasn't suddenly improved. But the movement from the offensive line on running plays appears to be much more evident in the new scheme than it was in last year's system. Runs develop more quickly now, and it allows Matt Forte to be more of a one-cut runner.


Bears head coach Marc Trestman is serious about taking a hands-on approach in training camp. Trestman would routinely sprint in the direction of unfolding plays to deliver his message or instruction in a face-to-face manner with his players.

"I guess you could say he's coaching on the fly," Earl Bennett chuckled.


Devin Hester was away from the rest of his teammates on a side field catching punts from the JUGS machine during certain portions of practice.


Cornerback Zack Bowman made a terrific play breaking up a deep ball down the right sideline in the first hour of practice. Bowman had an excellent season last year for the Bears on special teams and is one of the top reserve cornerbacks on the roster, along with nickel back Kelvin Hayden.



Josh McCown and No. 3 quarterback Matthew Blanchard hit long passes down the sideline to Eric Weems and Devin Aromashodu on back-to-back snaps, seemingly on the same offensive play call against the defense.


Cutler's footwork on dropbacks appears to be improved. It's clear the quarterback and Trestman have spent plenty of time working on the finer points of the game.

"I thought he was really on rhythm today," Trestman said. "It's a process throughout training camp we continue to work on. He got the ball out of his hand on time. You can't configure the pass rush. So it's not quite the same as it's going to be on Sunday. But he's doing everything he has to do. Until you look at the tape you don't know, but I thought he had a very good day."


What Cutler won't like about his performance Friday is the fact defensive tackle Henry Melton batted down two of his passes at the line of scrimmage. Trestman said that he expected fewer balls tipped at the line once the team kicked off workouts. Such wasn't the case.

"I got two today," Melton said. "I always try to make Cutler mad. He always talks to me in the locker room about it. He doesn't like when I do that. Neither does the o-line. They want to throw me down when I do it."

What did Cutler do on Thursday when Melton batted down a pass?

"He just shook his head at me," Melton said, laughing. "He hates when I do it."