March, 4, 2015
Mar 4
3:05
PM CT

By Nick Friedell
ESPNChicago.com
Archive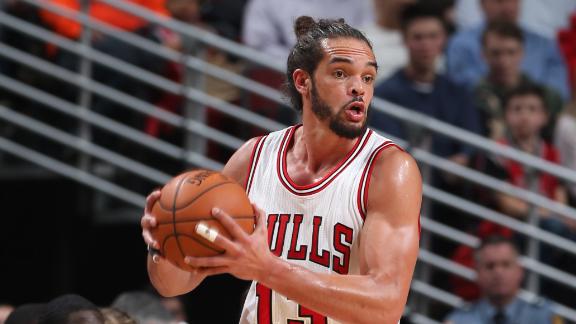 CHICAGO -- With 21 games left in the regular season and a showdown with
Russell Westbrook
and the
Oklahoma City Thunder
on the horizon Thursday night, the
Chicago Bulls
find themselves in a familiar position. Their backs are against the wall and they are playing without key players because of injury.
Derrick Rose
(knee) and
Jimmy Butler
(elbow) are out at least several more weeks, and
Taj Gibson
(ankle) is out for a little while longer, although Bulls head coach Tom Thibodeau did note after Wednesday's light practice that Gibson is out of his walking boot.
The broader issue for Thibodeau and his players is how similar this season is unfolding compared to the last two years without Rose. No team likes having its star players injured down the stretch, but the Bulls are probably better equipped to handle this situation than almost any other team in the league given what they've dealt with over the last few years. They know the schedule is about to turn tough -- with four of their next seven games against teams with winning records -- and they understand that while help may be on the way before the regular season ends, they're going to have to withstand the schedule without Rose and Butler for the foreseeable.
"I think you have to have great will, great determination, and you have to be together," Thibodeau said of maintaining the intensity without key players. "I think when you have a group like that that's committed to playing for each other, good things can happen. When you look around the league you see the teams that are tied together and play hard each and every night, play smart, you give yourself a chance to win. You don't get here by accident; if you're here, you have great talent. Then it's how strong can you play as a team? Everyone has to understand what their job is. It's five-man offense, five-man defense and working together. That's what it's all about."
The intriguing part of this stretch is that the Bulls will be leaning on several players who are new to this situation. Veterans
Pau Gasol
and
Aaron Brooks
are in their first year with the Bulls, while rookies
Nikola Mirotic
and
Doug McDermott
are still in their NBA infancy. The hope is that the new group will be able to dig down deep to find the fire that it takes to play short-handed night after night. Over the past few years without Rose, Butler and Gibson were the ones who helped light that flame game after game. Now it must come from a different place.
"We'll see," Gasol said when asked how the Bulls will be able to sustain the energy that comes with playing the way they did in a hard-fought win over the
Washington Wizards
on Tuesday night. "Obviously with our minds and our hearts into it a lot of things can happen, so we just bring our will every single night. Try to give ourselves a chance to win against whoever we're facing."
To that point, Gasol and his newer teammates will be able to lean on veterans
Mike Dunleavy
and
Kirk Hinrich
for guidance in how to deal with the annual setbacks that seem to come with wearing a Bulls uniform, but after being in the league for 14 seasons, it's not as if he hasn't had to play through injuries to teammates before.
The good news for the Bulls is that
Joakim Noah
seems to be playing his best basketball of the season. After struggling with the aftereffects of offseason knee surgery, Noah finally appears to be playing -- and feeling -- more like himself. Without Rose on the floor, and now without Butler and Gibson as well, the games become even more personal to the emotional big man. Like many of his teammates, he is at his best when he feels slighted, and his teammates thrive off the energy he provides.
Noah never wants to single himself out, but Brooks mentioned after Tuesday's game that Noah set the tone for the entire night with his energized play.
"Everybody's working hard," Noah said. "We've been working hard since the beginning of the year. A lot of ups and downs. We've just got to find a way to stick together through the good and the bad and know that we have a shot at this, and we can't take that for granted."
But this is where the real hurdles build up -- both mentally and physically -- for a short-handed team. The Bulls have to find a way to maintain poise as they wait for some of their top players to heal. How they fare in this regard will help determine how the rest of their seasons shakes out.
"That's the challenge," Dunleavy said. "That first game out after all the chaos has occurred, that first game is kind of the easiest because you know you're going to have emotion, you know you're going to have energy. But now we're going to have to settle in and play this role every night and hold down the fort for a few weeks. So that's the biggest challenge of it all, and we'll see what we can do."
March, 4, 2015
Mar 4
5:50
AM CT
Associated Press
[+] Enlarge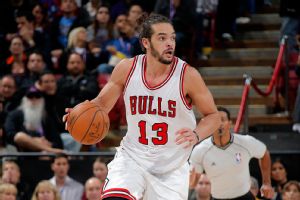 Rocky Widner/Getty ImagesJoakim Noah is averaging 7.9 points and 10.1 rebounds this season for the Chicago Bulls.
PARIS -- Chicago Bulls center Joakim Noah is unlikely to play for France at the European Championship in September.
Noah is going through a difficult season after surgery on his left knee in the offseason, and told L'Equipe newspaper on Wednesday he is focusing on his NBA career.
The 30-year-old Noah, whose only appearance with France at a major tournament was at the 2011 EuroBasket, said "the French team is a great experience, but it has never been my priority."
France technical director Patrick Beesley asked Noah to decide on his availability for the Sept. 5-20 tournament before the end of March and made clear he won't be selected for the Rio de Janeiro Olympics if he skips the EuroBasket.
Noah is contracted to the Bulls through the 2015-16 season.
March, 4, 2015
Mar 4
12:14
AM CT

By Nick Friedell
ESPNChicago.com
Archive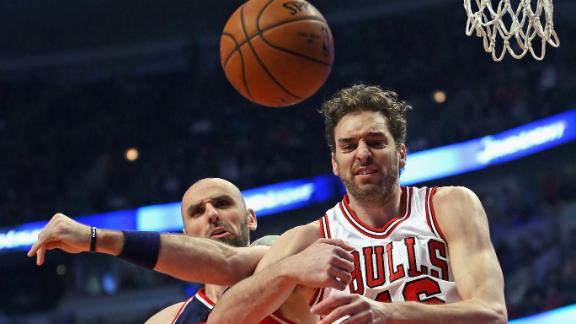 CHICAGO --
Mike Dunleavy
took a final shot after the
Chicago Bulls
' hard-fought
97-92 win
over the
Washington Wizards
on Tuesday night.
Trying to describe the physicality that always seems to occur in any game between these two teams, the veteran shooting guard delivered one final blow to a reeling Wizards squad that has now lost 12 of its past 15 games.
"That's who they are, they're a physical team," Dunleavy said. "They play us great. If they played everybody else the way they play us, they may be looking at a championship."
[+] Enlarge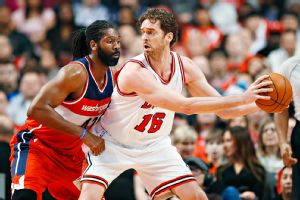 AP Photo/Kamil KrzaczynskiNene had a rough night against Pau Gasol and the Bulls, fouling out with no points and six rebounds.
Dunleavy's zinger capped off one of the better wins of the season for an undermanned Bulls squad that played without
Derrick Rose
(knee),
Jimmy Butler
(elbow) and
Taj Gibson
(ankle). The game also illustrated once again just how much these two teams dislike each other in what could be another playoff preview once the regular season ends.
The tone for this game came before the Wizards even got to Chicago. That's because Wizards big man
Nene
let it be known how he felt about the team the Wizards knocked out in five games of last season's Eastern Conference quarterfinals.
"I don't want to talk about Chicago," Nene said, according to the Washington Post. "You know I hate them. You can put that."
The problem for Nene and the Wizards is that his hatred toward the Bulls didn't seem to help his play. He spent the entire night in foul trouble -- registering a flagrant foul 1 against
Joakim Noah
in the fourth quarter -- before fouling out down the stretch.
"It's part of the process, and I really don't know what to say right now," Noah said of the play. "But I'm just happy we won, and I'm happy I kept my composure. Just trying to put out a video a couple hours before the game [through his foundation] about non-violence. And trying to teach these kids [about the] big picture. You know what I mean? So it wouldn't have been a good look, not today. Not today. But I'm really, really proud of this team and the way we stepped up tonight."
The game had the intensity of a playoff affair, and the Bulls took great pride in the win, given both the circumstances and the opponent.
"They're the team that eliminated us last year in the playoffs," Noah said. "When that happens it's always more than just … even subconsciously it's more than just a basketball game."
Even the players who are new to the blossoming rivalry realized this game meant a little more to everyone involved. There was an edge to this game that isn't usually seen in the regular season. And with the
Cleveland Cavaliers
charging hard to jump ahead of the Bulls, who lead the Cavs by a half-game for the third seed in the Eastern Conference standings, there's a good chance Chicago and Washington could square off again in the 4-5 matchup in the first round of the playoffs.
The Wizards had won five straight games in Chicago, including the playoffs, coming into Tuesday night's game, according to ESPN Stats & Info. With the loss, they have now lost eight straight road games, their longest stretch in two seasons.
"I think I'm like new to all this because there's a lot of bad blood between these two teams," Bulls guard
Aaron Brooks
said with a laugh. "I feel like I just got here. I missed most of it."
Brooks got into a little trash-talking of his own with Wizards veteran
Paul Pierce
, who picked up a technical foul in the fourth quarter in a game that featured plenty of hard fouls.
The good news for the Bulls is that rookie
Nikola Mirotic
didn't seem fazed by Pierce or any other Wizards player, as he continued to play at a high level. Two days after racking up a career-high 29 points against the
Los Angeles Clippers
on Sunday, Mirotic followed that up with 23 points against the Wizards, prompting Noah to call him a "stud."
In order for the Bulls to continue racking up wins in the short term, they'll need to lean on Mirotic more than ever offensively. But as the Bulls hit the home stretch of the season, veteran
Pau Gasol
knows his team is going to have to find ways to keep its energy and focus intact without three of its best players.
"I think every game is going to be emotional from now on," Gasol said. "Every game is meaningful, and this team -- they're a tough team. They try to play extra physical to try to take away stuff. But I think we did well, we handled it well and we were able to get an important win."
March, 3, 2015
Mar 3
9:48
PM CT
Associated Press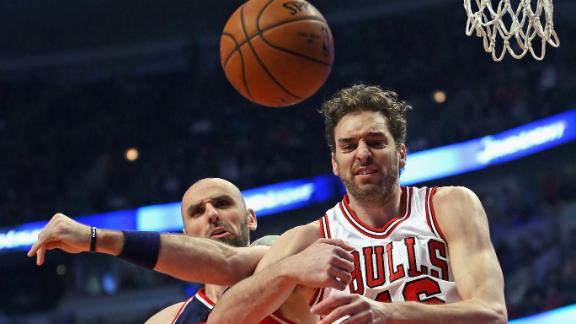 CHICAGO -- Nikola Mirotic scored 23 points to lead the short-handed Chicago Bulls to a 97-92 win Tuesday over the Washington Wizards.
The Bulls were without former MVP Derrick Rose (right knee), all-star Jimmy Butler (left elbow), and trusted reserve Taj Gibson (left ankle) but still managed to improve to 4-2 on their season-high seven-game homestand.
Along with Mirotic, Aaron Brooks had 22 points while Pau Gasol had 20 and 10 rebounds for the Bulls, who had five players in double figures.
Chicago's starting lineup of Brooks, Tony Snell, Mike Dunleavy, Gasol and Joakim Noah was the 20th it has used this season. That's the most since 2007-08, when the Bulls also used 20.
Washington was led by John Wall's 21 points and 11 assists.
March, 3, 2015
Mar 3
12:17
PM CT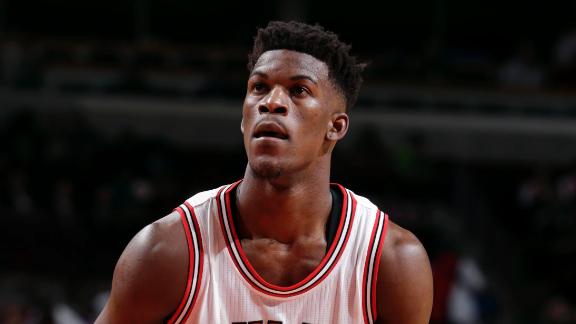 CHICAGO -- Jimmy Butler hopes he can return before the regular season ends as he works his way back from a sprained ligament in his left elbow.
Butler, who injured the elbow in the third quarter of Sunday's loss to the Los Angeles Clippers, admitted that it was "devastating" to learn he would be out three to six weeks.
"I'm doing all right," Butler said after Tuesday's shootaround. "I'm just trying my best to hurry back, being careful, of course, but I'm not going to say I'm happy. ... My ligament just has to heal, and I've got to be able to move my left arm like I move my right before I can get out there and do anything."
Butler's injury capped one of the most trying weeks of the Bulls' season. Derrick Rose underwent a meniscectomy on his right knee Friday and is expected to miss four to six weeks. Taj Gibson sprained his left ankle and was wearing a walking boot at the United Center on Sunday.
Despite the setbacks, Butler remains optimistic that both he and Rose can come back sooner rather than later. He said the pain in his elbow has already started to subside.
"I think we both want to be back ASAP," Butler said. "As soon as possible. But I think we both have to be smart about it. I'm not going to say we're going to come back on the same day because I don't know, but I definitely think we both want to make it back before the end of the season."
Coach Tom Thibodeau acknowledged that the Bulls are still exploring the idea of adding another player after all the injuries in the past week.
March, 3, 2015
Mar 3
12:42
AM CT
CHICAGO -- Now what?
There are so many answers to that small yet supremely meaningful two-word question that there's almost no place to start where any answer is the right one.
With recent concerns over the six weeks Jimmy Butler is likely to miss with a high-grade ulnar ligament elbow sprain and small bone impaction and the unknown return of Taj Gibson from an ankle sprain (he's day-to-day but in a walking boot), the Chicago Bulls are back to the familiar territory of having to play "next man up" basketball until at least the opening round of the NBA playoffs. But with direct, laser-aimed concerns about Derrick Rose and his possible (and quasi-promised) return to the court before the playoffs begin, the answer for all parties involved is simpler and far less unsure than we might think.
I'm basically saying it's all-out-or-nothing time. It's "we don't give a damn anymore because we have nothing left to lose" time for both the Bulls and, more importantly, Rose.
No longer should they or he buy into their talent, promise and potential without having details of the return policy. It's go-for-broke, full-on-attack, us-against-the world mode. 10X Rule-style basketball. A beast mode of which Marshawn Lynch knows nothing.
For Rose, simply use that final minute of the second quarter of Chicago's Feb. 11 game against the Sacramento Kings as a capsule: eight points, 60 seconds. It was as if Rose finally said "Kobe" and turned the game back into what it had always been to him: His muse.
March, 2, 2015
Mar 2
1:01
PM CT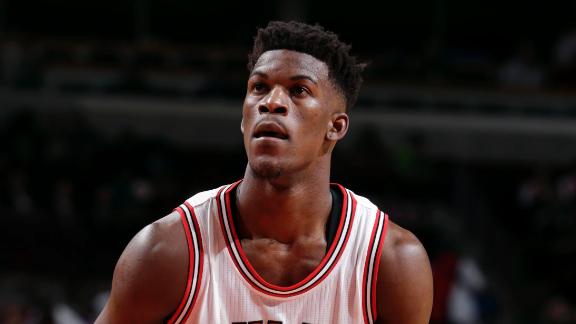 Jimmy Butler is expected to miss three to six weeks with a sprained left elbow, the latest setback for the injury-plagued Chicago Bulls.
However, Butler will not need surgery to repair the injury, a league source confirmed to ESPNChicago.com.
Butler was diagnosed with a Grade 2/3 ulnar ligament sprain and a small bone impaction injury after undergoing an MRI on Monday, one day after he was injured in a loss to the Los Angeles Clippers.
He suffered the injury when he collided with Clippers center DeAndre Jordan three minutes into the second half Sunday and did not return.
The hope within Butler's camp is that rest and treatment will allow him to come back before the regular season ends and get a few games under his belt alongside Derrick Rose, who is expected to be out four to six weeks after having knee surgery Friday.
Butler, who became an All-Star for the first time this season, has been the Bulls' best two-way player this season, averaging 20.2 points, 5.9 rebounds and 3.3 assists in 55 games.
The Bulls are trying as best as they can to keep a positive attitude in the wake of the latest injury news, but veteran Kirk Hinrich knows the Bulls are in a tough spot.
"[Butler] is a two-way player, All-Star, he's just having an unbelievable year," Hinrich said. "It's a huge loss but, you know, we've kind of been through this before."