November, 24, 2014
Nov 24
10:46
PM CT
Associated Press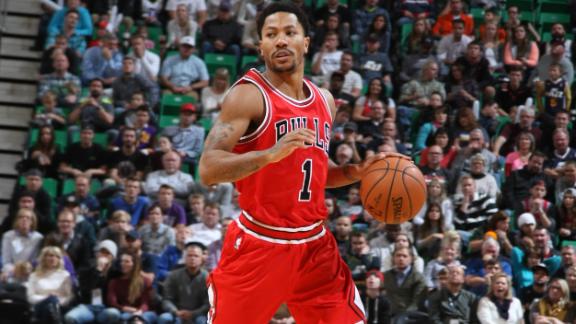 SALT LAKE CITY -- Jimmy Butler scored 25 points and Pau Gasol added 23 points and nine rebounds to lead the Chicago Bulls to a 97-95 victory over the Utah Jazz on Monday night.
Derrick Rose scored 18 points in his return to the Bulls' lineup. Chicago beat the Jazz for ninth time in the last 12 games between the two teams.
Derrick Favors scored 21 points and pulled down a season-high 15 rebounds for Utah, which rallied from a 21-point deficit, but couldn't close it out. Enes Kanter had 19 points and eight rebounds while Trey Burke had 18 and 10 assists.
Utah took its first lead of the game early in the fourth quarter when Trevor Booker made a layup to put the Jazz up 80-78.
Chicago briefly retook an 87-84 lead when Aaron Brooks drained a 3-pointer. Utah answered by scoring seven unanswered points, going up 91-87 on a running jumper from Favors with 3:30 left.
November, 24, 2014
Nov 24
7:55
PM CT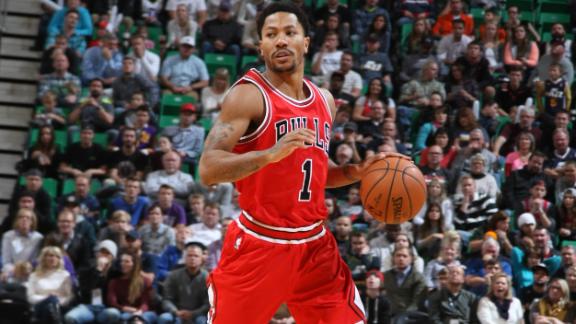 SALT LAKE CITY -- Chicago Bulls point guard Derrick Rose returned to the floor in Monday night's 97-95 win over the Utah Jazz after missing the previous four games because of a strained left hamstring.
Rose went 5-for-10 from the field with 18 points, five assists and three rebounds in 25 minutes, but it was Bulls coach Tom Thibodeau's comments that might draw more attention than Rose's play.
Asked whether Rose looked fatigued in the second half of Monday's game, something the 26-year-old discussed before Monday's shootaround in regard to his muscle recovery after missing more than a week, Thibodeau chafed.
"Oh, I don't know. Jesus. He's got to get out there and play," Thibodeau said. "I thought he did a lot of good things. You could see he's not real comfortable with the ball yet, but that will come. When Derrick strings some games together, he's going to take off. He's got to go. That's the bottom line. He's got to go."
Rose has tried to be cautious about his future and has missed eight games overall after missing four earlier in the season because of sprained ankles. But the former All-Star seems to understand that Thibodeau is frustrated by his on-again, off-again health status. Monday marked just the third time this season the Bulls' starting five of Rose, Joakim Noah, Mike Dunleavy, Pau Gasol and Jimmy Butler played together.
November, 24, 2014
Nov 24
12:52
PM CT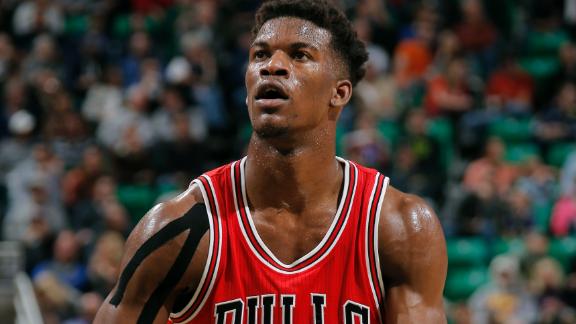 PORTLAND, Ore. -- Jimmy Butler isn't supposed to be here.
He's not supposed to be in the NBA. He's not supposed to be a key member of a Chicago Bulls team that has championship aspirations. He's not supposed to be in the midst of an All-Star type season -- the best of his career -- in which he has carried the Bulls on both ends of the floor at various times. And he's certainly not supposed to be on the verge of cashing in on a contract offer at season's end that will likely pay him well over $50 million over the next four seasons.
The odds have always been against Butler. His path to the NBA is as unlikely as anyone who plays in the league given that his backstory (of being homeless at 13 before moving in with a friend's family) reads like the basketball version of "The Blind Side." No matter how many ups and downs Butler endured in his journey to the precipice of NBA stardom, the 25-year-old never stopped believing in himself. The same drive that helped get him out of Tomball, Texas, and into Marquette University is the same fuel that's pushed him to average over 20 points a game early this season.
November, 24, 2014
Nov 24
12:10
PM CT
SALT LAKE CITY -- Derrick Rose is a game-time decision for Monday night's contest against the Utah Jazz as he continues to recover from a strained left hamstring he suffered Nov. 13. Rose has missed the Bulls' last four games.

"If it feels good enough and it's not fatiguing when I'm out there during shootaround, I think I'm going to give it a go," Rose said before Monday's shootaround. "But if not, we've got a back-to-back, so if not today, tomorrow.

"I'm very close. Very close. Just trying to really listen to my body again and really get the most out of every day, every shootaround, every practice, every training session."

Rose has missed eight games this season after missing four earlier this month because of ankle sprains. He said the pain in the hamstring is gone and that he's just trying to get back into a rhythm on the floor.

"Right now it's just playing through the fatigue," Rose said. "I guess hamstring injuries, when you hurt them, you got to wait for them to heal. You got to really test it while you're out there, and fatigue has something to do with it, so I'm just trying to see if I can play through the fatigue."

Rose remains confident that he will be able to return to a high level despite the fact he continues to miss so many games due to injuries. He is hopeful the rash of injuries won't continue to hamper him on and off throughout the season.

"Who knows? I know I can't think that way," he said. "I just got to stay positive with whatever happens, it happens, the outcome. I just got to stay consistent with all my workouts. Stay consistent with how I'm eating, how I'm hydrating, and really take care of my body right now. I know that I want to play, but I really got to listen to my body when I'm out there and just know that all my consistent work is going to put me back in a position that I was in before the injuries."

Rose is confident that his latest set of injuries has nothing to do with the surgically repaired knees that have caused him to miss so many games over the past few seasons.

"Everything tended to happen when I twisted my ankle," Rose said of his latest setbacks. "When I twisted my ankle, everything followed after that. I wouldn't say it was because of the ankle, but that's one thing you got to look at because it happened. I stepped on someone's foot [against Cleveland on Oct. 31], and during the Toronto game, I slipped and pulled my hamstring.

"So I don't think it has anything to do with the knee. I haven't had knee problems, knock on something, but I haven't had them. I'm just trying to stay positive with my train of thought."

On the rest of the Bulls' injury front, Tom Thibodeau said that veteran big man Pau Gasol was also a game-time decision for Monday as he continues to recover from a strained left calf. Gasol went through all of Sunday's practice and seemed confident about his chances of playing. Kirk Hinrich (bruised ribs) was not as confident and wasn't able to go through all of Sunday's workout. He was hoping to go through parts of Monday's shootaround, but it appears unlikely he will play against the Jazz. Bulls power forward Taj Gibson remains in Chicago as he continues to receive treatment for a sprained left ankle suffered in Friday's loss to the Portland Trail Blazers.

"We'll see where they are after the shootaround," Thibodeau said of Rose, Gasol and Hinrich. "They were all pretty good [Sunday] in practice, but we'll see today. Kirk ... he did some shooting. We'll see where he is. Pau was good. Derrick was real good."
November, 23, 2014
Nov 23
2:24
PM CT
TUALATIN, Ore. -- Injured
Chicago Bulls
stars
Derrick Rose
(strained left hamstring) and
Pau Gasol
(strained left groin) are expected to go through all of Sunday's practice, according to Bulls coach Tom Thibodeau.
Both Rose and Gasol are still questionable for Monday's game against the
Utah Jazz
. So is
Kirk Hinrich
, who is still recovering from bruised ribs suffered in Thursday's loss to the
Sacramento Kings
. Thibodeau said Hinrich would participate in "some" of Sunday's practice. Bulls power forward
Taj Gibson
has been sent back to Chicago to have his injured left ankle checked by team doctors.
As for Rose, who has now missed four straight games because of a hamstring injury and eight overall this season, Thibodeau remains convinced that the former MVP will be able to shake off the rust that has hovered over his game.
"You just have to take it as it comes," Thibodeau said before Sunday's practice. "So whatever the circumstances are, we're going to make the best of those. We'll see where Derrick is today after he practices. And hopefully he'll get to a point where he can string some games together. And when that happens, the rust will come off. From what we've seen thus far when he's been out there, he's looked great, so we just got to get him out there."
Thibodeau was noncommittal in regard to whether Rose is closer to playing than where he was after the initial hamstring injury happened Thursday against the
Toronto Raptors
.
"It's hard to say," Thibodeau said. "He's moving a lot better, so from that standpoint [it's good], but I want to see where he is today after practice."
For his part, Gasol sounded optimistic about his chances of playing on Monday. He originally got hurt over a week ago in a loss to the
Indiana Pacers
.
"I'm feeling a lot better," Gasol said. "I was able to do some running [Saturday] on the court. Do some shooting on the move. Did a little work and it didn't flare up, have any setbacks so [that's] perfect. So I think we're on the right track, and today I expect to go a full practice."
As for Gibson, Thibodeau said he is expected to be day-to-day after being checked out by team doctor Brian Cole. Gibson, who has been dealing with left ankle injuries for the past couple of seasons, reinjured the ankle in the third quarter of Friday's loss to the Trail Blazers. He had X-rays after the game that were negative but left the Moda Center on crutches and a walking boot.
"The encouraging thing is there was not much swelling," Thibodeau said. "So we'll go from there. I don't want to play doctor. Dr. Cole will make that determination."
November, 22, 2014
Nov 22
1:50
AM CT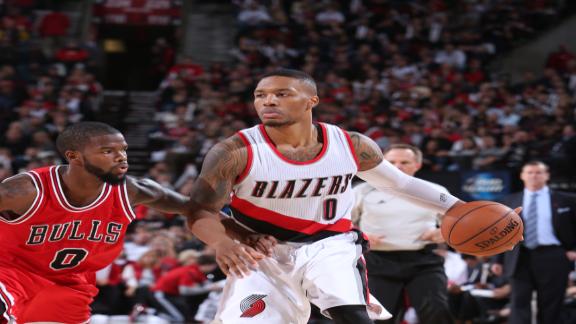 PORTLAND, Ore. -- The
Chicago Bulls
' night of misery began about an hour before their 105-87 loss to the
Portland Trail Blazers
even started on Friday night. After a slow bus ride to the Moda Center full of traffic and cold rain, the Bulls' players and coaches filed into the quiet visitor's locker room. As players began heading out to the court, one main sound was audible above the din of the noises that accompany a team in the midst of a long two-week, coast-to-coast trip.
It was the sound coming from
Derrick Rose
's leg compression machine.
Almost a year to the day Rose tore the medial meniscus in his right knee in the same building, Rose laid on the ground with both of his legs in compression sleeves, quietly watching videos on his cellphone. He didn't play Friday night because of ongoing left hamstring issues, but the reminders of what had occurred a year before were fresh in everyone's memory.
Every time the Bulls come to Portland lately it seems as if something bad happens. Friday night's game was just the latest example of that.
Damian Lillard
dominated a depleted Bulls' squad that was also playing without
Pau Gasol
(strained left calf) and
Kirk Hinrich
(bruised ribs). The Bulls came into the game having lost eight of their last 10 games in Portland, giving up an average of 101.5 points in each contest according to ESPN Stats & Information. After the Trail Blazers' latest triumph, the Bulls have now lost seven straight games here.
Aside from the loss, the bigger issue on this night for the Bulls was the fact they lost
Taj Gibson
to a sprained left ankle that could keep him out a little while. Gibson had to be helped off the court by his teammates in a scene similar to the one Rose endured last season. While Gibson's ankle injury isn't nearly as serious as Rose's knee injury was, it had to feel like déjà vu for Bulls' personnel to see Gibson head to the locker room on crutches and in a walking boot after the game. A year earlier, it was Rose who stood on crutches in the back of the visitor's locker room staring into a mirror and wondering about his own future.
[+] Enlarge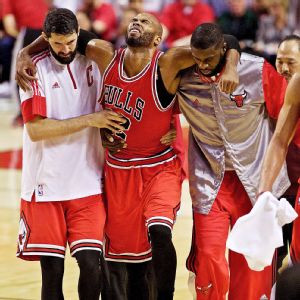 Craig Mitchelldyer/USA TODAY SportsTaj Gibson is helped off the floor in Portland after spraining his ankle.
Bulls coach Tom Thibodeau didn't want to hear about the parallel storylines after the game, believing the injuries Rose and Gibson sustained could have happened anywhere.
"I don't get caught up in that stuff," he said. "Injuries are part of the game. If a guy gets hurt, he gets hurt. But it's not the building, it's not any of that stuff. Injuries are part of the game so you just deal with them."
His players understand that, but they didn't feel the same way about the bad mojo that seems to come their way every time they play in Portland.
"F--- this place," one player muttered in the locker room as he peeled off his jersey.
As much as Thibodeau may not want to admit, the injury to Gibson only reinforced the bad feelings the players have when they walk into this building after seeing what happened to Rose a year ago.
"This is the NBA," Bulls center
Joakim Noah
said. "It sucks that guys get hurt. But you just got to keep going forward, the games keep coming, and nobody feels sorry for you, so you just got to keep going and we just got to get better and hopefully Taj gets better soon."
In a strange twist, when Gibson hobbled his way back to the locker room after injuring his ankle in the third quarter, one of the first people he saw was Rose, who had been sitting in the locker room during the game. After dealing with all the ups and downs of another year of rehab on his knee, Rose's message to Gibson was clear as they talked in the same building in which the former MVP's season ended.
"He was just saying to me, 'It's that same ankle that's been bothering you.' " Gibson said of his talk with Rose. "I was like, 'Yes.' He said, 'You just got to be patient. You really got to get on top of that. It's a long year. You can't sprint to the finish line already. You got a long fight, you just got to be smart and get back fully healthy.' "
After another meltdown against the Trail Blazers, that sounds like sage advice. Rose understands Gibson's pain better than anyone -- and that's why it should come as little surprise that Rose was the first player to exit the locker room late Friday night. He wanted to get out of the building as quickly as possible.
So did the Bulls.
November, 22, 2014
Nov 22
12:07
AM CT
Associated Press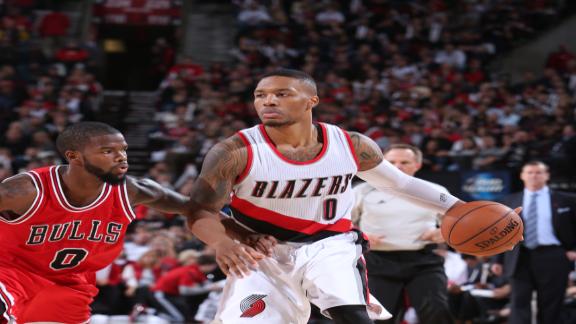 PORTLAND, Ore. -- Damian Lillard had 21 points and nine assists before sitting out the fourth quarter as the Portland Trail Blazers built a big lead and beat the Chicago Bulls 105-87 on Friday night.
LaMarcus Aldridge had 16 points and nine rebounds for the Blazers, who led by as many as 28 points for their sixth straight victory.
Rookie Nikola Mirotic had season highs with 24 points and 11 rebounds for the Bulls.
Chicago lost forward Taj Gibson in the third quarter when he sprained his left ankle. The Bulls were already limited without Derrick Rose, who missed his fourth straight game with a sore left hamstring. Pau Gasol missed his third game with a left calf strain.
They were also missing starting guard Kirk Hinrich, who left Thursday night's 103-88 loss to the Sacramento Kings with a chest contusion.
November, 21, 2014
Nov 21
11:50
PM CT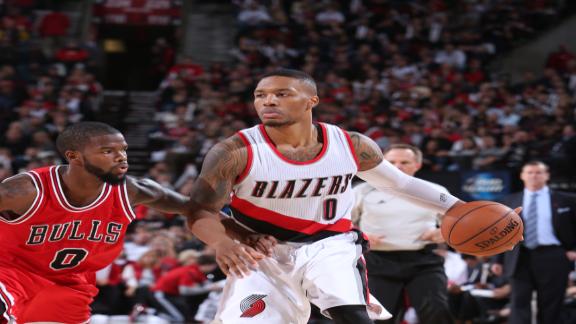 PORTLAND, Ore. -- Chicago Bulls power forward Taj Gibson sprained his left ankle in the third quarter of Friday night's 105-87 loss to the Portland Trail Blazers and did not return.
The injury took place midway through the third, and Gibson fell to the floor writhing in pain. Moments after Gibson went down, the entire Bulls bench went out to check on the veteran forward. He was carried off the floor by teammates Nikola Mirotic and Nazr Mohammed and was barely putting any weight on the foot or ankle.
After the game, Gibson said X-rays taken on the ankle were negative. He came back into the Bulls' locker room on crutches and in a walking boot. Gibson said it was the same ankle he has had problems with over the past couple seasons and the same one he injured in the Bulls' home opener on Oct. 31 against the Cleveland Cavaliers.
Gibson said there is no timetable right now for his return.
"It's too early right now," he said. "I'm frustrated. Just re-aggravated it, just hurt it again. I'm just frustrated."
Gibson sounded as if he would be more cautious with his approach in regard to his return after his latest setback.
"It's the same lingering injury," Gibson said. "Just keep trying to play through it, trying to be there for my teammates. Just push through. All summer I was trying to rehab the same ankle and it just keeps flaring up. I keep having these little bum ankle turns. And I just took some time off from it and tried to rush back and this thing happened again. I'm just frustrated."
The entire episode must have felt like déjà vu for Bulls personnel. Friday's game is almost a year to the day since Derrick Rose