March, 28, 2015
Mar 28
11:36
PM CT

By Scott Powers
ESPNChicago.com
Archive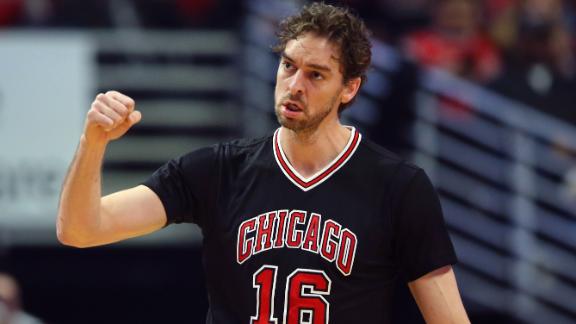 CHICAGO -- Chicago Bulls coach Tom Thibodeau worries about every opponent.
It doesn't matter whether the Bulls are facing another playoff team like the Toronto Raptors like they did earlier in the week or a team well out of the playoff race like the New York Knicks on Saturday. Thibodeau was equally concerned about both games.
After putting together a double-digit victory over the Raptors on Wednesday, the Bulls didn't let Thibodeau down against the lowly Knicks. The Bulls were clicking from the start -- scoring on eight of their first nine possessions -- and ran away with a 111-80 win.
It was another victory that made the Bulls feel like they were building something as they enter the regular season's final weeks.
[+] Enlarge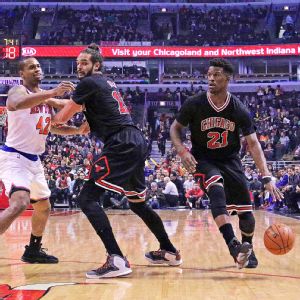 Dennis Wierzbicki/USA TODAY SportsJimmy Butler and the Bulls had little problem dispensing with the NBA-worst Knicks.
"The thing is, everyone is capable of beating you," said Thibodeau, whose team is on a three-game winning streak and moved to within two games of the Cleveland Cavaliers for second place in the Eastern Conference. "I liked the way we approached it this morning. I thought our guys came out with a lot of energy to start the game and we played tough. There are a lot of things we could do better and we have to keep working towards that, but overall we did a lot of good things in that game."
Thibodeau stressed leading up to the game he was seeking more continuity from his team. Players have been in and out of the Bulls' lineup due to injuries all season, and they're finally getting nearly everyone -- Derrick Rose could even begin participating in contact drills next week -- healthy together.
With only Rose and Doug McDermott (back) inactive against the Knicks, Thibodeau was able to utilize most of his roster and see what some different lineups could do on the floor. For the most part, the Bulls remained in synch all evening. They worked the ball around, played off each other and found the open man. They compiled 28 assists on 43 field goals and had just 12 turnovers.
It's not always easy to remain focused in a game where a double-digit lead is created in the first quarter, but the Bulls rarely wavered throughout the 48 minutes. Bulls forward Pau Gasol thought that had to do with the team knowing what's at stake with just eight regular-season games remaining.
"We're in the final stretch of the season," said Gasol, who had 19 points and 12 rebounds in 27:33 of action. "We understand the importance of each and every game. So, the sense of urgency and level of focus is a lot higher."
Bulls center Joakim Noah also liked Saturday's result, but he didn't want to be content.
"It's good," Noah said. "Just got to keep moving and keep getting better individually and as a team. But it's good. We're moving in the right direction."
Despite the momentum the Bulls are generating, they were all for having three days off until their next game. The team will take Sunday completely off and get back in the gym on Monday.
"It's not going to be tough," Noah said of taking time off. "We'll work hard and get ready for the next one."
The next one will be the Milwaukee Bucks on Wednesday, and Thibodeau will undoubtedly be back to being concerned again.
March, 28, 2015
Mar 28
11:00
PM CT
[+] Enlarge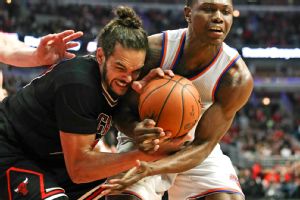 Nuccio DiNuzzo/Chicago Tribune/Getty ImagesOn the heels of the death of a Chicago rapper's manager, Joakim Noah said, "I'm not staying away from anybody" as he continues to push to decrease violence in the city.
CHICAGO -- Joakim Noah extended his condolences Saturday to the family and friends of a Chicago rapper's manager murdered just hours after meeting the Chicago Bulls forward to plan an anti-violence event.
Uchenna Agina, the manager of Chicago rapper Lil Durk, was in a car when a person reportedly walked up and shot him on Chicago's South Side early Friday morning. He was later pronounced dead.
Noah and his Noah's Arc Foundation have been active in Chicago's anti-violence campaign and had met with Agina at Noah's home Thursday to discuss details about an upcoming event.
"It's very sad," Noah said after the Bulls' 111-80 victory against the New York Knicks on Saturday night. "What's going on in this city is very real. I signed up for this. I'm just like doing everything I can to do something positive. Just need to keep up the good fight. I know everything I'm doing with my foundation comes from my heart. I think it's real important that we don't turn our backs on anybody.
March, 28, 2015
Mar 28
9:31
PM CT
Associated Press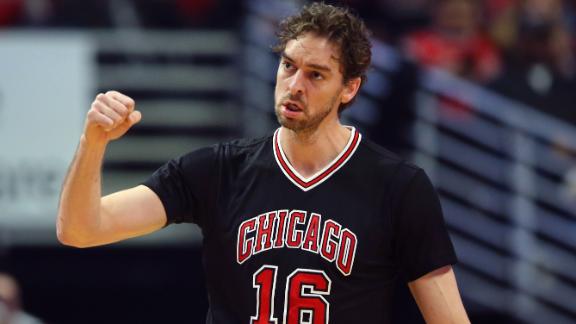 CHICAGO -- Nikola Mirotic scored 24 points, Pau Gasol added 19 points and 12 rebounds, and the Chicago Bulls handed the Knicks their franchise-record 60th loss, beating New York 111-80 Saturday night.
A night after tying the team's previous single-season loss mark, the Knicks dropped their seventh straight and 14th in 16 games.
Jimmy Butler scored 18 for Chicago.
The rookie Mirotic had another strong game, finishing five points shy of his career high. Gasol recorded his league-leading 48th double-double as Chicago won for the fifth time in six games.
The Bulls, who led by 20 at halftime, fell four points short of their most lopsided victory of the season. They pulled within two games of Central Division leader Cleveland and moved 1 1/2 games ahead of fourth-place Toronto in the Eastern Conference.
Andrea Bargnani led New York with 14 points and seven rebounds.
March, 27, 2015
Mar 27
2:33
PM CT

By Scott Powers
ESPNChicago.com
Archive
CHICAGO -- The Chicago Bulls are getting healthy at seemingly the right time of the season.
Bulls coach Tom Thibodeau doesn't want to hear about that, though.
"I don't get wrapped up in the talk," Thibodeau said after practice on Friday. "I want to see performance. I want to see the work go into it. I know how you win. We have to be more concerned with the process of how we're approaching it and are we putting the work in to give ourselves the best chance possible. Talk is talk. I want to see action."
Some of the optimism surrounding the Bulls is based on action, especially in the case of Jimmy Butler. He scored 23 points on 7-of-8 shooting Wednesday in his second game back after missing three weeks because of an elbow injury.
Forward Taj Gibson is also slowly getting back into form after missing nearly a month with a left ankle injury. Doug McDermott practiced Friday as well after recently dealing with a back issue.
"Yeah, it's very important," Bulls forward Mike Dunleavy said of players returning. "Jimmy looks good for being out so long. Taj is working his way back. Obviously, we have one more guy we're waiting on. But to get these guys back and also get a little time in practice the next 10 days, two weeks will be good.
"We want to be playing our best basketball heading into the playoffs and heading into April. We still have time to do that. I think we're trending in that direction. Winning four of five is pretty good, just keep going in that direction."
That one guy still missing is obviously Derrick Rose. Rose, who is still restricted from contact, was the lone player not to participate fully in practice on Friday. Thibodeau said Rose could begin taking contact next week.
"Most likely it will be next week, but I don't want to jump ahead," Thibodeau said.
Dunleavy thought Rose has appeared fine during non-contact drills, but he also acknowledged that meant little at the end of the day.
"He looks good," Dunleavy said. "But unfortunately the games are full contact. He's got to be looking good when he starts doing contact and practicing and that will come in due time. Hopefully in time for our playoff run."
The Bulls still hope Rose returns this season, but for now they're concentrating on creating some chemistry among their healthy players. It's been a season full of injuries, and the Bulls haven't been healthy enough to create a consistent rhythm. It's part of the reason why Thibodeau took advantage of their practice time Friday to scrimmage.
"It was good because it gives us a chance to build some continuity," Thibodeau said. "We have to concentrate on the guys we do have and we have to improve. There's a lot of areas to clean up and try to build continuity. We've had guys in and out all year."
Dunleavy understood why some would question whether the Bulls have played enough together to be in sync when the playoffs do arrive. He thought their level of talent could overcome that.
"I'm sure that argument can definitely be made," Dunleavy said. "We haven't had a lot of time together. We got a lot of guys that can really play. My thought would be somehow, someway we can get in a lineup in there that will figure it out and be pretty good down the stretch."
March, 26, 2015
Mar 26
8:50
PM CT
ESPN.com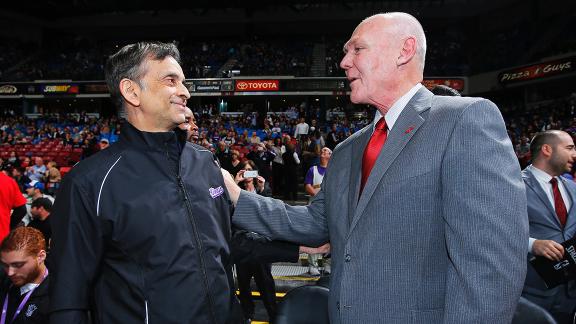 March, 26, 2015
Mar 26
9:06
AM CT
ESPN.com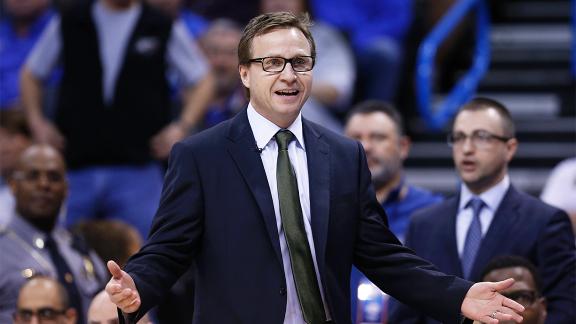 March, 25, 2015
Mar 25
10:52
PM CT

By Nick Friedell
ESPNChicago.com
Archive
TORONTO -- The Chicago Bulls don't have the best record in the league, but they might lead the NBA in confidence. Despite all the ups and downs they've dealt with on and off the floor this season, the Bulls believe they can knock off anybody. That confidence was on display in a 116-103 win over the Raptors on Wednesday as the Bulls outscored Toronto 39-21 in the fourth quarter.
"We don't play to lose that's for sure," Bulls swingman Jimmy Butler said. "I think we can beat anybody. So I don't think it matters what seed we end up in. We just want to win as many games and get in a rhythm and get rolling heading into the playoffs."
While it might be more advantageous for the Bulls to slide into the fourth or fifth seed in the Eastern Conference playoffs -- avoiding a potential second-round matchup with the Cleveland Cavaliers -- Chicago is taking on a "win now" mentality with just nine regular-season games left.
[+] Enlarge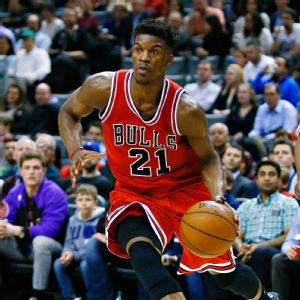 John E. Sokolowski/USA TODAY SportsJimmy Butler led the Bulls with 23 points on 7-of-8 shooting from the field and 7-of-9 from the free-throw line.
Bulls center Joakim Noah said earlier this week that he believes his squad is "the toughest team to beat in a seven-game series." He isn't backing off those words as the Bulls get set for one of the most important postseason stretches in recent memory.
"I think we're a team that's gone through a lot," Noah said. "A lot of adversity. And I think our time is coming. I think we're a very talented group. And when you put all that talent together and we all play for the right reasons, I think we're going to have a shot and that's all you can ask for."
Bulls coach Tom Thibodeau certainly doesn't believe in playing to lose for a better seeding placement. He has trained his team over the past five years to try to win every game. He believes in going right at an opponent, instead of avoiding one for as long as possible. His players have taken to that mentality as well.
"You play to win," veteran Pau Gasol said. "We are aware and we want to get the highest seed possible just like everyone else. But at the same we understand that with winning games that's what we're going to accomplish. You can't focus on trying to get a specific seed."
The Bulls set a season high on Wednesday night by shooting 60.8 percent from the field, according to ESPN Stats and Info. Noah knows his team has a lot of room for improvement, but is confident that they are making strides in the right direction.
"I know that to win, these games are won on one, two possessions," Noah said. "And we all have to be on the same page. There's definitely another level we need to get to defensively. We're still making too many mental mistakes. But offensively, this is the best offensive team I've been on by far. So if we can just tighten up a little bit defensively it's going to be great."
Defense has been a Thibodeau staple over his tenure in Chicago, but the Bulls have struggled to defend at times. With so much hype surrounding a potential championship run, and so much uncertainty surrounding Thibodeau's future in Chicago, it will be interesting to see how this proud team handles the next round of play.
But in the short term, Noah and his teammates are trying to just focus on the positives. With Butler and Taj Gibson back on the floor, they are healthier than they've been most of the year. They're also confident that at some point in the next few weeks they will get Derrick Rose back as he recovers from a meniscectomy.
That's why Noah was smiling as he got ready to leave the visitor's locker room at the Air Canada Centre on Wednesday night. He's happy about the present, but he's even more excited about the future.
"Right now we just got to stay focused on us," Noah said. "That's the truth. We just got to focus on us and getting better. Guys are coming back from injuries and we feel like we have the deepest team in the league so it's a good feeling. We got a lot of weapons. We just got to keep getting better as a unit, keep polishing our games individually and it's exciting."
March, 25, 2015
Mar 25
8:37
PM CT
Associated Press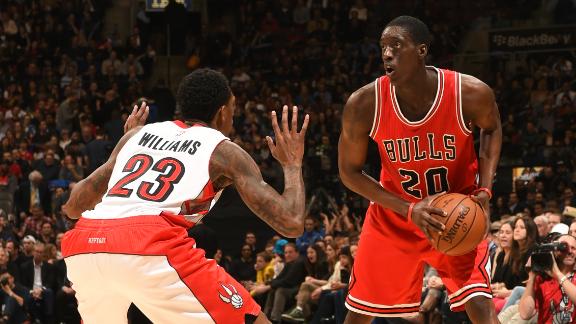 TORONTO -- Jimmy Butler scored 23 points, Pau Gasol had 18 and the Chicago Bulls beat Toronto 116-103 on Wednesday night for their fifth consecutive victory against the Raptors.
Tony Snell scored 17 points as the Bulls moved 1 1/2 games ahead of the Raptors for third in the Eastern Conference. Aaron Brooks had 16 points, and Nikola Mirotic finished with 15.
Toronto has dropped three of four. It hasn't defeated Chicago since Dec. 31, 2013.
Greivis Vasquez had 22 points for the Raptors, and DeMar DeRozan scored 20. Vasquez also matched a career high with six 3-pointers.