January, 31, 2015
Jan 31
10:07
AM CT
By Steve Martinez
ESPNChicago.com
Archive
Joe Murphy/NBAE/Getty ImagesJimmy Butler is making his first - of what could be many - All-Star game appearances.
With DeMarcus Cousins added to the Western Conference All-Star roster in place of
Kobe Bryant
, there are now five men who have been named to their first All-Star game this season. Here's a statistical look into who could become perennial All-Stars and who might be here for the last time.
First-time All-Stars with staying power
DeMarcus Cousins – Sacramento Kings
"Boogie" was deservingly named to this year's All-Star squad, as he was the only player in the top five in both scoring and rebounding when the announcement was made.
Cousins currently averages 18 points per game and 10 rebounds per game for his career, something that perennial All-Stars
Kevin Garnett
,
Blake Griffin
(currently in his fifth season),
Dwight Howard
, and
Chris Bosh
could not accomplish over their first five seasons.
With the Kings building around the 24-year-old Cousins - signed through the 2017-18 season - he should have plenty of opportunities to continue putting up huge numbers.
Klay Thompson – Golden State Warriors
It's pretty safe to say that Thompson has "taken the leap" this year, as he's on pace to set career highs in each of the following categories: points per game, field goal percentage, three-point field goal percentage, assists per game, steals per game, blocks per game and player efficiency rating.
With the soon-to-be 25-year-old Thompson performing at this level in his fourth season, there's no telling how many times he can return to the All-Star game.
Jimmy Butler – Chicago Bulls
January, 31, 2015
Jan 31
1:31
AM CT

By Nick Friedell
ESPNChicago.com
Archive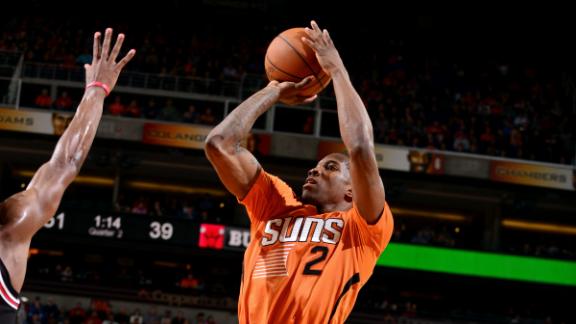 PHOENIX --
Pau Gasol
summed up the entire
Chicago Bulls
season to date as he put on his socks late Friday night.
"We know that this team has spirit and potential, we just don't do it consistently and we don't do it every night," Gasol said after the Bulls' 99-93 loss to the
Phoenix Suns
.
Truer words haven't been spoken this season. Yet again, the Bulls had a chance to pick up a much-needed win, and yet again they didn't make plays when they needed them most. Watching the Bulls this season has been an unpredictable affair in regard to wins and losses. They beat the best teams in the league and they lose to some of the worst. What has become very predictable this season, and is a distinct change from years past during coach Tom Thibodeau's tenure, is that the extra energy and effort that has defined the Bulls over the years goes missing for too many stretches.
Too often this season the Bulls go through long spells in which their attention to detail seems lacking. That was the case again on Friday night as it appeared the Suns earned the majority of the breaks by making the right plays -- the hustle plays and extra passes -- that are the difference in close games. It's a recurring theme for a Bulls squad that remains frustrated that it can't get over the mental hurdle of playing hard and tough for all 48 minutes of the game. That attitude is also why Thibodeau stressed "discipline" several times during his postgame news conference.
[+] Enlarge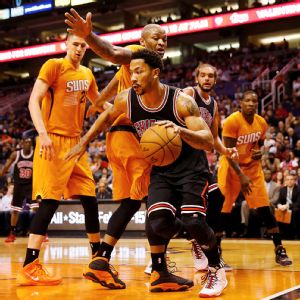 Christian Petersen/Getty ImagesDerrick Rose believes the Bulls will be able to move past the issues that have plagued the team.
"The thing is, we got to look at it," he said, when asked why there are so many stretches when the discipline isn't there. "It doesn't take much. When you're short-handed like this, your margin of error is very, very small. So when guys get in there, they got to get the job done. You can't get away from what you're supposed to do, you got to know what your job is and do your job. We got to be able to count on everybody."
Bulls guard
Derrick Rose
said the Bulls' attention to detail was as solid as it has been in years past, but while the sentiment is positive, the reality is that more than halfway through the season, the Bulls are still searching for answers as to why they can't get on the right track and stay there.
"It's the same, but I told you, it's all on the players," Rose said. "Whoever's out there, they have to pay attention, including myself. Paying attention to detail, whoever you're guarding, you've just got to make sure you know what they do and know the reason why you're out there. It's hard losing these two games but these couple of days will let us get everything out of our minds, everything out of our body, and hopefully come back with a different approach."
The approach the Bulls need most is the one they've had before. The feeling that they are going to execute and communicate well each night, whether they shoot well or not. Somewhere in the past month the Bulls lost their way, the 'edge' that players so often refer to during a season. As they walked out of the locker room Friday night, they maintained a level of confidence that they would get things righted and play the way they're capable of later in the year.
But as the calendar gets closer to the end of the regular season, it has become apparent that the Bulls aren't as mentally hungry as they have been in years past. There's still time to get it back, but these are not the kinds of questions championship contenders should be answering at this point in the season.
"I think that we're still a work in progress," Bulls center
Joakim Noah
said. "We're not where we need to be defensively. And offensively. We know we have a lot of work to do. The thing is we know that we're capable of beating the best ... but we need to execute better and we need to play better defense."
January, 31, 2015
Jan 31
12:36
AM CT
Associated Press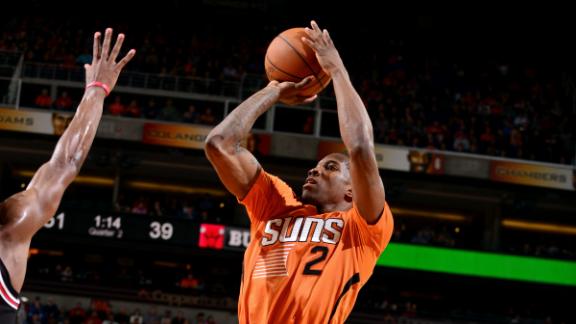 PHOENIX -- Eric Bledsoe scored 23 points and backcourt mate Goran Dragic had 21 as the Phoenix Suns held off the Chicago Bulls 99-93 on Friday night.
Bledsoe's six-footer high off the glass put the Suns up 97-93. It came after a 7-0 Chicago run that cut the lead to 95-93 on Aaron Brooks' layup with 31.9 seconds to go.
Markieff Morris had 12 points and 14 rebounds for the Suns. His twin brother, Marcus, also scored 12.
Derrick Rose scored 23, Jimmy Butler, 22, and Brooks, 21 for the Bulls, who were coming off a double-overtime loss to the Lakers in Los Angeles Thursday night and didn't arrive in Phoenix until 3:30 a.m. on Friday.
The Suns finished 6-2 in a franchise-record eight-game homestand.
January, 30, 2015
Jan 30
5:19
PM CT

By Jovan Buha
ESPNLosAngeles.com
Archive
EL SEGUNDO, Calif. --
Los Angeles Lakers
coach Byron Scott faced a difficult decision down the stretch of Thursday's 123-118 double-overtime victory over the
Chicago Bulls
: Stick with the veteran point guard
Jeremy Lin
, or insert guard
Jordan Clarkson
and test the rookie's mettle against an Eastern Conference juggernaut.
Scott chose the latter option, and his gamble paid off. Upon re-entering the game with 4:03 remaining in the fourth quarter, Clarkson reasserted himself after some shaky early play, scoring 9 points (2-of-5 FGs, 5-of-5 FTs) and withstanding the immense ball pressure and trapping the Bulls' defense applied on him over the final 14 minutes.
"You gotta learn," Scott said. "Sometimes you have to throw a guy in the fire and see what he's made of. I thought Jordan kind of fell on his face for a few minutes, but obviously kept his composure, gathered himself and played really well in the second overtime."
[+] Enlarge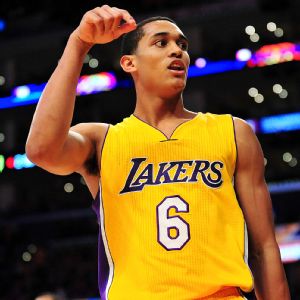 Gary A. Vasquez/USA TODAY SportsJordan Clarkson embraced the chance to direct the Lakers to a late win.
Clarkson finished with 18 points (6-of-15 FGs), 4 rebounds, 4 assists, 2 steals, 2 blocks and 3 turnovers against the Bulls. The explosive, athletic second-round pick has been inconsistent -- but solid overall -- in his brief time as a starter, averaging 13.8 points on 40.4 percent shooting, 2.5 rebounds, 3.3 assists, 1.0 steal, 0.5 blocks and 2.5 turnovers through four games.
As his teammates are quick to point out, it takes time for a rookie point guard to learn new plays and reads, figure out teammate tendencies, and serve as an extension of the coach on the floor. But stretches like Thursday's crunch-time performance show how Clarkson is rapidly improving at a rate even Scott couldn't predict.
"I think we have a pretty good basketball player in this young kid," Scott said. "When he falls on his face, he gets right back up. He wants to get better; he works his butt off every single day. If you look at his first game [starting] against San Antonio, and his last game last night, he's shown improvement.
"That's all you want from a young point guard. He's developing nicely, and I think he'll continue to do that."
Perhaps the secret to Clarkson's success has been a recent meeting with teammate and former MVP point guard
Steve Nash
, who is back around the team, according to general manager Mitch Kupchak. Nash is taking on a mentorship role with Clarkson, and the two met and spoke in-depth for the first time on Wednesday.
So, what did they work on?
"Just a little bit of everything," Clarkson said. "We did a lot of film work; just reading plays, just slowing down and reads and stuff to look at. That's really it right now. We'll see. I'm going to meet with him again soon."
Did Nash's insight help Clarkson against the fierce Bulls defense?
"Yeah," Clarkson said. "I tried to implement some of that stuff. It's hard to do it off one day of work, but it's just going to continue to grow. It's just putting one brick down at a time."
Clarkson says the biggest thing he's tried to take away from Nash's game is his "pace." Nash was the ultimate floor general in his heyday, and the stubborn, competitive Clarkson is trying to learn that finding his teammates can be just as effective as attacking himself.
"I'm just playing at different speeds," Clarkson. "At the same time, trying to get two defenders to commit so I can get somebody else a shot. … I don't have to beat the trap with the ball. I can just pass it and get it out of my hands and let my teammates make a play.
"Just learning that. Just being thrown into it -- it's a good learning experience for me."
Practice Notes:
January, 30, 2015
Jan 30
2:41
PM CT
By Ben Alamar, ESPN Stats & Information
ESPNChicago.com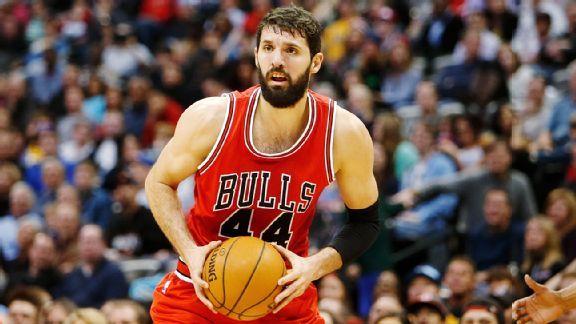 Chris Humphreys/USA TODAY SportsNikola Mirotic and the Bulls will look to rebound tonight against the Suns (10:30 ET, ESPN).
The 4-Point Play looks at the four analytics-based storylines that will make you smarter when watching Friday's game between the Chicago Bulls (12th in BPI) and the Phoenix Suns (14th in BPI). Our BPI gives the Suns a 63 percent chance of winning.
1.
Bulls forward
Nikola Mirotic
is in the running for Rookie of the Year. He is scoring at the same rate as
Andrew Wiggins
(16 pts per 36 minutes) but is doing so more efficiently (57 percent True Shooting Percentage vs 50 percent for Wiggins), and is also passing and rebounding at higher rates.
2.
The Bulls have the 12th ranked defense in the league, largely because their defensive rebounding has fallen off from 11th in the league last year (75.4 DREB%) to 20th (74 DREB%) in the league this year. When they are rebounding at last year's rate or better, they give up only 100 points per 100 possessions, but when they are below that, they allow 103 points per 100 possessions.
3.
The Suns are the second fastest team in the league, averaging 99 possessions per 48 minutes (Warriors are the fastest at 101), but they can get overheated. In games where the Suns average over 100 possessions per 48 minutes, they score 104 points per 100 possessions, but in games where they are more controlled and play slower than that, they are a more efficient offense, scoring 110 points per 100 possessions.
4.
Gerald Green
leads all Suns' players with more than 500 minutes by taking almost 10 threes per 36 minutes. When he is shooting at least that frequently from beyond the arc, the Suns score 109 points per 100 possessions, compared to only 104 points per 100 possessions when Green shoots below that rate.
January, 30, 2015
Jan 30
2:17
AM CT

By Nick Friedell
ESPNChicago.com
Archive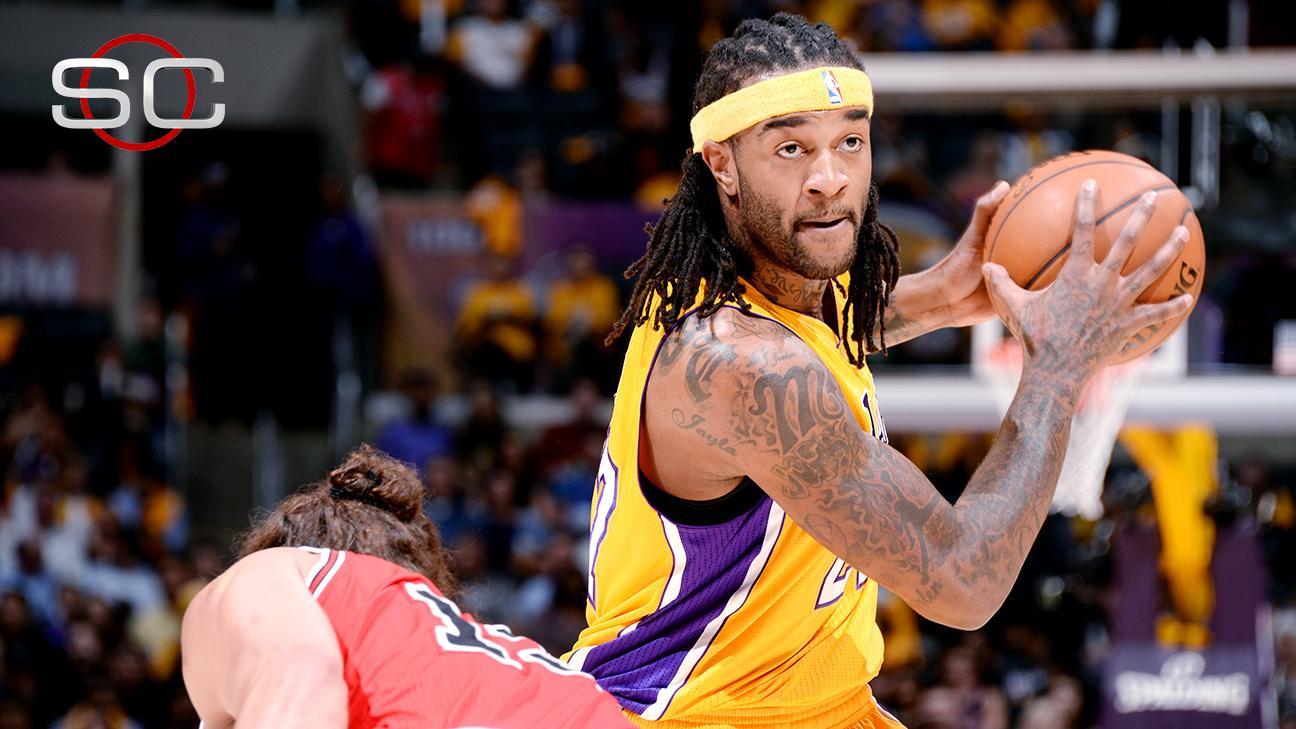 LOS ANGELES -- With the inconsistent way the
Chicago Bulls
have played through much of the season, the fact that they dropped a 123-118 double-overtime affair to a terrible
Los Angeles Lakers
squad shouldn't come as a surprise. The surprise would have been if the Bulls had actually found a way to win.
As has been the case so often this season, the Bulls allowed a poor team to get out to an early lead and gain confidence. When the Bulls finally decided to play hard in the final moments, it looked as if they would escape with a much-tougher-than-it-should-have-been win. But as usual, the Bulls ran out of gas after exerting so much effort and couldn't knock down shots when they needed them most in the waning minutes of double overtime.
As has been the case so often this season, a litany of excuses and befuddled looks followed in the Bulls' locker room. Bulls guard
Derrick Rose
said his team needed to find its identity again -- "on the defensive end."
"Where when people play us, they know it's going to be a tough-ass time," Rose said. "We used to have that and now it's not there anymore, and you can just tell the way that people are playing."
Where did it go? The Bulls used to impose their will on opponents, especially on the defensive end; now they just sleepwalk through long stretches of the game and hope to turn it on late.
[+] Enlarge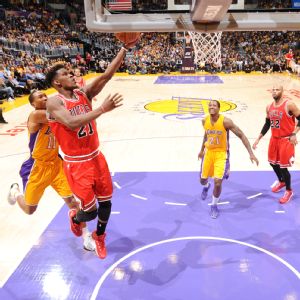 Andrew D. Bernstein/NBAE via Getty ImagesJimmy Butler scored 35 points on the night he was named an All-Star but was unhappy with his team's defensive effort.
"We're not guarding anybody right now," Bulls swingman
Jimmy Butler
said. "That's what you think when you think Chicago -- is how great we are on defense. We haven't been that team, maybe three, four, five, six times this year tops. We can score the ball, so sometimes we outscore teams, but we haven't been playing any defense lately."
Just a few hours after being officially named to the All-Star team for the first time, Butler offered one of the most honest assessments of the Bulls to date. Like many of his teammates, he's disgusted by the way they are playing. But, like many of his teammates, Butler isn't sure how to fix the issue.
"We talk about it all the time," Butler said. "But it's enough of the talking. We got to get it done. Guys can rah-rah-rah and say, 'Oh, we got to start playing defense,' but we've heard it for 40-something games now. One of these days we're going to get tired of getting our ass kicked and decide to play defense."
After one of the most impressive wins of the year on Tuesday night against the red-hot
Golden State Warriors
, the Bulls looked lifeless throughout much of this game. They took the Lakers for granted and played down to the level of their competition again. Why does that keep happening?
"I have no idea," Butler said. "I think we just sometimes don't come out ready to play. We've done it against good teams, we've done it against bad teams. But we can't do it against any team in this league because anybody can beat anybody. And that what was definitely shown here tonight in the Staples Center."
For a team that played with so much pride for the past four seasons, it's odd to see them continually sleepwalk through games. The feeling within the locker room isn't one of panic -- the Bulls still believe they can beat anyone, as they have shown already this week -- but the lingering issue is that the lack of intensity, especially on the defensive end, is more than just a trend now. It's a problem.
"You just got to look at yourself in the mirror," Bulls center
Joakim Noah
said. "I got to look at myself in the mirror and say, 'You know what? I got to do better.' That's all I can do."
As a group, the Bulls should all be doing that. Championship-caliber teams have bad games during the course of a long, 82-game season, but they don't have the same problems over and over again. The Bulls' biggest problem appears to be that they can't get out of their own way most nights. They aren't playing with the same fire night to night, and they are relying way too much on their offense instead of playing the type of defense that earned them such a hard-nosed reputation throughout the league.
"I think that's what it is," Butler said, offering a sentiment shared by many within the locker room. "We can score so many points now that we think we don't have to guard anybody. And that's not the case. It hasn't been working for us. It's not going to work for us, so we need to stop doing that."
January, 30, 2015
Jan 30
1:55
AM CT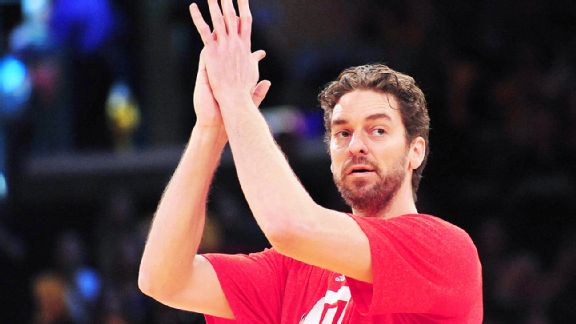 Gary A. Vasquez/USA TODAY Sports Pau Gasol received a standing ovation from the Staples Center crowd before Thursday's game.
LOS ANGELES -- In a Los Angeles Lakers franchise so stocked with legends it's difficult to single out individuals for superlatives, finding a description for Pau Gasol is remarkably simple. He's the best Lakers acquisition of the 21st century.
The flip side is that letting him leave without receiving anything in return is the Lakers' biggest mistake of the century.
First, Pau's place in Laker lore. There's no easy answer for greatest Laker of all-time when Magic Johnson, Kobe Bryant, Jerry West and Elgin Baylor are among the nominees. And good luck picking a starting center between Kareem Abdul-Jabbar, Shaquille O'Neal, Wilt Chamberlain and George Mikan without an argument.