October, 29, 2014
Oct 29
11:31
PM CT
NEW YORK --
Taj Gibson
tried to warn everyone.
He tried to tell the masses that the
Chicago Bulls
' second unit beat the starters in practice every day. He tried to explain to everybody before Wednesday night's destruction of the
New York Knicks
that the new Bench Mob was better than it had shown throughout much of the preseason.
[+] Enlarge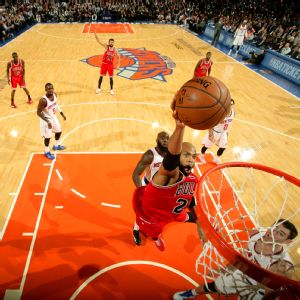 Nathaniel S. Butler/Getty ImagesTaj Gibson led all scorers with 22 points and helped turn the tide in the Bulls' favor in the second quarter.
Gibson let more than his mouth do the talking against the hapless Knicks in a 104-80 season-opening victory, scoring a game-high 22 points while leading a hungry second unit to a solid first impression.
"I'm always talking," Gibson said with a smile after the game. "Because I remember years when we could never beat the first unit and now we got that momentum and we're winning a lot of games in practice and [coach Tom Thibodeau] loves it. We talk trash. [The starters] talk trash. But we all make each other better and there's never [any] hard feelings. We push them hard and they push us hard and it's going to show on the court and like it did tonight it showed on the court."
The Bulls came into this season believing this was the deepest roster in the Thibodeau era. On paper, they appear to be at least 11 deep on most nights. The players understand that this is only one game, but Gibson believes it's the type of game fans will be seeing a lot of this season.
Aaron Brooks
(13 points) came in alongside Gibson and gave the Bulls the spark that changed the tempo of the game in the second quarter. Rookie
Doug McDermott
(12 points) knocked down several shots and seems to be more confident every time he steps on the floor.
Nikola Mirotic
and
Tony Snell
stepped in and gave Thibodeau another jolt from the bench in the absence of injured swingman
Jimmy Butler
.
The second group, which scored 55 points, was so good, especially at times with
Pau Gasol
playing alongside Gibson in the second half, that it seemed to make Thibodeau forget how much they struggled at times to find a rhythm as a group during the preseason.
"I thought our starters struggled more than our bench guys did [in the preseason]," Thibodeau said, when asked why the second unit played so much better together. "Our bench guys, some of them were in starting roles, when you put the bench group in there together they usually play very well together."
The one constant in the group is Gibson. He's the one Thibodeau has been raving about throughout training camp. He's the one teammates have been praising over and over during the offseason. He's the one who continues to improve as an all-around player despite the fact that Gasol was signed over the summer to take the starting power forward job that many thought would be Gibson's after the final year of
Carlos Boozer
's deal was amnestied.
"Taj, he's being patient with his offense,"
Derrick Rose
said. "He's taking what they're giving them. They kept giving him the jump shot, he kept taking it and making it. But it just comes with work. That's something that he's been doing the entire time in practice so that's why he's been bragging a little bit, talking about beating the first team. But he's in a good rhythm and the second team is doing a good job making sure that they're finding him on the court."
They are in that rhythm in large part because Gibson is playing with more confidence than ever. Every night won't be this easy, but his teammates feed off his confidence when he enters a game. Now in his fifth season, Gibson hasn't just become the leader of the second unit, he's become one of the key leaders of this team.
"That's one thing about our second unit, we're really talented, man," Gibson said. "We've really been taking it to the first unit in practice. And we talk a lot of trash in that second unit. So when you come into the game in this league you really have to have that kind of swag. You really have to be motivated to help your team and that's what championship teams do.
"That year we went to the Eastern Conference finals (in 2010-11) we had a second unit that had swag, that understood when we come in the game we're going to go do work. It's early, we still got a long way to go, but that's a good way to start the season off."
October, 29, 2014
Oct 29
9:41
PM CT
NEW YORK --
Taj Gibson
and the new Bench Mob changed the pace of the
Chicago Bulls
' season-opening 104-80 victory over the
New York Knicks
on Wednesday. With the Bulls struggling to find a rhythm, Gibson and veteran guard
Aaron Brooks
checked in and found a way to get to the rim and get a consistent offense going.
Pau Gasol
made a nice first impression with 21 points and 11 rebounds, but Gibson led the way for a second unit that is hungry to prove itself. The Bulls still have a lot to improve upon, especially taking better care of the ball early in the game, but the second unit played well together and gave even more credence to the notion that this is Tom Thibodeau's deepest team to date.
Rose returns:
Derrick Rose
had 13 points on 3-of-7 shooting with five assists, two steals, three turnovers and three rebounds in 21 minutes, 21 seconds. He had trouble finishing at the rim but he did a good job of pushing the tempo and getting to the rim and the free throw line. He was 7-for-8 from the line.
Hits:
The new Bench Mob of
Doug McDermott
,
Tony Snell
,
Nikola Mirotic
, Gibson and Brooks combined for 55 points -- 22 from Gibson.
Misses:
Joakim Noah
struggled in 20 minutes of play -- scoring just three points and grabbing six rebounds.
What's next:
The Bulls have a showdown with
LeBron James
and the
Cleveland Cavaliers
on Friday night at the United Center in one of the most hyped regular-season games in recent years.
October, 29, 2014
Oct 29
9:33
PM CT
Associated Press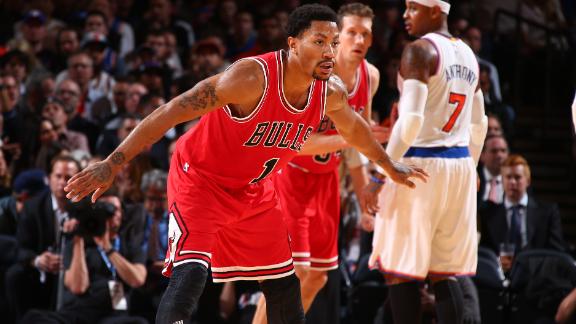 NEW YORK -- Pau Gasol had 21 points and 11 rebounds in his Chicago debut, Derrick Rose scored 13 points after missing most of the last two seasons, and the Bulls spoiled Derek Fisher's first game as an NBA coach by beating the New York Knicks 104-80 on Wednesday night.
Reserve Taj Gibson finished with 22 points to lead the Bulls, who with a wealth of frontcourt depth didn't even need a big night from Rose. The former MVP took only seven shots and had five assists in 21 minutes in a game Chicago led by as much as 35.
Carmelo Anthony had 14 points for the Knicks, who won't have it any easier in the second half of their season-opening, back-to-back. They visit the Cavaliers, the other Eastern Conference favorite, on Thursday in the first game since LeBron James returned to Cleveland.
The Knicks, running the triangle offense that Fisher played in under Knicks president Phil Jackson, shot 36.5 percent. They were missing starting point guard Jose Calderon, who was a late scratch because of a strained right calf. Shane Larkin made his first career start.
October, 29, 2014
Oct 29
7:03
PM CT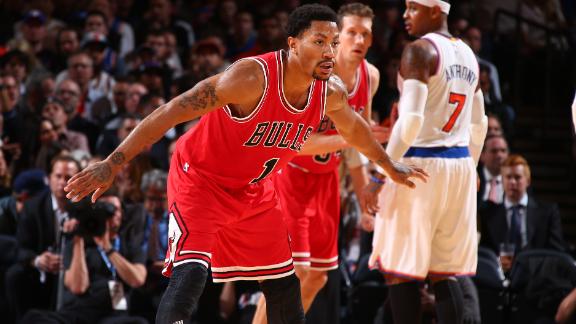 NEW YORK -- They acted like a serious contender should act after a season-opening beatdown of a bottom-feeder. To a man, the Chicago Bulls reminded anybody who would listen Wednesday that their trashing of the Knicks in Madison Square Garden was one measly game, a nice debut but nothing to get crazy over. They didn't much care it was the franchise's most lopsided win ever at the Garden, or that the Knicks had never lost a season opener by such an embarrassing margin.
They talked about starting slowly offensively and not making open 3-pointers. The Bulls talked sober talk. Coach Tom Thibodeau, for crying out loud, picked up a technical foul with his team up 24 points. An official turned and asked him, "When will you relax?" and Thibs, true to every instinct in his being, shot back, "Never!"
And so began the Chicago Bulls' 2014-15 season, one a fair number of people think can result in a trip to the NBA Finals. Coaches, particularly guys such as Thibs, get paid to find fault with a 104-80 victory on the road, and surely he will before Friday night's playdate with LeBron and the Cleveland Cavaliers back in Chicago. But for the rest of us, for the people who noticed the Bulls were up 35 late in the fourth quarter and hoped some kind of slaughter rule could be instituted to save the Knicks from further shame, the Bulls did just about everything right. Injected with truth serum, they wouldn't dare ask for more things to go right on the first night of any season.
Derrick Rose played 21 minutes, Joakim Noah played 20, and the Bulls' two most important players held up just fine. Neither played a second in the fourth quarter, and neither needed to.
October, 29, 2014
Oct 29
1:15
PM CT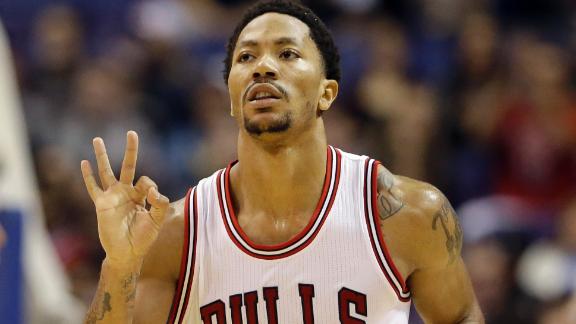 NEW YORK --
Derrick Rose
wants to prove all of his doubters wrong, but he's trying not to let all the doubts about his game get into his head. As Rose gets set to open a new season against the
New York Knicks
on Wednesday night
(ESPN, 8 ET)
, the former MVP sounds excited about being back on the floor after playing in just 10 games over the past two seasons because of two serious knee injuries.
"I can't get caught up in that," he said of the doubters. "I let my game speak for itself. By the way that I play you should be able to tell that I'm in the gym almost every day working on my craft. I don't like to say too much about my haters but you should be able to tell by the way that I work that I've been in the gym really going hard."
Teammates and coaches have consistently praised Rose for the work ethic he's put in over the past few months in order to get ready for the season. While he still wants to use his speed and quickness to overwhelm opponents, the 26-year-old is also trying to be more of a distributor during this return.
"Someone like Larry Bird, he just had a great feel for the game," Rose said. "His teammates, they loved playing with him. He made sure he got everybody the ball, but in the fourth quarter they knew that that was his fourth quarter. So [we're] just trying to get the same atmosphere here where [we] go through the game, go through the first couple of quarters getting everybody touches, then in the fourth quarter it's my time."
There was a point during free agency when many in the Bulls' organization thought Knicks star
Carmelo Anthony
would ultimately land in Chicago, but that didn't come to fruition after Anthony decided to take the extra guaranteed money and re-sign with the Knicks. Rose isn't worried about the Bulls' flirtation with Anthony as the pair prepares to face off.
"That's over with," Rose said. "I wouldn't say it's weird at all. He made his decision and like I said at the time, who wouldn't want to play with a talent like that? He came back [to New York], you can't get mad at him. But the people that we have on our team is who we got and that's who we have to roll with."
October, 29, 2014
Oct 29
11:38
AM CT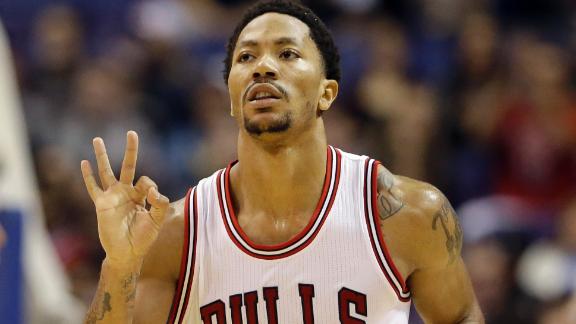 NEW YORK -- Chicago Bulls swingman Jimmy Butler will not play in Wednesday night's season opener against the Knicks because of sprained ligaments in his left thumb.
Butler did not participate in Wednesday's shootaround, and it is unclear at this point when he will return.
"Just a lot of pain in the joint and in the muscle around it," Butler said. "I just don't want to make it worse right now."
Butler injured his thumb Oct. 19 in a preseason game against the Charlotte Hornets and has not played since. After having an MRI on Oct. 21 that confirmed the sprain, he has had the thumb wrapped for more than a week and is still having discomfort.
"I try to come back early, and that's not always the best thing to do," Butler said. "They're just making sure when I do come back, I won't have any restraints and I'll be able to go 100 percent."
Butler's injury is a big setback for the Bulls in the short-term for two main reasons. First of all, he will not be able to guard Knicks star Carmelo Anthony on Wednesday. Secondly, Butler was in the midst of the best preseason of his career and was the best all-around player for the Bulls in the first few weeks of camp.
Coach Tom Thibodeau said he was undecided as to which player would replace Butler in the starting lineup, but the likely choice is veteran Kirk Hinrich. The combo guard started for Butler after his injury.
October, 28, 2014
Oct 28
11:09
PM CT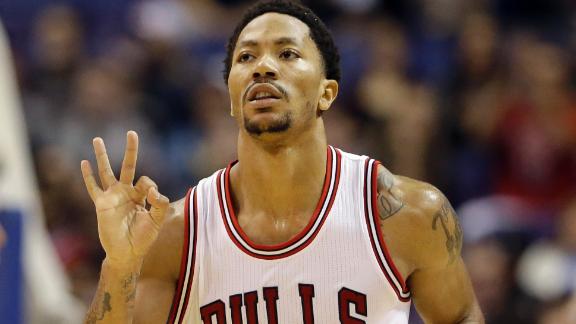 NEW YORK -- Tom Thibodeau defends harder than his team does on most nights when it comes to certain topics. The most notable example of this over the past three years is in the way the veteran coach has generally protected
Derrick Rose
as the fragile superstar tries to make his way back from yet another knee injury.
[+] Enlarge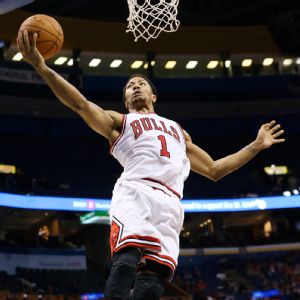 David Sherman/NBAE/Getty ImagesWith a more balanced team offensively, the Bulls can afford to be more patient with Derrick Rose in his second comeback from knee surgery.
Thibodeau has always publicly stood behind the decisions Rose has made in regards to his body, even if he was frustrated that his best player wasn't on the floor. It's the smart thing for any coach to do, especially with a player as talented as Rose, but that loyalty has been even stronger over the past two years as critics and some fans openly questioned whether Rose will ever be the player he once was.
It's that loyalty and protectiveness which have also guided Thibodeau's comments about Rose throughout the summer. No matter how good or bad Rose has played over the past few months -- whether it was with Team USA in the World Cup of Basketball or with the Bulls in the preseason -- Thibodeau reminds anyone who will listen that Rose still has a lot of rust to shake off.
"There's still a long way to go," Thibodeau said after Tuesday's practice. "And that's what we have to understand. The preseason is one thing. The regular season is something totally different. There's a lot of work to be done. He just has to keep concentrating on improving, put everything he has into each day. There will be more game-planning for him. He has to be ready for that."
But the difference between this Rose comeback, the one that continues during Wednesday night's regular season opener against the
New York Knicks
, and the one from a year ago, is that Rose isn't exactly the same player he used to be.
And that's OK.
No matter how good or bad Rose looks in the first couple months of the season, the difference is that the Bulls don't need him to be the player he once was right away. They need him to continue shaking off the rust that comes with having only played 10 games in the past two seasons. The beauty of Thibodeau's plan in tempering expectations is that it takes at least some of the pressure off the 26-year-old player who is still determined to prove his doubters wrong.

Sure, Thibodeau wishes he could use Rose more than the 30 or so minutes he'll likely play on Wednesday, but even Thibodeau understands that Rose's circumstances are different this time.
The Bulls are different as well. While they will always be dependent on Rose to score on some level, they are a much more balanced team. Their roster is deep and features several players who can help take some of the offensive burden off Rose's shoulders. With veteran
Pau Gasol
in the fold,
Jimmy Butler
looking more confident offensively and
Kirk Hinrich
and
Aaron Brooks
backing up Rose, the Bulls don't need the former MVP to dominate as much night to night as they did the past few seasons.
They need Rose to get incrementally better over time and focus on staying healthy and producing. They need him to become even more of a distributor and continue working on his jump shot. Most of all, they need Rose to grow his confidence back to a level where he can take over games again as the playoffs roll around this spring. The Bulls don't need Rose to win games in November and December, but they will need him to close again in May and June.
Thibodeau remains steadfast in his belief that Rose will be able to do just that when the time comes.
"I expect him to get back to exactly who he was," Thibodeau said. "Just gotta remember what he did to play like that. This is the process he has to go through, a lot of rust to shake off when you've missed the amount of time he has missed. As long as he continues to improve, he'll get there."