March, 7, 2014
Mar 7
1:43
PM CT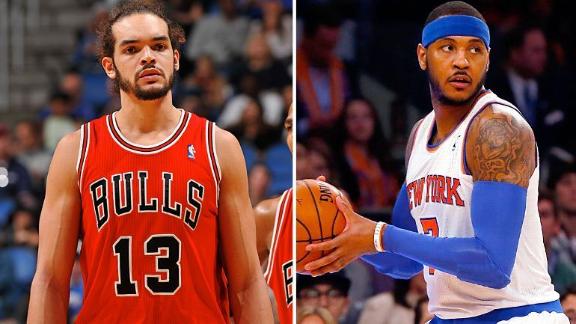 CHICAGO -- Joakim Noah does not want to address the "gossip" surrounding a conversation he reportedly had All-Star Weekend with New York Knicks star Carmelo Anthony.
"You want me to address that?" Noah said at Friday's shootaround in response to a question about an ESPN.com report Thursday that said he told Anthony he could win a championship if he signed with the Bulls as a free agent after the season. "I don't feel like addressing it. I really have nothing to say about it."
Noah was asked if the reported recruiting pitch for Anthony had, in fact, happened, and he didn't deny the conversation took place.
"Doesn't matter," Noah said. "What does that have to do with our team right now? It doesn't matter."
Coach Tom Thibodeau also tried to brush it off.
"It's a bunch of nonsense," Thibodeau said. "People just start throwing stuff out there and then they wait for everyone to respond to it. If you waste your time on stuff like that, then you're not thinking about Memphis. So that's all we're thinking about: 'Think about Memphis.'"
The Bulls play the Grizzlies on Friday night.
Thibodeau said he tries to prepare players for the rumors that can constantly swirl throughout the course of a season.
"At the beginning of the year, at our first meeting, we talk about all those things," he said. "Because it's predictable -- it's going to happen every year.