July, 27, 2014
Jul 27
9:55
PM CT
LAS VEGAS --
Chicago Bulls
center
Joakim Noah
says he will be "ready" for training camp as he continues rehabbing from arthroscopic left knee surgery.
"I feel pretty good," Noah told ESPNChicago.com on Sunday during a promotional event for Adidas. "Obviously I have a ways to go, but I'm excited. When I see what our team looks like, I think that Gar [Forman] and Pax [John Paxon] put together a very solid team and I'm really excited about next year."
Noah was hobbled throughout the postseason after a season in which he earned the NBA's Defensive Player of the Year award. The knee injury came at the end of a long season in which he was also voted to the first team All-NBA squad at center. Noah spent some time Sunday being part of a few laid back 3-on-3 games set up by the sneaker company as part of the launch of its "boost" campaign.
Noah, who has dealt with plantar fasciitis throughout much of his career, credits his new shoes as part of the reason why he appears to have overcome the issue. After being sponsored by Le Coq Sportif throughout the first six seasons of his career, Noah switched to Adidas before last season.
"I'm very happy to be with Adidas," he said. "It's funny that the 'boost' is their new technology. It just puts so much cushion on your feet. That's exactly what I needed. Ever since I've been with Adidas my feet have been feeling great. I've had no foot issues. And I'm just really happy to be part of the Adidas family."
Noah knows he still has a lot of work to do to get his knee back in game shape, but he is confident he will be ready to go in the near future. His optimism regarding the upcoming campaign permeated through his answers.
"Every day I work out that's all I think about," Noah admitted, while discussing the possibility of winning a title alongside
Derrick Rose
. "It's just how great that party would be after we win the championship. But I know to get there there's going to be a lot of ups and downs. It's always a rocky road. It's never smooth in the NBA. But I love our team and now it's on us to get to work."
July, 27, 2014
Jul 27
9:38
PM CT
LAS VEGAS --
Chicago Bulls
swingman
Jimmy Butler
will not practice this week on Team USA's Select Team because of a slightly strained groin, USA Basketball announced Sunday.
The Select Team will practice against Team USA this week in advance of the national team's participation in the World Cup of Basketball in Spain in late August.
Butler was one of several Bulls scheduled to participate this week in the camp. Rookie
Doug McDermott
is on the Select Team, while point guard
Derrick Rose
is hoping to make the cut for the national team. Bulls head coach Tom Thibodeau is an assistant on Team USA's staff under head Mike Krzyzewski.
July, 27, 2014
Jul 27
8:33
PM CT
[+] Enlarge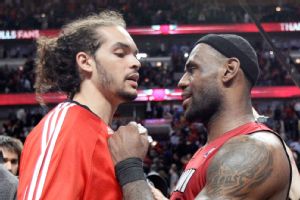 AP Photo/Nam Y. HuhJoakim Noah called LeBron James "one of the big obstacles" standing in the way of a potential Bulls championship.
LAS VEGAS -- Chicago Bulls center Joakim Noah knows that in order to win a championship this season, he and his team are going to have to push through an opponent that has repeatedly stood in their way: LeBron James.
"Every time LeBron steps onto the court he's affecting the game," Noah told ESPNChicago.com on Sunday during a promotional event for Adidas. "He's the best player in the game, but that being said, I think we have a chance to beat them. And that's the goal. We want to beat LeBron James, we want to beat the Miami Heat, we want to beat all those teams who are in our way. He's obviously one of the big obstacles."
The emotional leader of the Bulls is excited about the roster moves his team has made over the past few weeks and is confident they can overcome James and the Cleveland Cavaliers this season.
"It's not about him. It's about us," Noah said. "It's about our team and being the best team that we can be, then time will tell."
July, 27, 2014
Jul 27
12:29
AM CT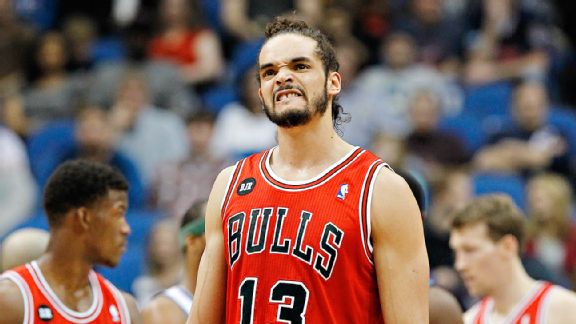 AP Photo/Ann HeisenfeltHelping his adopted Chicago, Joakim Noah said, is as important to him as winning a title.
CHICAGO -- "Dreadlocks coming into the game! Dreadlocks, what you going to do?"
"Ahhh! Dreadlocks!"
It was the Joakim Noah Show at the United Center on Saturday afternoon, but instead of thrilling a capacity crowd with his unique All-NBA game, the Chicago Bulls star was on the microphone playing hype man for a basketball game pitting the dreadlocked against the clean-headed, the undersized against the overweight, the South Side against the West Side.
On a muggy summer day, Noah's charity, the Noah's Arc Foundation, hosted its third annual "peace tournament," now called the "One City" basketball tournament, a simple event with a lofty goal: trying to unify a divided city and raise awareness of the violence that grips pockets of Chicago all year long, but particularly in the summer. The teams were made up of 18- to 24-year-old "at-risk" men from different parts of the city. These are men Noah wants to see return to their communities to "influence" younger kids in a positive way.
A 3-year-old boy was shot Friday. An 11-year-old girl was buried Saturday. Dozens shot every weekend. A city grows weary of constant gun violence.
But what can one man do?
Noah can't turn back the clock on housing discrimination and segregated urban planning. He can't attack poverty at its root causes without major help. He's rich, but not wealthy yet.
July, 25, 2014
Jul 25
5:20
PM CT

By Scott Powers
ESPNChicago.com
Archive
CHICAGO --
Chicago Bulls
center
Joakim Noah
said Friday he likes what the Bulls have done in the offseason and has gotten over
Carmelo Anthony
's decision to re-sign with the
New York Knicks
.
"I'm really excited," Noah said of the Bulls on Friday. "I think Gar [Forman] and [
John Paxson
] and everybody did a real good job. I'm really, really excited about the Bulls. It just makes you want to work hard and be as ready as possible for the upcoming season."
[+] Enlarge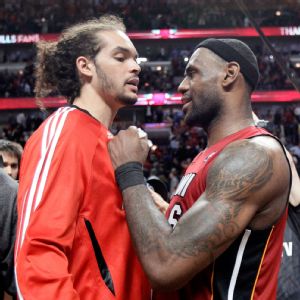 AP Photo/Nam Y. HuhJoakim Noah looks forward to matching up against LeBron James' Cavaliers this season.
Noah hoped Anthony would join the Bulls and he helped recruit him, but he understands Anthony's decision.
"I think he did the right decision for him," Noah said. "We obviously recruited him pretty hard. I think he had to make the best decision for him. I'm really excited for our team the way it is. I think we're deeper. I think those things, me personally, I can't control where another man goes. He feels like New York is the best position for him. I'm happy for him. But at the end of the day, what I care about is this city and the Chicago Bulls."
Noah is especially excited about adding
Pau Gasol
to the Bulls' frontcourt.
"I think it's going to be great," Noah said. "Pau is someone who is very, very smart. I think his father was a doctor. Someone who comes with a lot of experience. Not just a great player, but somebody who cares about the community as well. I'm excited to see him help us as well to try to slow down the violence and help the kids out here in Chicago. Somebody who is also very humbling to play with, somebody who has won championships and with his pedigree somebody I can really learn from."
Noah reported he's been rehabbing his left knee every day after having arthroscopic surgery in May.
He has also kept tabs on teammate
Derrick Rose
and his road to recovery in the offseason.
"I'm really proud of him because I know he sacrificed his whole summer," Noah said. "He sacrificed a lot to be the best that he can. That's all you can do. People's expectations, all that stuff doesn't matter. I'm proud of him for putting the work that he put in to be in the best position possible. He's doing a lot of things. He's helping us out too with our foundation. I got nothing but love for him."
Noah doesn't exactly have love for
LeBron James
and the
Cleveland Cavaliers
, though.
"Good for LeBron," Noah said of James rejoining the Cavaliers. "I'm happy for LeBron James. He gets to go home. People are happy over there. But I really hope that we can kick his [butt] as many times as possible."
July, 25, 2014
Jul 25
1:40
PM CT
By Staff
ESPNChicago.com

Carlos Boozer
said he was "humbled" by playing more limited minutes during his final season with the
Chicago Bulls
, who used the amnesty provision earlier this month on the last year of the veteran forward's contract.
Boozer
"It was (difficult). It was at times," Boozer said Friday as he was introduced by the
Los Angeles Lakers
. "But you learn a lot. I was humbled a lot and I grew a lot as a man and as an individual. So, I take all that with me in my new experience."
Boozer rarely played in the fourth quarter last season under Bulls coach Tom Thibodeau, who favored
Taj Gibson
, a superior defender.
"Playing first quarter and third quarter, not having a chance to help my team at the end of the game to win was tough," Boozer said. "As a competitor, you want to be out there doing everything you can to help your team win and to not get an opportunity, it was humbling. So, I learned a lot from that process."
The Bulls used the amnesty provision on the final season of Boozer's five-year, $75 million contract on July 15. Nine teams with cap space were able to make a blind bid to pick up the remaining portion of his $16.8 million deal. The Lakers won with a bid of $3.25 million, sources told ESPN.com's Marc Stein.
Boozer, who averaged 15.5 points and nine rebounds in four seasons in Chicago, praised the Bulls for the way they handled the amnesty process.
"Chicago was great about everything," Boozer said. "They're a great organization, first class. They were in touch with me and Rob Pelinka, my agent, along the whole process. So, as they were making their decision for where they were going with the team, they let us know. So we knew we were going to get amnestied, I think, the day before and we went forward."
ESPNLosAngeles.com's Dave McMenamin contributed to this report.
July, 25, 2014
Jul 25
11:40
AM CT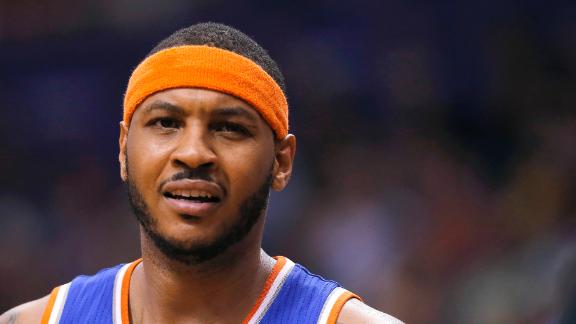 LAS VEGAS -- Carmelo Anthony said it was not the money, but instead his confidence in team president Phil Jackson and his belief that the New York Knicks "aren't that far away from contending for an NBA title," that made him opt to remain in New York instead of signing with the Chicago Bulls.
"I want to win. I don't care about the money," Anthony told ESPN.com. "I believe Phil will do what he has to do to take care of that.
"I don't think we're that far away," he added. "People use 'rebuilding' too loosely."
In what were believed to be Anthony's first public comments since agreeing to a five-year deal worth $124 million earlier this month, he told ESPN.com that the decision was so agonizing in the final days that he could not watch TV or go on the Internet.
"It was overwhelming," Anthony said. "It was stressful in the final days, one of the hardest decisions I've ever had to make."
Anthony said, though, it ultimately came down to New York and Chicago.
"I was flip-flopping," he admitted. "It was hard. It was Chicago, but then after I met with L.A., it was L.A. But it came back to Chicago -- and was pretty much always Chicago or New York. That's a situation where I could have walked in now to an opportunity to compete for the next however many years."
But the 30-year-old Anthony said he is invigorated to work with a new team president in Phil Jackson and a new coach in Derek Fisher.
"It's a matter of me believing in the organization, believing in Phil," Anthony said. "I wanted to go somewhere where I can end my career."
July, 24, 2014
Jul 24
11:24
PM CT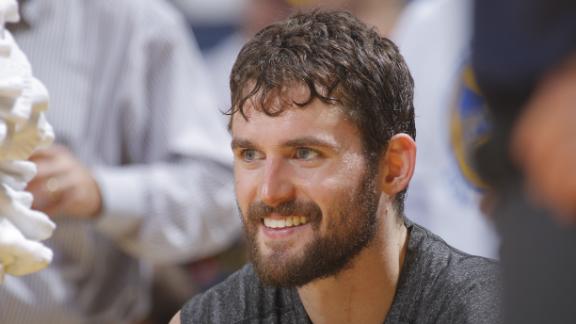 The Cleveland Cavaliers cannot officially trade Andrew Wiggins before Aug. 23, but they remain the front-runner in the trade sweepstakes for the Minnesota Timberwolves' Kevin Love, according to sources close to the process.
Sources told ESPN.com that the Wolves, at present, are higher on a Cleveland trade package centered on Wiggins than any other offer on the table for Love.
ESPN.com reported Tuesday that the Cavaliers, meanwhile, are increasingly confident about their chances of landing Love and firmly believe they are progressing toward a trade framework that the Timberwolves will accept in exchange for the All-Star power forward, which would enable Cleveland to pair him with Olympic teammate LeBron James.
The fact that league rules prevent Wiggins from being traded for 30 days after finally signing his rookie contract with the Cavs on Thursday would appear to give other suitors a window to put together an offer that could trump Cleveland's. But the Cavaliers' main current threat in the Love sweepstakes -- Chicago -- has to sweat out a similar wait if it hopes to entice the Wolves with either of its prized rookies.
The Bulls signed sharpshooter Doug McDermott
July, 24, 2014
Jul 24
5:37
PM CT
By
Ethan Sherwood Strauss
| ESPN.com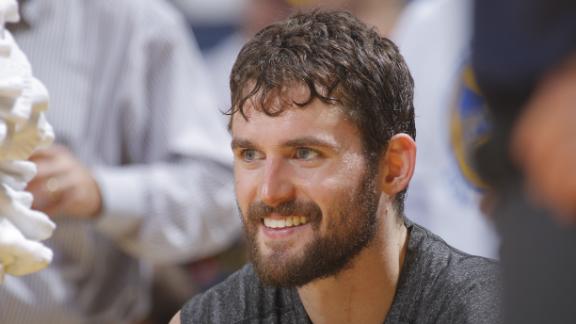 What impact does Kevin Love have on the NBA title race? Based on predictions made by our ESPN Forecast panel, this star who has never made a postseason has the potential to completely shake up next season's championship picture.
Though the San Antonio Spurs are currently projected to win next season's title, they lose that status if Love gets traded to an Eastern contender. If the Cavs get Love, our panel has them as the overall 2015 title favorites. Same goes for the restocked Bulls if they acquire Minnesota's highly available power forward.
To be clear, these projections are pricing in the weakness of the East. We specifically asked panelists to predict a future Cavs (with Love) vs. Spurs Finals, and San Antonio came out as better than 60 percent favorites. The Spurs are thought to remain the league's best team, but they have to do more to make the Finals than an Eastern contender must.
The panel also sees Cleveland as the favorite to win the East if Love is not traded to Cleveland or Chicago. While adding Love certainly boosts the Cavs' chances, the panel sees a Love addition as far more important for Golden State than for Cleveland. Based on our projections, getting Love on the Warriors better than triples their chances of a title parade by the Bay.
ESPN Forecast: NBA title chances if Kevin Love is traded to Cleveland
July, 24, 2014
Jul 24
2:49
PM CT
CHICAGO -- Lost amid all the speculation revolving around
Kevin Love
's possible relocation to Chicago is the fact Love's arrival would have a direct impact on the Bulls' biggest offseason acquisition to date:
Pau Gasol
.
[+] Enlarge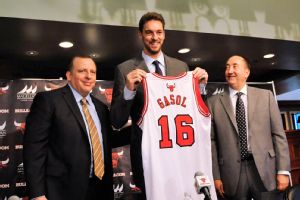 David Banks/USA TODAY SportsNewly-acquired Pau Gasol would have to head to the bench if the Bulls get Kevin Love.
With Love in the fold alongside
Joakim Noah
, Gasol likely would be the odd man out of the starting lineup. Neither Love nor Gasol has ever been known as a great defender, so there's little chance that Bulls coach Tom Thibodeau would decide to play all three together to start games.
Gasol is signed for three years and made it clear during his introductory news conference that he believes the Bulls can compete for a title and he still has plenty left in the tank.
By all accounts, Gasol is a solid teammate and the type of player who will fit in well with any locker room. But how would he handle coming off the bench on the back end of a storied career? If he knew the Bulls were going to add Love, would that have changed his thought process in free agency?
When former Lakers coach Mike D'Antoni decided to use Gasol in a reserve role at times during the 2012-13 season, the former All-Star expressed his displeasure.
"I'm not excited about it," Gasol
told reporters
after a loss to the Bulls in January of 2013. "It's not something that I've ever [done], coming off the bench. But right now I'm more worried about us as a team and us struggling, so it would be selfish of me talking about how I feel of something in particular."
The end of that quote may prove to be the most important for Gasol and the Bulls moving forward. He's also proven to be a team player in the past and would be best served leading the second unit in this scenario. Love is just 25 years old and is one of the best players in the game. Gasol could still be an important member of a championship-caliber team, he just wouldn't hear his name called at the beginning of games.
After losing out on
Carmelo Anthony
in free agency, the Bulls made the right move to go after Gasol as a contingency plan. Now that Love remains stuck in limbo in Minnesota, the Bulls are making the right play by continuing to go after him. If the Timberwolves accepted a deal for Love of
Taj Gibson
,
Doug McDermott
and
Nikola Mirotic
, as Sheridanhoops.com reported earlier this week, Gasol would fortify a group off the bench that would still be strong. Gasol,
Tony Snell
or
Mike Dunleavy
,
Kirk Hinrich
and
Aaron Brooks
would be at Thibodeau's disposal in what would remain a deep roster.
Gasol surely wouldn't be happy coming off the bench, but if Love were to come to Chicago then Gasol should take solace in the fact he would be on a better team than even he could have imagined when he signed his Bulls contract last week.
July, 24, 2014
Jul 24
1:19
PM CT

By Jon Greenberg
ESPNChicago.com
Archive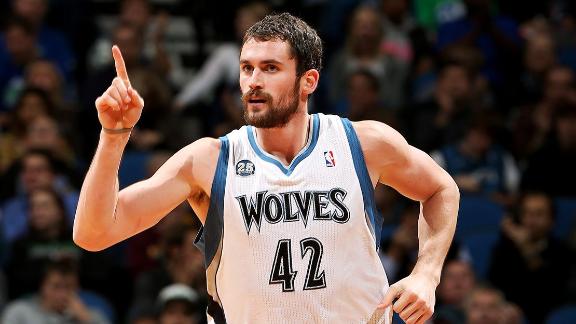 CHICAGO -- Life is short, and compared to other top scorers in the NBA, so is
Derrick Rose
.
That's why, if fate aligns it so, the
Chicago Bulls
should trade what they can for the promise of
Kevin Love
, a 6-foot-10 scorer who has never made the playoffs and is best known for throwing parabolic outlet passes.
[+] Enlarge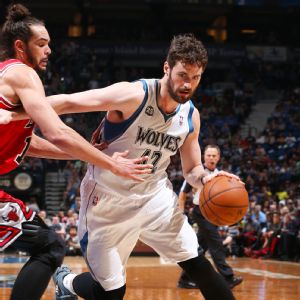 David Sherman/NBAE/Getty ImagesWith Kevin Love and Joakim Noah, the Bulls would have two of the best passing big men in the game.
While I am more of a fan of the journey than of the ultimate destination -- a condition stemming from a lifetime of losing at sports -- I understand that winning your last game is the only thing that matters once the journey winds to the end.
The Bulls need to validate their station in life with a championship. Currently, they have a very deep team on paper, a collection of very tall scorers, several adept passers, a few long-range shooters, three strong defenders, one all-NBA center and Rose, the youngest MVP in league history, now the most luckless.
Reportedly, the Bulls are willing to trade power forward
Taj Gibson
, rookie small forward
Doug McDermott
and perhaps either rookie Euroleague "star"
Nikola Mirotic
or other assets (draft picks and the like) to the Timberwolves for Love, who wants out of the Twin Cities for obvious reasons. This deal is expected to be considered by the Wolves and rejected in favor of one with the Cavaliers. That would be a nightmare for the Bulls.
Still, I am intrigued by the Bulls' current team, and I think it could win the East as constructed, and if everyone remains healthy, be a problem for whomever comes out of the West.
But I would do this move. So would the typically risk-averse Bulls, if they've in fact offered it, so I'm not exactly out on a limb.
Love would command a high salary, especially if he re-signs with the team next season after his contract expires, and that would limit the Bulls' depth going forward.
Depth is a conflicting word for some. It could mean being like the
San Antonio Spurs
, the sport's reigning champion and testament to the team-first principles of basketball supposedly lost in today's highlight-package society. Depth could also mean an annual excuse for failure to land the luminous free agents of the league. More of the lesser is equal to less of the best? Sure, if you say so.
Depth can't always beat guys off the dribble deep in the playoffs when LeBron is suffocating you on the perimeter. Maybe it can, sometimes, but not always. One key to success is eliminating unknowns. Rose, Love and
Joakim Noah
, well, we know that would be an excellent core to a crunch-time playoff lineup.
Many have understandably forgotten how brilliant Rose was in his MVP season. It's been awhile. A lot of B-roll of him warming up in vain has clouded our collective memory in the meantime.

Even in his injury-plagued follow-up season, he was still Derrick Rose, a unique talent who blended speed, power and imagination into a chiseled 6-foot-2 1/2 (in his eponymous shoes) product.
In the last playoff game he suited up for, which ended with him crumpled on the floor with a torn ACL, he had 23 points, 9 rebounds and 9 assists. He didn't shoot well (9-for-23), but he shined.
It's tough to judge Rose's viability as The Guy, because the Bulls have played three postseasons without him. But the possibility of Love, just 25, pairing with Rose would make the Bulls favorites in the East and a serious competitor against the Western Conference powerhouses.
Love can't be shaded by bigger defenders, like Rose can in theory and in past practice.
While he's been marooned with a lifeless franchise, Love is a proven commodity as a scorer, an All-Star and gold medalist. He averaged 26 points and 12.5 rebounds last season. He shot 37.5 percent on 3-pointers and averaged 4.4 assists. His advanced stats are bananas. He is everything you want offensively in one package.
Love and Noah would comprise the best passing big man combo in the league, and when
Pau Gasol
comes in for either player, that notion wouldn't change.
In this proposed deal, the Bulls would only lose Gibson's defense, which is something special to be sure. But if they could keep
Jimmy Butler
and Noah, and provided
Tony Snell
keeps progressing, they'd still have three tough defenders.
It's important to remember that while coach Tom Thibodeau will sacrifice offense for defense at the end of games, his system doesn't require every player to be an elite one-on-one defender. It's designed to push activity to the paint. That's why Thibodeau preaches "five guys acting as one" on defense.
On Gasol joining Gibson and Noah in a power forward/center rotation, Thibodeau said last week, "The thing I love about all three is they have great length. Defensively you're going to always have two 7-footers on the floor. If you get by the initial one, there's always going to be a second one by the rim. It's going to be very difficult to get shots in the paint."
[+] Enlarge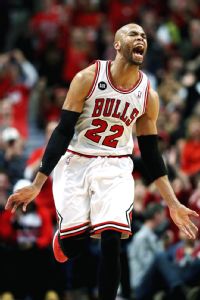 Jonathan Daniel/Getty ImagesTaj Gibson would be a significant loss for the Bulls but worth it for Kevin Love.
The 6-10 Love is still tall, right? He is capable of playing defense.
To me, it's a no-brainer of a deal, because what is life without risk?
I have no stake in this debate, but I'll admit I'm a fan of Gibson and part of me wants to see the Bulls win the East and a title with him in the lineup.
Corny as it sounds, he represents everything that is good about a professional athlete. He comes from the city game, Brooklyn, and he made himself into a near-star in the polished NBA. He did prep school and went to USC, hardly a basketball power, and was a low first-round pick at an advanced age who worked his way into an $8 million-plus per year contract. He is proof that you can improve in the NBA. He's been a strong defender since college, but his offensive game has blossomed beyond high-flying putback dunks. I enjoy talking to him and consider him the true "heart and soul" of a team that considers itself an underdog.
McDermott, a 6-8 reigning collegiate player of the year, could be a special scorer. Taken 11th in the draft, the Bulls surrendered picks to move up and get him. The Bulls scouted McDermott, who is more than a long-range bomber, so extensively at Creighton, they've probably seen him play more in person the past two years than Rose.
Mirotic is the mystery man. The 6-10 Montenegrin was a versatile scorer for Real Madrid with "a solid defensive base," according to Thibodeau. ESPN's Fran Fraschilla compared him to
Hedo Turkoglu
, while Bulls fans dream, in a narrow-minded sort of way, of
Dirk Nowitzki
.
That's the definition of depth: An athletic post player/one-on-one defender, a young scorer and a "spacing four" with potential. All signed at reasonable prices.
And there's Love, just one man who has promised he will explore free agency after next season.
Still, do it.
My entire argument will probably be rendered null when Cleveland trades
Andrew Wiggins
and friends for Love, and he and LeBron rule the East with a fun, Twitter-friendly style of basketball.
The Bulls will finish in second place for Love, another silver medal to hang next to the ones honoring their pursuits of
Carmelo Anthony
, LeBron,
Chris Bosh
and more.
Led by Thibodeau, they will soldier on with their deep, tall team, hoping they can defensively strangle their way to the title. I think they could do it with a little luck and most importantly, a healthy Rose.
But it would be fascinating to watch Rose, Love and Noah play together and for the Bulls to seize an opportunity to risk depth for talent. I will always root for a good story.
July, 24, 2014
Jul 24
10:59
AM CT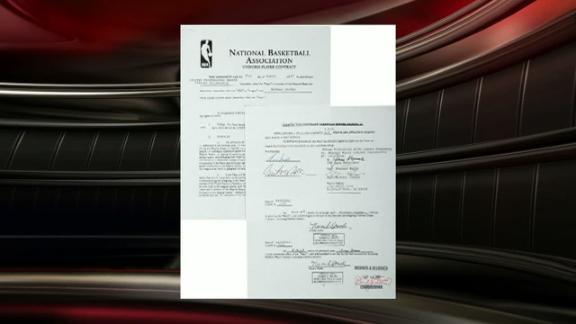 The Chicago Bulls' original copy of Michael Jordan's $33 million contract -- the most valuable single-season contract in NBA history -- has hit the auction block.
The contract, which Jordan signed for the 1997-98 season, was his last with the Bulls. That season culminated in a sixth championship for Jordan and the Bulls. The contract is signed by Jordan, himself, and initialed by him on each of its 24 pages. It's also signed by Jerry Krause, former Bulls general manager, and Irwin Mandel, the man in charge of the Bulls' finances. It also includes a two-page cover letter from Mandel to the NBA.
The original estimate for the contract's value by the company auctioning it, Dallas-based Heritage Auctions, was $30,000, but with a week remaining until the bidding closes next Thursday night, bidding has already topped $28,000.
"It's hard to compare this to anything we've sold," said Chris Ivy, the company's director of sports auctions. "It's Jordan, who is in a class by himself, and, to our knowledge, this is the only Jordan playing contract to ever surface."
Even still, the contract was once obtained for a bargain. Ivy said the consignor, who prefers to remain anonymous, bought the contract as part of a charity auction in 2000 for less than $1,000.
The most valuable sports contract ever sold was Babe Ruth's 1918, $5,000 Red Sox contract, which was sold in an auction earlier this month for $1.02 million.
Last year, Heritage sold Wayne Gretzky's rookie contract with the Edmonton Oilers, a 10-year, $3 million deal that was signed on his 18th birthday. The contract itself sold for $47,800.
Factoring for inflation, Jordan's $33 million contract would be worth roughly $49 million in today's dollars.