November, 21, 2014
Nov 21
3:09
PM CT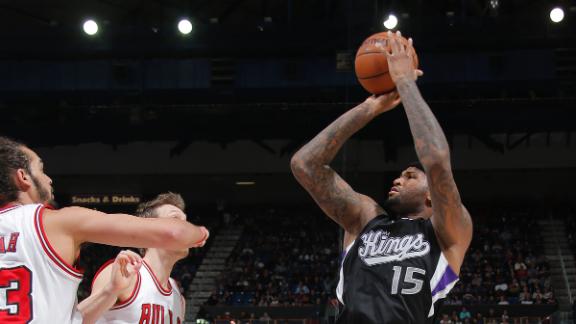 PORTLAND, Ore. -- The Chicago Bulls will be without the services of Derrick Rose, Pau Gasol and Kirk Hinrich against the Portland Trail Blazers on Friday night.
This marks the fourth straight game Rose has missed with a strained left hamstring, which he initially injured in last Thursday's win over the Toronto Raptors. This marks the eighth game Rose will miss overall. He missed four games earlier in the year after spraining both of his ankles.
Gasol said Thursday he was hopeful he would be able to return quickly from a strained left calf, but wanted to be cautious so that the injury could heal. He has now missed three straight games after initially straining the calf in last Saturday's loss to the Indiana Pacers.
Hinrich, who has a chest contusion, had X-rays after Thursday night's loss to the Sacramento Kings that came back negative. He took a couple hard shots to the chest, including a charge from Kings big man DeMarcus Cousins.
November, 21, 2014
Nov 21
11:00
AM CT
When Bulls coach Tom Thibodeau shakes hands with Blazers counterpart Terry Stotts before Friday's game, he might want to ask Stotts how Portland keeps rolling out the same lineup game after game. Like Thibodeau, Stotts leans heavily on his starting lineup, yet his players absorb the heavy minutes seemingly without repercussions. If player availability were really under a coach's control, Thibodeau would certainly love to discover the secret.
Stotts has been more egregious than Thibodeau when it comes to pushing the minutes of his starters, though the coaches are more similar than different in that regard. Over the past three years, the Blazers have ranked 30th, 28th and 30th, in terms of average minutes per reserve. Thibodeau's Bulls have finished 24th and 25th the past two years, respectively, but have moved up to 20th this season despite the ongoing injury plague in Chicago. The injury issue is where the coaches differ. Last season, the Blazers used just two different starting lineups all season, and had four players start all 82 games, though this season Stotts has already used three different starting lineups. The Bulls, meanwhile, rolled out 17 different starting lineups last season, and this season the total has already climbed to six.
There is a good reason Stotts has been so reluctant to go to the reserves: his benches the past two seasons have not been good. As for Thibodeau, despite the constant upheaval in his starting lineup, he has managed to extract extraordinary value from his reserve units. And he's done it more with quality than quantity.
November, 21, 2014
Nov 21
2:18
AM CT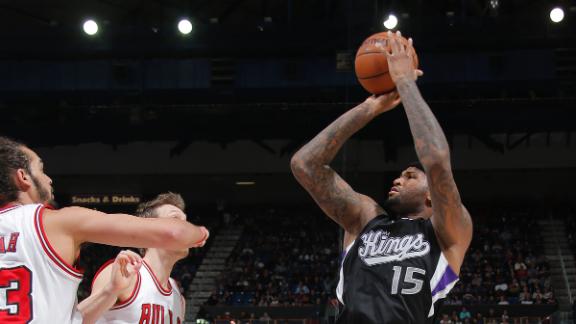 SACRAMENTO, Calif. -- Joakim Noah was about to lose it -- again.
WIth 4:30 left in the third quarter in the
Chicago Bulls
' loss to the
Sacramento Kings
, Noah couldn't believe he was called for a foul on Kings big man DeMarcus Cousins. It was a "ticky-tack foul," as Noah called it. The whistle set off a tantrum that had the emotional Bulls center jumping around the floor and almost instantly picking up a technical foul.
For the second straight season at the Sleep Train Arena, Noah was on the verge of being ejected from a game. Last season produced arguably the most emotional outburst of Noah's career, in which he cursed at all three officials and was fined $15,000 for "verbal abuse" of the officials.
[+] Enlarge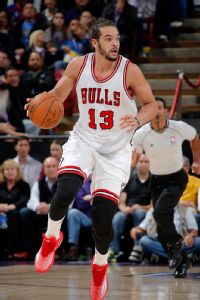 Rocky Widner/Getty ImagesJoakim Noah played the fourth quarter with five fouls and finished with 10 points, 11 rebounds and six assists.
But on Thursday night, in front of a nationally televised audience, Noah was able to keep those emotions in check. He was taken out of the game and marched straight to the bench to cool himself down. It was a smart move on a night when the Bulls struggled to find any offense after the first quarter.
"Yeah, s---- two years in a row [being ejected] wouldn't have been good," Noah said. "Just disappointing that we lost and -- I got to keep my cool."
For the first time all season, the Bulls looked emotionally rattled in front of a packed house. This was the third straight year they've lost to the Kings in Sacramento and it seems like several Bulls players, not just Noah, got spooked by a fan base that appears to be revitalized by a new ownership group and a better team.
"We have a lot of emotional guys, but we do have to control that," said Jimmy Butler, who led the Bulls with 23 points. "But it's tough, there's a lot of emotion in this game and it happens at times. You can't be mad at that. But we got to control it better next time."
Noah just wants to keep everything simple.
"Just breathe," he said of the mindset he takes to reign his emotions back in. "You have to breathe and think about the big picture. It's a lot harder said than done. Just breathe. Have positive thoughts."
Bulls coach Tom Thibodeau knows that's a fine line to straddle for Noah and the rest of his team. Like his players, the veteran coach didn't agree with many of the calls made by the officials, but that's all part of what the Bulls have to deal with as they continue on this two-week road trip.
"Jo's an emotional guy," Thibodeau said. "You don't want to take that away from him. You're on the road, you're not going to get calls. It is physical out there. It's just the way it is. There's some frustration to deal with, but we still got to find a way to pull that out in the end."
Even Noah had to praise the way the Kings have started coming together as a group this season.
"They're a good team," Noah said. "They're a very good team. They play hard at home. I think that they're starting to build something over here. Defensively they're better. DeMarcus is a lot better. He's playing more efficiently. … Sometimes he gets frustrated and that works in our favor. But I feel like this year he's the one getting guys frustrated, and it's worked for them so we'll see them again.
"We'll see them again at home and we'll be ready for that one, but you can tell there's been a lot of growing on his side as a player."
November, 21, 2014
Nov 21
2:57
AM CT

By Ethan Sherwood Strauss
ESPNChicago.com
Archive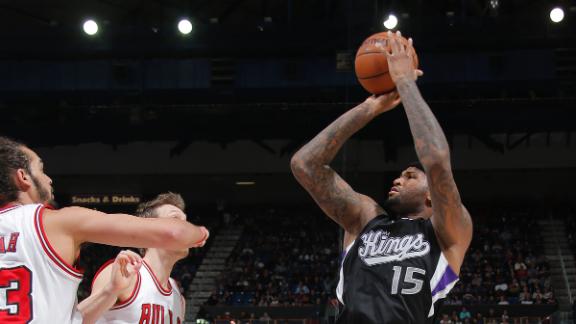 SACRAMENTO, Calif. --
Joakim Noah
can be forgiven for his full-scale toy store aisle tantrum that earned him a third-quarter technical. The
Sacramento Kings
are a frustrating team to face. They thrash inside the paint, physically overwhelming the opponent, grabbing fistfuls of free throws. The league's newest team out of nowhere has a
Chicago Bulls
-esque charisma to them. They win ugly, and beautifully so.
Sacramento took only six 3-pointers in their 103-88 win over the Bulls. That was fine because they made 19 at the rim regardless. He might be the strongest star in the sport, but
DeMarcus Cousins
is nimble enough to find those creases around a crowded rim. His 22 points on 19 shots wasn't a superficially great performance, but he drained Chicago.
[+] Enlarge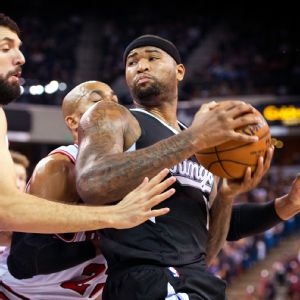 Hector Amezcua/Sacramento Bee/Getty ImagesDeMarcus Cousins had 22 points and 14 rebounds in the Kings' victory over the Bulls on Thursday.
Containing Cousins is a full-time job for the opposition. When he's on, guarding him can seem as futile as trying to lasso an earthquake. Bulls coach Tom Thibodeau sent hard double-teams at Cousins, in a rare strategic concession.
It worked, at times, but the Kings did well to share the ball.
"Big Cuz is getting doubled almost every single game so far," Kings guard
Darren Collison
said. "I think our spacing's probably been the best, today. We talked about spacing last game, and this game our spacing was probably a bit better. And DeMarcus made some really, really nice passes to
Ben McLemore
for the 3 or a cut to
Omri Casspi
."
The compliments flow both ways between Collison and Cousins. When asked about his point guard, the burly big man said: "He's got my respect. I love him."
Cousins also had plenty of compliments for the coach on the opposing sideline. Thibodeau might be to blame for this loss, but not exactly how one might assume.
"I respect Thibs a lot," said Cousins, who played for a USA team that had Thibodeau as an assistant coach this past summer. "I learned a lot from him over the summer. He's basically a genius on defense. I mean I think our whole team basically flows from his defensive scheme over the summer."
Cousins spent much of the summer learning from Thibodeau and bonding with Kings teammate
Rudy Gay
. The results are paying off.
When pressed on the biggest thing he learned from Chicago's coach in these last FIBA World Championships, Cousins answered, "Just being vocal. Talking."
The big man has the best view of the floor on defense, and thus, the most responsibility. Communication is essential, and Cousins is doing more of it this season. That much was clear throughout the game when Cousins could be seen directing traffic, informing his guards of assignments and coming screens.
We're not yet sure how good these Kings can be, or whether success will be sustained. For now, they're talking to each other, enjoying each other and collectively animating themselves into a force to be reckoned with. Thibodeau may have created a monster.
November, 21, 2014
Nov 21
12:38
AM CT
Associated Press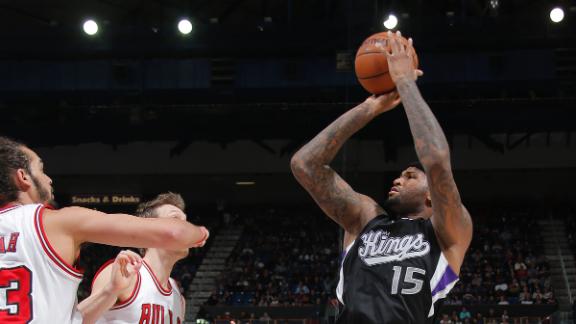 November, 20, 2014
Nov 20
12:12
PM CT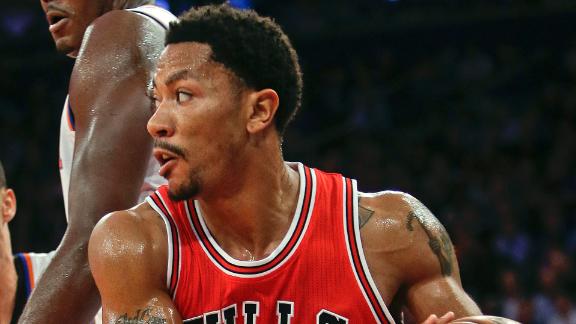 SACRAMENTO, Calif. -- Chicago Bulls point guard Derrick Rose missed his third consecutive game Thursday night, a 103-88 loss to the Sacramento Kings, because of a strained left hamstring.
Rose now has missed seven games overall, after missing four games earlier in the season because of sprained ankles. Despite the mounting criticism regarding Rose's on-again, off-again health status, Bulls coach Tom Thibodeau once again defended his star point guard after Thursday's loss.
"If a guy is injured, he should sit, and if a guy is hurting, he should play," Thibodeau said. "It's really that simple. Right now, Derrick's not ready to go. He's injured. That's where I stand on [the issue]. The guy's had two major injuries; if he needs time, we're going to give him time."
Veteran Pau Gasol missed his second consecutive game Thursday night because of a strained left calf. He is hopeful he will be able to return soon.
"I didn't feel a pop," Gasol said of the injury. "It just started bothering me. It started being sore. I was hoping I got hit but I couldn't recall getting hit. So then you had to figure it was a muscle strain, and strains usually take their time to heal and scar. So I'm just trying to let it heal."
Guard Kirk Hinrich
November, 19, 2014
Nov 19
2:14
PM CT
LOS ANGELES --
Doug McDermott
says he did not photobomb a Kid Ink picture before Monday night's game against the
Los Angeles Clippers
. The rookie made that clear before Wednesday's practice as he laughed about how much attention the pictures of him standing with Kid Ink and Clippers stars
Chris Paul
and
Blake Griffin
got on the Internet over the past day and a half.
Doug McDermott trying to get in pic.twitter.com/ernxBu7VyA

— ADC (@adctennis) November 18, 2014
There's just something very wrong with this photo. Cough, Cough, McDermott. #DougieNotSoFresh pic.twitter.com/OVky0bwcSd

— Scott Albanese (@SAlbanese03) November 18, 2014
So just how many people have asked McDermott about the pictures?
"So many, man," he said before Wednesday's practice. "You have no idea."
McDermott cleared up what happened with the pictures.
"Everyone kind of took it the wrong way, too," he said. "They sent me out there for the captains' deal, being a rookie -- I asked those guys, I asked Blake, 'You don't probably want me in this picture then, do you?' He's like, 'No, get in.' So I jumped in, and then after we took the picture, they caught us at the perfect time, he's like, 'Now, get out of here.' And he shoved me away. So it looks a lot worse than it actually was."
Off the top of his head, McDermott couldn't recount the funniest thing he heard from somebody about the pictures, but it sounds as if there were plenty of messages to go through.
"Everyone asked me if I photobombed Kid Ink," McDermott said. "I'm like, 'No, man. That had nothing to do with me.'"
November, 19, 2014
Nov 19
1:10
PM CT
LOS ANGELES --
Chicago Bulls
point guard
Derrick Rose
said his strained left hamstring is feeling much better and he was expected to go through all of Wednesday's practice. Rose has missed the last two games after injuring the hamstring in last Thursday night's win over the
Toronto Raptors
.
"It feels a lot better, actually," Rose said before Wednesday's practice. "Just being able to practice, go through practice at a good pace and really react instead of thinking while I'm out there. It feels good just being on the court."
Bulls head coach Tom Thibodeau said Rose would practice, but big man
Pau Gasol
would not. Gasol sat out Monday's win over the
Los Angeles Clippers
with a left calf strain and, like Rose, his status for Thursday night's game against the
Sacramento Kings
is uncertain.
"(The calf is) a little better," Gasol said. "Still a little tender there, but making progress. We're taking it really one day at a time and see how it feels every morning. We're going to do some stuff today, try to get it activated, see how it feels, see how it reacts ... I just got to go with how I feel and be patient."
That's the approach that Rose continues to take as well. He has missed six games already this season, four of which came because of sprained ankles.
"Today (I'll) practice a little bit and (Thursday) see how I feel," he said. "And if it don't feel right there's no need (to play)."
November, 18, 2014
Nov 18
1:58
PM CT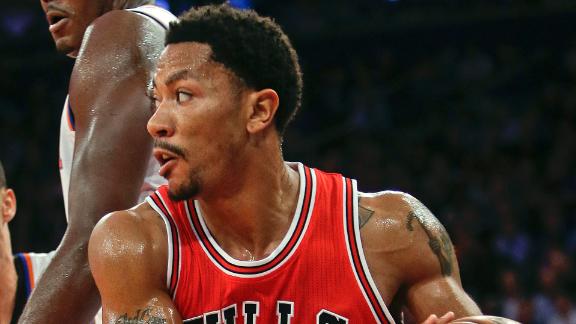 Mostly lost in the drama over whether Derrick Rose plays or sits is that the Chicago Bulls are nonetheless building a team that is increasingly less dependent on him.
Rose was exactly where he should have been Monday night: sitting on the bench in street clothes. The Bulls started the seven-game circus road trip being as conservative with Rose as they've been all season, so far. Erring on the side of caution with Rose is the only responsible approach. The Bulls don't need him on the court in November; they need to do everything possible to bring him along slowly so he can be as effective in May as he was in Toronto the other night before he strained his hamstring.
This isn't a difficult choice, and it shouldn't be entirely up to Rose whether he plays -- not yet, and maybe not for a few more months. John Paxson and Gar Forman should borrow a page from the personnel manual of Gregg Popovich and take over the day-to-day decision-making, if they haven't already, on whether Rose will play. His long-term health is too important to this season, too important to the well-being of the franchise, whether or not impatient bloggers and radio talk show callers get it. Presumably, the Bulls have decided they're all in on trying to seriously contend for a championship this season -- not having Rose win a Tough Man contest.
November, 18, 2014
Nov 18
1:44
AM CT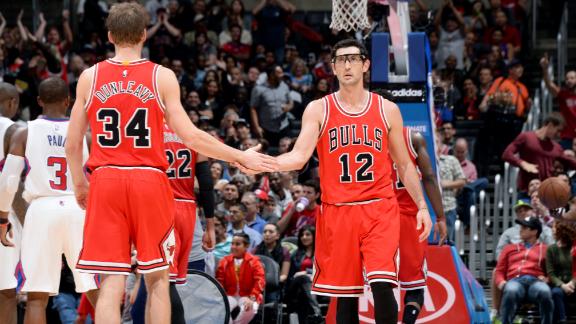 LOS ANGELES -- Tom Thibodeau doesn't believe in excuses, just effort. He doesn't believe in moral victories, just hard-fought wins.
The beauty of Thibodeau's mindset, the one he has drilled into his
Chicago Bulls
over the past five seasons, is that they never step on the floor believing they can't win. No matter who he has, Thibodeau believes he can coach his players to victory.
That was the case again on Monday night in the Bulls' impressive
105-89 victory
over the
Los Angeles Clippers
. Playing without
Derrick Rose
(strained hamstring) and
Pau Gasol
(strained left calf), the Bulls pulled out their most impressive victory of the season with the type of balanced attack that had become the norm for them over the past two seasons without Rose.
[+] Enlarge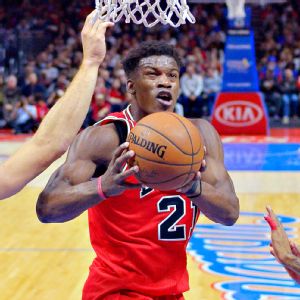 AP Photo/Mark J. TerrillJimmy Butler continued his strong start to the season on Monday with 22 points, eight assists and six rebounds.
"Any time you're short-handed, you know your margin of error is smaller," Thibodeau said. "But I have great belief in the team. I think the team has great belief in itself. We have the belief that if we do the right things the results will take care of themselves. So when somebody's out, the next guy steps in and does the job. Get the job done."
Thibodeau doesn't take any more personal satisfaction out of a win without Rose and Gasol -- he expects it. While the rest of the basketball world wonders how the Bulls can beat a talented Clippers team, Thibodeau plots out his plan and has a group of like-minded, hard-nosed players execute it for him on the floor.
Monday's win was the quintessential Thibodeau victory, the type of triumph that litters his résumé.
"I think it's overachieving, to tell you the truth," Bulls swingman
Jimmy Butler
said. "I mean, what do we have to lose? We're not supposed to win anyways when our backs are against the wall like that, so whenever we do win it's like, 'Damn, they can play a little bit without two of their best players.'"
The only reality check for the Bulls and their passionate group of fans -- many of whom took over Staples Center on Monday and made it sound like a Bulls home game at times -- is that they have seen regular-season wins like this before. This isn't anything new. The Bulls have a habit of winning games they aren't supposed to from Novemeber through March and then not being able to find a way in the playoffs. They won 48 games last season with Rose missing all but 10 but didn't make it out of the first round of the playoffs. They managed 45 victories in 2012-13 with Rose sidelined for the entire season but were bounced in the second round by the
Miami Heat
.
As happy as Thibodeau's players were, a feel-good win over a talented team early in the season doesn't mean much when they reach April and May.
"It's November, man," Bulls center
Joakim Noah
said. "It's November. And the truth is we have a lot of work to do. We have a lot of work to do … as long as we stay humble and we keep working, keep getting better as a team, hopefully, we'll have a chance. But we're nowhere near where we have to be."
That's the right attitude to have in a season chock-full of championship expectations. The truth for the Bulls is they aren't going anywhere without Rose and Gasol. They also need Noah, who had 11 points, 16 rebounds and six assists against the Clippers, to continue improving from offseason knee surgery. They also need Butler, who scored a team-high 22 points Monday and is averaging 21 on the season, to continue putting up All-Star numbers. They'll need a lot of luck for their core four to stay healthy all season -- especially Rose.
But the one thing they don't need is the characteristic that came through clearest on Monday night and the one that has defined Thibodeau's tenure in Chicago. The Bulls have a defiant belief in themselves that they can win every time they step on the floor. Championships aren't won in November, but character is built in games like this one.
"Think about it," Bulls power forward
Taj Gibson
said. "We got solid veteran leadership. We've got guys that have been around and in the system. We've got guys on the bench that can start other places. We've got humble guys, like guys that understand [to] put the team first. We've got a great coaching staff, and everybody just wants to win. Our philosophy is one guy goes down, the next guy is going to step up and do the job to the best of his ability."
The Bulls have done that repeatedly over the past five seasons. Monday just served as another great example.