March, 11, 2014
Mar 11
4:30
PM ET
CINCINNATI -- More times in the past two months than I care to admit, my email inbox and Twitter mentions were filled with questions about
Cincinnati Bengals
center
Kyle Cook
.
Most of them had to do with Cook's future with the Bengals.
None of them had to do with adding to that future.
Will Cook get cut? What will it take for the Bengals to cut him? Can't they find anyone better to play the position?
Cook
Every time I received one of those inquiries or included them in a mailbag, I always thought to myself "well yes, it's entirely possible he might be cut." But never did I feel convinced enough to believe that the six-year Bengals veteran who had been lauded both inside and outside Paul Brown Stadium for his ability to spot "Mike" linebacker checks and to shift his offensive line into the right sets really would be sliced off the roster. It just didn't seem right to me.
Looks like my gut was wrong.
In a move that didn't necessarily come out of left field but was somewhat stunning nonetheless, the Bengals announced Tuesday afternoon that they had indeed
parted ways with the lineman
.
"Thank you Cincinnati for the memories ... Looking forward to our next opportunity," Cook wrote to his Facebook page just before the announcement. "Thank you everyone for the support these past seven years, we have made many friends and tons of great memories..."
And so ends the Bengals career of a player who spent six seasons on their roster and one more on the practice squad. Now that he's gone, where do they turn?
Offensive line coach Paul Alexander isn't yet ready to name a replacement, but believes one currently exists on the roster.
"I couldn't tell you right now who our No. 1 center will be, but that's because we do have a few different options that we're confident will improve us in the end," Alexander said. "That's what the offseason programs and training camp are for: to evaluate those possibilities and come up with the best one."
Likely front-runners to replace Cook include
Trevor Robinson
and
Mike Pollak
. Robinson will be entering his third season this fall, and will be looking to build upon the experience he gained in the final weeks of last season. With Cook injured most of the finale against the Ravens, Robinson played 58 snaps in the 34-17 win. Pollak was re-signed Saturday. Though he mostly plays guard, he can be used at center, as well.
It will be in the locker room where the Bengals will miss Cook the most. He might not have been as vocal as Pro Bowl veteran
Andrew Whitworth
, but Cook was among those linemen who pleaded behind the scenes for more rushing opportunities for Cincinnati's offense. With Hue Jackson taking over as offensive coordinator this season, the Bengals are expected to start using their ground game more regularly.
"Kyle has been a great Bengal, a tough guy and an excellent leader," Alexander said. "In addition to being a good player, he showed great ability to coordinate things at the line of scrimmage. He has been a big help to
Andy Dalton
as Andy has developed into a veteran player."
Much to my relative surprise, Dalton will now need a new helper.
March, 11, 2014
Mar 11
3:22
PM ET
CINCINNATI -- The Cincinnati Bengals cut center Kyle Cook about an hour before the free-agency period began Tuesday afternoon.
The club made the announcement official about 15 minutes after Cook posted a message on his Facebook page indicating that he had been let go.
"Thank you Cincinnati for the memories ... Looking forward to our next opportunity..," he wrote. "Thank you everyone for the support these past seven years, we have made many friends and tons of great memories..."
An undrafted signee out of Michigan State, Cook has spent all six of his NFL seasons with the Bengals. He joined the Bengals in 2007 as a member of the team's practice squad before eventually making the roster. After appearing in only five games in 2008, he played in all 16 games in 2009, 2010, 2011 and 2013. A foot and ankle injury shelved him for all but four games of the 2012 season.
The 30-year-old Michigan native had been regarded by Pro Football Focus as one of the worst centers in the league. He ranked 24th out of 35 starting centers, according to PFF.com.
The announcement on Cook comes four days after the Bengals re-signed guard Mike Pollak to a three-year deal. Noted for his versatility, Pollak is an interior lineman who has experience playing center.
Cook has played in 73 games in his career, making 66 starts.
March, 11, 2014
Mar 11
2:00
PM ET
CINCINNATI -- There will be other, more glamorous free-agency signings than the one the
Cincinnati Bengals
announced just before noon Tuesday. That is a fact.
But that shouldn't diminish the importance of the organization's decision to bring back
Brandon Tate
.
OK, so his name didn't have the free-agency sex appeal of
Michael Johnson
's. He wasn't courted by as many teams as
Andrew Hawkins
and won't be making as much money next year as
Anthony Collins
. Still, his return to Cincinnati has a much deeper meaning than the fact he's a little-used backup receiver who occasionally returns a few kicks.
[+] Enlarge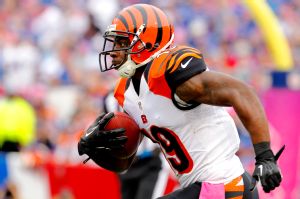 Timothy T. Ludwig/USA TODAY SportsFifth-year veteran Brandon Tate is considered to be one of the Cincinnati Bengals' "core special teams players," says coordinator Darrin Simmons.
Tate's re-signing
embodies what this particular offseason will be all about for the Bengals. When it comes to adding and retaining players, the mission in 2014 is about creating depth. You've already seen it in free agency with Cincinnati's re-signing of offensive guard
Mike Pollak
last weekend. You'll see it in the draft when the Bengals start looking at cornerbacks who can play both the edge and the slot, as well as offensive linemen who can line up at some combination of guard, center and tackle.
Since their starting rotations are nearly set with defensive end
Michael Johnson as the only casualty
from 2013's regular rotation (it seems it will stay that way), the Bengals are calmly going through this offseason looking like a team with few major needs to address. That's why once the attention surrounding Johnson and Collins begins to fade, the Bengals' focus will shift toward role players, such as Tate.
The role Tate played last year in his third season in Cincinnati was an important one. Among qualifying kick returners he ranked ninth in the league in kick return average, consistently advancing the ball 26.1 yards per return. He also served as the team's primary punt returner once injuries in the secondary forced longtime return man
Adam Jones
to be a special teams observer.
While he was mostly better at returning kickoffs than he was at returning punts, Tate still had a knack for breaking a timely punt return, too. Arguably his best punt return of 2013 was a 29-yarder in overtime that helped set up
Mike Nugent
's game-winning field goal at Buffalo in October.
"Brandon's numbers speak for themselves, and I've got a lot of confidence in him," Bengals special teams coordinator Darrin Simmons said. "This could be a real breakout year for him."
Simmons and the Bengals haven't yet said whether Tate will remain the team's starting punt returner, but his statement of confidence seems a clear indication they're hopeful he can continue contributing there. With the anticipation of having a fully healthy secondary ahead of training camp, the Bengals have good reason to put Jones back in the normal punt-return rotation.
Tate's return gives the Bengals options, and those options could even increase in the coming months depending upon which players the Bengals end up drafting. Some of the defensive backs who stand the best chance of being claimed early in the draft by Cincinnati have punt and/or kick return experience.
Along with Tate's occasionally explosive special teams play, he also provides a measure of sure-handedness. In his five NFL seasons -- the first two in New England -- Tate has only one fumble and three dropped passes in 71 attempts. He's another veteran who not only knows what it takes to win in Cincinnati, but has some measure of postseason experience with a franchise regarded as one of the NFL's modern-era dynasties.
There's also the depth Tate provides at receiver. One of the deepest returning positions, the Bengals have strong personnel numbers at receiver. Still, they need to bolster their ranks there just in case. Hawkins is an unrestricted free agent, as is
Dane Sanzenbacher
. After offering tenders to both players last week, the Bengals are in wait-and-see mode until another team formally offers the pair salary numbers that can be matched. In the event Cincinnati can't match one or both of the free-agent receivers, at least they still have Tate as a last resort pass-catching option.
No, Tate's re-signing isn't sexy nor should it even be attempted to be construed that way. But it's just the type of important, depth-chart specific move that a team looking to build off its relative success from a year ago is trying to maintain.
March, 11, 2014
Mar 11
12:35
PM ET
CINCINNATI -- There was no shock in the news. No awe was inspired by the announcement. It was all expected.
For five years it was expected.
[+] Enlarge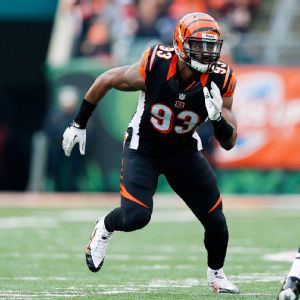 AP Photo/Joe RobbinsThe Bengals were prepared to lose talented defensive end Michael Johnson.
When the
Cincinnati Bengals
began laying the framework for their Mike Zimmer-led defense, a unit that in 2009 was only one year into being guided by the now former defensive coordinator, they were making a bold turn in philosophy. Yes, they wanted good linebackers. They wanted better-than-average cornerbacks and safeties if they could get them, too. But above all that, they wanted to build a defensive line that put unrelenting pressure on quarterbacks.
Michael Johnson
was the guinea pig in Zimmer's grand experiment, one that a year later brought the likes of
Carlos Dunlap
and
Geno Atkins
to Cincinnati. Because of their youth, the trio of defensive linemen earned a nickname: "the Fisher Price defense."
The Fisher Price kids have grown up. Their bank accounts have matured.
One year after Dunlap and Atkins cashed in on long-term, multimillion-dollar deals,
Johnson on Tuesday agreed to a five-year contract
with the
Tampa Bay Buccaneers
that's reportedly worth $43.75 million. The free-agent defensive end anticipates making $24 million of guaranteed money, according to ESPN's Josina Anderson. The approximate $8.75 million per year figure he'll be earning was higher than what the Bengals would have been able to match, particularly with offensive tackle
Anthony Collins
also a free-agent target of theirs. Quarterback
Andy Dalton
, receiver
A.J. Green
and linebacker
Vontaze Burfict
also have contracts that expire next year.
It has been a foregone conclusion since last March when Johnson was slapped with the team's franchise tag that he likely would be gone this offseason. A case also could be made that as far back as 2009, it was unlikely he would be a Bengals lifer. Then again, as long as they produced, the same could have been said for Dunlap or Atkins in 2010, too.
Back when he was drafted in the third round out of Georgia Tech, questions about Johnson's size, motor and durability hung over him. Some weren't sure how well he could translate long-term, so he dipped into the third round. Zimmer, Bengals head coach Marvin Lewis and their scouting staff saw something. Each believed he could project into the highly valued end he became the past two years. So they drafted him.
Similar sentiments could be expressed about Dunlap and Atkins. When Dunlap arrived, the second-round pick was pushed hard both publicly in practices and privately in meeting rooms by Zimmer, who foresaw more potential than the lineman initially put out. Atkins was a fourth-rounder who many didn't originally think had an NFL future simply because he waddled instead of walked like most defensive tackles.
Once all three began getting to quarterbacks and climbing up the Bengals' sack charts, though, the questions faded away. Johnson's motor suddenly was fine. Dunlap began pleasing Zimmer. Atkins' duck walk started drawing praise. The baby Bengals were going to be fully grown before too long. Holding on to each of them beyond their first deals was going to be virtually impossible.
Cincinnati began learning that lesson last offseason when it was faced with the unenviable task of trying to figure out how to bring back all three. Johnson was up for a new contract, but the Bengals didn't want to let him get away. Atkins and Dunlap had another year before their rookie contracts expired, but Cincinnati wanted them, too. So ownership made the difficult decision to tag Johnson while working out new deals for the other two (five years, $55 million for Atkins; five years, $40 million for Dunlap). At the same time, other steps were being taken to ensure the Bengals would be OK for that moment when Johnson, the eldest of their "Fisher Price" stars, decided it best to leave the nest. He loved Cincinnati, though, so the only way he would leave was was if the money just wasn't able to match up. After the Seahawks reportedly offered end
Michael Bennett
about $8 million per year Monday, it started getting even clearer that Johnson wouldn't be coming back to the Bengals.
As they anticipated Johnson's likely departure, the Bengals re-signed
Wallace Gilberry
and Robert Geathers last offseason while also drafting
Margus Hunt
in the second round. It was their belief that in the event Johnson would cost too much this year, at least they had a pair of veterans and another young but learning player to replace him with.
It was because of those steps that the Bengals can proudly bid farewell to the player who was the first and perhaps most crucial piece to the establishment of their young defensive line unit. It's much the same pride they felt when Zimmer, the man who built and nurtured the unit for five years, moved on to become a head coach for the first time in January. Like Zimmer, the expectation for Johnson's departure has been in the works for some time.
While there surely will be many in Cincinnati who will miss Johnson and his often-lauded charitable spirit, they must also know that his time simply had come. The leader of the young Bengals has, like the rest of them, grown up.
March, 11, 2014
Mar 11
11:28
AM ET
ESPN.com news services
The Cincinnati Bengals re-signed kick returner Brandon Tate on Tuesday.
Terms of the contract were not disclosed. The Bengals announced Tate's re-signing on their Twitter page.
NEWS: We have re-signed WR Brandon Tate #Bengals pic.twitter.com/qcUDRkAEGk

- Cincinnati Bengals (@Bengals) March 11, 2014
Although he is formally a receiver for the Bengals, Tate's primary obligations were on special teams in 2013. He was Cincinnati's top kick return option and ended up serving as the punt return specialist once injuries forced the Bengals to keep Adam Jones off special teams.
"We're glad to get back one of our core special teams players," special teams coordinator Darrin Simmons said in a statement released by the team. "Brandon's numbers speak for themselves, and I've got a lot of confidence in him. I think this could be a real breakout year for him."
With Cincinnati going through a bit of a cornerback purge at points during the season, the Bengals needed to keep Jones away from special teams to minimize his risk for injury. In his place, Tate put up a few impressive punt returns, including a 29-yarder in overtime at Buffalo that helped set up Mike Nugent's game-winning field goal.
Tate was more impressive on kickoffs, averaging 26.1 yards per return last season. That was good enough for ninth among returners with 20 or more returns.
March, 11, 2014
Mar 11
11:15
AM ET
ESPN.com news services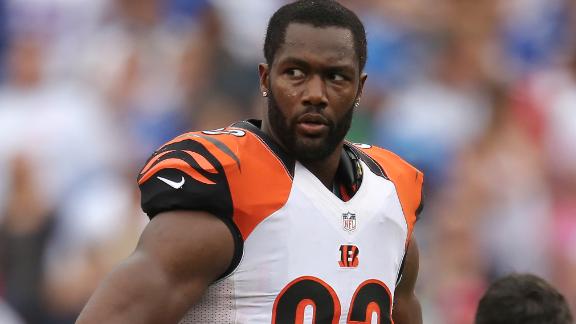 The Tampa Bay Buccaneers and free-agent defensive end Michael Johnson have agreed to a deal, the team announced.
It's a five-year deal worth $43 million, sources told ESPN NFL Insider Adam Schefter.
The deal includes $23 million in guaranteed money, according to sources.
Johnson was given the Cincinnati Bengals' franchise tag in 2013, sending his single-season pay skyrocketing above $11 million. It marked the second straight season that a Bengals player had been tagged.
After a productive year getting to quarterbacks in 2012, Johnson struggled doing the same in 2013, recording just 3.5 sacks. He had 11.5 sacks two seasons ago.
A 2009 third-round selection out of Georgia Tech, Johnson was signed to a four-year deal. Over the past few seasons with the Bengals, he helped bolster one of the league's stronger defensive lines.
When defensive tackle Geno Atkins signed a five-year, $55 million deal and fellow defensive end Carlos Dunlap signed a five-year, $40 million deal before last season, it appeared the Bengals would have difficulty retaining Johnson this offseason.
The Buccaneers also reached agreement with former Giants tight end Brandon Myers
March, 11, 2014
Mar 11
8:30
AM ET
It's been a while since we've had a Morning Stripes to start off your morning here on the Cincinnati Bengals blog, but here we are with one on this wonderful free agency Tuesday.
In a matter of hours, we'll begin learning the landing spots for many of the league's unrestricted and restricted free agents. The Bengals' two biggest names to monitor, defensive end Michael Johnson and offensive tackle Anthony Collins, are beginning to seem as if they'll be too pricey for Cincinnati to bring back. If the market reacts unfavorably to signing either at their believed asking prices, though, then there may be a sliver of hope for the Bengals to negotiate an 11th-hour deal that keeps them in town.
Yes, free agency is the big headline on this Tuesday, but it honestly has nothing to do with what the rest of this post is about.
Regardless what happens to Collins and Johnson, the Bengals still have a new offense to manage and a quarterback that has yet to lead them to a playoff victory. That said, Andy Dalton's focus the rest of this offseason is doing what he can to ensure he's making himself much better than he already has been.
As he starts ratcheting up his offseason training regimen, Dalton told Bengals.com before a charity function in his native Texas on Monday that he plans on working with throwing coach Tom House. A former major league pitcher who lives near Los Angeles, House will be hosting Dalton next week as he works on the Bengals quarterback's throwing technique and evaluating film of his throwing. The Atlanta Braves pitcher who caught Hank Aaron's 715th home run, House might be getting his share of attention soon as the 40th anniversary of the historic hit approaches. Aaron's homer on April 8, 1974, passed Babe Ruth for first-place on baseball's all-time home run list.
House has worked in the past with quarterbacks, pitchers, tennis players and golfers as he tries to get them to understand the sequencing of rotating hips, shoulders and arms when they swing or throw. NFL quarterbacks like Tom Brady, Drew Brees, Joe Flacco, Matt Cassel and Carson Palmer are among those who have used House in the past.
While one could argue it was Dalton's decision-making that hampered him the most during his worst situations in 2013, there certainly were a number of throws he wished had been delivered better. Notably, he threw his share of ducks that easily floated into the hands of opposing defenders for interceptions. He was picked off 20 times last season, even though, again, many of those were the result of poor decision-making on his part.
Will this House call work out?
Let's take a look at the rest of the Morning Stripes:
Here's the story from Geoff Hobson of Bengals.com outlining just what it is that Dalton is expecting House to do with him.
As was previously mentioned, Dalton was in Texas on Monday unveiling digital improvements that he and his wife, Jordan, donated to a children's hospital in Fort Worth. The center, nicknamed "Andy's Hub," will have iPads, DVD players and gaming systems to help children undergoing treatment and recovery from various illnesses. Also contained in this Bengals.com story about the initiative is a nugget about how Dalton believes new offensive coordinator Hue Jackson will be bringing a more up-tempo offense to Cincinnati next season. Dalton likes that idea.
Finally, we turn to the Washington Post for this story about former Bengals offensive coordinator Jay Gruden and how good one former Washington front-office member believes Cincinnati will be without him. Over the weekend, Vinny Cerrato, Washington's former executive vice president of football operations, said during an interview on SiriusXM's NFL Radio that he thought the Bengals got better with Gruden's departure. Gruden became Washington's head coach in January. You'll have to read the story for fuller context.
March, 10, 2014
Mar 10
5:15
PM ET
CINCINNATI -- Brace yourselves,
Cincinnati Bengals
fans. As the hours start flying by between now and the start of free agency Tuesday afternoon, it is beginning to look more and more as though losing
Anthony Collins
and
Michael Johnson
will be a real possibility.
Collins, the backup offensive tackle who has starter's potential, and Johnson, the formerly franchise-tagged defensive end who is entering free agency with him, are likely too expensive for the Bengals to keep. Reports have already indicated that Collins could command between $6-7.5 million per year from the teams that have courted him during this soon-to-expire three-day legal tampering period.
[+] Enlarge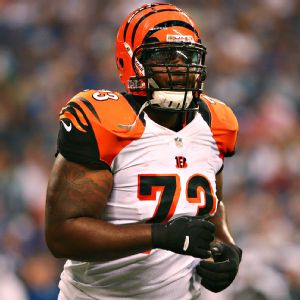 Mark Zerof/USA TODAY SportsThe Bengals are well positioned to absorb the loss of Anthony Collins.
Johnson could be looking at slightly better numbers that the Bengals just won't be able to match.
In the event they sign elsewhere, where would that leave the Bengals? Would all hope be lost for the franchise that exhausted as much time and effort as it could at re-signing the pair? Not at all.
Truthfully, the Bengals are in the envious situation of bringing back a roster that is full of veterans. Even their young players have had significant playing time across the past three seasons. Because the overall depth on the team is solid, particularly at Collins' and Johnson's positions, the Bengals ought to have very little to worry about if they aren't able to re-sign either player.
Let's focus on offensive tackle first.
If they are able to re-sign Collins, the Bengals are setting themselves up for a rather tenuous situation on the left side of their offensive line, one that Collins may not want to go through another couple of seasons, let alone one more.
With Collins back in the rotation at left tackle, the Bengals will have to decide whether they will allow him to start permanently or continue to have him come off the bench as needed. Although he only started seven games last season, Collins still was used quite extensively as a backup to Pro Bowl left tackle
Andrew Whitworth
and right tackle
Andre Smith
. If Collins returns and the Bengals start him, it would mean Cincinnati was moving Whitworth from left tackle to left guard, forcing previous starting left guard
Clint Boling
to the bench. Boling started 12 games last season until an ACL injury early in the Week 13 game at San Diego ended his season. To replace him, the Bengals moved over Whitworth and started Collins.
From a financial standpoint, the only way Collins would return to Cincinnati is if the Bengals could match an offer that would pay him close to $6 million a year. That's a lot of money to pay him to ride the bench again, so team officials would have to think long and hard about how much they wanted to shake up the lineup with his return. It wouldn't necessarily be a bad decision to have.
The reasons for such free-agency frugality are many. Among them include the team's hopes of re-signing each of its three tendered restricted free agents, keeping several of its other less pricy unrestricted free agents, making pushes to extend quarterback
Andy Dalton
, receiver
A.J. Green
and linebacker
Vontaze Burfict
a year early, and just trying to balance the books. Even with a salary cap that's about $7 million more than expected, so much of the nearly $30 million the Bengals have in cap space will be eaten by other budgetary obligations before some $15 million miraculously appears for Collins and Johnson to get paid.
Speaking of Johnson, a logjam similar to what Collins could be facing might be staring at Johnson and his fellow defensive ends if he re-signs.
After placing the franchise tag on Johnson last March, the Bengals re-signed defensive ends
Robert Geathers
and
Wallace Gilberry
and drafted
Margus Hunt
in hopes of building up their depth and talent at the right end spot. Their thinking last offseason was to simply get the position group ready in the event they were unable to re-sign Johnson this offseason. Geathers' season-ending elbow injury in Week 2 helped the Bengals avoid any playing-time issues at the position last season.
Coupled with an expected healthy
Geno Atkins
at defensive tackle and
Carlos Dunlap
at defensive end, the rotation of Geathers, Gilberry and Hunt should give the Bengals a measure of freshness and relief at Johnson's old spot.
Life in Cincinnati without Collins and Johnson also could include draft picks in May as the Bengals start looking even further into their future for replacements for veterans like Whitworth, Geathers and Gilberry. With draft picks coming and what Cincinnati already has in place, it's a future that's not as dark and morbid as many might want to believe.
Yes, Collins and Johnson were the big metaphorical fish they had hoped to land once again.
But get ready, Bengals fans, because you may soon have no choice but watch your organization adapt to life without them.
March, 10, 2014
Mar 10
10:00
AM ET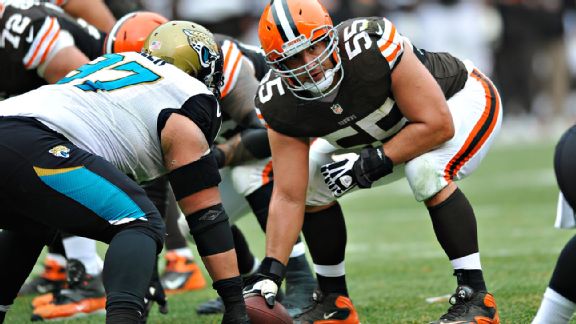 AP Photo/David RichardCleveland Browns center Alex Mack is the top free agent in the AFC North.
It's not a particularly strong free-agent class in the AFC North, although the top ones rank among the best in the NFL.
The free-agent group in the division took a hit when tight end
Dennis Pitta
, outside linebacker
Jason Worilds
and linebacker
D'Qwell Jackson
all signed before the official start of free agency.
So who's left? ESPN's four team reporters in the division -- Scott Brown, Coley Harvey, Jamison Hensley and Pat McManamon -- compiled a list of the top 15 free agents in the AFC North.
The
Baltimore Ravens
have the most free agents on this list with eight players. The
Cleveland Browns
have two of the top three free agents in the division, and the
Cincinnati Bengals
have two of the top five. The
Pittsburgh Steelers
placed one free agent in the top 10.
Here are the top 15 free agents in the AFC North:
1. Alex Mack, Browns center:
At 28, the two-time Pro Bowler is in the prime of his career. Mack was so coveted by the Browns that they placed a $10 million transition tag on him. It will be interesting whether another team can pry him away from Cleveland.
2. Michael Johnson, Bengals defensive end:
He was better in 2012 (11.5 sacks) than he was in 2013 (3.5 sacks). Still, his size, athleticism and age (27) will make him one of the most coveted pass-rushers this offseason.
3. T.J. Ward, Browns safety:
Considered one of the top 10 safeties in the NFL, Ward will draw interest from teams looking to get more physical in the secondary. He makes an impact on run defense and has improved in coverage.
4. Eugene Monroe, Ravens offensive tackle:
Some believe Monroe is the top offensive tackle in free agency, but ESPN's Bill Polian has five tackles ranked ahead of him. His athleticism and upside will command a big-money contract even though he's never been to a Pro Bowl.
5. Anthony Collins, Bengals offensive tackle:
He is an underrated left tackle who didn't allow a sack last season. The question mark with Collins is how he'll play as a full-time starter. He made seven starts last season and has 25 starts in six seasons in Cincinnati.
6. Jacoby Jones, Ravens receiver-returner:
He was one of the top playmakers in the Ravens' 2012 Super Bowl run, and he ranked among the top five returners in the league last season. Jones is inconsistent and one-dimensional as a wide receiver, but he made a lot of clutch plays for the Ravens in two seasons.
7. Art Jones, Ravens defensive end:
His impact as a run defender and interior pass-rusher makes him one of the top defensive tackles available. Teams, though, have to wonder whether he'll be the same type of player without
Haloti Ngata
drawing double-teams next to him.
8. Daryl Smith, Ravens linebacker:
He was quietly one of the NFL's top comeback stories. In his first season with the Ravens, Smith led the team with 123 tackles and finished with five sacks, three interceptions, 19 passes defensed and two forced fumbles. His age (32 this month) could be a drawback.
9. Michael Oher, Ravens offensive tackle:
His play never reached the expectations placed on a first-round pick. Oher is a throwback type of player whose strengths are durability and toughness. The biggest knocks against him are mental mistakes and pass protection.
10. Emmanuel Sanders, Steelers wide receiver:
He is almost 27, brings a lot of quickness and is coming off a season where he dropped just two passes (according to ESPN Stats & Information). What works against Sanders is the fact that he's never had more than 740 yards receiving in a season and averaged a career-low 11 yards per catch last season.
11. Jameel McClain, Ravens inside linebacker:
He isn't among the most talented linebackers, but he prides himself on outworking others. Even though he came back from a spinal cord contusion last season, some teams will be wary of a player who had such a serious injury.
12. James Ihedigbo, Ravens safety:
Known more for his special-teams play, Ihedigbo finished as the team's second-leading tackler. He'll try to find a team that will give him an opportunity to play defense now that the Ravens moved
Matt Elam
to his strong safety spot.
13. Ziggy Hood, Steelers defensive lineman:
He never became the difference-maker the Steelers envisioned when they drafted him in the first round, but it would be unfair to call him a bust. One of the strongest players on the team, Hood lost his starting job to
Cameron Heyward
last season.
14. Corey Graham, Ravens cornerback:
He was a starter on the Ravens' 2012 Super Bowl team and led Baltimore with four interceptions last season. Graham has proved to be a dependable nickelback, but he doesn't have the size or speed to be a full-time starter.
15. Brett Keisel, Steelers defensive lineman:
He had four sacks last season and 26 quarterback pressures, third most on the Steelers, despite missing four games and playing sparingly in another because of a nagging foot injury. His age (35) will scare away a lot of teams.
March, 10, 2014
Mar 10
8:00
AM ET
Occasionally, we'll pause here to take a quick look back at a select few moments in
Cincinnati Bengals
history.
As you well know, on the field that history has mostly been fraught with pain and defined by losing. But there have been many a joyous day, too, in the nearly 46 years the franchise has operated. We're here to relive it all; the happy times, the sad ones and the ones that simply make the Bengals one of the more unique teams in all of football.
March 10, 2013
We don't have far to go when it comes to looking back on this particular date in Bengals history. Just last year on this very date the organization made a pair of free-agent signings that have had a rather large impact on the direction the team is currently headed.
Exactly 365 days ago, the Bengals re-signed kicker
Mike Nugent
and defensive end
Wallace Gilberry
. Both were key signings. In Nugent's case, the two-year deal he inked -- which runs out for the 32-year-old after the 2014 season -- helped lock him up for multiple years after he ended up spending the 2012 season as the team's franchise-tagged player. Gilberry's signing was important because it was one of three moves the Bengals made at defensive end last offseason; moves made with this offseason very well in mind.
As the Bengals were working on ways to retain defensive linemen
Carlos Dunlap
and
Geno Atkins
last offseason, they weren't sure they would simultaneously be able to start exploring negotiating a longer-term deal for
Michael Johnson
ahead of this free agency season. So, just in case they found themselves in March 2014 exactly where they currently are, they went on and bolstered their defensive end depth by bringing back Gilberry and
Robert Geathers
and drafting
Margus Hunt
.
By Tuesday, Johnson may no longer be a Bengal. Although he was given the franchise tag in 2013, the Bengals declined to extend it to him for a second straight year. All this past weekend Johnson's representatives have discussed terms with other teams for signing with them instead. Tuesday is the first day unrestricted free agents are allowed to sign with whichever team they want. If the offers Johnson has fielded over the weekend are as lofty as many anticipate, it's likely the Bengals will be unable to match and will be forced into saying goodbye to him.
But that's why bringing back Gilberry to a three-year deal was important last March 10. It gave the Bengals an additional option at the defensive end position for days like this. At times during the 2013 season, Gilberry wasn't only an extra end option, he also filled in at defensive tackle, playing in certain pass-rush situations after Atkins was lost in the middle of the season to an ACL injury. Although a lot of them came after other defenders flushed quarterbacks toward him, Gilberry still finished tied with the team lead in sacks last season with 7.5.
Nugent hit two game-winning field goals this past season.
March, 8, 2014
Mar 8
2:45
PM ET
CINCINNATI -- Chalk up a win for Hue Jackson and his plans of establishing a more physical
Cincinnati Bengals
offense.
From the time the new offensive coordinator was introduced in mid-January until now, the talk surrounding his unit has centered around his desire to make the Bengals more intimidating offensively by running powerfully and efficiently, while using a punch-first mentality to open up play action and other passing options downfield. The news Saturday that the Bengals have re-signed guard
Mike Pollak
was a clear sign that Jackson's plans are beginning to take shape.
Rule No. 1 in structuring a physical offense: take care of your offensive line.
Pollak's re-signing begins what will be a tedious, rumor-filled next few weeks. With a three-day window this weekend in which teams are permitted to talk to certified agents of free agents, the NFL's signing season has unofficially started.
While defensive end
Michael Johnson
and offensive tackle
Anthony Collins
will dominate the Bengals' free agency news cycle, there are other meaningful signings that deserve attention, too. Namely, those like Pollak's, that have to do with building depth on Cincinnati's front lines. One of three free agent offensive linemen, Pollak had been considered one of the Bengals' more important unsigned players. Offensive tackle
Dennis Roland
also is up for a new contract, and could get one as the Bengals continue strengthening their line.
Pollak, a six-year veteran, missed nearly half the 2013 season because of a knee injury, but returned just in time to contribute to some of the Bengals' better offensive performances of the year. He either started or received significant action in each of the final six games of the regular season, originally coming in off the bench to relieve starting right guard
Kevin Zeitler
who hurt a foot at Baltimore in Week 10.
Even when Zeitler was healthy enough to return, Pollak remained in the starting rotation. He averaged 49 snaps per game across the final six games, and gave the Bengals a relatively fresh extra blocker as the season came to an end.
"Very simply, we are just glad to have Mike back," Bengals offensive line coach Paul Alexander said in a news release. "He's a veteran you can count on. When some injuries provided him an opportunity last year, he came through with flying colors for us."
The insertion of Pollak into the primary rotation coincided with some of the Bengals' best rushing performances and most prolific scores of the season. In the six games when Pollak saw significant action, they rushed for more than 100 yards four times, including the 164-yard effort in a win at San Diego, and the 155-yard showing in a win the next week against Indianapolis. That win over the Colts was one of three in the end-of-year stretch that saw Cincinnati scoring 40 or more points. The Bengals also scored 49 in a 40-point win over the Jets in Week 8. Pollak played just six snaps in a backup capacity during that game.
The point here is that Pollak's bump in playing time overlapped with the contests in which the Bengals' offense played some of its most physical and complete games last season. Other offensive line changes came around that time, too, including Pro Bowl tackle
Andrew Whitworth
's move to left guard to replace an injured
Clint Boling
, and Collins' addition from the bench as the starter at Whitworth's old left tackle spot. Each of those changes came early in Week 13's 17-10 win over the Chargers.
If the Bengals are to institute the type of aggressive offense that Jackson envisions, they'll need to mimic much of what went right in the last six weeks of the regular season. Few games provide the type of blueprint Cincinnati is seeking than that late-season Bengals-Chargers game. The Bengals had their most balanced offensive attack of the year in that game, and prominently featured a heavy dose of their rushing offense.
When asked earlier this offseason about Jackson's plans on offense, Whitworth praised his new coordinator's wishes. Yes, he knows that putting a greater emphasis on the run is important to Jackson, but the veteran lineman also believes that attitude and willpower are at the heart of what Jackson will soon be asking his players to do.
"It's more about an attitude and a confidence and about imposing your will on another team," Whitworth said. "That could be done in the air or on the ground. That's more of what [Jackson] is talking about. He knows to be able to do that, you're going to have to run the ball successfully."
He also knows that a team will need a strong and deep offensive line to get that done.
With Pollak back on board, the framework of Jackson's looming physical system has started taking shape.
March, 8, 2014
Mar 8
2:31
PM ET
CINCINNATI -- The Cincinnati Bengals re-signed offensive guard Mike Pollak on Saturday, officially beginning their efforts to stabilize the team's roster through free agency.
A knee injury kept Pollak out for about half the 2013 regular season, putting into doubt his ability to contribute when he returned.
But when he did, his efforts were key in helping keep quarterback Andy Dalton mostly off the ground. Pro Football Focus rates Pollak as the 29th offensive guard in the league, right behind teammates Clint Boling (27) and Kevin Zeitler (28).
Pollak impressed near the end of last season when he was inserted into the lineup following Zeitler's foot injury at Baltimore in Week 10. It was the plan for Pollak simply to replace Zeitler until the starter got healthy. But even when Zeitler was cleared to play, Pollak remained in the starting lineup, taking the bulk of snaps at right guard from Week 11 forward.
Versatility has been a hallmark of Pollak's identity as a player since he was drafted by the Indianapolis Colts in 2008. He also has played center.
The signing was the first of what the Bengals hope will be many this offseason. They have 14 players entering the free agency period that officially begins Tuesday (teams were permitted to formally begin speaking with unrestricted and restricted free agents at noon ET on Saturday).