October, 24, 2014
Oct 24
5:00
PM ET
CINCINNATI -- When Paul Guenther was promoted this offseason to become the
Cincinnati Bengals
defensive coordinator, some were a little surprised by the move.
Those critical of the move mostly felt that way because they viewed Guenther as the antithesis to his predecessor, Mike Zimmer, the current
Minnesota Vikings
head coach.
For six seasons as defensive coordinator, Zimmer used a gruff, brutish and verbally crude leadership style to get the best out of his players. He would scream, he would yell, he would curse. He would be successful.
[+] Enlarge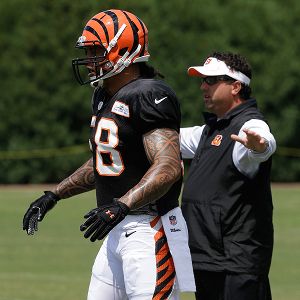 AP Photo/Al BehrmanBengals defensive coordinator Paul Guenther isn't a screamer by nature, but he raised the decibel level this week.
As abrasive as they might have seemed, Zimmer's tactics worked. The Bengals had one of the better defensive units in the league under his watch. The Bengals ranked third in the NFL in total defense last season, the highest ranking a Bengals defense had in more than 30 years.
When it comes to Guenther, the first-year coordinator doesn't do many of the things that were hallmarks of Zimmer's coaching style. He doesn't scream, at least not too much. He doesn't yell often. Where Zimmer was viewed as a coach players feared and respected, Guenther is seen as one they can relate to and befriend.
"There's different ways to go about it," Guenther said, asked about his approach with players following three straight rough defensive performances. "Sometimes when you yell and scream all the time, they tune you out. But sometimes you've got to take that approach.
"In this case, that's what was needed."
Guenther didn't mince words during defensive meetings at the start of the week. He was critical of what players were doing wrong and adamant about the younger players knowing more about the defense than the starters ahead of them. When the Bengals were wiped out at linebacker last week at Indianapolis, a trio of reserves -- one a rookie, one a seldom-used second-year player -- finished the game at the positions because of injuries.
"I don't ever want to use that we have guys hurt as an excuse," Guenther said. "We go play. I've always preached that, even when I coached linebackers. When somebody goes down, the next guy goes in and he's got to know what to do. Point blank."
Defensive end
Wallace Gilberry
didn't see Guenther flip a switch and turn into a different coach in meetings this week, but he could tell the coordinator was desperate to make the defense's key fixes.
"Paulie's the same guy. He believes in us," Gilberry said. "He knows that the calls, and the guys he's giving the calls to, are there. It's just a matter of us getting it done. No one's jumped off ship and there's no reason to. You just got to get back and pull your weight. Grab the oars and pull your weight."
It wasn't all yelling and screaming for Guenther this week. He offered words of encouragement, too.
Despite losing 27-0 and giving up 500 yards of offense for the second time in three weeks, he saw flashes of good play last Sunday from his defense, which was on the field a whopping 39 minutes, 43 seconds.
"Coach was telling us, 'Dude, for the first half of the game, it felt like we were getting back to who we were,'" defensive tackle
Domata Peko
said. "It was encouraging to see us getting back to three-and-outs and playing fast. We'll be all right if we keep that mentality going, and if we keep that energy going throughout the whole game, we should be a tough team to beat."