September, 30, 2014
Sep 30
8:00
AM ET
Join us today at 1 p.m. ET, 10 a.m. PT for ESPN's NFL Nation TV's Spreecast as episode No. 25 will take a look at the first quarter of the season. Host Paul Gutierrez (
San Francisco 49ers
reporter), co-host Coley Harvey (
Cincinnati Bengals
reporter) and new regular Mike Wells (
Indianapolis Colts
reporter) are joined by Todd Archer (
Dallas Cowboys
reporter), Josh Weinfuss (
Arizona Cardinals
reporter), Mike Triplett (
New Orleans Saints
reporter) and Scott Brown (
Pittsburgh Steelers
reporter) to talk biggest surprises and disappointments thus far. Viewers are encouraged to log in and ask the panelists questions as well as contribute in the chat feature and vote for your first quarter NFL MVP.
September, 29, 2014
Sep 29
6:45
PM ET
CINCINNATI -- Leah Still was just waking up after seven hours under anesthesia when her father and other family members tried to help her sit up in her bed at the Children's Hospital of Philadelphia.
The 4-year-old who had spent much of last Thursday under doctors' supervision following a near six-hour surgery to remove a tumor from inside her body, was defiant.
She didn't want any help sitting up in her bed. She wanted to do it on her own. She did. Not just once, but twice.
[+] Enlarge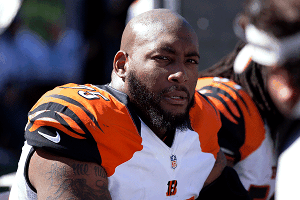 Aaron Doster/USA TODAY SportsDevon Still said his daughter, Leah, is in good spirits after she had a cancerous tumor removed from her body last week.
That's when the long-held suspicions of her dad,
Cincinnati Bengals
defensive tackle
Devon Still
, began ringing true. It was at that moment that he realized she was going to beat the stage 4 cancer that had been ravaging her body since June.
"She's going to bounce back from this fast because she's a trooper," Devon Still said in front of his Bengals locker Monday as he reflected upon what he saw from his daughter up close last week. "She's going to fight her way through this."
Still was back in the Bengals' locker room after spending the bulk of last week's bye in and around Philadelphia in order to watch his daughter as she underwent this latest round of treatments to eliminate the cancer that's called neuroblastoma.
A trip to a movie theater was the highlight of the week for Leah, who spent time the night before her surgery with friends and family in a packed viewing area while the movie "Dolphin Tale 2" played on the big screen. The same night as the movie viewing, Still began psyching Leah up for what she was about to endure.
He said he spoke to her about what surgery was. He tried to ease her uncertainty and answer any questions she had. To help illustrate his responses, Still asked her to look at his ankle, knee and back. In each of those places, the 25-year-old lineman has scars from his own series of surgeries.
The ploy helped, but she still was scared of what loomed the next morning.
So, in an effort to make his little girl smile, Still recorded a video that went
viral the instant he uploaded it to Instagram
.
"On the way to the hospital she was looking sad," Still said Monday. "You see in the beginning of the video that I said, 'I'm going to say it again.' The first time I asked her she was really down. She didn't really say anything. That's when I asked her again and that's when she started getting happy. So it was just to try to put a smile on her face and not to make her so nervous."
Still and the Bengals -- who originally cut him at the end of the preseason before adding him to their practice squad in part to help him retain health insurance to pay for Leah's treatments -- have put smiles on countless faces across the globe the past few weeks. On Sunday, the team announced it had sold close to 10,000 of the reserve lineman's jerseys, and that it was picking up the cost ($500,000 total) of making each one. That meant that full proceeds from the sales of Still's $100 jersey were going to the Cincinnati Children's Hospital Medical Center for pediatric cancer research efforts.
By Sunday, the Bengals reported they had
raised more than $1 million in nearly three weeks
.
Jerseys have been purchased by people in every state, as well as Canada, Australia, England and Finland. Rapper Nelly is among those who have reached out to Still since his story was made public.
"We thought it was vital to get out the [story of] everyday life of a family who is going through life with a child that has cancer," Still said, "just to let everybody know how much support families need financially and just emotionally."
Still was hopeful Leah would be leaving the hospital and going home Monday to Wilmington, Delaware, where her mother and other members of Still's family take care of her while he's in Cincinnati. After some weeks, she'll get back to chemotherapy and radiation therapy and will undergo stem-cell treatments to regenerate her bone marrow.
"For them to be able to remove all the tumor," Still said, "just puts a smile on her face and it gives us something to hope for."
September, 29, 2014
Sep 29
5:00
PM ET
CINCINNATI -- With their Sunday night game at New England looming, the
Cincinnati Bengals
returned to practice Monday afternoon and did so at near-full capacity.
Burfict
Only three players not on injury lists -- linebacker
Vontaze Burfict
, defensive tackle
Brandon Thompson
and offensive guard
Kevin Zeitler
-- did not practice. Everyone else participated in the workout in some capacity. It's unclear who was limited and who participated fully since the team wasn't required to submit an official injury report.
The Bengals normally stay off the practice field Monday and use the day for film review, but last week's bye gave them an opportunity to go outside a little earlier in the week than normal. The NFL still won't require them to submit an injury report until Wednesday.
Burfict, Thompson and Zeitler each missed the Bengals' Week 3 game against the Titans. The week before, Burfict had suffered his second concussion in two games. Thompson had been run from the Bengals' Week 2 win against the Falcons with a knee injury, and Zeitler picked up a calf injury in the same game.
Those three weren't at practice during the 30 minutes media were permitted to watch, but receiver
Marvin Jones
and defensive end
Margus Hunt
were among those who were. Jones was working out for only the second time since breaking his foot in the preseason. He practiced last Tuesday in the lone workout of the week. Hunt was banged up in the Week 3 game, but appears likely to participate in Week 5.
Along with those two, running back
Rex Burkhead
and linebacker
Sean Porter
also practiced for only the second time since the preseason. Burkhead said Monday that he wasn't sure what his exact role would be in the running back rotation as a reserve behind
Giovani Bernard
and
Jeremy Hill
.
"Whatever role the coaches want me to have and whatever they want to use me for, I'm up for that," Burkhead said. "Whatever way I can get out on the field."
September, 29, 2014
Sep 29
4:15
PM ET
CINCINNATI -- Even if they will be getting a better look at them during film sessions later this week, several
Cincinnati Bengals
said Monday that they were going to be paying attention when the Patriots visit the Chiefs for Monday Night Football on ESPN.
The Patriots and Bengals meet next Sunday night in Foxborough, Massachusetts.
Jones
With the Bengals coming off their bye and having a rare Monday practice, several admitted they will devote time to watching their upcoming opponent. Since the Patriots are entering a short week of preparation, the Bengals are relishing any chance they can get to form preliminary opinions on New England before digesting coaches' film Wednesday. But like Bengals coach Marvin Lewis said, the angles and camera cuts from television feeds often miss the finer details that coaches' film is able to point out on individual plays.
Lewis' players grasped that concept, but also understood the value of wanting to get a better idea of who their opponent was before sitting down in detailed film-review sessions.
"It's always good where you watch the game and then you hear things and see things that are different [on coaches' film]," receiver
Marvin Jones
said. "But I know we're going to hammer [the film] hard this week."
Quarterback
Andy Dalton
, the father of a three-month-old, said he will be combining football time with family time Monday.
"I'll definitely watch," he said. "Monday night this week is family time watching football."
September, 29, 2014
Sep 29
10:00
AM ET
CINCINNATI -- After five days away from Paul Brown Stadium, the
Cincinnati Bengals
return Monday morning for meetings and practices as they settle back into game preparation mode.
With last week's bye, the Bengals spent one day on the practice fields, primarily using their brief time around the stadium to evaluate themselves. After three weeks and three convincing wins, there may not appear to be much they need to fix, but players and coaches would claim otherwise. There are some offensive tweaks they'll have to make in order to better finish drives in the end zone. There are others still that have to be made to get the running backs bursting bigger gains than they have to this point in the young season.
There are some defensive fixes the Bengals also want to make in an effort of ensuring the pressure remains aggressive. As the first three games have shown, the more aggressive the Bengals are in key defensive situations, the better they are. After allowing two third-down conversions on the first drive of their Week 3 game against the Titans, the Bengals buckled down and shut Tennessee out on third down for the remainder of the game. That was 10 consecutive third downs after the opening drive without a first down.
The corrections that came out of last week's self-scouting likely will be implemented during Monday afternoon's practice, with the remainder of the Bengals' game plan for Sunday night's contest against the Patriots going into effect later this week.
Television sets in Cincinnati ought to be tuned to this week's Monday night game on ESPN. The Patriots, ahead of a short week this week, are on the road Monday facing the Chiefs as Week 4 comes to an end.
With such a strong start to the season and this somewhat awkward early break in the year, there are reasons the Bengals could be a little concerned about next week's game. Among the biggest concerns is the fact that the placement of this bye week might stall the momentum the Bengals built at the outset of the year.
At least one player wasn't too worried about the bye, and is optimistic the injury-depleted Bengals will come out of the off week better than they were before it.
"For me, it's a good week to work on the little things, maybe work on the things that you struggle at," kicker
Mike Nugent
said last week. "That's what I'm going to take care of this week and hopefully get a little rest as well."
Last week's bye also was expected to give injured starters
Marvin Jones
,
Vontaze Burfict
and
Kevin Zeitler
an extra few days of rest as they fight through respective injuries. Jones was one of three Bengals who returned to practice last Tuesday after sitting out since the preseason. He had a foot injury. Reserves
Rex Burkhead
and
Sean Porter
had knee and hamstring injuries, respectively.
Burfict hopes to come off concussion protocol this week after dealing with concussion issues in the first two games of the year. He didn't play against Tennessee in Week 3. Zeitler was hurt in Week 2 when he suffered a serious calf injury. The right guard is expected back around mid-October.
September, 28, 2014
Sep 28
10:53
AM ET
Nearly three weeks since beginning a fundraiser to donate all proceeds of the sales of Devon Still jerseys to pediatric cancer research, the Cincinnati Bengals announced Sunday they had sold nearly 10,000 of the jerseys, and had approached $1 million raised.
All the proceeds are going through the Cincinnati Children's Hospital Medical Center. The Bengals started the fundraiser before the season, the same week they kept the reserve defensive tackle on their practice squad in part to help him keep insurance to pay for his 4-year-old daughter's cancer treatments. He has since been signed to the active roster.
Orders, the team said, have come from all 50 states, as well as from Canada and Australia. A team source first told ESPN on Thursday that the sales of the $100 jerseys were closing in on the $1 million figure.
According to a news release, the Bengals will continue selling Still's jerseys through Oct. 20 on their website. For fans of other NFL teams who want to support the effort but not purchase a Bengals jersey, the Bengals have a place on the website where they can donate directly to the hospital. There also are other groups Still has partnered with that are sending funds to the Children's Hospital of Philadelphia, where Leah Still has been receiving treatments.
September, 27, 2014
Sep 27
4:00
PM ET
An examination of three items to pay attention to next week when the
Cincinnati Bengals
return from their Week 4 bye in preparation for next Sunday's game at New England:
Bernard
Better rushing:
As Bengals coaches spent this week self-scouting their team through film review and other assessments, a number of issues came to the surface that probably aren't readily apparent to the rest of us. This might be a 3-0 team, but like everyone at this early stage of the season, the Bengals have their share of fixes and tweaks to make. Chief among them offensively are figuring out ways to get running backs better production per carry. There have been occasions when the Bengals' backs have broken long runs, but those moments haven't occurred as frequently as the team would like. Cincinnati is averaging 3.58 yards per carry, ranking 24th in the league. Second-year starter
Giovani Bernard
's average is even lower at 3.36 yards per carry. In an effort get Bernard's numbers up, along with rookie
Jeremy Hill
's, the Bengals are trying to figure out ways to get the pair to break bigger runs. Neither has a 20-yard-plus carry this season.
Continued defensive aggressiveness:
When the Bengals return to action, don't be surprised to see them keep up the defensive aggressiveness that has been a key to the team's success. First-year defensive coordinator Paul Guenther has picked up where he left off as linebackers coach under former coordinator Mike Zimmer, calling unique and timely blitz packages. The calls he has made this season have been remarkably effective. According to ESPN Stats & Information, when the Bengals blitz, opposing offenses are completing 42.5 percent of their passes. Quarterbacks also have been sacked three times and thrown three interceptions when the Bengals have blitzed. That completion percentage ranks as the lowest in the league during a defensive blitz. Part of the success of the Bengals' blitz hinges on the different places the pressures have come from. Safety
Reggie Nelson
has been among the best pass-rushers this season, as have all three linebacker positions. Even cornerback
Adam Jones
came on a blitz and cornerback
Darqueze Dennard
finished a sack.
Sustained momentum?
Perhaps the biggest question facing the Bengals when they return from the bye involves momentum, and whether or not this early season break will slow down what they have built so far. To many, they have looked like one of the top 3 teams in the league after beating the Ravens, Falcons and Titans in convincing fashion. in the 23-16 win in the season opener against the Ravens, the score was a little closer than the game. Cincinnati's defense was suffocating and its offense effective. That has mostly been the story through three weeks. But will this bye negatively affect that? Sports fans in Cincinnati certainly hope not after sitting through the Reds' summertime collapse following major league baseball's all-star break this year. The Reds rolled into the break winning 22 of 32 games. But entering Saturday's game, they were 23-42 since the all-star break.
September, 26, 2014
Sep 26
1:00
PM ET
CINCINNATI -- As we hinted on Wednesday, we wanted to take
one more look this week at a possible solution
for the Cincinnati Bengals' early red-zone issues.
Truthfully, on the surface, there are relatively few issues for this Bengals team that has three of the most convincing wins of any team in the league through the start of this new year. But if there are any problems that do exist on offense, continuing to execute in the red zone is right at the top of that list.
Mind you, the Bengals actually did well inside their opponents' 20 last Sunday, when they converted four of the five red-zone chances they had into scores.
Overall, however, they are only 6-for-10 in turning red-zone series into touchdowns. They also have hit four field goals from inside that area so far. When you include the drives in the season opener that stalled around the opposing 30 and just outside the red zone, the Bengals' scoring problems slightly more concerning.
With all of that in mind, offensive coordinator Hue Jackson has expressed some issue with the difficulty the Bengals have had in converting touchdowns once they get inside or around the 20, but he isn't worried about the apparent red-zone woes becoming a long-term trend.
"We have guys who can score touchdowns, whether it is the runners, whether it is the receivers or the tight ends," Jackson said. "There are going to be teams that are going to stop us and not want us to run it in there and we are going to have to throw it in. There are going to be teams that will not want us to throw it in and we'll have to run it in. We would hope to dictate that but at the end of the day, we are going to play some teams that are going to try to dictate that to us. The fun part about who we are, we think we can do both."
As was mentioned in the story linked above, it's been the passing game that has been notably absent from Cincinnati's red-zone offense. Of the Bengals' six red-zone touchdowns only one, the 18-yard pass from receiver Mohamed Sanu to quarterback Andy Dalton, was the result of a pass. The others were carries in goal-line territory. In fact, the Bengals have only completed four passes inside the red zone through the first three games.
Only one of those passes has gone to a Bengals tight end.
Jermaine Gresham, a tight end who has been a key part of the Bengals' red zone game plan in years past, has only been targeted twice inside the 20 this year. He has just one catch; a 5-yard grab last week that didn't end up in the end zone. The other time he was thrown to near the goal line, Gresham for some reason got crossed up and stopped his route short of a for-sure walk-in touchdown. At the end of the drag, he simply stopped running as Dalton threw, trying to lead him into the end zone. Had Gresham continued running, he would have caught the wide-open pass as he stepped untouched into the end zone.
Before this season, Gresham had real impact inside the 20.
Among NFL tight ends, Gresham entered 2013 trailing only Rob Gronkowski, Vernon Davis and Jason Whitten in red-zone touchdowns since 2010, the year his career began. Gresham had 11 red-zone scores.
Along with receiving a jolt next week from the red zone touchdown pass-catching Marvin Jones -- 10 of his 11 career touchdowns came inside the red zone -- who is coming off injury, perhaps the Bengals will soon discover ways to get Gresham more involved in the red zone once again.
September, 26, 2014
Sep 26
10:36
AM ET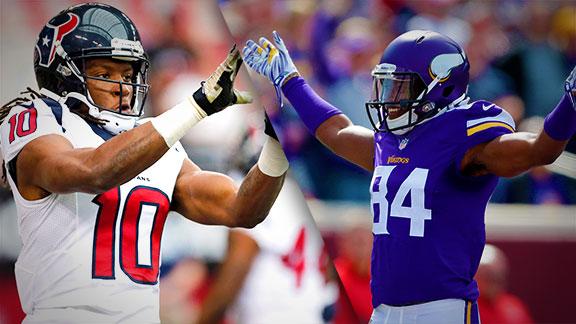 The era of the shutdown corner is over. Actually, I'm not sure there ever was such an era. The notion of "Revis Island" -- so named because Darrelle Revis sometimes shadowed an opponent's best receiver -- swept the football world a few years ago, which led to many simplistic formulations. You know: "Oh, no, you can't use Reggie Wayne! He's facing Aqib Talib this week!" My Twitter feed is still occasionally littered by questions like, how can I rank Michael Crabtree so high, don't I know that Patrick Peterson is on the Arizona Cardinals?
September, 26, 2014
Sep 26
9:00
AM ET
CINCINNATI -- As Week 4 begins with the
Cincinnati Bengals
off, the team still sits atop the rankings in one of the NFL's most important statistical categories.
They lead the league in scoring defense.
They are near the top of the list in several other defensive categories, too, but scoring defense shows how well a team prevents another team from getting in the end zone, and even getting in field position to make a field goal. Through three games, the Bengals have been the best at denying their opponents' scoring opportunities.
After their first three games, against the Ravens, Falcons and Titans, the Bengals have allowed an average 11.0 points per game. That is nearly 16 points below the average of 26.7 the Bengals have scored this season. When you combine their scoring offense and scoring defense numbers, you see the Bengals have a league-leading plus-15.7 point margin. The Falcons, who won a game 56-14 last week against Tampa Bay, rank second with a plus-10.3 average point margin.
"Look at the points," Bengals defensive coordinator Paul Guenther said last week. "That's the mark of a good defense."
Last season, the Bengals' third-ranked total defense ranked fifth in the league in scoring defense, allowing an average of 19.1 points per game. The unit also was impressive on third down, ranking second behind the Lions in percentage of third-down stops.
Those two areas will be important next week when Cincinnati travels to New England for the Week 5 Sunday night game. The Bengals' next contest will come nearly a year to the day when they held future Hall of Famer
Tom Brady
and his Patriots offense to just six points in Cincinnati's 13-6 win at Paul Brown Stadium. It was the first time in 53 games that Brady did not complete a touchdown pass.
What led to that performance for the Bengals? Great third-down play -- the Patriots were 1-for-12 against the Bengals on third down.
September, 25, 2014
Sep 25
6:04
PM ET
It took a nearly six-hour surgical procedure, but by late Thursday afternoon, Devon Still and his family received one piece of news they had been desperately waiting to hear for months.
The tumor was gone.
On a photo Still posted to his Instagram account late in the day, the lineman reported the cancerous tumor that had sickened his 4-year-old daughter, Leah, had been completely removed by a surgeon at the Children's Hospital of Philadelphia. The surgeon even was able to clear the area in Leah's right adrenal gland, Still said. According to Still that was the area "where it all started from."
Leah was diagnosed with Stage 4 neuroblastoma June 2, the same weekend Still originally had been given permission to leave Cincinnati Bengals OTAs in order to see Leah perform in a dance recital. After she complained of pain in her hip when he got home, Still took her to the hospital where she was diagnosed. The pediatric cancer left her with a 50-50 chance of survival.
What's next for Leah will be another round of chemotherapy, radiation and stem-cell transplants in an effort to regenerate her bone marrow and stem cells. Still and his family also are awaiting the day when doctors tell them Leah is completely cancer-free.
Along with his 3-0 team, which is off this week before returning to action Week 5 at New England, Still's story has dominated national headlines all season after the team originally cut him before keeping him on the practice squad in part so that he could retain his insurance to pay for Leah's medical bills. Still said her bills could cost $1 million. The league will take care of all of that.
September, 25, 2014
Sep 25
2:00
PM ET
CINCINNATI -- Herm Edwards has been connected to the NFL in some form or fashion for parts of five decades.
So when he shares his wisdom on the league, I pay attention.
On Thursday morning, the former player and coach, now an ESPN NFL analyst, wrote a piece for ESPN Insider outlining why he believed the
Cincinnati Bengals
are the
best team in football
. I won't divulge too much of his Insider post, but at the heart of his argument is the same thing myself and others have been saying: The Bengals have the most complete three victories of any team in the league so far this year.
That's the No. 1 reason why, to me at least, the Bengals deserve to be No. 1 in any power rankings that come out this week. That's the case I attempted to make after learning the Bengals were ranked
one spot short at No. 2 this week
.
Dalton
When we talk about the Bengals' offense, we have to begin with quarterback
Andy Dalton
. As was noted in
this post earlier in the day
, he's clearly improved against the blitz, and his offensive line is doing a beyond admirable job protecting for him. His receivers have run timely routes, and the measure of creativity offensive coordinator Hue Jackson has brought to the entire offense has kicked it into a gear beyond what many could have foreseen in the offseason.
About the only real issues the Bengals have on that side of the ball are their difficulty scoring touchdowns from the red zone and the problems they have had in consistently picking up big gains on the ground. If they can solve those two problems at New England next Sunday, when they return after this week's bye, they could become even more dangerous.
Defensively, the Bengals have forced enough pressure to stymie a couple good quarterbacks and have come away with timely turnovers. The unit, largely unchanged from last year -- excluding the change at coordinator -- handled the Patriots well at home last October.
Tom Brady
's streak of 52 consecutive games with a touchdown pass ended in the Bengals' 13-6 victory that was aided by a sudden late-game rain shower that made it difficult for Brady to pass and his receivers to see during a hopeful comeback drive.
Third-down play continues to be important for Cincinnati's defense, which got off the field 10 times out of 12 last Sunday against the
Tennessee Titans
. After giving up two third-down conversions on the game's opening drive, the Bengals held firm on the final 10 third-down plays they encountered.
Combine that defensive effort with the offense's improvements and punter
Kevin Huber
's consistent
inside-the-20 accuracy
, and you get a good team.
A team that Edwards, among others, considers the best.
September, 25, 2014
Sep 25
1:00
PM ET
CINCINNATI -- A case could be made that through three ballgames the
Cincinnati Bengals
have the best offensive line in the NFL.
The sole basis of that case?
It's the fact the Bengals' line still has yet to let quarterback
Andy Dalton
get sacked. No other team in the league can make that claim about their quarterback.
[+] Enlarge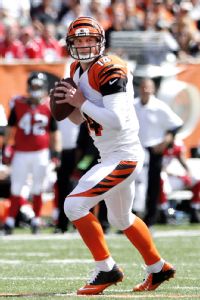 Mark Zerof/USA TODAY SportsCincinnati quarterback Andy Dalton has not been sacked a single time through three games this season.
In order to understand how good the Bengals' offensive line has been, though, you have to also know how good Dalton and his pass catchers and route runners have been early this season, too.
Strangely enough, as good as the Bengals have been at preventing sacks, they actually aren't the best in the league at completely controlling the line of scrimmage.
That honor goes to the
San Diego Chargers
.
Using statistics from ESPN Stats & Information, the Bengals actually rank ninth in the league in pass-protection percentage, with a 52.1 percent protection rate. In addition to trailing the stat-leading Chargers, they're behind the Ravens and Titans, two teams the Bengals' own defense got to for a combined five sacks in games earlier this season.
How does one explain that phenomenon? How is it possible for teams that have allowed multiple sacks to have a better pass-protection percentage than a team that hasn't allowed a sack? Because this particular statistic takes into account the percentage of plays the offense controls the line of scrimmage on pass plays, scrambles included. How do you measure how a unit controls the line of scrimmage? You factor in hurries, pressures, hits and blitzes.
When you consider how often the Bengals have been under pressure in these three games, you realize they can't be perfect controlling the line of scrimmage. Blitzes will get through.
Even if they are, the beauty of them as far as Dalton is concerned is that they aren't having an effect. He's performing better against the blitz through three games this year than he did at this point last season.
Per Stats & Information, Dalton was blitzed on 43 dropbacks through three games last year as opposed to 28 so far this season. Sure, the pressure is less overall, but he's also passing fewer times on average than he did last year as the Bengals emphasize the run more this season.
Under that pressure at the start of last season, Dalton was 28-for-40 passing with 286 yards, two touchdowns, an interception and a 73.2 QBR. He also was sacked three times. So far this season against the blitz, Dalton is 18-for-28 passing with 330 yards, one touchdown, no interceptions and an 87.4 QBR. He also, of course, hasn't been sacked.
We highlight those numbers to show that for as well as the line has blocked, Dalton has been helping himself by making better decisions under pressure and getting the ball quickly to his receivers, who are catching it in space for big gains. Dalton's 76-yard touchdown pass to
Mohamed Sanu
in Week 2 came with a blitz. He also was pressured by a strong front-line rush on the 77-yard touchdown pass to
A.J. Green
in Week 1.
While the Bengals may rank ninth in pass-protection percentage, they are first in the opponent coverage sack statistic and the opponent coverage pressure statistic. The first stat tracks the average number of sacks that can be credited to tight downfield coverage. The second stat tracks the average number of pressures that can be credited to tight downfield coverage.
Cincinnati, of course, has a 0.0 average in the coverage sack stat. But it has allowed an average of 1.2 pressures per game that can be attributed to receivers not being able to get open. That's the lowest average in the league.
So again, when you think about the Bengals' ability to keep Dalton sack-free, credit the offensive line for good play. But also remember Dalton and his receivers have a hand in that, too.