October, 22, 2014
Oct 22
7:20
PM ET
CINCINNATI -- You may be unfamiliar with who
Brandon Thompson
is.
Thompson
That's understandable. He isn't a big-name superstar. He's a backup, in fact, and he plays one of the least glamorous positions on the
Cincinnati Bengals
' defense.
Be that as it may, Thompson could end up playing a key role in helping the Bengals salvage their season. With the status of the injured interior lineman still in doubt, there has to be hope among Bengals die-hards that he will end up playing again this week, after dealing with a knee injury that has sidelined him since the second week of the season.
Why? Because he could help the Bengals address one of the most glaring issues facing their defense: stopping the run.
"He's a good run-stuffing guy," defensive coordinator Paul Guenther said. "He's a key part of what we do and we can't wait to have him back."
Since Thompson went down, teams have rushed for an average 172.5 yards per game. In the two games he has appeared in, they collected just 95.5 yards per game.
It ought to be pointed out that he only saw six plays of action in the second game, leaving with his injury in the first half.
But going back to his rookie year in 2012, Thompson has been a run-stopping maven.
His only tackle his rookie season came on a run, as did nearly half his snaps that season. Last year, 54.4 percent of his 377 snaps came on running plays. Additionally, 20 of his 23 tackles that year came on plays when opposing ball carriers were rushing the ball. All of his four stops so far this season have come when opponents have run.
Part of the issue for the Bengals this past month -- particularly in the last three weeks where they have gone 0-2-1 -- is that they aren't attacking ball carriers very well at the first level. The rushers are bursting easily through the line of scrimmage and subsequently getting by linebackers who aren't taking the best angles to them. In turn, big runs are getting yielded, and prolific rushing performances have become the norm.
Three times in the last four games ball carriers have rushed for 20 or more yards on the Thompson-less Bengals defense.
With the 6-foot-2, 315-pound lineman potentially in the mix again soon, the holes that currently exist at the line of scrimmage may soon collapse. If he returns, you soon may not see those types of breakout runs, thereby limiting the massive rushing totals that have been the Bengals' enemy recently.
October, 22, 2014
Oct 22
6:15
PM ET
CINCINNATI -- A little more than a month after deciding to sell
Cincinnati Bengals
defensive tackle
Devon Still
's jersey for charity, the Bengals have sold nearly 15,000 of them.
The team's director of sales and public affairs, Jeff Berding, told
Cincinnati television station WLWT
earlier this week that they had exactly 14,945 sales of the jersey before ending the donation drive Monday -- raising more than $1.25 million. The proceeds will go to the Cincinnati Children's Hospital Medical Center, in hopes of helping fund research in pediatric cancers, and to help families who have children living with them.
The money will be presented to representatives from the hospital during a presentation at the end of the first quarter of the Bengals' Thursday night game against the
Cleveland Browns
on Nov. 6.
The Bengals got involved with the fundraiser after Still, their former second-round pick, began dealing with his own daughter's plight with a potentially deadly disease. On June 2, 4-year-old Leah was diagnosed with Stage 4 neuroblastoma. She has since undergone successful surgery to remove the cancerous tumor from her abdomen.
Almost a month removed from that surgery, she now is facing several weeks of chemotherapy and radiation treatments as doctors try to remove the remaining cancerous cells from her bone marrow. When they gave Still and his family their initial diagnosis on Leah, doctors gave her a 50-50 chance to live.
"We applaud Devon for his openness in sharing his daughter's challenging story nationwide through media and social media," Bengals executive vice president Katie Blackburn said in a news release last month. "We also applaud the response of our fans and many others to the jersey sales. The welfare of Devon and Leah are foremost in our minds, but we are proud and excited to be able to be a part of something that can help advance the cause of fighting childhood cancer."
Still's story became a national headline at the beginning of September when he was added to the practice squad after failing to make the 53-man roster. He wasn't a bad player, but in the preseason he was dealing with injuries on top of his daughter's medical situation. The concerns about his daughter alone had his mind drifting from football, and he admitted that he wasn't 100 percent invested in the sport because he was thinking about her future.
Two weeks into the regular season, with Still physically healthy enough to play, the Bengals checked in on his mental health. He told head coach Marvin Lewis he was ready to play football again.
He has appeared in every game since, although his playing time may soon diminish with
Brandon Thompson
close to rejoining the team. Like Still, Thompson began the year as a reserve interior lineman, but he was more of a consistent contributor, called upon regularly in run-stopping situations. Thompson has been out since Week 2 with a knee injury, but he practiced Wednesday for the first time, giving a sign that he might be ready to relieve Still again soon.
Countless entertainers and athletes have purchased Still's jerseys. ESPN's Scott Van Pelt purchased 50 to donate to children in Cincinnati, and
New Orleans Saints
coach Sean Payton bought 100 to do the same.
Since Still's story first started spreading, he has been interviewed on various ESPN platforms, including being part of a segment on "NFL Countdown." He also has appeared on "Good Morning America," the "Today Show" and "The Ellen Degeneres Show," among others. Leah has since been part of a music video featuring children with pediatric cancers called "Truly Brave."
October, 22, 2014
Oct 22
5:30
PM ET
CINCINNATI -- It's hard to attach value to how important Wednesday's practice was for the Cincinnati Bengals.
For the first time in a long time, they welcomed multiple injured players back to the fold, providing some measure of hope that they could be markedly healthier Sunday when Cincy hosts the
Baltimore Ravens
.
Even still, fourth-year receiver A.J. Green didn't practice. He did give a promising sign that he could play this week, though, when he participated in conditioning drills off to the side of the practice fields. It was the first time he has participated in any kind of activity since he was hurt at the start of a Wednesday practice two weeks ago. It was during that workout that Green aggravated his big right toe. It's an injury that has affected him since Week 1.
Asked to comment after practice, Green declined.
On Tuesday, he said on NFL Network that his status this weekend is
"still up in the air,"
even if his toe has felt better and is beginning to progress.
Defensive tackle
Brandon Thompson
and linebacker
Emmanuel Lamur
were two Bengals in particular who returned Wednesday after having missed time in recent weeks because of injuries. Lamur hurt his left shoulder two weeks ago on the second-to-last play of regulation against the Panthers. Thompson suffered a knee injury in the Bengals' Week 2 win over the Falcons.
Both were listed as having limited practice participation.
If Thompson goes this weekend, he could help the Bengals' struggling run defense. In the four games since he got hurt, Cincinnati has allowed an average of 172.3 yards rushing per game. In the two games before a knee issue sidelined Thompson, the Bengals had been giving up an average of 95.5 yards rushing.
"He's a good run-stuffing guy," defensive coordinator Paul Guenther said. "He's a key part of what we do and we can't wait to have him back."
If Lamur plays as expected, he will give the Bengals a jolt from an experience and talent standpoint. Because of injuries, for the last three quarters of Sunday's game at Indianapolis, the Bengals didn't have a single starter in the game at linebacker. Rookie
Marquis Flowers
and second-year reserve
Jayson DiManche
played the most snaps of their young careers alongside veteran backup
Vincent Rey
.
Rey started the game with
Rey Maualuga
out with a hamstring injury, but he ultimately assumed Pro Bowler
Vontaze Burfict
's duties once Burfict left in the first quarter with a neck injury.
Burfict's injury has responded favorably enough since Sunday that he joined Thompson and Lamur at practice. He, too, participated in a limited capacity. Running back
Giovani Bernard
also worked out in a limited fashion with a rib injury that came when he was demolished by
Vontae Davis
on a second-quarter screen at Indianapolis.
Cornerback
Leon Hall
(back), who also was hurt in the game against the Colts, did not practice.
Here's Cincinnati's full injury report:
OUT
LB Rey Maualuga (hamstring)
DID NOT PRACTICE
DE
Robert Geathers
(toe)
WR A.J. Green (toe)
CB Leon Hall (back)
OL
Mike Pollak
(knee)
LIMITED PRACTICE PARTICIPATION
RB Giovani Bernard (ribs)
TE
Kevin Brock
(neck)
LB Vontaze Burfict (neck)
DE
Wallace Gilberry
(eye)
LB Emmanuel Lamur (shoulder)
OT
Marshall Newhouse
(back)
OT
Andre Smith
(shoulder)
DT Brandon Thompson (knee)
October, 22, 2014
Oct 22
5:15
PM ET
OWINGS MILLS, Md. --
A.J. Green
didn't practice Wednesday, and there's a good chance that the Cincinnati Bengals star receiver will be listed as questionable for Sunday's game against the
Baltimore Ravens
. But, in the mind Ravens cornerback
Lardarius Webb
, there's not a question of whether Green will line up against the AFC North leaders.
Green
Webb
"He's playing," Webb said before the reporter could finish his question about Green. "It's a big game. He likes challenges. He's a great receiver. He's going to have to have a broken leg not to come on this field."
The status of Green will have a major impact on whether the Ravens retain first place or the Bengals complete a season sweep. Recent history says so.
No player has more receiving yards against the Ravens in the past five years than Green (465 yards). In the last three meetings, Green has caught 18 passes and averaged 114.3 yards.
Green has been the biggest big-play nuisance for the Ravens. Since the start of the 2013 season, the Ravens have given up nine passes of longer 50 yards and Green has caught three of them -- all of which went for touchdowns.
Each of those touchdowns have meant something:
On Nov. 11, 2013, his 51-yard touchdown on a Hail Mary sent the game into overtime.
On Dec. 29, 2013, his 53-yard touchdown against safety Matt Elam put the Bengals up 7-6 in the first quarter.
On Sept. 7, 2013, his 77-yard touchdown against cornerback Chykie Brown put the Bengals ahead for good in the fourth quarter and came 48 seconds after the Ravens took the lead.
How much of an impact does Green make on the Bengals' offense? In four games with Green, quarterback
Andy Dalton
has a 100.3 passer rating. In two games without him, Dalton's passer rating is 75.6.
Webb said he would rank Green among the top three wide receivers in the game.
"He can catch no matter where the ball is at," Webb said. "He runs great routes. He understands the game. He's a competitor, [and] that's No. 1."
October, 22, 2014
Oct 22
4:13
PM ET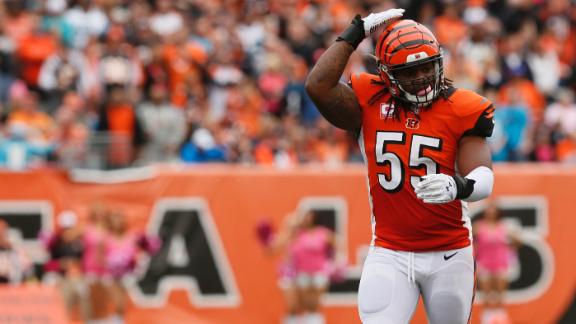 CINCINNATI -- Bengals defensive coordinator Paul Guenther says he has reached his wit's end when it comes to linebacker Vontaze Burfict's knack for lowering his head whenever he tackles an opposing player.
"He does us no good sitting on the sideline after five snaps every week," Guenther said Wednesday. "It does us no good. It does us more harm than good. So he's got to learn how to do [tackle better] for him and the team and everybody involved."
The head-down tackling style appears to have played a role in some of the head and neck injuries Burfict has had this season. He has played in only four of the Bengals' six games and has left each of those four at some point after dealing with the aforementioned ailments. He has finished only game, the Bengals' Week 6 contest against Carolina, which he left briefly after being diagnosed with "a hit to the head."
"I tell him to keep his face up," Guenther said. "I tell him that he's my quarterback. Like you need to tell a quarterback to slide and to not get hit, I tell him to keep his head up so he can stay in the game.
"When he starts the game and he comes out, it affects everything. It affects me, it affects the unit, it affects the linebacking crew."
Burfict has been part of 149 snaps this season. After six games last year, he already had 388 plays under his belt. His production in what ended as a Pro Bowl season was much greater too. He had 61 tackles, a sack and an interception by this point in 2013. This season, he has 22 stops.
October, 22, 2014
Oct 22
8:00
AM ET
CINCINNATI -- Perhaps the most frustrating part about the
Cincinnati Bengals
' recent three-game downturn is that they have already shown this season they can be a really good team.
After being dominant during a 3-0 start to the season, their confidence was sky high. The belief in them was even higher, as some publications started ranking them first in their weekly power ranking polls.
But a pair of losses and a tie have changed all of that. They are no longer the beloved team in football. That honor goes to the
Dallas Cowboys
. Instead, the Bengals are viewed around the league as an injury-riddled, beleaguered, middling bunch that can't sync up its offense and defense. For three weeks at the start of the year, that wasn't the case. Both units were playing well. Now, when one side of the ball performs well enough to win a game, the other side doesn't.
What does it all mean? It means the Bengals have no flow, no rhythm, no mojo.
They know it's time they get it all back.
How does a team get back in sync and restore its confidence? Veteran defensive tackle Domata Peko said it starts in practice.
"Go out there Wednesday to Saturday and really focus on your keys and focus on your job," Peko said. "If you do the little things right, that's what I've always learned as a player. It's that throughout Wednesday through Saturday, that's when the game is won. Then when you go out there on Sunday you can go out and play fast and get it quick."
Part of the Bengals' problems, at least in Sunday's 27-0 blowout at Indianapolis, have been that they aren't playing at the same speed they were when the season began. Defensively, they've been a step or two late in running situations, sometimes missing gaps or tackles. They also have had a series of sack attempts in the pass rush the last two weeks that have come up empty as quarterbacks have eluded their grasp.
On offense, passing plays have been slow to develop and passing lanes even slower to open. Running backs didn't have many opportunities last week, but when they did, their holes closed virtually as soon as they touched the ball. In the first half alone, they were first contacted at or behind the line of scrimmage on six of their eight runs.
It just seems as if the same confidence that existed in the early part of the season isn't there throughout the team. Whether it's practice that gets that back or not, the Bengals must make it their mission back home this week against Baltimore to find it again. Defensive coordinator Paul Guenther made that fact evident in his meeting room Monday.
"Paulie, he said, we've just got to get back to playing fast and playing physical," Peko said. "That's something we've been missing. And the mistakes have been killing us. Penalties have been killing us. But at the end of the day, it's all on us. We can't point fingers at certain things. We've just got to look in the mirror and see, 'What can I do better for this defense?'"
One way the Bengals can restore their mojo will be by hitting the Ravens early Sunday. If they can combine a couple of sturdy defensive stands with a couple of first-half scores, that confidence should start to pick back up. In one of their biggest games of the year, they'll need it to.
October, 22, 2014
Oct 22
8:00
AM ET
Join us today at 1 p.m. ET, 10 a.m. PT, for NFL Nation TV's Spreecast, as episode No. 28 will have a special guest. Former Oklahoma and
Seattle Seahawks
linebacker Brian Bosworth will join the show to talk about his upcoming 30 for 30 special, "The Boz."
Host Paul Gutierrez (
San Francisco 49ers
reporter) and co-host Coley Harvey (
Cincinnati Bengals
reporter) will also be joined by Mike Triplett (
New Orleans Saints
reporter), Mike Wright (
Chicago Bears
reporter), Terry Blount (Seahawks reporter) and Josh Weinfuss (
Arizona Cardinals
reporter) to give the latest on their respective teams as the season nears its midway point.
Viewers are encouraged to log in and ask Bosworth and the panelists questions.
October, 21, 2014
Oct 21
3:15
PM ET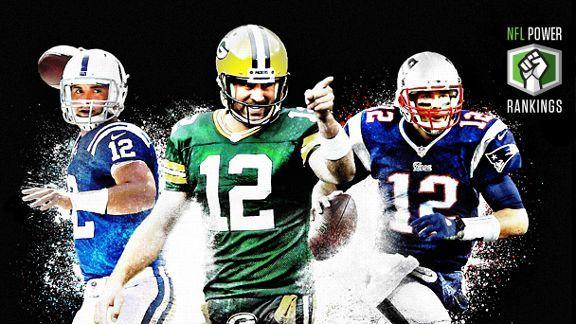 CINCINNATI -- The
Cincinnati Bengals
' fall continues.
For the third straight week the team that was ranked as high as second on ESPN's Power Rankings earlier this season fell when the
latest rankings were published Tuesday afternoon
. Coupled with losses from other teams, the Bengals' drop wasn't as precipitous as it was last week. Following last week's tie, they went down six spots from fifth to No. 11. This week, they came in at No. 13.
This particular drop came after Sunday's
27-0 loss
at Indianapolis. The Bengals weren't very sharp in that game, converting only one third down (1-for-13) and failing to get their offense across midfield for more than 48 minutes.
If the Bengals are to get back in the Power Rankings' top 10, they will have to do one thing: win.
With three straight home games on the horizon, including two division games against the Ravens and Browns, the Bengals have a good opportunity to change the perception regarding their season.
Paul Brown Stadium has been good to the Bengals since 2012. They have not lost in 12 consecutive regular-season home games, although their 11-game winning streak in that stretch was halted two weeks ago when they tied Carolina 37-37. It was that tie that dropped them from fifth to 11th.
October, 21, 2014
Oct 21
2:52
PM ET
There was a time -- even if it lasted for only a few hours -- that the Cincinnati Bengals laid claim to the status as the NFL's last unbeaten team.
That time feels like eons ago, but three weeks later, the Bengals find themselves sinking in the AFC North standings, now trailing the Baltimore Ravens by 1.5 games and having one fewer win than the Pittsburgh Steelers following an 0-2-1 stretch.
The raw numbers paint an ugly picture. The Bengals have been outscored 107-54 during their three-game winless streak, including being shut out on Sunday for the first time since 2009. The defense, which played as well as any other during the first three weeks of the season, is now yielding 23.3 points per game, 18th in the NFL. The offense hasn't been much better, but it should be noted that star wide receiver A.J. Green -- the team's best player -- has missed the past two games due to a recurring toe injury.
No matter how it's viewed, the Bengals' October has been a forgettable one, and the team some believed was among the very best in the NFL after three weeks now faces a virtual must-win in Week 8 to keep realistic playoff hopes alive.
Let's dig in on what's gone wrong for Cincinnati:
October, 21, 2014
Oct 21
2:00
PM ET
CINCINNATI -- Sometimes, getting overworked has its benefits.
Two days after booting a career-high 11 punts in Sunday's 27-0 loss at Indianapolis,
Cincinnati Bengals
punter
Kevin Huber
was recognized in this week's punter of the week awards, conducted by ESPN Stats & Information's Mark Simon.
Huber
This week, Huber's efforts earned him honorable mention.
On his 11 punts Huber had a net average of 48.7 yards. That was the second-best net average for any punter in Week 7. He also dropped three punts that were downed inside the 20 and nearly had a fourth when his 63-yard drive ended up a touchback. On that particular punt, Huber had enough hang time to allow his coverage unit to get downfield, and as rookie
Darqueze Dennard
tried to down the ball on the synthetic turf from his knees, he ended up sliding into the goal line. His left foot touched the line as he was downing the ball, forcing it to be declared a touchback.
It was Huber's first touchback all season.
Cincinnati's punt coverage team allowed only 2 return yards on Huber's other 10 punts.
Huber has been named punter of the week twice this season. One of those times he earned co-punter of the week honors.
Simon picked St. Louis'
Johnny Hekker
as this week's top punter. The reigning punter of the year had a key 41-yard punt that pinned Seattle on its own 9 at the start of the fourth quarter. He also averaged 48 yards per punt and played a role in one of two fake punt-related plays the Rams had in the game. Hekker completed an 18-yard throw on a fake punt late that kept the Rams on the field with a two-point lead they wouldn't lose.