April, 23, 2014
Apr 23
5:15
PM ET
CINCINNATI --
Marvin Jones
' list of individual goals for the season begins and ends with two words: Pro Bowl.
Months after emerging as a legitimate secondary passing option behind
A.J. Green
, the
Cincinnati Bengals
receiver is thinking all-star status can, and will, come during his third season.
"I want to go to the Pro Bowl," Jones said earlier this week. "Straight up. No sugarcoating it. I want to be one of the top receivers."
It's entirely possible he will be.
[+] Enlarge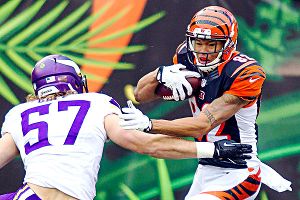 Trevor Ruszkowksi/USA TODAYMarvin Jones aims to be more physical against defenses this season.
The former Bengals fifth-round pick was the team's second-leading receiver last season, hauling in 51 passes for 712 yards. Most of those yards came in the weeks after his career-high 122-yard, and four-touchdown performance against the Jets in Week 8. Only once in the previous seven weeks did he have more than 60 receiving yards in a single game. Following his breakout effort, though, he went beyond 60 yards receiving on four additional occasions.
"Obviously, I had a good year down the stretch, but I want a better year, and then I want a better year than that," Jones said. "I want to be one of the top receivers in the league. That's always been my goal, and I'm moving towards that.
"Us as a receiver corps, that's all of our goals. When we have goals like that, it makes it easy to go out there and go to work and do all the necessary things to get to where we need to be."
Part of what the Bengals' receivers want to be this offseason is bigger. Green, the three-time Pro Bowler, is among those Bengals wide outs who have spent the last four months bulking up. Green said earlier this week he's added between six to 10 pounds of muscle in order to play more physically at the line of scrimmage and to be tougher for cornerbacks down the field. He also joked that his advanced age could be the culprit behind the weight gain.
"I'm getting older, the weight is sticking to me," the 25-year-old said, laughing. "For me, it's about being more physical off the line, getting [cornerbacks'] hands down and just helping create that physical nature on the offensive side of the ball no matter what position."
That focus on physicality has come from up top. Had coach Marvin Lewis and new offensive coordinator Hue Jackson made it clear they want more of a smashmouth edge to their offense. They want to run more often and with better purpose. Their thought is that the pass should feed off the run. To that end, their backs and offensive linemen aren't the only ones who need to be physical. Their receivers do, too.
Coaches are pushing the receivers to be more combative when it comes to blocking in the running game, and more aggressive when it comes to fending off defensive backs for passes thrown their way. On more than one occasion last season, quarterback
Andy Dalton
threw interceptions that partially resulted from punchless efforts by receivers to break up those throws or to prevent them from being picked off.
Green has clearly heard the memo, noted by his visible weight gains. He looks noticeably bigger in his shoulders, arms and chest. Jones also returned to Paul Brown Stadium for offseason workouts this week with a larger upper body.
"It's about making everything look the same. Making sure that if it's a run, it looks like we're running downfield for a pass, and vice versa," Jones said. "That physicality starts in all spots with our burst [off the line] and how we act in the run game and the pass game."
Those intangibles -- fighting better for passes deep downfield, creating extra separation whether the ball is thrown his way or not, and holding blocks better for the running backs -- won't help get Jones to the Pro Bowl. He'll need receiving statistics and touchdowns. He'll need to catch enough timely passes that makes him compliment Green even better than he did last season. The pair were so in sync by the end of last year that they both had double-figure touchdown receptions. It was the first time in franchise history that multiple receivers had 10 or more touchdown catches.
The only receivers who reached last year's Pro Bowl were players who were the No. 1 passing options on their teams. Green, as he has been his entire career, was among the field.
Still, Jones is optimistic at this stage in the offseason that he still will not only build on his stellar sophomore season, but he'll completely overshadow it by claiming a Pro Bowl nod.
How does he do that?
"I just need to be Marvin Jones," he said. "Obviously I'm at the point where I'm going to start getting more snaps and things like that, so I need to just play and being the team guy that I am and letting the opportunities come to me. That's all I've done since I've been here. Controlling my opportunities, however many they are. If I keep doing that, then I'll get to where I need to be."
April, 23, 2014
Apr 23
11:00
AM ET
CINCINNATI -- The countdown clock is ticking.
Exactly nine hours from the time this post went live, the
Cincinnati Bengals
and the other 31 teams will know where and when they will be playing their already announced opponents. At 8 p.m. ET, the league will release its 2014 schedule, complete with kickoff times and pertinent television information for certain games.
Based on their recent scheduling history and the general success they have had in the past three years in particular, it stands to reason the Bengals will be on "Monday Night Football" at least once this year, and will appear -- like the rest of the league -- on Thursday night football. A Sunday night game also is a strong possibility. The Bengals have played seven of those since 2002, including two in the past two seasons. Both of those games came against the Steelers.
While on the subject of nationally-televised, primetime games, it's worth mentioning the Bengals have played in nine Sunday, Monday or Thursday night games since 2009.
They are 2-7 in those contests.
Among the wins was a Thursday night victory over the Eagles in 2012. The other came in the home-opening Monday night win against Pittsburgh last year. Like they did in 2012, the Bengals played games on Sunday, Monday and Thursday nights last season.
Why are such games pertinent for the Bengals? Because part of the knock on the team overall -- but quarterback
Andy Dalton
in particular -- is that it doesn't play well under the glare of the league's brightest nationally-televised lights. Just look at the night-game record since 2009 for evidence. The fact the Bengals have gone 0-4 in playoff games since 2009 also is an indication they don't perform well on the big stage.
To get you ready for the big schedule release, here is a primer of things to expect when the season begins:
Weak schedule.
The Bengals, like the rest of the AFC North, will end up having one of the league's weakest schedules when it gets released. Games against the AFC South -- a division that featured only one team with a winning 2013 record, and two with four or fewer wins -- dot the schedule. The Bengals' overall strength of schedule ranks 23rd, tied with the Saints and Steelers. They enter the year playing teams that had a combined winning percentage of .469 last year. Below the Steelers and Bengals, the Browns rank 26th and the Ravens 28th.
Weak schedules 2.
The teams with the league's easiest schedules have advanced to the AFC Championship Game in each of the past two seasons. The Patriots made it there in 2012 before losing to the Ravens. The Broncos made it there last year, beating the Patriots and advancing to the Super Bowl. This year, the Colts have the league's weakest schedule.
Other crossover.
In addition to playing the AFC South in this year's intra-conference crossover, the Bengals also will be playing the NFC South in the inter-conference crossover.
More opponets.
Along with the standard six home-and-away games with AFC North foes, the Bengals will play four against the AFC South, four against the NFC South and two against the remaining 2013 AFC division champions. Since the Bengals won the AFC North, they are slated to take on AFC West champ Denver and the AFC East-winning Patriots. Cincinnati hosts Denver and travels to New England.
An anniversary?
If the Bengals are given a Thursday night game on Oct. 2, they would be playing on the same night as a unique anniversary. Twenty years ago that same day, Don Shula's
Miami Dolphins
and Dave Shula's Bengals met in a Sunday night game at the old Riverfront Stadium. It marked the first meeting between father and son coaches in major North American sports. In front of more than 55,000, Don's Dolphins beat Dave's Bengals, 23-7. The Bengals ended the 1994 season going 3-13 for a second straight year under the younger Shula.
Bengals' 2014 home schedule:
Baltimore, Cleveland, Pittsburgh, Jacksonville, Tennessee, Denver, Atlanta, Carolina
Bengals' 2014 away schedule:
Baltimore, Cleveland, Pittsburgh, Houston, Indianapolis, New England, New Orleans, Tampa Bay
Information from ESPN Stats & Information used in this report.
April, 23, 2014
Apr 23
10:00
AM ET
CINCINNATI -- With 71 contracts in hand at the start of their offseason workout program, it appears the
Cincinnati Bengals
are about done with free agency this offseason.
More personnel additions or deletions could still come at any time, but it seems linebacker
Sam Montgomery
and punter
T.J. Conley
have put the veritable bow on this year's class of Bengals free agents. We broke down Conley's contract last week.
According to contract details provided by ESPN Stats & Information, Montgomery was signed earlier this month to a two-year deal that will pay him about $540,000 per year. He's slated to begin his tenure in Cincinnati with a cap value of $495,000 in 2014. He could make up to $585,000 in 2015.
Like Conley, none of Montgomery's contract is guaranteed. Montgomery's cap value in both seasons is equivalent to his base salary both years.
Recently signed linebacker
Dontay Moch
also has a guarantee-less contract, but he was signed, like Conley, to a one-year deal. It's quite likely that Moch, a 2011 Bengals draft pick, will be playing to stay off the chopping block when training camp opens in July. Without any guaranteed money, he could easily be a camp casualty. So could Montgomery, but by signing a multiyear deal, the odds of him getting cut are diminished slightly.
Conley isn't anticipated to make it past Aug. 28, the final preseason game. He was primarily signed to give the Bengals an additional kicker so they can keep starting punter
Kevin Huber
's legs fresh as he makes his return from a serious injury last season.
Montgomery came to Cincinnati in free agency after being released by the Texans in the middle of last season. He and two other players were alleged to have committed a violation involving marijuana before a road game.
With no bonuses or guaranteed money, Montgomery's contract is pretty straightforward. Here's the breakdown:
2014
Cap value:
$495,000
Cash value:
$495,000
Signing bonus:
$0
Roster bonus:
$0
Workout bonus:
$0
Base salary:
$495,000
Guaranteed money:
$0
2015
Cap value:
$585,000
Cash value:
$585,000
Signing bonus:
$0
Roster bonus:
$0
Workout bonus:
$0
Base salary:
$585,000
Guaranteed money:
$0
April, 23, 2014
Apr 23
9:30
AM ET
A day-by-day look this week at five position groups where the Cincinnati Bengals have draft needs. We started with quarterbacks, then looked at defensive ends. Now we continue with outside linebackers.
Outside linebackers lost:
James Harrison
, cut in March.
Outside linebackers added:
Dontay Moch
, signed off waivers from Arizona.
Sam Montgomery
, signed out of free agency.*
*The Bengals list both as linebackers, but they have been defensive ends previously.
Draft likelihood:
Medium
Rounds drafted?
Any
Analysis:
The Bengals' plans at outside linebacker are beginning to make sense when you consider who they have added, who they have cut and who they have installed as their new defensive coordinator. This season, it's all about versatility and mobility among the Bengals' linebackers and defensive ends. With the additions of Moch and Montgomery, the defense will get a pair of second-level players who understand what it takes to beat a tight end or an offensive tackle off a block and to get to the quarterback. Both have played hybrid hand-in-dirt defensive end and standing up outside linebacker roles in the past, and it appears they will do the same in Cincinnati. It's also clear based on Paul Guenther's comments earlier this offseason that the Bengals hope to change defensive fronts often, moving their ends to the interior of the line, on occasion, and placing linebackers down there as well. You'll see a steady diet of 4-3 base fronts, but having players such as Moch and Montgomery could allow the Bengals to shift into 3-4 and nickel schemes with some regularity. Guenther was all about creativity in his previous role as linebackers coach, and it appears he'll keep that trait with this defense.
To that end, the Bengals have a draft weekend need -- not a great need, but one nonetheless -- for an outside linebacker who can be flexible enough to adapt to Cincinnati's constantly changing defense. The Bengals also seek an outside linebacker who can help cover in certain passing situations, and who can also be a special teams star, working well on punt and kickoff coverage teams. For weeks, the linebacker's name most connected to the Bengals has been Ohio State's
Ryan Shazier
. That is, of course, if the Bengals feel like spending their first-round pick on a linebacker. It's certainly possible the Bengals believe that is the best route to take, but it's also possible that they want to address other needs first and then circle back around to linebacker later in the draft. If that's the case, Shazier will, of course, be gone. The middle of this draft could hold hidden outside linebacker gems, though. One player who has shot up the draft boards in recent weeks and who could be a second- or third-round option is Georgia Tech's
Jeremiah Attaochu
. Noted for his on- and off-field smarts, he ranks as the fourth outside linebacker on ESPN's draft board. His biggest upside is causing disruption on third downs as an edge rusher. Along with Attaochu, Boise State's
Demarcus Lawrence
and Florida State's
Telvin Smith
and
Christian Jones
could be mid-round options.
I covered Attaochu, Smith and Jones in previous reporting gigs and see NFL potential in all three. I'm probably more a fan of Smith because he seems the most versatile and is better than the rest in coverage and special teams. His size, listed at 218 pounds, is his only real knock. Somehow he played Mike and Will linebacker at FSU at that weight. He's the same height and two pounds lighter than Bengals safety
Taylor Mays
, who has been used in nickel linebacker roles in the past.
Potential picks:
Ryan Shazier (Ohio State), Jeremiah Attaochu (Georgia Tech), Demarcus Lawrence (Boise State), Telvin Smith (Florida State), Christian Jones (Florida State).
April, 23, 2014
Apr 23
8:30
AM ET
Happy NFL Regular Season Schedule Release Day, my friends.
Be sure to check back here around 8 p.m. ET to find out the dates and kickoff times of the
Cincinnati Bengals
' 2014 slate. Before that, though, we'll have a number of updates relating to Bengaldom throughout the day. We start with another installment of the Bengal Quick Takes.
1. Still a 'deep' team?
The question to the left has been on my mind since Tuesday afternoon when a fan posed the question to me and the other NFL Nation reporters who were taking part in our latest edition of "NFL Nation TV." (If you haven't yet heard of or checked out "NFL Nation TV," we're only through two episodes, and
you can see the last one here
. Come back each Tuesday at 2 p.m. ET for an interactive chat that features your questions and our often witty, sometimes funny, responses to them.)
Most specifically, the fan was wondering if it was possible to still consider the Bengals a "deep" team after their relative silence in free agency this offseason. They didn't add any big-name free agents, but lost several stars from the previous team, including defensive end
Michael Johnson
, offensive tackle
Anthony Collins
and receiver
Andrew Hawkins
. I know some national writers have slammed the Bengals for their seeming inactivity in free agency, and I'll admit, it has made me pause, too. But the strange thing about it is that the Bengals still are, in many ways, a "deep" team. While the talent may have taken a slight hit, particularly on the offensive line, they still have depth just about everywhere else. Besides, it had been expected since last summer that at least Johnson or Collins would be gone this offseason, with the emphasis mostly on Johnson. And while Hawkins' departure was handled rather bizarrely by the Bengals' front office, it still doesn't leave a giant hole in the receiving corps. The rest of the already deep and talented unit will return this year, and it could get a boost with a draft addition; as could all the positions. So my answer was that the Bengals aren't quite as deep maybe as last year's team, but they're still pretty deep to me. What do you think?
2. Burfict inches toward deal.
Defensive linemen
Carlos Dunlap
and
Geno Atkins
landed the most significant Bengals contract extensions last offseason, signing deals that could pay them a combined $95 million by the time they end in 2018. This offseason,
Andy Dalton
and
Vontaze Burfict
are hoping to join defensive tackle
Domata Peko
in getting rather sizable raises from the Bengals. Peko signed a two-year, $7.4 million extension earlier this offseason. Now it appears it's Burfict's time to get paid as his representatives and the Bengals are currently in talks, according to NFL Network's Ian Rapoport. It stands to reason that with there being some difficulty agreeing on what Dalton is truly worth that Cincinnati could end up putting his negotiations on the back burner in an effort to go on and get Burfict re-signed. That could especially be the case now that the team has picked up receiver
A.J. Green
's fifth-year option and won't have to worry about extending his contract this offseason. Just the fact the two sides are talking about extending Burfict is positive. It's certainly a credit to him. After going undrafted in 2012, he has made the teams that passed on him pay. He led the Bengals in tackles two years ago and led the league in them last season before making his first Pro Bowl. He's slated to make around $570,000 in 2014, but could easily watch that number balloon to a figure that downright dwarfs the $570,000. Stay tuned.
3. Preseason schedule unveiled.
The Bengals finalized their preseason schedule late Tuesday, providing dates and kickoff times for all four games. The last two, the games at Arizona and the home finale against the Colts, had already had dates and times announced. It's interesting to see how many different nights of the week the Bengals will be playing in the preseason. The opener and finale are Thursday games. The second one is a Saturday night. The third is a Sunday night. It's strange scheduling for the preseason, but it should be a nice challenge down-on-the-depth-chart players will be proud to embrace. After all, many of them trying to make the team will be appearing in that nationally televised Aug. 24 game at Arizona.
4. Bonus money.
As we reported Tuesday, 27 Bengals could make a
combined $3.2 million in bonus money
just for participating in voluntary workouts this offseason. That's a lot of coin. Dunlap and Atkins have the most at stake with $300,000 bonuses up for grabs. Both were at the stadium Monday when reporters were present. It pays to practice.
4b. Charles in court.
Quick note that H-back
Orson Charles
will be in a Kentucky court Wednesday for a pre-trial hearing stemming from his March 31 arrest for wanton endangerment after he allegedly waved a gun at another motorist while traveling on Interstate 75.
5. Remembering dad.
The life of Marvin Lewis Sr. was celebrated Tuesday in McDonald, Pa., the small western Pennsylvania town not far from Pittsburgh where Bengals coach Marvin Lewis Jr. was raised. Bengals.com's Geoff Hobson attended the funeral for Lewis Sr., and
noted that many Bengals assistants
were there, as well as team president Mike Brown, and a community that appreciated all 79 years the elder Lewis lived. Lewis Sr. died last week after a long bout with an illness.
April, 22, 2014
Apr 22
5:35
PM ET
CINCINNATI -- A day ahead of the NFL unveiling the full regular-season slate, the
Cincinnati Bengals
announced they had finalized their preseason schedule.
Previously only two of the Bengals' preseason games had set dates and kickoff times -- the Week 3 game at Arizona and the Week 4 game at home versus Indianapolis.
Before taking on the Cardinals and Colts, the Bengals will travel to Kansas City for an 8 p.m. ET tilt in their Aug. 7 preseason opener. The Bengals are next in action on Saturday, Aug. 16, when they host the Jets at 7 p.m. ET in the Week 2 preseason game.
As previously announced, they then head to Arizona on Aug. 24 for a Sunday night game against former Bengal
Carson Palmer
and the Cardinals. That game will be broadcast nationally by NBC, beginning at 8 p.m. ET. They end the preseason four days later with the Aug. 28 contest at Paul Brown Stadium against the Colts. Kickoff for that game is set for 7 p.m. ET.
Here's that rundown once more:
Thursday, Aug. 7:
at Kansas City, 8 p.m. ET
Saturday, Aug. 16:
vs.
New York Jets
, 7 p.m. ET
Sunday, Aug. 24:
at Arizona, 8 p.m. ET (NBC)
Thursday, Aug. 28:
vs. Indianapolis, 7 p.m. ET
Oh, and again, the NFL regular-season schedule will be announced at 8 p.m. Wednesday. Prepare yourselves.
April, 22, 2014
Apr 22
1:00
PM ET
April, 22, 2014
Apr 22
10:30
AM ET
CINCINNATI -- By showing up to Paul Brown Stadium these next few weeks, several
Cincinnati Bengals
could collectively earn more than $3.2 million in bonus money, according to ESPN's Stats & Information.
Twenty-seven Bengals have workout bonuses provisions in their contracts related to their attendance at strength and conditioning workouts and voluntary OTAs. Combined, the group has $3,205,000 at stake just for appearing and participating in the optional practices. The latest collective bargaining agreement places stipulations on the types of team-sanctioned practices and the number of them that players can take part in during the offseason. Participation, in many cases, still can lead to additional compensation.
Defensive linemen
Carlos Dunlap
and
Geno Atkins
have the most at stake when it comes to the bonuses. They both stand to earn $300,000 in 2014 for participating in the workouts.
Both were spotted Monday when the locker room was opened to reporters. There are other workouts continuing this week, but the media are only permitted to meet with players on Monday. Players won't be available again until next Monday.
As a result, it's hard to tell who has made it back for voluntarily workouts. Players were in and out of the locker room during the time it was open, but many who weren't seen could have been in other parts of the building.
It should be noted that even players who don't have bonus provisions in their contracts will still show up just to work out. For example, receivers
A.J. Green
,
Marvin Jones
and
Mohamed Sanu
aren't due workout bonuses this year, but each was at the stadium Monday.
April, 22, 2014
Apr 22
9:30
AM ET
A day-by-day look this week at five position groups where the Cincinnati Bengals have draft needs. We started with quarterbacks, and continue with defensive ends.
Defensive ends lost:
Michael Johnson
, signed with Tampa Bay in free agency.
Defensive ends added:
None*
*Dontay Moch and Sam Montgomery were added in free agency. The Bengals list both as linebackers, but they have been defensive ends previously.
Draft likelihood:
High
Rounds drafted?
Any
Analysis:
While the likelihood the Bengals will draft a defensive end is high, the position -- like most in this draft -- doesn't rank high on the list of immediate impact positions. They aren't looking for defensive ends who can contribute right away on defense because they're rather stacked at end with
Margus Hunt
,
Wallace Gilberry
and
Robert Geathers
all looking to get repetitions and contributions this season. Along with fellow end
Carlos Dunlap
, each of the ends could see time playing both edge-rushing positions as new defensive coordinator Paul Guenther's system calls for creative stunts and rushes featuring mixed-and-matched line packages. It's one reason why you shouldn't be too surprised the Bengals signed hybrid rushers in Montgomery and Moch. Guenther's defense could have linebackers rushing off the line, too.
Still, it stands to reason the Bengals ought to add an end to fill Johnson's old spot, as well as start preparing for a future without some of the veterans who occupy the position. Geathers is 30 and Gilberry will turn 30 during the season. While both may have several seasons left in them from an age standpoint, they may not necessarily have many more with the Bengals from a contract standpoint. Both are free agents after the 2015 season. In the event one or both aren't re-signed during the 2016 offseason, then the Bengals would like to have another end they have already groomed right into a contributing role. This could be the year that future defensive end arrives. Who that player is depends completely upon when the Bengals decide to select a defensive end. They could draft an end in the first round, the second or the sixth. Most draft insiders believe they'll try to pick an end earlier rather than later. If they go early, there is a slight chance Auburn's
Dee Ford
, one of the more heralded players in this draft, is available at No. 24 when the Bengals make their first-round pick. Missouri's
Kony Ealy
is another option who, despite being rated the No. 2 defensive end on the board by ESPN's draft team, could be available at 55th overall in the second round.
Along with Ford and Ealy, the Bengals might also have interest in Oregon's
Taylor Hart
and West Virginia's
William Clarke
. Both are listed at taller than 6-foot-6. While they could be mid-to-late-round picks, they best fit the body style the Bengals will be missing with Johnson's departure. As a 6-foot-7 end with great leaping ability, a large wingspan and large hands, Johnson was noted for batting down passes at the line of scrimmage. He tied for the league lead in batted passes last season. Part of replacing him will include getting players who can replicate some of that. Conventional wisdom says the taller the body and the longer the arms, the better for deflecting passes.
Potential picks:
Dee Ford (Auburn), Kony Ealy (Missouri),
Scott Crichton
(Oregon State),
Stephon Tuitt
(Notre Dame), Taylor Hart (Oregon), William Clark (West Virginia).
April, 22, 2014
Apr 22
8:30
AM ET
The week keeps humming right along. Good Tuesday morning to you. While the
Cincinnati Bengals
won't be talking again to reporters until next Monday, you still ought to see a little news from them here and elsewhere for the rest of the week. So be on the lookout and keep checking back.
Let's get to this edition of the Bengal Quick Takes, shall we?
1. Andy wants to be paid.
As I'm sure you read here, there and virtually everywhere Monday, the Bengals quarterback turned into a more relaxed, more confident and even more comedic version of himself when he
spoke for the first time to reporters about his contract talks
. They are occurring, he acknowledged, adding that his camp is doing everything it can to get him the best deal. While Dalton didn't talk numbers -- he wouldn't anyway -- he does believe quarterbacks ought to get large contracts because they are the "face of [their] franchise." Multiple starters are being given upwards of $20 million annually on second and third contracts. Asked if he felt he was the face of this franchise, Dalton didn't flinch when he said, "I do." Finally, he's starting to claim full control of his team; just like any truly competitive quarterback would do. He didn't seem to fully grasp that style of leadership and ownership previously. We'll see if he's thinking this same way by January. If so, maybe a more confident-than-ever Dalton goes into the playoffs. He is perfectly within his rights of wanting a competitive contract offer this offseason, but does he deserve one? Does he deserve $20 million a year? At least $18 million? Therein lies the rub. Some salary-cap experts believe $15 million a year could be the base of where his contract talks begin. People like me believe that ought to be the 10-foot, vaulted ceiling.
2. What A.J. Green's option means.
It wasn't the most shocking news, but it was news that had to come at some point before May 3, nonetheless. According to the NFL Players Association records and a Bengals official,
the team picked up
Green's fifth-year option Monday. It means Green will be here another two seasons as the team tries to work out a longer-term deal that might keep him in Cincinnati well into the future. Like Dalton, Green's rookie contract expires next offseason. As a top-10 pick, though, the former No. 4 overall selection has provisions in his contract that permit being extended a fifth-year deal. He also will be slated to make in 2015 the equivalent of the 2014 transition tag compensation for receivers. That figure is around $10.1 million. Since that money will count toward the 2015 cap, the Bengals and their more than $24 million remaining on this year's cap can focus more on Dalton's extension, as well as linebacker
Vontaze Burfict
's. With the draft on the horizon, though, it's still hard to really see them offer Dalton a 2014 salary that competes with the aforementioned projections. They still would probably have enough to adequately pay Burfict, but then the question becomes, where does the money for the draft picks come from? Even though Green is taken care of for 2014, there's still some number crunching that has to be done.
3. Gio's mission.
If you have the time, be sure to sit down and check out this lengthy, but very, very good piece from NFL.com on running back
Giovani Bernard
. NFL Network's Aditi Kinkhabwala
traveled to Haiti with Bernard earlier this offseason
to tell a story about the back that few knew. Aditi's tweet promoting the story said it all: "He lost his mother, then his home. But [Bernard] kept working. Now he's building a legacy to his mom." I don't want to give all the details away, so just check it out for yourself. Well worth the time.
4. Huber's comeback.
You'll read a little more from me on this later Tuesday, but punter
Kevin Huber
spoke briefly about his return to the field following the devastating blindside hit at Pittsburgh last December that ended his season and broke his jaw. The wires and stabilizing head piece are long gone. Now it's all about focusing on kicking and building up to kicking with the same ferocity and fearlessness as before. Here's Bengals.com's Geoff Hobson
offering a few of Huber's thoughts on his return
.
5. 'NFL Nation TV' is back.
We're going to start calling these Personal Plug Tuesdays. Seriously, though, be sure to drop everything and come to ESPN.com at 2 p.m. ET where yours truly will be helping host the second episode of our new "NFL Nation TV" show. The show is interactive, meaning you can chat with other NFL fans and ask our panel questions that will be read live. This week, Raiders reporter and lead host Paul Gutierrez and myself are chatting with Browns reporter Pat McManamon.
April, 21, 2014
Apr 21
5:15
PM ET
CINCINNATI -- Consider this
Andy Dalton
(with a little
A.J. Green
on the side) Day on the
Cincinnati Bengals
blog.
Whenever a quarterback talks, we in the media listen. Whenever a quarterback with a track record of being boring in news conference settings happens to do a 180-degree turn and showcases a more charismatic, carefree and talkative version of himself, then we really listen.
The latter was the case Monday when Dalton
addressed for the first time this offseason his contract talks
with the team. His rookie deal expires next March, but the Bengals have expressed interest in extending the contract this offseason.
Still, with Dalton near the end of his first deal and inching closer toward the possibility of playing a year in contract limbo, the "what if?" question pops up. What if the Bengals aren't able to sign him to the extension he seeks? What if they aren't able to franchise tag him next season? Then what?
Then they turn to this year's draft and try to hone a player from it who could eventually take over for him.
Dalton doesn't believe that's happening. He doesn't think he's getting replaced by anyone, regardless of whether a quarterback gets added to the Bengals' mix following next month's draft.
"There's been a lot of talk that they're going to draft another quarterback, but they're not bringing in another quarterback to replace me," Dalton said. "From everything they've told me they're not bringing in anybody to compete. So I'm not worried about it."
Cincinnati does need a backup just in case plans to extend Dalton fall through. The Bengals also need a backup in the event Dalton gets retained for the long haul because
Jason Campbell
has only been signed to a one-year deal, and could be out of Paul Brown Stadium this time next year. With
Josh Johnson
and
Zac Robinson
also nearing the end of their contracts, the Bengals would be wise to invest in a quarterback this offseason who could become a true backup to Dalton in the event any of the other three are cut this fall or not brought back next spring.
For now, there are any number of quarterbacks who the Bengals could draft. The more popular possibilities include Louisville's
Teddy Bridgewater
and Georgia's
Aaron Murray
. Bridgewater has the higher grade of the two, although he has slipped out of top-10 selection material on some mock drafts to being completely out of the first two rounds. If by some stroke of luck Bridgewater is still on the board in the third round when the Bengals pick, it might not be too far fetched to believe they would go after him. A mobile runner with a big arm, he could fit new offensive coordinator Hue Jackson's system quite well.
Murray has garnered a lot of attention this spring primarily because he is the former quarterback at the University of Georgia. In addition to the Bengals' apparent penchant for drafting former Georgia products -- six former Bulldogs are currently on the roster -- he has experience having played with some of them. He spent one season at Georgia throwing to Green. Bengals offensive guard
Clint Boling
was on the offensive line that year, too. Bengals safety
Shawn Williams
also played with Murray, as did H-back
Orson Charles
, who played both college football and high school ball with him. Charles and Murray played at Plant High School in Tampa, Fla. at the same time.
Alabama's
AJ McCarron
and Pitt's
Tom Savage
are two other quarterbacks who could be on the board in the third-fifth rounds.
Whichever quarterback ends up in stripes, Dalton still isn't worried about his spot getting taken.
"I read something where we never drafted a quarterback to be the backup," Dalton said. "I heard it's been a long time since we've done that. But that's kind of what they're planning on doing."
The last time Cincinnati drafted a quarterback who didn't start right away was 2007, when
Jeff Rowe
was drafted in the fifth round. He played just one game. The year before that,
Reggie McNeal
was taken in the sixth round. Two years before that,
Casey Bramlet
was drafted in the seventh. The only other quarterback, aside from Dalton, the Bengals drafted was first overall pick
Carson Palmer
. He started from 2003 until Dalton took over in 2011. Later that season, Palmer was traded to Oakland before eventually moving on to Arizona. The Bengals face the Cardinals on the road this preseason.
April, 21, 2014
Apr 21
4:16
PM ET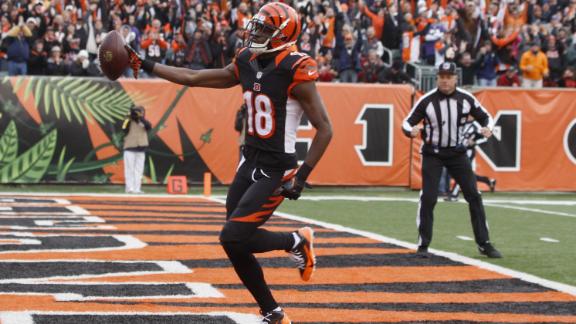 CINCINNATI -- The Bengals have, as expected, exercised a fifth-year option on receiver A.J. Green, according to NFL Players Association website.
Green was eligible for the fifth-year option because he was the No. 4 overall pick of the 2011 draft. Per stipulations outlined in the latest collective bargaining agreement, players drafted in the first round can be offered a fifth year on their four-year rookie deals. For that fifth season, players taken in the top 10 will be paid the same as what was already slotted for transition tag players at their position.
Receivers given transition tags in 2014 are slated to make $10.1 million. Green would be similarly compensated in his fifth year, which would officially begin next March. This coming season, Green will be paid $6.3 million on the last year of a four-year, $20 million first contract.
Green, who returned to Cincinnati over the weekend for Monday's start of voluntary offseason workouts, was asked earlier Monday about how he would feel if the Bengals ended up offering him a fifth-year option as opposed to working out a longer term contract extension this offseason.
"It's what's in the new CBA. There's nothing I can do about it," he said. "That [affects] everybody."
He added that he has been staying away from the talks involving his representatives and the Bengals.
"I don't pay attention to that stuff. I'm still under contract," Green said. "Like I say, my body of work speaks for itself. Whenever the time's right, it's right. That's one thing I don't get involved with. I just go out there and play the game and whatever happens, happens."
April, 21, 2014
Apr 21
3:15
PM ET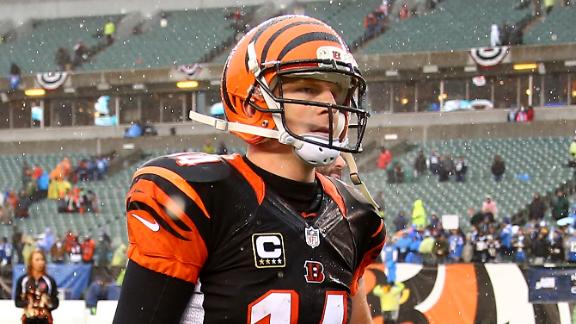 CINCINNATI -- It has been a long time coming, but finally,
Andy Dalton
is starting to say the right things.
Whether they're true, well, that remains to be seen.
But it was at least refreshing Monday morning to hear the
Cincinnati Bengals
quarterback speak with some of the assertiveness that he has lacked to this point in his career. It was likewise refreshing to hear him say unequivocally and unflinchingly that he felt
he
was the
face of the organization
and that he felt
he
didn't do enough to help the Bengals win their playoff game against the
San Diego Chargers
in January.
[+] Enlarge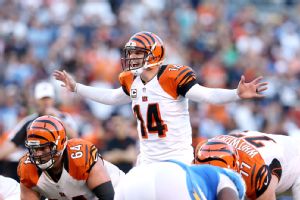 Stephen Dunn/Getty ImagesNew offensive coordinator Hue Jackson wants Andy Dalton to take on an even bigger leadership role on the team.
"For me to know that I could have played better [in the playoff game], it's tough," Dalton said. "Obviously the turnovers killed us. I wish I could have done some things differently in the game."
Dalton threw two interceptions and lost a fumble trying to dive for a first down in the 27-10 loss to the Chargers. Each of his turnovers came in a troubling second half and began with Bengals trailing by four.
"I've watched it several times," Dalton said of the playoff game. "We had chances."
They did. But those chances are over and done with, long cast into the abyss of Bengals history. Now it's all about the future and what Dalton can do next for this franchise that is 26 seasons removed from having been to a Super Bowl. Some believed 2013 was Cincinnati's opportunity to get back to the league's championship game with this group of players.
Dalton disagrees.
"We have improved every year," he said. "We haven't gotten the win in the playoffs we had been planning to get, but the team has gotten better overall and we just got to continue to improve."
Those improvements must begin and end with him. And he knows that. He's always known it, in fact. But the problem has been that he hadn't fully expressed how much he felt he had to improve and what he specifically needed to improve -- until now.
The Dalton who addressed reporters for nearly 20 minutes in his corner locker Monday was far from the same man who typically offers cliche after tired cliche in news conferences. He was at times feisty. At others, a little defensive. He also was occasionally quirky and actually kind of funny. During one exchange with a reporter who asked which quarterback Dalton felt he best compared to, Dalton paused and started counting on his fingers.
"Let's see here,
[Joe] Flacco
,
[Aaron] Rodgers
,
[Drew] Brees
and who else? Oh, yeah,
Matt Ryan
," Dalton said, laughing. "All those top guys."
Each of those quarterbacks makes more than $20 million per year. Dalton will finish his four-year, $5.2 million rookie contract making about $1.7 million this year.
The old Dalton wouldn't have even told a joke like that, let alone tell it with the appropriate timing and humor. This was a new Dalton and, from a locker-room standpoint, an improved Dalton. But will it end up being the real Dalton?
Only time will tell.
For now, at least Dalton is finally loosening up, taking ownership and saying this team is his.
There are two words that can explain this personality change: Hue Jackson.
Credit Cincinnati's new offensive coordinator for sending the right message through the media in February when he promised from the NFL combine to be just the disciplinarian the team needs. He felt there were players on the team who hadn't been coached hard lately who needed to be. Dalton was one of them, he said. He wanted Dalton and receiver
A.J. Green
to blossom into bigger leaders as they entered their fourth seasons.
"If a guy's not performing at a high level, there's a reason," Jackson said in February. "They have work to do, but it's my job as leader of the group, along with the head coach, to create that environment to be all they can be."
Jackson has been known for much of his career as being a Mike Zimmer-type of coach, one who isn't afraid to check players. He will be the first to curse them out when they've done wrong and shower them with praise when they've done right. It's clear that Jackson's prodding has been received by Dalton.
"He's going to push guys," Dalton said of Jackson's coaching style Monday. "[Former offensive coordinator] Jay [Gruden] had a different style than what Hue is going to bring. Guys are just going to have to get used to how Hue does things. Obviously, we haven't been out to practice yet, so I don't know exactly what it's going to be like with Hue running everything now, but it is going to be a little different than Jay."
That's not the only thing that's going to be different. It seems Dalton will be different too. For Bengals fans, that could be a good thing.