November, 25, 2014
Nov 25
4:25
PM ET
CINCINNATI -- Two weeks after slipping all the way to 16th in ESPN's NFL Power Rankings, the
Cincinnati Bengals
climbed back into the top 10 on Tuesday, thanks to a pair of road victories.
On the heels of their 22-13 win at Houston on Sunday -- which followed their 27-10 win at New Orleans the week before -- the Bengals are ranked 10th.
The Bengals moved up three spots since last week, meaning they have gone up six places since voters dropped them for losing to the Browns on national television at home on Nov. 6.
Tuesday's placement made sense. No. 10 is exactly where I had the Bengals on my ballot. They deserved to make a significant stride because of the difficult nature of having to win on the road in front of two raucous fan bases, along with a few of the losses this past weekend from a few of the other teams around them.
Cincinnati might not move up much next week if it beats Tampa Bay, but it should. Not only do the Buccaneers appear to be showing some semblance of life in recent weeks, but they have three former Bengals on the roster who are eager to get back at their former team. The Bengals also are taking part in their third consecutive road trip. To be undefeated by the end of all three is a feat that can be tough for any team to achieve.
It's also telling that one week after all the AFC North teams were within five spots in the middle of the Power Rankings, there now is slightly greater distance between them, and the Bengals are leading that separation. The division that is statistically the toughest in NFL history at this stage of a season, features four teams all with seven wins. At 7-3-1, the Bengals lead merely because they have the half-game lead on everyone else because of the tie.
This week, six spots separate all four teams.
As they keep trying to climb the Power Rankings, the Bengals not only have to win this week over the two-win Bucs, but they also have to manage a way past an extremely challenging final four weeks. Each of the teams they'll play after Tampa Bay has a 7-4 or better record.
November, 25, 2014
Nov 25
4:00
PM ET
Every team in the AFC North is at least three games over .500, and every team has playoff hopes.
The situation will sort itself out the next five games, but studying the schedules of the Browns, Bengals, Ravens and Steelers shows that Baltimore has a clear advantage, and the toughest roads belong to the Bengals and Browns.
Not all agree it's that tough for the Bengals, though. The website numberfire.com lists the Ravens with the best chance of making the playoffs, though the Bengals are not far behind. Numberfire lists the Ravens with a 59-percent chance, the Bengals at 56 percent, the Steelers at 50 percent and the Browns at just 23 percent.
None of the four has an easy finish, though at this point of the season nothing is easy.
Here's a look:

The Baltimore Ravens
play San Diego, at Miami, Jacksonville, at Houston and finish at home against Cleveland. Those teams are a combined 26-29 (.472). ... Three games are at home, three against winning teams. ... Baltimore is the only North team whose remaining opponents are below .500. ... After winning on the road impressively in New Orleans, the Ravens have to feel they control their fate if they keep winning. ... The flip side: The opponent won-lost is skewed by one-win Jacksonville. But Baltimore plays just two teams that have won at least seven games, fewest of the North teams, and it has three of their last five at home.
The Cincinnati Bengals
play at Tampa Bay, Pittsburgh, at Cleveland, at Denver and end against Pittsburgh. ... Yes, it's as tough as it sounds. ... The combined record of those teams: 31-24 (.564). ... Three of five are at home, four of five against winning teams. ... How about that final four for a gantlet? Pittsburgh, Cleveland, Denver and Pittsburgh again. ... Splitting those four game might mean the Bengals miss the playoffs. ... Three are within the division, and Denver is among the AFC's best. ... This finish is the most difficult in the division.
The Cleveland Browns
play at Buffalo, Indianapolis, Cincinnati, at Carolina and at Baltimore. ... That combined record is 30-24-1. ... The Browns also play four winning teams, with three of the final five on the road. ... That the Browns are even in the discussion is good news for Cleveland, but now the Browns would like to finish the task they've started. ...It's not easy, especially since the Colts are one of the non-division games. That's an exceptionally tough late draw. ... The Browns would love to be alive for the season finale in Baltimore, but to do so they have to take care of business in three of the next four games. Buffalo is close to a must win.
The Pittsburgh Steelers
play New Orleans, at Cincinnati, at Atlanta and finish at home against Kansas City and Cincinnati. ... The combined record: 29-24-2. ... Three are at home, three against winning teams. ... Finishing at home the final two weeks helps, but Pittsburgh's hopes might come down to how they fare against Cincinnati. ... Do the Bengals split, or does one team escape with two wins? If the Steelers can sweep, that might propel them. ... The negative about the final two home games: They figure to be against two teams fighting for their playoff lives as well.
November, 25, 2014
Nov 25
3:55
PM ET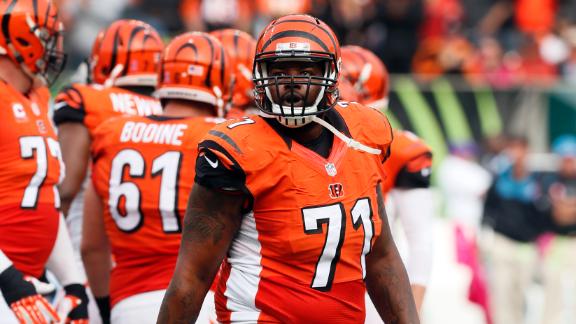 CINCINNATI -- Andre Smith's left triceps injury was far worse than the Cincinnati Bengals had originally hoped, forcing him to be placed on season-ending injured reserve Tuesday.
An MRI on Monday revealed he tore the triceps.
The starting right tackle was hurt trying to block Houston Texans defensive end J.J. Watt in the first quarter of Sunday's 22-13 win at NRG Stadium. As Watt pushed off him and jumped for an Andy Dalton throw near the Bengals' goal line, Smith pulled up. Watt ended up swatting the pass for his seventh deflection this season. Smith fell to his knees, holding his arm, before medical staff was summoned.
With Smith now done for the year, the Bengals on Tuesday signed free-agent lineman Jamon Meredith, a sixth-year player who most recently played for the Packers. He was waived by Green Bay on Nov. 15, exactly 11 days after the Colts let him go. On Indy's roster for nine games, Meredith played in four of them. He was inactive for one game in Green Bay before his departure.
November, 25, 2014
Nov 25
1:00
PM ET
A quick observation of quarterback
Andy Dalton
and how he played in the
Cincinnati Bengals
' 22-13 win in Week 12:
Dalton
Remove Dalton's pick-six Sunday -- one ESPN's Kevin Seifert notes should have been
negated because of an uncalled neutral-zone infraction
on Houston's
Jadeveon Clowney
-- and he had yet another impressive performance behind center.
Interception included, Dalton posted a 68.6 completion percentage, the third-highest mark he has had this season. Much of his success throwing the football stemmed from his ability to get the ball out quickly and into the hands of his receivers, who primarily ran shorter routes. Of the 35 overall passes attempted, 29 traveled 15 yards or less in the air, according to ESPN Stats & Information. All but 20 of Dalton's 233 yards also came when he threw passes that traveled 15 yards or less in the air. Stats & Information added that Dalton took an average of just 1.88 seconds before throwing passes, the quickest release in the league this week.
Dalton faces a Tampa Bay defense that is 22nd against the pass, allowing 252 yards per game.
November, 25, 2014
Nov 25
8:15
AM ET
CINCINNATI -- Maybe when it's all said and done and we look back at the season, we will point to Nov. 6 as the night the light flipped on for the
Cincinnati Bengals
.
Many Bengals already have already made that claim, going so far as calling it the moment their season turned completely around. They felt the stunning and embarrassing
24-3 loss
at home on national television to the rival
Cleveland Browns
that night provided a wake-up call; one they desperately needed.
Iloka
"It struck a fire in all of us," safety
George Iloka
said.
It's about time.
Since the defeat, the Bengals have played better in all three phases, rolling to consecutive wins at New Orleans and Houston.
What exactly changed?
"When we were playing down it was a different demeanor, different mindset," Iloka said. "That's been the difference the last two weeks, just the attitude. Getting embarrassed by Cleveland and the fact that it came by that many points, that lit a fire in a lot of guys and we've been playing together as one unit and a sound defense playing for one another. Mistakes? We don't care. We just go out there and keep fighting and usually that effort makes up for all of it."
The defense, which had allowed teams to rush for more than 100 yards in seven straight games earlier this season, hasn't permitted more than 75 on the ground the past two weeks. The offense that looked so atrocious against the Browns, amassing just 165 yards of total offense, has gone over 365 in each of the last two games.
Whitworth
"This team finally got the feeling that, you know what? We have to go play with a little bit of swagger and a confidence and get after people instead of letting the game happen," veteran offensive tackle
Andrew Whitworth
said. "Cleveland was a game that really showed us that. We felt like we were prepared for that game, but we went out there and just kind of waited for something to happen for us, instead of coming out with really that confidence and swagger of having that zip on the ball, the running crisp routes and powerful running.
"This team is finally taking to that. If we want our destiny, we got to go out and make it. We can't wait for it to fall in our hands."
It actually is rather amazing the Bengals lost sight of that fact. Often in the offseason and preseason, offensive coordinator Hue Jackson spoke to players and reporters alike about how he wanted his unit specifically to go out and take what it wanted. He wanted his players to play with the same kind of on-field confidence that borders on arrogance that Bengals defenders did for so many years under former coordinator Mike Zimmer.
In fact, it was Jackson who was the first around the facility to repeatedly hammer home in interviews the point about the team making its own destiny, and not letting that destiny get dictated by another team.
As much as fans don't want to read this, and as cliche as it might seem, sometimes all it really does take is a big loss for a team to snap to attention and realize how good it can be.
Then again, who knows? Maybe this will all be short-lived. It's up to the Bengals to keep whatever mentality they have now for the rest of the season.
November, 25, 2014
Nov 25
8:00
AM ET
Happy early Thanksgiving!
Join us today at 1 p.m. ET, 10 a.m. PT for ESPN NFL Nation TV's Spreecast as episode No. 33 gives a Turkey Day preview, revisits
Odell Beckham Jr
.'s insane three-fingered catch, and discusses several teams' futures given the varying quarterback situations they have inherited this season.
Host Coley Harvey (
Cincinnati Bengals
reporter) and co-host Mike Wells (
Indianapolis Colts
reporter) will be joined by Michael C. Wright (
Chicago Bears
reporter), John Keim (
Washington Redskins
reporter) and Phil Sheridan (
Philadelphia Eagles
reporter).
Plus, Rob Demovsky (
Green Bay Packers
reporter) and Mike Reiss (
New England Patriots
reporter) will debate in this week's "Main Event" about Sunday's big game at Lambeau Field that will feature MVP candidates
Aaron Rodgers
and
Tom Brady
.
Viewers are encouraged to log in and ask the panelists questions as well as contribute
in the chat feature
.
November, 24, 2014
Nov 24
7:00
PM ET
CINCINNATI -- Before we move on from Sunday's win over the
Houston Texans
, let's take a peek at how Pro Football Focus graded the
Cincinnati Bengals
in Week 12.
As always, take the grades with a certain grain of salt because they can end up being later amended. They can also sometimes be the byproduct of particular schemes or coverages or set ups a team happens to play that week.
Here are a few Bengals grades and notes following the 22-13 win:
OFFENSE
It certainly wasn't pretty, but right offensive tackle Marshall Newhouse's protection for quarterback Andy Dalton was just good enough on the 73 plays when he was thrust into the fray by an unexpected injury to starter Andre Smith. He didn't allow possible league MVP J.J. Watt to sack the quarterback, and held his own in other quarterback pressure situations.
Still, as expected, the grades weren't kind to Newhouse. They have been worse, but they certainly could have been better, and he knows the reasons why. According to PFF, he allowed a quarterback hit and hurry, en route to a minus-2.9 pass block grade. While he was only beaten on two pressures, Newhouse still was turned around a lot by Watt, beaten on a handful of other plays that turned out favorably for the Bengals because Dalton got the ball out quickly.
Dalton had a quick trigger, taking the ball from snap to release in an average 1.88 seconds, per PFF. That was the best among quarterbacks in Week 12 entering Monday night's game. Slants and screens were among the shorter routes the Bengals employed to make sure he got it out before Watt could get his hand up and swat the ball away. That also was the tactic employed to help lessen the amount of time Newhouse had to hold his blocks.
Per PFF, receiver James Wright saw a season-high 43 snaps. He didn't catch a pass, although he was targeted twice.
Houston blitzed on 18 of Dalton's dropbacks. On them, he was 10-for-17 for 102 yards and the infamous pick-6 that occurred with a lineman actually set up in the neutral zone (officials didn't see it) and the house being sent. Dalton also scrambled once.
Of his 35 passing attempts, Dalton didn't throw a single pass 20 or more yards in the air. Twenty-five of them traveled within nine yards of the line of scrimmage.
Of the combined 132 rushing yards backs Giovani Bernard and Jeremy Hill combined for, 72 (54.4 percent) came after contact.
DEFENSE
Early in the season, Wallace Gilberry was the defensive end getting the most recognition. Now it's Carlos Dunlap who is. The lineman ended up with a plus-4.3 grade, creating pressures on five of his 43 pass rushes. One of those was a sack. He also had four tackles against the run. As a result of his play, PFF named Dunlap an honorable mention selection to this week's Team of the Week.
Geno Atkins continues to start gaining traction in the pass rush. He has 28 total pressures on 329 pass rush snaps this season. His 6.5 pass rushing productivity rating (one of PFF's signature stats) ranks 13th among defensive tackles.
November, 24, 2014
Nov 24
6:15
PM ET
CINCINNATI -- As he grabbed off the rack in his locker a hanger that held the navy
Houston Texans
jersey that prominently featured in all white the word "Blue" on its back,
Cincinnati Bengals
running back
Jeremy Hill
shook his head with a look that bordered on disgust.
He wasn't bothered by the jersey, though. He was actually quite proud of that.
Hill
It was the question he had just heard that made him vigorously shake his head.
"Were you as surprised as the rest of us to see
Odell Beckham
's catch Sunday night?" a reporter asked Hill, the rookie running back who played college ball at LSU with Beckham.
Not at all.
After spending more than two years playing and practicing alongside Beckham, Hill said he regularly saw from Beckham catches like the awkward, falling, backward jumping, one-handed -- three-fingered, actually -- reception that many are
calling one of the greatest in NFL history
. The
New York Giants
receiver's catch on Sunday night has been fodder for a bevy of memes, and has even the most casual football observers stunned by the grace, agility and athleticism it took for Beckham to bring in the unique haul.
But while the rest of the world rubs its eyes at not only Beckham's grab, but also other impressive receptions from Miami's
Jarvis Landry
, Hill can only smile and reminisce.
"They practice that stuff every day, just catching balls one-handed and catching it in a situation where you've got to go make a play," Hill said, thinking back to practices at LSU with the pass-catching pair. "That's just something I've seen for a few years now and those guys are very good that way."
As Hill spoke Monday afternoon, he was holding in his hand the dirty, game-worn jersey of another former LSU Tiger,
Alfred Blue
. After the Bengals' 22-13 win at Houston on Sunday, Hill and Blue traded their pro jerseys as a matter of respect.
Back to Beckham's grab. Hill remembered Landry making a catch similar to Beckham's last year. In a game last November against Arkansas, Landry extended his body horizontally to his left as a defender was between him and the ball. Somehow, Landry stuck his left arm around the defender's head and one-handed the pass from fellow current NFLer, quarterback
Zach Mettenberger
. At the end of the dive, Landry still came up with the ball without it touching the ground or the defender.
"Everyone's fascinated by it, but I've been trying to tell everybody about LSU guys," Hill said. "I guess I'm going to have to keep preaching about it until people start believing me."
November, 24, 2014
Nov 24
5:30
PM ET
CINCINNATI -- The problem with being J.J. Watt, one
Cincinnati Bengals
offensive lineman surmised, is that everyone around Watt wants to be just like him.
Following the Bengals' 22-13 win over the
Houston Texans
on Sunday, Pro Bowl offensive tackle
Andrew Whitworth
provided the following assessment of Houston's superstar defensive end, and the young linemen who seem to be mimicking him.
"One thing you have to remember about this defense -- and J.J. Watt is a great example -- they take a lot of chances," Whitworth said. "A lot of the plays he makes are doing stuff you don't normally do in that situation; jumping around a block, or those kind of things.
"It's feast or famine. When the right team has the right playcalling and you do that, it's going to break out."
The Bengals broke out for 137 yards rushing on 43 carries. Their rushing average has been significantly better in other games this season, but they had a knack for finding the right holes on some timely runs that tore into the middle of the field and gashed the Texans for big yards. According to Whitworth, those carries, and some of the short-yardage throws quarterback
Andy Dalton
completed thanks to vast cornerback cushions, stemmed from the Texans' high risk style of play on the defensive line.
All last week, Bengals coaches and players remarked about how they could tell through film study that third-year end
Jared Crick
and rookie
Jadeveon Clowney
were among those on the line who were beginning to imitate Watt's high-intensity, erratic style of play. It's not necessarily a technique that works for everybody, but clearly it does for Watt, who has a well-documented knack for knocking down passes at the line and mauling interior linemen to sack quarterbacks.
Through 11 games, Watt has 9.5 sacks -- he didn't have any on the Bengals -- and seven batted passes.
To Whitworth's broader point, when the whole line tries emulating Watt, they create the "feast or famine" scenario he felt played out regularly Sunday.
"Naturally, with [Watt] being the leader of the group, some of the other guys try that stuff, too," Whitworth said. "Sometimes with that, they do it too much and you find a crease. We did that a couple of times running the football. The thing is with them, you just kind of have to stay diligent and commit to [running] it."
En route to the win, the Bengals picked up 370 yards of total offense. Of the running plays, they had a 30-yard gain from
Jeremy Hill
, and 19- and 13-yard runs that
Giovani Bernard
and Hill had on successive first-quarter plays. Later in
that early drive
, Bengals receiver
Mohamed Sanu
pushed through a cornerback for a 6-yard touchdown catch that capped a 13-play, 94-yard series.
November, 24, 2014
Nov 24
3:00
PM ET
CINCINNATI --
Andre Smith
had just gone to the ground, resting on his knees as trainers rushed out to check his left arm.
As soon as he saw the starting right tackle felled by the injury,
Marshall Newhouse
pulled on his helmet and jogged into the
Cincinnati Bengals
' huddle, preparing for his biggest challenge of the season.
Newhouse
When Newhouse finally dipped low into his stance on the right edge, standing opposite him was
J.J. Watt
, the
Houston Texans
' revered defensive end whose resume of SportsCenter Top 10 moments is exhaustive. Routinely, Watt had abused the linemen facing him with a series of bull rushes and ball swats. In fact, on the very play Smith had been injured, Watt disengaged from the lineman before jumping and knocking down his only pass of the game.
It was a typical Watt play.
But once Newhouse started building his snap count Sunday at NRG Stadium in Houston, Watt wasn't recording very many of his hallmark deflections and stops.
"I don't think I blocked him perfectly, but I did pretty well," said Newhouse, who, according to Pro Football Focus, played 73 of the Bengals' 83 offensive snaps in place of Smith. "There's some things I can correct. I can try to stay patient and try to stay within myself. That's the best I could do given that situation.
"Definitely feel like I could block him better than I did, but we still won and he didn't make that many impact plays."
Watt, who entered with 9.5 sacks, had none Sunday. He also had no other pass deflections after the tip over Smith, and generally found getting into the Bengals' backfield difficult. Only once did he seem to truly bug Newhouse, and that was when one of his fingers accidentally slipped into Newhouse's facemask, poking him in the right eye.
Newhouse's performance impressed his teammates.
"He put on a hell of a performance dealing with probably the MVP of the league," said right guard
Kevin Zeitler
, who played next to Newhouse. "All the credit in the world to him for what he did."
Newhouse said his eye should heal OK. He is expected to see an ophthalmologist Monday.
Smith also is expected to get evaluated Monday, undergoing an MRI the team hopes will come back with a favorable result. FOX Sports' Mike Garafolo reported during the game that Smith had a
"significant tear to his triceps."
After the game, Bengals coach Marvin Lewis called it a biceps injury. A Bengals source also said the team wasn't yet sure of the severity of the injury, but would have a better idea about it following Monday's MRI.
After his own injury scare, Newhouse only missed one offensive play. Fueled by adrenaline, he somehow battled through blurred vision.
"For a while, it was in and out and blurry," Newhouse said. "I was probably at like 70 percent vision."
Newhouse had other motivations for making it through the game. He was playing in front of an aunt who lived in Houston, and a Naval officer friend who was watching him play for the first time in the NFL, on a day when the Texans were honoring service members. When he realized he had to block against Watt, Newhouse took a simple approach.
"I wasn't going to break down and cower or anything," Newhouse said. "He's a football player and he's a good one. But if you do what you're taught and how you're taught, play hard and finish plays, then things will work out."
November, 24, 2014
Nov 24
2:06
PM ET
HOUSTON -- Looking back,
Ryan Mallett
's teammates can't help but be impressed.
Mallett
There were certain plays on the Texans' final two drives when left tackle
Duane Brown
could see him grimace, a hint at the pain he felt as he played through a torn pectoral muscle in his second NFL start. Mallett finally had the chance for which he'd waited three-and-a-half years -- he gave everything he could.
"He's tough, man," Brown said. "He's tough. You can just tell that by his character. He's tough. He wants to win. He wants to compete. Like I said, I could tell there was something there towards the end. He didn't back down at all. He didn't ease up at all. He showed his fight to even try to get a score on that last drive there. That is just the kind of player that he is and the kind of person that he is. We really respect that."
It was clear throughout the Texans 22-13 loss to the
Cincinnati Bengals
that Mallett's accuracy was off. He just wasn't playing like the quarterback who led the Texans to a win in his first start, showing the necessary quarterback leadership skills beyond what the Texans had with any of the other three full-time starters in the franchise's history.
This time, though, Mallett only completed 21 of his 45 passes for 189 yards. He threw an interception and narrowly missed several more.
"The guy, he wanted to win," receiver
DeAndre Hopkins
said. "You could see it in his eyes. He never showed that he was hurt. He really never let us down on the sideline."
November, 24, 2014
Nov 24
11:00
AM ET
After rookie
Jeremy Hill
's impressive performances in two of the previous three weeks,
Cincinnati Bengals
offensive coordinator Hue Jackson said last week he thought the running back "deserved" more chances to prove his worth in the offense.
With starter
Giovani Bernard
out nursing multiple injuries, the Bengals for three games turned to Hill, who rushed for 361 yards in the brief stretch.
Just before Bernard returned Sunday, making his first appearance in nearly a month against the
Houston Texans
, one of the biggest questions revolving around the Bengals concerned the division of playing time for the two backs. Would Bernard get back to having snaps and touches that made him appear to be the team's No. 1 back? Or would Hill continue shining in the offense as Bernard got slowly worked back into the rotation?
One look at snap counts reveals the Bengals weren't shy about getting Bernard back in the mix. He was part of more plays than Hill.
One look at touch counts, though, reveals the Bengals were adamant about making them both an exact equal part of the game plan. Hill had 19 touches (18 carries, one catch) and so did Bernard (17 carries, two catches). With Hill appearing on just 31 plays, his use of playing time was more efficient than Bernard's, who was part of 52 snaps Sunday.
From a percentage standpoint, Bernard appeared on 62.7 percent of the snaps; close to a normal load for him. Hill saw action on just 37.3 snaps, a number that was dramatically lower than his combined 70.9 percent snap count in the previous three games.
Along with the intrigue that surrounded the Bengals' running backs, it also was interesting to see that starting right offensive tackle
Andre Smith
lasted only eight plays before suffering a left arm injury as he tried blocking Texans defensive end J.J. Watt in the first quarter. In his place came
Marshall Newhouse
, who played 73 of the Bengals' 83 offensive snaps.
Defensively, the Bengals enjoyed one of their healthiest games of the year. Only cornerback
Adam Jones
missed one play due to injury. Most members of the Bengals secondary played nearly every snap.
Here, with help from our friends at Pro Football Focus and the NFL's Game Statistics and Information System, are this week's complete Bengals play counts:
OFFENSE (83 plays)*
OG
Clint Boling
(83), OT
Andrew Whitworth
(83), OG
Kevin Zeitler
(83), C
Russell Bodine
(83), QB
Andy Dalton
(83), WR
Mohamed Sanu
(81), WR A.J. Green (76), TE
Jermaine Gresham
(75), OT Marshall Newhouse (73), RB Giovani Bernard (52), WR
James Wright
(43), H-back
Ryan Hewitt
(41), RB Jeremy Hill (31), OT Andre Smith (8), TE
Kevin Brock
(8), WR
Brandon Tate
(6), OG
Mike Pollak
(2), RB/DT
Domata Peko
(2).
DEFENSE (68 plays)*
S
George Iloka
(68), CB
Leon Hall
(68), S
Reggie Nelson
(68), CB
Terence Newman
(68), LB
Vincent Rey
(66), LB
Emmanuel Lamur
(65), DE
Carlos Dunlap
(58), DE
Wallace Gilberry
(51), DT
Geno Atkins
(50), DE
Robert Geathers
(36), LB
Rey Maualuga
(34), DT Domata Peko (34), CB Adam Jones (32), DT
Brandon Thompson
(18), DE
Will Clarke
(8), DE
Devon Still
(7), LB
Nico Johnson
(6), LB
Marquis Flowers
(1).
SPECIAL TEAMS (29 plays)**
LB
Jayson DiManche
(21), S
Shawn Williams
(21), S
Taylor Mays
(18), Flowers (18), Johnson (18), RB
Cedric Peerman
(17), CB
Darqueze Dennard
(15), CB
Dre Kirkpatrick
(14), Wright (14), Hewitt (13), Brock (9), Jones (9), K
Mike Nugent
(9), LS
Clark Harris
(8), P
Kevin Huber
(8), Nelson (8), Peko (7), Clarke (5), Gilberry (4), Dunlap (4), Lamur (4), Rey (4), Zeitler (4), Boling (4), Whitworth (4), Gresham (4), Newhouse (4), Pollak (4), Hall (3), Thompson (3), Tate (2), Newman (2), Iloka (1), Still (1), Atkins (1).
Note:
*Counts come from PFF. **Counts come from NFL's GSIS.