February, 27, 2015
Feb 27
6:30
PM ET
New Orleans Saints
tight end
Orson Charles
was sentenced to a two-year diversion period Friday for a road range incident from last April in Kentucky, according to
WKYT-TV
in Lexington, Kentucky.
Charles pleaded guilty to wanton endangerment charges after being accused of pointing a gun at another driver who made an obscene gesture at him.
Charles spent last season on the Saints' practice squad before joining the 90-man roster this offseason. He began his career as a fourth-round draft pick of the
Cincinnati Bengals
in 2012 and was with the Bengals at the time of his arrest.
February, 27, 2015
Feb 27
2:15
PM ET
CINCINNATI -- In an effort to clear a little cap space and to start making room on the roster for offseason additions, the
Cincinnati Bengals
released Friday veteran defensive end
Robert Geathers
and receiver
Greg Little
.
Combined, the two releases will give the Bengals roughly $3.2 million in cap savings.
The Bengals also released offensive guard Mike Pollak last Friday.
Geathers
Little
Geathers' release wasn't much of a surprise, as it had been expected that either he or tackle
Domata Peko
would be on the defensive line's chopping block this offseason. It also was expected that Little wouldn't be brought back to the club. The fourth-year receiver had a rather disappointing six-game run in Cincinnati this past season, and didn't do much to convince the Bengals he belonged in the Queen City for another year.
Signed last October to help the Bengals address a need at the injury-plagued receiver position, Little caught just six passes for 69 yards during his brief stay. He also dropped two passes.
Geathers' departure brings an end to one of the franchise's longest-standing tenures. An 11-year NFL vet -- all of them spent in Cincinnati after his fourth-round selection in 2004 -- Geathers ranks third in team history in games played by a defensive lineman. Tim Krumrie (188) and Eddie Edwards (170) outpace him. Geathers also was part of all five playoff appearances under head coach Marvin Lewis. Cincinnati is 0-5 in those games. Geathers is one of the few players in franchise history who has played in that many postseasons.
"Robert has been with us for all my seasons except the first one," Lewis said about the 31-year-old in a statement, "and he has been a team leader as well as a very productive player. He's an incredible teammate and a true professional, a big part of the winning seasons we've achieved. If Robert elects to pursue an opportunity with another NFL team, the timing of this move will allow him the best possible chance at that."
Geathers' younger brother, Kwame, joined the team late last season as a practice squad addition. He was signed to a future's contract in January, and is expected to be among the linemen competing for playing time when mini camp opens in May.
One of only 19 players to have spent 11 or more seasons with the Bengals, Geathers leaves behind some significant memories. He was a two-time team leader in sacks. He had a career-high 10.5 of his 34 sacks in 2006. He also scored two touchdowns off a fumble return and interception. The score off the fumble was a 75-yard return, the longest fumble return in team history.
An elbow injury ended Geathers' 2013 season after just two games. He didn't fully bounce back from it.
With Geathers and Little gone, the Bengals are expected to double their efforts to find players who can contribute at those positions. Cincinnati last season had the worst grade among NFL pass-rush units, according to Pro Football Focus.
Little's biggest claim to fame while in Cincinnati came about three weeks after his arrival when he was asked about his rocky departure from Cleveland. Days before the Bengals' Thursday night game against the Browns, he said
"somebody has to pay"
for the way he was released.
No one did. The Bengals lost the game 24-3, and Little caught just one eight-yard pass of three targets.
February, 27, 2015
Feb 27
8:30
AM ET
CINCINNATI -- Hue Jackson was encouraged by the work his running backs showcased near the end of the 2014 season, but the
Cincinnati Bengals
offensive coordinator is convinced the unit has barely scratched the surface of what it can do overall.
"I was happy we ended the season running the ball the way we did but there is still so much more there," Jackson at last week's NFL combine. "We left a lot of meat on the bone."
While many outside the locker room praised rookie
Jeremy Hill
's play -- particularly during the final nine weeks of the regular season when he led the league in rushing -- Jackson was letting Hill and fellow back
Giovani Bernard
have it.
[+] Enlarge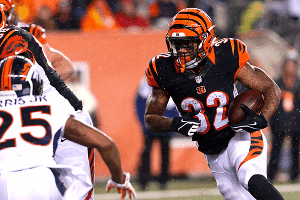 Aaron Doster/USA TODAY SportsRookie Jeremy Hill led the league in rushing during the final nine weeks of the regular season.
Their harshest critic, Jackson made no qualms about wanting to see them break even more tackles, slip more defenders and get even bigger gains. He was only so critical because he still believes the two running backs can be the bedrock of his offense.
In 2013, Bernard was an outside candidate for the NFL's rookie of the year award. Hill was in the mix this past season. Neither won, but the recognition they received was a testament to how well they fit in the Bengals' multiback scheme that's designed for the load to be shared. Unlike other teams, Cincinnati doesn't want to be paced by a single back. Jackson believes a player wears down faster if he is the only running and passing option out of the backfield.
When it came to catching passes out the backfield, the first-year Bengals coordinator was truly impressed.
His running backs combined for 80 receptions last season. That's more than the position group had during any other year in this four-season playoff run. The running backs had 60 receptions in 2013, 43 in 2012 and 53 in 2011, the year the Bengals began this stretch of postseason appearances. The team still, of course, hasn't won a playoff game since 1991.
Bernard did the heavy lifting in the passing game in 2013, catching 56 passes to the four that BenJarvus Green-Ellis had. There was a more even split this past year. While Bernard caught 43 passes, Hill caught 27. Backups
Rex Burkhead
and
Cedric Peerman
combined for the other 10.
"People keep saying, 'Well, Gio didn't catch a lot of balls,'" Jackson said. "Well, that's because we had another guy who could catch the ball very well. That gives us another threat. That position caught 80 balls last year. That is quite a bit for a running back position."
It is, but consider this.
Two running backs, Chicago's
Matt Forte
and Pittsburgh's
Le'Veon Bell
, had more than 80 receptions this season by themselves. There also were eight other teams that had two or more running backs who caught 25 or more passes each. Only two of them, however, the Lions and Colts, made it to the playoffs with the Bengals.
As encouraged as he was about his running backs' receiving numbers, Jackson still isn't convinced Hill has done his best job helping quarterback Andy Dalton have time to pass to other players.
"You earn the right [to play] by pass protection," Jackson said, adding that injuries to Bernard helped accelerate Hill's playing time. "It wasn't his running ability. That's [pass protection] what we drafted him for. He would be the first to tell you we need to grow in that area."
Growth is precisely what Jackson is predicting for Hill and Bernard in 2015.
"There is more in there for both of them," he said.
February, 26, 2015
Feb 26
5:00
PM ET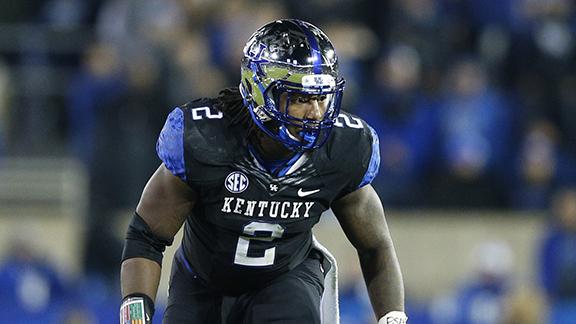 CINCINNATI -- One week, it's
Vic Beasley
. The next, it's
Bud Dupree
.
ESPN draft analyst Todd McShay unveiled Thursday
his latest mock draft

which was based off his observations following last week's NFL combine. Perhaps unsurprisingly, when it came to his first-round pick for the Cincinnati Bengals at No. 21, McShay went with a pass-rusher who can help the team address a critical need.
As it relates to the Bengals, the most important part of McShay's latest mock actually has to do with the players he didn't pick.
It's not a surprise McShay decided to pick an edge rusher for the Bengals, because for the past month mock drafts from all corners of the Internet have centered upon the notion that Cincinnati must go with that position for its first pick. The Bengals did, after all, have Pro Football Focus' worst-graded pass rush this past season. They also had only 20 sacks; a figure that was among the four-worst performances in franchise history.
On alternative mock drafts that don't have the Bengals picking a pass-rusher in the first round, the selection is an offensive tackle. This class certainly has plenty of talented players there.
This is the second time McShay has sent Dupree, the hybrid defensive end/outside linebacker, to the Bengals in a mock. In their mocks 2.0, McShay and fellow ESPN draft analyst Mel Kiper Jr. chose Clemson edge rusher Beasley for the Bengals. At 220 pounds, Beasley likely translates better to outside linebacker in a 3-4 scheme. It would be hard for the Bengals to convince themselves that a player his size could regularly line up on the defensive line, whether it's in their base 4-3 or a nickel package.
At nearly 270 pounds, Dupree seems a better fit.
However, the most important takeaway from this mock isn't who McShay has going to Cincinnati at No. 21 overall. The real key rests in those players who were listed among his "still available." None of those players project to be Bengals first-round picks, but they are prospects the Bengals hope are around when its time to make their second-round pick.
Receivers
Devin Smith
and
Phillip Dorsett
are among two of the players who didn't make the cut for McShay's first-round mock. Because of his mix of speed and explosion, Dorsett could be an intriguing second-round option.
There is also inside linebackers
Denzel Perryman
and
Eric Kendricks
. Neither were taken in McShay's first round, but could be options for the Bengals, who might want depth for that position. The staff is considering bucking its recent trend of waiting until after the draft to sign undrafted free-agent linebackers.
Beyond all that, keep in mind some of the other offensive tackles, receivers and edge rushers who aren't listed among McShay's top 10 "still available." There are others who could be sound pickups after the second round. It's in those rounds the Bengals believe more often than not that they can win a draft.
February, 26, 2015
Feb 26
4:15
PM ET
CINCINNATI -- The NFL still has yet to announce the official salary-cap spending limit teams will be allowed to hit this coming season, but recent reports have indicated it soon will be set around $143 million.
If that is the case, it means the
Cincinnati Bengals
will have about $36.5 million of cap space to work with, according to numbers ESPN Stats & Information updated Thursday afternoon.
Earlier this month, we reported a
projection close to $33 million
for the Bengals. That was using the previous $140-million-per-team projection.
Regardless of where the salary cap ultimately settles, the Bengals ought to have some of the most space to work with in the league. Based on Thursday's projections, they rank seventh in available cap space. Their anticipated $36.5 million is some $5 million shy of the team with the sixth-largest amount of cap space, the
Indianapolis Colts
. With an expected $67.1 million of cap space, the Jacksonville Jaguars pace all teams in the amount of money they will be able to spend this year.
It's good news for the Bengals, who typically are frugal with their offseason spending habits compared to other teams. Unlike last offseason, when the Bengals had multiple big-money, long-term extensions they wanted to take care of, this year they only have one. It's not even a necessity, either. With at least two more years to sign
A.J. Green
to a new contract, the Bengals don't have to be in a rush to extend the Pro Bowl receiver. That said, though, there is interest from both sides in possibly addressing an extension this year.
Even if they set aside money for Green, the Bengals still should be able to spend more freely in free agency. Coach Marvin Lewis already has indicated he anticipated the team being more aggressive on the free-agent market. With more than an $36 million to spend on this season alone, the Bengals ought to be able to re-sign some of their current free-agent targets and invest in another one or two who could warrant larger deals.
Ndamukong Suh
still probably is off the table, but is
Greg Hardy
?
Nick Fairley
? We'll find out in about two weeks, when the Bengals can start spending.
February, 26, 2015
Feb 26
11:00
AM ET
CINCINNATI -- News about A.J. Hawk's release from the
Green Bay Packers
had barely hit social media before
Cincinnati Bengals
fans lit up Twitter with inquiries about whether one of the Buckeye State's most beloved sons could fit with their team.
On the surface, it makes a ton of sense.
The Bengals desperately need help at linebacker following a season that saw the position get decimated by injury. To ensure they don't go through another season like that, it appears they will turn to free agency to sign a smart, experienced veteran who should assimilate into their system more quickly than a draft prospect.
[+] Enlarge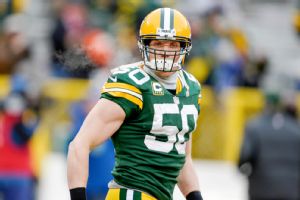 AP photo/Jim MahoneyThe Cincinnati Bengals could be in the market for linebacker depth this offseason, making veteran A.J. Hawk a possible target in free agency.
Hawk, a 31-year-old, nine-year vet, fits the above criteria.
"If you can get a veteran guy, OK now on draft day you're not sitting there saying, 'We've got to get one,'" defensive coordinator and former linebackers coach Paul Guenther said at the NFL combine last week. "If you get one [in the draft], then it's icing on the cake."
The Bengals might draft an additional linebacker, but they do want to get one ahead of it.
A native of nearby Kettering, Ohio, Hawk is an Ohio State product who played high school and college ball with Bengals kicker and upcoming unrestricted free agent
Mike Nugent
. Nugent will likely be re-signed. Many who blasted social media Wednesday night wondering about Hawk were most enamored with the potential for his homecoming and reunion.
As fun as that sounds, there are reasons to wonder if home would be the perfect fit for Hawk.
Specifically, a bad ankle and advancing age appear to be slowing down a career that was once defined by passionate and reckless, yet controlled, play.
ESPN Packers reporter Rob Demovsky wrote Wednesday that Hawk
didn't play much by the end of last season
. He played 31 or fewer snaps in each of the Packers' final seven games, including the playoffs. In four of those games, he appeared on less than 20 snaps, playing primarily in Green Bay's base 3-4 package.
The lateral movement, as Demovsky mentioned, just isn't what it once was.
Also, there is a question of fit. Although he's an inside linebacker, Hawk was featured in a base scheme the Bengals don't use. As defensive coaches are quick to remind, even teams that start drives in a 3-4 eventually show semblances of a 4-3 front as they transition into nickel packages on third downs. But the fact that Hawk was being used purely in 3-4 formations doesn't bode well for his ability to cover space in a 4-3-focused system.
A noted run-stopper, Hawk probably would play a position that still is occupied by
Rey Maualuga
. The Bengals middle linebacker, too, is entering free agency but, for now, seems poised to return.
The deeper below the surface we go, the less a potential Hawk signing makes sense -- unless it's about depth.
Here is all you need to know about how bad the injuries were for the Bengals at linebacker: reserve
Vincent Rey
, who more than doubled his highest snap-count production in 2014, was the team's leading tackler with 121 stops.
Leadership also was an issue in the latter half of the season when Maualuga missed time with a hamstring issue and
Vontaze Burfict
was sidelined following his mid-season knee injury. Without the pair, the Bengals' huddle suffered an emotional blow.
With uncertainty about how Burfict bounces back from microfracture surgery, and the uncertainty about Maualuga's status, having some leadership insurance could help.
One look at this video Hawk released Wednesday and
you will be convinced he could provide it
.
Hawk can be a Bengals fit, but is he a perfect fit? Only the Bengals' decision-makers can determine that.
February, 25, 2015
Feb 25
2:30
PM ET
CINCINNATI -- One of the
Cincinnati Bengals
' greatest offseason needs involves getting receivers who also can provide good kick-return value.
With the possibility that unrestricted free agent
Brandon Tate
isn't re-signed, and given the fact the Bengals haven't added a true return specialist in several draft and free-agency cycles, there are compelling reasons as to why they are looking for players this year who fit that mold.
So can they just use free agency to address that need?
It's possible. And this week, they've been given two good options of free-agent kick-returning receivers.
Ginn
Jones
But should the Bengals sign either
Ted Ginn Jr.
or
Jacoby Jones
, a pair of eight-year veterans who were released from their respective teams this week?
No.
Here's why. This year's draft class is full of speedy, athletic and productive pass-catchers who had success as kick returners throughout college. Unlike the near-30-year-old Ginn and the already 30 Jones, each of those players has projected upside and potential. Earlier this week,
we looked at a few of them
.
Various times this offseason, offensive coordinator Hue Jackson has expressed an interest in going after fast wideouts who, like the 5-foot-11 Ginn, likely will be on the shorter side of the height chart. Only one of the prospect receivers in the link above is taller than 6-foot. Jones, at 6-2, is more of a bigger-bodied outside receiver. That alone likely rules him out.
One of the reasons the Bengals are expected to go after smaller receivers is because they need wideouts to play in the slot alongside the bigger
A.J. Green
,
Marvin Jones
and
Mohamed Sanu
. In addition to Tate, fellow slot receiver
Dane Sanzenbacher
also is eligible for unrestricted free agency, and also might not be re-signed. If one or both is gone, there will be an opening that must be filled.
The Bengals also favor smaller receivers because there is a belief that in the short-passing game, receivers of smaller stature are easily lost by the linebackers and safeties who might cover them. It's one of the reasons Cincinnati has liked lining up 5-9 running back
Giovani Bernard
in the slot and putting him on a linebacker. The times the Bengals did it last year, it worked. He caught two touchdown passes last season that were the product of using his speed to exploit such mismatches.
Again, this draft has many receivers who can do exactly that.
While the Bengals generally might be placing a
greater emphasis on free agency this year
, it doesn't appear they will be doing that with this particular position. Things can always change, but it seems they favor grooming a hybrid receiver/returner. Their approach at defensive end, however, might be different. In need of immediately bettering their anemic pass rush, veteran players there won't have to learn much. Their only charge will be to get after the quarterback. Because speed is the focus at receiver, there's always the belief that a faster wideout can be found anywhere, in Rounds 1-7 or even as an undrafted free agent. The same might not be the case for athletic edge rushers.
Money won't be an issue for whoever signs Ginn or Jones. Ginn made $2.3 million this past season and Jones signed a contract extension last offseason that would pay him an average of $3 million across four seasons. The Bengals could afford that.
But they also can pay a fourth-round or fifth-round draft pick significantly less, giving them slightly more to work with to sign free agents at other positions of need.
February, 25, 2015
Feb 25
2:00
PM ET
CINCINNATI -- Will
Jermaine Gresham
be wearing a
Cincinnati Bengals
uniform in the fall?
As the start of free agency draws closer, it's appearing more and more likely that the answer to that question will be no. Last week at the NFL combine in Indianapolis, Bengals coach Marvin Lewis was rather
lukewarm in his assessment of Gresham's status
as it related to the tight end having a place on the team.
"He's at a crossroads," Lewis said of the former first-round pick. "It's, what's Jermaine want next? When he commits to whatever he wants next, then things will work out."
Hewitt
In the meantime, the Bengals have to proceed with their plans for the tight ends, regardless of whether Gresham ultimately factors into them again. That means figuring out exactly where
Ryan Hewitt
, last season's star undrafted free agent, will play.
Apparently, he will be right where he was last season: all over.
"I prefer to let Hewitt do what he did, which is play all over the place," offensive coordinator Hue Jackson said. "He gives us that flexibility in that he can put his hand down and line up on the line, he can line up in the backfield, he can line up outside. He did a lot of different things for us. He was a pleasant surprise for us and did a great job."
Hewitt caught 10 passes for 86 yards as a rookie. His biggest impact came in the blocking game, where he was one of the Bengals' best at opening holes for running back
Jeremy Hill
. One of the main reasons Hill led the NFL in rushing yards from Week 9 through the end of the regular season was because of Hewitt's ability to consistently crash linebackers and defensive ends both from the line of scrimmage and out of the backfield.
Excluding offensive linemen, Hewitt had Pro Football Focus' second-highest run-blocking grade of any Bengals player who saw 200 or more rush snaps. Among league players considered fullbacks, he ranked eighth in PFF's blocking rankings.
Jackson plans on Hewitt to thrive again in that position in 2015, even if Gresham is gone.
"Hewitt is our fullback," Jackson said. " Obviously Hewitt has the ability to play at tight end. He's done it and done it well. But again, we're trying to get better everywhere, at places we feel we can continue to add."
The coordinator said the Bengals needed to grow at tight end this offseason primarily because of how early season injuries to
Tyler Eifert
and
Alex Smith
stunted the unit's growth this past season. Once hoping to regularly use two-tight end formations, the Bengals were forced last season to use Hewitt in more of a fullback role than anticipated. The injuries also made Gresham the primary receiving option at the position.
Expect the Bengals to add a tight end this spring, and don't be surprised if they use free agency to do it. With Hewitt's job as the fullback/H-back secure, the new tight end likely will have to mirror Gresham's value as a blocker. Free agent
Charles Clay
, a tight end viewed primarily as an H-back, might not be an option then.
"Obviously Jermaine's a very talented player, but if something happens where he's not a Bengal anymore, then we need to replace that body," Jackson said. "And hopefully we replace that body with a better player as we continue to move forward."
In addition to using Gresham, "We blocked those long [pass rushers] with offensive linemen, too, and other tight ends and running backs," Jackson said of the Bengals' run-blocking.
"We'll find a way."
February, 25, 2015
Feb 25
12:00
PM ET
CINCINNATI -- Before turning our full attention to free agency, the draft and the 2015 season, let's take one last look back at 2014.
After taking a break around last week's combine, we're finishing this week our position-by-position review of the
Cincinnati Bengals
' recent 10-5-1 campaign that ended with a wild-card round loss at Indianapolis.
Previous entries in the series
. Now we conclude with the specialists:
[+] Enlarge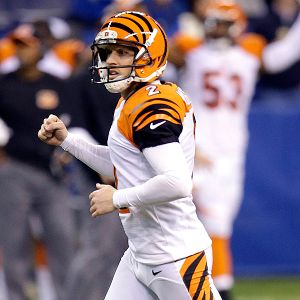 AP Photo/AJ MastMike Nugent made 16 of his final 17 field-goal attempts, including a 57-yarder at Indianapolis in the playoffs.
2014 cap value:
$4.5 million total --
Mike Nugent
($1.4 million),
Kevin Huber
($2.3 million),
Clark Harris
($760,000)
Highlights:
If we include the return specialists, namely punt returner and occasional kick returner
Adam Jones
, the specialists' series of highlights become even more noteworthy. Jones was named an All-Pro this year because of his return ability. At one point during the season, he led the league in both punt and kick return average. His 97-yard kickoff return against Carolina helped set up a late game-tying touchdown.
As for Nugent and Huber, 2014 was a memorable season for a variety of reasons. In Nugent's case, the season began well as he went 5-for-5 in the season-opening win at Baltimore. He also finished the year on a high note, making 16 of his final 17 kicks. His last make, a 57-yarder in the playoff loss at Indianapolis, set a franchise record. It was the second-longest field goal in postseason history. For Huber, the year was memorable because he made his first Pro Bowl after ranking all season among the league leaders in net punting average. He bounced back well from his final punt of 2013, a kick that ended in a return for a touchdown and a season-ending jaw injury for Huber because of a blind-side hit.
Lowlights:
It doesn't bear belaboring too much, but clearly the lowlight of the season for the Bengals' specialists was Nugent's missed field goal as time expired in the overtime period against the Panthers. Going wide right on the 36-yard attempt, Nugent's slice forced the game to end in a tie. Ultimately, the tie had no bearing on the outcome of their season, as they made the playoffs despite it.
Play of the year:
Instead of picking one play, we'll go with a game. The game of the year for the Bengals' special teams was the Week 15 victory over the Browns. Not only did the special teams help in the 30-0 shutout, but Nugent also made all three of his field goal attempts and all three point-after attempts just days after his father died. It was a rough week for the organization. Offensive coordinator Hue Jackson's father also died, as did the father of another team staffer.
Necessary improvements:
Coaches already gave an indication last week at the combine that they would like to place more of a focus on identifying potential returners in the draft, especially given the chance receiver/kick returner
Brandon Tate
might not be re-signed in free agency. Aside from that, the Bengals also must determine if they will re-sign Nugent. Odds are better for his return over Tate's, meaning the special-teams group should have solid returning depth.
February, 25, 2015
Feb 25
8:15
AM ET
CINCINNATI -- Much of this offseason has been spent highlighting the three major position needs the
Cincinnati Bengals
have ahead of this year's draft: offensive tackle, defensive end/pass-rusher and receiver.
Players from any one of those positions could be first-round options for the Bengals, depending on who's available when the 21st overall pick comes up.
But how often do the Bengals draft players that high from such "need" positions? Not as regularly as you might think.
Only once since Marvin Lewis became the team's head coach 13 seasons ago has Cincinnati selected an offensive tackle in the first round (
Andre Smith
, 2009). The Bengals have taken just one receiver that high since 2003, too (
A.J. Green
, 2011). As for true pass-rushers, they have yet to take one with one of the first 32 picks.
Does this provide a good template for where the Bengals might turn when their pick comes up April 30? Will this knowledge help predict which player they will end up taking? Probably not.
It is important to keep in mind, as defensive coordinator Paul Guenther said last week at the combine, that there are six more rounds beyond the first. It's typically been in the middle rounds where the Bengals have shored up their needs at all three of the aforementioned positions. When you consider the Bengals players currently at those spots, it would appear the team has done well with its mid- and late-round pickups.
"To me, in the draft, if you can win in Rounds 5, 6, 7 and free agency, to me that makes your draft," Guenther said. "You get past [the first three rounds] and you are in the last day and free agency, if you can pick up a couple guys who can make your roster, that's where you make hay."
Green, Smith,
Tyler Eifert
and
Jermaine Gresham
were the first-rounders on offense this past season. On defense, only the five corners (
Terence Newman
,
Adam Jones
,
Leon Hall
,
Darqueze Dennard
and
Dre Kirkpatrick
; the latter three were Bengals selections) were first-round picks. Every other key contributor was a Day 2 or later pickup.
That takes us to the defensive ends. Excluding strongside linebacker David Pollack who went 17th overall in 2005, the highest the Bengals havetaken a true edge rusher was in the second round (
Carlos Dunlap
, 2010 and
Margus Hunt
, 2013). With such a deep class of players this year who can rush quarterbacks from outside linebacker or defensive end, and with the high odds the team addresses the pass-rush problem in free agency, the Bengals might be able to wait until then again to take one this year.
The problem, though, is the most talented pass-rushers will certainly come off the board early in the first round.
One could make a similar case about offensive tackle and receiver, too. Both positions are top-heavy in this class. Specifically with offensive tackles, the most talented prospects may be gone by the time the Bengals select at No. 21.
So which direction will the Bengals go in the first round this year? Only 65 days until we find out.
Positions the Bengals have drafted in the first round under Marvin Lewis (since 2003):
QB:
(
Carson Palmer
, 2003)
RB:
(Chris Perry, 2004)
WR:
(A.J. Green, 2011)
TE:
(Jermaine Gresham, 2010; Tyler Eifert, 2013)
OT:
(Andre Smith, 2009)
OG:
(
Kevin Zeitler
, 2012)
LB:
(David Pollack, 2005;
Keith Rivers
, 2008)
CB:
(Jonathan Joseph, 2006; Leon Hall, 2007; Dre Kirkpatrick, 2012; Darqueze Dennard, 2014)
February, 24, 2015
Feb 24
4:15
PM ET
Take a listen to this week's NFL Nation TV podcast as the crew breaks down the lessons it learned from last week's NFL combine in Indianapolis, as well as the latest in the push for bringing the NFL to Los Angeles.
Host Paul Gutierrez (
San Francisco 49ers
reporter) and co-hosts Coley Harvey (
Cincinnati Bengals
reporter) and Mike Wells (
Indianapolis Colts
reporter) are joined by four other NFL Nation reporters.
Eric Williams (
San Diego Chargers
reporter) joins to give an idea of how feasible it would be for the Raiders and Chargers to share a stadium in Southern California. Pat Yasinskas (
Tampa Bay Buccaneers
reporter) discusses why he thinks
Jameis Winston
is all but a lock to be the No. 1 overall pick in the draft. Rich Cimini (
New York Jets
reporter) breaks down which direction the Jets will go with the No. 6 overall draft pick. Will they go with a quarterback? Defense? Receiver? Paul Kuharsky (
Tennessee Titans
reporter) weighs with his thoughts on where the Titans will turn at No. 2 if Winston is off the board.
Be sure to watch NFL Nation TV live on ESPN.com at 1 p.m. ET/10 a.m. PT each Tuesday, and be sure to give the show's a podcast a listen following each taping.
February, 24, 2015
Feb 24
11:00
AM ET
Join us today at 1 p.m. ET, 10 a.m. PT for NFL Nation TV's Spreecast as we return from a one-week hiatus for episode No. 45 with a decidedly combine feel.
Host Paul Gutierrez (
San Francisco 49ers
reporter) and co-hosts Coley Harvey (
Cincinnati Bengals
reporter) and Mike Wells (
Indianapolis Colts
reporter) will be joined by four other NFL Nation reporters throughout the show.
Eric Williams (
San Diego Chargers
reporter) and Gutierrez will attempt to make sense of the notion that the Chargers and Raiders, who have both called Los Angeles home in the past and have been fierce rivals since their AFL inception, could share a stadium in nearby Carson.
Pat Yasinkas (
Tampa Bay Buccaneers
reporter) will also let us know what the Buc's might do with the No. 1 overall pick after James Winston's showing at the combine.
Staying with the QB vibe, Rich Cimini (
New York Jets
reporter) will give us an update on what he thinks Gang Green will do at No. 6 overall in the draft if both Winston and
Marcus Mariota
are off the board.
And Paul Kuharsky (
Tennessee Titans
reporter) opines on what the Titans might do at No. 2 overall, go with one of the QBs or perhaps rising USC defensive lineman
Leonard Williams
, or might they go in an entirely different direction?
Viewers are encouraged to log in and ask the panelists questions as well as contribute in the chat feature.
February, 24, 2015
Feb 24
8:30
AM ET
CINCINNATI -- Before turning our full attention to free agency, the draft, and the 2015 season, let's take one last look back at 2014.
After taking a break for last week's NFL combine, we are finishing our position-by-position review of the
Cincinnati Bengals
' recent 10-5-1 campaign that ended with a wild-card loss in Indianapolis.
Previous entries in the series
. Now we continue with safeties:
2014 cap value:
$6.5 million total --
Reggie Nelson
($4.5 million),
Taylor Mays
($795,000),
Shawn Williams
($653,986),
George Iloka
($610,075)
Nelson
Iloka
Highlights:
Virtually everything the Bengals' starting safeties did in 2014 was a highlight. Nelson had one of the most productive seasons in his eight-year career. He set a career-high in tackles, recorded 1.5 sacks, and intercepted four passes (his second-highest single-season total). Iloka, playing with a healthy hand and wrist, had had his highest single-season tackle and interception totals. He also factored in a few key pass breakups, drew a controversial penalty in the closing seconds of a win, and set the tone early in another game with a bone-rattling hit on one of the NFL's best players. Although he didn't make any All-Pro teams, and was not named to the Pro Bowl, Iloka had the type of year that truly warranted such recognition.
Lowlights:
The safeties had few. Nelson had one of his best seasons and Iloka emerged as a valued deep defender. Williams best contributed on special teams, but in his brief action on defense, he factored in a couple of key defensive stops. Most notably, he was part of the Bengals' goal-line stand at New Orleans when linebacker
Rey Maualuga
turned back a receiver at the 2-yard line on a fourth-and-goal. Williams was there for the stop along with Maualuga.
Play of the year:
It was teased above, but the top play for the safeties came in Week 8 against Baltimore when Iloka drew a pass interference call on Ravens receiver
Steve Smith
that negated a potential game-winning touchdown for the Ravens. With the game clock inside 40 seconds, and Baltimore backed up at its own 20 on a third-and-10, quarterback
Joe Flacco
ran around the pocket before firing a missile on the run deep toward Smith. As he stopped his route to go for the jump ball with Iloka, who had dropped down to cover him, Smith grabbed Iloka's jersey with his left arm and pushed. Iloka fell to the ground just as Smith had gotten enough separation to make the catch and run into the end zone untouched.
Officials saw the push, though, and flagged Smith for offensive pass interference. It was a penalty he later disagreed with. On the next two plays, third-and-20 and fourth-and-20 from the Ravens' 10, Baltimore barely moved the ball. The Bengals held on for a 27-24 win that was powered in part by Smith's push-off, and a dramatic late comeback drive led by Bengals quarterback
Andy Dalton
.
Necessary improvements:
Given the way injuries affected the Bengals in 2014, it will be in their best interest in 2015 to make sure they are getting their backups the most meaningful preseason reps that they can. Williams has played well in relief, but could he be a reliable starter if he had to be? That's a question the Bengals want to answer as affirmatively as they can. The same goes for the other backup, whether it's Mays -- who enters free agency next month -- or someone else.