September, 17, 2014
Sep 17
7:00
PM ET
CINCINNATI -- At the grand old age of 22,
Giovani Bernard
is the old man of the
Cincinnati Bengals
' two-man running back tandem.
He's the more patient, more reserved and more reflective of the two. He likes to leap tall linebackers in a single bound and is quick to celebrate one of his many circus-like touchdown finishes by doling out high fives to his blockers.
Jeremy Hill
is the bigger, more noticeable, slightly more flashy of the two. He likes shimmy past defensive linemen and enjoys celebrating his touchdowns with a popular dance or a pose for his fans.
While Bernard is simply fun to watch, Hill just likes to have fun.
Hill's fun-loving nature pushed him to Twitter less than two hours after he and Bernard rushed for a combined 164 yards in the Bengals' 24-10 victory over the
Atlanta Falcons
on Sunday, prompting him to ask Bengals fans the following: "What's a good nickname for the duo?"
Within the tweet, he had a picture of himself and Bernard.
#stayturnt my friends what's a good nickname for the duo? pic.twitter.com/FygDrfPPQT

— Jeremy Hill (@JeremyHill33) September 14, 2014
In the last four days, the suggestions have poured in.
"I just need something I can run with and that the fans will like and that we can just get going," Hill said Wednesday. "And just having fun -- that's the biggest thing with it. To have something the fans can connect with, maybe make a few T-shirts and things of that nature and just get it going."
The 21-year-old rookie rushed for 74 yards on 15 carries against Atlanta. Hill also caught a screen pass on the Bengals' first drive that he converted into an 18-yard first down reception. On 27 carries, Bernard rushed for 90 yards and added his own 46-yard first-down reception off an improvised screen pass. About to get sacked, quarterback
Andy Dalton
shouted out Bernard's name -- "Gio!" -- before dumping an impromptu screen to Bernard, who wiggled around defenders for the big pickup.
As of Wednesday morning, there are at least two nickname suggestions that have passed the first round of Hill's cuts: the "Hue Live Crew" and "Hue Jack City."
The first suggestion came from a certain ESPN Bengals reporter who happened to suggest it on a whim to a fan who asked for his input on Twitter. Both suggestions are nods to offensive coordinator Hue Jackson, whose scheme promised long ago to make the two backs key figures. It could be argued that last Sunday's game was exactly what the Bengals had in mind for Hill and Bernard when they drafted Hill in May.
However, Jackson already shot down the "Hue Jack City" nickname suggestion. When he was the head coach in Oakland in 2011, fans nicknamed the East Bay Area city "Hue Jack City" as an homage to the 1991 movie "New Jack City." There was even a song and a music video that went with the nickname.
"No, that won't happen. That's an old name," said Jackson, who was fired after leading the Raiders to an 8-8 season, one of their best since 2002. "That name's over with. That name has to RIP. May that name rest in peace. That name is gone."
Hill didn't rule out either of the aforementioned nickname possibilities, and said he has no deadline for when they must be decided.
"We're not settling finalists yet, but they're definitely nominees," Hill said, laughing. "We have to keep them going and hopefully we have some performances like we did Sunday so we can get more suggestions out there."
September, 17, 2014
Sep 17
5:00
PM ET
CINCINNATI -- The biggest addition to the
Cincinnati Bengals
' injury report Wednesday was linebacker
Vontaze Burfict
, who went on there after exhibiting concussion-like symptoms on a re-evaluation of an injury he received last Sunday.
You can read
more about his issue here
.
It also is worth noting that the Bengals, already down right guard
Kevin Zeitler
for a few weeks because of a calf injury, were without linemen
Andrew Whitworth
and
Mike Pollak
when practice resumed Wednesday ahead of Sunday's Week 3 tilt against Tennessee.
Neither injury appears too serious for now, though. Both players expect to be in good enough shape to play this weekend. Still, they are worth watching. Both were listed as having knee injuries. Pollak has been kind of off and on with his practice regimen since the preseason. Whitworth has been healthy all season but left Sunday's game against the Falcons with a lower left leg bruise. It's unclear right now if that injury is related to the one that caused Whitworth to miss the practice.
The group of non-practice participants also included receiver A.J. Green, who said earlier Wednesday that he was
going to wait until Thursday to test his toe
.
Aside from those additions, safety
Shawn Williams
also made the injury report, going in a limited capacity.
Here's the full Wednesday injury report:
OUT
WR
Marvin Jones
(foot)
TE
Tyler Eifert
(elbow -- short-term IR)
TE
Alex Smith
(biceps -- long-term IR)
DID NOT PRACTICE
LB Vontaze Burfict (concussion)
WR A.J. Green (toe)
OT Andrew Whitworth (knee)
OL Mike Pollak (knee)
DT
Brandon Thompson
(knee)
RB
Rex Burkhead
(knee)
LB
Sean Porter
(hamstring)
OG Kevin Zeitler (calf)
LIMITED
S Shawn Williams (groin)
September, 17, 2014
Sep 17
4:27
PM ET
[+] Enlarge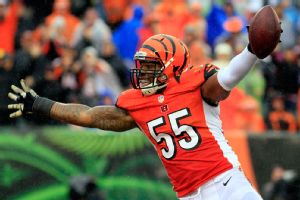 Tom Uhlman/AP ImagesVontaze Burfict is back under the NFL's concussion protocol for the second straight week.
CINCINNATI -- Cincinnati Bengals star linebacker Vontaze Burfict is back under concussion protocol for the second straight week after a re-evaluation of the injury that forced him to leave Sunday's win over the Falcons showed he exhibited concussion-like symptoms.
Originally, he had been listed with a stinger, a nerve-related issue that is common among football players.
Like concussions, stingers can have varying levels of severity. Burfict's apparently was so extreme that trainers advised he be taken out of last week's game.
Burfict left with about 3:20 remaining in the third quarter when he and Bengals outside linebacker Emmanuel Lamur collided trying to tap down a scrambling Matt Ryan.
It wasn't the first time Burfict left the ballgame. Just after the second-quarter two-minute warning, he came out of the game after being penalized for hands to the face on an Atlanta offensive lineman. It wasn't clear what happened to him after that play, but he was seen going immediately to the bench, where he sat alone for the remainder of the drive.
September, 17, 2014
Sep 17
4:00
PM ET
CINCINNATI -- Two days after his early-season suspension ended, cornerback
Chris Lewis-Harris
was retained by the
Cincinnati Bengals
on Wednesday and was added to the 53-man roster.
Lewis-Harris
The Bengals have now hit that limit once again, after spending all of this week and part of the last one player shy of the in-season maximum. Until Wednesday, they had 52 players.
Lewis-Harris had been in a sort of limbo since Monday, after the team had been granted a two-day exemption in order to figure out what exactly it wanted to do with him. The Bengals had until 4 p.m. Wednesday to inform the league whether they wanted to release him or add him back to the 53-man roster. He was granted full reinstatement to all team activities Monday, so he didn't lose any of those privileges when he first returned.
Lewis-Harris had been suspended the first two games of the season after violating the league's substance-abuse policy.
The third-year player spent the preseason with the Bengals after appearing in regular-season games the last two years. He has five career tackles in eight games.
September, 17, 2014
Sep 17
1:19
PM ET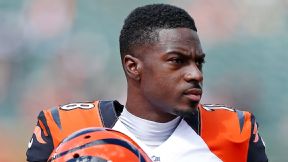 Joe Robbins/Getty ImagesA.J. Green says that he suffered his toe injury during the Bengals' season opener at Baltimore.
CINCINNATI -- A.J. Green, who left last weekend's game early with a toe injury, has not ruled out the possibility of playing Sunday when the Cincinnati Bengals host the Tennessee Titans.
The Bengals' three-time Pro Bowl receiver told reporters that if his toe responds favorably to treatment and practice the rest of this week, he'll play.
"If it's feeling good, then I'm going to go," said Green, who did not practice Wednesday. "If it's not, then we'll go from there."
Green, speaking for the first time since playing just six plays in last Sunday's 24-10 win over the Atlanta Falcons, said he hurt the toe during the season opener at Baltimore. He isn't sure what he did to suffer the injury but remembered it happened at some point in the first quarter of that 23-16 victory. He played all the way through that contest, even catching an 80-yard touchdown pass in the fourth quarter that proved to be the winning score.
"I got past it," Green said of fighting through the original injury.
Green didn't have a name for the injury but said it was "something like turf toe, but not as bad."
September, 17, 2014
Sep 17
10:00
AM ET
ESPN
Cincinnati Bengals
reporter Coley Harvey discusses
Mohamed Sanu
's outlook if A.J. Green's injury lingers.
September, 17, 2014
Sep 17
9:00
AM ET
CINCINNATI -- It's about that time of week when we start turning the corner from the
Cincinnati Bengals
game just played and toward the one that is on the horizon.
The Falcons are now in the rearview.
On deck: The
Tennessee Titans
.
Record
1-1
How they got there
Two 26-10 results. The first was a win at Kansas City to start the season, and the second was a loss at home against the Cowboys last weekend. Tennessee's defense couldn't stop the Cowboys from moving the ball. Dallas racked up 26 first downs, mostly on the ground. Paced by
DeMarco Murray
's 167 yards rushing, the Cowboys ran for 220 yards.
Key players
QB Jake Locker.
The eighth overall pick in the 2011 draft, Locker was claimed 27 spots ahead of the Bengals'
Andy Dalton
. So far this season, Locker has thrown two interceptions and been sacked six times. He also has 500 yards passing through the two games.
TE Delaine Walker.
One of the many good tight ends the Bengals will face this season, Walker could give outside linebacker
Emmanuel Lamur
a good test. Walker was targeted a team-high 14 times for a team-high 10 catches and 142 yards last week. He had 50 yards after one catch in that game that resulted in a 61-yard total pickup.
S Bernard Pollard.
A former Baltimore Raven, Pollard is quite familiar playing in Cincinnati. In three career games at Paul Brown Stadium he has 17 tackles, a forced fumble and two fumble recoveries. So far this season, he has 16 tackles and a sack.
Titans' base defensive scheme
3-4
Series history
Titans lead 39-32-1 overall, counting the franchise's days as the Houston Oilers. Since moving to Tennessee in 1997, they have an 11-5 record over the Bengals. Cincinnati has won three of the past four meetings, though, dating back to 2005.
Bengals' regular-season home streak
Cincinnati is hoping to set a new regular-season home winning streak record. Dating back to 2012, the Bengals have won 10 consecutive games at Paul Brown Stadium, including last week's over the Falcons. They would surpass a mark set in 1988-89 if they beat the Titans to get their 11th straight.
Uni watch
The Bengals will return to their dark-colored home uniforms this week as they are scheduled to wear black jerseys and white pants. It will be the second time they have worn that combination this season. They beat Baltimore in it on the road two weeks ago. Since the last major uniform renovation in 2004, the Bengals are 25-25 in that combination.
Week 3 stat to consider
Be on the lookout for the matchup between the Bengals' passing game and the Titans' passing defense. Dalton -- and receiver
Mohamed Sanu
, with his 50-yard pass last week -- has paced the Bengals to the third-ranked passing offense in the league. They average 301.5 yards per game in the air. Tennessee, meanwhile, has the league's best current pass defense, holding opposing quarterbacks to an average 163.0 yards in the first two games. Dallas'
Tony Romo
had just 148 yards passing last week.
Who to follow
You'll want to be sure to follow my ESPN.com colleague Paul Kuharsky on the
Titans blog
and also on Twitter
@PaulKuharskyNFL
for all things Titans this week. You'll learn much more from Paul later this week in our doubly covered game preview. Another good follow includes The Tennessean's Jim Wyatt (
@jwyattsports
).
September, 17, 2014
Sep 17
8:00
AM ET
CINCINNATI -- When he practiced during the preseason,
Mike Pollak
's role was that of utility offensive lineman.
He was the
Cincinnati Bengals
' interior rover. He got more experience lining up at the various interior line positions than any other player. Whenever one of the starters at left guard, center or right guard went down, he had to know all three positions so that he could come right in and play them with the exact same level of execution.
Pollak
Of the three positions, right guard was the one Pollak saw the least amount of time at during the preseason. But that doesn't mean he didn't know how to play it.
When Pollak got thrown into last Sunday's game against the Falcons at
Kevin Zeitler
's right guard position, it took a little time to get reacclimated to the spot. He filled in there extensively once before. It appears he may be doing more of that in the next few weeks as Zeitler will probably be injured for a long time.
"It took me about a series to kind of get refocused back there," Pollak said. "Last year when I had to fill in for Kevin toward the end of the season, I got a lot of reps over there."
The Bengals haven't announced anything official on Zeitler's status moving forward just yet, but there's a chance coach Marvin Lewis addresses it during his news conference Wednesday afternoon. Dave Lapham, the color analyst on the Bengals' radio team and a former Cincinnati offensive lineman, said during a radio show Monday night that he had been told Zeitler had a calf strain and was going to be out a month.
If Zeitler is out for four weeks, he'll miss games against the Titans, Patriots and Panthers. That's three games for Pollak to take over and prove that he can build the same wall of protection quarterback
Andy Dalton
has provided.
"As a backup, you've got to know that when your number's called you've got to perform," Zeitler said.
Zeitler suffered the injury in the second quarter of a game that saw five Bengals end up leaving due to serious injuries. Zeitler's happened at the end of a goal-line run when he pushed a pair of defenders as running back
Giovani Bernard
tripped in for a 4-yard touchdown run. With his left arm, the guard turned the defensive tackle across from him and then pushed back another lineman who was chasing Bernard with his right arm. The block opened a wide hole for Bernard to score, but came with a price.
Zeitler tried to hobble off the field, but went down in pain almost instantly before told to gingerly head through the nearby tunnel and into the locker room. He told me he felt his leg simply give out when the apparent strain occurred.
One could make a case that Zeitler was playing at an early Pro Bowl level. He had a 2.1 overall grade from Pro Football Focus through two games and hadn't allowed any pressures.
Pollak didn't allow any himself when he took over. He'll have to keep that going, especially considering Dalton is one of two quarterbacks in the league who still hasn't been sacked.
"It's one of our key emphasis each week, to keep the quarterback clean," Pollak said. "Two weeks in a row. We've got to keep it going. It's not going to be perfect throughout the season, but it's definitely good confidence."
September, 16, 2014
Sep 16
4:40
PM ET
CINCINNATI -- Thanks to one 49-yard punt and a pair of late-game drives that were downed near the
Atlanta Falcons
' goal line,
Cincinnati Bengals
punter
Kevin Huber
earned this week's ESPN.com punter of the week honors.
Huber
The punter of the week is named each Tuesday by ESPN stats guru Mark Simon. He uses a combination of basic stats and situational performance in order to make his choice.
As you can read below, Simon says that Huber's two fourth-quarter punts made him a strong candidate for this week's honors. With the Bengals up by 14 on a Falcons team that was trying to desperately come back late, Huber dropped a pair of punts inside the 10-yard line that the Bengals' coverage team downed before they rolled into the end zone. One was downed at the Atlanta 4. Another at the Atlanta 1. Neither time could the Falcons drive the length of the field and score.
Long snapper
Clark Harris
was among those who helped pin the Falcons deep, as did gunner
Dre Kirkpatrick
, who even got behind return man
Devin Hester
on both occasions to serve as a last line of defense on the kicks.
Kirkpatrick expressed to me his excitement for coming away with the clutch stops after the game. With him off the field on defense, the cornerback/coverage team player said he wanted to do anything he could to contribute to the win.
Head coach Marvin Lewis discussed the two punts -- Huber had four overall -- in his news conference Monday.
"Obviously, they've got to score touchdowns in order to get back into the football game, and to make them have to go 90-plus yards, you can't write a better script than that, other than not giving them the ball," Lewis said. "For Dre Kirkpatrick to go down and down those balls like he did, and the one to reach out and dive and knock it back was important. Those are big hits by Kevin to get it up there where we have a chance to make a play on it like that.
"You hate when you're on the other of that, and unfortunately, I've been there, too."
Here's how Simon described meting out his award:
Late in a game, it is a punter's job to put the opposing team in as difficult a position to score as possible.

Huber did that in a big way in the Bengals' 24-10 win over the Falcons.

With Cincinnati up 14 in the fourth quarter, Huber downed back-to-back punts at the Falcons 2 and 4-yard lines. The Bengals would hang on for the victory.

Over the last two seasons, this is the sort of thing at which Huber has excelled. He ranks third in the NFL in percentage of punts resulting in possession inside the 10 (19 percent), well better than the league average of 11 percent.
September, 16, 2014
Sep 16
4:15
PM ET
CINCINNATI -- As expected, the
Cincinnati Bengals
made a move -- a positive one -- in
ESPN's Power Rankings that were released Tuesday afternoon
.
One week after ranking fifth in the Week 2 Power Rankings, the Bengals opened Week 3 in the No. 3 spot. They climbed due in large part to a combination of losses by teams ahead of them, and their own 24-10 win over the Falcons on Sunday.
The ranking also is just another sign the Bengals are starting to gain a little notoriety for their hot start to open the year. One of seven 2-0 teams entering Week 3, they ranked ahead of all of them this week but one -- the No. 1 team, Denver.
Also ahead of the Bengals on this week's rankings are the
Seattle Seahawks
, the previous No. 1 who lost Sunday to San Diego. Despite that defeat, many of the 80 ESPN reporters, editors and television personalities who take part in this weekly poll didn't think they should take too much a hit. That's myself included. On my ballot, I placed Denver at No. 1, Seattle at No. 2 and the Bengals at No. 3. Honestly, you would have thought it was my ballot that ended up getting used for this week's Power Rankings.
Why keep Seattle ahead of the Bengals even though it is 1-1 and the Bengals are 2-0? Because the Seahawks are still the defending champs, and until they start a trend of losing, I believe it's safe to still assume that they are a top-tier team.
Dalton
But are the Bengals?
Yes. They still haven't allowed quarterback
Andy Dalton
to get sacked. They still haven't committed an offensive turnover. Their defense looks even more voracious -- so far -- than it did even under former defensive coordinator Mike Zimmer. Cincinnati's assertive, aggressive, smashmouth and physical style of play made its 23-16 Week 1 win over Baltimore even more convincing than it was. The 24-10 final against the Falcons this week was a lot closer than the way the game was played, too.
Oh, and they've gotten to 2-0 without the likes of
A.J. Green
,
Tyler Eifert
and
Marvin Jones
, and with limited action from defending tackles king
Vontaze Burfict
. Imagine if they were fully healthy right now. They probably would have scored more than 30 points, making their offense look as fluid as say, Denver's last year.
OK, maybe not quite that fluid. But still, they're operating at a high level. With an early bye looming next week, they'll want to knock off the Titans this Sunday in order to maintain their perfect record and to have their legitimacy tested when they return to action in Week 5. They'll travel to New England that Sunday for a night game in Foxboro, Massachusetts, that will prove whether they are a legit contender or not.
September, 16, 2014
Sep 16
3:45
PM ET
CINCINNATI -- With their passing offense -- specifically their tight ends -- depleted after the first two games of the season, the
Cincinnati Bengals
on Tuesday made a series of roster moves.
First, they placed 10-year veteran tight end
Alex Smith
on the injured reserve list after he suffered a left biceps injury against the
Atlanta Falcons
on Sunday. Smith was one of three Bengals lost in the first quarter of a physical game. Overall, five Bengals were sidelined before the game ended, causing the Bengals to get a little creative with their personnel decisions entering this Sunday's contest against the
Tennessee Titans
.
Since fellow tight end
Tyler Eifert
is already on the short-term IR, and since teams are only permitted to put one player per season on that designated-to-return IR, Tuesday's news means Smith's season is officially over. He's placed onto the season-ending injured reserve. He appeared in the first two games, helping the Bengals address their depth behind Eifert, who got hurt in the first quarter of the season opener at Baltimore.
Eifert is expected to return Week 10 when the Bengals host the
Cleveland Browns
on a Thursday night.
In addition to removing Smith from the 53-man roster, the Bengals signed free-agent tight end Kevin Brock and slid him into Smith's old spot. Brock is a second-year player who opened this season's training camp with the Bengals before getting waived two days before the team's preseason finale. He originally was signed by the Bengals last postseason after Smith dislocated a wrist in the regular-season finale. This is the second straight season Smith has ended a year on IR.
Along with adding Brock, the Bengals also released tight end Ryan Otten off the practice squad to make room for offensive lineman Emmett Cleary. The versatile guard/tackle is a first-year player from Boston College. He spent time last season on Tampa Bay's practice squad before getting acquired by Oakland on waivers this summer. He was waived by the Raiders the same day the Bengals cut Brock.
Even with all these moves, the Bengals have the same number of players they did when the day began -- 52. They're still one shy of the 53-man limit, and could hit it Wednesday when they have to make a decision on cornerback Chris Lewis-Harris, whose two-game suspension ended Monday. The NFL granted the Bengals a two-day exemption period starting Monday to determine what they're going to do with him. At this point, it seems they'll either sign him or release him.