October, 31, 2014
Oct 31
6:15
PM ET
CINCINNATI -- Three times last Sunday against the Ravens the
Cincinnati Bengals
were in goal-line territory.
All three times they scored touchdowns.
All three times they scored them by running.
Whitworth
Hill
That perfect conversion rating led to a 3-for-5 showing in the red zone, the area where Cincinnati had its share of struggles at the beginning of the season. The Ravens entered that game having the league's most efficient red-zone defense, allowing touchdowns on just 36.4 percent of red-zone drives.
So consider the Bengals' 60 percent conversion rating last week laudable.
This Sunday, with the Jacksonville Jaguars having leapfrogged Baltimore and now boasting the NFL's most efficient red-zone defense, the Bengals' offense is looking for a repeat performance.
"It's been a point of emphasis that when we get down there to score touchdowns," quarterback
Andy Dalton
said.
After the Bengals had a lone, fruitless red zone trip late in a 27-0 loss at Indianapolis two weeks ago, they
had
to get to the red area often against the Ravens and perform once they did. They aren't trying to relive the Colts outing anytime soon.
It will take a sound passing game between the 20s and a strong running game from inside them in order for that to happen.
"A lot is made about yards per carry, but there is more attention to getting yourselves, in my mind, in third-and-manageables," veteran offensive tackle
Andrew Whitworth
said about extending drives to get to the red zone.
Against the Colts, 10 of the Bengals' 13 third-down conversions required seven-yard gains. When an offense consistently has that far to go to get a first down, it struggles to move the ball into the red zone. That is what happened to the Bengals that afternoon as they converted just one of their 13 third-down chances. Whitworth said the only way to counteract those third-and-long situations is to have difficult and crucial catches move the ball. On the Bengals' go-ahead drive in the closing minutes of Sunday's 27-24 win, two third-down receptions, by
Mohamed Sanu
and
Greg Little
, respectively, pushed them to the doorstep of the end zone.
Once there, the Bengals put the ball on the ground, handing off to running back
Jeremy Hill
twice and punching in the dramatic game-winning touchdown on a 1-yard Dalton quarterback sneak on fourth-and-goal. Nine of the Bengals' 10 rushing touchdowns this season have come in goal-line territory.
Three of the five rushing scores the Jaguars' second-ranked goal-line defense has allowed have come in goal-to-go situations.
"It keeps you aggressive and it just creates a really difficult situation for the defense," Whitworth said of running in the red zone. "The safeties and corners down there really want to trust that they don't have to worry too much about the run game, because they can get a quick fade or a back shoulder or a slant.
"They've got so many things to worry about. When you can run it well and coaches are on them to get up in there and help make a tackle, then the next thing you know, everything else opens up. It makes it tough on them."
Hill, who will be starting Sunday in place of injured starting running back
Giovani Bernard
, relishes the opportunity to run from inside the 20.
"Somebody's always going to be unblocked, especially in goal-line situations," Hill said. "You just have to dig deep and just find a way whether you go over the top, run through people. However you have to get in there, you have to get in there."
October, 31, 2014
Oct 31
5:05
PM ET
CINCINNATI -- All of a sudden, the spotlight on
Jeremy Hill
has intensified.
With
Giovani Bernard
slated to
miss the first game of his young career
Sunday due to injury, the focus in the
Cincinnati Bengals
' backfield shifts to his rookie replacement.
Joined by backups
Cedric Peerman
and
Rex Burkhead
, Hill ought to command his share of carries and passing targets as he steps in for Bernard against the
Jacksonville Jaguars
.
[+] Enlarge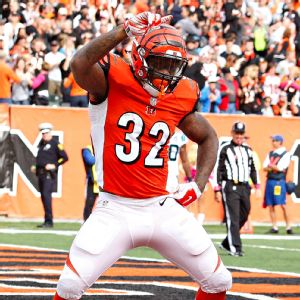 John Grieshop/Getty ImagesRookie Jeremy Hill will get his first start Sunday against the Jaguars.
Although Hill already plays regularly, this will be the first start of his career.
So what does Hill give the Bengals?
He's a strong, physical runner who can catch. He was LSU's third-leading receiver last year. He also has comparatively fresh legs after getting outpaced by Bernard on offensive touches to this point, 131-63.
While Bernard may have more opportunities, Hill has still taken advantage of the ones he has received. His 7.0 yards per touch (both receiving and rushing) is better than the 6.1-yard average Bernard has on his rushes and receptions, according to ESPN Stats & Information.
Hill technically may be a rookie another three months, but as the season reaches its halfway point, his coaches and teammates no longer consider him as such. He's grown since his arrival six months ago, and has a chance this weekend to take his biggest strides yet.
"They're not rookies anymore," offensive coordinator Hue Jackson said about Hill and fellow first-year player center
Russell Bodine
. They are the most regular rookie contributors on offense.
"They're expected to make plays. That's what they're here for," Jackson continued. "Whether it's the center or the back or any of our guys, that's the name of the business."
That's also the reason Hill was drafted in the first place. Cincinnati had former back BenJarvus Green-Ellis' succession plans in place and were looking for Hill to factor into them. They wanted to employ a two-man running back rotation with Bernard, but they also wanted to ensure that if they drafted Hill, he would be mature enough to handle situations like this one.
"It's kind of that time of the year where those guys have to put extra onus on some of the little things that may go by just because they're rookies," veteran Pro Bowl offensive tackle
Andrew Whitworth
said. "As long as they continue to progress and continue to say every week 'I want to go out and be a little better, that's really what the biggest difference is.'"
As he readies for his first start, that's the attitude Hill has tried to exude. He wants people to know that he's confident he can provide a boost in Bernard's absence.
"I'm preparing like I'm the No. 1 guy, like I do every week," Hill said earlier this week. "If you stick to what your coaches are teaching you and you run the ball hard, you should be able to get successful yards. That's what I've been sticking to and it's what I'm going to continue to stick to. I'm just doing my job and doing what the coaches ask me to do and it's been pretty successful so far."
October, 31, 2014
Oct 31
2:45
PM ET
CINCINNATI -- All signs point to Pro Bowl wide receiver
A.J. Green
playing in his first game in a month except for one.
The
Cincinnati Bengals
' injury report.
Green
On it, he was listed as questionable for Sunday's game against the
Jacksonville Jaguars
.
The fourth-year receiver practiced all this week in limited participation as he tries returning from the injury to his right big toe that has been problematic all season. He has missed the past three games because of it.
It's possible he misses a fourth straight Sunday ahead of a short turnaround next week with a Thursday night tilt against the AFC North-rival Browns looming. That game has much more significance to Cincinnati's postseason hopes than Sunday's game against the 1-7, non-division Jaguars.
Mohamed Sanu
, the receiver charged with replacing Green in the parts of four games Green missed, accounted for more than 31 percent of the Bengals' offensive production in those games. With all the time Green has missed, Sanu is Cincinnati's leading receiver. So there are reasons for the Bengals to believe they will be all right leaving the pass-catching part of their offense in Sanu's hands for one more week.
Aside from being questionable on the injury report, Green hasn't shown any ill effects of the injury in practice. He's still able to cut and run, albeit at slower speeds, much like he did before.
"If everything stays the way it is, he'll play," coach Marvin Lewis said Friday.
We'll keep our eye on Green when the Bengals first hit the field for warm-ups Sunday morning.
In addition to Green, the Bengals' injury report also has running back
Giovani Bernard
listed
out with hip and clavicle injuries
. Defensive tackle
Brandon Thompson
who practiced fully Wednesday and Thursday, is listed as questionable. He didn't practice on Friday, with Lewis saying Thompson was just being rested as the training staff continues to monitor his return.
Here is the Bengals' full injury report:
OUT
LB
Vontaze Burfict
(knee)
RB Giovani Bernard (hip/clavicle)
DOUBTFUL
LB
Rey Maualuga
(hamstring)
CB
Darqueze Dennard
(hamstring)
OG
Kevin Zeitler
(calf)
QUESTIONABLE
DT Brandon Thompson (knee)
WR A.J. Green (toe)
PROBABLE
DT
Domata Peko
(toe)
LB
Jayson DiManche
(shoulder)
DE
Carlos Dunlap
(illness)
OL
Mike Pollak
(knee)
CB
Terence Newman
(back)
OT
Andre Smith
(knee)
October, 31, 2014
Oct 31
1:23
PM ET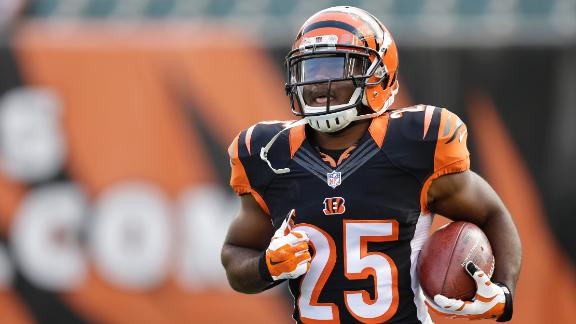 CINCINNATI -- Bengals running back Giovani Bernard, who hasn't practiced all week because of hip and collarbone injuries, will miss a game for the first time in his career on Sunday, coach Marvin Lewis said Friday.
Bernard, the Bengals' leading rusher with 446 yards and a career-high five rushing touchdowns, will be replaced by rookie Jeremy Hill against the Jacksonville Jaguars on Sunday.
"The rest is going to be good for him," Lewis said.
Lewis and the Bengals said it was too soon to know if Bernard would be healthy enough to play next Thursday, when the Cleveland Browns visit Paul Brown Stadium.
"We'll cross those bridges then," Lewis said.
Hill has 195 yards and three touchdowns on 50 carries this season -- including a season-high 15 attempts against the Falcons in Week 2.
Offensive coordinator Hue Jackson told ESPN.com on Thursday that he was confident in Hill's abilities if Bernard couldn't play.
"I feel good that if it happened that way, that [Hill] would go in there and do the job," Jackson said.
The Bengals will also turn to backups Cedric Peerman and Rex Burkhead for production from the running back position.
Bernard, who has been on the receiving end of some vicious hits over the past three weeks, injured his hip during Sunday's 27-24 win over the Ravens. The collarbone issue dates two weeks prior, when he was slammed hard to the ground by Carolina's Luke Kuechly
October, 31, 2014
Oct 31
1:00
PM ET
CINCINNATI -- Among many positives working in the
Cincinnati Bengals
' favor this week is the fact that they have been quite good in goal-to-go efficiency this season.
So has Jacksonville's defense.
The Jaguars enter this week ranked second in the league in goal-to-go efficiency. They are allowing touchdowns on 56.3 percent of the goal-line series they are defending. Entering last week, Baltimore had the best goal-to-go efficiency in the league, holding opponents to a 45.5 touchdown conversion percentage in those situations. As solid as that goal-line defense was, it was no match for the Bengals. Cincinnati scored on all three of its goal-to-go possessions against the Ravens. Its offense should be in for a repeat against the Jaguars.
If that's not enough to beat lowly Jacksonville, the Bengals can always use this as motivation: their division and in-state rivals, the
Cleveland Browns
, lost to the then-winless Jaguars two weeks ago. Cincinnati doesn't want to succumb to the same fate. Nor will it.
Bengals 34, Jaguars 14
October, 31, 2014
Oct 31
1:00
PM ET
CINCINNATI -- It was a year ago Friday night that
Geno Atkins
suffered the injury that ended his 2013 season and began the long road to recovery that only now seems to be ending.
Atkins
On Halloween Night
in Miami Gardens, Florida, mere miles from Atkins' native Pembroke Pines, the
Cincinnati Bengals
defensive tackle tore his ACL while chasing after Dolphins running back
Lamar Miller
as he cut back into the middle of the field. As Atkins and other Bengals converged for the tackle on the 4-yard gain, he became trapped underneath the pile. He took his helmet off instantly.
Atkins' season was over. Surgery was forthcoming. Only one thought could enter his mind: next year.
Since "next year" began nearly two months ago, Atkins hasn't been the same player he was before the injury. He's been less explosive off the line of scrimmage and hasn't been as productive statistically. His tackle numbers have been slightly down and his sack figures even lower.
But lately, he's given the Bengals a glimmer of hope in his future.
Defensive coordinator Paul Guenther said Monday that he thought Atkins
played his best game of the season
last Sunday against the Baltimore Ravens. He had four tackles, a sack and a forced fumble that came when he broke through the offensive line and forced the ball loose just after the running back had been handed it.
He was looking like the Atkins of old.
The sack was his first fully-credited sack of the season. He had a half-sack the game before against the Colts that was only awarded to him days after the game. One year ago Friday, playing in his ninth game of the 2013 season, Atkins already had six sacks.
It might be quite the endeavor to get Atkins back to where he was, but the Bengals are hoping he can build from his performances the last two weeks.
"He has the quickness and the penetration and the things that Geno does," head coach Marvin Lewis said. "The more opportunity we have to get him into passing situations, the more opportunities of plays he's going to be able to make as a pass-rusher."
October, 31, 2014
Oct 31
8:20
AM ET
CINCINNATI -- If you ask the
Cincinnati Bengals
about
Jacksonville Jaguars
quarterback
Blake Bortles
, they will tell you all about how dangerous his powerful arm and shifty feet can be.
What they won't tell you is how confident they are about exploiting the turnover issues Bortles has had all year.
Through only six games as the Jaguars' quarterback, five of which he started, Bortles has 12 interceptions. Four of them have been returned for touchdown. Bortles' 0.5 touchdown-to-interception ratio ranks as the second-worst among NFL quarterbacks. Only
Teddy Bridgewater
's 0.4 ratio is worse.
"They're doing a good job," Bengals defensive tackle
Domata Peko
said, cautioning Bengals fans from staring at Jacksonville's 1-7 record. "They just need to take care of the ball a little more. That's where they've been getting killed, with their turnovers. We've got to take advantage of that, and I think we will this week."
Good defensive pressure has led to a number of Bortles' interceptions. So has the fact that he's a first-year player. No rookie quarterback has been immune from poor play this season, particularly when blitzed the way Bortles and Bridgewater have been. Bortles, Bridgewater and
Derek Carr
have three of the eight-worst QBRs in the league when facing five or more pass-rushers, according to ESPN Stats & Information.
That same type of defensive pressure led to five of Bortles' interceptions, a league worst. He also has a league's lowest percent passer rating, 35.3 percent, when five or more players are rushing. On 69 dropbacks against that rush, he's been sacked nine times.
One can imagine what Bengals defensive coordinator Paul Guenther was thinking when he watched film on Bortles earlier this week. He probably was eager to come up with ways he could attack the rookie to make him uncomfortable and add to his interception and sack totals. Peko could see that happening.
"Guys are getting in his face and putting their hands up and pressuring him," Peko said. "That's going to be one of the big keys to the game: stopping the run and getting after Bortles. We need to get in his face and show him different looks and try to rattle this rookie. We can take advantage of that."
Which look would work best? The nickel.
According to the NFL's Game Statistics and Information System, the Bengals have three interceptions this season out of a nickel formation that includes end
Wallace Gilberry
at defensive tackle and
Vincent Rey
as the interior linebacker. The three interceptions are the most the Bengals have in any particular lineup. Six other lineups have yielded their remaining six interceptions.
With
Vontaze Burfict
out following knee surgery Wednesday, Rey will be playing that same spot when the Bengals shift into nickel Sunday. Don't be surprised if that formation puts so much pressure on Bortles that he adds to his total and extends his streak of games with an interception to start his young career.
October, 30, 2014
Oct 30
8:30
PM ET
CINCINNATI -- Amid concerns that
Cincinnati Bengals
running back
Giovani Bernard
's string of injuries are a matter of him taking on a more significant workload than before, we turned to ESPN Stats & Information for help comparing his second year to his rookie season.
Bernard
A quick glance at Bernard's 2014 numbers show that perceptions are meeting reality. He has indeed touched the ball more so far this season than he did at this point last year.
But is that what's causing the injuries? Offensive coordinator Hue Jackson says no.
"I know because of his size and whatnot, people say that, but I don't believe that's the case," Jackson said. "The things where he was nicked up didn't come from taking too much. It just came from somebody tackling him and hitting him in the right spot."
Let's review the three injuries Bernard has suffered in the last three games:
Luke Kuechly. Bernard left briefly and ended up returning to finish the overtime game. Although the injury was termed a "shoulder" injury, trainers were seen working on an area near Bernard's shoulder that was closer to his collarbone. He also grabbed that same area as soon as he tried to get up from Kuechly's hit.
Against the Panthers on Oct. 12, Bernard was said to have had a right shoulder injury after taking a hard hit early in the fourth quarter from Carolina linebacker and Cincinnati native
Against Indianapolis on Oct. 19, Bernard received bruised ribs when he was blindsided by Colts defensive back Vontae Davis on a screen that Indianapolis read before it developed. Two plays later, he was lit up again when he took a shot to his back on a different screen route. After both hits, Bernard bounced back and finished the game.
Against Baltimore last week, he didn't return when he suffered a hip injury in the fourth quarter. He hasn't practiced all week and has been listed on the injury report as having hip and clavicle injuries.
Back to Bernard's workload. What about it has increased?
Almost everything.
He has more carries, targets, routes, rushing yards, rushing touchdowns and a higher rushing average than he did after seven games last season. He also has been on the field more. He also has, from a percentage standpoint, slightly more carries between the tackles this season compared to last year.
Does any of it explain Bernard's sudden propensity for injury? At this still fairly early stage of the season, no. Later in the year, though, if these statistical trends keep up and Bernard's production slips, a real case could be made that wear and tear have slowed him down.
For now, perhaps Jackson is right? Maybe Bernard has simply been a victim of good, hard tackles at inopportune times.
October, 30, 2014
Oct 30
4:47
PM ET
CINCINNATI --
Giovani Bernard
might soon miss the first game of his career.
The second-year
Cincinnati Bengals
running back missed his second straight practice Thursday afternoon. Like Wednesday, he didn't make it on the practice fields while his teammates worked out.
Bernard
Hill
He hasn't been officially ruled out for Sunday's game against Jacksonville, but if Bernard doesn't practice Friday, expect to see him shelved. Very seldom will head coach Marvin Lewis' players play on Sundays without at least practicing on Fridays.
Don't try to convince Bernard's backfield mate that he's done for this weekend, though. Rookie running back
Jeremy Hill
said Thursday that he anticipated seeing Bernard on the field this weekend.
"Gio will be ready to go. He's a tough guy," Hill said. "I expect him to be out there. If he is, he is. If he's not, he's not. I'm preparing like I'm the No. 1 guy, like I do every week. If I happen to be that, then so be it. If not, I'll continue to do what I've been doing."
Hill would take over as the Bengals' primary running back.
Cedric Peerman
and
Rex Burkhead
likely would get carries alongside him.
"I feel good that if it happened that way that [Hill] would go in there and do the job," offensive coordinator Hue Jackson said about Hill possibly having a larger role.
Hill has just 50 carries this season, an average of 7.1 per game. He's rushed for 195 yards and has three touchdowns. Bernard has 446 yards on 109 carries. He also has five rushing scores.
Bernard suffered a hip injury in the fourth quarter of last week's 27-24 win against the Ravens. He left the game after a 4-yard first-down run. He went down rather abruptly before getting rolled over by his tackler from his belly to his back.
In addition to the hip injury, he also has been out this week with an injured clavicle. He hurt a shoulder at the end of an awkward tackle three weeks ago in the overtime tie with the Panthers. Seven days later, he hurt his ribs following a hard shot from Colts cornerback
Vontae Davis
on a screen pass.
Jackson said he didn't think Bernard's injuries were the result of putting a larger workload on his smaller frame.
"I know because of his size and whatnot people say that, but I don't believe that's the case," Jackson said. "The things where he was nicked up didn't come from taking too much. It just came from somebody tackling him and hitting him in the right spot."
Here is a look at the Bengals' complete Thursday injury report:
OUT
LB
Vontaze Burfict
(knee)
DID NOT PRACTICE

RB Giovani Bernard (hip/clavicle)
LB
Rey Maualuga
(hamstring)
DT
Geno Atkins
(veteran's day off)
CB
Darqueze Dennard
(hamstring)
OG
Kevin Zeitler
(calf)
LIMITED PRACTICE PARTICIPATION
DT
Domata Peko
(toe -- did not practice Wednesday)
WR
A.J. Green
(toe)
CB
Terence Newman
(back)
OT
Andre Smith
(knee)
FULL PRACTICE PARTICIPATION
OL
Mike Pollak
(knee)
DE
Carlos Dunlap
(illness)
DT
Brandon Thompson
(knee)
LB
Jayson DiManche
(shoulder)