August, 30, 2014
Aug 30
12:21
PM ET
[+] Enlarge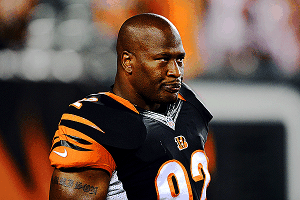 Andrew Weber/USA TODAY SportsJames Harrison struggled with the Bengals last season -- his only year in Cincinnati -- following his successful 10-year stint with the Steelers.
James Harrison, a five-time Pro Bowl linebacker and former NFL Defensive Player of the Year, is retiring from football.
Harrison, who spent 10 years with the Pittsburgh Steelers and played his final NFL season with the Cincinnati Bengals last year, announced his decision Saturday on his Facebook page.
"I have made the difficult decision to retire as of today," Harrison's statement said. "My love for my family and the need to be there for them outweighs my desire to play the game. I have missed too many experiences with them because I devoted SO much time to my career.
"My love for the game isn't strong enough to make up for missing one more birthday or first day of school."
The 36-year-old Harrison entered the league in 2002 as an undrafted free agent out of Akron. He then played 10 seasons with the Steelers before spending all of last year with the Bengals.
On the heels of his least productive year since his second season in the NFL, Harrison was cut by the Bengals back in March. In 15 games, he had just 30 tackles and two sacks. Used primarily in run-stopping situations, Harrison didn't see the field much in those 15 games.
August, 30, 2014
Aug 30
9:00
AM ET
CINCINNATI -- Now that BenJarvus Green-Ellis is off the Cincinnati Bengals' roster, what's next?
How much greater of a role will rookie running back
Jeremy Hill
take on? How will he split carries with
Giovani Bernard
? Does Green-Ellis' departure change anything?
Those are some of the questions I've fielded in the last several hours, and they are questions that I'm sure will persist long after the regular season begins for the Bengals at Baltimore next Sunday. As we get into this week's mailbag, we try to dig a little deeper into an answer to at least one of those questions.
Also, as you can see, there are a couple questions about the Bengals' 53-man roster, which will be finalized by 4 p.m. Saturday.
Let's get to the mailbag:
@ColeyHarvey are Jeremy hill and gio Bernard going to split carries? Hill proved that he can handle playing an entire game

— NotoriousGIB (@Notorious_GIB_1) August 29, 2014
@ColeyHarvey
. An easy and quick answer to your question, Notorious: yes. Hill and Bernard will split carries this season. Exactly how will that split be determined? Well, that's a mystery for now. Of course, the Bengals coaches have an idea of what the breakdown will be, but they won't be telling you or I anytime soon. Head coach Marvin Lewis even said as much Thursday night when he interrupted a reporter's question to emphasize that he wasn't going to put a number on how many carries any of his backs might average a game. Having said that, if I were to guess, I'd imagine that there will be some semblance of a 65-35 split on touches between Hill and Bernard. The speedy second-year standout Bernard would get the majority of those, particularly because the Bengals are making an emphasis on getting him involved in space this season. Hill will get his opportunities, too, though, and you're right. He showed Thursday that he could play significant minutes. The playing-time breakdown will be primarily determined by the defense the Bengals are playing, and at which moments in the game it'll be best to utilize Hill's power over Bernard's elusiveness, and vice versa.
@ColeyHarvey does Marvin J's injury affect which other WRs make 53? Eg: Cobi makes it because he's similarly tall, speedy & stretches field

— Caleb Profitt (@calebprofitt) August 29, 2014
@ColeyHarvey
. In a weird and convoluted way, Caleb, it could. Do I believe
Marvin Jones
' foot injury will affect the 53-man breakdown, though? No. Here's why. While the Bengals are cutting to 53 players right now, they also are trying to choose the 46 players who will be a consistent part of the active game-day roster. If they thought
Cobi Hamilton
would be a regular 46-man roster contributor, then yes, they'd bring him in to help while Jones is gone. But when it comes to the other seven remaining spots, the Bengals hope to give those to players who will be around on the fringe of the depth chart all season. Hamilton's raw tools make him perfect for that, but his inconsistency in the preseason doesn't. At least not to me. I still think he gets cut in favor of rookie James Wright, whose special teams penalties this preseason might have been worse than advertised. Two of the three were borderline and might not have been called in the regular season. Also, since Jones should return by Game 5, his injury won't be enough for a fringe 53-man player to take his spot, even if there is a size and style-of-play resemblance.
@ColeyHarvey Tate very unimpressive in preseason. Why not keep either both Hamilton & the rookie or pick up Ford or someone similar?

— Harold Moskowitz (@chgolaw) August 29, 2014
@ColeyHarvey
. I wouldn't say "very unimpressive." Could
Brandon Tate
have been better? Sure. Was he probably passed in some respects on special teams by
Dane Sanzenbacher
? Yes, I believe so. Should the Bengals keep Hamilton and Wright instead of Tate? I'm not so sure. The main reason why, again, is because Hamilton just hasn't been consistent. He had a nice 50-yard touchdown catch Thursday, but he also had a drop in that game. In one other preseason game, he caught two only passes after being targeted 13 times. I'd rather go with the solid vet who can play special teams over the young, inconsistent player who isn't quite as versatile. Maybe your other scenario takes place. Perhaps the Bengals do decide to cut Tate and/or Hamilton. If that happens, Jacoby Ford could be a possibility. From what I can tell, though, it seems doubtful the Bengals add a free-agent receiver this season. We'll soon find whether all these potential 53-man roster moves pan out.
@ColeyHarvey I know you and @pauldehnerjr are tired of this question, but did Sanzenbacher take special teams job from Brandon Tate?

— Andy Sheets (@asheets13) August 29, 2014
@ColeyHarvey
. As you can see, I kind of hinted at that in my answer above. Assuming both make the team, I'm not sure the Bengals end up replacing Tate with Sanzenbacher. What I will say, however, is this: Sanzenbacher earned himself a bigger role this preseason. He was strong as a returner all throughout the preseason. His 77-yard punt return for a touchdown helped set the tempo for a second half that the Bengals completely dominated Thursday night. If given the chance against starting punt-coverage units, it will be interesting to see if Sanzenbacher can replicate the returns he has had. If he does, I believe we can crown him the better returner of the two you mentioned.
August, 29, 2014
Aug 29
5:50
PM ET
CINCINNATI -- After 112 days, finally, the news came.
BenJarvus Green-Ellis
was cut.
[+] Enlarge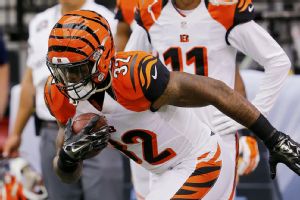 AP Photo/Rick ScuteriJeremy Hill can expect the Bengals to use him in a variety of ways this season.
Most around southwest Ohio had anticipated hearing of the running back's release since May, when the
Cincinnati Bengals
drafted his replacement,
Jeremy Hill
. A second-round pick, Hill vowed that weekend to learn from and play along with Green-Ellis, even while it was apparent that the veteran's days were numbered.
Those days officially ran out Friday afternoon.
Green-Ellis' release means the Bengals have turned to the next chapter of their backfield plans, and that they are embracing having Hill as an option out of the backfield. It's safe to say that in Cincinnati, the Jeremy Hill Era has begun.
You actually could rewind your clock back to Thursday night in order to pinpoint the exact moment Hill's tenure with the Bengals began. During a 35-7 win over the
Indianapolis Colts
, the running back shouldered the load, receiving 26 touches. He ran 20 times for 90 yards and caught six passes for 63. With the star rookie playing until deep into the third quarter, many criticized coach Marvin Lewis for not taking him out sooner.
There was a method to Lewis' apparent madness.
"Jeremy has to understand what it's like to be an NFL running back," Lewis said. "We aren't five deep. When we get to Sundays and we got down to 46 guys, and if he's going to be the guy, then he's going to have to be able to shoulder the load."
It should be pointed out that he won't be the
only
guy for the Bengals this season. Second-year back
Giovani Bernard
also will be contributing out of the backfield. Bernard is expected to see the bulk of the touches out of the backfield, but Hill should have his share, too.
Bernard is more of a shifty, outside runner who can punch the ball inside if he needs to. Hill is more of a power-running ballcarrier who happens to have next-level speed, too.
Green-Ellis no longer had that combination, and it factored into the reasons he had to go.
When you saw Green-Ellis and Hill run in practices during the spring and earlier this summer, it was a night-and-day difference in how fluid Hill looked compared to the veteran. The rookie's cuts were sharper. His feet were quicker. His strides were longer. Matched with Green-Ellis' comparatively plodding pace, Hill looked more like an NFL rusher than Green-Ellis. There was no contest.
After Thursday night's game, Hill was asked about getting such an exhaustive workload on a warm, humid night. He said he felt fine with it because it was good preparation for what's to come.
"Bigger backs are always accustomed to getting the workload," Hill said, adding that he still wants to work on his conditioning a little more.
A physical runner himself, Green-Ellis has gotten his share of carries in recent seasons. In his two years with the Bengals he averaged 249 carries. Prior to that, though, he never had more than 229 in a single season with the
New England Patriots
, the only other team Green-Ellis has played for.
You won't ever hear Green-Ellis admit it, but perhaps his slower, less effective play last season was partially the result of overuse. He was, after all, the primary back on the roster in 2012 when he had 278 carries. Last season he had Bernard to share the runs with, but he still far outpaced any other Bengals rusher, collecting 220 carries.
While coaches won't say how often they expect to use Hill this season, based on Thursday, it's clear they expect to use him in a variety of ways. The rookie ran up the middle, hit the edge a few times and even caught a number of screen passes.
"He likes to attack every corner of the field," backup quarterback
Jason Campbell
said.
Now that Green-Ellis is no longer ahead of him, Hill will be able to touch as much of the field as he wants.
August, 29, 2014
Aug 29
4:18
PM ET
ESPN.com news services
Cincinnati Bengals cornerback Dre Kirkpatrick is being fined $22,050 for unnecessary roughness, a league source told ESPN's Ed Werder.
The fine stems from Kirkpatrick hitting Arizona Cardinals punt returner Ted Ginn Jr. in the head-neck area during the Bengals' 19-13 victory Sunday.
Kirkpatrick, the Bengals' first-round draft pick in 2012, has played in 19 career games with three interceptions and one sack.
August, 29, 2014
Aug 29
4:00
PM ET
CINCINNATI -- In addition to
terminating the contract
of veteran running back BenJarvus Green-Ellis on Friday, the
Cincinnati Bengals
also waived three other players.
Quarterback
Tyler Wilson
, defensive tackle LaKendrick Ross and linebacker
Brandon Joiner
were released as the Bengals made their first few cuts from the current 75-man roster. By 4 p.m. Saturday, all 32 NFL teams have to get down to 53 players on their active rosters. Wilson, Ross and Joiner could qualify for the practice squad, but until all the other cuts are made, it's unclear exactly how the practice squad will shake out.
Cincinnati's roster now sits at 71.
Wilson was signed during the preseason following No. 2 quarterback
Jason Campbell
's elbow injury during the preseason opener at Kansas City. Wilson has since appeared in two games. He played in the Week 2 preseason game against the Jets and got extensive second-half action in Thursday night's preseason finale against the Colts. He was 3-of-5 for 73 yards. The bulk of his yards came on a 50-yard touchdown pass to
Cobi Hamilton
, another roster-bubble player who was one of Wilson's receivers when the two played college ball at Arkansas.
Hamilton will learn his fate Saturday.
As for Ross, the Bengals are cutting ties for now with a 6-foot-5, 360-pound player who has raw athletic skills. He was too unpolished to make the Bengals' 53-man roster, or any team's 53-man roster. Before impressing coaches at a private workout before training camp, Ross had played only one year of high school football and one year of college football at a small school in Lynchburg, Virginia.
Ross had one tackle Thursday and appeared on 23 defensive plays.
Joiner played 29 defensive snaps and was part of 15 special teams plays in the Bengals' 35-7 win.
In addition to these four, the Bengals also cut
several others earlier this week
, including backup quarterback
Matt Scott
, kicker
Quinn Sharp
and linebacker J.K. Schaffer. Per the rules of the waived/injured designation, Schaffer and fellow hurt cornerback
Lavelle Westbrooks
were able to rejoin the team on its injured reserve Thursday. Both cleared waivers without being claimed.
August, 29, 2014
Aug 29
3:11
PM ET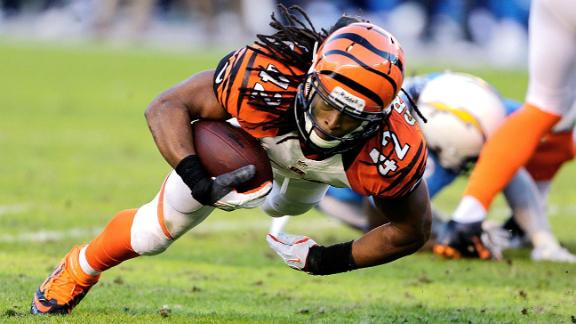 CINCINNATI -- The Cincinnati Bengals have cut veteran running back BenJarvus Green-Ellis, the team announced Friday.
The move had been expected since the Bengals selected Jeremy Hill in the second round of the NFL draft in May. Coaches contended then that drafting Hill was not an indictment on Green-Ellis and that they hoped the rookie from LSU could compete behind starting second-year back Giovani Bernard.
"It's very difficult to release such a fine player and person as BenJarvus," coach Marvin Lewis said. "He has been an exceptional player and teammate, as well as mentor to our younger players. He has also been a standout person in the community. We thank Bennie for all he has done and wish him the best of luck in the future."
Green-Ellis had not practiced the past two weeks for what Lewis said was a stomach virus that had been spreading around the team. Green-Ellis didn't dress for the Bengals' last two preseason games, including Thursday night's 35-7 win over Indianapolis.
Hill rushed 20 times for 90 yards as he shouldered the load in the victory.
Green-Ellis rushed for more than 1,700 yards in two seasons with the Bengals, but he averaged a career-low 3.4 yards per carry last season and had just four catches.
Green-Ellis was entering the final year of his three-year contract and was scheduled to make $2.3 million this season.
The Bengals also waived linebacker Brandon Joiner
August, 29, 2014
Aug 29
2:30
PM ET
CINCINNATI --
A.J. Green
is currently the second-best receiver in the NFL -- one pass-catching tight end notwithstanding -- and
Geno Atkins
is the fourth-best defensive lineman in the league, according to ESPN's #NFLRank project that concluded on ESPN.com on Friday.
Are we shocked the
Cincinnati Bengals
duo is so highly regarded? Are we stunned? Did we really expect anything more?
No. No. And no.
Respectively, Green and Atkins were ranked the ninth- and 10th-best players on their side of the ball. Only eight players were ahead of Green, including the top overall offensive player, Detroit wideout
Calvin Johnson
, and New Orleans tight end
Jimmy Graham
. Atkins was surpassed by nine other defensive players including Texans defensive end J.J. Watt, the player tabbed in this survey as the top current defender in the league.
Atkins actually fell to 10th after being ranked seventh last year. Still, it's rather amazing he still was included in the top 10 after missing half of last season with an ACL injury. That's a testament to his past success and the optimism many share this season as he comes off the serious injury. He's set to open the season next weekend with the Bengals when they travel to Baltimore. Green remained at No. 9, where he was the year before.
Green and Atkins joined linebacker
Vontaze Burfict
(No. 32, defense), defensive end
Carlos Dunlap
(No. 86, defense), running back
Giovani Bernard
(No. 88, offense) and offensive tackle
Andrew Whitworth
(No. 92, offense) as
Bengals to appear on the countdown
. Only two players in that group haven't been to the Pro Bowl, Bernard and Dunlap. A former undrafted free agent, Burfict attended his first Pro Bowl at the end of his second season last year.
All but two of those players also have negotiated big second deals with the Bengals. Green and Bernard are the only ones who have not. Bernard can't start speaking with the Bengals about a contract extension until after next season. Green and his representatives can begin those conversations now, but it's not likely he'll receive a long-term deal for some time. Earlier this year the Bengals exercised their fifth-year option on him, meaning he's slated to make more than $10 million next season after playing out the final year of his original four-year rookie contract this season.
Green and Atkins have been among the best at their positions in recent seasons. An NFL.com survey of players earlier this year actually considered Green the No. 2 receiver in the league behind Johnson. If you classify Graham as a tight end and not a receiver, the same holds true in the #NFLRank survey.
The #NFLRank series, which debuted last Monday, ranked the Top 100 players in the league. Players were separated into offense and defense.
Earlier this summer, many of the people behind ESPN's NFL coverage, including myself, made individual rankings for the overall project.
You can
read the full series here
.
Below are blurbs from the series on Green and Atkins:
Green was the most-targeted receiver in the NFL last year, leading the league with 178 targets. Green's eight touchdown receptions on passes thrown 15 or more yards downfield last season were the most in the NFL.


-- ESPN Stats & Information (@ESPNStatsInfo)



Despite missing nearly half of last season, Atkins leads all defensive tackles with 29 sacks since he entered the league in 2010. Atkins is the first Bengals defender selected to consecutive Pro Bowls since David Fulcher (1988-90).


-- ESPN Stats & Information (@ESPNStatsInfo)
August, 29, 2014
Aug 29
2:00
PM ET
CINCINNATI -- In all, the
Cincinnati Bengals
kept 33 players sidelined Thursday night for their final game of the preseason.
As we've been mentioning, it wasn't much of a surprise. The goal in the finale was to remain healthy and spare the contributing players as much as possible. That definitely happened.
The only starter who actually took the field for the first drives was rookie center
Russell Bodine
. As the only rookie starter on the team, he was being trotted out to receive a little extra playing time before the regular season . Along with him, rookie running back
Jeremy Hill
saw serious minutes. Hill might not be a true starter in the official sense, but he should expect to receive significant playing time this season.
As you'll see below, Hill was on the field for 38 plays. Long enough to rush 20 times for 90 yards and catch six passes for 63. Coach Marvin Lewis said the objective was for Hill to get used to playing a full game. Because once the regular season begins the hope is to give him several touches a game behind fellow back
Giovani Bernard
.
Here's a snapshot of Cincinnati's snap counts from Week 4:
OFFENSE (56 plays)
WR
Cobi Hamilton
(52), OT
Will Svitek
(48), OT
Marshall Newhouse
(47), OT
Tanner Hawkinson
(44), WR
Colin Lockett
(42), OL
Mike Pollak
(39), RB Jeremy Hill (38), QB
Jason Campbell
(34), WR
Dane Sanzenbacher
(31), C Russell Bodine (31), OG
T.J. Johnson
(31), H-back
Ryan Hewitt
(28), TE
Alex Smith
(28), C
Trevor Robinson
(26), H-back
Orson Charles
(24), FB
Nikita Whitlock
(23), QB
Tyler Wilson
(23), RB
James Wilder Jr
. (19), OT
Dan France
(19).
DEFENSE (61 plays)
LB
Marquis Flowers
(58), S
Shawn Williams
(55), S
Danieal Manning
(52), CB
Dre Kirkpatrick
(51), CB
Chris Lewis-Harris
(49), DE
Will Clarke
(49), DT
David King
(44), S
Taylor Mays
(43), LB
Jayson DiManche
(39), DT
Christo Bilukidi
(38), CB
Victor Hampton
(37), DE
Margus Hunt
(33), DE
Dontay Moch
(32), LB
Brandon Joiner
(29), DE
Sam Montgomery
(28), DT
LaKendrick Ross
(23), CB
Onterio McCalebb
(13), LB
Vincent Rey
(13), DT
Brandon Thompson
(5), LB
Sean Porter
(2).
SPECIAL TEAMS (22 plays)
Hamilton (10), Svitek (5), Newhouse (1), Hawkinson (5), Lockett (10), Pollak (4), Hill (4), Sanzenbacher (8), Bodine (1), Johnson (1), Hewitt (13), Smith (7), Robinson (4), Charles (18), Whitlock (11), Wilder (12), France (5), Flowers (13), Williams (12), Manning (10), Kirkpatrick (9), Lewis-Harris (11), Clarke (2), King (4), Mays (11), DiManche (15), Bilukidi (1), Hampton (12), Moch (14), Joiner (15), Montgomery (14), Ross (1), McCalebb (13), Rey (4), Porter (4), K
Mike Nugent
(11), P
Kevin Huber
(11), LS
Clark Harris
(11).
August, 29, 2014
Aug 29
11:37
AM ET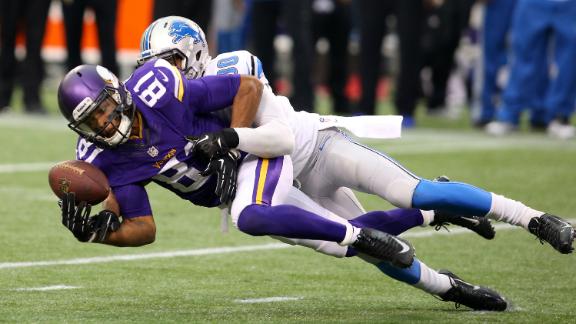 MINNEAPOLIS -- Minnesota Vikings wide receiver Jerome Simpson, who had appealed a three-game suspension handed down by the league following a drunken-driving arrest last November, will have to serve that sentence at the beginning of the 2014 season.
Simpson's appeal was denied, the league announced Friday. He will be suspended without pay and won't be eligible to return to the active roster until Sept. 22, following Minnesota's Week 3 game at New Orleans.
Simpson was arrested for drunken driving last Nov. 9 in Minneapolis and pleaded guilty in January to lesser charges of careless driving and refusing to submit to a chemical test.
The suspension is his second in three years. Simpson was suspended for the first three games of the 2012 season after he pleaded guilty to mailing two pounds of marijuana to his house in Kentucky while he was playing for the Cincinnati Bengals. He served 15 days in jail for that offense and was placed on three years' probation.
The receiver, who re-signed with the Vikings on a one-year, $1 million deal, caught 48 passes for a career-high 726 yards in 2013. His absence, however, means the Vikings will have to rely on wideouts such as Jarius Wright in multiple-receiver sets, as well as undrafted free agent Adam Thielen and Rodney Smith, who were both bidding to make the final roster.
The Vikings do not owe Simpson any guaranteed money, meaning he could be cut without penalty at any point.
August, 29, 2014
Aug 29
10:00
AM ET
Examining the
Cincinnati Bengals
' roster:
QUARTERBACKS (2)
The Bengals were content with having just two quarterbacks on the 53-man roster last season, and might do the same this season. Rookie
AJ McCarron
would be the odd man out. He didn't practice in training camp after being placed on the active non-football injury list, and it doesn't seem like he's going to practice anytime soon. After
Matt Scott
was cut earlier this week that leaves fellow backup
Tyler Wilson
to potentially contend for a practice squad spot. He isn't likely to make the 53-man roster.
RUNNING BACKS (5)
This grouping includes Hewitt at H-back, meaning the Bengals are more likely to take four halfbacks. Burkhead, Peerman and Hewitt are not locks to make the team, but there are compelling reasons for each being part of the 53-man roster.
BenJarvus Green-Ellis
and
James Wilder Jr
. also have chances to make the final roster, but in Green-Ellis' case that's really hard to see. He hasn't played in two weeks and has barely practiced in that time. Wilder had a strong 11-carry, 49-yard rushing performance that mostly covered the fourth quarter. Like Green-Ellis, Burkhead also hasn't practiced or played in two weeks after suffering a Week 2 knee injury. The last halfback spot could be one of the toughest decisions the Bengals have to make this year. As for Hewitt, I included him over
Orson Charles
because he has seemed to impress more throughout camp, and seems more versatile.
Nikita Whitlock
also is competing for a fullback job.
RECEIVERS (6)
The top three on this list are locks to make the team. If this group holds, that means former practice squad player
Cobi Hamilton
and undrafted rookie
Colin Lockett
won't make the team. Tate, who was left off earlier roster projections, had been impressive catching passes in training-camp practices, and has been listed as the starting kick and punt returner on the team's depth charts. It's tough to say if he will stick, though, now that others, like
Adam Jones
and Sanzenbacher, have gotten in-game work at both return positions. Sanzenbacher returned a punt for a touchdown Thursday against the Colts. Of the possible cuts listed here, Hamilton's size (6-foot-2) and leaping ability make him a possible pick to make the team, but he's been inconsistent. Wright's special-teams background and his consistently strong showing in training camp make him a very real possibility to make the team, too, although an apparent head injury ran him from Sunday's game, and he had three big special teams penalties in the three games he played. He didn't play Thursday.
TIGHT ENDS (3)
Gresham is entering a contract year, and expectations have never been higher for him.
OFFENSIVE LINEMEN (10)
It's common for teams to have nine or 10 linemen, and if the Bengals do injury-list McCarron, it seems likely Cincinnati would keep 10 linemen this season, instead of the nine I previously had been predicting. This group seems to provide the versatility coaches are seeking. Of the undrafted free-agent linemen the Bengals signed this year, Hopkins -- a versatile guard who was used in a variety of ways this spring -- has the best shot to make the team. A serious shin injury on Sunday, though, could affect him. Depending on the injury's severity, he could find himself placed on injured reserve to open up another spot that could go to a sixth back like Wilder. Coaches had been very high on Hopkins' play before the injury. For now, we'll bank on the injury being more minor than it appeared. He'll stick if so.
DEFENSIVE LINE (9)
The only player on this list who wasn't on last year's 53-man roster is Will Clarke. The rookie was drafted in the third round in May. He effectively takes the roster spot of
Michael Johnson
, who signed with Tampa Bay in the offseason. This might be the most settled group on the team.
LINEBACKERS (6)
Like the receivers, the top spots at linebacker are squared away. In this case, it's a lock that Burfict, Lamur, Rey and Maualuga will make the team. The two remaining linebackers are part of one of the better position battles on the team. DiManche has the best chance of the remaining linebackers to make the team. Flowers could be in a scenario similar to McCarron, Wilder, Lockett and Hopkins in that he has tools the Bengals don't want to risk losing by placing him on the practice squad where he could be poached away. But with Lamur ahead of him, Flowers could be a good "redshirt" candidate. There is no need to rush him into his cover linebacker duties unless he really is ready to contribute.
J.K. Schaffer
earlier this week was one of two players placed on injured reserve after missing much of the preseason with two concussions.
CORNERBACKS (5)
After a strong preseason from this group, these are the Bengals' five cornerbacks this season. Chris Lewis-Harris has a shot to stick as a practice squad player after a solid preseason, too. He won't make the 53-man roster to start the season because he was suspended under the league's substance abuse policy in July. He'll miss the first two games.
SAFETIES (4)
This might be one of the tougher cuts Bengals coaches have to make if they end up keeping just four safeties.
Shawn Williams
has performed quite well so far this preseason in both training camp practices and games, but Manning has a measure of versatility as a special-teamer, a fluidity with which he plays defense and a locker room presence as a veteran that trumps Williams' promise and Mays' play.
SPECIALISTS (3)
These guys aren't going anywhere. The punter, kicker and long-snapper will make the team.
August, 29, 2014
Aug 29
9:00
AM ET
CINCINNATI -- Cut-down time has arrived.
By Saturday evening, we will know who stays and who goes.
I must admit it was kind of strange sort of saying goodbye Thursday night to a few of the
Cincinnati Bengals
' bubble players I've gotten to know over the past year.
At this time last year when I first walked into the Bengals' locker room to cover the team, I did so on the Monday following cuts. The purge had already ended.
So that'w why I had to admire the bubble players who spoke to the media after Thursday night's 35-7 win over the Colts. I admired the general peace they exhibited considering how their lives and their families' lives might get flipped upside down this weekend.
"I care, but it's at the point where it doesn't matter,"
Danieal Manning
said, referencing his peace. "I can only do what I can do. I don't care what the coaches decide to do at this point. I don't go out there to play for them. I play for my family, for me and my heavenly father and then the teammates that I met."
Rookie running back
James Wilder Jr
., an undrafted free agent who had a few big runs late in Thursday's win, echoed Manning's sentiments.
"I feel like I did real good this camp," Wilder said, before outlining a litany of the types of plays and traits he showcased. "Talking to everybody out there, they say that everything you're putting out here is just your résumé. If it's for this team, that team or whatever team it's for, it's your résumé. You're building your brand when you go out there and are playing."
Wilder said he believed he built the type of brand the Bengals will want to keep around. But if he didn't do enough, he knows he'll end up somewhere.
We'll see what happens with Wilder once the 53-man roster cut deadline approaches at 6 p.m. ET Saturday. While he still has some raw tools that need refining at this level, he has looked good most of the preseason. His 11 rushes for 49 yards and a touchdown Thursday were filled with impressive runs. It's most likely he'll be placed on the practice squad, but with injuries to backs on the depth chart above him, maybe he has a shot to sneak onto the active roster. We'll soon find out.
Just like we'll soon find out Manning's fate. The longtime kick returner and return-team blocker hasn't had many opportunities to showcase his skills in those areas this preseason, but he does have that measure of versatility. He also has the veteran savvy that makes him a leader in the locker room.
When the nine-year vet arrived in the offseason after being let go by the Texans, Manning's focus was on returning from the serious knee injury that sidelined him last October and proving he belonged. He said it's never taken him this long to prove that.
"It was fun, but it's something I've got to get used to," Manning said of his rare roster-bubble experience. "I know at this point in my career that's going to have to happen."
August, 29, 2014
Aug 29
1:00
AM ET
CINCINNATI --
Vontaze Burfict
has barely begun his second professional contract, but he wants the
Cincinnati Bengals
to know that he already has deal No. 3 on his mind.
Burfict
When he signed his new three-year contract extension worth about $20 million Wednesday, Burfict let front office officials know that he'd be back in a little more than two years when it's time to renegotiate. His plan? To stay in stripes as long as possible.
"I told Troy [Blackburn] I'll be back in 2016," Burfict told ESPN.com in the Bengals' locker room after Thursday night's preseason finale. "Obviously they trust me, and like I've said, I want to be a leader of the defense. We have great things to come for the next three years while I'm here."
Blackburn is one of the Bengals' two vice presidents. He's also the husband of executive vice president Katie Blackburn, the daughter of president Mike Brown. Brown's father, Paul Brown, founded the team in 1968 and owned it until his death in 1991.
With Mike Brown beginning to transition out of the team's daily operations, the Blackburns -- most notably Katie -- have been behind some of the more recent big-salary moves the Bengals have made. It was under Katie Blackburn's guidance that Burfict's extension, as well as extensions for quarterback
Andy Dalton
and defensive tackle
Geno Atkins
, were drawn.
Burfict said he liked the way
the contract
was set up.
"It's front-loaded," he said, nodding slowly, "and I'll make a lot of money in the next six months."
He clearly wasn't trying to brag, but he was telling the truth. He stands to make $7.6 million this season, with additional bonus money coming in March. Within the next six months, he'll make $10.8 million. As an undrafted free agent who signed out of Arizona State just two years ago, Burfict had been scheduled to make a little more than $570,000 this season. He certainly received quite the pay day.
As we pointed out Wednesday
, you'll be hard-pressed to find too many other players make that type of raise after only two years in part because of the way the new collective bargaining agreement is set up. A player basically has to follow Burfict's path -- be undrafted, but perform really, really well right away.
"Me getting a new contract in two years was huge, and it's rare," Burfict said. "But I've put in a lot of work and I feel like I deserve it."
Burfict has 298 career tackles. Of those, a league-leading 171 came in last season's Pro Bowl campaign.
August, 29, 2014
Aug 29
12:20
AM ET
CINCINNATI -- Marvin Lewis' expectations for
Cincinnati Bengals
defensive end
Margus Hunt
were simple Thursday night.
The coach just wanted Hunt to dominate.
And that's exactly what he did.
[+] Enlarge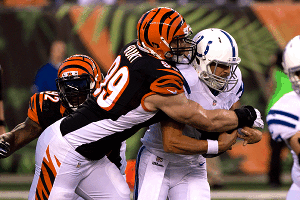 Aaron Doster/USA TODAY SportsMargus Hunt had a mammoth finish to the preseason, registering three sacks on Thursday night.
With a battered and bruised Colts offensive line opposite him, and series of inexperienced backup tackles and guards shuffled in and out of the preseason finale, Hunt had no choice but to dominate. If he couldn't handle the down-on-the-depth-chart players tasked with facing him, then the Bengals would have found that they had some work left before anointing him a key piece of their pass rush.
Thanks to Hunt's focus on finishing his rushes, he didn't have to worry about that happening.
"You know, he should dominate in a game like this and he did it," Lewis, the Bengals' 12th-year head coach, said. "That's what you want to see. You want to see him dominate. That's the confidence he needs, the opportunity, the chance to critique himself."
Hunt ended the game with four tackles -- all for loss. Three of his stops resulted in sacks. One of the sacks, the last one, came as a blocker was draped all over him. Despite the offensive lineman's valiant attempt at trying to keep Hunt off his quarterback, the second-year defensive end finished the play off and secured the sack.
"A lot of guys can do good things in practice, but you have to go ahead and finish the rush [in a game], so you can kind of build through your repertoire of moves and stuff," Lewis said.
In the days that immediately followed the Bengals' loss at Kansas City during the preseason opener, Hunt emphasized how
important finishing was for an end like himself
. He didn't feel good about the way he cut short a few of his rushes. At least one of them could have been a sack had he not slowed his momentum so soon, he said.
Part of the problem back then had to do with the fact that Hunt and the Bengals' other defensive linemen were still looking to tap into that final bit of early-year recklessness that can sometimes be hard to showcase coming off an eight-month period in which they haven't been able to tackle. That problem got exacerbated when the linemen became used to pulling up on sack opportunities during training camp. When practicing against Cincinnati's offense, particularly the first-team unit Hunt was seeing so regularly early in camp, they weren't allowed to touch the quarterback.
They still aren't in practices.
In turn, bad habits can develop and bleed over into games. That's what happened four weeks ago with Hunt, and it's not at all what happened Thursday. He made sure to finish those plays. Hunt is confident he'll continue finishing once the regular season begins next weekend.
"It's just about speed, speed and trying to get it on the edge and trying to be disruptive," Hunt said.
August, 28, 2014
Aug 28
10:10
PM ET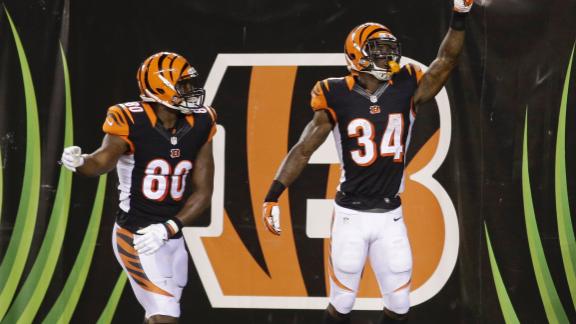 CINCINNATI -- In their final preseason game last year, the
Cincinnati Bengals
were forced to look on as promising outside linebacker
Emmanuel Lamur
was loaded onto a cart, sidelined before the end of the first quarter with a season-ending shoulder injury.
It was far from what coaches had in mind when they trotted out the player who had been expected to be their starting nickel linebacker.
Clearly, they learned from that experience. When the Bengals took the field Thursday night for this year's preseason finale, they did so with virtually an all-backup offense and defense. The Bengals pulled all their starters in favor of other players who are trying to earn spots on the roster before Saturday's 53-man roster limit goes into effect.
Health was the top priority for the Bengals against the Colts on Thursday. The result of the game was secondary.
By the way, Cincinnati won, 35-7
.
Here are a few more thoughts on the Bengals' preseason finale: