September, 23, 2014
Sep 23
8:00
AM ET
September, 22, 2014
Sep 22
7:06
PM ET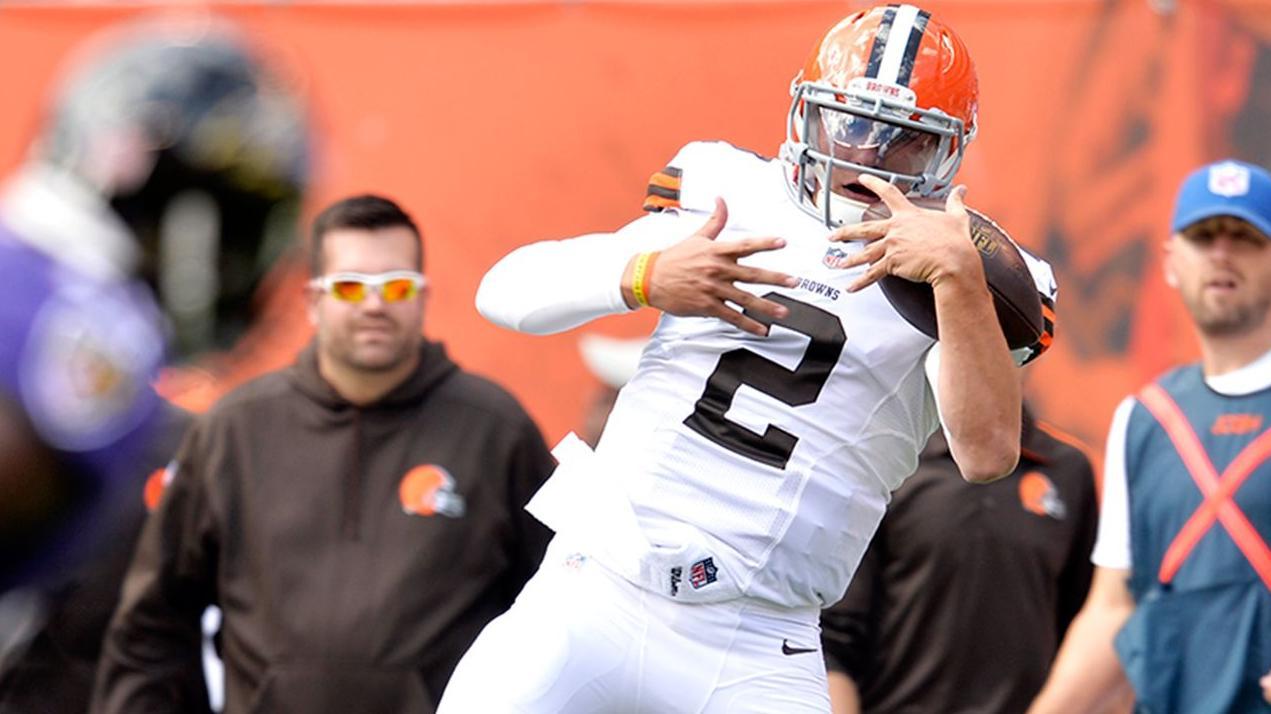 BEREA, Ohio -- One more quirk to the Johnny Manziel-as-a-receiver play the Cleveland Browns tried against the Ravens on Sunday?
"It was called 'Dawg Pound Special,' " coach Mike Pettine said.
The reason, other than the obvious?
"Because we were running it towards the Dawg Pound," Pettine said.
The league made it clear that former-officials-turned-TV-analysts who called the play illegal were correct. According to the rules, unsportsmanlike conduct can be called when a player lines up within five yards of the sideline between the player's designated bench area -- which is between the two 32-yard lines. Manziel lined up barely inside the sideline marker.
The thinking is that it's not sportsmanlike to "hide" a player near his bench, where he could blend in with coaches or teammates on the sideline, which is exactly what Manziel did.
Pettine, though, did not back down in saying he was told what the Browns planned was legal. A 39-yard completion from Brian Hoyer to Manziel was negated by an illegal shift penalty on running back Terrance West.
"It was our understanding -- outside of Terrance West not being set -- that outside of that, we were OK to run it given where we were on the field," Pettine said.
Pettine would not say where he got that information, though he did say he met with referee Bill Leavy pregame.
"I don't like to get into conversations with the officials," he said. "I meet with them pregame. There's a reason the door's closed for those. We just felt comfortable where we were running it, and that's really as far as I'll go with it."
September, 22, 2014
Sep 22
6:45
PM ET
BEREA, Ohio -- Monday's coaches meeting at the Cleveland Browns did not sound like a pleasant experience.
Mike Pettine was still unhappy with himself, his decisions and his staff's the day after a last-play loss to the Baltimore Ravens.
"I wasn't good enough," Pettine said.
Pettine remained angry that the team had substitution issues and were twice called for having 12 men on the field on defense. He said had things been handled better on the sidelines, the team wouldn't have had to burn timeouts.
Pettine had an "air it out" meeting with the staff Monday morning. With a coach who is as direct and honest as Pettine, that meeting might not have been the most pleasant.
"It's our own dirty laundry," Pettine said.
Corrections would involve handling some substitutions with the headset communication system. Substitions also will be practiced more intensely.
Learning on the go is not a new theme in Cleveland, but it's one brought about by constant change and upheaval, with new coaches and new players learning new systems year-in and year-out. A few years back, Pat Shurmur was discussing his defense not being ready for a play against the Bengals. Monday, It was Pettine's turn to accept responsibility for defensive calls not getting through.
His accepting responsibility was refreshing, though. Just like it was refreshing to hear Pettine state simply that some players simply have to come through, or as he said " be at your best when your best is needed."
Specifically:
The run defense needs to be better. He called the run defense, which is giving up 157.3 yards per game, "disappointing."
Long-snapper Christian Yount's performance will be scrutinized.
Cornerback Justin GIlbert can't be beat on a double-move and then interfere the way he did.
Terrance West went the wrong way on a key handoff prior to Billy Cundiff's blocked kick
Joe Haden needed to make the play on the throw to Steve Smith that set up the game-winning field goal. "That's a perfectly thrown ball," Pettine said. "We need to make a play on it. That's disappointing. We wanted to make them drive and earn it. They basically ended the game there with that big chunk." Pettine added that Haden has played well at times but "at inopportune times he's not played well."
But Pettine said three games into a new system is not time to push any panic buttons. He said offensive coordinator Kyle Shanahan is doing a good job calling plays and he sees no need to change the system that has him and Jim O'Neil collaborating on the defensive calls.
"There are times where you could make a cut-up of us and say, 'This team's unbeatable,'" he said. "Then you could make a cut-up and say, 'This looks like a bad college team.' That needs to even out."
Inconsistency is another familiar frustration to Cleveland coaches. Pettine also sounded some of the same frustrations about finishing games that was present a year ago, saying the Brown aren't about building for next season but about winning now. That added to the coach's simmering anger about botching a winnable game on Sunday.
"We found a way to do it against New Orleans and took a step backwards [Sunday] and that's one of the reasons that we're so disappointed," he said. "Because that's been a point of emphasis: The ability to finish.
"We don't like it. We don't like where we are. We don't like sitting 1-2; 1-2 is 1-2. Last place in the division is last place. There's no asterisk next to it."
September, 22, 2014
Sep 22
5:32
PM ET
BEREA, Ohio -- NFL coaches typically do not give their long snappers a long leash.
There's probably less patience at the position than at any other on the team. Field goals and extra points are too important to have their success be muddled.
So Christian Yount's struggles, and possibly his job, will be a topic of conversation with the Cleveland Browns, coach Mike Pettine said Monday -- one day after a low snap contributed to a blocked field goal in a two-point loss to the Baltimore Ravens.
"That's something we'll look to address," Pettine said. "I don't know if it calls for a change, but it will be discussed."
Pettine said a low snap was one factor in Billy Cundiff's 36-yard kick being blocked. Yount had a high snap in Pittsburgh, and another high one against New Orleans that slipped through holder Spencer Lanning's fingers. That missed extra point came close to being the difference against the Saints.
Cundiff's kick was blocked by outside rusher Asa Jackson. He was quick off the ball on a side the Ravens overloaded and blew past Billy Winn.
Pettine said Jackson timed the block as well as it can be done, but said Winn might have been too tight to the line. Winn was briefly present in the locker room, but walked away from his locker as the media approached to talk to him.
Yount replaced Ryan Pontbriand, who had years of success before being let go by Pat Shurmur when he developed a case of the snapping "yips."
Yount said what's happened this season is not in his head when he spoke to ESPN-Cleveland and the Northeast Ohio Media Group in the locker room.
"It's just a matter of execution," he said. "I'm not immune to mistakes like anybody else. Just try to go out there and do my best."
September, 22, 2014
Sep 22
5:17
PM ET
[+] Enlarge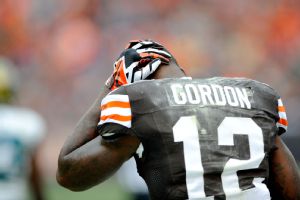 AP Photo/David RichardBrowns coach Mike Pettine looks forward to having Josh Gordon back for the team's final six games.
BEREA, Ohio -- Cleveland Browns coach Mike Pettine called it "a big plus" to have wide receiver Josh Gordon back for the final six games of the team's season.
Gordon's season-long suspension was reduced to 10 games last Friday when the new agreement on drug testing and discipline between the NFL and NFL Players Association was announced.
"If a guy was out for the year, all of a sudden you get a chance to get him back at the end, it's a big plus for us," Pettine said Monday. "At the same time, I think it's important we just not talk about Josh Gordon the player. We're talking about the person and making sure that we're well aware of the human element here.
"It's not just we have good player back for six games. We talk about building long-term, sustained success here and making sure that we're getting him everything he needs is just as big a part of it as what he can on the field for us."
Gordon had been suspended for a positive marijuana test in the offseason. It evidently was his fourth failed test in the NFL program because 10 games is the new sanction for a fourth test.
He appealed the suspension, attributing his low test level to secondhand smoke. Under the present guidelines, Gordon's test would not have been a positive.
September, 22, 2014
Sep 22
8:30
AM ET
CLEVELAND -- Final musings from the
Cleveland Browns
' painful
23-21, last-play loss
to the
Baltimore Ravens
:
Against New Orleans the Browns completed a last-minute drive that included a fourth-down conversion. Against Baltimore, the offense went 0-for-4 on third down in the fourth quarter and sputtered on its final two drives. "In this league, you have to do it when it's on the line," quarterback Brian Hoyer said. "We did it last weekend; we didn't do it this week. As good as we felt the whole game, when it comes down to critical moments we just have to make more plays."
Coach Mike Pettine showed fire and emotion in discussing the loss. Clearly this one burned him, and he clearly did not like the way the defensive substitutions were going. The Browns were twice called for 12 men on the field, and used a late timeout to avoid a third.
Hoyer had the best passer rating in a game for his career -- 127.1 He finished 19-for-25 with 290 yards and a touchdown, to Miles Austin. In one stretch, Hoyer completed 14 in a row and did not throw an interception, giving him 156 in a row without a pick. "He played well," Pettine said. "Made some great throws."
Hoyer will lament his and the offense's fourth quarter, though. In the final 15 minutes, Hoyer was 2-of-6 for 76 yards, with 70 of his yards coming on one throw. After that pass to Taylor Gabriel with 10:07 remaining, he threw four times and completed none.
Andrew Hawkins caught seven of the passes thrown his way, but two of the misses came on the final two drives when a first down could have made a huge difference in the outcome of the game.
Said Pettine: "We needed some first downs at the end. We needed to convert, and we weren't able to do it. Again, it's at the end of the game. We need to make plays to win, and again put our guys in situations to be successful."
Again.
Joe Haden said this on being beat by Steve Smith on the slant-and-go, the pass that set up the Ravens game-winning field goal: "It was a good throw and catch, but I put it on myself and I understand I have to make that play."
The run defense has to be a concern after Baltimore shredded it for 160 yards. In three games, the Browns are giving up 153.7 yards per game rushing.
Jabaal Sheard on Pettine saying the loss was his and the coaches' fault: "I take it on us. We let them rush for too many yards up front. We didn't get any sacks."
The offense has scored 21 points in each of the first three games for the first time since the 1969 season. However, the loss drops the Browns to 1-2. Only once since 2003 have the Browns started by winning two of their first three games. That was in 2011, when they finished 4-12. Since the return in 1999, the Browns record in their first three games combined has been 13-35, a winning percentage of .271.
September, 21, 2014
Sep 21
8:19
PM ET
September, 21, 2014
Sep 21
8:12
PM ET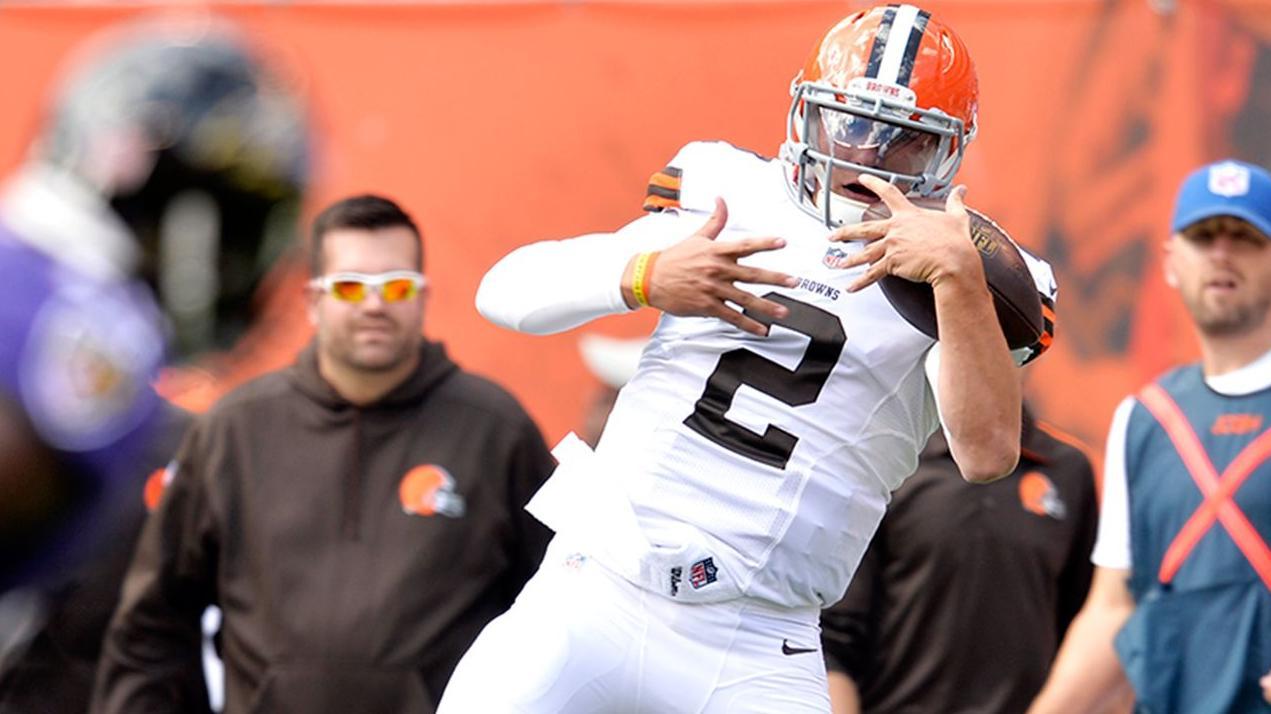 CLEVELAND -- Johnny Manziel almost became the third quarterback to catch a pass in Sunday's NFL games.
But the gadget play he ran in the Cleveland Browns' 23-21 loss to the Baltimore Ravens was called back by penalty -- and should have been flagged for another 15-yard penalty for unsportsmanlike conduct, according to the NFL office. That position was supported by several former NFL officials working as network analysts.
The play was an offshoot of the read-option plays Manziel had been running for the Browns and involved some acting.
After a read-option on first-and-10 from the Browns' 39-yard line lost a yard, Manziel trotted to the sideline, gesturing as if he were unhappy to leave the field.
He stood about 1 yard on the field and talked with offensive coordinator Kyle Shanahan as the Browns lined up for the next play.
At the snap, he turned upfield and caught a 39-yard pass from Brian Hoyer for what looked like a big gain.
"[I] tried to get them a little confused as we were subbing in," Manziel said. "We really got the look that we wanted, and we took off."
But the play was negated by a penalty on Browns running back Terrance West for an illegal shift. West jumped back behind Brian Hoyer just before the snap and clearly was not set for a second.
September, 21, 2014
Sep 21
8:00
PM ET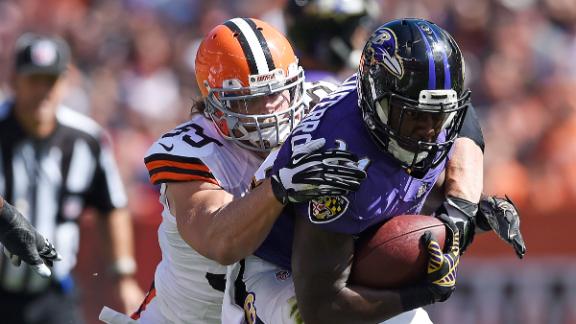 CLEVELAND -- The
Cleveland Browns
had 305 yards of offense the first three quarters of Sunday's loss to the
Baltimore Ravens
.
In the fourth quarter they had 70 -- and 70 came on one pass from
Brian Hoyer
to rookie
Taylor Gabriel
. The other 13 plays in the fourth quarter netted zero yards. The final quarter for the Browns was a textbook example of how not to win a game when it matters most, as the Browns stumbled over and over. They missed a field goal and had another blocked, were 0-for-4 on third downs and went three-and-out on their last two drives.
Even the one positive play the Browns had was fraught with what could have been, because Gabriel was so wide open on the play he could have easily scored. The Browns had that pass in their back pocket, Hoyer said, for the coverage Baltimore used. Gabriel called it "a perfect play."
"I saw he was wide open," Hoyer said, "just threw it and let him run underneath it."
Except Gabriel stutter-stepped as the ball was in the air, which forced him to lunge for the ball, which took him to the ground. He was able to get up and scamper to the nine, but had he caught the ball in stride he would have scored easily.
"I'm a little upset," Gabriel said of not scoring. "But at the same time it just felt good getting my hands on the ball."
It was emblematic of the Browns' fourth quarter, which was filled with mistakes.
Billy Cundiff
doinked a 50-yard field goal off the left upright, then had one blocked from 36, leaving six points off the scoreboard.
Of the 50-yarder, Cundiff said: "The timing didn't feel like we were on."
Of the second, he said: "I thought I hit a really good ball. Then it's the double-thump. As a kicker and punter, that's definitely what you don't want to hear."
Asa Jackson
blocked the field goal from the outside left of the defense, racing past
Billy Winn
. Either Jackson was too fast or Winn was too slow to get out of his stance to impede Jackson. Browns coach Mike Pettine said some of the snaps on the kicks might have been low.
"All I can tell you is that it was blocked, and if we do everything correctly it shouldn't have been," said holder
Spencer Lanning
. "At the end of the day it's just not good enough."
The Browns helped the Ravens with other miscues. A missed handoff and then a penalty on Hoyer for throwing a (touchdown) pass when he was past the line pushed the second field goal to the 36. A brutal pass interference penalty on rookie
Justin Gilbert
gave the Ravens the ball at the Browns' 5. There, the Browns were called for 12 men on the field for the second time in the game. Pettine lamented those miscues, saying he and the coaching staff cost the players the game.
"It's one of the things I'm talking about," Pettine said. "We need to be better with our procedures."
Especially since two plays after the second 12-man penalty, the defense had to call timeout to avoid a third.
There was more.
Travis Benjamin
did not field a late punt, which rolled to the Browns' 9 and effectively flipped field position toward the Ravens. Baltimore started its game-winning drive at midfield.
"I got up under the ball correctly, and at the last minute a gust of wind blew it and it went past my hand," Benjamin said. "I didn't want to go back and reach for the ball, so I just let it pass by."
The Browns also had two chances to put the game away late, but two drives took just 55 seconds off the clock with consecutive three-and-outs. On the second, Hoyer threw behind
Andrew Hawkins
on third-and-7 from the 10.
"I have got to put it in front of him," Hoyer said.
"If we get that, they don't have any timeouts and the game is over," Joe Thomas said.
If, if, if.
Players lamented the inability of the team to come up with a needed play when it mattered most the way they did against New Orleans. But they also lamented the mistakes they made that led to Ravens quarterback
Joe Flacco
being 12-1 against the Browns.
"We have no one to blame but ourselves," Hoyer said, "and that's what hurts the most."
September, 21, 2014
Sep 21
5:34
PM ET
CLEVELAND -- Observed and heard in the locker room after the
Cleveland Browns
' 23-21 loss to Baltimore:
Hoyer
Coach's angst:
Mike Pettine put himself in the crosshairs by saying the last-second loss to Baltimore was on him. He said the players played well enough to win but the coaches didn't do a good job of putting them in the best positions. He said there was a "long list" of miscues by the staff.
When it matters:
Against New Orleans, the Browns converted a fourth down and a winning drive. Against Baltimore, they failed twice with their hands on the ball. "We got to do it when it counts," quarterback
Brian Hoyer
said. "That's what it comes down to."
Gaffes galore:
The Browns missed a field goal and had another blocked, three times had 12 men on the field on defense, did not catch a vital punt and did not get a point in the fourth quarter despite having the ball at the Ravens' 30- and 9-yard lines. Players lamented the mistakes that they said led to the Browns beating themselves.
September, 21, 2014
Sep 21
4:05
PM ET
CLEVELAND -- A few thoughts on the
Cleveland Browns
'
23-21 loss
to the
Baltimore Ravens
at FirstEnergy Stadium.
What it means:
Browns running backs coach Wilbert Montgomery worked for the Ravens prior to coming to Cleveland. Montgomery said during training camp that the Ravens always looked on the Browns as a team that would play Baltimore tough, then make mistakes at key points of the game to give the Ravens a victory. The Browns did that again with a new coach and new quarterback, bungling the last three or four minutes en route to a last-play 23-21 loss. Not getting a key first down, throwing poor passes and failing to catch well-thrown ones, wasting timeouts, having 12 men on the field, giving up a big catch on the Ravens' game-winning drive -- the Browns wasted a good effort in a winnable game due to late mistakes. They are an improved team, but until they win in crunch time, they won't win overall.
Stock watch:
The Browns have to shore up their run defense. Baltimore was without
Bernard Pierce
and turned to rookie
Lorenzo Taliaferro
, a fourth-round pick out of Coastal Carolina. Yet the Ravens still ran the ball well against the Browns, averaging 4.8 yards per carry and totaling 160 yards for the day. Baltimore had run well in its previous two games, so it wasn't a shock. What was a concern was the Browns' inability to stop the run even though they knew it was coming. No doubt this will be an area of focus for the coaching staff during the bye week.
Manziel package:
Johnny Manziel
was involved in a trick play that could have gained 39 yards had
Terrance West
not been penalized for an illegal shift. Manziel's trick play involved hiding on the sideline and catching a pass from
Brian Hoyer
after Manziel had run the read-option the play before. He scampered up the sideline, but the play was negated by the penalty on West. The reason the Browns ran Manziel for those three plays against New Orleans? To set up the trick play for Baltimore.
Game ball:
With the game in the balance, the Browns' offense had two drives that used up less than a minute and went nowhere. But prior to that, Brian Hoyer had the team in position for a win. Hoyer completed 16 of his first 17, and the one incompletion came because
Jordan Cameron
fell after getting tangled up with a Ravens defender. Hoyer finished 19-of-25 for 290 yards and a 127.1 passer rating. He did not come through in the final two drives, but to that point, he had overcome numerous Browns mistakes to put them in position to win.
What's next:
The Browns have an early bye week before returning for a trip to Tennessee to play the Titans on Oct. 5 in Nashville.
September, 21, 2014
Sep 21
2:51
PM ET
Now we know why the Browns ran the
Johnny Manziel
series of plays in the win over New Orleans.
They were designed to set up a trick play that turned Johnny Football into a receiver against Baltimore -- though the play was illegal according to the former head of NFL officiating.
On first-and-10 from the Browns 39-yard line with Baltimore leading 10-7, Manziel trotted on the field and ran the same read-option handoff he ran last week.
Isaiah Crowell
lost 1 yard on the carry.
On second down,
Brian Hoyer
signaled to come back in the game and Manziel gestured toward offensive coordinator Kyle Shanahan to show he didn't want to come out.
Manziel carried out the charade further as he stood on the field, just off the sideline, and talked with Shanahan as the Browns lined up for the next play.
At the snap, he turned upfield and caught a 39-yard pass from Hoyer for what looked like a big gain -- and could have been more had officials penalized Ravens cornerback Jimmy Smith for a late hit on Manziel out of bounds.
But the play was negated by a penalty on the Browns'
Terrance West
for an illegal shift. West looked to be late getting to his spot, and wasn't set in time for the Browns to run the play.
But former NFL Director of Officiating Mike Pereira, who now works for Fox, tweeted that the Browns should have been penalized for unsportsmanlike conduct.
Pereira said on
a Fox video posted on Twitter
that the play was "an illegal hideout play."
"You cannot line up and set within five yards of your sideline when you are in front of your bench area," Pereira said.
The bench area is defined as between one 32-yard line and the other 32. Lining up within five yards of your sideline between those yard-lines is a 15-yard penalty for unsportsmanlike conduct, Pereira said.
Had the Browns run the play from their 28, it would not have been a penalty, Pereira said.
That infraction was not flagged by Bill Leavy's crew.
September, 21, 2014
Sep 21
12:57
PM ET
The
Cleveland Browns
got a break before Sunday's game against Baltimore when the Ravens announced that running back
Bernard Pierce
would not play.
Pierce ranks second on the team with 113 rushing yards and a 4.0-yard average. At 230 pounds, he's a powerful back whose style contrasts with starter
Justin Forsett
. Pierce hurt his hamstring in Wednesday's practice and did not recover in time to play.
Baltimore will be helped, though, by the return of cornerback
Lardarius Webb
, who is active for the first time this season. He had missed preseason and the first two games with a lower-back injury.
Webb will start opposite
Jimmy Smith
, giving Baltimore a potent pair of corners. Baltimore is 28-13 (.683) when Webb starts, 9-1 when he intercepts a pass.
The Browns will have tight end
Jordan Cameron
, who missed the win over the Saints with a shoulder injury. Cameron's presence is vital given the talent the Ravens have at corner.