March, 3, 2015
Mar 3
12:52
PM ET
Some highlights from the Josh McCown conference call with Cleveland media on Monday.
On being the 23rd different starting quarterback since 1999, with many of them in the past well-meaning and good guys:
"It's obviously a tall order. My reaction is that that is in the past. I've got to hone in on this team in this year and play good football and do what it takes for this team to win football games. You can't get caught up in that. Like you said, a lot of 'well-meaning guys,' every guy comes in with the same mindset and intentions and mine will be no different."
[+] Enlarge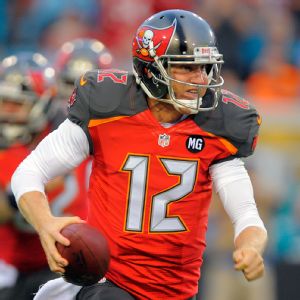 Stephen B. Morton/AP ImagesJosh McCown sees the Browns as headed in the right direction and himself as a good fit to continue the trend.
McCown is right. Everyone the Browns have tried comes in with the same intentions, goals and mindset. Nobody signs and says he expects to be the guy who hands off to the next quarterback. Finding the guy who sticks has been the challenge.
More on the starting quarterback names on that jersey:
"If you just looked at it like that and just said 22 guys or whatever have been here before then it's just, 'Hey, let's pack up and go home because it's pointless,' but that is not my mindset. That is not my attitude. I want to attack this thing and do everything I can to change that and more than anything, help this team win football games."
On the visit McCown had with the Browns and how important it was to his signing:
"It really solidified to me that things are going in the right direction."
This is not atypical, and in one sense illustrates the reality that the NFL's 16-game season overexagerates the importance of what people say. There is more dead time between games, and more time to examine words. In the offseason, players move from team to team and always (and understandably) talk confidently of their new team and positively of their visit. The statements are sincere. But they matter a lot less than wins in October, November and December.
On the difficulties the Browns faced this offseason:
"I think it's important to understand and to remember that there's a lot of people going through last year's situation from ownership, to the general manager to the head coach who were all in their first year of something. For me, I took that into consideration and look the totality of it and said, 'It seems like they made a really good step in this first year, all things considered.' That part is encouraging to me."
McCown's statement echoed Jimmy Haslam's in February that a 7-9 record in the big picture was a positive, and even with all that has happened since that is not an unfair position.
On the 1-10 record as a starter in Tampa Bay:
"Yeah, not a whole lot to say about it, other than it just wasn't good enough. I've said it before. I don't shy away from it. In that situation, I wasn't good enough in that situation to pull us out of that."
Accountability is always a good thing. This statement ties into another when McCown was asked if his decision to join the Browns was based on the chance to start:
"For me, it was more of what's the right fit, and if I go there, can we win football games and be productive? And NFL coaching experience was big for me. Just having guys that have been in the league for a while."
Clearly the Browns staff is not overflowing with experience. Mike Pettine is a second year head coach and the Browns have a first-year offensive coordinator, quarterback coach and receivers coach. This statement, though, might be best taken as referring more to the fact that QB coach Marcus Arroyo took over in Tampa last season after Jeff Tedford had to leave due to a health issue. Arroyo, 35, was thrust into the job, and the results were not great.
The last statement from McCown stands on its own, and deals with what the Browns said to him about adding another quarterback to a group that includes Johnny Manziel and Connor Shaw:
"I'll leave those conversations between myself and the Browns."