October, 21, 2014
Oct 21
4:50
PM ET
The
Cleveland Browns
have passed on nine easy points in the last two road games trying to continue drives on fourth-and-short. Three times, they failed to convert.
This shows coach Mike Pettine's aggressiveness, which players can appreciate, but the calls can haunt a coach when they don't work.

Pettine
Did Pettine second-guess the decision to go for fourth-and-1 in field goal range while up 6-0 at Jacksonville this past Sunday, especially after the Jaguars converted a touchdown off Cleveland's failed attempt?
"When it doesn't work out, absolutely," Pettine said.
Pettine is not afraid to take his chances. The Browns are 2-of-7 (28.6 percent) on fourth downs this season, good for 28th in the league.
Two conversion tries came while down double digits against the Titans, so the need for six points instead of field goals was understandable. The Jacksonville call was tough to digest for two reasons. One, the Browns gave up all momentum entering the half because of the gamble. And two, they didn't use their strength, the running game, to try to get one yard. Instead, they ran a route for
Jordan Cameron
that looked doomed from the start.
Pettine said he gauges situational football with fourth-down calls but also goes by "feel." In the case of the Jacksonville play, Pettine felt his defense was playing well enough to stop the Jaguars in case the Browns didn't convert, plus he didn't want to settle for field goals all game. Turns out the Jags marched 76 yards downfield in 57 seconds to make it 7-6, the worst possible outcome.
"I get the analytics behind it, but to me, all the circumstances are different," Pettine said of going for fourth downs. "I know you can just look at paper and say, 'Hey, they're converted at this rate,' but to me, you have to factor in the circumstances of the game. That's what I do, but I think in general, I'll tend to be a little more on the aggressive side. It's somewhere in between."
Once the Browns convert a crucial fourth down on the road, Pettine can be justified in his confidence in his offense. That doesn't make the Jacksonville call any less painful.
Pettine has conviction regardless. He knew he was going for the fourth down two plays before.
"When it was second-and-1 we made a decision, 'Hey, we're in four-down mode,'" Pettine said. "That's ... you live with it."
October, 21, 2014
Oct 21
4:20
PM ET
BEREA, Ohio -- It wasn't a play that will rank in the Pantheon of post-1999
Cleveland Browns
bloopers like "The Helmet."
But it was a play that merits further attention, because of its bizarre nature and ... well ... yes ... its comic relief in a
24-6 loss
in Jacksonville.
To not give it one more look seems irresponsible.
Explaining it requires recognizing one truth; when it was over, the Browns did not make crystal clear what happened because they did not want any one guy to be vilified.
Tackle
Joe Thomas
gave the company line when he said: "There was some confusion on that one. Obviously didn't get executed the way we wanted it to."
Which does pretty much sum it up.
What seems to have happened is that
John Greco
mistakenly snapped the ball, and
Brian Hoyer
and
Ben Tate
improvised an option play (of sorts), which, predictably, went nowhere. The play looked bizarre in every way possible, but it was a simple mistake. Which happens.
But the explanations and comments are nearly as fuzzy as the play itself.
The idea: Run the offense to the sideline as if a punt is coming, then as the play clock winds down run the offense back on the field to try and catch the defense napping.
Except no play is called. As coach Mike Pettine said, it's "no snap, no play." It's purely to try to draw a penalty, either by drawing the defense offside or with 12 men or forced to burn a timeout.
"I definitely think we were trying to catch them in a 12-man situation," Thomas said.
"Just really try to force them into a timeout or 12 men on the field or really just see what happens," Hoyer said.
The idea for the play came -- as many seem to do in these days in the NFL -- from the
New England Patriots
.
Hoyer said the team saw the Patriots run the gadget successfully, so they copied it. In New England the goal is to make the opposing team waste a timeout, and it's worked. Because naturally everything New England does must be copied, especially in Cleveland (#sarcasmfont).
Hoyer said the team had practiced the gimmick "a few times." Which means the Browns actually practiced running to the sideline, then running back on the field.
In one sense it worked in Jacksonville, because the Jaguars were a mess running on and off the field. Live, it appeared Greco saw a player from the Jaguars running to the sideline and assumed it was a 12th man. So he snapped the ball. The player was Jacksonville's 11th, but Greco and the Browns did not know that at the time.
Hoyer, though, said the man running off the field "had nothing to do with why the ball was snapped."
Pettine said he wasn't sure what happened.
"I don't know whether they thought that because a guy was running off that we had caught them with 12 and that he was snapping it to catch him on the field. I'm not sure," he said.
The bottom line is it was snapped, and nobody moved. Hoyer figured he had to do something to try to get the first down. So he ran right. Tate's reaction: "I was like, 'Oh my God what am I supposed to do?'"
So he ran behind Hoyer, and eventually took a pitch and ... well ... got blasted at the sideline.
Suffice it to say, Hoyer is not an option quarterback.
"Obviously we're not running speed-option on fourth-and-eight or whatever it was," Hoyer said.
He simply tried to make the most of the situation, with no blocking or clear plan.
Did the Browns outthink themselves, trying this gimmick with a backup center? Perhaps. But the play is not uncommon in New England and has worked. If it had worked in Jacksonville it would have been a first down at the Jaguars 38 with 14:20 left with the Browns down four. Had it worked, it could have been a game-chanting "momentum" play.
It didn't work, though.
Pretty much like everything else the Browns tried in Jacksonville.
So now they have another play to add to that lowlight reel that's been growing since 1999.
October, 21, 2014
Oct 21
2:00
PM ET
A look at the
Cleveland Browns
' snap counts in their 24-6 loss to the
Jacksonville Jaguars
in Week 7:
OFFENSE (74 snaps)
Thoughts: Two one-sided games in a row and the Browns never made a hint of going to Johnny Manziel. ... There were a lot of questions about the running back distribution, but the numbers reflect where the Browns want to be. There is nothing crazy out of sync with them. ... West's last snap was the failed third-down run when he ran into the back of Greco. ... He said he was trying too much to get the big play as opposed to taking what was there. The reason for that: His ability at a school like Towson let him turn short runs into big plays because he was so much better than the other players. That's not the case any longer in the NFL. ... Hawkins continues to be the receiving workhorse. He's been on the field for 70 percent of the plays. ... Four of the five offensive line have not missed a snap. ... Mike Pettine's moves have worked in past games, because the Browns won. This week they didn't, and that led to a loss. The playing time distribution really isn't radically different from any other game. Which means the loss happened because what was tried simply didn't work as well as in past weeks.
DEFENSE (73 snaps):
Thoughts: Pettine pointed out that lost in the loss was a very good game by Gilbert, and he was right. Gilbert had 45 snaps, more than he's had since the second game of the season. He broke up one pass, had two tackles and generally had good coverage. This could be his "light goes on" game. ... The Jaguars success in running the ball could be partly attributed to the zeroes for many of the defensive linemen. Armonty Bryant, Ahtyba Rubin, Phil Taylor and Billy Winn all missed the game. ... Hard to underestimate the contributions of Dansby to this defense. He is a rarity in this age of specialization; he's missed two of 428 snaps this season.
October, 21, 2014
Oct 21
12:30
PM ET
BEREA, Ohio -- The
Cleveland Browns
might be without defensive lineman
Ahtyba Rubin
for some time.
Coach Mike Pettine said Rubin went for a second opinion on an injured ankle. He has missed the last two games.
Pettine was asked if surgery could be a possibility.
Rubin
"I would think all options are on the table at this point," he said. "I haven't heard that brought up yet, but I'm assuming that could be the case."
The Browns will have an update on Rubin's status Wednesday.
Rubin's injury highlights one of the more disappointing position groups on the team. The defensive line was supposed to be a team strength. But the defense ranks last in the league in run defense, giving 155.5 yards per game. Not all of that falls on the line, but it is the first 'line' of defense.
In a separate personnel move, the team waived fullback
Ray Agnew
and promoted Kiero Small from the practice squad.
"He's been doing an outstanding job for us on the scout teams," Pettine said. "We just felt it was time to promote him and see what he can do."
There was also word that Seattle was about to sign Small to the Seahawks' active roster, which teams can do with practice squad players.
October, 21, 2014
Oct 21
11:00
AM ET
A weekly look at what the
Cleveland Browns
must fix:
Luckily for the Browns, this week's opponent, the
Oakland Raiders
, allow 145.3 rushing yards per game, which is 29
th
in the league. Cleveland is determined to run the ball. But if the Raiders can somehow keep the Browns in third-and-long situations at least half the time, they can thwart the Browns' play-action and tee off on the depleted right side of the offensive line.
The Browns finished 4-of-17 on third down in this past Sunday's 24-6 loss to Jacksonville. They converted less than 25 percent of those attempts because of where they started; they faced 10 plays of third-and-7 or longer. Jacksonville held the Browns to 2.3 yards per carry, which made third down easy to manage for the Jaguars. The loss of center
Alex Mack
forced
Paul McQuistan
to start at right guard, where he struggled mightily. Sunday should be a chance for Raiders tackle
Justin Ellis
to apply pressure on
Brian Hoyer
up the middle.
The Browns' offense is largely about rhythm -- getting a few quick first downs with the run to set up a big passing play -- but defenses will have eight players in the box unless the Browns can stretch the field with receivers early and often. Jacksonville did, and Oakland will try.
October, 21, 2014
Oct 21
8:30
AM ET
BEREA, Ohio --
Alex Mack
has played so well for so long for the
Cleveland Browns
he was almost taken for granted.
But that stopped when Mack stopped playing.
In the five games Mack played this season, the Browns averaged 4.4 yards per carry and ran for 724 yards.
In the one game he missed,
John Greco
stepped in at center and
Paul McQuistan
played right guard. The Browns ran for 69 yards and averaged 2.3 yards per carry.
It wasn't all Mack. The Jaguars defensive front sold out to stop the run and the Browns credited Jacksonville's defense profusely.
But the Browns clearly struggled.
"I think when you lose somebody the caliber of Alex, I think everybody needs to step up, and that wasn't the case," coach Mike Pettine said. "Our guys across the board -- I don't know what the individual grades were -- but I think it's safe to say that none of those guys played their best game or, in a clear fashion, stepped up."
Pettine said the coaching staff would evaluate how to best line up against Oakland on Sunday.
"We'll put out there on Sunday the best lineup," Pettine said. "The best five that we think gives us the opportunity to win."
The Browns have three obvious options:
Keep Greco at center and McQuistan at guard. That setup worked against the Steelers, who struggle to stop the run, but not against the Jaguars, who evidently are adept at stopping the run.
Try
Vinston Painter
at right guard, if it's determined that McQuistan was the issue. Painter has the build of a guard, with a powerful lower body and long arms. This would allow the Browns to keep Greco at center working with
Brian Hoyer
, and would give another guard a chance.
Move Greco back to right guard, where he started the first five games. The Browns then would have to find a center, and the candidate is Nick McDonald, who is just coming off the non-football injury list due to a wrist injury from a car accident the past summer. The Browns signed McDonald just before training camp knowing he'd be out the first six weeks on NFI. He also was in New England in 2011 and 2012, and Hoyer said he took snaps in practice from McDonald when the two were with the Patriots.
The decision may come down to practice. Pettine believes that those who practice well will play well, so he may examine all options during the week and then decide the best five after seeing them.
October, 20, 2014
Oct 20
7:05
PM ET
BEREA, Ohio -- Hearing rookie
Terrance West
explain what went wrong on two runs near the red zone accentuates the challenges the
Cleveland Browns
are dealing with at running back.
The Browns feel they have three good running backs, led by veteran
Ben Tate
. That's generally a good problem. But when the Browns had a 2
nd
-and-2 from the 25-yard line and a 6-0 lead, it was the third-string back, West, who got two consecutive carries. Tate and fellow rookie
Isaiah Crowell
were on the sideline. A few minutes later, the Browns had botched a 4
th
-and-1 pass play and the Jaguars marched the length of the field for a 7-6 lead.
The maturation of West will continue until West decides to go North more often. He danced in the backfield for a 1-yard gain on second down, followed by a third down where West said he had seven yards to the edge but tried to cut inside for a bigger play and ran into center John Greco.
"I could have gotten the first down. Missed the cut," said West, the third-round pick who has 243 yards on the season. "I was trying to go for the big play. When it comes back down to it, I should have gotten the first down.
West and coach Mike Pettine acknowledge West is aiming for the home-run play too often. But the reason why West strays from easy yards is he's trying to impress in limited time on the field.
"On that play right there, I know I've got limited reps," West said. "So when I'm in the game I'm trying to get that big play. I just have to go back to the books and take what the defense gives me."
The Browns are fortunate to have tailback depth they like but playing time and lack of rhythm can be an issue. Both Tate and West have both alluded to this at different times.
If the Browns can adequately get all three the ball in ideal situations, golf clap for them. But that obviously wasn't the case late in the first half Sunday. Tate is the workhorse and Crowell is an explosive back and neither were on the field for a crucial few plays. West is talented and seemed to bounce back from his inactive status in Week 6. He wasn't ready for this specific situation.
"It's different sometimes because running backs have to feel a defense out and get in a good rhythm," said West about the rotation. "Everything's going to be good at the end of the day. It's about winning."
He's right. If the Browns had beat Jacksonville, then the rotation's probably not an issue.
Picking up that first down might have sparked that win, though.
October, 20, 2014
Oct 20
5:30
PM ET
BEREA, Ohio -- Playing
Johnny Manziel
for a series or two in Jacksonville was "briefly discussed" by Browns coaches but never became a serious possibility, coach Mike Pettine said Monday.
Pettine preferred to let quarterback
Brian Hoyer
try to finish the game on a positive note. Hoyer's completion percentage dropped to 55.8 percent after a 16 of 41 passing performance in a 24-6 loss to Jacksonville in which the Browns found themselves in third-and-long all game.
Hoyer is still "firmly our starter," said Pettine, who was asked whether anything has changed with the quarterback position or if he considered playing Manziel for a few plays as a change-up on a sluggish day.
"We're not going to hit the panic button after a loss," said Pettine, pointing out Hoyer's struggles were symptomatic of problems with the entire offense.
Pettine is still not ruling out an offensive package for Manziel, who hasn't played a snap the last three weeks after limited action the first three weeks.
Against Jacksonville, receivers dropped three passes and the Jaguars batted down four Hoyer throws. Hoyer said his play needs to improve.
"A few missed throws, a few times I could have been more patient in the pocket," Hoyer said. "Sometimes you have to just hang in there a little bit longer."
Pettine stresses his coaches go into every week to determine which players maximize the Browns' potential and increase chances to win – including quarterback. But Hoyer's leash was never one game. It was longer, very possibly the entire season. The Browns need to see what they have in him. They weren't ready to gift him a new contract after five good games and they aren't ready to dump him after one bad one.
October, 20, 2014
Oct 20
5:30
PM ET
BEREA, Ohio --
Ben Tate
summed up the
Cleveland Browns
loss to the
Jacksonville Jaguars
this way: "It's a bad game. It's gonna happen, and it happened. You just wipe your hands off and move on to Oakland."
Brian Hoyer
was more blunt.
"We sucked," he said. "It sucks to admit it."
There will be no arguments on either point.
But as Hoyer and the Browns move on, a team that desperately wants to win and a quarterback who enjoys his job have to understand the importance of the next two games. At home. Against the winless
Oakland Raiders
and the one-win
Tampa Bay Buccaneers
.
Win both and the Browns are 5-3 heading to a Thursday night game in Cincinnati.
But if they lose both, it's not tough to read the signposts. At a minimum, the chatter and drama about the rookie with the No. 2 on his jersey will grow.
Hoyer still has the backing of his coach, who said nothing has changed with the quarterback, that Hoyer "is still firmly [the] starter."
"We're not going to hit the panic button because of one loss," Mike Pettine said.
Like everyone, Hoyer had a bad game in North Florida. He admitted as much when he said watching it as a team was probably as bad as watching it live.
But losing changes the prism of how a game is viewed, and how players are viewed. Two weeks ago Hoyer led the greatest road comeback in NFL history. One week ago he was praised for soundly beating the
Pittsburgh Steelers
. The Browns and their fans were enjoying the vague scent of a possibly successful season.
A week later and suddenly Hoyer has had two sub .500 completion games in a row.
Perspective really is an amazing thing.
The truth? Somewhere in the middle. The Browns have won two and lost two close games. They've won one by a large margin and lost one that way. That reality would put them right where they are, a .500 team with a 3-3 record.
Almost every team this side of the 1972 Dolphins has one clunker a season. It wasn't too long ago that folks were ripping
Tom Brady
after a bad game. How's that look now?
The Browns, though, do not have Brady's track record or history. They are a team trying to prove they are different from the past six, which all lost at least 10 games a season.
Jacksonville was a chance to show growth and maturity.
It didn't happen.
"The good thing that came out of that game," said receiver
Miles Austin
, "is that we can correct it."
Good teams overcome bad games and move on. Bad teams let them linger -- as has happened so often in the Browns recent past -- and the negatives multiply.
How the Browns -- and Hoyer -- rebound against Oakland will answer much about how the rest of the season progresses.
October, 20, 2014
Oct 20
11:54
AM ET
JACKSONVILLE -- While the loss of center
Alex Mack
has been painful and the running game put on notice, the
Cleveland Browns
are about to find out how dimensional the offense can be.
The Browns showed in the first five games they want to run the ball 30-plus times, average 5-plus yards a carry and handle third downs with play-action. It's a good strategy, but one that Jacksonville put in the microwave and covered with aluminum. So many stats illustrate the Browns' struggles against Jacksonville's rush defense, but here are two: The Browns faced 10 third-and-longs Sunday, and they gained
one yard or less on 65 percent of their plays
. That last one is a bit shocking considering, even without Mack, who's on injured reserve after suffering ligament damage in his left leg, the Browns still have a cornerstone left tackle (
Joe Thomas
) and two steady second-round picks (
Joel Bitonio
and
Mitchell Schwartz
).
Kyle Shanahan will find a way to run more efficiently, but if the running game stalls again, an exit strategy is necessary.
Greco
Without an effective play-action,
Brian Hoyer
looked a bit skittish against what was considered a below-average pass defense. The fault isn't all Hoyer's. His receivers dropped three passes, the Jaguars tipped four throws and Hoyer looked out of sync with receiver
Miles Austin
.
To get Hoyer and the running backs comfortable, the Browns must figure out what to do with the right side of the line.
John Greco
moved from right guard to center and
Paul McQuistan
struggled mightily as a result. Jags tackle
Sen'Derrick Marks
had his way all afternoon.
This is where Nick McDonald comes into play. The center/guard hybrid is off the non-football injury list, meaning the Browns face a three-week decision window on whether to activate him or place him on IR. Assuming McDonald is caught up, playing him at center and keeping Greco at his natural right guard spot could work. Or the Browns can try
Vinston Painter
at right guard. The rookie certainly looks the part.
The Browns know they can't replace Mack, one of the game's best centers. But they need more than 2.3 yards per carry.
"He's the best center in football -- yes, that hurts," said receiver
Andrew Hawkins
of Mack. "But we know John is an incredible lineman. He's underrated, honestly. I thought he played pretty well today for it being his first game at center against one of the toughest run defenses in the NFL. We'll build off that and we'll rally around John."
Expect the Browns to find more creative ways to get
Jordan Cameron
the ball. One catch for 5 yards won't do for Cleveland's best pass-catcher. If it's not in play-action, work more of the quick game with Hoyer.
October, 20, 2014
Oct 20
8:30
AM ET
JACKSONVILLE, Fla. -- The ESPN Stats and Information crew puts this
Cleveland Browns
loss in perspective, and no matter how it's viewed the perspective is not pretty:
The Browns had not scored fewer than 21 points this season until the
Jacksonville Jaguars
held them to six. It ends a streak of five games in a row of scoring at least 21 points -- part of the reason the offensive struggles were surprising.
They failed to gain more than 1 yard on 65 percent of their plays (48 of 74). Entering the game, that figure was at 37 percent, meaning the Jaguars put the Browns in very bad down-and-distance situations.
To complicate matters, the Browns converted only 4 of 20 third downs. The 16 missed conversions is the most in the NFL this season.
Quarterback
Brian Hoyer
, he had a very poor day throwing -- being off target on 37 percent of his passes. Coming into the game, he missed on just 17 percent of his throws.
Finally, Jaguars' quarterback
Blake Bortles
' Total Quarterback Rating was a woeful 9.0. That's the lowest for a quarterback in a win since
Andy Dalton
won with a 3.7 QBR in Week 11 of last season. The common denominator: Both games were against the Browns.
It was one very long day.
In other Browns news ...
The one throw Hoyer said he wished he had back was a wild overthrow of an open Jordan Cameron in the end zone prior to a Billy Cundiff field goal. "Who knows how that changes the outcome?" Hoyer said.
The common theme after the game was to praise Jacksonville's run defense and their front eight. But the Browns' poor run defense should not be ignored. They faced the league's worst rushing team, and gave up 185 yards. Former Michigan quarterback Denard Robinson had 160 career rushing yards entering the game. He finished with 127. "It was good to do it against an Ohio team," Robinson joked, sort of, I think.
The Jaguars had lost their last 18 games played in September or October, and had lost nine in a row overall. Two of the Jaguars last six wins have come against the Browns.
Hoyer said he thought the Browns had a chance to sneak away with a win after he connected with Andrew Hawkins for a 65-yard pass and run in the fourth quarter. But after that catch, the offense lost four on a run, lost eight on a sack and then threw an incomplete pass. "Demoralizing," Hoyer said.
The Browns to a man insisted they did not take the Jaguars lightly after the emotional win over the Steelers. Hoyer said not taking anything for granted was overemphasized in practice during the week.
Joe Thomas on why he said the Jaguars were the best defense the Browns faced all season: "They sell out to stop the run. They've got great safeties who play in the box. They've got one of the best linebackers in the NFL, and a tremendous front."
Thomas on the loss following a big win and how the team avoids the "same old Browns" moniker: "It's the nature of the league. You win one game and you're crowned as Super Bowl champions. You lose one and you're announced as the worst team in the league. I hope that we have the perspective on this team to understand that that's the way it goes in the NFL."
The final word, from Ben Tate, on how to show these are not the same old Browns: "Come back and play. Come out and play ball. That's all."
October, 19, 2014
Oct 19
8:26
PM ET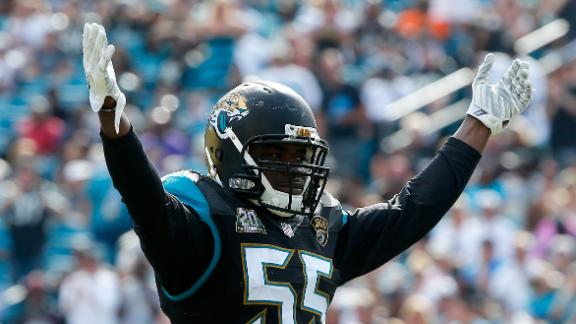 JACKSONVILLE, Fla. --
The Browns are for real.
Address Brian Hoyer's contract situation.
AFC North sleeper.
Maybe Cleveland didn't like those nifty storylines from earlier this week. The Browns opted instead to turn up the misery index once again with
a 24-6 loss
to the
Jacksonville Jaguars
at EverBank Field, sabotaging a perfectly good chance to go 4-2.
As if the Browns following their well-worn path of killing weeks of momentum with shoddy play on the road was not enough, the sheer comedic performance of one particular play Sunday in Jacksonville should suffice.
On fourth-and-5, Hoyer ran an option play from midfield, pitching it to
Ben Tate
for a two-yard loss. That's not the Browns' game. Hoyer is not a runner. But the offense wasn't even supposed to snap the ball. It lined up to catch Jacksonville in a substitution timeout or offsides but center
John Greco
snapped it into Hoyer's hands.
"Everybody was shocked, but I was like, 'Oh my God, what am I supposed to do?'" said Tate in the locker room.
Questions plagued a Browns lineup that too easily unraveled. Its vaunted rush averaged 2.3 yards per carry. Its defense created three turnovers but saw an additional three points on the scoreboard as a result. The offense turned a prime first-half opportunity -- second-and-2 from Jacksonville's 33-yard line with 2:36 left and a 6-0 lead -- into seven points for the Jaguars.
Even with a win still attainable late in the second half, cornerback Jordan Poyer muffing a punt at Jacksonville's 2-yard line encapsulated an ugly day. The Browns replaced sure-handed Jim Leonhard for Poyer, who is a better playmaker but clearly shouldn't have been fielding a punt from the 2 unless he was sure to catch it.
The defense was serviceable, creating turnovers and holding Jacksonville to 10 points for most of the game. But it also allowed running back
Denard Robinson
to rush for 127 yards. That's four more than the team's previous leading rusher,
Toby Gerhart
, has all year.
All last week, coaches told players how good Jacksonville was despite its 0-6 start. All this week, the Browns will realize how good they made Jacksonville look.
"We knew they were good. They put it to us today," tight end
Jordan Cameron
said. "It's unacceptable."
Cameron had the inside track on the Browns' best chance for a touchdown, beating his man to the back of the end zone on a third-and-4 play in the second quarter, but Hoyer (16-of-41 passing, 215 yards) overthrew him.
Cleveland's entire day was one big overthrow to nobody in particular. Jacksonville was never an automatic springboard -- Pettine agreed the Jaguars had the best defensive front his team has faced -- but going 4-of-17 on third down wasn't the way to show them respect.
No third down was more costly than Hoyer's sack-fumble on the Browns' opening drive of the first half.
"It is frustrating to see us go out and take a step back like we did," Pettine said.
Perhaps this could have been the Browns' day had it avoided an ugly sequence late in the second half by either taking a field goal or running the ball on fourth-and-1.
Originally, the Browns needed two yards for a first down and had three plays to get it. But rookie running back
Terrance West
, who was inactive the previous week, got one yard off consecutive carries, one in which he danced around in the backfield unnecessarily.
On fourth-and-1 with a 6-0 lead, Hoyer rolled to his right and targeted Cameron, who ran an out toward the sideline but was covered all the way. The play was over before it started.
Pettine went for it because "to come away with just another field goal" would have been disappointing, he says. He didn't want to stall another drive. Plus he believed his defense could stop the Jaguars, who needed less than a minute to march 76 yards downfield for a momentum-stealing score.
"As it turns out it couldn't have gone worse for us," Pettine said.
As for the botched fourth-and-5 play, Browns players didn't throw each other under the bus, which is a good sign, but Hoyer clearly wasn't expecting the ball.
"We were trying to maybe catch them off guard," Greco said. "Just bad timing, a miscommunication. We were thinking one thing and Brian was telling us to do something else."
Despite a few missed tackles, the defense probably played well enough to win. But without its normal rushing prowess, the Browns were in third-and-long 10 times Sunday. Incredibly hard to win that way.
"Three turnovers [from the defense], you expect to win that football game," said
Andrew Hawkins
, who finished with 112 receiving yards. "It's unfortunate."
October, 19, 2014
Oct 19
7:40
PM ET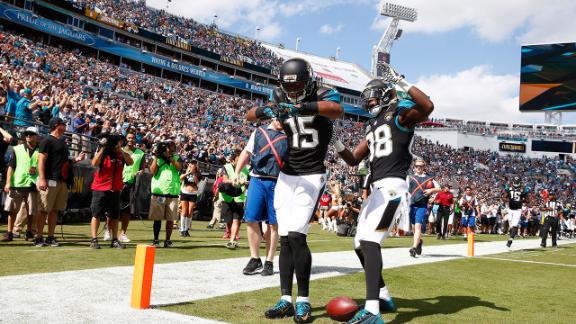 JACKSONVILLE, Fla. -- Of the many accurate statements
Brian Hoyer
uttered after a dismal
Cleveland Browns
effort Sunday, one in particular should be noticed.
"When you get beat like this, it's a copycat league and teams are going to try to do exactly what Jacksonville did," Hoyer said after his first real clunker in nine starts as the Browns' quarterback, a
24-6
drubbing by the previously winless
Jacksonville Jaguars
.
What Jacksonville did was not complex: The Jaguars stuffed the run and rushed with four defenders, leaving seven in coverage. That took away play-action and made Hoyer less effective because there always seemed to be two defenders for every receiver.
Some teams like to run the ball; the Browns need to.
They entered the game averaging 146 yards per game rushing; they got 69, less than half the season average.
"I think I said early in the week, actually, that this is the best defense we've played, and I think everyone kind of snickered," offensive tackle
Joe Thomas
said.
But to run that poorly put the Browns in a position where they needed someone to pick them up. And Hoyer did not provide it.
"Today is a good example of when a team wins a quarterback gets a lot of credit, but when they don't he gets a lot of blame," coach Mike Pettine said. "I know he missed some throws. We didn't play well enough around him."
It's one game, but addressing the formula the Jaguars provided will be Hoyer's next challenge as the starting quarterback.
"It's a long season," Hoyer said. "We're 3-3, and we blew an opportunity to be 4-2. We got two games at home [against Oakland and Tampa Bay]. Regroup and stick together."
Hoyer overthrew an open
Jordan Cameron
in the end zone, missing a touchdown. He had four passes knocked down by defensive linemen. He and his receivers were on different wavelengths at different times.
Hoyer's final numbers: 16-of-41 for 215 yards with no touchdowns and one interception. His rating: 46.3.
"A lot of those plays aren't his fault," wide receiver
Andrew Hawkins
said. "Plays that he's going to get blamed for aren't his fault. We all need to play better."
Pettine pointed to the pressure from Jacksonville's front four, which led to three sacks and numerous hits.
"With the inability to run the football," Pettine said, "it put us in some predictable down-and-distance situations where they maximized their coverage and teed off on their front four. ... You have to run the ball, get ahead on the sticks, and you have to protect him when he is throwing it, and we did neither."
The Browns were without
Alex Mack
, lost for the season with a broken leg a week ago. That had to matter -- "He's the best center in the NFL," Thomas said -- but they won't have him the rest of the season. And Hoyer's numbers for the past two games are not pretty: 24-for-58 for 432 yards, one touchdown, one interception and a two-game rating of 67.3.
The up-and-down nature of the NFL shows why the Browns can't judge Hoyer, his future and theirs on one game, two games or even five games. They need to keep playing, let the season play out and see what happens.
The Browns averaged 26 points in the seven games Hoyer finished before Jacksonville. If the Jaguars provided the blueprint to attack the Browns' offense, it's now up to Hoyer and coordinator Kyle Shanahan to counter.
It's still Hoyer's team.
The evidence?
Johnny Manziel
never took his baseball cap or earpiece off on the sideline.