November, 27, 2014
Nov 27
8:00
AM ET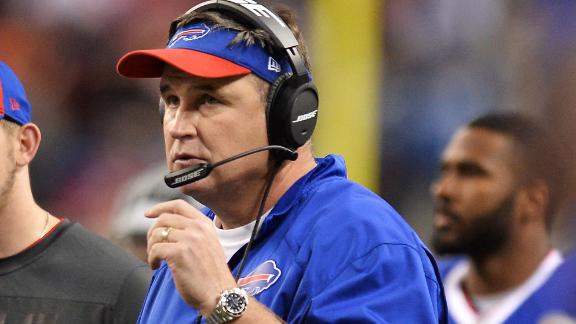 When:
1 p.m. ET, Sunday
Where:
Ralph Wilson Stadium, Orchard Park, N.Y.
TV:
CBS.
After the
Buffalo Bills
' 38-3 blowout over the Jets on Monday night, coach Doug Marrone wanted one thing more than anything else.
"The best thing that I said -- and I told this to the players, and I've been dying to say it: I just want to go home," Marrone said. "I just want to go home. It's been a long week."
After an all-hands-on-deck effort from the team -- and from the fans who were paid to shovel out seats -- the Bills (6-5) will be back home at Ralph Wilson Stadium for Sunday's game against the
Cleveland Browns
(7-4), just the Bills' second game on their home turf in a span of 41 days.
ESPN Bills reporter Mike Rodak and ESPN Browns reporter Pat McManamon break it all down:
Rodak:
Pat, I had almost forgotten that QB
Johnny Manziel
is still on the Browns until last week's incident made headlines. What impact, if any, did that story have on the team, especially with coach Mike Pettine, who was the Bills' defensive coordinator last season?
McManamon:
Well, the team wasn't happy about it, and that includes Pettine. Not so much because of the incident. The team believes Manziel's version -- that he was going to his room and an aggressive fan approached him. But the team is upset that on the day it was flying to a road game, Manziel was involved in something that required the police at 2:36 in the morning. The Browns know they can't control what fans do, but they believe their players can avoid these kinds of things on the day they fly to a game by making smarter decisions about where they are and when. It won't affect the team much, but it doesn't enhance Manziel's case that he is truly NFL-ready.
Mike, let's start with a personal note. How are you and folks you know coping with the snowfall, and what is the situation there as far as safety and the digging-out process?
Rodak:
Pat, thanks for asking. I'll say this: I was astonished when I came back to the area Tuesday after three days in Detroit to see almost all the snow gone. While there was some flooding, I think most people were spared of any major problems during a much-needed weekend warm-up. That was key for area families to get back to normal and for the Bills to get their stadium ready. As Marrone said after the game, it was a long week. I had at least 5 feet of snow in my parking lot and couldn't get my car out until late Friday night, so I was able to fly to Michigan early Saturday morning. Even then, soon after the snow stopped falling, the New York State Thruway was basically clear. I haven't lived in western New York long, but it was quite an impressive effort by all the parties involved to keep people safe and get the region back to normal.
WR
Josh Gordon
didn't waste any time getting back to work, catching eight passes for 120 yards in his first game back from a suspension. How does he change the complexion of the Browns' offense?
McManamon:
In large ways. Gordon seemed to be about 80 or 85 percent of himself, and he had the Falcons' best cornerback assigned to him the entire game, but he still came up with eight catches for 120 yards. Gordon's impact in the passing game is obvious, but he might help more in the run game because he forces defenses to play honestly by keeping a safety back in coverage. That opens up run lanes, which allowed
Terrance West
and
Isaiah Crowell
to combine for 150 yards. Gordon is a superb talent, and as he becomes more adjusted to the game post-suspension, he will only get better.
The Browns have had serious issues with the physical defensive fronts of Houston and Jacksonville. Do the Bills present any similar issues?
Rodak:
Do they ever. The Bills have the NFL's best defensive line. It's a dominant group that includes three Pro Bowlers from last season (
Mario Williams
,
Kyle Williams
and
Marcell Dareus
), along with a former first-round pick (
Jerry Hughes
) who has racked up 19.5 sacks in 27 games in Buffalo. The Browns' entire offensive line will have to be on alert; it's tough to double-team any of the Bills' front line, since you'll just free up another pass-rusher to beat a single block. The Bills, who set a franchise record in sacks last season, lead the NFL this season with 46 sacks. No other team has more than 40 sacks. It's not a matter of blitzing by this defense, either. They can do it simply with their four guys up front.
Let's cut to the chase here: Will the Browns make the playoffs?
McManamon:
I'll cut to the chase as well: It will be tough, but in this season I would not rule anything out. When NFL Nation writers outside Cleveland picked the games before the season, they expected the Browns to lose 15 of 16 games. That's how much respect the Browns had. Manziel was the most-hyped player to come out of college in a long time, but
Brian Hoyer
has a steadfast lock on the quarterback job. RB
Ben Tate
was going to lead the run game. He's been cut. Josh Gordon missed 10 games. TE
Jordan Cameron
missed games with a concussion. Three defensive linemen are out, as was the middle linebacker. Yet the Browns are 7-4, with a rookie head coach. Can they make the playoffs? They have a tough route. But as long as Hoyer stays healthy, anything can happen -- including a January game for the former Team Woeful.
Has the
Sammy Watkins
trade worked out for the Bills to the point that the team is not worried about lacking a first-round pick in 2015?
Rodak:
I would say the trade has worked out in the sense that Watkins has shown he is everything as advertised. The wide receiver isn't putting up extraordinary numbers -- he has 48 catches (tied for 36th in the NFL) for 684 yards (23rd) -- but I'm convinced that with a better quarterback situation and better health (he has battled groin and rib injuries), he'd be higher on the charts. However, the debate about the trade continues around here, and for good reason: A bunch of rookie receivers are flashing big-time talent. The Bills gave up their 2015 first-round pick to move up just five spots for Watkins. Three selections later,
Mike Evans
was taken.
Odell Beckham Jr.
was taken at No. 12, so the Bills could've had him at their original spot, No. 9. They also could have moved further down in the first round and picked up
Brandin Cooks
or
Kelvin Benjamin
. So given the depth of the position in the draft, it's very easy to question why the Bills gave up so much to grab Watkins. The cost is steep for the Bills, who are 6-5 and would send the 14th overall pick next season to Cleveland if the season ended today.