March, 28, 2015
Mar 28
12:22
AM ET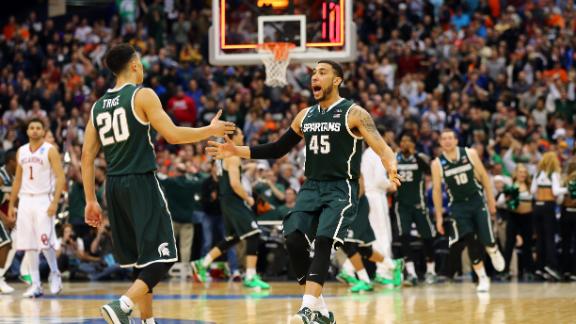 SYRACUSE, N.Y. -- Stop me if you've heard this before: The Michigan State Spartans are winning in March, making a mockery of everyone who says this NCAA tournament thing is hard to do.
For the fourth time in the past seven seasons, the Spartans are in the Elite Eight, rolling to a regional final date with Louisville courtesy of a 62-58 win Friday over the Oklahoma Sooners.
The seed line -- a seven for Sparty, a three for the Sooners -- will say this was an upset. Anyone who knows Michigan State's history knows better.
Here are five observations from the game:
Michigan State coach Tom Izzo put this one on his seniors, saying the Spartans would continue to go only as far as Travis Trice and Branden Dawson took them. Count this as a delivery. Trice finished with a game-high 24 points. Dawson had only six, but his 11 boards were every bit as critical.
Praised for his defensive prowess during the pregame, Denzel Valentine delivered offensively in this one. The junior, who managed just four points against the Virginia Cavaliers in the regional semifinal, finished with 18. More critically, 13 of those came in the second half, when Michigan State turned a four-point deficit into its first lead. He also drained a critical 3 (one of four he made), taking a great outlet from Dawson for a transition bucket that bumped the Spartans' lead to four points, which, in this game, seemed huge.
Buddy Hield got his points -- 21 overall -- but the Spartans did a good job of all but eliminating him for a long and critical stretch of the second half. Hield went from a little under nine minutes until the final minute of the game without any points, and an even longer 10-minute stretch without a field goal. During that time, the Spartans made their push, going from two down to take the lead, and eventually, the game.
The score might not indicate a real track meet (though this season, it kinda does) but this game was played at a near-frenetic pace, with both teams trying to push on misses and more than content to shoot early in the shot clock. That doesn't mean it wasn't physical. The Sooners and Spartans banged plenty defensively, jumping out on shooters and making the going tough in the low post.
The Spartans are dreadful at the free throw line -- 330th out of 345 teams -- but when they needed to come up, they did. Trice and Valentine were an ice-water 6-of-6 in the final 1:19, preserving the win.