October, 23, 2014
Oct 23
6:00
PM ET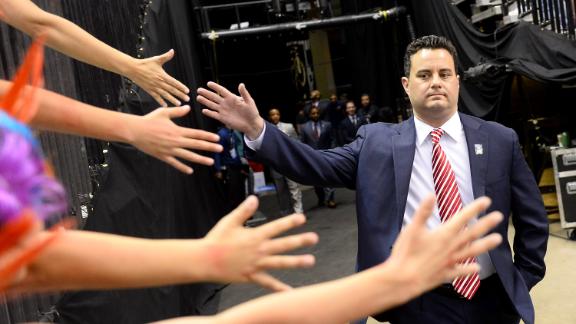 SAN FRANCISCO -- Sometimes a piece of information is so hard to believe that no matter how many times you go back to it, it never gets any more digestible. Greg Maddux's 1995 season, for example. No matter how many times you open Maddux's Baseball Reference Page, no matter how often you shove your iPhone into your friend's face and scream at them -- Ten complete games! A .811 WHIP! 181 strikeouts to 38 walks! *Look at this!* -- it never gets any less insane.
The Pac-12's 2011-12 season is like this. You remember: Arizona's young players struggled in Sean Miller's third season. UCLA was mired in its protracted Ben Howland purge. The rest of the conference was either mediocre (no Pac-12 team finished with fewer than 10 losses) or just plain awful (USC and Utah combined for four conference wins). In overall average efficiency, the league ranked below not only the rest of its power six brethren, but the Atlantic 10 and Mountain West, too. The league was so devoid of nonconference wins and marquee teams that its regular-season champ, Washington, failed to earn an at-large NCAA tournament bid -- an unprecedented brush-off made all the more surreal by the realization that nobody outside the Pac-12 offices really disagreed with it.
Three years later, the Pac-12 has arrived at a vastly stronger place. Arizona is a perennial national title threat. UCLA got back to the Sweet 16 last season and is recruiting top West Coast talent again. Utah has gone from "abhorrent" to "conference title contender" in record time. Colorado, UCLA, Stanford, Arizona State, and even Washington are all realistic tournament hopefuls with either intriguing talent, loads of experience, or both. USC, which finished 2-16 in league play last season, is rapidly trending upward.
The result is a league with one obvious national title contender and maybe seven or eight good outfits.
"I could see where Arizona would be the unanimous pick," Arizona State coach Herb Sendek said. "I think that's clear cut. As for the rest of the league, you could probably put everybody in a hat, shake it up, and have just as good a chance at predicting the order of finish as we are able to do sitting here today."
The current setup might make the Pac-12 hard to predict, but it should also make it very interesting -- not only during conference play but in November and December, too. At the very least, 2011-12 now feels even more removed from the current reality. As the Pac-12 improves, that wild outlier becomes harder and harder to believe.
Four other observations from Pac-12 media day:
2. The arrival of a new season hasn't done anything to quell misgivings about Oregon's tumultuous offseason. In May, three players were dismissed following sexual assault allegations, and coach Dana Altman and the university were criticized for allowing players to play in the NCAA tournament despite an ongoing investigation into those allegations. One of those players, Brandon Austin, had been suspended by his previous school, Providence, for an alleged sexual assault.
[+] Enlarge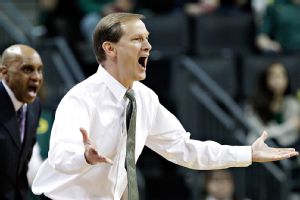 AP PhotoDana Altman's Oregon program had a tough offseason.
Since then, two players (Ben Carter and
A.J. Lapray
) have transferred, top recruit
JaQuan Lyle
was unable to enroll at the school, and
Elgin Cook
was cited for shoplifting. Local media in Eugene soon discovered that Cook, as a teenager in Wisconsin, had been found guilty of assault and battery, disorderly conduct and vandalism.
Altman's summer hasn't just left his roster gutted. It's also left many wondering whether a coach whose squeaky-clean reputation that preceded his hiring deserved to be fired.
On Thursday, the questions continued. Altman reiterated that he did not know the extent of the charges against the three players in March. He stood by his and the university's decision, and pointed to his entire career as an indicator of his judgement.
"Six months have not been good, but the other 25 years have been pretty solid," Altman said.
The Ducks have made one noticeable change off the floor: Altman has now moved all of his players into the same apartment complex, where they live alongside graduate assistants.
"We have our graduate assistants living with them to try to help them with some of the day-to-day decisions they make," Altman said. "Other than that, we haven't made many changes."
3. These days, nothing sinks a bubble team's NCAA tournament hopes more than a weak nonconference schedule. You could hardly blame Utah for its RPI-crushing 2013-14 slate, though: Even coach Larry Krystkowiak didn't expect his team to be as good as it was. The Utes were ahead of schedule.
"Oftentimes a schedule is done a year or two in advance," Krystkowiak said. "We were probably ahead of the curve last year."
There will be no such surprises in 2014-15. The preseason poll slotted Utah at No. 2 in the league projections; star small forward
Delon Wright
is a returning All-Pac-12 performer. This time, Krystkowiak has scheduled accordingly. The Utes have road games against Kansas, San Diego State, UNLV and BYU. That slate will certainly help assuage the NCAA's road-obsessed concerns, but it also presents major challenges.
"On paper I don't know how intelligent I am to bite off some of that," Krystkowiak said. "I just felt like our team was ready for it."
4. Steve Alford's teams were never known for playing fast, but his arrival at UCLA last season was accompanied by a massive tempo boost relative to Alford's work at New Mexico and Iowa. With the strength of that attack -- an excellent backcourt -- almost entirely gone, will the Bruins maintain that pace? Alford hopes so.
"We want to be able to continue to do the things we've done, with the speed with which we want to play," Alford said. "We want to play fast. ... But there's a fine line. You can only run as hard as you can to where you're also valuing the ball."
5. New coaches are a minor subplot of the 2014-15 Pac-12. The conference has three new men in charge of programs this season: Cuonzo Martin at California, Wayne Tinkle at Oregon State and Ernie Kent at Washington State. Oregon State and Washington State are probably due for extended rebuilding periods. But Mike Montgomery's retirement didn't leave the Bears quite as bereft of personnel, which makes them slightly more intriguing. At the very least, forward
David Kravish
drew raves from Martin as the two sat at the podium together.
"The guy is just battle-tested," Martin said. "He understands what it means to win. He's probably one of the better leaders I've ever been around."