September, 22, 2014
Sep 22
10:00
AM ET
Separating from Duke for nearly two months to coach USA Basketball wasn't easy for Mike Krzyzewski this time simply because he is used to doing it. Several factors kept his absence from campus from having a negative impact on the Blue Devils.
It started with Krzyzewski's belief that the incoming freshman class of
Jahlil Okafor
,
Justise Winslow
,
Tyus Jones
and
Grayson Allen
were mature beyond their years.
"The freshmen are not freshmen, they're Duke basketball players," Krzyzewski said. "There's not that differentiation. That doesn't happen all the time. That doesn't happen most of the time. But with this group it has."
[+] Enlarge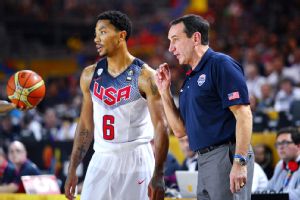 David Dow/NBAE/Getty ImagesWith a mature group of incoming freshmen, assistants Nate James and Jon Scheyer running things at Duke and top assistant Jeff Capel with him overseas, Mike Krzyzewski was able to focus on Team USA without worrying about his program.
The maturation of his assistants Nate James and Jon Scheyer to run the program also freed up associate head coach Jeff Capel to join him in Spain. Initially, Krzyzewski planned to leave Capel in charge domestically. Capel was so sure he wasn't going abroad that he didn't get the vaccine shot given to those who were traveling for an exhibition in Africa.
But Krzyzewski wanted Capel in Spain in part to help bridge any communication gaps with the national team staff and players and "to make sure I kept a connection with what was going on at Duke."
"You kind of get into a tunnel, a cave where really you don't know what the heck is going on," Krzyzewski said.
Capel made sure he stayed informed. He immediately made sure they changed their phone plans so that international texts and calls wouldn't leave the school with astronomical charges.
Krzyzewski and Capel addressed the team in Durham via Skype on their last day in New York City before leaving for Spain. They spelled out expectations including the plans for "Duke Basketball Orientation," a series of exercises to promote team-building and bonding. Krzyzewski didn't leave the players with a bunch of rules, but made sure they understood the program's standards.
"Standards are better than rules because standards you own, rules you follow, they may not be yours," he said. "With a standard you hope that it becomes yours. If a group has ownership of a certain way of doing things, they're much better able to be successful I think."
Krzyzewski said he had confidence that James and Scheyer could run things in his absence, but that he "just didn't know how far along the team would be."
Capel communicated with James and Scheyer daily to gauge the pulse of the team or recruiting needs. Capel said he also browsed social media outlets including Twitter and Instagram to stay up on the latest recruiting rumors and happenings.
Krzyzewski often got his Duke news around Team USA's practice schedule. Capel would grab his attention on the way to practice or when it was just finished. Sometimes it would be after watching game tape and sometimes even after dinner when there was downtime.
"What we do as assistants -- and what I think any good assistant does -- is you figure out when to tell your boss certain things," Capel said.
The updates didn't come every day, but Capel was consistent with the smallest of details. He informed Krzyzewski of birthdays or would mention when a text to a recruit or current player would be timely.
"A lot of times he'd already know without me saying something to him," Capel said.
Because of the six-hour time difference, Krzyzewski conducted most of his Duke business at night in Spain. He would review film after their games so he was used to sending texts after midnight, although for the recipients it would be after 6 p.m. Eastern time.
It helped that Duke already had two recruits -- center Chase Jeter and guard Luke Kennard -- make their verbal commitments before Krzyzewski left the states. That meant he didn't have as many recruits to pursue. It also helped compensate for him missing a week's worth of time he could be back on the road recruiting in September.
Krzyzewski, who has coached the national team since 2005, pointed out the Blue Devils veterans -- guard
Quinn Cook
and forward
Amile Jefferson
-- helped ease the transition for the freshmen.
That made seeing the first practice after his return home a pleasant surprise for Krzyzewski.
"I was just like, 'whoa, wow' this is really good," he said. "This is really good."