Former UT coach: Don't end Vols-Tigers
January, 4, 2013
1/04/13
12:45
PM ET
By
Bruce Pearl, Special to ESPN.com
| ESPN.com
Editor's Note: Current ESPN analyst Bruce Pearl was coach at the University of Tennessee from 2005 to 2011, where he compiled a 145-61 record and took the Vols to the NCAA tournament in all six of his seasons.
I still live in Knoxville, Tenn., and this week, all the talk around town has centered around the possibility that tonight's Memphis-Tennessee game (8 ET, ESPN2) will be the last time the two rivals will play for the foreseeable future. Memphis coach Josh Pastner has been adamant about discontinuing the series with the Vols and was quoted in the Knoxville News Sentinel as saying, "We will not play Tennessee anymore as long as I'm the head coach and I'm doing my scheduling."
Reports emerged Thursday, however, that Memphis athletic director Tom Bowen and Tennessee AD Dave Hart were discussing a possible extension to the current arrangement. Our Andy Katz has the latest on the mini-drama
here
.
I talked to Coach Pastner as he boarded the plane to come to Knoxville, and he admitted that they were in fact going to take another look at it.
As someone who has been a part of this rivalry, I would be disappointed if the series were to end. This game has developed into one of the best in-state rivalries in the country. People from Memphis live in Knoxville and attend the University of Tennessee. The same can be said about people from Knoxville living in Memphis. It is a great game for the state of Tennessee.
Moreover, it's a great game for college basketball. In February 2008, we went into Memphis as the No. 2 team in the country and knocked off the then-top-ranked Tigers, led by John Calipari and Derrick Rose. That propelled us to No. 1 for the first time in school history and remains one of the most-watched college basketball games in ESPN's history. The entire city was electric. Justin Timberlake, Priscilla Presley and the Manning brothers were in the stands. It was an unforgettable atmosphere and an unforgettable night.
The first game of this current eight-year contract? It was played at Memphis, too, but was aired on CSS Regional. As the rivalry grew, so did the attention from the national media. "College GameDay" was there for that 2008 showdown, and ESPN or CBS have picked up the game nearly every meeting since. It has grown into a national game.
[+] Enlarge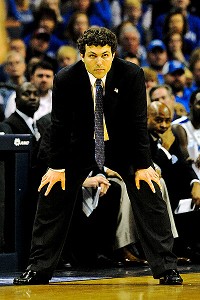 Jim Brown/USA TODAY SportsCoach Josh Pastner and Memphis will be seeking their third straight win over rival Tennessee on Friday.
Which makes the Memphis resistance a letdown to me. The irony is that the Tigers need to play this game more than Tennessee, in my opinion, and have since the series started. The Volunteers' RPI has been higher six of the eight seasons (including this year), and as the Big East's future remains uncertain, the Tigers will need to continually add quality opponents to boost their résumé in order to get into the NCAA tournament. This season is a great example. Both teams need a quality win, and this is really Memphis' last chance to get one, whereas UT still plays Florida, Kentucky and Missouri.
The latest possibility of extending the rivalry is encouraging. But why has it gotten to the point where one team would not want to play the other?
Well, from a Memphis perspective, it's simple: recruiting.
Memphis is a fertile recruiting area, as are the surrounding areas in Arkansas, eastern Missouri and northern Mississippi. The Tigers are concerned about Tennessee gaining valuable exposure by playing at the sparkling FedExForum in Memphis every other year. This has been a growing feeling in the Bluff City dating back to the Calipari days. Coach Pastner has maintained that there is no benefit of affording UT the exposure of playing in a basketball hotbed, while Knoxville offers little for the Tigers in terms of recruiting.
If that's the logic, I disagree, but fine. However, it has also been reported that although Memphis was not in favor of renewing an annual series with Tennessee, it is all about scheduling old rival Louisville and Rick Pitino every year. Louisville, which is almost the exact same distance from Memphis as Knoxville, is a perennial Final Four contender. Those recruits that Memphis feared would leave for Tennessee wouldn't go to the Cardinals? In fact, Pitino's top recruiting commitment for 2013, Chris Jones (the best junior college point guard in the country), hails from Memphis.
The numbers further dictate that this stand does not make sense. Memphis is 34-52 against the Cardinals, and Louisville has won eight of the past 12 meetings. Louisville has made it to at least the Elite Eight three of the past five seasons, is coming off a Final Four appearance and is again in the mix for a national title this season.
Conversely, the lifetime series with Tennessee is 14-10 in favor of the Vols, but Pastner has led the Tigers to two straight wins. Neither team has won more than two games in a row since 2001. Additionally, neither team has won a game in the NCAA tournament since 2010. In general, the two schools are much more evenly matched these days than Memphis and Louisville.
The numbers tell a story, but so do the intangibles of the game. There are 12 players from the state of Tennessee who will play in this game tonight. These matchups are typically decided by just a couple of possessions and almost always garner national attention. More importantly, a rivalry is made with two teams that play hard against each other, typically don't like each other that much, and have bragging rights at stake. Tennessee-Memphis has all of that, but most importantly, the fans appreciate the game. There will be more than 20,000 people in Thompson-Boling Arena for this game tonight, and FedExForum is always packed when UT comes to town.
Make no mistake: It is not a sign of weakness that Coach Pastner is reassessing his stance. I respect him as a man and as a coach, and I certainly respect his choices. Good coaches make adjustments, and if Bowen and Hart think it's in the schools' best interest, Pastner will jump on board.
But I don't buy the recruiting argument. So why else would they want to end the series? It's certainly not dominance by one school or the other. Both teams are 4-4 since 2006. Attendance can't be the reason. Season-ticket holders from both programs circle those UT-Memphis dates. It's not traveling. The two schools are 381 miles apart along Interstate 40. I doubt it has anything to do with conference realignment. The SEC has been quiet on that front, specifically in terms of basketball.
Whatever the reason, it seems like the basketball fans in Tennessee and throughout the country are the ones that lose without this game.
Let's hope that it doesn't come to that.