October, 22, 2014
Oct 22
6:30
PM ET
IRVING, Texas -- As an act of appreciation for his torrid start,
Dallas Cowboys
running back
DeMarco Murray
purchased an iMac desktop computer for each of the team's five starting offensive linemen.
The computers -- valued at $1,300 each and equipped with 21.5-inch monitors -- awaited
Doug Free
,
Zack Martin
,
Travis Frederick
,
Ronald Leary
and
Tyron Smith
in front of their lockers when they arrived Wednesday at the Valley Ranch practice facility.
"Yeah, pretty nice," rookie right guard Martin said. "We just walked in and he gave it to us. It's pretty cool."
Murray leads the NFL with 913 rushing yards, the best mark in franchise history through seven games and sixth-best in league history. After gaining 128 yards Sunday against the
New York Giants
, he became the first player in NFL history to reach 100 yards in each of the first seven games of a season.
"It's really a collective team effort which is the coolest thing," Martin said. "DeMarco is the guy with the numbers and all that and doing a lot of the work. Up front, tight end, receivers, quarterbacking us in the right looks, it's really a full team effort."
October, 22, 2014
Oct 22
6:14
PM ET
IRVING, Texas -- Dallas Cowboys coach Jason Garrett said Michael Sam got caught up in a numbers' game along the defensive line, which led to his release from the practice squad on Tuesday.
Second-round pick DeMarcus Lawrence will be eligible to play Nov. 2 after his run on short-term injured reserve comes to an end because of a broken foot suffered in training camp. Defensive end Amobi Okoye is expected to practice Thursday for the first time as he returns from anti-NMDA receptor encephalitis.
The Cowboys also wanted to re-sign Ken Bishop, who cleared waivers on Monday after his release over the week, to the practice squad. He played in three of the first six games and was one of their seventh-round picks.
The Cowboys have 10 defensive linemen on the active roster and two on the practice squad in Bishop and Kenneth Boatright.
"You've got to be careful on the practice roster of having too many of one position because you have to function in practice," Garrett said. "We have a lot of defensive linemen and we have more coming."
Garrett and defensive coordinator Rod Marinelli praised Sam's work ethic in practice, but the Cowboys never seriously considered calling him up to the active roster despite just recording seven sacks in the first seven games.
The Cowboys are banking on Lawrence to provide a spark to the pass rush, as well as Anthony Spencer, who has played in the last four games as he works his way back from microfracture surgery on his left knee.
October, 22, 2014
Oct 22
3:00
PM ET
IRVING, Texas - No one has said the
Dallas Cowboys
have a great defense, which makes sense because they don't.
Then again, their offense is so good this defense doesn't have to be great.
It just needs to be solid -- and it is.
[+] Enlarge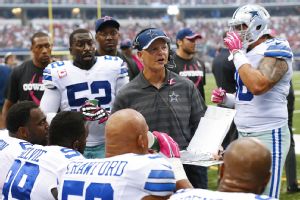 Matthew Emmons/USA TODAY SportsRod Marinelli's defense isn't great, but it's been good enough to help Dallas to an NFL-best 6-1 record.
Focusing on how many yards the Cowboys allow per play (6.1) or their puny sack totals (6.0) is a poor way to determine this unit's effectiveness.
We know it's a flawed unit -- it has been that way since Day 1 of training camp -- so it's important to understand what defensive coordinator Rod Marinelli is trying to accomplish.
Ask any defensive player and he'll tell you the first tenet of the Cowboys' defense is to play as hard as humanely possible until the officials blow their whistle. That's why several times this season, a Cowboys' defensive linemen has rushed the passer than helped make the tackle 20 yards downfield.
Effort can indeed hide a lot of flaws.
The Cowboys were the worst in the league in allowing 79 plays of more than 20 yards last year. Understand, that virtually every scoring drive involves a big play because it's so hard for offenses to consistently drive the ball the length of the field.
This season, Dallas has allowed 22 plays of 20 yards or more. Only seven teams have allowed fewer.
The lack of big plays the Cowboys have allowed corresponds with the Cowboys ranking in scoring efficiency. The Cowboys have yielded just 15 touchdowns in 75 possessions.
Detroit, San Diego, Indianapolis, Baltimore and Philadelphia are the only teams better, and they have combined win-loss record of 25-9.
And only four teams have more the 12 turnovers the Cowboys have forced, impressive considering their lack of a consistent pass rush.
This defense, as currently built, is going to give up yardage, but if the Cowboys keep the big plays to a minimum and keep forcing turnovers, then it'll be good enough to win games with this offense.
October, 22, 2014
Oct 22
2:00
PM ET
IRVING, Texas - Although
Dez Bryant
and
DeMarco Murray
have played together since 2011, the Cowboys' win over the
New York Giants
marked only the third time each surpassed the 100-yard mark in the same game.
Two of the three have occurred this season -- and it's going to occur considerably more often as long as Scott Linehan calls the plays.
That's because Linehan believes in getting the ball to his best players.
[+] Enlarge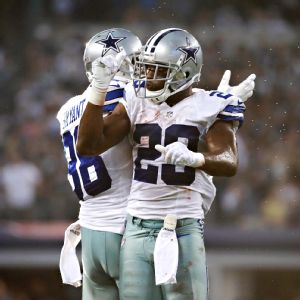 AP Photo/Brandon WadeDez Bryant and DeMarco Murray are the most prolific offensive duo in the NFL this season.
Murray carried 28 times for 128 yards, and Bryant had nine catches for 151 yards against the Giants. Against Tennessee, Murray had 29 carries fro 167 yards and Bryant caught 10 for 103 yards.
Bryant (79 targets) and Murray (187 carries and 26 targets) have been the designed recipient of the ball on a ridiculous 63.3 percent of the Cowboys' 461 plays this season. Pittsburgh is the only other team whose top running back and receiver have accounted for even 50 percent of a team's plays.
Le'Veon Bell
(117 carries and 43 targets) and
Antonio Brown
(74 targets) have had the ball directed their way on 50 percent of the Steelers' 468 plays.
Murray seems to have really found a rhythm with the zone-blocking scheme the Cowboys often employ. He has at least three runs of 10 yards or more in each of the Cowboys' seven games.
As Murray will tell you, it's not just about him and the offensive line. The tight ends have done a consistently good job of sealing the edge so he can get to the perimeter, and the receivers have done a good job holding their blocks.
"DeMarco is doing a fantastic job for us," Garrett said. "He's seeing softness in the defense, he's feeling things, he's getting north and south and he's finishing runs.
"Sometimes when it's 2 and 1 and 2 and 1 and 3[-yard-runs], a back can get frustrated. But he's still believing in the runs and making sure he's giving every one of them a chance, and as the games go on, you see him have more and more success."
Bryant had only two catches for 15 yards in the first half, but he didn't frustrated. Instead, he remained patient and waited until the Giants went to a coverage he could successfully attack.
"He has a real mature approach, a real calm approach, and he's a really fiery guy. He's a great competitor and for him to balance those things throughout the game and wait for his opportunities is really impressive."
October, 22, 2014
Oct 22
1:00
PM ET
IRVING, Texas -- Tight end
James Hanna
has played 135 snaps, starting six of seven games this season.
He has yet to catch a pass.
Actually,
Tony Romo
has directed only one pass Hanna's way -- and that was three games ago against New Orleans - but Jason Garrett says the tight end plays a valuable role for the Dallas Cowboys.
Hanna
Hanna spends much of his playing time as a blocking tight end, which should probably be considered impressive considering he's just 249 pounds. By contrast,
Jason Witten
is 265 pounds.
"I think he's a good player in the run game and a good player in the pass game," Jason Garrett said. "I think he's underappreciated athletically, and I think he's getting better technically as blocker.
"He's a young player who continues to grow. He wants to be a good player and there's a reason he's playing. He's worthy of having opportunities. We ask him to do a lot of things and some of it's not fancy stuff that's glamorous -- it's some of the dirty work -- but he embraces it and gets better at it."
One of the things you notice about the complementary players on this offense is they don't grumble about their roles. Sure, players such as receiver
Dwayne Harris
and running backs
Lance Dunbar
and
Joseph Randle
want to play more and
Gavin Escobar
,
Cole Beasley
and
Terrance Williams
would like more passes directed their way.
But Garrett constantly preaches the importance of the team and these players have bought in, which hasn't always been the case for the Cowboys.
"We have guys who understand the importance of doing their job," Garrett said. "A lot of times their job isn't the glamorous thing to do, but they understand that helps us have success on that particular play and, ultimately, that helps us have success as a football team.
"Guys understand that. We have a lot of good players and a lot of good people on our team."
October, 22, 2014
Oct 22
12:00
PM ET
IRVING, Texas – After the first seven games of
Barry Church
's rookie year, the
Dallas Cowboys
were 1-6 and on their way to 1-7.
Wade Phillips was fired at the midway point of that season, replaced by Jason Garrett, and the Cowboys finished 6-10.
Seven games into Church's fifth season, the Cowboys are 6-1 and hold the best record in the NFL. Before this stretch, the best Church experienced was 7-4 in 2011.
[+] Enlarge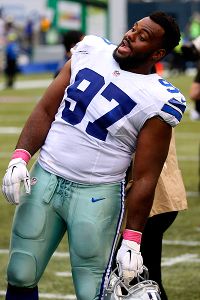 AP Photo/David SeeligTerrell McClain lost 14 consecutive games with the Texans last season. He sees a lot of passion among the Cowboys in 2014.
"I've never been 6-1, so I would say it feels amazing to me," Church said in the locker room after the Cowboys beat the
New York Giants
. "We've just got to keep it going one at a time and hopefully make ti 10-1, 11-1. But just keep it one at a time."
The Cowboys are enjoying this ride even if they are not smelling the roses, as owner and general manager Jerry Jones said last week. They are enjoying it but not reveling in it. Garrett's "process" has won out. Bu the players also know how quickly things can change.
Last year,
Terrell McClain
was with the
Houston Texans
. They started out 2-0 and lost their final 14 games. They changed coaches, firing Gary Kubiak and hiring Phillips as the interim.
"In Houston what happened with us was we started blaming the wrong people," McClain said. "We wasn't staying together trying to overcome things. What I see with this team is there's something magical. We get down but we come in at halftime, go over the corrections, put it behind us and move on and go to the next snap and find a way to come back. Everybody's got the fight in them. It's passionate. Everybody is passionate about winning and we've got a good thing going right now."
The Cowboys are not looking at their recent play as a six-game winning streak. It's more like six separate wins. They'll go for a seventh on Monday against the
Washington Redskins
.
"We have some guys who've been here when Dallas has been winning and I've been on winning teams," defensive end
Jeremy Mincey
said, "and you go to understand you can't get too far ahead of yourself. You can't look too far. We've got to focus on doing our job, always staying the same. It's hard to stay the same in this league, but you've got to stay the same, got to be mentally tough and be ready for games and have no letdown."
As much as Church is enjoying 6-1, he remembers what 1-6 felt like.
"We're going to put our hearts into the game," Church said, "and hopefully our fans will trust that and come out and support us each and every week."
October, 22, 2014
Oct 22
11:43
AM ET
By
Michael Bonzagni & Paul Carr
| ESPNDallas.com
Matthew Emmons/USA TODAY SportsDeMarco Murray's record streak has powered the Cowboys' 6-1 start.
The
Dallas Cowboys
are off to a 6-1 start for the fifth time in franchise history. All four previous Dallas teams to do so reached the playoffs, and two of them won the Super Bowl.
What are the reasons behind the current Cowboys' success?
Murray the machine
DeMarco Murray's
numbers this season are amazing. He is the first player in NFL history to start the season with seven straight games of at least 100 rushing yards.
Murray
His 913 rushing yards are nearly 300 more than any other player;
Arian Foster
is second with 615 yards. And Murray's 187 carries are 48 percent more than second-place Foster, who has 126.
Should Murray remain on his current pace, he would finish with 2,087 yards, third-most ever in an NFL season. He is also on pace for 427 rushes, which would break the NFL record of 416 set by Larry Johnson in 2006.
Therein lies the question about the durability of Murray, who has battled injuries throughout his collegiate and professional career. In his previous two seasons, Murray played 24 of 32 games while averaging 16 carries per game. He has rushed 27 times per game in 2014.
Romo has been Manning-like
Tony Romo
's bounce back after a Week 1 loss has been impressive. He leads the league in completion percentage this season (69.2 percent) and is in the top five in both touchdown passes (14) and yards per attempt (8.4).
Romo's 90.0 Total QBR during the six-game win streak is the second-best rate in the league since Week 2, a sliver behind
Peyton Manning
's 90.1.
Third-down success
Murray and Romo have been particularly successful on third down this season. Murray has converted 10 times on 14 third-down rushes, and Romo has completed 48 of 68 passes (71 percent) with six touchdowns and one interception.
That's far better than his 51 percent completion percentage in those situations last season, and Romo's Total QBR is an NFL-best 97.5 on third down this year.
Romo and Murray have led Dallas to the NFL's top overall third-down conversion rate (57.4 percent) as well as the best in the league on third-and-6 or longer (43 percent).
Should the Cowboys maintain that third-down rate, they would overtake the Saints (56.7 percent in 2011) as the best single-season third-down conversion team since the merger.
Keeping defense off the field
By converting so many third downs, the Cowboys have an average time of possession of 34:35 per game this season, second-highest in the league behind the Colts (36:55).
Aside from the obvious benefit of increasing Dallas' chances to score, keeping the ball has masked a defense that hasn't been any better than last season, when the Cowboys ranked 30th in the league in both yards per play (6.1) and rush yards per play (4.7).
This season, Dallas ranks 27th at 6.1 yards per play and 30th at 4.9 yards per rush.
But only the Colts defense has been on the field for a shorter time than the Cowboys this season. Last year, Dallas ranked 24th in opponent time of possession.
What does it all mean?
All these little things have added up to winning close games, as the Cowboys are 3-0 this season in games decided by seven points or fewer. Last season, the Cowboys were 5-5 in such games.
Perhaps Murray's health, the third-down success and the wins in tight games are not sustainable. But Dallas is well-positioned at 6-1 with a favorable upcoming schedule. The Cowboys next welcome the 2-5 Redskins on Monday night then host the Cardinals and face the 1-6 Jaguars in London before their bye in Week 11.
October, 22, 2014
Oct 22
11:00
AM ET
IRVING, Texas -- After the first training camp practice,
Dallas Cowboys
quarterback
Tony Romo
sat on the back side of a television set and said something that was eyebrow-raising just for the timing of it.
"I feel personally like I've just started to come into the player that I wanted to be six, seven years ago,"
Romo said then
. "I think -- and I've said it before -- but I think over the course of the next four or five years, you'll see the best version of me that I've had throughout my career."
He had just one full practice after December back surgery. He turned 34 in April. He already had started 108 games for the Cowboys.
[+] Enlarge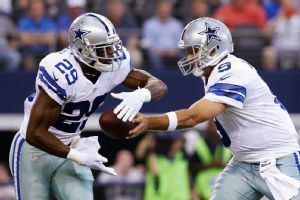 AP Photo/LM OteroTony Romo has benefited from a more balanced offensive attack.
In his seven-plus seasons as the Cowboys' starter, Romo put up staggering numbers. He became the franchise's all-time leader in touchdowns, 3,000-yard seasons, 300-yard games and quarterback rating. He played in three Pro Bowls. He won more than he lost, although since 2010 his record was 25-28 entering this season.
The narrative was set in stone: He could compile stats, but he would make too many mistakes to keep a team from winning big.
But here he was in Oxnard, California, on July 25 saying the best version of himself will come out in the next four or five years at an age when quarterbacks -- at least those not named
Peyton Manning
and
Tom Brady
-- start to slow at least a little.
After so much time, he was who he was.
Or so everybody thought.
After Romo completed 17 of 23 passes for 279 yards with three touchdowns and one interception against the
New York Giants
, owner and general manager Jerry Jones said that could have been Romo's best game.
An
ESPN Dallas Hot Button question last week
asked if this was the best season Romo has had. Fifty-eight percent of those who responded said yes.
Coach Jason Garrett has seen all but 10 of Romo's starts for the Cowboys. He would never list Romo's best games in order, but the quarterback's performance against the Giants was impressive.
"His pocket presence was outstanding, his efficiency and his playmaking ability in the red zone, cashing in on drives was really something else, got everybody involved," Garrett said. "I thought he did a really good job of seeing the defense and seeing what they were trying to do and throwing to the right guy. Dez [Bryant] got a lot of attention throughout the game. [Jason] Witten got a lot of attention throughout the game. So some of the complementary players had some opportunities and he gave them chances to make plays and they certainly took advantage of them."
Romo leads the NFL in completion percentage (69.2). He is fourth in quarterback rating (104.7). He is fourth in yards per attempt (8.4). He is fifth in touchdowns (14). He is 10th in yards (1,789).
For years the Cowboys' offense has been solely about Romo. Now it's about the running game and balance -- and Romo. Garrett said there is less of a burden on Romo this year than in the past. Romo did not like that word, nor did he like it when he was asked if his job is easier this year.
"It's never easy," Romo said. "I think playing quarterback in the National Football League is always a fun grind that you continually know when you let up, you can be exposed. I don't think that's the term I would use, but I do think anytime you have a running game, it's going to benefit everybody."
But the change in offensive style has been good for Romo and has allowed him to play the best football of his career.
So maybe his statement last July will prove to be correct.
October, 22, 2014
Oct 22
10:00
AM ET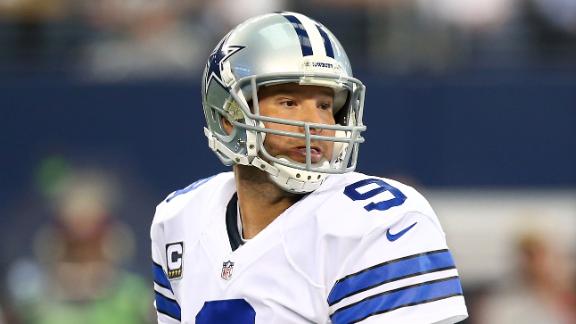 ESPN
Dallas Cowboys
reporter Todd Archer says the play of the defense and running back
DeMarco Murray
has put quarterback Tony Romo's performance thus far under the radar.
October, 22, 2014
Oct 22
10:00
AM ET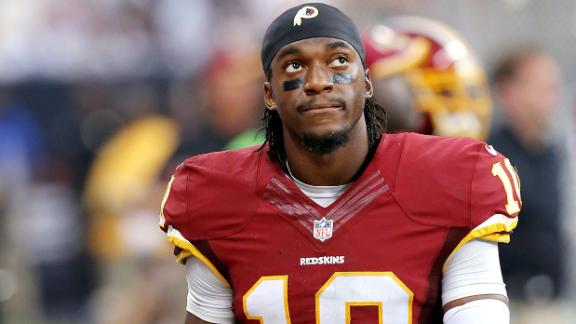 ESPN
Washington Redskins
reporter John Keim talks about the possibility that
Robert Griffin
III could play Monday against the
Dallas Cowboys
in Arlington, Texas.
October, 22, 2014
Oct 22
9:00
AM ET
IRVING, Texas --
Rolando McClain
has received a lot of deserved praise for what he has meant to the vast improvement of the
Dallas Cowboys
' defense, but it is the work of a holdover from last year's defense that has made similar significant contributions to the success.
Durant
According to the coaches' breakdowns,
Justin Durant
leads the Cowboys with 51 tackles, one more than McClain. He has one tackle for loss, two quarterback pressures, one interception, four pass breakups, two forced fumbles and a fumble recovery.
The only defensive category he hasn't filled yet is a sack.
"I think he's playing and he's playing pretty darn well," coach Jason Garrett said. "One of the evaluations we made in the offseason you go back and look at guys and you have kind of a reel for each player. And if you look at his reel, it's pretty darn good. He was dealing with some injuries at different times last year, so I don't know if he ever got in a great rhythm in the defense. But when you go play by play and see how he played last year, he did a really nice job for us. We were certainly hopeful about his progress in this defense and I think he's done a really good job emerging as a defensive leader in
Sean Lee
's absence."
Durant was originally pegged to replace Lee as the middle linebacker, but then McClain was too good to keep off the field. He played strong-side linebacker mostly last year, subbing for Lee in the middle at New Orleans once, but the Cowboys moved him to the weak-side late in the preseason and he has flourished.
"I think it's definitely up there," Durant said when asked if this is the best start to a season he has had. "But it's always room for improvement. I've definitely been around the ball more than I've been in the past as far as getting difference-making plays (like) turnovers. Definitely more than in the past. I've got to give credit to the coaches for allowing me to play the way I play. We depend on each other to be successful on our own. We've got to be thankful for everybody."
Durant played in only 10 games (six starts) last year before injuries cut short his season. He was credited with 30 tackles, two tackles for loss, two quarterback pressures, a pass breakup and a forced fumble. He has 21 more tackles in five games this season, having missed two contests with a groin injury.
Durant's play in the offseason and training camp earned him a vote by his teammates as defensive captain, which also raised his level of play.
"When the guys voted me as captain on the team, I just still can't believe to this day that they believed in me that much," Durant said. "I think it's part of my job to go out there and show them why they voted me captain. I try to play every play like it's my last. I'm not really a big talker, so I try to lead by example as much as I can."
October, 22, 2014
Oct 22
8:00
AM ET
IRVING, Texas -- The trade deadline is Oct. 28, but the
Dallas Cowboys
already feel like they have a big acquisition on the way in rookie defensive end
DeMarcus Lawrence
.
Lawrence will begin his second week of practice on Thursday as he works his way back from a broken right foot suffered in training camp and can make his season debut Nov. 2 against the
Arizona Cardinals
.
On 105.3 The Fan in Dallas on Tuesday, owner and general manager Jerry Jones said Lawrence had "everybody frothing at the mouth," at practice last week. The Cowboys placed Lawrence on short-term injured reserve, which knocked him out of the first eight games, but allowed him to get 100 percent healthy after surgery.
Lawrence
The Cowboys have an obvious need for a pass rusher with only seven sacks in seven games. Coach Jason Garrett acknowledged the pass rush was not good in the win against the
New York Giants
and must improve as the season goes on.
"You have to win one-on-one rushes," Garrett said. "You have to get more pressure with your down guys. Maybe it's one-on-one rushes, maybe it's rush games, maybe it's bringing people. i don't think we did a good enough job affecting the quarterback in [Sunday's] game. You talk all you want about not having any sacks but you also have to affect the guy. I thought they did a pretty good job in their passing game getting the ball out quickly. We didn't get a chance to get to the quarterback and disrupt the passing game as much as we liked. There were some good individual efforts, and at times we did a good job in that area, but we continue to have to improve there. It's a really important part of playing good defense."
That's where Lawrence comes in. The Cowboys gave up their second- and third-round picks to the
Washington Redskins
in order to move up to the 34th pick in the second round to take Lawrence. He was their third-rated right defensive end in the draft behind
Jadeveon Clowney
and
Anthony Barr
, who went first and ninth overall, respectively.
Lawrence had 20 sacks in two years at Boise State and was having a productive camp until getting hurt in a pass rush drill against
Tyron Smith
.
"Just working on my movement, getting back into it so at times I felt a little rusty, but then again I felt like I never left, if you know what I mean," Lawrence said of his practice work last week. "It's really just getting back into football shape."
Lawrence said his foot has not given him any issues in his rehab, and the time in the weight room has made him stronger.
"I feel like I put on at least 10 pounds basically just working out every day. That's all I could do," Lawrence said. "I feel like I've gotten a lot stronger and in some way I feel like I ain't lost my step either. It's a good feeling I have about coming back."