January, 29, 2015
Jan 29
5:41
PM ET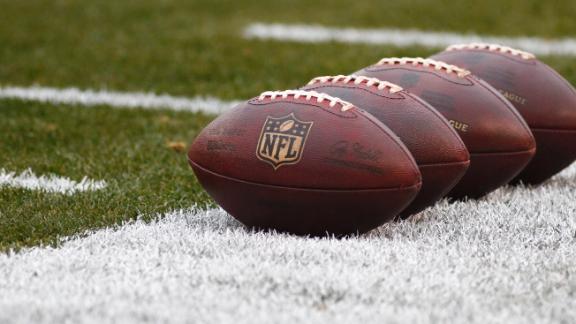 PHOENIX -- The 108 official Super Bowl XLIX footballs will receive additional security this weekend amid an ongoing NFL investigation into the inflation of game balls in the AFC Championship Game, vice president of officiating Dean Blandino said Thursday.
"There will be some added security just because of the environment we're in for this game," Blandino said during a football operations news conference at the Phoenix Convention Center.
ESPN.com reported last week that, per longstanding NFL policy, an independent set of equipment managers and ball attendants will handle pregame preparation of game balls. This year, Chicago Bears equipment manager Tony Medlin was chosen to supervise the group.
The New England Patriots and Seattle Seahawks will prepare 54 balls apiece to be used in Sunday's game; Blandino said the high number is due to charity commitments for game-used balls. Each team will hand over its footballs to Medlin and the NFL on Friday afternoon, where they will remain -- with the additional security -- until about three hours prior to the game. At that point, referee Bill Vinovich will test each ball to ensure it is within the NFL's allowable range of 12.5-13.5 PSI.
The NFL has hired attorney Ted Wells to investigate how 11 of the Patriots' 12 footballs were found to be underinflated at halftime of the AFC Championship Game. In the meantime, the league has already said it plans a full review of its policy regarding pregame football preparations this offseason. One possibility could be to discuss the legal range with Wilson, the league's official manufacturer. The 12.5-13.5 range has been in the NFL's rulebook for at least 75 years, Blandino said.
Blandino did say Thursday that the inspection of the footballs by referee Walt Anderson before the AFC Championship Game was handled properly.
"My major concern is did we follow proper protocol?" Blandino said. "Everything was properly tested and marked before the game. Walt gauged the footballs himself; it is something he has done throughout his career.
"Officiating is not part of the investigation."
Some other highlights of Blandino's news conference:
• Blandino clarified the protocol for referees if and when the Patriots' offense attempts to declare ineligible a player with an eligible number. Vinovich will point at the player, wave his arms in a manner similar to the signal for an incomplete pass, and then point at the player again when announcing he is ineligible. Blandino said the referee will not tell the defense not to cover the ineligible player, as Vinovich did when the scheme first surfaced during the AFC divisional playoff round.
• The NFL's competition committee has already received proposals from teams to expand instant replay, and Blandino said there is a growing movement in the league to capitalize in whatever way possible on emerging technology to correct more mistakes. The "process rule" that disallowed a key postseason catch by the Dallas Cowboys