March, 4, 2015
Mar 4
9:00
AM ET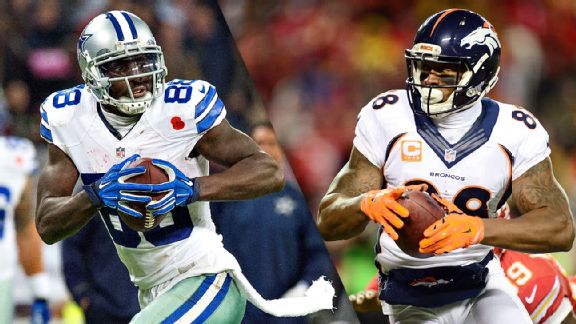 USA TODAY Sports Wide receivers Dez Bryant and Demaryius Thomas both have been hit with the franchise tag.
On Monday the
Dallas Cowboys
and
Denver Broncos
used the franchise tag on wide receivers
Dez Bryant
and
Demaryius Thomas
.
If the players sign the tag, then they will make $12.823 million this year unless they are able to come to an agreement on a multi-year deal with another team that would be willing to give up two first-round picks as compensation or with the Cowboys or Broncos.
It's great money, but doesn't offer up the long-term financial security players want.
There are plenty of questions that can't be answered at this time: Will the players take part in the offseason program? Will they show up for organized team activities or the mandatory June minicamp? Will they show up for training camp?
NFL Nation reporters Jeff Legwold and Todd Archer answer three more questions involving two of the best receivers in the NFL:
Any surprise the teams used the franchise tag?
[+] Enlarge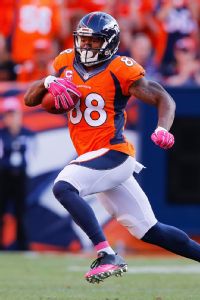 Doug Pensinger/Getty ImagesDemaryius Thomas has 36 touchdown receptions over the past three seasons.
Legwold:
Zippo. Demaryius Thomas has been the Broncos' top priority among their list of prospective free agents, a hefty batch of names that includes several starters from a team that has won four consecutive AFC West titles. Thomas is one of three players in league history who have put together three consecutive seasons with at least 1,400 yards receiving and at least 10 touchdowns -- Jerry Rice and Marvin Harrison are the others. The team and Thomas' representatives have traded pieces of a long-term deal at times over the last year, and the Broncos weren't going to let him hit the open market. Executive vice president of football operations/general manager John Elway said at the scouting combine the team was going to use the franchise tag, no questions asked, if a long-term deal couldn't be worked out.
Archer:
No. The Cowboys have been heading down this road for quite some time. It was something that was talked about during training camp last summer. The Cowboys thought they were close to a deal with Bryant during the season but then it fell apart, and he eventually changed agents. The Cowboys did not meet face to face with Bryant's new agents until last week. Those talks did not really get into the nitty-gritty of the contract but were more of a feeling out process. I'd be surprised if something got worked out here quickly. Just based on history and a gut feeling, I think the talks get going closer to the July 15 deadline.
Who will they lose because of the tag?
Legwold:
The Broncos are working through some options to create some additional salary cap room, including taking a look at quarterback Peyton Manning's contract, but the tag on Thomas takes slightly less than half of their available salary cap space (they had about $27 million or so of workable cap space at the start of business Monday with the cap set at $143.2 million). During his tenure Elway has traditionally let most of the team's own free agents test the market before trying to re-sign them. His belief is he doesn't want to overpay and he doesn't believe players want to risk leaving money on the table before they see what's out in the market for them. But the player the decision on Demaryius Thomas affects the most in terms of a potential return to the Broncos is tight end
Julius Thomas
, who made it clear to the team during this past season he wanted to test the open market. The Broncos weren't ever going to go as big for a contract for Julius Thomas as he believes he can get, so his return was shaky at best, but the franchise tag on Demaryius Thomas guarantees Julius Thomas will get his best offer from someone else.
Archer:
While everybody wants to say this will impact the
DeMarco Murray
talks, I don't believe it will. The Cowboys can keep Murray at a top contract and have Bryant count $12.823 million against the salary cap. It is entirely doable. But what it does do is prevent them from going after big pieces in free agency to help the defense. And honestly, I don't think the Cowboys would be in the market for the big pieces in free agency. Stephen Jones said at the combine that the dollars spent in free agency hardly ever bring the same value. So while fans might want to see a
Ndamukong Suh
with the Cowboys or somebody of that ilk, I truly believe the Cowboys are done with spending that kind of money. If there wasn't a cap then absolutely they would spend. But there is a cap and you have to be smart with how you allocate that space. To me, the Cowboys can tag Bryant, sign Murray and add low-cost but effective pieces defensively in free agency and focus on defense in the draft.
[+] Enlarge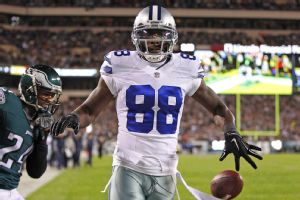 AP Photo/James D SmithDez Bryant has 41 touchdown receptions over the past three seasons.
Will a long-term deal get done?
Legwold:
The Broncos are going to try to make sure Todd is doing this post with someone else next season. Their recent history says a deal gets done. Both tackle
Ryan Clady
and kicker
Matt Prater
had the franchise player tag put on them by the Broncos over the last four seasons and both signed long-term deals before training camp opened in that respective season. The Broncos want Thomas in a long-term contract and with a new offense set to be installed they really need him on the field for at least some of their offseason work if they can pull that off. No player is ever in a hurry to sign the franchise player tender so the prospect of Thomas sitting out all of the OTAs and minicamps is not an attractive one for a team breaking in a new playbook with a new coaching staff. The Broncos know they're going to have to pay big -- Thomas likely doesn't get the $40-something million guaranteed
Calvin Johnson
got, but the Broncos will likely have to go well north of $20 million guaranteed -- so now it's just a matter of Thomas' representatives seeing what the market is and the Broncos doing a deal. Nothing is ever a slam dunk in the negotiations of money matters, but a deal should get done if both sides remain willing to do one.
Archer:
I have my doubts. While the Cowboys do have a solid history with Tom Condon, who will be the point person in the negotiations, I do think they will hold the fort on what they want to give Bryant. Clearly the deal they thought they had last fall was not good enough in Bryant's eyes. I can't tell you what the numbers were, but I've been told the guarantee was for more than the reported $20 million. The Cowboys will be willing to have Bryant play out the season on the tag. I believe they want a scenario in which Bryant has to earn the money every year. They did it on Terrell Owens' first contract with the Cowboys. Bryant and Thomas could set the receiver market for the next few years with guys like
Julio Jones
coming up in the next year or so. Teams aren't necessarily fans of setting the market for fear of overpaying. It would not surprise me if the Cowboys are looking at tagging Bryant for the second straight year. Maybe Jeff and I can do this post again next year.