March, 9, 2014
Mar 9
1:30
AM ET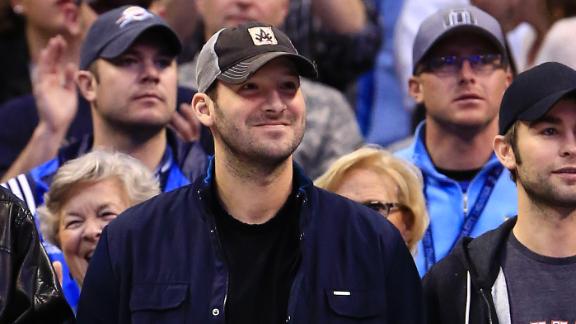 Dallas Cowboys quarterback Tony Romo spoke for the first time on Saturday night about his back surgery.
After watching the Duke-North Carolina game with coach Jason Garrett, Romo told ESPN's Rece Davis that his recovery from back surgery is going well and he's on target to participate in next month's organized team activities.
"It's going good," said Romo, who was wearing a black Duke polo shirt. "We're getting close now to [returning]. Usually takes three months, it's just normal kinda roundabout date that they give ya and we're right on schedule. Really ahead in a lot of ways. Just going to be ready to go here in about a month and rehab is going good, no setbacks of any kind. Mine [surgery] was just a normal small version of it, so I should be good to go here shortly."
Romo dealt with minor back issues during the 2013 season and a few days before a Week 16 game at Washington was limping during the early stages of a practice. Romo said it was just normal soreness, but late in the game against the Redskins, he came up limping again after avoiding a sack.
Romo finished the game but suffered a herniated disk and underwent season-ending surgery two days before the regular-season finale against Philadelphia.
Cowboys officials said Romo received instant relief after the surgery and he should be ready to start the 2014 offseason program on time.
Romo has been seen around the Dallas area looking slimmer than he did last year and on Friday he was shooting baskets on the Duke campus.
March, 8, 2014
Mar 8
12:00
PM ET
IRVING, Texas – Part 2 of the
Dallas Cowboys
' Twitter mailbag is ready.
In it we discuss whether
Tony Romo
should take a pay cut, the futures of
DeMarcus Ware
and
Brandon Carr
and their cap implications as well as whether the Cowboys should look at a running back.
If you want to see Part 1,
click here.
Away we go:
March, 8, 2014
Mar 8
11:00
AM ET
NFL teams can begin speaking to free agents today, and the Cowboys have to deal with some issues along their defensive line.
As it stands today, the Cowboys released
Everette Brown
and
Corvey Irvin
from the unit, and are in discussions about a pay cut with starting defensive end
DeMarcus Ware
.
The group has four linemen who become free agents in
Jason Hatcher
,
Anthony Spencer
,
Jarius Wynn
and
Martez Wilson
.
Hatcher will test the market and could be too expensive to bring back either with a new contract or a franchise tag. Spencer is coming off microfracture surgery and team executive vice president Stephen Jones said the team is open to bringing him back. The team also has a strong interest in returning Wynn to the roster.
Overall, this group has depth issues.
Ware is the biggest question mark because the team doesn't want him to have a high salary-cap number ($16 million), but the team could be forced to just release him and create $7.4 million in cap space.
George Selvie
(end) and
Nick Hayden
(tackle) are returning starters who excelled under line coach Rod Marinelli. However, if the Cowboys can find an upgrade in the draft to replace or create competition, it would replace Selvie and/or Hayden.
One of the keys to this group is pressure. As a whole, there wasn't enough pressure from the front four when Monte Kiffin was running the defense. Things could change under Marinelli and if the Cowboys secure better talent and get better performances in the secondary, to help with the pass rush.
Last year, Cowboys' officials said the line was a position of strength and it wasn't. The team lost
Tyrone Crawford
,
Jay Ratliff
, Anthony Spencer and
Ben Bass
to injuries.
Ware missed three games with a quad injury and the best lineman on the team was Hatcher, who led the team with a career-high 11 sacks.
The Cowboys did badly in the draft last year when it came to this position because it was hoping the current players on the roster would respond, and it bypassed upgrades at the position.
The Cowboys can't do that again this year.
Jones said the team isn't going to force selecting a lineman just because they need one; the Cowboys want to continue the trend of selecting the best man available.
Whatever the Cowboys elect to do, finding better talent in the draft is a must in 2014.
March, 7, 2014
Mar 7
7:30
PM ET
IRVING, Texas – If you're wondering where
Tony Romo
is this weekend and wondering how he looks after back surgery in December,
click here.
Romo and coach Jason Garrett will attend Saturday's game between Duke and North Carolina after the two have watched a couple of SMU games at Moody Coliseum together.
In the video, Romo hits a couple of jumpers at Cameron Indoor Stadium.
This is Garrett's second trip to Duke to visit with coach Mike Krzyzewski. In 2011 Garrett said he took pages and pages of notes after meeting with Krzyzewski. This time he brought Romo along with him.
March, 7, 2014
Mar 7
4:15
PM ET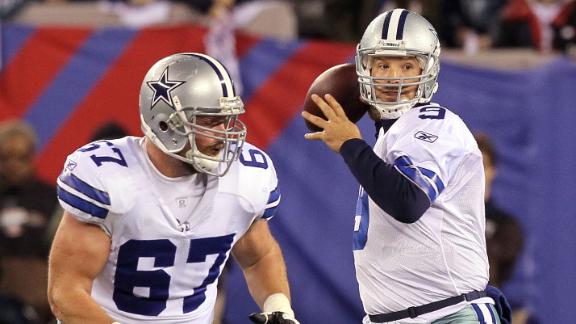 IRVING, Texas -- The Dallas Cowboys are under the salary cap.
The Cowboys released center Phil Costa and reworked the contract of right guard Mackenzy Bernadeau on Friday to get under the $134.55 million salary cap, according to sources. The Cowboys trimmed roughly $20 million in cap room during the week by cutting Costa, reworking Bernadeau's deal and restructuring the contracts of Tony Romo, Sean Lee and Orlando Scandrick.
With free agency set to open next week, the Cowboys now have roughly $2 million in cap room.
There is a chance they could gain more space if they reach a new deal with DeMarcus Ware or release the franchise's all-time leader in sacks.
According to a source, the Cowboys approached Ware this week about taking less money to remain with the club. Ware is set to make $12.75 million this year in salary and workout bonus, and will count a little more than $16 million against the cap.
The Cowboys would like to keep Ware at a lower price, which could give them a chance to add pieces in free agency or keep their own free agents, such as Jason Hatcher and/or Anthony Spencer. If the Cowboys cut Ware, they would save $7.4 million against the cap.
March, 7, 2014
Mar 7
1:30
PM ET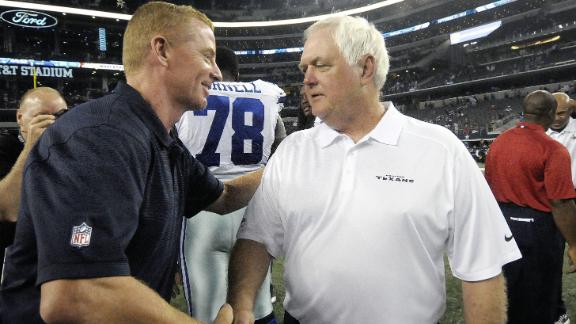 IRVING, Texas -- Wade Phillips has the second-best winning percentage of any coach in
Dallas Cowboys
' history. Better than Tom Landry's. I think Phillips might know that.
On Thursday, Phillips
tweeted this
:
Jason Garrett is tied with Wade Phillips for 56 games as the @dallascowboys head coach. Phillips: 34 - 22; Garrett: 29 -27. #suprisesMe

— Wade Phillips (@sonofbum) March 6, 2014
And later followed up with
this addendum
:
My surprise was that Jason and I had coached the same number of games. Not the record - time passes quickly -I wish Jason & Cowboys well

— Wade Phillips (@sonofbum) March 7, 2014
Like most things with Phillips, he lacked context.
When Phillips took over in 2007 as head coach, he inherited a team from Bill Parcells that was ready to win. QB
Tony Romo
was going into his first year as a full-time starter. The defense had DE
DeMarcus Ware
at his best. WR
Terrell Owens
was putting up big numbers.
The Cowboys went 13-3 and had the best record in the NFC. Phillips was the perfect antidote to Parcells and the players responded. Well, they did to a point. The Cowboys were not the same after beating the
Green Bay Packers
to move to 11-1 and effectively clinch home-field advantage.
They got lucky to beat the
Detroit Lions
the following week. They lost two of their last three games, but they were in shutdown mode against the
Washington Redskins
with nothing to gain from a win.
Other than momentum they had lost.
The Cowboys lost to the
New York Giants
in the divisional round at Texas Stadium, and the Giants went on to win the Super Bowl.
That's basically when the Romo narrative started. Maybe you heard that Romo went to Cabo during the wild-card weekend. Did it affect the outcome of the Giants' game? Of course not, but the perception machine was rolling, and has been rolling ever since.

You can track most of the Cowboys' woes to that lost opportunity. If they simply beat the Giants and make the NFC Championship Game, things would be different. Could they have beaten the Packers for a second time at Texas Stadium? It's the best what-if of the Romo era.
In 2008, the Cowboys acted as if they were predestined to not only make the playoffs but win the Super Bowl. Go back and watch the "Hard Knocks" episodes, and you see a team full of itself. They finished 9-7, missed the playoffs and were a mess late in the season.
Phillips could not pull it all together and looked inept as he attempted to deal with the fallout from the
Adam "Pacman" Jones
' incident. Phillips earned a reprieve in 2009 when Dallas posted an 11-5 record, won the NFC East title, and recorded a playoff win -- but that was the high point.
The Cowboys went 1-7 to start the 2010 season, including an embarrassing home loss to the
Jacksonville Jaguars
and a gutless loss to the Packers (45-7) the following week. After that game, Jerry Jones made the switch to Garrett, and the Cowboys are 29-27 since and have not made the playoffs.
Garrett did not inherit a team ready to win the way Phillips did in 2007. By the time Garrett took over, the Cowboys were growing old on the offensive line, and there were too many people (especially those in offices at Valley Ranch) who believed they had the best talent in the league.
The head coach of the Cowboys has tremendous sway with Jones. The Cowboys did not take
Randy Moss
in 1998 at least in part because then-coach Chan Gailey didn't want Moss.
On that premise, the 2008 draft -- with Dallas' two first-round picks -- was a mess because the Cowboys didn't even attempt to re-sign those first-rounders (
Felix Jones
and
Mike Jenkins
) when their contracts expired. The 2009 draft was a colossal failure in part because Jones was convinced that it could be a "special-teams draft," which is as ludicrous as the "draft for backups" the team had when Barry Switzer was the coach in 1995.
This is not in defense of Garrett. He has made plenty of mistakes on the field and in the draft.
Phillips has had a tremendous career in the NFL that has spanned decades. He is a terrific coordinator, but is he in the same conversation as guys like Dick LeBeau, or even Monte Kiffin? I'm not sure a Phillips defense scared offenses the way LeBeau's defenses in Pittsburgh and Kiffin's defenses in Tampa Bay did. Phillips was a good head coach but could not get his teams in Denver, Buffalo or Dallas past a certain point.
Phillips knows his resume inside and out. He can cite team stats and all the Hall of Famers he has coached.
He can claim his tweet was more about the number of games he and Garrett have coached, but it looked more like a passive-aggressive shot at the guy who replaced him, and a way for him to remind everybody of his record.
By the way, his winning percentage is .607. Landry had a .605 winning percentage.
March, 7, 2014
Mar 7
1:30
PM ET
In the last 24 hours, Wade Phillips has become interested in his won-loss record with the
Dallas Cowboys
.
Phillips has spoken to the people through Twitter with these comments:
Jason Garrett is tied with Wade Phillips for 56 games as the @dallascowboys head coach. Phillips: 34 - 22; Garrett: 29 -27. #suprisesMe

— Wade Phillips (@sonofbum) March 6, 2014
Then we have this:
My surprise was that Jason and I had coached the same number of games. Not the record - time passes quickly -I wish Jason & Cowboys well

— Wade Phillips (@sonofbum) March 7, 2014
And this:
Cowboys reg season gms coached- Galley-32 Campo-48 Phillips-56 Garrett-56 Parcells-64 Switzer-64 Johnson-80 Landry-418

— Wade Phillips (@sonofbum) March 7, 2014
Recently, Phillips said his age, 66, was holding him back from another head coaching job. Phillips is a good coach who achieved some success with the Cowboys in his four seasons. He was the perfect hire for the Cowboys after four hard years with Bill Parcells' demanding ways.
Parcells, a Hall of Famer with two Super Bowl rings, has a style that grinds on players.
Phillips is more of grandfatherly type of coach whose style is the opposite.

Garrett, the current head coach, is somewhere between the styles of Parcells and Phillips, which might explain why the Cowboys have been mediocre under his tenure.
Garrett probably needs to grind on the players more, and while there is a healthy respect level for the man, his philosophy is not leading to positive results: meaning playoff appearances.
It was just interesting to see Phillips come out of nowhere to discuss his record with the Cowboys. I remember Jerry Jones saying a few years ago that Phillips never had a honeymoon as the head coach with the Cowboys.
Phillips' reign was always questioned about whether he had command of the team and if the respect was there.
If you look at core group of players,
Tony Romo
,
Jason Witten
,
DeMarcus Ware
and
Miles Austin
, the most success they obtained was under Phillips.
There was the 2009 playoff win, the two division titles with a No. 1 playoff seed in the NFC in 2007, all under Phillips.
Yet, we had the Pacman Jones suspension, the 44-6 loss at Philadelphia, Terrell Owens' antics and finally the 1-7 start to the 2010 season, which led to Phillips' firing.
Maybe Phillips is just being passive aggressive with his Twitter thoughts about what he thinks of Garrett. The current coach of the Cowboys is entering the final year of his contract and there's no guarantee he'll receive an extension. (Phillips, by the way, received one extension from Jones).
Maybe Phillips is trying to remind everyone that his time in Dallas brought better results than Garrett's. At least Phillips got to the postseason.
And in some ways Jones is mindful of this and probably can't give Garrett the contract extension he wants until he can break the Cowboys cycle of 8-8 seasons.
If Garrett can't do that, the tenure of the son of the late Bum Phillips will always have been a more successful period in Cowboys history.
March, 7, 2014
Mar 7
12:00
PM ET
IRVING, Texas -- It's Friday, so it's time for Part 1 of the
Dallas Cowboys
Twitter mailbag.
In it we talk about the salary cap, possible wide receiver additions in free agency and yoga. Yes, yoga.
Look for Part 2 on Saturday.
Away we go:
March, 7, 2014
Mar 7
11:00
AM ET
»
AFC Free-Agency Primer
:
East
|
West
|
North
|
South
»
NFC
:
East
|
West
|
North
|
South
Key free agents:
Jason Hatcher
,
Anthony Spencer
,
Brian Waters
,
Danny McCray
,
Ernie Sims
,
Jarius Wynn

Where they stand:
After finishing with the worst-ranked defense in the NFL in 2013, the Cowboys need help everywhere, but mostly on the defensive line. The need could be even greater if the Cowboys are unable to come up with a new deal for
DeMarcus Ware
, who is set to make $12.25 million in 2014 and count $16.003 million against the cap. Coming off an 11-sack season, Hatcher is likely to command more money from another team that will make it unlikely for the Cowboys to match, but they will not close the door on keeping him. Spencer is rehabbing from knee surgery and could be had on a short-term deal that will not involve a lot of money. The rest of their free agents are more fill-in types who will be allowed to test the market if not allowed to leave altogether.
What to expect:
Not much. Last year the Cowboys added safety
Will Allen
and linebacker
Justin Durant
in free agency on short-term, low-money deals. The approach will be more that way than setting the market on a player as they did in 2012 for cornerback
Brandon Carr
(five years, $50 million). Executive vice president Stephen Jones said the Cowboys can be "efficient" spenders in free agency. The Cowboys will have to create space under the cap to sign players to modest deals. The best bet is for them to look for low-cost help on players on the line looking to rebound from down years or injuries. They also could look at safety, though Jerry Jones said at the NFL scouting combine that they liked their young safeties such as
J.J. Wilcox
. Whatever money the Cowboys do have is more likely to be set aside for
Tyron Smith
and/or
Dez Bryant
.
March, 7, 2014
Mar 7
9:00
AM ET
IRVING, Texas -- On Thursday, Bill Polian offered up his
do's and don'ts
when it came to free agency.
Spencer
Hatcher
Today we bring you the
free-agent tracker
designed by Polian and fellow ESPN Insiders Gary Horton, Matt Williamson and Field Yates, and the grades assigned to the
Dallas Cowboys
' unrestricted free agents.
The grades also have a monetary value. An "A" player should get $6 million on average per year with guaranteed money in the first three or more years. A "B" player should get $2-$6 million on average per year with guaranteed money in the first two years or less. A "C" player should get $2 million or less on average per year with guaranteed money in the first two years or less. A "D" player should get a one-year deal at the veteran minimum.
Not surprisingly
Jason Hatcher
gets the highest grade with an A-minus. In the scouting report, Hatcher is "a good fit for the Tampa 2 defense. He's quick off the ball, explosive and disruptive. Hatcher shows good strength versus the run and solid power as a pass-rusher."
The A-minus grade would put Hatcher in the $4-$6 million annually range. Do the Cowboys have that kind of money to spend?
Anthony Spencer
came in with a B grade, which I thought was a little surprising. The scouting reported cited his ability to play in the 3-4 as well and acknowledged his knee injury. I would doubt the Cowboys do more than a one-year deal with Spencer, but that is a big window in the $2-$6 million range.
The only other free agents with grades better than D are defensive end
Edgar Jones
and linebacker
Ernie Sims
. Jones could be back at the right price, but there will not be a rush to sign him. Sims would appear to have played in his final game as a Cowboy with the club wanting younger, cheaper depth players.
Ryan Cook
,
Brian Waters
,
Danny McCray
and
Jarius Wynn
all carried D grades among the remaining free agents.
March, 6, 2014
Mar 6
4:15
PM ET
Dallas Cowboys
' officials were one of several teams attending TCU's pro day on Thursday morning.
The biggest name to watch from the pro day was cornerback
Jason Verrett
, a potential late first-round or second-round pick.
The Cowboys have an interest in bringing Verrett in for a private workout, but will be cautious because of his health. Verrett will need surgery to repair a torn labrum.
"[The doctors] feel like it's gonna be a very short process," TCU coach Gary Patterson told TCU 360. "Everybody that's done it has been able to be back before camp. On the high road, I think that's what he's anticipating. That he'll be back before camp."
Verrett, the co-Big 12 Defensive Player of the Year, missed just one game last season because of the injury.
As for the workout, Verrett did 19 reps of 225 pounds, impressive considering he needs surgery. Verrett didn't run the 40, however he posted a 4.38 40 at the combine. Verrett had a 39.5 vertical jump at the pro day.
Quarterback
Casey Pachall
, safety
Elisha Olabode
, tackle
James Dunbar
, guard John Woolridge, cornerback Keivon Gamble, running back Waymon James and center
Eric Tausch
participated in the pro day as well.