December, 19, 2014
Dec 19
3:32
PM ET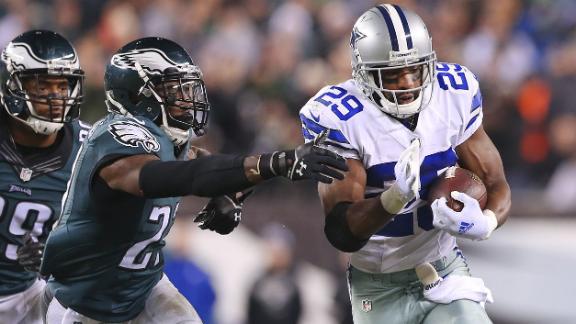 IRVING, Texas -- Dallas Cowboys running back DeMarco Murray went through his second straight practice in which he was limited and is listed as questionable on the injury report.
Owner and general manager Jerry Jones said on 105.3 The Fan in Dallas on Friday morning that he was "pretty positive" Murray, who had surgery Monday to repair a broken left hand, would play Sunday against the Indianapolis Colts. Murray, the NFL's leading rusher, actually held the ball at times in his left hand during the brief portion of practice open to the media.
On Thursday, Murray said the final decision to play would be his, and coach Jason Garrett agreed to an extent.
"He knows how he feels more than anybody else," Garrett said. "It's our job as coaches and the medical staff to evaluate him and see if he's functional. If we see things that don't add up to what he's saying about how he's feeling, we'll certainly have that communication. But he's the one that knows about himself more than anybody, and we trust his feedback. He's a veteran player. He knows what it takes to play in a game."
Murray and the Cowboys won't know until Sunday if he can withstand the pain of getting hit over and over on carries. Murray carries the ball predominantly in his right hand, but he does deliver stiff arms and break his fall at times with his left hand. He would also have to pass protect.
He is wearing a hard plastic shell on the top of his glove for added protection. It is possible he could take pain medicine before kickoff to get through the game.
"You try your best to make your best educated guess," Garrett said.
December, 19, 2014
Dec 19
2:47
PM ET
IRVING, Texas --
Zack Martin
did not practice all week because of a sprained right ankle but the
Dallas Cowboys
' rookie right guard is encouraged he will be able to play Sunday against the
Indianapolis Colts
.
Martin
Martin was able to do some on-field rehab on Friday for the first time and said the ankle felt good. He is listed as questionable on the injury report.
Martin suffered the injury in last week's win against the
Philadelphia Eagles
. While he was able to finish the game with a hefty tape job over his cleat, he was limping badly after the game. That he was able to continue gave him hope he would be able to play against the Colts.
Now he needs to show he can play without practice, though that is something he did while at Notre Dame.
"I just tried to take as many mental reps this week and get ready that way and stay in the film," Martin said.
The news on right tackle
Doug Free
is not as hopeful, but there's a remote chance he is active as the backup tackle on Sunday. If he can't dress for the game, then
Jermey Parnell
would start. Free did not practice this week because of an ankle injury.
December, 19, 2014
Dec 19
2:00
PM ET
IRVING, Texas – Earlier in the week
ESPN.com assembled reporters from NFL Nation and NFL Insiders
to discuss the NFL's Most Valuable Player award.
The focus was on
Peyton Manning
,
Tom Brady
,
Aaron Rodgers
,
J.J. Watt
and, yes,
Dallas Cowboys
running back
DeMarco Murray
.
Packers NFL Nation reporter Rob Demovsky gave this assessment of Murray's chances:
He absolutely should be on the list, and around the midseason point he probably was considered one of the front runners. That has waned a little since then. Running backs are underappreciated in the league today, but he's truly special regardless of whether he's playing now or whether he played when MVP runners such as Thurman Thomas, Emmitt Smith and Terrell Davis were in the game.
Murray is fighting history a bit and the fact that the NFL is a quarterback-driven league.
Romo
Tony Romo
's name did not come up in the discussion. They were focused on these five candidates, but I've mentioned before how Romo should be in the discussion for MVP.
Even with Murray expected to play Sunday against the
Indianapolis Colts
less than a week after undergoing hand surgery, he just can't be the same runner, can he? Will the Cowboys give him the ball 30 times? I can't see it happening.
So, to me, that puts more on Romo and will help his MVP case if the Cowboys beat the Colts. If Romo delivers wins and big performances in the final two games, he has to insert himself into the conversation. The preseason expectations for the Cowboys were as low as they have been since the early 2000s when they were putting up three straight 5-11 records. Romo's numbers are terrific, but it is not just the stats. It's how he is doing it and when he is doing it.
On Thursday, owner and general manager Jerry Jones was asked if this has been Romo's best season. He didn't want to go there. Yet.
"I don't want to say that, because we're not through," Jones said. "But it has the potential to be his best season. I guess the factor that would impact the most in my mind would be if we do have the kind of season that we're all dreaming about here, then it would be his best. Of course, he's played well at the position. He's played well as a quarterback, all of his percentages are certainly qualified to be one of his best. The way he's doing it is really getting, and should get, a lot of weight as to comparing his seasons. But we'd all say let's see how many wins we've got, and let's see what the wins get for us."
December, 19, 2014
Dec 19
1:06
PM ET
IRVING, Texas --
Dallas Cowboys
running back
DeMarco Murray
is on the practice field for the third straight day, but the right side of the offensive line -- tackle
Doug Free
and guard
Zack Martin
-- isn't.
Speaking on 105.3 The Fan in Dallas on Friday, Cowboys owner and general manager Jerry Jones said he is "pretty positive," Murray and Martin will play Sunday against the
Indianapolis Colts
. The Cowboys are not as sure about Free.
Murray is attempting to play with a broken hand that was surgically repaired on Monday. Free and Martin have ankle injuries. Coach Jason Garrett said there are no hard and fast rules as to whether Martin, a rookie, has to practice in order to play.
As for Murray, Garrett said the running back "looked good," in Thursday's practice in which he took limited team snaps but he wasn't ready to commit to Murray playing against the Colts.
"He hasn't done much with the ball in his left hand," Coach Garrett said, "He's just trying to work his way back. He had surgery a couple of days ago. I think his mind is right, but he has a long way to go. We'll take it day by day and see how he is come game time."
Defensive tackle
Josh Brent
(calf) and linebacker
Dekoda Watson
(hamstring) are not practicing and will likely miss Sunday's game. Backup quarterback
Brandon Weeden
is missing practice for personal reasons.
December, 19, 2014
Dec 19
1:00
PM ET
The smoothest route to the playoffs for the
Dallas Cowboys
is to win the NFC East and with two games left, they are in control. But now they have to play a game at AT&T Stadium, where they are 3-4 on the season.
As palatial as the stadium is, the Cowboys have been incredibly ineffective there.
Tony Romo
has a career-best 80.2 QBR, but in his last two home outings he has a 17 Total QBR and the Cowboys lost both games.
Romo has been aided by the running game, but that could be challenged this week with the status of
DeMarco Murray
. While the expectation is that Murray will play despite breaking his hand last week, the injury will have to affect him some. So too could a re-configured offensive line with right tackle
Doug Free
and right guard
Zack Martin
hobbled by ankle injuries. Martin is expected to play, like Murray, but he will be at less than full strength.
The Cowboys still believe they can be carried by the running game without a fully healthy Murray and line. The
Indianapolis Colts
' defense has playmakers, but the Cowboys' confidence has never been higher than after what they did last week at Philadelphia. Not even a home-field disadvantage can stop them Sunday.
My prediction:
Cowboys 30, Colts 24
December, 19, 2014
Dec 19
12:00
PM ET
IRVING, Texas -- Few things make
Dallas Cowboys
owner and general manager Jerry Jones swell more with pride than AT&T Stadium. His family is one. His team is another.
But that stadium just might be third.
And Jones can't wait to show it off again Sunday when the
Indianapolis Colts
(10-4) come to town.
Despite its opulence, the Cowboys have not had a home-field edge in the $1.2 billion stadium. They are just 3-4 and score almost two fewer touchdowns a game than they do on the road. The Cowboys have lost three straight at home, entering Sunday's game.
They have not won there since Oct. 19 when they beat the
New York Giants
.
"To have this game right now for our home fans, and obviously the caliber of competition Indianapolis is, this is a serious, meaningful (game) for our franchise, meaningful for the last few years, meaningful for what we can do this year," Jones said. "So, it's what I built the stadium for."
December, 19, 2014
Dec 19
11:00
AM ET
IRVING, Texas –
DeMarco Murray
has looked at the play in which he broke his left hand last week against the
Philadelphia Eagles
and he is still not sure how it happened.
"It kind of stung for a minute, then went away," the
Dallas Cowboys
running back said. "I kind of went over to the sideline and felt a little clicking and asked [head athletic trainer Jim Maurer] about it and he kind of knew right away what happened."
That clicking Murray felt was a broken fourth metacarpal, the long bone that runs across the top of his hand. On Monday night Murray had surgery on his hand that included a plate and eight screws. On Sunday he expects to play against the
Indianapolis Colts
.
[+] Enlarge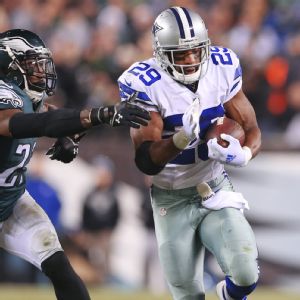 Mitchell Leff/Getty ImagesDeMarco Murray had surgery to repair a broken bone in his hand and plans to play less than a week later.
In the regular world, that is not normal. Not even close to normal. Yet in the football world, it is met with a shrug as if it is no big deal. Even Murray downplayed what he is doing.
"People deal with injuries all the time, so you've got to be able to fight through the pain," Murray said.
Tony Romo
played with two transverse process fractures in his back and has required pain-killing injections or pills to work through that and torn rib cartilage.
Jason Witten
played the 2012 season opener with a partially torn spleen.
Dez Bryant
passed on season-ending surgery for a broken finger late in 2012. Two games later, he caught nine passes for 224 yards and two touchdowns.
Orlando Scandrick
played with a finger so shattered that reconstructive surgery did not fix it.
"It's stuck," Scandrick said. "It never got back. I mean it was just something [that] over time I learned how to deal with it."
Other Cowboys have played through injuries not even known or talked about. They will wait until after the season to have surgeries on shoulders or knees that are cranky but not so bad – in their minds, anyway – to knock them out of a game.
Why do they do what they do? What is the pull of the game? What is it about that rush from that opening kick that keeps them doing what they do?
"I mean, your focus is so on the short term and now the adrenaline that goes along with it," Witten said. "I'm the player rep, so I've got to be careful with what I say, but, yeah, this is awesome man, to be in this opportunity and a lot of us waited a long time to get here. 'Whatever it takes' is a good mindset to have. It's just you put all this work to get to this moment in December to be in the hunt and here you are. I think you want to give yourself every chance to play."
Romo missed just one game with his back fractures. Standing at a podium after practice in London last month, he talked about why he wanted to play so badly.
"I'm a football player; this is what I do for my life's work," Romo said then. "It's important to me. I care about playing and competing and helping this football team win … You're only afforded so many opportunities at that, so you want to take advantage of that when you have that opportunity. If you love the game, you'll always try and get on the field."
There is a healthy selfishness to why they play through injury. Their careers are short. There is something about being there for your teammates even when you are not at your best that brings a loyalty not seen in other walks of life. When players retire, the first thing they mention they miss most is the camaraderie -- not the game and not necessarily even the money.
Before the word 'regret' can be finished, Scandrick says no.
"My job is on the line every day," Scandrick said. "The job of the scouts and people around here is to find someone better than me, that's cheaper than me."
Chicago Bears
safety
Chris Conte
said
earlier this week he would rather experience the NFL even if it cuts short his life span
. He later clarified that his comments were not related to concussions.
"Just the associated risk with football and accepting the fact that life expectancy of someone who has played in the NFL is shorter than the average person," he told ESPNChicago.com. "And I'm fine with trading that risk for the opportunity to play football since it's something I have always wanted to do and a dream come true."
There is a line players won't cross: head injuries.
"I'm not messing with my head," Scandrick said. "I got kids."
But they'll risk just about anything else. The pain might not last forever, thanks to modern medicine, but the memories will.
The Cowboys are 10-4 and in first place in the NFC East. If they win two more games, they guarantee themselves a playoff spot for the first time since 2009. There are only so many times a player has to achieve Super Bowl glory.
That's why Murray wants to play less than a week having surgery and why the others play through pain.
"I love playing," Witten said. "And I love playing with the guys you're in the locker room with. Just an awesome deal that we have this opportunity. There's a sign out there that says it's a privilege, not a right, to play and coach for the Dallas Cowboys. I think that's the way kinda this team has gone about it since April, when nobody thought we could do anything."
December, 19, 2014
Dec 19
10:00
AM ET
IRVING, Texas – Part 1 of the
Dallas Cowboys
' Twitter mailbag is ready.
In it we discuss:
Away we go:
@toddarcher how much faith do you have in Randle being able to carry the load for the offense? #cowboysmail

— godshammgod. (@_MortalRecoil) December 17, 2014
@toddarcher: If you're asking about my faith, then I believe the Cowboys will be OK if they look to Randle to carry the load. I've liked him as a running back since he got here. He's not always made the wisest choices off the field, obviously, but he has a lot of talent. He's an instinctive runner and a really good fit for this offense. I don't believe he would lead the NFL in rushing like
DeMarco Murray
is at this point of the season, but I think he would have more than 1,000 yards by now. I might have just wasted a lot of breath, however, because I believe Murray plays Sunday even with his broken hand. It's just a gut feeling. Do I expect 20-25 carries from Murray? No. I think you'll see a closer split between him and Randle this week.
Dez has 13 TD. He is 2 TD away from tying cowboys season record of 15 & 3 away from breaking it. Do u think he break the record #cowboysmail

— Malcom M. (@cowboys_flyhigh) December 17, 2014
@toddarcher: I think he gets it, yes. And it would be incredibly impressive because of how much the Cowboys have run the ball this season.
Tony Romo
is averaging 29 passing attempts a game. He averaged 36 attempts in 15 games last season. Terrell Owens set the team record with 15 in 2007 after Frank Clarke (14) held it for 45 years. With Murray banged up, the Cowboys could look to Bryant more, and he is already a feature in the tight red zone. Just as Bryant wanted some redemption against the
Philadelphia Eagles
, I think he will want even more in the season finale against the
Washington Redskins
. They held him to three catches for 30 yards in the first meeting.
@toddarcher Andrew Luck is good against the blitz. Any thoughts on how the Cowboys get pressure without sending extra guys? #cowboysmail

— Brandon Conner (@huntingthesnark) December 17, 2014
@toddarcher: I think Luck is pretty good against any defense, but I do have some wonder about why he has so many interceptions for an elite quarterback. That's for a different question. As for pressuring Luck Sunday, maybe the Cowboys can petition for the use of a 12th defender. I kid. I kid. But perhaps a bigger help will be Indianapolis' offensive line. It's not very good and certainly doesn't compare to Philadelphia's and the Cowboys had four sacks last week. There isn't a scheme the Cowboys can come up with to put pressure on a quarterback at this time in the season. They are what they are. When they do blitz, they don't get home often enough. They need their front four to win more one-on-one battles. If they do that, then they'll have a chance. If they don't, it could be a long day.
@toddarcher #cowboysmail besides Martin, Hitchens seems to be the second best draft pick, why haven't we seen much from anyone else

— D.B. Cooper (@CorralesTrey) December 16, 2014
@toddarcher: To me there are a couple of reasons. Second-round pick
DeMarcus Lawrence
missed the first eight games because of a broken foot in training camp. He's played just five games this year. I think his season was set back because of injury but if you listen to the coaches they've been pleased with what he's done even if he doesn't have a sack. Five of the Cowboys 10 picks came in the seventh round, so you're not going to see a ton of production from those guys.
Devin Street
, their fifth rounder, has been active every game, but he is not going to get a lot of passes thrown his way with how the offense is constructed.
Zack Martin
has been one of the best rookies in football.
Anthony Hitchens
has done well in a myriad of roles. Those two picks have worked out. There needs to be some patience with Lawrence. Overall, the class has been fine. It would be better in the future if they get something from seventh-round defensive linemen
Ben Gardner
, who is on injured reserve, and
Ken Bishop
, who is on the practice squad.
@toddarcher #cowboysmail When will we try to keep Murray & McClain, Dez I am not worried due to the tag

— Joshua morris (@JoshuaMorris83) December 18, 2014
@toddarcher: There is time. Free agency doesn't start until March. I think you'll see the Cowboys begin more earnest talks with the agents for Murray,
Rolando McClain
and Bryant in January, depending on how long the season goes. They tend to use sites like the Senior Bowl and Combine to talk to agents. Now just because they're talking doesn't mean a deal will be quick. When players get this close to free agency oftentimes they want to see what the market will provide for them so getting a contract done is a little more difficult. I agree with you on the franchise tag for Bryant and I've been saying that since the summer. The cases of Murray and McClain are slightly unique because there has to be some caution about overpaying either player for different reasons. Normally these things go to the wire before free agency begins. If something gets done, I would guess it would be in that witching hour.
December, 19, 2014
Dec 19
9:00
AM ET
IRVING, Texas – If
Brandon Carr
had to do it all over again, the
Dallas Cowboys
' cornerback might go for the pass breakup on
Mark Sanchez
's throw to
Jeremy Maclin
that led to a 72-yard completion for the
Philadelphia Eagles
again.
"It's one of those in the heat-of-the-moment type things," Carr said. "My mentality, my personality I have is to kind of go after the ball. I just didn't come up with it. But at the same time I'm not going to turn off my aggression and turn off how I play. I'm going to keep playing the same way for the last two games the way I play."
[+] Enlarge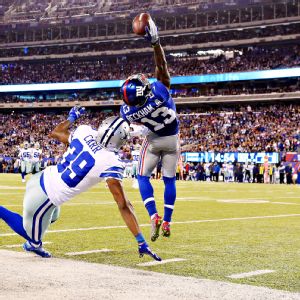 Adam Hunger/USA TODAY SportsBrandon Carr has been on the wrong end of some big plays, but the Dallas Cowboys' brass still has a lot of confidence in the cornerback.
Carr will be in the spotlight Sunday with the
Indianapolis Colts
visiting AT&T Stadium. The Colts have the NFL's top-ranked passing offense with
Andrew Luck
,
T.Y. Hilton
,
Reggie Wayne
,
Donte Moncrief
and tight end
Coby Fleener
serving as prolific targets.
In the win two weeks ago against the
Chicago Bears
, Carr gave up a 27-yard touchdown to
Alshon Jeffery
, although the Bears' receiver clearly tugged on Carr's jersey. Those are the sorts of things that happen to a cornerback that is in a slump.
Carr is still looking for his first interception of the season. Jason Garrett prefers to look at Carr's overall games and not the big plays allowed. While he can't dismiss the bad plays,
Garrett believes Carr is doing more than many realize.
So does defensive coordinator Rod Marinelli and owner and general manager Jerry Jones.
The Cowboys signed Carr to a five-year, $50 million deal as a free agent three years ago. The investment has not paid off the way the Cowboys and Jones envisioned, but Jones isn't displeased either.
"Oh I think that one of the things that create a challenge for him is it's like the same one that a No. 1 draft pick has," Jones said. "The expectation of what he's supposed to bring to the table is one that is really very difficult to meet. Now has he played at a Pro Bowl level? No, he has not. And therein lies the issue. The expectation is that he would play at a Pro Bowl level. He obviously started off behind the eight-ball this year with the loss of his mother, time lost, but he's come back in and I'm not as hard on him as possibly it looks like we should be or others are because I know that he does give us a skill level and a size component back there that is very important to us right now.
"I'm glad we got him. I'm glad I'm paying him. Like everybody you'd like to have your deal squared up more to the value of where it is but that's just part of this. And he's very capable. He plays the ball well. One of his skills is how well he plays the ball, and let's hope that he makes that interception at [a] time that [will] down in history for the Dallas Cowboys."
December, 19, 2014
Dec 19
8:00
AM ET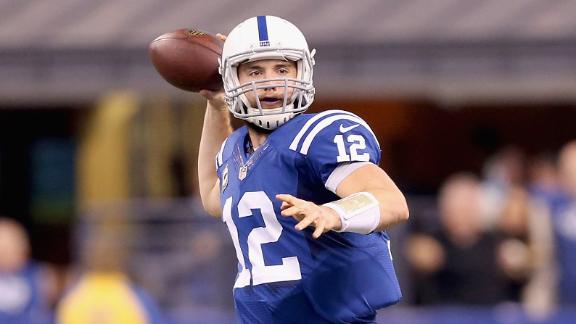 When:
4:25 p.m. ET, Sunday
Where:
AT&T Stadium, Arlington, Texas
TV:
CBS
The
Dallas Cowboys
will host the
Indianapolis Colts
for the first time at AT&T Stadium on Sunday. While both teams are 10-4, their postseason plans are completely different.
The Colts have already clinched a playoff spot by winning the AFC South. The Cowboys lead the NFC East, but any slip-up in the final two games could not only cost them the division but a playoff spot altogether.
ESPN Colts reporter Mike Wells and Cowboys reporter Todd Archer offer up this week's preview:
Todd Archer:
This is the first time the Cowboys will see
Andrew Luck
in person. His numbers are impressive, obviously, but it seems a little disconcerting to see him with 14 interceptions, up there with
Jay Cutler
,
Blake Bortles
and
Andy Dalton
. Is there any explanation for the high number of picks, besides the fact that they throw it a lot?
Mike Wells:
I'll add on to Luck's turnover problems. He's also lost six fumbles, putting him second in the league in that category, behind only the now-benched Cutler. One of Luck's strongest attributes -- his competitiveness -- is also one of his biggest downfalls. He doesn't believe in giving up on a play. Rather than take a sack or throw the ball away, he believes he can extend a play with his legs or fit a tight throw in. Crazy part is, Luck should have more than 14 interceptions this season. There have been several throws on which the defensive player just dropped the pass. Luck knows he can't continue to make the "bonehead" -- as he calls them -- mistakes.
DeMarco Murray
's status for Sunday appears to be uncertain. Let's assume he doesn't play. How much would Dallas' offensive scheme change without him in the lineup?
Archer:
I don't think it would change that much. The Cowboys' identity has been the running game and the offensive line. I do believe they have faith in backups
Joseph Randle
and
Lance Dunbar
. To me, Randle would get the bulk of the carries if Murray can't go. Even if Murray does play, I would think the Cowboys would monitor his snaps anyway, considering he had surgery on Monday. The Cowboys just can't abandon the run. The run has made
Tony Romo
a better quarterback. He has been able to take advantage of coverages teams play because the defense has to commit to stopping the run. Romo has thrown more than 30 passes in a game this season just three times. It would surprise me if he is over that number this week if the game is not out of whack with the Colts leading big.
I mentioned how the Colts throw it a ton, but how has the running game changed with
Daniel Herron
becoming more of a fixture than
Trent Richardson
?
Wells:
The Colts don't have a running game. If they rush for more than 100 yards as a team, Luck usually has contributed a significant portion of those yards. Things drastically changed for the Colts once
Ahmad Bradshaw
was lost for the season with a fractured fibula on Nov. 16. Now, they lack consistency in the backfield. Herron is a better runner than Richardson -- he's outrushed Richardson in three of the four games he's played -- but Richardson is a better pass-blocker, and that's what the Colts need more because the offensive line continues to be inconsistent. If the Colts are going to make a run in the playoffs, they'll have to do it with Luck's arm.
Sticking with the running game, how much credit for Murray's success goes to the offensive line? The O-line is the group on most teams that rarely gets praised but is quick to get criticized when they can't open holes or protect the quarterback.
Archer:
I think a lot of the credit goes to the line and line coaches Bill Callahan and Frank Pollack. It's helped by the fact that they have three first-rounders among the group in
Tyron Smith
,
Travis Frederick
and
Zack Martin
, but
Ronald Leary
and
Doug Free
have also played well. They have a good blend of power and smarts. They help each other out. They're smart. They have had really just one bad game as a group. But this week will be a test because of injuries. Free is in question because of an ankle injury. If he can't play, then
Jermey Parnell
would start. He did OK when Free missed three games earlier in the season. Martin is also dealing with an ankle sprain, but he was able to gut it out to finish the Philadelphia game. I talked earlier about the Cowboys' willingness to run the ball this year. Well, now they have to step up even more if Murray can't play (or is limited).
The Colts are 10-4 and have clinched a playoff spot. They have a great quarterback, top receiver and a decent enough passing game, but I'm skeptical about just how good they are in part because they play in a terrible division. So, I guess, how good are these Colts? Can they beat
New England
or
Denver
in the AFC and get to the Super Bowl?
Wells:
Don't worry about it. I'm just as skeptical of the Colts. They're 11-0 in the AFC South the past two seasons, with another win expected at
Tennessee
to close out the season. But everybody knows the AFC South is possibly the worst division in the league. The Colts are currently 2-3 against teams that would be in the playoffs if they started today. Their three losses were to Denver, New England and
Pittsburgh
. The Patriots ran for more than 200 yards against them, and the Steelers had more than 600 yards of total offense. The Colts have had this game against the Cowboys circled on the calendar since the Patriots embarrassed them last month. Linebacker
D'Qwell Jackson
said Dallas is the most balanced offensive team they'll face this season. The Colts need this victory, from a mental standpoint, to prove they can beat a team that is capable of putting up a lot of points.
I recall talking to you earlier this season, and it didn't seem like you were a firm believer in the Cowboys. Have you changed your thought, and, if so, do you believe they're capable of making a run in the NFC?
Archer:
I guess it depends on how you want to define "making a run." They haven't qualified for the playoffs yet, and a loss Sunday would be a huge blow to those chances. But I'll go with the premise that they make it for this answer. I think they can make a run because of their style of play. Plus, they're 7-0 on the road this season. It might be better to be the wild card, but the odds of making it as a wild card are steep because it would require
Seattle
or
Detroit
to lose in the final two weeks. I have been skeptical this season. I don't know how anybody could have expected this from the Cowboys at the beginning of the season. Heck, Jerry Jones even said it would be an uphill battle. The coaches and players deserve a ton of credit for getting to this position. Now that they are this close, they can't blow it. They have to make the playoffs. I look around at the rest of the NFC and there is a "why not the Cowboys?" feeling. They already beat the Seahawks in Seattle. The
Packers
just lost to
Buffalo
. I don't see a dominant team in the conference, so, yeah, they could make a run. But first, they have to get in the playoffs.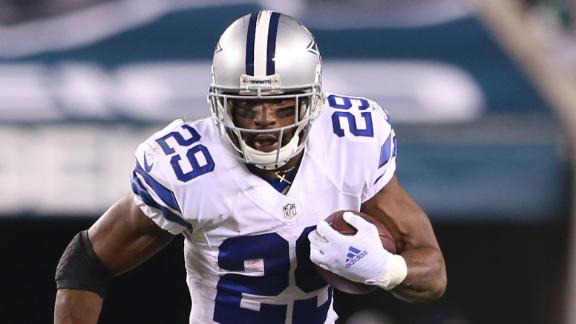 December, 18, 2014
Dec 18
10:08
PM ET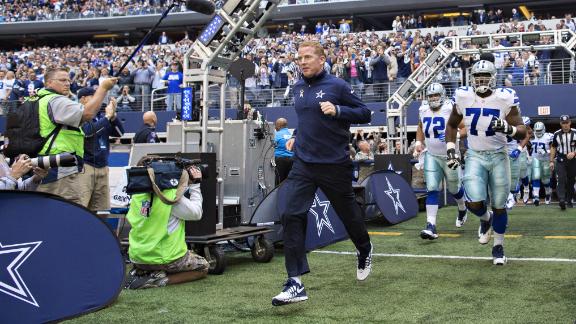 IRVING, Texas -- Poor Jerry Jones spent $1.2 billion to build the snazziest football stadium in the world, but his team can't seem to figure out how to consistently win at AT&T Stadium.
You can blame the tepid atmosphere created by the wine and cheese, if you want, or you can blame the folks in the corporate suites, who are too busy networking to get emotionally invested in the game.
Some folks talk about how the home schedule has been considerably more difficult than the road schedule.
It's all poppycock.
When the Dallas Cowboys have played good football at home this season, they've won. When they've played something less, they've lost.
That said, it would be a shame to have this unexpected feel-good season end without a trip to the playoffs because the Cowboys failed to win a home game yet again.
The Cowboys are 3-4 at AT&T Stadium this season and 25-22 overall since Jerry World opened in 2009.
Dallas leads Philadelphia by one game in the NFC East, and it needs a win Sunday against Indianapolis in AT&T Stadium to remain in control of its playoff fate.
That's why coach Jason Garrett is pondering a change to the team's game-day routine. He's loath, however, to make a change without tangible evidence that it can serve as a catalyst.
After all, one of Garrett's mantras is "home, away, moon or parking lot, it really shouldn't matter where we play. You need to be your best, regardless of circumstance."