September, 19, 2014
Sep 19
5:53
PM CT
COLOGNE, Germany -- It was supposed to be a transatlantic surprise party, but this is Dirk Nowitzki. Secrets in the Dallas Mavericks' organization don't last long before the face of the franchise finds out.
So Nowitzki inevitably discovered, well before touchdown, that a delegation of Mavericks players, former teammates, team officials and various staffers would be flying all the way to Germany this week for the premiere of a new German-produced documentary about the future Hall of Famer's career and life.
Yet Nowitzki nonetheless came away openly touched to see the likes of Monta Ellis, Devin Harris, Rick Carlisle, Donnie Nelson, Keith Grant, Michael Finley and Brian Cardinal among a traveling party of some 40 guests from Dallas, all of whom descended upon Cologne to see the unveiling of "Nowitzki: Der Perfekte Wurf," which translates to Nowitzki: The Perfect Shot.
After weeks of promotional appearances in advance of Thursday's release throughout Germany, Nowitzki saw the film for the first time alongside the rest of his friends and colleagues from the states at an unveiling Tuesday night that attracted more than 2,000 spectators in seven different theaters ... with another 1,500 fans lining the red carpet for a glimpse of the former league and Finals MVP and his colleagues from Big D.
September, 19, 2014
Sep 19
4:45
PM CT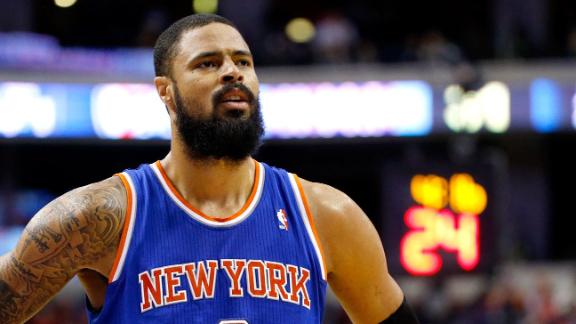 DALLAS -- Months later, Dallas Mavericks center Tyson Chandler is still mad about insinuations that he caused chemistry issues for the New York Knicks last season.
Knicks president Phil Jackson cited the desire to "change some of the chemistry" of the team as one of the reasons he sent Chandler and point guard Raymond Felton to Dallas in the late-June deal.
Chandler has been portrayed in several media reports since then as a player who caused internal problems for the Knicks last season, much to his chagrin.
"I did nothing but try to help the culture there the three years I was there," Chandler said Friday. "You can say I didn't live up to whatever or you didn't like the way I played or anything. But to ever question who I am and the type of leader I am in the locker room, I don't even know where that came from.
"I honestly don't know where that came from. I don't know if Phil put that out there or who put that out there, but to me, that was the ultimate shock. And you don't have to say that to get rid of me or to trade me. The trade is over.
"So to judge my character and what I've done, you can go look at all my teammates and ask all of my teammates in the past, and the coaches I've played for, and I've never been a problem and never had a problem. So that was a shock to me that I didn't appreciate."
September, 9, 2014
Sep 9
2:25
PM CT
Associated Press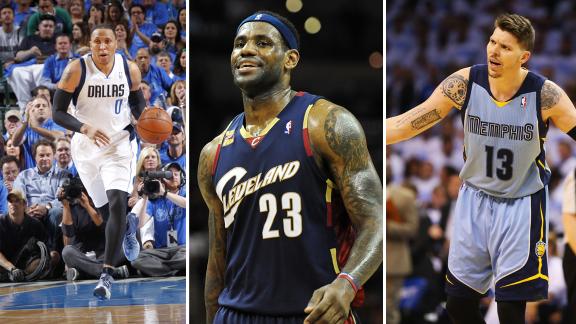 CLEVELAND -- Shawn Marion knows what it takes to win an NBA championship. The Cavs hope his experience will help them get one.
Cleveland signed the veteran free agent forward Tuesday, adding a player with an extensive postseason resume to a team targeting an NBA title.
Marion agreed to a one-year contract with the Cavs last month, but the sides didn't make it official until Tuesday. A 15-year veteran and four-time All-Star, Marion won a title with the Dallas Mavericks and wants to get a second in Cleveland.
"I'm excited to be a Cavalier," said Marion. "I can see the hunger and mentality of everyone in the organization and l look forward to being a part of it. The goal is to win a championship and that's what I want."
Last season, the 6-foot-7 Marion averaged 10.4 points and 6.5 rebounds in 76 starts for the Mavericks. The Cavs believe he can help them offensively and defensively, but more importantly, in the playoffs. He's played in 103 career postseason games -- all starts -- and averaged 14.7 points and 9.1 rebounds.
"Shawn brings great versatility, talent and championship experience to the team," said Cavaliers general manager David Griffin, who previously worked with Marion in Phoenix. "He will impact both ends of the floor and his ability to guard multiple positions will be particularly important for us."
September, 8, 2014
Sep 8
3:16
PM CT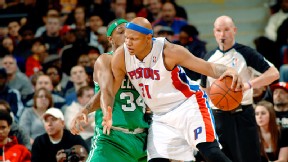 J. Dennis/Getty ImagesCharlie Villanueva in a 2013 game, while a member of the Detroit Pistons.
DALLAS -- Veteran power forward Charlie Villanueva has agreed to sign a non-guaranteed contract with the Dallas Mavericks, a source told ESPNDallas.com.
The Mavs have 15 players with guaranteed contracts -- the league's limit for a regular-season roster -- so Villanueva will have a difficult time making the team. He is a candidate to serve as a reserve stretch power forward, a role player the Mavs did not have on the roster after voiding Rashard Lewis' one-year deal due to his need for knee surgery.
The 6-foot-11, 240-pound Villanueva, 30, has averaged 11.5 points and 5.1 rebounds in nine NBA seasons. However, his production plummeted after signing a five-year, $38 million deal with the Detroit Pistons that expired last season.
Villanueva averaged 4.6 points and 1.8 rebounds in 20 games last season.
September, 3, 2014
Sep 3
5:14
PM CT
Center
Bernard James
' deal to return to the
Dallas Mavericks
is official, the team announced Wednesday.
James signed a one-year deal for the veteran's minimum. He is the 15th player on the roster with a fully guaranteed deal for next season.
The 6-foot-10, 230-pound James, the 33rd overall pick in the 2012 draft, played in 76 games for the Mavs over the last two seasons. He has career averages of 2.1 points, 2.3 rebounds and 0.6 blocks in 7.9 minutes per game.
James is the fourth center on the Mavs' roster behind
Tyson Chandler
,
Brandan Wright
and
Greg Smith
.
September, 3, 2014
Sep 3
2:23
PM CT
By
Amin Elhassan, Chad Ford, Tom Haberstroh, Kevin Pelton
| ESPN.com
Previously:
Sept. '13 | May '13 | Aug '12 | Feb '12 | Mar '11 | Dec '10 | Aug '10 | Mar '10 | Dec '09
The Future Power Rankings are ESPN Insider's projection of the on-court success expected for each team in the 2014-15, 2015-16 and 2016-17 seasons.
Consider this a convenient way to see the direction in which your favorite team is headed.
Each of the NBA's 30 teams received an overall Future Power Rating of 0 to 100, based on how well we expect each team to perform in the next three seasons.
To determine the Future Power Rating, we rated each team in five categories. (See table at right.)
As you can see, we determined that the most important category is a team's current roster and the future potential of those players -- that category accounts for 50 percent of each team's overall Future Power Rating.
At the same time, we looked at many other factors, such as management, ownership, coaching, a team's spending habits, its cap situation, the reputation of the city and the franchise and what kind of draft picks we expect the team to have in the future.
To rank the 30 teams, we asked ESPN Insider analysts Chad Ford, Amin Elhassan, Tom Haberstroh and Kevin Pelton to rate each team in each category.
Here are our latest rankings:
---
---

The bar graphs reflect the average points given by the voters for each category.
This is the first time in Future Power Rankings' five-year history that the Spurs have ranked No. 1. Winning a championship will do that, and despite the age of San Antonio's three long-tenured stars, the Spurs' short-term future still appears bright. San Antonio brings basically everyone back from last year's roster with exception of reserve center Aron Baynes.
Given the way coach Gregg Popovich has managed his players' minutes, there's reason to believe the Spurs can wring at least one more championship-caliber season out of aging veterans Tim Duncan (38) and Manu Ginobili (37).
Looking ahead, the question of replacing Duncan -- when he decides to head off to retirement -- looms large. San Antonio is counting on Finals MVP Kawhi Leonard, 23, developing into the kind of player who can anchor a contending team.
Leonard is likely to sign a long-term extension this fall, the Spurs having already locked up point guard Tony Parker through 2017-18 this summer. San Antonio also will have to re-sign starting guard Danny Green, which will cut into the team's cap flexibility the next two summers.
Still, if there's any management we trust to manage the future, it's the Spurs, who earned a perfect score. Popovich is clearly the league's best coach -- he might be as difficult to replace as Duncan when he decides to retire -- and GM R.C. Buford earned overdue honors as the league's Executive of the Year in 2013-14.
-- Kevin Pelton
(Previous rank: 4)

August, 30, 2014
Aug 30
10:57
AM CT
[+] Enlarge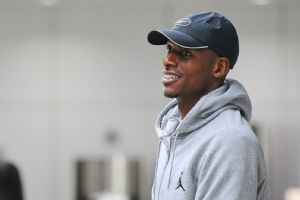 ChinaFotoPress/Getty ImagesRay Allen, who's being courted by multiple NBA teams, likely won't make a decision on his future until September.
The San Antonio Spurs and the Los Angeles Clippers are the latest elite teams to join the race to sign Ray Allen, league sources told ESPN.com.
The sources told ESPN.com this week that the Spurs and Clippers have emerged as two more rivals for the Cavaliers to worry about as Cleveland continues to try to lure Allen away from the Miami Heat.
Allen announced last month that he's still deciding whether he wants to play what would be his 19th NBA season, but that certainly hasn't done anything to limit interest in the 3-point specialist.
Clippers coach Doc Rivers is a natural Allen recruiter after coaching him in Boston. Despite possessing very limited financial flexibility, the Clippers have only 11 players under contract and certainly could use a shooter of Allen's caliber.
August, 25, 2014
Aug 25
9:59
AM CT
New
Los Angeles Clippers
owner Steve Ballmer drew comparisons to Mark Cuban with his high-fiving, chest-bumping, shouting introduction to the franchise's fan base last week.
The scene came as no surprise to the
Dallas Mavericks
owner, whose enthusiastic exhibitions had been unique among the NBA's owners.
"I've known Steve for a long time, going back into my twenties, and he's always been this way," Cuban said during an appearance on ESPN Dallas 103.3 FM's "The Afternoon Show with Cowlishaw and Mosley" last week. "So this isn't Steve Ballmer getting hyped just for the Clippers. This is just the way he is. He's going to be great for the league.
"You know, in reality, I already know, knowing him, he's going to be a lot calmer than I am. He's great hyping people up in a sales environment, but it'll be interesting to see him during a game. I hope he's crazy, but I'm not expecting it."
Ballmer, who paid $2 billion to buy the Clippers from disgraced former owner Donald Sterling, has been welcomed into the NBA ownership fraternity. That wasn't the case when Cuban brought the Mavs in 2000 and showed up to games acting like a maniac in T-shirts and jeans.
"I just wish he would have been around to give those speeches when I first came in, seen the response by all the old-timers when I came in," Cuban said. "When we were in Reunion Arena, I used to run up and down the aisles trying to exhort people to cheer and to stand up. I mean literally, I was running up and down the aisles I was so pumped up and so excited.
"I remember going into a board of governors meeting and one of the old-school guys -- I won't name him; he's since passed away -- said, 'You haven't done shinola in this league. You need to sit the eff down and shut the eff up. I never want to see you or hear from you again.' And David Stern literally had to tell him to calm down. Then he said something else, and I said, 'Well, such and such ...' and [Mavs CEO/president Terdema Ussery] taps me on the shoulder and said, 'You just got his name wrong.' It would have been interesting to see what it's like just to have Steve's energy."
August, 23, 2014
Aug 23
10:55
AM CT
[+] Enlarge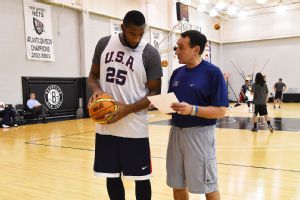 Jesse D. Garrabrant/NBAE/Getty ImagesU.S. basketball officials hope that the inclusion of Andre Drummond on the FIBA World Cup roster will allow the Americans to match up in the front court with international powerhouse Spain, which features the Gasol brothers and Serge Ibaka.
NEW YORK -- After relying so heavily on speed and athleticism in its last two major tournaments, USA Basketball officials have put an unexpected emphasis on size in its final player selections by choosing Andre Drummond to fill the last spot on a 12-man roster.
USA Basketball chairman Jerry Colangelo, in explaining the selections made official early Saturday morning, told ESPN.com before the team's afternoon flight to Spain that keeping Drummond -- along with DeMarcus Cousins and Mason Plumlee -- gives coach Mike Krzyzewski "an opportunity to throw a new look at people."
The inclusion of Drummond, Cousins and Plumlee, along with starters Anthony Davis and Kenneth Faried, all but assures that Krzyzewski will occasionally use lineups at the forthcoming FIBA World Cup that feature Davis or Plumlee at power forward next to a more traditional center.
August, 23, 2014
Aug 23
12:16
AM CT
[+] Enlarge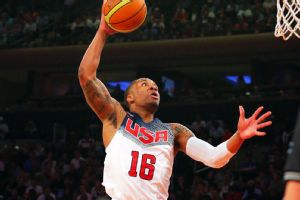 Brad Penner/USA TODAY SportsDamian Lillard won't be accompanying the U.S. team in Spain for the FIBA Basketball World Cup.
NEW YORK -- USA Basketball has decided to drop Damian Lillard, Chandler Parsons, Kyle Korver and Gordon Hayward from its roster for the FIBA World Cup in Spain.
With the moves not expected to be revealed until later Saturday, USAB instead announced its final 12-man squad for Spain in a 1 a.m. ET news release, some four hours after completing a 112-86 exhibition rout of Puerto Rico at Madison Square Garden.
August, 22, 2014
Aug 22
10:43
AM CT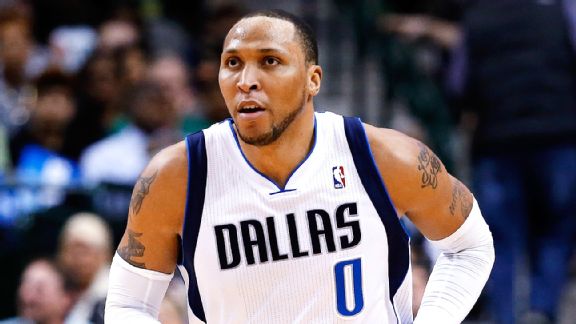 Kevin Jairaj/USA TODAY SportsIf Shawn Marion was going to take the minimum, Cleveland was the best possible fit for him.
The
Dallas Mavericks
would have been thrilled to re-sign
Shawn Marion
for the veteran's minimum.
That's what Marion got to join
LeBron James
with the
Cleveland Cavaliers
next season.
So why didn't Dallas keep Marion for the minimum? Because that was never an option for the Mavs.
"It's different when you're going back to your same team as supposed to going to a new team," Mavs owner Mark Cuban said on ESPN 103.3 FM's "The Afternoon Show with Cowlishaw and Mosley" on Thursday. "I think there's a different dynamic and different expectation.
"I have a great relationship with Shawn. We've kept in touch. We messaged yesterday. He just thought that he wanted to go to somebody that he thought, and this was all prior to signing Chandler [Parsons] and everything, that he thought was closer to a ring particularly in the Eastern Conference. He decided to go that route and we wish him nothing but the best. Trix is a champion in our eyes and always will be."
Marion, a consummate professional during his five seasons in Dallas and a critical piece of the Mavs' 2011 title team, said at the end of last season that his preference was to re-sign with the franchise. Asked what it would take for the Mavs to keep him, Marion said, "Not much."
August, 22, 2014
Aug 22
7:24
AM CT
The
Dallas Mavericks
and center
Bernard James
are finalizing a one-year deal for the veteran's minimum, a source told ESPNDallas.com.
The deal will be fully guaranteed, according to the source. That makes 15 players on the Mavs' roster with fully guaranteed contracts -- the limit for the regular season -- in addition to forwards
Eric Griffin
and
Ivan Johnson
, who have partially guaranteed deals.
This will be the 6-foot-10, 240-pound James' third consecutive season with the Mavs after being selected with the 33rd overall pick in the 2012 draft. James, 29, an Air Force veteran, averaged 2.1 points and 2.3 rebounds in 7.9 minutes per game over the last two seasons. He has played in 76 games, including 11 starts as a rookie.
James is the fourth center on the Mavs' roster. Starter
Tyson Chandler
and efficient, athletic reserve
Brandan Wright
are likely to log the vast majority of the minutes. The Mavs acquired
Greg Smith
this summer to give them a minimum-salaried banger off the bench. James' best attribute is his ability to block shots (2.7 per 36 minutes).
August, 21, 2014
Aug 21
9:55
AM CT
[+] Enlarge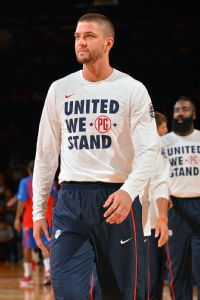 David Dow/NBAE/Getty ImagesChandler Parsons not playing Wednesday had to make Mark Cuban happy.
If
Dallas Mavericks
owner Mark Cuban watched Team USA dominate the Dominican Republic in Wednesday's exhibition, he probably liked what he saw.
Or more like what he didn't see.
Chandler Parsons
, the Mavs' new $46 million investment, did not play a minute in the rout.
Kyle Korver
and
Mason Plumlee
were the only other available Team USA players who didn't enter the game, with
Derrick Rose
sitting out due to soreness in his surgically repaired knee.
Coach Mike Krzyzewski will soon cut Team USA from 16 to 12 players.
It'd be fine with Cuban, who has repeatedly made it clear over the years that he doesn't like NBA players participating in international competition, if Parsons doesn't make the cut.
August, 20, 2014
Aug 20
7:23
PM CT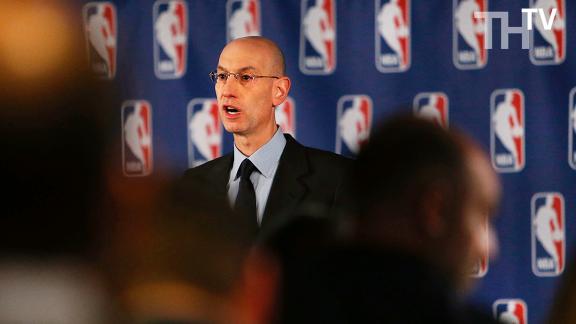 NEW YORK -- With nearly three weeks to mull the circumstance and consequences surrounding Paul George's leg injury, NBA commissioner Adam Silver says he fully understands the risk the league's players are taking in playing for their countries this summer leading up to FIBA World Cup.
But Silver reiterated that it's still up to NBA stars to make the personal decision to play for one's country.
"It is a big risk without enormous financial reward," Silver said when asked about a sentiment shared by outspoken Dallas Mavericks owner Mark Cuban during a "Commitment to Service" news conference to discuss a collaboration with the U.S. Department of Defense at Madison Square Garden.
"But I am sitting next to our highest ranking military official," Silver said of General Martin Dempsey." I'm almost embarrassed to be talking about the risk that our players face compared to what our men and women in uniform face."
The topic of the NBA's best and highest-paid stars playing internationally continues to be a hot button issue after George suffered a two-part compound fracture to his lower right leg during a Team USA basketball intrasquad scrimmage in Las Vegas on Aug. 1.
"I'll only reiterate that ultimately it is a personal decision for these players," Silver said. "I should point out that it is not just U.S. players we are referring to. Collectively we have close to 50 NBA players participating in this World Cup on behalf of their national teams."
Team USA played an exhibition against the Dominican Republic at Madison Square Garden on Wednesday night with many of its stars sitting this summer's competition out for various reasons.