October, 18, 2014
Oct 18
8:53
PM CT
Associated Press
INDIANAPOLIS -- Chris Copeland had 22 points and David West scored 16 to lead the Indiana Pacers to a 98-93 win over the Dallas Mavericks on Saturday night.
Indiana erased a 14-point fourth-quarter deficit with an 18-3 run that began with Lavoy Allen hit a jumper with 7:35 to play in the quarter. The Pacers outscored Dallas 37-19 in the final period.
David Sloan scored 12 of his 15 points for the Pacers in the fourth.
The Pacers finally took the lead for good, 95-93, when Allen took the inbounds pass and immediately found Sloan cutting through the lane for the layup.
Richard Jefferson and Gal Mekel led Dallas with 19 points each. Al-Farouq Aminu contributed a double-double with 11 points and 12 rebounds
West left the game in the third quarter with a right ankle injury. He did not return for the Pacers.
October, 17, 2014
Oct 17
9:13
PM CT
Associated Press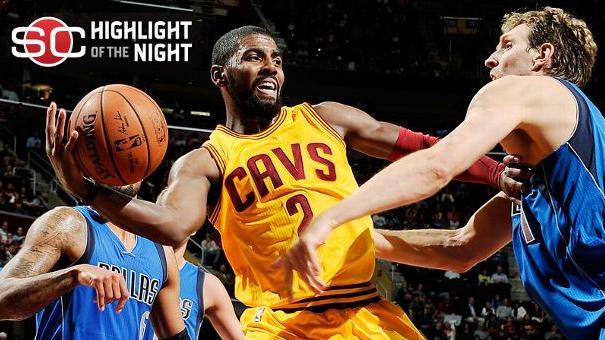 CLEVELAND -- Chandler Parsons and Jameer Nelson scored 19 points apiece and the Dallas Mavericks beat Cleveland 108-102 on Friday night, handing the Cavaliers their first loss of the preseason.
Dirk Nowitzki added 16 and nine rebounds for the Mavericks, who stuck with their starters in the fourth quarter when the Cavs rested LeBron James and Kyrie Irving. Kevin Love didn't play in Cleveland's third exhibition in four nights.
Irving returned to the lineup after missing three games with a sprained right ankle and led Cleveland with 23 points. Tristan Thompson had 17 and James 12 before sitting out the fourth.
Dallas led from the outset, opening a 16-point lead in the first half. The Cavs, who struggled shooting against a zone defense for most of the night, were still within three points in the final two minutes but Brandan Wright scored underneath and the Mavericks held on.
October, 17, 2014
Oct 17
9:12
AM CT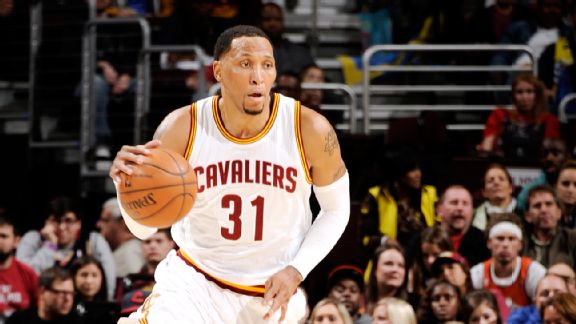 David Liam Kyle/NBAE via Getty ImagesThe Mavs will face former teammate Shawn Marion as a member of the Cavs for the first time Friday.
DALLAS -- "Weird" is the word used by members of the 2011 title team who are currently employed by the
Dallas Mavericks
to describe seeing
Shawn Marion
wearing the wine and gold of the
Cleveland Cavaliers
.
Marion, a man who played such a critical role in delaying LeBron James' first championship celebration a year, is now a member of King James' supporting cast.
The Mavs have nothing but fond memories and warm feelings for Marion, who they'll see tonight when they face the Cavs in a preseason game. Marion didn't make an All-Star team or put up spectacular numbers during his five years in Dallas, as he did during his run with the
Phoenix Suns
. But owner Mark Cuban should seriously consider raising the Matrix's No. 0 to the American Airlines Center rafters when Marion retires to the home he's building in the Dallas suburbs.
"He'll go down as one of the all-time great Mavs because of his contributions to a championship team, number one," Mavs coach Rick Carlisle said of Marion, who will rest instead of playing Friday night. "But number two is his versatility and his ability to do so many different things that contribute to winning."
Marion, a four-time All-Star during his 20/10 days in Phoenix, transitioned to being the ultimate role player in Dallas.
Marion averaged 11.6 points, scoring in double figures each season, despite never being an offensive focal point, getting a bunch of buckets off cuts to the basket or from crashing the offensive glass. He ranked among the NBA's most effective rebounding small forwards, averaging 7.0 per game during his Dallas tenure, leading the Mavs in that category the last three seasons.
October, 16, 2014
Oct 16
12:11
PM CT
DALLAS –
Dirk Nowitzki
shot his way into the top 10 of the NBA's all-time scoring list last season and isn't nearly done yet.
How high can the big German go?
[+] Enlarge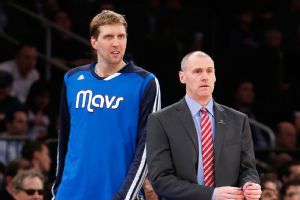 AP Photo/Jason DeCrowRick Carlisle is confident Dirk Nowitzki will catch Wilt Chamberlain on the NBA's all-time scoring list.
"He's going to be one of the top five scorers of all time, I would guess,"
Dallas Mavericks
coach Rick Carlisle said on Sirius XM NBA Radio.
Nowitzki enters his 17th season with 26,786 points. Wilt Chamberlain, the No. 5 scorer in NBA history, scored 31,419 points in his career.
Can Nowitzki score another 4,633 points in his career? That could largely depend on two issues that are directly related: his health and how much longer he plays.
Nowitzki, 36, signed a three-year, $25 million deal this summer. He certainly hasn't ruled out continuing to play after that contract expires, particularly if he's still performing at a high level on a team capable of contending for a title.
"Obviously, I'm looking to complete that contract in three years and then re-evaluate and see how the body is holding up," Nowitzki said earlier this month. "I'm looking forward to having three good years."
It's not out of the realm of possibility that Nowitzki, who should move past Hakeem Olajuwon, Elvin Hayes and Moses Malone this season and Shaquille O'Neal in 2015-156, could pass Chamberlain before this deal is done.
Nowitzki scored 1,735 points last season, averaging 21.7 in 80 games. His scoring numbers will likely dip as he continues to fight Father Time and the Mavs try to trim his minutes. He'd need to average 1,544 points over the next three seasons – with an extra free throw mixed in somewhere during that span – to catch Chamberlain by the end of this contract.
With good health, Wilt could be well within Dirk's reach.
October, 16, 2014
Oct 16
10:56
AM CT
DALLAS – Just be
Jameer Nelson
.
That's the job description for the new
Dallas Mavericks
starting point guard in the simplest terms.
[+] Enlarge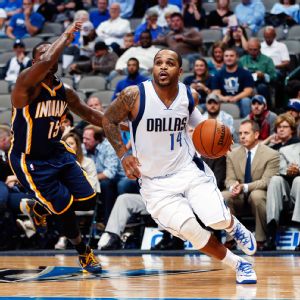 Kevin Jairaj/USA TODAY SportsJameer Nelson is capable of doing anything the Mavs ask of their point guards.
The Mavs signed Nelson because they wanted a smart, tough floor leader who could provide some penetration, knock down open shots and get the ball where it needed to go. That's what Nelson did throughout his 10-year tenure with the
Orlando Magic
.
But Nelson is in the beginning stages of a major transition. He's learning the Mavs' schemes on the fly – and they've still installed only about half of their offensive sets – and getting accustomed to operating an offense that features a pair of wings who thrive as pick-and-roll initiators and the sweetest-shooting power forward in NBA history.
"Most importantly, I just have to be aggressive in whatever I do," said Nelson, who has career averages of 12.6 points and 5.4 assists per game. "I'm going to make mistakes. I'm going to mess some things up, but just staying aggressive will help myself and the team.
"The system is new. Things are different. Learning on the fly is a little tough, but I'm smart enough, picking it up pretty fast and learning guys' sweet spots on the floor, learning when I need to shoot more. All that stuff will come."
Coach Rick Carlisle, who raves about Nelson's intangibles, knows that Nelson is feeling his way in a new system with all new teammates. The feeling-out process is about becoming familiar with when and where teammates want the ball and Nelson can get his scoring opportunities in the Mavs' movement-intensive offense.
"Get comfortable and give us the right balance of penetration, scoring off pick-and-rolls, scoring off spot-ups and he's got to give us tough defense," Carlisle said. "He's very capable of all those things."
Breaking in a new starting point guard is becoming old hat for the Mavs. Nelson will be the fourth point guard to start opening night for the Mavs in four years, following in the footsteps of Jason Kidd,
Darren Collison
and
Jose Calderon
. And who could forget the starting stints for
Derek Fisher
and
Mike James
during the 2012-13 campaign? Oh, right, you'd rather forget.
The Mavs very well could be in the market for a premier point guard again next summer, when
Rajon Rondo
and
Goran Dragic
should be available in free agency. But Nelson, who has a player option for next season on the two-year, cap-room-exception deal he signed this summer, should be a fine fit to lead a committee that also features veterans
Devin Harris
and
Raymond Felton
.
Nelson provides at least reasonable facsimiles of some of the best attributes of the Mavs' last few opening-night point guards. He's not among the precious few in NBA history who are on Kidd's level as a leader, but the muscular, 6-foot Nelson provides toughness, a take-charge personality and would score high on any basketball IQ tests. He's not as quick as Collison, but Nelson has a knack for getting in the lane and finishing or finding a teammate for an easy bucket. Nelson isn't as accurate a long-range marksman as Calderon, but he has shot better than 40 percent from 3-point range four times in his career.
In other words, the squatty, 6-foot Nelson is capable of doing anything the Mavs ask of their point guards.
"He's been around for a long time now and he always plays with certain poise,"
Dirk Nowitzki
said. "He's a great shooter, so you can never leave him open. And if he gets in there he's a good passer – I love his penetrations.
"So with the lineup we've got out there, he should get his fair share of pick-and-rolls, he should get his fair share of open shots. And if he's open, I'll take a shot up any time."
In summary, here's what the Mavs need from Nelson: Be aggressive. Be smart. Be tough. Be yourself.
October, 15, 2014
Oct 15
2:56
PM CT
DALLAS -- The Mavericks' starting five will make its debut as a full unit in Friday's preseason game against the
Cleveland Cavaliers
.
"We're going to play our normal group Friday and we'll go from there," coach Rick Carlisle said.
It is a certainty that
Dirk Nowitzki
will not play Saturday against the
Indiana Pacers
. Nowitzki, who is entering his 17th season, has said that he will not play both ends of back-to-backs during the preseason.
It'd make sense for the Mavs to rest other veterans, such as center
Tyson Chandler
, shooting guard
Monta Ellis
and point guards
Jameer Nelson
and
Devin Harris
, against the Pacers as well.
For now, the focus is on the starting five building some chemistry after minor injuries to Nowitzki (hip) and Ellis (knee) have prevented the starters from all being on the floor together for game action.
"I'm looking forward to seeing how it works in a game," Nowitzki said. "We put in a lot of new sets here the last couple of days, so I think it's going to take a few reps and a few games to get everybody on the same page. But, yeah, it should be a fun game."
October, 15, 2014
Oct 15
11:14
PM CT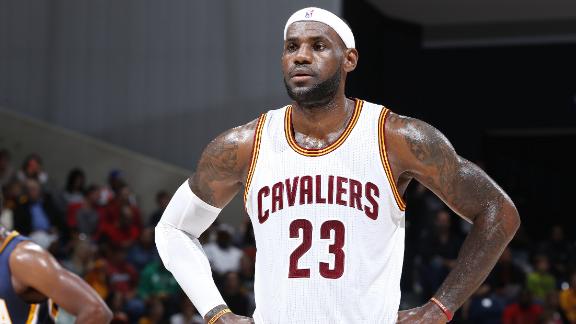 Michael Jordan was surprised and a bit bewildered to hear LeBron James and Dirk Nowitzki suggest Wednesday that they'd like to see the NBA's 82-game regular season shortened.
"I love both of those guys, but as an owner who played the game, I loved playing,'' Jordan, who owns the Charlotte Hornets, told ESPN during a telephone interview. "If I wasn't playing 82 games, I still would've been playing somewhere else because that's the love for the game I had. As a player, I never thought 82 games was an issue.
"But if that's what they want to do, we as owners and players can evaluate it and talk about it. But we'd make less money as partners. Are they ready to give up money to play fewer games? That's the question, because you can't make the same amount of money playing fewer games.''
When asked about the NBA's experiment with a 44-minute exhibition game Sunday, as opposed to the usual 48 minutes, James and Nowitzki said they'd prefer a shorter season to shorter games.
"It's not the minutes, it's the games," James said before the Cavaliers' preseason victory over Indiana. "The minutes doesn't mean anything. We can play 50-minute games if we had to. It's just the games. We all as players think it's too many games. In our season, 82 games is a lot.''
Nowitzki said he'd recommend that the season be cut from 82 games to the "mid-60s.''
October, 15, 2014
Oct 15
9:00
AM CT
DALLAS -- Maybe Mavericks fans should cross their fingers, but it looks like the team's projected starting five will finally get some game action together this weekend.
All of the starters are finally healthy, with
Dirk Nowitzki
(hip) and
Monta Ellis
(knee) recovered from their minor injuries. The group should play together for the first time this weekend, although Nowitzki and possibly other veterans don't plan to play in both games of the back-to-back.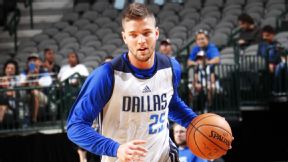 Glenn James/NBAE/Getty ImagesChandler Parsons, entering his fourth season in the NBA, is the least experienced of the Mavs' starting five.
Getting to the regular season as healthy as possible is the top priority, but the preseason is particularly valuable for a group that features three new pieces in the starting five.
"It's four other new pieces for me," said point guard
Jameer Nelson
, who joins small forward
Chandler Parsons
and center
Tyson Chandler
as the fresh faces in the starting five. "It's tough, because you're trying to learn the offense, you're trying to learn the defense. Everything is on the fly. Everything is different.
"I just found myself thinking too much, trying to do things the right way and sometimes that takes away from being aggressive. So I just have to be who I am and figure out the defensive schemes and offensive execution as we go along."
It's not all new for Chandler, of course, considering that the Mavs haven't made major scheme changes since No. 6 manned the center spot during the 2010-11 title season. But Nowitzki is the only player left from that team.
October, 15, 2014
Oct 15
2:19
PM CT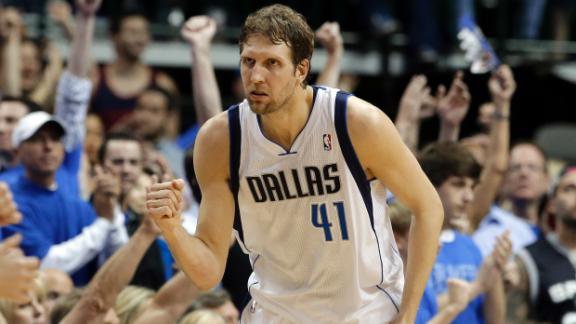 Dirk Nowitzki and LeBron James see no need for the NBA to experiment with the length of games.
The length of the season? Nowitzki and James would be all for shortening it significantly, although they realize that business realities make that extremely unlikely.
"I think you don't need 82 games to determine the best eight in each conference," Nowitzki said Wednesday. "That could be done a lot quicker, but I always understand that it's about money, and every missed game means missed money for both parties, for the league, for the owners, for the players. I understand all that, and that's why I don't think it's going to change anytime soon."
James, speaking before the Cavs hosted a preseason game against the Indiana Pacers, was adamant the length of games isn't what should be at stake. And he said most of his fellow players are in agreement.
"No. It's not the minutes, it's the games," James said. "The minutes doesn't mean anything. We can play 50-minute games if we had to. It's just the games. We all as players think it's too many games. In our season, 82 games is a lot. But it's not the minutes. Taking away minutes from the game is not going to shorten the game at all.
"Once you go out and play on the floor, it don't matter if you play 22 minutes -- like I may be playing tonight -- or you're playing 40 minutes," James added. "Once you play, it takes a toll on your body. So it's not lessening the minutes, I think it's the games."
October, 14, 2014
Oct 14
8:29
PM CT
Dallas Mavericks
owner Mark Cuban hopes 44-minute games don't get past the preseason experiment stage in the NBA.
"I can't get enough NBA," Cuban told ESPNDallas.com via the Cyber Dust messaging app. "Best entertainment in the world. So more is better."
PODCAST
Mavericks owner Mark Cuban tells Dan Le Batard about how he became successful, Roger Goodell's role as commissioner of the NFL and more.

Listen

The
Brooklyn Nets
and
Boston Celtics
will
play a 44-minute game Sunday
-– four minutes shorter than the standard NBA game -– as the league tests a format with fewer minutes and fewer mandatory timeouts.
NBA president of basketball operations Rod Thorn said in a statement that the league office is following up on a suggestion from the recent coaches' meeting to consider a shorter format for games.
Miami Heat
coach Erik Spoelstra told reporters Tuesday that the length of games isn't nearly as concerning as squeezing so many games into a short period of time, forcing many teams to play more than 20 back-to-backs in an 82-game season.
Cuban, who goes to great lengths looking for ways to help extend players' careers, understood Spoelstra's point about the value of games but noted that trimming the NBA schedule would have a wide-reaching economic impact.
"More games are always a risk," Cuban said. "But we play in facilities and employ a lot of people who benefit from those games."
October, 14, 2014
Oct 14
1:38
PM CT
IRVING, Texas -- The
Dallas Mavericks
are finalizing paperwork to sign Japanese point guard
Yuki Togashi
.
The plan is for the 21-year-old Togashi, who stands 5-foot-6 and weighs 145 pounds, to spend the rest of the preseason with the Mavs before joining their D-League affiliate Texas Legends.
"It's going to be a great experience," Togashi said.
The Legends will automatically own Togashi's rights in the likely event that he is waived by the Mavs.
Togashi played the last season and a half in the Japanese pro league and was on the Mavs' summer league team.
October, 14, 2014
Oct 14
9:18
AM CT
DALLAS --
Jae Crowder
carved out a niche as a versatile defensive stopper during his first couple of seasons with the
Dallas Mavericks
.
Crowder wants to be much more.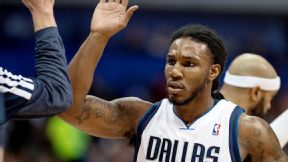 Jerome Miron/USA TODAY SportsJae Crowder focused on his offensive game during the offseason.
Crowder is well aware that he'll never be a go-to guy for the Mavs. But he firmly believes he can be much more effective as a scorer and playmaker than he has been in his first two seasons, when Crowder averaged 4.8 points and 1.0 assist in 16.7 minutes per game, shooting 40.9 percent from the floor and 32.9 percent from 3-point range.
"I'm trying to make plays on the other end, not just be one-dimensional," Crowder said. "I'm a much better player than just a defensive player, but I do bring a lot of defense to my team and that is what has gotten me on the court in my two years in the league. I'm just trying to grow my game and expand my game as much as possible."
Crowder proved he can be that kind of playmaker, at least at a lower level, by posting triple-doubles in his only two D-League appearances last season. But the Dallas decision-makers don't envision Crowder developing into an offensive focal point for the Mavs.
Owner Mark Cuban mentions gritty stoppers such as Memphis'
Tony Allen
or former San Antonio Spurs pest Bruce Bowen when discussing Crowder's potential. By the numbers, Crowder was Dallas' best defensive player last season, when his defensive rating of 99.0 points per 100 possessions was by far the lowest on the roster. (Crowder's net rating of plus-12.1 was also the Mavs' best.)
October, 13, 2014
Oct 13
1:38
PM CT
DALLAS --
Mavericks
guard
Monta Ellis
returned to practice Monday, only four days after suffering a slight sprain to his left knee.
"We started out with the idea that he was just going to do noncontact stuff, but he felt good and wanted to keep going," coach Rick Carlisle said. "He went through the entire practice, which is great."
Ellis, who declined to comment, prides himself on his durability. He was the only Maverick to play all 82 games last season, the second straight year that he didn't miss a game. He has proven to be a remarkably quick healer before, playing through a hamstring strain that the Mavs expected to sideline him for 10 days last season.
Carlisle wasn't ready to commit to Ellis playing in either of the Mavs' back-to-back preseason games this weekend, but the guard should be available unless he has a setback.
"The signs today are good," Carlisle said. "Tomorrow's another day and we'll just keep going, but it's great to see him out here."
Carlisle said Ellis, who averaged 19.0 points and a team-high 5.7 assists last season, was having an outstanding training camp before suffering the injury. Ellis picked up where he left off during Monday's practice.
"I didn't know he was practicing today and he was moving great," center Tyson Chandler said. "His speed is just unbelievable."
Chandler was referring to Ellis' foot speed, but his recovery speed is pretty remarkable, too.