November, 25, 2014
Nov 25
9:23
AM CT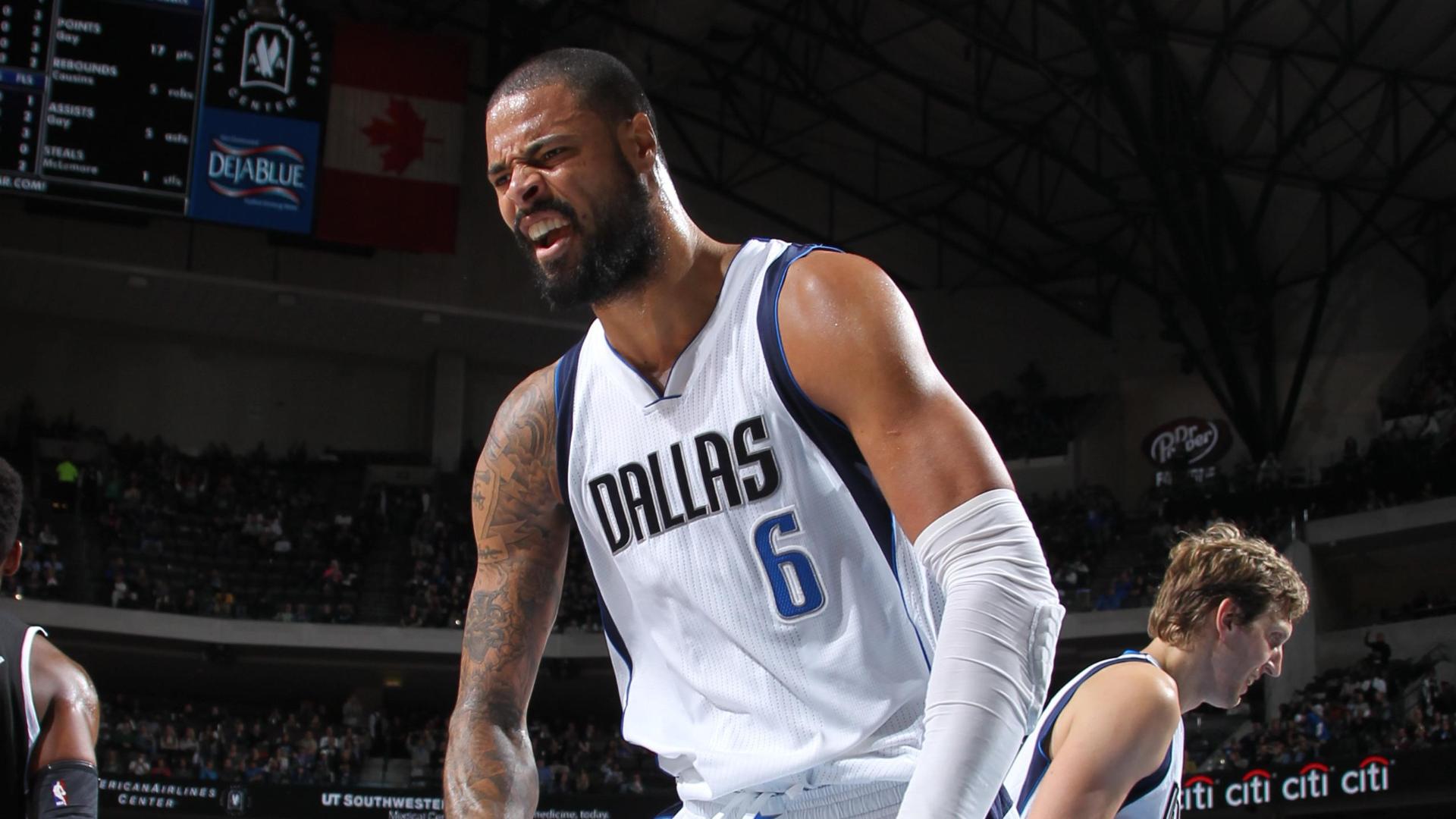 DALLAS -- Center Tyson Chandler felt like a scapegoat "at times" for the New York Knicks' failures last season.
The Knicks entered the season with high expectations coming off a trip to the second round of the Eastern Conference playoffs but ended with a 37-45 record and the firing of coach Mike Woodson. Chandler was dealt to the Dallas Mavericks in a six-player deal in June when new Knicks president Phil Jackson cited a desire to change the chemistry of the franchise. Those comments offended the big man, who prides himself on professionalism and leadership.
Chandler missed 20 games early last season because of a nondisplaced fracture of his right fibula, with the Knicks falling to 10 games under .500 in his absence. With a pained grin on his face, he said he believed he occasionally received too much blame for the Knicks' disappointing performance last season.
"At times, at times, at times," Chandler told ESPNDallas.com. "But I feel like New York made me a lot stronger, a lot stronger of a person going through trials and tribulations there. But that's life."
Chandler will face the Knicks on Wednesday night for the first time since the trade to Dallas. Chandler, considered a leader in the Mavericks' locker room and a negative influence in the Knicks', thinks the difference is his teammates' tolerance for his attempts to hold them accountable.
November, 24, 2014
Nov 24
11:35
PM CT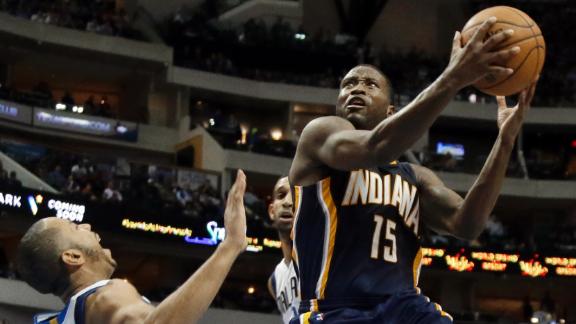 DALLAS -- One of the worst offensive teams in the NBA limped into the American Airlines Center and lit up the
Dallas Mavericks
.
These aren't the
Indiana Pacers
that advanced to the Eastern Conference finals last season. Far from it, considering none of the five starters from that team suited up for Indiana on Monday night.
These bunch of journeymen came to Dallas ranked 28th in the NBA in scoring, not having cracked triple digits since a season-opening victory over the still-winless Philadelphia 76ers. But these Pacers handed the Mavs a humiliating 111-100 home loss.
[+] Enlarge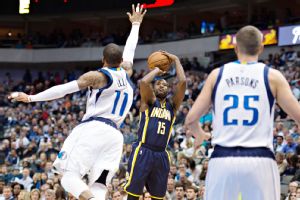 Jerome Miron/USA TODAY SportsDonald Sloan torched the Mavericks for 29 points on 10-of-14 shooting.
"There's no way around it -- this is an embarrassing loss," Mavs small forward
Chandler Parsons
said. "There is no excuse for this. We have to come out and play harder."
Well, embarrassing is one way to put it after a team that considers itself a Western Conference contender gets punked on its home court by the injury-riddled Pacers' leftovers.
"A horrible loss. Horrific. Awful," power forward
Dirk Nowitzki
said after the 10-5 Mavs' second straight loss. "I can't find any more words."
The Mavs couldn't find a way to keep the Pacers, who improved to 6-8, from scoring at will. Dallas didn't win a single quarter despite shooting 50 percent from the floor in a game coach Rick Carlisle referred to as a "physical demolition."
Dallas' failure to score from the floor for more than half of the fourth quarter killed any comeback hopes, but not many words were muttered about the Mavs' offense in the locker room after this mess. The focus was firmly on the defensive disaster, on all the warts exposed in this embarrassment.
"We just have to put up more resistance," Carlisle said. "That's where it's at defensively, and our guys know that."
Frankly, this can't be considered too stunning, even with the all the Pacers' offensive problems. The Mavs feature the NBA's most efficient offense, but this roster has a lot of flaws defensively.
Look at the Mavs' starting lineup. It features a pair of guards who are puny by NBA standards and a 36-year-old power forward who wasn't exactly considered a lockdown defender even during his younger days.
Add a laissez faire attitude to that mix and it really gets ugly.
"I said it before the season: This team is going to be challenged defensive-wise and rebounding-wise," Nowitzki said. "If we don't bring it every night, we're going to get lit up.
"We were just a step slow. When you start the game off slow and let guys get their confidence, then all of a sudden, they're throwing in shots that they probably wouldn't make if you play from the beginning. You know, it's another reminder that we're not good enough to coast against anybody."
If Dallas maximizes its potential, the Mavs might be decent defensively. If they don't, the Mavs will be miserable on that end of the floor, an exciting team that has no real title hopes.
"We've got to get better," said center
Tyson Chandler
, the only Dallas starter who has a reputation as an above-average defender. "We've got to correct that if we want to accomplish anything this season."
All due respect to Pacers guard
Donald Sloan
, a Dallas native, but something has gone seriously wrong when that dude goes off for 29 points on 10-of-14 shooting. And when seven Pacers score in double figures when their best scorers are in street clothes. And when the Pacers, who were shooting 32 percent from 3-point range, hit half of their 26 attempts from long distance.
"Teams are shooting too high of a percentage against us, and it's not just because teams just make shots against us," Chandler said. "It's because we allow teams to make shots against us. We can't have guys coming in here with all the confidence in the world having career nights. We've got to put a stop to it."
The Mavs couldn't put a stop to a nosebleed Monday night, much less the Pacers.
November, 24, 2014
Nov 24
10:31
PM CT
Associated Press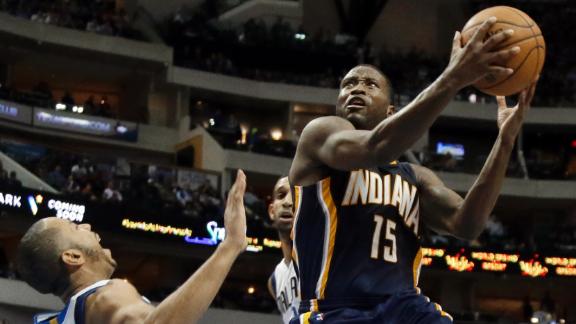 November, 24, 2014
Nov 24
10:05
PM CT
DALLAS -- The
Dallas Mavericks
had a scoring drought of more than five minutes in the fourth quarter, killing their comeback hopes after a poor defensive performance against the
Indiana Pacers
.
The Pacers, who entered the night ranked 28th in the NBA in scoring with 90.9 points per game, had not hit triple digits since a 103-91 win over the Philadelphia 76ers in the season opener.
Player of the game:
Pacers point guard
Donald Sloan
, who starred at nearby Seagoville High, had a heck of a homecoming. Sloan scored 29 points on 10-of-13 shooting and had five assists.
Trend of the night:
The Mavs have lost two straight games to teams missing All-Star centers. Dallas followed up its loss to Houston without
Dwight Howard
by losing to Indiana without
Roy Hibbert
, who sat out due to a sprained ankle. It's the first time this season that the Mavs lost consecutive games.
Stat of the night:
The Mavs got outscored by 17 points in Dirk Nowitzki's 33 minutes despite him scoring 22 points and grabbing 11 rebounds.
November, 24, 2014
Nov 24
7:33
PM CT
DALLAS -- The wait continues for guard Raymond Felton to make his debut for the Dallas Mavericks.
Felton was inactive in Monday night's 111-100 loss to the Indiana Pacers, the first game he was eligible to play this season after recovering from a high right ankle sprain and serving a four-game suspension stemming from gun charges in New York last season.
Felton, who was acquired along with center Tyson Chandler in a six-player trade with the New York Knicks over the summer, is the odd man out for now in the Mavs' crowded backcourt.
Jameer Nelson and Monta Ellis have started every game for the 10-5 Mavs. Devin Harris and J.J. Barea have served as dual spark plugs off the bench.
"We've got a good situation," Dallas coach Rick Carlisle said before Monday's game. "There are a lot of teams right now that would die to have one or two of our point guards. We've got one or two extra, which is a great position to be in."
Felton, who has averaged 13.1 points and 6.5 assists per game in nine NBA seasons, has been almost solely a starter throughout his career but is willing to adapt to a different role in Dallas. He isn't certain, however, how he might fit in the Mavs' rotation.
November, 24, 2014
Nov 24
12:15
PM CT
DALLAS --
Raymond Felton
is finally ready to make his debut for the
Dallas Mavericks
.
The veteran has recovered from a high-ankle sprain suffered Oct. 10. Felton has served his four-game suspension stemming from his guilty plea to gun charges, a part of his nightmare campaign with the
New York Knicks
last season.
Now Felton, who looked forward to a fresh start after arriving in Dallas with center
Tyson Chandler
in a June trade, can finally focus on basketball again.
"It's been a long time," said Felton, who is available for Monday night's home game against the Indiana Pacers. "I've put everything behind me and now it's time to get back on the court and start business now."
However, it's hard to say exactly when Felton will actually get back on the court. Or how Felton will fit in a crowded backcourt rotation.
Four veteran guards have played significant roles during Dallas' 10-4 start.
Monta Ellis
leads the Mavs in scoring at 19.6 points per game and is tied for the team lead in assists (4.6), getting the vast majority of the minutes at shooting guard.
Jameer Nelson
, who is averaging 7.4 points and 4.6 assists, has started every game at point guard.
Devin Harris
(8.7 points, 4.4 assists) and J.J. Barea (8.4 points, 4.4 assists) have been dual spark plugs off the bench.
"We'll just have to see," coach Rick Carlisle said on Felton's role. "There's nothing definite at this point in time.
"We got a lot of point guards. We got to give them all a lot of love. It's really a great situation for us. You look around the league, Indiana's got two point guards out. We're very fortunate. Are there enough minutes for all of them? No. But they're all professionals and they're all going to stay ready. I feel it's a very good position to be in."
Felton, who can play either guard position, has averages of 13.1 points and 6.5 assists per game in nine NBA seasons. He has started all but 55 of his 667 career appearances but understands he'll have to adapt to a different role in Dallas.
At this point, Felton isn't certain what that role will be. He hasn't had any discussions with Carlisle about it.
"That's not my decision to make," Felton said. "I've worked hard through training camp and I've worked hard ever since I've been injured, so the biggest thing is whatever Coach and this staff needs me to do, that's what I'll do."
November, 22, 2014
Nov 22
11:50
PM CT
HOUSTON -- As a 17-year veteran,
Dirk Nowitzki
dreads back-to-backs under any circumstances.
To have been on the butt end of a back-to-back for all four meetings against a fierce rival? That strikes Nowitzki as strange, to say the least.
That's the case for the
Dallas Mavericks
against the
Houston Rockets
this season. Without prompting, Nowitzki made a point to note it after Mavs' 95-92 loss Saturday night.
"They're catching a break this year," Nowitzki said, replying to a question about whether the Mavs failed to take advantage of a break with Rockets center
Dwight Howard
missing the game due to a knee injury. "They're catching us four times on back-to-backs. I've never even seen this in this league before, but it is what it is. You catch a break, you don't catch a break, it doesn't matter. You've still got to win a game."
The Rockets hadn't played since Wednesday night. They'll be extraordinarily well rested for their next two meetings with the Mavs, too.
Houston is off the previous two days before hosting the Mavs on Jan. 25. Houston will have nine days off when they go to Dallas for their first game after the All-Star break on Feb. 20. In the final meeting between the teams of the regular season, the Rockets will also be on a back-to-back, hosting the
Sacramento Kings
the night before playing in Dallas on April 2.
"Hey, it kind of looks weird on paper," Nowitzki said. "I don't think I've ever seen this in this league, that you play one team four times on a back-to-back, especially a good team that you're trying to fight with. But it is what it is. And, like I said, back-to-back or not, you're up four in the last minute, you've got to find a way to close it out."
Mavs owner Mark Cuban shrugged off the strange scheduling quirk, joking about a conspiracy theory.
"It's the scheduler -- he's a Rockets fan. He showed me his ring from '94," Cuban said sarcastically. "I don't know, it's just the way it is."
November, 22, 2014
Nov 22
11:45
PM CT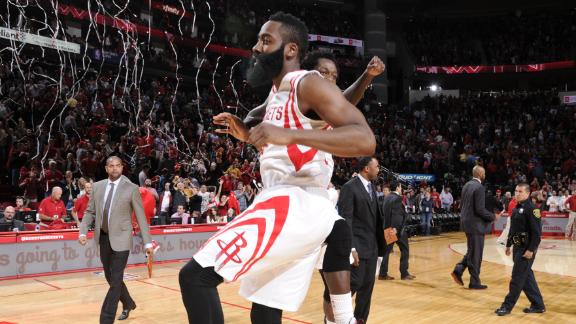 HOUSTON -- This is far from how
Chandler Parsons
hoped his return to his former NBA home would play out.
The booing by
Houston Rockets
fans every time he touched the ball didn't bother Parsons too much, though he did make a point to remind them via the media that he was a restricted free agent and the franchise declined its right to match his three-year, $46 million contract. Parsons said he was actually touched by the "real classy" tribute video played on the Toyota Center big screens during a timeout, when he waved to acknowledge the crowd while receiving more cheers than jeers.
All in all, the Rockets fans and organization treated Parsons fine during his first trip here as a member of the
Dallas Mavericks
. Parsons' problem was with his performance in the Mavs' 95-92 loss Saturday night to the injury-depleted Rockets.
"Wish I would have played a little bit better," said Parsons, who scored 8 points on 3-of-9 shooting and went 0-of-5 from 3-point range. "Never really got settled in. It's part of it, but the most frustrating part is just to lose."
[+] Enlarge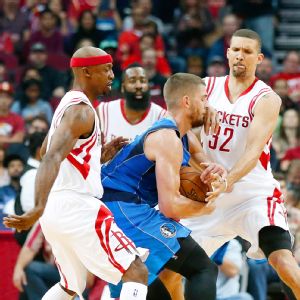 Scott Halleran/Getty ImagesChandler Parsons and the Mavs were pretty well contained by the Rockets.
Parsons had plenty of company in his misery, as the 10-4 Mavs' six-game win streak was snapped. Dallas' two most potent offensive weapons also had off-nights.
Heck, Parsons was sizzling, compared to all-time great
Dirk Nowitzki
, who knocked down only four of his 18 shots from the floor and none of his eight 3-point attempts. That was a shocker for a future Hall of Famer who is putting up the most efficient numbers of his career. Shooting guard
Monta Ellis
, the Mavs' scoring leader, wasn't much better and scored 17 points on 7-of-21 shooting.
Nowitzki and Ellis, in particular, have been the focal points of a Dallas offense that has gotten off to a historically hot start and is averaging more points per possession than any NBA team on record. The Mavs were fresh off matching the scoring record at the American Airlines Center while lighting up the
Los Angeles Lakers
for 140 points in Friday's blowout win.
Dallas' Run DMC trio -- Dirk, Monta, Chandler -- each scored more than 20 points in that rout, despite sitting out the fourth quarter. They combined to miss only 10 of 33 shots against the Lakers, the league's worst defensive team.
That makes the trio's 14-of-48 shooting night against the 10-3 Rockets all the more startling. Sure, Houston has the best defensive efficiency in the NBA, but the Rockets were without defensive anchor
Dwight Howard
, who wore a bow tie and watched from the bench while nursing a strained right knee.
"We didn't have a good shooting night, which is going to happen, and on those nights, your defense has got to hold you in there," Mavs coach Rick Carlisle said. "Clearly, from start to finish, our defense wasn't good enough."
Dallas' defense was dreadful in the first half, when Houston moved the ball like the Mavs have most of the season and sizzled from long range. The Rockets' 13-of-25 shooting from 3-point range fueled their 60-point first half.
The Mavs managed to rally from an 18-point deficit in the second half, but they failed to finish the deal after building a five-point lead with 1:22 remaining. Rockets star
James Harden
had five of his 32 points in the final minutes, including the go-ahead, old-school 3-point play that left Nowitzki wondering why a charge wasn't called.
In the final seconds, Ellis missed a 3 that would have sent the game into overtime. The Mavs couldn't believe it came down to that, as badly as their best scorers shot the ball.
"Still should have won the game," said Nowitzki, whose 11 points were a season low. "I don't care, I missed a lot of shots, but up four with fifty-something seconds to go, you've got to find a way against a division rival to pull that game out."
The Mavs won't find a way to win many when their best scorers struggle so badly.