January, 29, 2015
Jan 29
5:01
PM CT
January, 29, 2015
Jan 29
1:00
PM CT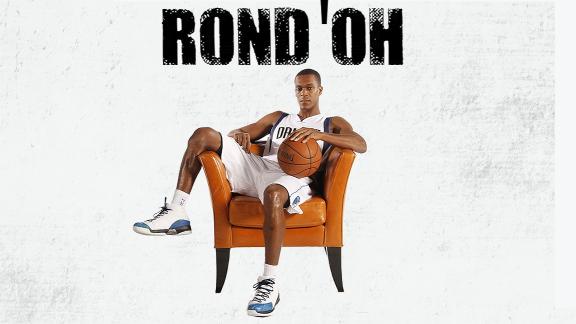 ESPNDallas.com columnist Jean-Jacques Taylor and MavsOutsider.com editor-in-chief Bryan Gutierrez join Tim MacMahon each week to run a three-man weave on a few questions on the minds of Mavericks fans.
1. How much should Monta Ellis be worth to the Mavs this summer?
Gutierrez:
Dallas will only have early Bird rights with him, meaning the Mavs can go over the cap but can offer only 175 percent of the previous season's salary in order to re-sign him. The Mavs could realistically go up to roughly $14 million for Monta, but four years, $48 million would be a very reasonable offer. If that's not good enough, the shooting guard position is one of the easier ones to replace, in theory. They'll just have to move on if that is the case.
Taylor:
He's worth more than
Rajon Rondo
, I know that. He's pretty close to
Dirk Nowitzki
as the best player on the team, and the best thing about him is that he's unafraid -- and you certainly can't say that about every good player. He wants the ball in his hands at the end of games and he wants to win. How do we know? He doesn't miss games and he takes charges.
MacMahon:
If the Mavs want to keep Ellis, assuming he opts out of the final season of his contract, there really isn't much wiggle room in negotiations. His early Bird rights allow the Mavs to make an offer with a starting salary of up to $14.63 million. The Mavs need to put that on the table or find a replacement for Ellis. (
Wesley Matthews
, a 3-and-D shooting guard with good size and playoff experience, is an intriguing possibility.) With the allowable annual raises, the Mavs could give Ellis a three-year, $47 million deal. That's $1 million more than
Chandler Parsons
' contract -- and that probably matters to Ellis.
2. How much should Rondo be worth to the Mavs this summer?
Gutierrez:
Based on the CBA, Rondo can get up to five years at roughly 30 percent of the cap and can get a max-salary deal from Dallas using Bird rights. That means the Mavs could offer a max-out deal of up to five years and roughly $107.4 million to Rondo. That's a huge spike and likely well outside the desired range for the Mavs. Rondo is coming off a five-year, $55 million extension. Four years and no higher than $48-50 million makes a lot of sense.
Taylor:
He's not worth a max contract on this team. He's a terrific player but he looks like a bad fit on this team because he doesn't do what the Mavs need him to do, which is be a consistent outside shooter, especially when he gets open jumpers on the weak side. The next few months will tell the truth about Rondo's future here.
MacMahon:
Mark Cuban has made it clear that he intends to keep Rondo, but it'd be crazy to give him anything close to a max contract. If that's what Rondo is looking for, let him test the market. Maybe he'll get it from the
Los Angeles Lakers
or
New York Knicks
, but it'd be surprising to see a contender step up with that kind of offer for a point guard who is a poor shooter and isn't as explosive as he used to be. I'd be hesitant to pay Rondo more than $10 million per year.
3. How much should Tyson Chandler be worth to the Mavs this summer?
Gutierrez:
Chandler has clearly shown his value to the Mavs this season. Like with Rondo, Dallas can offer a max-salary deal to Chandler using Bird rights. Chandler signed a four-year, $55.4 million deal with New York in 2011.
Memphis Grizzlies
center
Marc Gasol
is the most intriguing option for Dallas if it wanted to move on from Chandler, but it's hard to imagine the Mavs would deviate from that basic framework of his previous contract for a proposal to arguably its most valuable player.
Taylor:
I'd pay whatever it takes to keep him because he's one of the players on this team who is truly interested in playing defense. And as he gets older, he can morph into more of a role player as needed. He's never been about scoring, but his defense and rebounding is a tone-setter for this team. Besides, if he's not playing center then some dude like
Samuel Dalembert
is doing it.
MacMahon:
Cuban has admitted it was a mistake to not offer Chandler a long-term deal after the 2011 lockout. He won't make the same mistake twice, even though there is risk involved in committing to a 32-year-old center with Chandler's injury history. Chandler, the Mavs' MVP so far this season, has earned a three-year deal in the $40-45 million range. If his market value is higher, the Mavs should still pay up.
January, 28, 2015
Jan 28
11:30
PM CT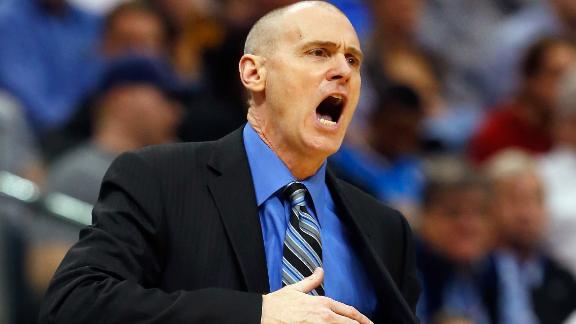 HOUSTON -- There is a good reason the
Dallas Mavericks
were among the suitors for
Josh Smith
before his midseason signing with the
Houston Rockets
.
No, Smith's soft perimeter touch had nothing to do with it, never mind the renowned bricklayer knocking down a career-high-tying four 3-pointers to help Houston hold off the Mavs 99-94 on Wednesday night. It's because the Mavs need all the bench help they can get.
That reality has slapped the Mavs during their first four-game losing streak in two seasons.
[+] Enlarge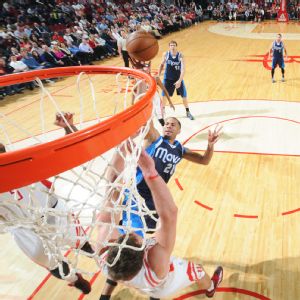 Bill Baptist/NBAE via Getty ImagesMavs sixth man Devin Harris was held scoreless, part of a Dallas bench that was outscored 47-18 by the Rockets.
A lot of things have gone wrong during this skid that has knocked Dallas down to seventh place in the Western Conference standings. Not much has gone right for the Mavs' reserves.
Dallas' bench has been outscored by double figures in each of the four losses. The Mavs' second unit is at a 76-point disadvantage during the streak.
It really got ugly against the Rockets, who had a 47-18 edge in bench points. Smith, whom the Mavs tried to recruit to replace
Brandan Wright
, had as many points as all Dallas reserves combined.
"Everybody's in a little bit of a rut," sixth man
Devin Harris
said after a scoreless outing for him, "but we're still searching for our identity and who we are."
The
Rajon Rondo
deal rocked the Mavs' rotation, and coach Rick Carlisle is still searching for solutions. So is the Dallas front office, which is optimistic about signing 36-year-old center Jermaine O'Neal before the All-Star break and will be aggressive in pursuit of proven veterans who receive buyouts if those opportunities present themselves.
The Mavs didn't give up any major assets to get Rondo, but Wright and gritty swingman
Jae Crowder
were both significant role players that Dallas has struggled to replace. The Mavs really miss Wright in particular.
Wright might not have been as impactful as previous Dallas sixth men, such as
Jason Terry
and
Vince Carter
-- who each just so happened to be on the opposing teams the past two nights -- but Wright was an impact player in his niche role.
It isn't just about the 8.8 points and 4.1 rebounds the high-flying Wright averaged as Tyson Chandler's backup this season. With the Mavs, Wright had a magnetic effect on opposing defenses due to the threat of him finishing above the rim, creating space for others to work. He had an especially good rapport with Harris, who hasn't been the same player since the trade.
With Wright on the floor this season, Harris scored 149 points in 310 efficient minutes, shooting 49.5 percent from the floor and 45.3 percent from 3-point range.
Without Wright on the floor, Harris has scored only 85 points in 321 minutes, shooting 33.8 percent from the floor and 34.3 percent from 3-point range.
That's a problem. Wright isn't walking through that door, at least not until the Mavs face the
Phoenix Suns
, where the
Boston Celtics
shipped him weeks after the Rondo deal.
"It's been tough," said Harris, who was 0-of-4 from the floor with three turnovers in only 13 minutes against the Rockets. "That's because we have a different team. We went from more of a pick-and-roll team -- getting guys at the rim, and if they take away the lob, we get wide-open 3s. We're not getting that anymore, so we've got to figure out different ways to be effective."
Even an excellent X's-and-O's mind like Carlisle struggles to compensate for major personnel issues.
Harris and fellow guard J.J. Barea have been the only constants off the Mavs' bench since the trade. And both of their production has slipped significantly as the Mavs have gone a mediocre 11-9 in that time.
"We've got to keep J.J. and Devin aggressive,"
Dirk Nowitzki
said. "Keep getting them in the lane. They're both big playmakers for us."
The rest of the Mavs' bench rotation is about as predictable as the Texas weather.
Rookie
Dwight Powell
has had some promising moments, but it's far from ideal to rely on a rookie second-round pick who was a trade throw-in. But he's better than
Greg Smith
, not to damn with faint praise while waiting.
Al-Farouq Aminu was the only reserve to play well against the Rockets, recording 10 points, seven rebounds and six blocks in 29 minutes, but there's a reason he has gotten a lot of recent DNP-CDs. Just like there's a reason that Carlisle doesn't call on
Charlie Villanueva
or
Richard Jefferson
some nights.
"We've just got to figure it out," said Carlisle, who will keep tweaking the rotation. "There's no one answer, but we've got to keep up the collective fight."
The fights the past four games have left the Mavs' bench bloodied and beaten.
January, 28, 2015
Jan 28
9:43
PM CT
Associated Press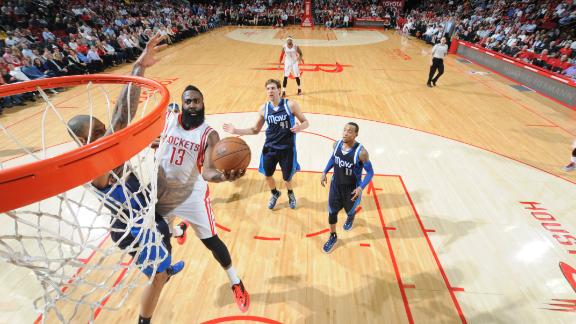 HOUSTON -- Josh Smith scored 18 points and James Harden added 17 as the Houston Rockets used a balanced scoring effort to outlast the Dallas Mavericks for a 99-94 on Wednesday night.
It was the third straight win for the Rockets, who played without Dwight Howard (sprained ankle), and the fourth loss in a row for Dallas.
The Mavericks were down by 3 with 15.9 seconds left when Harden knocked Tyson Chandler down on a shot. He was given a flagrant foul after a review, but Chandler missed both free throws.
Terrence Jones blocked a shot by Monta Ellis but knocked it out of bounds, giving Dallas another chance. The inbounds pass by Chandler Parsons sailed out of bounds to give Houston the ball. Harden made two free throws after that to secure the win.
Ellis led the Mavericks with 33 points.
January, 28, 2015
Jan 28
7:13
PM CT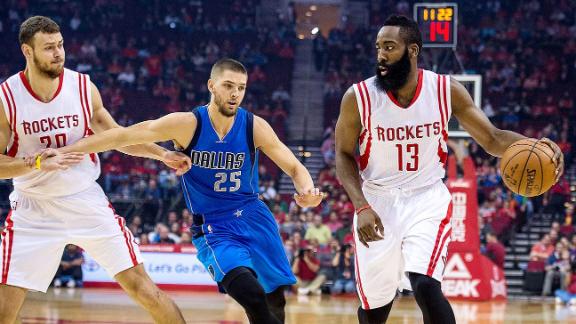 HOUSTON -- If Chandler Parsons had a midseason MVP vote, it would go to former teammate James Harden.
"For sure. He's the best player in basketball right now," Parsons said before his Dallas Mavericks fell 99-94 to Harden's Houston Rockets on Wednesday night. "The things he's doing are incredible. The scouting report is focused in on stopping him and you see he's still getting 30 a game. It's impressive."
Harden leads the NBA in scoring with 27.6 points per game and is averaging 5.6 rebounds, 6.8 assists and 2.0 steals. He's the primary reason the Rockets had a 32-14 record after Wednesday's game despite co-star center Dwight Howard missing several games due to injury.
"Right now, there's nobody playing better basketball on the planet," Dallas coach Rick Carlisle said.
"It doesn't really surprise me," Parsons said of Harden's season so far. "I saw firsthand how talented he is. He works extremely hard. He's playing better defense this year. He's leading their team. He's hitting tough shots. There's not much he's not doing.
"I'm happy for him. Obviously, I don't want him to play well tonight, but I'm happy how he's playing."
January, 28, 2015
Jan 28
12:00
PM CT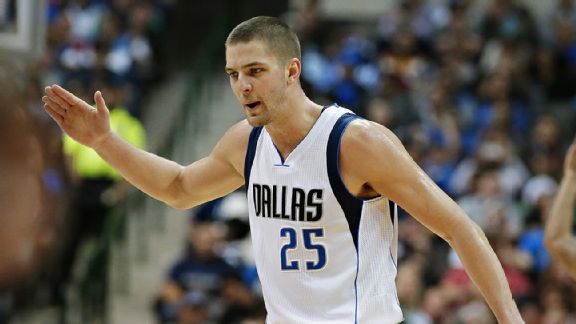 AP Photo/LM OteroChandler Parsons is averaging 15.5 points and 4.6 rebounds per game this season.
HOUSTON -- For many, getting a massive raise and being asked to do less work sounds like a dream scenario.
It sure isn't what
Chandler Parsons
had in mind when he moved up Interstate 45 this summer, though.
Parsons is cashing the big paychecks, leaping from six-figure salaries the last few seasons with the
Houston Rockets
to a three-year, $46 million deal with the
Dallas Mavericks
. The increased role and responsibilities he excitedly embraced upon arriving in Dallas, however, haven't materialized midway through his first season with the Mavs.
The Mavs paid a premium rate to pry Parsons away from the Rockets in restricted free agency in large part because they considered the 26-year-old small forward to be an ascending player, pointing to his scoring, rebounding and assist averages rising in each of his three seasons in Houston.
Those numbers have dipped across the board in Dallas – 15.5 points, 4.6 rebounds and 2.2 assists this season, down from 16.6, 5.5 and 4.0 a year ago – with Parsons playing fewer minutes and rarely serving as a focal point in the Mavs' flow offense. Those facts will surely fuel plenty of "Overpaid!" taunts from Rockets fans as Parsons returns to the Toyota Center in a rival uniform for the second time Wednesday night.
"I'm still the same player, if not a better player," Parsons told ESPNDallas.com. "I'm just accepting my role on this team. That's what coach gave me."
Added coach Rick Carlisle: "I like the way Parsons is playing. He's improved his game since he's gotten here in all areas. I think it's another example of where stats can lie a little bit."
A deeper look into Parsons' production confirms that he hasn't regressed since leaving the Rockets. His per-minute and per-possession scoring numbers have actually improved in Dallas. His rebounding is roughly the same.
The assist totals for Parsons, who is blessed with ballhandling skills and court vision that are rare in a 6-foot-9 package, have slipped significantly by any measure. That's a result of his role as a member of the Mavs' supporting cast with the vast majority of the play calls and offensive action designed to get the ball in the hands of shooting guard
Monta Ellis
and power forward
Dirk Nowitzki
.
For better or worse, Parsons spends most possessions spotting up on the weak side of the floor. He's shooting more 3-pointers than ever but getting fewer overall shots and playmaking opportunities than last season.
It isn't the role that Parsons envisioned when he left the Rockets after being the third wheel behind All-Stars
James Harden
and
Dwight Howard
. Yet Parsons doesn't want to rock the boat with a team that is 30-16 and ranks second in the league in offensive efficiency, although the Mavs are mired in a season-worst three-game losing streak.
"When you've got a guy like Monta who can score the ball, a lot of the offense goes through him and you've got one of the all-time great scorers in Dirk," Parsons said. "They're going to get their touches. I'm capable of playing off of those guys and still being able to get mine.
"I'm always ready for a challenge. As a competitor, you always want more. I think I can handle that. Ultimately, you want to be a good teammate. You want to come in, work hard, gain respect in the locker room from everybody. I think I've done a pretty good job of that, but it's all about winning. We can talk about winning championships, winning conference championships, Finals. That's how you get respect.
"I'm just trying to do anything I can to get us there. If that's not being the No. 1 or 2 option, I've accepted that, but I'm going to stay aggressive."
The question – which Parsons prefers to avoid discussing, deferring to Carlisle – is whether the Mavs would be better off if he had a bigger role.
The Mavs are 14-3 when Parsons scores at least 17 points. They are 9-1 when he attempts at least 15 shots. They are 6-1 when he has at least four assists.
According to Synergy Sports data, Parsons ranks in the 86th percentile of the NBA this season in per-possession scoring efficiency, a slight improvement from last season. He ranks in the 95th percentile as a pick-and-roll ballhandler and in the 89th percentile as a cutter, but he spends a lot of possessions just standing on the weak side and waiting, like a ridiculously rich version of
Steve Novak
.
"We're going to continue to look for opportunities to get him more involved here and there," said Carlisle, widely considered one of the league's most innovative offensive minds. "But I don't see it as a huge issue here. I just don't."
Part of the problem, if there is indeed one, is that Parsons has been too passive at times when he isn't getting many touches. That was particularly true in Sunday's loss to the
New Orleans Pelicans
, when the part-time model might as well have been a mannequin during a six-point, one-rebound, no-assist stinker.
Parsons responded when the Mavs momentarily made him an offensive priority the next game. He scored on designed plays on the first two possessions Tuesday night and finished the first quarter with 10 points on 4-of-4 shooting. Then he went back to being a role player, scoring nine points on 3-of-7 shooting the rest of the game as the
Memphis Grizzlies
routed the Mavs.
"Our offense is a free-flowing offense," Nowitzki said. "There might be five, six minutes I'm running up and down and don't get a shot. That's how our offense works, that's how we want to play, but sometimes when a guy is hot like that, maybe we've got to do a better job of finding him."
It's been difficult for Parsons to find a consistent comfort zone in Dallas.
Parsons struggled much of the first month of the season, when he fought through the worst shooting slump of his career while adjusting to a new system, surroundings and spotlight. He settled into a nice groove in late November, when he started a 10-game stretch in which he averaged 20.9 points and 2.9 assists while shooting 50.3 percent on 15.1 field goal attempts per game.
Then the blockbuster deal to acquire
Rajon Rondo
changed the dynamics of the Dallas offense and disrupted Parsons' rhythm. As Carlisle and the Mavs search for the best methods to use their unique new point guard, Parsons sacrifices touches.
In 19 games since Rondo's arrival, Parsons is averaging 13.8 points and 2.0 assists while shooting 47 percent on 11.3 field goal attempts per game. Not coincidentally, the Mavs' offensive rating has slipped more than seven points per 100 possessions during that span.
It's no surprise that Ellis and Nowitzki continue to be the Mavs' top two scoring options, but it's eyebrow-raising to see Rondo average more field goal attempts than Parsons.
"It takes some time," Parsons said of building a rapport with Rondo without the benefit of a training camp and preseason. "It's not going to happen overnight. He's a ball-dominant point guard, and he's been doing it for a lot of years and he's very good at it and he can really pass the ball. I've just got to play to his strengths and cut and move and stay in his vision and run the floor and get out in transition, things that I'm good at.
"I've just got to be doing a lot of stuff that's without the ball, because Rondo is going to have the ball a lot, Monta's going to have the ball a lot, Dirk's going to have it in the post a lot. I've got to find ways to stay aggressive and to help our team offensively with the role I have."
Overpaid? Parsons hears plenty of that, especially in Houston.
But perhaps underutilized should be part of the Parsons discussion at this point, too.
January, 28, 2015
Jan 28
12:00
AM CT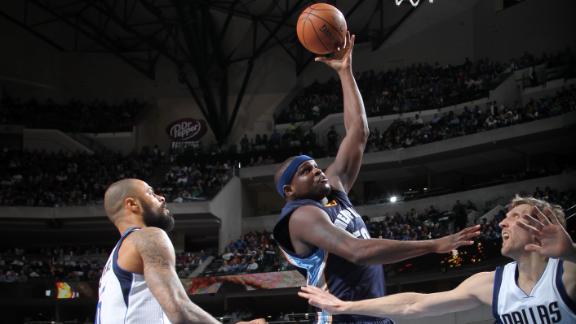 DALLAS -- So much for a statement road win over the
Memphis Grizzlies
on Martin Luther King Day being the start of something for the
Dallas Mavericks
.
A little more than a week later, it looks more like a fluke.
Dallas' season hit a low point on Tuesday night, when the Mavs were on the wrong end of a 109-90 rout by the Grizzlies to extend their losing streak to a season-worst three games. It was an embarrassing effort against a Memphis squad missing two key players (All-Star candidate point guard
Mike Conley
and defensive stopper
Tony Allen
) and playing the rear end of a back-to-back on the road.
[+] Enlarge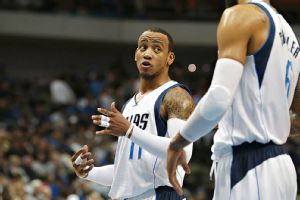 AP Photo/LM OteroNot much went right for Monta Ellis and the Mavs against the Grizzlies, who handed Dallas its third loss in a row.
"It's not a good time obviously, but we've got to keep fighting," Mavs power forward
Dirk Nowitzki
said. "It's January. If this would happen right before the playoffs, I'd be concerned, but we've got plenty of basketball left. We've got to get better. It's obvious."
Right now, Dallas seems like a team destined to again make a first-round departure in the Western Conference playoffs. It's hard to be any more optimistic about a team that is now 2-9 against fellow top-eight West teams, with one of those wins against a Pop-special
San Antonio Spurs
junior varsity squad.
That's why last week's victory over the Grizzlies felt so big at the time. But it clearly wasn't a breakthrough moment.
"We know we can play that style of basketball," Mavs center
Tyson Chandler
said, referring to quality ball movement and spacing offensively and being able to depend on each other defensively. "The thing is we've got to be more consistent with the style of basketball that we want to play."
Less than six weeks after the
Rajon Rondo
trade, it's still too early to make any definitive proclamations on his potential impact in Dallas. But the questions about whether the Mavs could play their preferred offensive style with a poor-shooting point guard existed before they pulled the trigger on the blockbuster trade with the
Boston Celtics
.
That doesn't mean the deal represented a poor risk for the Mavs. It was apparent they weren't a real contender with defensive liability
Jameer Nelson
as their starting point guard. Given the opportunity to get a four-time All-Star at the position without giving up any major assets, the Mavs had to go for it.
The results so far, however, can't be considered encouraging.
The Mavs are 11-8 since Rondo's arrival. Not bad, but a lot worse than their 19-8 record before his arrival. Their defensive rating has improved 2.3 points per 100 possessions with Rondo, but their offensive rating has dropped drastically, from a league-best 113.6 pre-Rondo to 106.3 since the deal.
This losing streak started when Rondo, whose crunch-time prowess was trumpeted by the Dallas decision-makers upon his arrival, was benched for the final 5:12 in a 102-98 loss against the
Chicago Bulls
. Rick Carlisle declined to discuss the logic of his coach's decision, but the only reasonable explanation is that he valued spacing and shooting over the tangibles and intangibles that Rondo can provide.
Two losses later, it's tough not to wonder whether Rondo is a long-term fit for the Mavs, especially if it takes a near-max contract to keep him.
"This isn't a Rondo thing," Carlisle said, trying to cut off that line of thinking. "This is a team thing. Right now, we've got to circle the wagons."
The Mavs certainly have plenty of messes to clean up that aren't directly related to Rondo. Their bench -- depleted in the Rondo deal -- has been outscored by double digits in each game of the losing streak. They get outrebounded on a regular basis despite Rondo representing a major upgrade in that department. And their problems in finishing defensive possessions is driving Carlisle crazy, as the coach rattled off the top of his head that the Mavs have allowed a ridiculous 142 points in the final eight seconds of possessions during this three-game skid.
"Those numbers are the highest I've ever heard or seen," Carlisle said.
And this is the lowest the Mavs, who have dropped from third to sixth in the West in a matter of days, have been all season.
"We've got to keep plugging, keep fighting, keep getting better on both ends of the floor," Nowitzki said. "I still think we have the talent. We just have to pull together and dig deep and dig out of this hole."
January, 27, 2015
Jan 27
10:05
PM CT
Associated Press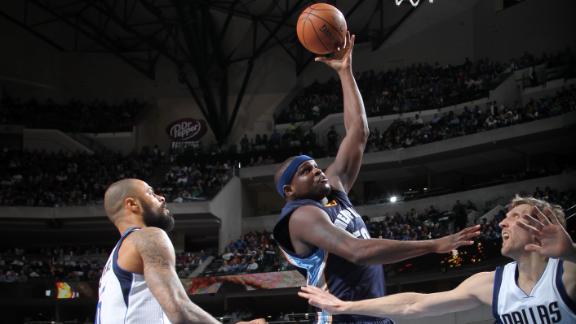 DALLAS -- Zach Randolph had 22 points and 10 rebounds, and the Memphis Grizzlies beat Dallas 109-90 on Tuesday night, handing the Mavericks their first three-game losing streak of the season.
Marc Gasol added 15 points and a game-high six assists for the Grizzlies, who won their fourth straight and eighth in their past nine games a night after finishing a season-long five-game homestand. The only loss in that stretch was to Dallas last week at home.
Chandler Parsons and Monta Ellis scored 19 apiece to lead the Mavericks, who failed for the third time to get coach Rick Carlisle his 600th career victory.
Nick Calathes had season highs with 13 points and 27 minutes for Memphis with guard Mike Conley sidelined a night after spraining his left wrist in a win over Orlando.