November, 22, 2014
Nov 22
12:00
AM CT
DALLAS -- For the last few years,
Chandler Parsons
ranked among the Houston Rockets' fan favorites. He'll return to the Toyota Center on Saturday night as a rival, perhaps even a villain.
The Rockets are likely to welcome Parsons with a tribute video on the big screens at some point during the game, as they did for guard
Jeremy Lin
when he visited with the
Los Angeles Lakers
earlier this week. But the audio might be drowned out by fans who are disgruntled that Parsons departed for Dallas, of all places. Those hard feelings are fueled by the bitter public exchanges Parsons had via the media this summer with Rockets general manager Daryl Morey and star shooting guard
James Harden
.
[+] Enlarge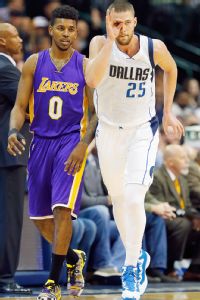 Tom Pennington/Getty ImagesChandler Parsons showed some swagger, dropping 21 points on the Lakers while covering Kobe Bryant.
"I think the women will cheer and the guys will boo," Mavs owner Mark Cuban said, half-kidding about the full-time small forward, part-time jeans model's popularity with the ladies.
"I don't know, I have a feeling a couple of girls will boo," Parsons said with a smile that probably doesn't seem as charming to the Rockets' female fans as it did the past few years.
You can bank on Parsons hearing how overpaid he is a few hundred times. The three-year, $46 million contract he signed with the
Dallas Mavericks
as a restricted free agent, deemed by Morey to be too rich for the Rockets to match, is part of Parsons' identity at this point.
But there is one sure way Parsons can shut up any bitter Rockets fans: Ball like he did during Friday night's 140-106 rout of the Lakers, when he was worth every penny and then some.
Parsons scored 21 points on 8-of-13 shooting against the Lakers before joining the rest of the Mavs' starters on the bench for the fourth quarter. He scored several of his buckets after making smart cuts to the basket, looking as comfortable in the Mavs' offense as he has all season.
However, Parsons' most impressive work came on the other end of the floor. He was the primary defender on 32,000-point scorer
Kobe Bryant
, who struggled to get 17 points on 6-of-22 shooting.
"When you play a team that's so dominant by one player, I want to take the challenge," Parsons said. "I wanted to guard him and I wanted to do whatever it took for our team to win. You stop him, you stop them. I just wanted to make it difficult for him. He's one of the best scorers to ever play the game, so I just tried to use my size and stayed down on his fakes and make him shoot over a taller defender."
So does Parsons want the challenge of covering his old buddy Harden?
"Yep," Parsons said. "For sure."
Parsons tried to downplay the matchup with the Rockets as "just one game out of 82," but this is no doubt different. He admitted his return to Houston would be an emotional experience for him. His parents -- "My party buddies!" Cuban greeted them, referring to the night Parsons signed his offer sheet at an Orlando club -- are visiting and will make the trip.
"These things are never easy," Mavs coach Rick Carlisle said. "They always are emotional. He just needs to approach the game the same way he did tonight and it'll be good.
"He was so locked into everything from the most minute defensive coverage detail, and he was moving the ball great and moving great. When you're doing that, you just react and play. That's what he's got to do and that's what we've all got to do tomorrow."
Parsons won't win any popularity contests in Houston, but he can help the Mavs win a game.
November, 21, 2014
Nov 21
8:53
PM CT
By
Baxter Holmes
| ESPNDallas.com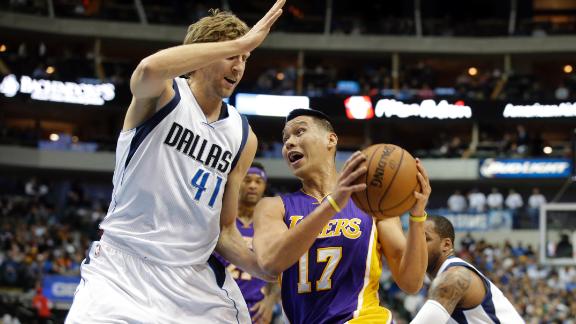 DALLAS -- On one side: a title contender whose star took less money.
On the other: a rebuilding crew, starring the NBA's highest-paid player.
For the traits that
Kobe Bryant
and
Dirk Nowitzki
share as 36-year-olds among the league's top-10 all-time leading scorers, that stark difference stood out most Friday during the
Dallas Mavericks
' 140-106 demolition of the
Los Angeles Lakers
.
Of course, it's not so simple to say that the 3-10 Lakers are struggling just because Bryant accepted a two-year, $48.5 million contract extension last season, a deal that eats a huge chunk of the Lakers' salary cap space.
[+] Enlarge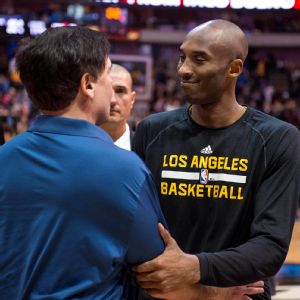 Jerome Miron/USA TODAY SportsKobe Bryant shared a few words with Mavs owner Mark Cuban after the game.
And it's also not so simple to say that the 10-3
Dallas Mavericks
are chasing a championship just because Nowitzki re-signed this summer at $25 million over three years, a bargain that allowed the team to afford other impact additions.
Other factors are many: deals that never were (
Chris Paul
, thanks to "basketball reasons") and those that never panned out (
Steve Nash
, thanks to injuries); players that didn't stay (
Dwight Howard
) and free agents who never came (
Carmelo Anthony
).
Indeed, not all has gone the Lakers' way, though they haven't done too shabby historically when you consider the 16 banners hanging in Staples Center.
But in the end, they're bound for the lottery, under construction until further notice, and Bryant and his huge deal are targeted as a key reason for their plight.
"Did I take a discount? Yeah," Bryant said after a morning shootaround here, when he discussed his contract more than at any point since signing it.
"Did I take as big a discount as some of you fans would want me to? No.
"Is it a big enough discount to help us be a contender? Yeah.
"So what we try to do is be in a situation where they take care of the player and the player takes care of the organization enough to put us in a championship predicament eventually."
Bryant almost certainly didn't mean to use the phrase "championship predicament." But if it was a Freudian slip, well, it sure was fitting.
Mavericks owner Mark Cuban stated the obvious about his squad: Nowitzki's deal made a huge impact in helping shape the roster, giving them the financial flexibility to add the high-profile and, more important, promising young free agent in
Chandler Parsons
that they had been chasing for so long.
"To me, it's not about money, it's about winning," Cuban said. "Different players have different attitudes."
Could a player make $24 million in the NBA's current punitive financial climate (as Bryant does this season) and legitimately say they're interested in winning?
"Yeah, of course, as long as you can convince everybody else that you need to come play for the minimum," Cuban said with a laugh.
Cuban has long been poking fun at the Lakers on this topic, once calling them Shaq, Kobe and the "band of merry minimum [-salaried players]" in 2000 during Cuban's first season as an owner.
Nowitzki echoed Cuban's point that his deal was about winning, not money.
"I wanted to be on a good team," Nowitzki said. "I wanted to compete my last couple of years at the highest level. Ever since after the championship, we had a couple of rough years. We missed the playoffs one year, were the eighth seed twice I think, so that was really the main decision. I wanted to play at a high level my last couple years, and it kind of worked out with getting Parsons, with getting Tyson [Chandler] back here. We feel like we've got a good group, and hopefully we can make it work."
Bryant argued that Nowitzki's deal meant the German forward "wasn't playing in Los Angeles," and that difference matters.
After all, the Lakers have a 20-year, $3 billion deal with Time Warner Cable that hinges on ratings. They need Bryant, not only for that, but to justify ticket prices, to keep interest high during lost seasons. His value goes far beyond the court.
Yet the high cost of paying their cash cow what he legitimately might be worth ultimately hurts the Lakers' efforts to build around him, to be a contender.
Nowitzki will spend his golden years chasing another ring, while Bryant, for now, is only chasing personal records. Other factors are many, of course, but that stark difference is what rose above all else Friday, as two legends headed in opposite directions, their teams following suit.
ESPNDallas.com reporter Tim MacMahon contributed to this report.
November, 21, 2014
Nov 21
10:05
PM CT
DALLAS -- The NBA's best offensive team blew out the league's worst defensive team. Who could have possibly seen that coming?
Player of the game:
This was perhaps the best all-around performance in a
Dallas Mavericks
uniform by
Chandler Parsons
. He scored 21 points in 29 minutes, going 8-of-13 from the floor with several of his buckets coming off smart cuts to the basket. He also did an excellent job as the primary defender on
Los Angeles Lakers
star
Kobe Bryant
, who needed 22 shots to score 17 points. Honorable mentions go to
Dirk Nowitzki
(23 points on 8-of-10 shooting in 21 minutes) and
Monta Ellis
(20 points, 7-of-10 shooting, 10 assists).
Spurt of the game:
The Mavs managed to score seven points in the final 5.9 seconds of the first quarter to stretch their lead to 11 points. After Nowitzki knocked down two free throws,
Jae Crowder
picked off a comically poor inbounds pass by Lakers center
Robert Sacre
, who made matters worse by fouling Crowder on a layup. Crowder missed the and-1 free throw, but
Richard Jefferson
batted the rebound out to J.J. Barea, who drilled a double-pump 3-pointer at the buzzer.
Stat of the night:
The Mavs' Run DMC trio -- Dirk, Monta, Chandler -- each had at least 20 points. None of them played a second in the fourth quarter.
Stat of the night, part 2:
The Mavs had at least seven players score in double figures for the third time in 13 games this season. Dallas did that only three times all last season. It's the second time this season the Mavs have had eight players score in double figures -- something that didn't happen at all the last three seasons.
November, 21, 2014
Nov 21
10:01
PM CT
Associated Press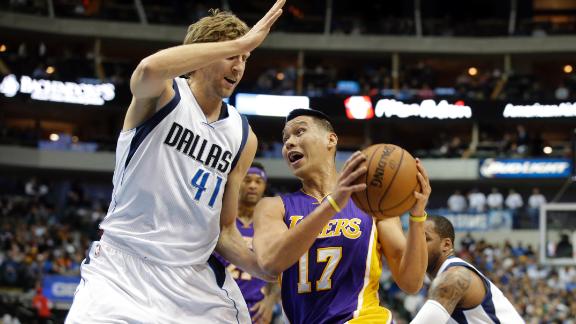 DALLAS -- Dirk Nowitzki scored 23 points in yet another efficient shooting effort and the Dallas Mavericks used the NBA's highest-scoring offense to roll to a 140-106 victory against the Los Angeles Lakers on Friday night.
The Mavericks won their sixth straight game overall and fourth in a row against the Lakers, who were swept by Dallas in the regular season for the first time in 2013-14.
Nowitzki, Monta Ellis and Chandler Parsons were a combined 23 of 33 from the field as the Mavericks had season highs in points, shooting percentage (62 percent) and assists (37). Parsons had 21 points and Ellis scored 20.
Kobe Bryant missed his first eight shots and was 6 of 22 for 17 points. Jeremy Lin had 18 to lead the Lakers, who came in with their first two-game winning streak.
November, 21, 2014
Nov 21
7:58
PM CT
By
Baxter Holmes
| ESPNDallas.com
DALLAS -- So much for the Los Angeles' Lakers winning streak. After two straight road wins fueled by the return of a so-called savior who goes by the name Swaggy P, the Lakers returned back to earth in embarrassing fashion, trailing the
Dallas Mavericks
by as much as 38.
Nick Young
wasn't much of a factor, by the way, as he scored just five points off the bench.
Turning point:
The Lakers had been allowing 110 points per game, and they gave up that in three quarters. It all went away from them in that third frame, when they were outscored 42-24, and it was all downhill from there, with the fourth quarter turning into lopsided garbage time during which many fans filed out to find a better way to spend their Friday night.
Stat of the game:
140. The Mavericks' final point total tied for their most ever at the American Airlines Center. They also scored that much April 5, 2009 against Phoenix.
More fun with numbers:
The Mavericks hit 18 3-pointers, the Lakers hit 5. The Mavericks had three players score 20 or more points, the Lakers had none.
Kobe Bryant update:
He scored 17 points on 22 shots in 31 minutes. Not his finest outing. On the other side,
Dirk Nowitzki
had a tidy 23 points on 10 shots in 21 minutes.
November, 21, 2014
Nov 21
5:38
PM CT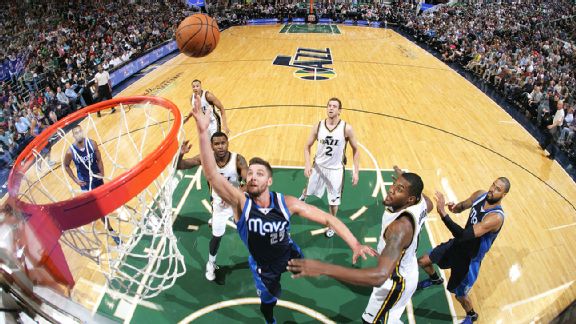 Melissa Majchrzak/Getty ImagesChandler Parsons has struggled at times on offense with Dallas.
HOUSTON -- Most of the
Houston Rockets
' headliners watched their words carefully this week regarding the replacing of
Chandler Parsons
, who will return to town this weekend with the rival
Dallas Mavericks
.
Center
Dwight Howard
danced around the subject, saying he didn't want to compare Parsons and
Trevor Ariza
, who filled the Rockets' void at small forward with a much more cap-friendly contract than the three-year, $46 million deal Parsons signed with Dallas.
Rockets general manager Daryl Morey, who offended Parsons with his July explanation of the Rockets' decision not to exercise their right to match the Mavs' offer to the restricted free agent, simply declined an interview request via Houston's media relations office.
However, shooting guard
James Harden
responded to a question about how Ariza has changed the dynamic in Houston with the ruthlessness of one of his basket attacks, certainly not shying away from contact, perhaps even seeking it.
"His leadership, his defensive abilities, his shot-making -- all three of those things are something that we were lacking last year," said Harden, who ruffled Parsons' feathers this summer when he downplayed the impact of the small forward's departure, describing himself and Howard as Houston's cornerstones and the rest of the roster as role players. "[Ariza] brings that ability to the table this year."
The Mavs, who are 10-3 and have the NBA's best offense entering Saturday night's game against the Rockets, unquestionably became a better team because of Parsons' move up Interstate 45. Can the 9-3 Rockets make the same claim? The early results suggest that's the case.
Parsons, for the record, says he hopes Houston does well but doesn't concern himself with how Ariza fares filling his shoes.
"I don't pay any attention to him," Parsons said recently. "Listen, many people replace many people every year in this league. He's a good, proven player in this league. He's supposed to play good for them."
Ariza's intangibles, by definition, can't be measured against Parsons'. Ariza, who is averaging 14.5 points and 2.6 assists while shooting 41.9 percent from the floor and 39.2 percent from 3-point range, hasn't matched Parsons' offensive production from last season other than slightly better 3-point shooting. But there's no denying the defensive impact the 6-foot-8 Ariza has made for the Rockets.
Houston has gone from decent to dominant defensively. The Rockets, with Ariza joining Howard and point guard
Patrick Beverley
as proven stoppers in the starting lineup, have the league's stingiest defense so far this season.
Houston ranked 12th in the NBA in defensive rating last season, allowing 103.1 points per 100 possessions. That number has plummeted to a league-low 94.3 after 11 games -- 92.5 with Ariza on the floor.
"I've been able to instill some of the beliefs that I've had throughout my career here as well as understand what they already do and try to build on that," said Ariza, a 10-year veteran who has no issue with being characterized as a role player. "I think that's something that our staff has always believed in but this year we're focusing on more.
[+] Enlarge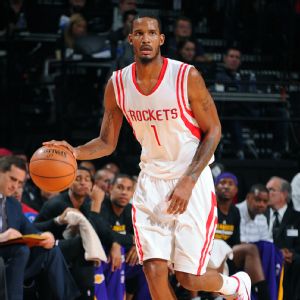 Bill Baptist/NBAE/Getty ImagesTrevor Ariza has helped make the Rockets a better defensive team.
"Me being a player that throughout my career I've been known to be a defensive player or presence or whatever the case may be, it just helps out a lot. And it's been a great fit so far."
It certainly isn't how Morey hoped to piece together the Rockets' starting lineup this summer. The plan was to add a proven All-Star in free agency and then exceed the salary cap to keep Parsons.
Houston had to go to Plan B when
Chris Bosh
surprised the team by re-signing with the
Miami Heat
and the Mavs gave Parsons a much more lucrative offer than the Rockets anticipated the restricted free agent receiving.
At that point, Morey made the call to prioritize cap flexibility over continuity, essentially declaring that he didn't believe Parsons would blossom into the third star the Rockets need to maximize their championship chances. By signing Ariza to a four-year, $32 million deal, Houston replaced Parsons without sacrificing its chance to pursue an All-Star again next summer.
(Get ready for the Rockets-Mavs rivalry to heat up again over the offseason, when they're both positioned to be at the front of the line for free-agent-to-be point guard
Rajon Rondo
, among others.)
"It came down to a bet of Harden, Howard and Parsons being the final piece, because we would have had no ability to do anything after that," Morey said on Sports Talk 790 AM in Houston the day that Parsons' deal with Dallas became official. "And Harden, Howard, Parsons could have been good enough. I think Parsons is a tremendous player and is going to keep getting better.
"The question is, is it better with that core or is it better with Ariza plus the hundreds of moves that might be able to upgrade us in the other scenario?"
Perhaps at some point the Rockets will miss Parsons' offensive versatility, which the Mavs valued so much. Maybe that time has already come.
The Rockets, who also dumped guard
Jeremy Lin
and his double-digit scoring average this summer to create cap room for Bosh, have averaged only 85.5 points over the past four games, a span in which Houston is 2-2 with close, low-scoring wins over the 0-11
Philadelphia 76ers
and 3-10
Oklahoma City Thunder
.
Of course, Parsons didn't exactly explode out of the gates in Dallas, fighting through the worst shooting slump of his career. His numbers -- 14.5 points, 41.9 field goal percentage, 34.7 3-point percentage, 2.4 assists -- are significantly down from last season and lower almost across the board than Ariza's this season.
Not that the Mavs, who had the luxury of bidding high because
Dirk Nowitzki
gave them a historically steep hometown discount, have any buyer's remorse. They still view the 26-year-old Parsons, who has been a key cog in the league's most efficient offense by far, as a terrific fit with huge upside.
"They're both top-shelf small forwards," Mavs president of basketball operations Donnie Nelson said. "You could sit here and compare apples and oranges, but they both put their own unique stamp on the position.
"We both came away with probably our best-case scenario at the small forward spot."
November, 21, 2014
Nov 21
1:45
PM CT
By
Bryan Gutierrez
| ESPNDallas.com
Each week, ESPNDallas.com will take a look at the Texas Legends, the D-League affiliate for the Dallas Mavericks, in order to see how the two are working hand in hand to improve one another.
The Dallas Mavericks released a
parody video
a few weeks back. In it, the Mavs' trio of
Dirk Nowitzki
,
Monta Ellis
and
Chandler Parsons
dress up like the old-school hip hop group Run DMC -- in this case, Dirk, Monta and Chandler -- and show off their rhyming skills.
The Texas Legends, meanwhile, are rolling to the beat of the "James Gang." That's
Bernard James
,
Damion James
and
Mike James
, who have powered the Mavs' D-League affiliate to a 2-0 start to the 2014-15 season.
Dallas fans are familiar with the work of Bernard and James, both of whom suited up for the big-league squad in recent years. But Damion James, the 24th overall pick of the 2010 draft by the
Atlanta Hawks
who has also played for the Nets and Spurs, is making the most of his first impression. James is averaged 14.5 points and 11.0 rebounds in the team's first two games, including an 18-point, 14-rebound performance in the Legends' recent victory against the Los Angeles D-Fenders.
Mike James, meanwhile, has been the stabilizing influence the Legends were hoping for when they acquired the veteran point guard. James, 39, is averaging 15.5 points and 5.5 assists for the Legends while on his quest for one more shot in the NBA.
Summer-league standout
Eric Griffin
has also shined, showing off his athleticism by scoring at least 20 points in both games this season. He's also averaging 6.0 rebounds, 3.5 assists, 2.0 blocks and 1.5 steals.
Mark your calendars
The Legends begin a four-game homestand Friday with a matchup against the Santa Cruz Warriors. They host the Austin Spurs at Dr. Pepper Arena on Saturday night. Both games start at 7 p.m. CT and can be seen live on the
D-League's YouTube Channel
.
Here is sales pitch from Donnie Nelson, president of basketball operations for the Mavs and co-owner of the Legends:
"[Fans] will see a high-octane caliber of basketball," Nelson said. "They will be able meet those players afterwards. It's an opportunity to meet a young Dirk before he becomes untouchable and take pictures with them. It's an extremely affordable mode of entertainment that is a three-ring circus. We're blending basketball with Ringling Bros.
"You've got a bunch of cool stuff going on in the arena. Even if you're not a rabid basketball, you're going to have a great time, watch an incredible game of basketball, and meet all of the players afterwards."
But not least ...
Just as the James Gang was gaining steam, it appears that "the band" may be breaking up. Multiple sources confirmed that center Bernard James will sign a deal to play in China. While that is a loss for the Legends, it presents an opportunity for James to play against international competition and possibly earn a little more money.
The situation with James is the nature of the beast for a team like the Legends. As they perform well and have players perform well, they will find opportunities outside of the D-League.
With the Legends' next four games set in Frisco, Mavs swingman
Ricky Ledo
has been assigned to the team.
November, 21, 2014
Nov 21
1:31
PM CT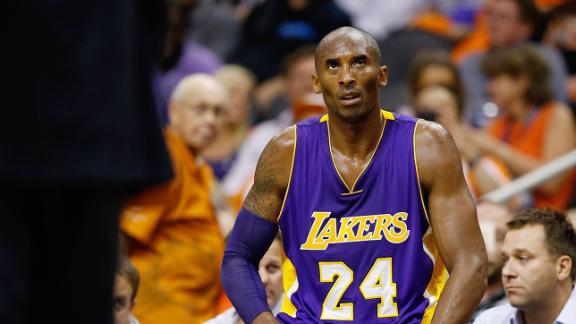 DALLAS -- Kobe Bryant considers the public pressure for longtime NBA stars to take hometown-discount deals, such as Dirk Nowitzki's contract, "a big coup" for NBA owners.
"It's the popular thing to do," Bryant said after the Los Angeles Lakers' shootaround prior to Friday night's 140-106 loss to Nowitzki's Dallas Mavericks. "The player takes less, blah, blah, blah, blah, blah. I think it's a big coup for the owners to put players in situations where public perception puts pressure on them to take less money. Because if you don't, then you get criticized for it.
"It's absolutely brilliant, but I'm not going for it. I know the new head of the players' association ain't going for it, either."
Bryant, 36, agreed to a two-year, $48.5 million extension with the Lakers last season, when he was recovering from a torn Achilles tendon. The deal is for less than Bryant was eligible to make on a maximum contract but still makes him the highest-paid player in the league.
Nowitzki, 36, re-signed with the Mavs this summer for $25 million over three years, taking far less than his market value to leave Dallas owner Mark Cuban enough salary-cap space to make roster upgrades.
"I wanted to be on a good team," Nowitzki said after scoring 23 points in 21 minutes during the Mavs' rout Friday. "I wanted to compete my last couple of years at the highest level. Ever since after the championship, we had a couple of rough years. We missed the playoffs one year, were the eighth seed twice I think, so that was really the main decision.
"I wanted to play at a high level my last couple years, and it kind of worked out with getting Parsons, with getting Tyson back here. We feel like we've got a good group, and hopefully we can make it work."
What does Bryant think about Nowitzki, who has never used an agent, taking such a steep hometown discount?
"I think it means he's not playing in Los Angeles," Bryant said with a laugh.
Cuban said Nowitzki's knowledge of the collective bargaining agreement and his desire to play for a contender were the primary factors in determining the size of his contract, not public perception.
"First of all, not every player in the NBA, not every owner in the NBA is motivated purely by money," said Cuban, adding that fans put pressure on owners to spend every penny possible or be labeled as cheap. "If you look at our ticket prices, how many times have we lowered them? How many times have we paid the luxury tax? How many times have I told you guys, 'I don't care if we lose money, I want to win'? You know my motivations, and I think Dirk's motivations are similar."
Nowitzki, who has made more than $200 million during his career, has said several times that the chance to win a second championship is much more important to him than money during his basketball golden years. The Mavs, whose offseason acquisitions included center Tyson Chandler
November, 21, 2014
Nov 21
11:30
AM CT
DALLAS --
Mavericks
guard
Devin Harris
will miss his second consecutive game Friday night against the
Los Angeles Lakers
.
The Mavs are being mysteriously elusive about details of Harris' lower right leg injury.
Harris declined to speak to the media after the Mavs' shootaround, saying he had been told not to say anything and deferring questions to coach Rick Carlisle.
"He's doing a little bit better," Carlisle said. "We'll have an announcement probably later in the day."
About a half hour later, Carlisle sent reporters a text message saying Harris was out against the Lakers.
Carlisle declined to answer any follow-up questions about Harris, including how much the veteran guard participated in the shootaround.
Harris, who is averaging 8.6 points and 4.4 assists per game, did not play in the second half of Monday's win over the
Charlotte Hornets
and sat out Wednesday's win over the
Washington Wizards
. He said during the road trip that his leg had been bothering him for about a week before the decision was made for him to rest.
November, 20, 2014
Nov 20
3:45
PM CT
HOUSTON –
Jason Terry
proudly wears
Houston Rockets
red these days, happy to have a chance to play with a contender again at the age of 37.
But "Jet," who spent half of his 16 NBA seasons with the
Dallas Mavericks
, readily admits that there's still a lot of blue running through his blood.
"I'm still true to what we accomplished with the organization," Terry told ESPNDallas.com a few nights before he'll face the Mavs at the Toyota Center. "It'll never be forgotten. But now I'm with the Rockets. I walked right into the rivalry. These two teams do not like each other. I'm just on the other side now."
Terry used to be considered a Rockets killer, a title he earned during the 2005 playoffs, when he had a pair of 30-plus-point performances to help Dallas dig out of a 2-0 hole to eliminate Houston in the first round. He's heard countless times this season how strange it is to see him in red.
When it comes to rivalries, however, Terry considers himself somewhat of a chameleon.
"It's my job," Terry said. "Whatever team I go to, I take on whatever they've got. Like when I was in Boston, it was the Lakers. We couldn't stand each other. I played for Brooklyn and had a thing for the Knicks. I jumped right in. I wear whatever hat I play for. It's always personal for me. They're the enemy now.
"It's not a disdain. It's just a healthy, competitive [feeling]. I definitely don't want them to win."
Terry developed a two-fold reputation during his years in Dallas: He was an elite clutch scorer and perhaps even more potent trash talker. However, you won't hear him say a harsh word about the Mavs.
Terry, who is averaging 7.4 points per game off the Rockets' bench, still considers several members of the Mavs organization to be close friends. That isn't limited to coach Rick Carlisle and former teammates
Dirk Nowitzki
, Tyson Chandler, J.J. Barea and
Devin Harris
.
Terry, who has been promised a position with the Mavs once he decides to hang up his Reeboks, feels a great debt of gratitude for the way the franchise has treated him since his departure from Dallas, where he hoped to finish his career.
The Mavs allowed Terry, who still has a home in Frisco, to train at their facility during his recent time in NBA limbo, when he was officially on the
Sacramento Kings
' roster but in reality waiting to be moved to another franchise. Terry is especially appreciative of the treatment he received from Mavs athletic trainer Casey Smith while recovering from the knee surgery he underwent in the 2013 offseason.
For 48 minutes on Saturday night, Terry will put those warm feelings aside, for the first of four meetings between franchises that have become two of the NBA's fiercest rivals.
"It's like your brother, if you were to play against him," Terry said. "It's always going to be the toughest battle you have. At the end of the day, I hope I win, and then we'll shake hands afterward and give hugs."
November, 20, 2014
Nov 20
9:30
AM CT
ESPNDallas.com columnist Jean-Jacques Taylor and MavsOutsider.com editor in chief Bryan Gutierrez will join me each week to run a three-man weave on a few questions on the minds of Mavs fans.
1. Can the Mavs keep up this historically efficient pace on offense?
Gutierrez:
Absolutely. Dallas has a main core of players that works harmoniously with
Dirk Nowitzki
, which is crucial. They believe in the "pace and space" approach. On top of that, this group possesses a high level of basketball IQ. They will work to spread the floor, pass frequently and attack when the opportunity presents itself. If this group can stay healthy, this offense will go down in the history books as one of the best.
Taylor:
Of course not. As Rick Carlisle has said numerous times, the Mavs are in the easy part of their schedule and they're doing what they should do to bad teams. The Mavs will be one of the NBA's top teams this season, but they're not going to be one of the top offensive teams in NBA history -- and that's OK. As the schedule gets tougher their numbers will dip, but they will embarrass a lot of teams on the second night of back-to-back games this season.
MacMahon:
Why not? This was an elite offensive team last season that made significant upgrades at two spots in the starting lineup. It's not a surprise that the Mavs are by far the league's most efficient offense so far this season. It is a bit surprising that the Mavs have been so explosive with
Chandler Parsons
and
Jameer Nelson
off the slow starts. Those two will get better, so we might not have seen the Mavs hit their offensive peak yet.
2. Other than Dirk Nowitzki and his hometown-discount deal, which Maverick is the best bargain?
Gutierrez:
Brandan Wright
is an easy choice, based on his salary, but give me
Monta Ellis
($8.3 million). When he's going right and drives toward the rim, Ellis is a truly dynamic weapon that can sometimes be nearly unstoppable. He might be the perfect weapon alongside Dirk when they go with pick-and-pop action. Ellis is a heck of a No. 2 option, and he's giving Dallas everything it needs on offense.
Taylor:
If Parsons is getting $15 million, I don't know how you could have a bigger bargain than Ellis. He's a perfect fit on this team for what Carlisle wants to do and how he can play off Dirk -- and he only costs a little more than $8 million. Do you really think Parsons is twice the player Ellis is?
MacMahon:
It comes down to two dudes with minimum deals:
Al-Farouq Aminu
and
J.J. Barea
. As much as I like Aminu's athleticism and upside, Barea gets the nod, in large part because the little guy has proven he can perform in big moments. The 2011 Finals hero carried the Mavs in the clutch during Wednesday's win over the
Washington Wizards
, putting up 10 points and four assists in the fourth quarter. He's averaging 7.8 points and 4.3 assists in 16.6 minutes off the bench this season, pretty impressive considering he didn't join the Mavs until the second day of the season. His net rating (plus-19.5 points per 100 possessions) is the best on the team.
3. As we get ready for Chandler Parsons' return to Houston this weekend, how much bang are the Mavs getting for their 46 million bucks at this point?
Gutierrez:
The consensus is that they overpaid for Parsons. That's OK because Dirk took less money and you will overpay for younger talent and potential. His development in Dallas is still a work in progress, but he's fitting into a role that works best for Year 1: an athletic
Jose Calderon
. He will spot up on the soft side of the floor and be a bailout option for Nowitzki and Ellis, with the ability to drive and finish.
Taylor:
Parsons seems to be doing exactly what Carlisle said he could do, which is score points, rebound, dish a little and hit the 3. He's had a couple of clunkers, but that's to be expected because he's a really good player -- not a star. He might evolve into one, but he still has work to do.
MacMahon
: Not as much as anticipated. The Mavs, who pegged Parsons' value at around $10-12 million per year but had the luxury of bidding higher due to the Dirk discount deal, weren't banking on him morphing into a superstar. But it was reasonable to expect Parsons to at least match his production from last season (16.6 points, 5.5 rebounds, 4.0 assists) after improving in all those categories each of his three seasons in Houston. His numbers are down across the board, but there's no need to panic about Parsons. It's early, and he is playing a significant role on a 9-3 team.