September, 29, 2014
Sep 29
4:55
PM CT
DALLAS --
Chandler Parsons
wants to prove he can be a perennial All-Star, the type of player who is worth every penny of a three-year, $46 million contract.
That was unlikely to happen with the
Houston Rockets
, where Parsons would have always been the third wheel with
James Harden
and
Dwight Howard
as the headliners. It's an opportunity Parsons eagerly embraces as he opens his first training camp with the
Dallas Mavericks
.
[+] Enlarge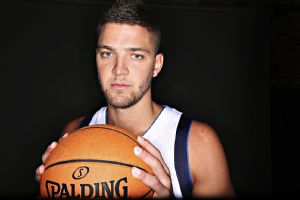 AP Photo/LM Otero"I don't want there to be one thing that I can't do out there," forward Chandler Parsons said of his expectations with the Mavericks.
But Parsons gets that his individual glory isn't the priority. His focus is on doing everything in his power to advance in the playoffs for the first time in his career, not putting up pretty numbers in an attempt to prove he's a star.
"I've always been a team guy, and I'm not trying to come here and get mine and be the go-to guy necessarily," Parsons said. "I'm going to do whatever it takes for our team to win as many games as possible."
As far as Parsons is concerned, his job is to be able to do whatever Mavericks coach Rick Carlisle needs him to do.
Parsons has always prided himself on his versatility. He was one of four players last season to average at least 16 points, five rebounds and four assists, while shooting better than 45 percent from the floor, joining
LeBron James
,
Kevin Durant
and
Kevin Love
. And Parsons firmly believes he's capable of improving his numbers across the board, as the 25-year-old forward has in each of his NBA seasons.

The Mavs will certainly put plenty on Parsons' plate. He'll start at small forward and be one of the primary initiators of the offense. He'll play some power forward when
Dirk Nowitzki
rests. He'll probably even spend some time in the backcourt and is expected to be able to defend every position except for center.
"I don't want there to be one thing that I can't do out there," Parsons said.
The Mavs are confident that Parsons will complement co-stars Nowitzki and
Monta Ellis
and have a positive impact on the team's chemistry. Parsons, who spends a lot of his free time in Los Angeles, clearly enjoys the fame part of his job, but there are no concerns about his ego swelling as his paychecks get a lot larger.
If it ever became an issue, the Mavs' championship veterans would put Parsons in check anyway.
"It's important that we all understand what the common goal is," said center
Tyson Chandler
, a key piece of the Mavs' 2011 title team and the other major acquisition this summer. "And the common goal is not about one individual trying to rise to the top or trying to better himself with any individual accolades. It's all about the importance of the team, because at the end of the day when the team does well, everybody shines.
"If he and everybody else understands that and buys into that, we'll have a great year."
That's not a problem for Parsons. He believes he's "ready for that next step in my career": a bigger role on the floor and in the locker room. He's excited about the attention that will come along with it.
But Parsons knows the best way to attract the spotlight is to advance in the playoffs. That's his mission with the Mavs.
"I think I'm going to have a big year," Parsons said. "I think our team is going to have a bigger year."