November, 27, 2014
Nov 27
12:24
AM CT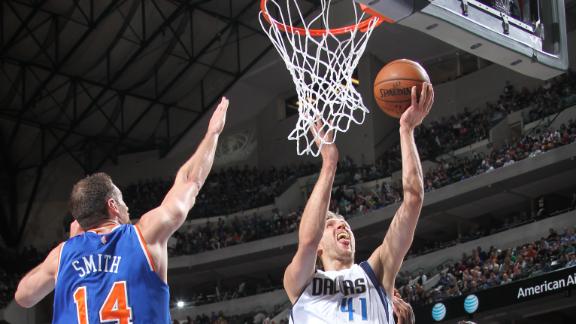 DALLAS --
Tyson Chandler
insisted his desire to nip the
Dallas Mavericks
' losing streak in the bud fueled his motivation Wednesday night, not the fact that he was facing his former team for the first time since his less-than-friendly departure from the
New York Knicks
.
Believe it or not, the big man wasn't hooked up to a polygraph test after his 17-point, 25-rebound performance.
If you wanted the truth, all you had to do was ask any of Chandler's teammates.
"We were actually talking about before the game that we had to shoot him with a tranquilizer gun to slow him down a little bit,"
Dirk Nowitzki
said. "He was obviously amped up for this one. And we wanted to get this one for him."
It wasn't pretty, to put it politely, but the Mavs got the win over the Melo-less Knicks. They had to go five extra minutes, pulling out the 109-102 victory in overtime at the American Airlines Center. And Dallas needed everything the 7-foot champion warriors who were reunited this summer could give them.
[+] Enlarge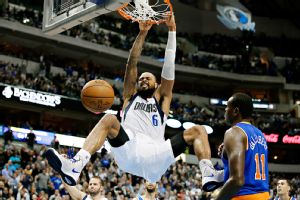 AP Photo/Tony GutierrezWhen Tyson Chandler wasn't dunking, he was pulling down 25 rebounds.
Chandler, who was barking even more than usual in the Mavs' huddles, was a dominant presence from the opening tip, scoring the game's first bucket on a ferocious putback slam. He had a double-double by halftime, already hitting his per game averages.
Chandler's last bucket was a thunderous, two-hand slam to give the Mavs the lead for good with 1:37 to go in overtime. After the Knicks called timeout, Chandler unleashed a primal scream, tiling his head toward the rafters where that 2011 title banner hangs and releasing emotions he refused to admit feeling.
"Like I said, this is more important because we dropped two and we felt this is one we wanted to get," Chandler said.
Sure, buddy.
We're talking about the spiritual leader of the Mavs' title team who spent his last three seasons in New York, recently acknowledged feeling like a scapegoat for the Knicks' struggles last season and was steamed that Knicks president Phil Jackson took a passive-aggressive shot at his character and professionalism after the deal to send Chandler back to Dallas.
"I mean, he's cool," Nowitzki said before poking a little fun at Chandler's postgame look that featured a unique hat and accessory. "He's playing it cool with the match in his hat. I mean, what is that? That's terrible."
Chandler's performance was terrific, as good as any he's had in a Mavs uniform, including the title season.
Chandler ended up setting new season highs in points and rebounds. Nobody in the NBA has pulled down more boards in a game this season, and it matches the fifth-most in Mavericks history.
Ten of Chandler's rebounds came on the offensive glass. Of course, the Mavs provided plenty of offensive-rebound opportunities, shooting 40 percent from the floor, including a sickly 4-of-31 showing from 3-point range.
Nowitzki wasn't immune from the long-distance drought, making only one of his eight 3-point attempts. But the big German hit big shot after big shot inside the arc, scoring 15 of his season-high 30 points in the fourth quarter and overtime.
The 36-year-old who logged a season-high 39 minutes delivered the Dirk dagger, exploiting a mismatch with a midrange fadeaway over Knicks guard
Pablo Prigioni
to make it a two-possession game with 43.9 seconds remaining.
"Vintage Nowitzki," coach Rick Carlisle said. "He was struggling from the 3 as well, but it was his will that kind of carried us."
With the wills of their 7-foot champions, the Mavs found a way, and it had to feel especially good for the guy who was gone the last few years.
November, 27, 2014
Nov 27
1:07
AM CT
By
Ian Begley
| ESPNDallas.com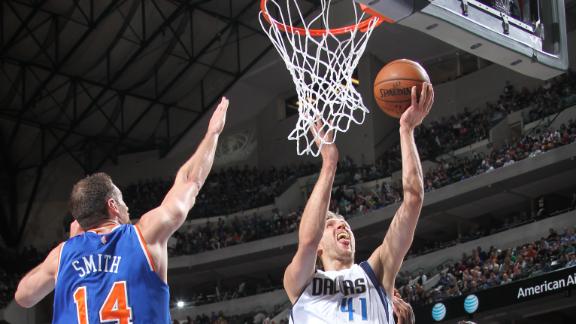 DALLAS --
Tyson Chandler
says he doesn't spend any time thinking about the
New York Knicks
. He's fully focused on the
Dallas Mavericks
at this point.
But when he does think about New York, Chandler is left with a sense of disappointment.
"Anytime you put the type of talent that we put on the floor and you have the opportunity to really contend, it's a loss," Chandler said. "There's not many times when you're going to be on a roster that can truly say that they can contend for a title when you just look at it on paper. So anytime you waste -- I don't want to say waste -- but anytime you don't succeed in those years, it's a little disappointing."
[+] Enlarge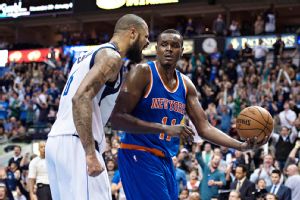 Jerome Miron/USA TODAY SportsTyson Chandler exploded for 17 points and 25 boards in his first game against the Knicks since being traded in the offseason.
Chandler had no reason to be disappointed on Wednesday. His 17 points and NBA season-high 25 rebounds lifted Dallas to an overtime win over the Knicks.
The NBA season is 82 games long. So judging a trade after just 16 games is a mistake. But if you use Wednesday's game as a snapshot, Dallas got the better end of the Chandler deal.
Chandler was dominant on Wednesday night. He had 10 offensive rebounds and two key baskets in overtime to help the Mavericks to a home win.
Jose Calderon
, who was part of the Chandler trade, had his best game as a Knick (21 points, 10 rebounds, 4 assists, 7 3-pointers). But New York was missing an inside presence -- a presence Chandler once provided. The Knicks were outscored 50-24 in the paint on Wednesday in their first full game without
Carmelo Anthony
(back spasms).
"We had our opportunities," Derek Fisher said after the Knicks fell to 4-12. "That's all you can ask for."
After the game, Chandler took the high road instead of taking any shots at the Knicks.
He said Phil Jackson didn't contact him before or after the trade, but he wasn't upset over it.

"I just don't think I was in the future plans to be honest. With new management coming in, they have a different idea, a different vision," Chandler said. "It's not personal. If they want a certain personnel that they feel like that they want to build with for the future I completely understand that."
Jackson said he made the trade, which included
Raymond Felton
, to improve the Knicks' chemistry.
Chandler took offense to that comment. Earlier this week, he said he felt like he'd been made the scapegoat at times in New York.
"I definitely wish we'd have been more successful. Last season was horrible," he said. "I think we all understood that. So things ended on a bitter note regardless."
It's been all roses for Chandler so far in Dallas this season. It's hard to say the same for Calderon and the Knicks.
Question:
Do you think the Knicks won the Chandler trade? Or did Dallas get the better end of the deal?
You can follow Ian Begley on Twitter.
November, 27, 2014
Nov 27
12:36
AM CT
By
Ryan Feldman
| ESPNDallas.com
The
Dallas Mavericks
had far from their best offensive performance of the season in their overtime win against the
New York Knicks
, shooting only 40 percent from the field and 4-of-31 on 3-pointers -- their fewest 3-pointers and worst 3-point percentage in a game this season.
But that's just one performance, which still resulted in a win by finding other ways to score other than 3-pointers (53 percent shooting inside the arc and a season-high 38 free-throw attempts). On Wednesday, that required 17 points and 25 rebounds from Tyson Chandler against his former team.
That performance doesn't change what has been a dynamic offense this season that leads the league in offensive efficiency (114.5 points per 100 possessions).
It's worth noting if the Mavericks can keep up this super-fast pace for 82 games: The top seven most efficient offenses in NBA history all reached the Conference Finals.
How have the Mavericks been so efficient on offense?
Pick-and-Rolls
The Mavericks lead the NBA with 50 pick-and-roll plays per game and 52 points per game on pick-and-rolls(no other team averages more than 35). Nearly half (47 percent) of the Mavs offensive plays are initiated from pick-and-rolls.
They don't just run a lot of pick-and-roll plays. They're efficient at it -- the Mavs rank second in the league behind the Clippers in points per play on pick-and-rolls.
Monta Ellis
is their main weapon, averaging 8.9 points per game on pick-and-rolls, which ranks second in the league behind
Reggie Jackson
. Ellis' aggressiveness is one of the main reasons why the Mavs lead the league with 37 points per game off drives to the basket.
Turnovers
The Mavs have the third-fewest turnovers per game (11.4) and they're forcing the second-most turnovers per game (17.9). Their +6.5 turnovers per game differential is best in the league.
Based on that, it's no surprise that the Mavericks are capitalizing on those turnovers -- they rank first in points off turnovers per game (21.9) and they're allowing the third-fewest points off turnovers per game (12.8). Their 9.1 points off turnovers per game differential is also the best in the league.
Dirk
Dirk Nowitzki
, in his 17th season, has adopted a different role. He's averaging his fewest minutes per game since his rookie season.
The Mavericks have Nowitzki playing outside more than inside this season, unlike in the past. He's attempting his most 3-pointers per game since 2002-03 while shooting 39 percent from beyond the arc.
Playing further from the basket has hurt his rebounding numbers -- he is only averaging 5.6 rebounds per game, his fewest since his rookie season.
Last season, 35 percent of Nowitzki's offense came from post-ups, compared to 21 percent from post-ups this season. On the other side, 42 percent of Nowitzki's offense came from jump shots last season, and that number is up to 53 percent this season.
All of that has resulted in the most efficient player in the NBA. Nowitzki is leading the league in points per play among players with at least 150 plays this season.
November, 26, 2014
Nov 26
9:48
PM CT
Associated Press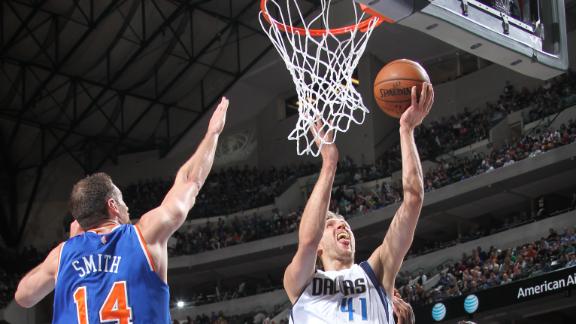 DALLAS -- Tyson Chandler set season highs with 17 points and 25 rebounds against his former team Wednesday night, helping the Dallas Mavericks to a 109-102 overtime victory against the New York Knicks, who were missing Carmelo Anthony.
J.R. Smith, starting with Anthony sidelined by back spasms, was 1 of 10 from the field entering the fourth quarter. But he made a tying jumper with 0.9 seconds left in regulation.
Dirk Nowitzki had a season-high 30 points for Dallas.
Chandler put Dallas ahead for good on a dunk at 101-99 in his first game against New York since an offseason trade that brought him back to Dallas after three seasons with the Knicks.
Jose Calderon, the biggest name going New York's way in the six-player deal after one season with the Mavericks, matched a career high with seven 3-pointers for all of his 21 points.
November, 26, 2014
Nov 26
10:47
PM CT
By
Ian Begley
| ESPNDallas.com
DALLAS --
Tyson Chandler
was anything but a scapegoat on Wednesday night.
Chandler had 17 points and a NBA season-high 25 rebounds to lift the
Dallas Mavericks
to an overtime win over the
New York Knicks
on Wednesday.
Chandler talked earlier in the week about feeling like a scapegoat at times in New York last season. The former Knick played a big role in the Mavs' win with a tie-breaking basket in overtime and 10 offensive rebounds.
It was Chandler's first game against the Knicks since New York traded him in June.
Dirk Nowitzki
added 30 points for Dallas. New York dropped to 4-12. The club has lost seven straight on the road and 11 of its past 13.
No way Jose:
Jose Calderon
, who was the other main component in the Chandler trade, lit up Dallas for 21 points, 10 rebounds and four assists. Calderon hit a career-high seven 3-pointers.
This was Calderon's third game this season. He was New York's biggest offensive weapon with
Carmelo Anthony
out due to back spasms.
That's so J.R.:
J.R. Smith
started the game by missing nine of his first 10 shots. But he knocked down four of six shots in the fourth, including an absurd 21-foot jumper with 0.9 seconds to play to force overtime.
Smith had five more points in overtime but had one of the Knicks' six turnovers in overtime as Dallas ran off a 9-0 overtime run.
Question:
What went wrong for the Knicks down the stretch? Are you seeing the Knicks making any progress or is this a lost season?
You can follow Ian Begley on Twitter.
November, 26, 2014
Nov 26
8:31
PM CT
By
Ian Begley
| ESPNDallas.com
DALLAS --
Dallas Mavericks
owner Mark Cuban took a subtle shot at
New York Knicks
coach
Derek Fisher
before Wednesday's game.
Cuban was asked if he was concerned about Fisher's commitment to the struggling Knicks, who have dropped 10 of 12.
"I'm more concerned with his health and welfare. I know how hard it is for him to fly and travel and be away," Cuban said sarcastically.
[+] Enlarge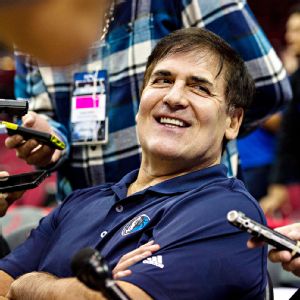 Jerome Miron/USA TODAY SportsMark Cuban offered some pointed comments about Derek Fisher's departure from Dallas.
Cuban's sarcasm was a reference to Fisher's decision to leave the Dallas Mavericks midway through the 2012-13 season and later sign with the
Oklahoma City Thunder
.
The outspoken Mavericks owner expressed disappointment with Fisher's decision at the time.
"It's not so much what he did, but how he did it," Cuban said at the time.
Fisher played nine games with Dallas in 2012-13 before asking to be released because he said he was having a difficult time being away from his family in Los Angeles.
Fisher signed with the Thunder on Feb. 25, a little more than two months after the Mavericks granted his request to be waived.
Cuban said at the time that he hoped Fisher would get booed in his return to Dallas.
Cuban also touched on ex-Knick
Tyson Chandler
. He said he never doubted that Chandler would bounce back after he suffered through a leg injury in 2013-14 that sidelined him for 20 games.
"I saw bounce in his step afterwards. After the injury, there was nothing there," he said. "I had no question in my mind, none."
Cuban also said he never thought the Mavs had a legitimate shot to land
Carmelo Anthony
as a free agent over the summer. The Mavs didn't offer Anthony a max contract. Anthony ultimately signed a five-year, $124 million deal with the Knicks.
"He had more money from New York and if [Anthony's answer to Dallas] wasn't immediate -- I'm in, let's go, let's close this thing -- chances are it's not going to happen," Cuban said.
On Phil Jackson taking a job as Knicks president, Cuban said, "Good for him. He has [fortitude] and he has confidence. I give him a lot of credit, that's a good thing. You know, if you keep on challenging yourself things stay fresh and interesting. [And] that's good for [fiancée] Jeanne [Buss]."
You can follow Ian Begley on Twitter.
November, 26, 2014
Nov 26
6:32
PM CT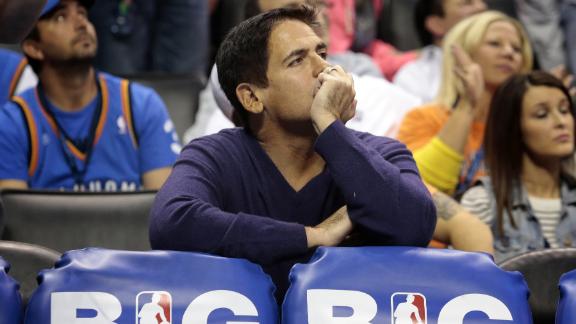 DALLAS -- Mavericks owner Mark Cuban has come up with a proposal to level the playing field between the NBA's two conferences.
Cuban suggests a conference realignment that would result in a total of eight teams, including the Mavs, switching conferences.
In Cuban's plan, the Mavs, San Antonio Spurs, Houston Rockets and New Orleans Pelicans would move to the Eastern Conference. The Chicago Bulls, Indiana Pacers, Detroit Pistons and Milwaukee Bucks would move to the West.
"It's not like it'd be the first time we've ever realigned," Cuban said. "It's happened many times before, so there's precedent and I just think it shakes things up and makes things interesting."
Cuban, whose Mavs were the West's eighth seed with a 49-33 record last season but would have been a No. 3 seed in the East, acknowledged that he had some selfish motivation for the plan. However, he believes the league would benefit as a whole.
"It's not like you're reducing competition," said Cuban, who noted that the teams he suggested moving to the West are approximately the same distance from Portland as Dallas and closer than New Orleans, San Antonio and Houston. "You keep Cleveland, Washington and other good teams in the East. It kind of shakes things up in terms of not just interest but also in terms of how people rebuild.
"It just changes things up and it changes the thought process of a lot of teams. It makes both conferences very competitive, at least for the short term and I think, based on the history of the teams, for the long term as well."
Commissioner Adam Silver has been receptive to ideas that would address the issue of the West being a significantly deeper, stronger conference than the East. One idea that has been floated is to have a 16-team playoff bracket that does not take conferences into consideration.
Cuban has not discussed his idea, which he hatched during a media interview Wednesday, with the commissioner or anyone else in the NBA.
"I did the trial close right here," Cuban said as he worked out on his stair-stepper and talked to reporters before Wednesday's home game against the New York Knicks
November, 26, 2014
Nov 26
5:20
PM CT
DALLAS --
Dallas Mavericks
starting point guard
Jameer Nelson
will not play Wednesday night against the
New York Knicks
due to back spasms.
"We don't think it's serious," coach Rick Carlisle said. "It's next man up."
The next man will not be
Raymond Felton
. The former Knicks guard, who has yet to make his Dallas debut, aggravated the right ankle that kept him out from Oct. 10 until he recently served his four-game suspension. Felton was a healthy scratch for Monday's loss to the
Indiana Pacers
.
Nelson, who is averaging 7.6 points and 4.6 assists, had started all 15 games this season.
Devin Harris
and J.J. Barea are the two healthy point guards remaining on the Mavs' roster.
November, 26, 2014
Nov 26
12:09
PM CT
By
Ian Begley
| ESPNNewYork.com
DALLAS -- New York Knicks forward Carmelo Anthony has been ruled out of Wednesday's game against the Mavericks due to painful back spasms.
Anthony said on Wednesday night that there is no specific timetable for his return.
J.R. Smith started in place of Anthony, who will travel with the Knicks to Oklahoma City following the game, according to coach Derek Fisher.
The Knicks will play the Thunder on Friday.
Anthony told a Knicks official on Wednesday night that his back was "stiff" and "sore" and he was unsure if he would play in Friday's game.
"I just don't know. It's too far ahead for me to even think about right now," Anthony said. "It's gotten a little better, but today was the first day that I actually got to walk around a little bit."
Anthony added that the Knicks' medical staff has not given him a specific timetable for his return.
"They said these things are hard to gauge -- I just don't know how long I'll be out," the veteran forward said.
Fisher said earlier Wednesday that Anthony was "making some progress, but not enough, I think, to be in a game, so it will be day to day."
Anthony left Monday's loss to the Houston Rockets late in the first half with back spasms and did not return.
Anthony said he "couldn't move" once his back locked up. It is the first time Anthony has dealt with spasms.
"I've never felt this way before," he said on Wednesday night. ".... It's gotten a little better, but today was the first day that I actually got to walk around a little bit."
Teammates said Anthony was in severe pain after the game.
"He could barely talk, he said very few words," Smith said. "You could tell the pain he was in."
Anthony visited a doctor in Houston to obtain pain medication that wasn't available in the arena before flying with the Knicks to Dallas. He has not participated in practices or shootarounds, instead opting to receive treatment at the team hotel.
"He's not in a lot of comfort, so [he's] really just trying to rest up and get himself better. We'll be out here tonight and we'll see if we can get a game without him," Fisher said.
This is the second injury for Anthony thus far this season. He revealed last week that he is playing with discomfort in his left knee that first surfaced during the second game of the season
Anthony is leading the Knicks in scoring with 23.2 points per game. Their next-highest scorer is Amar'e Stoudemire
November, 26, 2014
Nov 26
8:00
AM CT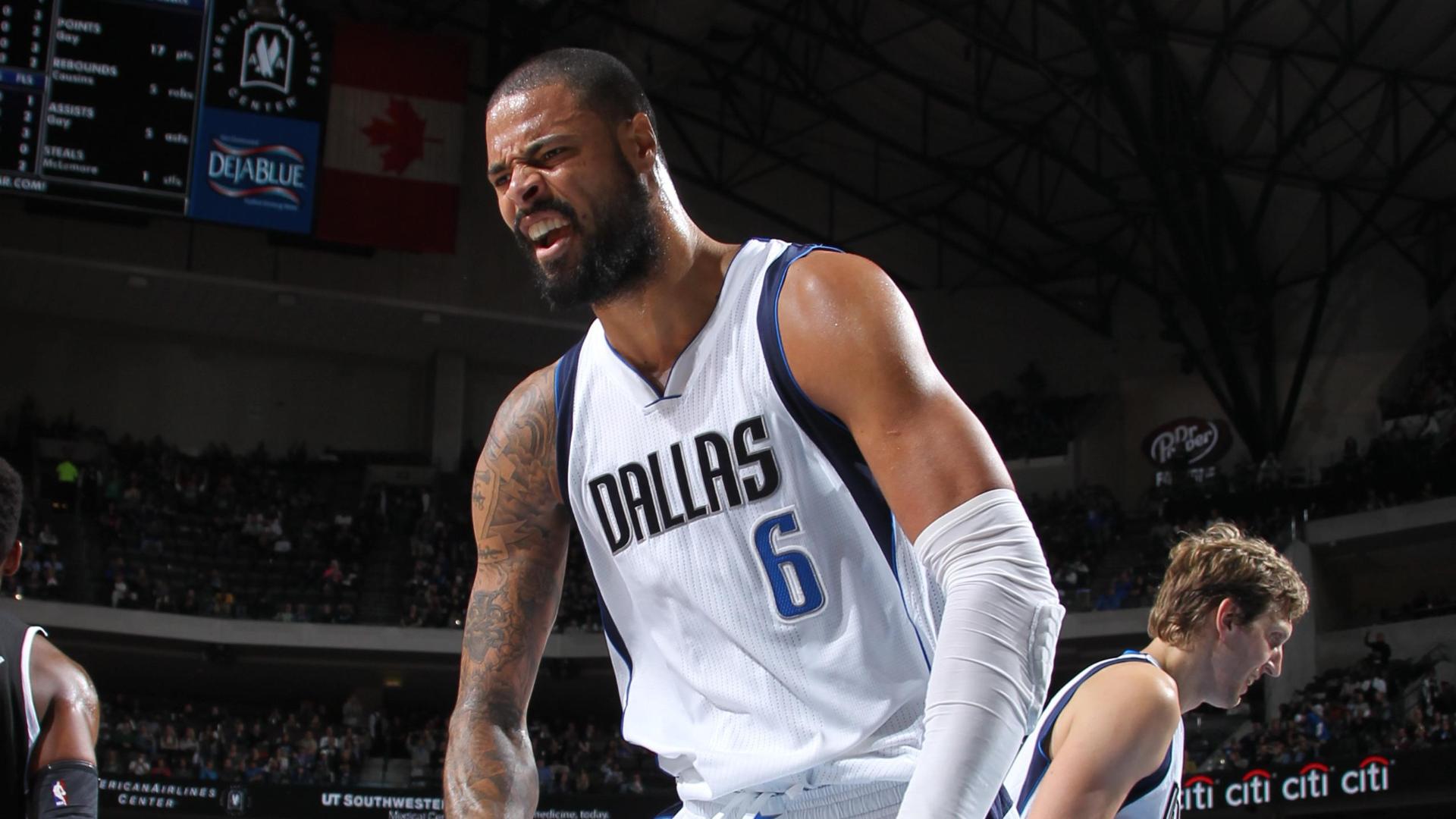 DALLAS -- The collision with Charlotte point guard
Kemba Walker
that caused
Tyson Chandler
so much physical pain and emotional agony could be considered a blessing in disguise for the big man.
The X-rays that early November 2013 night showed a small nondisplaced fracture in Chandler's right fibula. It took a little longer to determine, but it turned out that the
New York Knicks
' playoff hopes were essentially shattered when Chandler went down. And the frustration of a failed season led to cracks in Chandler's relationship with the franchise.
[+] Enlarge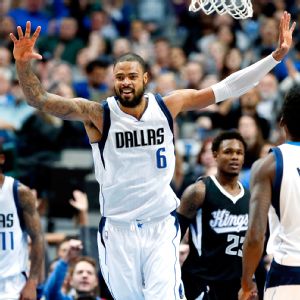 Kevin Jairaj/USA TODAY SportsTyson Chandler's defensive intensity fills a big need on the high-scoring Mavericks.
That collision ended up being the first step in Chandler's return to the
Dallas Mavericks
, who face the Knicks on Wednesday at the American Airlines Center. If New York's season hadn't turned into such a disaster, the Knicks wouldn't have deemed Chandler to be so expendable over the summer, when new team president Phil Jackson cited a desire to change the chemistry of the franchise as the primary motivating factor for shipping Chandler to Dallas in a six-player deal.
Chandler doesn't want to test injury karma, so he won't go so far as to say he benefited from his broken leg. But the dirty-work hero of Dallas' 2011 title run couldn't be happier that the path led back to a home he never wanted to leave in the first place and a franchise where he fits so well on and off the floor.
"I look at life as like everything happens for a reason," Chandler told ESPNDallas.com after recently handing out Thanksgiving dinners to single-parent families in need at the Vogel Alcove in south Dallas. "There's no mistakes made. At the time, [the injury] was devastating clearly, but I feel like everything happens for a reason."
No mistakes made? Well, plenty of Mavs fans would argue otherwise, pointing to owner Mark Cuban's calculated risk to value salary-cap space over keeping Chandler and other core members of that title team after the 2011 lockout.
The plan didn't work out how the Mavs' front office hoped. Dallas failed to land one of its targeted big fish in free agency, swinging and missing on
Deron Williams
(kind of a check swing, actually) and
Dwight Howard
and never even getting a chance to throw a pitch to
Chris Paul
.
The debate will always rage in Dallas about whether that team full of high-mileage veterans would have had a legitimate chance to repeat in a lockout-condensed season. But there should be no doubt that the Mavs are better off this season because of that decision.
If Chandler's contract was on the books in the summer of 2013, the Mavs wouldn't have had cap room for
Monta Ellis
. Dallas can't claim that Ellis was a Plan A target, but the Mavs are certainly glad they got him, as he immediately clicked as a pick-and-pop partner with
Dirk Nowitzki
last year and now leads the 10-5 Mavs in scoring.
"

What he brings to us with his enthusiasm, with his wanting to be held accountable, holding his teammates accountable, general overall energy -- there aren't many guys that bring that on a consistent basis the way he does. He's hugely important to us on the floor, in the locker room, you name it.

"

-- Mavs coach Rick Carlisle on Tyson Chandler
With Ellis and Nowitzki as co-stars, the Mavs made the playoffs last season after a one-year absence, pushing the eventual champion San Antonio Spurs to seven games in the first round. Their hopes are much higher this season thanks in large part to the presence of a springy center who meshes with the Mavs just as phenomenally well as he did during his first, too-brief stint in Dallas.
"What he brings to us with his enthusiasm, with his wanting to be held accountable, holding his teammates accountable, general overall energy -- there aren't many guys that bring that on a consistent basis the way he does," coach Rick Carlisle said. "He's hugely important to us on the floor, in the locker room, you name it."
On the floor, the 32-year-old Chandler has answered any lingering questions about his health as emphatically as he throws down alley-oops, of which there have been plenty. He's averaging 10.3 points, 10.3 rebounds and 1.4 blocks per game and ranks third in the NBA in field-goal percentage (69.7).
The fiery, 7-foot-1 Chandler provides Dallas the interior defensive presence this offense-intensive roster so desperately needs. He's arguably as valuable on the offensive end. His pick-setting and rebounding create increased and improved looks for the Mavs' scorers, and Chandler's ability to catch and finish high above the rim puts opposing defenses in a bind with Nowitzki's shooting and Ellis' penetration requiring so much attention.
In short, he fills a long list of holes the Mavs had during his three seasons in New York, when their Howard hopes turned into the harsh reality of a revolving door at center, with
Brendan Haywood
,
Chris Kaman
and
Samuel Dalembert
taking turns as the primary starters.
No wonder the Mavs are still searching for their first playoff series win since sipping Champagne in South Beach, huh?
In the locker room, Chandler stepped right back into the role of spiritual leader he had on the championship team. He typically addresses the team before each game, at halftime and often after the game.
If a Dallas player has done something wrong, Chandler will tell him about it if he determines it necessary, a no-bull approach embraced by the Mavs. He expects his teammates to hold him to the same standard of accountability.
[+] Enlarge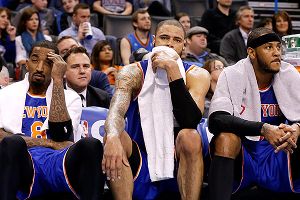 AP Photo/Sue OgrockiPhil Jackson wanted to change the Knicks' chemistry so he traded Tyson Chandler to Dallas after a 37-45 finish last season.
"His communication is next to no other than I've ever seen in my 17 years," Nowitzki said. "When he makes a mistake, he wants to hear it. He wants to communicate about it and get better and put it behind him. He's been amazing."
That opinion apparently isn't shared in the Knicks' locker room. Jackson's chemistry jabs were followed up by star
Carmelo Anthony
and other Knicks making comments about the lack of finger pointing in New York this season, which could be perceived as passive-aggressive pokes at Chandler.
How can Chandler be considered a great leader by one team and an outcast by another?
"It made perfect sense," said Cuban, who hopes to keep Chandler when his contract expires this summer. "If there's organizational issues or whatever was happening, then somebody who's trying to rally the guys, if the guys aren't buying it, it's going to be disruptive. Everybody's got to buy it for it to work."
Or, as Chandler put it: "I think people can take it differently and make it what they want to make it. It also depends on where your mind is. If everybody is locked in and they want to win and they know I'm in it 100 percent and they're in it 100 percent, nobody's sensitive. But if there's other agendas, it's going to make things sensitive."
Chandler might still be a bit of a sensitive subject for the Knicks. But a quick glance at the standings -- the 10-5 Mavs fighting for playoff position in the loaded West, the 4-11 Knicks destined to play for pingpong balls in the weak East -- suggests that Chandler probably wasn't the problem in New York last season.
The Knicks' eagerness to get rid of Chandler was a great break for the Mavs.
November, 26, 2014
Nov 26
12:13
AM CT
Step aside, Los Angeles Clippers. Lob City has found a new home.
Ever since Chris Paul landed in Los Angeles, the Clippers have been a lob machine, blowing away the competition in alley-oop dunk totals. In Paul's first season with high-fliers Blake Griffin and DeAndre Jordan, the team completed 107 alley-oops, 23 more than any other squad. The nickname was justified.
And it stuck with good reason. They led the league again in lobs during the lockout-shortened season in 2012-13. And last season, they set the unofficial record with 169 alley-oop dunks, according to data pulled from NBA StatsCube. The Rockets placed second with 110. No one was really close.
But that's all changed. After a three-year reign, Lob City is no longer found in Hollywood, but instead in the heart of Texas. The Dallas Mavericks are dunking all over everybody en route to the NBA's most efficient offense in recent history.