November, 20, 2014
Nov 20
3:35
PM ET
ENGLEWOOD, Colo. -- The
Denver Broncos
have consistently said rookie wide receiver
Cody Latimer
is ready to participate in the team's offense if they need him to.
Well, the Broncos may need him to be the team's No. 4 wide receiver Sunday against the
Miami Dolphins
.
Emmanuel Sanders
, who suffered a concussion in last Sunday's 22-7 loss to the
St. Louis Rams
, did not participate in Thursday's practice as he continues to be evaluated under the league's concussion protocol.
Sanders viewed practiced dressed in sweats just like he did Wednesday. Under the protocol, he would have to be cleared by the Broncos medical staff as well as an independent physician, before he could return to practice even on a limited basis.
Broncos head coach John Fox said after Thursday's practice Sanders has been cleared to do some light conditioning work, which is the first step in the evaluation process to return to the field as the player undergoes cognitive testing.
"He's going through that phase of the program now, we'll evaluate it again [Friday]," Fox said. "We're optimistic, we'll see what [Friday] brings."
The team's second-leading receiver is still a significant question mark to play against the Dolphins. That means Latimer, who has played 16 snaps on offense this season, 14 of those in the win over the
Oakland Raiders
, may see some time in the offense when
Peyton Manning
is behind center.
Asked this week if Latimer would be ready to be in the rotation with the starters, Manning said: "Yes. I think he certainly has taken advantage of his time out here at practice and we ask a lot of questions of the guys that aren't necessarily playing or even the practice squad, and try to keep those guys mentally involved ... I think Cody has done a good job studying and I know he certainly wants to be there. He's a competitive guy and I think he's improved throughout the season. I certainly think if his name and number was called, I think he'd go in there and answer the bell for us."
Tight end
Julius Thomas
, who suffered a left ankle sprain against the Rams, is also being evaluated. Thomas did stretch with the team at the start of practice, but he did not participate in the workout.
Running backs
Montee Ball
(groin) and
Ronnie Hillman
(foot) also did not participate Thursday. Ball and Hillman are not expected to practice this week or play in Sunday's game.
Hillman could miss several additional weeks and Ball is expected to miss at least two to three weeks in his recovery.
Tight end
Virgil Green
, who has missed the past three games with a calf injury, did practice Thursday on a limited basis, while left tackle
Ryan Clady
(groin) and safety
Quinton Carter
(knee) were also limited. Punter Britton Colquitt was sent home because of an illness and did not practice.
November, 20, 2014
Nov 20
2:48
PM ET
AP Photo/L.G. Patterson
Peyton Manning and the Denver Broncos host the Miami Dolphins on Sunday.
After losing two of three games on their just-completed road trip, the
Denver Broncos
return home to face the
Miami Dolphins
on Sunday.
Denver has won all five home games this season, all against teams currently over .500, and the Broncos have the NFL's best home record over the past three seasons (19-2).
But coming home may not be a cure-all for Denver, as the Dolphins have done well against big-name quarterbacks this season.
Dolphins' strong defense
Miami leads the NFL with a 33.1 opponent Total QBR this season, and the Dolphins have been successful against top quarterbacks.
Tom Brady
,
Aaron Rodgers
and
Philip Rivers
each had his worst completion percentage of the season against the Dolphins. Miami beat two of those three quarterbacks, and Rodgers needed a touchdown pass with three seconds left to get the win.
One of the reasons opponents struggle against the Dolphins is an inability to hit the deep ball, as Miami has allowed the lowest completion percentage, yards per attempt and Total QBR against passes 20-plus yards downfield this season.
Peyton Manning
has completed 48.8 percent of his passes thrown 20-plus yards downfield this season, fifth-best in the NFL.
Overall, the Dolphins' defense has allowed 4.69 yards per play this season, fewest in the NFL. And Miami isn't giving away yards, with only 13 penalties enforced against its defense this season, second-fewest in the NFL.
Manning not on point
Manning's three worst Total QBR games of the season have come in the Broncos' past three games, largely because of turnovers.
Manning has thrown multiple interceptions in each of those three games, his first such streak with the Broncos and first since 2010. Manning hasn't thrown multiple interceptions in four straight games since his fourth season in 2001.
Although Manning has thrown eight touchdown passes in his past three games, five of those came against the winless Raiders.
Missing Weapons?
Both
Emmanuel Sanders
(concussion) and
Julius Thomas
(ankle) missed practice on Wednesday after leaving last week's game with injuries.
Thomas (12 receiving touchdowns) and Sanders (seven) lead the team in receiving touchdowns this season, and both have caught more than 70 percent of their targets. No other receiver on the team has done that.
Manning has completed 23 of 26 passes (89 percent) when targeting Sanders and Thomas in the red zone this season for 13 touchdowns. He's completed only 22 of 35 (63 percent) with five touchdowns to all other Broncos.
November, 20, 2014
Nov 20
1:32
PM ET
[+] Enlarge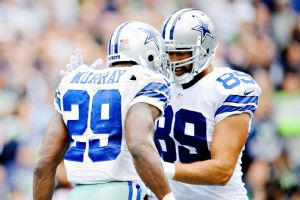 Steven Bisig/USA TODAY SportsThe 30-23 victory by DeMarco Murray and the Cowboys over the Seahawks on Oct. 12 was watched by 30 million people -- tops among all TV shows since the season began, according to the NFL.
Despite all the off-the-field issues, including its handling of the Ray Rice assault case, the NFL says viewership numbers show that the masses are still very interested in watching games on television.
NFL games make up 28 of the top 30 TV shows since the season started Sept. 4, the league announced Thursday. The only shows in the top 30 that weren't NFL games were Game 7 of the World Series on Fox (12th-most watched) and an "NCIS" episode on CBS (27th).
The most-watched NFL game was the matchup between the Dallas Cowboys and the Seattle Seahawks on Oct. 12, viewed by 30 million people.
Among the top 15 most-watched NFL games this season, the team that has been featured the most is the Denver Broncos, who have been on one-third of those broadcasts. The Cowboys, Seahawks and San Francisco 49ers have appeared four times each.
An NFL game has topped the weekly viewership charts for all 11 regular-season weeks this year, the NFL said.
November, 20, 2014
Nov 20
1:20
PM ET
ENGLEWOOD, Colo. -- Will they? Or won't they?
When it comes to running the ball out of what has been the league's most prolific passing offense over the past three seasons -- 122 touchdown passes for
Peyton Manning
in the past 42 regular-season games -- the
Denver Broncos
have often been, at least some of the time, about semantics.
Instead of raw data, yards per carry, rushing attempts per game, words like "efficiency" and "positive gains" have been sprinkled in and around the descriptions of what is hoped for when Manning hands the ball to a running back. But that was before the 22-7 loss in St. Louis when the Broncos ran the ball just 10 times and one of those "attempts" was a kneel-down by Manning just before halftime.
[+] Enlarge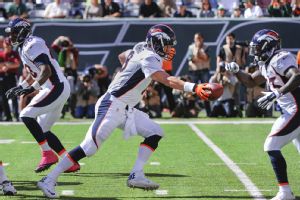 AP Photo/Bill KostrounDenver coach John Fox says the sight of Peyton Manning handing the ball to a running back needs to happen more often in coming weeks.
The fact it happened not only in a loss, but in a game the Broncos trailed by just nine points when the fourth quarter began, caused Broncos head coach John Fox to re-assess this week and say; "There's no doubt to be the kind of team we want to be, we have to run the ball more. There's a mindset, mentality, whether you're on defense trying to stop the run and whether you're on offense running the football ... Right now it's something we have to do more, we have to execute better."
And that is the rub, because not only is running the ball more a commitment in play-calling, it is Manning who has the last word on any play before the snap. Manning, because of who he is, can check into, and out of, any play he wishes.
Sunday, in a game the Broncos trailed by six at halftime, and by nine at the end of the third quarter, the Broncos' last 28 plays from scrimmage were called pass plays.
C.J. Anderson
had the last rushing attempt in the game for the Broncos, a 3-yard gain with just over seven minutes remaining in the third quarter.
"In my opinion we lost that game because I didn't play well enough in the passing game," Manning said. "Did we throw it a lot? Yes, we did. There were plays to be made and I didn't make them."
On what the proper balance between run and pass is in an offense built to be the best at throwing it around in unprecedented pass-happy times, Manning said it isn't about percentages, but rather purpose.
"No matter how many times you run it or throw it, you have to produce when you do it," Manning said. "So, that's what I'm disappointed about -- I didn't execute the plays that were called, the way they were supposed to (be)."
But Manning also tossed out; "We might be an old-school running game this week, be alert for that."
Defenses have dropped plenty of players into coverage, with lighter personnel groupings on the field to chase around the Broncos receivers. That combination would seem to allow the Broncos to pound away if they chose.
But the Broncos have also had difficulty consistently winning the line of scrimmage. The Broncos, who are one of just seven teams in the league with fewer than 245 carries entering this week's games, have had 37 runs go for no gain or negative yardage.
That is 15 percent of their rushing attempts that haven't made it past the line of scrimmage.
The Dolphins are eighth in the league against the run -- 94.5 rushing yards allowed per game -- and seventh-best in the league, allowing just 3.83 yards per rushing attempt. Miami is also tied for third in sacks, and has seen the past three Broncos' opponents affect Manning's ability to deliver the ball when he wants. Opponents have been folding in the edges of the Broncos' pass protection and pushing the middle to keep Manning from striding into his throws.
"I just know when they hand it to us as running backs, call our number, we want to make a play that helps us," said Anderson. "Any time they ask us to go, we need to go. I'm just concentrating on being ready to do my job as many times as they need me to do it."
November, 20, 2014
Nov 20
7:00
AM ET
ENGLEWOOD, Colo. -- The
Denver Broncos
' offensive linemen always try, of course, to keep the pass-rushing heat away from quarterback
Peyton Manning
.
This week, Manning has stepped in front of his beleaguered offensive line to try to deflect some of the heat the group is taking.
[+] Enlarge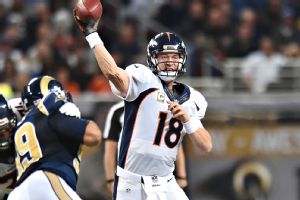 Michael B. Thomas/Getty ImagesThis week Peyton Manning defended his offensive line, which has been taking some criticism.
"Certainly, certainly," Manning said Wednesday when asked if the Broncos' offensive line was good enough for the team to keep winning. "It's not easy formulating chemistry in just two weeks in the middle of the season. What's that, a handful of practices they've had together? You'd like for an offensive line to have a minicamp and a training camp to go through together … but we've had to form that chemistry on the run. Those guys are working hard. There is a lot of communication that goes into playing offensive line in the NFL, especially in this offense."
The Broncos are 7-3 and the current No. 2 seed in the AFC playoffs because of a head-to-head win over the
Kansas City Chiefs
in Week 2. Denver has the NFL's No. 5 scoring offense and the least-sacked starting quarterback Yet the Broncos have been unable to run the ball with any consistency, and Manning has been under increasing pressure over the last month, including the team's recent 1-2 stretch.
The Broncos are 27th in the league in rushing yards (899), tied for 25th in yards per carry (3.7) and tied for 26th in rushing attempts per game (24.3). They had 10 carries in Sunday's loss to the
St. Louis Rams
, and one of those carries was a kneel-down by Manning before halftime. The Broncos also have had issues in pass protection as defenses repeatedly attack the middle of the formation, and have surrendered three sacks this season to three-man rushes.
Former Broncos guard and current ESPN NFL analyst Mark Schlereth issued a scathing assessment of the Broncos' offensive line on an ESPN Denver radio show Wednesday. Schlereth offered:
"They're horrible from an athletic standpoint in getting to the second level."

"It's bad -- it's worse than bad, it's horrendous. It's as bad as I've ever seen."

"It's bad technique-wise, athleticism-wise, toughness-wise, scheme-wise -- you name it, across the board, I can't even explain how bad it is. It's horrible."

"Giving an F would be kind."
After Wednesday's practice, Broncos coach John Fox was asked to comment on Schlereth's evaluation. Fox didn't specifically address the comments but made it clear he didn't agree.
"I always liken a lot of people on the outside, as everybody's got an opinion and I understand that, but they're like a body part and everybody's got one," Fox said. "We'll just leave it at that."
The Broncos have made four changes on the offensive line in recent weeks.
Paul Cornick
replaced
Chris Clark
at right tackle before Cornick also was replaced two games ago.
Louis Vasquez
was then moved to right tackle,
Manny Ramirez
was moved to right guard, and
Will Montgomery
was put into the lineup at center.
Those three have played at those spots for the last two games. Vasquez has dealt with some back/neck issues this season, while left tackle
Ryan Clady
has been slowed by a groin injury that has impacted his ability to move in recent weeks.
In reality, help isn't on the way to fix things, but the Broncos have worked out Richie Incognito and have not closed the door on signing Incognito, who was suspended last season as a key figure in the
Miami Dolphins
' bullying scandal.
"Everybody else has to play a little better to help those guys," Manning said. "That is how I feel and it starts with me."
"Those guys work hard every day," running back C.J. Anderson said, "and everything's not going to be perfect every time. They are pushing themselves to the limit, and it takes me to hit the right spots and hit the right holes and make them look a lot better than what people are saying about it. Our O-line is really good, so when we go out there this weekend, and if we decide to run the ball a lot or if we decide to pass block, whatever we do -- if it's protecting Peyton or running the ball, whatever is called -- if we execute the right way, we know we'll get the results we want."
November, 19, 2014
Nov 19
4:27
PM ET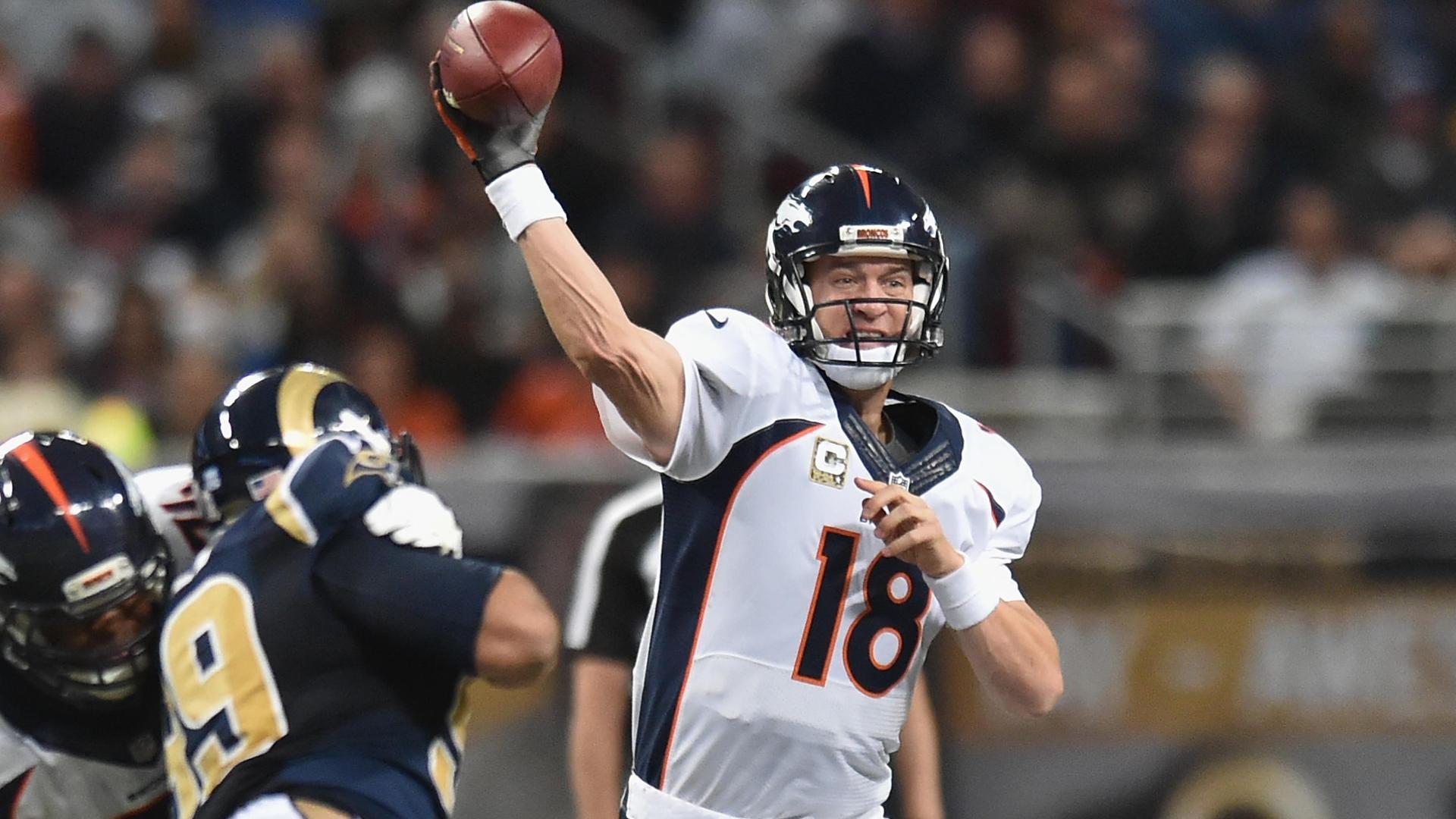 ENGLEWOOD, Colo. -- Denver Broncos quarterback Peyton Manning often will scan a defense just before the snap and call "hurry, hurry'' before he receives the ball.
Thursday, he may not have used those words, but with two losses in the Broncos' last three games, Manning was quick to point out the clock is ticking on the team's chase for the best playoff seeding possible.
The Broncos were shoved around plenty in a 22-7 loss to the St. Louis Rams on Sunday and the lone touchdown amounted to the team's lowest point total since the 2011 regular-season finale, or the last regular-season game the Broncos played without Manning at quarterback.
"Just your sense of urgency has to increase,'' Manning said following Wednesday's practice. "Realizing there aren't many games left and we better get on it, better get going. Need to play better, I need to play better ... You can say all you want, you can talk about doing it, but you've got to go and do it.''
What was once a 6-1 start that had plenty of folks penciling them in to a Super Bowl slot has turned into a 7-3 mark for the Broncos, who went 1-2 in a stretch of three consecutive road games over the last three weeks. The Broncos are now tied, record-wise, with the Kansas City Chiefs atop the AFC West and decidedly behind the New England Patriots (8-2) in the race for home-field advantage in the conference.
The Broncos defeated the Chiefs in Week 2 and face them in Arrowhead Stadium on Nov. 30. The Patriots defeated the Broncos earlier this month so the Broncos lose the head-to-head tiebreaker with them in any playoff seeding.
November, 19, 2014
Nov 19
4:00
PM ET
ENGLEWOOD, Colo. --
Denver Broncos
tight end
Julius Thomas
and wide receiver
Emmanuel Sanders
were on the practice field for the team Wednesday, but only as spectators.
Sanders
Thomas
Thomas, who suffered a sprained left ankle in Sunday's loss to the
St. Louis Rams
, and Sanders, who suffered a concussion, were among the Broncos players who did not take part in Wednesday's practice. Thomas went through stretching with the team but did not take part in drills.
Thomas' current injury is not to the ankle that was surgically repaired in 2012 -- he had right ankle surgery in the months leading up to the 2012 season.
Sanders, dressed in sweats, came onto the field after practice had begun. Sanders is currently under the guidelines of the league's concussion protocol and must clear certain benchmarks to return to practice. He has not yet cleared those benchmarks.
Running backs
Montee Ball
(groin) and
Ronnie Hillman
(foot) also did not participate in Wednesday's practice. Ball and Hillman are not expected to practice this week or play in Sunday's game against the
Miami Dolphins
.
Hillman could miss several additional weeks and Ball is expected to miss at least two to three weeks in his recovery. That makes
C.J. Anderson
the primary back at this point, with
Juwan Thompson
working in the rotation as well.
Tight end
Virgil Green
, who has missed the last three games with a calf injury, did practice Wednesday on a limited basis, while left tackle
Ryan Clady
(groin) and safety
Quinton Carter
(knee) were also limited.
November, 19, 2014
Nov 19
11:00
AM ET
ENGLEWOOD, Colo. -- The Pro Football Hall of Fame has always been a bit of a touchy subject in and around the
Denver Broncos
.
Bailey
That's because a franchise that has been to seven Super Bowls, winning two of them, has just four players enshrined in the Hall who played a significant portion of their careers with the team -- John Elway, Floyd Little, Gary Zimmerman and Shannon Sharpe. A total that's far less than many franchises who don't quite have the same kind of trophy case or pile of winning seasons over the last three decades or so.
Tuesday, the organization said its formal thank you to cornerback Champ Bailey, who played 10 of his 15 seasons with the Broncos and was named to eight of his 12 Pro Bowls with the team as well. And by almost any standard, Bailey figures to join the four other Broncos in Canton, Ohio, almost as soon as he becomes eligible five years from now.
Or as Elway put it at Bailey's gathering in the team's complex Thursday: "(We) also look forward to the next big party, whether it be the Ring of Fame or Canton, Ohio, when you go into the Hall of Fame."
The Hall released its 25 modern-era semifinalists Tuesday for the Class of 2015 and four former Broncos were on the list -- running back Terrell Davis, safety Steve Atwater, safety John Lynch and Karl Mecklenburg. That list will be trimmed to 15 modern-era finalists who will be discussed and voted upon the day before the Super Bowl. Up to five-modern era finalists can be enshrined in the Class of '15.
For Bailey's part, his 12 Pro Bowl selections were the most ever for a cornerback and tied, with Hall of Famer Ken Houston, for the most ever by a defensive back. Bailey's 52 career interceptions are tied for 26th all-time with the likes of Hall of Famers Jack Butler, Mel Renfro and Larry Wilson.
Bailey, now having formally retired, does not hide his hope to claim a coveted gold jacket. He was asked Tuesday what he believed his place in the league's history would be and with his usual wit, Bailey offered Hall of Famers Rod Woodson and Deion Sanders were his favorites and added simply:
"The work is done, it's not in my hands, but just looking at it objectively I would vote for me. ... If I'm mentioned in the top 10 that's great, every time I look at a list like that I see seven or eight guys who could be No. 1, I mean I have my favorites … it's just great to be in the discussion."
November, 19, 2014
Nov 19
7:30
AM ET
ENGLEWOOD, Colo. -- No, it wasn't
Marshawn Lynch
or
Jamaal Charles
or
Frank Gore
or even the newly-famous
Jonas Gray
-- all running backs the
Denver Broncos
have faced this season -- that uncorked the first 100-yard rushing game against the Broncos' defense.
It was
St. Louis Rams
rookie
Tre Mason
, who finished with 113 yards on 29 carries to help move the Broncos from the league's No. 1 run defense before Sunday's game to No. 2 after. The Rams' 33 rushing attempts amounted to the second-highest total by a Broncos opponent this year, second only to 37 attempts by the
Seattle Seahawks
in Week 3.
[+] Enlarge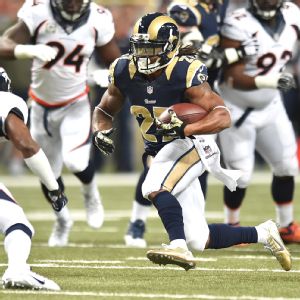 Michael B. Thomas/Getty ImagesTre Mason was the first back to run for more than 100 yards against the Broncos this season.
"I think we miss fit a couple things," said Broncos head coach John Fox. "They ran it quite a few times. I think we had 10 (attempts). They had 31. I think we're capable of better."
And after a long look at the game video, here are some thoughts on the Broncos defense and special teams:
November, 18, 2014
Nov 18
4:52
PM ET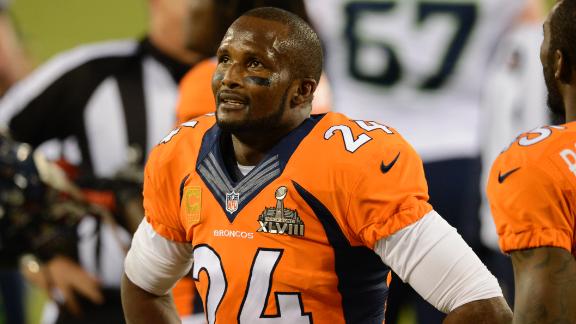 ENGLEWOOD, Colo. -- The Denver Broncos gave Champ Bailey a formal send-off into football retirement Tuesday.
Bailey, a 12-time Pro Bowl selection, had announced his retirement earlier this month, but the Broncos were poised to play three consecutive road games. So the team he called home for 10 of his 15 NFL seasons wanted to give him a proper thank you.
Bailey was in the team's complex Tuesday and will spend the remainder of the week in Denver before serving as an honorary captain before Sunday's game against the Miami Dolphins in Sports Authority Field at Mile High.
"To my last snap I tried to be the best on the field," Bailey said. "We all get old in this game. I don't have any regrets."
Broncos CEO Joe Ellis said Bailey was one of Broncos owner Pat Bowlen's favorite players, John Elway called Bailey "a pillar to build around and Champ was that guy," and Broncos head coach John Fox said it "was a pleasure to be your coach."
Several of Bailey's former teammates were on hand, including Rod Smith, John Lynch, Jake Plummer and Peyton Manning.
Patrick Smyth, the Broncos' vice president of public relations, tweeted out a picture of the reunion.
The Broncos showed a collection of Bailey's highlights to go with video messages from Darrell Green, Smith, Lynch, former Broncos head coach Mike Shanahan and former Washington Redskins general manager Charley Casserly, who selected Bailey with the seventh pick of the 1999 draft.