September, 2, 2014
Sep 2
5:30
PM ET
ENGLEWOOD, Colo. -- The
Denver Broncos
will likely carry the will-he-or-won't-he question about wide receiver
Wes Welker
through the week.
Welker suffered his third concussion in 10 months in the team's Aug. 23 preseason loss to the
Houston Texans
and has been under the guidelines of the league's concussion protocol since. Welker returned to the practice field, on a limited basis, for the first time since the injury Monday as the team went through a non-padded practice.
Welker
Welker did some individual drills as he had not been cleared for contact at that point and he could be cleared for more Wednesday if he has remained symptom free over the last two days. Certainly, from a football standpoint, the Broncos would like Welker in the lineup Sunday night for their regular-season opener against the Indianapolis Colts.
But Welker and the Broncos also know the deal. Three concussions in a 10-month span should require a step back, a reassessment of a player's health. Or as Broncos head coach John Fox put it; "As a I said all last week, he's a guy we'll be cautious with and our main concern is his safety.''
So, it would seem if Welker hasn't been cleared to participate fully in a practice by Friday, it would be difficult to believe he could be cleared, as symptom free, for Sunday's game if he hadn't taken part in a full, non-walkthrough practice before that.
Strictly from a football perspective, the Broncos will have to spend part of the week planning the what-if scenario that Welker doesn't play given their base offensive formation is a three-wide receiver look. They have a couple of directions to go.
They can go a little bigger and line up in a two tight end look where
Jacob Tamme
is essentially a slot receiver. In Manning's first season with the Broncos, the year before Welker was signed, Tamme was the third-most targeted receiver on the team (85 targets), behind only
Demaryius Thomas
and
Eric Decker
.
So, this is an option they are familiar with and have already worked plenty in the preseason. Given Sanders' ability to line up in the slot -- and tight end
Julius Thomas
' as well -- they can create matchup issues for defenses in the middle of the field, even if they surrendered some speed overall to do it.
They can also maintain their proclivity to keep things three wide as they did almost 75 percent of the time last season, a total that hovered near 90 percent of the time in the postseason.
And that's why Sanders was signed, why
Cody Latimer
was selected in the second round of the draft and why
Andre Caldwell
was the first player the team re-signed, just before free agency opened this past March. Welker had more than 700 receiving yards when lined up in the slot last season and seven of his 10 touchdowns, so it's an important part of the scheme.
Should Welker not play, the Broncos' offseason work on offense may be seen. Against the Colts, the Broncos could mix and match more with this group of receivers than they would have last season when Welker missed the final three games of the regular season. In those three games Decker was targeted 27 times, Demaryius Thomas was targeted 24 times, Julius Thomas was targeted 21 times and Caldwell 10 times.
In those three games Welker missed, Tamme played nine, 52 and 49 snaps (two of the three games he played more than 30 snaps all season), but was targeted by Manning two, three and four times in those games. Caldwell caught six, two and three passes in those games.
As good as the Broncos offense was last season, and let's face it no other team in league history has scored more than the Broncos' 606 points in '13, this year's growth on that side of the ball is not about more points, but it's based on creating additional options. They have more to offer in the run game, more depth to deal with injuries and just more ways to handle what comes their way.
Sunday night might be their first chance to show it.
September, 2, 2014
Sep 2
11:06
AM ET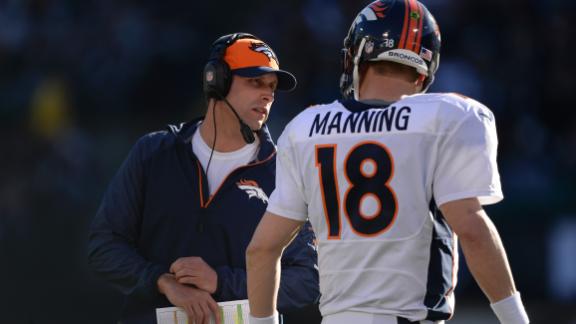 ENGLEWOOD, Colo. -- The NFL did not fine or levy any other punishment on the Denver Broncos, quarterback Peyton Manning or offensive coordinator Adam Gase for an April visit when Gase and Manning crossed paths at the University of Alabama, team sources told ESPN.
The Broncos learned that no punishment was in the offing several weeks ago -- early in training camp, according to sources.
The incident came to light when Crimson Tide coach Nick Saban had characterized Manning and Gase as "making some visits" in a news conference and said the two wanted to include Alabama on the list.
A coach and a player taking a campus visit together before their team starts its offseason program is a violation of the NFL's collective bargaining agreement.
The Broncos started their offseason program April 14 while Gase and Manning, on separate visits, had gone to Tuscaloosa earlier that month. The Broncos have publicly maintained, as both Gase and Manning have, that the two had made individual trips to the school and did not travel together in offseason.
At the time, Manning was asked whether he had met with Gase while in Tuscaloosa, and offered: "I certainly know the rules, but I know there's no rule that says a player can't get better -- at least I haven't read that one. That's what I was trying to do, and I believe that is important -- especially as you get older -- in the offseason to try to seek out some things to try to make yourself a better player. ... [A meeting with Gase] didn't happen. We know what the rules were. Like I said, I was there on an independent project, and Adam was as well."
September, 2, 2014
Sep 2
10:00
AM ET
Join us today at 1 p.m. ET for ESPN's NFL Nation TV's Spreecast episode No. 21, our season preview. Host Paul Gutierrez (
San Francisco 49ers
reporter), co-host Coley Harvey (
Cincinnati Bengals
reporter) and guests Jeff Legwold (
Denver Broncos
reporter) and Terry Blount (
Seattle Seahawks
reporter) will discuss a range of topics from the Super Bowl champion Seahawks' fine to the Broncos regrouping for another title run to the 49ers leading the league in arrests since 2012 to the Raiders naming rookie
Derek Carr
their starting QB, among other timely issues. Viewers are encouraged to log in and ask the panelists questions as well as contribute in the chat feature.
September, 2, 2014
Sep 2
8:00
AM ET
ESPN.com
Denver Broncos
reporter Jeff Legwold makes his game-by-game picks for the 2014 season.
Week 1: Indianapolis Colts
The Broncos have opened at home, in prime time, the previous two seasons and scored 31 and 49 points, respectively. In last year's opener, quarterback Peyton Manning threw seven touchdown passes and this year's offense is primed for another big year. Prediction: Win
---
Week 2: Kansas City Chiefs
Personnel executives around the league said throughout the preseason the Chiefs have some unresolved issues in the secondary and that's not a good place to have unresolved issues against the Broncos. Manning threw six touchdowns in two meetings against the Chiefs in '13. Prediction: Win
---
Week 3: at Seattle Seahawks
For months the Broncos have listened to and, no matter what they've said publicly, heard every word of criticism they were too soft, too intimidated to handle the Seahawks in Super Bowl XLVIII. A potential early-season classic. Prediction: Win
---
Week 5: Arizona Cardinals
The Broncos will be just a quarter of the way through the season and they will already be two games into their NFC West trek. The Cardinals were a 10-win team in '13 that didn't make the playoffs, but their defense will sorely miss the injured Darnell Dockett. Prediction: Win
---
Week 6: at New York Jets
The Broncos didn't like much of what happened the last time they played in MetLife Stadium and Rex Ryan will have some defensive surprises waiting. But if the Broncos beat their body clocks in this one -- kickoff is scheduled for 11 a.m. MT -- they'll get another win. Prediction: Win
---
Week 7: San Francisco 49ers
The Broncos haven't made it through a home schedule undefeated since an 8-0 run in 2005. The teams that will offer the biggest tests will be the teams that can pound the ball on offense and pressure Manning with a four-man rush. The 49ers can do both. Prediction: Loss
---
Week 8: San Diego Chargers
These two teams took decidedly different approaches in the offseason. The Broncos were active in the free-agency market, showering contracts on several new arrivals, whereas the Chargers took a far more measured approach. San Diego will see the new guys have made a difference. Prediction: Win
---
Week 9: at New England Patriots
Since the start of the 2006 season the Broncos have played five games in Gillette Stadium, including a playoff game to close out the 2011 season to go with the 2012 and 2013 regular seasons. Prediction: Loss
---
Week 10: at Oakland Raiders
In the past five meetings with the Raiders, the Broncos have scored 34, 37, 26, 37 and 38 points. There is no reason to believe the Broncos won't add another 30-something output to the pile. Prediction: Win
---
Week 11: at St. Louis Rams
From a personnel standpoint the Rams, with quarterback Sam Bradford out for the season, aren't quite ready for prime time all the time just yet. But at some point, an early Week 4 bye and a stretch of six road games in eight weeks will kick in for the Broncos and they will lose one they shouldn't. Prediction: Loss
---
Week 12: Miami Dolphins
It will be the Dolphins' first trip to Denver since 2008 -- Mike Shanahan's final season as coach. Miami, in a bit of a roster makeover, will find things have changed. Prediction: Win
---
Week 13: at Kansas City Chiefs
Last season the Broncos scored a single-season record 606 points and still couldn't run the table in their AFC West games, losing to the Chargers in Sports Authority Field at Mile High. Trouble spots this time around figure to be this game or the one in San Diego two weeks later. Prediction: Win
---
Week 14: Buffalo Bills
From all of the offensive struggles the Bills had in the preseason, things figure to be more than a little frayed by the time they get to this point in the season. The Broncos will be pointing toward postseason seeding. Prediction: Win
---
Week 15: at San Diego Chargers
No matter the time of the year, no matter the rosters on either side, Chargers quarterback Philip Rivers has usually played well against the Broncos and put the Chargers in position to win the game. But this is the point of the schedule when the Broncos' new look on defense needs to look playoff ready.
Prediction: Win
---
Week 16: at Cincinnati Bengals
Finally, right here, the Broncos conclude the long, difficult trek through the road games that dominate the second half of their schedule. The Bengals, if still healthy on defense by this point, can rush the passer in the middle of the field and can create matchup problems on offense. Prediction: Loss
---
Week 17: Oakland Raiders
The Broncos nailed down home-field advantage with a win over the Raiders to close out the 2013 season. If all goes well for the Broncos, and a potential loss in New England would sting too badly, they should be in position to do that again in this one. Prediction: Win
---
Predicted Record: 12-4
September, 2, 2014
Sep 2
7:30
AM ET
ENGLEWOOD, Colo. -- After months of offseason work, training camp and the initial cut to 53 players on the roster, the
Denver Broncos
make the transition this week.
They go from "on paper," to the scoreboard as Sunday night's regular-season opener against the
Indianapolis Colts
approaches.
"I think we're further along than maybe we have been in other years, but on paper doesn't mean anything," said Broncos head coach John Fox following Monday's practice. "How we come together, how we go about our work on and off the field -- there's still a lot of variations -- if we stay healthy. … Last year doesn't mean anything for anybody. It's what you do now."
But as the Broncos are poised to see if the theory is true, this has all been the undercurrent of the Broncos' spring and summer. That this version, this roster, is better than the one that finished 13-3 in the 2013 season and advanced to Super Bowl XLVIII before the horrible-no-good-very-bad-day meltdown in the title game ended the run.
Much of the offseason energy was spent on a defensive makeover that included free agent signings
DeMarcus Ware
, T.J. Ward and Aqib Talilb to go with a first-round pick in the May draft used to select cornerback
Bradley Roby
. But even an offense that scored a single-season record 606 points -- that features a new primary runner in
Montee Ball
and a new starter at wide receiver in
Emmanuel Sanders
-- may have more to offer when attacking defenses.
But overall the team's chief football decision-maker, John Elway, said his biggest mission was to add some youth, more speed overall and find a way, if the inevitable spate of injuries arrives to have enough athleticism on hand that special teams units wouldn't suffer when the roster dominoes fall. The Broncos had five defensive starters on injured reserve when they arrived at the Super Bowl this past February.
"We've got more depth," Elway said. " … We've got more speed, especially in the backup positions and that can help us on special teams so I think speed-wise we're much better on special teams. We've got some young guys that came in and competed and overall our team's speed's better but again with the guys that we've signed this offseason, we've talked several times about it, it is a different mentality and confidence level on the defensive side."
The difference in where the Broncos are now and where they were in 2011 when Elway and Fox began their current tenures -- aside from the
Peyton Manning
signing -- is what happened when the Broncos released players this time around.
This time, several personnel executives from around the league said in recent days, the players the Broncos released got far more looks than they have in the previous three seasons. Safety
Duke Ihenacho
was claimed off waivers by the
Washington Redskins
. Head coach Jay Gruden said he expects Ihenacho to contribute on special teams immediately and that Ihenacho has a chance to play in the team's defense as well.
Defensive tackle
Kevin Vickerson
, who started 11 games last season and was released when the Broncos kept just eight defensive linemen, has drawn interest from several teams, including the
San Diego Chargers
. With a more difficult schedule, at least in the early examination before any games are played, another Super Bowl trip remains to be seen.
"It's a situation that you want to be in having to make a lot of tough decisions like we had to make," Elway said. "This is by far the deepest team since I've been here and the toughest decisions we've had since I've been here … health is going to be a big part of it. We were one game short of where we wanted to be last year. I think we feel good about where we are right now, but we also know that you don't win it on paper. Now this group has to come together, work together and continue to grow. It's a good roster. We're excited where we are. Now we have to see it come together."
September, 1, 2014
Sep 1
5:30
PM ET
ENGLEWOOD, Colo. -- In a vote that smacked of substance over style, the
Denver Broncos
were clear about wide receiver
Demaryius Thomas
' standing in the team's locker room.
Thomas -- usually short on bombast and long on performance -- was voted Monday by his teammates as one of five captains for the season.

Thomas
The other offensive captain is
Peyton Manning
. So, given that kind of company, even Thomas was a little surprised when the votes were counted.
"I don't know if you all really know but I don't really talk much in front of the team, I like to lead by example," Thomas said with a smile. "But now I feel like I've got a bigger role, so now I've got to figure out what I'm going to do, but I think it'll be fine. ... I'm really honored and to tell you the truth ... I didn't think I was going to be a captain."
The Broncos players showed the strongest voices among them don't always have to be the loudest. The team selected
DeMarcus Ware
, along with
Terrance Knighton
, as the captains on defense with
David Bruton
Jr. the special teams captain for the second consecutive year.
Knighton and Thomas are first-time captains.
"It's just humbling and it's just a good feeling walking around the locker room and knowing you're respected a certain type of way by your teammates being that you're a captain of the best organization in the NFL," Knighton said. "Everybody feeds off you and once you know you have that 'C' on your jersey, you're almost obligated to do things right and you want to do things right because guys are going to follow and that is not a problem for me. Like I said, I am the same guy every day and guys know what they're going to get from me every day so it's easy for me."
The soft-spoken Thomas has progressed from first-round draft pick with enormous potential in 2010 to marquee receiver in a record-setting offense in this his fifth season.
Thomas has now had back-to-back seasons of at least 90 receptions, 1,400 yards and 10 touchdowns. He's also set to enter the final year of his original contract with the Broncos. The team and his representatives have exchanged proposals in recent weeks to try to hammer out a long-term extension.
Asked Monday what kind of leader he wanted to be, Thomas ran the gamut of those he has seen in the locker room in his time with the Broncos, starting with the Alpha Dog of leaders.
"To tell you the truth, I kind of want to be like Peyton," Thomas said. "I feel like it's going to be hard for me to say stuff, because he's always saying, 'This is what we need to do to make it better,' or whatever. But I always watched Peyton since he's been here. Before Peyton, I watched a couple other guys. I used to watch Kyle Orton when I first got here because he was my first quarterback. That was about it. You know, Brian Dawkins,
Champ Bailey
. Champ was quiet, but I felt like he was a leader. Everybody paid attention to him."
September, 1, 2014
Sep 1
2:32
PM ET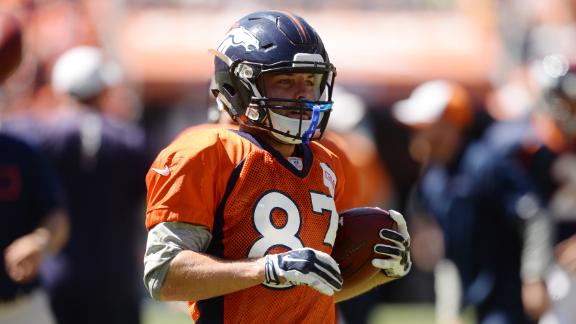 ENGLEWOOD, Colo. -- Denver Broncos wide receiver Wes Welker returned to the practice field Monday as he continues through the NFL's concussion protocol.
Welker has not been cleared for contact and is still a question mark for Sunday night's regular-season opener against the Indianapolis Colts. But Monday's appearance on the practice field -- the Broncos practiced in jerseys, shorts and helmets without pads -- was his first since he suffered a concussion Aug. 23.
"He's still in the protocol. He's still exercising. Feel good about progress," Broncos coach John Fox said after Monday's practice. "... But obviously, as I said all last week, he's a guy we'll be cautious with, and our main concern is his safety."
It marked another stage in Welker's recovery from what was his third concussion since Nov. 17. He had been cleared to travel with the team last week to Texas for the preseason finale against the Dallas Cowboys. Welker ran some routes in shorts and a T-shirt with no helmet before that game, but he was not in uniform once it began.
John Elway, the team's executive vice president of football operations and general manager, said Saturday that Welker was making progress but the team would "take it one day at a time."
Welker still has benchmarks to meet within the protocol before he can return to full participation in practice or play in a game.
The timetable for a player to return begins when he is symptom-free, and if Welker reaches one benchmark within the protocol without any symptoms, he advances to the next step.
September, 1, 2014
Sep 1
8:00
AM ET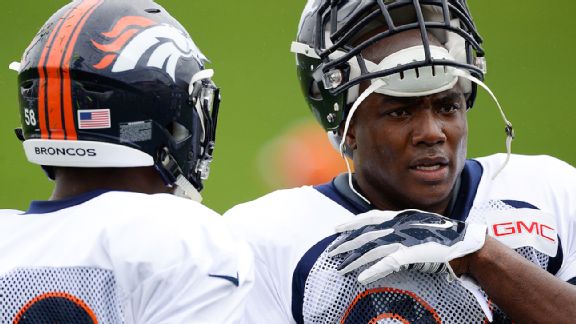 John Leyba/The Denver Post/Getty ImagesIn DeMarcus Ware, the Broncos have Peyton Manning's counterpart on defense.
ENGLEWOOD, Colo. -- In his time as the Denver Broncos' chief football decision-maker, John Elway has exercised age restraint in free agency. He's willing to get aggressive in the annual auction, but he's also looking for younger players -- in their 20s -- on their first trek into free agency.
However, Elway has made two very large exceptions. He signed quarterback
Peyton Manning
in 2012 and linebacker
DeMarcus Ware
this past March.
"I like getting Hall of Fame players with chips on their shoulders," Elway said. "That's a different set of circumstances, I think."
Manning was coming off a missed season in 2011 after his fourth neck surgery and certainly carried a large question mark regarding the rest of his career. But after a 26-6 mark in his 32 regular-season starts for the Broncos, it might go down as the greatest free-agency play in franchise history.
Elway hopes the Ware signing will work out in similar fashion. The seven-time Pro Bowl selection signed for three years and $30 million, $20 million of which is guaranteed. And in a free-agency binge that still largely insulated the team from salary-cap risk beyond the first year of the deals, Ware's contract, like Manning's, is the one that carries some risk.
But when Elway looked across the desk at Ware during his March visit, he saw a player in the league's 100-sack club, and as he put it: "I thought he had plenty of football, good football, left in him and a guy who was ready to go after that world championship the way we want to go after a world championship."
After the Broncos' lopsided loss in the Super Bowl, Elway was searching for ways to bring a game-day attitude -- not misplaced swagger, but real, bring-it-down-to-down edge -- to the defense. He wanted a unit with confidence that would show pride in its work.
Elway believes he will get all of it and more in Ware, a proven, lead-by-example, been-there-done-that player. Ware simply goes about the business of being great without feeling the need to remind people he's doing it.
"He's like that guy who's seen it all, done it all, and he's calm, you know?" Broncos linebacker
Von Miller
said. "But he's fiery inside, he works every day to be better, he's got huge pride. Huge pride."
Ware's pride may be part of the reason he shrugs off the conventional wisdom, that he's what NFL personnel men often call 30-somethings a "declining player," or that he's injury prone.
"I've heard that," said Ware, who was voted one of the team's five captains on Monday. "I've heard a lot of people say that. I would say I've been healthy for a long time, I've missed three games my whole career. I hurt my hamstring and I blew my labrum out one year, hurt my elbow. But I missed three games ever. Right now, I feel like I'm healthy as I've ever been."
The Broncos are betting on Ware's past and what they see in his future. The lure of a Super Bowl ring is a powerful one. Ware said, deep down, he didn't think the Dallas Cowboys would release him -- "didn't think they would do it, until about a week before they did" -- when he wouldn't redo his deal.
"I would say, I'm not that different from anybody else in that you want to feel wanted; I think everybody is like that," Ware said. "I was surprised, very surprised when [the Cowboys] told me. It took me like three months to really get over it, sort of take that ethical hat off and put that business hat on and say it is a business and you have to pick up and move, because that stuff happens. So at the end of the day, it's how you handle that change. It can make you or break you. I won't let it break me."
With the Broncos and Manning, Ware has found just the spot he was looking for to dial it in again.
"As a person you want to always quiet the critics, but you're not going to quiet all of them; some won't admit you proved them wrong, anyway." Ware said. "But I know they say, 'you're not as elastic, you're older.' I say come watch me play, come watch me practice, come watch what we do. That's just how I look at it."
Ware hasn't played in a playoff game since the 2009 season -- which can seem like early geologic time in the NFL. Once the Cowboys sent him to the open market, getting back to the postseason became his focus. The Broncos put on the hard sell and ponied up the cash, and Ware already has the look of a captain who's been in the team's complex far longer than five months or so.
When CEO Joe Ellis elected to inform three players before the announcement that Broncos owner Pat Bowlen would be stepping away from day-to-day operations because of Alzherimer's disease, Ellis told Manning, special teams captain
David Bruton
and Ware, who hadn't even worn a Broncos' game-day uniform to that point.
"When you come in, it's your résumé," Ware said. "But people have to find out what kind of person you are, what you mean to the team and what you bring to the team. My approach is to be a building block to the defense."
The Broncos see the power of Ware's knowledge of the pass rush. They see the speed-to-power transition scouts will forever mark in their notebooks. They see a mentor for Miller. Ware, who has dropped his playing weight 10 pounds to 255, is working with the team's young players in between drills and carrying himself like a veteran in the building.
"He's very good with his hands," said Broncos left tackle
Ryan Clady
, a three-time Pro Bowl selection. "He's taught me a few things over the past few months about working hands. That's one thing he's definitely an expert on."
"He just knows," Miller said. "He's seen it, done it. He's got all those little things that make you do big things."
If the Broncos are right, if Elway has won another push-the-chips-in bet in free agency, the league's most high-powered offense will have an equal partner on defense. The proof will come on the field, starting with the Broncos' season opener Sunday night against Indianapolis.
"You come here, you feel like they have people who know what it takes, who've been there and know what it takes to get back," Ware said. "Right from John Elway down, they want to win, not just this year, not just next year -- every year. The clock is always ticking here. I think I can help, they think I can help. That's enough for me."
August, 31, 2014
Aug 31
6:45
PM ET
ENGLEWOOD, Colo. -- See a need, volunteer to fill it.
It seemed like a pretty simple equation for
Denver Broncos
offensive lineman
Ben Garland
.
"Initially when I went back on practice squad [last season], I was back in the defensive line," Garland said. "But there were some injuries and I said 'hey, I'll jump in on offense' as just a guy to help out while we had some guys down, get some additional reps."
[+] Enlarge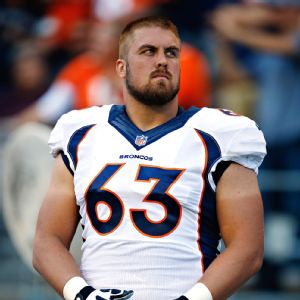 Otto Greule Jr/Getty ImagesAfter two years of active duty in the Air Force, two years on the practice squad and a switch to offense, Ben Garland has secured a spot on the Broncos' 53-man roster.
That is a snapshot in a storybook album of how a guy went from two years of active duty in the Air Force, to two years on the Broncos' practice squad, to a back-and-forth move from defense back to offense back to defense, and finally to a spot on the Broncos' 53-man roster as a backup left guard.
"I just believe that you work hard, continue driving toward your goals, you'll reach them," Garland said. "And even if you don't reach them, for whatever reason, you're going to come out a better person for struggling to achieve your goals than if you would have just stayed where you were."
Broncos executive vice president of football operations/general manager John Elway said the team believes Garland has the qualities to become "a very good offensive lineman."
"Ben is just a guy that's got that determination like no other and when he moved over from the defensive line to the offensive line, he's very bright, he's tough, and just worked his tail off to earn a spot on the team," Elway said. "So he's just going to continue to get better and better too because he hasn't been over there ... ."
The Air Force and the U.S. Department of Defense have worked with Garland as part of the Palace Chase program, which allows officers and airmen to transition into the reserve and hold a civilian job after two years of active service. Since his two years of active duty, Garland has served with the 140th Wing of the Colorado Air National Guard.
Garland said it was Broncos strength and conditioning coach Luke Richesson who first broached the idea of switching him from defense to offense. Garland also spent much of last season in a small group of practice squad linemen who worked with former offensive line assistant Alex Gibbs after practice each day.
This year he came to training camp exclusively as a guard and worked there throughout camp, including a hefty last look before the roster cutdowns in which he played 63 of 66 offensive snaps in the preseason finale against the
Dallas Cowboys
.
"I just kept my head down," Garland said. " ... It still doesn't feel real to me. I'm going to work as hard as I can. My next goal is the become a starter, to be the absolute the best offensive lineman I can be."
When he graduated from the Air Force Academy and arrived at that first Broncos training camp, Garland was poised to enter pilot training but was unable to secure a weight waiver to fly at his football weight. So he served his active duty as an instructor in hopes football could still come calling later.
During Garland's two years in active duty -- a year as an instructor at the Air Force Academy and a year as a public affairs officer for the 375th Air Mobility Wing at Scott Air Force Base in Illinois -- he would often work out twice a day, the first session at 4 a.m. Looking back, he said there were questions about his NFL pursuit bouncing in his own head.
"You always have those tough days, especially those days having my alarm clock go off at 4 in the morning for my workout before work and then go to my workout after work," Garland said. "You're thinking I have a great career here in the Air Force. It's tough for people to become an officer, not a lot of people get this opportunity. Why would you give that up for this small, small chance that you could ever make it in the NFL? Being an officer or this tiny, slim chance of the NFL? But once you decide to go for your dreams you have to go after them.
"And I love the Air Force, it will be my career when football is over. But right now I like to say I get to wear the two best uniforms in the world and I'm proud to wear them."
August, 31, 2014
Aug 31
11:30
AM ET
ENGLEWOOD, Colo. -- Things could still change if the
Denver Broncos
look at the hundreds of players who were sent into the open market in recent days and see a name or two they like.
But when the clock struck the 4 p.m. ET roster deadline on Saturday, the roster in place wasn't exactly the one some folks might have thought it would be.
First off, after their substantial plunge into free agency last March -- almost unprecedented for a Super Bowl team -- the Broncos have routinely been tabbed as "all in" or "win now."
[+] Enlarge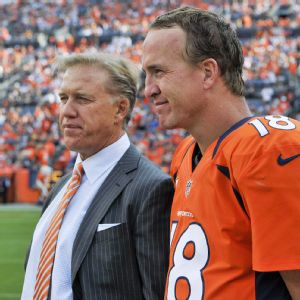 AP Photo/ Eric BakkePeyton Manning is the oldest player on the roster assembled by John Elway and the Broncos' front office. But the team as a whole has plenty of youth.
The career clock for quarterback
Peyton Manning
, at 38 years old, is certainly ticking, and they make no secret of their Super-Bowl-or-bust intentions. But the current Broncos roster has 13 players who are 23 years old or younger (24.5 percent) and seven rookies made a team in the Super Bowl conversation, including five members of a six-player draft class and two undrafted rookies.
Overall, there are 39 players entering their fifth NFL season or younger on this roster (73.6 percent). The Broncos will have three high-profile players start the season-opener next Sunday night -- Manning,
DeMarcus Ware
and center
Manny Ramirez
-- who are older than 30 and possibly a fourth if
Wes Welker
, who suffered a concussion in the preseason game against the
Houston Texans
, is in the lineup.
Some of the team's moves were motivated by the salary cap, to be sure. The Broncos have been nudged up against it since the free agency binge. But general manager John Elway has consistently maintained, even with the checkbook in hand at times, that he has more of a long-term approach than many believe he does. In fact, if you'd like to see the Hall of Fame quarterback get his hackles up, just ask him about a win-now approach.
"We were happy with the draft when we went through it in May and then they just proceeded to work hard and get better so, especially when you get deeper into this, as active as we were in free agency, to be able to keep our draft picks is something we want to do and continue to have that be our base," Elway said when discussing this year's cuts. "We're excited with the guys and they are, at this point in time, everything we hoped they would be."
Among that youth is what is likely one of the youngest position groups in the league at running back. The four Broncos running backs include a rookie (
Juwan Thompson
), two players entering their second seasons (
Montee Ball
,
C.J. Anderson
) and a player entering his third season (
Ronnie Hillman
).
"I like them. I've said that all along," Elway said. "We feel good where we are at the running back position -- good, young guys that we feel are going to continue to get better."
Some other roster nuggets:
Of all the football-playing colleges and universities in the country, Kansas, Tennessee and Texas Tech lead the way on the Broncos' roster with three players each.

Manning is the oldest current Broncos player at 38. rookie receiver Cody Laitmer is the youngest, at 21. Hillman, at 22 and starting his third season, is the same age as four of the Broncos' rookies and younger than two of the Broncos rookies. Michael Schofield and Lamin Barrow, who are both 23.