October, 30, 2014
Oct 30
6:22
PM ET
By
Kyle Brasseur
| ESPN.com
FOXBOROUGH, Mass. -- As a fifth-year defensive back,
Devin McCourty
knows better than to try to outsmart
Denver Broncos
quarterback
Peyton Manning
.
The fact of the matter is you simply can't.
"I would say the chess game is pretty one-sided," McCourty said. "It's like being a kid going against a father in chess. He's a very smart quarterback. He knows what he wants to do.
"Most the time he knows what the defense is in, so if what he had planned isn't going to work, he's going to get the offense in something else. I think that's what you see out there on the field and I think a lot of times people talk about trying to know what's in his head and know what he's trying to do, but he's really just going off us. We end up in something at the last minute, he knows and then he goes to something else."
That will be the challenge Sunday when the New England Patriots host Manning and the Broncos. McCourty is familiar with the challenge the Broncos present. He was on the field against them twice last season, when Denver set several NFL records for offense.
[+] Enlarge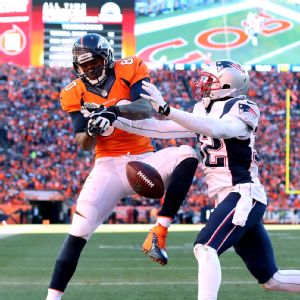 Matthew Emmons/USA TODAY SportsDevin McCourty, right, knows the Patriots will have the hands full in trying to contain Julius Thomas and the Broncos' receivers.
"It's probably the most prolific offense in the history of the NFL last year, and then you bring most of those weapons back this year and then add [wide receiver]
Emmanuel Sanders
," McCourty said. "I guess you can go back and forth and debate, but the offense is probably a little better than it was last year, and it was easily the best offense in the NFL last year."
Things don't figure to be easy. Manning looks like he has only gotten better with age. Tied for the league-lead in touchdown passes with 22, he'll surely present McCourty and the rest of the secondary with their toughest challenge of the season in terms of matching up against a quarterback.
"I feel like it's another year, same story going against Peyton," McCourty said. "He's getting the ball where it needs to be, either vertical or short. Whatever the defense gives him, he takes full advantage of it. There's not much you can do that he doesn't know."
And then there are Manning's receivers. Along with Sanders, enjoying a career season after four years with the Pittsburgh Steelers, the Broncos have another premier option in
Demaryius Thomas
at receiver. Add in a top touchdown target in tight end
Julius Thomas
and old friend
Wes Welker
, and the Patriots find themselves in similar territory as last week, when they faced the
Chicago Bears
' triumvirate of
Brandon Marshall
,
Alshon Jeffery
and
Martellus Bennett
.
"It's kind of like we talked about a little bit last week, where there's going to be times where we're just going to have to go cover the guys," McCourty said. "Same as last week, you can't double everybody. They have a lot of weapons [that] on other teams they'd be the star guy where you just double him and defend everybody else. You can go down the line with all those guys that are out there. You can't do that, even if you do choose to double one, [Manning is] going to find it and throw to somebody else.
"It's going to come down to a lot of matchups one-on-one where you've just got to try and make a play. Obviously you go by their numbers and their games -- they've made a fair share of those plays and the defense really hasn't. We're going to have to just go out there and compete. That' s the thing when you play in these type of games. It's just going to come down to competing. You go against great players, they're going to make some plays. But we've got to try to make ours, too."
Competing served the Patriots secondary well against the Bears, as they were able to hold their top three options to two touchdowns and less than 200 yards receiving combined. However, Manning isn't
Jay Cutler
, making this Sunday's test all the more difficult.
Like the kid going against the father in chess, the Patriots defense can only do their best to keep pace. From there, they can look for their best chance to check Manning.
After all, it's the checkmate that matters in the end.
"You've just got to go out there and play," McCourty said. "I don't think we can overthink and try to outsmart ourselves by trying to go move for move with him and check for check, because he does a lot of checking at the line of scrimmage.
"You don't really want to be out there guessing. We just want to go out there and try to play competitive throughout the down."