April, 18, 2014
Apr 18
7:30
AM ET
St. Louis Rams
head coach Jeff Fisher often tells veteran players they will have to expend 10 percent more effort in an upcoming offseason than they did the one before it if they are going to maintain their ability to compete for the same playing time they've had before.
Essentially the message is that the status quo can't be on the agenda, that every time you roll over and hit the snooze button, the guy who wants your job already got out of bed and put the proverbial nose on the grindstone.
[+] Enlarge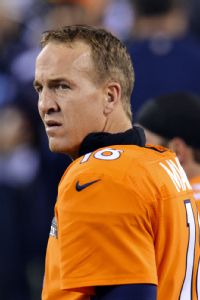 Hyoung Chang//The Denver Post/Getty Images"Just because you were there last year in the [Super Bowl], it doesn't guarantee you anything," Peyton Manning said.
And this week, sprinkled through
Denver Broncos
quarterback
Peyton Manning
's first real public comments in his team's home state since the 35-point loss in Super Bowl XLVIII, it was fairly easy to discern Manning's theme for the coming weeks and months.
Manning has been known to rattle the cage of a teammate a time or two about what needs to be done or surprised someone with a pop quiz in the hallway about their responsibilities on a third-and-long. He dropped the word "work" 10 times into his comments in the span of just a few minutes. It was a total that included a couple of references to both "hard work" and "good work."
It was a preview of sorts since the Broncos will open their offseason conditioning program Monday and the vast majority, if not all, of their healthy players are expected to take part. These are technically "voluntary" gatherings; the Broncos can only declare offseason workouts mandatory for a three-day minicamp in June. But that's "voluntary" as in you "voluntarily waive your right to play any significant snaps when training camp rolls around."
Last season the Broncos worked off the premise the double-overtime loss to the
Baltimore Ravens
in the divisional round would be the fuel for the offseason in 2013. That worked, at least until the season's last game when the Broncos arrived to the Super Bowl seemingly without their mojo in their luggage.
They're hoping disappointment can once again help them power through spring and into summer.
"Just because you were there last year in the game, it doesn't guarantee you anything," Manning said. "It does take a lot of hard work and sacrifice."
Manning, certainly the analytical type when it comes to the game, is also still a big believer in the elusive power of football chemistry. He is still a big believer in the notion that somehow teammates who have invested time together will eventually also play better alongside each, particularly if the ride gets bumpy.
"I think forming that chemistry takes time," Manning said. "Certainly working together in the weight room is part of it. [Aqib] Talib getting to know
Chris Harris
; DeMarcus [Ware] getting to know [Kevin] Vickerson and [Derek] Wolfe and Von [Miller] -- the guys he's going to be rushing with; for me, getting to know [Emmanuel] Sanders. It's not an overnight process. That's something that we have done in the past. I think that's been a big part of some of the wins we've had -- is our offseason work and how guys have spent time together and put the time in together. I think you have to keep doing it every single offseason. I think we will do that and I'm looking forward to having a good season next year."
In the post-spinal-fusion portion of his career, Manning has always said he would keep playing if he felt he could still compete at the level he wants to and as long as he still enjoyed the preparation as well as the effort it takes physically to get ready to play.
So while the regular season is still a long way off, Manning, having already worked with the team's pass-catchers down at Duke, has made it pretty clear he's ready to get back to business and that the expectation is everyone else will be too.
April, 17, 2014
Apr 17
8:11
PM ET
[+] Enlarge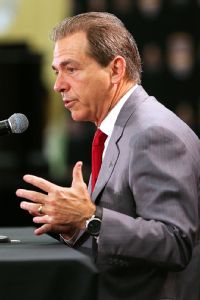 Mike Ehrmann/Getty ImagesPeyton Manning's presence in Tuscaloosa, Ala., struck a chord in Nick Saban, who said the QB was a good example of how all athletes should approach their crafts.
TUSCALOOSA, Ala. -- Nick Saban hosted Peyton Manning and Denver Broncos offensive coordinator Adam Gase last week for two days during a visit the Alabama Crimson Tide coach called mutually beneficial.
The presence of Manning struck a chord in Saban, who also said the quarterback was a good example of how athletes at all levels should approach their crafts.
The details of how the meeting came about weren't clear, but Saban said Manning and Gase were "making some visits" and wanted to stop by Tuscaloosa.
"A lot of people would say, 'Wow, the guy is one of the best, if not the best, from a career standpoint and about as good as anyone has been in the history of the league,' " Saban said. "After all the experience and knowledge that he has, he's going out to try and seek more knowledge and understudying of the game of football so he can play better."
The benefit, however, wasn't entirely one-sided.
Denver likely runs as efficient a no-huddle offense as any in the NFL. Manning, the orchestrator of the Broncos attack, threw for a league-record 55 touchdowns this past season.
April, 17, 2014
Apr 17
12:15
PM ET
When it comes to where the
Denver Broncos
are pointing in next month's draft, ESPN draft analyst Mel Kiper Jr. has consistently said the team will keep working to upgrade its defense.
To that end Kiper has pointed the team to that side of the ball much of the time in his mock drafts thus far, and stays with that theme in
his latest as well
.

To continue reading this article you must be an Insider
April, 17, 2014
Apr 17
7:30
AM ET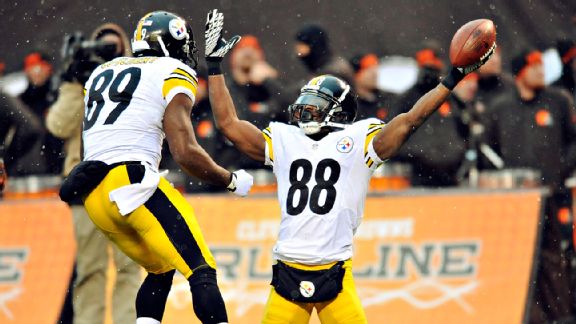 AP Photo/David RichardDenver hopes Emmanuel Sanders can not only replace, but also exceed Eric Decker's production.
When the
Denver Broncos
prepared themselves for free agency, they did what any team in the supply and demand business of roster spots would do: The decision-makers looked at their free agents and assigned each a value.
Then executive vice president of football operations/general manager John Elway said those free agents would be allowed to test the market. And what that often really means is the team believes those players will get more in the open market than it would be willing to pay to keep them.
That turned out to be true for guard
Zane Beadles
as well as running back
Knowshon Moreno
and it really turned out to be true for wide receiver
Eric Decker
. Decker got a five-year, $36.25 million deal from the
New York Jets
that includes $15 million guaranteed.
The Broncos then signed
Emmanuel Sanders
, the player who at the moment is Decker's replacement, to a three-year, $15 million deal. The Broncos see Sanders as a more versatile, more athletic player overall than Decker, one who can play both outside and in the slot.
Decker did play in the slot at times in his tenure with the Broncos, but the current regime saw him as an outside receiver only. Sanders has quick-twitch ability with the ball and creates missed tackles with the hope of more catch-and-run yardage.
Both he and Decker have had difficulties at times with drops. But the coming season may, or may not, show how much of Decker's emergence as a receiver with back-to-back 1,000-yard, double-digit touchdown seasons had to do with playing in an offense with Manning.
And for his part Sanders will have the chance to show if he can go from a guy whose top two seasons have been 626 yards in 2012 and 740 yards in 2013 to something more.
Manning got his first up-close look at Sanders in recent workouts at Duke University -- where Manning's long-time friend and former offensive coordinator at Tennessee, David Cutcliffe, is head coach. By all accounts Manning came away feeling good about Sanders' potential in the offense.
Or as Manning put it Wednesday morning, before he spoke at a fundraising breakfast for the Boy Scouts at the Pepsi Center in downtown Denver: "I had a chance to throw with Sanders down there in North Carolina and I'm excited about playing with him."
At first blush unless the Broncos add a bigger receiver in next month's draft, they are smaller, as a group, with the Sanders-for-Decker swap. Decker is 6-foot-3, 214 pounds as compared to Sanders' 5-11, 180 pounds.
Since Manning's arrival two years ago, defensive coordinators routinely talked about the difficulty in matching up with Decker,
Demaryius Thomas
(6-3, 229) and tight end
Julius Thomas
(6-5, 250) in the red zone where Manning can put the ball up for his guys to go get it. That was particularly true from the doorstep with five of Decker's 11 touchdown catches this past season were for three or fewer yards.
The Broncos hope, however, Sanders can win some of those battles with quickness to give Manning the room/opportunity to throw to him in the more confined spaces once the Broncos' offense is inside the opponents' 15-yard line.
Whether he was running across the formation or worked to the side where he lined up, Decker's catches were fairly well dispersed all over the field this past season. He made 34.5 percent of his catches to the offensive right, 41.4 percent to the offensive left and 20.7 percent in the middle of the field.
Sanders, too, would project a similar dispersal given his ability to line up anywhere the Broncos want him to in their three-wide look. The Broncos, though, believe Sanders can do even more after the catch even as the Broncos receivers led the NFL in that category overall last season.
Decker had 47 percent of his catches go for 10 or fewer yards last season, 69 percent for 15 or fewer yards. The Broncos hope Sanders can push a higher percentage of his catch-and-runs toward bigger yardage totals, but for Sanders' part he will have to be ready to play more snaps than he has in the past.
Decker was in the 1,000-snap club last season -- 1,050, or 87 percent of the Broncos plays -- and had 15 games when he played at least 50 snaps. Only Thomas played more than Decker (1,106 snaps) among the Broncos' pass-catchers.
Wes Welker
played 770 snaps, or 63.8 percent of the plays, before missing games down the stretch with a concussion and Julius Thomas checked in at 901 snaps (74.6 percent).
The Broncos threw more than the Steelers did in '13, 675 pass attempts as compared to the Steelers' 586, and Sanders played at least 50 snaps in nine of 16 games last season. When the Steelers still had
Mike Wallace
in 2012, Sanders played at least 50 snaps in five games.
Sanders has played in 16 games in each of the last two seasons, but has never started more than 10 games in any season of his career.
But if things go as the Broncos want, and need them to go, he'll certainly have the chance to change that this time around.
April, 16, 2014
Apr 16
7:35
PM ET
When
Denver Broncos
running back
Montee Ball
arrives Monday morning for the start of the team's offseason conditioning program, he can expect to carry the expectations of being a starter as he goes about his business.
A task the guy who will hand him the ball in the coming season -- quarterback
Peyton Manning
-- says Ball is ready to handle. Manning said Wednesday morning, before he made an appearance as the keynote speaker at a fundraising breakfast for the Boy Scouts in Denver, he believes Ball has prepared himself for the job.
[+] Enlarge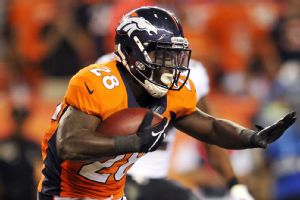 AP Photo/Jack Dempsey"I thought Montee had a great year, I thought he learned a lot in his first year," Peyton Manning said of Montee Ball.
"There is no question with the loss of
Knowshon [Moreno
] -- who was just nothing short of awesome for us this past year and was a great teammate -- that Montee is going to have more responsibilities, and I think he will answer that challenge," Manning said. "I think he has the work ethic, I think he has the mental capabilities to handle the workload and I look forward to having a full offseason with him."
Ball, who finished his rookie season with 559 yards rushing and 20 receptions, will be asked to fill the significant role Moreno played in the offense last season. Moreno led the team with 1,038 rushing yards and 10 rushing touchdowns, to go with 60 receptions.
Moreno, who signed a one-year deal in Miami, was also the most consistent player in pass protection the Broncos had and that was ultimately why Moreno moved into the starting role last season. The Broncos had used
Ronnie Hillman
(a third-round pick in 2012) as the No. 1 back through their offseason work last spring and summer, and had begun to take a look at Ball (a second-round pick last April) during training camp for that role as well.
But then Ball missed a blitz pickup in the Broncos' preseason loss in Seattle, and
Bobby Wagner
blasted Manning in what was one of the biggest hits Manning has taken in his tenure in Denver. Moreno's snap count kept increasing following that game and neither Ball nor Hillman could unseat Moreno once the regular season began.
Ball also lost three fumbles in the first 11 games, but showed steady improvement. He didn't fumble the rest of the way, and the Broncos had slotted him in as the potential starter since season's end.
"I thought Montee had a great year, I thought he learned a lot in his first year," Manning said. "In my past, I've seen a lot of development in guys from their first year to their second year … I look forward to getting even closer with him as far as being on the same page."
April, 16, 2014
Apr 16
1:50
PM ET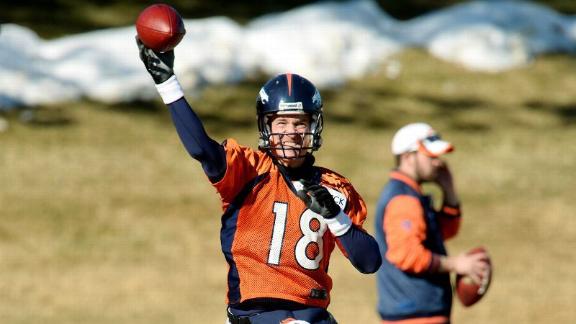 DENVER -- Standing behind a podium perched atop what will be playoff ice for the
Colorado Avalanche
in the coming days and surrounded by a crowd of Eagle Scouts and those hoping to be,
Denver Broncos
quarterback
Peyton Manning
offered his thoughts Wednesday on leadership, work ethic and community service.
He told a football story or two, including one about his first trip into a game-day huddle as the University of Tennessee quarterback. And within all those words was also a clear-eyed glimpse into Manning as a professional quarterback, into what the Broncos face in 2014.
When, in making a point about wrestling with, and ultimately overcoming, adversity, Manning told those assembled we must all "learn to thrive on discomfort."
Ah, discomfort. Maybe something on the order of a 35-point loss in Super Bowl XLVIII, perhaps, or a double-overtime loss in the divisional round a season before. Maybe two playoff trips with home-field advantage, two 13-3 finishes, a pile of team and league passing and scoring records, and no Super Bowl ring to show for them.
Yeah, that's some professional football discomfort, all right.
The Broncos thrived in the discomfort left from the shocking playoff loss to the
Baltimore Ravens
in January 2013. They went on to win the division again and, this time, played their way into Super Bowl XLVIII after a season during which Manning hit career marks in almost every offensive statistical category, including NFL records for touchdowns (55) and passing yards (5,477). The Broncos also became the first team in league history to top 600 points in a season.
That was before the Super Sunday cave-in, a football sinkhole in which the Broncos watched all their title hopes and dreams cascade into the abyss. Most troubling to those in and around the team was the fact after a bad snap on their first offensive play of the game, the Broncos didn't respond, and one bad play became another and another until they were on the short list of most lopsided Super Bowl losses.
That they didn't rise up and put up a good scrap, make a game of it. The
Seattle Seahawks
simply looked more prepared, more talented, more motivated -- just more of everything.
Two Januarys ago, when the Broncos lost to the Ravens, John Elway, the team's chief football decision-maker, said the Broncos should remember 2012 was a good season, but that those with the team couldn't be "afraid to be honest with ourselves."
Manning even said last season Elway had tried to create "an uncomfortable atmosphere" as the team moved into the 2013 season to make sure all involved remembered the sting of the loss. An atmosphere that seemed to suit the Broncos last season as they piled up the wins and touchdowns.
[+] Enlarge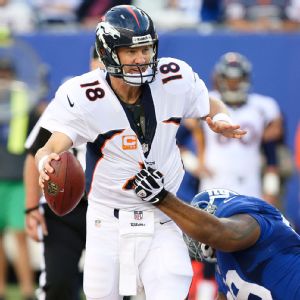 AP Photo/John MinchilloThe Broncos stayed busy this offseason, adding key players in free agency to help Peyton Manning and Denver push for another postseason run.
It wasn't always easy for those in the locker room -- expectations can be heavy when your boss is a Hall of Fame quarterback whom friends describe as the most competitive person to walk the planet, and the starting quarterback isn't far behind, if at all, in that department -- but, as Broncos coach John Fox routinely says, "if it were easy, everybody would be doing it." Winning is hard, an item Elway and Manning always want on the front burner. The burden of expectations gets a little heavier if opportunities to win the season's final game are lost, squandered or both.
Wednesday, in what was his first significant public appearance in Denver since the Super Bowl loss, Manning was in statesman mode, trying to help raise funds for the Boy Scouts in Colorado. His appearance filled the seats on the arena floor of the Pepsi Center.
Before he addressed the gathering, he lauded the Broncos' additions made in free agency -- players like
Aqib Talib
,
DeMarcus Ware
and
T.J. Ward
-- and lamented the departures of
Champ Bailey
,
Eric Decker
and
Knowshon Moreno
as he tried to leave at least some of the Super Bowl aftermath in the rearview mirror.
"First off, we lost many players and some great friends," Manning said. "It's been a real pleasure to play the last two years with Champ, Knowshon, Eric, [linebacker]
Wesley Woodyard
,
Chris Kuper
retiring … I'm probably leaving a name or two out. That's the worst part about football. When you form some friendships with these guys and really put a lot of hard work in -- the business side comes into play.
"You have to move forward," Manning later added. "You have to kind of re-establish your identity of the 2014 team. The 2013 team -- it was a good season in a lot of ways. There is no question it did not end the way we wanted it to, but we have to find a way to build off that and take a step further -- try to finish."
This is where the Broncos will begin their trek into 2014: as a team trying to finish what it started, in many ways, when Elway, Broncos owner Pat Bowlen and Fox enticed Manning to sign in Denver.
They are a talented team with a future Hall of Famer at quarterback. They were one of the most active and successful teams in filling needs in free agency. They have worked the draft well in the past three years and once again will carry the label as one of the Super Bowl favorites.
But they are also a team that let two rare title opportunities get away and are now trying to beat the odds to position themselves for another. They will have to deal, again, with the idea that many folks won't much care what they do in the regular season if they aren't the team catching the confetti next February.
They will be asked about the Super Bowl, about the window to win a championship closing and about what happened inside MetLife Stadium until they are sick of answering for it all. Truth be told, they might have been sick of it already, even as they dispersed into the offseason, and the wheel hasn't even really started to spin on all of that yet.
Manning himself might be asked to throw less so the offense can be more. To face the realities of age and four neck surgeries and use his remember-when mind to help diversify the team's attack, not only to help give it a plan B but endorse it in what he calls at the line scrimmage if things don't go right on another important football afternoon.
To, well, thrive in the discomfort.
April, 16, 2014
Apr 16
11:49
AM ET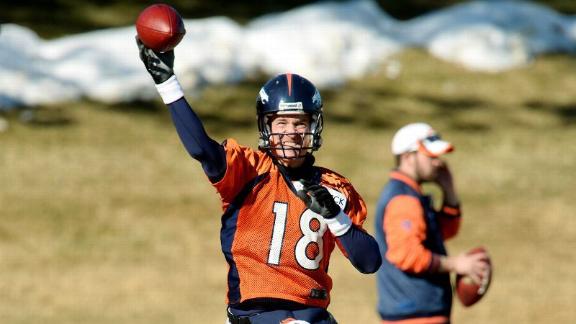 DENVER -- Just over two months ago, people were asking Denver Broncos quarterback Peyton Manning if he was going to retire after Super Bowl XLVIII.
And Wednesday, in what were his first significant comments in Denver since the 43-8 loss to the Seattle Seahawks, Manning not only re-affirmed his desire to get back to the NFL's title game but also his eagerness to get back to work when the Broncos begin their offseason program on Monday.
"Absolutely, that's what I want to do,'' Manning said. "That's what the Denver Broncos want to do. I'm glad to be a part of a team where that's what they want to do. I want to try to do my best to do my part. Keep myself in good shape and get on the same page with my receivers.
"I feel that I have a responsibility to the team to be on top of my game, and that's what I think about every day when I go over there to work and lift weights and throw with my receivers -- doing my job to help the Denver Broncos. That's what I've tried to do since I've been here and that's what I'll keep doing until I stop playing."
Manning made his remarks just before an early morning appearance as the keynote speaker at a Boy Scouts of America Sports Breakfast at the Pepsi Center.
Despite speculation early in the weeks leading up to the Super Bowl that he was poised to retire after the game, especially after Manning had said he could see the "light at the end of the tunnel'' of his playing career, Manning has consistently spoken of his plan to return for the 2014 season.
He was formally cleared to play after an exam on his surgically repaired neck in early March and he recently returned from workouts at Duke University with Broncos receivers, including recent free-agent signee Emmanuel Sanders
April, 16, 2014
Apr 16
10:00
AM ET
By
ESPN.com staff
| ESPN.com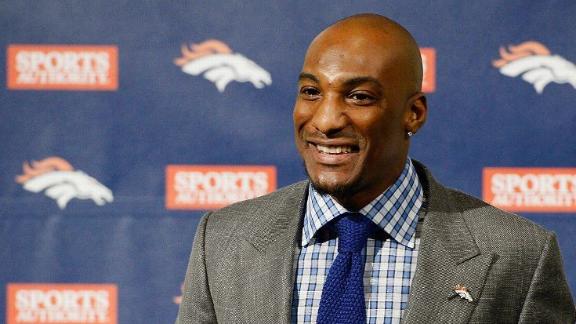 ESPN.com
Denver Broncos
reporter Jeff Legwold talks about the team making up for bad drafts by opening the checkbook in free agency.
April, 16, 2014
Apr 16
7:46
AM ET
ESPN.com news services
Erik Swoope, who just completed his senior season as a forward with the Miami Hurricanes basketball team, is ready to jump into the NFL draft, he declared Tuesday.
I'm excited to enter my name in the NFL Draft and pursue a professional football career. @nfl @ProFootballTalk @nbc @SInow @Manny_Navarro

- Erik Swoope (@eswoope21) April 15, 2014
The 6-foot-5 Swoope, who averaged a career-high 5.0 points and 2.7 rebounds per game for the Hurricanes this past season, never played football at Miami.
He hopes to catch on in the NFL as a tight end. Swoope had a private workout for the Denver Broncos after the Hurricanes' Pro Day earlier this month.
April, 16, 2014
Apr 16
7:30
AM ET
The
Denver Broncos
continue to get face-to-face with prospects who have piqued their interest for next month's draft.
They have been in front of their allotment at the college all-star games, the scouting combine and continue to do their homework as they bring many into their Dove Valley complex to meet with coaches and executive vice president of football operations/general manager John Elway.
Here is the second of an occasional look at the prospects who have attracted Denver's attention as it moves toward the May 8-10 draft.
In a class of wide receivers with as much depth and talent as is on this draft board, the Broncos will likely have several picks in which the best available player will be a receiver. They added
Emmanuel Sanders
in free agency, but lost
Eric Decker
. Also, there is
Wes Welker
's concussion history, which includes two this past season.
Most folks following the draft know about Clemson's
Sammy Watkins
or Texas A&M's
Mike Evans
along with Oregon State's
Brandin Cooks
and LSU's
Odell Beckham Jr
.
But when a run on the top receivers comes, and it could come and as early as the top half of the first round, the Broncos aren't expected to have a chance at any of the names on that short list when their pick rolls around at No. 31.
But at least one receiver they've met with who will be worth a long look with that initial pick is Mississippi's
Donte Moncrief
. Moncrief is 6-foot-2 3/8-inches tall, 221 pounds and blistered the turf inside Lucas Oil Stadium at the scouting combine with a 4.40 40-yard dash on the electronic clock -- a 4.35 hand-time for some scouts.
That's one of the bigger pass-catchers in a class full of them with elite speed. Moncrief's catch radius is enormous as well with a 77 7/8-inch wingspan, and he has the ability to stress a defense deep. Thirteen of his past 16 touchdowns catches for the Rebels went for 20 yards or more with seven of those having gone for at least 50 yards.
Some of his routes in the short and intermediate areas need polish and occasionally you see a "double-catch" bobble or two on the game video, but his athleticism gives him a chance to contribute quickly.
Scouts have said he's a hard worker and a willing blocker in the run game. In short, there's plenty to like.
Down the board another receiver to keep an eye on is Wyoming's
Robert Herron
. At 5-9 1/8, Herron would seem undersized at first blush, but he's a solid 193 pounds and played some at running back in his first season with the Cowboys, including a nine-carry, 122-yard day again New Mexico. He runs through contact, makes catches in traffic and would be willing to battle physical corners.
He also ran 4.48 in the 40 at the combine and battled some of the best defensive backs in this draft at the Senior Bowl. In 2012 he had five catches for 173 yards and two touchdowns against a Texas secondary that included current
New Orleans Saints
safety
Kenny Vaccaro
.
The Broncos have dipped into the Kentucky defense with great success at linebacker in recent years --
Wesley Woodyard
in 2008 to go with
Danny Trevathan
in 2012 -- and have another former Wildcats linebacker on the front burner.
Avery Williamson
is a 6-1, 246-pound inside linebacker with plenty of athleticism -- a 4.66 40 at the combine. Williamson didn't quite lead the SEC in tackles like Woodyard and Trevathan did in their careers in Lexington, but he was fourth in the league in '13 with 102 tackles.
The Broncos have taken a long look at plenty of inside linebackers because it is still very much a need position on their depth chart. And while it's a lot to ask for a rookie to play in the middle of their 4-3 look, Williamson is one of the prospects who would have a shot to do it.
April, 15, 2014
Apr 15
12:00
PM ET
When ESPN The Magazine and Sportingintelligence went to work to see who is showing whom the money in professional sports around the globe, the
Denver Broncos
did not check in as one of the biggest spenders on the big blue marble.
Not that owner Pat Bowlen would agree, having used up most of the cash on hand in recent weeks with the Broncos' aggressive spending binge in free agency. But in 2013
The Magazine/Sportingintelligence found the Broncos were 125
th
among professional sports franchises around the world in average spending per player ($2,213,884).
The Broncos were the fourth-highest ranked NFL team in per-player spending, but still two spots behind their Denver sports brethren, the NHL's
Colorado Avalanche
($2.225 million average per player).
The figures are salaries only, and do not include endorsements or appearance fees. The figures used for the Broncos and other NFL teams show that signing bonuses and roster bonuses were used in the totals; players who signed new deals before the 2013 season ranked far higher than if just their base salary had been used.
But perhaps the item that will come as a bit of a surprise to folks in the Rocky Mountain region is the Broncos sit a smooth 63 spots behind their other neighbors downtown, Major League Baseball's
Colorado Rockies
. The Rockies, whose fans routinely lament that the team's ownership is not committed to winning, were 62nd in the global survey, having spent an average of $3.688 million per player in 2013.
Overall it was Manchester City of the English Premier League that led the way in spending at an average of $8,109,912 per player in '13, just ahead of the Yankees ($8,031,948) and the Dodgers ($7,778,336). The first NFL team didn't check in until the
Minnesota Vikings
at No. 115 ($2,315,053 per player).
The Super Bowl champion
Seattle Seahawks
were at No. 116 at $2,303,317 per player and the
Chicago Bears
were at No. 121 ($2,235,822).
Because of the number of NFL players on an active roster in a season, NFL team's total wage bill ranked much higher than its per player ranking. For example the Broncos' total wage bill in 2013 -- $117,335,842 in base salaries -- was 26
th
overall, behind only the Seahawks, Bears and Vikings among NFL teams.
For Broncos individual players, quarterback
Peyton Manning
and his $25 million in 2013 led the way. It was by far the largest total on the team -- left tackle
Ryan Clady
was next at $15 million after signing a five-year contract extension just before the 2013 season. Manning's $25 million salary, in addition to bonuses, placed him,
the survey said
, tied for 16
th
in the world among individual athletes. That total did not include Manning's extensive endorsement income with major deals with companies like Gatorade, Buick and Papa John's. Broncos officials, however, put Manning's compensation at $20 million for 2013, a total that included a $5 million advance on future salary.
The survey shows the team spent an average of $2,213,884 per player, but the Broncos had 17 players -- or 32.1 percent of the roster -- receive at least $2 million in cash payouts in 2013. Just three -- Manning, Clady and
Champ Bailey
-- received at least $10 million. In the 2014 season only Manning, defensive end
DeMarcus Ware
and cornerback
Aqib Talib
are scheduled to receive cash payouts of at least $10 million by season's end, including base salary, signing and other bonuses.
April, 15, 2014
Apr 15
7:30
AM ET
John Elway's pictures -- including the jumbo shot of him celebrating with the Vince Lombardi Trophy after one of his Super Bowl wins -- hang outside the
Denver Broncos
' locker room and here and there in the team's suburban complex, but he doesn't often tell when-I-played-football stories unless asked.
He'll discuss the importance of team chemistry or the importance of a starting quarterback's ability to manage the role. He will talk about how he wishes he would have run less in his career and thrown more from the pocket. But he does not look for opportunities to say how things were done and how they should always be done.
His experience as a Hall of Fame quarterback and a former No. 1 pick are clear in the way he evaluates players for the draft. It doesn't always make him right. It doesn't even make him more right than those who never played a down in the NFL. But his experience does give him more of an understanding of the process.
Elway was the first pick of what was a gold-star draft. Perhaps
the
gold-star pick in a draft that had six Hall of Famers selected in the first round and another seven Hall of Famers selected overall in the 12-round affair.
In the weeks and months before the
Colts
picked him and then traded him to the Broncos, he listened to people break down his game -- the good, the bad and the stuff he never could quite figure out where it came from. He saw the anonymous quotes about his potential as a professional, the threat of a baseball career as some pre-draft leverage and the desire to not play for the Colts at that time in the franchise's history.
Granted, talk radio was not in the same galaxy as it is today and the publicly traveled Internet was still a decade or so away, but you can see Elway's experiences when asked about players in his current role as a talent evaluator.
Ask him if a quarterback should throw at the scouting combine and he routinely says, "I always want to see a guy throw, see him work with some really good receivers, but I understand. Why would you want to look bad? I understand if a guy makes a choice. Again, I always want to see a guy throw, but I do understand their thinking when they don't sometimes."
That's because Elway has a history with being on the other side of the equation. And as far as a relevant Elway draft stat, there is this: 4. That's the number of scouting combines available for players to participate in the year Elway came into the draft.
Scouting combines Elway actually attended: 0.
His reasoning? "I had bad knee, and I just didn't want everybody to see it."
That's right. He didn't go. He didn't throw. He didn't let teams poke, prod and X-ray him. He didn't attend interviews or take a Wonderlic. No one said he slouched, that he didn't make eye contact or that he was lazy.
But the draft interests people. The league's decision to move it down the calendar, to Mother's Day weekend no less, has provided more time for speculation. It's a different media environment than when Elway entered the draft. Quotes from anonymous sources this time of year can range from fib to outright lie as a means of misdirection.
Some teams want guys to fall so they can take them later; some teams want guys to rise so other people will pick them and leave them with the guys they really want. Whether any of it really works -- and plenty of folks who say it doesn't do it anyway -- is up for debate.
And maybe some guys really are lazy, or aren't really certain they want to play football, or are a little too short, a little too slow or can't keep themselves out of trouble. Those factors will all get tossed into the decisions that are made when the picks finally come off the board next month. All of those things -- especially character and chemistry -- matter, and they should matter just as much as talent.
But in the end, it isn't really a player's job to tell, or show, a team why it should, or shouldn't, take him. Because, well, that would be the lazy way out.
April, 14, 2014
Apr 14
7:30
AM ET
As the guy at the top of the football flow chart for the
Denver Broncos
for the last three seasons, John Elway has now overseen three drafts for the team.
The Broncos have made 23 picks in those three drafts and found seven full-time starters. Denver hopes to be add to that total this season if things go as planned in May.
But let's go inside each of those three drafts to see how things have gone and where they are headed.
Today: 2013.
First pick:
Sylvester Williams
, 28th overall. When the Broncos selected him last April they saw an every-down option, a potentially disruptive interior pass rusher and a player also strong enough to play with power in run defense as well.
Given Williams' personal history -- a stint working on an assembly line in a factory before deciding to walk on to play football in junior college -- the Broncos also saw a player with plenty of room to grow on the developmental curve to go with the work ethic that put him in the a position to be a first-round pick.
With
Derek Wolfe
and
Kevin Vickerson
both having ended up on injured reserve last season, Williams went from being inactive on game day three times in the season's first nine games to starting the team's last four games of the regular season and three playoff games.
Starters: 1.
[+] Enlarge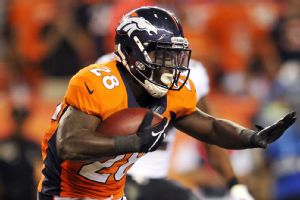 AP Photo/Jack DempseyBroncos running back Montee Ball wasn't technically a starter last season, but that should change in 2014.
With those seven starts in 2013, Williams was the only Broncos player from last April's draft class to open that many games. He is the only "starter" in the group by the letter of the law at the moment.
But running back
Montee Ball
(second round) will be the second starter as soon as the Broncos open their offseason workouts. Ball, with 312 snaps this past season, actually played more overall than Williams (296 snaps) and finished as the team's second-leading rusher with 559 yards.
Williams and Ball will continue to lead this draft class. With the Broncos expected to add some wrinkles -- and attention -- to the run game, Ball will have the potential for a breakout season.
Best value pick:
At the moment it's Ball. As the 58
th
player selected in the 2013 draft, Ball was the classic example of production over measurables in the pre-draft process.
He didn't run as well as many of the other running backs on the board, but he plays faster, and showed good instincts with the ball. A lot of players talk about what needs to be done. Ball actually put in the time and effort to do those things. Ball improved in pass protection, boding well for the future. Despite few opportunities as a receiver in the run-first Wisconsin offense, he will function just fine catching the ball in the league.
Now's the time:
The Broncos expect and need Williams to take a significant jump this season. There are few positions -- other than quarterback -- where it is more difficult to move quickly into the lineup and have an impact as an NFL rookie.
NFL offensive guards are far stronger, move better and play smarter so the transition for the defensive tackle can be tough because there isn't much room to work in the middle of the field. So once a defensive tackle is shut out of the play it is difficult for him to win the advantage back.
Williams flashed the ability to consistently win position off the snap down the stretch. If he takes the usual step between a rookie and second season, he should be one of the starters on the interior.
Gone:
WR
Tavarres King
. The Broncos believed King, who had played in a school-record 56 games at Georgia, had the physical skills to go with some on-field maturity to get into their rotation as a rookie.
And King flashed those skills in camp, but he also showed a little too much ego and attitude for the Broncos' liking at times, so they put him on the practice squad. But after a one-week move to the active roster last October, the Broncos tried to get him through waivers and back on the practice squad to bring
Von Miller
back from his six-game suspension.
King was signed by the
Carolina Panthers
, but did not play in any games last season. That hole in the draft class means the Broncos will be inclined to take a receiver out of this draft's exceptionally deep class.
More to come?
Though the Broncos will give a long look to the cornerbacks in this year's draft, cornerback
Kayvon Webster
(third round) will have the opportunity to earn plenty of playing time in the nickel and dime packages moving into the season.
With Champ Bailey's departure and
Chris Harris
Jr. still coming back from ACL surgery, Webster will have to be in the mix.
Also, defensive end
Quanterus Smith
(fifth round) did not play as a rookie after the Broncos placed him on injured reserve as training camp drew to a close. Smith, who had a three-sack game against an Alabama offensive line loaded with NFL draft picks in his senior season at Western Kentucky, had torn his ACL in his last collegiate season.
The Broncos tried him in the rotation in camp, but decided to move him to the IR in an attempt to bring him back at full speed this year. With Miller still working through his return from December ACL surgery, the Broncos could use Smith to come out of the gate strong.
Smith, at 255 pounds, is slightly undersized to play the power left end spot, but could have some opportunities to play there as Miller works his way back.
April, 13, 2014
Apr 13
12:15
PM ET
After a tumultuous 2013 season that included a torn ACL and a six-game suspension for violating the league's substance abuse policy,
Denver Broncos
linebacker
Von Miller
will make one of his first public appearances of the offseason Monday when his foundation hosts just over 100 Denver-area children who are in need of prescription eyeglasses at Sports Authority Field.
Miller
Outside of his post-Super Bowl attempt to get in a
Seattle Seahawks
victory party in New York City this past February, Miller has kept a fairly low profile in Denver as he works his way back from December's ACL surgery.
But Miller did sit down with ESPN's
Keyshawn Johnson
during a recent promotional appearance in Los Angeles. Miller offered few specifics in how his knee was coming along, but did say he wanted to return to the field better than he was at the time of his injury.
"I'm feeling good, I had a schedule that's all I can ask for,'' Miller said. "I'm not going to rush it, I've got good training guys with the Broncos, they're going to have me back in time ready to go.
"With today's medicine and what's going on now like ACL, it's really not as serious as it used to be,'' Miller continued. "I'm a 100 percent positive I'll be able to come back not only be the same Von, (but) I got to be better. You come back and be the same guy it's like you go 'it's the same Von again' and I got to be better.''
Miller also told Johnson he considered new teammate
DeMarcus Ware
, who signed a three-year, $30 million deal with the Broncos last month, to be a mentor. Miler said he contacted Broncos officials shortly before Ware's release by the Cowboys to express the hope the Broncos would sign Ware if the veteran were to be on the market.
"(That) if something come up where he's going to be free, we need to pounce on top of that,'' Miller said. "I modeled my game after DeMarcus … fanatical effort, relentless pursuit to the ball.''
Johnson also asked Miller about the need to re-build his reputation, after his suspension and other off-the-field issues Miller faced last season even as herehabs his knee.
"I'm going to go out there and play my game,'' Miller said. " … When I get back to full speed I'm going to be ready to go. When you're coming off an ACL it helps you re-evaluate what really matters to you and what really matters to me is playing football and be able to get back to that.''
Miller had 30 sacks in his first two seasons with the Broncos, including 18.5 in 2012. But last season began with the drug suspension as well as several other off-the-field missteps including an arrest at a local gun shop for a missed court appearance.
He returned to the lineup slightly heavier than he had been in the season before -- an intentional move to help him play with more power. In the end he had a career-low five sacks in nine games before leaving the Broncos' Dec. 22 game before halftime with his knee injury.
Broncos executive vice president of football operations/general manager
John Elway
has said he believe Miller "has matured and … needs to put last year behind him.'' Broncos head coach John Fox said recently he believes Miller's recovery from knee surgery is "on schedule'' and that Ware's presence on the roster will help Miller.
"He's coming off an ACL, that's touch and go and right now he's doing everything he's supposed to be doing in that process,'' Fox said. "Just another question mark … I suspect with today's medicine and how guys recover from those surgeries, he should be fine.''
Miller is still facing at least some long-term obstacles beyond his injury to return to his elite status among the league's pass rushers.
Since Roger Goodell became the league's commissioner in 2006, 132 players suspended for at least one game under either the substance-abuse policy or the policy on performance-enhancing drugs started just one-quarter of their career games after serving the suspensions, according to ESPN Stats and Information. The players, as a group, started 74.4 percent of their career games before their suspensions and just 25.6 percent of their career games following.