October, 22, 2014
Oct 22
6:15
PM ET
ENGLEWOOD, Colo. – If the past accounts for anything Thursday night,
Denver Broncos
rookie cornerback
Bradley Roby
can expect, and should expect,
Philip Rivers
to put Roby on the hot seat.
Because when the
San Diego Chargers
came to Denver last December, on a short week, for a Thursday night game, Rivers looked early and often at then-rookie cornerback
Kayvon Webster
. Rivers repeatedly tested Webster in last season's 20-13 Chargers victory, a total that included a 14-yard completion to
Vincent Brown
in the first quarter, a 12-yard completion to
Eddie Royal
in the second quarter, a 10-yard touchdown throw to
Keenan Allen
in the second quarter, and a 32-yard completion to Brown in the third quarter.
[+] Enlarge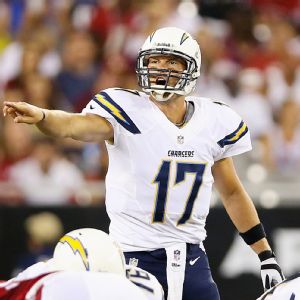 Christian Petersen/Getty ImagesPhilip Rivers could look to single out rookie cornerback Bradley Roby on Thursday.
"I told Kayvon at the time, those were about Philip's accuracy," said Broncos cornerback
Chris Harris
Jr. "There are always technique things you can do, footwork, at the line of scrimmage, but Kayvon was in the right spot a lot of time, it's just Philip is accurate and he challenges everybody. He doesn't care who you are; he would challenge Champ [Bailey]. I think he'll come after me, too, because he has in the past."
Roby, who was the Broncos' first-round pick in this past May's draft, has been tossed into the mix from his first day in the Broncos complex. Right from Roby's first day, defensive coordinator Jack Del Rio told the rookie he would have to "earn his way," and that Roby shouldn't be surprised if he couldn't crack the rotation right way.
The Broncos also tested Roby early in training camp, with both offensive coordinator Adam Gase and wide receiver
Demaryius Thomas
having said they "picked on'' Roby plenty in those early practices. It was all for the greater good, however, for both Roby and the defense.
Because even then Del Rio had high hopes for Roby in the defense and one of the most important things for a young defensive back to do in the NFL is bounce back from mistakes, to survive, with some semblance of confidence intact, when the league's best behind center find where you are in the coverage.
"I think it's always the way where you, as a young player, have to keep fighting in there," is how defensive tackle
Terrance Knighton
, a defensive captain, has put it. "Guys in this league are going to test you, every game. If you can't keep coming back, they'll keep coming after you."
"I want them to trust me," Roby said. "I always say I want to be one of the reasons we win the game."
Del Rio has moved Roby all over the formation and figures to do it again against the Chargers. Roby, who didn't play much, or ever, in the slot at Ohio State, has been put there plenty by Del Rio. Del Rio has matched Roby up on the likes of
Reggie Wayne
,
Larry Fitzgerald
and
Michael Crabtree
while even adding Roby to the pass rush in recent weeks.
Roby has played on 78.8 percent of the team's defensive snaps this season and is third on the team in passes defensed – behind only the starting cornerbacks, Harris and
Aqib Talib
.
"You can't be frustrated with guys like Rivers, [Tom] Brady or Peyton [Manning]," Harris said. "You can't get frustrated with those guys. They're going to make some tough throws into some tight coverages and you've just got to line back up to the next play. I remember last year, Kayvon had some great coverage and [Rivers] was able to just fit the ball in. So you can't be discouraged. We're definitely going to make those throws a challenge. He's going to have to make some perfect throws. … And whoever is out there with us will be ready."
October, 22, 2014
Oct 22
2:30
PM ET
ENGLEWOOD, Colo. --
Denver Broncos
place-kicker
Brandon McManus
, who was held out of Tuesday's practice because of a groin injury, practiced Wednesday and will kick in Thursday night's game.
McManus' injury is to his kicking leg and he has appeared on the Broncos' injury report since Oct. 1. The Broncos had held McManus out of practice one day last week as well.
The Broncos traded a conditional draft pick to the
New York Giants
just before the regular season opened because
Matt Prater
was headed for a four-game suspension for violations of the league's substance abuse policy. McManus was 3-of-3 on field goal attempts during Prater's suspension. Since the injury, as well as since Prater's release, Mcmanus is 3-of-4 with his miss coming from 53 yards.
On his 37 kickoffs this season, McManus has forced 28 touchbacks, the third most in the league behind only Indianapolis'
Pat McAfee
and Baltimore's
Justin Tucker
.
Running back
Montee Ball
(groin) again worked with the strength and conditioning staff, but did not participate in practice and was formally ruled out for Thursday's game. The Broncos have at least some optimism Ball could practice next week on a limited basis if he continues his current progress.
Defensive back
Omar Bolden
(concussion) also was ruled out for the game. Linebacker
Steven Johnson
(ankle), who leads the team in special-teams tackles, was listed as questionable and the Broncos have optimism he'll be able to play.
"I like the depth of our football team," Broncos coach John Fox said. "So we've got options we feel good about, but Stevie is still questionable for the game."
October, 22, 2014
Oct 22
10:00
AM ET
By
ESPN.com staff
| ESPN.com
October, 22, 2014
Oct 22
7:30
AM ET
ENGLEWOOD, Colo. -- The numbers speak for themselves and they're essentially shouting at everyone at the moment.
Shouting that
Denver Broncos
linebacker
Von Miller
leads the NFL with eight sacks while defensive end
DeMarcus Ware
is among four players tied for second in the league with seven sacks. Miller's eight sacks put him ahead of six of the league's teams and those 15 sacks between the Broncos' two marquee pass-rushers put the pair ahead of 14 teams.
[+] Enlarge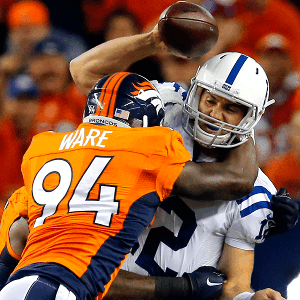 AP Photo/Jack DempseyDeMarcus Ware's ability to get to the quarterback has benefited the Broncos this season.
The Broncos' 21 sacks also tie them for third in the league though they've played one fewer game than the other four teams with at least 21. But if sacks had assists, Miller and Ware know who would get them. Because while the glamour guys collect the highlights along the way, it takes a defensive village to raise a sack.
"And those guys in the middle, they make it go," Miller said. "It's like I've said, they're unselfish, they just get to work."
In the end, it's simple math, really -- the smaller the pocket for the quarterback to move around in, the bigger the chance Miller or Ware will finish a play with a sack.
They are the UTR Club perhaps, an under the radar football thing they all understand. And
Terrance Knighton
,
Sylvester Williams
,
Marvin Austin
Jr.,
Derek Wolfe
and
Malik Jackson
have done the roll-up-the-sleeves work on the interior that, both Miller and Ware say, has allowed the Broncos' edge rushers to have exactly the kind of impact the team had hoped.
Knighton, in particular, has caught the eye of personnel executives around the league as one of the most disruptive players in the Broncos' defense, even in the mass of humanity along the line of scrimmage.
"We wouldn't be able to have success that we're having right now without Malik and Derek Wolfe and Marvin and all those guys," Miller said. " … It's like in basketball when you've got Kobe and Shaq. Those guys really make it go and I'm not trying to be funny about it, but those guys -- if it wasn't for what Malik and Derek do -- we wouldn't be able to do what we do on the outside. … They're very unselfish."
This all was part of the offseason plan. In a defensive overhaul where plenty of attention in free agency and the draft went to the secondary, the Broncos' decision-makers hoped recovery from injuries would give them back the defensive front they wanted.
Wolfe had spent the back half of the 2013 season on injured reserve after suffering seizure-like symptoms as the Broncos prepared to go on a road trip. Miller had suffered a torn ACL in a December game against the
Houston Texans
and Ware was a player the
Dallas Cowboys
were prepared to cut loose because, "They felt like they had a decision to make and maybe I wasn't the player I was."
The Broncos gladly dove in with a three-year, $30 million contract for Ware with the idea that a fresh start would be what was needed after he finished with six sacks in 2013. It's what defensive coordinator Jack Del Rio had been talking about for much of the offseason when he said that beyond the injuries that sent five defensive starters to injured reserve by the time the Broncos played in Super Bowl XLVIII, the fact the team wasn't able to replace
Elvis Dumervil
's impact last season impacted what the defense could do the most.
With Dumervil and Miller together in '12, the two combined for 29.5 sacks as the Broncos tied for the league lead with 52 and the Broncos allowed just five rushing touchdowns.
"I think it all goes together," Knighton said. "When we get the good push in there, don't give quarterbacks room to move up and throw, with DeMarcus and Von coming from the outside, that's what we want. Hopefully I get a sack or two with all that, but if they get a sack, if we see them with the quarterback, we know we did our job, too. Sacks make everybody feel good."
October, 21, 2014
Oct 21
4:32
PM ET
ENGLEWOOD, Colo. --
Denver Broncos
running back
Montee Ball
returned -- briefly -- to the practice field Tuesday, but the Broncos had enough concerns about their overall depth at running back to tweak the roster.
Ball
Ball, who suffered a right groin injury in the Broncos' Oct. 5 win over the
Arizona Cardinals
, was in a jersey and on the practice field during the open period of practice for the first time since the injury. Ball went through the pre-practice stretching with the team and then went to work with the strength and conditioning coaches.
The Broncos have planned for Ball to miss at least three weeks with the injury -- and Thursday night's game against the
San Diego Chargers
will be the third game Ball has missed -- so they promoted running back
Kapri Bibbs
from their practice squad, even as some teams in the league had started to circle the undrafted rookie with interest in signing him.
"I think he's a guy that we liked," Broncos head coach John Fox said of Bibbs following Tuesday's practice. "... Right now, until Montee starts moving along, getting well, (Bibbs) is really our fourth back, so we felt the need to do that and did so."
The Broncos also held kicker
Brandon McManus
(groin), defensive back
Omar Bolden
(concussion) and linebacker
Steven Johnson
(ankle) out of Tuesday's practice. Bolden and Johnson are not expected to play Thursday night.
McManus has been limited in at least one practice in recent weeks but has not missed any game action because of the injury. Fox said he expected that to be the case this week as well.
"See what tomorrow brings. ... I'm sure he'll be good to go," Fox said.
In an abbreviated practice week, the Broncos did not wear helmets in Tuesday's work, with the players in jerseys and shorts for the early-afternoon workout.
October, 21, 2014
Oct 21
2:00
PM ET
ENGLEWOOD, Colo. -- After a Week 3 overtime loss in Seattle,
Denver Broncos
defensive tackle
Terrance Knighton
offered a glimpse into the future.
A prediction he believed would come true and come true quickly.
"This is not the kind of defense we can play,'' Knighton said following the 26-20 defeat. "We see pieces, but not the whole thing. We're going to show the whole thing and when we do it's all going to start with stopping people from running the ball on us.''
That was after the
Kansas City Chiefs
had run for 133 yards in Week 2 to go with 129 yards for the Seahawks. In the three games since, all wins, by 21, 14 and 25 points, the Broncos have surrendered 37, 31 and 62 yards rushing.
So, after a long look at the game video, here are some thoughts on the team's defense and special teams:
With six sacks in the win over the 49ers Sunday night, the Broncos are now tied for third in the league with 21 sacks and they have played one fewer game than the other five teams with at least 21 sacks. And beyond the array of moves DeMarcus Ware and Von Miller have shown, including Ware's fake-spin effort against Joe Staley that is already a popular clip across the Web, Broncos defensive coordinator Jack Del Rio is having success placing Miller, in particular, off the line of scrimmage at times in rush situations when he has often been in a three-point stance at defensive end. It makes it more difficult for offenses to slide things toward Miller, or get a running back or tight end out to chip him if Miller starts the rush just off the line of scrimmage a bit. Miller gets a running start and also has a little more flexibility to see the gap he wants. Miller came from off the ball to sack Colin Kaepernick in the second quarter Sunday night. With Miller leading the league in sacks (eight) and Ware among the players tied for second in the league in sacks, with seven, the Broncos have the most prolific duo through seven weeks of the season and the Broncos have already had their bye week. The 49ers also struggled to adjust, with plenty of injuries on their offensive line, when the Broncos aligned Ware and Miller on the same side of the formation.
When Peyton Manning is as dialed in as he was Sunday night it always makes sense to get him the ball back as many times as possible. "That's what we want to do, stop people and get Peyton and our offense the ball back,'' Miller said. But a stumble in a third-and-long situation by the Broncos' defense just before halftime tipped that idea on its side for a bit. With the 49ers facing a third-and-17 from the San Francisco 29-yard line, the Broncos took a timeout to preserve some time, anticipating an impending stop on defense, to give Manning another possession in the opening half. The Broncos took a risk in blitzing cornerback Chris Harris Jr., who has been their best player in coverage so far this season, and that left safety Rahim Moore in coverage on.
The Broncos' aggressiveness paid off plenty as well. A particular look that figures to show itself again in the coming weeks, especially if the Broncos can consistently force favorable down-and-distance situations to crank up their rush, is a look with 10 players along the line of scrimmage with one deep safety. Broncos load the formation with speed and give a quarterback an awful lot to digest in the pre-snap reads.
Omar Bolden's concussion impacts what the Broncos can do in the return game. The Broncos lined up Bolden as the kickoff returner in Sunday's game, replacing Andre Caldwell. Bolden's ability to do that job to the Broncos' liking down the schedule could help rookie wide receiver Cody Latimer get on the field. Latimer has been active for one game this season and played only on special teams in the season opener. Despite Latimer's potential to give Manning another quality size/speed receiver in the formation, the Broncos have not made him part of the 46-man game-day roster because Caldwell, a wideout, has returned kickoffs and Isaiah Burse, a wide receiver, has returned punts. Bolden taking one of those slots as a defensive back already in the mix, could allow Latimer an avenue to some game-day work. But at minimum, Bolden won't play this week since he is under the concussion protocol and the Broncos would have to make another decision in the return game to get Latimer on the field.
October, 21, 2014
Oct 21
1:20
PM ET
ENGLEWOOD, Colo. – With the kind of speed that would make any overnight delivery service proud, the football
Denver Broncos
quarterback
Peyton Manning
threw to
Demaryius Thomas
on Sunday night for Manning's 509th career touchdown pass is on display in the Pro Football Hall of Fame.
[+] Enlarge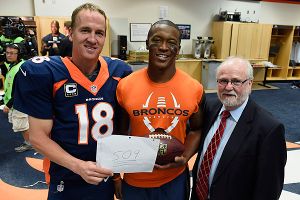 Eric Lars Bakke/Denver BroncosPeyton Manning poses with Demaryius Thomas, who caught his record-breaking 509th TD pass, and Hall of Fame rep Joe Horrigan, who raced to put the ball on display in Canton, Ohio.
The ball, along with a handwritten sign on a sheet of three-ring binder paper with "509'' in black ink on it, to go with three photos, sits comfortably in a case inside an exhibit entitled "Pro Football Today.''
Asked as he prepared to leave Sports Authority Field at Mile High on Sunday night, Joe Horrigan, the Hall's long-time vice president of communications/exhibits, said his plan was "to display it as soon as we possibly can.''
Horrigan secured the record-breaking football from the Broncos' equipment staff following the game -- Manning had posed for a few photos with it, including a photo with Thomas, inside the Broncos locker room -- and returned to Canton, Ohio, on Monday morning, football packed in his luggage. The football and the sign were brought to the Hall after hours on Monday night and put on display on Tuesday morning.
Horrigan said Manning has provided "several items'' that are on display in the Hall, including a uniform from the 2013 season when Manning won his record fifth MVP award and threw for a single-season record 55 touchdowns.
October, 21, 2014
Oct 21
11:00
AM ET
A weekly look at what the
Denver Broncos
must fix:
A lot of what the Broncos had on the drawing board this past offseason has come to pass over their first six games: The defense is more athletic, the pass rush is disruptive and quarterback
Peyton Manning
directs an offense that can stress an opposing defense all over the field.
But the Broncos' offensive line? The group is still trying to figure things out. With
San Diego Chargers
defensive coordinator John Pagano next on the docket, the Broncos will need the line to settle in to deal with the aggressive, unpredictable looks the Chargers can offer.
The Broncos made a change this past Sunday with
Paul Cornick
moving to right tackle in place of
Chris Clark
. Coach John Fox said "things hadn't gone real good'' before the change. Manning has routinely muted pass-rush plans with his ability to locate the extra rushers in the formation before the snap and deliver the ball quickly. But the fact remains the Broncos, low sack numbers or not, have not handled how defenses have chosen to attack them.
The Broncos have struggled up front at times with stunts from opposing defensive linemen or rushers coming from off the ball, off the line of scrimmage and too often rushers have simply come free. San Francisco 49ers linebacker
Ahmad Brooks
tackled running back
Ronnie Hillman
for a 3-yard loss this past Sunday after Brooks was unblocked in a formation with the three tight ends and one extra tackle -- and that was after the Jets had sacked Manning twice with a three-man rush a week ago
Pagano will try to create some indecision as the Chargers have 12 players with at least one sack this season, especially through the middle of the formation where opponents have consistently attacked the gaps between center
Manny Ramirez
and guards
Louis Vasquez
and
Orlando Franklin
.
October, 20, 2014
Oct 20
6:30
PM ET
ENGLEWOOD, Colo. -- The
Denver Broncos
began their abbreviated practice week with only two new injuries to report as they opened their preparations for Thursday night's game against the
San Diego Chargers
.
Cornerback
Omar Bolden
, who had also lined up as the Broncos' kickoff returner at times Sunday, is not expected to be available for Thursday's game. He suffered a concussion in the closing minutes of the win over the
San Francisco 49ers
and is now under the guidelines of the league's concussion protocol.
Bolden suffered the injury with 1 minute, 19 seconds to play in the game when he collided with 49ers wide receiver
Bruce Ellington
.
Linebacker
Steven Johnson
, a special teams regular, suffered what Broncos head coach John Fox called a "mild ankle sprain."
Fox said Monday the Broncos also spent some of their time this past offseason reviewing how to construct the team's schedule in a short week after last season's loss to the Chargers in a Thursday night game. The Chargers' 27-20 victory on Dec. 12 was the Broncos' only home loss last season.
"We've already addressed this long before now," Fox said. "Just preparation and I think we've got a good plan, we'll see how we execute it."
And the Thursday night games have been a target of criticism this season with questions about whether the short week has affected the quality of play in those games. At least publicly, the Broncos offered Monday they were ready to get back to work to keep their current win streak going.
"I like it," said linebacker
Von Miller
. "I like playing on Monday nights, I like playing on Thursday nights. You hear a lot about it's a short week and all this stuff, but I like it. I enjoy it; it's another prime-time game. They are doing the exact same thing that we're doing. They have a short week also. So I like it. You ... just hop in the ice tub, get stretched, get some body work and you'll be ready to go. I enjoy playing on Thursday nights and I'm looking forward to it."
"You just have to look at the game as a quick turnover, meaning it's a good thing or you check your oil on those type of games ... in saying what type of team are we," said Broncos defensive end
DeMarcus Ware
. "I think [the criticism is] overblown. I don't see any guys complaining on our team about having a Thursday game, we're just looking at it as yes, it's a quick turnaround and we have to do what we have to do to get the job done."
October, 20, 2014
Oct 20
5:15
PM ET
ENGLEWOOD, Colo. -- It was an evening that many will remember for its historical significance as quarterback
Peyton Manning
finished with four touchdown passes, breaking the NFL record for career scoring passes Sunday night in Sports Authority Field at Mile High.
His third touchdown pass in the 42-17 victory against the
San Francisco 49ers
broke Brett Favre's record and moved Manning to 509. His fourth was No. 510. Along the way the
Denver Broncos
showed impact all over the field, including at running back, and started a new right tackle in
Paul Cornick
.
So, after a long look at the game video, here are some thoughts on the Broncos' offense:
Manning

There is bulking up and there is really bulking up. The Broncos like to run two-tight-end formations, will occasionally try three tight ends, and Sunday night used four tight ends, with the fourth being reserve tackle Chris Clark. But there are still some wrinkles to smooth out. With all that size lined up on a first-and-goal from the 49ers' 3-yard line in the Broncos' first scoring drive, San Francisco linebacker Ahmad Brooks -- the 49ers' best linebacker with Patrick Willis out with an injury -- was still unblocked and tackled running back Ronnie Hillman for a 3-yard loss. The Broncos tried it again, with Manning needing a touchdown pass to break Favre's record late in the first half, on a first-and-goal from the 49ers' 1-yard line. In this version the Broncos split Jacob Tamme and Julius Thomas out wide and Thomas likely would have had a touchdown, but Manning threw the ball slightly behind him. Offensive coordinator Adam Gase continues to kick the tires as he searches for options beyond the obvious explosiveness the team has in its three-wide-receiver look. Gase had tight end Virgil Green line up in the backfield as well Sunday, and Green finished with one carry for 3 yards.
Cornick got his first NFL start, and initially it looked as if it could be a long evening for the former North Dakota Stare All American. He had a false start on the Broncos' second offensive snap and was trailing 49ers linebacker Aaron Lynch when Lynch sacked Manning on the last play of the first quarter. Cornick acted as if he expected running back Juwan Thompson to chip Lynch as Thompson went into the pass pattern. Thompson did not make contact with Lynch, Cornick was late to react, and Lynch had an easy path to Manning. However, Cornick settled in after the bumpy start -- "thought he did a heck of a job, he had some butterflies early, but how could you not?" Manning said -- and showed some feistiness and an ability to anchor in pass protection and move people in the run game. Cornick showed enough promise to offer some optimism that he will play at the level of a starter moving forward.

Welker

The 39-yard touchdown pass Manning threw to Wes Welker late in the first quarter to tie Favre at 508 was a testament to some Friday tinkering with the game plan. It was also aided by the fear receiver Demaryius Thomas puts in a defense. From a three-wide set Welker was in the left slot, with Thomas out wide left. At the snap Thomas stepped back as if the bread-and-butter screen play was on the way. 49ers safety Eric Reid and cornerback Tramaine Brock stepped to Thomas, believing he would get the ball. Welker swooped on by Brock, and turned upfield once he got outside the numbers. Brock reacted too late as Manning pump-faked to Thomas and tossed the touchdown pass to Welker. "(The) touchdown to Wes was a little Friday afternoon addition between Adam and I," Manning said. " ... You put it in the game plan late on Friday and it pays off for you on Sunday. Those are small, little moments that kind of make all of the hard work worthwhile." Defensive coaches routinely say one of the most vulnerable times against Manning can be when you think you know for certain what's coming, because Manning not only remembers what you do, but what he has done in certain situations as well.
It's not common for starters to get pulled in a regular-season game because things are in hand. But the Broncos did just that in the fourth quarter Sunday night. As a result, Isaiah Burse played four snaps at wide receiver, Will Montgomery played six snaps at guard and Brock Osweiler played nine snaps at quarterback. Osweiler attempted just one pass, a power throw down the hashmarks that could have converted a first down, but Burse did not hang on.