November, 25, 2014
Nov 25
6:30
PM ET
ENGLEWOOD, Colo. -- For much of the last two seasons, the
Denver Broncos
have lived the hot-hand life in the run game.
Running backs coach Eric Studesville, with a collection of backs he ranks every week for playing time but close enough in abilities to split the carries in some fashion, would roll them all through the huddle.
Anderson
As he puts it: "It's a gut feel, you look at the guys, look at where were are on offense, see how they're running and you go from there."
Besides, when a team throws the ball as often as the Broncos have since Manning's arrival in 2012, there aren't always that many carries to go around.
Still,
C.J. Anderson
is now poised to have a stretch of games like the Broncos haven't had since Manning's inaugural season.
"I don't know what's going to happen, but I just look at it like I need to get myself ready to handle whatever they ask me to do," Anderson said. "[Studesville] tells me to go in and I go in. He tells me to run it, I run it. If you need to block, you block, if you need to catch the ball, you catch the ball. And if you need to wait a bit to do it, you wait and stay ready."
With injuries to
Montee Ball
(right groin) and
Ronnie Hillman
(left foot), the sturdy Anderson might get a workload that resembles a primary-back approach like he did in Sunday's win over the
Miami Dolphins
. Anderson had 27 carries for 167 yards -- both season-highs for a Broncos running back and easily career-bests for Anderson.
In Manning's first season with the Broncos in 2012, the Broncos had five games in which a running back had at least 22 carries -- three of those by Willis McGahee and two by
Knowshon Moreno
. The Broncos had two such games in 2013. Moreno had both in back-to-back games with 27 carries for 79 yards against the
Kansas City Chiefs
followed by 37 carries for 224 yards against the Patriots the following week.
This season, with Ball, Hillman and Anderson having been at the top of the depth chart, the Broncos have had three games where a running back has had at least 22 carries. Two of the three have resulted in 100-yard games, with Anderson's against the Dolphins to go with Hillman's 24-carry, 100-yard day against the
New York Jets
.
"C.J.'s a baller," guard
Orlando Franklin
said. "He's hungry out there ... I look forward to watching him as the weeks progress."
"Whatever's working, keep it going," Anderson said. "... I think you just stick to your roles, keep your same routine, never get too big about it all and just continue to play hard."
November, 25, 2014
Nov 25
3:46
PM ET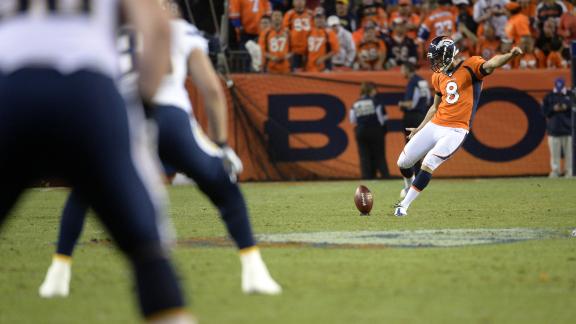 ENGLEWOOD, Colo. -- The Denver Broncos waived kicker Brandon McManus on Tuesday and replaced him with veteran Connor Barth.
Barth, 28, hasn't kicked in a regular-season game since the 2012 season with the Tampa Bay Buccaneers. He did not play in 2013 after suffering a torn right Achilles tendon (his kicking leg) in a charity basketball game to benefit the Wilmington (North Carolina) Police Recreation Association.
The Broncos worked out both Barth and Jay Feely and came away impressed enough with the former's recovery to sign him. He will handle kickoffs as well. Barth, who was 2-of-2 on field-goal attempts this past preseason, was released by the Buccaneers just before the start of the regular season.
The Broncos have called McManus an NFL-worthy prospect and even traded a seventh-round draft pick to the New York Giants to acquire him during the preseason. But in what Fox routinely calls "a performance-based business," the Broncos decided McManus' play in recent weeks dictated the move.
McManus had four field goal misses in the past eight games, including a 33-yard attempt that hit the right upright in Sunday's 39-36 victory over the Miami Dolphins. Fox had also made it fairly clear his confidence in McManus had waned when the Broncos passed up field-goal attempts of 54 and 55 yards, indoors, in a Week 11 loss to the St. Louis Rams.
Fox had said "there is no search for a new kicker," even as Barth and Feely were in transit.
November, 25, 2014
Nov 25
3:30
PM ET
ENGLEWOOD, Colo. -- The
Denver Broncos
' 39-36 win over the
Miami Dolphins
this past Sunday was not only the Broncos' fifth against a team that is currently ranked among the league's top 10 in scoring defense, it moved the Broncos up a spot in ESPN's Power Rankings.
The Broncos (8-3) went to No. 3 this week, trailing only the
New England Patriots
(9-2) and the
Green Bay Packers
(8-3). The Patriots, who defeated the Broncos 43-21 on Nov. 2, travel to Green Bay this weekend to face the Packers at Lambeau Field. The rankings are a result of voting by more than 80 writers, editors and analysts from ESPN.
The Broncos will face the
Kansas City Chiefs
(7-4) in Arrowhead Stadium Sunday night, a game that could, with a Denver win, give the Broncos the inside lane to win the AFC West title for the fourth consecutive season. The Broncos are just 2-3 on the road this season with their wins coming against the 2-9
New York Jets
and the 1-10
Oakland Raiders
.
"They are all satisfying and you have to earn them all,'' Broncos quarterback
Peyton Manning
said following the win over the Dolphins. "We definitely earned a victory against a good football team … but we've got to keep it going. We can't win one and have a fall off.''
The win over the Dolphins was the sixth game the Broncos have played this season against a scoring defense currently ranked in the league's top 10. The Broncos are 5-1 in those games.
November, 25, 2014
Nov 25
1:00
PM ET
A quick observation about quarterback
Peyton Manning
and how he played in the
Denver Broncos
' 39-36
win in Week 12
:
Manning
In the win over the Dolphins, Manning had his 13th game in his past 27 starts with at least four touchdown passes, a staggering number that this time was a direct result of the team's ability to dial back Miami's pass rush, as well as the Broncos' ability to run the ball out of their favored formation.
Manning was 28-of-35 passing -- 10-of-11 in the fourth quarter -- for 257 yards and the four touchdowns. But the win was another example of how much more efficient he is out of the team's three-wide-receiver set when the Broncos have a commitment to run the ball and some success doing it.
When the Broncos are in three-wide they usually have Manning in the shotgun or pistol -- Manning not under center, but in front of the running back -- so that's how the running plays come.
In the nine games the team has used the three-wide set the most this season (in their first two games of the year they were in two-tight-end more than three-wide during
Wes Welker
's suspension), their three losses have come when they ran the ball just six (St. Louis), 11 (New England) and 12 (Seattle) times out of the shotgun or pistol -- three of their four lowest totals of the season.
For the most part, Manning's highest efficiency and the Broncos' highest point totals have come when they've run the ball 21 times with Manning in the shotgun or pistol against Arizona (41 points), 19 times against Oakland (41 points) and 18 times Sunday against the Dolphins (39 points).
November, 25, 2014
Nov 25
8:00
AM ET
Happy early Thanksgiving!
Join us today at 1 p.m. ET, 10 a.m. PT for ESPN NFL Nation TV's Spreecast as episode No. 33 gives a Turkey Day preview, revisits
Odell Beckham Jr
.'s insane three-fingered catch, and discusses several teams' futures given the varying quarterback situations they have inherited this season.
Host Coley Harvey (
Cincinnati Bengals
reporter) and co-host Mike Wells (
Indianapolis Colts
reporter) will be joined by Michael C. Wright (
Chicago Bears
reporter), John Keim (
Washington Redskins
reporter) and Phil Sheridan (
Philadelphia Eagles
reporter).
Plus, Rob Demovsky (
Green Bay Packers
reporter) and Mike Reiss (
New England Patriots
reporter) will debate in this week's "Main Event" about Sunday's big game at Lambeau Field that will feature MVP candidates
Aaron Rodgers
and
Tom Brady
.
Viewers are encouraged to log in and ask the panelists questions as well as contribute
in the chat feature
.
November, 25, 2014
Nov 25
7:30
AM ET
ENGLEWOOD, Colo. -- The ending was fine for the
Denver Broncos
defense. The Broncos won and the
Miami Dolphins
rushed for just seven yards on their six rushing attempts in the second half.
It's just what came before that will demand some attention from the Broncos, like the Dolphins' 90 yards rushing in the first half to go with the Dolphins' 5-for-5 performance in the red zone -- all touchdowns.
Ward
"We ended it good, but we still have a lot of things to work on," Broncos safety
T.J. Ward
said. "... We like how it ended, we'll always take a win, but we have a lot of things to get done, we know that."
And after a long look at the game video, here are some thoughts on the Broncos' defense and special teams:
The Dolphins made a concerted effort, particularly in the first half, to show the Broncos open formations with three wide receivers and a tight end spread sideline to sideline. They also made a concerted effort to run the ball early in the game, at least while the scoreboard allowed them to, against the Broncos' lighter defensive packages. The Dolphins pounded out 83 of their 90 first-half rushing yards against the Broncos' nickel (five defensive backs) and dime (six defensive backs) defenses. It allowed the Dolphins to put together three well-balanced touchdown drives in the first half. The Broncos adjusted and Denver's offense got things cranked up enough the Dolphins were able to run the ball just six times in the second half. But with the Chiefs (No. 4 in rushing) and the Bengals (No. 7 in rushing) on the docket in the coming weeks, the issue is sure to come up again.
Within those runs against the Broncos' specialty packages, the Dolphins were effective using their tight ends to block on the edges of the formation, especially in the run game. Two of the best examples were when tight end Harold Hoskins sealed off Broncos defensive end Derek Wolfe on Lamar Miller's 22-yard run in the first quarter and Dion Sims locked on linebacker Von Miller on Dolphins quarterback Ryan Tannehill's touchdown run in the second quarter.
In one of the oddest sequences anyone will ever see, the Broncos forced three fumbles on one second-quarter Dolphins possession and didn't recover any of them. But that's the way it's gone for the Broncos all season, as the team has forced nine fumbles, but recovered just one – the fewest in the league. Broncos cornerback Aqib Talib knocked the ball free from Dolphins wide receiver Brandon Gibson and the ball rolled out of bounds; two plays later Chris Harris Jr. knocked the ball free from Gibson and the ball rolled out of bounds; and five plays after that Brandon Marshall knocked the ball free from Rishard Matthews only to see Miller pounce on it for the Dolphins. "We are still waiting for the ball to bounce right," Broncos head coach John Fox said. "... You just keep stressing it, our guys are working at it hard, someday, hopefully soon, they pop into our hands."
Opposing special teams coaches believe, and the game video has confirmed this week to week, the Broncos returners swing the ball away from their bodies as they run too often, and most teams are coming into the piles looking to knock the ball free because of it. The returners are not always carrying the ball in the outside hand andaren't maintaining the three points of contact to carry the ball high and tight against the body. The Dolphins knocked one out of Isaiah Burse's hands that gave them the ball on the Broncos' 12-yard line with 3:20 left in third quarter just after the Broncos defense had forced a punt following a missed field goal by Brandon McManus. "There's a certain point in time where you're kind of hemmed in, you don't want to be doing spin moves and whatnot," Fox said. "You just kind of take your losses and get down. But again he's young and if he had to do over again I think he would have done it differently, but all in all I think he's done a pretty good job."
Omar Bolden, who has worked at both safety and cornerback in his career with the Broncos, showed he's been paying attention. With Talib's left hamstring injury to go with Kayvon Webster's right shoulder injury, Bolden ended up playing 16 snaps at cornerback Sunday. Bolden finished with two tackles on defense to go with another on special teams. Toss in Bolden's kickoff returns of 40 and 33 yards and it was just the kind of little-of-this, little-of-that game the Broncos needed.
November, 24, 2014
Nov 24
7:30
PM ET
ENGLEWOOD, Colo. -- Despite
Danny Trevathan
's expected return to the practice field Wednesday, the
Denver Broncos
are still a couple weeks from reinforcements at linebacker.
Trevathan, who has suffered two separate fractures in his left leg this season, was placed on injured reserve designated to return on Oct. 14. He is eligible to return to practice this week and can then play for the first time in the Broncos' Dec. 14 game in San Diego.
Broncos head coach John Fox said Trevathan won't immediately start practicing with the team's defensive regulars this week.
"We won't give him a lot of work because we're not getting him game ready yet," Fox said. "He'll be on scout team, we'll ease him back into it – he hasn't played football in a while – individual (drills), scout team work just get him back into playing shape."
And with
Nate Irving
on injured reserve and out for the remainder of the season and
Brandon Marshall
having suffered a concussion in Sunday's win over the
Miami Dolphins
, the Broncos will need their youthful group of linebackers that remain on the depth chart to be ready to play.
Steven Johnson
has played at middle linebacker in the base defense since Irving went to injured reserve, while rookie
Lamin Barrow
played alongside Marshall in the team's specialty packages in Sunday's win.
"I thought [Barrow] played good in spots, had some other plays, much like the rest of our football team," Fox said.
Barrow played 20 snaps on defense Sunday. Rookie
Corey Nelson
, who has also been used in some passing situations this season on defense, will also be in the mix if Marshall misses time before Trevathan's return.
Marshall is now in the NFL's concussion protocol and will be evaluated by both the Broncos medical staff as well as an independent physician.
Also, Monday Fox called both cornerback
Aqib Talib
and cornerback
Kayvon Webster
"day-to-day" with injuries they suffered Sunday. Talib tried to initially play through a left hamstring injury but did not play in the second half Sunday while Webster was wearing a sling on his right shoulder following the game.
Fox often says "day-to-day" when a player misses at least a game or two.
November, 24, 2014
Nov 24
6:15
PM ET
ENGLEWOOD, Colo. -- With four misses in the last eight games by kicker
Brandon McManus
, including a miss from 33 yards in this past Sunday's 39-36 victory over the
Miami Dolphins
, the
Denver Broncos
are poised to take a look at some potential veteran replacements.
The Broncos are scheduled to work out Jay Feely and Connor Barth Tuesday morning at the team's suburban Denver complex. Barth, 28, has not kicked in an NFL game since he played in 15 games for the
Tampa Bay Buccaneers
in 2012 while the 38-year-old Feely kicked in all 16 games for the
Arizona Cardinals
last season.
Broncos head coach John Fox said Monday he wouldn't classify workouts as a "search." It is clear, though, that the Broncos want to see what their options are following a game in which they passed up field-goal attempts of 54 and 55 yards, indoors, and had McManus' miss.
[+] Enlarge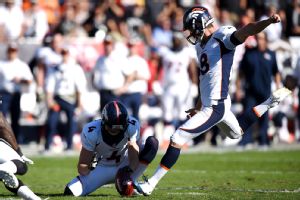 Thearon W. Henderson/Getty Images"As far as my satisfaction with Brandon McManus," Broncos coach John Fox said, "is kind of like our record, we're 8-3, wish we were 11-0."
"There is no search for a new kicker," Fox said. " … We have tryouts every week, at a lot of different positions. As far as my satisfaction with Brandon McManus, is kind of like our record, we're 8-3, wish we were 11-0. But we are kind of where we are and we're always looking to improve our team if we feel need be."
If the Broncos were to sign either Feely or Barth, they may have to consider keeping McManus as a third kicker and a kickoff specialist.
Feely, who was the fourth-leading scorer among the league's active players, with 1,437 career points, when the Cardinals released him at the end of the preseason, had just 38.4 percent of his kickoffs go for touchbacks in 2013. That total would be higher in Denver's altitude. The Broncos made touchbacks a key part of the kicker's job with
Matt Prater
as well as one of the reasons given when the team elected to keep McManus and release Prater earlier this season.
Barth was not used on kickoffs by the Buccaneers in 2011 or 2012 and in 2010 he had just one touchback on 78 kickoffs for Tampa Bay. That's been the consistent part of McManus' game to this point with 48 touchbacks on his 64 kickoffs -- second-best in the league at 75 percent.
"If you haven't missed a kick, you probably have never kicked, first of all, I think that speaks to every kicker in the National Football League," Fox said. " … Obviously he was disappointed (Sunday), we were disappointed, I was disappointed we didn't get seven (points) to be quite frank with you."
Fox later added: "We're in a performance-based business, regardless of what your job description is, you're expected to perform. I don't think he's the worst kicker in the league by any stretch, as I mentioned earlier … don't know there's a whole lot of kickers who've made every kick thus far, eleven or twelve games into the season. Whether you're a rookie or a 12-year veteran, you're still expected to perform. It doesn't matter what position."
McManus is just 9-of-13 on field-goal attempts for the season and that .692 accuracy percentage, puts him ahead of only Nate Freese and
Alex Henery
, who have both been released by the
Detroit Lions
this season.
The Broncos have invested in McManus as a prospect, having acquired him in a trade from the
New York Giants
just after Prater's four-game suspension was imposed. At the time, Fox said McManus had "great potential, he's a great young kicker."
Prater's release was also rooted in the Broncos' salary-cap status (with several front-line players poised for free agency following this season) and Prater's lukewarm preseason performance. Prater missed two kicks in the preseason, a 54-yarder and a 49-yarder.
Prater's contract also impacted the decision. His cap figure was originally $3.107 million for this season, and the Broncos saved $2.294 million off the cap this year and $3.25 million off their 2015 salary cap with Prater's release.
Since he was signed by the Lions, Prater is 12-of-16 on field-goal attempts. He was 25-of-26 in field-goal attempts last season for the Broncos.
November, 24, 2014
Nov 24
2:40
PM ET
ENGLEWOOD, Colo. -- For all of the ups and downs the
Denver Broncos
' offense has been tested more than most in the league thus far this season.
And while quarterback
Peyton Manning
has chastised his own play at times, the team's offensive line has struggled mightily at times and the Broncos' run game has been parsley on the plate most of the time, Sunday's game against the
Miami Dolphins
was the Broncos' sixth of the season against a team that currently ranked in the league's top 10 in scoring defense.
The Broncos are 5-1 in those games -- the loss came in Seattle in Week 3 -- and have averaged 33.5 points in those six games as Manning has thrown 20 touchdown passes to go with five interceptions and been sacked six times.
[+] Enlarge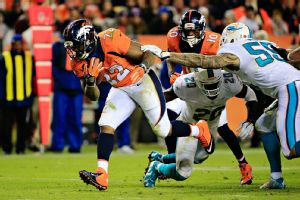 Doug Pensinger/Getty ImagesC.J. Anderson had a spectacular day running the football, notching 167 yards and one touchdown.
And after a long look at the game video in the
39-36 win
against Miami, here are some thoughts on the team's offense:
C.J. Anderson's 167-yard day was the Broncos' best effort by a running back in just under a calendar year -- Knowshon Moreno had 224 yards rushing last Nov. 24 against New England -- and it was a product of a bigger commitment in the game plan, some better work up front by the team's offensive line as well as Anderson's combination of patience as the blocking developed to go with decisiveness once a crease was available. But run defense is based on fits and if things work right, the back will also have to make one defender miss at some point to make a ho-hum run into something bigger. And Anderson, while not considered a speed back, routinely made the first Dolphins' defender miss, right from the start Sunday. He did it as a receiver as well, making Dolphins defensive tackle Jared Odrick miss on Anderson's first reception of the game. And on a 25-yard run in the second quarter, straight out of Broncos' Novembers past, Anderson showed quality patience. The Broncos' front moved right, tight end Virgil Green and right tackle Louis Vasquez secured the edge, wide receiver Andre Caldwell pushed a defender wide and Anderson sliced through the opening.
On the Broncos' first touchdown of the game, Manning quickly found the matchup he was going to like in the pre-snap read. In a three-wide receiver set, the Broncos had Demaryius Thomas in the slot to the right with Wes Welker out a little wider right and tight end Jacob Tamme out past the numbers to the right. That left the Dolphins with linebackers defending the inside routes with Tamme across from a defensive back. Thomas quickly cut to the middle of the field with linebacker Jelani Jenkins in tow. And while Jenkins was positioned well, his job description usually doesn't require the ball skills to read the receiver's actions when the ball is in flight. So Jenkins never turned his head back toward the quarterback and Manning threw a low-and-away fastball for the score. It is the kind of matchups the Broncos get when they put the tight end out wide, especially in the red zone.
Defensive players and coaches often talk about how much of Manning's pre-snap movements and cadence are "dummy" calls to lure the defense to react improperly. The hard part for them is to sift through what's real and what's not. Juwan Thompson had a run for no gain Sunday in the first half when Manning, working through his pre-snap action, looked at Thomas, shouted "D.T." and pointed down the field as if to say "go deep." Manning then went under center to take the snap and handed the ball off to Thompson.
On the third-and-20 play just before halftime, the Broncos caught the Dolphins milling around a bit before the snap and playing, just for an instant, without an awareness of the situation. Emmanuel Sanders was lined up wide left, the Broncos hurried to the line of scrimmage, snapped it quickly. Sanders gave Dolphins cornerback Jamar Taylor a hesitation move about eight yards into the route. Even if Sanders caught the ball there, it was well short of the first down, so that is a contain-and-tackle play for a defensive back. But the Dolphins aggressively played the ball throughout the game and this time it cost Taylor. Taylor tried to jump the first move to play the ball, except Sanders came out of the stop to continue up the left sideline, with Taylor well behind. The result was a 35-yard gain for the Broncos that put them in position to score just before halftime.
The Broncos have been the league leader for false start penalties for much of the season, but Sunday's game was their first outing of the season when they didn't have one. They have had at least one in the 11 previous games.
With Julius Thomas (left ankle) a game-day inactive, the Broncos used a two-tight end look 17 times Sunday with tackle Paul Cornick as the second tight end. Cornick was in the formation with Green on 16 of those snaps and with Tamme on one.
November, 23, 2014
Nov 23
11:40
PM ET
DENVER -- The streak
Denver Broncos
wide receiver
Demaryius Thomas
didn't even like to talk about, the one Thomas' teammates hoped would lead to an NFL record, is over. But after Sunday's win over the
Miami Dolphins
, Thomas had three more touchdowns to salve the wound.

Thomas
Thomas had entered the game with seven consecutive 100-yard games, one short of
Calvin Johnson
's NFL record of eight set in 2012. The Broncos ran the ball a season-high 35 times on Sunday with their first 50-50 run-pass split of the season to try add a little muscle to the offense.
The Miami defense gave Thomas plenty of attention, but the Broncos' top receiver finished with 10 catches for 87 yards to go with touchdown catches of 5, 15 and 5 yards.
"And I'll take the win any time," Thomas said. " ... I didn't want to talk about the record because it would like jinx it or something. I just want to keep playing better and better ... Anybody would like to have a record like that, but I just want to keep working and have us keep getting wins."
It was Thomas' second career three-touchdown game -- the other was last November against the
San Diego Chargers
.
Thomas struggled some in the season's early going as he was asked to often line up in the slot because
Wes Welker
was suspended. He had an uncharacteristic number of drops -- four in the team's first three games combined -- and didn't top five catches or 62 yards in any of the three games.
But since the Broncos' Week 4 bye, Thomas has had 69 receptions for 1,051 yards and eight touchdowns in the last eight games combined.
"It's unfortunate he didn't get the record," said Broncos tackle
Orlando Franklin
. "But he brings it each and every week, game in, game out, he's been there for us."
November, 23, 2014
Nov 23
11:15
PM ET
DENVER – Don't say you weren't warned.
Last Monday, coach John Fox said the Broncos had to run the ball more. Last Wednesday, quarterback
Peyton Manning
said they had to run more efficiently and might be an "old-school run team" against the
Miami Dolphins
.
Last Thursday,
C.J. Anderson
said he'd be ready to carry the ball as many times as the Broncos wanted to hand it to him, and the Broncos' offensive linemen, who had worn the biggest target for the what's-wrong-with-the-Broncos arrows, promised they were ready.
[+] Enlarge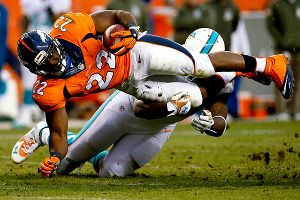 AP Photo/Jack DempseyC.J. Anderson rushed for 167 yards as the Broncos leaned on the running game against Miami.
Sunday the Broncos turned all of those words into deeds as they sported offensive equilibrium -- 35 rushing attempts, 35 pass attempts -- in pounding out 201 rushing yards in a
39-36
victory over the Dolphins in Sports Authority Field at Mile High.
"It was important for us just to come out here and hold up for our teammates," Broncos guard
Orlando Franklin
said. "… We knew we had to come out here and do our job. That's all it is, do your job and your team is going to be good."
Anderson had 27 carries for 167 yards, the most carries and rushing yards for a Broncos running back since
Knowshon Moreno
had 37 for 224 in an overtime loss last Nov. 24 at New England. Sunday, Anderson ran with vision, with power and perhaps most importantly, with decisiveness.
He also put the action back in play-action after a bit of a sluggish start for Manning, who was at his ruthless best with 28-of-35 passing for 257 yards and four touchdowns. The Dolphins were unable to consistently keep the pressure on Manning and the Broncos were able to muscle their way back into a game they trailed 14-3 early in the second quarter and 21-10 just before halftime.
"I think it's better to be mad," wide receiver
Demaryius Thomas
said. "All of us, we talk about playing with a pissed-off attitude and it came out; we did that. I think if we can keep doing that, we'll have a better chance each week."
"That was certainly part of the game plan," Manning said. " … We kind of felt the plan was working; we just needed to get the ball more and stay on the field."
In the piles of touchdowns the Broncos have put up since Manning signed in 2012, one overriding criticism has been not only if they could consistently win a slug-it-out game on offense when December turns to January and January turns toward the Super Bowl, but that they weren't always that committed to trying to slug it out.
An offense with a quarterback who has now thrown 126 touchdown passes in his 43 regular-season starts with the team -- and 13 games with at least four touchdowns in his past 27 regular-season starts -- is going to throw the ball. But the Broncos know that 10 rushes will not cut it, which is what they did in the loss to the Rams. The Broncos' offense needs balance to win a championship.
"When you're able to have that balance, it helps everybody's efforts … we got in a chuck-and-duck game a week ago," Fox said. "We needed to reel that back in."
Reel it in they did, but nobody should expect the Broncos to be 50-50 run-pass all the time. Because the postal-service games are coming, in the wind, rain, sleet, snow and perhaps all of the above in New England.
For one day, the Broncos' offensive line offered an alternative for the Broncos to get done what they want to get done, and all involved want, need and expect that they'll need to do it again.
"Tonight was their night," said wide receiver
Emmanuel Sanders
, about the offensive line. "They wanted to show we can run block, we can pass block, we can get the job done. We go as far as they take us. We understand that and they understand that."