March, 11, 2014
Mar 11
1:50
PM ET
The Lions made their first big move in free agency, and it was done to keep one of their own.
Joique Bell
always said he wanted to stay in Detroit. The Lions insisted he should stick around as well. With the way the Lions are going to use their offense now, looking more like the
New Orleans Saints
, having both Bell and
Reggie Bush
on the roster was key.
[+] Enlarge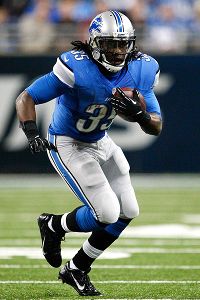 Raj Mehta/USA TODAY SportsJoique Bell's extension is worth $7 million and will include $4.3 million in guarantees.
The Lions re-signed
Bell to a three-year deal
(the second-round restricted free-agent tender for 2014 plus a two-year extension for 2015 and 2016) to ensure he wasn't going anywhere, according to ESPN NFL Insider Adam Caplan.
That was done not only because Bush and Bell formed one of the top tandems in the NFL last season but because of how new offensive coordinator Joe Lombardi will likely use them in the future. During his tenure in New Orleans, before Lombardi was calling plays, the Saints rotated multiple running backs through the system.
They often caught passes out of the backfield -- led by either
Darren Sproles
or Bush -- but carries were often split. No rusher had more than 200 carries in a season while Lombardi was with the Saints, and Bush had 223 last season during his first year with the Lions. Bell was second with 166 -- which would have been high in the New Orleans offense most seasons.
Of course, Lombardi said he would tweak the Saints' playbook to fit the Lions, and considering what Detroit has on its roster at the start of free agency, the offense could rely more on runs and short passes than what Lombardi used in New Orleans.
But by the time the draft is over, the Lions could have the pass-catchers necessary to approximate what the Saints did, pass-happy both short and sometimes vertically with
Marques Colston
, who will be played by
Calvin Johnson
.
Keeping Bell around for the next three seasons gives the Lions a player who can be a lead back behind Bush. This is important because Bush, who has played 16 games in a season only twice in his career, turns 30 next March. That age has often been the turning point for running backs to hit a decline.
Bush might be a different case than most because his body has only recently started to take on 200-plus-carry seasons over the past three years. Before that, his load was lighter. But still, having a fresher Bell -- who played only his second full season in the NFL in 2013 -- as a complement and potential replacement could be helpful.
Signing Bell also could give the Lions some more room to trade or release
Mikel Leshoure
, who barely played last season and has been in search of more playing time.
Maybe Leshoure receives that in Lombardi's multiback offense in 2014. Or maybe the team lets him go and looks to
Theo Riddick
or other options to join the rotation.
With the long-term signing of Bell, the top of the Lions' depth chart is now set at running back for the not-too-distant future.
March, 11, 2014
Mar 11
1:00
PM ET
As free agency begins Tuesday and the
Detroit Lions
figure out exactly how to fill their holes, certain players will stand out.
And over the past three days, the Lions have spent time in the beginnings of talks with free agents as they try to maximize about $11 million in salary-cap space.

It might sound like a lot -- and it will be enough to get a couple of deals done -- but the total is in the lower half of the NFL and could keep the Lions from being major movers in the market, at least until a new contract is worked out with defensive tackle
Ndamukong Suh
.
If that happens.
As everyone settles in for the insanity of free agency, here is a look at players the Lions could target on defense.
DEFENSIVE LINE:
Why:
This could be predicated on what happens with defensive end
Willie Young
. If the team is able to bring Young back, the Lions might be done at the position in the near term. If not, they might look for a replacement. At defensive tackle, the team already signed
Corvey Irvin
and has depth.
Two candidates:
Young: Last season was his first consistent extended action, and he was effective. He had 47 tackles and three sacks, but his size and speed make him an attractive free agent for teams. At 28, he is in his prime.
Brett Keisel: He is a 3-4 defensive end who can play defensive tackle in the 4-3. Though 35 years old, he had 29 tackles and four sacks in 12 games last season. He could be a cheap alternative if the team feels there is a need for another veteran on the line.
LINEBACKER:
Why not:
Sure, there could be a deal made with someone for cheap or a hybrid defensive end/linebacker, but with
DeAndre Levy
and
Stephen Tulloch
returning and the team playing more nickel than ever, it could be tough for them to lure a big-name player.
Two options:
LaMarr Woodley: Expected to be released by the Steelers later Tuesday, he has connections to the state and can play both linebacker and defensive end, making him a potentially cheap, versatile piece.
Larry Foote: Like Woodley, this is more about someone who has connections to Michigan. If Foote is planning on being a starter, he isn't going to come to Detroit -- and his price tag would likely be too much anyway.
CORNERBACK:
Why:
Despite the team having money wrapped up in
Chris Houston
and a bunch of younger cornerbacks ready to seek out playing time, the Lions might be wise to invest in another veteran, much like they did with
Rashean Mathis
a season ago.
Four candidates:
Mathis: He showed he can still play after becoming the team's top cornerback last season and was a steadying influence in the Detroit locker room for those younger cornerbacks. He would probably still come cheap.
Corey Graham: He played last season under new Detroit defensive coordinator Teryl Austin and has familiarity with Austin's schemes. At 6 feet, Graham has the height Austin wants, made 68 tackles and intercepted four passes a season ago. He could be a strong fit.
Alterraun Verner: The Lions reportedly reached out to the former Tennessee cornerback, but he is expected to be pursued heavily in free agency. Though the Lions could be a fit, Verner might end up being too expensive.
Charles Tillman: He told reporters during Super Bowl week that he wouldn't rule out playing for the Lions, and he could be an interesting cornerback/safety hybrid. He also has familiarity with the division, having played for Chicago, and has the respect of receiver Calvin Johnson.
SAFETY
Why:
Other than receiver, this might be the biggest need of all for Detroit after the team released starter
Louis Delmas
. Though the Lions could address this spot in the draft, they likely would like to put someone experienced opposite
Glover Quin
.
Some candidates:
March, 11, 2014
Mar 11
12:00
PM ET
As free agency begins Tuesday and the
Detroit Lions
figure out exactly how to fill the holes they have from other players leaving or just poor performances, certain players will stand out.

And over the past four days, Detroit has also spent time in the beginnings of talks with free agents as they try to maximize what is out there for their dollars as the team has just around $11 million to spend on new players and rookies.
It may sound like a lot -- and it will be enough to get a couple of deals done -- but the total is still in the lower half of the NFL and will keep the Lions from being major movers in the market at least until the team is able to work out a new contract with defensive tackle
Ndamukong Suh
.
If that happens.
As everyone settles in for the insanity that will be the free-agent shuffle, here's a look at players the Lions could target on offense.
QUARTERBACK
Why:
The Lions are set with their starter but need to find a viable backup to
Matthew Stafford
.
Three options:
Shaun Hill: He has been Stafford's backup the past four seasons and has indicated a desire to return if everything made sense. If he wants a chance to start, he'll leave. If he's content wearing a baseball cap the rest of his career, the team might be able to keep him.
Luke McCown: He has familiarity with Lions offensive coordinator Joe Lombardi from his time in New Orleans last season, and he understands the offense. He hasn't played much the past two seasons and has thrown nine touchdowns and 14 interceptions in his career.
Curtis Painter: It would seem unlikely new coach Jim Caldwell would feel comfortable having Painter as his backup considering what happened during the 2011 season when Peyton Manning was injured, but there is a familiarity there and Painter does have more experience now.
RUNNING BACK:
Why not:
The team seems pretty settled there and if
Joique Bell
signs a long-term contract, it would be surprising to see Detroit bring in a veteran with
Reggie Bush
, Bell and
Montell Owens
on the roster. The team tendered Bell with a second-round grade this morning, per ESPN Insider Adam Caplan.
One name to watch:
Vonta Leach
. He has familiarity with Caldwell and if the team wants a fullback, he could be the guy they look to if Owens can't handle the role.
WIDE RECEIVER:
Why:
The team needs a lot of them. Right now four are under contract who had any sort of significant playing time last season --
Calvin Johnson
,
Kris Durham
,
Jeremy Ross
and
Ryan Broyles
. But Broyles is coming off an injury and neither Ross or Durham have shown to be big playmakers at receiver.
Five possible choices:
TIGHT END:
Why:
The team needs to add to the position and while they may do it by re-signing
Brandon Pettigrew
, that isn't a lock as he heads on the open market with multiple teams interested.
Three options:
Pettigrew: The Lions have said he is a priority free agent and the team will remain in the market to sign him. But there might come a point where too many teams are interested and his price becomes too high for a tight end that is versatile but can't stretch defenses over the middle.
Ed Dickson: The former Ravens tight end has that familiarity with Caldwell and although he hasn't put up big numbers the past two seasons, he did catch 54 passes in 2011. He has the blocking/receiving combination Pettigrew did as well.
Dustin Keller/Jermichael Finley: Both players are coming off massive injuries and could be had inexpensively, although the concern about the health of both players and how much they can really contribute could lead to a bargain deal at some point. If the Lions went with either one, they could end up looking to the draft for a tight end as well.
OFFENSIVE LINE:
Why not:
Detroit isn't in the market for a starter, but could pick up a backup tackle or guard here along the way. Center won't be an option. Considering the Lions are somewhat set and have likely plans to draft a center, the Lions likely wouldn't make a move early on an offensive lineman.
March, 11, 2014
Mar 11
10:00
AM ET
By
ESPN.com staff
| ESPN.com
March, 11, 2014
Mar 11
9:28
AM ET
[+] Enlarge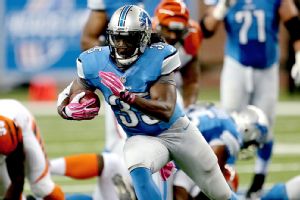 Icon SMIJoique Bell enjoyed a breakout season in 2013, gaining 1,197 yards from scrimmage and scoring eight touchdowns.
Joique Bell indicated often over the past few months he had no desire to leave the Detroit Lions and that he would like to remain a member of the club following his breakout 2013 season.
Now Bell will be with the Lions in the long term after signing a two-year extension on top of his restricted free-agent tender for 2014.
Bell's extension is worth $7 million and will include $4.3 million in guaranteed money, a source confirmed to ESPN NFL Insider Adam Caplan.
A native of Benton Harbor, Mich., Bell wanted to be with the Lions for more than the one-year restricted free-agent tender he was given Tuesday. He will play the 2014 season under the $2.187 million tender, then the two-year deal will kick in.
In total, Bell's new deals -- the tender and the extension -- will be worth a little more than $9 million over three years.
Bell and Reggie Bush combined to become the first tandem of running backs in league history to have 500 yards rushing and 500 receiving in a season.
The 27-year-old Bell had 166 carries for 650 yards and eight touchdowns along with 547 yards receiving in 2013. He has been with the Lions the past three seasons after stints with New Orleans, Philadelphia and Indianapolis.
March, 11, 2014
Mar 11
9:25
AM ET
A few hours before free agency is set to open, the
Detroit Lions
have tendered restricted free agent
Joique Bell
with a second-round number, according to ESPN NFL Insider Adam Caplan.
Both Bell and Lions general manager Martin Mayhew have said in the past few months they would like Bell to return to the team in 2014 with Bell indicating he would like a long-term deal.
It is possible that a long-term deal could be done shortly.
Bell's tender is a one-year, $2.187 million offer sheet.
He gained 650 yards rushing last season with eight touchdowns and also had 547 yards receiving.
March, 11, 2014
Mar 11
8:00
AM ET
Good morning and ROOOOAAAARRRR!!!!!! (Eds. note, this slogan will likely change tomorrow ... new league year and all)
It's been talked about for weeks, anticipated for months and for some players, years of waiting for a massive payday in the making.
The new NFL league year begins at 4 p.m. Tuesday, when teams can finally begin to upgrade and shape their rosters for the 2014 season and beyond. For many teams, this is one of the biggest days of the year -- akin to draft weekend and the first game of the season -- because so much can unfold and so much of what happens over the next 48 hours could determine how the next four to eight months go.
The Detroit Lions, and we'll have more on this later, will be hunting for multiple areas over the next week or so, including wide receiver, safety, cornerback and potentially tight end and both lines, depending what happens with some of their current free agents.
Here's a look at what's been going on with the Lions from around the Interwebs:
March, 10, 2014
Mar 10
5:26
PM ET
The Miami Dolphins reshuffled their secondary on Monday, releasing veteran cornerback Dimitri Patterson and signing safety Louis Delmas to a one-year deal worth a maximum of $3.5 million.
The release of Patterson will save the Dolphins about $5 million in cap space before Tuesday's start to free agency. Patterson began the 2013 season as a starter but because of nagging injuries played in only six games. He was put on injured reserve in December with a groin injury.
The 26-year-old Delmas was released by Detroit with one year remaining on his contract in February, in part due to having a cap number of $6.5 million in 2014.
The No. 33 pick in the 2009 draft by the Lions, Delmas played in 65 games for Detroit over five seasons, making 328 tackles, six interceptions and forcing two fumbles. He also had five sacks and four fumble recoveries.
His knees were chronically an issue for him and limited him to typically one day of practice a week in 2013. The plan was instituted, though, to make sure Delmas would hold up throughout the season and he played in every game for Detroit and had a career-high three interceptions.
Delmas was often considered the emotional leader of the defense and would routinely be one of two men, along with former Lions receiver Nate Burleson, speaking in huddles before games. Coincidentally, both Burleson and Delmas were released on the same day.
March, 10, 2014
Mar 10
2:00
PM ET
The continuity is key and considering how the
Detroit Lions
have been run over the past half-century, none of that should be a surprise.
The Lions announced Monday morning that Martha Ford, the widow of William Clay Ford Sr., will now have controlling rights to the team, both keeping the franchise in the family and essentially keeping the same power structure in place that had been there for the past decade.
The key to this, though, is William Clay Ford Jr., more commonly known as Bill Ford Jr. For the past few years, he has been the one who has turned into the public face of the franchise.
It was his criticism of then-general manager Matt Millen in 2008 that led to Millen's firing less than a week later. And it was Ford Jr. who made comments about the
Chicago Bears
being "thugs" in October that caught people by surprise and became a news headline.
So even though his mother is taking control of the team and Ford Jr. will remain as the team's vice chairman instead of having a grander title, this transition could offer him a chance to do more with the Lions.
He has a chance to help shape the Lions in his own image as long as he can do so with the blessing of his mother.
The Fords will never be owners like Mark Cuban or Daniel Snyder or Jerry Jones -- out in front and, for better or worse, the most recognizable part of an organization. The Lions should never want that, either.
It takes a particular type of owner and a greatly over-sized personality to be able to navigate that correctly. It can often turn disastrous for the structure of an organization if not handled perfectly.
Yet the surviving Fords can change some of how they run the Lions and perhaps help for the better. While the patriarch, the late William Clay Ford Sr., often seemed to take an overly loyal, completely trusting approach, Ford Jr. could end up going with a slightly more aggressive strategy.
It was Ford Jr. who, when speaking to the media following the hiring of Jim Caldwell in January, expressed frustration with the team's lack of success. It was Ford Jr. who gave the indication that he expects Detroit to be able to win -- and win immediately with the coaching staff and players the team has.
But to turn around the fortunes of a franchise so synonymous with losing, it will take a little bit more. It will take a slight change in how the team is managed from the very top down. The semi-mandate to win was a start for this club.
Now, there has to be follow through.
Ford Jr. and his family gave Martin Mayhew and Tom Lewand another shot to find the right coach and to build the right team to finally become contenders in a division they have never won in its current iteration.
But he needs to stick with that. If the Lions don't win now. If they aren't successful in 2014 or 2015 or both, then he and his family will have to take perhaps a different approach than what had been normal for the Lions.
Obviously, Ford Jr. and his family are hoping things don't reach that point, that the Mayhew-Lewand combination found a man in Caldwell that can succeed when almost all others failed, sometimes in epic proportions.
So watch over the next few years, because not much will change immediately with the Detroit Lions, but eventually, possibly, they might.
March, 10, 2014
Mar 10
12:00
PM ET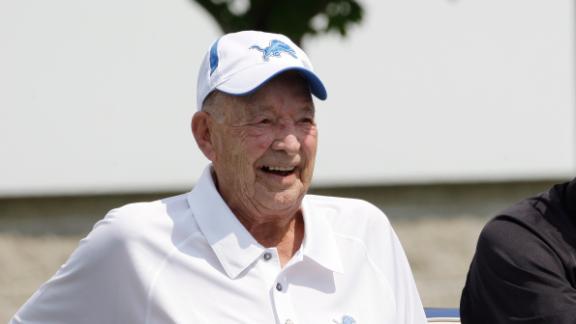 The Detroit Lions announced Monday that controlling interest in the team will remain with the Ford family, one day after the death of longtime owner William Clay Ford Sr.
Martha Ford, Ford's widow, will gain controlling interest in the Lions, while her son, William Clay Ford Jr., will remain the team's vice chairman.
"Pursuant to long-established succession plans, Mr. Ford's controlling interest in the Lions passes to Mrs. Martha Ford," the Lions said in a statement. "She and her four children will continue to be involved in the ownership of the franchise, as they have during Mr. Ford's tenure."
Ford died of pneumonia at the age of 88, Ford Motor Co. said in a statement Sunday. He was the last surviving grandson of automotive pioneer Henry Ford and owned the Lions since 1964.
Ford paid $4.5 million in November 1963 for the franchise, which is now valued at close to $900 million, according to Forbes. He officially assumed ownership of the team in January 1964.
In Ford's 50-year tenure as owner, the Lions won one playoff game -- in 1991 -- and never reached a Super Bowl. Ford was one of the quieter owners in the NFL, rarely speaking to the media. Ford Jr. has done much of the public speaking about the team in recent years.
Ford Sr. had one of the few franchises that has yet to play in the Super Bowl. Under his ownership, the Lions had 14 winning seasons and 10 playoff appearances.
March, 10, 2014
Mar 10
10:00
AM ET
A few deals have been signed around the NFC North in the days leading up to free agency, but plenty of valuable players are about to hit the open market.
Here is a ranking of top NFC North free agents, with information provided by ESPN.com reporters Rob Demovsky (
Green Bay Packers
), Ben Goessling (
Minnesota Vikings
), Michael Rothstein (
Detroit Lions
) and Michael C. Wright (
Chicago Bears
).
We will update this periodically throughout the next several weeks.
1.Sam Shields, Packers CB:
Emerged as the Packers' top cover cornerback last season while playing for the restricted free-agent tender of $2.023 million and was re-signed to a four-year, $39 million contract just a few hours into the open negotiating period Saturday. His 2014 total pay of $15 million makes him the NFL's second-highest-paid cornerback for next season.
2. Brandon Pettigrew, Lions TE:
The No. 20 pick in the 2009 draft out of Oklahoma State, Pettigrew spent the past five seasons as one of Detroit's primary tight ends, specifically known for the ability to both block and run routes effectively.
3. Jermichael Finley, Packers TE:
Had surgery to fuse the C3 and C4 vertebra in his neck but expects to be cleared by his doctor. Gambled two years ago in free agency, signing just a two-year, $14 million deal in the hope that he would blossom into a star and command an even bigger contract the next time around.
4. Charles Tillman, Bears CB:
The NFL's Walter Payton Man of the Year, Tillman started eight games last season before finishing on the injured reserve with a torn triceps. The Bears hope to bring back Tillman but might not be able to come up with a suitable offer.
5. B.J. Raji, Packers DT:
Reportedly turned down an $8 million per year offer from the Packers last season, which might have been a sign that he preferred to play in a system that gave defensive linemen more freedom. After a disappointing season, his value has gone down, and as of last week, he was close to signing a one-year deal to return.
Cassel
6. Matt Cassel, Vikings QB:
Opted out of his 2014 contract after the Super Bowl but signed a new two-year deal with the Vikings on Friday, just before teams could start contacting his agent. He will likely head into training camp with the inside track on the starting job.
7. Willie Young, Lions DL:
Former seventh-round pick received his first extensive playing time in 2013, becoming a full-time starter after
Jason Jones
was injured for the season in Week 3. Young turned into one of the more disruptive players up front, making 47 tackles, recovering two fumbles and recording three sacks.
8. James Jones, Packers WR:
Ranked second on the Packers last season in receptions (59) and yards (817), the latter of which was a career high despite missing nearly three full games because of a knee injury. Three years ago, coming off the NFL lockout, Jones did not draw strong interest on the free-agent market and re-signed with the Packers for three years and $9.6 million.
9. Jared Allen, Vikings DE:
After three All-Pro selections in six years, Allen's time in Minnesota is likely over. He could come back as a situational pass-rusher on a reduced salary, but after making $14 million last season, Allen might head elsewhere for a bigger role and bigger paycheck.
McCown
10. Josh McCown, Bears QB:
He proved he is capable of filling in for
Jay Cutler
in a pinch and is instrumental behind the scenes for nearly every skill player on the offense. It's not a slam dunk he will be back, and talks with the Bears haven't been especially productive.
11. Henry Melton, Bears DL:
Melton's representatives fully expect him to test the market in free agency because the Bears haven't shown a ton of interest. Coming off a torn ACL, Melton probably won't command top dollar in the first wave of free agency.
12. Devin Hester, Bears KR:
Became strictly a return specialist for the Bears last season and is still one of the league's best at his position. Probably expects a payday similar to what he's gotten in the past.
13. Rashean Mathis, Lions CB:
Mathis signed with Detroit during the 2013 preseason and became one of the team's starting cornerbacks by the third week of the season. He played in 15 games, making 47 tackles and often drawing the opponent's top wide receiver.
14. Everson Griffen, Vikings DE:
The 26-year-old cashed in on Sunday by signing a five-year, $42.5 million deal that included $20 million guaranteed to return to Minnesota. He should flourish in new coach Mike Zimmer's defensive scheme.
15. Louis Delmas, Lions S:
The 26-year-old was released by Detroit with one year remaining on his contract in February, in part because of a cap number of $6.5 million in 2014. Has played in 65 games for Detroit over five seasons, with 328 tackles, six interceptions and two forced fumbles. He also had five sacks and four fumble recoveries.
March, 10, 2014
Mar 10
9:00
AM ET
More than ever, the rule in deciphering the NFL is to follow the money. Industry revenues have
topped $10 billion
. More than two-thirds of its franchises are worth at least $1 billion (
via Forbes magazine
). The salary cap, a percentage of total revenue, jumped by nearly 10 percent in 2014.
In that context, I view William Clay Ford Sr. -- who
died Sunday at 88
-- as a quaint relic. Ford was the patriarch of a dynamic family of American capitalists, of course, but he ran the Detroit Lions in a way that suggested profits were not nearly as important as they are to many sports owners. In that sense, Ford provided a favorable structure from a fan's perspective: He ran the team like a civic trust as much as a business.
You can criticize Ford's operation of the franchise during the past 50 years. It's also worth pointing out that regardless of annual revenue, he was sitting on an investment that appreciated from $4.5 million at his 1963 purchase to $900 million based on Forbes' 2013 estimate. But two related trends illustrate how Ford and his family looked past the bottom line in operating the team.
First, the decision to build Ford Field in downtown Detroit was as much of an attempt to provide a struggling city with an anchor for renewal as it was to maximize profits. The Lions paid 49 percent of the $440 million price tag and helped round up a total of 75 percent in private investment,
according to NFL accounting
-- the third-highest percentage among the 19 NFL stadiums built or renovated from 1997 to 2010. Ford Field opened in 2002.
The Lions have been heavily burdened by debt since then,
according to Crain's
, helping lead to a startling revelation when Forbes estimated last August that the Lions have posted a negative operating income -- i.e., a loss -- in
six of the past seven years
. They were the only NFL team to do so in the most recent fiscal year, according to the magazine, yet they still returned for the 2013 season with the NFL's largest preseason player payroll (
$155.9 million
).
The Lions are a private business, so it's important to remember that Forbes uses an algorithm to project valuations based on a limited amount of public information. But assuming the magazine applies the same method to all teams, we can suggest with confidence that in recent years, Ford allowed the Lions to operate as one of the NFL's least profitable teams.
ESPN's Michael Rothstein wrote that Ford left a complicated legacy, of which the financial state of the Lions is but a small part. To me, however, the minimum standard for an NFL owner is to provide the financial template for winning. You can't buy victories, as the Lions have proved, but there is nothing worse than seeing a sports franchise wallow because of an owner's parsimony.
William Clay Ford was a private man, and he never fleshed out his thinking on this issue publicly, but the available evidence suggests he met that standard -- and then some.
March, 10, 2014
Mar 10
8:50
AM ET
Good morning and ROOOAAARRR!!!!
Free agency and the start of a new league year may begin Tuesday -- and we'll get to that over the next 48 hours here -- but Sunday's death of Detroit Lions owner William Clay Ford Sr. rightfully dominated all other news about the team over the past 24 hours.
Ford's death should not change anything the Lions do in the short term since the likely plan is to have the team stay within the family, probably with Ford's son, William Clay Ford Jr. So while this space would typically be discussing free agency or the draft, there are bigger issues today, issues of life and looking back on a man who spent the last half-century running the Detroit Lions.
It appears the team will stay in the family, so death of Ford Sr. will probably not alter any plans the Lions had in terms of how they will handle the new league year prior to Sunday other than that many in the Lions organization are likely working today at least somewhat distracted as they mourn the death of their boss.
Ford Sr. died of pneumonia. He was 88.
Now a look around the Interwebs at how his death was covered.
March, 9, 2014
Mar 9
8:40
PM ET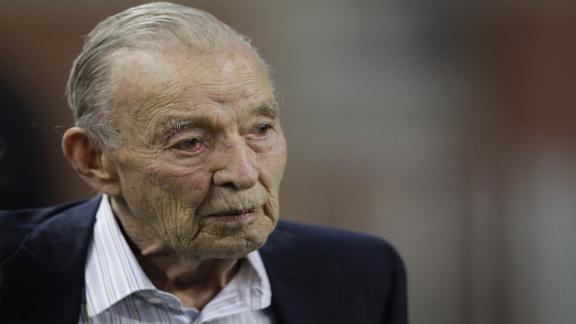 He was the man who paid Charlie Sanders' salary for years, the man Sanders looked upon as a father figure, a boss and a friend. He was the man Sanders wanted to have introduce him into football's greatest honor, enshrinement into the Pro Football Hall of Fame.
William Clay Ford Sr., who died of pneumonia on Sunday at age 88, embodied many things to Sanders, one of the best players in
Detroit Lions
history.
It was a different time in American sports when Sanders played and Ford was young enough to relate to the players he also paid. As rich as Ford was, as much as his last name was synonymous with the American automotive industry, Sanders knew him more as the guy he could talk to and befriend.
That is what he will remember. That is what stands out now, on the day Ford died.
"I think a lot of people look at him and just don't understand him, period," Sanders said during a conference call with Detroit media Sunday night. "Not just as far as football is concerned. To me, he was just a guy that wanted to be just one of the guys.
[+] Enlarge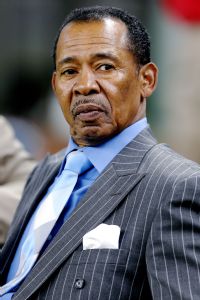 AP Photo/Scott BoehmCharlie Sanders asked William Clay Ford Sr., to introduce him for induction into the Pro Football Hall of Fame.
"Once you got beyond, you know, Ford and who he was in terms of the corporate world and try to get to know him as a human being, you realize that this guy is really just a simple sports advocate that happens to own the Detroit Lions. He was a very personable guy that you could get to know and you could learn a lot from."
It was a relationship that spanned 40 years, so Ford was the first person Sanders thought of when he found out he would be inducted into the Hall of Fame in 2007. Sanders just hoped Ford would be able to be there to do it -- and he was.
"It was as great an honor for me to be asked by Charlie to be his presenter as it was for him to be elected to the Hall of Fame," Ford said during Sanders' introduction speech in 2007. "We really chatted about it quite casually, but he kind of hemmed and hawed around a little bit.
"Finally, it dawned on me that, 'Gee, he'd like me to be his presenter,' and I can't think of anything nicer."
The quality of the man is what stood out to Sanders on Sunday, about how he would be generous with his money and his time to the players he hoped would one day give him the championship that eluded him throughout his 50-plus year ownership of the Detroit Lions.
Sanders said during his speech and again Sunday that he asked Ford to present him to the Hall of Fame because of who Ford was as a human being, not because of wins or losses or championships dreamed about but never won.
He saw a man who let his people work and take their own visions and try to implement them. He saw a man who didn't over-interfere, who just wanted to know what his employees were doing. He saw someone with a good heart and who cared -- an opinion shared by many who spoke publicly about Ford on Sunday.
And to those who look at the lack of titles and lack of wins and say,
like was written here earlier
, that Ford was too loyal, Sanders said his response would be unprintable.
"I understand the fans' side of it. They want a championship. I understand that. But so did he. And I know that," Sanders said Sunday. "I know that personally, that it was what he wanted more than anything in the world.
"And so I'm not going to let that be the one thing I remember this man by because there was so much, much more that he brought to this world other than a lack of a championship."