November, 26, 2014
Nov 26
4:00
PM ET
Ten(ish) Questions With ... is a weekly series where we chat with a
Detroit Lions
player or coach about whatever. Sometimes it'll be football-related. Sometimes it'll be about their dogs or something completely different. Want to hear from a particular subject, send an email to Michael.rothstein@espn.com.
Read all the Previous Ten(ish) Questions With ...
ALLEN PARK, Mich. -- He thought he would be on the roster at first, but until Tuesday, offensive lineman Rodney Austin was on the Detroit Lions practice squad. Then injuries hit and for the second straight season, he was given a midyear promotion.
One of the funnier and more vocal players in the Lions' locker room, he chatted with us about life bouncing between the practice squad and 53-man roster in this week's Ten(ish) Questions With ...
Q: What is that process like? Take me through that when you're on the roster, practice squad, then roster, then practice squad.
Rodney Austin:
Really, it's just, I was up for the last few games last year. At the same time last year, really, right before the Thanksgiving game. The decision on how it goes isn't mine, it's the coaches.
Q: I meant more as a human, what's that like emotionally?
Austin:
Oh. I'm kind of used to the vibe of it just because I've never really had anything handed to me. I always had to do more than a guy in a similar position for me to get the spot over him. So I'm kind of used to it. It's how it worked out for me in college (at Elon). I had to wait my time in college. I had to wait a little while in high school so, I mean, I'm kind of used to it right now.
Q: During camp, OTAs, you thought you had a really good shot of making this team. Then you don't. Was that the biggest disappointment of all the up-and-down?
Austin:
I wouldn't say that I was disappointed. But it was definitely some added fuel to the fire. Just working so hard and not being able to get there when you wanted to get there, that's not going to make ... I don't think anybody would be happy. Putting in the work and then not getting the result when they wanted it. But, football as a whole is not easy. There's so many ins and outs, so many ups and downs that you have to have that mental toughness to not only be able to play this game but to endure some of the things that go on off the field.
Q: Who was the first person you called when they said, 'You're up again?'
Austin:
Well, I was on the phone with my girlfriend when my agent texted me to tell me congratulations. So she was the first to find out.
Q: So it wasn't like last year where it was like, 'Hey, congratulations. Oh, you might be moving.' (Tennessee wanted to sign him off Detroit's practice squad before the Lions promoted him)
Austin:
Yeah, it was a lot less drama, which is always good. I just, I feel good, man. I really like being here. I really like the system, the coaches, the players, the vets in our room that helped me get through a lot of what helped me get here today. I'm just happy to be back on the 53.
Q: What was that drama like in those few days?
Austin:
It wasn't a few days. It wasn't even 24 hours. It was they called me and I was like, 'I'm about to be on a 53, I'm outta here, let me go to talk to Martin (Mayhew).' He's like, 'Wait a minute, the Titans did what? OK, give me some time, I'm going to call you back.' He called me back and said, 'All right, you're going to be active, but not in Tennessee. You're going to stay here.' I felt like the hot girl at the prom. Everyone wanted to date me for a little while.
Q: That might be the most leverage you ever have.
Austin:
Yeah, in my short time here it was the most I ever had. It was sweet.
Q: What do you need to show this time around?
Austin:
I have to show that I'm not going to be complacent with them just moving me up. I'm definitely excited and I appreciate the opportunity but I in no way feel that I've arrived and that it's time for me to just settle down. If anything, it's time for me to crank it up more and give them a reason to not even consider cutting me next year and just got to keep pressing, keep grinding and just keep working like I do every day.
November, 26, 2014
Nov 26
2:53
PM ET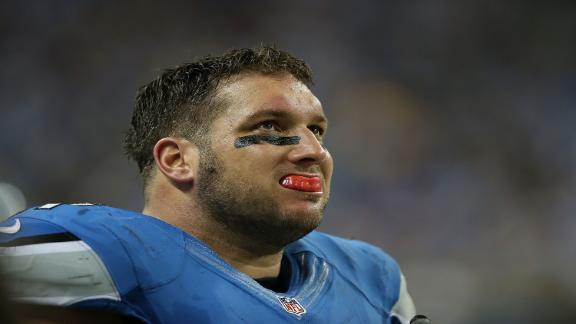 A day after Detroit Lions center Dominic Raiola said he wouldn't be fined for his actions on the final drive of his team's 34-9 loss to New England on Sunday, it turned out he actually was.
NFL spokesman Michael Signora said Wednesday that Raiola was fined $10,000 for unnecessary roughness, but not for his cut block on Patriots defensive lineman Zach Moore on the game's final play. Instead, it was for a play against Moore earlier in the drive, when Moore beat him and Raiola appeared to try to club him from behind.
The league decided that Raiola unnecessarily struck his opponent on a pass play -- violating Rule 12, Section 2, Article 12(c), which doesn't allow "striking, swinging at, or clubbing the head, neck or face of an opponent with the wrist(s), arm(s), elbow(s) or hand(s)."
The veteran center said Tuesday he had no regrets about what happened at the end of the game against New England.
"There's no fine. It was during the game," Raiola said Tuesday. "I don't know about regrets. I don't live life with regrets. I know I didn't intentionally try to hurt anybody.
"I didn't try to do anything out of the ordinary. I would have gotten a FedEx letter for that, so just play the game. I mean, I didn't make it a big deal. Everybody else did."
Raiola was not flagged on the play, but the NFL said Monday that it was looking at both plays in the final minute of the game to determine potential fines.
November, 26, 2014
Nov 26
2:00
PM ET
ALLEN PARK, Mich. –
Willie Young
heard
Matthew Stafford
called him "one of my favorite teammates" Tuesday and the former
Detroit Lions
defensive end -- now with the
Chicago Bears
-- started to laugh.
Young, who left the Lions in free agency during the offseason, was actually one of the more well-liked players in the Detroit locker room during his four years with the Lions, but, yeah, Young thought Stafford might be trying to fete him just a little bit.
"Absolutely, yeah," Young said, laughing. "Yeah. He's buttering me up on that one. Matt Stafford, man, he was a cool guy. He came to work every day, put the work in. Obviously he's a very talented quarterback. He doesn't make too many bad decisions, I would say. I know this year he hasn't been because they've been on the winning side of things.
[+] Enlarge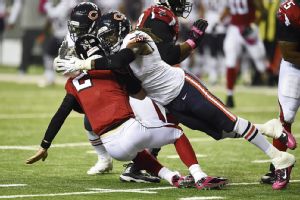 Dale Zanine/USA TODAY SportsFormer Lions defensive end Willie Young has been a force as a Bear, compiling eight sacks.
"He's obviously a respected quarterback, get rid of the ball fast, make pretty good decisions, has some good guys in the backfield running the ball for him. But I could see why he might be trying to be kinda nice to me right now because he's a little low on protection right now. I don't blame him for being nice right now."
Stafford is smart to try to get on Young's good side, as Young has flourished since leaving Detroit in the offseason. Finally getting a chance to be an every-down defensive end in his fifth NFL season, he is 13th in the NFL in sacks with eight -- two more than he had in his four seasons with the Lions. Considering the Lions could end up starting two rookies on the offensive line Thursday if
Cornelius Lucas
replaces the injured
Riley Reiff
at left tackle, and Young could have a big return to his old stadium.
Young was a seventh-round pick out of North Carolina State, but ended up as mostly a rotational player until last season, when he played every game after a season-ending injury to
Jason Jones
. Having had to learn behind Kyle VandenBosch,
Cliff Avril
,
Ndamukong Suh
,
Nick Fairley
and
Andre Fluellen
in various forms helped him as he watched from the sidelines.
"Don't get it wrong now, is it tough sitting on the sidelines, not playing, knowing that you have what it takes to be a player, yeah, it's tough, it's real tough," Young said. "But I was able to figure out a way to deal with that and take everything that I could from the game, from the sideline standpoint. It just bettered me as a person and obviously as a player."
It's a progression Lions players expected when Young received more snaps, especially after he made the leap from 11 tackles in 2012 to 47 in 2013, which helped set up his free agency move.
Young said Tuesday he didn't know if the Lions made him an offer during free agency or if they even called his agent to inquire about his services. He just knows his agent told him he was headed to Chicago on a new deal.
When asked about Young and free agency, Lions coach Jim Caldwell wouldn't say whether or not he had wanted to bring Young back this season or not, but complimented his pass rushing ability.
His old teammates, though, saw exactly what Young could do from the beginning and figured this type of leap might come from him.
"Everybody saw what he could do from the jump," Fluellen said. "I'm actually not surprised at all. He has a special talent and he has a really good attitude for the game.
"I'm not surprised at all."
November, 26, 2014
Nov 26
12:05
PM ET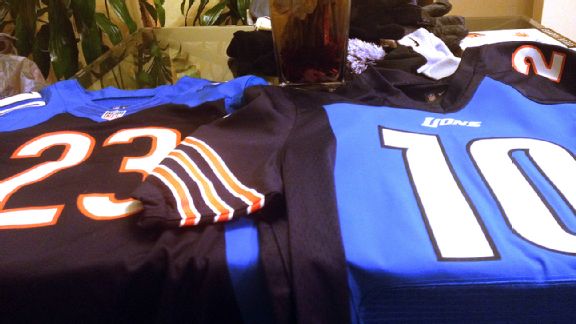 Courtesy of Fuller familyWith their sons playing on opposite sides Thursday, the Fuller's parents got creative with jerseys.
ALLEN PARK, Mich. -- Vincent Fuller went to the tailor Friday night to pick up a special order -- one 20-plus years in the making.
Fuller has four children. They all play football. All played at Virginia Tech. Three of them in the NFL. Yet this week could be a first for the family and a rarity in the NFL.
On Thursday, Thanksgiving Day, the Fullers hope they'll see two of their four boys on the field at the same time when
Corey Fuller
's
Detroit Lions
face
Kyle Fuller
's
Chicago Bears
. The extra hope is they would match up against each other since Corey is a receiver and Kyle is a cornerback. So Vincent Fuller and his wife, Nina, had two jerseys custom-made.
"We just wanted to represent both our kids," Vincent said from Maryland on Saturday. "Me and my wife are the only ones who have it. We're going to have a Chicago and a Detroit jersey mixed with No. 23 and No. 10 on the same jersey."
Whether or not Kyle and Corey actually line up against one another is in doubt. Kyle hurt his knee Sunday, leaving his status in doubt, although Chicago coach Marc Trestman said he was "hopeful" Kyle would play Thursday.
If it happens, it'll be the culmination of two brothers starting their sibling competitions in the basement of their home playing carpet football and baseball. Of the four Fuller brothers, Corey and Kyle are the closest in age, less than two years apart. The two competed in everything along with their younger brother, Kendall, who plays for Virginia Tech.
In that basement, the two groomed their future competitiveness with rug burns on their knees and tears in their eyes whenever one of them would lose an argument, usually with Kendall serving as de facto referee.
It also honed the start of their trash talk, which Vincent said started about this game in September when Kyle intercepted two passes against San Francisco. He said Corey texted Kyle and typed he wouldn't do that against the Lions.
[+] Enlarge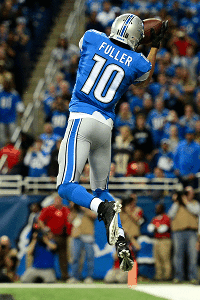 Andrew Weber/USA TODAY SportsThe Lions' Corey Fuller will play against his brother Kyle on Thanksgiving.
"I'm like, 'Man, it's September and you're already going to talk trash already,' " Vincent said. "But that's' how they are. It's all in fun. They love each other. They help each other out. They got each other's back.
"But it's all in fun."
The fun would increase Thursday if Corey and Kyle line up opposite one another.
Thinking about the possibility last week, Corey broke out into a big grin and started laughing. He said they never discussed the possibility as kids or in college, either, especially when Corey first went to Kansas to run track before transferring to Virginia Tech to start playing football again.
"If I run out there and see Kyle, my first play, I might laugh," Corey said. "Not laugh at him, just laugh at the fact that this is real. I'm playing my brother in an NFL game.
"But then, from there, it's I got to do what I got to do to help the team and he's got to do what he has got to do. It'll be like any other game competing. So we'll see."
Not quite like any other game. Corey said he and his brother would absolutely talk trash to each other on the field and might even throw in some extra nudges and shoves for brotherly measure. Just like in their basement.
"It's going to be pretty cool," Kyle said last week. "I'm definitely looking forward to it. It makes it even more fun with it being Thanksgiving because the whole family will be there."
Almost. Kendall will be at the site of the Fuller family's last four Thanksgiving dinners and Nina and Vincent's destination Friday morning -- Blacksburg, Virginia. Otherwise, everyone is expected in suburban Detroit on Wednesday night and Thursday for pregame and postgame Thanksgiving meals.
Vincent said Kyle received permission from the Bears to stay in Detroit on Thursday night to have dinner with the family. Depending on the outcome of the game, that dinner consisting of turkey, ham, sweet potatoes, turnips and Nina's famous sauerkraut dish might be even more interesting.
"I don't know what's going to happen Thursday, but I can imagine what dinner is going to be like," Vincent said. "Especially if they do go up against one another and Corey gets a pass on Kyle or let's say Corey's thrown the ball and Kyle deflects the ball or intercepts the ball.
"I can imagine what's going to go on."
Without a doubt, there will be trash talked. Laughs had among the 15 family members and friends expected to show. Because right now, the Fullers will potentially see two of their own play on Thanksgiving Day and for a family forever focused on football, not much can be better than that.
NFL Nation Chicago Bears reporter Michael C. Wright contributed to this report.
November, 26, 2014
Nov 26
11:29
AM ET
ALLEN PARK, Mich. -- Each week, we'll take a look at who or what might be rising or falling with the
Detroit Lions
.
RISING:
Bush
RB Reggie Bush:
Yes, he's said it before and not played. And yes, trusting Bush's ankle without seeing him play in a full game first is a dicey situation at best. But the running back said Tuesday he believes he will play Thursday in the Lions' Thanksgiving game, the first time he will play since Week 10 if he ends up being good to go Thursday. Considering Detroit's offensive woes this season, the Lions could use a healthy Reggie Bush in the lineup to be a potential game-breaker.
The Lions defense:
This might seem odd a week after Detroit allowed 34 points to the
New England Patriots
, but the Lions will not face a better quarterback or offensive system until Week 17 at Green Bay. They hung around for the most part and still are in the top five run defenses, total defense and points allowed per game. Every team is going to have a game like Detroit did defensively. The Lions just happened to have it against a Hall of Fame quarterback in
Tom Brady
.
FALLING:
WR Calvin Johnson:
The top receiver in the NFL insists he's feeling pretty good, but his production the past three weeks has been a bit concerning. He's caught less than 50 percent of his targets and had two drops. He's still an impact receiver but if Johnson isn't at close to full speed, the Lions offense is definitely altered.
Lions playoff chances:
A week ago, Detroit appeared to be in good shape for the playoffs and even if they didn't win the NFC North, a good candidate for the wild-card spot. There is still a lot of game left, but the Lions' playoff hopes took a little bit of a hit over the weekend when they dropped one game behind Green Bay in the division and are now tied with Seattle and San Francisco at 7-4. The bigger problem? If the Lions and Seahawks have the same record at the end of the year, Seattle already owns the tiebreaker.
The Lions offense:
Yes, they played two of the better teams in the NFL and yes, they say they are still trying to find both the consistency and rhythm that they need to crave, but almost three-quarters of the way through the season, Detroit's offensive identity is inconsistency. This is a group, with their next four opponents under .500, that has to find something to aid their 21st-ranked offense fairly fast.
November, 26, 2014
Nov 26
10:50
AM ET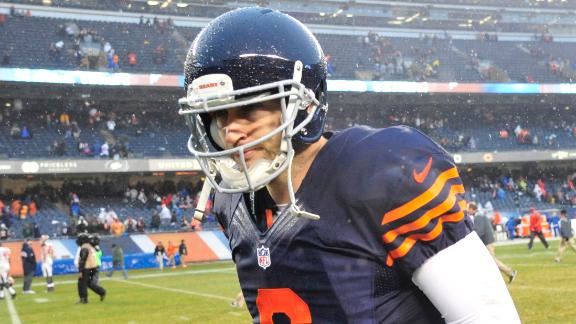 When:
12:30 p.m. ET, Thursday
Where:
Ford Field, Detroit
TV:
CBS
The
Detroit Lions
broke their Thanksgiving Day hex last season when they annihilated NFC North foe Green Bay. At the time, the Lions looked like a team potentially heading for the playoffs after stopping a two-game skid.
The Lions didn't win a game the rest of the season.
This season, the Lions face a
Chicago Bears
team that has won two straight and, much like Detroit, has a bunch of offensive talent currently failing to meet expectations. Does one of these teams break out Thursday?
ESPN Bears reporter Michael C. Wright and Lions reporter Michael Rothstein break down what could happen in this divisional Thanksgiving clash.
Rothstein:
Chicago has a ton of offensive talent on paper, but this team has not put up the offense that one would think. What has been the main culprit here?
Wright:
A few things, but the main issues throughout this team's struggles have been quarterback
Jay Cutler
, who has a penchant for committing turnovers, and the play calling. Cutler leads the league in giveaways, and in all but one of this team's losses this season, the quarterback turned over the ball multiple times. Yet in all but one of the team's victories, Cutler didn't throw an interception. So there's definitely a correlation there, as the Bears are 3-10 during Marc Trestman's tenure when they finish on the negative side of the turnover margin and 1-4 when the turnover margin is equal. Obviously, the Bears could minimize Cutler's exposure to potential turnovers by leaning more on the ground game with
Matt Forte
averaging 4.2 yards per attempt. But what happens is the Bears too often abandon the running game for the pass, which is understandable given all the weapons on the outside. Once the Bears start throwing it all over the yard, Cutler starts turning it over and opposing defenses capitalize (opponents have scored 82 points off Chicago's turnovers), which in turn makes it impossible to rededicate to the ground game because by then the offense is usually trying to overcome a deficit.
What's your take on the perception that Jim Caldwell has been too conservative, and do you see him loosening up some with this team trying to snap a two-game skid?
Rothstein:
It's interesting because he wasn't at all against Miami, when the Lions attempted two fake punts in a half. Since then, the offense has looked completely out of rhythm, passes are getting dropped again, Stafford is under duress and
Calvin Johnson
is going through only the second three-game stretch of his career where he has caught less than 50 percent of his targets. But being at home cures a lot of things for Detroit typically, and that alone should help. Theoretically.
Switching to defense, what has gone into
Willie Young
's success with Chicago? He was emerging with Detroit, but how has his game grown?
Wright
: You've been around him, Mike. You know the type of guy he is. Young's ascension is a product of the work he's put in, and the Bears just happened to bring him aboard at the perfect time in his career. Obviously it helps Young to have a veteran such as
Jared Allen
around to teach him some of the nuances of the game. But Young has also benefited from working with martial arts expert Joe Kim. The Bears brought in Kim as a consultant to work with the defensive linemen on hand-fighting techniques, and that's helped the group as a whole. Throw in Allen's tutelage and Young's own work ethic and you see why he's been able to put together a breakout season.
Can you provide a rundown on what's taken place with the guys Young will face, the offensive line? I know the group has struggled pretty much all season, but
Riley Reiff
's situation probably complicates things with the Lions looking possibly to start a couple of undrafted free agents at the tackle spots.
Rothstein:
Between injuries, a small change in how the team blocks this season and just struggles with personnel, it's gotten really rough for the line. Let's start with the injuries. Right guard
Larry Warford
-- probably Detroit's best lineman -- is still out with a knee injury.
LaAdrian Waddle
, the right tackle, is healthy now but has been in and out of the lineup all season with injuries. Reiff, the left tackle, hurt his knee Sunday against the Patriots and his status is in doubt for Thursday. So the cohesion has barely been there. Also, some of the concepts have changed with how they block and how long it takes both the routes and runs to develop due to play calls, so it has put some other pressures on the line.
For so long, the Bears have used Peanut Tillman on Calvin Johnson. Tillman's out. How do the Bears deal with Johnson and
Golden Tate
now?
Wright:
To me, that's one of the most significant concerns for the Bears entering this game. As you already know, rookie cornerback
Kyle Fuller
's availability for this game is uncertain with him suffering a knee injury in the win over Tampa Bay. Fuller had been playing with a broken hand and a hip pointer prior to his latest setback. Fuller's injury didn't appear to be significant initially. But if Fuller can't go, the Bears would likely go with undrafted rookie Al Louis-Jean, who possesses similar size to Tillman (6-foot-1, 187 pounds). But would you want to put an undrafted rookie on Johnson?
Tim Jennings
(5-8) would likely struggle matching up with Johnson. So Chicago would be in a tough spot if Fuller isn't able to play. If the Bears are forced to go with Louis-Jean, the corners would probably stay on their respective sides with the defense giving the corner to Johnson's side safety help over the top, along with extra help underneath, whether that's from a linebacker or the nickel.
The Lions have lost two in a row for the first time all season, and surely there's some level of concern starting to creep in internally. This is uncharted territory for 2014 at least, but do you believe the Lions are better equipped to deal with this type of adversity now with Jim Caldwell calling the shots?
Rothstein:
Theoretically, yes, although the personal foul penalty by
C.J. Mosley
and then the antics from
Dominic Raiola
at the end of Sunday's loss to New England did have me questioning whether Caldwell's message is truly getting through. The players still seem to believe in him and in the way he goes about things, which is always trying to stay calm and not showing signs of panic. This helped earlier this season when Detroit had three straight come-from-behind wins in October and November to help put them in this position. It's why Thursday is so big. Lose three straight and thoughts of another free fall might be more than just percolating around the edges.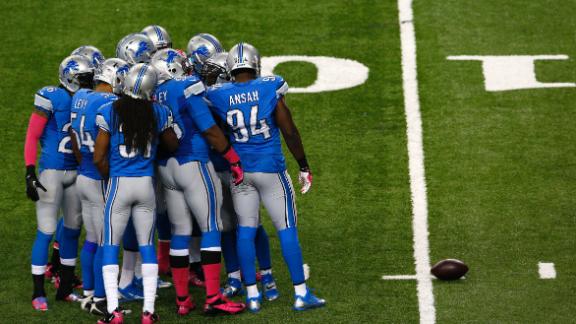 November, 26, 2014
Nov 26
8:10
AM ET
ALLEN PARK, Mich. -- He's been somewhat mortal the past three weeks -- at least for a guy who has the nickname of a machine and for almost his entire college and NFL career has played like one, too.
But
Calvin Johnson
-- as his former coach, Jim Schwartz, used to say -- is clearly human. He makes mistakes. He drops passes. He gets injured. And it's that latter part that has led to the questions lately, as he's caught less than 50 percent of his targets the past three weeks as he returned to the
Detroit Lions
' lineup off an ankle injury.
Johnson
He says he's the "same guy" as he was two seasons ago, when he caught 122 passes for 1,964 yards -- both career highs. His quarterback,
Matthew Stafford
, still calls him the best receiver in the game. But maybe, people are seeing just how hard it is for the guy nicknamed Megatron to keep up that pace of play.
"It's never easy," Johnson said. "It's always tough to make a big game or to have a big game. It takes a lot of moving parts to make those things happen. It takes 11 to make all of those things happen, especially if I have a big game.
"It takes all of those guys on the front line, my receivers, quarterback, it takes everybody."
It may have taken everybody, but Johnson was a giant bailout clause for Stafford in the offense because of his ability -- and he's still shown it -- to make the difficult catch in double-and-triple coverage that he still sees. To use his 6-foot-5 frame along with his speed to make the uncatchable to the average receiver look somewhat routine. Lions coach Jim Caldwell said Johnson is still a guy who is able to run by people.
Yet Johnson is on pace for his fewest receptions and yards -- he's got 38 catches for 578 yards -- since 2009, when he had 67 receptions for 984 yards. And injuries have had a lot to do with it. Johnson missed three games in a season for the first time in his career with that high right ankle sprain. He played but was limited in two more.
This after a 2013 season where he played through finger and knee injuries that he had to have offseason surgery on. And a 2012 season where he had some
nerve damage and a knee injury
.
So there could be some concern that these injuries are starting to accumulate on his body and his precocious talent. At least publicly, he says he's not worried about his long-term health, though.
"You're going to have some nicks and bruises here and there," Johnson said. "You can't sit back and really worry about those things. You still have to be able to go out there, try to put those things in the back of your mind and play."
For the past three seasons, he's done that and to this point has given no reason he won't continue doing so.
And now, a look around the Interwebs in search of Lions and other football news:
November, 26, 2014
Nov 26
12:00
AM ET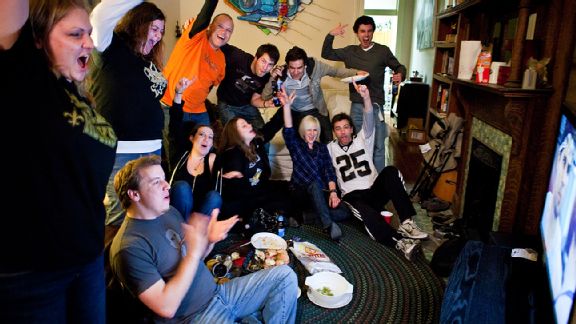 Skip Bolen/Getty ImagesWatching football in a group setting can be a trying experience.
I must confess, over time, I came to dislike my Uncle Joe more than I did the Brussels sprouts my mom made on Thanksgiving. (Sorry, Mom, I should've said something about them.)
During the annual Detroit Lions and Dallas Cowboys games on Thanksgiving, my Uncle Joe often became harder to swallow than the overcooked turkey Aunt Shirley, Joe's wife, sometimes made. (I know, Mom, if you can't say anything nice, don't say anything at all.)
My dear old Uncle Joe haunted many of my Thanksgivings past because he ruined so many of the football games I couldn't wait to watch. I wanted my turkey, my dressing, my cranberry sauce, my pumpkin pie and my six or so hours of football, in that order. I did NOT want my Uncle Joe's incessant idiotic commentary on nearly every play of a sport he rarely watched.
I'm pretty sure most sports fans have (or have had) an Uncle Joe in their holiday life. Over time I learned to live with mine and in a moment I'll attempt to assist you in coping with yours.
You know the scenario: Your extended family gathers for this joyous occasion and after dessert everyone adjourns to the living room to chat, doze or do what Americans should after feasting ... watch football. The problem, of course, is that those who really care about and know about football are forced to watch with some who don't.
November, 25, 2014
Nov 25
6:31
PM ET
November, 25, 2014
Nov 25
4:21
PM ET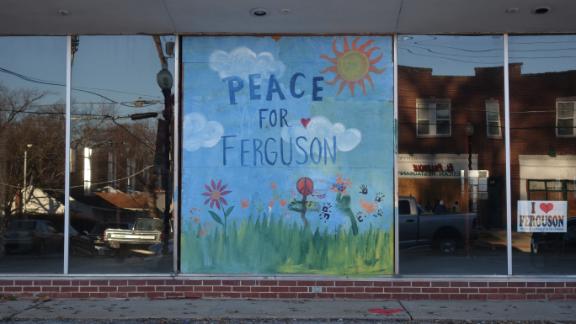 INDEPENDENCE, Ohio -- LeBron James said the decision not to indict Darren Wilson, the officer responsible for the shooting death of Mike Brown in Ferguson, Missouri, "hit home for me" and spoke out about the violent aftermath of the announcement Monday night.
"That's not the answer," James said Tuesday on reports of rioting in Ferguson. "What does that do? What does that actually do? Just hurt more families, hurt more people, draw more attention to things that shouldn't even be going on instead of people going to the family's household and praying with them. And saying, 'Things are going to be great.' You know, 'Mike Brown is in a better place now,' and 'Trayvon Martin is in a better place now.' That's where it should be. I mean, burning down things and shooting up things and running cars into places and stealing and stuff like that, what does that do? It doesn't make you happy."
James initially responded to the news on Monday night by posting a cartoon depiction on Instagram of Brown with his arm wrapped around Martin walking toward a heavenly light.
Back in March 2012, James and then-teammate Dwyane Wade organized a photo including the entire Miami Heat team wearing hooded sweatshirts -- the same style of hoodie Martin was wearing when he was shot by George Zimmerman -- and posted it to social media along with the hashtag #wearetrayvonmartin.
James said that the Brown case only touches on larger societal problems that must be addressed.