July, 31, 2014
Jul 31
7:30
PM ET
ALLEN PARK, Mich. – A daily review of the hot topics coming out of
Detroit Lions
training camp:
Referees were at practice Thursday and seemed to throw several flags throughout the session. Lions coach Jim Caldwell said the officials will be around for a few days to help the players become aware of new rules. The specific area of emphasis, Caldwell explained, is pulling of the jerseys. "It's really going to affect everybody, you know," Caldwell said. "It used to be if you grabbed a jersey and you restricted a player, if they saw the shoulders turn a little bit or maybe his stride changed, they would throw the flag. "But now, it's any tug of the jersey, regardless of what it does to you and the quarterback can be looking over there and the foul can occur behind him and they still are going to throw the flag. So there's a huge emphasis on that. Those are some of the things we have to make certain we get accustomed to."
Red zone was a focus of Thursday's practice. On both fields, there was a significant period dedicated to work 20 yards from the end zone and in. Quarterback Matthew Stafford was fairly sharp during this period, highlighted by a leaping touchdown catch by receiver Kris Durham in coverage. It was a catch with a high degree of difficulty by Durham, who was rotating in on the same field along with the majority of the players who have been running with the first team.
Speaking of the offense, this was the sharpest the offense has looked throughout the first four days. There were still some throwaways and dump-downs, but Stafford had a pretty good day, completing a large majority of his passes throughout the practice session. Eric Ebron, whose drops have been chronicled here the past three days, had a very nice catch at one point as the ball was headed out of bounds. That is the positive part of why the team drafted him in May.
Rookie Kyle Van Noy appears to be starting to make an impact. The linebacker worked with the first-team defense during portions of Thursday's practice and is starting to push to replace Ashlee Palmer at the SAM spot. After the draft, general manager Martin Mayhew indicated they believed Van Noy would be a starter pretty quickly. Tahir Whitehead also caught Caldwell's attention, and while he isn't a starter, the head coach said the third-year pro out of Temple continually shows up well on film. He won't supplant Stephen Tulloch, but that, plus his special-teams ability, should put him in a good spot.
The Lions return to practice Friday at 3:30 p.m. for a practice open to the public.
July, 31, 2014
Jul 31
7:00
PM ET
ALLEN PARK, Mich. --
Michael Williams
has another setback.
Williams
Williams, who is in the process of adding weight as he transitions from tight end to offensive tackle for the
Detroit Lions
, has an undisclosed injury, one serious enough for him to miss Thursday's practice.
"Not a long-term thing," Lions coach Jim Caldwell said. "A few days, maybe."
Williams declined to discuss the injury but said missing any time does hurt him.
"It's a setback just from getting reps on the field, which is the most important thing," Williams said. "But I'm still here learning. I feel like I'm more of a student of the game when I'm out, when I'm hurt, so I have to focus more because that's all the time that I have then."
Williams said he gained 15 pounds -- up to 298 pounds -- as he attempts to make the switch. His goal for the 2014 season is between 305 and 310 pounds. At that weight, he then needs to see if his speed remains somewhat similar.
What did he eat to put on all that weight?
"We in Alabama at the time, so it's just whatever you kill, that's what you eat," Williams said. "Nah, it's a joke, man. It was just good, home-cooked food."
Williams was one of four players to miss practice Thursday. Defensive end
Ezekiel Ansah
and wide receiver
TJ Jones
remain on the active physically unable to perform list, and offensive lineman
Alex Bullard
also sat out.
The Lions also made a move Thursday, releasing receiver
Cody Wilson
and singing defensive end Kris Redding out of Wake Forest.
July, 31, 2014
Jul 31
6:23
PM ET
ALLEN PARK, Mich. –
Kevin Ogletree
wakes up mornings and heads to the practice facility. The
Detroit Lions
will be practicing later in the day, but Ogletree is in the midst of a fairly difficult competition for a spot at wide receiver on the 53-man roster.
So he knows his conditioning is critical, both in practices during training camp and late in games during the regular season. So he goes on a quick run, 10 minutes on the treadmill and trying to reach around a mile-and-a-half.
[+] Enlarge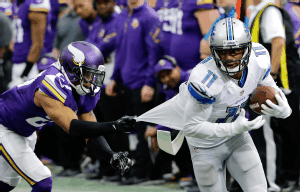 AP Photo/Ann HeisenfeltKevin Ogletree has impressed the Lions during camp with his route running and smarts.
Conditioning became his focus during the offseason. He didn't worry about his route running or his hands – both of which have been reliable in the past – before. He wanted to get his own heart rate up to keep his chances for making the team up as well.
"You can get really far if you're in better condition than the guy across from you on third down, you know," Ogletree said. "Two minute drive, late in the game, if you're feeling better, if your legs are fresher, blood vessels are opened up a little bit more, you train for that."
The training has worked early on. Ogletree has been one of the standouts of the first few days of training camp. He has consistently been with the first group along with
Golden Tate
and
Calvin Johnson
, potentially giving him the inside track to not only a spot on the roster, but a decent role in an offense that should have a lot of passes to go around.
Ogletree caught the attention of offensive coordinator Joe Lombardi early during spring workouts, but then the St. Albans, New York, native had an impacted wisdom tooth requiring surgery. The tooth was deep enough that Ogletree had all four wisdom teeth removed, forcing him to miss a week as he was starting to make an impact
Placing himself in position for a role was part of his decision to return to Detroit in the first place. He and re-signing running back
Joique Bell
were the only deals the Lions made on the first day of free agency, the day before the team signed wide receiver
Golden Tate
.
Coming back to the Lions, which picked him up after Tampa Bay released him in the middle of last season, was a priority.
"I knew that this was a place that a receiver would beg to be at with
Matthew (Stafford
) and the rest of the guys we have on offense," Ogletree said. "Just to have a role on this offense would be the best thing I could ask for."
Lions coach Jim Caldwell, who places an emphasis on sure-handed receivers, seems impressed with him early and confident enough to move the 6-foot-1 Ogletree both inside to the slot and outside. In his career, Ogletree has a decent drop rate, dropping only 4.3 percent of his targets. That career number is the same as the NFL average in 2013.
How he runs his routes has also caught the eye of coaches and Johnson, who specifically mentioned how smooth Ogletree's routes are.
"Really has a good understanding of the position," Caldwell said. "Works at it. Quiet. Hardly says a word, but I really like what we've seen from him thus far. He's been catching the ball consistently, so we anticipate that's going to carry over."
If it does carry over, that could put Ogletree in a good position in a tight position battle.
"There's no animosity toward one another. I'm encouraging
Corey (Fuller
)," said
Kris Durham
, one of the receivers he is competing with. "I'm trying to help him get right. Same with Kevin to me and Corey to Kevin. We all want to help each other because we want to become the best player we can to help this team win."
So how does Ogletree plan to beat the rest of the competition for a job? He won't let on. Just watch him, he says.
"I'll show you," Ogletree said. "I'll show you."
July, 31, 2014
Jul 31
11:19
AM ET
ESPN.com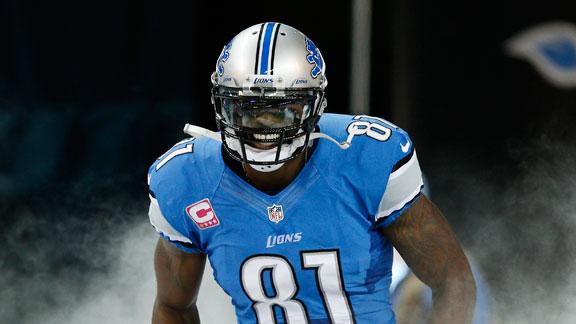 A sampling of quotes and opinions about three-time All-Pro wide receiver Calvin Johnson:
---
"It's almost like it's your ideal receiver. It's like he's a created player on 'Madden,' when you put his overall 99. He's got the fastest speed on there, and the strength and everything is maximized to another level. All of those things make him stand out even more. He's a massive receiver who can run, who can catch and who can block."
-- New England Patriots cornerback Darrelle Revis
---
"I would rather with a guy such as Megatron play man-to-man, where it's mano a mano. Man on man. So if he goes inside, I'm going inside. If he goes outside, I'm going outside. If he goes to the hot dog stand, I'm going out there to put the mustard on it."
-- Hall of Fame cornerback Lem Barney
---
July, 31, 2014
Jul 31
10:45
AM ET
ALLEN PARK, Mich. –
Calvin Johnson
, like almost every other college prospect in the NFL, had no control over where he was headed in the 2007 NFL draft. He did, though, have an idea of where he thought he might end up.
And it wasn't with the
Detroit Lions
, who selected him second overall in that draft.
"I thought I would either be in Tampa or Atlanta, honestly," Johnson said. "Both of them were not too far from the top in the draft, and I figured one of them might be able to move up. I really thought I was going to go to Tampa because I liked [Jon] Gruden, had a really good workout with those guys."
[+] Enlarge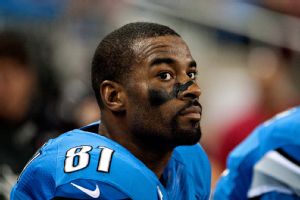 Tim Fuller/USA TODAY SportsCalvin Johnson has his eyes on helping the Lions make a run in the postseason.
Johnson said Gruden brought some of his quarterbacks and receivers in for Johnson's workout and that he felt it went well. The Buccaneers had the fourth pick in the draft and appeared enamored with Johnson -- for obvious reasons. With Atlanta, the Falcons picked eighth and Johnson is a native of suburban Atlanta.
Those seemed like solid options. Looking back now, Oakland passing on Johnson in favor of quarterback JaMarcus Russell, who is out of the NFL, seems preposterous. That is the inexact nature of the draft, though, from talent evaluation to trying to figure out where you'll go as a prospect.
In retrospect, Johnson said "it didn't bother me" that he wasn't taken with the first pick because the Raiders are far from Georgia and he wanted to be closer to home. Detroit then selected Johnson with the No. 2 pick, and he turned into a franchise centerpiece for the Lions.
It is a franchise, though, that has struggled to win despite having the best receiver in the game, a receiver who has three straight 1,400-yard seasons and is the most difficult offensive matchup in the NFL.
Yet Johnson's career feels incomplete because of the lack of team success for the Lions.
"It's been, I can't say it's been exactly what I wanted," Johnson said. "When I first came into the league, my first three, four years, I had a teammate from college win a Super Bowl."
Johnson said he doesn't want to see the rings his former teammates have because his team, the Lions, continues to try and reach the final game of the season for the first time. While he would obviously like to reach that point, he said he can't really be frustrated by it because there's only so much he can do on his own.
And it's why he looks at Detroit's talent now and looks at his career, now entering his eighth season, and is focused even more intently on team success.
"That's all I'm focused on," Johnson said. "I had great stats in my career, you know, but really you want to win. You want to get to the playoffs again. That's a great feeling when we did a couple years ago.
"We want to get that feeling back. We have a lot of guys that have been there, that have won Super Bowls and a coaching staff that has won Super Bowls and it's great to have that experience."
Some of those players, such as
Reggie Bush
and
Golden Tate
, along with a coaching staff that has extensive playoff and Super Bowl experience as assistants, is where Johnson takes his confidence that finally he'll be able to have some of that postseason experience as well.
July, 31, 2014
Jul 31
10:00
AM ET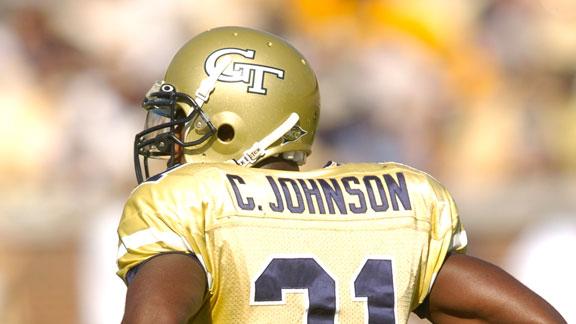 ALLEN PARK, Mich. -- On Oct. 21, 2006, in a nationally televised game with ESPN's "College GameDay" on site, the Clemson Tigers pulled off a feat most thought was impossible, and one that hasn't been replicated since. They shut out Calvin Johnson.
When former Tigers coach Tommy Bowden was interviewing Vic Koenning to become his defensive coordinator after the 2004 season, part of the interview, Koenning said, focused on the plan he had to double-team wide receivers. The main concern was Johnson, a rising star at Georgia Tech.
To account for Johnson, Koenning developed what he called a "Cover 21," in reference to Johnson's jersey number. Koenning devised this plan before the Tigers' 2005 game at Georgia Tech, when Johnson was limited to four catches for 46 yards. Koenning used the tape of that game, which Clemson lost 10-9, to tweak his creation.
It set up the next season's matchup, the only time in Johnson's pro or college careers he has been held without a catch.
So how did Koenning and Clemson do it?
"It is not as complicated as what you may think," Koenning said. "Those [zone] coverages are probably on the 'Madden' football game. By doing it based on where he was, that was the unique part of it."
On likely passing downs, the Tigers often had a linebacker sit underneath in case quarterback Reggie Ball tried to hit Johnson on a short route. As Johnson ran downfield, a cornerback and safety bracketed Johnson to keep him from breaking free for big plays.
The scheme began as a variation of a basketball box-and-one with a hybrid of man and zone coverage essentially boxing Johnson in. This disrupted Ball, who targeted Johnson just three times.
July, 31, 2014
Jul 31
8:15
AM ET
ALLEN PARK, Mich. -- The attention is going to be on Eric Ebron for a while and he knows it. This is what happens when you are a first-round draft pick on a team desperate for a winner.
Ebron is hard to miss -- from his gregarious personality to his massive size -- and one of the reasons the Detroit Lions took him instead of a defensive player in May's draft was the matchup problem he presents. But like most rookies, he's going to struggle at times.
And that has been the case with Ebron early in his Lions career. During spring workouts and the first few days of training camp, Ebron has dropped some passes that should usually be caught. The Lions, though, don't appear concerned. They realize it is all part of Ebron's NFL adjustment as he learns to play inside, outside and even in the backfield almost as a fullback.
"It's not easy for him, he's got to learn and adjust," Lions coach Jim Caldwell said. "There's a lot of things going on in his mind right now, I think you're going to continue to see that he's going to continue to improve and continue to get better, because he does have an unusual skill set."
That skill set is what made Ebron attractive. Some of the issues he's having now -- particularly the drops -- were a problem at North Carolina as well. But it has only been three days of practice and the Lions have yet to put full pads on, so he still has plenty of time to learn, adjust and figure things out before Detroit opens its season in September.
And now, a look at other Lions news from around the Interwebs:
July, 30, 2014
Jul 30
10:10
PM ET
DETROIT -- A daily review of the hot topics coming out of
Detroit Lions
training camp:
George Johnson, a defensive end who played with Tampa Bay and Minnesota before coming to the Lions, spent time with the first team for the second straight day. He has a long way to go to make the roster for multiple reasons, however. The Lions are without the likely starter at his spot, Ezekiel Ansah, as he remains on the PUP list recovering from shoulder surgery. Another potential open defensive end, Devin Taylor, is competing for the starting closed defensive end spot.
The Lions were in shoulder pads for the first time during camp and it led to a little more physical play. Brandon Pettigrew was actually tackled by Jason Jones in a period of 11-on-11 and Mikel Leshoure was hit by DeAndre Levy after catching a pass.
In the daily kicking battle, Giorgio Tavecchio made all five of his field goal attempts. Nate Freese made four of five after having his first attempt from 30 yards blocked. On Tuesday, both Freese and Tavecchio missed 49-yard field goals to end practice. On Wednesday, Tavecchio made his practice-ending kick, while Freese missed his again. After practice, Freese could not explain what happened on the block and said he is still working on timing with holder Sam Martin and long snapper Don Muhlbach, but that they are close. On his missed field goal to end practice, Freese said it was his fault he missed the kick and the operation was good.
Both Reggie Bush and Jeremy Ross had nice plays in various times. Ross had an impressive one-handed catch during skeleton drills that would have been a difficult touchdown. Bush, meanwhile, made a play in 11-on-11 and then made a nasty cut on linebacker Tahir Whitehead for what would have been a large gain if the team was in full pads and tackling. The play of the day might have gone to Golden Tate, who converted a 3rd-and-4 play with a well-thrown slant pass over the middle from Stafford. Then he had the defense chase him all over the field.
Another day, another drop for Lions rookie tight end Eric Ebron. To be fair, this play was a little bit more difficult than a garden variety play, as he had to turn around to make the catch. But the pass hit Ebron squarely in the hands on a deep route along the sideline with DeJon Gomes in coverage and it is a play Ebron would be expected to make in a game during the season. For as many good plays and highlight reel plays Ebron has the capability of making, seeing him drop routine-or-close-to-it passes should be a concern even if it is early in camp. He is still learning the offense, but at some point it should be instinct as well. Ebron did rebound later in practice with a difficult catch on a short route for a touchdown.
July, 30, 2014
Jul 30
12:30
PM ET
Question of the Week is a weekly feature here where we take a cross-section of opinions from Detroit Lions players and coaches (and sometimes opponents) about a singular topic. Most of the time, they have nothing to do with football. Have a suggestion for a question? Email
michael.rothstein@espn.com
.
Previous
Questions of the Week
. This week:
Rookie nerves
.
ALLEN PARK, Mich. – Detroit Lions players, when they could, tried to get away this offseason. They tried to escape their own workaday worlds of being professional athletes either to have some family time, see the world or perhaps create a little family of their own.
With this, the first week of the Lions' NFL camp, we caught up with some players to find out the most exciting things they did during the offseason.
Wide receiver Jeremy Ross:
"I got engaged (to former Cal runner Tracey Stewart). I took her to the Mandarin Oriental in San Francisco and went up to the top on the 40
th
floor, looking over the whole bay. Had a table for two with strawberries with chocolate, chocolate-covered strawberries with rose petals leading to the table with a violinist playing and a photographer present as well. June 13. We've been together for a while. We've been really good friends for like seven years.
Linebacker DeAndre Levy:
"This offseason I went to Nicaragua and Venezuela. I did that in March, April. In Nicaragua, actually, there was a volcano that I wanted to [see], you can hike and sled down. You hike and sled down it. Mount Roraima in Venezuela is an unbelievable experience. It has endemic species of frogs and plants that are just untouched, unchanged and I camped out there for two days and hiked it for four days."
Defensive tackle C.J. Mosley:
"I'm pretty boring in the offseason, man. I don't do much, man. Nah, man. I try to make sure, I look at it like this, man. I got drafted in the sixth round. Each and every year, I just feel like I make it by the skin of my teeth. So I just try to limit distractions and make sure that I don't get caught in nothing."
Tight end Brandon Pettigrew
: "Anniversary in Puerto Rico. It's one year. It's nice. It's pretty low-key down there, chill. Everybody's like happy down there. It's not really too lively like a Miami or something like that. It's pretty chill."
Linebacker Kyle Van Noy (other than getting married):
"Go on vacation. I've never been on vacation in my life. (Went to) St. Lucia and then went to Vegas. Of course, I've been to Vegas, but it's my little vacation."
Reporter: No vacation ever?
Van Noy:
"I've never been outside of the West Coast for vacation, never been outside of the U.S. or have taken longer than three days, a weekend."
July, 30, 2014
Jul 30
10:00
AM ET
By
ESPN.com staff
| ESPN.com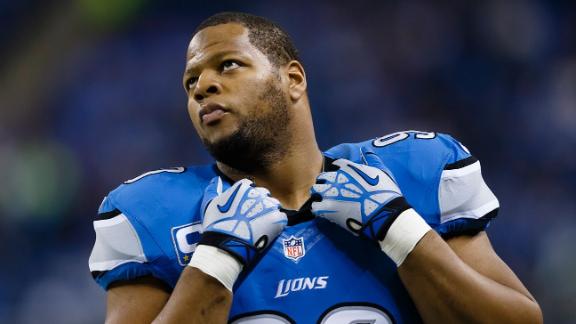 ESPN.com
Detroit Lions
reporter Michael Rothstein discusses the impact of the defensive tackles entering their contract years.