What's in a superstition?
October, 19, 2011
10/19/11
12:32
PM ET
By
Andrew Knepper
| ESPN.com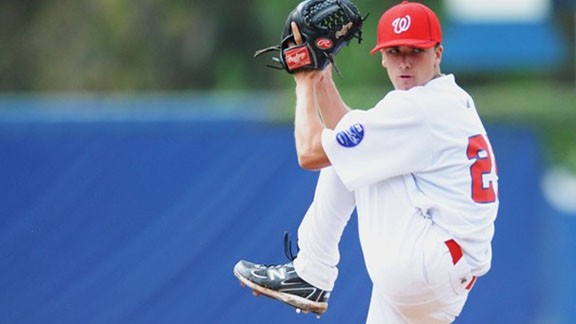 Scott Kurtz/ESPNHSMitchell Aker has a special ritual he does before he takes to the mound.
Superstitions and pre-game routines have always been a part of baseball. Whether it is Normar Garciaparra and his pre-bat routine of what seems to consist of two thousand batting glove touches and fifteen hundred toe taps to the everyday Joe who jumps the chalk on his way on the field, baseball players will always have some quirk when they play the game everyday.
We asked some ball players about what they have for a superstition or do as a pre-game routine and below is the best of the best responses we received.
"I always eat a large order of hot wings before a big game. The hotter the sauce the better I hit. Proven Fact! I always hit better with a belly full of hot wings!"
-Cullen O'Dwyer, Eldorado (Albuquerque, N.M.)

"I don't wash my uniform unless my team loses."
-Jake Schroeder, Ferndale (Ferndale, Wash.)

"My superstition before pitching is to draw a 5 with a circle around it. The reason why I do this is I found a nickel wit my friend one day, and I gave it to him before he had pitched that day. Turned out he threw a one-hitter. So I decided that I would put the lucky nickel in my pocket and throw the next game with it. I threw a no-hitter. Now the reason why I draw the circle is because I lost it (the nickel) one day. And for the remainder of the season we wrote a 5 on the back of the mound. So I guess it just stuck to me."
-Trevor MeGill, Marina (Huntington Beach, Calif.)

"No superstitions or rituals, those get to your head too much. Just a routine to always go by keeps me going and on top of my game!"
-Matt Tulley, Lowell (Lowell, Mass.)

"I always put whatever change like coins in my back right pocket or when staying at a hotel I put my hotel room key in my back right pocket."
-Mitchell Kranson, De La Salle (Concord, Calif.)
"I don't have a ritual before the game, but I do have one right before I go up to hit. I step in left leg then right leg, touch the far corner of the plate with my bat, pull up my left pant leg then my right pant leg, adjust my right sleeve, adjust my helmet then squat in my stance. Then of course I have the big twirl and leg kick in my swing."
-Ty Moore, Mater Dei (Santa Ana, Calif.)

"My ritual is saying an "Our Father" and then write my grandpa's initials in the mound because he played baseball and he passed away before I met him."
-Mitchell Aker, Paul VI Catholic (Fairfax, Va.)
"Before every game and before I pitch I write my grandmother's initials on the field so she can see me from heaven. I even bring dirt from where she is buried to put on the mound."
-Rock Rucker, Redan (Stone Mountain, Ga.)
"My pre-game superstition is I always save the wrapper of the last thing I ate and put it in my back pocket."
-Sam Brown, Jackson (Mill Creek, Wash.)