High-SchoolBaseball:

Alex Bregman
March, 16, 2012
3/16/12
9:46
AM ET
By
Jason A. Churchill
| ESPN.com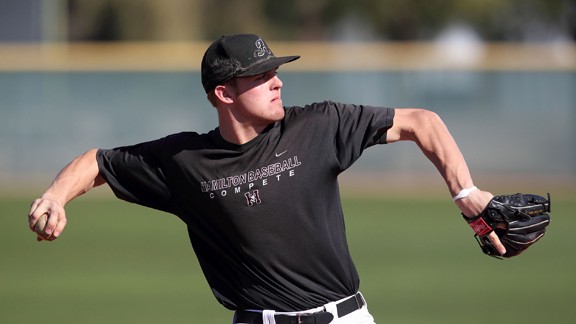 Mike Janes/Four Seam Images via AP ImagesHamilton (Chandler, Ariz.) senior third baseman Mitch Nay has seen his MLB draft stock rise thanks to a strong start to the 2012 season.
Jason A. Churchill, who covers the MLB draft for ESPN Insider, looks at the high school senior baseball prospects who've either helped or hurt their draft stock early in the 2012 season.
The Class of 2012 high school baseball class is one of great promise. While it might lack polish at the top, it offers a lot of projectable, star-level athletes with high ceilings. This class, however, won't sort itself out until late April and May. From our rough sketch of the top 20 high school prospects that was compiled during the preseason (see below), we'll look at who's improving his stock and who's fading in the early going.
Preseason Top 20
1.
Lucas Giolito
, RHP, Harvard-Westlake (Studio City, Calif.)
2.
Byron Buxton
, OF, Appling County (Baxley, Ga.)
3.
Carlos Correa
, SS, Puerto Rico Academy (Gurabo, Puerto Rico)
4.
Walker Weickel
, RHP, Olympia (Orlando, Fla.)
5.
Max Fried
, LHP, Harvard-Westlake (Studio City, Calif.)
6.
Matt Smoral
, LHP, Solon (Ohio)
7.
Stryker Trahan
, C, Acadiana (Lafayette, La.)
8.
Joey Gallo
, 1B, Bishop Gorman (Las Vegas)
9.
Gavin Cecchini
, SS, Barbe (Lake Charles, La.)
10.
David Dahl
, OF, Oak Mountain (Birmingham, Ala.)
11.
Lucas Sims
, RHP, Brookwood (Snellville, Ga.)
12.
Hunter Virant
, LHP, Camarillo (Calif.)
13.
Rio Ruiz
, 3B, Bishop Amat (La Puente, Calif.)
14. Zach Eflin, RHP, Hagerty (Oviedo, Fla.)
15.
Clint Coulter
, C, Union (Camas, Wash.)
16.
Courtney Hawkins
, OF, Carroll (Corpus Christi, Texas)
17.
Addison Russell
, SS, Pace (Fla.)
18.
Carson Kelly
, 3B, Westview (Portland, Ore.)
19.
Tanner Rahier
, SS, Palm Desert (Calif.)
20.
Corey Seager
, 3B, Northwest Cabarrus (Concord, N.C.)
STOCK UP
Mitch Nay, 3B/OF, Hamilton (Chandler, Ariz.)
Nay, Arizona's top prep prospect, has a shot to shoot up the charts with more performances like this week's outing, when he went deep to right-center -- the opposite field for Nay, who's a right-handed batter -- for a three-run homer.
Ty Buttrey, RHP, Providence (Charlotte, N.C.)
Buttrey touched 95 mph on the radar gun last week and sat firmly in the low-90s. He fanned 12 in 5.2 innings in one start and offers projection at 6-foot-6 and just over 200 pounds. He's committed to Arkansas, but he could move up into first-day draft consideration.
Eflin
In his latest start, Eflin, a 6-foot-5, 200-pound Central Florida commit, tossed six hitless frames and struck out 12. He has 29 strikeouts in 15 innings on the season, using a 90-94 mph fastball and a potentially plus curveball. He has yet to allow an earned run.
Weickel
Weickel, already a potential top-10 pick and a Miami commit, whiffed 10 in his start last week and has scouts drooling over what might be in a few years. "Sometimes I get lost and imagine him four years down the line," an area scout said. "He could be an absolute horse. The sky's the limit."
STOCK DOWN
Keon Barnum, 1B, King (Tampa, Fla.)
Barnum is hitting for average and power early on but is not showing a consistent ability to recognize and adjust to the breaking ball. Since he's already 19, Barnum has less developmental time ahead of him than most prep draft prospects and is limited to first base defensively, so he has to show even better at the plate than if he offered defensive value. He does possess plus bat speed, and the ball jumps off his barrel, but he's slumped a bit early this season.
Lance McCullers Jr., RHP, Jesuit (Tampa, Fla.)
While McCullers started this year 4-0, he lands on the Stock Down list because scouts hoped to see improvements in some key areas that have not yet been displayed. He's still inconsistent with his command and there are issues with his delivery, including a lot of effort, and the buzz is that he's headed for the bullpen as a professional.
Fried
After faring very well in his first few outings and impressing over the summer, fall and early winter, Fried has looked very pedestrian of late. He's sat 89-92 mph with his fastball and has not commanded his arsenal well in his last two starts, getting touched up in both. It's far too early to suggest this will ultimately impact his draft stock, but the trend isn't rosy.
Giolito
Giolito lands here based solely on his elbow injury.
It's been described as a UCL sprain
-- I coined it a potential "UCLA sprain" for its impact on Giolito's decision to sign a pro deal or head to UCLA next fall -- but sprains too often turn up as tears, which generally require Tommy John surgery. The right-hander is my No. 1 overall prospect, prep or college, and will remain at the top of the prep list until more is known of his condition.
If Giolito returns and shows he's 100 percent, he's still likely to be selected in the top 5-10 picks, if not the top three.
INJURIES
On top of Giolito's injury, there have been two others that may weaken the prep class and drop the stock of the players in question. Albuquerque Academy (Albuquerque, N.M.) catcher/infielder
Alex Bregman
broke the tip of his middle finger and is expected to miss the rest of the season. Showing the toughness clubs want to see, Bregman hurt the finger in pregame yet played and had two hits.
Ringgold (Ga.) left-hander
Matthew Crownover
, the nation's No. 8 lefty, recently had Tommy John surgery and will miss the rest of the season. He wasn't considered a first-round talent, but he has touched 95 mph and had a shot to sneak into the top 100 despite his lack of ideal height at 6-0. He's likely headed for Clemson and will be draft eligible in 2015.
Jason A. Churchill covers scouting, player development and the MLB draft for ESPN Insider, as well as Prospect Insider, where he's the founder and executive editor. You can follow him on Twitter @ProspectInsider and email him at churchill@prospectinsider.com.
February, 21, 2012
2/21/12
9:02
AM ET
By
Christopher Crawford
| ESPN.com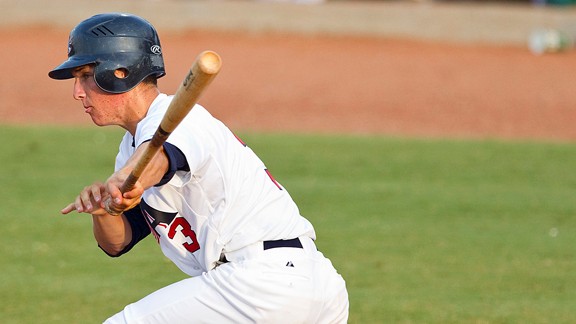 Brian Westerholt / Four Seam Images via AP Images Albuquerque Academy (Albuquerque, N.M.) senior catcher/infielder Alex Bregman won a pair of gold medals with USA Baseball.
Winning a gold medal for your country is a dream for many amateur athletes.
It's a feat that involves unreal dedication and perseverance as you compete against the best athletes around the globe. That's why it's both an honor and rare to even take home one gold.
Albuquerque Academy (Albuquerque, N.M.) senior baseball star Alex Bregman just happened to earn two before he turned 18.
This past fall, Bregman led the USA Baseball 18U National Team to a gold medal at the 2011 IBAF World 'AA'/16U Youth Championships a year after guiding the 16U National Team to gold.
"Playing for Team USA is the biggest honor of my life," said Bregman. "To be able to win two gold medals for my country is something I could have never dreamed of, and I hope to be able to play on future national teams as well. It's just an incredible thing to be a part of."
With his talent, Bregman shouldn't have any problem playing for future national teams. The right-handed hitter has one of the best swings in the country and is a standout shortstop and catcher — he's rated the
nation's No. 3 backstop prospect
in the Class of 2012 by ESPNHS.
It's the bat that's gotten the 6-foot, 180-pounder the most attention, though, and it was on full display last summer at the Area Code Baseball Games, where he was selected to the
All-Area Code team
.
"It was a great experience," Bregman said. "To be able to compete against the very best players in the nation was great, but it also gave me a chance to see how the best high school players prepare themselves. It's something that I think I can take into my high school season. Plus, I got a chance to work with my future roommate in college, Joey Gallo.
That college is LSU, and while Bregman sounded excited about trying to win a state championship, he was even more excited about talking about being a future Bayou Bengal.
"It's my dream school," Bregman gushed. "I grew up watching the College World Series, and seeing them in that tournament, I knew I wanted to be a Tiger. I respect the work of coach Mainieri and coach Sanchez
and all of those guys so much."
One thing that could possibly get in the way of the dream school is the MLB draft. While Bregman says he's just concentrating on his senior campaign and then attending LSU, a big senior year could propel him into early pick category.
"We like him quite a bit," said a National League Central advisor. "He's got the ability to do a little bit of everything. He can run, he can hit, and he works his you-know-what off on the field. The concern right now is what position he would play. Right know we think of him as more of a second baseman than a shortstop or catcher, but the bat plays better at those positions. He's a name that we will be following, though, to be certain."
Fans of high school baseball should do the same.
Christopher Crawford is a frequent contributor to ESPNHS. He's also the executive editor of MLBDraftInsider.com and senior writer for ProspectInsider.com. Follow him on twitter @CrawfordChrisV
February, 17, 2012
2/17/12
10:07
AM ET
By
Jason A. Churchill
| ESPN.com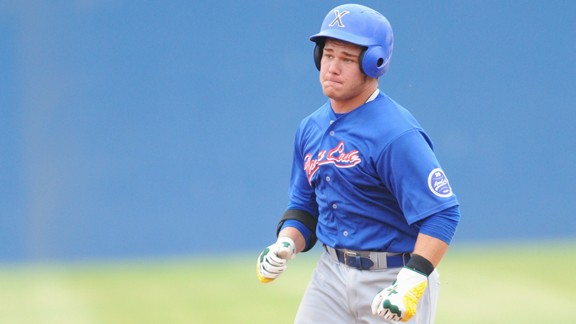 Scott Kurtz/ESPNHSAcadiana (Lafayette, La.) senior and Ole Miss recruit Stryker Trahan batted .460 with five homers and 31 RBIs last season.
Each week from now until early March, we'll take a look at the elite Class of 2012 high school baseball prospects by ranking our Top 10 players by position. This week, we unveil our list of the Top 10 catchers headlined by Acadiana (Lafayette, La.) standout Stryker Trahan.
Last year, Trahan was a Class 5A All-State first team selection after he batted .460 with five homers and 31 RBIs. He signed with Ole Miss.
Note: There are others that catch at the prep level that have enough offensive potential to have landed in the Top 10, but don't, in my opinion, have a great enough shot to stick at the position. This Top 10 has the best present skills and tools to remain catchers in pro ball.
1. Stryker Trahan, Acadiana (Lafayette, La.)
Trahan possesses good arm strength, quick feet and a consistent swing that produces above-average power from the left side of the plate. He's strong and sturdy, suggesting he can physically handle catching long term, but he also runs well, posting times from home to first in the low four-second range. He's committed to Ole Miss, but the 6-foot-1, 215-pounder has a chance to be taken off the board among the top 20 picks and is among the better high school catching prospects over the past five years.
2. Clint Coulter, Union (Camas, Wash.)
Coulter, a former elite wrestler, has only focused solely on baseball for one season, but it's already paying off for the 6-foot-3, 215-pound right-handed hitter. He shows strength and a good approach at the plate and during the Area Code Games tryouts last summer stood out with a short swing and good hip rotation. He's signed a letter of intent with Arizona State, but there is also a good chance he's selected on Day 1 of the draft, which generally guarantees a player a mid-to-high six-figure bonus.
3. Alex Bregman , Albuquerque Academy (Albuquerque, N.M.)
Bregman played shortstop last summer and looked like a quality player, but most scouts project him at second base or catcher. His ranking here is based on the possibility that he sticks behind the plate. He certainly possesses the athletic ability, and his quick release bodes well for the position. He could stand to get stronger, however. He's an LSU commit who could sneak into second round with a strong spring.
4. Wyatt Mathisen, Calallen (Corpus Christi, Texas)
Mathisen's sound approach at the plate and strong arm highlight a solid package of skills for a prep catcher. He's an accurate thrower as well and has quick hands that help him generate bat speed. Mathisen will head to Austin to play for the Longhorns if he doesn't sign a pro deal this coming summer. He projects as a potential second-round pick as the 2012 schedule begins.
5. C.J. Saylor, South Hills (West Covina, Calif.)
Saylor gets the most out of his 5-foot-10, 180-pound frame, including some gap power and above-average arm strength. His strong lower half helps him produce solid pop times and provides a solid base when swinging the bat. The swing itself has flaws, including a stiff front arm, but there's bat speed and good hand-eye coordination. The San Diego State signee should hear his name called on Day 2.
6. Bryan De La Rosa, Bucky Dent Baseball School (Delray Beach, Fla.)
De La Rosa, a Florida State commit, possesses solid bat speed, generated from good hip rotation and quick wrists. His pop times sit in the 1.7-1.75 range, which is excellent, and despite his lack of size — 5-foot-9, 180 pounds — there's some upside in his game. He'll have to get stronger in his upper body and continue to work on his technique behind the plate and approach at it, but the Puerto Rico native is likely to garner a lot of attention in the middle rounds of Day 2, if not before.
7. Christopher Chinea, Gulliver Prep (Pinecrest, Fla.)
Chinea may have as much chance to jump up the charts as any other prep backstop. He's strong yet athletic at 6-feet and just over 200 pounds, and the power he's displayed is impressive. He was injured late last spring, but there are scouts who believe he's a solid talent that they'd like to keep from heading to LSU. Arm strength and a power swing may lead the way.
8. Ruben Ybarra, Riverside Poly (Riverside, Calif.)
Ybarra may be right behind Chinea in terms of possessing the raw physical tools to greatly improve his stock by draft day. There's big power in his swing and his arm is above average. He's committed to Arizona State, but another year working on his accuracy, making contact at the plate and improving his footwork could mean a spot in the top 100.
9. Tomas Nido, Orangewood Christian (Maitland, Fla.)
Nido is a favorite of mine after studying video and talking to scouts. He stands out in the most important categories as far as tools are concerned — arm strength, receiving and power at the plate. His pop times are above average, but during games he's shown a tendency to open his front side on throws. The hit tool needs work, too, and despite the raw power the swing is long and his hands are busy. He's another Florida State commit and a Day 2 prospect, but he has a chance to end up among the top five prep catchers off the board.
10. Wilfredo Rodriguez, Puerto Rico Baseball Academy (Gurabo, Puerto Rico)
Rodriguez has good feet, running many 60s in under seven seconds, which is good for a catcher. He has good arm strength, is very accurate and his footwork is also solid. His swing is simple and produces line drives, but he does bar his front arm and has a difficult time with good pitches on the outer half. He's signed on at Seminole State College.
Jason A. Churchill covers scouting, player development and the MLB Draft for ESPN Insider, as well as Prospect Insider, where he's the founder and executive editor. You can follow him on Twitter @ProspectInsider and email him at churchill@prospectinsider.com.
December, 6, 2011
12/06/11
9:59
AM ET
By
Matthew Muench
| ESPN.com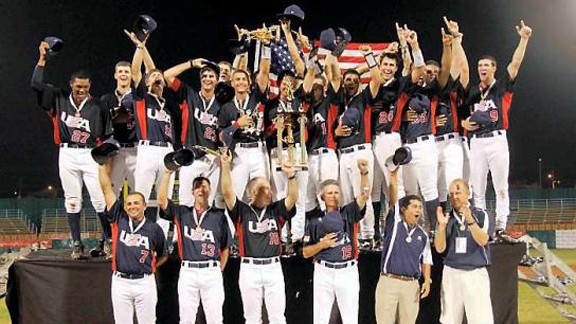 Courtesy of El UniversalThe USA Baseball 18U National Team outscored its nine opponents 88-8 en route to a gold medal at the Pan American Championships.
Gavin Cecchini
didn't mind the elbow to the face or three 180-pounders on his back.
Carson Kelly
wasn't afraid of the bodies colliding on top of him or the headlocks that followed.
The USA Baseball 18U National Team teammates will never forget this dog pile.
"When I look back 10 years from now I will remember the dog pile more than anything," said Cecchini, a senior at Barbe (Lake Charles, La.). "It was the best feeling. There is nothing like winning a gold medal."
The 20-plus person tower in the infield featured some of the best prep baseball players in the United States, and it capped a week where Team USA dominated the field at the COPABE 18U/AAA Pan American Championships in Cartagena, Colombia.
The exclamation point was a 12-2 win over Canada in the gold-medal game last week to complete a perfect 9-0 record in the tournament that featured teams from all over the world.
"It doesn't get any better than this," said Kelly, a senior at Westview (Portland, Ore.). "Every moment was incredible. It will be something I talk about for the rest of my life. I will remember it all."
It won't be hard to forget for the players and coaches who wore red, white and blue. Just check the box scores.
The American's outscored their opponents 88-8, beating four of them by way of the mercy rule. On offense they combined to hit .353, and the pitching staff finished with a 1.00 ERA.
Between the chalk, they stole 45 bases, while defensively they only committed two errors.
"We absolutely demolished teams down there," said Cecchini, an Ole Miss signee. "To tell you the truth, I thought the games would be much closer. But our hitters were awesome and our pitchers were unbelievable."
Kelly was one of those pitchers. The Oregon signee earned the win on the mound in the gold-medal game and also had the ball when USA beat host country Colombia in front of a national TV audience and a sold out stadium of more than 13,0000 fans.
"It was a blessing for me and very exciting for me to get to pitch in those two games," he said. "It's not very often you get to represent your country. So I wanted to make sure we came out on top."
Offensively, the Americans were paced by Mater Academy (Hialeah Gardens, Fla.) senior outfielder
Albert Almora
, who was named the tournament's MVP. The Miami recruit and Team USA veteran hit .421 and led the team in extra-base hits (6) and RBI (11).
Cecchini was named to the all-tournament team along with Olympia (Orlando, Fla.) senior pitcher
Jesse Winker
, Albuquerque Academy (Albuquerque, N.M.) third baseman
Alex Bregman
and Pace (Pace, Fla.) senior shortstop
Addison Russell
.
"Everyone on are team was not good — they were great," Kelly said. "I said to myself, 'Wow, these guys know how to play baseball.'"
Team USA manager and three-time World Series champion Scott Brosius said he was impressed with the focus and talent level of his team, which consisted of many projected first-round MLB draft picks.
"It was definitely exciting to watch this group," he said. "We hadn't played a lot together, so we had a few question marks heading in. So to come in and win gold in a dominating fashion felt real rewarding."
Away from the diamond, Team USA didn't have it as easy. Cecchini said fans "were brutal" and felt that "everyone was against us and tried to throw us off our game." When Team USA arrived in Colombia, they were given a different schedule that included an 8 a.m. game 12 hours after arriving in South America.
"That was just the first of many curveballs we were thrown," Brosius said. "But we prepared to expect the unexpected, so we just rolled with what was thrown at us."
The Americans were the only team who did not have a day off, Cecchini said. Plus, Team USA had to play four morning games in a row, where in some cases they were waking up at 6 a.m. to make hour-long bus trips.
"They tried everything to take us away from our game," Cecchini said. "Cold showers, wet clothes, dirty water. They tried to mess with Team USA. We got the last laugh."
And a memorable dog pile.
October, 15, 2011
10/15/11
6:59
PM ET
By
Andrew Knepper
| ESPN.com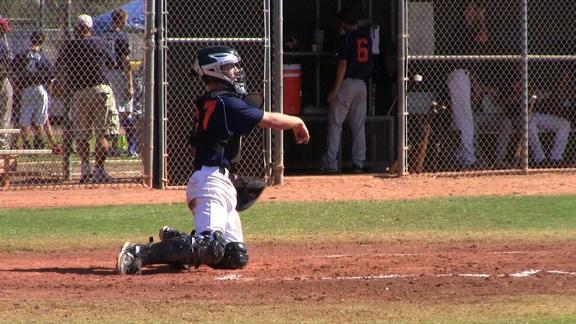 Alex Bregman is one of the better-known catching commodities in the country. Playing primarily in the middle infield his prep career, over the last year Bregman has made the transition to catcher and has thrived. His frame is solid (5-foot-11, 180 pounds) and has a very good arm behind the dish. Of course as with any prep catching prospect, they will always have to work on receiving and blocking. Bregman already has a good natural feel behind the plate.
The one thing that separates Bregman from everyone else is his bat. Not being the biggest and strongest player on his team, he sure swings like it. He has a very mature approach to the plate, a good level swing and has quiet power. He is also a good runner posting 6.8-7.0 seconds in the 60-yard dash.
Bregman is currently committed to play at Louisiana State University.
August, 29, 2011
8/29/11
5:13
PM ET
By
Andrew Drennen
| ESPN.com
Alex Bregman is an infielder out of Albuquerque Academy (Albuquerque, N.M.) and in August played for the Cincinnati Reds in the 2011 Area Code Baseball Games presented by New Balance. His busy summer continued as he traveled to San Diego's Petco Park for the 2011 Perfect Game All-American Game presented by Rawlings.
Bregman is 5-foot-11, 185 pounds and was listed as a shorstop in the Area Code program. He played a little at second during the week and even went behind the plate.
According to a post by Keith Law
, Bregman's future home may be second base.
On thing is for sure he can hit. Many times he was able to square up the ball and drive it.
When we caught up with him at the Area Code Games, what peaked our interest was not necessarily his exploits on the field, but what he did off the field. You see, he was a state champion in Chess and that's what what we wanted to know about.