High-SchoolBoys-Basketball:

Huntington Prep
January, 30, 2012
1/30/12
7:00
AM ET
By
Jason Jordan
| ESPN.com
Rodney Purvis has never been one to rest on his laurels so it's no wonder that when asked what midseason grade he'd give himself, Purvis didn't hesitate to start with what he wanted to improve on.
"As a player you can't think that you're doing everything right," Purvis said. "You should always be looking to improve. That's the only way you'll reach your goals, and mine are high."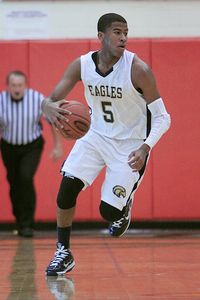 Steve Blake/CKY SportsL.J. Rose is happy with where he's at, but wants to continue to improve.
Purvis isn't alone there.
We asked a handful of players to grade their performances at the midpoint of the high school season. From the top players in the country to players on the come-up, the consensus was that there's room for improvement.
Rodney Purvis
, Upper Room Christian Academy (Raleigh, N.C.), SG, 2012
Signed to: North Carolina State
My midseason grade is…

"Definitely a B+ because there is so much more that I want to improve on. Things like defense, rebounding, talking more and getting a more consistent motor."
L.J. Rose
, Westbury Christian (Houston), PG, 2012
Signed to: Baylor
My midseason grade is…
"Got to say a B because you can always get better. But I feel like I've done a great job of being more of a vocal leader on the court and also been playing pretty well. We are now 20-2 and we are hoping to keep the losses at two and finish out March with a state title."
Rasheed Sulaimon
, Strake Jesuit (Houston), SG, 2012
Signed to: Duke
My midseason grade is…

"B+ because I feel like I've done a really good job of leading my team to a 19-3 record and played well offensively and defensively. I still need to get better, get my teammates better and just get better as a whole."
Shabazz Muhammad
, Bishop Gorman (Las Vegas), SF, 2012
Uncommitted
My midseason grade is…

"B+ because I feel like I've done a good job of leading my team and contributing on the offensive and defensive ends. I do whatever it takes to help my team win."
Xavier Rathan-Mayes
, Huntington Prep (Huntington, W.Va.), SG, 2013
Uncommitted
My midseason grade is…

"A- and the reason for that is I've been playing real well this season putting up big numbers, getting other guys involved and playing good defense. I always take the challenge of guarding the best player on the other team."
Jason Jordan is the basketball editor for ESPNHS. He can be reached at jason.x.jordan.-ND@espn.com. Don't forget to follow him on Twitter: @JayJayESPN.
January, 4, 2012
1/04/12
2:10
PM ET
By
Mark Tennis & Doug Huff
| ESPN.com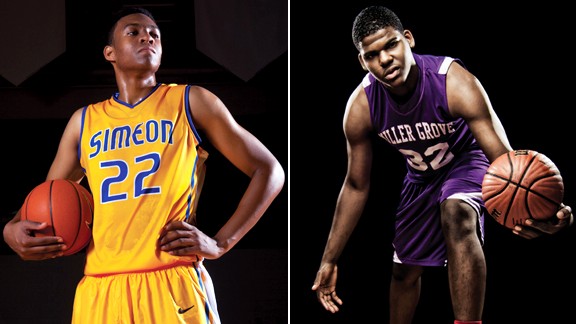 Matt Marcinkowski/Ryan Gibson/ESPNHSNo. 1 Simeon (Chicago) will play No. 34 Miller Grove (Lithonia, Ga.) at the 5th annual Cancer Research Classic Saturday in Wheeling (W. Va.). The 8 p.m. ET game will be televised on ESPN2.
With seven ranked FAB 50 teams in the field, the 5th annual Cancer Research Classic this weekend at Wheeling (W. Va.) Jesuit University could have a major impact on next week's rankings and for the rest of the season
The six-game Saturday showcase at the Alma Grace McDonough Center has five matchups with FAB 50-ranked teams, including two games with both opponents in the FAB 50 -- No. 1 Simeon (Chicago) vs. No. 34 Miller Grove (Lithonia, Ga.) and No. 5 DeMatha (Hyattsville, Md.) vs. No. 18 Neumann-Goretti (Philadelphia).
Pairings for the other ranked teams in the event are: No. 8 Mater Dei (Santa Ana, Calif.) vs. Gill St. Bernard's (Gladstone, N.J.); No. 11 Gonzaga (Washington, D.C.) vs. Whitney Young (Chicago); and No. 50 Paul VI (Fairfax, Va.) vs. St. Raymond (Bronx, N.Y.).
The final two games also will be
televised
and streamed on
Watch ESPN
: Simeon vs. Miller Grove on ESPN2 and Gonzaga vs. Whitney Young on ESPNU.
Here's how possible results could impact the FAB 50:
December, 16, 2011
12/16/11
2:00
AM ET
By
Jason Jordan
| ESPN.com
Related:
High school events moved out of college arenas
A last-second NCAA ruling means that 20 high school teams that were originally scheduled to play at Duke University's historic Cameron Indoor Stadium in Durham, N.C., for the "Clash at Cameron" will instead head to Fayetteville, N.C., to play in the "Clash in Carolina" at Crown Arena Friday.
Saturday's slate of games was canceled due to the last-minute schedule shuffling.
The event was declared non-scholastic and the NCAA does not allow non-scholastic events to take place at Division I college facilities because there's too much of a recruiting advantage.
It's the same NCAA ruling that moved the Bob Gibbons Tournament of Champions, a prestigious AAU tournament that's held Memorial Day weekend, from Cameron Indoor Stadium, UNC's Dean Smith Center and N.C. State's Reynolds Coliseum to high school and rec gyms.
Huntington Prep (Huntington, W.Va.) players' disappointment was twofold; not only will they not be able to play at Duke, they also won't be able to play against Simeon (Chicago), the No. 1 team in the
POWERADE FAB 50
.
Brewster Academy (Wolfeboro, N.H.) also dropped out.
"It's obviously disappointing to our guys to not be playing at Cameron," said Huntington Prep coach
Rob Fulford
, who got rescheduled to play Mt. Zion (Durham, N.C.) Saturday after Simeon dropped out. "This event has been circled on most of our calendars not only for playing at Duke, but playing Simeon, too. Now that neither is happening it's certainly disappointing."
Jason Jordan is the basketball editor for ESPNHS. He can be reached at
jason.x.jordan.-ND@espn.com
. Don't forget to follow him on Twitter:
@JayJayESPN
November, 2, 2011
11/02/11
12:44
AM ET
By
Jason Jordan
| ESPN.com
Matt Jones
is far from rude, but, on this one, his interjection is well-warranted.
Why?
He doesn't have to think about the question. Not even a bit.
Jones knows exactly how to answer it immediately, so when he hears "Where would your career be without the 3-point line?" Jones interrupts very matter-of-factly with "Nowhere."
"The reality is that I've got all of these schools recruiting me because of my ability to shoot the 3," said Jones, a junior shooting guard at DeSoto (DeSoto, Texas) who is mulling over offers from Duke, North Carolina, Texas, Florida, Kansas and Arizona, among others. "So if there's no 3-point line, there may be no Matt Jones. I'd probably be fighting for a low D-II scholarship. I owe the people that brought the 3-point line to the high school game. I owe them big."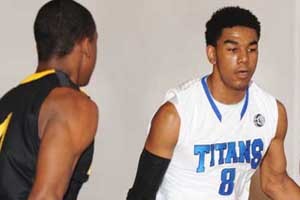 Scott Kurtz/ESPNHSMatt Jones said his ability to shoot the three is what makes him a hot commodity.
Jones' sentiments are shared by thousands of other marksmen around the country who are grateful that in 1987, the National Federation of State High School Athletic Associations adopted the 3-point line. College hoops introduced it the year before.
"The creation of the 3-point line was the most impactful change the high school game has ever seen," said NFHS executive director
Bob Gardner
. "Obviously, high schools don't have the financial resources that colleges do, so we needed that extra year to paint the lines and things like that. We also wanted to see what type of impact it made on the game, and it was bigger than anyone could've ever imagined."
Huntington Prep (Huntington, W.Va.) swingman
Andrew Wiggins
agreed. He said that without a 3-point line, the game would have less excitement.
"I think that would change a lot of the endings of games," said Wiggins, a sophomore who is the top-ranked player in the
ESPNU 25
. "You could be down 12 with one minute to go and hit a 3, and it just does something to your team. It hypes everyone up. Without 3s, so many players would be just average. I mean, where would Ray Allen be without 3s? Shooting guards would be real average."
That's precisely the reason the NFHS decided to implement the arc 24 years ago.
"The high school game was being dominated in the paint," Gardner recalled. "So if you didn't have a tall guy down there, you were at a tremendous disadvantage. The 3-point line was the ultimate equalizer. It really expanded the game for smaller guards."
Big guards, too.
As Sylvan Hills (Little Rock, Ark.) shooting guard
Archie Goodwin
, a 6-foot-5 athlete who is notoriously known for posterizing defenders, pointed out, the 3-point line makes the defense guard the perimeter, thus opening up the lane for breakdown guards.
"If there wasn't a 3-point line they'd just drop back to the free throw line, so you couldn't finish with high-percentage shots," Goodwin said. "It would all be two points, so that would be the smart thing to do defensively. I'm so glad we have an arc because I don't think basketball would have as many dunks and highlights. Having it helps everyone."
That prevailing theme became more real to Jones as the conversation progressed. He paused suddenly, as though he was pending for thought, then revisited his gratitude.
"I'm telling you, man, I owe them a lot for bringing that 3-point line," Jones said. "This line has changed my life. I owe them one or two thanks."
Maybe even three.
Jason Jordan is the basketball editor for ESPNHS. He can be reached at
jason.x.jordan.-ND@espn.com
. Don't forget to follow him on Twitter:
@JayJayESPN
October, 26, 2011
10/26/11
11:17
PM ET
By
Jason Jordan
| ESPN.com
With the offseason in full effect, ballers around the country have begun what is widely regarded as one of the most grueling grind modes of the year as they prepare for the up-and-coming season.
Every week we'll profile an elite player and have them dish on one of their most unorthodox training methods and explain why it's been so beneficial.
Next up?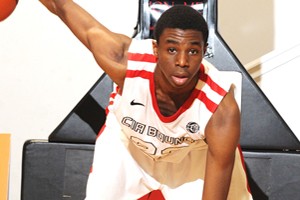 Scott Kurtz/ESPNHSAndrew Wiggins said repetition is key when it comes to making and creating shots.
Huntington Prep (Huntington, W.Va.) swingman
Andrew Wiggins
, the No. 1 player in the
ESPNU 25
.
The Drill
: Double-crossover pull-up jumpers
The Rundown
: "Well, I start at the halfcourt line and do one in-and-out cross then I cross it back over to the opposite direction. After that I take a few more speed dribbles toward the goal and stop and pull up for a mid range jump shot. I do that for about 10 minutes.
I don't really take a count of my makes because it's more about the repetition of it all. I definitely make most of the shots though."
The Benefit
: "This drill really helps with your repetition. When you're shooting and trying to create your own shot it's so important to get in a routine of doing the right things.
You never want to change your shot. So it kinda gets you in the mindset of doing the right things at all times."
Jason Jordan is the basketball editor for ESPNHS. He can be reached at
jason.x.jordan.-ND@espn.com
. Don't forget to follow him on Twitter:
@JayJayESPN
October, 19, 2011
10/19/11
5:00
AM ET
By
Ronnie Flores
| ESPN.com
RELATED: Simeon Is Preseason No. 1
1. Will programs designed to excel at basketball be forced to play only against each other?

No, not as long as the National Federation of State High School Associations (NFHS) defers to state associations with regards to restrictions to whom member schools can play. Some state associations allow their teams to play programs such as Huntington Prep (Huntington, W. Va.) or Findlay Prep (Henderson, Nev.) and others do not. These non-members follow the rules of the association in their home state to varying degrees. We say programs and not schools because the players at Findlay Prep and Huntington Prep attend other secondary schools; the one on their jerseys do not exist. If the National Federation doesn't take a stand or strongly suggest state association members not to play these programs, they will continue to be relevant and that's fine with us as ratings compilers. Our job is to enforce general guidelines for ranked teams to follow to ensure a level playing field, have as much accurate info about as many teams as possible and use the result of games as the basis for our rankings. It's not our job to pass judgment about who should be allowed to compete against whom.
2. What kind of impact will the NBA lockout have on the high school game?

Lost in the hoopla around the sticking points of revenue allotment between owners and players and the length of player contracts is the 19-year old age rule that was administered the last time the NBPA negotiated the collective bargaining agreement (CBA) in 2005. The rule could be abolished, but it's not the focus in this work stoppage. While the country waits for both parties to come to their senses, general fans looking for their hoop fix might turn to the college and high school game, a huge plus for teenagers who love the game.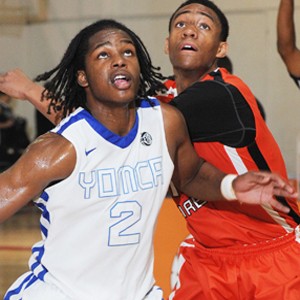 Scott Kurtz/ESPNHSShaq Goodwin and other senior Mr. Basketball USA candidates will get strong competition from junior Jabari Parker for the coveted honor.
3. Which ranked teams have the most pressure to live up to lofty expectations?

The two teams located on opposite ends of the desert oasis known as Las Vegas -- Bishop Gorman and Findlay Prep. The Bishop Gorman coaching staff felt its team should have won last season's Class 4A state title even with the nation's No. 1 recruit, Shabazz Muhammad, nursing a bothersome ankle in the state semifinals. The Gaels lost that game by a point and what made that result even more shocking is the team that upset them, Bishop Manogue of Reno, lost in the final by 35 points. In a recent fall showcase, Gorman took on Findlay Prep, minus Muhammad, and even with "ringer" Katin Reinhardt of Mater Dei (Santa Ana, Calif.) in the lineup, the Pilots led early by more than 20 points. Findlay Prep probably has its most talented roster since 2008-09 when it finished No. 1 in the FAB 50, but the Pilots have to prove they can survive a murderous schedule and not have letdowns similar to the ones they've had the previous two seasons.
4. Can an underclassman win ESPNHS Mr. Basketball USA honors?

Yes, there is a solid chance it could happen for the first time since LeBron James earned the honor after his junior season at St. Vincent-St. Mary (Akron, Ohio) in 2001-02. Some high school experts feel juniors Nerlens Noel of The Tilton School (Tilton, N.H.), Julius Randle of Prestonwood Christian Academy (Plano, Texas) and Jabari Parker of Simeon (Chicago, Ill.) are the best prospects in high school basketball, regardless of class. Noel's candidacy is somewhat hindered by playing at a school that allows post-graduates while opinion varies on Randle. Some recruiting experts feel Randle is a once-in-a-decade type player, while others feel he has a lot of work to do on his perimeter game. Either way, he'll have to elevate the play of his teammates to have a chance and that's where Parker might have the edge. His Simeon team plays a tough enough schedule to put him in great position for a historic season.
5. Does the summer have an impact on team rankings?

Yes it does. When most think of the summer scene they think of endless games, long travel days and earning -- or losing -- college scholarships. But the summer is also an aid in team evaluations, although the top players on many POWERADE FAB 50 teams don't play together. It's the improvements shown by lesser-known players that are key, or team success among a group of players from the same high school. For instance, DeMatha (Hyattsville, Md.) was an inconsistent team last year but came on strong towards the end of the season. The Stags' top three returnees -- CG James Robinson, WF Jerami Grant and PF BeeJay Anya -- had a standout summer with Team Takeover and that bumped up the team a few spots in the preseason rankings.
Ronnie Flores is a senior editor for ESPNHS. He can be reached at
ronnie.flores@espn.com
. Don't forget to follow him on Twitter:
@RonFloresESPN