High-SchoolBoys-Basketball:

Montverde Academy
May, 2, 2012
5/02/12
11:48
AM ET
By
Ronnie Flores
| ESPN.com
Aaron Gordon
, a 6-foot-8 forward from Archbishop Mitty (San Jose, Calif.) and a third team
ESPNHS All-American
this past season, will be off the AAU circuit indefinitely because of a broken bone in his foot.
On April 24, Gordon told KOB, a television station in New Mexico, that he has a slight fracture in his toe. On May 1, his mother Shelly Davis Gordon told ESPNHS a recent MRI confirmed what the family already knew about the fracture.
"He has a fracture at the base of his toe that he played on for several months," Shelly said. "We really won't know if it will heal with time or if it has to be repaired until later this week after a CT scan. Right now, it's unclear how long he'll be out."
The No. 3 prospect in the
ESPN 60
, Gordon averaged 22.9 points, 12.8 rebounds, 2.6 assists and 2.3 blocks for the CIF Division II state champs in 2011-12 and was the first junior in 12 years to be named state player of the year by
Cal-Hi Sports
.
Hatch plans return to court
Austin Hatch
, a Canterbury (Fort Wayne, Ind.) junior who
survived a plane crash last summer
, says he still
plans to play for the Michigan Wolverines in 2013
.
Hatch's tragic story made national news in June, when a plane piloted by his father crashed while trying to make an emergency landing. Hatch's father and stepmother died in the accident, and Hatch suffered near-fatal injuries to his brain, lungs and ribs. Hatch had committed to Michigan just two weeks earlier, and Wolverines coach John Beilein will honor the scholarship.
Incredibly, it was the second plane crash Hatch has survived; in 2003, he lost his biological mother, a sister and a brother in a similar accident, which he and his father survived. Hatch is now out of the hospital, and though he hasn't played basketball and remains unsure if he'll ever regain his form, he says he's fully committed to playing for Michigan in 2013. As a sophomore, the 6-foot-6 forward hit 45 percent of his 3-point attempts.
Don't call it a comeback
After sitting out the 2011-12 season, center
Dakari Johnson
of Montverde Academy (Montverde, Fla.) is having an excellent spring so far playing for E1T1 Elite.
One of the country's few true elite pivot players is in excellent shape and has led E1T1 to a 8-1 record through two sessions of the
Nike EYBL
. Through nine games, Johnson is averaging 16.7 points and 8.6 rebounds, which is second to
Julius Randle
(9.4) of the Team Texas Titians among all EYBL participants.
The New York City native was the ESPNHS
National Freshman of the Year
in 2010-11 at St. Patrick (Elizabeth, N.Y.) before sitting out his sophomore season because of transfer rules.
Other talented prospects who college coaches and fans are eager to catch on the circuit because they missed all or portions of the 2011-12 season with injury include forward
Thomas Hamilton Jr.
of Whitney Young (Chicago, Ill.), the No. 42 prospect in the ESPN 60, and guard
Bronson Koenig
of Aquinas (La Crosse, Wis.).
Sophomore guard
James Blackmon Jr.
of Bishop Luers (Fort Wayne, Ind.) will likely miss the entire summer after tearing his ACL in early February.
Ennis the menace
Some questioned
Tyler Ennis
' selection as
Gatorade State Player of the Year
in New Jersey over
Kyle Anderson
, but the junior guard is silencing many of his critics with his play at the Nike EYBL. The 6-foot-2 Ontario native and St. Benedict's (Newark, N.J.) standout has paced CIA Bounce to a 9-0 mark at the prestigious event.
Ennis tallied a game-high 20 points to spur Bounce to a 69-55 win over the NJ Playaz during the second session in Hampton, Va. He went 8-of-15 from the field and added six boards in the victory. Ennis added 12 points and six dimes in a win over Mokan Elite and flirted with a triple double as Bounce routed The Family by 27.
David Auguste and Mike Grimala contributed to this report.
Ronnie Flores is a senior editor for ESPNHS. He can be reached at ronnie.flores@espn.com. Don't forget to follow him on Twitter: @RonFloresESPN
March, 31, 2012
3/31/12
6:05
PM ET
By
Ronnie Flores
| ESPN.com
BETHESDA, Md. -- It was a special moment for tournament MVP
Anthony Bennett
of Findlay Prep (Henderson, Nev.). Not many of the national television audience realize the No. 7 player in the
ESPNU 100
played only 10 games for the Pilots heading into the NHSI and missed the majority of their big wins this season.
With all the setbacks Bennett has endured over the past two seasons, he was relieved to finally lead Findlay Prep to an NHSI title by averaging 15.7 points and 8.7 rebounds in the Pilots' three victories here.
As a sophomore, he was a member of the Mountain State Academy (Beckley, W.Va.) team that lost to Findlay Prep 68-53 in the semifinals. He scored 10 points in 22 minutes in that loss and netted 12 points in 29 minutes for Findlay Prep in its quarterfinal loss to Dwyer (Pompano Beach, Fla.) last season.
"This is the farthest I came in this tournament," said Bennett, one of five Pilots in double figures with 13 points to go with a game-high 9 rebounds in the championship-game comeback win over Montverde Academy (Montverde, Fla.).
"Coming in, I really wanted to win it this year," Bennett said.
The unsigned Bennett, who lists Washington, Oregon, UNLV, Kentucky and Florida as his college finalists, missed nearly half of his junior season at Findlay. His back injury flared up again at the beginning of this season. His hamstring injury lingered all season long and he was relieved to be healthy for the NHSI.
He's crossing his fingers about next season.
"Hopefully that doesn't happen in college," Bennett said. "Hopefully my college trainer will take care of me."
Now The Fun Part
The final
POWERADE FAB 50
national rankings, which will be released on April 2, will have some shuffling based on the results of this year's NHSI. With No. 12 Montverde Academy giving up an 18-point lead and losing to No. 2 Findlay Prep, there will be a spirited No. 1 versus No. 2 rankings debate between No. 1 Oak Hill Academy (Mouth of Wilson, Va.) and the Pilots.
The big question is if one-loss Findlay has done enough to overcome 44-0 Oak Hill. On paper, the Pilots have a strong enough résumé to be ranked No. 1 in the country.
They own wins over No. 5 Marcus (Flower Mound, Texas), No. 6 Simeon (Chicago) and No. 11 Bishop Gorman (Las Vegas). For the past few seasons, most of those big wins came on the road and this season was no exception.
Ironically, this game had the same feel as Findlay's only loss this season -- a one-point setback to No. 23 La Lumiere (La Porte, Ind.) on Dec. 29 at the Mike Miller Classic in Sioux Falls, S.D. The Pilots trailed in that game by the same margin as they did to Montverde, but the difference was at the NHSI they were able to complete the comeback win.
"At halftime, I told the guys 'Here we go again, December 29, La Lumiere,'" Findlay Prep coach Michael Peck said. "I pulled out all the different motivation factors. At first I really got into them, then I tried to be calm and use logic."
Peck's tactics worked against Montverde, but the La Lumiere loss is still a part of the equation when it comes to the final FAB 50 rankings. Another key part of the equation is the common opponent factor, which has always been an important aspect of the FAB 50. Oak Hill Academy defeated the same La Lumiere team by 18 points and owns five wins over opponents currently ranked in the FAB 50.
Another smaller factor which will be used in the final analysis is the fact La Lumiere lost in the quarterfinals of the NHSI to Montverde. The Lakers didn't look overly impressive in the 62-54 defeat. Findlay has to be thrilled about its comeback win over Montverde, but had La Lumiere advanced to the NHSI finals, an avenging win would have been sweeter from a rankings perspective.
No Oak Hill, No Problem
After knocking off No. 12 Montverde in the NHSI title game, the popular question for No. 2 Findlay was whether the win meant as much despite not coming against No. 1 Oak Hill Academy.
The Warriors opted not to compete in the NHSI for the first time since its inception in 2009. Oak Hill, which finished the season 44-0, traveled to China from March 7 to 19 to play nine games against international competition. The Warriors went on spring break when they got back, according to coach Steve Smith.
Findlay finished 32-1.
"All we could control was playing these games and winning these games,"
Nigel Williams-Goss
said. "Whatever happens on Monday with the rankings happens. We're just happy about this win."
Added Peck: "That's something we can't control. All we could do is control us. Steve [Smith] has his reasons and that's his decision. We were focused on us."
2012 ESPNHS NHSI All-Tournament
Anthony Bennett
, Findlay Prep (MVP)
Brandon Ashley
, Findlay Prep
Kasey Hill
, Montverde Academy
Michael Carrera
, Montrose Christian
Melvin Johnson
, St. Benedict's
Jason Jordan contributed to this report.
March, 31, 2012
3/31/12
5:28
PM ET
By
Jason Jordan
| ESPN.com
BETHESDA, Md. --
Anthony Bennett
knew it all along.
While everyone else had written him and top-seeded Findlay Prep (Henderson, Nev.) off after falling behind by as many as 18 points late in the second half to No. 3 seed Montverde Academy (Montverde, Fla.) in the ESPNHS National High School Invitational title game, Bennett knew it was only a matter of time before the Pilots turned the tables.
With 1.2 seconds left in overtime, Bennett tipped Eagles forward
Patricio Garino's
inbounds pass out of bounds, clapped his hands together and yelled to the stands, "We ain't losing fam! We ain't losing!"
Bennett was right.
Findlay (32-1) managed an improbable comeback late in the fourth quarter to force overtime and eventually steal an 86-83 win over the Eagles (23-3) to claim the ESPNHS NHSI title Saturday at Georgetown Prep, in a game that was nationally televised on ESPN.
It was the Pilots' third ESPNHS NHSI title in four years. Findlay, which is ranked No. 2 in the
POWERADE FAB 50
, won back to back in 2009 and 2010.
Brandon Ashley
led the Pilots with 31 points, while
Nigel Williams-Goss
added 17 and Bennett, the tournament's MVP, chipped in with 13 points and eight rebounds.
Kasey Hill
led Montverde with 23 points and six assists.
"I pulled out everything motivational that I could," Findlay coach Michael Peck said. "I tried everything, but at some point their switch went on and they got it done. It was all them. It was all them."
Added Ashley: "This was the best way to go out. We fought hard and we got it done. We never got down or hung our heads. We always believed in ourselves and we got it done, man. We got it done."
In the first half it was the Eagles who were getting it done, dominating Findlay in all aspects and claiming a 38-29 lead. Findlay's big four -- Bennett, Ashley,
Dominic Artis
and
Winston Shepard
-- combined to shoot just 5-of-17 in the first half.
The Eagles continued to pour it on in the third quarter, beating the Pilots to loose balls, owning the offensive glass and beating them in transition.
Michael Frazier
made Findlay pay for switching to a 2-3 zone, draining three of the Eagles' four third-quarter 3s to extend the Eagles' lead to 54-39 headed into the fourth.
That's when Ashley came alive.
He scored 15 points in the fourth quarter, overpowering Montverde's frontcourt in the paint. Ashley drained two free throws with 20.5 seconds left in regulation to tie the game and send it to overtime.
"Brandon Ashley put the cape on," Peck said. "He was the Brandon he was supposed to be."
Montverde coach Kevin Boyle pointed out the fact that the Pilots lived at the free throw line late in the game. The Pilots made 24 of 27 free throws in the second half.
"They got a lot of calls and they were living on the line," Boyle said. "So that means they're scoring without the clock moving. They fought hard, but I thought they got a lot of whistles, too."
Late in overtime, Williams-Goss hit a floater to give the Pilots an 84-83 lead, then Shepard corralled a miss from Hill, got fouled and made both free throws to secure the win.
"This was pretty fun," Ashley said. "It's been a lot this week with [the]
McDonald's All-American Game
and this tournament, but we got it done. This was the best way to go out. Better than I ever imagined it."
March, 30, 2012
3/30/12
6:20
PM ET
By
Jason Jordan
| ESPN.com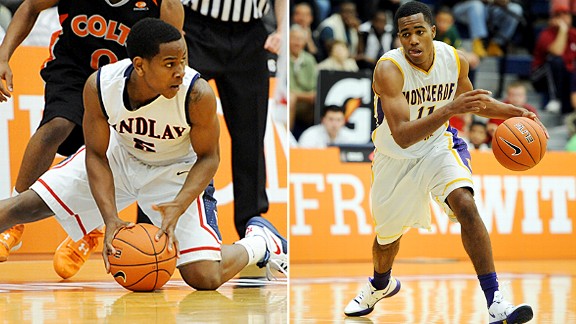 Joe Faraoni/ESPN ImagesMontverde coach Kevin Boyle said he wants Kasey Hill, right, to play "more cocky" and sees an NHSI matchup with Findlay point guard Dominic Artis as the perfect opportunity to up his on-court swag.
BETHESDA, Md. -- Montverde Academy (Montverde, Fla.) coach Kevin Boyle likes his point guards to have a certain pizzazz.
After 23 years at St. Patrick (Elizabeth, N.J.), Boyle became accustomed to guards like
Kyrie Irving
, Shaheen Holloway and
Dexter Strickland
, who were so dominant it was hard not to have an on-court swagger about them.
That's where he wants his current floor general,
Kasey Hill
, to get mentally.
"This kid's so humble and nice," Boyle said of Hill. "I almost want him to be a little cocky on the court. That's something that he's developing now so I like for him to play in games or against guys that help with that."
Hill will get a key opportunity to build that bravado when he and the No. 3-seed Eagles face No. 1 seed Findlay Prep (Henderson, Nev.) and dynamic point guard
Dominic Artis
Saturday (2 p.m. ET on ESPN) in the ESPNHS National High School Invitational boys' title game.
Findlay, which is ranked No. 2 in the
POWERADE FAB 50
, is going for its third NHSI title (2009, 2010) in four years. The Pilots beat Montverde, which is ranked No. 12, 59-46 to claim the title in 2010.
"I'm looking forward to matching up against Dominic, for sure," Hill said. "I don't know if that'll make me more cocky. I'm just not that kind of player, but it'd definitely give me even more confidence playing well against a big-time player like that."
Artis, a senior who is signed to Oregon, is the No. 8 point guard in the
ESPNU 100
. Boyle referred to him as "Findlay's head."
"If you can cut off the head then you've got a real shot, you know," Boyle said. "Kasey's a great defender and he'll have his hands full with Dominic, but Kasey's more than capable of being a lockdown defender against anyone."
Hill certainly proved that in the
semifinal win over Montrose Christian
(Rockville, Md.), last year's NHSI champ. He held Mustangs star forward
Justin Anderson
, a senior who is signed to Virginia, to just one field goal and three points.
"I really try and go hard on defense," said Hill, a junior who is the No. 3 point guard in the
ESPNU 60
. "Some guys rest on defense, but I go hard on both ends. I'll definitely do that tomorrow against Dominic."
Despite Boyle's hope for Hill to use the matchup with Artis as a way to build a court-conceited mentality, Artis was quick to point out that, "I'm not the guy people make a name off of."
"But either way, Kasey's a great player," Artis said. "He's gonna be tough to stop, but we'll do it together as a team. That's the best way to stop a player like him."
Through two games Hill is averaging 19.5 points and 6.5 assists. Artis is averaging 13 points, 3.5 assists and 3.5 steals.
Findlay coach Mike Peck coached Hill at the freshman All-American Camp in Lexington, Ky., back in 2010 and said that Hill reminded him of a young
Rod Strickland
, the former All-NBA point guard who averaged 13.2 points and 7.3 assists over 17 years.
"He's shifty and he's got a great feel for the game," Peck said of Hill. "One thing he's gotten a lot better at is his ability to shoot it. Obviously he's having a great tournament here, so he'll be a handful, there's no question."
Peck said that the Pilots would employ the same "elbow block" defensive scheme on Hill that they used against Irving in 2010 when they beat St. Patrick 71-70 at the Hoophall Classic.
"Basically any time Kasey has the ball, the strong-side elbow or block needs to be occupied," Peck said. "That way if he gets by his man, which he's good at, the help is right there. Sometimes that will discourage a guy from challenging that first line of defense."
Artis doesn't anticipate Hill being discouraged by any defensive scheme the Pilots throw his way.
"I know how great point guards think, and I know that whatever another team tries to throw at me won't matter," said Artis. "I'm still gonna do my thing. That's my mentality, and I know that Kasey probably thinks that same way."
Good guess.
Hill initially downplayed the matchup against Artis, but later admitted that a strong showing against him and the Pilots would "be a win for everyone."
"Of course I can't wait to play against a guy like Dominic," Hill said. "We're both competitive, and I know we'll both bring it. I want to play well because it will help my team win a national championship. That's what's most important. I know that everything else that comes with that will be a good opportunity for me, too."
Jason Jordan is the basketball editor for ESPNHS. He can be reached at
jason.x.jordan.-ND@espn.com
. Don't forget to follow him on Twitter:
@JayJayESPN
.
March, 29, 2012
3/29/12
5:19
PM ET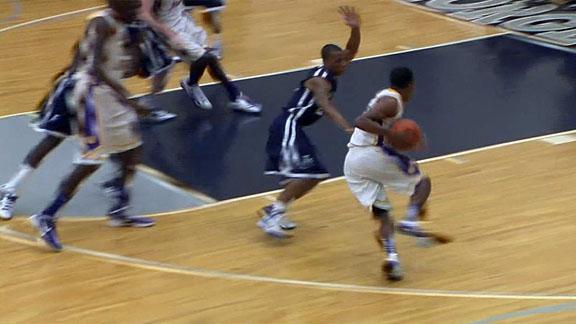 BETHESDA, Md. -- Instant analysis from No. 3 seed Montverde Academy's (Montverde, Fla.) 62-54 win over No. 5 La Lumiere (La Porte, Ind.) in the quarterfinals of the National High School Invitational at Georgetown Prep Thursday:
Overview:
If you like defense, this was the game for you. Montverde Academy used a pressure, trapping D to force La Lumiere into 19 turnovers en route to a 62-54 win in the opening game of the ESPNHS National High School Invitational.
Montverde, No. 12 in the
POWERADE FAB 50
, didn't need much offense to win this one, but most of the Eagles' scoring came from the backcourt of senior
Michael Frazier
and junior
Kasey Hill
. The duo combined for 35 points and consistently came up with big plays whenever La Lumiere threatened.
On the other end, Montverde's defensive performance was staggering. The Eagles held La Lumiere to 32.3 percent shooting from the field and totally shut down the Lakers' top offensive players. La Lumiere scored just six points in the first quarter and never recovered.
Turning Point:
La Lumiere came into the NHSI ranked No. 23 in the POWERADE FAB 50 thanks in large part to the frontcourt of senior forwards
Rapheal Davis
,
Hanner Perea
and
Jay Simpson
. But that trio was almost completely neutralized by Montverde, combining for just 35 points (on 32 shots). Davis and Perea averaged 36.5 combined during the regular season.
Montverde senior forwards
Michel Enanga
,
Landry Nnoko
and
Patricio Garino
were dominant on defense. Enanga grabbed 15 rebounds, Nnoko blocked three shots and Garino played solid man-to-man defense on Davis. They set the tone from the opening tip and La Lumiere was never able to effectively run its offense.
"That was absolutely the difference in the game — they took us out of everything we wanted to do," said La Lumiere coach Alan Huss. "Nnoko is the key to the whole thing. He's back there protecting the rim, and even when we were able to beat the press we had trouble finishing."
Key Players:
Florida Gators fans are probably still numb after their loss in the Elite 8, but the performances of Florida recruits Michael Frazier and Kasey Hill must have made them feel a bit better. Hill, a junior point guard, scored a game-high 19 points, while Frazier, a senior shooting guard, tallied 15.
Hill shot just 6-of-21 from the floor, but he put in work at the free-throw line, hitting seven of his eight attempts. Frazier shot 5-of-14 from the field and added seven rebounds while playing tough defense.
"I just tried to play hard," said Frazier. "My shot wasn't falling, so I tried to contribute in other ways."
Key Stat:
Montverde Academy coach Kevin Boyle recognized that La Lumiere was lacking in quality ball-handlers, so he applied a pressure defense from the opening tip. The result was 19 turnovers for La Lumiere, which led to 15 points for MVA.
"Whenever they got close, we were able to force a couple turnovers and get easy baskets," said Boyle."
Up Next:
Montverde Academy will take on the winner of the Ravenscroft-Montrose Christian game. Boyle is hoping for a better performance from Frazier, who was unable to practice for more than three weeks before Thursday's game because of an illness.
"He missed some shots that he normally makes," said Boyle of his leading scorer. "If he makes those, this is a completely different game. Hopefully he knocked the rust off and we get his normal results tomorrow."
March, 22, 2012
3/22/12
12:00
PM ET
By
Mark Tennis
| ESPN.com
Team:
No. 3 seed Montverde Academy (Montverde, Fla.)
Record, FAB 50 Rank:
21-3, No. 12 (No. 2 in the Southeast)
Head Coach:
Kevin Boyle (1st year at school; spent previous 23 years at St. Patrick of Elizabeth, N.J., where he won more than 400 games and coached many top players, including 2011 NBA No. 1 draft pick Kyrie Irving)
Key Players:
Michael Frazier
A transfer from Plant (Tampa, Fla.), the 6-foot-3 shooting guard leads the team in scoring and is a leading contender to be Mr. Basketball in Florida. An ESPNHS Second Team Underclass All-American last season, Frazier is rated the No. 3 prospect in the state of Florida by
RecruitingNation
and has signed with the University of Florida. Frazier was MVP of the Montverde Academy Invitational Tournament in January. He scored 16 points in the team's 49-40 triumph over
POWERADE FAB 50
ranked Orlando Christian Prep (Orlando, Fla.) in the title game. In the team's loss to Memphis Ridgeway (Memphis, Tenn.), Frazier went for 27 points, so they'll look to him for a big scoring night against a tough La Lumiere (LaPorte, Ind.) team.
Kasey Hill
He's regarded as one of the elite point guards in the nation among juniors. The 6-foot-1 floor general is No. 18 in the
ESPNU 60
and has committed to Florida, where he figures to join current teammate Michael Frazier on the roster for the Gators' 2013-14 season. Hill was MVP last summer at the Adidas Invitational Basketball Tournament in Indianapolis after he led the Florida Rams AAU squad to the championship. Hill began his prep career at Mount Dora Bible (Eustis, Fla.) and was a highly-regarded by Kevin Sutton, Montverde Academy's former coach. Hill had been a ESPNHS Underclass All-American the past two seasons.
Anthony "J.P." Cortesia
The No. 64 player in the
ESPNU 100
was one of the Eagles' most versatile talents from the first game of the season through the Montverde Academy tourney. The 6-foot-8 power forward will play next at Ole Miss. A native of Venezuela, Cortesia is not known for being a physical player, but with La Lumiere's towering size, he's going to have to battle down low and come up with key rebounds.
Note:
Six-foot-10 sophomore
Dakari Johnson
, who followed coach Kevin Boyle to Montverde from St. Patrick of New Jersey and was the 2011 ESPNHS National Freshman of the Year, had to sit out this season due to the transfer.
Road to NHSI:
There's little doubt the Eagles were the best team in Florida this season, regardless of school classification. They played a number of top teams in the state and when the Florida High School Athletic Association state playoffs were complete, Montverde had wins over the following champions: Hialeah Gardens (8A), Ely (7A), Lake Wales (5A) and Orlando Christian Prep (2A).
They did lose an in-state game to Hagerty of Oviedo, but were not at full strength at the time. The squad's only other losses were to Ridgeway of Memphis and Grace Prep (Arlington, Texas). Both of those teams were top 15 ranked in the FAB 50 at the time and Grace Prep went on to win a state title of its own.
Even with those two losses, Montverde Academy had an 8-2 record against FAB 50-ranked teams and in its 24 games they outscored the competition by an average of 16.3 points.
Inside Scoop:
Boyle may not have coached in the NHSI before but has been around big-time basketball for many years. At St. Patrick, he coached Kyrie Irving of the Cleveland Cavaliers and 2010-2011
Mr. Basketball USA
Michael Kidd-Gilchrist, currently starring at Kentucky. Boyle also will be coaching the USA team on April 7 at the Nike Hoop Summit in Portland, Ore.
Perhaps Boyle's biggest challenge is getting players ready to face a quality first-round opponent in the NHSI like La Lumiere without having been in a game since Feb. 4.
March, 21, 2012
3/21/12
2:01
PM ET
By
Ronnie Flores
| ESPN.com
ESPNHS has announced the
seedings
for the eight boys' teams that will compete in the fourth annual ESPNHS National High School Invitational.
The year's event, which features six
POWERADE FAB 50
-ranked teams, will be March 29-31 at Georgetown Prep in Bethesda, Md. The championship game is set for 2 p.m. ET March 31 on ESPN.
As expected, two-time NHSI champion
Findlay Prep
(Henderson, Nev.) was awarded the top seed and will face No. 8 seed
Coolidge
(Washington, D.C.) March 29. Coolidge (29-7) will have its hands full with the No. 2 team in the country. In three years, only Montrose Christian (Rockville, Md.) has played the top seed in the No. 1 versus No. 8 game down to the wire, and that came in 2010 when Montrose lost to Montverde Academy (Montverde, Fla.) by two points.
This year, FAB 50 No. 9
Montrose Christian
(20-2) snagged the second seed and opens the tournament with seventh-seeded
Ravenscroft
(Ravenscroft, N.C.). The North Carolina Independent Schools Athletic Association Class 3A champions come in with a 31-3 mark, but they didn't venture too far from home this season and are decided underdogs against the defending NHSI champions.
Returning from last year's championship team is emotional leader
Justin Anderson
, a Virginia recruit, and
Michael Carrera
, who averaged a record 12.7 rebounds in Montrose Christian's three victories. Stu Vetter's club has to show its backcourt is capable without reigning tourney MVP Tyrone Johnson (now at Villanova), but Ravenscroft has even more to prove. The last two years, the NCISAA entrant has been routed in its opener.
After missing last year's event because of key early season losses, No. 12
Montverde Academy
is back in the fold as the third seed. Kevin Sutton coached the team in 2010 when they advanced to the finals, but this year the 21-3 Mustangs have a new coach in Kevin Boyle. He turned
St. Patrick (Elizabeth, N.J.)
into a national power but his program never had the opportunity to compete at the NHSI.
Boyle now gets the opportunity against No. 6 seed
La Lumiere
(La Porte, Ind.), a newcomer on the national scene with a big and talented roster. Montverde not only faces the challenge of a hungry 25-2 team ranked No. 23, they also face the challenge of idle time. Montverde had not played another high school since Feb. 4.
One team that certainly won't have any problems with idle time is fourth seed
St. Benedict's
(Newark, N.J.), which competed in the prestigious Alhambra Catholic Invitational last weekend. Gray Bees lost only their second game of the season (33-2) to eventual tournament champion DeMatha Catholic (Hyattsville, Md.) in the semifinals.
Had St. Benedict's won that tournament without its point guard (Tyler Ennis) and sixth man (Jordan Forehand), there's a strong possibility they would have been seeded second. They only dropped five spots in the FAB 50 to No. 15 (two spots behind DeMatha) and will open the NHSI against fifth-seeded
Ely
(Pompano Beach, Fla.), the FHSAA Class 7A state champ ranked No. 16. If Ennis and Forehand are not healthy for St. Benedict's, they could have trouble stopping the backcourt of Ely, which has proven its scoring ability in big games this season.
If St. Benedict's situation is any indication, this could be the most balanced NHSI field yet. Findlay Prep wants another crack at La Lumiere to avenge its only loss, but in order for that to occur both teams have to advance to the championship game. If history is any indication, La Lumiere might have a good shot at the semifinals (where defending champion Montrose Christian could be waiting) since the No. 6 seed has won in the opening round the past two years.
"You play 30 games for a seeding, but when the ball goes up, everyone is 0-0," said Findlay Prep coach Michael Peck. "We're blessed to be able to participate, as these games give the competing teams some closure."
Ronnie Flores is a senior editor for ESPNHS. He can be reached at
ronnie.flores@espn.com
. Don't forget to follow him on Twitter:
@RonFloresESPN
March, 8, 2012
3/08/12
9:00
AM ET
By
Ronnie Flores
| ESPN.com
The fourth annual ESPNHS National High School Invitational, set for March 29-31 at Georgetown Prep (Bethesda, Md.), is highlighted by the return of previous champions among the eight-team boys' field.
Findlay Prep
(Henderson, Nev.), which won the inaugural event in 2009 and repeated as champions in 2010, is a slight favorite to win this year's NHSI title. The No. 2 ranked team in the
POWERADE FAB 50
is not a prohibitive favorite because the field of talented teams -- including No. 10
St. Benedict's Prep
(Newark, N.J.), and No. 11 and defending NHSI champion
Montrose Christian
(Rockville, Md.) -- includes the only team to beat the Pilots this season.
That team is No. 25
La Lumiere
(La Porte, Ind.), which made national headlines in late December by defeating Findlay Prep 67-66 at the Mike Miller Invitational in South Dakota. The Lakers jumped on the Pilots early and went up 18 points before holding on at the end. This will be the first opportunity for La Lumiere to play on national television and show the country the win over Findlay Prep was no fluke.
"I think we feel like we got something to prove," La Lumiere coach Allan Huss said. "What you'll see is a hungry group. We might be a little sloppy right off the bat from the layoff, but we have some guys who, individually, think they don't get the recognition they deserve."
Since many of the participating teams don't compete for state championships, there will be sizable layoffs before quarterfinal play begins on March 29 at 2 p.m. ET (ESPNU). For instance, No. 14
Montverde Academy
(Montverde, Fla.), the 2010 NHSI runner-up, concluded its regular season on Feb. 4.
The one team that might have an advantage in this area is St. Benedict's Prep, which will compete against a tough field at the Alhambra Catholic Invitational in Frostburg, Md., March 15-17. That tournament should be a good test for the level of competition the Gray Bees could face should they advance past the first round. If they lose at Alhambra, it will likely affect the seedings for this year's NHSI, which will be announced the week of March 19.
No. 16
Ely
(Pompano Beach, Fla.) will be a dangerous public school entrant and could be a dark horse to win it all, if last year is any indication. At the 2011 NHSI, Florida Class 5A state champ Dwyer (Palm Beach Gardens, Fla.) upset Findlay Prep in the first round as a No. 6 seed behind a memorable performance by
Jacoby Brissett
, currently the starting quarterback at Florida. Ely is currently ranked in the same spot as Dwyer was entering last year's tournament and the Class 7A state champ Tigers will enter the NHSI battle-tested. Led by forward
Clide Geffrard
, Ely's only two losses are to No. 13 Bishop Gorman (Las Vegas) and Montverde Academy.
Rounding out the field is North Carolina Independent Schools Athletic Association Class 3A champion
Ravenscroft
and District of Columbia Interscholastic Athletic Association champion
Coolidge
(Washington, D.C.). Coolidge will take on No. 9 Paul VI (Fairfax, Va.) for the city title on March 20. Win or lose, you can't count them out against this NHSI field. After all, they did hand Montrose Christian one of its two regular season losses.
Regardless of how the brackets play out, this year's NHSI has a tough act to follow. In last year's championship game, Montrose Christian defeated Oak Hill Academy (Mouth of Wilson, Va.) in double overtime 71-64.
"It's always good to get another chance to repeat," said Montrose Christian's
Justin Anderson
, whose last second 3-pointer sent last year's title game into a second overtime. "It's not the same team we had last year, so I want to put our heads together and lead my team to another title."
Ronnie Flores is a senior editor for ESPNHS. He can be reached at
ronnie.flores@espn.com
. Don't forget to follow him on Twitter:
@RonFloresESPN