High-SchoolBoys-Basketball:

Nevada high school basketball
January, 20, 2012
1/20/12
10:06
AM ET
By
Ronnie Flores
| ESPN.com
Being the younger brother of the No. 1 recruit in the nation and playing on the same basketball team isn't always easy, but it helps to have a coach who is in a similar predicament.
It happened last year in the middle of a heavyweight bout at Las Vegas' Cox Pavilion between high school basketball powers Bishop Gorman (Las Vegas) and Findlay Prep (Henderson, Nev.). Midway through the third quarter of Findlay's dramatic double-overtime win,
Shabazz Muhammad's
instincts as an older brother, rather than teammate, took over.
An out-of-bounds play under the basket was designed for Muhammad to receive a back pick from a teammate, roll to his strong side and receive the ball for a close-range shot or possibly a lob near the front of the rim. Gorman's screener coming from the opposite baseline was
Rashad Muhammad
, Shabazz's younger brother.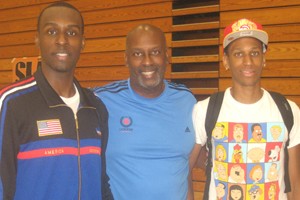 Ronnie Flores/ESPNHSRon Holmes, the father of No. 1 recruit Shabazz Muhammad (left) and youger brother Rashad, has seen his sons grow closer off the court as Rashad expands his on-court game.
"Rashad," Shabazz called out.
"Rashad!" he said louder.
"RASHAD, what are you doing?"
The younger Muhammad never set the screen before the ball came into play. It probably was insignificant to the game, but it was a perfect example of the Muhammads' on-court relationship last season.
It was also indicative of Rashad's play at times during his sophomore season -- and big brother's normal reaction.
"Last year I would play thinking coach will take me out if I made a mistake," Rashad said. "This year I play my game. I have no worries."
So what actually happened? Did Rashad (who does not recall the actual moment) not understand the play or did he simply get tight during the course of battle? Their father, Ron Holmes, offers his own theory.
"On the court, Rashad doesn't like to listen to [Shabazz]. ... It goes in one ear and out the other," Holmes said. "Shabazz is always trying to help him out, and when they are not competing he's all ears."
This year Shabazz is still the alpha male on the team, but he's also the nation's top-ranked recruit in the
ESPNU 100
. Rashad, meanwhile, sees more than the spot minutes he did last season, averaging roughly 10 points and four rebounds as a pass-first combo guard and defensive specialist for a Bishop Gorman team ranked No. 16 in the latest
POWERADE FAB 50
. His expanded role has brought the brothers closer, and 6-foot-4, 170-pound junior Rashad hopes to make a big contribution in the rematch with No. 3 Findlay Prep Saturday at
5 p.m. ET on ESPNU
.
The siblings' relationship is one Bishop Gorman coach Grant Rice has seen evolve -- and can relate to.
Rice has a special relationship with Rashad because he understands what the younger Muhammad is going through. The Gaels' 11th-year coach often plays second fiddle in Las Vegas to older brother Dave Rice, who's in his first season as UNLV head coach.
"I feel for him because we have a lot in common," said Grant, the winning coach at last summer's
Boost Mobile Elite 24
and a four-time state title-winning coach. "I get a lot of, 'Aren't you Dave Rice's little brother?' I have to tell them I've been coaching here in Las Vegas a long time.
"I've had a heart-to-heart talk with [Rashad] about being his own person and own player. I tell him just because I have a successful older brother, doesn't mean my job isn't important, too. I can also make an impact on kids' lives."
Because he knows Shabazz's dominant personality, Holmes gets a laugh out of watching his oldest son get on his younger brother on the court. On the other hand, he understands how being the younger sibling of a budding celebrity can be difficult.
"They're close as brothers, but it's tough for [Rashad] sometimes because he puts pressure on himself to be on the same level [as Shabazz]," Holmes said. "It's been tough for him trying to figure out how to deal with it."
Rashad does get tired of answering the same questions over and over about his brother, but he brushes it off as no big deal because of their strong bond and because he's aware how good a player his brother is.
"We've been close all of our lives, so it hasn't really hit me how big he is," Rashad said.
As far as the public is concerned, Holmes doesn't have many concerns about people using Rashad to get closer to or be associated with Shabazz -- unless it's an adult. In that case, he would step in. If it's a kid, however, it's just another aspect of Rashad's maturation process.
"You got to allow kids to be kids," Holmes said.
Long term, Rashad would like to play a big role in sending his brother off to college with three state titles on his resume. Short term, he wants to hit his double-digit norm in helping the Gaels to their first-ever win over Findlay Prep.
Like any normal teenager, he also wouldn't mind getting some recognition of his own. After all, he is getting the opportunity to play in a nationally televised game for the second time in six days.
"It's a lot different this year; I'm way more comfortable and catching up to the speed of varsity," Rashad said. "I want people to know I'm trying to make a name for myself, too."
Ronnie Flores is a senior editor for ESPNHS. He can be reached at
ronnie.flores@espn.com
. Don't forget to follow him on Twitter:
@RonFloresESPN
December, 3, 2011
12/03/11
10:55
PM ET
By
Ronnie Flores
| ESPN.com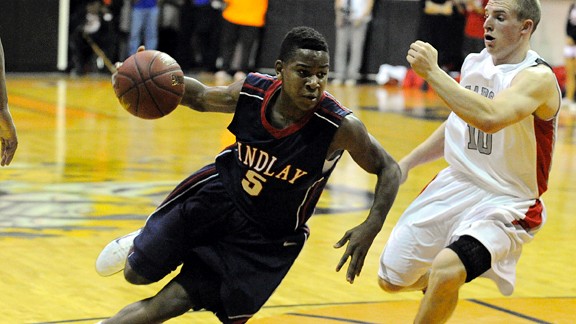 Matt Strasen/ESPNHSFindlay Prep (Henderson, Nev.) defeated Marcus (Flower Mound, Texas) 47-39 in the showcase game of the Throwdown in D-Town Classic in Lancaster, Texas, ending Marcus' 42-game winning streak.
Marcus (Flower Mound, Texas) entered Saturday night's showdown with national basketball power Findlay Prep (Henderson, Nev.) riding the nation's second-longest reported winning streak at 42 games.
Last season, Findlay Prep ended a long winning streak. In fact, when the Pilots defeated Yates (Houston), 95-69, it snapped the nation's longest winning streak at 66 games.
Make it two years in a row that Findlay Prep snapped the long winning streak of a highly-regarded Texas team on the road, as the Pilots downed Marcus 47-39 in the showcase game of the Throwdown in D-Town Classic at Lancaster High School.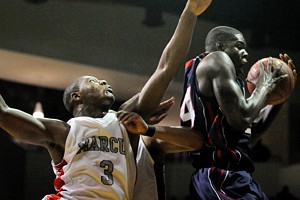 Matt Strasen/ESPNHSMarcus' high scorer was Marcus Smart, left, with 14.
Marcus Flower Mound, ranked No. 5 in the preseason
POWERADE FAB 50
, had a 20-18 halftime lead, but No. 8 Findlay Prep converted just enough field goals and made clutch free throws in the fourth quarter to hand the defending Texas Class 5A state champions its first loss this season after opening up with eight victories.
Mr. Basketball USA
candidate
Anthony Bennett
paced Findlay Prep with 19 points and 12 rebounds.
"The refs let a lot of clutching and grabbing go... it was a real physical game" said Findlay Prep associate head coach
Todd Simon
. "They packed in their man defense pretty tight and they had to come out and extend a bit more than they probably wanted to.
"Anthony did a great job on the offensive glass. He was a man out there today."
Junior guard
Nigel Williams-Goss
was named game MVP with 10 points, two rebounds and two assists. He also guarded Marcus guard
Phil Forte
the majority of the game, limiting the Oklahoma State recruit to two points.
Marcus' leading scorer with 14 points was ESPNU 100 No. 11-ranked prospect
Marcus Smart
, another OSU recruit and Mr. Basketball USA candidate.
The nation's longest reported winning streak belongs to No. 11 Wichita Heights (Wichita, Kan.), which opened its 2011-12 season on Friday against North (Wichita, Kan.). Heights won its 45 consecutive game, 71-54, behind Kansas commit
Perry Ellis
' 21 points and six rebounds.
Ronnie Flores is a senior editor for ESPNHS. He can be reached at
ronnie.flores@espn.com
. Don't forget to follow him on Twitter:
@RonFloresESPN