High-SchoolFootball:

Greg Toal
May, 30, 2012
5/30/12
9:58
AM ET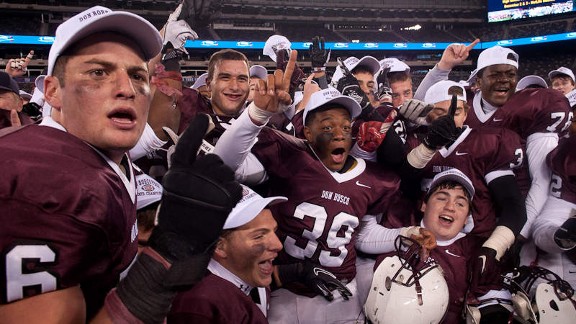 Jeff Skopin/ESPNNewYorkDon Bosco Prep (Ramsey, N.J.) won its sixth straight state title last season to finish No. 1 in the POWERADE FAB 50 for the second time in three years.
During the offseason, we'll check out one team per week that looks like a sure bet to be among the best in the nation this fall.
FAB 50 Offseason Primer archive
This week's team:
Don Bosco Prep (Ramsey, N.J.)
2011 Season:
11-0,
Non-Public Group IV state champion
, No. 1 in the final
POWERADE FAB 50
.
Projected 2012 Preseason Ranking:
Top 25. The Ironmen have an almost unmatched resume in recent seasons, winning six straight state titles, achieving three consecutive unbeaten seasons and earning two FAB 50 national crowns in the last three years. Don Bosco will take a 46-game win streak -- the second-longest active winning streak in the nation -- into the season. This year, the Ironmen will once again face a difficult schedule. Season-opening opponent Gilman (Baltimore) finished No. 21 in the FAB 50, while St. Thomas Aquinas (Fort Lauderdale, Fla.) was the 2010 FAB 50 champ and Alta (Sandy, Utah) is a strong program. Don Bosco could move up the FAB 50 ladder with early-season success against the non-Jersey foes, but it faces its biggest task in recent years. The Ironmen must replace several talented starters, including
ESPNHS All-American
and Rutgers recruit
Darius Hamilton
and sophomore running back/cornerback
Jabrill Peppers
, an
ESPNHS Underclass All-American
who transferred to Paramus Catholic (Paramus, N.J.). While coach Greg Toal's track record has to be respected in the preseason FAB 50 positioning, top 10 might just be too high in the early going.
Team Strengths:
The major strength of this fall's squad will be on defense, especially along the line, which returns standouts
Alquadin Muhammad
, who's the No. 145 recruit in the ESPN 150, and Razohnn Gross. Also expected back is junior linebacker Spencer Scannell and junior defensive backs Isaiah Hill and Justin Wimberly. The Ironmen won the FAB 50 crown with a first-year starter, Mike Yankovich, at quarterback. They'll have to do the same this year. Sophomore Eric Meile could be in line for the starting nod this fall. Sophomore running back Aaron Guzman could be another key offensive performer.
Another New Jersey team to watch:
Bergen Catholic (Oradell, N.J.) could be the team that ends of the domination of Don Bosco. Bergen Catholic's losing streak against the Ironmen is 10 games, but they did lead after three quarters in the first of last year's two losses. The Crusaders, however, have the returning personnel to get the job done. The veterans for coach Nunzio Campanile, a former Don Bosco coach, include quarterback
Jon Germano
, who passed for 2,359 yards and 31 scores for the 8-3 team; wide receiver
John Tsimis
, who caught 50 passes for 754 yards and 11 scores; top rusher James Dawson; and linebackers Parker Tobia and Dan Grasso.
November, 29, 2011
11/29/11
8:42
PM ET
By
Mark Tennis & Doug Huff
| ESPN.com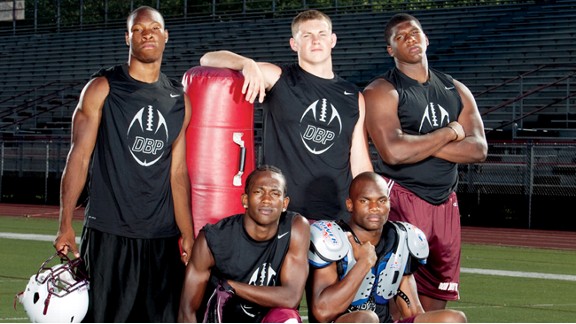 Steve Boyle/ESPNHSDon Bosco Prep, the top-ranked football team in the POWERADE FAB 50 and five-time defending state champ, is led by this senior quintet. Clockwise from left: Elijah Shumate, Mike Strizak, Darius Hamilton, Leonte Carroo and Yuri Wright
New Jersey power Don Bosco Prep (Ramsey, N.J.) will not only be seeking its 46th consecutive win and sixth straight Non-Public Group 4 state title Friday against rival Bergen Catholic (Oradell, N.J.), but the Ironmen could join an elite list with a victory.
Don Bosco Prep could become the 11th team in the last 15 years to go wire-to-wire from the preseason to the final rankings as No. 1 in the POWERADE FAB 50.
The Ironmen have been No. 1 all season in the FAB 50, which also was the case from 1997 to 2006 as all 10 preseason No. 1 ranked teams in those years went wire-to-wire and finished No. 1 in the final rankings.
The decade-long No. 1 streak started with Hampton (Hampton, Va.) in 1997, followed by De La Salle (Concord, Calif.) in 1998 and Evangel Christian (Shreveport, La.) in 1999. From 2000-03, De La Salle went wire-to-wire as the No. 1 team four times, while extending its national record win streak to 151 games.
The No. 1 wire-to-wire baton was passed to Southlake Carroll (Southlake, Texas) in 2004 and 2005 followed by Lakeland (Lakeland, Fla.) in 2006.
The streak ended in 2007 when preseason No. 2 Miami Northwestern (Miami, Fla.) upended preseason No. 1 Southlake Carroll (Southlake, Texas) and went on to capture the FAB 50 crown.
Since then, three more preseason No. 1 teams fell short of the accomplishment; including last year when Euless Trinity (Euless, Texas) lost in its final game. Will Don Bosco Prep be like teams of the last four years and not go wire-to-wire or will the Ironmen start a new streak of wire-to-wire FAB 50 champions? We'll find out Friday night.
FAB 50 SPOTLIGHT PLAYER OF THE WEEK
Romello Goodman, Centennial (Corona, Calif.)
Running backs with prolific yardage and scoring totals is nothing new at Centennial, which went back into this week's FAB 50 at No. 44 after a 56-21 victory against Chaparral (Temecula, Calif.) in the CIF Southern Section Inland Division playoffs.
Goodman, a mighty mite at 5-foot-6, 165-pounds, is the latest feature back in coach Matt Logan's no-huddle, quick-tempo, spread offense. In the game against Chaparral, he carried 27 times for 355 yards and set a school record by scoring eight touchdowns. This came one week after Goodman shined with 32 carries for 325 yards and five scores in a first-round playoff win over Redlands (Redlands, Calif.).
Setting school records in rushing or scoring at Centennial is not the same as any other school in California; it's hard to do. Since the 2000 season, tailbacks for the Huskies have included
Mike Bass
, who tallied 2,875 yards and 41 TDs in 2000,
Brandon Minor
with 2,714 yards and 50 TDs in 2004,
Terrell Jackson
with 2,664 yards and 43 TDs in 2003 (he also scored 50 times in 2002),
Ryan Bass
with 2,608 yards and 48 TDs in 2007 and
Barrinton Collins
with 2,427 yards and 42 TDs one year ago.
After his first two playoff games and with perhaps two or even three games left (depending on whether Centennial is chosen to play in a CIF bowl game), Goodman enters this week with 2,269 yards and 40 TDs. He's certainly put himself into the discussion with those before him and at Centennial that is saying something.
RISING NEWCOMER OF THE WEEK
No. 23 Page (Greensboro, N.C.)
The Pirates will be seeking their first state title since 1985 after upsetting two FAB 50-ranked teams and advancing to Saturday's Class 4-AA title game against 15-0 Garner (Garner, N.C.).
Page moved into the FAB 50 this week after knocking off two-time defending champion Butler (Matthews, N.C.) 40-26 before eliminating previously unbeaten Mallard Creek (Charlotte, N.C.) 41-27 last weekend. After being the "hunter" the last two playoff weeks, the Pirates are now the 'hunted." And it's been a long time coming for the school. Page was a state football power in the early 1980s and reeled off a state record unbeaten streak of 46 games from 1982-85, a mark that would last for two decades.
The current Pirate football team, coached by Kevin Gillespie, took a back seat all season to Charlotte area powers Butler and Mallard Creek before recording the playoff upsets.
Page is led by 6-foot-2, 195-pound versatile quarterback
James Summers
. The North Carolina State recruit accounted for 336 total offense yards and four scores in last week's 41-27 win over then FAB 50 No. 13 Mallard Creek.
LOOKING AHEAD: STATE SHOWDOWNS
There are four matchups this weekend involving two FAB 50 teams and several more on the horizon.
Of this week's showdowns, two will determine state championships with No. 23 Page (Greensboro, N.C.) playing No. 50 Garner (Garner, N.C.) and No. 34 Union (Tulsa, Okla.) battling No. 47 Broken Arrow (Broken Arrow, Okla.).
The other two are essentially state quarterfinals in Florida and Texas. In Florida, No. 12 Miami Norland travels to meet No. 39 Glades Central while in Texas it is No. 18 Southlake Carroll matching up with No. 38 Arlington Martin.
On the weekend of Dec. 10-11, the best games could be in Georgia, Texas and Oregon. Provided all teams keep winning, those contests would match No. 3 Grayson (Loganville, Ga.) against No. 28 Walton (Marietta, Ga.) for the Class AAAAA state title; No. 9 Skyline (Dallas) against No. 18 Southlake Carroll (Southlake, Texas) in the Class 5A Division I semifinals; No. 19 Steele (Cibolo, Texas) against No. 27 La Porte (La Porte, Texas) in the Class 5A Division II semifinals; and No. 32 Sheldon (Eugene, Ore.) against No. 48 Lake Oswego (Lake Oswego, Ore.) for the Class 6A state crown.
Then on the final weekend of the nation's high school football season on Dec. 17-18, the best games may be in Florida and California. Again, provided all teams continue to win and the California state bowl game selections go as expected, those matchups would include No. 2 Armwood (Seffner, Fla.) against No. 20 Miami Central (Miami, Fla.) for the Class 6A state crown; No. 13 De La Salle (Concord, Calif.) against No. 15 Westlake (Westlake Village, Calif.) in the CIF State Open Division bowl game; and No. 25 Bellarmine (San Jose, Calif.) against No. 44 Centennial (Corona, Calif.) in the CIF State Division I bowl game.
October, 6, 2011
10/06/11
12:13
AM ET
By
Mark Tennis & Doug Huff
| ESPN.com
GAME OF THE WEEK
No. 1 Don Bosco Prep (Ramsey, N.J.) 4-0 vs. No. 6 St. Edward (Lakewood, Ohio) 6-0, 6 p.m., Saturday at Fordham University (Bronx, N.Y.)
The featured third game of a high school tripleheader Saturday at Fordham University will have major POWERADE FAB 50 ranking implications.
Don Bosco, the 2009 FAB 50 champion, has been No. 1 since the preseason and enters the showdown with a 39-game win streak after losing the 2008 season opener to another Ohio foe, St. Xavier (Cincinnati), 17-10.
The Ironmen already this season have defeated two teams that ranked in the preseason top 10 -- No. 5 Mission Viejo (Mission Viejo, Calif.) and No. 6 Manatee (Bradenton, Fla.). They also are seeking their sixth straight Non-Public Group 4 state championship under coach Greg Toal.
The Ironmen are led on offense by running back Elijah Shumate while lineman Darius Hamilton is a force on a veteran defensive unit.
St. Edward, meanwhile, is riding a 21-game win streak after posting a 15-0 mark last season while winning the Eagles' first-ever Division 1 state crown.
The Eagles have a clock-eating ground attack that runs behind a massive line anchored by University of Michigan recruit Kyle Kalis. Junior Dwayne Aaron leads the rushers and had 35 carries for 155 yards and one touchdown in last week's game.
After this showdown, the Eagles will have to turn their attention to three in-state tests, including those against FAB 50 ranked foes St. Xavier (Cincinnati) and unbeaten Moeller (Cincinnati) plus rival St. Ignatius (Cleveland), which has lost just once so far.
The first two games of the tripleheader pit Bergen Catholic (Oradell, N.J.) vs. Friendship Collegiate Academy (Washington, D.C.) and St. Peter's (Jersey City, N.J.) vs. Ursuline (Youngstown, Ohio).
PLAYER TO WATCH
Jonathan Williams, Allen (Allen, Texas)
One of the top running backs in Texas, Williams could be becoming more oKf a focus in Allen's multi-faceted offense.
The 5-foot-11, 205-pound senior entered the season as part of a 1-2 punch with junior quarterback Alec Morris. In Allen's first four games, though, it was Morris (committed to Alabama) who was piling up the passing yards and touchdowns. In last week's 45-13 win over Lewisville (Lewisville, Texas), Williams took center stage with 233 yards rushing and one score.
Williams, Morris and the rest of the 5-0 Eagles, who are No. 3 in the FAB 50, will be on display Thursday night in an ESPN2 matchup against 2-3 Plano East (Plano, Texas).
Williams, who has committed to Missouri, rushed for 2,078 yards and scored 19 touchdowns as a junior. He also caught 17 passes for another 174 yards and one score. He is one of those combo backs who can break tackles running inside and has the speed to go outside.
UPSET ALERT
Hillgrove (Powder Springs, Ga.) at No. 33 McEachern (Powder Springs, Ga.), 7:30 p.m., Friday
This game is to see which team has the most power in Powder Springs as the two rivals are off to 5-0 record starts.
It's also a chance, however, for Hillgrove to make a rankings' statement since the Hawks are unranked in the FAB 50 or the Class AAAA top 10 for the state.
The two teams have only played once. It happened last season when McEachern won 64-48 in a shootout and went on to post a 10-2 record.
Hillgrove is led this season by Kenyan Drake, a 6-foot-1, 200-pound running back and University of Alabama recruit. Last week, in a 21-14 victory over rival Harrison (Kennesaw, Ga.), Drake scored twice on a rush and a pass reception.
McEachern, meanwhile, belted South Cobb (Austell, Ga.) 45-7 last weekend. Quarterback Trent Thompson passed for 254 yards and three touchdowns and Mike Sherman rushed 16 times for 132 yards.
The matchup of unbeaten city rivals could be another offensive shootout.
Upset Alerts so far this season: 2-3
TEAM ON THE RISE?
Centennial (Peoria, Ariz.) 5-0
When last seen in the FAB 50 during the 2009 season, the Coyotes had climbed all the way to No. 5 and were riding a 39-game winning streak. They were then stunned in the Class 5A Division II state semifinals by Marcos de Niza (Tempe, Ariz.).
This year's team remained unbeaten with a 21-7 victory last week against Ironwood Ridge (Glendale, Ariz.) and has been ranked higher within the state than Chaparral (Scottsdale, Ariz.), the team Centennial lost to in last year's playoffs.
Although Chaparral's loss was to FAB 50 No. 9 Bishop Gorman (Las Vegas) and arguably should still be ranked higher, there's no doubt that the Coyotes are continuing their winning ways after going 14-0, 13-1 and 12-2 in the last three seasons.
Heading into a showdown game Thursday at 6-0 Deer Valley (Glendale, Ariz.), coach Richard Taylor's team features quarterback Justin Sanchez (902 yards passing, 10 TDs) and junior running back Jalen Ortiz (560 yards rushing, eight TDs scored). The top college prospect on the team is fullback-strong safety Zach Hoffpauir (6-0, 210), who has committed to Cal.
September, 27, 2011
9/27/11
5:41
PM ET
By
Mark Tennis & Doug Huff
| ESPN.com
To attain the status of being a legendary coach in high school school football, the milestone that often seems to get someone over the top is 200 career victories.
Among the teams in this week's
POWERADE FAB 50
, nine of them are coached by men with 200 wins or more. Four of the nine also have passed the 300-win milestone. They are
Bob Milloy
of No. 8 Good Counsel (Olney, Md.);
John Herrington
of No. 11 Harrison (Farmington Hills, Mich.);
Bob Ladouceur
of No. 25 De La Salle (Concord, Calif.); and
Tony Severino
of No. 34 Rockhurst (Kansas City).
Greg Toal
, the coach of No. 1 Don Bosco Prep (Ramsey, N.J.), is among those with at least 200 career triumphs. The others are
Steve Lineweaver
of No. 8 Euless Trinity (Euless, Texas);
Bob Johnson
of No. 31 Mission Viejo (Mission Viejo, Calif.);
Joe Kinnan
of No. 37 Manatee (Bradenton, Fla.); and
Harry Welch
of No. 49 Santa Margarita (Rancho Santa Margarita, Calif.)
Several of these coaches faced off earlier this season with Toal's club beating Bob Johnson's while Milloy's boys posted a double-overtime win over Kinnan's team.
On Thursday, Welch's team at Santa Margarita will take on Los Alamitos (Los Alamitos, Calif.), which is coached by John Barnes, who may get to 300 wins next season and who just moved into the top five on the all-time California list that is led by Ladoucuer (373 victories).