High-SchoolFootball:

Manatee
January, 18, 2012
1/18/12
9:15
AM ET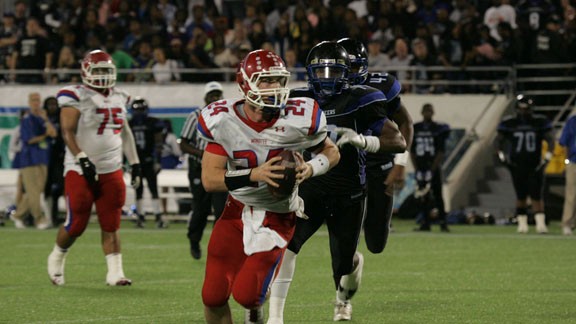 Kynon Codrington/ESPNHSManatee (Bradenton, Fla.) quarterback Cord Sandberg led the Hurricanes to their fifth state title in 2011 and is at the head of a talented 2012 roster.
During the offseason, we'll check out one team per week that looks like a sure bet to be among the best in the nation for next fall.
FAB 50 Offseason Primer Archive
This week's team:
Manatee (Bradenton, Fla.).
2011 Season:
13-2,
Class 7A state champion
, finished
No. 12 in the POWERADE FAB 50
.
Projected 2012 Preseason Ranking:
Top 10. The Hurricanes, with five state titles in three decades under coach Joe Kinnan, should enter the season as one of the top two or three ranked Florida teams in the FAB 50. The team's schedule, which is a major factor in FAB 50 positioning, includes a rematch in Week 3 against defending FAB 50 champion Don Bosco Prep (Ramsey, N.J.), which enters the season on a 46-game win streak. That includes a
22-16 win over Manatee last year
in a game the Hurricanes led 10-9 midway in the fourth-quarter.
Team Strengths:
Eleven starters, including six all-state honorees, return for a veteran team that was unbeaten the last two regular seasons versus in-state foes. The quarterback during this dominant in-state run returns in
Cord Sandberg
(6-2, 190), a first team all-stater and Florida Mr. Football finalist who passed for 2,185 yards and 19 scores and rushed for 814 yards and 10 touchdowns.
Anthony Lauro
will take over the primary rushing duties after leading the team with 51 receptions and running for 650 yards and eight touchdowns, mostly on reverses, in 2011. The offensive line should be anchored by all-state choice
Thor Miller
(6-2, 255). All four defensive linemen will be back, including three all-staters -- sophomore
Derek Calloway
(6-1, 305) and juniors
Blake Keller
and
Marquis Dawsey
. The three combined for 35 sacks in 2011.
Another Florida team to watch:
Booker T. Washington (Miami) was bumped from the FAB 50 when the 12-2 record Tornadoes bowed to The Bolles School (Jacksonville, Fla.) 33-25 in the Class 4A state finals. Bolles finished No. 46 in the FAB 50. Washington welcomes back five players that all earned all-state recognition in 2011. That list includes rising junior quarterback
Treon Harris
, running back
D'von Ballard
, offensive lineman
Denver Kirkland
, and defensive linemen
Matthew Thomas
and rising junior
Chad Thomas
.
November, 8, 2011
11/08/11
5:30
PM ET
By
Doug Huff & Paul Muyskens
| ESPN.com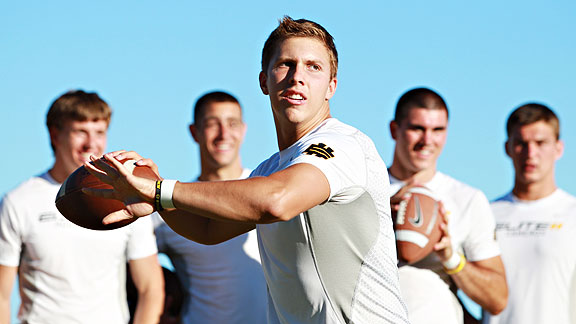 Tom Hauck for ESPN.comConnor Brewer has led Chaparral (Scottsdale, Ariz.) to 11 straight wins and is just one passing touchdown shy of setting a new career state record.
The FAB 50 team making the greatest improvement from last season to this current campaign has to be No. 42
Westfield
(Chantilly, Va.). The Bulldogs capped a 10-0 regular season last week with a 64-7 rout of Herndon (Herndon, Va.) and will face Robinson (Fairfax, Va.) on Friday in the first round of the AAA state playoffs.
At this time last year, the Wildcats ended a 6-5 record season with a first-round playoff loss to Chantilly (Chantilly, Va.) 7-0. It was Westfield's second loss to its rivals after bowing 17-14 in the regular season. This season, Westfield avenged those 2010 losses with a 40-14 romp of Chantilly.
In his first year as coach of the Bulldogs,
Kyle Simmons
helped his team avenge two other losses from last season en route to a perfect regular season record and a place in the FAB 50 national rankings. Westfield defeated Lake Braddock (Burke, Va.) 45-7 after losing 12-7 a year ago. And the Bulldogs blanked Robinson (Fairfax, Va.) 28-0 this season after a 14-0 setback last season. Robinson is this week's playoff opponent.
FAB 50 SPOTLIGHT PLAYER OF THE WEEK
Conner Brewer
, Chaparral (Scottsdale, Ariz.)
Sometime in the first half on Thursday night against Perry (Gilbert, Ariz.), this senior quarterback should break the state record for touchdown passes in a career. He tied the record with four TD passes last week in the Firebirds' 62-0 first-round rout of Gila Ridge (Yuma, Ariz.) in the playoffs.
With 94 career touchdown passes, he is currently tied with
Brian Chason
, who played eight-man football at Tucson Christian from 1982-85, and also with
Phillip Aholt
, who played at Cactus Shadow (Cave Creek, Ariz.) from 2003-06.
Leading the Firebirds to 11 straight wins since opening the season with a loss to FAB 50 No. 7
Bishop Gorman
(Las Vegas), Brewer has passed for 2,464 yards and 37 touchdowns to place himself as one of the leading contenders for state player of the year. Last season, Brewer passed for 37 TDs and as a sophomore he had 20 scoring passes.
With the team likely to make a deep playoff run towards another state championship, he has a chance to surpass the 100-TD career mark.
Ranked as the No. 3 quarterback and No. 34 overall in the the
ESPNU 150 player rankings
, Brewer will head to Texas next season after committing to the Longhorns in February.
HIGHEST RISING NEWCOMER OF THE WEEK
No. 45 Hilliard Davidson (Hilliard, Ohio)
It shouldn't be a surprise that the unbeaten Wildcats have joined the FAB 50 after finishing atop the Division 1 regular season state poll by The Associated Press. Last week, Davidson opened the playoffs with its sixth shutout of the season in a 22-0 blanking of Olentangy Orange (Lewis Center, Ohio). This week, the team tackles Upper Arlington (Columbus, Ohio) in the second-round of the playoffs.
The Wildcats' defense has been stingy all season and allowed only 28 points over the entire schedule. Senior linebacker
Jake Himmeger
anchors the defense for coach
Brian White's
team. On offense, senior running back
Alex Mickley
, who rushed for 1,491 yards in 14 games last season, continues to pave the way.
Davidson has been one of Ohio's top D-1 programs the last five years, with two state titles and three regional championships. Last season, the Wildcats went 14-1 while advancing to the state semi-finals.
LOOKING AHEAD: Team Movement in Florida Playoffs
Post-season state championship playoffs won't start in Florida until next week (Nov. 18-19), but four of the five FAB 50 Sunshine State teams will be competing in different classes from last season.
Only defending Class 6A state titlist
Miami Central
, currently No. 39 in the FAB 50, will compete in the same class as last season. The Rockets could face current FAB 50 No. 2
Armwood
(Seffner, Fla.) in the 6A finals since the Hawks moved to this level from Class 4A last season, where they had finished as state runner-up.
New to Class 7A is FAB 50 No. 25
Manatee
(Bradenton, Fla.), which moved up from Class 5A a year ago. In 7A, Manatee might run into defending FAB 50 national champion
St. Thomas Aquinas
(Fort Lauderdale, Fla.), which also was bumped up from Class 5A.
Two other FAB 50 teams competing in different classes are No. 10
Miramar
(Miramar, Fla.) and No. 18
Miami Norland
. Miramar will compete in the highest Class 8A after vying last season in 6A (which also was the highest class last season). Norland is reclassified 5A this season after being a 3A team in 2010.
September, 1, 2011
9/01/11
8:17
PM ET
By
Mark Tennis & Doug Huff
| ESPN.com
Game of the Week

No. 8 Manatee (Bradenton, Fla.) 0-0 at No. 19 Good Counsel (Olney, Md.) 0-0, Friday Sept. 2.
For the second straight year, both FAB 50 ranked teams will open with inter-sectional showdowns. Last year, Manatee played its first-ever out-of-state game when the Hurricanes traveled to Pittsburgh and defeated host Woodland Hills. Good Counsel also won its opener on the road against host St. Xavier of Cincinnati.

Manatee competed last weekend in a preseason jamboree and scored late to defeat American Heritage (Delray Beach, Fla.) 20-14. The Hurricanes are led by junior quarterback Cord Sandberg, a standout last season for the Class 5A state semifinalist and one of the top underclass candidates for Mr. Football USA. Manatee is coached by Joe Kinnan, who is in his second tour at the helm after guiding the Hurricanes to four state titles in 10 years during the 1980s.

Good Counsel, coached by Bob Milloy, Maryland's all-time winningest coach in his 40th season, also has a candidate for Mr. Football USA in senior Stefon Diggs. He can play several skill positions, including wide receiver, running back, defensive back and kick returner. He can be a game-breaker on both sides of the ball.


Player to Watch

Colin Thompson, Archbishop Wood (Warminster, Pa.)
Ranked the nation's No. 1 tight end in the Class of 2012 by ESPNU, the 6-foot-4, 255-pounder will be a featured player in Sunday afternoon's FAB 50 intra-state showdown vs. Pittsburgh Central Catholic (Pittsburgh) at Gateway High School in Monroeville, Pa. Kickoff is 2 p.m. for the ESPN2 televised game matching FAB 50 No. 22 Central Catholic vs. No. 46 Archbishop Wood.

The University of Florida recruit is one of six NCAA Division 1 recruits on the Archbishop Wood roster as the Class AAA state contender from Eastern Pennsylvania tackles the Class AAAA power from Western Pa. Thompson, a two-way lineman and senior team captain, is rated a top blocking tight end with good hands and running skills. The versatile athlete also has seen playing time at fullback and in the slot for the top-ranked team in the Philadelphia area.

Upset Alert


No. 36 Bellevue (Bellevue, Wash.) 0-0 vs. Oaks Christian (Westlake Village, Calif.) 0-0, Saturday at Mission Viejo (Mission Viejo, Calif.)
While Bellevue is in the FAB 50 and Oaks Christian is not, it wouldn't be much of an upset if the Lions were to win. This matchup is the best of a five-game set being billed as the Mission Viejo Football Classic. The host school, FAB 50 No. 6 Mission Viejo, plays on Friday night against Centennial (Bakersfield, Calif.).

Both teams are coming off championship seasons. Bellevue (13-1) won its third straight Class 3A state title, while Oaks Christian (12-2) won the CIF Southern Section Northern Division crown. Bellevue brings its well-oiled Wing-T offense to California for the first time. The Wolverines have a 3-1 record in games held in Washington against California teams. They were 3-0 (including the win in 2004 that broke Concord De La Salle's 151-game national record win streak) before losing two years ago to Grant of Sacramento.

Oaks Christian played in Washington on the same weekend two years ago when Bellevue lost to Grant and defeated Skyline (Sammamish, Wash.) The Lions are now completely done with the famous sons being on the roster with the graduations of Trevor Gretzky and Trey Smith, but they figure to remain firmly in the spotlight as one of the top programs in the state. This year's team has some rebuilding to do with the front seven on defense and up front on offense. The skill positions, however, still look loaded with USC-bound receiver Payton Jordan, two-way standout Ishmael Adams, transfer quarterback Luke Falk and linebacker-running back Carlos Mendoza leading the way. Bellevue will try to spring running back Latrelle Dukes for big gains while other players to watch include defensive back Tyler Hasty, and 6-foot-5, 295-pound offensive tackle Jake Eldrenkamp.

Team on the rise?

Stephenville (Stephenville, Texas) 1-0
Led by 2010 ESPNHS Mr. Football USA Johnathan Gray, Aledo (Aledo, Texas) entered the season with a 29-game winning streak and high expectations for a third straight state title. That winning streak, however, was snapped in dramatic fashion last weekend by Stephenville in the season opener for both squads.

Trailing by as many as 17 points at two different points of the game, the Yellow Jackets rallied behind the arm of junior Brice Gunter, who completed 20 of 24 pass attempts for 224 yards and three touchdowns while also running for a score after entering for injured starter Connor Washington. Leading 48-47 with seconds remaining, junior cornerback Preston Brown blocked Aledo's game-winning field goal attempt with no time remaining but a roughing the kicker penalty gave the Bearcats a second attempt which Brown also blocked. Aiavon Edwards also rushed for 223 yards in the win for Stephenville, which will now head to Abilene to take on Wylie in this week's game.

The Yellow Jackets also should now become fans of the Bearcats as they will take on FAB 50 No. 39 Lake Travis (Austin, Texas) on Sept. 9. A win by Aledo in that game would definitely help the Yellow Jackets move up the rankings as long as they also continue to win.