High-SchoolFootball:

Notre Dame Football Recruiting
April, 5, 2012
4/05/12
10:03
AM ET
By
Brandon Parker
| ESPN.com
Throughout this offseason, we've spotlighted Class of 2013 quarterbacks who have a shot at making the Elite 11 finals in July. This week, we profile a player who's already earned that honor in Skyline (Dallas) junior DeVante Kincade.
In
DeVante Kincade
's mind, he was about four months overdue for his chance to throw passes at Cowboys Stadium.
Last December, the Dallas Skyline junior quarterback stood one win away from playing for the Class 5A, Division I state title under the bright lights of "Jerry's World." But the Raiders' undefeated season unraveled in the final two minutes during a 28-24 semifinal loss to eventual champ Southlake Carroll (Southlake, Texas).
"It was real tough, watching them score and then recover the onside kick and score again," recalled Kincade, who threw for 3,720 yards and 37 touchdowns last season. "We had 40 seconds after that to try and win the game, but we couldn't get the lead back. That loss gave me more fire and flames to work way harder and add on to our intensity."
So when Kincade finally did get to throw in Cowboys Stadium at last month's Dallas Elite 11 Regional Quarterback Camp, he was more than ready to shine. Using strong footwork and impressive accuracy, Kincade
earned MVP honors
and the first of 24 spots at the Elite 11 finals in Redondo Beach, Calif., in July.
Kincade took some time out to talk about his Elite 11 selection, recruitment and how RGIII is biting his style.
ESPNHS:
What was the experience like at the Dallas Elite 11 regional?
Kincade:
I had a really great time. There were a lot of great juniors there, so I knew I had to set the tone and get it done. We did things like throwing on the run and rolling out for the throw with things swinging in our face. It was really fun and challenging.
ESPNHS:
What do you think stood out to the counselors that led them to name you the MVP?
Kincade:
I felt like I did well in the footwork drills and being accurate. It almost felt like I was back at Skyline; I felt comfortable. I was just trying to be a leader and play to the best of my ability. I really wasn't expecting to win MVP, but God blessed me so that I did.
ESPNHS:
What do you think the Elite 11 finals will be like?
Kincade:
Oh, it's going to be
way
more intense. Trent Dilfer is a different guy. He's actually kind of like one of our coaches at Skyline, our offensive coordinator. He has a real passion for the game and I like that. I saw some of it on TV last year and they coach you really hard, which is good.
ESPNHS:
What are your strengths as a quarterback?
Kincade:
I think I have real good accuracy. I can also get out of the pocket and make throws on the run. I can play out of the shotgun and make hard throws as well.
ESPNHS:
What are some things you are working to improve upon?
Kincade:
I want to buy more time in the pocket instead of just rolling out so much. I think it'll help to make more throws in the pocket and only run if I really have to.
ESPNHS:
Speaking of which, I'm sure you know a lot of critics have their thoughts about your size and what you need to adjust in your game. How do you respond to them?

Kincade:
Once I came into Elite 11, I came in confident. I know I'm not as highly recruited as a lot of the other guys, so I had to be confident in myself. I know I'm better than them. That's not to sound cocky, but it's just a confidence I have in myself and my ability.
ESPNHS:
The weekend wasn't all good news for you. Your top receiver in junior
Ra' Shaad Samples fractured his left foot
and is expected to be out three to four months. How concerned are you about his injury?
Kincade:
I was shocked when I heard it. I couldn't believe it. We have great chemistry, where he knows where I'm going to throw it and I know where he will be. He knows when I'm having a bad game and I know when he's having a bad day, too. I'm sure he will come back strong, though.
ESPNHS:
Which schools are recruiting you right now and where are you at in the process?

Kincade:
I've got offers from Kansas State, Colorado, Notre Dame, Mississippi State, Illinois and Oregon State. I don't have any favorites at this point. I think after spring football is over, I'll break it down some to a list of favorites.
ESPNHS:
I noticed you wear a glove on your left hand. Is that something you do for style or grip?

Kincade:
I've always been doing that since middle school. It does help me grip the ball better, and I feel like a different person when I put the glove on (
laughs
). A lot of people think I got it from Robert Griffin, but I was wearing it way before him.
School:
Skyline (Dallas)
Position:
QB
Class:
2013
2011 Team Record:
14-1 (lost in Class 5A, Division I semifinals)
2011 Stats
Completions-Attempts:
186-263 (.707)
Passing yards:
3,720
TD:
37
INT:
8
Rushing yards:
857
TD:
17
Brandon Parker covers high school sports for ESPNHS magazine and ESPNHS.com. Follow him on Twitter @brandoncparker or email him at brandon.c.parker@espn.com.
March, 5, 2012
3/05/12
9:22
AM ET
By
Christopher Parish
| ESPN.com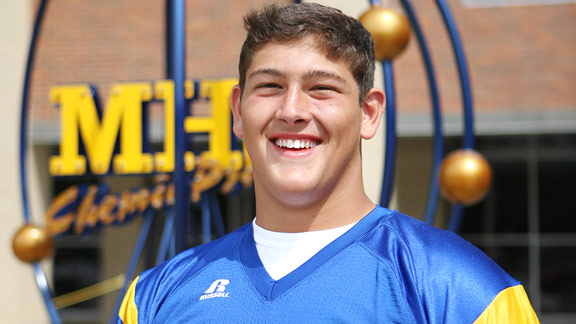 Courtesy of Chopper PhotographyMidland (Mich.) offensive tackle and Notre Dame commit Steve Elmer was named an ESPNHS Underclass All-American as a junior.
On the heels of a successful season, Midland junior
Steve Elmer
didn't spent much time relaxing. Instead, he hit the weight room.
The Notre Dame recruit stands tall at 6-foot-6 and 315 pounds and is a formidable presence on the offensive line. And not many defenders have had success getting past Elmer.
But that doesn't mean he's resting on his laurels. For him, his senior season is a chance to get better, improve on his technique and work on making the transition to the college game.
It shouldn't be a tough transition. The offensive tackle is on the
ESPNU 150 Watch List
and was named to the
ESPNHS Underclass All-American team
as a junior, a year in which he led Midland to a 9-2 record and a spot in a Division 1 district championship.
Colleges continue to send letters to Elmer with the hopes they can still sway him from his Notre Dame commitment. But Elmer said he's solid with the Irish and is looking forward to a dominant senior campaign.
So what else did one of the nation's top offensive linemen in the Class of 2013 have to say? It's time to Get Familiar with Steve Elmer.
ESPNHS:
What's keeping you busy in the offseason?
Elmer:
I'm working a lot in the weight room, just trying to stay in shape. I've been working on a lot of agility drills and technique and footwork drills.
ESPNHS:
Your junior season was really a breakout year for you. In your mind, what changed from your sophomore season to this year?
Elmer:
I definitely got better as a player. I got stronger and faster and knew our offense better and definitely had better technique. The difference was night and day. In my spring camp after my sophomore season, I worked a lot on pass sets and run blocking and first steps. I didn't really work on that much before. This season, my pass protection was way better overall and my run blocking was better, too.
ESPNHS:
You're committed to Notre Dame, but there have been stories recently that said other schools have picked up their recruitment of you. Have you softened your stance?
Elmer:
I think [the stories are a] little misleading. I'm 99 percent with Notre Dame, and that other one percent is just schools sending me letters and stuff. It's pretty crazy. One person gives their take on my recruitment and the next thing you know, you've got all sorts of weird stories out there. But I'm still committed to Notre Dame.
ESPNHS:
What was it you liked about Notre Dame that made you choose so early?
Elmer:
It was everything about it, really. I love the campus a lot. I like the coaches and the people and the tradition and the academics. Everything was a perfect fit for me.
ESPNHS:
Have the Notre Dame coaches talked with you at all about what they are looking for you to improve on in your senior season?
Elmer:
Not really. It's kind of a weird situation. I haven't really met the new O-line coach (Harry Hiestand) in person. I've talked to him on the phone. But I'm waiting to talk to him in person about specific things. I just know they want me to get bigger and faster.
ESPNHS:
What are some of your expectations for Midland, and for yourself, this season?
Elmer:
I expect my team to have another good year. Hopefully no losses. We're playing a tougher schedule this year and we'll be facing some different programs, and we're looking forward to that. I'd like to keep up on my technique for pass sets, and for run blocking I'd like to improve my blocks on linebackers. I don't think I get quite low enough.
ESPNHS:
What do you do in your spare time?
Elmer:
I don't have a ton of spare time. When I'm not working out, I'm doing homework. But I like to fish, I like to hang out with my friends and play video games.
ESPNHS:
In recruiting circles, you're practically a household name now. Have you been surprised by how much attention you've gotten?
Elmer:
It's been pretty cool. You go online or you read the newspaper and there's stories about you all the time. And to be able to go to all the places I've been to and see new places, that's definitely cool. I didn't let it all get too overwhelming, though. I made my (college) decision early.
STEVE ELMER
School:
Midland (Mich.)
Class:
2013
Position:
Offensive tackle
HT:
6-6
WT:
315
College:
Notre Dame
FAVORITES
Food:
Barbecue ribs
Movie:
"Good Will Hunting"
Athlete:
Tim Tebow
Video Game:
"Battlefield 3"
Musical Artist:
Billy Joel
Christopher Parish is an associate editor with ESPNHS. You can follow him on Twitter @CParishESPN.
January, 20, 2012
1/20/12
11:39
AM ET
By
Brandon Parker
| ESPN.com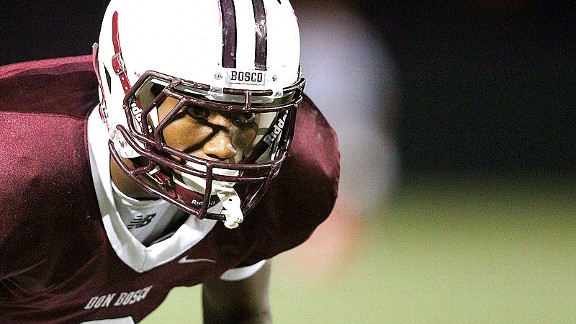 Danny Wild/US PresswireYuri Wright is rated as the No. 4 cornerback in the ESPNU 150, but after being expelled from FAB 50 No. 1 Don Bosco Prep (Ramsey, N.J.) for explicit tweets, his future could be up in the air.
In what could prove
a cautionary tale to top recruits
, Don Bosco Prep (Ramsey, N.J.) senior
Yuri Wright
was expelled Thursday for explicit comments he made on Twitter,
according to The Star-Ledger
. The tweets were racial in nature and sexually graphic, leading the school to take action against its star cornerback. Wright is ranked as the nation's No. 4 cornerback and No. 40 overall recruit by ESPNU.
Reports had swirled this week that Michigan had backed off recruiting Wright because of his tweets. Wright is also considering offers from Colorado, Notre Dame and Rutgers.
Click here
to read more about the story from ESPN.com.
Brandon Parker covers high school sports for ESPNHS magazine and ESPNHS.com. Follow him on Twitter
@brandoncparker
or email him at brandon.c.parker@espn.com.
January, 20, 2012
1/20/12
5:53
AM ET
By
Brandon Parker
| ESPN.com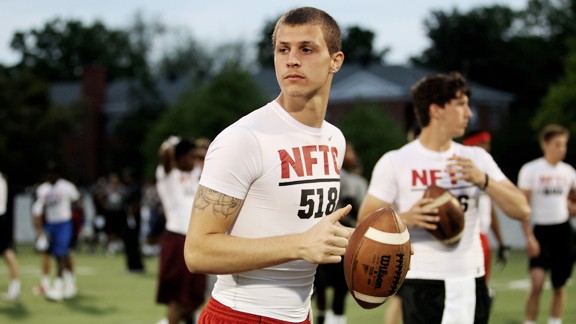 Tom Hauck/ESPNHSButler (Matthews, N.C.) junior quarterback Riley Ferguson shined at last year's Elite 11 regionals.
Throughout this offseason, we'll spotlight Class of 2013 quarterbacks who have a shot at making the Elite 11 finals in July. Last week we profiled future Wolverine Shane Morris. This week we profile Butler (Matthews, N.C.) standout Riley Ferguson.
While holding his own at the
Champion Gridiron Kings in Florida last summer
,
Riley Ferguson
made it clear where he hopes to be this July, saying "hopefully I will be at Elite 11 next year." The junior, who already has two 4AA state championships under his belt, made a strong case for an invitation this past season, throwing for 3,345 yards and 48 touchdowns. Ferguson took time to talk to us about the bad taste from his first playoff loss as well his strong desire to make the Elite 11 finals.
ESPNHS:
After winning the last two state titles, this past season began and ended with rare losses. What's your take on why things played out like they did?
Ferguson:
When we lost at the beginning of the season, I took it kind of hard because it was the first time I'd lost since being in high school. But everybody takes losses, so I thought we'd focus and come back stronger, and that's what we did. When we got to Page (Greensboro, N.C.) [in the 4AA quarterfinals], I think some of us were thinking it would be a cakewalk in the playoffs instead of having to work for it. And we ended up paying for it.
ESPNHS:
How much does last season's outcome motivate you for your senior season?
Ferguson:
It'll motivate me more than anything. Taking two losses in one season killed me. Last year was also the last time I will play with my brother Zach, so that hurt. But I'm just going to go hard and play for our team to get back on top.
ESPNHS:
Do you think there will be the same target on your back next season even though you guys aren't the defending champs?
Ferguson:
Of course we'll still have the target because of our program's history and all of the top prospects we have. But I don't like seeing it us as just a bunch of star players. I think of us as being a team and winning together. As long as we remember that and play together, we can overcome that target.
ESPNHS:
After you finish playing basketball, what are some things you will work on in the offseason?
Ferguson:
I need to get in the weight room and work on my strength. I also want to do a bunch of agility stuff. Pretty much, I'll be working on everything because you can always get better and there's always something to work on.
ESPNHS:
What was the experience like to compete at the Elite 11 regionals last summer?
Ferguson:
It helped a lot because it was invitation-only, so everybody there was a good quarterback and the best from their area. I talked to a lot of other quarterbacks and learned some good things from the experience. Going to the NFTC [Nike Football Training Camp] was a real challenge and helpful for me, too.
ESPNHS:
If you are invited to the national Elite 11 competition, what would you hope to gain from the experience?
Ferguson:
Oh man, it would be unbelievable to get invited there. It's an amazing opportunity to go to California and be in that atmosphere with great quarterbacks and coaches. I hear that NFL and college players are there, too, so I would be real excited to learn from them.
ESPNHS:
You recently received some new offers from school. How many offers do you have and who are your favorites?
Ferguson:
I've got offers from Clemson, LSU, Michigan, Virginia Tech, Louisville, Maryland and Notre Dame. At this point, I'm accepting all offers and it'll come down to whichever school feels the best. I haven't really narrowed the list down; I might do that sometime this summer. But whenever I feel like I've found the right school, which could be in the summer or fall or anytime, that's when I'll make my decision.
RILEY FERGUSON
School:
Butler (Matthews, N.C.)
Position:
QB
Class:
2013
2011 Team Record:
11-2 (Lost in Class 4AA quarterfinal)
2011 Stats
Completions-Attempts:
184-279 (.659)
Yards:
3,345
TD:
48
INT:
8
Brandon Parker covers high school sports for ESPNHS magazine and ESPNHS.com. Follow him on Twitter @brandoncparker or email him at brandon.c.parker@espn.com.
January, 10, 2012
1/10/12
11:20
AM ET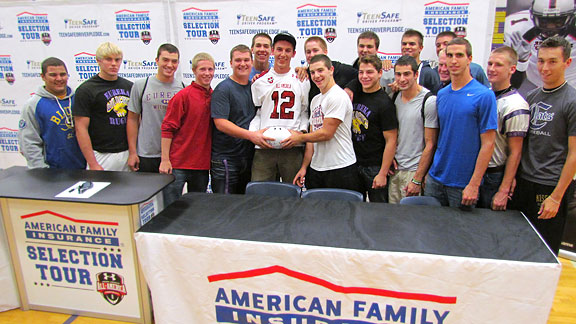 Tye Eckert/UnderArmourEureka (Mo.) senior Zach Hirth (center, in jersey) is rated the nation's No. 2 long snapper by ESPNU and was selected to the 2012 Under Armour All-America Game.
This story originally appeared in the Winter 2012 issue of ESPNHS magazine.
Scott Daly
could have gone on vacation during spring break. He could have spent the week hanging out with friends or playing video games 24/7. If nothing else, he could have at least slept in.
Instead, Daly used the spring break of his junior year to chase the unthinkable — a scholarship to be the long snapper for the Notre Dame football team.