High-SchoolGirl:

Nadia Comaneci
June, 13, 2012
6/13/12
10:23
AM ET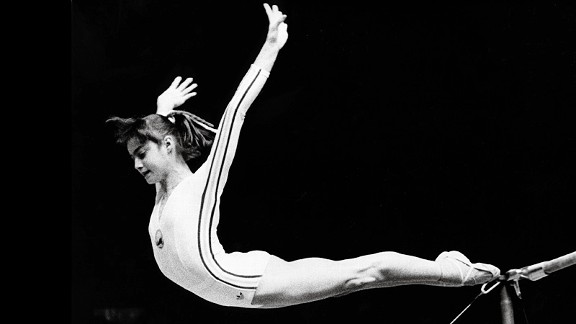 AP Photo"Nadia had the most important impact on gymnastics," Bela Karolyi says. "She brought millions of children to the sport and made it the most-watched television event at the Olympics."
ESPN is marking the 40th anniversary of Title IX by unveiling the top 40 female athletes of the past 40 years.
At the 1976 Olympics, 14-year-old
Nadia Comaneci
became synonymous with perfection.
On July 19 at the Montreal Games, the Romanian gymnast earned the first perfect 10 in Olympic history for her uneven bars routine.
But she was far from finished. The No. 8 woman in ESPN's countdown notched six more 10s in Montreal on her way to three gold medals, in the all-around, beam and uneven bars.
"She had an amazing capability to perform under pressure," her coach Bela Karolyi says. "As the competition got tough, she got even tougher.
Read the complete story from espnW here.
Earlier in this series:

No. 40: Diver
Fu Mingxia
No. 39: Jockey
Julie Krone
No. 38: Gymnast
Mary Lou Retton
No. 37: Hockey player
Cammi Granato
No. 36: Soccer player
Kristine Lilly
No. 35: Basketball player
Diana Taurasi
No 34: Volleyball player
Flo Hyman
No. 33: Soccer player
Abby Wambach
No. 32: Swimmer
Mary T. Meagher
No. 31: Marathoner
Joan Benoit
No. 30: Sprinter
Gail Devers
No. 29: Basketball player
Nancy Lieberman
No. 28: Marathoner
Grete Waitz
No. 27: Soccer player
Michelle Akers
No. 26: Basketball player
Chamique Holdsclaw
No. 25: Swimmer
Dara Torres
No. 24: Golfer
Nancy Lopez
No. 23: Swimmer
Tracy Caulkins
No. 22: Soccer player
Marta Vieira da Silva
No. 21: Tennis player
Venus Williams
No. 20: Figure skater
Michelle Kwan
No. 19: Skier
Lindsey Vonn
No. 18: Softball player
Lisa Fernandez
No. 17: Basketball player
Ann Meyers Drysdale
No. 16: Basketball player
Sheryl Swoopes
No. 15: Swimmer
Janet Evans
No. 14: Figure skater
Katarina Witt
No. 13: Basketball player
Cheryl Miller
No. 12: Sprinter
Florence Griffith-Joyner
No. 11: Tennis player
Billie Jean King
No. 10: Tennis player
Serena Williams
No. 9: Tennis player
Steffi Graf
December, 5, 2011
12/05/11
12:28
PM ET
By
Vicky McGarry
| ESPN.com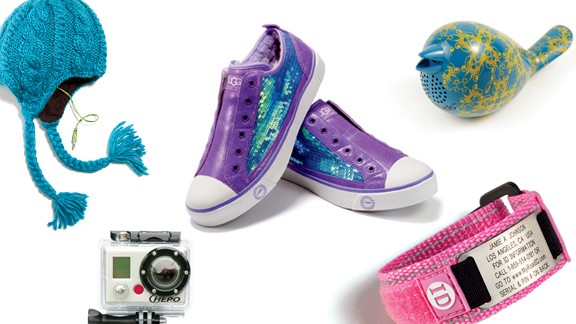 David LawrenceThe Bula Aran Earphone Peruvian hat, some Ugg Laela Sparkles sneakers, a Fauvette Speaker, the GoPro Hero 960 Helmet Video Camera and the Wrist ID Sport Bracelet are just five our 30 ideas for your holiday wish list.
No need to write Santa this year. We've already created a dream holiday wish list for you and your teammates.
1. Holdy Locks:
Keep your unwieldy strands in place with the Moving Comfort Lucky Headband. Wear the reversible, stay-dry stretchy band wide or scrunched up. ($14,
movingcomfort.com
)
2. Keep Under Hat:
Never miss a beat, phone call or winter workout in the part wool, part acrylic Bula Aran Earphone Peruvian hat. This funky cold-weather essential features removable speakers hidden in the earflaps. ($36.99,
breckenridgehatcompany.com
)
3. Rockin' Robin!
This sweet little birdie, aka the Fauvette Speaker, will blast pregame music from your iPhone, laptop and other devices. ($34.99, available in multiple colors,
chicbuds.com
)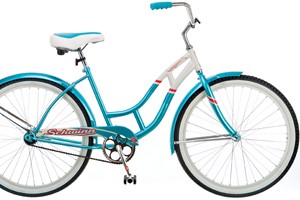 David LawrenceSchwinn Legacy bicycle
4. Cool Convertible:
Adapt to unpredictable weather conditions with the wind- and water-resistant Sugoi Versa jacket. Magnetic sleeves come off in a flash to turn this breathable jacket into a versatile vest. ($120,
sugoi.com
)
5. Ready to Roll:
Why walk when you can ride, especially on the Schwinn Legacy bicycle? This steel-framed cruiser (right) features comfy wide handlebars and a soft saddle to keep you cozy mile after mile. ($129.99,
target.com
)
6. Think You Can Dance?
Prove it. Right in your living room. Challenge Mom, siblings and teammates to a dance-off with Zumba Fitness 2 for Wii, the latest version of the hit dance workout game, which now has a calorie tracker. ($39.99,
zumbafitnessgame.com
)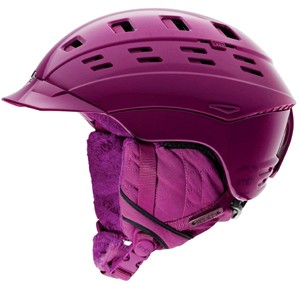 David LawrenceSmith Women's Variant Brim Helmet
7. Put a Lid on it:
Protect your noggin on the slopes with the well-ventilated, easily adjustable Smith Women's Variant Brim Helmet (right), which comes with soft ear pads, a goggle lock and a shielding brim. ($160,
backcountry.com
)
8. Rally the Troops:
Before a game, play your fave go-team- go music in the locker room on the Chicboom Keychain Speaker Ball. This small boom box works with iPods, iPhones, MP3 players and laptops. It lasts up to four hours with each charge. ($29.99,
chicbuds.com
)
9. Touch and Go:
Lather Muscle Ease will become your best friend after a tough practice. This quick-acting gel uses all-natural menthol, camphor and capsaicin to heat, cool and soothe sore muscles. ($16,
qvc.com
)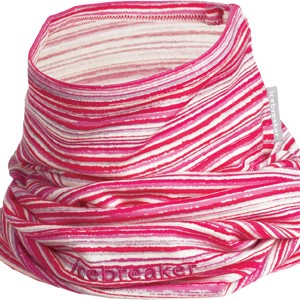 David LawrenceIcebreaker Flexi-Chute neckwarmer
10. Learn from a Master:
Take notes while reading two-time Olympic softball player Jennie Finch's new book, "Throw Like a Girl." It's not just for softballers, but any gal who loves sports. ($14.95,
triumphbooks.com
)
11. Knitty & Nice:
Cuddle up in an Icebreaker Flexi-Chute neckwarmer (right) made of a soft, stretchy merino wool. This sporty scarf will keep your neck, chin, even nose warm during outdoor workouts. ($30,
icebreaker.com
)
12. Carry ID:
Here's one more bracelet to add to the stockpile on your arm — it could save your life. The nylon Wrist ID Sport Bracelet lists your name and contact info in the event that you can't speak for yourself. ($20,
roadid.com
)
13. Purple Reign:
Go for the bold with these Ugg Laela Sparkles sneakers, lined with soft shearling (heaven for tired tootsies) and covered in show-stopping sequins. ($110,
uggaustralia.com
)
14. The Ultimate Play Book:
Die-hard fans — and athletes looking to elevate their game — will love "The Sports Book." This ballplayer's bible contains the rules and game-winning strategies for more than 200 sports. ($19.95,
us.dk.com
)
15. Spread the Word:
Motivate yourself, a teammate or someone you love with this empowering "Realize How Good You Really Are" sign from Primitives by Kathy. ($16.10,
primitivesbykathy. com
)
16. Cuff Love:
Celebrate the 40th anniversary of Title IX (the law that banned gender discrimination in schools) with the Women's Sports Foundation's Title IX bracelet. Proceeds benefit the WSF's mission to promote active living for girls and women. ($115,
mauidivers.com)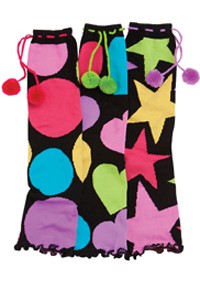 David LawrenceLittle Miss-Matched leg warmers
17.
Color Coordination:
Grab a pack of three Little Miss-Matched arm or leg warmers (right), then strut your stuff on the track or field. Choose from stripes, dots, hearts, stars and peace signs. ($17 and $13, respectively,
littlemissmatched.com
)
18. Cold Comfort:
What's better than a cute puffer jacket? A cute puffer for your head, like this super-lightweight Outdoor Research Transcendent Beanie. It'll keep everything between your ears warm and cozy. ($40,
outdoorresearch.com
)
19. Bring on the Blizzard:
Staying inside this winter takes new meaning with this Mini Foosball Table. This cute tabletop game will keep you — and family or friends — entertained indoors on the coldest nights. ($36,
fredflare.com
)
20. YouTube Yourself:
Record your sickest sports moves on the GoPro Hero 960 Helmet Video Camera. Wear or mount this waterproof video cam on your helmet, bike handlebars, surfboard or elsewhere, then share your best action clips with everyone. ($170,
gopro.com
)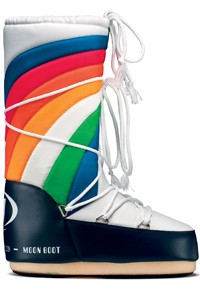 David LawrenceTecnica Rainbow Moon Boots
21. Boot Up:
Turn every step into a statement with these retro-inspired Tecnica Rainbow Moon Boots (right). Slip 'em on after indoor practice to take the snowy trek from the gym to Mom's car. ($150,
tecnicausa.com
)
22. Game Night:
Continue the competition in your basement with Desktop Ping Pong. Turn any smooth surface into a table-tennis court with this compact set. ($14,
fredflare.com
)
23. Tennis, Anyone?
The überchic Ame and Lulu Tennis Backpack makes it easier — and prettier — to hit the court. The carry-all bag features multiple pockets (inside and out) and holds two rackets. ($80,
ameandlulu.com
)
24. Down with Dumbbells:
Try these adorable NordicTrack Soft Weight Balls instead. These portable vinyl balls challenge your hand muscles, improving your grip while sculpting your body. ($24.99 for two threepounders,
nordictrack.com
)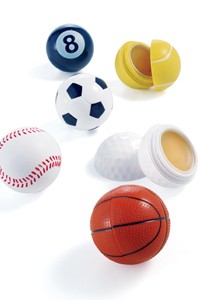 David LawrenceBallamania Lip Balm
25. Sealed with a Kiss:
Pucker up for the vanilla-flavored Ballamania Lip Balm with SPF 20. Stash these sport-inspired lip salves (right) in your gym bag, so you can remember to slather on some protective, moisturizing stuff before practice and games. ($4 each,
ballmania.com
)
26. Hue Got This:
Transport your important files in style with these candy-colored Victorinox Unhackable USB drives that match your iPod, your team uniform, even your nail polish. (from $39.99,
swissarmy.com
)
27. Magic Bottle:
Ditch the heavy, hard-shelled water bottle for the Platypus Softbottle. The lightweight, re-usable, BPA–free plastic container conforms to any holder, pocket or hand and rolls up when empty. (Starting at $7.95,
cascadedesigns.com
)
28. Read Her Mind:
Curl up on the couch with Nadia Comaneci's newest book, "Letters to a Young Gymnast." The five-time Olympic gold medalist shares her deepest, most-personal thoughts about what it takes to become a world-class athlete. ($14.99,
amazon.com
)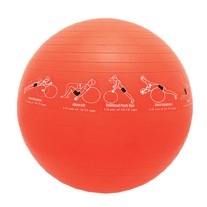 David LawrenceTrainerBall
29. Be on the Ball:
Do more for your core this season with the 12 ab exercises outlined on this big, bouncy, bright-colored TrainerBall (right). ($30,
trainerbrands.com
)
30. Sports Savant:
Make every day count with the 365 SportsFacts 2012 Calendar. You'll become a walking Wikipedia of knowledge and will impress your teammates and coaches. ($13,
amazon.com
)