High-SchoolTrack-and-XC:

arcadia invite
April, 9, 2012
4/09/12
6:47
PM ET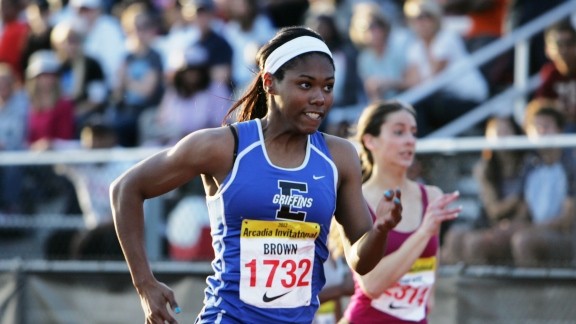 John Nepolitan/ESPNHSAaliyah Brown of Lincoln Way East repeats as the short sprint champion at Arcadia
It was indeed an evening to remember for the hearty dozen athletes who competed in the prestigious Arcadia Invitational in California. The boys and girls of Illinois proved themselves and the competition that they were worthy of competing on track and field biggest regular season stage.

Brown stakes her name as Illinois sprint queen
Over the past five years no name has been more synonymous in the Illinois girls sprinting world than Aaliyah Brown- that includes the spoils of victory and the agony of defeat.
The goals of California were pretty defined by coach and father Angelo Brown: "win both the 100 and 200." That's as about as a direct answer as one can give. But in reality, it's what the athlete says and feels that's more important. Aaliyah, according to her father, had been working extremely hard to re-obtain her mettle. "She said she feels ready! We will just have to see… if anything we will see where we are," offered by Mr. Brown about an hour before the Invitational 100.
As Brown settled into her blocks, she appeared to be poised and relaxed. After the starting gun went off, there was no doubt of the outcome for Brown, but by how much? The margin of victory was incredible over her best friend and competitor Cessily Jones of Plainfield North 11.48-11.71. Brown's amazing start enabled her pull away from a strong field and repeat as the Arcadia 100 dash queen. Only Shayla Sanders of Boyd Anderson (Lauderdale Lakes, FL) has a faster legal clocking.
Brown's celebration was short lived because she needed to prep for the Invitational 200 that would be coming up in less than two hours.
The half-lap affair has always been more of a challenge for Brown but she is beginning to handle the longer race better. The question for many pundits: "would she be able to hold her max speed off the curve with a bad leg?" Mr. Brown previously stated that everything is fine in his camp.
Brown got out well but she was in a dog fight from the beginning with several competitors. As the race entered the last 60 meters or so, it appeared as though Arianna Washington of Long Beach Poly (Long Beach, Calif.) was going to steal the victory. However, Brown had other plans. The defending champion reached down deep and right before the line, she dipped perfectly- and a few tense moments later the scoreboard read: 23.96 Brown, 23.97 Washington. The sweep was complete as well a feeling of redemption and joy for the 'Brown Franchise.'
Little successfully completes triple play
Shamier Little
(Chicago Lindblom) is as playful and fun to be around as any average teenager is. However, when she laces up her spikes and steps on to the track it is a completely different story. The state of Illinois has witnessed her wrath on numerous occasions over the past several years. Now, it's the national stage that Little would begin her quest for stardom.
The first event of the evening for Little would be the Invitational 100H. This event has arguably been her best event. It didn't take long for Little to find out how good the competition would be. She placed a respectable 4th but was a considerable distance from winner Traci Hicks of Long Beach Poly (Long Beach, Calif.), won in a US#2 legal 13.63.
Little easily put behind her first 100H loss in over a year to step in the blocks for the 400. Her lifetime best of 53.83 was from last summer's AAU Nationals. So far this season, she had only produced a 57.10.
That would change in less than a minute.
Little got out well but it was difficult to tell what her in race status was until after the first 200. Ms. Little was in great position entering the homestretch and up on the competition by a considerable distance. It was anticlimactic feeling as she destroyed a solid field by nearly two seconds. A happy but exhausted Little had little time to rejoice. "I gotta go and get ready for the 300H," she quickly stated.
The final stanza of the day would obviously be the most interesting one because Little has stated on record that she may attempt the 400/300H double at the state championship next month. What better venue to test the mettle than at Arcadia?
Unfortunately, it wasn't to be for Little as she got behind the tremendous field from the start. But she didn't quit, she didn't have much gas in the tank after a grueling 400 win just 25 minutes prior. However, she was still able to prove that she is a gamer and finish strong and place 3rd in 42.95. The mark was a big personal best for the event and a nice consolation prize of US#11 to go home to Chicago with. "I was scared to get out too fast [because] I didn't wanna run out of gas, [but] I turned it on at the curve," she said in reference to finishing strong after the initial sluggish start.

Fast 3200 finishes abound for the boys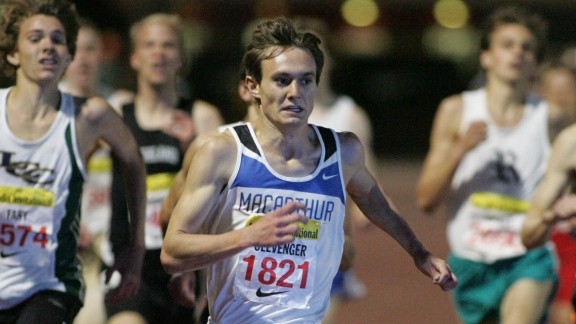 John Nepolitan/ESPNHSMike Clevenger lead 3 Illini under 9:00 at Arcadia
The boys meet fortunes were just as fruitful as the ladies on all fronts- albeit from a distance running perspective.
From the onset, the prospects of a fast race that would yield some great marks didn't look good. The pre-meet favorite Futsum Zeinasellassie decided shortly after the race got underway that he didn't want to lead or do any of the arduous pace chores after only taking the initial circuit in 64.5.
Cameron Miller of Stockton (CA) took over but the entire field of 28 or so runners were still bunched together through 2:17 and 3:25 laps. Meanwhile, the Illinois contingent of Leland Later (New Trier), Michael Clevenger (Decatur MacArthur),
Jack Keelan
(Chicago St. Ignatius), and Tyler Yunk (Belvidere North) were content will sitting in the middle of the pack.
Race announcer David Mitchell began to urge the crowd to encourage the field to get moving. After coming through the mile in 4:33, things finally began to pick up. Zeinasellassie and Bernie Montoya of Cibola (AZ) pushed the pace furiously. Montoya bolted on the bell lap and actually surged away from the Indiana legend Zeinasellassie. But it would be for not as Zeinasellassie proved that he had more in the tank and blazed easily past Montoya on the final straight to win in 8:47.75.
The Illinois crew followed suit as good pursuers are supposed to. It was Clevenger that first came home with his teeth tightly clenched in 5th at 8:54.12. Later held off Keelan 8:55.61-8:55.86 to respectively take 11th and 12th- Yunk was the good caboose in 9:03.09.
In using Later as the spokesman, he assessed his feelings on the historical night: "I had no issue staying free from collisions, but the slow pace really surprised me in the first mile. It didn't feel like a 4:35, but everyone knew it was slow. When the pace dropped hard that 5th or 6th lap, I wasn't really expecting it, and maybe let too much room separate me and the pack. But I was totally zoned out for most of the race, and just being a part of that huge mass of talented runners urged me on more than anything."
The rest of the best
Graylake Central senior Luke Zygmunt opened up the evening session with a solid performance in the seeded Mile by placing second in 4:14.90. It is a new personal best and IL#1 mark for the Butler University bound runner.
Zygmunt's teammate Will Brewster placed 7th in the Invitational Mile running 4:15.77 and just ahead of Belvidere North's Garrett Lee (4:17.75). Brewster stayed behind the pace that wasn't overly fast in the beginning but it got hot once New Balance Indoor national champion Brad Nye of Davis (UT) took over and won in 4:08.80.
Will Crocker of Belvidere North took over the Illinois 800 ranks with a sensational 1:52.66 to place 7th in the Invitational section.
Junior Chad Weaver of Providence Catholic competed in the pole vault and cleared 14-0.75 to take 16th place.
April, 8, 2012
4/08/12
6:27
AM ET
By
Doug Binder
| ESPN.com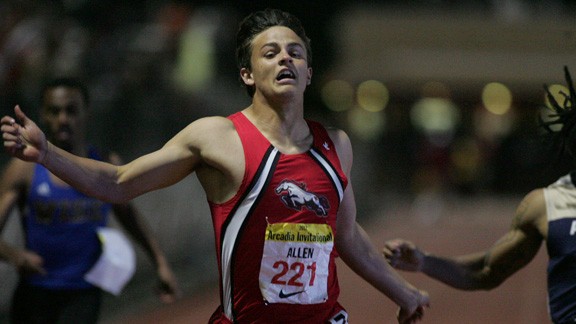 John Nepolitan/ESPNHSDevon Allen stretches for the finish line at the end of the 200 meters on Saturday at the Arcadia Invitational.
ARCADIA COVERAGE
|
RESULTS
ARCADIA, Calif. – The maximum number of events an athlete can enter at the Arcadia Invitational is four.
No one apparently told
Devon Allen
, because he won five times over two days at the country's biggest in-season high school track meet. And if he happened to step into a sixth or seventh event, he might have won those too.
The junior from Brophy Prep (Phoenix) was unstoppable over two days at Arcadia, earning four gold medals Saturday on top of the one he picked up Friday. Allen ran the second leg on Brophy Prep's winning 4x100 relay team (41.15), swept the hurdles races (13.52 in the 110s, 36.39 in the 300s), and also beat an elite field in the 200 (21.10).
The hurdles performances were both Arizona all-time records. On Friday, Allen had anchored the shuttle hurdles relay – crashing on the final barrier and then getting back to his feet to complete his team's win.
Allen was named the outstanding boys performer of the meet, although his victory in his fifth event (the 200) may be vacated from the meet records because of the four-event limit.
"I came here feeling pretty confident about the hurdles and I thought our 4-by-1 team could win if we had good hand-offs," Allen said. "In the 200 I just wanted to run fast."
He is the first male athlete to win three individual events at Arcadia since
Xavier Carter
(2003).
Records bonanza in 3,200
More history was made in the meet's signature event, the boys 3,200, where 16 runners charged across the finish line in less than nine minutes and six state records were broken.
Over a dramatic final lap, unheralded
Bernie Montoya
kicked into high gear and rocketed past
Futsum Zeinasellassie
with about 280 to go.
The Nike Cross National champ was momentarily stunned to see Montoya cruise past him and gathered himself to make a final attempt at the win. Zeinasellassie caught Montoya with 80 meters left and pulled clear, taking the win in 8:47.75.
It turns out Zeinasellassie and Montoya connected at NXN in Portland. They met at breakfast and then warmed up and cooled down together after the cross country championship, which Zeinasellassie won (Montoya was 12
th
).
"I just got this adrenaline rush," said Montoya, who PR'd by 34 seconds. "Me and Futsum are good friends. I was so excited to get past him and maybe win this, but he got me in the end."
Said Zeinasellassie: "When he went by me I couldn't believe it. I was like, 'Is that (Montoya) or somebody else?' I couldn't respond to that (surge). I had to hope he would die a little bit in the last 100."
State records tumbled in Indiana (Zeinasellassie), Arizona (Montoya 8:48.25), North Dakota (
Jake Leingang
8:51.23), Montana (
Zach Perrin
8:55.24), Idaho (
Dallin Farnsworth
8:55.28) and Delaware (
Sam Parsons
9:00.61). Zeinasellassie took down a
Rudy Chapa
equivalent two-mile record from the mid-1970s to set a new mark in the Hoosier state.
Forty-six boys broke 9:20 in the invitational and seeded sections of the event, including sophomore
Blake Haney
of Stockdale, Calif., who was seventh in the invitational race in 8:54.65, and freshman
Elijah Armstrong
of Pocatello, Idaho, who was third in the seeded race in 9:04.78.
Baxter repeats as girls 3,200 champ
Simi Valley sophomore
Sarah Baxter
led wire-to-wire to defend her Arcadia title in the girls 3,200, pulling away from Marina's
Laura Hollander
in the final 300 meters to win in 10:08.02. She earned the girls' athlete of the meet award.
Baxter ran a 4:52 anchor leg for Simi Valley in a second-place finish in Friday's 4x1600 relay.
On Saturday, Baxter, Hollander and North Central (Spokane, Wash.) junior
Katie Knight
pulled away from the field by the start of the third lap. Those three were together for laps 3-4-5-6 before Knight fell off the pace.
Hollander, from Huntington Beach, Calif., has shaved more than a minute off her PR in the past year.
In the girls mile,
Amy-Eloise Neale
of Glacier Peak (Snohomish, Wash.) won her second straight title by running 4:51.43. Neale went through the first 400 in 72 seconds and staked a 10-meter lead on the field. On the second and third laps, fellow Washingtonian
Maddie Meyers
, the 2010 champ, moved up to challenge Neale, but then fell back again. Less than an hour later, Neale returned to the track and ran the 800, kicking too late to challenge winner
Savannah Camacho
of Templeton (Calif.), who won in 2:07.61. Neale was second in 2:10.00.
Illinois duo
Aaliyah Brown
and
Shamier Little
dominated the girls individual sprints. Brown won the 100 easily (11.48) and outleaned Long Beach Poly's
Arianna Washington
to win a close 200 (23.96 to 23.97).
"It feels really good to run some good times. I've been trying to bust a 23 for over two years now," Brown said.
Little, of Lindblom (Chicago), won the 400 in 53.79 and was also fifth (100) and third (300) in the hurdles races.
While Long Beach Poly's
Traci Hicks
sped off with the 100 hurdles title (13.63), the 300 hurdles came down to a dramatic finish.
Jordie Munford
of Rancho Cucamonga, Calif. and
Jaide Stepter
of Canyon del Oro (Tucson, Ariz.) were running side by side approaching the final hurdle when both of them lost the rhythm of their steps.
Munford reached out her hands and pushed over the final barrier and still managed to break the tape in 41.93, ahead of Stepter, who stutter-stepped before clearing the final hurdle and crossing in 42.22. Munford was disqualified, moving Stepter to first place.
Raymond Bozmans
from Fort Collins, Colo. backed up his stunning early season results with a blistering 10.41-second clocking in the 100 meters. Then he returned in the 200 and finished in a near-tie with Allen.
In the 400,
Champ Page
of Henry Wise (Md.) ran 47.31 to beat
Arnold Carrillo
of McQueen (Nev.), who finished in 47.43 and
Rashard Clark
of Dorsey (Calif.), who posted 47.54.
Canadian
Tyler Smith
kept finding extra gears on the final lap of the 800, pulling away and winning the title in 1:49.23. It's his third big 800 win in the U.S., coming on the heels of indoor wins at the Simplot Games and Brooks PR Invite.
In the mile,
Brad Nye
from Davis (Kaysville, Utah) replayed his victory from New Balance Nationals Indoor, summoning a kick at 300 that drove him into the lead. He held off
Marcus Dickson
of White River (Buckley, Wash.) to win the race in 4:08.80. Dickson, who will be his teammate at BYU, was next in 4:09.41.
Cochran PRs in the discus
Ethan Cochran
of Newport Harbor, Calif. improved to 209-8 to win the discus, a mark that ranks fifth in Arcadia Invitational history and ranks US#1 this season.
"It's exciting," Cochran said of the early season success. "I can't wait until the end of the year to see how it all comes together."
Cochran is specifically targeting 213-11, which is the California state record. He also won the shot put with a best of 62-10.
Klyvens Delaunay
of Claremont (Calif.) swept the horizontal jumps with wind-legal marks of 23-11.50 and 49-4.25.
Peter Chapman
of Murrieta Valley (Calif.) cleared 16-6.50 to win the pole vault.
Sophomore
Gabrielle Williams
from Reed (Nev.), the U.S. leader in the high jump, won the event with a clearance at 5-10. Another talented Nevada sophomore,
Ashlie Blake
of Liberty (Las Vegas) won the shot put (49-10.5) and discus (152-5).
Freshman
Margaux Jones
of Redlands (Calif.) jumped 19 feet even to win the long jump, while
Rachel Toliver
from St. Mary's Academy (Calif.) soared 40-3.75 to win the triple jump.
McKenzie Johnson
of Clairmont (Calif.) won the pole vault at 12-7.50.
Vista Murrieta boys win DMR
The quartet of
Tyler Dain, Kevin Gonzalez, Omar Solis
and
Porter Reddish
pieced together a US#1 time of 10:08.52 to win the distance medley relay, with Reddish outkicking Centennial (Nev.) star
Nick Hartle
to take the win. Centennial was next in US#2 10:08.96. Those were the sixth and seventh fastest performances in meet history.
The girls distance medley also held some drama, but for a different reason. Big favorite Harvard-Westlake got a gutsy 800-meter leg from
Elle Wilson
, but fumbled the baton on the exchange to anchor
Cami Chapus
.
Two teams went flying by but Chapus reached down to grab the baton and then tore after the leaders. She dueled for three laps with Redondo Union's
Lyndsey Mull
but then put her away on the final lap, bringing it home in 11:45.18.
Amy Weissenbach
led off with a 3:30.66 split for the 1,200.
It was a rough day for the sprinters from Wakefield (N.C.). The national indoor champions dropped the baton on the final exchange in the girls 4x100 relay. Later,
Olicia Sharp
pulled up with an apparent injury in the invitational 200 meters. Wakefield then withdrew from the 4x400 relay.
California schools closed the meet with victories in the 4x400. Serra anchor
Chimere Ezumah
tracked down St. Mary's from behind and pulled into the lead in the last 120 meters to bring home victory in 3:47.18.
"I didn't know if I could get her but I was like 'I think I got a little bit left. I think I can pull it off,'" Ezumah said.
Long Beach Poly's boys pulled out the win in the 4x400 in 3:18.55.
April, 6, 2012
4/06/12
10:44
PM ET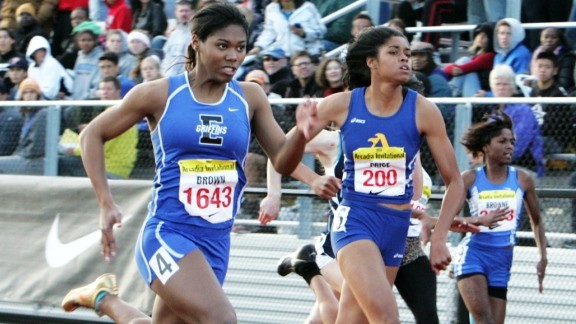 John Nepolitan/ESPNHSAaliyah Brown (left) captured 100 and 200 titles at Arcadia in 2011.
It could be a weekend to remember for a dozen of Illinois' top track and field athletes who are slated to compete in the prestigious Arcadia Invitational in California this weekend.
The meet is touted as home to 24 national records as well as the largest high school-only co-ed track and field meet in the country. The meet, held at Arcadia High School, 13 miles northeast of Los Angeles, will be hosting some of the top talent in the country. Illinois will be exceptionally well-represented in the sprints, hurdles and distance events with three girls and nine boys officially entered.
GIRLS
Athletes
Aaliyah Brown
(Jr.) Lincoln-Way East (Frankfort), 100 and 200.
Cessily Jones
(Sr.) Plainfield North, 100 and 200.
Shamier Little
(Sr.) Lindblom College Prep (Chicago), 100H, 300H and 400.
Though Brown is the defending 100 (11.59) and 200 (24.13) champion, she has something to prove after an indoor season ended by injury -- while nemesis
Morolake Akinosun
captured state and national headlines with her epic 55/200 double at the Illinois Prep Top Times meet.
Brown had produced three of the fastest marks in the country in the 55, 60, and 200 up until she was sidelined with lower leg problems. This is her first major meet back. The path to victory, at least in the 100, became a little clearer after
Jasmine Todd
of sprint power Chandler, AZ suffered a recent injury, but the competition will still be very tough.
Jones has become one of the state's premier sprinters after handing Brown her only loss in the 200 indoors and nearly upsetting Akinosun at the IPTT. Jones will be gunning for her first major title in either the 100 or 200 on Saturday evening and it may very well come at the expense of Brown.
Little is going to have her hands full as she takes on three events -- 100H, 400, and 300H -- all within an hour! Little is more focused on her technique and own performance than the competition, but she'll face last year's World Youth champ in UCLA-bound
Trinity Wilson
of St. Mary's College (Berkerley Ca). Wilson has a legal best of 13.15 compared to Little's 14.02 wind-aided mark.
Beyond that, the assumption here is that she will go all out in the long hurdles race -- where her PR 57.83 in the longer 400H stacks up very well against the field -- and then run with heart in the flat race. It will be very interesting to see the outcome of this triple attempt.
BOYS

Athletes
Chad Weaver
(Jr.) New Lenox Providence Catholic, pole vault.
Michael Clevenger
(Sr.) Decatur MacArthur, 3200.
Leland Later
(Sr.) Winnetka New Trier, 3200.
Jack Keelan
(Jr.) Chicago St. Ignatius, 3200.
Tyler Yunk
(Jr.) Belvidere North, 3200.
Will Crocker
(Sr.) Belvidere North, 800.
Luke Zygmunt
(Sr.) Grayslake Central, mile (seeded).
Will Brewster
(Sr.) Grayslake Central, mile.
Garrett Lee
(Jr.) (Belvidere North), mile.
The contingent of top boys from Illinois going to Arcadia is at an all-time high. Weaver, contesting the pole vault, is the first field event athlete from the state to compete at Arcadia. Weaver has improved this year to a 15-3.25 best. His major highlights include winning the indoor conference title in an IL#2 mark and taking the IPTT 2A crown.
The distance events will be the featured stories for many fans back home. The 3200 will see some of the top talent in the country with Clevenger, Later, Keelan, and Yunk doing battle. Clevenger enjoyed a great indoor season with 9:19.72 3200 and 4:16.35 1600 marks. He has passed every test to date with flying colors, but competing in the Arcadia race will be his biggest test.
The University of California-Berkeley bound Later will put his 9:16 personal best to the test. But he does have a plan in mind: "I don't necessarily have a time or place goal, but rather to just be competitive and stay near the front for as much of the race as I can. I feel that if I'm in good position at the mile, I'll be able to work my way to a good place, and a good time will follow."
But Later also added this: "I know that the field is exceptionally large, at 36, so I think keeping clear and not getting boxed in or tripped up in the first few laps will be essential. But I also want to balance that against not having to run extra distance in the outside lanes. So it will be interesting, and I will have to make an assessment once the race starts."
With Keelan and Yunk also in the field, it seems like a state championship race contested out-of-state. Keelan was held out of the IPTT late last month so he could focus his energy on the biggest regular season meet of his career. He stated that he doesn't particularly have a goal time in mind, but just wants to run very fast. That shouldn't be a problem considering he has run 4:17 for 1600. This should give Keelan a glimpse of his overall potential.
Yunk has been one of the top distance talents in the state for quite a few years. He also won the IPTT 3A 3200 title with ease several weeks ago. He now has an opportunity to step up even more and run the race of his life. Can he surpass the magical 9:00 barrier? It is a possibility if he can get out well and stay out of traffic.
The mile will see Lee and Brewster put their 4:14.37 and 4:14.92 1600 season bests to the ultimate test. Lee, who finished 2nd at IPTT by an eyelash to Oak Park-River Forest's Malachy Schrobilgen, will be ready to take on a field that should see several times under 4:10. The junior standout should be able to approach the 4:10 barrier if he can stay clear of being boxed in early. Brewster will have to use the same approach if he expects to run the race of his life to date.
Zygmunt's season bests of 4:17.34 and 1:56.49 should go a long way in being near the top of the charts in the seeded mile.
The 800 will see Crocker and his 1:54.87 personal best entered against a field that includes two sub-1:50 performers and several others in the low 1:50s. He hopes to come home with a huge IL#1 time.