December, 9, 2013
Dec 9
5:17
PM ET
[+] Enlarge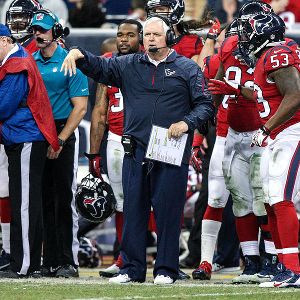 Troy Taormina/USA TODAY SportsInterim coach Wade Phillips has three games to prove to the Texans he's worthy of coaching the team next season.
HOUSTON -- Wade Phillips has been a head coach or interim head coach on five previous teams, most recently with the Dallas Cowboys. Now he is getting an audition to be a head coach once more over the Houston Texans' final three games.
"I think I have something to give," Phillips said. "I can go into all the stats and all that stuff, nobody wants to hear those. If you look at the record, I think I have a lot to offer as a head coach."
This interim time is different for Phillips than his previous interim week this season. That time Phillips was, as he put it, "keeping the seat warm" for Texans coach Gary Kubiak, who was out on doctor's orders after suffering a transient ischemic attack during halftime against the Indianapolis Colts.
Now, Phillips can put his own stamp on the team. He'll delegate more on defense. He fired special-teams coordinator Joe Marciano. And he'll influence the offense a little bit more.
When asked if offensive coordinator Rick Dennison would still call plays, Phillips didn't say yes, instead saying he was going to discuss that with Dennison on Monday afternoon.
December, 9, 2013
Dec 9
11:50
AM ET
When Texas A&M awarded coach Kevin Sumlin a handsome six-year extension worth $5 million a year, many thought that would be the end of any talk of his departure from the school.
Not so until he actually signs that extension.
He hasn't done that yet, or at least not as of late Sunday night, as NFL Network's Ian Rapoport first reported.
But does that mean the Texans are interested? It would be odd. Sumlin just doesn't fit the mold.
Houston Texans owner Bob McNair wants a coach with both head coaching experience and NFL experience (which is about the 8,395th time I've typed that sentence). Sumlin has been a head coach at the University of Houston and Texas A&M, but he doesn't have any NFL experience. All of his stops have been with college teams.
You don't have to look far to find examples of successful college coaches who didn't last in the NFL. Nick Saban, Steve Spurrier and Bobby Petrino are just a few who struggled as they transitioned to jobs that limited their power more than college jobs do.
There are some converse examples, like Jim Harbaugh who has succeeded on both levels, though Harbaugh did have NFL experience prior to becoming Stanford's head coach. And the jury is still out on Chip Kelly, who went from Oregon to the Philadelphia Eagles this season.
It took Pete Carroll a few tries to get the hang of things. His current NFL job with the
Seattle Seahawks
is going a lot better than his stints as the New York Jets and New England Patriots coach. Both teams fired him.
Who knows into which category Sumlin would fall, but when it comes to McNair's wish list, Sumlin lacks one key ingredient.
December, 9, 2013
Dec 9
8:03
AM ET
Lovie Smith is the first name mentioned when talking about filling the
Houston Texans
' vacant head coaching job.
During the Friday morning press conference to announce then-head coach Gary Kubiak's firing, owner Bob McNair said the Texans would speak with coaches who weren't currently coaching and that Smith was "a good example of that." In the days since it became more clear that Smith was a top candidate for the job, fitting McNair's desire to hire someone with head coaching and NFL experience.
Smith is one candidate who makes a lot of sense for Houston. The fact that he's a Texas native could play into his decision. The Texans won't be the only team looking for a head coach this offseason.
Here's what you need to know about Smith:
Former player? Linebacker and safety at the University of Tulsa
Coaching debut: Should we go all the way back? 1980 at Big Sandy High School in Big Sandy, Texas. His first college job was as the linebackers coach at Tulsa in 1983.
NFL coaching debut: 1996 as the Buccaneers' linebackers coach.
Significant stop: Smith served as the Rams defensive coordinator from 2001 to 2003. In his final season there he was the defensive coordinator and assistant head coach. That 2001 Rams team lost to the Patriots in the Super Bowl.
Head-coaching experience: The Chicago Bears hired Smith in 2004 and he spent nine seasons with the team and only presided over three losing seasons. Smith's head coaching record is 81-63. The Bears were NFC Champions in 2006 before losing to the Indianapolis Colts in the Super Bowl.
How did it end? Many people scratched their heads at this one, given that Smith's Bears went 10-6 in his final season. They did miss the playoffs in that season and lost five of their last eight games after starting the season 7-1. (One loss came at home on a rainy night to the Texans). Here's what Bears general manager Phil Emery told Robert Klemko of MMQB.com this summer about firing Smith: "We were in a position where if he stayed, he would be picking his fifth offensive coordinator. Part of it was because I really believe looking at a team that if you're going to have success, the most important relationship is between the head coach and the quarterback. I like our quarterback. I think Jay Cutler is very talented. He wants to improve. I know he needed to improve for us to be a championship team. When we were looking at making a change we knew that if we were going to do it we were going to make that the focus point. We had to work from that end." The Bears are currently 6-6.
December, 9, 2013
Dec 9
7:36
AM ET
Reading the coverage of the Houston Texans...
John McClain of the Houston Chronicle says he has seen many lists about who's going to replace Texans coach Gary Kubiak and he'd like to
cross a few names off the list
. McClain says the Texans won't pursue Mike Shanahan, even if he gets fired by the Redskins, nor ESPN analyst Jon Gruden.
Howard Chen of CSN Houston
caught up with Klein Kubiak, son of Gary
, after his Rice Owls won the Conference USA championship. "That's something my dad's taught me since I was a young kid -- tough times don't last, but tough people do," Klein Kubiak said. "And he's the toughest guy I know. And I know he'll come out on top of this, and I'm just glad to put a smile on his face today."
Will Grubb of Sports Radio 610 argues for
the Texans to hire Penn State coach Bill O'Brien
. He focuses on the fact that O'Brien is an offensive mind who could help develop a young quarterback.
An interesting look at interim head coaches from Len Pasquarelli of the National Football Post. He notes that of the 64 interim head coaches since 1970, only 22 kept the job on a more permanent basis the following year.
Their winning percentage as interims is about .325
. From the story: "'You take over a sinking ship and it's like trying to bale out water with a thimble,' longtime NFL defensive coordinator Rick Venturi, who was 2-17 in two stints as an interim coach, with Indianapolis in 1991 and New Orleans in 1996, described the job to NFP a few years ago. 'It's really a no-win situation, but you do it out of loyalty to the franchise and because in the back of your mind, you're thinking, "Well, if I can show them some progress, then maybe they'll keep me." But it's pretty much a "Mission Impossible" kind of situation ... and it seems like the owners realize that more now.'"
December, 8, 2013
Dec 8
3:44
PM ET
In 1996, three days after Texans general manager Rick Smith signed a contract to become an assistant coach at TCU, the
Denver Broncos
offered him a job.
Having just signed that contract, Smith said no. This piqued the curiosity of then-Broncos coach Mike Shanahan. So Shanahan had someone call Smith again a few weeks later to ask why he turned down the Broncos. That time he wanted to know what it would take to hire Smith.
And that's how Smith entered the NFL.
It was under Shanahan that Smith learned what it meant to work and win in the NFL. The Broncos won two Super Bowls while Smith was an assistant defensive backs coach. A few years in, he asked Shanahan to help him move into personnel, and the coach did that in 2000.
Why do I bring this up now?
According to ESPN.com's Dan Graziano,
Mike Shanahan nearly quit after the 2012 season
, disillusioned by the link between
Robert Griffin
III and Washington owner Dan Snyder. For one reason or another, Shanahan could be without a job at the end of this season. (See
today's game
.)
He fits the mold of someone with head coaching and NFL experience that the Texans want. Texans owner Bob McNair, who is taking a very hands-on approach to this search, values someone with championship experience, which Shanahan has.
So let's take a look at what kind of candidate he would make for this job, should he become available:
Former player? Brief college career at Eastern Illinois University
Coaching debut: 1975 as an offensive assistant at Oklahoma.
NFL coaching debut: 1984 as Broncos receivers coach.
Significant stop: Was the Broncos' offensive coordinator in 1985, 1986 and 1987, a stint that preceded his first head coaching opportunity.
Head coaching experience: Shanahan coached the Los Angeles Raiders, going 7-9 in 1988 and 1-3 in 1989, then was fired. After two seasons as an assistant in Denver and then offensive coordinator in San Francisco, he returned to the Broncos as head coach. He spent 14 seasons and won two Super Bowls as the Broncos' head coach. In four seasons with Washington, Shanahan has gone 24-36 and made his only playoff appearance last year.
How did it end? In Shanahan's 10 seasons with the Broncos following the second Super Bowl win, and the end of John Elway's quarterbacking career, Denver went to the playoffs four times and won one playoff game. The Broncos fired him in 2008 after three consecutive seasons with no playoffs. It hasn't ended yet with Washington. But if it does, keep an eye on him.
December, 8, 2013
Dec 8
1:32
PM ET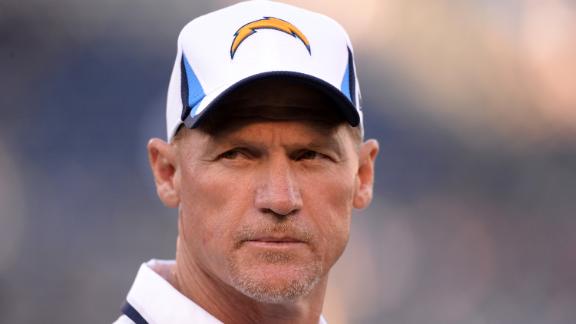 We've already talked about Lovie Smith, the former
Chicago Bears
head coach whom
Houston Texans
owner Bob McNair discussed as a possible candidate to replace Gary Kubiak during Friday's news conference.
Sunday we learn
the Texans plan to interview Chargers offensive coordinator Ken Whisenhunt as soon as possible
, through a report from ESPN NFL Insider Adam Schefter. Whisenhunt and Texans general manager Rick Smith got to know each other well when both were part of the league's competition committee.
"If you look at the record, defensive coordinators have been more successful than offensive coordinators, but not by a large percentage," McNair said on Friday. "It's going to be based more on the individual. We're looking for a coach that is bright, ethical, whose culture fits in with the culture of our organization, innovative, flexible, able to make adjustments, works with great energy and enthusiasm and very positive in his approach. Surely that person is out there and we'll find that person."
Is Whisenhunt that person?
Some background:
Former player? Whisenhunt had a modest NFL playing career. He was drafted in the 12th round in 1985 and spent time with the Falcons, Redskins and Jets.
Coaching debut: 1995 as an assistant at Vanderbilt.
NFL coaching debut: 1997 as the Ravens' tight ends coach.
Significant stop: Steelers offensive coordinator in 2004, 2005 and 2006, during which time the Steelers won Super Bowl XL. The Steelers' passing offense improved from 28th to ninth in yards gained during his tenure as their offensive coordinator.
Head-coaching experience: Whisenhunt made his head-coaching debut at age 45 with the Arizona Cardinals. He spent six seasons with the Cardinals, including a 2008 season that ended in a Super Bowl appearance. He went 45-51 as Arizona's head coach and was 4-2 in the playoffs.
How did it end? The Cardinals went 5-11, 8-8 and 5-11 in his last three seasons as the head coach. Their unsettled quarterback situation after Kurt Warner was a major factor. He and general manager Rod Graves were fired on the same day at the end of the 2012 season.
December, 8, 2013
Dec 8
12:39
PM ET
Former Houston Texans coach Gary Kubiak bought a full-page ad in the Houston Chronicle to
thank the city
for the nearly eight full years he spent with the Houston Texans:
Thank you, Houston. I want to thank the players, the coaches, and staff for their tireless work and commitment.

And especially to the fans, you are the best in the NFL.

It was an honor to return to my hometown to work my dream job. My family and I thank you for eight great years."

- Gary and Rhonda Kubiak
It's not a surprising move for a man who maintained class and poise, even when things got difficult for him. And they got very difficult during an 11-game losing streak, the longest in franchise history.
With their jobs on the line, some coaches start throwing darts at others, trying to spread the blame. To his credit, Kubiak maintained the same refrain: "It's on me."
It's why so many of his former players and even a former team employee took to social media to praise his character and thank him for the opportunities he offered and the way he treated people.
December, 7, 2013
Dec 7
4:28
PM ET
Yesterday's firing of Texans coach Gary Kubiak was neither sudden nor expected.
Kubiak might have felt the pressure of his job status tightening more and more, but he didn't come to work on Friday thinking he had lost it. He spent the morning as he normally would, planning the next week with his staff before being let go.
Now we turn to a coaching search. The work for it has already begun behind the scenes and you readers have plenty of questions about it. That and more in today's mailbag:
.
December, 8, 2013
Dec 8
11:06
AM ET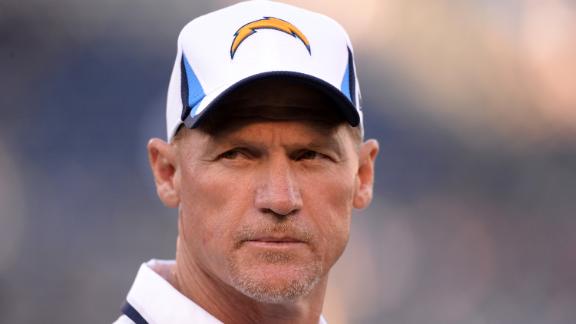 The Houston Texans already have Ken Whisenhunt squarely on the radar for their head coaching vacancy and are expected to interview the San Diego Chargers offensive coordinator at the soonest chance possible, league sources said.
Houston also has some level of interest in former Chicago Bears coach Lovie Smith, Stanford head coach David Shaw and Texans interim head coach Wade Phillips, among others.
Texans general manager Rick Smith and Whisenhunt got to know each other well from the one year they spent together working on the NFL's competition committee. Smith and Whisenhunt formed a bond, shared a respect of each other's work, and stayed in touch, the sources said.
The Texans, who have the NFL's worst record at 2-11, fired coach Gary Kubiak on Friday after suffering their 11th straight loss, falling to the Jacksonville Jaguars on Thursday night.
Texans owner Bob McNair made it clear Friday that he wants to hire someone with head coaching experience, which is one more area in which Whisenhunt would fit Houston's qualifications.
Whisenhunt was the Arizona Cardinals' coach from 2007-12 and joined the Chargers after being fired by Arizona following a 5-11 season in 2012. He was 45-51 overall with the Cardinals and led them to Super Bowl XLIII, where Arizona fell to the Pittsburgh Steelers.
The Chargers are ranked fourth in total offense this season under Whisenhunt's guidance, averaging 401.6 yards per game entering Sunday's action.
December, 6, 2013
Dec 6
2:40
PM ET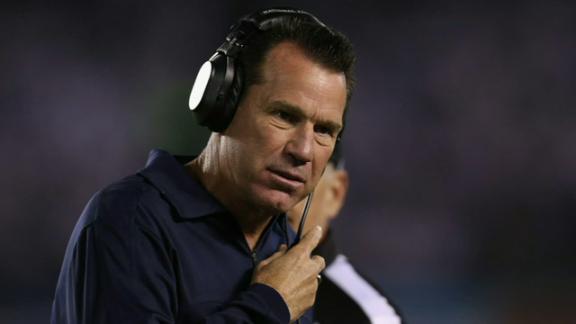 You'll give credit to
Houston Texans
owner Bob McNair for consistency.
He said before the season that this was the most talented roster he's ever had, and he said it Friday, even after firing Texans head coach Gary Kubiak. It's why general manager Rick Smith sat beside him as he explained what was next for his team.
"We felt like that we had the best roster that we've ever started the year with, and we really, really anticipated a very favorable outcome," McNair said. "To have this string of losses that we sustained is just totally unacceptable, and it's not what this organization is about. We're about winning and accountability."
McNair believes in the strength of this roster. That means McNair doesn't think the Texans are entering a rebuilding phase. He wants a coach to push them over the top of the mountain, not one to push them up it.
As such, this is the most important hire of McNair's tenure as the team's owner.
The Texans' problems this season came in a cascade.
[+] Enlarge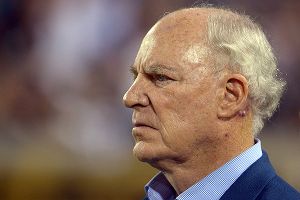 Kirby Lee/USA TODAY SportsTexans owner Bob McNair said he wants his new head coach to have prior NFL coaching experience.
They beat the
San Diego Chargers
in the season opener after an improbable comeback with the help of an interception returned for a touchdown by inside linebacker
Brian Cushing
. They beat the
Tennessee Titans
in Week 2 on a late drive, overcoming
Matt Schaub
's first pick-six of the season.
The avalanche of miscues that included pick-sixes, missed field goals, fumbles, penalties, injuries and a future Hall of Famer (
Ed Reed
) tossing verbal grenades at the coaching staff on his way off the roster followed. Then came a quarterback change that Kubiak mishandled from start to finish.
The loss that doomed Kubiak, a 27-20 loss Thursday to the
Jacksonville Jaguars
, happened without starting running back
Arian Foster
, starting tight end
Owen Daniels
, starting strong safety
Danieal Manning
and Cushing. It happened with an offensive line that has had good and bad moments trying to protect a quarterback who hasn't yet figured out how to let them. It featured a complete meltdown in discipline that led the Texans to set a new franchise record with 14 penalties for a loss of 177 yards.
After the game, Kubiak's kind face looked defeated.
He explained a decision to go for it on a fourth down, rather than kick a field goal, by saying the Texans needed momentum. Not just for that particular game, but for a season that had slipped from his grasp. He knew he needed momentum because he knew this was coming.
"We've got a lot better talent than Jacksonville," McNair said. "To have them beat us twice, that's to their credit. They played harder, they played smarter, and that's not acceptable to us to have some team beat us on that basis."
With a healthy roster, a good draft and especially a solution at quarterback -- which will fall on Smith -- the Texans will need a veteran voice to stabilize the team.
McNair mentioned Lovie Smith by name when asked about the coaching search. The former Bears coach, who inexplicably lost his job after a 10-6 campaign in 2012, has the head-coaching and NFL experience that would be a good fit.
McNair needs a coach who can maximize the talent on the roster and prevent the disciplinary lapses and personnel bungles that characterized this season. He also indicated he would lean toward a defensive mind.
There was some sentiment in the front office this season that the coaches had too much say in personnel decisions. That McNair sat beside Smith indicates that perhaps he views the personnel missteps the Texans made as a function of that dynamic.
If that's true, the right coach will make this nightmare season disappear quickly. On this decision, the Texans can't afford to miss.
December, 6, 2013
Dec 6
8:00
AM ET
A review of four hot issues from the
Houston Texans
' 27-20
loss
to the
Jacksonville Jaguars
.
Franchise records in a bad way:
We'll talk more about this later in the day, but the Texans set some dubious franchise records on Thursday night. Their 115 penalty yards in the first half set a franchise record. Their 177 total penalty yards on 14 penalties set a franchise record, too. That 177-yard total was the highest total by any team since 2001.
[+] Enlarge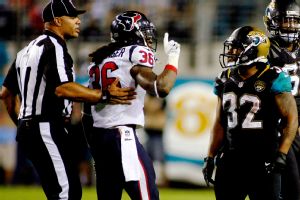 Phil Sears/USA TODAY SportsD.J. Swearinger was penalized 15 yards for taunting -- part of the Texans' 14-penalty, 177-yard total.
Why not kick a field goal with 3:45 remaining?
I posed this question to Texans coach Gary Kubiak. Instead of kicking the field goal he went for a fourth-and-2. His reply: "What was there, three minutes or something left at that point? I just, you sit here in the position we're in, trying to win games, trying to have momentum, not sit there and hope that we get it back. We had a good play to make, we just didn't make it. Should've never been in that position." He's right that they shouldn't have been in that position, but kicking a field goal might have made the next drive less harried and desperate. The Texans were down four at the time, a field goal would've meant Schaub needed to lead them only into field goal range (save your
Randy Bullock
jokes, he hasn't missed one since Nov. 10). I like the idea of giving yourself more leeway.
Swearinger's lesson:
Texans safety
D.J. Swearinger
's best attributes are his energy, passion and confidence. He came from a college program that encourages defensive players to talk to their opponents and make sure they fear them. It's no coincidence that his former college teammate Jadeveon Clowney is also a big talker. Talking is something Swearinger does constantly. In his words: "I do it after every play. Every play." His taunting penalty came after the Texans had notched a third-down stop. The extra 15 yards helped set up a Jacksonville touchdown. It's the first time in Swearinger's young NFL career he has been flagged for taunting, and it was a lesson. "I was just running my mouth too much," he said. "Should have ran off the field, but I was just running my mouth."
A tale of two quarterbacks:
Texans coach Gary Kubiak said he will examine the Texans' quarterback situation, once again neither committing to
Matt Schaub
nor
Case Keenum
. Here's what Jaguars defensive tackle
Sen'Derrick Marks
said about the two: "Keenum'll run. Schaub's not really a runner, so it kind of changed the scheme but as a defensive lineman you like when Schaub comes in. He has a low release. He's not really run out of the pocket and if he does you can run him down. It kind of changed a little bit but we just kept our pace and kept our preparation of what we've been doing all week."
December, 6, 2013
Dec 6
1:32
PM ET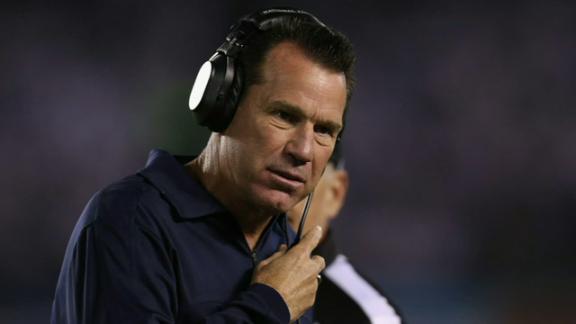 Gary Kubiak's firing Friday officially opens the 2014 head-coaching derby.
The question the Houston Texans face is whether they will follow the current trend in coaching hires. Last year, eight new head coaches entered the league, and seven of them were offensive-minded. The NFL is a quarterback-driven league.
Easier offseason programs have opened the door for more college coaches to get into the NFL. Philadelphia Eagles coach Chip Kelly said he almost had more time to work with players in college than in the NFL, which limits players to 10 organized workouts in the offseason programs and has curbed hitting in training camp.
Texans owner Bob McNair won't be cheap in trying to find a new coach. He's an aggressive owner who is willing to do whatever he can to get his team to a Super Bowl. In fact, he thought this team could get there, but an 11-game losing streak has the Texans at the top of the draft and now Wade Phillips as the interim head coach replacing Kubiak.
Here are the main candidates for the job, but not in any order of probability.
Jon Gruden, ESPN analyst and former head coach of the Oakland Raiders and Tampa Bay Buccaneers
McNair wants a coach with head-coaching experience and NFL coaching experience. Since he was let go by the Buccaneers, Gruden is always a first call for any aggressive owner. It would be costly. He probably wouldn't leave ESPN for less than $8 million a year. Whoever gets the job is likely to draft a quarterback and develop him. Gruden could have his pick of the NFL draft if he's interested in this job.