September, 15, 2014
Sep 15
4:27
PM ET
HOUSTON -- Texans running back
Arian Foster
has 55 carries already this season -- the highest total any running back has had since 2006.
Foster
Texans coach Bill O'Brien steadfastly maintains the team will give Foster as many carries as is necessary for the team to win, whether that's 10 carries a game or 35. On Monday he admitted the Texans will probably spread out carries among the rest of the Texans' running backs later in the season.
"Certainly when you look at one player getting a ton of carries, that's something that you have to pay attention to as a staff," O'Brien said. "We do that. But also we do what's necessary to win a game."
If you go back to 2001, LaDainian Tomlinson is the player with the most carries in the first two games with 63. In the past 10 years, running backs have had 50 or more carries in the first two games of the season 21 times. Three of those occurrences were by Foster. In 2010, Foster's first full year as the Texans' featured back, Foster had 52 carries in his first two games. He had 54 in 2012.
In his career, Foster has more than 1,200 carries. He's eclipsed 300 carries (including the playoffs) in three different seasons and had more than 400 carries in 2012.
That's a running back with a lot of mileage.
There's no doubting Foster's talent, which is a big part of why his coaches have used him so much. His patience behind an offensive line, that joined him in getting game balls from O'Brien today, has meant great things for the Texans' offense.
Spreading around the carries, when possible, would likely extend his time during which he'll be able to help the Texans.
September, 15, 2014
Sep 15
4:00
PM ET
A weekly look at what the
Houston Texans
must fix.
The Texans will face the
New York Giants
in Week 3 after convincing wins against Washington and Oakland. Their plus-five turnover margin is tied with the
New England Patriots
and Cincinnati Bengals for second in the NFL. Those forced turnovers have helped the Texans win despite being outgained in both games.
On the way to a 30-14 win in Oakland, Houston allowed Raiders receiver
James Jones
112 receiving yards -- 77 in the first half as the Texans built a 17-0 lead. He averaged 12.4 yards per catch and averaged 15.4 yards per catch in the first half.
To declare anything a "must fix" after that game seems nitpicky. The Texans had a 27-0 lead and gave up the second touchdown in garbage time as the Raiders ran a two-minute drill to get their rookie quarterback that experience. But the Texans are in the bottom 10 in the NFL in passing yards allowed, giving up 252 per game, and that could bite them against teams with better ball security.
September, 15, 2014
Sep 15
8:34
AM ET
September, 14, 2014
Sep 14
11:37
PM ET
September, 14, 2014
Sep 14
10:21
PM ET
OAKLAND, Calif. -- There was a gleam in J.J. Watt's eye as he talked about the touchdown pass he caught from quarterback
Ryan Fitzpatrick
in the first quarter against the
Oakland Raiders
.
Watt
He rather enjoyed being on offense, and he knows many of his teammates would like it, too. And while the play was a lot of fun for Watt, for his teammates to see, while it made Watt feel "like a kid," he, his teammates and his coaches all know this wasn't some sort of gimmick.
"That's not a trick play at all,"
Houston Texans
coach Bill O'Brien said. "I think it's good, sound football. I thought we called that play at the right time. They had stuffed us [on the play before]. ... We ran it on first down and didn't get anything, I think we lost half a yard. And then with that call on second down, it was good. It was good timing of the call and J.J. made a nice play."
It speaks to the creativity of this coaching staff and their willingness to depart from the mundane.
Last year after Watt ran a goal-line offensive play during training camp, former coach Gary Kubiak laughed off the thought of using Watt on offense. Watt lobbied then, and it didn't work. But he still put time in on the Jugs machines, joining receivers after training camp practices, working on his hands just in case.
Watt's long arms and sure hands, combined with his size, make him an easy target for a quarterback.
The ball took a while to get to him. Some of his teammates didn't even realize Watt was in, until they saw an arm with an elbow brace raised in the air.
"I saw the little brace go up and I said 'Oh, that's J.J.,'" safety
Danieal Manning
said.
They might see it again some time. After all, Mike Vrabel became a goal-line specialist as a linebacker in his playing days. He caught 10 passes, all of them for touchdowns. It's a switch that can work, and few teams have someone better to try.
September, 14, 2014
Sep 14
10:00
PM ET
OAKLAND, Calif. -- No moments were more indicative of the renewed attitude of the
Houston Texans
' defense than what followed a deep pass from Oakland quarterback
Derek Carr
to receiver
James Jones
.
Jones initially picked up 26 yards with the catch, then safety
Kendrick Lewis
knocked the ball from his hands. Jones picked the ball back up off the ground and kept running, this time meeting cornerback
Johnathan Joseph
near the end zone. The ball was knocked out of Jones' grasp again.
D.J. Swearinger
picked it up that time and the Texans had the ball back at their own 3-yard line.
Swearinger
Joseph was initially defending Jones then got back up and chased him down to the goal line. Swearinger was ready to pounce on the opportunity.
"Everyone's excited to play," inside linebacker
Brian Cushing
said. "Not giving up on plays. Even when they get a big play, we're chasing after balls, getting it out."
Shortly after halftime, Swearinger returned the favor for Joseph, knocking the ball from tight end
Mychal Rivera
for Joseph to recover. Joseph returned that recovery 49 yards, hoping to get a score there, too.
Already this season, the Texans have forced six turnovers, more than half of what they had in all of the 2013 season. They notched two interceptions (by
Kareem Jackson
and
Brooks Reed
) and two forced fumbles to add to Week 1's two forced fumbles.
"Games in the NFL, they come down to third-down conversions, they come down to red-area percentage and then obviously, probably most importantly, they come down to turnovers," Texans coach Bill O'Brien said. "So if you're the team that doesn't turn it over and the other team does turn it over, then you've got a heck of a shot to win and our team is doing a pretty good job of that right now."
It's a dramatic difference from last season when turnovers were a massive issue for the Texans on both sides of the ball. Houston's minus-20 turnover margin in 2013 was the worst in the NFL. Their offensive struggles there were well documented, and happened in part due to the quarterback who was shipped to Oakland after the season. Their defensive turnover struggles meant only 11 forced turnovers in 16 games.
Their goal on Sunday against the Raiders was to give up no more than seven points. Swearinger lamented that they didn't, but the Raiders' extra touchdown was a meaningless garbage-time touchdown.
They met one goal, though, one that mattered even more.
"We can't be the defense we want to be if we don't force turnovers," Swearinger said. "So we have to."
September, 14, 2014
Sep 14
7:27
PM ET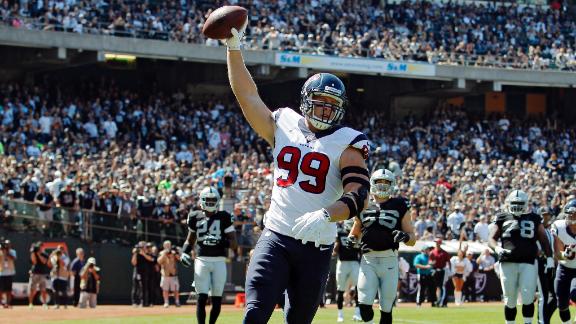 OAKLAND, Calif. -- A few thoughts on the
Houston Texans
'
30-14 win
against the
Oakland Raiders
.
What it means:
Bill O'Brien becomes the first Texans' head coach to begin his tenure with the franchise with two wins. These weren't the kind of flukey, skin-of-their-teeth wins with which the Texans started last season. The Texans' defense dominated for a second consecutive game and their offense made more progress and was dominant, especially on the ground.
Stock watch:
The Texans' offensive line's stock is up. They still haven't given up a sack all season and pushed around the Raiders' defensive front. Running back
Arian Foster
had 138 yards on 28 carries before ceding his spot to his backups
Alfred Blue
and
Jonathan Grimes
.
Watt on offense:
The Texans' offense did fine on its own after this, but they got some early help from the team's best defensive player. Defensive end
J.J. Watt
lined up as a tight end, as he's been lobbying to do for two seasons now, and made a big difference. He caught the game's first touchdown pass, giving Houston a 7-0 lead that was just a sign of what was to come.
Game ball:
The Texans' secondary gets the game ball for a fearsome performance against the Raiders. Even when they gave up yards, they didn't concede. They caused two fumbles on one play, recovering the second. In all the secondary accounted for three turnovers and one interception by cornerback
Kareem Jackson
.
What's next:
The Texans travel to New York to face the Giants in Week 3.
September, 14, 2014
Sep 14
5:17
PM ET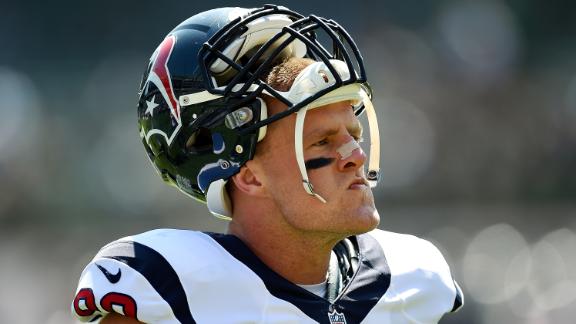 OAKLAND, Calif. -- Texans defensive end J.J. Watt can do it all.
Turns out, not just on defense.
The Texans took an early lead over the Oakland Raiders on Sunday with a one-yard touchdown pass from quarterback Ryan Fitzpatrick to a wide-open Watt. It was Watt's first professional offensive touchdown.
"My goal in the offseason is to create the best athlete I can create and give it to the coaches and say here, use it how you want," Watt said. "... Today they used it a little bit on offense."
The NFL's highest-paid defensive player made the play one week after one of the best games of his career. In Week 1, Watt notched a sack, batted pass, two tackles for loss, a fumble recovery and a blocked extra point.
In the Week 2 win over the Raiders, he lined up twice on the goal line on offense, once to block for running back Arian Foster and once to catch the game's first touchdown.
"We've been working on that for a while," Texans coach Bill O'Brien said. "You've got a guy there who's such a great athlete, 6-foot-7, 290 pounds, got really good hands. You should probably try to get him in there once in a while on offense."
Watt, who initially played tight end in college, hasn't scored a touchdown on an offensive play since his senior year of high school when he played offense and defense.
It wasn't the first time Watt's worked in a goal-line package in practice. The Texans' previous coaching staff, though, never used it in a game, so Watt stopped lobbying to play offense upon their departure.
September, 13, 2014
Sep 13
12:11
PM ET
The NFL season is a marathon, not a sprint. After all, one third of the 2013 playoff field was made up of teams that lost during Week 1 of the regular season. So there is no need for teams to sweat yet, even if 2014 started off on the wrong foot. Recent history suggests, however, that starting the season 0-2 leaves a team at long odds to reach the postseason. Only 23 teams have done so since 1990, a total of 11.7 percent of the teams to lose their first two games.
Which brings us to the 0-1 Indianapolis Colts, a team that I consider a virtual lock to win the AFC South in 2014. The Colts have a difficult matchup in Week 2 -- a Monday night game against the Philadelphia Eagles -- and if they fall again Monday night, the odds suggest that they have a mountain to climb to get back to the postseason.
I'm not ready to go that far, as I still believe the Colts will win this division for the second straight season, regardless of Monday's outcome. But it won't be accomplished as easily as I previously anticipated, and the issue has less to do with their tough opening schedule and more to do with an AFC South that looks much improved coming out of Week 1.
Let's dig deeper into the trio of AFC South teams Indianapolis is looking to surpass once again this season, with some insight based on their Week 1 performances.
September, 12, 2014
Sep 12
7:20
PM ET
ALAMEDA, Calif. – Officially,
Oakland Raiders
running back
Maurice Jones-Drew
is listed as questionable to play Sunday against the
Houston Texans
with an injured hand. However, at this point, it would be considered a surprise if he plays.
Murray
That means
Latavius Murray
will get this chance. This is an opportunity for another young Oakland player to show he deserves more playing time. Murray – a sixth-round pick last year who was on the injured reserve with a foot injury – is poised to get this first NFL carries. If Jones-Drew doesn't play, Murray will backup veteran
Darren McFadden
, who would start.
The 6-foot-3, 228-pound Murray is the team's kick returner and the team is intrigued by him because of his preseason work. He ran with solid authority. Oakland coach Dennis Allen said is comfortable with Murray playing in the regular season.
"I thought he had a good preseason," Allen said. "I feel good about him if he's called on."
ESPN analyst Matt Williamson thinks the time is right for Murray to get a chance. The Raiders had just 25 yards rushing in a 19-14 loss at the
New York Jets
on Sunday.
"I would assume they see Murray as the RB of the future and I think it would be wise to get him more and more involved," Williamson said. "He isn't a real refined runner, but he is very big and very fast for such a big RB. He needs reps."
Unless Jones-Drew makes a fast recovery, Murray should get those repetitions Sunday.
September, 12, 2014
Sep 12
6:15
PM ET
FOXBOROUGH, Mass. -- The
New England Patriots
continue to work out several free agents as they keep their emergency lists updated. On Friday, they had four players at Gillette Stadium for a closer look.
Here is a bit more on each:
Evans
DT Fred Evans
-- The eight-year veteran has a background with first-year Patriots defensive line coach Brendan Daly, playing under him with the
Minnesota Vikings
. He was released by the Vikings on Aug. 30. The 6-foot-4, 305-pound Evans is in his eighth season after playing for Miami (2006) and Minnesota (2007-2013). He played in every regular-season game but two over the last three seasons, mostly as a reserve. He has six career starts.
G Conor Bofelli
-- A rookie guard/center out of Iowa, he went undrafted and was with the
Houston Texans
in training camp before being waived in late August.
OT Caylin Hauptmann
-- A second-year player out of Florida International, he has not appeared in a regular-season NFL game. He was with the
Seattle Seahawks
in training camp, claimed by the
Cleveland Browns
on waivers and later waived by the Browns
with a failed physical designation
.
OT Martin Wallace
-- A second-year player out of Temple, he has not appeared in a regular-season NFL game. He was with the Browns the last two years, where current Patriots assistant to the coaching staff Michael Lombardi was general manager.
September, 12, 2014
Sep 12
1:00
PM ET
HOUSTON -- Coming off a win over Washington, the
Houston Texans
go into the hostile environment in Oakland that they last saw in 2010. That day, running back
Arian Foster
had 133 yards, including a 74-yard touchdown run.
Foster, who grew up a fan of the
Oakland Raiders
, could have another big game this weekend. The Texans gave him a league-high 27 carries in Week 1 and he notched 103 yards. This week he'll face a Raiders defense that allowed a league-high 212 yards rushing last week.
With all eyes on Foster, though, I'll be watching the Texans' passing game, too.
DeAndre Hopkins
' 76-yard touchdown reception was a function of both his creativity and his chemistry with quarterback
Ryan Fitzpatrick
. He's become an indispensable part of the passing game.
Raiders quarterback
Derek Carr
won't have an easy time against the Texans' pass-rush either, one which includes J.J. Watt, who has disrupted more dropbacks since 2011 than any other player with 64.5.
Prediction:
Texans 23, Raiders 17