March, 3, 2015
Mar 3
12:12
AM ET
When it comes to memories, I turn to Twitter. Today, for memories of
Andre Johnson
's 12-year tenure with the Texans.
Johnson has been given permission to seek a trade and has asked to be released if that does not work out. The Texans wanted him to accept a smaller role, but he believes he's still a starter.
When the longest tenured and best offensive player in franchise history moves on after more than a decade, emotions bubble. It's never an easy situation in part because of the memories.
I asked: What are your favorite Andre Johnson memories? Twitter answered:
@taniaganguli when he put a beating on C.Finnegan =ª=J

— CHASO (@H_Txns_Chaso) March 3, 2015
@taniaganguli OT catch vs Skins in 2010 pic.twitter.com/xekRq5xNPN

— DXTex (@DXTex) March 3, 2015
@taniaganguli td catch against Arizona where he got hit several times including big hit in back and willed his way into endzone

— Patrick Sinclair (@PatSinclair119) March 3, 2015
@taniaganguli taking care of kids at toys r us. #Texans pic.twitter.com/Z5O1KWoGNK

— Skip Westfall (@Swestfall) March 3, 2015
@taniaganguli first playoff TD catch with Yates under center. I was at the stadium and got emotional seeing it happen and his reaction

— weworemasks (@weworemasks) March 3, 2015
@taniaganguli Monday night against colts 3 TDs!

— Jonathan Vahalik (@jjvahalik50) March 3, 2015
@taniaganguli His touchdown in the first playoff win. http://t.co/yDEBxh8u9m

— Josh Lewis (@Texan_Hoosier) March 3, 2015
@taniaganguli Andre walking off the field after having words with Schaub in 2013. He did what all the fans wanted to do

— TyMo (@TyMo214) March 3, 2015
@taniaganguli pinning the ball to Yeremiah Bell's helmet to convert 4th down on game winning drive vs MIA...OT catch against WAS.

— Grayson Skweres (@squaresy9) March 3, 2015
@taniaganguli pic.twitter.com/TW2GXSp0eC

— .. (@_iKara) March 3, 2015
@taniaganguli Andre Johnson's game winning OT TD catch on a bubble screen 2 seasons ago vs JAX

— Gerry Guerra (@1KingWizard) March 3, 2015
@taniaganguli Watching Schaub go long for a TD to Dre and @TexansVoice shouting "Rock & Roll"!!! #memories #Texans #teameighty #Team80

— Melissa TxNs.Fanatic (@fairydust0102) March 3, 2015
@taniaganguli Every Christmas when AJ hosted the low-income children at Toys R Us. Truly an unselfish man and player.

— Gary Howell (@LonghornGary) March 3, 2015
March, 2, 2015
Mar 2
11:00
PM ET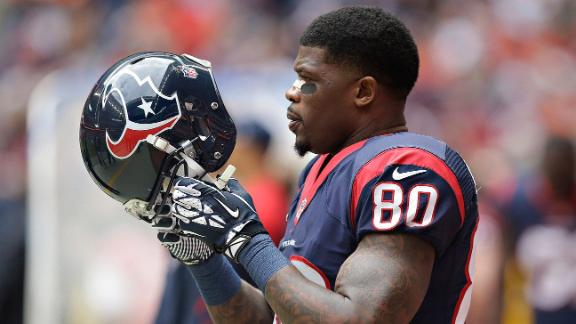 HOUSTON -- He often, good naturedly, revived the digs.
You guys said I'd lost a step.

You guys didn't think I had it anymore.

You guys thought I was done.
Even after what may have been his final game with the
Houston Texans
,
Andre Johnson
said he didn't feel like that was the end for him on the only NFL franchise he's been part of.
On Monday we learned that Johnson has asked to be traded or cut, rather than accept a smaller role with the team. The Texans have
given him permission to seek a trade
and he said
goodbye to Houston fans on Instagram
. His departure will end an era and it comes from the same confidence that elicited those smiling barbs mentioned above.
During his rookie season, following an offseason practice just after he got drafted, Johnson watched the starters huddle. He watched them until a coach yelled to ask what the heck he was doing. His place, even in his first NFL practice, was with the starters. From there, in his 12 NFL seasons, Johnson became one of the best receivers in NFL history.
He is undoubtedly the best offensive player in Texans history.
Johnson's milestones were a near-weekly event. He has more 100-yard receiving games than any active player in the NFL, and ranks fourth in NFL history. He ranks ninth all-time in receptions, having passed Hines Ward and Randy Moss last season. He ranks 12th all-time in receiving yards, having passed Torry Holt last season.
[+] Enlarge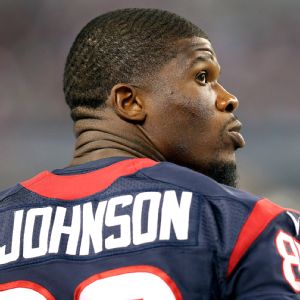 Matthew Emmons/USA TODAY SportsThe Texans have given Andre Johnson permission to seek a trade and he said goodbye to Houston fans on Instagram.
He slogged through the Texans' never-ending quarterback search, rarely showing his frustration, but clearly at least a few times. For that he deserves credit. His holdout last season was not about money, but rather about his future under a new regime. It was a new regime with tremendous respect for Johnson, but not one blind to the passage of time.
Age catches up with everyone, even one so accomplished and talented as Johnson. He adjusted, but the shift was clear. Second-year receiver
DeAndre Hopkins
was passing him, passing him while watching the veteran for tips on how to succeed, and succeed for so long.
Johnson still believes he is a starter. The Texans are ready for a transition. That impasse led to this. A release could even serve Johnson well, allowing him to join a team with the kind of established quarterback situation he has never had in his career.
In the time I've covered him, Johnson has never been one who enjoys conducting interviews. He accepts the responsibility, and follows through professionally, if not happily. But in that final postgame news conference of 2014, there was a lightness to Johnson's demeanor.
He chuckled and laughed at various questions. He shared that a teammate had wondered if this would be his last game with the Texans, and offered that he expected to return.
"When I woke up this morning, that was the first thing that I said," Johnson said. "I said, 'I'm going to go out here and enjoy every moment that I'm out here on this field,' and that's what I did. I didn't worry about anything."
In that game, Johnson caught 10 passes for 134 yards and a touchdown.
"Every year you get older, you guys say I lose it," Johnson said. "It is what it is. It's part of the game. But like I said, I can still play the game. I know that. Whatever is meant to happen will happen and I'll cross that bridge when I get there."
He's approaching that bridge now and on the other side of it is a future so many players learn to accept.
March, 2, 2015
Mar 2
9:18
PM ET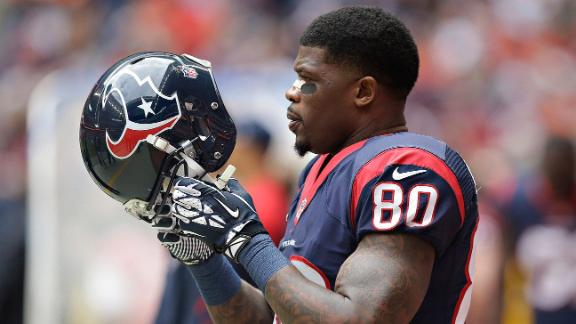 HOUSTON -- Texans wide receiver Andre Johnson has been given permission to seek a trade, according to sources.
After 12 seasons with Houston -- all of them as a starter and many as one of the best receivers in the NFL -- Johnson's role on the team was set to change. Rather than accept that, Johnson requested to be traded or released.
The Houston Chronicle and KRIV first reported the news.
"Time has come," said Kennard McGuire, Johnson's agent. "It has been a great run, but as you know in the sports world, there is a shelf life. He looks forward to challenging for a Super Bowl."
Johnson has two years remaining on his contract and a salary cap figure of $16.1 million for 2015. His base salary of $10,5 million is the highest on the Texans' roster. Johnson is set to make a base salary of $11 million next season, counting $14.675 million against the salary cap.
Despite being contractually bound to the Texans, Johnson took to Instagram to send a video message thanking Houston fans for the memories.
Johnson saw trouble ahead last year. He held out of the Texans' offseason workouts, organized team activities and mandatory minicamp and arrived at the facility shortly before training camp began with the Texans' new coaching staff.
Throughout his absence, coach Bill O'Brien repeated the respect he had for Johnson. He did so again at the NFL scouting combine in February.
"I have a ton of respect for him and to have the opportunity to coach a Hall of Fame receiver," O'Brien said. "... I know that we would like to have him back, and we would like to see him retire a Houston Texan. ... He's a Houston Texan, and we would like to have him back."
That didn't change, but Johnson's role was set to. The 2014 season saw Johnson's production dip as second-year receiver DeAndre Hopkins
March, 2, 2015
Mar 2
2:20
PM ET
When last we checked in on the
Houston Texans
' quarterback situation,
Ryan Mallett
was saying he'd love to be back with the team, a week after head coach Bill O'Brien and general manager Rick Smith said at the combine they hoped to re-sign Mallett.
Now comes the part of this that goes beyond happy and hopeful declarations.
Hoyer
Mallett
As it stands now, Mallett remains headed for free agency, which officially begins March 10. He'll have a better chance to see his market value a few days before that. It's possible that changes things with the Texans, but it's starting to look unlikely things get wrapped up before then.
There's been a lot of talk about
Brian Hoyer
and the Texans. With the
Cleveland Browns
signing
Josh McCown
last week, Hoyer will hit the free-agent market next week, too. He spent three seasons with the
New England Patriots
, all of them while O'Brien was on the staff. His familiarity with O'Brien would make this an attractive landing spot from Hoyer's perspective.
Would he be a better fit for the Texans than Mallett or
Ryan Fitzpatrick
, who started most of last season for Houston and still has one year left on his contract?
That's hard to say. Fitzpatrick had a marginally better total QBR than Hoyer did last season, by about 12 points. Fitzpatrick's passer rating was significantly better, while Hoyer's 76.5 passer rating ranked 31st in the league. Part of that is likely the quality of the players around each quarterback. Total QBR accounts for situations, so, for example, the quarterback doesn't get credit for the 80 yards run after catch. An interception that results in no points the other way is less costly than one that results in a touchdown.
As for Mallett, he has arm strength the former two don't have, that much we know. He won the battle of the former Brady backups when the Texans played the Browns in Cleveland. Hoyer's QBR in that game was 24 to Mallett's 82, and the
Texans won 23-7
. Mallett played the next game with a torn right pectoral muscle, so we really only have a one-game gauge on his ability. That isn't enough to draw conclusions.
What the Texans got out of the quarterback position last season isn't what they want.
For now, the status quo remains for the Texans' quarterback situation.
February, 27, 2015
Feb 27
5:45
PM ET
Reading the coverage of the Houston Texans...
A few relevant links before you depart for the weekend.
John McClain of the Houston Chronicle
takes a look at what kinds of upgrades NRG Stadium needs before hosting Super Bowl LI
. He spoke with Peter O'Reilly, the NFL's senior vice president of events, who said the upgrades, which could cost more than $50 million, should be paid for by Harris County. There seems to be some disagreement on that, though. From the story: "Edgar Colon, a Houston attorney who serves as chairman of the Harris County Sports and Convention Corp., didn't agree the county is responsible for every improvement. 'Obviously, we're very excited about hosting the Super Bowl at NRG Stadium,' Colon said. 'We are on track. Some of those (expenses) may be the responsibility of the county, and some may not be. We're analyzing all that and going through the contracts and the documents and having conversations with our major tenants to resolve all of these contractual obligations. I'm sure all are going to be resolved in time.'"
Deepi Sidhu of HoustonTexans.com does the next in the site's exit poll series, asking various media members who were at the combine whether
J.J. Watt
can do it again.
They saw no reason to believe Watt couldn't have another season like his 2014 season
, after which he won defensive player of the year and received 13 MVP votes.
This is a bit of a different story, that isn't exactly Texans related, but
worth passing along about ESPN's Ed Werder's family
. Werder's daughter, Christie, now 31, began battling a brain tumor when she was 12. She had surgery three years ago, just after getting married. As she went through her recovery, her husband was diagnosed with colon cancer. Werder finds support on Twitter, and he got some from an unlikely place one day. When Texans owner Bob McNair found out that Werder's son-in-law, Trey Bomar, was being treated at MD Anderson, he called to offer his support. Bomar then read up on McNair's own battle with cancer and used it as a source of inspiration.
February, 26, 2015
Feb 26
5:47
PM ET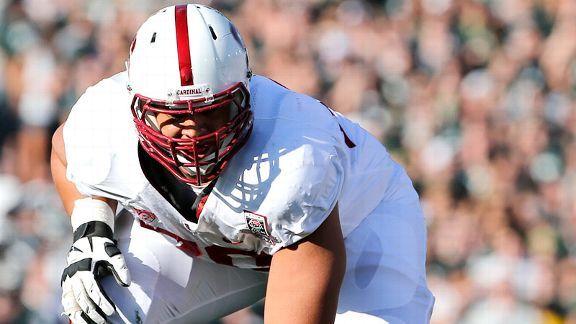 ESPN draft analyst Mel Kiper went with cornerback
Trae Waynes
(the fastest defensive back at the combine) and offensive tackle
Ereck Flowers
(who led all offensive linemen with 37 bench press reps) as the Houston Texans' picks in his mock drafts. His counterpart Todd McShay has stayed consistent in both of his postseason mock draft, giving the Texans
Stanford offensive tackle
Andrus Peat
both times
.
Peat is a 6-foot-6, 313-pound junior who has long arms, measured at 34 3/8 inches.
McShay notes Peat's arm length as a positive, and I know that's an area that could use improvement on the Texans' offensive line. Peat played left tackle in college, but McShay projects him here under the assumption that the Texans would be comfortable moving him to left tackle to replace
Derek Newton
.
I've maintained that I see bigger needs for the Texans than right tackle. I think the Texans will re-sign Newton and keep their offensive tackles intact. Their free agency doings will have a significant impact on the way they handle their draft, because it will dictate what their needs are. With quarterback
Ryan Mallett
, cornerback
Kareem Jackson
, outside linebacker
Brooks Reed
and safety
Kendrick Lewis
all unsigned, there are several potential holes for the Texans to fill.
February, 26, 2015
Feb 26
11:15
AM ET

Gregory
A favorite activity during NFL draft time is comparing this year's available players to those in years past. Termed a once-in-a-decade type talent,
Houston Texans
outside linebacker
Jadeveon Clowney
certainly drew comparisons to some of the NFL's great pass-rushers as he prepared to become the first overall pick last year.
So we'll take notice when, just a year later, Greg Cosell of NFL Films offers his thoughts on why he thinks there's an even better athlete in this year's draft. That would be Nebraska defensive end
Randy Gregory
.
"Well he's a better athlete than Clowney," Cosell said when prompted by our friend Paul Kuharsky on Midday 180, a Nashville radio station. "He's more flexible. He's more explosive in his movement. Clearly not as strong. Clowney could get inside and push back. Clowney did not have the loose hips that this guy does. Gregory is a much more explosive mover, a much looser athlete."
The issue of the looseness of Clowney's hips caught my attention. Very shortly after signing his rookie contract with the Texans, Clowney had a sports hernia surgery that I've heard might have been an issue for a while before that. It's definitely an injury that could impact a player's flexibility and hip movements. Assuming Cosell's opinion was formed off college tape, which I think it was, that could explain some of what he saw.
Cosell went on to describe the difference in the two players' styles.
"It's like watching running backs," he said. "You know immediately when you watch running backs, the guys when they hit the point of attack are shifty and elusive versus the guys that are a little stiff and can't do that. Gregory's kind of shifty and elusive in his movement. He's a quick-twitch, explosive guy laterally. Clowney was more straight-line power."
You can listen to
the full interview here
. The extended portion about Clowney begins at the 12:28 mark. Earlier in the interview he talks about other pass-rushers, raving in particular about Florida's
Dante Fowler Jr.
February, 25, 2015
Feb 25
4:20
PM ET
[+] Enlarge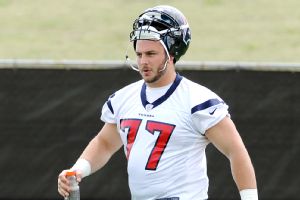 AP Photo/Pat SullivanDavid Quessenberry is in remission from non-Hodgkin T lymphoblastic lymphoma, having completed a series of chemotherapy treatments and radiation therapy.
HOUSTON -- Texans offensive tackle David Quessenberry is in remission from non-Hodgkin T lymphoblastic lymphoma, having completed an aggressive series of chemotherapy treatments followed by radiation therapy.
"I'm back into it," Quessenberry said. "We're training every day. We're enjoying this offseason time. I'm just using every day to get back to where I was before it happened. I know it's not going to take a week or a month, but hopefully in time I can get back to that point. .. Every day I feel myself getting stronger. Feel myself getting better."
Quessenberry will now undergo a 30-month maintenance period that will include lower doses of chemotherapy, but that might not preclude a return to the field. Quessenberry told reporters at an event at Texas Children's Hospital that he hopes to play football in 2015.
February, 25, 2015
Feb 25
3:45
PM ET
Several Houston Texans players and head coach Bill O'Brien attended an event Wednesday at Texas Children's Hospital, visiting with children as the team announced a seven-year partnership for the hospital to become the team's official hospital.
Several media members were invited to the event, and from their tweets, we learned a few things. Let's get to them, in list form, with the help of those reporters' tweets.
#Texans Quessenberry: "I'm officially in remission. Man, I love saying that."

— Simone Eli (@SimoneEli_KPRC) February 25, 2015
My take: This is the best Texans news anyone will get all year.
David Quessenberry
was diagnosed with non-Hodgkins T lymphoblastic lymphoma last summer, spent the summer and fall undergoing aggressive treatments (read
more about his journey here
). Radiation followed chemotherapy and that process is now finished. In the aforementioned link, you'll read that this isn't the end of the road, but it's a very important and positive milestone for Quessenberry. Great news.
Mallett is still recovering from surgery on a torn pectoral muscle. "I've tossed it (ball) around a little. Its a day by day process. "

— John McClain (@McClain_on_NFL) February 25, 2015
My take:
Ryan Mallett
said in December that he wants to be back with the Texans, and he repeated that Wednesday. He also provided this update on his pectoral muscle: He's started tossing the ball around, but is taking his recovery day to day. Mallett will hit free agency on March 10 if the Texans don't reach a deal with him before then. I'm betting it will happen.
Chris Myers wants to come back. And busy offseason with kids. #texans #abc13 https://t.co/CCE2cidWBr

— David Nuño (@DavidNunoABC13) February 25, 2015
My take:
Chris Myers
' future is an interesting one. He acknowledged to reporters that the business side of football comes into play. Simone Eli of KPRC tweeted that Myers has been working out with the team. Myers still has one year left on a contract he signed in 2012, and his salary-cap figure for that year is $8 million, which has spurred some of the discussion about his future.
February, 25, 2015
Feb 25
1:20
PM ET
When asked about
Andre Johnson
's high salary-cap figure last week, Texans general manager Rick Smith said Johnson's contract was one of many the team would look at.
Johnson counts for $16.1 million against this coming year's salary cap. That's the second-highest number on the team, after defensive end J.J. Watt.
Though the Texans don't have to make any moves to get under the salary cap, they do plan to shuffle things this week while they work through their free-agency plans.
The Texans were pushed right up against the cap last season, but the jump this year will be beneficial. The cap is expected to rise at least $10 million from around $133 million. The projection the NFLPA offered agents last week was $143 million, though I've heard numbers as high as $145 million. The Texans have $135,359,399 committed to the 2015 cap, which will give them some wiggle room. Still, they always consider contracts based on how much they'd be willing to devote to a player given his production and age.
Let's take a look at the players who count the most against the Texans' salary cap for next season and what potential cap savings could come from cutting them, according to OverTheCap.com.
Remember two things. First, there are some players on this list who aren't candidates for a restructure or release for cap savings. For the integrity of the numbers, we've simply included the top 10 contracts in terms of cap savings, all other factors notwithstanding, just to give an idea of the complete picture. Second, releasing a player isn't the only option when making cap considerations. Restructures can also help and that's a move the Texans have used plenty.
February, 25, 2015
Feb 25
8:00
AM ET
In Part I of the
Houston Texans
mailbag we discussed free agency. In Part II, we discuss the draft...
@taniaganguli What are the odds Trae Waynes actually falls to the Texans? If he does do they draft him? Do we take a QB? #texansmail

— Matt Wakefield (@wakefieldmb) February 23, 2015
@taniaganguli: The Eagles, Ravens, 49ers, Chiefs and Titans (if Tennessee trades down) are teams that need cornerbacks and could take them in the first round. The Jets and Falcons need cornerbacks, but I'd be surprised if they took one in the first round. Of the former group, only the Titans and 49ers draft ahead of the Texans, which improves the odds of Trae Waynes falling there, but it's still unlikely. Waynes had an outstanding combine, highlighted by his 4.31 speed. He was already considered the best cornerback prospect by many heading into the combine. And cornerbacks are in short supply this offseason. I need more information before definitively answering the quarterback question, but it would not surprise me if the Texans did not draft a quarterback this year.
@taniaganguli if we decide to go WR for pick 1, do you think any of the big 3 will be there? Cooper/White/Parker, any outliers? #texansmail

— Chase T (@ChasePiKA) February 23, 2015
Ganguli: There are five teams I could see taking a receiver in the first round ahead of the Texans' 16th pick: the Raiders, Jets, Rams, Browns, and Dolphins. Amari Cooper and Kevin White should be long gone. There is a decent chance Devante Parker is, too, but he's got the best chance. Even if those three aren't available, this is a very strong group and someone like Devin Smith from Ohio State, who has all the physical tools to be a good NFL receiver, or Jaelen Strong from Arizona State could be available and a good selection for the Texans. Strong was fast at the combine, running a 4.44 40-yard dash which will help him with a lot of teams. He showed good ball skills and his 42-inch vertical was second among receivers. I've said this a lot: I think it's a great year for the Texans to take a receiver given the depth of the class. Regardless of when Andre Johnson's time with the Texans passes, Houston has to be ready for that. Drafting one of the guys in this year's class would provide for a seamless transition.
@taniaganguli let's say we're at 16. Waynes, Anthony, Dupree, and Collins are all still on the board. Who's your pick #TexansMail

— Chans Foote (@ChansFoote) February 24, 2015
Ganguli: That is Michigan State cornerback Waynes, Kentucky outside linebacker Bud Dupree, Alabama safety Landon Collins, and Clemson inside linebacker Stephone Anthony. On this list I'm torn between the two defensive backs. I think you can get a decent inside linebacker later. Cornerback will be a very important position to address, especially if Kareem Jackson departs, and there isn't a lot of depth anywhere this year when it comes to cornerbacks.
@taniaganguli Who has become you combine crush? #TexansMail

— Daniel Blake Hill (@DanielBlakeHill) February 24, 2015
Ganguli: I love Florida defensive end Dante Fowler Jr., who had an excellent combine. He would move to linebacker in a 3-4 system. I have heard good things about him as a person as well. He also works hard and has a good football acumen. His split in the first 10 yards of his 40-yard dash was 1.59 seconds, impressive and critical for a pass-rusher. The Texans need one, but Fowler won't probably be in their range. The good news is, this draft is packed with talented edge rushers.
@taniaganguli if we aren't going to get a QB and next years draft/FA crop is worse should we just sleep until 2017?

— Gene Egdorf (@GeneEgdorf) February 24, 2015
Ganguli: I don't think next year's draft class will be that bad, but I hate excessively early draft evaluations and will not become one of those people. A question though: Can you teach me how to fall asleep for two years? That seems like a useful skill..
February, 24, 2015
Feb 24
4:15
PM ET
Take a listen to this week's NFL Nation TV podcast as the crew breaks down the lessons it learned from last week's NFL combine in Indianapolis, as well as the latest in the push for bringing the NFL to Los Angeles.
Host Paul Gutierrez (
San Francisco 49ers
reporter) and co-hosts Coley Harvey (
Cincinnati Bengals
reporter) and Mike Wells (
Indianapolis Colts
reporter) are joined by four other NFL Nation reporters.
Eric Williams (
San Diego Chargers
reporter) joins to give an idea of how feasible it would be for the Raiders and Chargers to share a stadium in Southern California. Pat Yasinskas (
Tampa Bay Buccaneers
reporter) discusses why he thinks
Jameis Winston
is all but a lock to be the No. 1 overall pick in the draft. Rich Cimini (
New York Jets
reporter) breaks down which direction the Jets will go with the No. 6 overall draft pick. Will they go with a quarterback? Defense? Receiver? Paul Kuharsky (
Tennessee Titans
reporter) weighs with his thoughts on where the Titans will turn at No. 2 if Winston is off the board.
Be sure to watch NFL Nation TV live on ESPN.com at 1 p.m. ET/10 a.m. PT each Tuesday, and be sure to give the show's a podcast a listen following each taping.
February, 24, 2015
Feb 24
4:05
PM ET
With draft prep activity and free agency chatter heating up from last week's combine, we've got some things to talk about again. Though I initially wasn't sure I'd have enough for a
Houston Texans
mailbag, you guys came through bigtime. We'll split this mailbag into two posts, one on the draft and one on free agency. We'll start with free agency today.
@taniaganguli #texansmail Have negotiations with Mallet started?

— Daniel OBriant (@DROBriant) February 23, 2015
@taniaganguli: Yes they have. The conversations started last week at the combine and could reach a conclusion soon. An X factor that I mentioned last week will be the external market. There are a handful of quarterback-needy teams that would be interested in Ryan Mallett if he hit the market. General manager Rick Smith and head coach Bill O'Brien were very open about the Texans desire to keep Mallett in the fold after a hopeful performance last season. I keep using the word "hopeful" about Mallett because I think he showed a lot of positive signs, but it's impossible to make definitive conclusions based on one game in which he was mostly healthy and one game he played with a torn right pectoral muscle. That's an injury that keeps a player from finishing his throws and was the reason his passes were sailing when the Texans lost to the Cincinnati Bengals. The hope he provided and the soft quarterback free agent market add up to Mallett being a priority for the Texans. He has said publicly that he wants to remain in Houston, and the Texans have made clear they want that, too.
@taniaganguli In order of who Texans want back at their projected price points, rank Brooks Reed, Derek Newton, and Kareem Jackson.

— AsleepT (@AsleepT) February 24, 2015
Ganguli: My order would be Derek Newton, Kareem Jackson, then Brooks Reed. There are two levels to this question. The first is the question of how much the Texans want the player back, and the second is the question of how much they are willing to pay. The gap is big for Jackson and the Texans. Though he would leave a big hole if the Texans lost him, I am getting the sense that Jackson will hit the market. The Texans like his play enough that they could fight for him there, but their salary-cap situation won't be conducive to big spending. Re-signing Jackson was a bigger priority for the Texans than Newton, but the impasse is smaller with Newton, and Smith said last week that he would like to see Newton continue to grow with the Texans and is confident he will. If I had to make a prediction now, I'd say Reed is gone. He has done a fine job for the Texans and really provided them versatility in a linebacker group that has needed it, but they haven't shown much interest in re-signing him, and someone else will.
@taniaganguli what are the chances the Texans sign a slot receiver like Welker or go for a home run and get Cobb? #TexansMail

— Aaron McBride (@Atmcbride) February 24, 2015
Ganguli: O'Brien talked about this position at length during the combine, and I'll do a post on that this week. This is a position they could upgrade. They had a talented slot receiver in Mike Thomas during training camp, but he fell out of favor with the coaches late and was released when the younger Damaris Johnson became available. The concern with Wes Welker would be about his brain injuries. He has had several concussions, even wearing his giant precautionary helmet, and FOX Sports reported he is considering retirement. Financially, Randall Cobb might be out of range. I don't see the Texans spending big in free agency, but that's just my read right now.
@taniaganguli #texans Your gut feeling: does Mallett re-sign w Texans or elsewhere?

— GILES LAMONT (@GilesGman) February 24, 2015
Ganguli: Purely my gut feeling? He comes back..