November, 26, 2014
Nov 26
7:59
AM ET
Reading the coverage of the Houston Texans...
Former LSU running back
Jeremy Hill
, no with the
Cincinnati Bengals
, mused on Twitter yesterday that he sometimes wonders how LSU ever lost a game last year. Given the talent they clearly had -- you can't blame him.
Players who could still be at LSU if they'd chosen to be have had an impressive few weeks
, writes Roy Lang III of the Shreveport Times. This story specifically addresses Texans running back
Alfred Blue
, Hill, Giants receiver
Odell Beckham Jr
., who made the most spectacular catch of the season on Sunday night, and Dolphins receiver
Jarvis Landry
, who leads the Dolphins in receptions.
The Texans' primary objective this offseason will be to find a quarterback who can lead them to a Super Bowl, writes John McClain of the Houston Chronicle. In McClain's view,
the only quarterback currently on the roster whom he is confident will be back next season, is
rookie
Tom Savage
. He goes through several scenarios. He also notes, the Texans are interested in winning, citing coach Bill O'Brien's pointed quote from Sunday's postgame press conference: "I hate losing. I hate it. I hate it with every fiber of my body."
We occasionally veer away from a strictly Texans story, and this is one that might interest some Texans fans. Former Texans linebacker
Connor Barwin
, in the midst of his best NFL season with the
Philadelphia Eagles
, has taken an interest in improving his new community and becoming part of it. Those who knew him in Houston won't be surprised at all to read this story by our Ashley Fox
that begins with his work on a local park
.
November, 25, 2014
Nov 25
6:50
PM ET
HOUSTON -- It's not an easy thing to know that your team has just used the No. 1 pick to draft someone at your position.
There might not have been a better way to handle it than
Whitney Mercilus
did.
Mercilus
"Everybody can have their worries about it, speculate about a lot of things, somebody's going to get replaced or things like that, but that's what happens year in and year out," Mercilus said. "They're always trying to find somebody better at each position. All you can do is control what you can do and just go out there and make the best of your opportunities."
That opportunity came for Mercilus as opportunities often do in the NFL -- as the result of an injury. When first overall pick
Jadeveon Clowney
suffered a torn meniscus in his first game, that outside linebacker spot went back to Mercilus.
According to Pro Football Focus, Mercilus's 27 quarterback pressures from the right side rank seventh among 3-4 outside linebackers, a total that includes four sacks, 10 quarterback hits and 13 quarterback hurries. He garnered all four of those sacks in two games -- two against the
Pittsburgh Steelers
and two against the
Philadelphia Eagles
.
Mercilus said the process was tough, but he started to feel comfortable in the Texans' defense around the third preseason game.
"Being introduced to the new system, definitely a different system -- especially from what I was used to, so that was interesting," he said. " ... Most important thing is to know exactly where you're supposed to fit up. Knowing that actually allows you to know whether you have help, whether it's outside or inside. Where are your bodies at on the field?"
Understanding the concept of the defense as a whole was critical for Mercilus.
"Before it was pretty much just go, go, go," he said. "That's it."
Mercilus remained the Texans' starter when Clowney returned to playing. He's been an important piece of the Texans' defense.
November, 25, 2014
Nov 25
2:45
PM ET
HOUSTON -- For the past six months, since being drafted in the fourth round by the
Houston Texans
,
Tom Savage
has understood this: It's not his time yet.
[+] Enlarge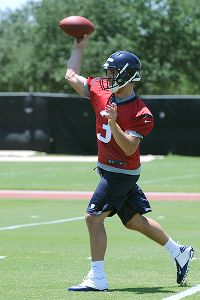 AP Photo/Pat SullivanTom Savage's only NFL experience so far is in practice, but is it time to give him a shot in a game?
"I think that's my main goal right now is just to keep improving and kind of put myself in a good situation so that whenever that time comes, whether it's next year or this year, just be ready to go," Savage said the day before
Ryan Mallett
was named the Texans' starter, supplanting
Ryan Fitzpatrick
.
The Texans' quarterback situation has changed significantly since then, which begs one question: Is it his time now?
Making Mallett the starter during the Texans' bye week was equal parts Mallett being ready to take the helm, a belief that Fitzpatrick had done all he could and a desire for better evaluation. Mallett had developed for three seasons as a backup quarterback in New England and improved steadily as Fitzpatrick's backup in Houston.
Now that Mallett is out of the picture for this season with a torn pectoral muscle, the Texans have broader evaluation needs.
Therein lies the argument to start Savage.
Nearly everything we know about him comes from his limited time playing in college. Here's Matt Williamson, ESPN's resident scout:
"He is a big strong kid with a great arm. He is tough in the pocket, but very limited mobility. He wasn't at Pitt his entire college career and had a lot of learning still to do when he entered the draft. How much has he progressed since then on the mental aspects of the position? I really don't know. But much like [Zach] Mettenberger in TEN, he has starting QB traits and if mentally prepared, should get a shot before the end of the season."
That arm drew attention during training camp. Strength was something he'd been asked to improve once he got to the NFL. The two quarterbacks ahead of him have helped his mental progression.
"Mallett has a good grasp of the offense just from being around it for so many years," Savage said. "Fitz is a vet and he's been around the league and he's kind of got that mental toughness that young rookies need to kind of learn. He's one of the toughest guys I've been around, so it's good to get both of their features and kind of instill it in myself."
A franchise quarterback is a tough thing to find, but when you find him, that sets up a team for years. Finding that player, and developing him if necessary, is the most important factor in any NFL team's success. Devoting resources and time to that process is often necessary but can require patience. If Savage struggles at first -- a bigger risk with Savage than Mallett given Savage's limited time in both college and pro practices -- that doesn't necessarily mean he'll never grow into a solid quarterback. But it does mean the Texans' immediate future could be rough.
That's a tough ask of a team that is not yet out of the playoff race.
The Texans' loss Sunday to the Bengals combined with Indianapolis' win made that harder, especially since there are now nine teams in the AFC with at least two more wins than Houston, but the Texans aren't out of it yet.
With a postseason berth still at stake, it'd be difficult to hand over the reins to a rookie who's had almost exclusively scout-team repetitions so far. You can bet that will matter to the Texans' thought process.
And if we've learned something from Mallett, it's that waiting can sometimes be the best thing for a young quarterback's career.
November, 25, 2014
Nov 25
1:00
PM ET
A quick observation of quarterback
Ryan Mallett
and how he played in the Houston Texans' 22-13 loss in Week 12.
Mallett
It seemed an odd departure and a stark contrast from his first start. In Week 11, Mallett had the 10th-best Total QBR for a quarterback making his first start since 2001. Then in Week 12, Mallett was suddenly sailing passes, missing his receivers and unable to do what he did the prior week.
It seemed an odd departure because it was: Mallett was playing with a torn right pectoral muscle. He'll have surgery and should miss the rest of the season, likely sending the Texans back to benched former starter
Ryan Fitzpatrick
for Sunday's game against the Titans. And while Mallett is in the final year of his contract, his future could still be with the Texans. NFL Network reported the Texans have told Mallett they want him back in 2015. ESPN's Chris Mortensen reported Mallett wants to be back and should be healthy by April.
The Texans would be wise to give Mallett more time. In his Week 11 win over the
Cleveland Browns
, he made smart decisions, got rid of the ball quickly and commanded the Texans' offense authoritatively. He showed enough promise to deserve more time.
November, 25, 2014
Nov 25
8:00
AM ET
Happy early Thanksgiving!
Join us today at 1 p.m. ET, 10 a.m. PT for ESPN NFL Nation TV's Spreecast as episode No. 33 gives a Turkey Day preview, revisits
Odell Beckham Jr
.'s insane three-fingered catch, and discusses several teams' futures given the varying quarterback situations they have inherited this season.
Host Coley Harvey (
Cincinnati Bengals
reporter) and co-host Mike Wells (
Indianapolis Colts
reporter) will be joined by Michael C. Wright (
Chicago Bears
reporter), John Keim (
Washington Redskins
reporter) and Phil Sheridan (
Philadelphia Eagles
reporter).
Plus, Rob Demovsky (
Green Bay Packers
reporter) and Mike Reiss (
New England Patriots
reporter) will debate in this week's "Main Event" about Sunday's big game at Lambeau Field that will feature MVP candidates
Aaron Rodgers
and
Tom Brady
.
Viewers are encouraged to log in and ask the panelists questions as well as contribute
in the chat feature
.
November, 25, 2014
Nov 25
8:00
AM ET
Reading the coverage of the Houston Texans...
Randy Harvey of the Houston Chronicle takes a look at Bill O'Brien's decision not to pull
Ryan Mallett
from Sunday's game
when Mallett was playing with a torn right pectoral muscle
. He connects some dots O'Brien declined to connect (he declined to confirm Mallett's injury, or really that he even had an injury):
Did they consider benching him? That's one question about Mallett that O'Brien would answer Monday.

"No," O'Brien said. "Never did. I thought that there were some times he was inaccurate, and then there were times where he wasn't. He had some decent throws throughout the day. But there were other ones that were high. But I never thought about taking him out. I wanted to give him as much chance as I could to lead us back to victory, and that's what I was trying to do."

Translation: O'Brien has more trust in an unhealthy Mallett than he does in a healthy Fitzpatrick.
The news of both Mallett's injury and the result of an MRI which confirmed a muscle tear were first reported simultaneously (or, simultweeted) by Mark Berman of KRIV Fox 26 and John McClain of the Houston Chronicle. Here is
McClain's story on the Texans' quarterback situation
. And here is
Berman's story on the same
.
After Giants receiver
Odell Beckham Jr
.'s circus-like one-handed catch against the
Dallas Cowboys
, he was the talk of the NFL world. Rob Maaddi of the Associated Press took a look at the art of one-handed catches.
Quoted here is J.J. Watt, who, like many receivers, practices one-handed catches
on the Jugs machine.
While I understand the frustrations of many people who would like to see Texans' No. 1 overall pick
Jadeveon Clowney
playing more, I've tended to stick up for him. It's pretty clear Clowney is not healthy enough right now to play totally like himself. Nonetheless, he got more playing time than he has most of the season on Sunday, and O'Brien thought it went pretty well.
Writes Drew Dougherty of the team's official website
: "I thought some of it was good,' Bill O'Brien said on Monday. "Certainly there is improvement to be made there, just like every player. I thought he played hard." Clowney finished with a trio of tackles, and one of those was for a loss. At the start of the third quarter on a second down run at the goal line, Clowney dropped
Jeremy Hill
for a loss of a yard. In all, Clowney was on the field for 49 snaps on defense. As a unit, the Houston defense was on the field for 81 snaps."
November, 24, 2014
Nov 24
5:30
PM ET
CINCINNATI -- The problem with being J.J. Watt, one
Cincinnati Bengals
offensive lineman surmised, is that everyone around Watt wants to be just like him.
Following the Bengals' 22-13 win over the
Houston Texans
on Sunday, Pro Bowl offensive tackle
Andrew Whitworth
provided the following assessment of Houston's superstar defensive end, and the young linemen who seem to be mimicking him.
"One thing you have to remember about this defense -- and J.J. Watt is a great example -- they take a lot of chances," Whitworth said. "A lot of the plays he makes are doing stuff you don't normally do in that situation; jumping around a block, or those kind of things.
"It's feast or famine. When the right team has the right playcalling and you do that, it's going to break out."
The Bengals broke out for 137 yards rushing on 43 carries. Their rushing average has been significantly better in other games this season, but they had a knack for finding the right holes on some timely runs that tore into the middle of the field and gashed the Texans for big yards. According to Whitworth, those carries, and some of the short-yardage throws quarterback
Andy Dalton
completed thanks to vast cornerback cushions, stemmed from the Texans' high risk style of play on the defensive line.
All last week, Bengals coaches and players remarked about how they could tell through film study that third-year end
Jared Crick
and rookie
Jadeveon Clowney
were among those on the line who were beginning to imitate Watt's high-intensity, erratic style of play. It's not necessarily a technique that works for everybody, but clearly it does for Watt, who has a well-documented knack for knocking down passes at the line and mauling interior linemen to sack quarterbacks.
Through 11 games, Watt has 9.5 sacks -- he didn't have any on the Bengals -- and seven batted passes.
To Whitworth's broader point, when the whole line tries emulating Watt, they create the "feast or famine" scenario he felt played out regularly Sunday.
"Naturally, with [Watt] being the leader of the group, some of the other guys try that stuff, too," Whitworth said. "Sometimes with that, they do it too much and you find a crease. We did that a couple of times running the football. The thing is with them, you just kind of have to stay diligent and commit to [running] it."
En route to the win, the Bengals picked up 370 yards of total offense. Of the running plays, they had a 30-yard gain from
Jeremy Hill
, and 19- and 13-yard runs that
Giovani Bernard
and Hill had on successive first-quarter plays. Later in
that early drive
, Bengals receiver
Mohamed Sanu
pushed through a cornerback for a 6-yard touchdown catch that capped a 13-play, 94-yard series.
November, 24, 2014
Nov 24
4:15
PM ET
HOUSTON -- Though we know quarterback
Ryan Mallett
has a
torn right pectoral muscle
,
Houston Texans
coach Bill O'Brien declined to confirm that Monday during his press conference.
"Basically, we'll have more to report toward the end of the week," O'Brien said. "He's still being evaluated."
Those two sentences recurred each time O'Brien was asked anything to do with Mallett, until O'Brien added: "I'm trying to get ready for Tennessee. Whether he's there or not, the next guy's going to step up, whoever that might be. We'll figure that out."
Mallett struggled with his accuracy throughout
Sunday's loss to the Bengals
, throwing many passes high. That was likely a function of this type of injury, which can impact your throwing motion. He still had a lot of velocity on his throws, which might have saved a few interceptions.
Still, O'Brien said he never considered taking Mallett out of the game. He wanted to give Mallett a chance to lead the Texans back to victory.
Were it not for his limitations from the injury, Mallett probably could have.
November, 24, 2014
Nov 24
2:06
PM ET
HOUSTON -- Looking back,
Ryan Mallett
's teammates can't help but be impressed.
Mallett
There were certain plays on the Texans' final two drives when left tackle
Duane Brown
could see him grimace, a hint at the pain he felt as he played through a torn pectoral muscle in his second NFL start. Mallett finally had the chance for which he'd waited three-and-a-half years -- he gave everything he could.
"He's tough, man," Brown said. "He's tough. You can just tell that by his character. He's tough. He wants to win. He wants to compete. Like I said, I could tell there was something there towards the end. He didn't back down at all. He didn't ease up at all. He showed his fight to even try to get a score on that last drive there. That is just the kind of player that he is and the kind of person that he is. We really respect that."
It was clear throughout the Texans 22-13 loss to the
Cincinnati Bengals
that Mallett's accuracy was off. He just wasn't playing like the quarterback who led the Texans to a win in his first start, showing the necessary quarterback leadership skills beyond what the Texans had with any of the other three full-time starters in the franchise's history.
This time, though, Mallett only completed 21 of his 45 passes for 189 yards. He threw an interception and narrowly missed several more.
"The guy, he wanted to win," receiver
DeAndre Hopkins
said. "You could see it in his eyes. He never showed that he was hurt. He really never let us down on the sideline."
November, 24, 2014
Nov 24
1:11
PM ET
ESPN.com news services
Texans quarterback Ryan Mallett will miss the rest of the season because of a torn right pectoral muscle, according to media reports.
Mallett, who played through the injury during Sunday's game, injured the muscle in his first career start Nov. 6 against the Cleveland Browns. He practiced fully all week but was on the injury report with a chest injury throughout the week leading up to the game.
The Houston Chronicle and Houston's Fox 26 earlier reported the news.
However, a team source told ESPN that Mallett's injury still is being evaluated and no determination has been made on his status.
The Texans turned to Mallett just before their bye week. Mallett replaced former starter Ryan Fitzpatrick, a 10-year veteran. The Texans traded for Mallett on Aug. 31; he had spent the first three years of his career with the New England Patriots. Mallett threw only four passes in that time and never played a meaningful snap.
With Mallet injured, the Texans are set to sign former Bills quarterback Thaddeus Lewis, a league source told ESPN NFL Insider Adam Schefter.
The Texans acquired Mallett for a conditional draft pick. With Monday's news, Mallett won't reach the proper playing time needed (40 percent of the team's snaps), so New England will receive a seventh-rounder.