November, 23, 2014
Nov 23
11:05
PM ET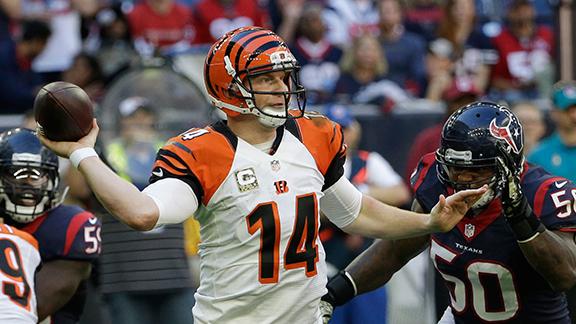 HOUSTON --
Ryan Mallett
put it bluntly.
"I couldn't hit the broad side of a barn from five yards away," the
Houston Texans
quarterback said, perturbed as he stood in the middle of a locker room that had mostly cleared out by then.
He should have given himself a break.
[+] Enlarge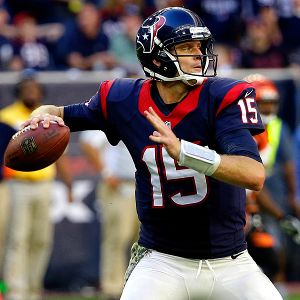 AP Photo/David J. PhillipPlaying with an injured pectoral muscle, Ryan Mallett had trouble connecting with receivers downfield.
On the heels of an impressive first career start, Mallett played hurt on Sunday. A week after showing an impressive command of the offense and leadership that elevated the Texans, his season will at least be shortened and at worst be over.
Mallett played through an injured right pectoral muscle in the Texans'
22-13
loss to the
Cincinnati Bengals
, which dropped them to 5-6. An MRI will reveal the extent of the injury. It's another setback in a career that's involved so much waiting he sometimes wondered if he'd ever get a shot. And it's yet another setback in the Texans' seemingly never-ending search for a franchise quarterback.
Mallett was listed on the injury report all week as having a chest injury, but practiced fully throughout. It's likely he suffered the injury during last week's win in Cleveland, aggravated it on Sunday and gutted through what must have been an incredibly painful day.
The Texans began the game with two runs, and then threw a pass on which every receiver ran shallow a shallow route. Mallett's passes still had power, but they were uncharacteristically off target. He didn't complete a pass longer than 22 yards and completed only 3 of 12 passes targeting
Andre Johnson
-- a season-low reception percentage for Johnson.
It didn't help that this time, unlike in Mallett's first start, the Texans couldn't run the ball, gaining only 64 yards on the ground. Their only touchdown came from an interception returned by cornerback
Johnathan Joseph
, with Houston unable to do anything productive offensively.
"That was our plan," Bengals defensive tackle
Domata Peko
said. "To shut down the run and force the young quarterback in Mallett to try to win the game for them. It played right into our hands."
Said Mallett, who was 21-of-45 for 189 yards: "If they're playing two high safeties, we've got to run the ball better. We have to throw the ball better. That's about all you're going to get today, because we didn't do anything very well."
The trouble started early as Mallett was nearly intercepted on his first pass of the game. Bengals cornerback
Terence Newman
caught the ball, but a pass interference penalty on the defense negated the play.
Mallett's only official interception proved more costly as it was on the first play of the second half. The Texans took the second-half kickoff, but gave it right back that quickly on a pick by Bengals linebacker
Rey Maualuga
. Down only six points at halftime, the Texans found themselves trailing by 13 soon after the turnover.
"I was at the right place at the right time," Maualuga said.
Despite all that, the Texans had a chance late. With a healthy quarterback, the complexion of this game might have been very different.
It's unfortunate for Mallett, who's waited so long to be a starter. He spent three years backing up Patriots quarterback
Tom Brady
, learning, waiting, and, admittedly, wondering whether or not he'd ever get his chance.
It's unfortunate for the Texans, who saw signs of hope from Mallett in his first start last week.
The Texans have Mallett under contract for the rest of the season, but after that an unclear future awaits both parties. The waiting isn't over yet.
November, 23, 2014
Nov 23
10:14
PM ET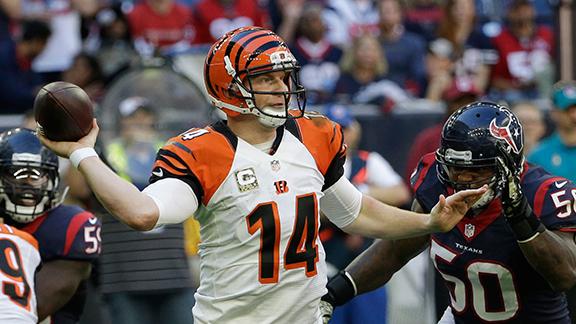 HOUSTON -- Texans quarterback Ryan Mallett played through a right pectoral injury Sunday against the Cincinnati Bengals, a source confirmed.
Mallett suffered the injury in his first career start Nov. 6 against the Cleveland Browns. He practiced fully all week but was on the injury report with a chest injury throughout the week leading up to the game.
The Houston Chronicle first reported the injury.
Mallett will have an MRI to determine the extent of the injury. He could miss several weeks, which would further delay the start of an NFL career that has already taken a while to get started.
The Texans turned to Mallett just before their bye week. Mallett replaced former starter Ryan Fitzpatrick, a 10-year veteran. The Texans traded for Mallett on Aug. 31; he had spent the first three years of his career with the New England Patriots. Mallett only threw four passes in that time and never played a meaningful snap.
The Texans acquired him for a conditional draft pick. The pick is a sixth-rounder if Mallett plays in 40 percent of the team's snaps this season and a seventh-rounder if he does not meet that condition.
In his first start Nov. 16, Mallett completed 20 of 30 passes and threw two touchdowns and one interception. He had the 10th-best QBR of any starting quarterback since 2001. On Sunday against the Bengals, Mallett only completed 21 of 45 passes and was likely hindered by the injury.
November, 23, 2014
Nov 23
8:40
PM ET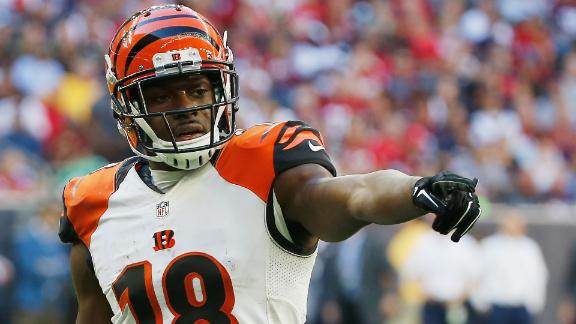 HOUSTON -- Late November has arrived, and for teams that call cities north of the Mason-Dixon Line home, that means one thing:
"We've got to get our run going."
Credit that quote to
Cincinnati Bengals
receiver
A.J. Green
who uttered it after Sunday afternoon's
22-13
road win over the
Houston Texans
.
Like many of his teammates, Green's instant analysis of the victory was this: Cincinnati's offense was back in rhythm.
"The offensive line played great. The running backs played great. Everybody played great," Green added.
He played great, too, catching a career-high 12 passes for 121 yards.
But with the harsh realities of winter looming, Green wasn't thinking much about his performance. He instead was focused on the balance his offense exhibited; balance it will soon need. In two weeks, Mother Nature will force it. Wind, rain and snow could make passing difficult the rest of the year.
Of course, Houston doesn't qualify as one of the aforementioned northern cities, and neither will next week's Bengals locale -- Tampa, Florida. But with their past four games in Cincinnati, Cleveland and Pittsburgh, it was a good time to start showing the offense extends beyond Green and quarterback
Andy Dalton
.
As part of their preparations for December, the Bengals got physical Sunday. No drive better showcased that than the one that led to their first touchdown.
"It was big for the game as far as momentum," rookie running back
Jeremy Hill
said.
Plain and simple, the first-quarter drive set the right tone.
The series started quite inconsequentially. After the Bengals gained 3 yards on the ground and threw an incomplete pass, it looked like they would open the game with a second straight punt.
But when
Mohamed Sanu
darted into the middle of the field and caught a 10-yard pass for a first down, the Bengals' most physical and balanced drive of the season began.
Ten plays later, it ended with Sanu muscling his way through a cornerback and into the end zone for a 6-yard touchdown reception.
In between, the Bengals got six runs into the middle of the field from Hill and
Giovani Bernard
, including back-to-back big gains. One play after Bernard gashed the Texans' interior, sprinting and spinning for 19 yards, Hill picked up 13.
Offensive tackle
Andrew Whitworth
said many of those yards were produced by overzealous defensive linemen who were getting out of position.
"They take a lot of chances," Whitworth said of the Texans' front. "A lot of the plays [
J.J. Watt
] makes are doing stuff you don't normally do in that situation; jumping around a block or those kind of things. So it's feast or famine. When the right team has the right play calling and you do that, it's going to break out."
Mix Hill and Bernard's combined 6 carries for 47 yards with Dalton's 5-for-6, 46-yard showing, and you had a perfectly balanced 94-yard drive.
"We had everything clicking. When you get drives like that, it kind of gives you confidence further into the game and gets a feel, especially for [offensive coordinator] Hue [Jackson] -- he gets a feel for what types of plays are working," Hill said.
As they move forward, the Bengals need more long, balanced drives to continue setting a much-needed physical tone.
November, 23, 2014
Nov 23
6:45
PM ET
Observed and heard in the locker room after the Texans' 22-13 loss to Cincinnati at NRG Stadium:
Clowney limited:
Jadeveon Clowney
walked gingerly in the locker room after the game, his gait not that of someone fully healthy yet. Clowney had knee surgery in September to repair a torn meniscus and has been playing on a limited basis since then. "Some things are holding me back still, but I'm just out here trying to do what I can do and have fun," he said. Having not been through a serious injury before, the return is an adjustment. "You never know if you're going to have an injury or not coming into the league," he said. "So when that happened to me, it was a setback."
Joseph
Joseph has moment:
Cornerback
Johnathan Joseph
's emotions overtook him after he returned an interception 59 yards for a touchdown. "I had an anxiety attack or something," Joseph said. "It was a great play. It picked us up from a team standpoint. ... Just one of those things. It's part of the moment. I'd like to be out there with my teammates and all, but that play right there, it just took over my body and controlled my body. I had no control."
Dalton stays clean:
The Texans hit Bengals quarterback
Andy Dalton
only twice and never sacked him. Part of that was a function of how quickly Dalton got rid of the ball. "There's not a whole lot the defensive line can do when he is doing that," defensive end
Jared Crick
said.
Shift nets safety:
Cincinnati's defensive front shifted to the left in anticipation of the Texans' play out of their own end zone. The result was a safety when running back
Alfred Blue
was tackled in the end zone. Blue never really had a chance. "They just overloaded that side," left tackle
Duane Brown
said. "We had nothing there. We had nothing over there, basically."
November, 23, 2014
Nov 23
4:07
PM ET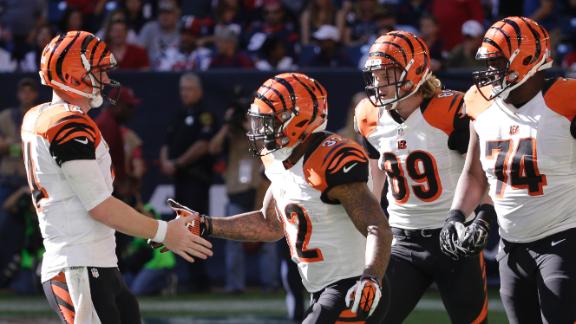 HOUSTON -- A few thoughts from the
Houston Texans
' 22-13
loss Sunday
to the
Cincinnati Bengals
at Reliant Stadium:
What it means:
The Texans' playoff chances took a hit with this loss, as the division-leading
Indianapolis Colts
beat the
Jacksonville Jaguars
. The Texans are certainly not out of it yet, which is something we'll take a look at next week with the playoff machine. Still, this does make a wild-card slot more difficult for Houston to achieve and knocks it two games back from the Colts in the AFC South.
Stock watch:
After a strong outing in which he was kept clean in his first start, Texans quarterback
Ryan Mallett
struggled a bit in his second game. The Bengals got much better pressure on Mallett than the Browns did last week. He completed 21 of his 45 passes, and several of those incompletions were thrown high. He threw an interception to start the second half. He also threw one to start the first half, but it was negated by a Bengals penalty that kept the Texans' opening drive alive. A bit of a regression in a quarterback's second career start is normal: It happens to most players when they face a team that's more prepared for them.
Running game stalled:
The Texans were without starting running back
Arian Foster
for a second straight game. Foster, who suffered a groin injury Nov. 2, missed his third game of the season. Last week against the
Cleveland Browns
, it didn't matter. The offensive line dominated the Browns' front and
Alfred Blue
rushed for 156 yards. This week, the Texans faced a more aggressive Bengals team and rushed for only 64 yards total.
Game ball:
Johnathan Joseph
energized the Texans with an interception returned for a touchdown on a third-and-7 intended for
AJ Green
. Joseph's play cut the Texans' deficit from 13 to 6 and marked a turning point in the way the Texans' defense played.
What's next:
Back to division play for the Texans. They'll be at home against the
Tennessee Titans
, but they haven't won at home since Sept. 28.
November, 21, 2014
Nov 21
3:55
PM ET
HOUSTON -- Although Texans running back
Arian Foster
practiced on Wednesday, he reverted back to not practicing the rest of the week.
The Texans have listed Foster as questionable on their injury report. Coach Bill O'Brien said this week that Foster would be worked out before the game to see if he can go. Remember, the Texans also did those kinds of pre-game workouts with Foster earlier this season and also for
Jadeveon Clowney
and
Brian Cushing
. None of those players wound up playing.
Foster suffered a groin injury three weeks ago against the
Philadelphia Eagles
. The Texans have since had a bye week and then traveled to Cleveland to face the Browns on Nov. 16. Foster did not make that trip.
He's missed two games this season, including Week 3 against the
New York Giants
with a hamstring injury.
November, 23, 2014
Nov 23
11:37
AM ET
[+] Enlarge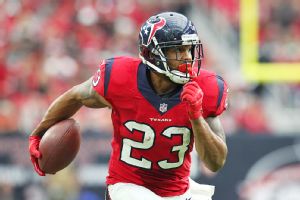 Thomas B. Shea/Getty ImagesArian Foster (groin) is inactive for the Texans' game Sunday against the Bengals.
HOUSTON -- Arian Foster was inactive for the Texans' home game Sunday against the Cincinnati Bengals.
Foster is recuperating from a groin injury suffered on Nov. 2. He missed the Texans' Week 11 win in Cleveland.
The Texans started Alfred Blue in Foster's place. Blue had a franchise record 36 rushes against the Browns and gained 156 yards on those carries. The rookie was a sixth-round draft pick out of LSU this year.
This marks the third game Foster has missed this season. He also missed the Texans' Week 3 game against the Giants, that time with a hamstring injury suffered in Week 2.
Foster returned for Week 4 against the Buffalo Bills, but was ineffective with the hamstring still bothering him. He only had eight carries for six yards in that game.
November, 21, 2014
Nov 21
1:00
PM ET
Somewhere between his horrific performance against the
Cleveland Browns
two weeks ago and his stellar performance against the
New Orleans Saints
last week lies the real
Andy Dalton
. He's had single-digit QBR ratings twice this season and several in the 50 to 75 range.
Last weekend in the Bengals win over New Orleans, Dalton's Total QBR was the best in the league at 97.8. The Bengals have a good offense in a lot of ways. But I still like the Texans' chances defensively.
Houston's defense is as healthy as it's been all season, and just as Dalton is coming off his best game of the season, the Texans' defense is coming off its best game of the season. No. 1 overall pick
Jadeveon Clowney
is feeling more and more like himself and so is inside linebacker
Brian Cushing
, who is the soul of this defense. Safety
Danieal Manning
is another veteran presence that's emerged, and third-year outside linebacker
Whitney Mercilus
is playing every bit like the first-round pick that he is.
Oh, and there's one other guy of whom Dalton has no good memories:
J.J. Watt
, whose pick-six against Dalton was the start of his legend back in 2011.
Defensively, Cincinnati struggles to stop the run, giving up 136.2 yards per game, which is the fourth-most in the league. If the Texans defense keeps the Bengals offense in check, their offense will do enough to win. I think it will.
Prediction:
Texans 24, Bengals 20
November, 21, 2014
Nov 21
8:00
AM ET
By
Jack McCluskey
| ESPN.com
It's a good news, bad news situation for
Ryan Fitzpatrick
this week.
"Fortunately, I'm still playing in the NFL," the Houston Texans' backup QB said by phone this week. "Unfortunately, I won't be able to make it back for The Game."
It's been 10 years since Fitzpatrick led Harvard to a perfect 10-0 season in 2004, and the well-traveled signal-caller has been able to make it back to campus for only one Harvard-Yale matchup since.
[+] Enlarge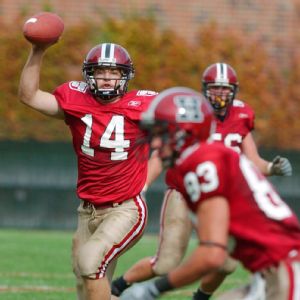 AP Photo/Lisa PooleRyan Fitzpatrick led Harvard to a perfect 10-0 in 2004.
And while he's glad he's been able to play as many years in the NFL as he has, with the
St. Louis Rams
,
Cincinnati Bengals
, Buffalo Bills,
Tennessee Titans
and now the Texans, he misses the atmosphere and the buzz that accompanies the yearly season-ending matchup with the Bulldogs.
"It's a lot different," he said. "The fact that the stadium's gonna be sold out and packed, and there's so much history surrounding the game [makes it special]."
The Crimson are ranked No. 14 in the FCS coaches poll and No. 15 in The Sports Network poll, they've already clinched at least a share of the school's 16th Ivy League title and at 9-0 (6-0 Ivy) are seeking the 17th perfect season in school history. But that's not all that's on the line, as 8-1 Yale can clinch a share of the Ivy League title with a win.
If Harvard wins, it takes the title outright.
And add to that the national spotlight that descended on campus when ESPN's "College GameDay" announced it will broadcast its Emmy-winning pregame show from the Dillon Quad and The Game may never have been bigger.
"I think that's awesome," Fitzpatrick said of "GameDay" coming to Cambridge. "Obviously it's a big game for a lot of reasons, because of the history and because both teams are the class of the Ivy League. That only adds to it."
Corey Mazza was a wide receiver on the 2004 undefeated Crimson team. He remembers watching the first "GameDay" trip to the FCS level, to Penn for Crimson-Quakers in 2002.
"I remember watching that and thinking how cool it was and hoping that, you know, they'd come back again while I was playing [at Harvard,]" he said. "Obviously there's a lot of great rivalry weeks the week we play Yale, for these guys to have this opportunity, I'm excited for them. I'm excited as a fan."
After graduating, Mazza played a year of professional football in Italy for the Parma Panthers before joining the Marines and leading a platoon in Afghanistan. These days, he's working toward an MBA at the University of Texas' McCombs School of Business.

He and his wife, Kathryn, will put a Harvard jersey on their son, 10-month-old Caleb, and sit down Saturday to watch The Game (12:30 p.m. ET on NBC Sports Network).
"I think every single one of us on the field in the Ivy League wishes they could play in front of 100,000 people every home game," Mazza said. "That said, to play in a game when the alumni from both schools take it so seriously, you feel the importance from the first day of the week. All the way up. Kinda like a slow build.
"Getting the opportunity to play a game that's kinda like the culmination of the season, the culmination of your career it's really special because that last game is against your biggest rival in front of the biggest crowd you've ever played in front of."
Fitzpatrick's played in front of bigger crowds since, but that doesn't diminish the hold The Game has on him.
"It's probably the last competitive football you'll play in your life," he said. "It means a lot to all of us, the fact your whole football career has led up to this moment."
Perhaps surprisingly, Fitzpatrick's favorite moment from The Game wasn't of the 2004 capper to the undefeated season. It was his sophomore year, when he came into the game off the bench on a windy day and used his legs to help the Crimson to a win.
And once the game was in hand, senior Neil Rose went back in at quarterback to finish it off.
"To be able to go in and help get the team a win and then send him in to take a knee," Fitzpatrick said, "to be able to contribute to that was pretty cool."
What memories will be made on the field in Harvard Stadium on Saturday? No one knows. But one thing's for sure: Whatever happens, it'll be remembered.
Jack McCluskey is an editor for ESPN.com and a frequent contributor to ESPNBoston.com. Follow him on Twitter @jack_mccluskey.
November, 21, 2014
Nov 21
7:56
AM ET
Reading the coverage of the Houston Texans ...
Alfred Blue has made the most of his opportunity
, starting in place of Arian Foster, writes Kristie Rieken of the Associated Press. Blue had 156 yards on 36 carries against the Cleveland Browns. "I never during the game sat down and relaxed like: 'Wow, I'm doing good,'" he said. "Just keep your foot on the pedal. I knew I was running the ball hard and (I said) just keep doing what you're doing and running the ball hard."
In a 2012 playoff game,
Andy Dalton created a monster
. Unintentionally, of course, writes John McClain of the Houston Chonicle. He writes that Dalton started the J.J. Watt phenomenon. Watt's pick-six against the Bengals was a turning point in the Texans' franchise back in 2012. Dalton is 0-3 against the Texans.
Outside linebacker Brooks Reed says the Texans
work harder this year than last year
, writes Will Grubb of SportsRadio610. "We work and prepare extremely hard. A lot harder than last year," Reed said. "I think that's definitely the biggest change, preparation wise. Just putting in more hours and being more detailed in our preparation. Just treating every game as a one-game season, really, and not worrying about who we're playing next and what happened in past games regardless of statistics."
November, 20, 2014
Nov 20
8:30
PM ET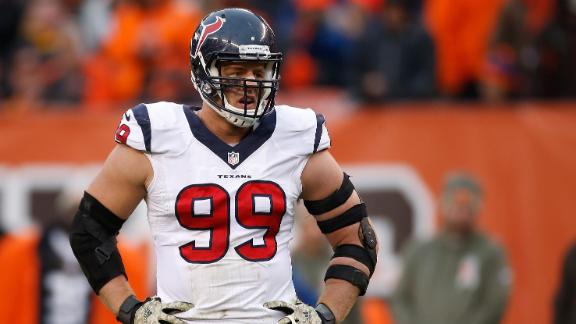 HOUSTON -- J.J. Watt faced a creature bigger than he on Thursday after practice.
A horse named J.J. Watt. He wanted to ride it, and so he did.
The horse was one of the horses used by the Houston Police Department's Mounted Patrol. It, and two other horses, are sponsored by
Houston Texans
owner Bob McNair's foundation. McNair has owned race horses, too. The other two horses are named Cushing 56, after inside linebacker
Brian Cushing
, and Texan Star. The horse named J.J. Watt used to be named Sergeant Swatt #99, but he's made things simpler now.
Word is, horse J.J. Watt and horse Cushing love being part of the action. That figures, doesn't it?