March, 27, 2015
Mar 27
5:08
PM ET
Almost exactly two years ago, the Texans signed a player who will go down as one of the best to ever play his position, and it was a big mistake.
[+] Enlarge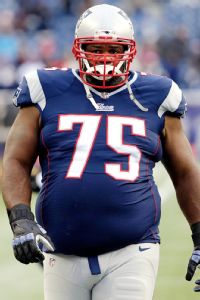 Winslow Townson/USA TODAY SportsBob McNair said Vince Wilfork is a sound investment despite his age because of the position he plays.
This month, the Texans signed another player who had a terrific career, all with one team. Vince Wilfork spent 11 seasons with the New England Patriots, and now, at 33, he's starting over with a different team.
Some wondered if this move was too similar to that of signing Ed Reed. I've written that I disagree with that take. Given that they signed Wilfork, it seems the Texans do too.
But rather than presume, I asked Texans owner Bob McNair.
"I think the difference is when you have someone at a position where they have to be able to run, then age is more of a consideration," McNair said. "We thought Ed was in good shape and was going to be able to come down and play and he was a big disappointment. At nose tackle, you don't have to run that much. He's got to be strong. So there's some positions you can play for more years and you aren't taking as much risk.
"You sign a wide receiver, you worry about him," McNair said, still speaking generally, not about Andre Johnson specifically. "Just from one year to the next. They can lose a step or two and they're not the same player the next year."
Reed was an astounding talent at his peak, but he wasn't physically able to be the same player with the Texans that he was with the Ravens in his heyday. And he didn't handle the transition well publicly or behind closed doors in the locker room. Those factors dwarfed his potential mentoring ability, leading to the derisive nickname from Texans fans and other locals of "Coach Reed."
McNair and I talked about a lot of topics earlier this week, including his view on the Johnson situation. Johnson, who will be 34 this season, asked to be released rather than take a smaller role with the Texans. I asked McNair if he was surprised at the way Johnson reacted, and he said athletes never want to admit they've lost a step. He said none of us want to admit when we're getting older.
In response, one reader raised the Reed situation. It's clear McNair now understands signing Reed was a mistake. It's also clear he accurately views the receiver position with the same caution as safety as a player ages.
March, 27, 2015
Mar 27
4:04
PM ET
When the Texans released Andre Johnson, DeAndre Hopkins posted a fantastic photo of the two of them on Instagram that perfectly represented their relationship. Hopkins spent his first two NFL seasons learning from Johnson.
That tutelage really showed last season when Hopkins caught 76 passes for 1,210 yards, his first 1,000-yard season. Among players drafted in the past two seasons, Hopkins' production was better than everyone except the Giants' Odell Beckham.
"He had a really productive year," Texans coach Bill O'Brien said. "The thing that we really like about Hop and that we want him to continue to do is his work ethic. He's a hungry player. He works every single day. He came into the spring a year ago and he was learning the offense and thinking out there, then all of a sudden you could see all the work he put in and learning, he just took off."
Hopkins' development comes into focus more this offseason as he's now the focal point of the Texans' receiving corps.
"We just want to see him continue and progress," O'Brien said. "We think he can be one of the best, we think he is one of the best. We have a lot of confidence in him and we're looking forward to seeing him progress when the offseason program starts."
March, 26, 2015
Mar 26
2:55
PM ET
Leaguewide, the big free-agency moves are over. There will still be a smattering of moves, but the impact players are mostly settled.
As such, our Mike Sando, Bill Polian, Louis Riddick, Matt Williamson and Field Yates joined forces to grade the entire league's free-agency moves. They gave the Texans a C-plus.
Houston re-signed cornerback Kareem Jackson, offensive tackle Derek Newton, quarterback Ryan Mallett and linebackers Akeem Dent and Jeff Tarpinian. They also signed Brian Hoyer, receiver Cecil Shorts, safety Rahim Moore and defensive tackle Vince Wilfork in free agency. They note the additions of Moore and Wilfork will help in the middle.
One point Williamson makes is on the quarterbacks: "Quarterback was a huge issue, but who were they going to get? They at least took a chance taking two of them and hoping one is serviceable."
It's a good point about the quarterback position. I'd say it's better to have two players who could be good, rather than settle for someone you know won't be. That will be an interesting battle to watch this summer.
March, 25, 2015
Mar 25
4:30
PM ET
PHOENIX -- When the Houston Texans were in dire need of a quarterback, they went back to an old well.
Case Keenum, sitting on the St. Louis Rams practice squad, proved to be just what they needed -- a quarterback familiar with their offense who could manage it well enough for the Texans to win their final two games. Keenum's performance impressed the Texans, but not enough to keep them from signing both Ryan Mallett and Brian Hoyer in free agency. They then traded Keenum to the Rams, gaining a seventh-round pick and giving Keenum a chance with a team that had a less crowded quarterback room.
Here's what Rams coach Jeff Fisher said Wednesday of Keenum:
"We really liked Case and he was making progress. He didn't get the opportunity I think he would have liked from a practice standpoint because he was our third and usually the third doesn't get [reps] but he'd stay out after every practice and worked. But when Rick [Smith, Texans GM] called [during the season], obviously they needed a quarterback and it became difficult on them and he knew the system and Case was really going back to an offensive system that you could plug [him] in and play right away. So the season is over and we gave him a call."
Was he surprised Keenum won two games at end of year?
"Wasn't surprised at all," Fisher said.
March, 25, 2015
Mar 25
3:25
PM ET
PHOENIX -- Continuing to empty the notebook from my conversation this week with Houston Texans owner Bob McNair ...
When NFL commissioner Roger Goodell opened this year's league meetings, he focused on character and integrity being important to the league. It's an especially relevant topic given the turmoil the league went through last season with domestic violence-related issues.
One of the most high-profile such cases was that of Greg Hardy, a supremely talented pass-rusher who was accused of assaulting and threatening his girlfriend. The Cowboys signed Hardy this offseason, despite the specter of a suspension pending the league's investigation, which Goodell said is still ongoing.
[+] Enlarge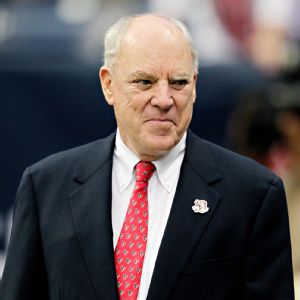 Bob Levey/Getty ImagesTexans owner Bob McNair said the team didn't consider pursuing defensive end Greg Hardy in free agency.
I asked McNair on Monday if the Texans, who could use another elite pass-rusher, considered Hardy.
"No, no," he said quickly. I asked for elaboration. "My gosh, he what? Threw the girl in the shower and picked her up and threw her on the sofa where he had weapons? That's a pretty violent act. He might want to pick me up and throw me around like that if he doesn't like what I do. No, he wouldn't fit in with us."
What McNair referenced were the assault accusations against Hardy, for which he was initially found guilty by a judge. That conviction was set aside when he appealed, as per North Carolina law. The new trial, though, never happened. The charges were dropped when the district attorney couldn't find the accuser. The district attorney's office said they had evidence she had accepted a financial settlement.
McNair often talks about wanting players of good character on his team. They haven't had a single arrest in the three years I've covered them, a rare feat that speaks to that insistence. But just an arrest isn't enough for McNair to give up on a player. Similarly, he stayed away from making any blanket statements about how he would handle domestic violence.
"If it was something that was pretty severe, I don't think we would want to take a chance on him," McNair said. "If it was more of a 'he said, she said' kind of thing, who knows what the truth is there? It's hard to judge that."
It's a complex issue and McNair is right to treat it as such, gathering facts rather than making sweeping declarations. And there is a level at which McNair would want to get involved personally.
"If there was a disagreement among our people and some of them said look, this kid, he made a mistake but he has learned, he's been clean, hasn't had any problems for the last two years, he's a great player and he's somebody we'd like to take a chance with, then I'll say, 'OK, I'd like to meet him, let's bring him in and talk to him and see for ourselves,'" McNair said. "Or we would investigate more closely. We don't expect people to be perfect but we don't want people that are going to be abusing other people and are undisciplined.
"Football is a disciplined sport and if that's the way they conduct their lives off the field, it's going to carry over to the field and they won't be disciplined there and they'll be making mistakes there that will cost us."
March, 25, 2015
Mar 25
1:10
PM ET
PHOENIX -- Houston Texans owner Bob McNair wasn't surprised Andre Johnson bristled at the idea of a reduced role next season. It's just human nature, McNair told me this week at the league's owners meetings at the Arizona Biltmore.
"Every athlete I think would like to play forever," McNair said when I asked if he was surprised to hear Johnson felt even before last season that he would be gone from the Texans after 2014. "They never want to acknowledge that they've lost a step or they can't quite do what they did before. Just look at history. Look at all the players. It just happens time and time again. We don't like to acknowledge that we're getting older. None of us do. That's just human nature, and I don't think that's going to change. ... They're used to being a star and they'd like to continue being a star. I don't blame 'em, I understand that."
Until now, there hasn't really been a public acknowledgment by the organization of the belief that Johnson had lost a step. When asked about Johnson several times since, Texans coach Bill O'Brien has repeated the refrain of how much respect he has for Johnson.
Johnson was granted permission to seek a trade earlier this month after being told the Texans planned to reduce his role significantly this season. They simply no longer believed he was a starter. When no trade options materialized, Johnson requested a release and was granted it. He signed with the Indianapolis Colts as a free agent.
Though I didn't quite phrase the question this way, McNair disagreed with any characterization that the Texans did anything other than honor Johnson's wishes this offseason.
"No, he had the opportunity to stay, but his role was changing," McNair said. "As a player gets older, that's what happens. He wasn't interested in the role that he thought was available and he wanted to pursue a role with another team so we honored his request."
Though the end was ugly for the Texans and Johnson, he's still the most iconic offensive player the franchise has ever had.
"I think when he's ready to retire, we would love to honor him and give him an adequate ceremony recognizing what he's done," McNair said. "And we'll look forward to that."
March, 25, 2015
Mar 25
10:00
AM ET
By
ESPN.com staff
| ESPN.com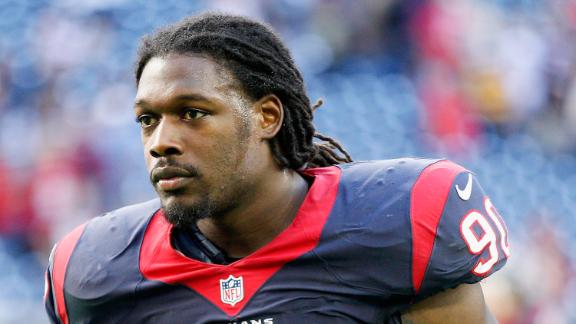 ESPN Houston Texans reporter Tania Ganguli updates outside linebacker Jadeveon Clowney's progress with rehab from his microfracture surgery.
March, 24, 2015
Mar 24
10:00
PM ET
The Houston Texans have 10 selections in the 2015 NFL draft, which will be held April 30 to May 2 in Chicago. The Texans received three compensatory picks -- one in the fifth round and two in the sixth.
Here's a breakdown of the Texans' selections:
First round: 16th overall selection

Second round: 51st overall selection

Third round: 82nd overall selection

Fourth round: 116th overall selection

Fifth round: 152nd overall selection

Fifth round: 175th overall selection

Sixth round: 194th overall selection

Sixth round: 211th overall selection

Sixth round: 216th overall selection

Seventh round: 235th overall selection
March, 24, 2015
Mar 24
5:45
PM ET
PHOENIX -- The Houston Texans were in the minority last season, as they had a head coach who maintained play-calling responsibilities and as a team without a person who held the title of "offensive coordinator."
That will change soon.
I'm told the Texans plan to promote quarterbacks coach George Godsey, who is already taking on a lot of offensive coordinator responsibilites. When it happens, Godsey will take a path that Texans coach Bill O'Brien did in New England and Josh McDaniels did in New England prior to O'Brien.
When asked this morning about his decision to call plays, O'Brien brought up Godsey, unprompted.
"He does a lot of things offensively to help me," O'Brien said. "I really give him a lot of responsibility offensively. At some point in time, probably sooner rather than later, he'll be an offensive coordinator. He does a lot of that for us."
Godsey began his career in the NFL as an offensive assistant for New England in 2011, the only year O'Brien was officially the Patriots' offensive coordinator. His relationship with O'Brien goes back to Georgia Tech, when Godsey was a quarterback and O'Brien was an assistant coach. He moved to tight ends coach when O'Brien left for Penn State, then left to join O'Brien's staff in Houston last year.
Godsey took some of the public responsibilities of an offensive coordinator, including conducting the Wednesday press conferences mandated for coordinators throughout the season. His title was quarterbacks coach, though. One benefit of having a person take a gradual route is it offers a public murkiness on the inner workings of the team's offense. The collaborative effort of putting together the game plan can allow a coach can gain experience without the scrutiny that comes with being a first-year offensive coordinator. Godsey is ready for the challenge, though.
It worked for O'Brien, who was calling plays in New England for three seasons but only held the official title of offensive coordinator for one.
"It's really important to have a guy like George Godsey on your staff for me because he knows exactly what our system is, the definition of our system, how we want to call plays," O'Brien said. "How we design a game plan. I don't have to teach him that. He was with us in New England, he's come up to the ranks and he's a really good football coach."
March, 24, 2015
Mar 24
5:28
PM ET
PHOENIX -- The Houston Texans re-signed inside linebacker Akeem Dent to a two-year deal Tuesday.
Dent came to the Texans in June from Atlanta in the T.J. Yates trade. He suffered a high-ankle sprain that limited him last season, when he had 38 tackles and a sack. Dent eventually became a starter next to Brian Cushing.
The deal is reportedly worth $4.5 million, with $2 million guaranteed.
The Texans' defensive starting group currently includes ends J.J. Watt and Jared Crick, nose tackle Vince Wilfork, inside linebackers Cushing and Dent, outside linebackers Whitney Mercilus and Jadeveon Clowney, corners Johnathan Joseph and Kareem Jackson and safeties Rahim Moore and D.J. Swearinger.
What's astounding about that group is it includes seven former first-round picks -- five of them in the front seven.
The Texans are still looking for an interior pass rusher, one who could pressure the quarterback on third downs, and some safety depth.
March, 24, 2015
Mar 24
5:15
PM ET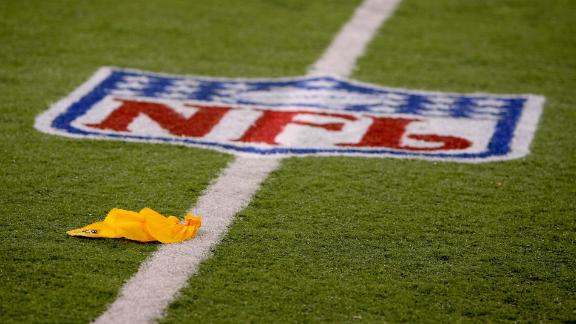 (For all Inside Slant posts, follow this link.)
PHOENIX -- NFL head coaches meet with the lead referee a few hours before kickoff of every game. In his first season with the Houston Texans, Bill O'Brien brought a special assistant to each meeting. Jim Bernhardt's title is director of football research, but one of his key responsibilities, O'Brien recounted Tuesday, is knowing the monstrous NFL rule book.
"He'll advise me on things that are challengeable," O'Brien said. "He's got a rule book right next to him [in the press box during games]. I don't know if he ever uses it, but he has it there for a crutch. That's what I did. I hired somebody to help with that. He's involved in a lot of things, from situations to clock management and things like that. But one of the parts of his job is the rule book."
The NFL rule book may be the most complex set of rules in American sports. The 97-page document is full of exceptions and exceptions to the exceptions, vexing fans who want simply to understand what they see on the field. If it makes you feel any better, here's a dirty little secret: Not even the coaches know all of the rules. On Tuesday, in the relaxed environment of the NFL owners meetings, a few of them admitted it.
[+] Enlarge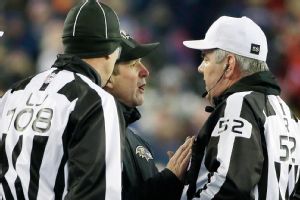 AP Photo/Steven SenneJohn Harbaugh said he took an unsportsmanlike penalty in order to get officials' "attention so they would understand what was going on." The Ravens' coach objected to a Pats subbing pattern designed to keep his team off balance.
More importantly, the half-dozen I queried supported a long-term effort to streamline and simplify the rule book -- a project headed by NFL executive vice president Troy Vincent.
"I'm all for making the rule book more coach-friendly and more user friendly," O'Brien said. "... I don't even know the challenge rules. I mean, I should. I kind of know them, but the referees will come over. They do a great job. They won't [let you make a mistake]. They're good about that, and they'll come over and say, you can challenge this, you can't challenge that. But I just think that we're all in the business of trying to get it right. If we can just get to a system where we're all on the same page with that goal, I think that will help our league and it will help the officials.
"I think the officials in this league do a really good job," he added. "I really enjoy working with the officials. But I don't know how they do it. My wife is a lawyer, and I can remember her studying for the bar, and I would equate [learning NFL rules] to studying for the bar."
The nature of football makes some complexity unavoidable, according to Pittsburgh Steelers coach Mike Tomlin. When I mentioned Vincent's project, Tomlin smiled and said: "Good luck with that."
Tomlin added: "I think we all search for clarity and simplicity, but I don't know that that describes our game in today's time, particularly with the inclusion of some of the technological advances that have become very much part of our game. I think what we're looking for is clarity and as much as we can find that, I think that's what we aspire to. I don't know that that ends up with simplicity, and that's just the reality of it."
Tomlin said he started studying the rule book in 2001, his first year as an NFL assistant coach.
"It's been a 15-, 16-year journey for me to gain a real understanding," he said. "I'm not going to pretend that I know every crevice of the rule book. We were talking in the coaches' meeting here the other day, and the reality is that we continually have discussions during the course of games about the specifics of the rules. It's difficult to have a detailed understanding of it at all times."
Indeed, O'Brien and Denver Broncos coach Gary Kubiak all joined Tomlin in saying they routinely ask officials for rule clarifications during games. Occasionally, of course, even the referee must hustle to keep up.
"The officials have the tough job," Baltimore Ravens coach John Harbaugh said. "They're asked to do more and more every single year with the nuance. That's why anything we can do to keep it simpler for them, make it easier for them to identify formations and things like that, so they can do their job effectively and carry out their responsibilities, would be helpful. I know the officials want that. We should never be trying to make their job tougher."
Harbaugh's team fell victim to an unusual implementation of rules in the AFC divisional playoffs; the New England Patriots had an eligible player report as ineligible to confuse the Ravens' coverage assignments. Referee Bill Vinovich handled the twist the best he could, as we discussed at the time, but ultimately Harbaugh took a penalty to stop the game and draw Vinovich to the sideline for further discussion.
The Patriots' Bill Belichick isn't the only coach to dip into the nuances of the rule book for a potential competitive advantage. In 2008, then-Arizona Cardinals coach Ken Whisenhunt called for a "fair catch kick" in a game against the New York Giants.
Stay with me for a moment: If a team executes a fair catch, Rule 11, Section 4, Article 3 provides the option to attempt a free kick immediately afterward. The arrangement of players looks roughly like a kickoff with the exception of the holder. Because the defense is not on the line of scrimmage, the place-kicker presumably can line up a lower and longer kick.
Neil Rackers' 68-yard attempt was short, but there was no harm done as the half expired.
"When you're around it a long time, you understand some of the rules," said Whisenhunt, now the Tennessee Titans' coach. "There is always going to be something that comes up. Like the free kick. There's a lot of people that don't understand what a free kick is. It's a very seldom-used rule. We used it once in Arizona when I was there. Things like that are going to come up. You learn as you're in it, I guess."
Based on what Vincent has said, reorganizing NFL rules is a multiyear project. But when successful coaches acknowledge their own limited grasp of them, well, it seems pretty important. Kubiak has been an NFL player or coach for 32 years. His response to Vincent's idea? "I think it's a great idea."