September, 1, 2014
Sep 1
7:31
AM ET
Reading the coverage of the Houston Texans...
Case Keenum failed to reach his potential
, writes Dale Robertson of the Houston Chronicle. Robertson get a take from another former University of Houston quarterback, Andre Ware. And Robertson finishes his piece with this ominous line. "And it's possible Keenum's NFL career is over."
Last Thursday night, the night of the Texans' final preseason game, was not a good one for the Texans' quarterbacks. Consequently,
Texans coach Bill O'Brien had a lot of thinking to do when he went home
, writes Randy Harvey of the Houston Chronicle. The price, a conditional sixth-round pick, was right, Harvey says.
Chris Duncan of the Associated Press gives
an overview of Sunday's many moves
. Most significant among them was the quarterback shuffle. There were three claims, three cuts and the return of a familiar free agent.
The Texans claimed cornerback Darryl Morris, receiver Damaris Johnson and offensive tackle Jeff Adams off waivers on Sunday.
Dave Zangaro of CSNHouston.com offers a little bit more about them
.
August, 31, 2014
Aug 31
7:41
PM ET
The Texans were perhaps not as active on the waiver wire as some expected today, but they did use their top position in the waiver system and filled up their practice squad.

A rundown:

Released:
Claimed:
Sent to injured reserve:
Practice squad:
August, 31, 2014
Aug 31
7:30
PM ET
On Sunday, the
Houston Texans
changed their quarterback situation. What exactly that means, we don't know just yet.
Mallett
They released
Case Keenum
, a player who started eight games last season but was still very much in a developmental stage. They traded for
Ryan Mallett
, a New England Patriots third-round draft pick in 2011, giving up a draft pick that will be either a sixth-round or seventh-round pick, depending on playing time.
Mallett gives the Texans another option in a fairly low-risk move, and he wasn't brought to Houston to be just a space-filler. But right now, the questions about the Texans' quarterbacks still outnumber the answers.
Playing behind
Tom Brady
, Mallett never had more than garbage-time reps during regular-season games in New England. His college history was spotty as well, with off-the-field questions that dropped him to the third round.
O'Brien knows Mallett better than most coaches in the NFL. He was the offensive coordinator and quarterbacks coach in New England during Mallett's rookie season. O'Brien would not have made this move without being comfortable with both Mallett's ability and his commitment.
Without having seen what Mallett can do, though, there remains only one quarterback on the Texans' roster who is a known quantity: starter
Ryan Fitzpatrick
.
August, 31, 2014
Aug 31
6:50
PM ET
[+] Enlarge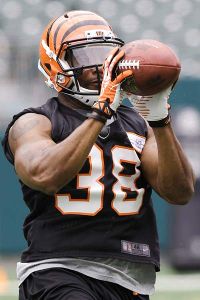 Al Behrman/AP PhotoSafety Danieal Manning is back with the Texans after spending the preseason with the Bengals.
Safety Danieal Manning never wanted to leave the Houston Texans, and after an offseason away, he's getting another opportunity with the team, his agent Russel Hicks said. Manning is flying to Houston on Sunday and is expected to sign with the team on Monday pending a physical.
"It was just a situation where some things happened and I think both he and the team were looking at some things from a [different] view point," Hicks said. "I think they both realize the best place for him was here."
Manning originally joined the Texans before the 2011 season on a contract worth $20 million over four years. He was one of two free agents signed to the secondary that offseason, joining cornerback Johnathan Joseph. With the help of their additions, along with that of defensive coordinator Wade Phillips, the Texans' pass defense went from one of the worst in the league to one of the best.
August, 31, 2014
Aug 31
1:55
PM ET
ESPN.com news services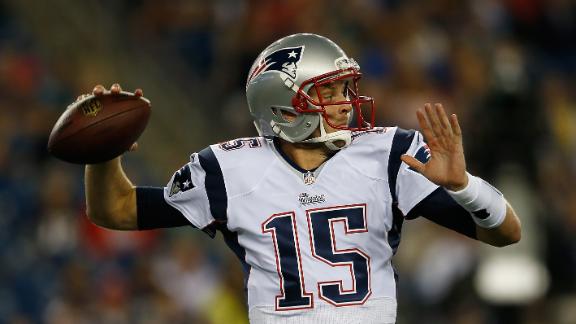 The Houston Texans have acquired quarterback Ryan Mallett from the New England Patriots.
The Patriots received a conditional sixth or seventh-round draft pick in 2016, a source told ESPN.
Mallett, 26, could have a bright future with the rebuilding Texans, who will enter this season with veteran journeyman Ryan Fitzpatrick as their starting quarterback.
To make room for Mallett on their roster, the Texans will waive quarterback Case Keenum, a source told ESPN. Keenum started eight games last season and had been battling rookie Tom Savage for a backup role behind Fitzpatrick.
The 6-foot-6 Mallett was drafted by New England in the third round in 2011 and had served as Tom Brady's primary backup in each of the last two seasons.
But Mallett was passed on the Patriots' depth chart this summer by rookie Jimmy Garoppolo, a second-round pick who impressed throughout training camp and the preseason.
Patriots coach Bill Belichick would not comment on the team's depth chart at quarterback following last Thursday's preseason finale against the New York Giants.
But Garoppolo played the entire game against New York, punctuating a stellar preseason during which he completed 46 of 79 passes for 618 yards, five touchdowns and one interception.
August, 31, 2014
Aug 31
11:30
AM ET
ENGLEWOOD, Colo. -- Things could still change if the
Denver Broncos
look at the hundreds of players who were sent into the open market in recent days and see a name or two they like.
But when the clock struck the 4 p.m. ET roster deadline on Saturday, the roster in place wasn't exactly the one some folks might have thought it would be.
First off, after their substantial plunge into free agency last March -- almost unprecedented for a Super Bowl team -- the Broncos have routinely been tabbed as "all in" or "win now."
[+] Enlarge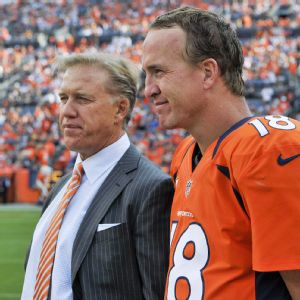 AP Photo/ Eric BakkePeyton Manning is the oldest player on the roster assembled by John Elway and the Broncos' front office. But the team as a whole has plenty of youth.
The career clock for quarterback
Peyton Manning
, at 38 years old, is certainly ticking, and they make no secret of their Super-Bowl-or-bust intentions. But the current Broncos roster has 13 players who are 23 years old or younger (24.5 percent) and seven rookies made a team in the Super Bowl conversation, including five members of a six-player draft class and two undrafted rookies.
Overall, there are 39 players entering their fifth NFL season or younger on this roster (73.6 percent). The Broncos will have three high-profile players start the season-opener next Sunday night -- Manning,
DeMarcus Ware
and center
Manny Ramirez
-- who are older than 30 and possibly a fourth if
Wes Welker
, who suffered a concussion in the preseason game against the
Houston Texans
, is in the lineup.
Some of the team's moves were motivated by the salary cap, to be sure. The Broncos have been nudged up against it since the free agency binge. But general manager John Elway has consistently maintained, even with the checkbook in hand at times, that he has more of a long-term approach than many believe he does. In fact, if you'd like to see the Hall of Fame quarterback get his hackles up, just ask him about a win-now approach.
"We were happy with the draft when we went through it in May and then they just proceeded to work hard and get better so, especially when you get deeper into this, as active as we were in free agency, to be able to keep our draft picks is something we want to do and continue to have that be our base," Elway said when discussing this year's cuts. "We're excited with the guys and they are, at this point in time, everything we hoped they would be."
Among that youth is what is likely one of the youngest position groups in the league at running back. The four Broncos running backs include a rookie (
Juwan Thompson
), two players entering their second seasons (
Montee Ball
,
C.J. Anderson
) and a player entering his third season (
Ronnie Hillman
).
"I like them. I've said that all along," Elway said. "We feel good where we are at the running back position -- good, young guys that we feel are going to continue to get better."
Some other roster nuggets:
Of all the football-playing colleges and universities in the country, Kansas, Tennessee and Texas Tech lead the way on the Broncos' roster with three players each.

Manning is the oldest current Broncos player at 38. rookie receiver Cody Laitmer is the youngest, at 21. Hillman, at 22 and starting his third season, is the same age as four of the Broncos' rookies and younger than two of the Broncos rookies. Michael Schofield and Lamin Barrow, who are both 23.
August, 30, 2014
Aug 30
3:54
PM ET
Most significant move:
Cornerback
Brandon Harris
ran out of chances. They say you know who a guy is a football player by his third NFL season. Last season was Harris' third since being a second-round draft pick in 2011, and it wasn't an especially inspiring one. He didn't turn into a viable slot corner, and on the outside
A.J. Bouye
, a player who made last year's roster as an undrafted rookie, passed him during this year's training camp. Teams don't typically game plan much during the preseason, but in the
Houston Texans
' preseason opener in Arizona, the Cardinals picked on Harris. The Texans kept six cornerbacks:
Kareem Jackson
,
Johnathan Joseph
, Bouye,
Elbert Mack
,
Josh Victorian
and Andre Hal, a draft pick who improved significantly since his arrival in Houston.
Ronnie Brown extends his career:
With a promising rookie backup in
Alfred Blue
, who is still learning to catch and pick up blitzes, the Texans need a talented veteran to help mentor Blue and
Jonathan Grimes
, another young player who played his way onto the roster his summer. They'll get that in Brown, a good locker room presence who is entering his 10th NFL season. That is, of course, not the only reason the Texans are keeping Brown. That would be silly. He can still play and fill in where necessary.
One undrafted rookie sticks around:
Outside linebacker
Jason Ankrah
, an undrafted rookie out of Nebraska, steadily rose through the depth chart. I had some guesses about which undrafted rookies had a chance to make the roster, and one I thought could was
Max Bullough
, the inside linebacker out of Michigan State. Bullough had some moments of confusion during the Texans' final preseason game, which might mean he needs a little while on the practice squad to develop.
Travis Labhart
was another undrafted rookie who gave himself a chance, but I didn't expect him to make the 53-man roster. He's another guy who needs time, and the Texans have five receivers who don't.
What's next
: Houston has the top priority on the waiver wire, which is set in reverse order of 2013 record. That means these cuts might not be the last. On Friday, the Texans already had started to take a look at which players might become available.
Texans' moves:
WR
Lacoltan Bester
, WR Travis Labhart, WR EZ Nwachukwu, FB
Toben Opurum
, TE
Anthony Denham
, TE
Zach Potter
, OT
Matt Feiler
, C
James Ferentz
, G
Bronson Irwin
, G
Alex Kupper
, DE
Keith Browner
, DE
Julius Warmsley
, NT
Ricardo Mathews
, OLB
Quentin Groves
, OLB
Chris McAllister
, ILB Max Bullough, ILB
Chris Young
, CB Brandon Harris, CB
Junior Mertile
, CB
Marcus Williams
, S
Jawanza Starling
, K
Chris Boswell
August, 29, 2014
Aug 29
8:37
PM ET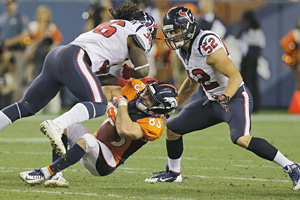 Jack Dempsey/Associated PressD.J. Swearinger was not fined for this hit on Wes Welker that resulted in the receiver's third concussion in nine months.
HOUSTON -- Texans safety D.J. Swearinger was not fined for a hit on Broncos receiver Wes Welker that drew a penalty last weekend, Swearinger told ESPN.com on Thursday night.
The safety made the hit with his shoulder but wound up colliding with Welker's head. The hit caused Welker's third concussion in nine months and he immediately left the game.
Denver quarterback Peyton Manning was so upset about the hit that he yelled at Swearinger, who is in his second season out of South Carolina, following the next play. Then, Manning received the first taunting penalty of his career. Manning was fined $8,268 for the taunt, sources told ESPN's Chris Mortensen.
August, 29, 2014
Aug 29
4:45
PM ET
ENGLEWOOD, Colo. – The
Denver Broncos
wrapped up their preseason Thursday night with the same major revelation they opened it with – that there isn't much room on the depth chart for surprises and the land of opportunity is actually just a sliver of ground with room for a new backup or two to go with some special-teams players.
The Broncos are likely deeper than the team that lost Super Bowl XLVIII by 35 points as well as, front to back, top to bottom, more athletic as well.
Whether or not that translates into another shot at the title remains to be seen, but here are some final takeaways from the Broncos' summer work:
[+] Enlarge

Jack Dempsey/AP PhotoThe Broncos threw a lot at rookie cornerback Bradley Roby, and his mental toughness showed in training camp.

It's often difficult for rookie to carve out meaningful snaps on a team like the Broncos, but if the preseason is an indication the Broncos are going to get quality time from cornerback Bradley Roby (first round), wide receiver Cody Latimer (second round) and linebacker Lamin Barrow (fifth round) while Michael Schofield (third round) nudged his way into a backup tackle spot. Roby will get plenty of work in the team's specialty packages and perhaps his best attribute beyond his obvious height/weight/speed numbers has been when the Broncos offense picked on him in practice, he kept his head, kept lining up and battling. The fruits of those labors will be in his playing time, because he showed the kind of mental toughness some had openly wondered he had before the draft. And Latimer will, and should, get some premium work in the offense. His routes still need some polish, but put him in a contested situation, as in the red zone, and he fights for the ball with tenacity. Barrow's athleticism will get him on the field in some of the Broncos' specialty work, especially until Danny Trevathan returns from a fracture at the top of his tibia.

No shock, but the Broncos are going to put up the points. The starting offense scored on six of 10 possessions in the preseason and against the Houston Texans, the group put up two touchdowns in the span of 62 seconds. It is unreasonable to believe they'll reach the 600-point mark again – after all, the 2013 Broncos are the only team to reach that milestone in the league's history – but early returns say they'll have a few surprises, especially in the run game, that they haven't shown in a game just yet. They showed some heavy formations – three- and four-tight-end looks – and in the preseason finale, even trotted out backup guard Ryan Miller, at 6-foot-7 and 320 pounds. In the passing game, new additions Emmanuel Sanders and Latimer give the Broncos the ability to create more difficult matchups in more places in the formation. They can run more players out of slot positions in the formations, out of a bunch look, and it will make it more difficult for defensive backs to disrupt their routes.

When the Broncos held plenty of folks out of Thursday night's game, some of those "DNPs'' are worth noting simply because it was an indication of their standing on this roster. Ronnie Hillman, who has clawed his way back into good graces after last season's trek from starter to game-day inactive, did not play and is solidly in the No. 2 running back spot behind Montee Ball. Roby was also held out, as was cornerback Kayvon Webster, so your top four corners will be Aqib Talib, Chris Harris Jr., Roby and Webster, which is how the team has practiced in recent weeks since Harris returned to full participation. Also worth noting, in what has been the tightest position battle on the roster, the Broncos played defensive tackles Kevin Vickerson 39 snaps and Mitch Unrein 30 snaps in the fourth preseason game. Both players often worked with the starting defense last season.
August, 29, 2014
Aug 29
4:33
PM ET
HOUSTON -- Texans coach Bill O'Brien didn't announce a backup quarterback Friday, but he did resolve one competition.
Keshawn Martin
will be the Texans' kick and punt returner this season.
"He's done a good job," O'Brien said. "... He's a guy that's one of the most improved players on our team. He's got to continue to go that way. He came back in training camp, whether it was his return ability or his play on offense, he's done a really good job of taking what we coached him in the spring ... and come here and improved a lot."
O'Brien met with Martin after organized team activities (OTAs) to go over the ways in which he wanted to see him improve. Martin had plenty of struggles in both the return game and as a receiver last season, and had to fight his way onto the roster. By midway through training camp, Martin had clearly moved himself off the bubble.
He competed with
Mike Thomas
,
Travis Labhart
,
EZ Nwachukwu
, running back
Dennis Johnson
(released earlier this month) and
DeVier Posey
for those return roles. If you want to get really technical, starting cornerback
Kareem Jackson
took some returns during OTAs and training camp, but there was no reason to ever take those seriously.
Labhart was released today, but could be back for the practice squad if he clears waivers. Thomas will likely make the team as the slot receiver. No word on Nwachukwu just yet.
August, 29, 2014
Aug 29
4:21
PM ET
HOUSTON -- You don't always get the frankness we got on Friday from Texans coach Bill O'Brien, in this instance regarding nose tackle
Louis Nix
.
Nix missed time during this offseason after having a knee scope, and the catchup process for the third-round pick doesn't have Nix where O'Brien wants him.
"It's been OK," O'Brien said. "He has to get a lot better. He's a third-round draft pick and he needs to make sure he's working extremely hard every day to play pro football. We're in the process of figuring out who the 53-man roster is. A lot of those things we take into account.
"You have a guy there that's a young guy who really doesn't totally get it yet, what it means to play in this league. He has to come out and earn it. He's better than he was when he came out on the field a couple weeks ago against Atlanta, but he's got a long way to go."
Strong words.
When the Texans drafted Nix, trading back into the third round to get him. I thought he'd at least compete to be a starter, but quickly it was clear
Jerrell Powe
had that spot locked down. The fact O'Brien even brought up the roster cuts in a response about Nix is very interesting.