October, 21, 2014
Oct 21
5:56
PM ET
After the Texans' 30-23 loss to the
Pittsburgh Steelers
, a common postgame question centered around the ridiculousness of what happened to conclude the first half.
Have you ever been part of something like that?
[+] Enlarge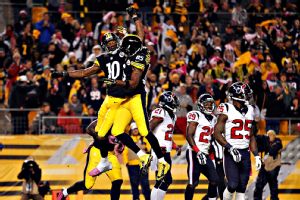 Justin K. Aller/Getty ImagesThe Texans have given up 24-point quarters in consecutive games.
Most said no, or that they couldn't remember. It's worth pointing out, though, the Texans also gave up 24 points in a quarter last week to Indianapolis (just not as quickly). Here's a fact: What the Texans have experienced in the past two weeks is something that hasn't even happened in the lifetimes of most of their players. The last time it happened, Bill O'Brien was in high school.
For a team to give up 24 points in a quarter is unusual. For a team to do it in consecutive weeks is, well...
According to Elias Sports Bureau, prior to the Texans this season, the last team to allow 24 points in a quarter in consecutive games was the Packers in 1986. They did it in losses to the Vikings (42-7) and Bengals (34-28) in Weeks 4 and 5 of the season.
Since the Texans' inception in 2002, there hasn't been a single team to allow 24-point quarters in more than two games in an entire season.
It happened in different ways each time. The Colts' scoring explosion, driven by
Andrew Luck
and receiver
TY Hilton
, was aided by an onside kick after their first quick touchdown. That move totally caught the Texans off guard and helped the Colts go up 24-0 in the first quarter before the Texans answered.
Of course, last night's second-quarter catastrophe started with the defense allowing a few big plays, and got worse when offensive turnovers gave the Steelers the ball inside Houston's 10 twice.
The results both times, though, were too much for the Texans to overcome. And if the Texans aren't careful, they would find themselves on the wrong side of history if it happened again.
October, 21, 2014
Oct 21
9:30
AM ET
October, 21, 2014
Oct 21
8:06
AM ET
Reading the coverage of the Houston Texans...
I'm new to this city, but those who are not tell me it's filled with sports heartache. Jerome Solomon of the Houston Chronicle says the Texans added another chapter to the city's history of collapses with Monday night's
30-23 loss
to the Pittsburgh Steelers. Also,
he calls himself a poet, I think
.
The Chronicle's John McClain offers his grades for the Texans in Monday night's loss. He reserves his lowest grade for the Texans' coaches.
Specialists and quarterback Ryan Fitzpatrick were also not spared
.
This one posted yesterday afternoon, but it's a good piece by Ashley Fox of ESPN.com on J.J. Watt.
She offers a mea culpa, as the only person who didn't vote for Watt for Defensive Player of the Year in 2012
. She also apologized to him in person. There's that and much more here.
Steelers defensive end Brett Keisel had a great game Monday night.
One of his teammates thinks he was the best 99 on the field that night
, writes Scott Brown of ESPN.com. I don't know about that ...
Arian Foster looked dominant against the Steelers
, writes Chris Baldwin of Houston's Culture Map. But then he was part of the Texans' second-quarter nightmare.
Ralph Paulk of the Pittsburgh Tribune-Review
takes a look at a play that might have been the turning point in this game
: the 43-yard reception by Le'Veon Bell on third-and-10 in the second quarter. From the story:
They had set up Bell's catch by making Houston's linebackers chase Bell on wheel routes. Bell caught all six balls thrown his way in the first half, mostly with a linebacker in coverage -- a mismatch that favored Bell, who totaled 91 yards receiving in the first half.

The Texans, among the league's best red-zone defenses, gave up a 13-yard completion to tight end Heath Miller on the next play. As Bell caught his breath on the sideline, the offense sputtered when linebacker Whitney Mercilus tracked down Roethlisberger for a sack at the Pittsburgh 26.

The Steelers trimmed the Texans' lead to 13-3 on a 35-yard field goal by Shaun Suisham. The points mattered, but Bell's 43-yard catch helped ignite a startling reversal of fortunes for the Steelers in the final 3:08 of the first half.
October, 21, 2014
Oct 21
2:24
AM ET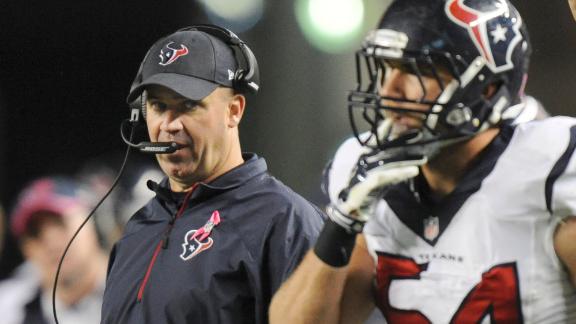 PITTSBURGH -- When did the 21-point deluge at the end of the first half start?
Depends whom you ask, but the result was three touchdowns in just over a minute and a half, which sparked the
Pittsburgh Steelers
to a 30-23 victory over the
Houston Texans
.
Some thought it started with the short pass
Ben Roethlisberger
threw to
Le'Veon Bell
, which went for 43 yards on third-and-10 with 5:42 remaining in the second quarter.
"That sort of sparked it," Houston safety
D.J. Swearinger
said. "They ran a little play to the running back. We just didn't capitalize."
You could say it started with the two-play, 19-second drive -- a 28-yard pass and a 35-yard pass -- that led to Pittsburgh's first touchdown.
"Anytime you give up a score that quickly, the offense is going to take that momentum and run with it," linebacker
Mike Mohamed
said. "We didn't do a good job of staying the course. It was just one thing after another, play after play."
Danieal Manning
thought it started on the ensuing kickoff, when he bobbled the ball and landed on it deep in his own territory.
"I just muffed the ball," Manning said. "Trying to return and run before I caught the ball. Every time you have the opportunity, you're going to want to make a play. But you can't run without the ball. You just can't do it."
In the span of 92 seconds, the Texans allowed three touchdowns, two of which were fueled by turnovers inside their own 10-yard line. It was the first time since 2012 (when the Texans did it to the Dolphins) that a team has scored three touchdowns in the final two minutes of the first half. Prior to 2012, it hadn't happened since 2002.
The first touchdown -- Roethlisberger's 35-yard pass to
Martavis Bryant
, on which Bryant beat fellow rookie
Andre Hal
-- was on the defense.
Kareem Jackson
reminded Hal afterward that he needed to let that one go.
Then, the Texans' offense imploded.
"Just self-inflicted wounds," running back
Arian Foster
said. "We give the ball up twice in our own territory. Anytime you do that, teams are going to capitalize. [We] gotta be better."
After Manning's fumble pinned them deep, the Texans opted to pass the ball to Foster and gained only 1 yard. Next, they handed it to him, and after a lengthy review, the officials determined he had fumbled.
"I dropped it," Foster said when asked what happened.
Gaining confidence, the Steelers ran a play in which Roethlisberger flipped the ball back to receiver
Antonio Brown
, who threw a 3-yard touchdown pass to
Lance Moore
.
With that pass, a 13-point lead had turned into a four-point deficit. But the bad stretch wasn't over yet, though the Texans believed they were going to recover some momentum and head into halftime with some positivity.
"We were very confident going into that drive [at the end of the first half]," left tackle
Duane Brown
said.
But like everything else in this horrific stretch, the pass play the Texans called at their own 20-yard line with 1:08 left didn't work.
"We had the turnover on the possession before and went out there really just trying to get three points out of that drive," quarterback
Ryan Fitzpatrick
said. "We had a decent play with Arian matched up, and it's not a good feeling to see the ball get tipped like that."
After the game, Fitzpatrick talked about the pass that hit Steelers defensive end
Brett Keisel
, caromed off another player and bounced back to Keisel for an interception, one he returned 16 yards. With the ball at the Houston 8-yard line, the Steelers took two plays to score this time, as Bell caught a 2-yard touchdown pass from Roethlisberger.
"Do stuff like that, [and] you don't win," receiver
Andre Johnson
said. "That's pretty much it."
Fitzpatrick called it miserable.
Jackson called it frustrating.
Swearinger chose a more active word.
"Crushed," he said.
It was just too much.
"We couldn't come back from it," Texans coach Bill O'Brien said. "Just too many turnovers. We had a hard time overcoming all those things."
October, 21, 2014
Oct 21
1:21
AM ET
PITTSBURGH -- You don't have to hang around
Houston Texans
coach Bill O'Brien long to know he has a fiery, emotional personality. That comes through after losses, but never more clearly than it did after the Texans'
30-23 loss
to the
Pittsburgh Steelers
on Monday.
O'Brien was heated. The tone and volume of his voice showed it. It was an appropriate response to a game that should have upset him, one in which players and coaches alike made mistakes.

O'Brien
"We had a terrible second quarter," O'Brien said. "We couldn't come back from it. Just too many turnovers. We had a hard time overcoming all of those things. But at the end of the day, we were one onside kick away from tying it. So we are trying to take some positive out of it, but we have to coach it better. We have to play a lot better."
He was asked if he'd ever seen anything like that final two-minute span, during which the Steelers scored three touchdowns in just more than a minute and a half. He said he wasn't sure. He was asked whether it was hard to stop the Steelers from scoring once they started, and that's when O'Brien bristled a little bit more.
"It was 30-23. It wasn't 50 to nothing," O'Brien said. "My point is we can't do that."
O'Brien went through a list of all his team did wrong: the 12-men-on-the-field penalty, the bobbled kickoff, the turnovers, the big plays.
"These questions are like we lost 50 to nothing," he continued. "We lost by a touchdown with all that stuff that we did. We have to improve it. We have to coach better, and we have to play better."
Next came a question about turnovers, and, again, O'Brien mentioned his frustration while also noting how close the Texans were to tying the game.
Finding positives is not always a bad thing, but focusing too much on those positives after another loss in what should have been a winnable game can be. I wanted to know if O'Brien actually was looking at the closeness of the game as a positive, or if his concern about all that went wrong (and we'll get into all of that in another post) outweighed that.
"I think it's a negative! We lost," he said, more visibly upset than he had been earlier. "It's a negative. It's terrible to lose. It's not good to lose."
And then the explanation for the search for the positives.
"My point is to these players in the locker room, is that with all those things that we did wrong, if we can fix those things that we're doing wrong, especially turning the ball over twice inside the 5-yard line, if we could fix those things, maybe we would have a shot, a better shot to win," O'Brien said.
"So no, it's awful to lose. It's not good to come close. There are no moral victories. But we have to fix these things."
October, 21, 2014
Oct 21
1:03
AM ET
By
ESPN Stats & Information
| ESPN.com
The
Houston Texans
jumped out to an early 13-0 lead on the
Pittsburgh Steelers
on Monday night. The Steelers then rode a late first-half surge to a 24-13 lead at halftime. After the Texans held that early lead, they were outscored 30-10 for the rest of the game.
The Steelers are now 8-2 on "Monday Night Football" under Mike Tomlin, and the Texans have lost three straight after a 3-1 start to the season.
The difference in the game was the quick 24 points the Steelers posted late in the second quarter, leading to their 16th straight "Monday Night Football" victory, the longest streak in the history of the franchise.
Steelers strike quickly
Pittsburgh scored 24 points in a span of 2:54 to completely change the momentum of the game. They had scored 27 points over their previous two games combined.
According to the Elias Sports Bureau, the last time an NFL team scored 24 or more points in less than three minutes was in Week 4 of 2002, when the
Seattle Seahawks
posted 28 points in 1:47 against the
Minnesota Vikings
.
The Steelers are the first team to score 21 points in the final two minutes of a half since the Texans in 2012 Week 1 (21 in first half versus
Miami Dolphins
). Furthermore, they are the only team in the past decade to score three touchdowns in the final 90 seconds of a half.
Killer B's attack for Steelers
Steelers wide receiver
Antonio Brown
was a jack-of-all-trades, catching nine passes for 90 yards and adding his first career touchdown pass for good measure during that 24-point surge at the end of the first half.
According to Elias, Brown is the third player in NFL history with at least nine receptions and a touchdown pass in a game, joining James Wilder (1984) and Jerry Rice (1995). He also extended his NFL-record streak of at least five receptions and 50 yards to 23 straight games.
With two touchdown passes,
Ben Roethlisberger
has at least 10 in each of his first 11 seasons. That ties Jim Kelly for the fourth most such seasons to start a career in NFL history.
Roethlisberger completed 23 passes, and 17 of them were either to
Le'Veon Bell
or Brown. He was 8-for-8 for 88 yards and a touchdown targeting Bell, who eclipsed 100 scrimmage yards for the seventh consecutive game this season. Bell joins
DeMarco Murray
as the only players with at least 100 yards from scrimmage in each of their team's games this season.
Other notable tidbits
Not to be forgotten was another outstanding effort from
J.J. Watt
. Watt had a sack and a fumble recovery on Monday, marking his third such game this season. No other player had more than one such game. Additionally, his fumble recovery was his NFL-leading third of the season.
With 77 receiving yards,
Andre Johnson
moved passed Hall of Famer Steve Largent for 14th on the career receiving yards list.
October, 20, 2014
Oct 20
11:37
PM ET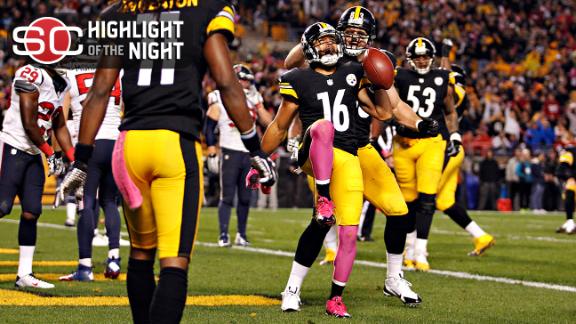 A few thoughts from the
Houston Texans
' 30-23
loss
to the
Pittsburgh Steelers
on Monday night.
What it means:
The Texans have a lot of work to do, and starting fast isn't a magic elixir. We talked a lot about the slow starts leading up to this game. This time, the Texans scored early -- it was just the second time this season they've scored on their first drive. They talked about needing that first first down to develop a rhythm that would change the complexion of the game. It didn't exactly work like that. Although that first drive was easy, the rest of it wasn't, and the Steelers' maligned defense gave its offense time to get going.
Stock watch:
The Texans' pass defense's stock is down again. They knew Pittsburgh's forte was big plays yet still gave up pass plays of 30 yards or longer to three different Steelers. Pittsburgh had previously only scored on two of their 11 such plays, but on Monday, they scored on a 35-yard pass to
Martavis Bryant
. Houston was short on defensive backs, especially with
A.J. Bouye
missing, but even some of their best defensive backs fell victim here.
Cornucopia of mistakes:
In the fourth quarter, the Texans negated every chance they had to get back into the game with costly mistakes. There was an errant pass to an open
Damaris Johnson
at the beginning of the quarter. There was a penalty for having 12 men on the field. There was another for defensive holding, on
Andre Hal
. Then, with just under five minutes to play,
DeAndre Hopkins
caught a deep pass near midfield, tried to get a few extra yards and fumbled the ball. That fumble led to a Steelers field goal, which put Pittsburgh up 14 with 3:04 remaining.
Game ball:
I had a few candidates for this as I watched the first 27 minutes of the game.
Arian Foster
was cruising nicely.
Whitney Mercilus
had a couple sacks and a forced fumble. But
Shane Lechler
gets the game ball for booting three punts for 135 yards (45.0 average), including one downed at the Pittsburgh 1-yard line.
What's next:
The Texans have the short week that follows a Monday night game before they travel to Nashville to play the
Tennessee Titans
in their second division game.