December, 5, 2013
Dec 5
5:00
PM ET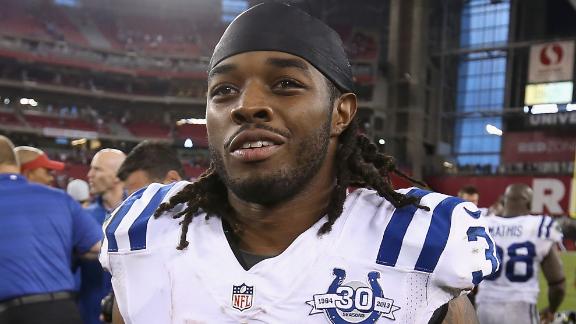 INDIANAPOLIS --
Indianapolis Colts
running back
Trent Richardson
stood at his locker on Thursday afternoon and answered every question thrown his way about being benched and how the past week has been for him.
He called the experience humbling because it was the first time since his sophomore year at the University of Alabama that he wasn't his team's starting running back. Richardson said
Donald Brown
deserves to be the starter and they'll continue to push each other.
I caught up with ESPN.com NFL scout Matt Williamson on Thursday to talk about Richardson's struggles this season:
Williamson on the trade:
"First of all, when the trade happened I thought the Colts made a great move. I liked him out of Alabama and what he did as a rookie with the Cleveland Browns. Every defense was keying on him and he was able to be productive, especially as a receiver. I thought he was going to be -- not Adrian Peterson -- but I thought he would be a Pro Bowl back and was worth what I expected to be a late first-round pick. Of course it hasn't worked out. I think there have been a lot of reasons. Some of it is bad luck, some of it is coaching. But a lot of it is on him."
Williamson on why Richardson has struggled:
"Just looking at him, I think he's been tentative since he's been here. I feel like he's uncomfortable knowing when to hit the holes and what their scheme is. He's lost mentally. It doesn't mean he's not smart. I think he's not tuned in to exactly what they're doing. It's not natural for him, not knowing exactly where to go, thinking too much. That shouldn't be a shock, though. He joined a new system in midseason. Running back is one of the hardest positions to learn. He hasn't been through minicamp or training camp. He also deserves some blame, too. He isn't running with that aggression. He doesn't look like he has that burst that he had at Alabama or last year. He is tentative when there are holes there. He doesn't attack them like he should."
Williamson on other reasons behind Richardson's problems:
"I don't think most people realize how bad the interior of that line is for the Colts. Those guards [Mike McGlynn and Hugh Thornton] are terrible. The interior of that offensive line, I think is as bad as any in the league. That's hard to overcome when you're an interior rusher. That's impacting Trent quite a bit. The Colts don't utilize his pass-catching ability very well. He is a very good receiver and even in space he can run over safeties and cornerbacks. It shocks me because he had 50-something catches last year."
December, 5, 2013
Dec 5
3:09
PM ET
December, 5, 2013
Dec 5
2:48
PM ET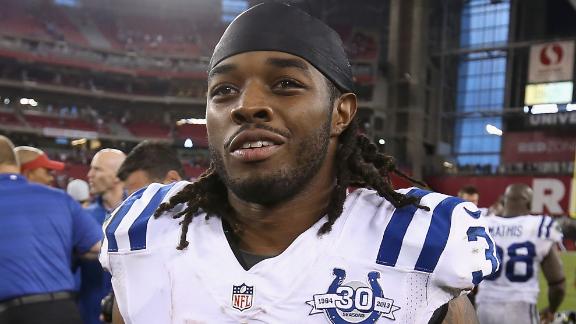 INDIANAPOLIS -- Colts running back Trent Richardson was humbled when he ran onto the field as a backup in the first quarter against the Tennessee Titans last weekend.
That was the first time since his sophomore year at Alabama that Richardson wasn't his team's starting running back.
Richardson, acquired by the Colts from the Cleveland Browns for a first-round draft pick in September, was benched in favor of Donald Brown against the Titans because of a lack of production.
Richardson, the No. 3 overall pick in the 2012 draft, isn't blaming others for his demotion.
Not coach Chuck Pagano. Not the offensive line. Not quarterback Andrew Luck. Not offensive coordinator Pep Hamilton.
Richardson blames only himself.
"It was different when I went out there Sunday," he said. "It was kind of like this is a place in your life where you have to learn and really see the offense and how things flow. I learned about myself Sunday, how humbling it was. I have to step up. I have to make sure I'm doing my job."
Richardson talked with confidence Thursday, saying in his first extensive interview other than giving a brief comment to ESPN.com after Sunday's game that he knows he'll bounce back.
The Colts acquired Richardson on Sept. 18, and he was playing three days later at San Francisco and in the starting lineup Sept. 28 at Jacksonville.
That shouldn't have been the case now that Richardson thinks back on it.
December, 5, 2013
Dec 5
10:00
AM ET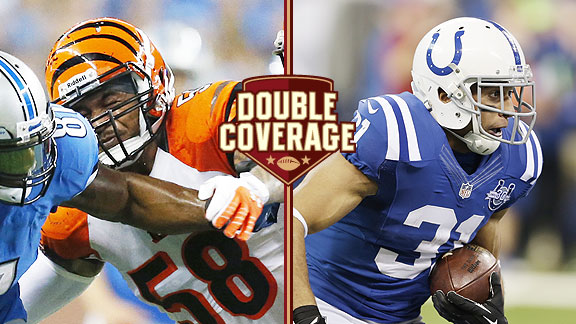 AP PhotoRey Maualuga and the Cincinnati Bengals know the Indianapolis Colts will try to establish the running game with Donald Brown.
After holding off the
Tennessee Titans
and
San Diego Chargers
last weekend, respectively, the
Indianapolis Colts
and
Cincinnati Bengals
come into this Sunday's showdown with one another knowing the stakes have been raised.
Whichever division leader emerges victorious from Paul Brown Stadium will have the No. 3 playoff seeding, and most likely will retain it, barring a complete collapse across the final three weeks of the season. The only other reason they wouldn't retain the No. 3 seed? Because they would have the No. 2 seed. Currently, the
New England Patriots
have that.
Cincinnati could claim that this weekend with a win and a Patriots loss. The Bengals have a tiebreaker over New England after beating the Patriots in October.
Like Sunday's game, that one was in Cincinnati. The Bengals are 5-0 at home, providing an added layer of difficulty for the Colts. Why have the Bengals been so good there? How can the Colts prevent losing their No. 3 seed? ESPN NFL Nation Bengals reporter Coley Harvey and Colts reporter Mike Wells have the answers to those questions and more.
Coley Harvey:
Mike, there are so many different places I could go with this first question, but I really want to ask about the Colts' rushing game. Bengals fans certainly were intrigued when the
Trent Richardson
trade deal went down earlier this season because they knew their team still had to face him this year, even if he was no longer playing for the division-rival Browns. He's had a rough go of it in Indy, prompting
Donald Brown
's start this past Sunday. Does Indianapolis believe Brown really is the back who will lead it through the postseason?
Mike Wells:
The Colts hope the demotion will turn out to be a good thing for Richardson. I know that sounds crazy considering the Colts gave up a first-round pick to acquire Richardson. Not starting should ease some of the pressure on Richardson because he's had a problem of overthinking since he joined the team. Brown may be the starter now, but coach Chuck Pagano will go with the hot hand during the game. So all it takes is a few big runs by Richardson and he'll be back in the mix. The trade so far is completely in Cleveland's favor, but this setback doesn't mean the Colts are throwing in the towel on Richardson. They really can't afford to when you think about all they gave up to acquire him. The Bengals have excelled at playing at home. What makes them a dangerous team there?
Harvey:
That's a good question. I'd say the weather has made them dangerous. The crowd has made them pretty dangerous, too. The reason I say the weather has made them dangerous is because twice this season, coach Marvin Lewis has been accurate in his prediction of what the weather would do. Back in early October, he smartly told his players to expect a sudden rain shower late in a game against the Patriots. A fourth-quarter monsoon came right when New England got the football for the last time and attempted a comeback drive.
Tom Brady
couldn't complete a pass. The rains were too hard. Eventually,
Adam Jones
intercepted Brady with 16 seconds remaining, clinching a big early-season Cincinnati win. Against the Browns three weeks ago, Lewis also told his players not to worry about the possibility of a delay that some weathermen had predicted. He was right. The game went along mostly smoothly, and about an hour after play, a line of strong storms moved through the area.
In addition to the advantage "meteorologist" Marvin gives them, the Bengals have had a great lift from their fans. Every game has been a sellout, and has had some moment in it that sent the crowd into a frenzy that's barely been seen since the team moved from the old Riverfront Stadium. The Bengals are confident they'll keep getting that energy the rest of the season.
Andrew Luck
has played in some meaningful games already in his young career. Most notably this season, he gutted out a win during
Peyton Manning
's return to Indianapolis. Because of what's at stake in Sunday's game, how much confidence do you think Luck's big-game play gives the Colts, Mike?
Wells:
Luck will have to carry the Colts if they expect to go into Cincy and get the victory. The former No. 1 overall pick doesn't have much to work with on offense now that veteran receiver
Reggie Wayne
is out for the season with the torn ACL. Opponents have found a way to slow
T.Y. Hilton
down lately by sending help over the top. Tight end
Coby Fleener
is doing what he can to help Luck out. I'm not even going to talk about receiver
Darrius Heyward-Bey
. The running game can't gain any traction and the offensive line has struggled this season. That leaves Luck having to improvise and do what he can to make things work. That won't be an easy task since the Bengals have the sixth-best defense in the league. The Bengals probably like their chances at being able to sack Luck. He's been sacked 29 times this season.
Speaking of quarterbacks, there seemed to be different stories floating around earlier this season that questioned whether
Andy Dalton
could win big games. Do you think he has the ability to take the Bengals to the next level?
Harvey:
In all honesty, it's tough to say, Mike. Dalton has been so inconsistent this season that it's tough to actually believe he'll be able to put this team on his back and be as successful as Luck has proven to be. That said, it looks like the Bengals learned something about Dalton and the rest of their offense in San Diego this past weekend. They discovered that with a little help from a solid running game, their passing game can actually produce big, explosive plays.
For a four-game stretch in October, Dalton looked like he would be able to make the Bengals an unbeatable force come the postseason. But since then, he hasn't been as efficient and he hasn't had the same type of prolific passing numbers. After throwing for more than 300 yards in four straight games in October, Dalton has hit the 200-yard mark just once since. Two games ago, against Cleveland, he didn't even reach 100. If the Bengals are going to make noise in the playoffs, it's probably not going to be because of Dalton. It most likely will be because of their defense.
Speaking of defenses, tell us about the Colts' defense. What has contributed to its struggles this year, particularly against the run?
Wells:
The Colts have struggled to stop the run all season -- 28
th
in the league -- and things may get worse for them. Defensive tackle
Ricky Jean Francois
is out two to four weeks with a partial tear of his plantar fascia.
Fili Moala
will start in his place. Stopping the run is just one problem for Indianapolis. The secondary has also had a difficult time stopping teams from passing on them. It all started when cornerback
Greg Toler
went down five games ago with a groin injury. But the defense stepped up by forcing four turnovers, including three interceptions, against Tennessee on Sunday. And there's a chance Toler will be back in the lineup this weekend. The rest of the secondary feeds off of Toler's energy. It's a perfect time for Toler to return because the Colts can use his help to try to slow down receiver
A.J. Green
, who is averaging 91.9 yards a game receiving.
Like Pagano, Marvin Lewis is a defensive coach. What makes the Bengals' defense so successful?
Harvey:
It starts with the combination of Lewis' background and defensive coordinator Mike Zimmer. The pair of defensive gurus have established quite the formidable two-headed monster for the Bengals, coming up with a slew of adjustments and lineup tweaks that has made the unit one of the best in the league, even when it maybe shouldn't be. Injuries have ravaged the Bengals' defense, most notably at defensive tackle (
Geno Atkins
) and cornerback (
Leon Hall
). The fact Will linebacker
Vontaze Burfict
has come on and had an unbelievably strong sophomore season has helped, too. The former undrafted free agent leads the NFL in tackles and played last week on a bad ankle. Because of his near-reckless style of play and the fact Zimmer's scheme has produced results, the Bengals believe in their system and that has made them successful.
December, 5, 2013
Dec 5
8:00
AM ET
INDIANAPOLIS --
Indianapolis Colts
linebacker
Robert Mathis
proved earlier this season that he doesn't need
Dwight Freeney
on the other side to be an effective pass-rusher.
Mathis leads the NFL in sacks with 15.5 and is a legitimate Defensive Player of the Year.
But Mathis is still not at the top of the Pro Bowl fan voting for outside linebackers. He trails Kansas City's
Tamba Hali
(233,738 votes) and Baltimore's
Terrell Suggs
(221,617) in the voting. Mathis has 217,191 votes.
I think Mathis should be higher than Hali and Suggs because they both only have nine sacks each. Mathis has also forced five fumbles this season.
Quarterback
Andrew Luck
and kicker
Adam Vinatieri
are the only other two Colts in the top 10 in voting at their position.
Luck is sixth amongst quarterbacks with 399,523 votes and the ageless Vinatieri is eighth amongst kickers with 41,848 votes.
To no surprise, Denver's
Peyton Manning
leads the voting with 926,432 votes.
Fan voting, which ends Dec. 26, accounts for one-third of the ballot. Coaches and players also have votes that count a third. They vote Dec. 23-26.
December, 5, 2013
Dec 5
3:00
AM ET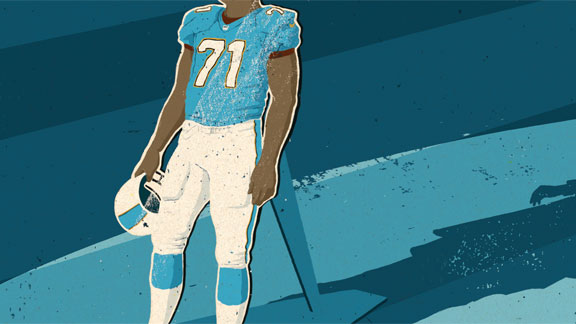 nullThe old locker room code was recently played out by Jonathan Martin and Richie Incognito.
WHETHER USED TO promote sports or justify the police state, the predominant black male image in America is one of anger and aggression. In the right time, emotion sells as passion (a Ray Lewis pregame speech, a Kevin Garnett guttural roar-and-dunk), and glistening muscles sell as dedication and athletic-gene perfection (see Dwight Howard). But in the wrong time -- when a black man is walking down the street, wearing a hoodie or a suit; or when Dez Bryant is yelling on the sidelines -- the muscles become frightening, the passion transforms into anger and the same images used to glorify and monetize the black athlete end up justifying belief of his danger.
Even with a Harvard-educated black man occupying the White House, the conception of black masculinity still revolves around the primal, not the intellectual. The first skill any African-American man learns in navigating the white world is how to make white people comfortable. He must be nonthreatening. Before he can profit from the snarl, he must first soften them with a smile. These tactics predate Matt Barnes' tweeting of the N-word; they predate the NFL, Jay Z and the Civil War.
Yet no matter the tactic, no matter how powerful or savvy a black man might be, manipulation of his image remains a shadow currency. LeBron James was the first black male to gain the cover of Vogue, in 2008. His portrayal conjured images of King Kong -- it was him roaring at the camera with a white woman, Gisele Bundchen, in his arms.
December, 4, 2013
Dec 4
5:00
PM ET
INDIANAPOLIS -- An already-weak offensive line could possibly be even weaker for the
Indianapolis Colts
when they play the
Cincinnati Bengals
on Sunday.
Rookie left guard
Hugh Thornton
did not practice Wednesday because of a neck injury.
Joe Reitz
was working at left guard during the portion of practice that was open to the media.
Fellow guard
Jeff Linkenbach
, who started against Tennessee last weekend, is already out with a quad injury. The Colts are calling Linkenbach week-to-week with his injury.
Coach Chuck Pagano said Wednesday that he's not sure who will start in Linkenbach's place against the Bengals. Linkenbach replaced
Mike McGlynn
at guard against the Titans. The Colts added
Xavier Nixon
to the 53-man roster from the practice squad on Tuesday.
"What we'll do with the offensive line, we'll just go through the week and between Mike and Joe and Hugh, we'll just work those guys through this week," Pagano said. Have not made any final decisions on anything as far as the offensive line goes. Just go to work on correcting things we need to correct. Nixon is a swing guy. He's played both. Major outside being a swing tackle type guy. That's where we're at with the offensive line."
The offensive line has had its problems all season, but this is a bad time for the Colts to be dealing with injuries there. They need to beat the Bengals to go up one game in the race for the No. 3 seed in the AFC playoffs. The Bengals are ninth in the league in sacks with 36.
"They're ranked sixth in the National Football League for good reason," Pagano said. "They got good players. Got a good front seven, good linebacking core, good in the back end."
Here's the rest of the Colts' injury report from Wednesday:
Cornerback

Greg Toler

and receiver

T.Y. Hilton

(shoulder) were limited in practice. Having Toler practice -- even if it was limited -- is a positive because he's missed the past five games with a groin injury.

Safety

Sergio Brown

(hand), defensive tackle

Ricky Jean Francois

(foot), linebacker

Robert Mathis

(rest) did not practice.
December, 4, 2013
Dec 4
3:17
PM ET
INDIANAPOLIS -- Daniel Adongo didn't even know how to put pads on when the Indianapolis Colts signed him in July.
The closest the Kenyan has come to playing in an NFL game was when the press box announcer mistakenly announced that he'd caught a 7-yard touchdown pass in Indianapolis' preseason finale against the Cincinnati Bengals.
But now, four months and one transcontinental flight later, the former rugby standout has been added to the Colts' active roster.
"I think back to his very first workout, when we first brought him in after a 17-hour flight to Atlanta and a connection up here ... to try out, [and] from what we saw to right now, it's night and day," coach Chuck Pagano said. "The guy is a smart guy, we know from a physical standpoint he's very, very athletic. He can run, he's big, he's strong and he's a tireless worker."
The Colts added the linebacker to the active roster Tuesday after he'd spent the first 13 weeks of the season on the practice squad. Pagano said any playing time Adongo gets will be on special teams because the Colts already have five outside linebackers on the active roster.
"I think it's a good tribute that I put in the effort and hard work," Adongo said. "I'm excited for the opportunity. But with that said, I'm not going to let that excitement get to me."
Colts general manager Ryan Grigson has never been shy about going off the beaten path to find talent, and this is the first time Adongo has played football. He played rugby at the highest level in South Africa.
December, 4, 2013
Dec 4
1:08
PM ET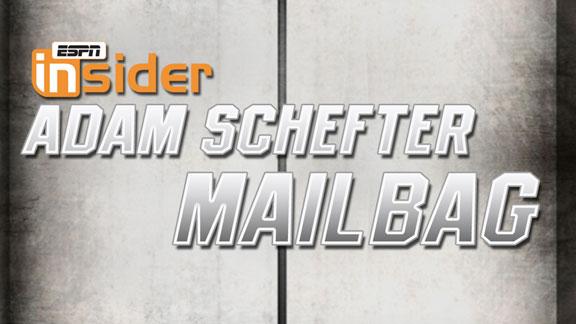 Adam Schefter answers readers' questions in his mailbag once a week during the NFL preseason and regular season. Have a query of your own? Submit it here.
Q:
How concerned should the Kansas City Chiefs be about their defense? That team is built around a strong running game and defense, but I don't think they can win coming from behind in the playoffs.
-- Kevin (Kansas)
A:
Not like this they can't, Kevin. The defense, which has been real soft lately, needs to be better. The confidence that this team played with early on seems to have vanished, and now there are some questions that didn't exist. But this still is a playoff team. It still is a very good defense. It just needs to find a way to get back to playing at the level it did -- and that usually means generating the sacks and turnovers that haven't been coming Kansas City's way recently. Amazing how regular a defense can look when it doesn't get pick-sixes and big turnovers. And that's where the Chiefs defense has been the past three weeks.
Q:
Adam, is there a chance that the Indianapolis Colts cut Trent Richardson? What is his future with the team after being demoted to the No. 2 back?
-- Lizzie (California)
To continue reading this article you must be an Insider
December, 4, 2013
Dec 4
12:00
PM ET
By
ESPN.com staff
| ESPN.com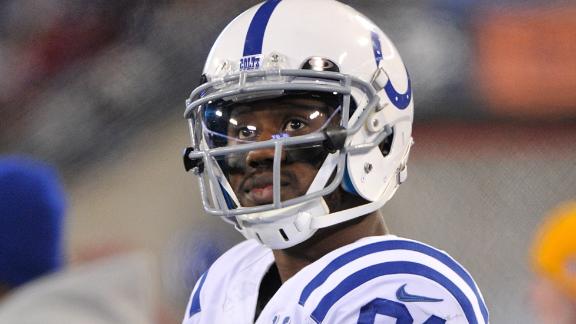 Indianapolis Colts reporter Mike Wells discusses how the Colts aren't going to sit by and wait for starters to produce going forward. And not to be surprised with more lineup changes.