October, 20, 2014
Oct 20
7:00
PM ET
INDIANAPOLIS –
Indianapolis Colts
linebacker
Erik Walden
has yet to talk about his ejection from Sunday's game, but coach Chuck Pagano said he doesn't believe Walden will be suspended.
Walden was ejected in the second quarter of Sunday's game against the
Cincinnati Bengals
after he swiped down to push head linesman Bruce Stritesky's arm off of him.
Under Section 3 "unsportsmanlike conduct" of the NFL rulebook, it states that any unnecessary physical contact with a game official may result in disqualification and discipline from the commissioner.
"It is what it is, the rules are the rules," Pagano said Monday.
Walden had already left the locker room before the media arrived after the game Sunday and Pagano gave the players Monday off.
Walden was suspended for a game last season for head butting a helmet-less
Delanie Walker
in a game against Tennessee.
October, 20, 2014
Oct 20
5:00
PM ET
INDIANAPOLIS --
Indianapolis Colts
receiver
Reggie Wayne
, running back
Trent Richardson
and linebacker
Jerrell Freeman
were scheduled to get MRIs on Monday for injuries suffered in Sunday's
27-0 victory
over the
Cincinnati Bengals
.
Wayne injured his elbow and had it wrapped while standing on the sideline at the end of the game. Freeman left the game with a hip pointer but later returned, and Richardson left the game in the fourth quarter with a hamstring injury. He could have returned, but coach Chuck Pagano kept him as a precaution because the outcome had already been determined in the Colts' shutout.
October, 20, 2014
Oct 20
1:30
PM ET
Here's Monday's Reading the Coverage.
Conrad Brunner of 1070thefan.com has weekly his "
Good, bad and ugly
" from the Colts' victory over the Bengals
Zak Keefer of the Indianapolis Star says the
one-two punch
of running backs Ahmad Bradshaw and Trent Richardson is heading in the right direction after the Colts rushed for a season-high 171 yards. "When I left the game last year, you could [start] to see the two-way attack," said Bradshaw, who suffered a season-ending neck injury in Week 3 of last season. "That's [how] we wanted to attack this year. Just that two-headed monster. It's all come together."
Bob Kravitz of WTHR.com writes about how the defense is
no longer complementary
to the offense. Kravitz says, "A new word can now be used in relation to the Colts' defense: Dominant."
Mike Chappell of RTV6.com goes into "
Four-Down territory
" in breaking down the Colts' win. He highlights the more than impressive performance by the defense.
Kevin Bowen of Colts.com breaks down the "
Anatomy Of The Drives.
" He focuses on the three touchdown drives, which included two from Bradshaw.
October, 20, 2014
Oct 20
11:00
AM ET
Our weekly attempt to expose and explore the gray area involved in officiating NFL games. Sunday suggestions welcome via Twitter (@SeifertESPN). For all Inside Slant posts, including the weekly Officiating Review, follow this link.

Play:
No official review after the
St. Louis Rams
were ruled to have recovered their own fumble on the penultimate play of their 28-26 victory against the
Seattle Seahawks
.
Referee:
Brad Allen
Analysis:
Rams running back
Tre Mason
fumbled after converting a game-clinching first down. Teammate and tight end
Cory Harkey
fell first on the ball, but a large pileup soon formed. Allen's crew ruled a recovery by the Rams, who then quickly lined up for a final kneel-down before replay official Jim Lapetina -- who has complete control over instant replay in the final two minutes -- could initiate a review.
This type of play became eligible for review this season under the so-called "NaVorro Bowman" example. (Bowman's apparent fumble recovery against the Seahawks in the NFC Championship Game was not reviewable at the time.) The NFL's official play-by-play credits Harkey for the recovery, but a replay broadcast before the Rams' final kneel-down made clear he lost control of the ball prior to the pileup. The ball was last seen underneath Seahawks cornerback
Richard Sherman
, who
told reporters
he maintained possession under the pile and assumed he would be credited with a recovery that would have given the Seahawks' offense one final chance to win the game.
In the end, none of the angles shown on the Fox broadcast provided indisputable evidence of the recovery. NFL vice president of officiating Dean Blandino tweeted that he reviewed the call in New York and that there was
"no evidence of who recovered the ball."
It doesn't appear that the outcome would have changed had Lapetina initiated a review, but watching the sequence of events live suggested the NFL was more fortunate in this case than it was efficient. Did Lapetina know in real time that there was no angle to support a credible review? I suppose it's possible. Still, I don't think many of us would have argued against a 60-second stoppage of play to evaluate a game-changing call at the end of a two-point game just to make sure.
[+] Enlarge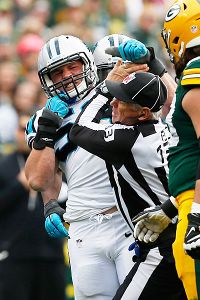 AP Photo/Mike RoemerPanthers linebacker Luke Kuechly was ejected for making contact with back judge Steve Freeman in Carolina's game in Green Bay.
Plays:
Two linebackers,
Erik Walden
of the
Indianapolis Colts
and
Luke Kuechly
of the
Carolina Panthers
, were ejected for making contact with an official.
Referee:
Gene Steratore for Walden and Jeff Triplette for Kuechly
Analysis:
Rule 12, Section 3, Article 1(h) prohibits "unnecessary physical contact with a game official." It leads to an unsportsmanlike conduct penalty and a disqualification.
Walden's infraction occurred when umpire Bruce Stritesky was separating him from
Cincinnati Bengals
tight end
Jermaine Gresham
. Walden used his right arm in what appeared an attempt to ward off Stritesky from pushing him away. The contact was gentle by football standards, but Stritesky immediately threw his flag.
Kuechly, meanwhile, had been at the bottom of a pile attempting to recover a fumble by the
Green Bay Packers
'
Eddie Lacy
. Packers tight end
Richard Rodgers
pulled Kuechly out of the pile, which appeared to anger Kuechly, and back judge Steve Freeman grabbed Kuechly from behind to prevent a confrontation.
Kuechly wriggled his left arm to free himself from Freeman, only afterward realizing it was an official rather than another player who was restraining him. Freeman, who appeared to take an arm to his face, immediately threw his flag.
The structure of the rule allows officials some leeway by including the word "unnecessary." It implies the existence and possible acceptance of inadvertent contact, which surely applies in Kuechly's instance. There didn't appear to be any intent to make contact with an official on his part, and either Freeman or Triplette should have let it go.
On the other hand, there is little doubt that Walden's contact was deliberate. Again, officials have some leeway. The contact in this case was hardly forceful. But delineating the power behind contact would seem to compromise the larger goal of demanding respect for officials. Walden certainly didn't get his money's worth, but the physical contact was in fact "unnecessary" and merited a penalty.
Play:
San Francisco 49ers
defender
Dontae Johnson
collided with umpire Mark Pellis on the goal line, opening up
Denver Broncos
receiver
Emmanuel Sanders
for a touchdown.
Referee:
John Parry
Analysis:
Many of you will recall
the 2010 change
that moved umpires from their traditional position behind linebackers to a safer, less-trafficked spot 12-15 yards deep in the offensive backfield. So why was Pellis standing on the "O" of the "BRONCOS" end zone lettering on third-and-goal? Because of an NFL rule exception, of course.
A few months after the initial rule change, the NFL circulated a memo that described several instances where the umpire would move back to his original spot. One of them was in cases like Sunday night's, when the offense is at or inside the 5-yard line. According to the memo,
as reported by The New York Times
, the league deemed it "useful for the umpire to be operating in close proximity to the line of scrimmage."
The exceptions were developed after complaints came from teams that ran no-huddle offenses, particularly the Colts, led at the time by
Peyton Manning
. Theoretically, getting the umpire closer to the line of scrimmage would allow teams to snap the ball more quickly.
Four years later, the re-positioning helped another Manning-led team. As the Broncos lined up at the 3-yard line, Pellis stood 8 yards away in the defensive backfield. He took two steps forward at the snap, then tried to backpedal -- apparently trying to move out of Sanders' way -- but slipped.
Sanders stayed upright and continued running, but Johnson collided with Pellis and toppled to the ground. The 49ers had no recourse; the umpire is part of the field, and falling over him is no different than slipping on a divot. The only call was to signal a Broncos touchdown.
October, 20, 2014
Oct 20
10:30
AM ET
INDIANAPOLIS --
Indianapolis Colts
receiver
Reggie Wayne
had dropped two passes earlier in the game, putting his streak on the line.
What streak you ask?
Wayne
His streak of catching at least three passes in a game.
Wayne went into the fourth quarter with only one catch, but ended the game with four catches, keeping his streak alive.
Wayne had a quiet game against the
Cincinnati Bengals
, finishing with just 15 yards. But he did become just the ninth receiver in NFL history to reach over 14,000 career yards.
But Wayne, being Wayne, didn't want to talk about his personal accomplishments.
"We've got something special," Wayne said. "We felt that way going into the season. Got a lot of guys back healthy and these last five games are an indication of what we can do. I'm sure there are a lot of corrections to be made, but if we continue to ride this way, we can keep this streak going."
Need further proof that Wayne is all about the Colts?
He was asked about former teammate
Peyton Manning
potentially breaking Brett Farve's touchdown record Sunday night when the
Denver Broncos
played the
San Francisco 49ers
. Manning broke the record in the second quarter.
"We just got done playing Cincinnati," Wayne said, laughing. "If you want to hear about Peyton you have to go to Denver. Let's talk about what we're doing."
Wayne spent the end of the game on the sideline with a bandage on his elbow after falling on it.
"I'm good right now," Wayne said. "Just kind of fell on it. I'll go home, have an adult beverage and see how it feels (Monday morning).
October, 20, 2014
Oct 20
8:00
AM ET
INDIANAPOLIS -- Running back Trent Richardson appeared to be on his way to his first 100-yard rushing game since being traded to the Indianapolis Colts.

He had rushed for 77 yards on 14 attempts when a hamstring injury sent him to the sideline for the rest of the game in the fourth quarter of their 27-0 victory over the Cincinnati Bengals.

"Little tweak, nothing big," Richardson said. "I was able to still run and move. Coach [Chuck Pagano] told me there's no reason to back out there."

The 77 yards were two yards shy of Richardson's highest total as a Colt, 79 yards against Philadelphia in Week 2.

His injury took away from an afternoon when the Colts averaged 5.0 yards a carry and ran for a season-high 171. Sunday marked the second time this season that the Colts have rushed for at least 150 yards. They ran for 169 yards against the Eagles.

"I think they've been running the ball very well all year and if we can do that and keep a defense on their heels per se, it helps in pass pro, it helps with play action, it helps when you have to go up-tempo and four wides, whatever it is," quarterback Andrew Luck said. "They've done a heck of a job, and not only running the ball but getting out after pass pro, leaking out, or free releasing and catching the ball and making some moves."
October, 19, 2014
Oct 19
8:10
PM ET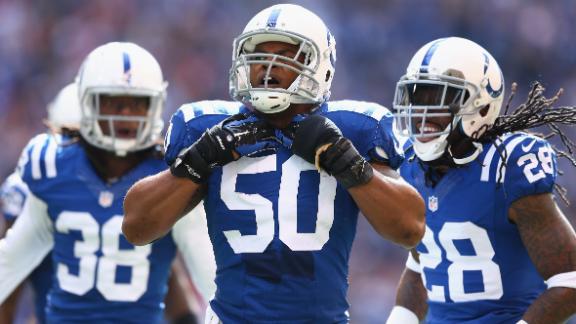 INDIANAPOLIS -- Safety Mike Adams arrived in Indianapolis knowing what made the Colts successful.
It started with
Peyton Manning
and has carried over to
Andrew Luck
. The
Indianapolis Colts
' success was dictated by the offense.
The goal, according to Adams, was to close the gap between the two units. You probably had a better chance of winning the lottery than counting on the defense to win a game for the Colts in recent years.
"I love Andrew to death," Adams said, "but I don't want that to take away from what we do. I want to make plays and make it easy for Luck and the offense."
Easy is what it has been for the Colts defensively over the past five weeks. They continued their dominating play Sunday when they shut out
Andy Dalton
and the
Cincinnati Bengals
27-0. It was Indianapolis' first shutout since beating Tennessee 23-0 on Dec. 28, 2008.
"This is a new era," Colts defensive lineman
Cory Redding
bluntly said. "We have some special guys in this locker room. This is a special team."
The Colts held the Bengals to 135 total yards on offense, their lowest total since that Tennessee shutout. The Bengals were only 1-of-13 on third down and punted on 11 of their first 12 possessions -- the one in which they didn't ended the first half. And remember how Dalton entered Sunday with a league-low two sacks? The Colts sacked him four times.
"Hats off again to our defense," Colts coach Chuck Pagano said. "Unbelievable job. I don't care, any level, to shut somebody out is extremely difficult in the National Football League. I don't know how many total yards they had, but zero points up on the board, four sacks. I don't know who got them. I don't really care as long as we keep playing at this level on that side of the football."
The Colts had no idea where the sacks were going to come from once linebacker Robert Mathis was lost for the season with a torn Achilles.
Vanilla and predictable is the last thing defensive coordinator Greg Manusky wanted his unit to be. He wanted to dictate how the game would be played and use a scheme that allowed the Colts to supply pressure in all directions.
It didn't matter if it came from the linebackers, a cornerback or a safety blitz. Manusky wanted the quarterback to be confused, always looking around for where the pressure would come from.
"Making a play can come from anywhere on the field," defensive lineman
Ricky Jean Francois
said. "When Manusky is making great defensive plays, he might get somebody out of the popcorn stand to make a play. As long as Manusky keeps giving us plays and we keep perfecting our job and keep doing what we need to do and not do the next person's job, we can be a serious defense."
The Colts made Dalton look like a marginal quarterback by loading the box with as many as nine players several times, leaving cornerbacks
Vontae Davis
and
Greg Toler
isolated one-on-one on the outside. Toler and Davis were glued to the Bengals receivers, as the unit had nine pass breakups. Davis, not known for his hitting ability, even laid Bengals running back
Giovani Bernard
out on a pass attempt in the flat.
That's confidence. And the numbers don't lie when talking about how dominant the unit has been the past five weeks.
The Colts have 20 sacks in that span. They have forced nine turnovers. They have held their last four opponents to 4-of-41 on third down.
And they're doing it not only without Mathis. Safety
LaRon Landry
missed his third game because of a suspension, defensive lineman Art Jones has missed the past five games with an ankle sprain, and cornerback
Darius Butler
has missed the past two games with an ankle injury.
"When we lost Robert, a lot of guys didn't know what our identity was going to be," linebacker D'Qwell Jackson said. "We're slowly finding our identity, and it's coming from everyone, it's coming from every angle. The secondary is doing their job, linebackers are able to blitz and get pressure on quarterback. Defensive line is playing phenomenal. It starts with them and Greg Manusky."
October, 19, 2014
Oct 19
5:46
PM ET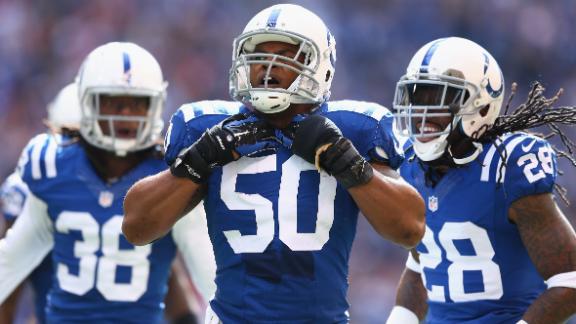 INDIANAPOLIS -- Colts owner Jim Irsay, attending his first game following his six-game NFL-mandated suspension, was given one of the game balls after his team shut out the Cincinnati Bengals, 27-0, at Lucas Oil Stadium on Sunday.
Irsay walked out the locker room firmly gripping the ball with his right hand after the Colts recorded their first shutout since the 2008 season.
"We all know how much he loves this game, how much he loves this team," Colts receiver Reggie Wayne said. "For us to win in the fashion that we did in his first game back was big. He got the game ball and hopefully he enjoyed it."
Irsay was suspended by commissioner Roger Goodell after he pleaded guilty to a misdemeanor count of driving while intoxicated and acknowledged he was under the influence of the painkillers oxycodone and hydrocodone when he was arrested March 16 near his home in suburban Carmel.
Irsay was not permitted to have any contact with team or media during suspension.
"When you're away from something like that, you grow to appreciate it even more when you're back," Irsay said in an interview last week. "I'm just grateful that I'm physically feeling great and really excited about this season."
October, 19, 2014
Oct 19
4:11
PM ET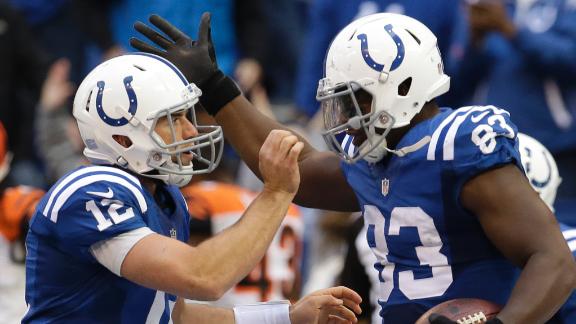 INDIANAPOLIS -- A few thoughts on the
Indianapolis Colts
'
27-0 victory
over the
Cincinnati Bengals
:
What it means:
The Colts have tried for years to assemble a defense on par with their offense, but it's been a struggle each year to reach those standards. The defense is attempting to change that. It continued its dominating ways of late on Sunday by recording four sacks, holding the Bengals to 1-of-13 on third down, including 11 straight three-and-out possessions. The Colts were supposed to struggle without linebacker Robert Mathis, but that's been far from the case. They have 20 sacks during their five-game winning streak. Sunday was their first shutout since the 2008 season. The Colts' offense, meanwhile, struggled early on, as both of their main running backs,
Trent Richardson
and
Ahmad Bradshaw
, fumbled in the first half. But they got it going in the second half by scoring 17 points. Quarterback Andrew Luck finished 27-of-42 for 344 yards and two touchdowns.
Stock watch:
The ageless
Reggie Wayne
continues to prove he can get it done. He extended his streak of at least three receptions in a game when he caught four passes. He also became the ninth receiver in NFL history with at least 14,000 yards receiving.
Struggles on third down:
The Bengals weren't the only team that had a difficult time getting first downs on third down. The Colts didn't convert their first third down until Luck found tight end
Coby Fleener
for a 26-yard completion early in the third quarter. The Colts finished 5-of-13 on third down.
Richardson leaves game:
Richardson appeared to be on his way to having his first 100-yard game rushing as a Colt until a hamstring injury knocked him out in the fourth quarter. He finished with 77 yards on 14 attempts.
Game ball:
You can't single out one player when the defense blanks a team. That's why the whole defense gets a game ball. The unit held the Bengals to 135 yards on total offense and limited them to only 20 minutes on the field.
What's next:
The Colts head on the road to play another AFC North team, this time the
Pittsburgh Steelers
, on Oct. 26.
October, 19, 2014
Oct 19
2:59
PM ET
[+] Enlarge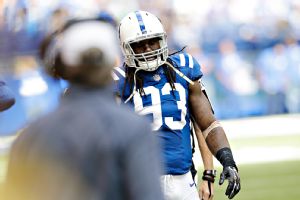 AP Photo/AJ MastColts linebacker Erik Walden was ejected from Sunday's game against the Bengals for touching an official in the second quarter.
INDIANAPOLIS -- Colts linebacker Erik Walden was ejected from Sunday's 27-0 win against the Cincinnati Bengals for touching an official late in the second quarter.
Head linesman Bruce Stritesky had his arm on Walden when the linebacker swiped down to push it off of him. Under Section 3 "unsportsmanlike conduct" of the NFL rulebook, it states that any unnecessary physical contact with a game official may result in disqualification and discipline from the commissioner.
Walden was suspended for a game last season for head butting a helmet-less Delanie Walker in a game against Tennessee.
The play gave Cincinnati its initial first down of the half with 48 seconds to go.
At halftime, Colts coach Chuck Pagano told a local radio station he thought it was accidental but that he had not seen it.
The Associated Press contributed to this report.