April, 21, 2014
Apr 21
7:30
AM ET
Here's Reading The Coverage for the Colts from over the weekend:
Kevin Bowen of Colts.com has a story on receiver Reggie Wayne returning to Indianapolis as he continues to work his way back from a torn ACL suffered in Week 7 last season. On what motivates Wayne to return to the playing field: "They say whatever you're doing you need to find something that motivates you. I could easily say my kids, my family, my boys. When I told them I was done for the year, I could see their shoulders just sink. I could easily say that's my motivation but that's understood. You look outside the box. You guys (the media) are the ones that say I can't do it. 'You're 35. You're over the hill. No way I can comeback the same.' I wasn't a big newspaper reader but I've become one. Hopefully I can get you guys to kind of sing another tune and next time I read it, you can say I finally found my youth."
Craig Kelley, also of Colts.com, caught up with quarterback Andrew Luck, who took some time to get away after their playoff loss to New England in January. "You do have to get away, at least in my mind you do, so I did," said Luck, who heeded Chuck Pagano's advice to decompress before returning in April to launch preparations for 2014. "I made sure I gave myself a solid month-and-a-half, two months to get back into football shape before starting this voluntary workout session ... I know getting away from football is as important almost as making sure your mind's fresh and clear as the training aspect."
Speaking of Luck, he attended an Indy Eleven soccer match over the weekend. Indy Eleven plays in the North American Soccer League. Luck is a soccer junky who enjoys traveling to Europe to watch matches.
Phil Richardson of the Indianapolis Star wrote a profile on tight end Dwayne Allen. Allen's second season ended in Week 1 because of a hip injury. "It really gave him a chance, as I would like to describe it, to lay down in green pastures," Colts Director of Player Engagement David Thornton said. "It was his chance to reflect and grow. It was transformational and it sparked a new passion for football and for giving. He lives to give. It's a different language now, that Dwayne speaks."
April, 19, 2014
Apr 19
8:00
AM ET
April, 18, 2014
Apr 18
11:30
AM ET
INDIANAPOLIS --
Indianapolis Colts
coach Chuck Pagano talked at the NFL owners' meetings last month about the importance of having a fullback, though they're a "dying breed" in the league.
"We all know how fullbacks are built like fire hydrants," he said. "They're short-necked, thick guys who love running into things. So they're hard to find."
The Indianapolis Colts signed two,
Stephen Campbell
and
Cameron White
, on Thursday. With only five picks in next month's draft, going the free-agent route for a fullback is best for the Colts, because it's unlikely they will use a pick to select one.
The Colts found Campbell and White at the New York/New Jersey and Chicago NFL Regional Combines, respectively.
Campbell had 65 receptions for 625 yards and eight touchdowns during his career at West Virginia Wesleyan. White had 94 catches for 1,145 yards and 12 touchdowns at Hillsdale College (Mich.).
Stanley Havili
was the Colts' only true fullback last season. The Colts used some tight ends in the backfield when Havili was injured last season.
"There are certain situations where you're short-yardage, you're goal-line, the 4-minute offense when you're trying to take the air out of the game and you've got a lead, you want to get in a two-back formation," Pagano said.
April, 18, 2014
Apr 18
8:30
AM ET
Here's Friday's Reading the Coverage:
Mike Chappell of the Indy Star has a story on how ownership of the Colts is in good hands with Jim Irsay's daughters once he decides to give them control of the team at some point in the future. Carlie Irsay-Gordon is running the team while her father is at a treatment facility following his arrest last month.
Kevin Bowen of Colts.com posted a story on running back Trent Richardson. Richardson was acquired from the Cleveland Browns for a first-round pick last September. He ended up being demoted late in the season, but he plans to come back a different player next season.
"It's going to be very, very important for [Richardson] to be here for the offseason program and to dive into this thing full steam ahead, which he will," coach Chuck Pagano said.
"He wants to be great. He's got all the talent. He's got all the ability. We would have never done what we did if we didn't believe that deep down in our core. So we look for him to have a great offseason and to have a great 2014 campaign."
April, 17, 2014
Apr 17
6:40
PM ET
INDIANAPOLIS -- The
Indianapolis Colts
continued to add depth to their offensive line.
Guard/tackle
Joe Reitz
signed his one-year, $1.43 million qualifying offer as a restricted agent Thursday. Reitz, who went to high school in the Indianapolis area, has started 20 of the 34 games he's appeared in during his career. The Colts claimed Reitz off waivers from the
Miami Dolphins
in 2010.
The problem with the 6-7, 323-pound Reitz is his inability to remain healthy. He missed two games with a concussion last season and seven in 2012 with concussion and knee problems.
With Jeff Linkenbach signing with Kansas City, Reitz has an opportunity to be the Colts' primary utility backup offensive line because he plays either the guard or tackle position.
April, 17, 2014
Apr 17
12:15
PM ET
ESPN draft expert Mel Kiper Jr. posted his
mock draft 4.0

earlier Thursday.
Who needs a first-round pick? Not the
Indianapolis Colts
, so we'll skip ahead to the second round when they pick at No. 59.
To continue reading this article you must be an Insider
April, 17, 2014
Apr 17
10:00
AM ET
By
ESPN.com staff
| ESPN.com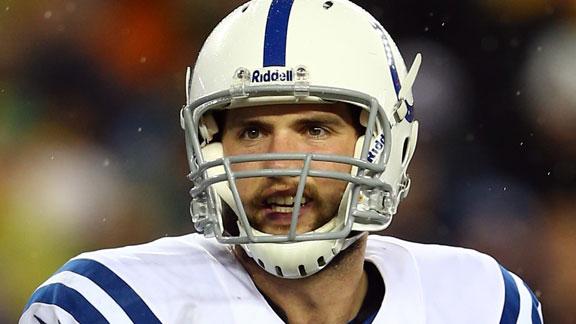 There was only a brief respite for the AFC South, when the
Indianapolis Colts
' death grip on the division released.
In its 12 seasons of existence, the Colts have won this division eight times and missed the playoffs only once. The Titans won the AFC South in 2002 and again in 2008 -- both years the Colts made it into the postseason as a wild-card team. Their only playoff-less season came in 2011, with
Peyton Manning
sidelined, when they earned the
Andrew Luck
pick in the 2012 draft.
With Luck, the playoffs returned to Indianapolis.
Now it's up to the rest of the division to determine whether the Colts' domination will return.
The AFC South has offered wild-card teams in six different seasons -- two in 2007 (the
Tennessee Titans
and
Jacksonville Jaguars
). Most recently, the Colts were a wild-card team in 2012 when the
Houston Texans
won their second consecutive division title. They didn't come close to having one last season. The Colts were the only team with a winning record.
Tennessee finished 7-9, the Texans (2-14) and Jaguars (4-12) wound up with top-five picks in this year's draft, and the Titans and Texans are starting fresh with new head coaches as a result of what transpired.
Can the balance of power shift? Or are we still a few years away from some semblance of parity in the division? NFL Nation's AFC South reporters Michael DiRocco, Paul Kuharsky, Mike Wells and Tania Ganguli offer their thoughts.

Michael DiRocco: I like what the Colts did in free agency in signing linebacker D'Qwell Jackson and defensive end Arthur Jones, moves that should help improve a defense that got embarrassed in the playoffs. Adding receiver Hakeem Nicks may turn out to be one of the better moves within the division because it gives Andrew Luck an experienced, big-play receiver (provided he stays healthy). Indy is the best team in the division, but I think it could widen the gap with a good draft, especially if it adds help up front. A dominant defense is something Peyton Manning never had there, but it seems as if the Colts are trying to get one for Luck.

Tania Ganguli
: During the NFL owners meetings, I asked Colts general manager Ryan Grigson if he knew how lucky he was to preside over a team with the first pick in the draft the year Andrew Luck came out. He said he did. They all did. And they've been reaping the benefits ever since. It hasn't been an easy offseason for the organization with the off-the-field troubles of owner Jim Irsay, but I don't see that impacting what happens on the field. This is still a franchise built with the right pieces around Luck to hang onto the division another year.
Paul Kuharsky: The Colts were a playoff team the past two seasons and they will be a playoff team in 2014, as well. The primary reason is the same: Andrew Luck. He's a quarterback with a knack for making big plays at big moments, and he and his team have great faith they can pull games out late. The offensive line will be better with Donald Thomas back healthy. Other key guys who will return from injury will give them a great boost on offense -- Reggie Wayne, Dwayne Allen and Vick Ballard. I think they will miss safety Antoine Bethea, who was often the glue of the secondary, and they need help on the back end of the defense. But they have a way of functionally patching holes, finding fill-ins and surviving just fine. As long as Luck is healthy, they're the leader of the pack.

Mike Wells: The Colts can go ahead and start making "Back-to-Back AFC South Champion" T-shirts. Partially because they'll be that much better than the rest of the division and partially because they aren't thinking about just winning the division. The Colts want to take another step in the AFC. They reached the divisional round of the playoffs last season, so ideally they'd like to at least get to the AFC Championship Game this coming season. Depending on health and how the offensive line blocks, the Colts could have one of the best offenses in the league next season. So winning the division is the least of the Colts' worries.

@MikeWellsNFL if not Indy, are they just going to purge the AFC South playoff spot? #FourDowns

- Ferris (@TylerWFerris) April 14, 2014
---

Will the Tennessee Titans make the playoffs in 2014?
DiRocco: I really liked the hiring of coach Ken Whisenhunt. He should be a huge help to quarterback Jake Locker, who is likely facing his last chance in Tennessee. Whisenhunt likes his quarterbacks to stay in the pocket and get rid of the ball quickly, so that may be a bit of a challenge for Locker. To me, the Titans' playoff chances hinge on the impact that Whisenhunt has on Locker. The defense is good enough and the offense, even without Chris Johnson, has some playmakers, especially with the addition of Dexter McCluster. Locker has to improve significantly. If he does, they're a legitimate wild-card contender.

Ganguli
: Even though Tennessee finished 7-9 last season, second in the division, I see this team as the least likely of the three non-Colts to make the playoffs. The identity of this team changed significantly when it released running back Chris Johnson. The Titans lost a very talented cornerback in
Alterraun Verner
to free agency. And, most importantly, quarterback Jake Locker's development is still a bit of a question mark, as is whether he'll be able to stay healthy -- a feat he has not accomplished since entering the NFL. He deserves another year, but I'm not sure what that will mean for the Titans.
Kuharsky: The Titans' biggest upgrade comes with Ken Whisenhunt and a new coaching staff. Mike Munchak proved to be in over his head as the team's head coach. I don't think the Titans are super-talented. But I think the offense will be much better with Whisenhunt designing the offense and calling the plays. The big question is clearly at quarterback, where Jake Locker has to show he can learn the system, stay healthy and be productive. Defensively, coordinator Ray Horton brings a new scheme and a far more aggressive mindset. If some guys who faded under Jerry Gray can rebound, it's a unit that could surprise. I think the Titans will improve, but I don't know that they will be a playoff team.

Wells: The Titans need to figure out if Jake Locker is the answer at quarterback for them first. The first step is for him remain healthy. Then they have to find a replacement for Chris Johnson at running back. New coach Ken Whisenhunt led Arizona to the Super Bowl in 2008, but the Titans aren't ready to close the gap between them and the Colts. Tennessee will be a better overall team but it may not show in the record. Houston may end up having a better record than the Titans next season.

@PaulKuharskyNFL only if Locker stays healthy, young WR step up, and Horton's defense is as good as advertised.

- Taki C (@Takithrator) April 15, 2014
---

DiRocco: The talent level on the roster is still the worst in the division, although GM David Caldwell has made significant improvements with his first two free-agency classes and his first draft. The team still lacks a franchise quarterback and there aren't a lot of playmakers on offense, either. That will be addressed in the draft, but relying on too many rookies never ends well. The defensive line got an upgrade via free agency but the Jaguars need to improve their speed on defense, especially at linebacker. They should be able to challenge a .500 record in 2014 but they're another season away from competing for a playoff spot.

Ganguli
: The vibe around this team is exceedingly positive for one that's now selected in the top 10 every season since 2008. This regime, now in its second offseason, is building in the right way, but the Jaguars still don't have a quarterback. Will they find him in this year's draft? Or will they expect
Chad Henne
to be enough while the rest of the roster improves? The answer could dictate whether the Jaguars can be another AFC South threat for a wild-card berth.
Kuharsky: The Jaguars have had a nice offseason and continue to make steady progress under the fine leadership of general manager Dave Caldwell and coach Gus Bradley. The free-agent haul upgraded the lines on both sides of the ball and I expect them to get a blue-chip non-quarterback at No. 3 in the draft and perhaps a guy who will take over for quarterback Chad Henne down the line. With the longtime face of the franchise, Maurice Jones-Drew, now with the Raiders, Jacksonville's national identity is as anonymous as ever. It could be a team that proves how such things can be overrated. I don't think the Jaguars will be a playoff team yet, but I think they are closer than most people think. And if they are a surprise team in 2014, I won't be that surprised.

Wells: There's no way I can say "yes" when I had to Google to see which quarterbacks the Jaguars still have on the roster. It's also going to take some time getting used to not seeing Maurice Jones-Drew taking handoffs in the backfield for them. I do like how the Jaguars rolled the dice and made a run at Cleveland center Alex Mack. You can't fault them for being aggressive. The Colts, who have questions at center, had no interest in taking that approach with Mack. The Jaguars need to find a quarterback before they think about making the playoffs.

@ESPNdirocco Improved? Sure! Playoffs? It is gonna be a bit hard until they have someone better than Henne leading this offense.

- Jason Greenbaum (@JWGreenbaum) April 14, 2014
---

Will the Houston Texans make the playoffs in 2014?
DiRocco: Things went bad quickly for the Texans, but the answer isn't as simple as plugging in a new quarterback. Houston had ranked in the top 10 in the NFL in rushing from 2010 to 2012 but dropped to 20th last season. Injuries played a big role in that but the decline in the offensive line's play was startling. There is still a lot of talent on defense -- J.J. Watt, Kareem Jackson, Brian Cushing, for example -- but the Texans are too unsettled on offense to be a playoff team. To win in the AFC, you have to keep up with the high-scoring offenses in New England and Denver and the Texans don't have the firepower to do that even when the defense is healthy and playing well.

Ganguli
: That there's no quarterback as NFL-ready as Andrew Luck was back in 2012 doesn't mean there isn't a player who can help turn the direction of a franchise. It won't have to be a complete about-face for the Houston Texans if they recover next season. They'll get better just by virtue of adding some mental toughness to a roster that still has talent and by adding more talent with the first pick in this year's draft. Things will improve, but the Texans are probably still a year away from a return to the playoffs, given the strength of the Colts. That last-place schedule could open the door for a wild-card berth.
Kuharsky: In Bill O'Brien, the Texans have a somewhat mysterious new head coach. He did good work in New England with the Patriots, but it was very much in the background. He moved Penn State further down the rebuilding track than anyone could have fairly expected. His new team completely forgot how to win in 2013. The dive from 12-4 division winner in 2012 to 2-14 and No. 1 in the draft happened very swiftly. I don't think a reverse turnaround is going to unfold in 2014. I expect the Texans to play with more purpose, and they have some top-flight talent. But the quarterback question and the time the new staff needs to fill out the roster is going to mean it's a rebuilding year that is unlikely to result in a postseason game.

Wells: The Texans fooled me last season. I picked them to win the division and face Denver in the AFC Championship Game. Houston won its first two games then lost its final 14 games of the season. Receiver Andre Johnson and running back Arian Foster are still around on offense and the defense is led by J.J. Watt, but can new coach Bill O'Brien make the transition from being a college head coach to an NFL head coach? The Texans may end up using the No. 1 overall pick on a quarterback. They'll win more than two games next season, but they won't win enough of them to make the playoffs.

@taniaganguli If Clowney can play QB, too, then yes.

- Mike K(lowney) (@Zepp1978) April 15, 2014
April, 17, 2014
Apr 17
7:30
AM ET
INDIANAPOLIS – ESPN.com
Dallas Cowboys
reporter Calvin Watkins recently gave a little background information on new
Indianapolis Colts
center
Phil Costa
.
I reached out to ESPN NFL Insider Matt Williamson to get his perspective on the Colts' situation with Costa and
Khaled Holmes
, the two players expected to come for the starting position.
"I would classify Costa as a low-end starter that is best off as a backup," Williamson said.
Costa has a little bit of history, having started every game in 2011. The same can't be said about Holmes. He's the mystery player everybody is waiting to find out about after he only played 12 snaps last season.
Williamson also noted that he wouldn't be surprised if the Colts drafted at that position next month.
Here are the top 10 centers in the draft, according to ESPN draft analyst Mel Kiper Jr.:
1.
Marcus Martin
, USC
2.
Weston Richburg
, Colorado St.
3.
Russell Bodine
, North Carolina
4.
Travis Swanson
, Arkansas
5.
Jonotthan Harrison
, Florida
6.
Gabe Ikard
, Oklahoma
7.
James Stone
, Tennessee
8.
Bryan Stork
, Florida St.
9.
Corey Linsley
, Ohio St.
10.
Tyler Larsen
, Utah St.
Kiper doesn't have any of those players being selected in the first round of his
mock draft 4.0

. Martin is the first center selected, going to San Francisco at No. 61 in the second round.
I'd be surprised if the Colts used their second-round pick on a center because Holmes is headed into just his second season and there is a sense that they hope he's their starter next season. There's a possibility that the Colts could draft a center in the later rounds.
April, 16, 2014
Apr 16
6:30
PM ET
INDIANAPOLIS -- It looks like there won't be a debate over whether new
Indianapolis Colts
receiver
Hakeem Nicks
will be able to wear No. 88, the number
Marvin Harrison
wore during his 13 years with the team.

Nicks
"I don't think we've quite figured that one out yet," Nicks said during a conference call last month. "Everybody knows I love those eights on my chest but we'll have to see how that pans out."
Nicks, who signed a one-year deal, will wear No. 14, according to Colts.com.
It's not surprising that Nicks had to settle for another number. You can't look at the No. 88 jersey and not think about Harrison. He spent his entire career with the Colts, totaling 1,102 receptions for 14,580 yards and 128 touchdowns. Harrison missed out on making the Hall of Fame this year, but he'll be in there sooner than later.
The Colts hope Nicks makes No. 14 a household name for them next season and possibly longer if he's able to have a bounce-back season. He did not catch a touchdown pass for the first time in his career last season with the
New York Giants
.
April, 16, 2014
Apr 16
10:00
AM ET
By
ESPN.com staff
| ESPN.com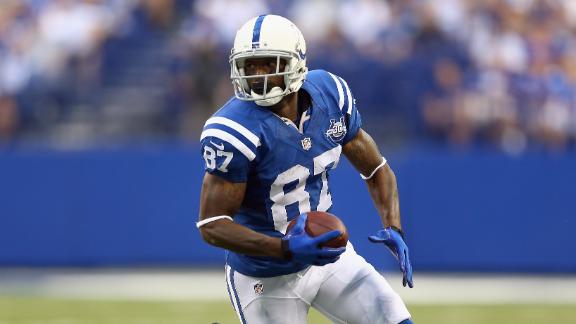 ESPN Colts reporter Mike Wells discusses wide receiver
Reggie Wayne
's progress in rehabilitating from his torn ACL.
April, 16, 2014
Apr 16
8:00
AM ET
INDIANAPOLIS -- I did a post on notable second-round picks by the
Indianapolis Colts
earlier this week
. We'll move on and talk about notable third-round picks today. The Colts also have picks in the fifth, sixth and seventh rounds.
Here are third-round picks who have ended up being productive for the Colts in recent years.
2013 G Hugh Thornton
Comment:
The original plan was for Thornton to be brought along slowly behind
Donald Thomas
and
Mike McGlynn
at guard. That changed when Thomas suffered a torn quad and tendon in Week 2 last season. Thornton struggled at times, but he gained a lot of experience by starting 12 games.
2012 TE Dwayne Allen
Comment:
Allen's second season got cut short by a hip injury, but he's still the Colts' most complete tight end on the roster. They missed Allen's blocking and pass-catching ability last season. Allen has 46 catches for 541 yards and four touchdowns in 17 career games.
2012 WR T.Y. Hilton
Comment:
Hilton emerged to become quarterback
Andrew Luck
's go-to receiver after
Reggie Wayne
went down with a torn ACL in Week 7. It wouldn't be surprising if Hilton is the Colts' No. 1 receiver next season even with Wayne back in the lineup. Hilton's part of the group of young players the Colts plan to lock up for the future. He has 132 catches for 1,944 yards and 12 touchdowns in his two seasons.
2009 DB Jerraud Powers
Comment:
Powers' best season was his rookie year when he had 66 tackles, an interception and 10 passes defended. He never played more than 12 games in a season during his four years with the Colts.
April, 15, 2014
Apr 15
6:15
PM ET
ESPN.com NFL Insider Mike Sando has an
interesting piece on which current NFL quarterbacks
are worth No. 1 overall picks. The
Houston Texans
have the No. 1 overall pick next and there seems to be a strong consensus that there's not a sure-fire quarterback worth taking No. 1 overall in this year's draft.
Sando has quarterbacks divided into four tiers: Clearly worth a No. 1 overall pick, Close but not quite, You could make an argument for them, and On their way, but not there yet.
To no one's surprise, former Colts and current Denver quarterback
Peyton Manning
is at the top of the list. Manning, the No. 1 overall pick in 1998, led the Colts to two Super Bowl appearances, been been named league MVP a record five times and his place in the Hall of Fame is assured once he retires.
The other not surprising pick -- outside of
Tom Brady
,
Aaron Rodgers
and
Drew Brees
of course -- is
Andrew Luck
. Luck has lived up to the talk of being the best quarterback taken No. 1 overall since Manning. Luck has led the Colts to the playoffs in each of his first two seasons despite offensive line problems, lack of a running game in his second season and not having his head coach most of his rookie season. He has yet to lose back-to-back games in his NFL career.
Remember
Robert Griffin III
, the player some thought the Colts should take over Luck in 2012? He's in the lowest tier. Griffin's knee injury has kept him from being in a higher category. He'll join Luck, Brady, Manning and others in the top category before it's all said and done.
April, 15, 2014
Apr 15
12:00
PM ET
The
Indianapolis Colts
moved up 33 spots from last year when it comes to the
average salary paid to their players
, according to the ESPN The Magazine/Sportingintelligence Global Salary Survey.
The Colts paid their players an average of $2 million last season. That's a 32.6 percent increase from the 2012 season. Colts owner Jim Irsay paid $108.3 million worth of salaries in 2013.
The NBA and its guaranteed salaries is the highest-paying league in the world. About $2 billion was paid to 441 players, for an average salary of $4,522,283 per player, according to the Global Salary Survey.
When it comes to having the highest-paid athletes in the world, the Colts do not have anybody in the top 25. They don't even have one of the top-10 highest-paid players in the league. Linebacker
Robert Mathis
will be the team's highest-paid player at $8.75 million next season. Don't be surprised to see quarterback
Andrew Luck
become one of the highest-paid players in the world at some point in his career.
Former Colts quarterback
Peyton Manning
is No. 16 in the world and No. 7 in the NFL at $25 million.
The Colts will face four of the highest-paid players in the world during the 2014 season. Manning, Dallas'
Tony Romo
($26.5 million), Baltimore's
Joe Flacco
($30 million) and New England's
Tom Brady
($31 million) are all ranked.
April, 15, 2014
Apr 15
8:00
AM ET
INDIANAPOLIS -- New
Indianapolis Colts
center
Phil Costa
is somewhat a mystery. He started every game with Dallas in 2011, but his playing time started to reduce before he eventually lost his starting job in 2013. His role with the Colts is unknown. Costa will compete with
Khaled Holmes
for the starting position.
Is Costa a starter still or is he just a backup in the league.
I checked in with ESPN.com Cowboys reporter Calvin Watkins to get a little background on Costa.
Why did Costa lose his starting job to rookie Travis Frederick last season?
"He suffered a back injury in 2012 and never fully recovered.
Ryan Cook
took over the starting gig. Then last year the team wanted to upgrade the center position and selected Travis Frederick, a projected second rounder. Costa made the team and was healthy all year but didn't play. In the offseason, Costa was offered a pay cut and declined it. The team then released him."
Is Costa still a capable starter in the league?
"I think so. He's young enough to have a future in the league. Strong, stocky player with good lower body strength."
What type of guy is Costa inside the locker room and are there any interesting tidbits about him that fans should know?
"Costa is a quiet guy who gets along with his teammates. Costa went to Maryland and follows the Terps closely. He was engaged to Brooke Hogan and Hulk Hogan attended a game last year. The two broke up."