March, 7, 2014
Mar 7
11:30
AM ET
INDIANAPOLIS -- Punter
Pat McAfee
was talking about the positives and negatives of different NFL cities last season when the attention turned to Indianapolis.
McAfee, whose locker is in the middle of the room, pointed to the far end at quarterback
Andrew Luck
'
s locker.
Luck is the reason why free agents would want to play for the Colts, McAfee said.
Luck will be the Colts' franchise player for years to come, and if the first two years of his career are any indication, Indianapolis will have an opportunity to be Super Bowl champions at some point.
McAfee will remain Luck's teammate after he announced that he re-signed with the Colts for five years. He was scheduled to become an unrestricted free agent on March 11 after playing under the $2.9 million franchise tag last season. McAfee's deal is worth $14 million with $5 million guaranteed, according to FoxSports.com
So excited about the opportunity 2 have 5 more years in the city that I love.. Indianapolis, let's win a lot of games and have fun doing it

— Pat McAfee (@PatMcAfeeShow) March 7, 2014
McAfee was arrested for public intoxication after he decided to take a swim in a canal in 2010. He bounced back from that embarrassing incident and became a fan favorite. That's understandable with his outgoing personality.
McAfee, drafted in the seventh round in 2009, handles punting and kickoff duties for the Colts. He's at the top of the team's record books with 387 total kickoffs and 164 touchbacks, gross punting average (45.6) and net average (38.4). He set a club single-season record for gross (48.2) and net (40.3) averages in 2012.
And as an added bonus, McAfee has no problem sacrificing his body to make a touchdown-saving tackle on returns.
McAfee is the second move by the Colts in as many days. They signed linebacker
D'Qwell Jackson
to a four-year, $22-million contract on Thursday. Cornerback
Vontae Davis
, safety
Antoine Bethea
and placekicker
Adam Vinatieri
are other key free agents for the Colts.
March, 7, 2014
Mar 7
11:00
AM ET
»
AFC Free-Agency Primer
:
East
|
West
|
North
|
South
»
NFC
:
East
|
West
|
North
|
South
Key free agents:
CB
Vontae Davis
, S
Antoine Bethea
, K
Adam Vinatieri
, RB
Donald Brown

Where they stand:
The Colts have the fourth-most salary-cap space ($41 million) in the league. They solved one of their issues when they signed inside linebacker D'Qwell Jackson on Thursday to start alongside
Jerrell Freeman
,
Erik Walden
and
Robert Mathis
. Davis is the most important player to re-sign with having to acquire a new starting center next in line after
Samson Satele
was released on March 6. The Colts re-signed punter
Pat McAfee
to a five-year deal Friday. The 41-year-old Vinatieri believes he can kick for several more seasons. Expect the Colts to look to add depth at receiver to give quarterback
Andrew Luck
another target to go with receivers
T.Y. Hilton
and
Reggie Wayne
and tight ends
Coby Fleener
and
Dwayne Allen
.
What to expect:
The Colts should be able to work out a deal with Davis, who was inconsistent last season but has the talent to be one of the top cornerbacks in the league. Don't expect the Colts to go with a rookie or second-year player as their starting center. The position is too valuable for them to go that direction with their franchise player, Luck, taking the snaps. New Orleans'
Brian De La Puente
and Green Bay's
Evan Dietrich-Smith
are both free agents. Denver receiver
Eric Decker
is an ideal receiver to go with Hilton and Wayne. The Colts and Decker have mutual interest, but he may be out of their price range if he wants to be paid like a No. 1 receiver.
Hakeem Nicks
and
James Jones
are also free agents the Colts could pursue. Acquiring a veteran guard is a better option than drafting one, because Indianapolis has the talent to take another step in the AFC next season. Decker's teammate in Denver, guard
Zane Beadles
, is a free agent.
March, 6, 2014
Mar 6
9:30
PM ET
INDIANAPOLIS --
Indianapolis Colts
general manager
Ryan Grigson
didn't just come out and say it as he stood behind the podium at Lucas Oil Stadium on Feb. 21. But you knew what he was getting at while addressing the media during the NFL scouting combine that afternoon.
Grigson was asked if center
Samson Satele
was in the team's plans in the future.
"This is an evaluation process and we have a plan in place," he said. "We're not going to divulge that to anyone, but we're taking all the time and due diligence and the film work and it's something for the organization to know and you guys will find out at some point."
Grigson's comments about Satele may not seem like a big deal, but things were put further into perspective about how the organization felt about the center when the general manager talked about safety
LaRon Landry
, cornerback
Greg Toler
and defensive tackle
Ricky Jean Francois
needing to be more consistent next season in the concourse outside of the media area.
Releasing Satele, who was a disappointment last season, became official Thursday. The move frees up $4 million in salary cap space for the Colts.
The Colts are now on the market for a new starting center to snap the ball to franchise quarterback
Andrew Luck
and block because
Khaled Holmes
, who played a total of 12 snaps during his rookies season, is the only center on the roster.
Mike McGlynn
was solid while starting in place of the injured Satele last season. McGlynn's a free agent and I've been told that the Colts don't plan on re-signing him at the moment.
New Orleans' Brian De La Punte and Green Bay's Even Dietrich-Smith are possible players the Colts could pursue once free agency begins March 11. The
Cleveland Browns
used the transition tag on center
Alex Mack
. The Browns have the right to match any offer made to Mack.
And to put a wrap on Thursday's busy day for the Colts, which also saw them sign linebacker D'Qwell Jackson, they made qualifying offers to restricted free agents cornerback Josh Gordy and offensive lineman Joe Reitz. The Colts have the right of first refusal if Gordy or Reitz receives an offer sheet from another team. Indianapolis made an exclusive rights tender to linebacker Cam Johnson.
March, 6, 2014
Mar 6
3:45
PM ET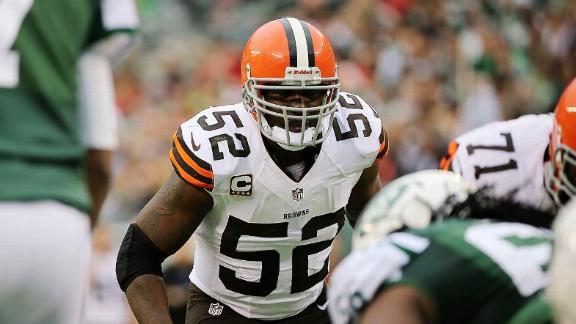 INDIANAPOLIS -- New
Indianapolis Colts
linebacker
D'Qwell Jackson
had options.
Tennessee. Denver. Miami.
But when it was all said and done, the familiarity with his former coach in Cleveland and the family-type atmosphere, the one that so many players talk about, won out over playing with
Peyton Manning
and the Broncos and the sandy beaches in South Florida.
"One thing that attracted me here was the fact that I feel like it's a family environment," Jackson said during a conference call Thursday afternoon. "Everyone is on the same page and everyone has the same goals in mind and that's whatever needs to be done to win the Super Bowl."
Jackson didn't have to call any of Indianapolis' players to do research on possible joining the team after the
Cleveland Browns
released him Feb. 26 following eight seasons. He called former Cleveland coach Rob Chudzinski. The Colts hired Chudzinski to be coach Chuck Pagano's special assistant last month. Jackson, who was upset when the Browns fired his coach at the end of last season, has respect for Chudzinski.
"He's a big part of me being here today," Jackson said. "I thought highly of him last year when he was my head coach in Cleveland. He hadn't been here for a long time, but I trusted his judgment. We had a great run in Cleveland. It's unfortunate it didn't work out, but all things happen for a reason and here we are today. I'm very excited about it and I'm excited to get going."
Jackson also came away with a strong feeling about the organization after a dinner with Pagano where they "barely talked football." That right there told Jackson that he wants to be "around people like that."
Jackson will join fellow linebackers
Jerrell Freeman
,
Robert Mathis
and
Erik Walden
on the starting line. The Browns ran a 3-4 defense in six of Jackson's eight seasons.
Jackson has 815 tackles in his career, and his best season was 2011 when he had 158.
"That was something that definitely weighed heavily on my mind, how I would fit into any team that was running any particular defense," Jackson said. "My time in Cleveland was a special time. I was fortunate enough to play in a 4-3 and 3-4, and last year was a 3-4. At the end of the day, to me, it's football. It comes down to guys willing to prepare as well as they do, and willing to go out and win a ton of games, and have one common goal in mind, and that's winning a championship."
March, 6, 2014
Mar 6
3:38
PM ET
INDIANAPOLIS -- The Colts have released starting center Samson Satele.
Satele has started 98 of the 102 games he has played in during a seven-year career that also includes stints with Oakland and Miami.
The move to release Satele isn't surprising because he was part of an interior offensive line that played poorly last season.
Cutting Satele saves the team $4 million in cap space. The Colts now have to find a new starting center to go with franchise quarterback Andrew Luck, along with their other free-agency needs.
March, 6, 2014
Mar 6
12:05
PM ET
INDIANAPOLIS -- It only took two playoff games -- or a handful of plays if you really want to narrow it down -- to see an area the
Indianapolis Colts
needed to address in the offseason.
You had your options to choose from.
Quarterback
Alex Smith
and the
Kansas City Chiefs
offense, without running back
Jamaal Charles
, scoring 44 points against them in the playoffs. Then there was New England running back
LeGarrette Blount
running over the Colts for 166 yards the following week.
[+] Enlarge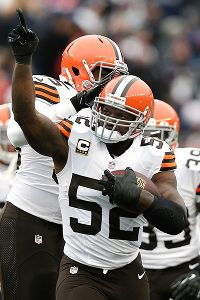 Winslow Townson/USA TODAY SportsThe Colts will look to D'Qwell Jackson to bolster the middle of the defense in 2014.
Putting all the pressure on quarterback
Andrew Luck
's 24-year-old shoulders is the last thing the Colts want, even if his ability for the dramatic comebacks make for good television.
That's why it's not surprising the Colts' first free agent signing was on defense. Indianapolis agreed to a four-year, $22-million deal that includes $11 million guaranteed with former
Cleveland Browns
linebacker
D'Qwell Jackson
on Thursday.
Jackson has had at least 100 tackles in five of his seven NFL seasons.
The Colts didn't get Jackson to come in and compete for the starting inside linebacker spot alongside
Jerrell Freeman
. They want Jackson to start. That should not be a problem since
Pat Angerer
, the starter there most of last season, won't be back.
Jackson was rated as the NFL's 42
nd
best inside linebacker by Pro Football Focus last season. He has played in a 4-3 and 3-4 scheme, but he's viewed as a better 4-3 inside linebacker. Only time will tell if the 30-year-old Jackson can flip that thought process around since Colts coach Chuck Pagano runs a 3-4 scheme. Jackson played in a 3-4 scheme with the Browns last season when he had 141 tackles.
The Colts held their opponents to a combined 20 points, forced eight turnovers, and had 11 sacks during a three-game winning streak at the end of the regular season.
But two of those teams -- Houston and Jacksonville -- have the No. 1 and 3 picks, respectively, in the NFL draft this year. A real indication came against the Chiefs (513 total yards) and Patriots (234 rushing yards) in the playoffs.
The Colts finished 20
th
in the league overall and 26
th
against stopping the run last season, which is why Jackson's signing is just a start.
"We certainly had times during the season where we played very, very good defense. Played smothering defense, especially down the stretch," Pagano said during the NFL scouting combine last month. "I know the playoffs didn't turn out, obviously we didn't play like we are capable of. We've just got to be more consistent. As we add pieces to the puzzle and guys get better at their craft, I think we'll certainly one day say we play defense like [Seattle] on a consistent basis."
Re-signing cornerback
Vontae Davis
still sits at the top of the Colts' priority list for their own players. Safety
Antoine Bethea
is also a free agent and getting a wide body at nose tackle to help clog up the middle of the line is an option, too.
The process in improving the defense started Thursday for the Colts. Now they have to keep going.
March, 6, 2014
Mar 6
9:49
AM ET
ESPN.com news services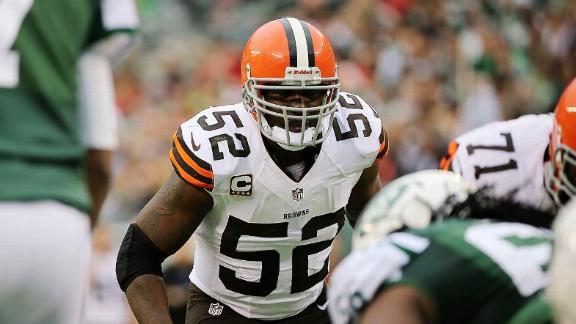 Veteran linebacker D'Qwell Jackson agreed to a contract with the Indianapolis Colts on Thursday.
Jackson received a four-year deal worth $22 million, including $11 million guaranteed, a league source told ESPN NFL Insider Adam Schefter.
"It wasn't a financial decision, it was a decision to be around a good group of guys first and foremost and the chance to get to a Super Bowl,'' Jackson said. "It wasn't about money.''
Colts owner Jim Irsay and the team's Twitter account welcomed Jackson in separate tweets Thursday morning.
Welcome to the Colts, D'Qwell!

- Jim Irsay (@JimIrsay) March 6, 2014
RT to welcome @DQ52 to #ColtsNation!!! pic.twitter.com/YvPpKGbbRI

- Indianapolis Colts (@Colts) March 6, 2014
The Cleveland Browns cut ties with Jackson, who was due a $4.1 million roster bonus this month, on Feb. 26. He made visits to several teams in the days after he was released.
In joining the Colts, Jackson is reunited with former Browns coach Rob Chudzinski, who was hired by Indianapolis to assist coach Chuck Pagano after being fired by Cleveland after just one season at the helm.
March, 6, 2014
Mar 6
8:00
AM ET
INDIANAPOLIS -- Former
Indianapolis Colts
general manager and current ESPN analyst Bill Polian has
grades for each player scheduled to hit the free agent market
on March 11.

Here's are the grades Polian gave for each of the Colts' key free agents:
Antoine Bethea
: A
Donald Brown
: B+
Pat McAfee
: B
Vontae Davis
: B-
Adam Vinatieri
: C
Here's a breakdown of what each letter grade is worth financially.
A: $6+ million AAV (annual average value), 3+ years guaranteed money
B: $2-6 million AAV, 2 years or fewer guaranteed money
C: $2 million or less AAV, 2 years or fewer guaranteed money
D: Minimum salary, 1 year contract
I was a little surprised Polian had Bethea graded higher than Davis, and I was surprised Davis was also graded lower than McAfee and Brown.
One other noted free agent is offensive lineman
Mike McGlynn
. Polian gave McGlynn a D. He lost his starting job at guard momentarily but was still a better center than
Samson Satele
. This should help you put into perspective how low McGlynn graded out, receiver
Darrius Heyward-Bey
was given a C. Yes, Heyward-Bey, who went from starting the season as the Colts' No. 2 receiver to ending the season on special teams, graded out higher than McGlynn.
Click here for an explanation of the grading system
.
March, 5, 2014
Mar 5
2:00
PM ET
Guard? Center? Receiver? Linebacker? Cornerback and safety possibly?

The
Indianapolis Colts
may have finished with an 11-5 record last season, but they're not a team without needs. They have multiple needs in fact.
It's up to general manager
Ryan Grigson
to decide which position is most important and how much of their $41 million in salary cap space they want to spend on players once free agency starts March 11.
The defense, which finished 20
th
in the league last season, has the most holes to fill. They have a linebacker position to fill and depending on what happens with
Vontae Davis
and
Antoine Bethea
, the Colts may need to find new starters at cornerback and safety.
Indianapolis is also in need of a veteran receiver to improve its depth to go with
T.Y. Hilton
and
Reggie Wayne
. Getting another guard has been well documented. Both guard positions were an issue last season, but
Donald Thomas
(quad) is expected to start at one of the spots next season after missing most of last season.
What position should the Colts address first?
March, 5, 2014
Mar 5
11:22
AM ET
ESPN.com news services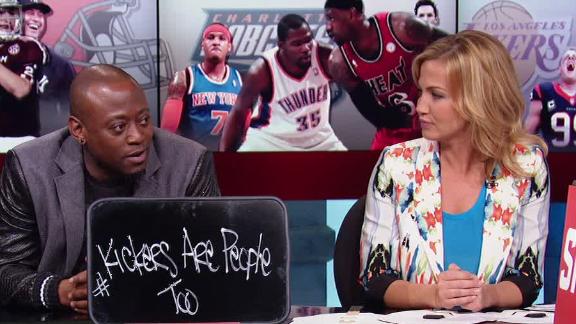 Some NFL kickers are hoping a proposal that would push extra-point attempts from 20 yards to 43 ultimately gets the boot.
Adam Vinatieri told USA Today Sports that the proposal -- which would spot the ball for PATs at the 25-yard line instead of the 2, according to an NFL.com report -- won't make the game better.
"I don't understand the logic: Will it make the game safer for people by moving the extra point back to a 43-yarder?" Vinatieri said. "If anything, players are going to rush harder because they're thinking, 'That far of a field goal-type try, we have to go after blocking it more.'
"If you want to talk about potential risk, more guys get injured on a field goal than extra point. It definitely will change the game. For the better? I'm not sure."
According to NFL.com's report, the league's competition committee has discussed experimenting with the rule as early as the 2014 preseason.
Justin Tucker of the Baltimore Ravens hopes that doesn't come to fruition.
"People are trying to phase kickers out of the game. That's as blunt as I can be about it," Tucker told BaltimoreRavens.com.
March, 4, 2014
Mar 4
7:00
PM ET
Give the
Indianapolis Colts
credit, they're not waiting around to talk to players who could potentially help their team.
The Colts are scheduled to meet with former
Cleveland Browns
inside linebacker D'Qwell Jackson. The Browns released Jackson last week, which means he's able to talk to teams now.
Inside linebacker is a position of need for the Colts to go with
Robert Mathis
,
Jerrell Freeman
and
Erik Walden
in their 3-4 defense.
Pat Angerer
joined them in the starting lineup most of the season before eventually losing his job to
Kelvin Sheppard
. Angerer, who is recovering from knee surgery, will become a free agent next week and likely won't return.
The Colts finished 20th in the league in total defense last season.
Jackson, 30, has already met with the
Tennessee Titans
,
Denver Broncos
and
Miami Dolphins
.
The opportunity to start is there for Jackson if he decides to sign with the Colts. Jackson, a 2006 second-round draft pick, had at least 100 tackles in five seasons.
It also helps that the Colts added former Browns coach Rob Chudzinski to the staff to be head coach Chuck Pagano's special assistant last month. Jackson was upset when the Browns fired Chudzinski.
I caught up with ESPN.com NFL scout Matt Williamson to talk about Jackson.
"He is better than anyone (the Colts) have now at inside linebacker for sure," Williamson said. "I like Jackson, but also think he is a bit overrated. A good quality player that racks up numbers, but needs to be protected and doesn't excel in one particular area. He has played in both a 3-4 and 4-3, never has to come off the field and is considered a strong leader."
March, 4, 2014
Mar 4
4:00
PM ET
With the 2014 free agency period starting on March 11, here's a look back at how some of the
Indianapolis Colts
' marquee free-agent signings from 2013 played last season.
Cornerback Greg Toler (3 years, $14 million)
2013 stats
: 23 tackles, 1 interception, 7 passes defended
Toler's issue is the inability to stay healthy. He had that problem while with the
Arizona Cardinals
and he managed to tuck that same problem into his luggage before coming to Indianapolis.
The secondary thrived off Toler's aggressive, sometimes risky, approach at cornerback. It started in training camp and carried over to the early portion of the season. Everything changed after the game against the
Denver Broncos
in Week 7.
Toler injured his groin against the Broncos, causing him to miss eight straight weeks. He didn't want to return too soon and risk re-injuring his groin.
Toler returned for the final two regular-season games only to end up having his season end after he injured his groin again in the AFC wild-card playoff game against the
Kansas City Chiefs
. He ended up having surgery on his groin tear after the season.
Some want the Colts to cut Toler. That isn't an option, as general manager Ryan Grigson talked about the impact Toler can have on the defense during the NFL scouting combine.
The key?
Consistency, of course. The first step in achieving that is for Toler to remain healthy.
March, 4, 2014
Mar 4
12:00
PM ET
A high-roller's budget with a thrifty shopper's mind frame.

That's what
Indianapolis Colts
general manager Ryan Grigson's approach will be during free agency, which starts March 11.
Grigson and the Colts were free spenders during free agency in 2013. They have the financial flexibility to do the same thing this year – fourth-most salary-cap space – but Grigson plans to be methodical and spend money wisely because he knows it's getting closer to having to pay players like quarterback
Andrew Luck
and receiver
T.Y. Hilton
.
The Colts head in free agency with cornerback
Vontae Davis
as the top priority when it comes to re-signing their own player. Finding a way to protect Luck and block for the running backs better is necessity. The Colts need an upgrade at one of their guard spots and at center after the interior part of their offensive line was one of the worst in the NFL last season.
Here's the breakdown

.