October, 24, 2014
Oct 24
3:30
PM ET
INDIANAPOLIS –
Hakeem Nicks
will have an increased in the Indianapolis Colts' offense against the
Pittsburgh Steelers
on Sunday with fellow receiver
Reggie Wayne
not playing because of an elbow injury.
"I look forward to every opportunity," Nicks said. "Each week I prepare accordingly, prepare like I'm going to play, just like I'm going to play this week. Just have to go out there and play within the offense and everything will be good."

Nicks
The increased snaps could help Nicks get going because he has gotten off to a slow start since signing with the Colts in the offseason.
Nicks, the Colts' No. 3 receiver, is tied for sixth on the team in receptions with 17 for 141 yards and two touchdowns. He was targeted only once and didn't have a reception against the
Cincinnati Bengals
last weekend.
"I knew the situation coming into it," Nicks said. "I knew I had to have plenty of patience. We're winning and that's the most important thing. As long as we keep getting these [wins] everybody is happy."
The lack of catches isn't entirely Nicks' fault. He's part of an offense where quarterback
Andrew Luck
has excelled at spreading the ball around. Luck had back-to-back games earlier this season where he completed passes to nine different players.
"He's made an impact with the offense," offensive coordinator Pep Hamilton said. "I think the ball is being spread around, and his opportunities are going to come. The more they adjust to take away certain receivers, tight ends or whoever it may be, it's just a matter of time before a pro like Hakeem has an opportunity to capitalize on the right matchup."
October, 24, 2014
Oct 24
2:45
PM ET
INDIANAPOLIS –
Indianapolis Colts
running back
Trent Richardson
initially was listed as being able to return to last Sunday's game against Cincinnati after a hamstring injury. Five days later, he's listed as questionable against Pittsburgh on Sunday because of a hamstring injury.
He didn't practice this week.
"He's been doing rehab and trainers have had him and they worked him out, moved him around," Colts coach Chuck Pagano said. "The only thing he hasn't done yet is practice."
When asked if the chance of Richardson playing is reduced because of his lack of practice time, Pagano said, "Everybody is different."
Richardson had rushed for 77 yards through three quarters against the Bengals before heading to the sideline with the hamstring injury.
Ahmad Bradshaw
will likely start if Richardson doesn't play and he'll be backed up by
Daniel "Boom" Herron
against the Steelers.
Here's the rest of the Colts' practice report for Friday:
October, 24, 2014
Oct 24
2:30
PM ET
INDIANAPOLIS -- It was only hours before the
Pittsburgh Steelers
' Monday night game against the
Houston Texans
that
Indianapolis Colts
coach Chuck Pagano stood behind the podium at the team's facility talking about putting opponents away when the opportunity presented itself.
"Score touchdowns, because you can't let people hang around," Pagano said. "In the National Football League, it doesn't matter."
The Steelers proved that later that night.
The Texans jumped out to a 13-3 lead over the Steelers before things fell apart for them.
Punt. Steelers touchdown. Fumble. Steelers touchdown. Interception. Steelers touchdown.
The Steelers took advantage of the Texans' misfortunes to score three touchdowns to take a 24-13 halftime lead in a span of just two minutes.
The Colts had a 24-0 lead over Houston in Week 6 before holding on for a 33-28 victory. Indianapolis had two turnovers in Cincinnati's half of the field last week.
"I mean that's how this league is," Pagano said. "That's how it goes, especially playing on the road, playing at Heinz Field, playing in front of that crowd. The music, the song, the towels, everything. Once you get going, it's like a feeding frenzy. There's going to be some storms, we know there's going to be some storms. You've got to be able to weather some of those storms and hopefully they don't turn out to be 21-, 24-point explosions."
October, 24, 2014
Oct 24
1:00
PM ET
The Steelers were impressive in the final three minutes of the first half in their game against Houston earlier this week, scoring 24 straight points.
But the
Indianapolis Colts
aren't the Texans. They're a better team.
Receiver
Reggie Wayne
's status is in question because of an elbow injury. The Colts will be fine without him if he doesn't play because they don't rely on him as much offensively as they did in the past.
Indianapolis should be able to follow up its 171-yard rushing performance against Cincinnati versus the Steelers because Pittsburgh is 17th in the league in stopping the run, giving up 114 yards a game on the ground.
Pass protection has been suspect for Steelers quarterback
Ben Roethlisberger
. He's been sacked 20 times this season. The Colts have 20 sacks in the past five games alone. They'll increase their longest winning streak since the 2009 season by the time this game is over.
Colts 24, Steelers 20
October, 24, 2014
Oct 24
12:57
PM ET
ESPN.com news services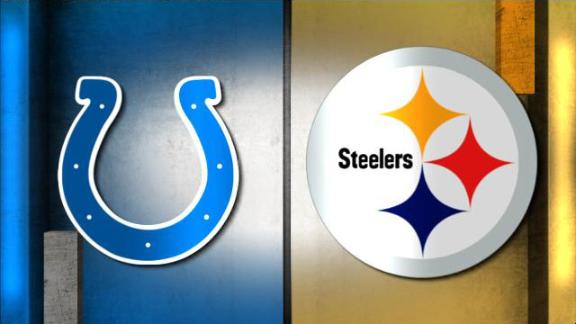 Indianapolis Colts receiver Reggie Wayne will not play Sunday against the Pittsburgh Steelers as he continues to deal with an elbow injury, coach Chuck Pagano told reporters Friday.
Wayne suffered the injury against Cincinnati last weekend. He did not practice Thursday, instead watching from the sideline with a compression sleeve on his left arm.
Wayne, who was unavailable for comment, was initially listed as day-to-day before being ruled out Friday by Pagano, who simply stated that the veteran receiver wasn't ready.
He has caught 38 passes for 434 yards and one touchdown this season.
Running back Trent Richardson's status for Sunday appears doubtful despite being ruled questionable. He has been nursing a hamstring injury he suffered last Sunday and has not practiced all week.
Pagano also added that defensive back Darius Butler (ankle) and defensive tackle Arthur Jones (ankle) will play Sunday. Jones has not played since Week 2.
Mike Wells of ESPN.com and The Associated Press contributed to this report.
October, 24, 2014
Oct 24
10:00
AM ET
INDIANAPOLIS --
Ahmad Bradshaw
's eyes immediately got wide, the kind of wide a 5-year-old gets when he finds out Christmas is in the near future.
The
Indianapolis Colts
running back was told that the NFL record for most receiving touchdowns by a running back is nine.
Bradshaw
"Hmmm, it would be nice," Bradshaw said when asked about possibly breaking the record.
Bradshaw needs just four receiving touchdowns in the final nine games of the season to surpass Marshall Faulk's mark of nine set in 2001 while with the
St. Louis Rams
.
You don't have to worry about quarterback
Andrew Luck
trying to force the ball to Bradshaw to set the record. Bradshaw is already a vital part of the passing game out of the backfield. His 24 receptions put him third on the team only behind T.Y. Hilton's 47 and
Reggie Wayne
's 38 receptions.
"He's been in the right place at the right time," offensive coordinator Pep Hamilton said. "I think we talked about it before. Both of our backs, as a matter of fact all three backs, are all versatile players that can play on any down-and-distance in any situation. Ahmad has been really effective out of the backfield and it has been to our advantage."
Bradshaw's six touchdown receptions could be looked at as surprising when you take into account that he entered the season with a total of three receiving touchdowns in the first seven seasons of his career. But he's had pass-catching skills his whole life. He was a receiver in high school in Virginia before being moved to running back.
"Coming into the NFL, that's just how I see myself, as a scat type of back," Bradshaw said. "Backing up
Brandon Jacobs
and Derrick Ward my early years that's what I was. I came in, we ran screens, tossed the ball to me; it was a red flag when I came in because you just knew. But just being able to be that scat back, it really helps in where I'm at now."
October, 24, 2014
Oct 24
8:00
AM ET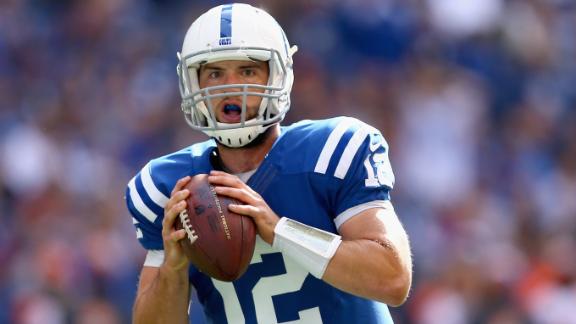 The streaking
Indianapolis Colts
will try to win their sixth game in a row on Sunday when they visit the
Pittsburgh Steelers
. Slowing down quarterback
Andrew Luck
will be the Steelers' priority, and they have to find a way to minimize his impact or score enough to keep pace with the 5-2 Colts. Beating Indianapolis would give Pittsburgh a 5-3 record at the halfway point of the season as well as a signature win.
ESPN Colts reporter Mike Wells and Steelers reporter Scott Brown take a closer look at the 4:25 p.m. ET game at Heinz Field.
Brown:
Mike, the Steelers' passing game has been torched by the likes of
Mike Glennon
and
Brian Hoyer
this season. The Steelers' pass rush has been average, and they are suspect in the secondary. That is not a good formula for stopping Luck. What is the best way to contain him, if that is possible?
Wells:
Blitzing Luck is the best way, but that appears to be a problem for the Steelers. Luck has done an exceptional job of spreading the ball around this season. He is not just focusing on receivers
Reggie Wayne
or
T.Y. Hilton
. Luck had back-to-back games where he completed passes to nine different receivers this season. His biggest problem, though, is interceptions: He is tied for third in the league in that category with seven. The Colts have survived Luck's miscues so far, but they won't be as fortunate once they get to the playoffs and face teams that can make them pay for their mistakes.
The Steelers are a tough team to figure out. One week they get blown out by Cleveland, and then they come back and use an incredible performance in the second quarter to beat Houston. What is Pittsburgh's identity?
Brown:
Mike, I can't figure out this team quarter to quarter, much less game to game. The defense certainly isn't the one that people are accustomed to seeing. There is no intimidation factor, no swagger, and the Steelers are really just trying to get by defensively as they retool a unit that is in transition. The Steelers have the potential to forge a personality as a dynamic offensive team, as they have the NFL's leading receiver in Antonio Brown, the second-leading rusher in
Le'Veon Bell
and, of course, quarterback
Ben Roethlisberger
. The Steelers have moved the ball this season, but they have too often bogged down in the red zone. Maybe scoring three touchdowns in the last three minutes of the second quarter Monday night against the Texans will serve as a springboard for the offense. It had better put up a lot of points against the Colts if the Steelers are to beat one of the NFL's hottest teams.
I normally don't associate the Colts with the kind of defense they played in absolutely stifling the Bengals on Sunday. Is Indianapolis' defense underrated?
Wells:
It is very underrated. I didn't think this defense had a chance once linebacker Robert Mathis, last season's sack leader, was lost for the season with a torn Achilles. The unit appeared to be headed for a rough season after it had only one sack over the first two games. But defensive coordinator Greg Manusky has taken a hold-nothing-back approach with his defense. With two cornerbacks who can blanket receivers,
Greg Toler
and
Vontae Davis
, Manusky is loading the box and constantly blitzing. That is why the Colts have 20 sacks and nine turnovers during their five-game winning streak. They have also held their past four opponents to 4-of-41 on third down. People might not have respected the Colts' defense before, but now teams have to take notice.
The Steelers have a history of being a good defensive team. They are 15th in the league in yards allowed a game. Are they on the decline defensively?
Brown:
That is a great question. The Steelers have to hope it doesn't get any worse defensively, or they could be in trouble. They have some promising young players to build around in rookie linebacker
Ryan Shazier
and rookie defensive end
Stephon Tuitt
. But the Steelers have serious questions at outside linebacker, especially if 2013 first-round pick
Jarvis Jones
doesn't develop into a pass-rushing force. Cornerback is also an issue, a position at which the organization has not drafted well or neglected, depending on your vantage point.
Cortez Allen
is the Steelers' best young cornerback, and he recently lost his starting job to
Brice McCain
. Allen has the physical ability to develop into a No. 1 cornerback, but the 2011 fourth-round pick has to become more consistent. It could get worse before it gets better on defense, given some of the holes that the Steelers have tried to spackle over by moves such as coaxing veteran outside linebacker
James Harrison
out of retirement.
The Colts seem like they have something going with
Trent Richardson
and
Ahmad Bradshaw
at running back. Richardson seems to be playing much better than he did last season. Is part of the reason that Bradshaw has eased the pressure on Richardson to carry the Colts' ground game?
Wells:
Richardson might never live up to the expectations as being the No. 3 overall pick in 2012, but he is running better than he did last season, when he eventually was demoted. He is running with more confidence and making better decisions. Having Bradshaw has been a blessing for Richardson because he doesn't have the burden of carrying the load in the backfield. Neither player has a problem sharing the work, and it helps that Bradshaw is familiar with sharing the load in the backfield. He went through it while with the
New York Giants
.
Brown looks like he could surpass the 1,499 receiving yards he had last season. What makes him so successful, and what type of challenges will he present to the Colts' secondary?
Brown:
I thought Brown would have a really tough time matching his production in 2013, when the fifth-year veteran set a Steelers record for receiving yards in a season. He has been even better this season and has scored five touchdowns after reaching the end zone eight times in 2013. Brown is an excellent route-runner, makes tough catches in traffic and is dazzling after the catch. The Colts will have to limit the damage Brown does after the catch, and I would imagine they will do everything they can to take him out of the game. But no team has succeeded in doing that, even though a reliable complement opposite Brown has yet to emerge.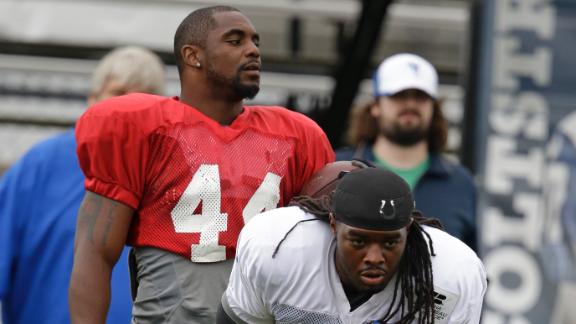 October, 23, 2014
Oct 23
5:30
PM ET
INDIANAPOLIS --
Indianapolis Colts
receiver
Reggie Wayne
's status for Sunday's game at Pittsburgh is even more in question after he didn't practice Thursday. Wayne continues to deal with an elbow injury suffered against Cincinnati last weekend. He watched practice from the sideline with a compression sleeve on his left arm.
Running back
Trent Richardson
also didn't practice for the second straight day because of a hamstring issue. He said Wednesday that he plans to play against the Steelers.
Linebacker
Erik Walden
(rest) didn't practice. Tight end
Jack Doyle
(knee) and offensive tackle
Gosder Cherilus
(rest) returned to practice after sitting out Wednesday.
October, 23, 2014
Oct 23
3:10
PM ET
INDIANAPOLIS --
Indianapolis Colts
quarterback
Andrew Luck
has proven over and over again that it's not an easy task to bring him down. He often finds a way to make a play under pressure or with a defender hanging on him.
Luck
But there is a quarterback who is even better than Luck at that. His name is
Ben Roethlisberger
of the
Pittsburgh Steelers
.
Roethlisberger has completed 60 percent of his pass attempts when under duress this season. That percentage is second in the league only to
Carson Palmer
's 66.7 for Arizona.
Roethlisberger's size -- 6-foot-5, 241 pounds -- makes it tough for defenders to tackle him. What looks like a sack one moment all of a sudden is a big play for Roethlisberger and the offense because he eluded the defender to keep the play alive.
"I've been beat several times because of what he's capable of doing," Colts coach Chuck Pagano said. "... Right when you think you have them sacked, they find a way to get away from you. It doesn't matter who it is, whether it's defensive linemen, a linebacker, secondary personnel. This guy, you've got to do a great job containing him and trying to keep him in the pocket as best you can. When you do come free (on the rush), if you're lucky enough to come free and have a chance to get him down, you've got to be under control and you've got to wrap him up.
"He's a hard guy to bring down, and when he breaks contain and he extends plays, that's when they wreak a bunch of havoc on you. I've been burned in the past a ton by him and
Santonio Holmes
, and now it's him to (Antonio) Brown when that happens or somebody else. So he's as good as there is at extending plays."
Roethlisberger's desire to hold onto to the ball does lead to him being sacked often. He's been sacked 20 times this season, which is second only to Detroit's
Matthew Stafford
's 24. That is good for the Colts, because they have recorded 20 sacks during their current five-game winning streak.
So the message from Pagano and defensive coordinator Greg Manusky will be pretty clear for Sunday's game: If you have shot at Roethlisberger, don't let him get away.
"He's a big-bodied guy," Manusky said. "He shuns off little guys, big guys. It doesn't matter. He's been in the pocket for a long time, doesn't have the speed he once had, but he still does a great job feeling the rush, scrambling out and shucking people off. It's amazing over the years he's played. I think he's been doing that not to just one, two, three guys. Every year he's doing it."
Luck's completion rate isn't as good as Roethlisberger's under duress, but he's still been effective. The Colts' quarterback is 19-of-43 for 275 yards when under pressure.
"He's more mobile I think than people give him credit for," Steelers coach Mike Tomlin said about Luck. "He's strong. He keeps his eyes down field. I think all of that stuff works for him."
October, 23, 2014
Oct 23
12:10
PM ET
PITTSBURGH --
Pittsburgh Steelers
quarterback
Ben Roethlisberger
lavished praise on the player who will be his counterpart Sunday at Heinz Field.
And
Indianapolis Colts
quarterback
Andrew Luck
couldn't say enough good things about Roethlisberger.
"His ability to extend plays is incredible [and] maybe the best in the league what he does in finding an open guy if something breaks down," Luck said. "I know as a quarterback if you can [do] that every now and then, it can be demoralizing for a defense, and he certainly does a great job at it."
Luck
Roethlisberger
Luck, the No. 1 overall pick of the 2012 NFL draft, has been demoralizing teams with his right arm. The third-year quarterback has passed for more than 300 yards in five consecutive games, tying a Colts record held by
Peyton Manning
.
Luck leads the NFL with 333 passing yards per game.
"He's emerging as one of the best in the league, and I think a lot of us saw that coming," Roethlisberger said. "I always enjoy watching other quarterbacks because anything you can take, whether they're older or younger, and use it in your game, I think you've got to do it. Hopefully he has a bad day because our defense is playing well."
Roethlisberger is hoping to play enough well enough to deliver a victory, one that would leave the Steelers with a 5-3 record at the halfway point of the season, and reach a career milestone.
Roethlisberger will try to win his 100th career game on Sunday, and the 11th-year quarterback would join some pretty exclusive company.
If Roethlisberger beats the Colts, he will become just the fourth quarterback in NFL history to win 100 games in 150 or fewer starts, according to ESPN Stats & Information. Sunday will be Roethlisberger's 150th start.
The only other players to accomplish that feat are
Tom Brady
, Joe Montana and Terry Bradshaw.
"Amazing, great football player," Luck said of Roethlisberger. "I know when I was a rookie, I watched a lot Steelers tape to try and learn [former Steelers and Colts offensive coordinator] Bruce Arians' offense and ended up watching a lot of Ben and the things he does, did [and] still does. So a ton of respect for how he plays football."