April, 24, 2014
Apr 24
4:30
PM ET
INDIANAPOLIS -- The
Indianapolis Colts
have the
easiest schedule
in the NFL next season. Their 2014 opponents combined to go 110-146 last season.
Part of the reason the Colts have the easiest schedule in the league next season is because they play in the AFC South, the worst division in the NFL last season. They went 6-0 against Houston, Jacksonville and Tennessee last season.
Know what, though?
Having the easiest schedule in the league doesn't always translate to success.
Only one team -- the 1976 Raiders -- has won the Super Bowl after having the easiest strength of schedule since the merger in 1970, according to Elias Sports Bureau. Five of the last seven teams with the easiest schedule have failed to make the playoffs.
Barring some strange turn of events, the Colts will win the division and, of course, make the playoffs next season.
But it won't be as easy for them.
The Colts face three teams that are coming off byes.
New York Giants
after a Week 8 bye, the
New England Patriots
after their Week 10 bye and Jacksonville after its Week 11 bye.
Oh, yeah, Indianapolis has to face several Super Bowl-winning quarterbacks:
Peyton Manning
in Week 1,
Joe Flacco
in Week 5 and three consecutive games against
Ben Roethlisberger
in Week 8,
Eli Manning
in Week 9 and
Tom Brady
in Week 10. The Colts have a bye in Week 9.
April, 24, 2014
Apr 24
11:30
AM ET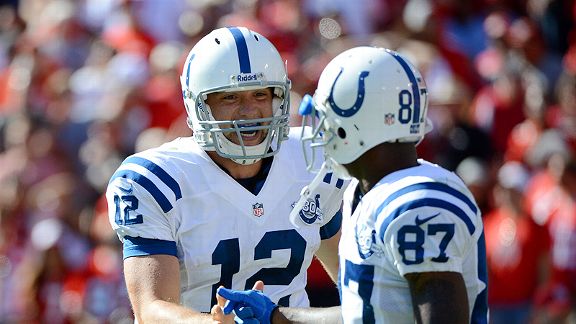 Kyle Terada/USA TODAY SportsThe Colts should enter training camp with a healthy group of skill players, including Reggie Wayne.
INDIANAPOLIS –
Andrew Luck
isn't a dreamer. You won't find him with his feet propped up on his couch at home or fantasizing while he's flying across the Atlantic Ocean to a soccer match in Europe thinking about the plethora of offensive weapons he'll have at his disposal next season.
It's understandable that the
Indianapolis Colts
quarterback doesn't want to look too far ahead after what he went through last season.
So we'll look ahead for Luck.
The third-year quarterback led the Colts to an 11-5 record last season, despite missing five offensive starters.
Things should be different next season. He'll have plenty of options, more than he's had his first two seasons in Indianapolis.
Receiver
Reggie Wayne
(knee), tight end
Dwayne Allen
(hip), running backs
Vick Ballard
(knee) and
Ahmad Bradshaw
(neck) are expected to be healthy, and the Colts added depth at receiver by signing former New York Giant
Hakeem Nicks
, who had back-to-back 1,000-yard seasons in 2010-11.
As crazy as it might seem, you have to wonder: Will there be enough footballs to go around for everybody?

Nicks
"It's a good problem to have," coach Chuck Pagano said. "There's only one football. When you have great competitors and great players like we have, they all want the rock at the same time. They all certainly know you only have one football. It's a great situation that we have getting those guys back, getting Dwayne back, Ahmad, Vick, Reggie and then adding Hakeem. It's a great situation."
It is a great situation, especially when you take into consideration how quickly bodies went down last season for the Colts.
Allen in Week 1. Ballard in between Weeks 2 and 3. Bradshaw in Week 3. Wayne in Week 7.
It got to the point where it wasn't embarrassing to have to do a quick Internet search for players such as receiver
Da'Rick Rogers
and tight end
Weslye Saunders
.
Luck still managed to do a lot with a little last season. The Colts averaged 24.4 points, which was 14th in the league, so there is no doubt he can be even more effective with a full cupboard.
That is a scary thought for opposing defensive coordinators.
"It's all about us being on the same page and with the same agenda, and that's winning," Wayne said. "It's always been about that inside our locker room, and that's why I don't see it being a problem."
Egos are something the Colts don't have to worry about when it comes to who is getting the most attention from Luck. That is part of the reason they have made the playoffs each of Luck's first two seasons. He and offensive coordinator Pep Hamilton will make sure everybody is involved in the offense in some way.
All of Luck's weapons bring something different, which is why the potential of this offense is even more promising.
Wayne is a possession receiver, that security blanket Luck can go to no matter the situation. Hilton is the cocky, speedy player who has no problem letting the defensive backs know when he's made a play on them. Wayne described Nicks as a receiver nobody can cover one-on-one.
The tight end group of
Coby Fleener
and Allen, the better of the two, has the potential to become one of the top duos in the league. You also can't forget about the running back trio of
Trent Richardson
, Ballard and Bradshaw. They don't have to be dominant, just effective enough to ease some of the pressure on Luck.
"There's going to be enough [balls to go around]," Hilton said. "We're a team, so when one guy is having fun, then we all have fun. As long as we're winning and doing the right things, we should be good."
The key, of course, is everybody remaining healthy, and the offensive line has to do its part for the first time with Luck under center. The line will have questions again because
Khaled Holmes
, who only played 12 snaps last season, has the inside track to be the team's starting center.
That is why Luck and others aren't getting ahead of themselves with the expectations of having an offense that can keep up with
Peyton Manning
and the
Denver Broncos
, who led the league in scoring at almost 38 points a game last season.
"On paper, we look great. I'm very excited," Allen said. "I'm really eager to get us all out and together and moving around to see how well we mesh together, and see what different combinations the coaches come up with to put on the field."
April, 24, 2014
Apr 24
11:29
AM ET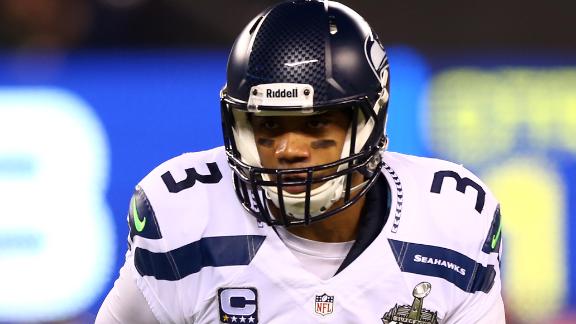 As NFL schedules were announced Wednesday night, many season-ticket holders scrambled to the secondary market to list their game tickets.
The game with the highest average resale listed ticket price? The kickoff game that features the Green Bay Packers at the Seattle Seahawks on Thursday, Sept. 4. The average ticket price on resale sites for that game is $575.62, according to TiqIQ, a ticket-resale market aggregator. The get-in price for the worst seat in the house is already a steep $245.
The second-most expensive ticket, by listed price, is the Week 12 "Sunday Night Football" matchup between Dallas Cowboys and the New York Giants (Nov. 23). TiqIQ says the average listed price for that game is $569.90.
The defending AFC champion Denver Broncos are featured in the three next-most costly matchups. The team's game at Gillette Stadium against the New England Patriots on Nov. 2 has an average listed price of $567.09, according to TiqIQ data.
The Broncos' "Sunday Night Football" matchup against the San Francisco 49ers at home on Oct. 19 has an average listed price of $536.76, and their Super Bowl XLVIII rematch against the Seahawks in Seattle on Sept. 21 has opened with an average listed ticket price on the resale market of $526.98.
April, 23, 2014
Apr 23
9:18
PM ET
»
NFC
:
East
|
West
|
North
|
South
»
AFC
:
East
|
West
|
North
|
South
»
Predictions
Breakdown
: Could you ask for a better season opener for the Colts,
Andrew Luck
vs.
Peyton Manning
Part II in a nationally televised game on Sept. 7? I didn't think so. The Colts have not won a road opener since 2006. They happened to win the Super Bowl that same season with Manning under center. Back-to-back 11-win seasons and Luck's emergence has allowed them to appear in prime time five times, including playing their home opener in Week 2 on "Monday Night Football" against the
Philadelphia Eagles
, next season. Indianapolis' other three prime-time games are at Houston on Oct. 9, at the
New York Giants
on Nov. 3 and they come out of their bye week at home against
Tom Brady
and the
New England Patriots
on Nov. 16.
Complaint department:
The schedule makers didn't do the Colts any favors when they put them in the position to have a short turnaround on their Thursday night game. They host the
Baltimore Ravens
on Oct. 5, then go on the road to face the Texans on Oct. 9. The Colts could have at least had a home game if they weren't going to have a bye week before playing on Thursday night. Luck vs.
Robert Griffin
III with a 1 p.m. game on Nov. 30? You would have thought that would have at least been a 4:25 p.m. game since it's the first time the first two players chosen in the 2012 draft are facing each other. The Colts end their season with back-to-back road games at Dallas and Tennessee.
Reunion games:
Something tells me that linebacker
D'Qwell Jackson
, defensive lineman
Arthur Jones
and receiver
Hakeem Nicks
looked at their season-opening opponent then shifted their focus to other games on the schedule. Jackson will face his former team, the
Cleveland Browns
, in Week 14. Jones goes up against the Ravens in Week 5 and Nicks will have his shot at getting back at the Giants in Week 9.
Mike McGlynn
, who should have been the Colts' starting center last season, comes back to Lucas Oil Stadium with the Redskins on Nov. 30.
Strength of schedule:
32nd, .430 |
Vegas over/under

:
9
Colts Regular-Season Schedule (All times Eastern)
Week 1:
Sunday, Sept. 7, at Denver, 8:30 p.m.
Week 2:
Monday, Sept. 15, Philadelphia, 8:30 p.m.
Week 3:
Sunday, Sept. 21, at Jacksonville, 1 p.m.
Week 4:
Sunday, Sept. 28, Tennessee, 1 p.m.
Week 5:
Sunday, Oct. 5, Baltimore, 1 p.m.
Week 6:
Thursday, Oct. 9, at Houston, 8:25 p.m.
Week 7:
Sunday, Oct. 19, Cincinnati, 1 p.m.
Week 8:
Sunday, Oct. 26, at Pittsburgh, 4:25 p.m.
Week 9:
Monday, Nov. 3, at NY Giants, 8:30 p.m.
Week 10:
BYE
Week 11:
Sunday, Nov. 16, New England, 8:30 p.m.
Week 12:
Sunday, Nov. 23, Jacksonville, 1 p.m.
Week 13:
Sunday, Nov. 30, Washington, 1 p.m.
Week 14:
Sunday, Dec. 7, at Cleveland, 1 p.m.
Week 15:
Sunday, Dec. 14, Houston, 1 p.m.
Week 16:
Sunday, Dec. 21, at Dallas, 4:25 p.m.
Week 17:
Sunday, Dec. 28, at Tennessee, 1 p.m.
April, 23, 2014
Apr 23
8:00
PM ET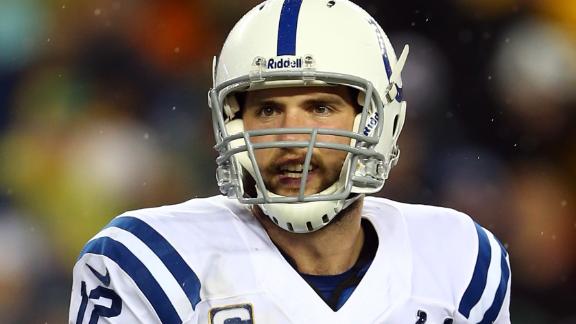 How do you get on "Monday Night Football?" The best way, at least according to the 2014 schedule released Wednesday night, is simple: If you made the playoffs last season, you're on.
All 12 teams that played last postseason will play at least once on Monday night this coming season. The defending world champion Seattle Seahawks will play at Washington in Week 5. New England, which lost at Denver in the AFC title game, will play at Kansas City in Week 4. The Broncos, who lost to Seattle in the Super Bowl, will play at Cincinnati in Week 16.
The 17-game Monday night schedule kicks off with a Week 1 doubleheader on Sept. 8 with the New York Giants at Detroit followed by San Diego at Arizona. It also includes five interconference matchups, three division games and four games between 2013 playoff teams.
Are you ready? Here are the three Monday night games I'm looking forward to seeing the most:
Week 2: Philadelphia at Indianapolis
Chip Kelly introduced his fast-paced offense to the NFL in Week 1 on "Monday Night Football" last year. With its no-huddle attack led at the time by Michael Vick, Philadelphia caught Washington flat-footed and out of breath in a first half during which the Eagles ran a dizzying 53 plays, made 21 first downs, scored 26 points and amassed 322 total yards.
Kelly made his point. He doesn't care about the NFL norm. His brand of football, brought to the league from Oregon, could work. And it did work. A year after going 4-12, the Eagles finished 10-6, won the NFC East and hosted a playoff game.
April, 23, 2014
Apr 23
3:45
PM ET
INDIANAPOLIS – You would think the release of the NFL schedule is a national holiday, where everything is shut down with so much excitement surrounding it.
The
Indianapolis Colts
have the easiest schedule based off the 110-146 combined record of their opponents last season. That's on paper. The Colts will have a tough schedule facing teams like Denver, New England and Baltimore next season.
Here are the Colts' 2014 opponents:
Home: Tennessee, Houston, Jacksonville, New England, Washington, Philadelphia, Cincinnati, Baltimore
Away: Tennessee, Houston, Jacksonville, Dallas,
New York Giants
, Pittsburgh, Cleveland, Denver
Based off the schedule and the fact the Colts have quarterback
Andrew Luck
, I can see them possibly having five prime-time games next season.
Here are the five prime-time games I think the Colts will have:
Washington: Luck vs. Robert Griffin III">Robert Griffin III, the top two picks from the 2012 draft, facing each other for the first time.
Denver: Luck vs. Peyton Manning Part II.
New England: Luck vs. Bill Belichick. Luck has thrown seven interceptions in two games against the Patriots.
Dallas: Luck vs. America's team. How about Luck playing his first Thanksgiving game?
New York Giants: Luck vs. Peyton's little brother, Eli.
How many prime-time games do you think the Colts will play next season?
April, 23, 2014
Apr 23
3:09
PM ET
ESPN.com news services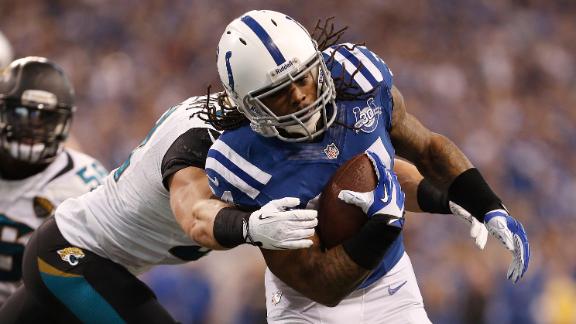 The Indianapolis Colts paid a hefty price for Trent Richardson, parting with their 2014 first-round draft pick to acquire the running back from the Cleveland Browns.
Richardson knows that after averaging just 2.9 yards per carry last season, he needs to bounce back for a Colts team that could have addressed several needs with a first-round pick.
"I think we do have a first-round pick -- and that's me," Richardson said Wednesday. "They spent their money on me in the first round. No pressure toward proving to everybody else, just proving to me that I can be the best."
Richardson rushed for just 458 yards in 14 games with the Colts and eventually lost his starting job to Donald Brown in Week 13.
But although he failed to compliment Andrew Luck and Indianapolis' emerging passing game, Richardson re-evaluated his 2013 season with the Colts after watching some game film.
"I didn't do as bad as I thought last year," he said.
Richardson, who admitted to being humbled and trying to go for the home run plays, will compete with Vick Ballard and Ahmad Bradshaw for carries next season.
ESPN.com Colts reporter Mike Wells contributed to this report.
April, 23, 2014
Apr 23
10:00
AM ET
By
ESPN.com staff
| ESPN.com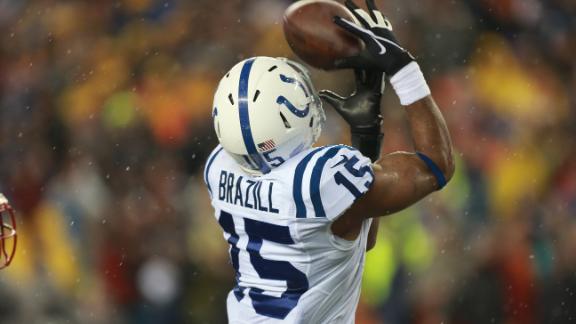 Indianapolis Colts
reporter Mike Wells says picking a receiver in the first round of this year's draft would be a mistake and that the team has more pressing needs.
April, 23, 2014
Apr 23
8:00
AM ET
I recently chatted with ESPN.com
Baltimore Ravens
reporter Jamison Hensley about new
Indianapolis Colts
defensive lineman
Arthur Jones
. I had to refer to Jones as a defensive lineman because he can play defensive tackle and end.
Jones
Hensley gave a quick take on Jones:
1. How did Jones develop from a rookie into a wanted player on the free-agent market who agreed to a deal with the Colts moments after free agency started on March 11?
Hensley:
Hard work. Ravens coach John Harbaugh once called Arthur Jones one of the hardest-working players he's ever coached. His increased production over the past two seasons was the result of him turning bulk into muscle. The other factor was opportunity. Jones played behind
Cory Redding
for his first two seasons before he got a chance to start and make an impact.
2. The Colts will likely use Jones at tackle and end. What position was he more effective at while with the Ravens?
Hensley:
Jones can be effective all along the defensive line. The Ravens have moved him along the line because Jones can shoot the gaps as well as bull-rush an offensive lineman. Jones' versatility allows defenses to play multiple fronts and be unpredictable.
3. Is there anything Colts fans will be surprised about with Jones on or off the field?
Hensley:
His sack dance was one of the strangest on the Ravens, and teammates made fun of it during the season. Even Jones calls it his "weird dance." He stretches out his arms and convulses for a few seconds before pointing over to the sideline. Hopefully, Jones will break out a new dance for his new team.
April, 22, 2014
Apr 22
2:45
PM ET
INDIANAPOLIS -- The fifth round hasn't been too kind to the
Indianapolis Colts
when it comes to selecting a productive player in the draft. What the Colts can say, though, is that they did select a player likely headed to the Hall of Fame in the fifth round when they picked
Robert Mathis
in 2003.
2012 DT Josh Chapman
Chapman was injured his rookie season. His best play happened to be one that was called wrong by the officials. Chapman tripped Cincinnati running back
BenJarvus Green-Ellis
on fourth-and-goal at the Colts' 1-yard line in game last December. The play was reviewed and referee Jeff Triplette reversed the call, giving the Bengals a touchdown.
2012 RB Vick Ballard
Ballard rushed for 814 yards as a rookie, but then had his second season cut short because of a torn ACL suffered during practice in Week 2 of the season. He'll compete with
Ahmad Bradshaw
and
Trent Richardson
for carries.
2003 LB Robert Mathis
Mathis was considered undersized when he came out of tiny Alabama A&M. He's gone to six straight Pro Bowls, is first in team history with 111 career sacks and he became the 3oth player in NFL history with at least 100 sacks. He's also forced a league-high 47 fumbles since 2003.
April, 22, 2014
Apr 22
12:30
PM ET
INDIANAPOLIS -- There was a lot of panic from the
Indianapolis Colts
' fan base when the team announced that center
Phil Costa
was retiring Monday.
Is Costa retiring significant news?
Yes, because the Colts have
Khaled Holmes
and
Thomas Austin
as the only other centers currently on the roster. Costa retired because he wasn't into it physically and mentally anymore.
But Costa's retirement was not as important from the standpoint that they lost their starting center. The Colts expect Holmes to be their starter at that position, barring a complete collapse by him.
Holmes could go from 12 snaps and being a healthy inactive 11 times last season to possibly being the person responsible for hiking the ball to quarterback
Andrew Luck
.
What?
Holmes was behind everybody after missing a significant amount of training camp last year with an ankle injury.
"This league, unfortunately, when a guy gets hurt in training camp he gets shelved," Colts general manager Ryan Grigson said last month at the NFL owners meetings. "There was a lot of optimism about him in minicamp, his level of intelligence. He's unique, he's 318 pounds. He's got guard versatility, even though I think he's a center, but he's got good arm length. At center, you have to have that. ... The guy knows how to play football."
The Colts, obviously, have high expectations for Holmes. That's why they selected him in the fourth round of the 2013 draft. Holmes started 37 games while at USC.
I do believe it's a risky move by Grigson because Holmes is raw. The importance of protecting Luck is paramount and the interior part of the Colts' offensive line was so bad last season.
We'll see if Grigson's move to go with Holmes pays off.
April, 22, 2014
Apr 22
10:30
AM ET
INDIANAPOLIS -- Lost in the talk of
Phil Costa
deciding to retire before playing a game with the
Indianapolis Colts
, the team signed safety
Colt Anderson
and restricted free agent cornerback
Josh Gordy
signed his qualifying offer.
Anderson started six of the 48 games he played with the
Philadelphia Eagles
from 2010-13. He led the Eagles in special teams tackles with a career-high 16 last season. Anderson joins
Sergio Brown
,
Delano Howell
and
Corey Lynch
in competing to start alongside
LaRon Landry
at safety next season. Anderson, though, will more than likely end up being a special teams player for the Colts.
Gordy's one-year qualifying offer is worth $1.43 million. He had nine tackles, three passes defended and one interception last season for the Colts. Gordy's best defensive play of the season came in the Colts' 28-point comeback against the
Kansas City Chiefs
in the AFC wild-card playoff game.
Gordy, playing in place of the injured
Greg Toler
, defended Chiefs receiver
Dwayne Bowe
perfectly along the sideline on fourth-and-11 late in the fourth quarter. Bowe caught the pass, but he couldn't get both feet inbounds, giving the ball back to the Colts and sealing the game for them.
Gordy has a good chance to be Indianapolis' fourth cornerback behind Toler,
Vontae Davis
and
Darius Butler
next season.
April, 22, 2014
Apr 22
8:00
AM ET
Here's Tuesday's Reading The Coverage
Craig Kelley of Colts.com has a story on running back Trent Richardson. Richardson was a major disappointment with the Colts after they acquired him from Cleveland just days before their Week 3 game against San Francisco. "I'm too excited right now," Richardson said. "People don't know how it feels to take (this) breath. Now, we're all in at the same time. We all get to learn it (together). I get to learn it with my quarterback, with my line, with the head coach and offensive coordinator. I get to know what I need to know to be a complete player, not just coming in when I came in (last year) and going off the run."
Kelley also has a piece on 15 storylines to watch during the Colts' offseason workouts. The workouts started on Monday.
Mike Chappell of the Indianapolis Star has his storylines for the offseason workouts. He didn't go with 15 storylines like Kelley, but Chappell did give five storylines to watch.
April, 21, 2014
Apr 21
6:00
PM ET
INDIANAPOLIS -- Center
Phil Costa
wasn't even around long enough to be asked about dating Hulk Hogan's daughter let alone possibly hike the ball to quarterback
Andrew Luck
with the
Indianapolis Colts
.
Costa, in a surprising announcement, has decided to retire.
"Phil feels it's in his best interest to retire from the game," Colts general manager Ryan Grigson said in a statement released by the team. "We certainly understand and wish him nothing but the best."
The Colts signed Costa to a two-year, $2.7 million contract that included $450,000 guaranteed last month.
UPDATE:
The Colts do not have to pay Costa any of the guaranteed money he was scheduled to make since he decided to retire.
The idea was for Costa to compete with
Khaled Holmes
for the starting center position, but I got the sense that the Colts were hoping Holmes would win the job. Costa, who started with the
Dallas Cowboys
in 2011, was beat out by rookie
Travis Frederick
last season.
Holmes only played 12 snaps and was a healthy inactive 11 times last season as a rookie.
Now the Colts are in serious of need of adding another center to the roster. This isn't a position they should be in with their franchise player Luck. The little bit of good news out of Costa telling the Colts he was retiring is that he did it now and not after training camp had already started. It gives Grigson some time to try to find another center to add to the roster.
Alex Mack
?
Nope. The
Cleveland Browns
quickly matched the offer the
Jacksonville Jaguars
gave him.
Mike McGlynn
?
McGlynn, who plays guard and center, was the best center on the Colts' roster last season, but the team had no interest in re-signing him. McGlynn is now with the
Washington Redskins
.
Samson Satele
?
Next.
Kyle Cook
,
Mike Gibson
and
Steve Vallos
are the three best centers still available on the free agent market, according to Bill Polian's free agent tracker.
Grigson said during the NFL owners' meetings last month that he wasn't overly impressed with the group of free agent centers.
That takes us to the draft. The Colts' first pick is not until No. 59 in the second round.
Here's a recap of the top 10 centers in the draft, according to ESPN draft analyst Mel Kiper Jr.:
1.
Marcus Martin
, USC
2.
Weston Richburg
, Colorado St.
3.
Russell Bodine
, North Carolina
4.
Travis Swanson
, Arkansas
5.
Jonotthan Harrison
, Florida
6.
Gabe Ikard
, Oklahoma
7.
James Stone
, Tennessee
8.
Bryan Stork
, Florida St.
9.
Corey Linsley
, Ohio St.
10.
Tyler Larsen
, Utah St.