October, 2, 2014
Oct 2
8:05
AM ET
INDIANAPOLIS -- Look at the top-10 receiving leaders in the NFL and there's a noticeable absence by the
Indianapolis Colts
despite them leading the league in passing yards and points a game.
Yards?
[+] Enlarge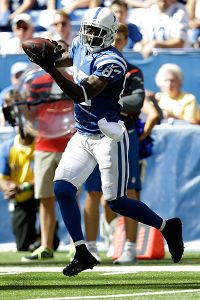 AP Photo/AJ MastReggie Wayne is one of nine Colts players who have had at least six receptions through four games.
Nope.
Reggie Wayne
is 13th.
Receptions?
No, again. Wayne is tied for 14th.
Targets?
You guessed it, nope. Wayne is 16th.
Average yards per reception?
Not even close. They don't even have a player ranked in the top 40.
The only category the Colts have a player ranked in the top 10 is receptions of at least 20 yards, as Wayne is tied for eighth with five.
They're fine with that because quarterback
Andrew Luck
doesn't rely on one player when it comes to passing the ball.
He prefers to spread it around.
The Colts have nine players who have at least six receptions through the first four games of the season. They're so deep that Da'Rick Rogers, who was released following his arrest earlier this week, was a healthy inactive those four games after starting three games last season.
"Like I tell everybody, this is the deepest we've ever been at receiver," Wayne said. "We've always had three and a possible. We've always had an average spade hand. It's better now. We have four to five guys we can plug in there at any time. We're loaded in there. Everybody always feels like I'm outta of my mind when I say that. No matter who is in there, you can plug guys in there at any position and they can get it done. We have to take advantage of that."
The breakdown of pass distribution through four games goes like this:
Receivers: 65 receptions, 3 touchdowns
Tight ends: 27 receptions, 6 touchdowns
Running backs: 25 receptions, 4 touchdowns
Luck's ability to not key in on one receiver over and over again makes it tough for opposing defenses. Focus on stopping Wayne and Luck will find
T.Y. Hilton
. Lock in on Wayne and Hilton and the quarterback has tight ends
Dwayne Allen
and
Coby Fleener
. The Colts enjoy running play-action where Luck hits running backs
Ahmad Bradshaw
and
Trent Richardson
out of the backfield. Bradshaw already has a career-high four touchdown receptions this season.
"That's something that we have in our arsenal that a lot of teams don't have," Wayne said. "Like I've been saying, you go into each game asking defenses to pick their poison. You can't just focus on one or two guys. We've got, as they say, a plethora of guys that can go out and make things happen. Knock on wood, keep everybody healthy and we'll take that any time of day."
Luck is 60-of-80 throwing for 763 yards, eight touchdowns and only one interception in the past two games. He's completed passes to nine different players in those two games.
"He's doing a great job of taking what the defense is giving him and not getting greedy, so to speak, and spreading the ball around," coach Chuck Pagano said. "They've got to make a decision defensively who they want to identify like we do as game-wreckers and take those guys away, but it's going to open it up obviously for somebody else either in the run game or the pass game."
October, 1, 2014
Oct 1
5:40
PM ET
INDIANAPOLIS --
Sergio Brown
's NFL resume consists of three starts in 59 games and a lot of special teams tackles and pinned punts during his five-year career.
Now, thanks to
LaRon Landry
's four-game suspension, Brown will be starting alongside veteran
Mike Adams
at safety against the
Baltimore Ravens
on Sunday.
Brown
"It's an opportunity for me to prove I can play in the NFL at any position on defense or special teams," Brown said. "I can go out there and put my best foot forward."
There's every reason to be leery about Brown starting when you take into account that the
Indianapolis Colts
felt the need to go out and sign Adams during their three-day mandatory minicamp in June to compete with Brown,
Colt Anderson
and
Delano Howell
for the starting job vacated by the departure of
Antoine Bethea
, who was named NFC Defensive Player of the Week on Wednesday.
"I just want him to relax," Adams said about Brown. "I've seen Serg practice and even when I got here it surprised me that he only has a handful of starts. He goes hard, even on special teams. He's so relentless."
Landry's suspension comes at a time where the Colts are about to face Baltimore quarterback
Joe Flacco
, Cincinnati's
Andy Dalton
and Pittsburgh's
Ben Roethlisberger
in three of the next four games.
"You don't react to it, you just move forward," Adams said about Landry's suspension. "Who am I to judge someone? At the same time, you have to have that 'next man up' mentality. That's the nature of the game, nature of the beast. It's like someone gets hurt, a sprained ankle and they're out three weeks. You have to move on. That might sound cold, but you have to move on in this league."
October, 1, 2014
Oct 1
5:00
PM ET
Mewhort
INDIANAPOLIS --
Indianapolis Colts
rookie guard
Jack Mewhort
will miss Sunday's game against the
Baltimore Ravens
because of an ankle injury.
The injury happened in last weekend's game against the
Tennessee Titans
. With
Hugh Thornton
expected to be back in the lineup,
Lance Louis
, who started in place of Thornton against the Titans, will likely start for Mewhort.
Safety
Colt Anderson
and linebacker
Andy Studebaker
practiced Wednesday after missing last weekend's game
Here's a breakdown of the other injured players:
Did not practice: RB
Ahmad Bradshaw
(rest), LB
D'Qwell Jackson
(rest), WR
Reggie Wayne
(rest), DL
Art Jones
(ankle)
Limited in practice: LB
Jerrell Freeman
(hamstring)
October, 1, 2014
Oct 1
4:00
PM ET
INDIANAPOLIS -- Here's a breakdown of
Indianapolis Colts
linebacker
Robert Mathis
' 2016
contract extension
, per ESPN NFL Insider Field Yates.
He'll get a $1.5 million roster bonus on the fifth day of the league year. His base salary is $3.5 million and he has escalators based on his sacks.
He'll get $250,000 for 10 sacks. It goes up to $500,000 for 11 sacks and $1 million for 12 sacks. Mathis had a league-high 19.5 sacks last season and has four other seasons of at least 10.5 sacks during his 13-year career.
Mathis was due a $3 million roster bonus at the beginning of the league year in 2015. That's been changed to $3 million of per-game roster bonuses. He'll get $1 million for one game on the 53-man roster and then $125,000 for each game on the roster after that.
October, 1, 2014
Oct 1
10:00
AM ET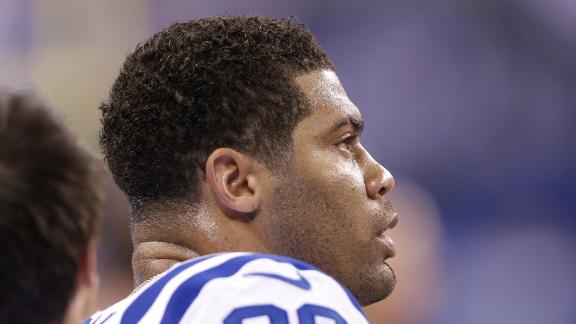 ESPN Colts reporter Mike Wells talks about how safety
LaRon Landry
's suspension for PEDs puts the team in a real bind with some inexperience in the secondary.
October, 1, 2014
Oct 1
7:00
AM ET
INDIANAPOLIS -- The majority of the teams in the NFL have reached the quarter point of the season. There have been some surprises -- (3-0) Arizona undefeated -- and disappointments -- New Orleans (1-3). The same can be said about the
Indianapolis Colts
when it comes to individual performances.
Here's a look back at the high's and low's of the Colts' season so far:
MVP:
Quarterback
Andrew Luck
. (Did you think it would be anybody else?)
Luck was shaky at times in the first two games against Denver and Philadelphia, but he's found his comfort zone in the past two games. He's 60-of-80 for 763 yards, eight touchdowns and only one interception in the past two games. He leads the NFL in passing yards (1,305) and touchdowns (13). He's also on pace for a career high in completion percentage and a career low in sacks.
Runner up:
Offensive coordinator Pep Hamilton
Yes, Hamilton's play calling in the Philadelphia game was suspect on the play Luck threw the interception and on their final offensive series, but you can tell he's definitely more comfortable in Year 2 as an NFL coordinator. His play calling -- and execution by the offense -- in the past two games has led to the Colts gaining 529 and 498 yards against Jacksonville and Tennessee, respectively.
Most surprising:
Offensive line play
Luck spent the first two years of his career being knocked around by defenses. He was sacked 73 times in those two years and you thought that may be the case again this season after veteran guard
Donald Thomas
was lost for the season and
Khaled Holmes
, who only played 12 snaps last season, was scheduled to start at center.
A.Q. Shipley
, who became the starter after Holmes went down with a high-ankle sprain, looks like he'll be keeping the starting spot. Luck has only been sacked five times through the first four games of the season.
Runner up:
Running back
Ahmad Bradshaw
It was anybody's guess how Bradshaw's neck would hold up from the pounding in the games after his season ended because of a neck injury in Week 3 last year. He's obviously doing fine because Bradshaw doesn't avoid contact. He embraces it in fact. Bradshaw is averaging 5.4 yards a carry on his 34 rushing attempts.
Trent Richardson
has almost doubled Bradshaw in rushing attempts, but don't be surprised if their carries get closer as the season progresses.
Most disappointing:
Linebacker
Bjoern Werner
(Did you think it would be anybody else Part II?)
Nobody expected Werner to be
Robert Mathis
because there's only one Robert Mathis. What the Colts did expect was some kind of contribution from Werner. He hasn't provided much to the defense. Werner has yet to register a sack and has just eight tackles this season.
Best rookie:
Guard
Jack Mewhort
Mewhort played tackle during his final season at Ohio State and was supposed to back up Thomas at guard this season. Thomas' injury obviously changed things. Mewhort even started at center in the preseason finale at Cincinnati. If the first four games are any indication, the Colts are set at guard for years to come with Mewhort.
Runner up:
WR
Donte Moncrief
The only thing stopping Moncrief from getting more snaps are three players named
Reggie Wayne
,
T.Y. Hilton
and
Hakeem Nicks
. That's three legitimate reasons why Moncrief isn't playing more. But his time will come, as the Colts' third-round pick has proven he can be effective no matter where they line him up. He's got eight receptions for 94 yards on the season.
September, 30, 2014
Sep 30
4:05
PM ET
INDIANAPOLIS -- The
Indianapolis Colts
' decision to give linebacker
Robert Mathis
a
contract extension Tuesday
came as a surprise.
Based off Mathis' 2013 stats -- an NFL-high 19.5 sacks -- he deserves every penny of the 2016 extension that could pay him as much as $6 million.
But nobody knows if Mathis will be that same player when the 2016 season rolls around. Nobody even knows if he would be that player today because he's not on the field chasing down opposing quarterbacks and getting strip sacks.
Mathis
First there was the four-game suspension for using performance-enhancing drugs that kept Mathis off the field, and now a torn Achilles, which happened while he was working out during his suspension, has him out for the rest of the season. The Colts have decided to pay Mathis the remaining portion of his $2.3 million base salary this season when they didn't have to because his torn Achilles is categorized as a non-football injury. Mathis returned to the team's facility Monday.
Mathis will be 34 years old and coming off a torn Achilles at the start of the 2015 season.
Shortly after his injury was announced earlier this month, I talked to ESPN injury expert Stephania Bell about the road Mathis has ahead of him. He's looking at about a six- to nine-month rehabilitation period.
"It always gets harder to return from these big injuries as you get older, but let me say this: Age isn't the full factor," Bell said. "... It makes it harder because your body doesn't recover as quickly. Even in the day-to-day rehab it can be taxing and your tissue is a little more brittle with age. You're summing up the history of all the abuse your body has taken over the course of your professional athletic career. That total of the wear and tear will factor into what you have to deal with coming out of surgery.
"I'm not saying you can't have a comeback or can't return to a top level of play. The history of being an athlete at that age, you're going to show some decline as an elite athlete as you get into your 30s with or without an injury. There are some guys in their 20s who struggle to come back from Achilles tears. It's a tough injury. Then there are guys in their 30s who will recover and come back in top form. Age isn't the full factor, but it certainly is one of the factors that makes it little more difficult."
The Colts have a saying they like to use inside the organization: "Trust, loyalty and respect." They backed up that statement in giving Mathis an extension with the hope he'll be able to continue terrorizing quarterbacks.
September, 30, 2014
Sep 30
1:00
PM ET
INDIANAPOLIS – The
Indianapolis Colts
could be getting several injured players back for Sunday's game against the
Baltimore Ravens
.
Linebacker
Jerrell Freeman
(hamstring), linebacker
Andy Studebaker
(hamstring), safety
Colt Anderson
(groin) and guard
Hugh Thornton
(ankle), who all missed Sunday's game against the
Tennessee Titans
, should be on the practice field Wednesday.
They key for all of them is how they respond the following day because it'll give the Colts a better indication of if they're ready to play in a game.
Freeman, the Colts' leading tackler the past two seasons, has missed the past three games. Thornton, also a starter, originally injured his ankle against Jacksonville on Sept. 21.
The Colts are still taking a week-to-week approach with defensive lineman Art Jones, who sprained his ankle against Philadelphia in Week 2.
September, 30, 2014
Sep 30
12:40
PM ET
INDIANAPOLIS -- The Colts have signed linebacker Robert Mathis to a one-year contract extension through the 2016 season, the team announced Tuesday.
Mathis, who was under contract through 2015 before signing the extension, can make as much as $6 million in 2016 with the extension, according to a source.
He signed a four-year, $36 million extension with the Colts in 2012.
Mathis was suspended the first four games of the season for using performance-enhancing drugs, and his season ended when he tore his Achilles while working out in Atlanta during his suspension.
The 33-year-old Mathis is coming off a 2013 season in which he led the NFL in sacks with 19.5.
The Colts also announced that they signed cornerback Jalil Brown to the active roster and receiver Chandler Jones and linebacker Rob Ruggiero to the practice squad.
September, 30, 2014
Sep 30
11:00
AM ET
A weekly look at what the
Indianapolis Colts
must fix:
The Colts had success getting pressure on Jacksonville quarterbacks
Chad Henne
and
Blake Bortles
and Tennessee quarterbacks
Charlie Whitehurst
and
Zach Mettenberger
the past two weeks, but their challenge is about to get steeper.
Now the Colts, who have seven sacks in the past two games, are about to face a quarterback with Super Bowl experience and one who will pick apart their defense if they can't find a way to pressure him in Baltimore's
Joe Flacco
.
Flacco has completed 63.4 percent of his passes and is averaging 264 yards a game through the air. Sacking him has been a challenge for every team this season. The Baltimore quarterback has been sacked only three times this season, which is best among the top 10 passers in the league.
Colts cornerbacks
Greg Toler
and
Vontae Davis
will have their hands full if the front seven can't pressure Flacco, who was 6-of-8 for 172 yards and three touchdowns on passes of at least 15 yards against the
Carolina Panthers
last weekend, according to ESPN Stats & Information. And the Colts won't have
LaRon Landry
's experience in the secondary at safety because he's suspended four games for taking performance-enhancing drugs.
September, 30, 2014
Sep 30
8:00
AM ET
Join us today at 1 p.m. ET, 10 a.m. PT for ESPN's NFL Nation TV's Spreecast as episode No. 25 will take a look at the first quarter of the season. Host Paul Gutierrez (
San Francisco 49ers
reporter), co-host Coley Harvey (
Cincinnati Bengals
reporter) and new regular Mike Wells (
Indianapolis Colts
reporter) are joined by Todd Archer (
Dallas Cowboys
reporter), Josh Weinfuss (
Arizona Cardinals
reporter), Mike Triplett (
New Orleans Saints
reporter) and Scott Brown (
Pittsburgh Steelers
reporter) to talk biggest surprises and disappointments thus far. Viewers are encouraged to log in and ask the panelists questions as well as contribute in the chat feature and vote for your first quarter NFL MVP.
September, 30, 2014
Sep 30
8:00
AM ET
INDIANAPOLIS -- Lost in the news of
Da'Rick Rogers
' arrest and release from the team and
LaRon Landry
's suspension was the return of
Indianapolis Colts
linebacker
Robert Mathis
on Monday.
Mathis
Mathis' four-game suspension for taking performance-enhancing drugs ended, which means he's allowed to return to the facility and communicate with members of the organization again.
Mathis was sitting in his customary seat in the team meeting room Monday as they talked about Sunday's victory over the
Tennessee Titans
.
"I looked up there and saw his face and saw him sitting there, had to take a double take," Colts coach Chuck Pagano said. "It was awesome, awesome to have him back. It's great to have Rob back in the building. Again, his presence alone brings a ton of energy and excitement and enthusiasm to everybody."
Mathis is supposed to be preparing for season debut against the
Baltimore Ravens
this weekend, but a torn Achilles will keep him out the rest of the season. Now he'll be counted on to provide leadership in the locker room and on the sideline the rest of the season.
"He's got to earn his check somehow," Pagano joked. "Just like Reggie (Wayne). Reggie got enough time off to have surgery and mend up for a little bit and then he got back out here and 'assistant coach.' So that's what his title is now. Great teammate, assistant coach, locker room patrol, he's got all kinds of assignments. I've got a whistle for him in my office ready to roll."
Hopefully Mathis can help
Bjoern Werner
, who is starting in his place, because the second-year player has yet to register a sack this season.