July, 30, 2014
Jul 30
1:50
PM ET
ANDERSON, Ind. -- As expected, the emotions were mixed as
Indianapolis Colts
linebacker
Robert Mathis
sat on the edge of his bathtub with his head down in his hands after getting the news of his four-game suspension for violating the NFL's policy on performance-enhancing drugs.
On one hand, Mathis and his wife, Brandi, were excited because they were going to be the parents to their third child, a daughter, Brielle Emma-Rose Mathis, who was born July 19.
[+] Enlarge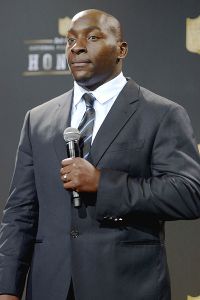 Kirby Lee/USA TODAY SportsIndianapolis Colts defensive end Robert Mathis isn't focused on the past, but is ready to get beyond his upcoming four-game suspension.
On the other hand, Mathis let his team down because he took a substance, Clomid, that's banned by the league.
Mathis released a statement immediately after the suspension was announced May 16 that he took Clomid because he and his wife "faced fertility challenges."
But questions -- and rightfully so -- immediately started about whether Mathis took the banned substance for the strict purpose of helping to get his wife pregnant or if he took it to improve his on-the-field production.
"The timing was wrong," Mathis said. "I cost my team on the professional level. Personal level, I have a lifetime worth of smiles and kisses. I try to learn from it and move forward."
A simple Google search, phone call to a team official or somebody in the NFL Players Association could have avoided this problem for Mathis. He said in his statement in May that he "specifically asked the doctor if the medication he prescribed" was banned by the league.
"I didn't call the right person, ask the right person," Mathis said. "(I) didn't, so take your lumps and just rebound from it."
Mathis played with extra motivation in 2013 because there were doubts about whether he could still be an effective pass-rusher without linebacker
Dwight Freeney
lined up opposite of him on the other side of him. Mathis talked that about motivation, too, last season. He went from 8.0 sacks in 2012 to a league-high 19.5 sacks in 2013. So it's easy to understand why the question would come up about the Clomid.
Mathis didn't turn his cellphone off or shut his Twitter account down to avoid paying attention to the criticism. He kept his devices on so he could get through the negative comments to read the positive remarks from the "reassuring Indy fans." The criticism that ate at Mathis went away in the "atmosphere" after Brielle was born earlier this month.
"People don't see the position change," Mathis said. "The fact I'm now the No. 1 rusher in this game. People who know the game, the No. 1 rusher, it starts and stops through that guy. Of course there's going to be increased production moved to outside linebacker, but I'm not going to sit here until I'm blue in the face trying to explain because it is what is.
"I apologized for the professional side of it, the personal side of it. I have no regrets at all. I look at my baby's face in my phone every day and I have no regrets. ...I know how people are going to react, know what people are going to say coming off a season like last year. That's human nature."
Mathis, who is allowed to take part in training camp, is eligible to return to the Colts' active roster on Sept. 29. The suspension will cost him about $706,000, but the money is the last thing he's worried about when he's holding his baby girl, who already has him wrapped around his fingers.
"(Brielle) looks at me and sees no wrong," Mathis said. "She don't know how she got here, she doesn't care how she got here. She knows she's here and feed me. That's my job and that's going to be my job for the next 18 years or however long it takes, football will be long gone. She'll be here."
July, 30, 2014
Jul 30
11:30
AM ET
Here is Wednesday's Colts' Reading the Coverage ...
July, 30, 2014
Jul 30
10:00
AM ET
By
ESPN.com staff
| ESPN.com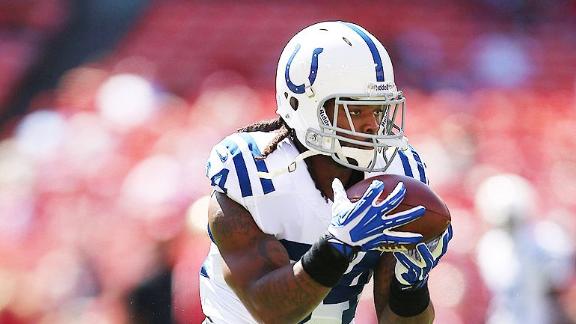 Indianapolis Colts
reporter Mike Wells says with
Vick Ballard
out for the season and
Ahmad Bradshaw
coming off an injury, it's time for
Trent Richardson
to step up and rebound from a disappointing 2013 season.
July, 30, 2014
Jul 30
7:00
AM ET
ANDERSON, Ind. -- The
Indianapolis Colts
return to the practice field at Anderson (Indiana) University on Wednesday morning after having Tuesday off. They'll have a walk through that's closed to the public at 9:30 a.m. ET then have an open practice at 1:50 p.m.
Here are three areas to monitor Wednesday.
Could this be the day injured players Vontae Davis (groin), LaRon Landry (groin) and Trent Richardson (hamstring) get on the practice field? I'd be more surprised if it happened than if they didn't practice. The Colts are taking the ultimate careful approach with their injured players after they had an NFL-high 17 players end up on injured reserve during the 2013 season. "I think it would be foolish on our part not to be proactive like we were in the offseason and do a lot of research," coach Chuck Pagano said. "Our trainers, our strength staff, we went to work and we looked at the last two seasons. We looked at 2012, the guys that we placed on IR. We looked at all the guys last year, tried to find common threads, common themes and do everything that we can within our power, again, be proactive so that certainly we don't place 17 guys on IR again."
Expect quarterback Andrew Luck to have a bounce-back practice against the defense after he threw three interceptions against the unit in practice Monday. Luck probably spent part of his off day Tuesday watching film from that practice to make sure he doesn't have a repeat. "He'll continue to work on his fundamentals and his technique, and work his eyes, and controlling safeties, and moving the defense and identifying the defense and working the cadence. All those things," Pagano said after practice Monday.
The Colts added running back Phillip Tanner to the roster Tuesday. Davin Meggett was signed over the weekend. The goal is to find the third running back after Vick Ballard (Achilles) was lost for the season. Being able to contribute on special teams is also a plus for those auditioning for the position. General manager Ryan Grigson will continue to turn over every rock until he finds a player he believes is capable of handling that role.
July, 29, 2014
Jul 29
5:20
PM ET
The
Indianapolis Colts
' attempt to find a replacement for running back
Vick Ballard
(Achilles) on the roster continues.
The Colts signed former
Dallas Cowboys
running back
Phillip Tanner
and linebacker Jonathon Sharpe on Tuesday.
Tanner spent the past three seasons with the Cowboys, primarily on special teams. He has only 56 carries for 149 yards and two touchdowns in his career.
The Colts released running back
Chris Rainey
for
violating team rules Monday
.
Sharpe had 132 tackles, including 23.5 for a loss, 5.5 sacks and three interceptions, in two years at North Greenville University. He took part in the 2014 Super Regional Combine in Detroit.
July, 29, 2014
Jul 29
2:15
PM ET
@MikeWellsNFL what will luck's biggest statistical leap be this year.

— Casey Price (@CASE_IN_P0INT) July 29, 2014
Mike Wells:
Completion percentage.
Andrew Luck
jumped from 54.1 percent as a rookie to 60.2 percent last season when he didn't have his security blanket -
Reggie Wayne
- to turn to in the final nine weeks of the season. There were times you wondered who Luck would be throwing the ball to outside of T.Y. Hilton and
Coby Fleener
after Wayne went down with his torn ACL. Now, barring injuries, Luck will have plenty of options to throw the ball to, which is why I think he'll continue to improve his completion percentage.
@MikeWellsNFL which formation should we see the most in Colts offense this year?

— Marcelo Borges (@MBB94) July 29, 2014
Wells:
There are two formations that I think you'll see quite a bit with offensive Pep Hamilton. Two-tight end sets with
Dwayne Allen
and Fleener. You didn't see that as much last season because Allen barely played half of a game. And you'll definitely see a lot of three-wideout formations with Wayne,
Hakeem Nicks
and Hilton. I'm also looking forward to when they spread the field with three WRs and two TEs. They used that formation in a red zone drill in practice Monday. That's a matchup nightmare for opposing defenses.
@MikeWellsNFL how is Da'Rick progressing?

— Csimo (@csimo27740) July 29, 2014
Wells:
Receiver Da'Rick Rogers has gotten off to a slow start in training camp. I look at that as a disappointment because Rogers has all the talent to get the job done. He's just not showing it. Rogers did catch a touchdown pass Monday. That's good. The bad part is I turned to a fellow media member and mentioned that was the first time I had seen Rogers do something impressive in practice.
Griff Whalen
has definitely outplayed Rogers so far in camp.
"@MikeWellsNFL: fire away your #colts questions for a Mailbag. #coltsmailbag" do you think Boom Herron has chops to play in NFL?

— JRR (@ColtsFarmboy) July 29, 2014
Wells:
Herron is going to get a chance to be the Colts' third running back after
Chris Rainey
's immaturity cost him a shot at making the team. One of the keys for Herron is staying healthy. He was placed on injured reserve last December. You can expect the Colts to continue to bring in running backs throughout training camp until somebody shows they're ready to be the third back behind
Trent Richardson
and
Ahmad Bradshaw
.
@MikeWellsNFL Does Sergio Brown have a chance to start over Landry? I like him more even when Laron is healthy

— Michael Ripberger (@Rippy12345) July 29, 2014
Wells:
Landry will be the Colts' starting safety as long as he remains healthy. General manager Ryan Grigson did not give Landry a four-year, $24 million contract to be a backup safety for them.
@MikeWellsNFL How's the offensive line looking at camp? Whose making most of first team reps?

— Flip Trick Kid (@thatkidsrikar) July 29, 2014
Wells:
You know what you're going to get from tackles
Anthony Castonzo
and
Gosder Cherilus
. It's the interior part of the offensive line that's a work in progress. The first-team guards so far have been
Hugh Thornton
and
Donald Thomas
.
Khaled Holmes
is obviously the starting center. Rookie
Jack Mewhort
is also getting some snaps with the first unit at guard when Thomas isn't in there.
@MikeWellsNFL who seems to be winning the safety battle so far? #coltsmailbag

— Curtis (@TheCurtisAkers) July 29, 2014
Wells:
That's an intriguing battle. Landry will be one of the starters and
Delano Howell
seems to have the edge on veteran
Mike Adams
so far. Part of it could be because Adams didn't join the team until the middle of June. The other part is Howell is stepping up to the challenge because he knows he has a player with more experience breathing down his neck for that spot.
@MikeWellsNFL What do you see as the weakest link in the team at this point?

— The COLTimateWarrior (@COLT_Warrior) July 29, 2014
Wells:
This is no knock on Holmes because he could turn out to be an exceptional player, but I have to say center at this point simply because Holmes lacks experience. Twelve snaps goes under the category of inexperience. I've heard mostly good things about Holmes in camp so far, so that's a step in a right direction for him and the Colts.
@MikeWellsNFL Given the state of RB depth, how will offensive approach change this year, vs forced 'power running game' scheme LY??

— Legion of Blue (@LegionofBlue) July 29, 2014
Wells:
The Colts will run the ball because they want to have as much of a balanced offense as possible, but I don't think you'll hear them talk about a power-running game as much as last season. They simply want to put points on the scoreboard whichever way necessary. With that said, and the weapons they have on the outside, Luck will have plenty of opportunities to throw the ball.
@MikeWellsNFL In your opinion, who is starting on the O-line week 1? #coltsmailbag

— John Stempkowski (@jstempkowski) July 29, 2014
Wells:
Tackles: Castonzo, Cherilus. Guard: Thornton, Thomas. Center: Holmes
@MikeWellsNFL Which rookie is having the biggest impact at camp, and will have the biggest impact on the season? #coltsmailbag

— Keith A. Childers (@KC6624) July 29, 2014
Wells:
Mewhort. You knew the rookie out of Ohio State was somebody the Colts held in high regard when they placed his locker next to Luck's at the team's practice facility. Then Mewhort was working with the first during offseason workouts and now he's continuing to impress the team and outsiders. I had a lengthy conversation with former Colts center and current ESPN NFL analyst Jeff Saturday after practice Monday about the overview of the team and he mentioned Mewhort's names on multiple occasions. Saturday is impressed with the toughness Mewhort has brought so far and his knowledge of the game.
@MikeWellsNFL #coltsmailbag who had more yards this year.. TY or Nicks ??

— christopher tomasi (@horseshoepower) July 29, 2014
Wells:
That's a tough one because I believe both players are going to have good seasons. But since I'm being forced to pick one, I'll go with Hilton because I think he's going to have a lot of big plays down the field with teams being worried about Nicks and Wayne. I expect Hilton to seize the moment.
@MikeWellsNFL how big of a jump do you think Werner will make from his rookie year to this year

— UK Colts Fans (@UKColtsFans) July 29, 2014
Wells:
Wayne has been impressive in camp because of what he's overcome - the torn ACL - to get back on the field, but
Bjoern Werner
has basically cemented the starting outside linebacker spot during Robert Mathis' absence after just one week of training camp. Here's what Luck had to say about him. "He's savvy. He's got a great athletic sense. You see him dropping back into coverage and he covers a lot of ground. He's a big body and he has great ball instincts. I can't speak to his pass rush, I'm not a tackle, but his athleticism. He's the type of teammate you want."
July, 29, 2014
Jul 29
9:00
AM ET
Here's Tuesday's Colts Reading the Coverage:
July, 28, 2014
Jul 28
6:30
PM ET
ANDERSON, Ind. -- The
Indianapolis Colts
strolled into training camp last week with a deep group of running backs on their roster.
Several things have happened since then.
Vick Ballard
went down with a torn Achilles, then away went
Chris Rainey
for not following team rules. And, oh yeah,
Trent Richardson
continues to watch training camp practice from the sidelines.
[+] Enlarge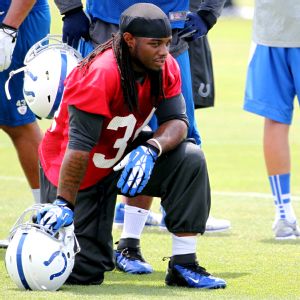 Brian Spurlock/USA TODAY SportsThe Colts hope running back Trent Richardson can have a bounce-back season.
So the depth the Colts had before?
Gone.
Injuries and immaturity have left the Colts with
Ahmad Bradshaw
,
Dan Herron
,
Davin Meggett
and
Zurlon Tipton
as the only healthy running backs taking snaps in practice.
"We're one less, so those other guys are going to continue to get work," Colts coach Chuck Pagano said. "[General manager Ryan Grigson] and I, again, will look at the roster and see what we need to do. He's always looking at the wire and who is on the street, to see if we need to bring in another set of legs."
Richardson could help stop some of the uneasiness that's going through the organization about depth concerns at running back by showing he's ready to have a bounce-back season. Everybody's waiting -- and waiting some more -- to see if that will happen.
Pagano hasn't given a timetable on when Richardson will practice.
"We're not going to push these guys," Pagano said. "We've seen guys go down and we're always going to err on the side of caution, you know that. But they're doing better and they're getting really close and hopefully they'll be back sooner than later."
Losing Rainey means the Colts miss out on having a player who could handle two roles on the roster for them.
Pagano knows it, too.
He spent several minutes less than 48 hours prior to Rainey's release telling a story about watching a DVD of Rainey in high school in Florida with his daughter. Pagano saw Rainey's "athleticism, the burst, the speed" in the video. But Rainey failed to take advantage of the opportunity to be the Colts' third running back and return specialist. He has only himself to blame for his mistakes.
Bradshaw has been a positive so far in training camp. He has been a regular in practice -- even sprinting down field trying to catch cornerback
Josh Gordy
after an
Andrew Luck
interception Monday -- and he's not showing any signs of having a problem with his neck, which caused him to miss the final 13 games of the 2013 season.
"He looks fantastic," Pagano said. "He has found the groove to make it. We know how tough Ahmad is. We know how he's wired, so I'm not going to be pulling back on the reins. He's one of those guys we have to protect them from themselves. It will take care of itself. He's not one of those guys that will think about what he went through.
"He's a football player, tough guy, hard nose. Love to see what we can get out of him. We are putting the pads on today for the first time so we will find some other things out."
Bradshaw can continue to look good and impress, but all eyes will remain on Richardson.
July, 28, 2014
Jul 28
5:15
PM ET
A daily review of the hot topics coming out of
Indianapolis Colts
training camp:
It is not often that the defense will win the battle against quarterback Andrew Luck and the rest of the offense. Monday was one of those days. The defense got the better of Luck and the offense during the two-minute and goal-line drills. The unit picked off Luck three times. "There were some poor decisions by me," Luck said. "The defense makes you pay when you make bad decisions. I found that out quickly in the NFL. You learn from the mistakes and you don't want to repeat them in a game. I think on the flip side, offensively we're putting a lot of pressure on (the defense) to play well as well." Luck, who is his own worst critic and still a student of the game, used his mistakes to talk to some of his defensive teammates to get their thoughts on why they were able to make a good play on the ball. "If I thought I was fooled I want to ask them about their technique," Luck said. "It's fun to pick defensive guys' brains sometimes. They'll say, 'Well you tipped me off on that one Andrew because of this.' Ok, now I've got to put that in your memory bank and go from there."
The Colts showed their offensive versatility during a red-zone drill when they used a formation that featured receivers Reggie Wayne, T.Y. Hilton and Hakeem Nicks lined up out wide on one side and tight ends Dwayne Allen and Coby Fleener lined up out wide on the other side. With both Allen and Fleener standing 6-foot-3 and 6-6, respectively, the Colts will have a height advantage to throw the ball up high to their tight ends against the smaller defensive backs. Luck tried that once on a play when Fleener was defended by safety Delano Howell. He ended up overthrowing Fleener, as the pass went out of bounds. Still, Luck didn't have those types of options last season. "Coach told us never to compare seasons to seasons because you end up devaluing someone along the way," Luck said. "So I'm not going to compare it to whatever I've played with in the past with some awesome, awesome dudes. But again, it takes a bunch of guys throughout a season and we know that. So the way the guys are playing now, it should be a lot of fun."
Punter Pat McAfee wants to hopefully add kicking duties to his resume once Adam Vinatieri decides to retire from what will end up being a Hall of Fame career. Don't McAfee's ability discredit to throw the football, either. McAfee has often been an extra passer to receivers during drills early in practice.
The Colts were scheduled to have a walk-through Monday morning and then a practice in pads in the afternoon, but Pagano condensed it into one three-hour session in the morning. They had a 30-minute walk-through and then a 2˝-hour practice. The players will have Tuesday off and resume camp Wednesday morning.