March, 26, 2015
Mar 26
12:00
PM ET


JACKSONVILLE, Fla. -- The NFL draft has always been a crap shoot. No matter how good a player is in college and how well he interviews and tests at the combine, there's no way to be certain what kind of pro they'll be. Some players are surer things than others (Peyton Manning, Andrew Luck) but there's no guarantee.
That's why teams spend so much time investigating prospects. Investigators talk to college coaches, high school coaches, girlfriends and relatives, anyone they believe can help them develop a full portrait of a player. With that much money -- as well as their own jobs -- at stake, the more information they have, the better. It's all about minimizing risk.
That's why the Jacksonville Jaguars should be leery about drafting Nebraska defensive end Randy Gregory, who on Wednesday admitted to NFL.com that he tested positive for marijuana at the combine and has had a problem with the drug in the past. None of us on the outside know enough about Gregory's background and personal life to definitively advocate that the Jaguars should take him off their draft board, but general manager David Caldwell should think long and hard during the next month about whether that would be the best thing for the franchise.
He doesn't have to look very hard to find a compelling reason, either.
First things first: This argument doesn't have anything to do with my feelings about the legalization of marijuana or the fact that the NFL's threshold for the levels of marijuana in testing is lower than Major League Baseball and significantly lower than the World Anti-Doping Agency, which does Olympic testing. It's a banned substance; the levels are set and players must follow those rules.
[+] Enlarge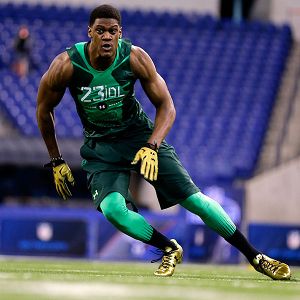 AP Photo/David J. PhillipRandy Gregory said he tested positive for marijuana at the NFL combine last month.
It's not the fact that Gregory failed the drug test at the combine despite knowing, as every other participant does, that he would be tested in Indianapolis – although that does call into question Gregory's intelligence. Rather, the cause for the most concern is what Gregory said about his marijuana use.
He told NFL.com that he turned to marijuana to cope with the anxiety he felt after he failed to academically qualify to attend Purdue after his high school graduation. Gregory said he tested positive for marijuana twice at Nebraska in 2013 and was told he'd be kicked off the team if he failed a third test. Then there was this quote:
"I don't wake up every day saying, I'd really love to go smoke," he said. "It's not a struggle for me every day [now]; it really isn't. In the past, hell yeah, it's been a struggle. It really has been. Now, I'm focused on my dream."
Gregory admits he struggled with smoking marijuana in the past and said he did it to cope with his anxiety. Those should be two huge red flags for Caldwell because a professional football player's rookie season often is the most stressful time of his career.
Gregory said he was up front about his marijuana use during interviews at the combine. He told NFL.com that he realized he was being selfish, he's not a "dumb jock pothead," and he is taking steps to correct his issue. He's saying all the right things.
But you know who else did? Justin Blackmon.
After being suspended for the first four games of 2013 for violating the NFL's substance-abuse policy, Blackmon publicly apologized to his teammates, admitted he made a mistake and said he looked forward to putting the situation behind him and maturing and growing as a person. Four games after his return, he was suspended indefinitely for failing another test. He has played in just 20 of a possible 48 games since former GM Gene Smith drafted him with the fifth pick in 2012.
Blackmon was arrested last July and charged with possession of marijuana. That was his third alcohol-related or marijuana-related arrest since June 2010. Blackmon entered a treatment facility and the Jaguars said they have been receiving good reports regarding his progress. He's now eligible to apply for reinstatement.
Gregory and Blackmon aren't in identical situations and Gregory might well be a changed man and will never have an issue with drugs again, but there remains a risk that he also could follow the same path as Blackmon, especially considering Gregory's comments on his past struggles with marijuana. A failed drug test didn't deter the Jaguars from drafting linebacker Telvin Smith, who also tested positive for marijuana at the combine. However, they took him in the fifth round, which carries much less risk than the first round and especially the top five.
Can the Jaguars afford to take that gamble with two of their last four first-round picks?