October, 30, 2014
Oct 30
5:00
PM ET
JACKSONVILLE, Fla. --
Jacksonville Jaguars
left tackle
Luke Joeckel
had never had a concussion so he wasn't sure if he'd know how to recognize the symptoms if he ever did receive one.
Even so, he knew immediately things weren't right after he got hit on the top of his head early in the first quarter of the Jaguars' 27-13 loss to Miami last Sunday.
"I didn't really know how to describe a concussion," Joeckel said Thursday, the first time he's been allowed to speak to the media because of the NFL's concussion protocol. "When you get one you know right away, 'Man, there's something wrong.'"
The injury happened on Josh Scobee's 48-yard field goal attempt that ended up being blocked. He said he got hit in the head by a knee or thigh -- but still managed to push Miami's
Michael Thomas
out of bounds at the end of the play.
The Jaguars had thought Joeckel would miss the Bengals game because cornerback
Dwayne Gratz
and safety
Johnathan Cyprien
suffered concussions this season and both missed the following week's game before returning to the field.
October, 30, 2014
Oct 30
4:52
PM ET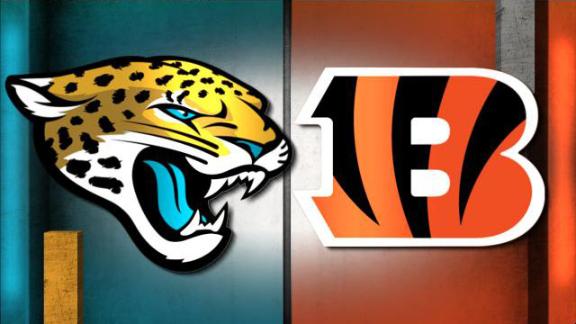 JACKSONVILLE, Fla. -- Jacksonville Jaguars left tackle Luke Joeckel has recovered quicker than anticipated from the concussion he suffered in last week's loss to Miami and could play against Cincinnati on Sunday.
Joeckel was cleared Thursday to practice fully on Friday. The Jaguars want to see how Joeckel handles the workout and whether he has a reccurrence of concussion symptoms before making a determination on whether he'll be able to start against the Bengals.
"Everything looks good," coach Gus Bradley said.
Joeckel said earlier on Thursday that he doesn't have any remaining concussion symptoms and feels good.
"I'm ready to go," Joeckel said before practice. "I want to get back."
Joeckel suffered the injury during a field-goal attempt in the first quarter of the Jaguars' 27-13 loss. He said he was hit on the top of the head. Joeckel had played every snap at left tackle this season until his injury.
October, 30, 2014
Oct 30
4:45
PM ET
JACKSONVILLE, Fla. --
Jacksonville Jaguars
linebacker
Paul Posluszny
was just hours from having surgery to re-attach his pectoral muscle to the tendon in his right shoulder, but that didn't stop him from watching film.
Even though he's out for the season on injured reserve, won't be cleared to resume working out for three months, and won't be able to resume normal football activities for five to six months.
Posluszny
"We were just taking a look at some things," Posluszny said. "I still wanted to review. I was looking at the game against Cleveland. The hard part is once you realize you're not playing anymore this year you're already starting to think about next year. So what do I need to work on for next year?
"Even though that's a long way away, that's just how your mind automatically goes. It's a long way away but what can we do to work on it?"
Posluszny has to think about the 2015 season. Otherwise he'd be going crazy dwelling on the fact that he's not able to play. He still hasn't completely accepted the situation.
"I'm trying to handle it pretty well but this is very out of the norm for me," he said.
Though he missed 19 games in his first four seasons with Buffalo because of arm and knee injuries, Posluszny had missed only one game since joining the Jaguars in 2011. That came last season because of a concussion. Coach Gus Bradley can tell Posluszny is frustrated.
"He's good to be around, not great to be around right now, because it is so important to him," Bradley said. "What I appreciate is how much he helps those guys (linebackers). They turn to him, ask him questions, and he offers insight. It's invaluable but you can just imagine how it's tearing him up inside."
Posluszny is also feeling guilty. He hates being injured and not being able to play and he's angry at himself for getting hurt. He knows that doesn't really make sense, especially since there was nothing he could do to prevent his pectoral muscle from tearing free, but logic doesn't come into play with this.
"This is awful," he said. "Your entire workup of the year is so you can play during the season so when that gets cut short you're extremely disappointed in yourself for letting it happen.
"You just feel like you're letting people down, let's put it that way. You feel like you're letting people down when you're not playing when you should be."
Posluszny is still going to attend meetings and try to help the linebackers, but that's going to be the extent of his football activities for a while. His right arm will be in a sling for about a month and then he'll be able to slowly begin the rehab process. He should be able to start lifting weights in late January and said he if he has no setbacks he'll be cleared to resume football activities by the time the offseason program begins.
"The surgery went really well," he said. "I feel good. I don't have any pain or anything like that."
But he does have plenty of tape to watch.
October, 30, 2014
Oct 30
2:05
PM ET
JACKSONVILLE, Fla. -- Each Thursday I'll post a blog in which five
Jacksonville Jaguars
players answer a question that has nothing to do with football. Hopefully it's a way for you to get to know the players a little better. Some weeks it will be a fun question. Others it will be a quirky or off-beat question. There also will be serious questions mixed in.
In keeping with the Halloween theme that we began last week, each player was asked to list his favorite candy, his favorite or most unique Halloween costume, and his favorite scary movie:
RB Jordan Todman
Todman
Favorite candy:
That's a tough question. Can't go wrong with like a Kit-Kat, Twix, Snickers. Anything on the line of those bars you can't go wrong.
Favorite/most unique costume:
When you're a little kid you're more into it. I thought of Halloween as scary, so I would say back in the day when I had the Scream mask and squeeze it and the blood came down. I guess because I was into it I was really trying to scare people. When you were younger you really believed it.
Favorite scary movie:
I don't think I have a favorite, but Freddy vs. Jason ... Those ['Nightmare on Elm Street' and 'Friday the 13th' movies] are intense. Can't go wrong with that.
LB Jeremiah George
Favorite candy:
My favorite Halloween candy ... uh, I guess my favorite candy in general is Sour Patch Kids.
Favorite/most unique costume:
I was a pirate and I think that was my best just because my mom and grandma, they put it all together and it was very creative. It was kind of out of the ordinary. I was probably like 5 or 6, but looking back at family photos that's the best one. No parrot, but I had the eye patch and a little fake earring. It was pretty cool.
Favorite scary movie:
Oh, man. Probably 'The Hills have Eyes.' It's just weird. I feel like it could really happen, though, so I like that one.
RT Austin Pasztor
Pasztor
Favorite candy:
Oooh. I like anything Reese's.
Favorite/most unique costume:
I don't remember any really good ones I had. I was a pirate quite a bit. I probably had some good ones. I just don't remember. I was always a big kid, but it didn't always play into it. It was tough to go to the store and get a Power Rangers suit or something. Needed adult size.
Favorite scary movie:
Probably 'The Shining.' I'm a fan of Jack Nicholson for sure. I just think it's a good movie.
C Luke Bowanko
Favorite candy:
Are we talking what they hand out or what I want? You go around and when you're getting candy from people they hand out the small little Snickers and stuff. First of all, it's got to be king sized, because if it's not you're wasting your time. If it not king size it's got to be something like off the wall, like a Nerds rope or something. If you get a Nerd's rope that's, like, the haul of the century. It was kind of one of those things where you go through your little brothers' candy bag and just steal all the good candy. But I think king size or bust, and then Nerds rope is definitely No. 1. I eat it and it's gone in like three seconds and then I'm wondering if I really ate it or not. It's like an endless cycle of just stuffing your face.
Favorite/most unique costume:
I was a lava lamp very recently. Maybe even as recent as this week, potentially. There's been some rumors going around. It was a onesie, one size fits most. I think I was on the plus size of most, but I made it work. I think a lot of people thought I was a fish. They were mistaken because I was a lava lamp. It's one of those things that's really cool when you're a kid and it's cooler when you're an adult and your it, so I thought it was pretty sweet.
Favorite scary movie:
Oooh. I think the scariest horror movie is 'The Strangers.' You ever see that one? It's when a couple up in a cabin in Seattle or Washington and just some random people just break in and screw with them all through the night for no reason. Just random. That movie is freaky because it's actually kind of like, it could happen. That movie is freaky for sure. People have to check that one out.
OT Sam Young
Favorite candy:
Tie between and Twix and Snickers. Oh, right Twix. Absolutely. The caramel, they drizzle it instead of flowing. Or whatever it is.
Favorite/most unique costume:
I think I went as Darth Vader one year. That was pretty fun when I was little. A lot harder to find costumes [that fit as a big kid]. I know my mom helped me out making some a couple times. And then sometimes it was just I wore a Larry Bird jersey and went as Larry Bird.
Favorite scary movie:
'E.T.' That thing freaked me out.
October, 30, 2014
Oct 30
12:00
PM ET
Every Thursday I'll present an interesting (to me, anyway) stat, break it down, and try to provide some context heading into the game the following weekend.
Going deep
One of the criticisms of the
Jacksonville Jaguars
offense, and mainly
Chad Henne
, the past several seasons has been the reluctance to throw the ball down the field. That's not something that can be said in 2014, because the Jaguars are taking shots.
They're not completing a lot of them, but they are taking them.
In 2013, Jaguars quarterbacks combined to throw 48 passes that traveled at least 20 yards in the air. Henne and
Blaine Gabbert
completed 14 for 388 yards and three touchdowns with five interceptions. They hit on only 29.2 percent of their throws.
This season, however, Henne and
Blake Bortles
have already thrown 31 passes that have traveled at least 20 yards in the air. That puts them on pace to throw 62 by season's end, which would be the most since David Garrard completed 63 in 2009.
Unfortunately, the Jaguars aren't hitting on many of those throws. They've completed just 7 of the 31 (22.6 percent) attempts for 308 yards and two touchdowns with three interceptions. The attempts rank 15th in the league but the completion percentage is 29th. Only the
New York Giants
(21.1 percent),
Minnesota Vikings
(20.0) and
New York Jets
(11.1) are worse.
Since getting on the field for the second half of the Week 3 loss to Indianapolis, Bortles is 4-for-21 (19.0 percent) for 174 yards and one touchdown with three interceptions on throws that traveled at least 20 yards in the air.
That doesn't mix well with Sunday's matchup against Cincinnati, because the Bengals are the NFL's best team when it comes to limiting big passing plays. Opponents are completing an NFL-worst 17.1 percent of passing attempts that travel at least 20 yards in the air and have thrown one touchdown pass and three interceptions.
The Bengals have given up only six completions (tied with Detroit and Miami for the fewest) on 35 attempts.
October, 30, 2014
Oct 30
10:00
AM ET
Reading the coverage of the Jacksonville Jaguars ...
Tight end Marcedes Lewis practiced on Wednesday for the first time since suffering a high ankle sprain against Washington in Week 2 and is
excited about getting back on the field
, writes the Florida Times-Union's Vito Stellino. Lewis is on IR/designated to return and the team is hoping for a Nov. 23 return, barring any setbacks.
CBSSports.com's Jamey Eisenberg writes that Denard Robinson should be your
No. 1 running back waiver wire pickup
this week.
The Jaguars' secondary is
starting to move in the right direction
, writes the T-U's Ryan O'Halloran. It will be tested even further now that staring cornerback Alan Ball (biceps) is on IR and nickelback Will Blackmon (broken finger) is out for an extended period of time.
Hear what receivers coach Jerry Sullivan
had to say
about several topics in a notebook by the T-U's Hays Carlyon.
Which Jaguars player
does the fanbase hate
at the midpoint of the season? According to The Sporting News, it's running back Toby Gerhart.
October, 30, 2014
Oct 30
8:00
AM ET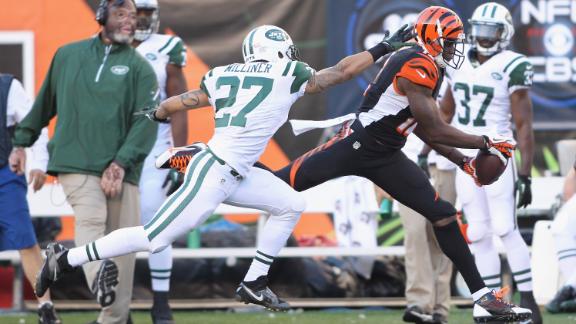 So begins the
Jacksonville Jaguars
' gauntlet.
One week after a two-touchdown defeat to their in-state rival
Miami Dolphins
, the Jaguars on Sunday begin a treacherous three-game stretch of their schedule against a trio of teams with winning records -- and that all look like prime postseason candidates.
Up first, the
Cincinnati Bengals
, an organization that found itself at a unique crossroads late in last Sunday's game against Baltimore. Down four with less than four minutes remaining in a division game, the Bengals needed quarterback
Andy Dalton
to take them on a miracle comeback drive. He did. If he hadn't, the Bengals likely would have lost and fallen to last in the AFC North.
Instead, they're back in first.
ESPN's Jaguars reporter Michael DiRocco and Bengals reporter Coley Harvey are here to preview this matchup:
Coley Harvey:
Mike, Jags QB
Blake Bortles
has four pick-sixes this year to go along with his 12 overall interceptions. How much of his growth hinges on how well he can take pressure? Many of his struggles have come against blitzes, and you have to think Bengals defensive coordinator Paul Guenther wants to expose that.
Michael DiRocco:
Bortles has struggled against the blitz. Though he is completing nearly 60 percent of his throws against five or more rushers, he has thrown five interceptions, has thrown no touchdown passes and has been sacked nine times. His Total QBR is a paltry 2.8 against five or more rushers. This isn't confined to just Bortles, though, because nearly every rookie QB will struggle against pressure. However, the Jaguars need to see improvement over the final eight games. His decision-making has to be better, and the one thing offensive coordinator Jedd Fisch wants to see is Bortles not continue to make the same mistakes. There are going to be interceptions because it's part of the learning process, and it's also because Bortles has a bit of gunslinger in him and likes to take chances. That's partly why he leads the NFL with 12 interceptions. Fisch would like to see that number drop to six over the season's second half. It's a rough process, but the only way Bortles can grow is to go through it. It would be a problem if he wasn't better in the second half of the season than he was in the first half.
Coley,
A.J. Green
says he expects to play against the Jaguars. More than quarterback Andy Dalton, is Green the key to the Bengals' offensive success, not only this week but going forward?
Harvey:
To be honest, Mike, he isn't. Yes, Green is a Pro Bowler and he is a talented player and having him will bring added life to this offense, but we can't overlook the fact this unit has played well without him this season. Green has missed parts of four games this season because of a nagging big-toe injury, and in his place the Bengals have just rolled out a strong group of receivers, running backs and tight ends.
Mohamed Sanu
has been the most direct replacement for Green, catching 21 passes for 383 yards and a touchdown in Green's absence. Since Sanu has served as a runner on reverses, and passed balls in addition to catching them, he has racked up 460 yards of total offense in relief of Green. That's good enough for 31.3 percent of the Bengals' entire offensive production in the games Green has missed. Even if Green returns, expect Sanu to factor in similar ways this week and on down the line. Still, it can't be disputed that Green's potential addition this weekend will help any offensive success Cincinnati has.
Mike, Jacksonville's defense currently ranks as the best in the league in red zone territory. What happens when the Jags get pinned deep that allows them to prevent giving up touchdowns?
DiRocco:
The Jaguars' defensive line, notably tackles
Sen'Derrick Marks
and
Roy Miller
, has played well all season, but especially in the red zone. Teams are averaging just 2.08 yards per rush against the Jaguars in the red zone. In addition, the Jaguars have allowed teams to convert just 27.3 percent of third-down plays in the red zone, which is fifth in the league. They've also intercepted two passes in the end zone. What's funny is the Jaguars have given up six touchdown passes of 20 or more yards, which shows the secondary has been more susceptible to getting beat deep than having trouble in the red zone. The pass rush has helped in the red zone, too. The Jaguars' 25 sacks are tied with Minnesota for second in the NFL behind Buffalo (28).
Which is the real Bengals' defense: the one that held opponents to 11 points per game in the first three games or the unit that gave up 35.7 points over the next three games?
Harvey:
If I had a good answer for that one, Mike, head coach Marvin Lewis, Guenther and the rest of the defensive staff might try to find a job for me. Seriously, it's been one of the most perplexing issues of this season for the Bengals. They came out strong the first three weeks, stopping the run and just outmuscling each of the teams they played. Not only did it look like the Bengals were as good under Guenther as they were under the venerable Mike Zimmer, but they looked better. And then came the bye week. A Week 4, early-season interruption derailed the Bengals, and it appeared to hit the defense the hardest. In the first three games after the bye, they were outscored 107-54. Two of the teams, the Patriots and Colts, picked up more than 500 total yards. All three rushed for more than 100.
I'd say the real Bengals' defense is somewhere in the middle of the fast start and the atrocious post-bye follows. Now that players are starting to get healthy again, I'm thinking it might be closer to the unit we saw at the start of the season.
What has
Denard Robinson
's past two games meant to the balance of Jacksonville's offense, Mike?
DiRocco:
The Jaguars' passing offense is dependent on play-action for it to be effective, and until the past two weeks, the play-action fake really meant nothing to opposing defenses. Through the first six games, the Jaguars averaged 69.5 yards per game rushing. In the past two, they've averaged 180.5 yards per game. Most of that has come from Robinson, who has run for 235 yards and one touchdown. He's doing a much better job of running tough: breaking tackles, running through arm tackles, moving the pile forward and falling ahead for an extra yard. It's no coincidence that the Jaguars' first victory came in a game in which Robinson rushed for 127 yards and a touchdown. Had Bortles not thrown two pick-sixes last week against Miami, the Jaguars probably would have won that game, too -- and Robinson had 108 yards rushing. If Robinson can continue to be effective running the ball, that will allow Fisch to take some pressure off Bortles.
Geno Atkins
looked very good against Baltimore. Is he all the way back from the ACL tear, and what kind of impact does he have on the defense?
Harvey:
I'd say Atkins is back from the season-ending ACL injury he suffered exactly one year ago Friday, Mike. As you mentioned, he played quite well against the Ravens. Guenther called it Atkins' best performance of the season, and you'd be hard-pressed to find anyone who disagreed. Atkins played faster, with more explosion and a bit of his old fire in that game. He had two tackles for loss, a sack and a forced fumble that came when he was one step into the backfield before the ball carrier had time to decide which way he was going to run. It's safe to say after six virtually unproductive games that he's finally all the way back.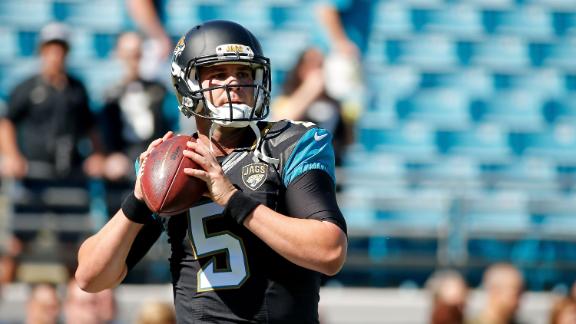 October, 30, 2014
Oct 30
7:30
AM ET
JACKSONVILLE, Fla. -- Here's a preview of what to watch for on Thursday regarding the
Jacksonville Jaguars
.
ESPN Bengals reporter Coley Harvey and I will preview Sunday's matchup between the Jaguars and Bengals. The blog should post about 8 a.m. ET.
The Jaguars' defense has been one of the best at giving up points over the past three weeks and ranks in the top three all season in terms of red zone efficiency, but the unit has really struggled to get turnovers. That's the next step if this defense is going to get even better. The importance of turnovers to the Jaguars' chances of winning is obvious: They forced three in their only victory of the season.
With today being the day before Halloween, the Question(s) of the Week to five Jaguars players deals with candy, costumes and scary movies.
The Stat of the Week has to do with how much more the Jaguars are throwing the ball downfield this year.
October, 29, 2014
Oct 29
6:30
PM ET
JACKSONVILLE, Fla. -- It's getting to the point where you need a spreadsheet to figure out what's going on in the
Jacksonville Jaguars
secondary.
Let's start with the easiest things to figure out: Cornerback
Alan Ball
was placed on injured reserve on Wednesday with a biceps injury and nickelback
Will Blackmon
will miss at least three weeks with a broken left index finger, which he had surgically repaired on Tuesday.
After that ... well, it will take a while. Here goes:
Cornerback
Dwayne Gratz
was limited in practice on Wednesday with a groin injury. That's separate from the hip flexor injury that nearly kept him out of last Sunday's game against Miami. If he's healthy, he'll likely start at right cornerback (replacing Ball) against Cincinnati on Sunday. If not, his likely replacement is
Jeremy Harris
, one of the team's two seventh-round picks in 2013. Harris played a career-high 10 snaps on defense and on special teams in last Sunday's loss to Miami.
The starter at left cornerback will be
Demetrius McCray
, the Jaguars' other seventh-round draft pick in 2013. McCray was inserted into the lineup after Gratz suffered a concussion against San Diego on Sept. 28. He started the following week when Gratz was out and held on to the job when Gratz returned.
With Blackmon out, the Jaguars will use safety
Sherrod Martin
as the nickelback. He spent 2009-12 with Carolina before signing with Jacksonville last December. He was waived in final cuts but re-signed on Sept. 23. He has played mainly on special teams in the last five games.
The Jaguars promoted cornerback
Peyton Thompson
from the practice squad last Saturday as insurance in case Gratz couldn't play against the Dolphins.
While there is a rash if injuries at corner, the safeties remain healthy. Second-year players
Johnathan Cyprien
and
Josh Evans
will start against the Bengals. Undrafted rookie
Craig Loston
would be next up in the rotation with Martin working at nickel back.
Got all that? All cleared up? Good, but don't get too comfortable -- things could change quickly.
October, 29, 2014
Oct 29
5:00
PM ET
JACKSONVILLE, Fla. -- When
Blake Bortles
walked off the field after throwing his second pick-six against the
Miami Dolphins
last Sunday,
Jacksonville Jaguars
offensive coordinator Jedd Fisch turned the sideline chat over to backup
Chad Henne
.
Not because he was too angry to talk to Bortles. He just thought the rookie from Central Florida needed to hear a different voice.
"I think there's some times that you don't always need to talk to Dad," Fisch said. "Sometimes you talk to big brother and that helps."
Bortles has turned the ball over six times in the last two games. He lost one fumble and has thrown five interceptions, two of which were returned for touchdowns. That places him atop the NFL in interceptions (12) and pick-sixes (four). That's a couple bad weeks, and Bortles is leaning on Henne to help him get through the roughest patch of his career.
"Obviously Chad has been in all these situations before," Bortles said Wednesday. "He's thrown interceptions, he's thrown touchdowns, he's done it all. And to hear him and his take on it, I think that's definitely something that's good to hear.
"I think we've got a really good friendship. He tells me he doesn't sugarcoat anything. He tells me the truth, which is awesome. He tells me if I am right or wrong, what he would have done, and I enjoy that. I ask him to keep telling me those things because I want to know."
Henne hasn't held back, especially when it comes to turnovers. That wouldn't accomplish anything, and it probably would end up doing more damage. Bortles is a bit of a gunslinger and likes to take chances, and that aspect of his game was something the Jaguars liked. But they're trying to teach him to be smart about when to take those chances.
Take a deep shot on third-and-long from the middle of the field. If it's intercepted, that's the same as a punt. No harm, no foul. But don't try to fit a ball into a tight window or throw across the body inside the red zone. That can cost points.
Fisch and head coach Gus Bradley have told Bortles that numerous times, but sometimes it's better to hear it from Henne.
"I think it's the best to have, I guess, your brothers out there or your teammates to come out and say it because I think it means a lot more coming from us, especially from me rather than Jedd or a coach," Henne said. "He respects it and I respect him, so it literally is like a brother. It's tell him the truth and he tells me the truth."
Bradley said after the loss to the Dolphins he didn't believe Bortles has lost confidence. Bortles admitted to being frustrated and upset for throwing the interceptions, but he said that's not going to keep him from playing freely.
Henne has reinforced that thought to Bortles.
"Is he doing too much? I don't think so, but he wants to win so bad that sometimes he tries to force a couple things in there, but he's going to the right places with the football," Henne said. "If he was going off track and going off our reads and going different places, we'd have a conversation with that. But he's going to the right places and some of the defensive players are making good plays on the ball."
Fisch said he knows Bortles is going to throw more interceptions, but he'd like Bortles to cut his total in half and throw just six in the final eight games.
"As a quarterback and as a rookie quarterback you've got to help them come along and grow and understand that he's going to throw them," Fisch said. "I think if we're at 12 right now and we can have this second [part of the] year at six, I think we can consider it a win."